22 Best All You Can Eat Sushi In San Diego [2023 Top Spots]
Updated On: September 21, 2023
San Diego, a haven for seafood lovers and home to some of the finest culinary experiences in the United States, has a thriving sushi scene that's sure to delight any intrepid food explorer. The city's coastal setting offers an abundance of fresh seafood, a vital component for top-quality sushi. From classic Nigiri to more adventurous Uramaki creations, San Diego's sushi restaurants offer a tantalizing array of options to ply your palate. For sushi enthusiasts like myself, who love to sample a wide variety of flavors in one setting, all-you-can-eat sushi is a dream come true.
In this food-lovers guide, I delve into the "Best All You Can Eat Sushi In San Diego," recounting my personal sushi escapades across these fantastic establishments throughout the city. Each venue offers a unique ambiance, distinctive sushi preparations, and service that left me eager for a return visit. So, let's embark on this gastronomic journey and unveil the hidden sushi gems of San Diego.
Also Read: Hand Roll vs Cut Roll Sushi
22 Best All You Can Eat Sushi In San Diego (2023 Top Hotspots)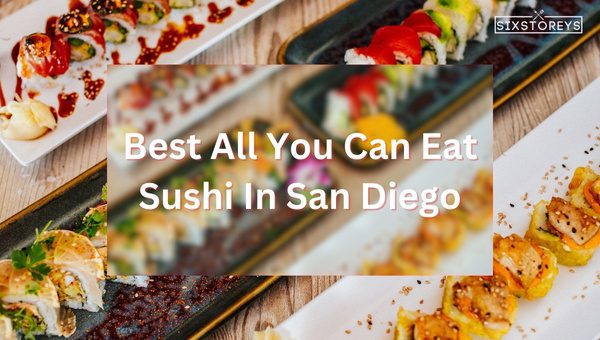 Within the sun-kissed city of San Diego lies a gastronomic treasure trove for sushi aficionados. This city is host to an array of exceptional all-you-can-eat sushi spots that cater to every palate. Let me guide you through the 22 top all you can eat sushi experiences that I've personally savored throughout San Diego.
1. Sunrise Buffet: A Spectacular Start to Your Sushi Adventure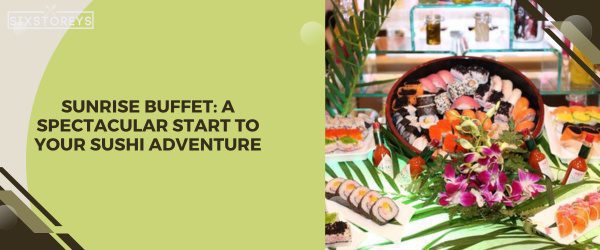 Sunrise Buffet, as the delightful dawn of my sushi journey, set the stage with a seemingly unending array of sushi offerings. As someone who's had more sushi meals than I can count, the one thing I never compromise on is freshness, and Sunrise offered that in heaps.
Their maki rolls were works of art. The Spicy Tuna Roll left a pleasant, warm aftertaste that invited you for more, while the Philadelphia Roll was a symphony of smoky salmon, creamy cheese, and perfectly seasoned rice. The sushi chefs behind Sunrise Buffet are true artists, and their canvas is an all-you-can-eat sushi stage.
The restaurant's decor was clean and understated, focusing all attention where it should be: on the food. And it's not just the sushi that was a star here. Served buffet-style, the range of diverse offerings was impressive, from dim sum to Peking duck to an array of desserts, but the sushi always beckons with its vibrant colors, captivating textures, and intricate flavors. For first-timers in San Diego's sushi scene, Sunrise Buffet offers a spectacular introduction.
2. Sushi Ya: Diving into Authentic Flavors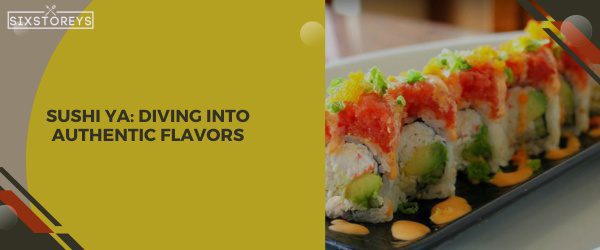 When I entered Sushi Ya, the atmosphere immediately immersed me in a culinary journey to Japan. The warm lights, the minimalist decor, and the sight of sushi chefs working diligently behind the counter — all provided a preview of the fantastic dining experience that awaited.
In terms of sushi, Sushi Ya proved to be a delight. From simple yet flavor-packed nigiri to exquisitely rolled maki, every item was clearly crafted with care and passion. Their sushi rice was seasoned impeccably, with just the right balance of vinegar, sugar, and salt that made every bite a joy. The freshness of the fish, which ranged from salmon to unagi, was incomparable, and the quality was top-notch.
One of the standout rolls for me was the Dragon Roll. This magnificent offering boasted an unmatched combination of creamy avocado, crunchy cucumber, and succulent shrimp tempura, all wrapped up with soft rice and nori. Topped off with beautifully sliced, velvety eel and drizzled with a sweet and spicy sauce, every bite was a burst of flavor and contrasting textures.
With the promise of authentic flavors and a truly Japanese sushi experience, Sushi Ya sets the bar remarkably high. Therefore, whether you're a seasoned sushi lover or starting your sushi adventure, indulge yourself at Sushi Ya - a dive into authenticity and gastronomic delight. Each visit promises an exciting blend of traditional sushi craftsmanship and modern aesthetic, making it one of the go-to spots for the best all-you-can-eat sushi in San Diego.
3. Kampai Sushi: A Toast to Exceptional Sushi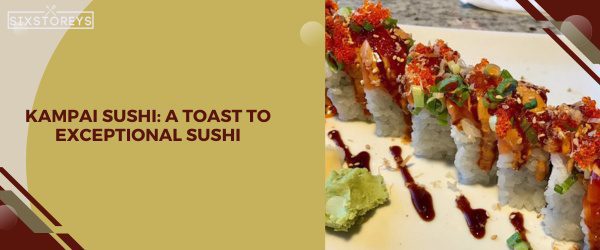 In Japanese, 'Kampai' is a phrase used to toast, typically heard at the beginning of a great dinner. True to its name, Kampai Sushi allows diners to raise a glass to some of the most exceptional sushi I've tasted.
Upon entering Kampai, the first thing that stood out to me was the lively energy of the place. High spirits buoyed by friendly servers and the buzzing crowd provided a freeing environment, adding immensely to the dining experience. A comprehensive, all-you-can-eat menu gave way to an adventurous exploration of sushi wonders.
Kampai's sushi had a distinct quality that sets it apart - freshness. The use of crisp veggies, melt-in-mouth fish, warm rice, and balanced condiments was commendable. My personal favorite was the Rainbow Roll, a vibrant assembly of various fish like tuna, salmon, and yellowtail atop a California roll, creating an enticing spectrum of colors and flavors. This, coupled with their Spicy Salmon Crunch Roll - a spicy salmon mixture baked to perfection and then crisp-coated, transported me to sushi ecstasy.
But that is not it, the Miso Soup provided on the side, rich in flavors, perfectly complemented the sushi, bringing an element of warmth to the dining experience.
4. PB Sushi: A Sushi Experience with a Twist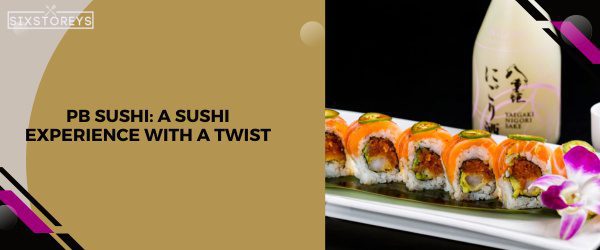 As I walked into PB Sushi, an eclectic blend of traditional and modern decor caught my eye. Immediately, I could tell that this experience would be unique. Here, conventional sushi expectations are met with a delightful twist.
PB Sushi has an extensive all-you-can-eat sushi menu that seamlessly caters to both sushi traditionalists and flavor adventurers alike. The key to their success, as I discovered, lies in their innovative fusion of flavors while sustaining the integrity of traditional sushi.
Among the exceptional selections, the Baja Roll became an instant favorite. It draws from local inspirations, merging tempura shrimp, cucumber, and avocado with jalapeno and cilantro. The Sundiego Roll is yet another delightful surprise—filled with fresh salmon, cream cheese, and cucumber, then topped with mango and avocado—offers a burst of tropical flavors in every bite.
The sake selection also deserves a special mention, with a generous range from dry to fruity flavors to choose from. Pairing it with sushi heightened indulgence, making the experience well-rounded and thoroughly enjoyable.
5. 100'S Seafood Grill Buffet: Fine Dining with a Side of Sea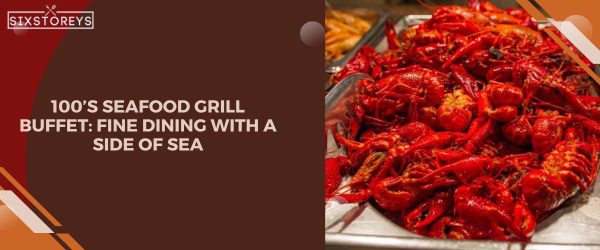 At 100'S Seafood Grill Buffet, I was welcomed by an elegant setting that bespeaks a high-tier dining experience. True to its name, the place served an impressive variety of seafood dishes, with the sushi bar occupying a prideful corner. The freshest catch turned into an ocean of sushi delicacies, available for attendees to savor.
Right off the bat, the quality of the fish was remarkable. I pair every sushi roll with a bit of wasabi and soy sauce, and I could still taste the unique flavor profiles of each roll. The rainbow roll particularly impressed me with its presentation. The delectable array of fish layered on top, from rich tuna to buttery salmon, melded together to create a vibrant ensemble with each bite.
Another standout was the spider roll. The softshell crab's crisp texture paired well with the creamy avocado and refreshing cucumber, wrapped snuggly in a seaweed sheet, and perfectly cooked sushi rice. It was truly a testament to how the right ingredients and finesse could elevate the simple.
6. Great Plaza Buffet: Mixing Traditions with Appetite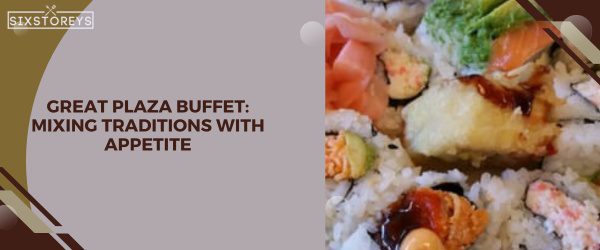 Walking into the Great Plaza Buffet, I immediately noted a blend of Chinese and Japanese decor, creating an inviting ambiance for an extensive cross-cultural culinary journey. Amid the international favorites, the sushi section stood out with its vast array of creatively presented rolls.
At the forefront was perhaps one of the most intriguing sushi rolls I've encountered on my sushi trail in San Diego; the 'Mexican Roll'. It was a delightful fusion of fresh shrimp tempura, cucumber, and creamy avocado, topped with spicy jalapeno. The taste was unique, the spice from the jalapeno injecting an unexpected yet pleasant kick to the classic sushi taste.
The 'Plaza Special Roll' was another masterpiece, not just in the presentation but the selection of creamy avocado, fresh tuna, crunchy cucumber, and tempura flakes. The red tobiko garnish added not just a pop of color but a delightful crunch and a burst of oceanic flavor.
The Great Plaza Buffet was an experience that combined traditional sushi-making artistry with the fun exploration of non-traditional ingredients to suit varied palates. Truly, the sushi here is a testament to the harmonious blending of diverse culinary traditions.
7. Little Sakana Japanese Sushi Bar & Grill: A Tiny Gem with Big Flavor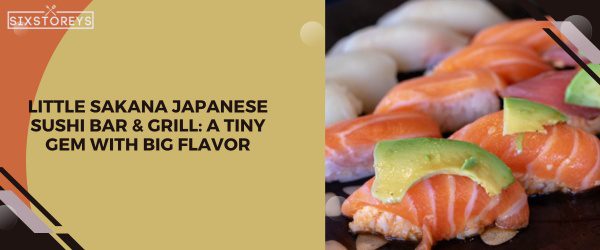 A revelation that happened was the discovery of Little Sakana Japanese Sushi Bar & Grill, a non-conventional sushi spot teeming with big flavors. Tucked away in a quiet corner of San Diego, Little Sakana packs a mighty punch in its sushi serving.
What I found intriguing about this place was its knack for crafting sushi delicacies with a creative twist. The eatery features a cozy, Japanese-style interior that proves the adage — less is more. The pleasant background music was a delightful accompaniment to the incredible sushi extravaganza.
The exceptional sushi dish that won me over at Little Sakana was their signature Sakana Roll, a unique roll that brought together the delicate flavors of shrimp tempura, cream cheese, avocado, topped with spicy crab, eel sauce, and tempura flakes. Each bite led to an explosion of flavors — a testament to Little Sakana's commitment to crafting sushi with an adventurous spirit.
For those who appreciate heat, the Spicy Girl Roll is worth trying. With spicy tuna, albacore, jalapeno, and their special house sauce, this roll was a fiery sensation that takes you on a thrilling culinary ride.
With its laid-back atmosphere, innovative sushi creations, and excellent service, Little Sakana confirmed my belief: truly great sushi doesn't need brandishing; the flavors alone make the place shine.
8. RK Sushi: Keeping It Fresh and Tasty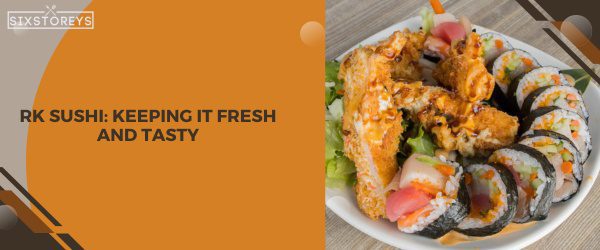 Tucked into a modest nook in the heart of San Diego, RK Sushi is a modest locale boasting a vast sushi selection. The prime focus of RK is unmistakably its commitment to quality and freshness. Paying a visit here, the irresistible lure of meticulously handcrafted sushi rolls screamed out to me.
The cozy, ambient space at RK Sushi is complemented by the delectable sushi prepared with precision. This spot earns its charm through carefully curated flavors, artful presentation, and spot-on consistency, which I found to be joyously refreshing.
Diving into the culinary journey, the RK Special Roll, a swoon-worthy combination of shrimp tempura topped with spicy tuna and avocado, was an unforgettable delight. Their Dragon Roll, a classic presentation of eel and cucumber with avocado and eel sauce, was a delicious dance of textures and flavors on the palate.
For those craving a heat kick, the Spicy Garlic Edamame offers a wonderful start. The spicy, garlicky flavors intertwined with the freshness of the edamame was an awakening call to the taste buds, perfectly setting the stage for the sushi to follow.
9. Mister Sushi: Your Trusted Sushi Mister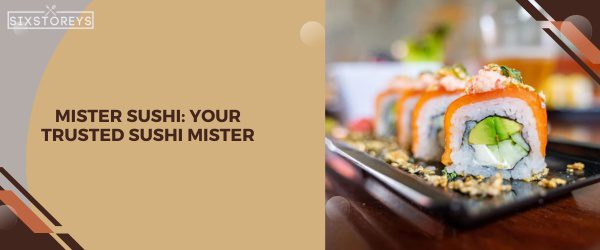 Strolling into Mister Sushi, I was met with a cozy ambiance that mustered a feeling of immediate comfort. As a testament to the warmth, the ample sushi range presented was as inviting as the surroundings. The eat-all-you-can sushi menu was extensive and full of exciting options.
The moment I sampled their 'Dragon Roll', I knew it was going to be an extraordinary sushi venture. Perfectly rolled with a tempura shrimp center, draped with a thick slice of eel and a smattering of sweet eel sauce, each bite was as sinfully delightful as the last. The dual texture of firm but tender eel and crispy shrimp was a unique experience.
I also opted for the 'Mister's Special'. This roll was filled with a variety of seafood – from shrimp tempura to spicy tuna and salmon roe. Every element of this roll was harmonious and culminated in an explosive mix of sweet, savory, and spice, all in one bite.
In essence, Mister Sushi impressed me with its warm, inviting atmosphere, and expertly-crafted sushi. It's a place I'd recommend for a sushi journey as delightful as its name.
10. Ahi Sushi: Wave of Freshness and Flavor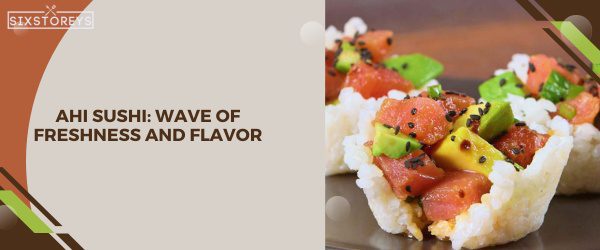 A stroll into Ahi Sushi was like a dive into a laid-back world, characterized by a relaxed atmosphere and a lively nautical theme. But beyond the charming decor, Ahi Sushi captivated me with their fresh sushi offerings, boasting an enticing range of rolls centered around, you guessed it, ahi tuna.
Their 'Ahi Delight Roll' was a standout. The delicate fresh ahi tuna paired with creamy avocado and the crunch of cucumbers rolled up and topped with spicy tuna, made for a heavenly culinary experience. The quality of the ahi tuna shone through - it was fresh, and the subtle nuances in flavor were truly delightful.
The 'Ocean Roll' was nothing short of a masterpiece. Stuffed with soft-shell crab tempura and cucumber, the roll was elegantly topped with fresh ahi tuna and black caviar. Each bite felt like a delicious plunge into the ocean with the briny caviar and the freshness of the seafood.
Ahi Sushi gave me a fresh wave of sushi delight, incorporating the finest seafood in their creative and mouth-watering sushi rolls. It was a dining experience that mirrored the crescendo of a beautiful ocean wave, with every sushi roll more astoundingly fresh and flavorful than the last.
11. Sushi Ota: The Master of Sushi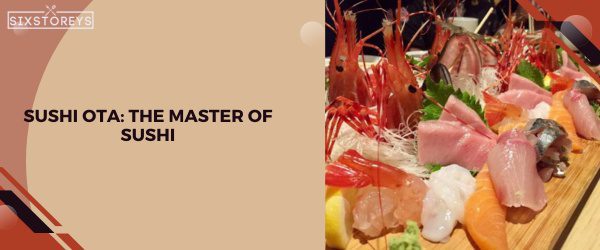 My journey led me to Sushi Ota, a jewel of San Diego known for its commitment to fine sushi craftsmanship. Upon stepping inside, the ambiance exuded elegance reminiscent of a traditional Japanese izakaya which brought a sense of tranquility.
The 'Emperor's Roll' was, without a doubt, the crowning glory of my dining experience at Sushi Ota. The presentation was as grand as the name implies. Lobster tempura, cucumber, and asparagus, combined with a seared tuna and avocado topping, created a delightful symphony of layered flavors and textures that had me savoring every bite.
The 'Ota Special' was another masterstroke. With the fresh uni (sea urchin) and Ikura (salmon roe), the roll had a delicate saltiness layered with balanced sweetness. Each mouthful transported me to the heart of the ocean, reminding me of the fresh, unparalleled taste of high-quality sushi.
Sushi Ota's elegant setting, exceptional sushi preparation, and stunning variety of flavors earned an enduring spot in my heart. To anyone seeking an extraordinary sushi experience, I say this without reservation - Sushi Ota is the sushi haven of San Diego.
Also Read: Best Sushi Toppings
12. Mikami Bar And Revolving Sushi: A Sushi Feast on the Move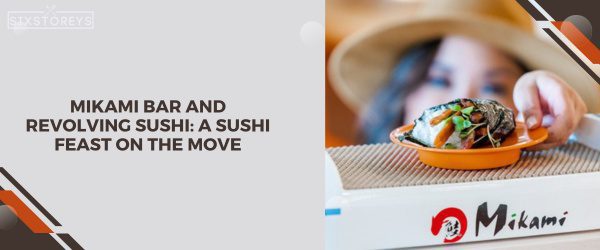 In the heart of San Diego is Mikami Bar and Revolving Sushi, a restaurant that offers a unique rotating sushi bar experience. I watched in awe as the parade of beautiful sushi rolls revolved enticingly before me.
Among all the choices, the 'Mikami Volcano Roll' erupted in my mouth with an explosion of flavors. Spicy tuna, cream cheese, and salmon marinated in a special tangy-sweet sauce, then flash-fried and garnished with their signature volcano sauce – it was a fiery yet delightful mouthful.
My intrigue was further piqued by the 'Shrimp Delight', a delectable mix of shrimp tempura, avocado, cucumber, and crab, all crowned with succulent shrimp and their special delight sauce. Each bite was an ecstatic escape into a world of creamy, crunchy goodness.
With the unique revolving sushi bar and the innovative selection of sushi, Mikami Bar and Revolving Sushi stole my heart. It is a place where the sushi adventure truly comes to life, leaving you longing for the next rotation.
13. Wasabi Sushi: Spice up Your Sushi Experience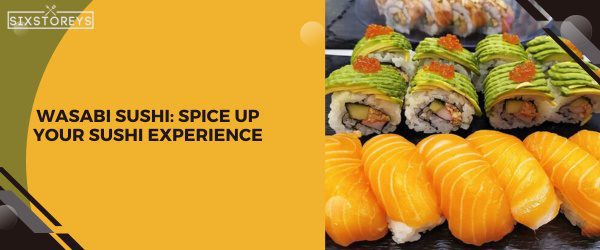 Nestled in San Diego's bustling city center, Wasabi Sushi serves as a thrilling sushi haven that never fails to stimulate both the taste buds and the visual senses. The fiery vibe, reflected in their vibrant decor and infused in their exotic sushi types, exudes warmth and excitement.
Witness the fiery goodness in the 'Flaming Shrimp Roll' - a concoction of tempura shrimp, crab salad, avocado, and cucumber enveloped within a layer of seared salmon and drizzled with spicy mayo. The dish set my palate on fire in the most delightful way, igniting a dance of flavors and textures.
The 'Dragon Eye Roll', meanwhile, offered a deliciously wicked concoction of spicy tuna, cucumber, cream cheese, jalapeno, and tempura, all beautifully presented in the form of a fiery dragon's eye. The spicy, crunchy roll was a testament to Wasabi Sushi's commitment to delivering explosively flavorful experiences to its patrons.
Those looking to spice up their regular sushi routines will undoubtedly find Wasabi Sushi a scintillating and memorable experience. It's a must-visit for adventure seekers looking to turn up the heat with an explosion of fiery flavors.
14. Auti Sushi: The Burst of Flavors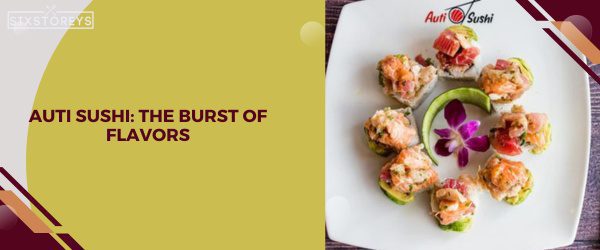 In the heart of San Diego, the quirky ambiance of Auti Sushi extends its boundaries to introduce an array of sushi that bursts with creative and eclectic flavors.
Their signature 'Tuna Delight', encapsulated Auti Sushi's charm and inventiveness. The hand roll featured spicy tuna, crabmeat, cucumber, and avocado, beautifully adorned with a colorful confetti of salmon roe. It was a textural and flavorful fiesta in my mouth that was equally refreshing and satisfying.
Pushing the boundaries of traditional sushi was their 'Rainbow Roll', delightfully layered with different kinds of raw fish over a California Roll base. Every slice was a journey through the various flavors of the sea, accented by the crunch from the cucumber and the creaminess of the avocado.
At Auti Sushi, it's not just a sushi roll; it's a celebration of flavors and an experience that leaves an indelible imprint on your culinary journey. It does not just serve sushi; it creates memories of tantalizing tastes and boundless joy that remain with you long after.
15. Tokyo Sushi Loha: A Traipse to Tokyo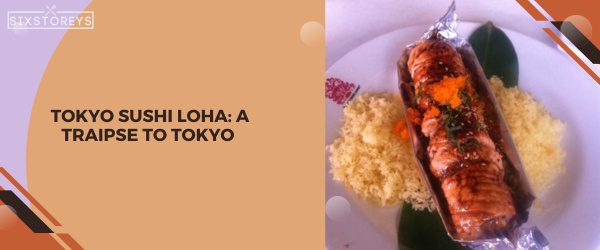 Venturing into Tokyo Sushi Loha felt like stepping onto the vibrant streets of Tokyo. Its Japanese-themed ambiance, savory authentic sushi servings, and personalized service all contributed to a unique dining experience in the heart of San Diego.
One of the masterpieces I indulged in was their divine 'Crazy Roll.' Featuring crispy shrimp tempura, avocado, crab, and spicy tuna elegantly cloaked with a tender salmon layer - this sushi roll was nothing short of a harmonious explosion of diverse flavors.
Don't miss their 'Lobster Roll' - a sensational medley of succulent lobster, creamy avocado, and crunchy vegetables, luxuriously topped with masago, and served with their house-special sauce. Each piece was an enticing interplay between the lobster's distinct sweetness and the rich, flavorful sauce.
With Tokyo Sushi Loha, your quest for sublime sushi and a slice of Tokyo's soul in San Diego ends convincingly. It's a gastronomic journey that charmed both my heart and belly.
16. Happy's Sushi: Happiness on a Platter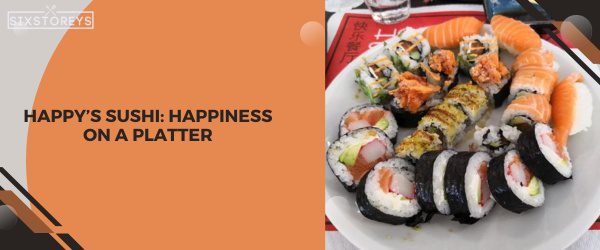 Happy's Sushi, with its joyful atmosphere and delightful sushi range, has a name that promotes the promise of culinary happiness - one that it delivers.
And deliver it did with the 'Happy's Special Roll'. The roll was a joy to behold, bursting with avocado, cucumber, and crabmeat, then topped with a generous layer of seaweed salad. The flavors were both robust and refreshing, dancing on my tongue and infusing an inherently joyful feeling with every bite.
Additionally, the 'Blazing California Roll' was my fiery ride to happiness. It was a spin on the classic California Roll, jazzed up with a topping of baked salmon and spicy mayo. It was a remarkable fusion of classic sushi and contemporary flavors that left my taste buds tingling.
From start to finish, my experience at Happy's Sushi was truly a happy one. Sushi lovers can look forward to an explosion of flavors and a dose of happiness on every platter, making Happy's Sushi a destination for sushi lovers seeking a flavorful, delightful, and indeed, happy sushi experience.
17. Onami: A Sea of Sushi Delights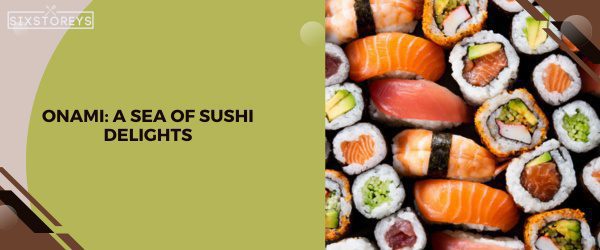 Upon arriving at Onami in the center of San Diego, I found myself taken aback by the calming atmosphere and the humongous variety of sushi. Onami offers a bountiful sea of sushi delights, boasting a variety of freshly prepared sushi and sashimi that beckons to be sampled.
The 'Golden Dragon Roll' captivated me with its vibrant colors and robust flavors. A combination of shrimp tempura, cucumber, and avocado, topped with a beautifully carved mild spicy tuna. Each piece was a textural wonder, leaving my taste buds singing in delight.
Just as I thought the sushi couldn't get any better, I was won over by the 'Mango Tango Roll'. The sweet mango, fresh crab, and succulent shrimp presented a delightful dance of fruity, sea-briny flavors. The refreshing sweetness of the mango perfectly meshed with the seafood taste, making every nibble an exotic culinary journey.
Immersing in Onami's sea of sushi delights feels much like a refreshing breeze sweeping across the ocean - a soothing, tasteful experience to savor. With its vast selection creates an ocean of choices that will thrill any sushi enthusiast.
18. Izumi Japanese Restaurant: Submerge in Tradition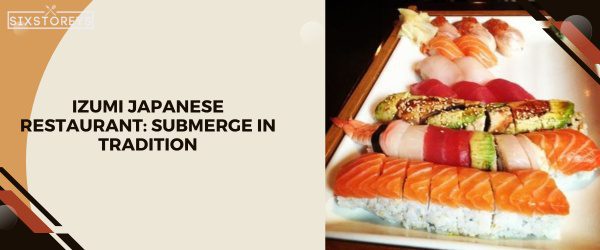 A trip to Izumi Japanese Restaurant is a serene plunge into the depth of traditional Japanese sushi delights. Nestled in San Diego's heart, Izumi champions the art of sushi with an array of meticulously crafted, deeply flavorful sushi rolls.
Their 'Scallop Dynamite Roll' was simply a revelation. The roll featured plump, buttery scallops paired with creamy avocado, cucumber, and a vibrant touch of masago (fish roe). Every bite was an invitation to delve deeper into the rich culinary traditions encapsulated in each sushi roll.
The 'Spider Roll', adorned with soft-shell crab, avocado, cucumber, and caviar, was a harmonious fusion of land and sea. The umami burst combined with a satisfying crunch-it was a gastronomic symphony in each mouthful.
I left Izumi Japanese Restaurant feeling profoundly appreciative of the time-honored sushi artistry, a delightful experience every sushi lover should have while in San Diego.
19. Seaside Buffet: The Breath of the Ocean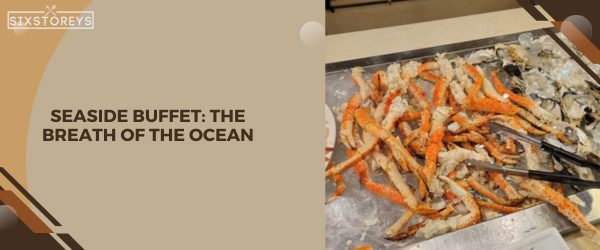 Entering Seaside Buffet, you immediately get engulfed in a whimsical beachy ambiance that hints at their spectacular seafood-inspired sushi spread. Located just south of Central Custer, Seaside Buffet offers sushi savants an expansive array of memorable seafood delights.
The 'Ocean Roll' epitomized the essence of seaside indulgence. The roll, stuffed with deep-fried shrimp and avocado, draped over by thin slices of eel, and beautifully spiked with tobiko (flying fish roe), was an all-encompassing bite of fresh ocean flavors.
Next, there was the 'Seaside Rainbow Roll', a treat for both eyes and taste buds. A colorful assortment of fish and crab meat lay atop a California Roll, every bite transporting me back to briny beachside memories.
Seaside Buffet masterfully marries its coastal ambiance with a comprehensive range of seafood-star sushi selections. It promises a breezy, refreshing experience that you'll yearn to relive repeatedly.
20. Natsumi Sushi & Seafood Buffet: Sail the Sushi Sea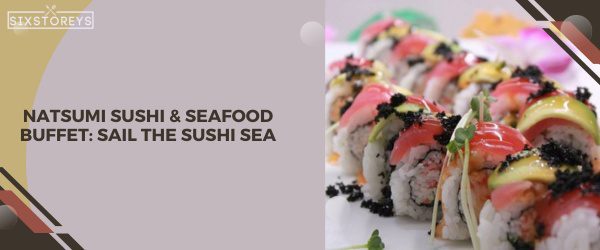 Natsumi Sushi & Seafood Buffet, nestled in the middle of San Diego's bustling cityscape, draws you into a world where sushi meets seafood to create a floating carnival of mouthwatering delicacies.
Their sushi rendition of the classic 'Hawaiian Poke Bowl' was an absolute standout. The dish comprised a hearty edible vessel made entirely of sushi rice, generously filled with fresh tuna, salmon, and octopus chunks, finished off with a drizzle of tangy ponzu sauce. The result was a burst of clean, lean flavors with each flavorful bite.
Another delight was the 'Seafood Dynamite Roll', stuffed with crunchy, golden tempura prawns and spicy scallops. Topped with a creamy seafood mix that is then lightly broiled to create a lustrous glaze, the roll offered a surprisingly intimate encounter with a robust medley of seafood notes.
Natsumi Sushi & Seafood Buffet takes you on an enticing sushi voyage across the gastronomic sea, where every roll is a new, exciting discovery. It fully embodies the culinary spirit of San Diego, bringing the bounties of the sea directly to your plate.
21. Ogawashi: Culinary Excellence in Sushi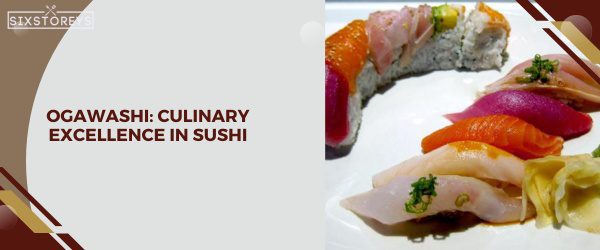 Located in the heart of San Diego, Ogawashi crafts sushi that titillates the senses with its skillful deployment of textures and flavors. The restaurant exudes a relaxed ambiance, making it the ideal spot to unwind over some superb sushi.
The 'Firecracker Roll' lived up to its name, delivering a substantial punch of flavor. This roll – laden with spicy tuna, jalapenos, and fiery sauce – was a fabulous showcase of the kitchen's skill in creating level-headed heat, which was stunningly tasty rather than overpoweringly hot.
Meanwhile, the 'Lobster Tempura Roll' was a delicately crisp delight accentuated by the perfectly cooked, tender lobster that lay within. Coupled with the accompanying rich and tangy sauce, it was a roller coaster of tastes that can easily become addictive.
Ogawashi, with its brilliant execution of sushi artistry, provides a dining experience that embraces the essence of what sushi should truly be: a stimulating union of culture, flavor, and art.
22. RB Sushi: The Final Boss in Sushi Showdown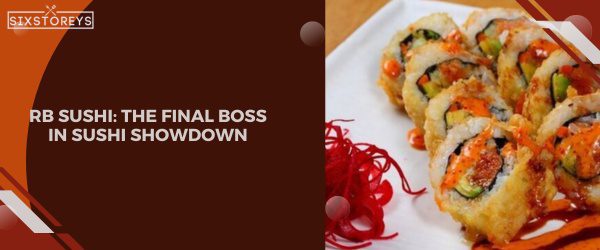 RB Sushi, located in the vibrant neighborhood of College Area, offers a sushi experience that leaves an indelible impression. With its energetic atmosphere, variety of sushi rolls, and remarkable service, RB Sushi gives you a perfect end to your sushi exploration in San Diego.
The 'Rainbow Roll' struck me with its stunning visual appeal and contrasting flavors. It's a visually delightful roll with a vibrant spectrum of fish draped over a classic California Roll. Each piece was an orchestrated symphony of buttery fish, crunchy vegetables, and creamy avocado.
Then came their 'Spicy Tuna Roll', a passionate dance of palate-tingling heat and refreshing coolness intertwined in each bite. Made with pickled radish, carrots, and cucumber, and generously draped with Extra Spicy Tuna, every piece was a flavorful journey to the fusion of traditional sushi and modern innovation.
RB Sushi delivers an inimitable conclusion to your sushi adventure in San Diego. With its fusion of traditional and contemporary sushi offerings, RB Sushi solidifies its reputation as a sushi powerhouse that sushi enthusiasts simply cannot ignore.
Also Read: Best Sushi Knives
How All You Can Eat Sushi is Changing the Dining Landscape in San Diego?
As someone who has spent ample time relishing the culinary wonders of this fantastic city, I've noticed a transformation taking place on the sushi scene. The concept of all-you-can-eat sushi is rapidly gaining traction and changing how San Diegans dine.
The all-you-can-eat sushi boom can be linked to a few factors. First, the restaurant owners have realized that sushi, often perceived as a high-price and exclusive kind of food, can be made more accessible to the public. San Diego's abundant seafood supplies make it possible to serve a wide variety of sushi without breaking the bank, hence all-you-can-eat sushi establishments are able to deliver diverse and exotic offerings at very reasonable prices.
Moreover, all-you-can-eat sushi caters to America's love for variety and abundance. Here, you're not confined to your usual sushi picks; you can sample a multitude of different types and find new favorites each time. As these restaurants continue to thrive and innovate, they're altering the dining expectations in San Diego, offering not just meals, but an entire sushi experience that's reshaping the city's food landscape.
Why All You Can Eat Sushi Worth Your Time And Money?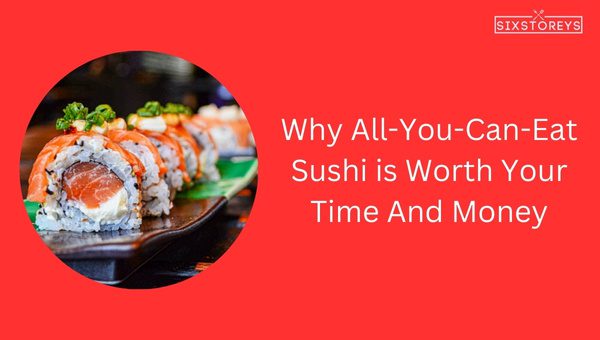 All-you-can-eat sushi is a culinary adventure that empowers the diner. Not only does it provide a platform for gastronomic exploration, but it also offers great value. But why exactly should you go all-in for all-you-can-eat sushi?
First, diversity is the spice of life, and all-you-can-eat sushi joints serve that spice in abundance. When dining at such a place, you have the liberty to explore as many sushi types, flavors and styles as your appetite allows. From the delicately spiced nigiri to the robustly flavored maki – all-you-can-eat sushi opens up a range of delicious possibilities.
In terms of cost-effectiveness, all-you-can-eat sushi offers staggering value. Sure, the upfront cost might seem more than what you would spend on a standard meal at a regular sushi bar. However, considering the sheer variety and quantity of sushi you can consume, you're definitely getting more bang for your buck. Especially in a city like San Diego, with its excellent quality seafood, all-you-can-eat sushi is absolutely worth your time and money.
How to Make the Most of Your All You Can Eat Sushi Experience?
Embarking on an all-you-can-eat sushi adventure can be both exciting and a little overwhelming, especially for someone new to the experience. But don't worry! After countless sushi outings, here are some tips I've put together to make sure your next sushi-devouring session is memorable and worthwhile.
Start with the Sushi Basics: As curious as you may be to try the exotic sushi rolls on the menu, it's wise to start with the traditional ones. The basic Nigiri and Maki sushi will more than satisfy your palate and leave enough room for you to try out other dishes.
Don't Overdo it on Rice-Heavy Sushi Rolls: As delightful as they are, the rice-filled rolls can fill you up quickly. Remember, the goal is to try as many different types of sushi as you can, so limit your intake of rice-heavy rolls.
Hydrate: Drinking fluids helps digestion and allows you to continue your sushi journey without feeling overly full. I suggest green tea, it's light, refreshing, and complements the sushi's flavor.
Take Your Time: Remember, this is a sushi expedition, not a race. The beauty of an all-you-can-eat experience is that you can set your own pace. Savor each type of sushi and enjoy the rich flavors.
How to Choose the Right Sushi for Your Palate?
With countless varieties of sushi available, choosing the right one that suits your palate might seem like a daunting task. However, it doesn't need to be. Here are a few steps you can take to select sushi you'll love.
Know Your Preference: If you're a fan of raw fish, Sashimi or Nigiri will be great choices, as they highlight the fresh taste of the fish. If you're not a fan of raw fish, do not worry, there are plenty of other options such as Tempura (fried) sushi or vegetable rolls.
Experiment with Different Flavors: Sushi provides a unique blend of flavors and textures. Don't be afraid to step out of your comfort zone and try something new; you might find a new favorite. Remember, the culinary journey is all about exploration!
Take Note of the Accompaniments: Sushi is often served with Wasabi, Pickled Ginger, and Soy Sauce. Each element adds a distinctive flavor to the sushi, enhancing its overall taste. If you're new to sushi, it's important to experiment with these sides to see which combinations best suit your palate.
Remember, your sushi experience is all about personal enjoyment. Don't be afraid to ask the server for recommendations or more information about sushi - they'll often be thrilled to help you on your journey through the mesmerizing world of sushi.
Why San Diego's Sushi Scene Should be on Your Food Bucket List?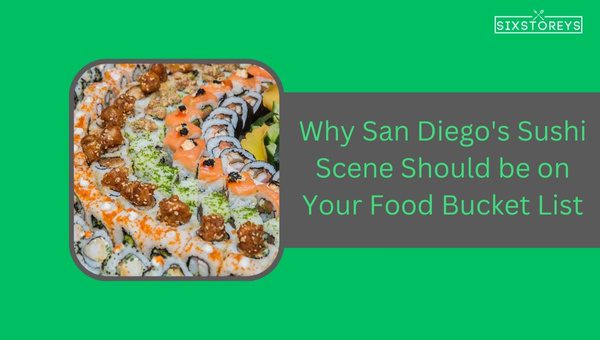 To say that San Diego is a culinary paradise would be an understatement. This food-haven city has a little something to offer every palate, and for seafood enthusiasts, the sushi landscape is particularly tempting. But what really stands out about the city's sushi scene? Why should it be on your food bucket list?
San Diego's access to the freshest ingredients from the Pacific Ocean, its burgeoning foodie culture, and an influx of world-class sushi chefs have contributed to creating a sushi scene that rivals global sushi capitals like Tokyo and Osaka. Not only does the city boast an impressive array of sushi restaurants catering to all preferences, but it also houses an equally impressive number of all-you-can-eat sushi venues.
Tastes range from traditional Nigiri, a simple combination of sushi rice and a single topping, to more adventurous fusion-style rolls that blend in elements of Mexican or Californian cuisines. From the dedicated sushi bars of Mikami or RK Sushi to the delicious diversity offered by Natsumi Sushi & Seafood Buffet, you're spoilt for choice. Even on a tight budget, spots like PB Sushi or 100's Seafood Grill Buffet offer a grand dining experience without breaking the bank.
I've personally been most taken aback by the chefs' willingness to push the envelope, creating spectacular sushi pieces that push the boundaries of tradition while respecting sushi's essence. It's this innovative spirit that should make San Diego's sushi scene a must on your food bucket list.
How to Enhance Your Sushi Experience with Perfect Pairings?
Part of the beauty of sushi lies in its simplicity. The combination of fresh fish, expertly seasoned rice, and a touch of wasabi creates a harmony of flavors. But there's always room to elevate your sushi experience and one of the best ways to do this is by choosing the perfect pairings.
Firstly, Drinks play a significant role when enjoying sushi. Japanese green tea or Genmaicha with sushi can cleanse your palate between bites and enhance the overall dining experience. For alcohol lovers, nothing complements sushi as perfectly as Sake. This traditional Japanese rice wine accentuates the umami flavor of sushi. Even beer, particularly light pilsners or lagers, can provide a refreshing contrast to sushi.
Beyond drinks, side dishes also dramatically impact your sushi experience. A simple side of Miso Soup helps cleanse the palate and balances out heavier sushi flavors. Edamame, salted green soybeans, provide a fresh and light contrast to the sushi. A Japanese staple, Gari (picked ginger), is served as a palate cleanser during meals. It's the perfect intermezzo to enjoy between different types of sushi.
Lastly, different sauces can lend a new depth to your sushi experience. Soy Sauce brings a salty, umami component that complements almost any sushi roll. For a spicy kick, nothing beats the heat of Wasabi. But remember, less is more with wasabi. Finally, if you like sweet with your savory, Eel Sauce or Unagi Sauce, a thick, sweet sauce, can completely transform your sushi bite.
You can tweak these pairings depending on your personal taste, but remember that sushi is delicately flavored, and heavy-handedness with pairings can overpower the sushi itself. The key here is balance, letting each pairing enhance rather than dominate the sushi flavors.
Why Freshness is Paramount in Sushi: The Importance of Quality Ingredients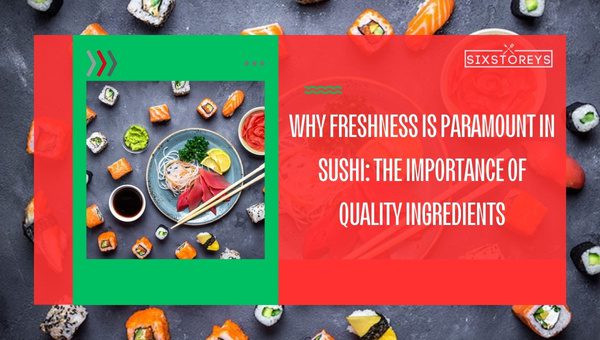 When talking about sushi, the conversation invariably revolves around the freshness of the ingredients. Sushi restaurants worldwide pride themselves on the freshness of their produce, especially in regard to the seafood they serve. Nowhere is this more critical than in an all-you-can-eat sushi restaurant. Here's an in-depth look into why freshness is paramount in sushi.
The Role of Fresh Ingredients in Sushi
Sushi, at its essence, is an artful combination of rice and other ingredients, predominantly seafood. The flavors of these simple ingredients need to shine through, unmasked by heavy sauces or spices. This makes the quality and freshness of these ingredients an utmost priority. Freshness ensures the sushi is safe to eat, tastes delicious, and holds true to the Japanese culinary philosophy which respects the integrity of the ingredients used.
The Connection Between Freshness and Taste
Seafood, when fresh, brings a taste of the ocean into the sushi. Artists of sushi, or itamae as they are traditionally known, seek to capture this freshness in their sushi. They seek out the highest quality, sashimi-grade seafood to ensure maximum freshness and consequently, optimal taste. Fresh seafood, combined with perfectly seasoned sushi rice, gives sushi its mouthwatering appeal.
Sourcing of Ingredients
The best sushi spots in San Diego go to great lengths to source their ingredients. They establish relationships with reputable seafood suppliers and fishermen to ensure they get the freshest, highest-quality catches. Sushi restaurants also tend to use seasonal ingredients as the flavors are generally at their peak during these times.
Freshness is indeed paramount in sushi. It's the cornerstone of a great sushi eating experience, influencing everything from taste to safety. So when you visit an all-you-can-eat sushi restaurant, pay attention to the freshness of its ingredients. It's the best marker of a sushi spot that takes the art of sushi making seriously.
Stay tuned for my next culinary adventure as I continue to discover and explore the Best All You Can Eat Sushi in San Diego. My journey is far from over, and there's a sushi roll out there with my name on it.
Also Read: Best Wines With Sushi
Frequently Asked Questions
Where can I find the best All You Can Eat sushi in San Diego?
In my personal experience, every sushi restaurant I mentioned in the article offers a unique and quality experience. However, if I were to pick a few out, I would list Sushi Ota, Little Sakana Japanese Sushi Bar & Grill, and Mikami Bar And Revolving Sushi. But, the final verdict always depends on an individual's taste and preference.
What are the price ranges for All You Can Eat sushi in San Diego?
The price can greatly vary depending on the restaurant and the time of day (lunch vs dinner). Generally, in San Diego, the All You Can Eat sushi experiences can range from around $20 to $40 during lunch hours, and around $25 to $50 for dinner. Please check with each restaurant for the most accurate and current prices.
How can I make the most out of my All You Can Eat sushi experience?
Firstly, go hungry! But don't starve yourself before going. Secondly, pace yourself, don't rush to try everything at once. Start off with light options, then progress to heavier rolls. Lastly, try the unique or specialty items, and step out of your comfort zone. Remember, don't waste food, most places will charge for excessive leftovers.
What types of sushi are usually included in the All You Can Eat menus?
There's a wide variety of sushi served at All You Can Eat sushi restaurants in San Diego. You can find everything from traditional sushi such as nigiri, sashimi, and maki to special rolls and even some hot dishes and desserts.
Are vegetarian or vegan options available in these All You Can Eat sushi places?
Yes, many sushi places accommodate vegetarians and vegans. Common items include avocado rolls, cucumber rolls, vegetable tempura, tofu dishes, and more. However, it's always best to check with the specific restaurant to ensure they meet dietary restrictions.
What are the operating hours of these sushi places?
Operating hours differ between establishments. It's generally recommended to check their official websites or contact the restaurants directly for the most accurate information.
What is the dining atmosphere like in these restaurants?
The restaurants listed in this article provide a range of atmospheres, from the laid-back beach vibes at PB Sushi to the elegant settings of Sushi Ota. No matter the style, every restaurant focuses on providing an enjoyable dining experience.
Are there gluten-free options available?
Yes, many sushi restaurants in San Diego offer gluten-free options. Soy sauce is often the main source of gluten in sushi meals, but many places now offer gluten-free soy sauce. However, always ensure to notify your server of any dietary requirements or allergies.
Can I do takeaway from All You Can Eat sushi restaurants?
Typically All You Can Eat sushi deals are meant for dine-in only due to the nature of the service. However, due to recent circumstances, several restaurants have adapted and could offer such deals for take-away. It's best to contact the restaurant directly to learn about their current policy.
Is it necessary to make reservations before visiting these All You Can Eat sushi restaurants?
While reservations aren't mandatory at most places, it's recommended, especially during peak dining times or if you are visiting in a large group. Reservations help ensure a more seamless dining experience.
Conclusion
From strolling the tranquil space of Sushi Ota to indulging in the joyous atmosphere of Happy's, each of these all-you-can-eat sushi spots in San Diego has left an indelible mark on my food journey. Indeed, every restaurant offered a unique and gastronomically delightful opportunity to indulge in the art of sushi. If you're like me, passionate about experiencing diverse food cultures, or simply a sushi lover looking to explore new venues, look no further than these exceptional establishments.
Through the city's bountiful sushi scene, San Diego is not just nourishing appetites, but also nurturing a community of sushi enthusiasts, something I am incredibly proud to be a part of. My adventure navigating the best all-you-can-eat sushi venues in San Diego reaffirms my belief that food is more than a necessity—it's an experience, a pleasure, and, in many ways, an exploration of cultures. So, let the spirit of exploration guide you as you embark on your own sushi journey in San Diego. Adventure awaits on every plate!
Food Lover and Storyteller 🍽️✨ With a fork in one hand and a pen in the other, Shivani brings her culinary adventures to life through evocative words and tantalizing tastes. Her love for food knows no bounds, and she's on a mission to share the magic of flavors with fellow enthusiasts.