27 Best Red Wines For Casual Drinking in 2023 [Flavor Bombs]
Updated On: September 5, 2023
Embarking on a journey to explore the world of wine can be both exciting and daunting, especially when it comes to choosing the best red wines for casual drinking. Whether you're a seasoned oenophile or someone who enjoys the occasional glass of vino, having a few delightful red wines on hand that are perfect for laid-back gatherings or quiet nights in is essential.
In my quest to discover these versatile reds, I've sampled and savored countless bottles from renowned vineyards and burgeoning wineries alike, refining my taste buds and expanding my knowledge along the way. It's time to uncork and unwind as we delve into some of the best red wines that complement any casual occasion, adding a touch of warmth, depth, and sophistication to your wine-drinking experience.
Also Read: Best Red Wines For Diabetics
27 Best Red Wines For Casual Drinking in 2023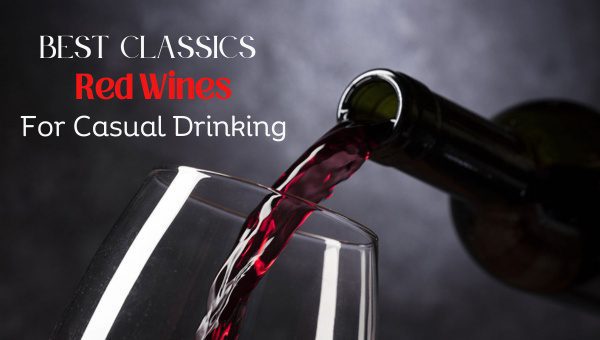 When it comes to red wines, there are some timeless classics that never fail to please even the most discerning palate. The following selections represent a diverse range of flavors, textures, and origins. Let's dive in and explore these exquisite red gems:
1. Louis Latour Château Corton Grancey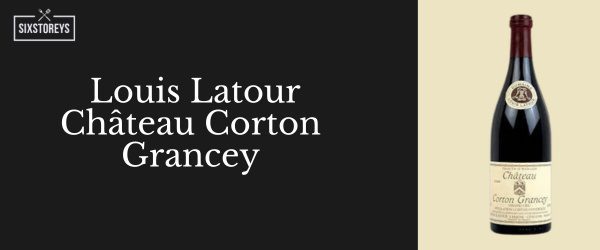 Louis Latour Château Corton Grancey is a fine example of Burgundy's world-class offerings with its tantalizing aromas, seductive flavors, and delicate structure. The aromas of ripe red fruits, velvety texture, and a long finish make this wine an absolute delight to drink. Grace and elegance define its character. As you leisurely sip this intoxicating elixir, you'll find yourself transported to the picturesque French countryside, where tradition and innovation coexist in perfect harmony.
2. Felton Road "Cornish Point" Pinot Noir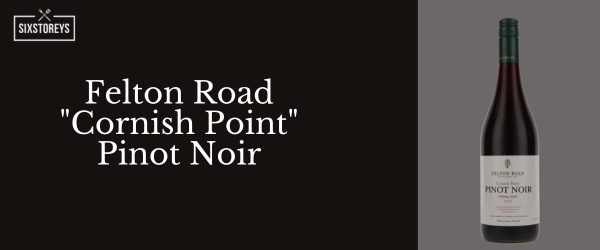 Hailing from New Zealand's celebrated Central Otago region, Felton Road "Cornish Point" Pinot Noir has earned its place among the best red wines for casual drinking. Its enchanting bouquet of red berry fruits, earthy notes, and a hint of spice is utterly captivating, while the balanced acidity and silky tannins create a memorable mouthfeel. The wine's flavors evolve and develop with each sip, leaving you craving more. Drinking this Pinot Noir is not just a treat for your taste buds; it's an unforgettable sensory experience.
3. Tyler Winery Sanford & Benedict Pinot Noir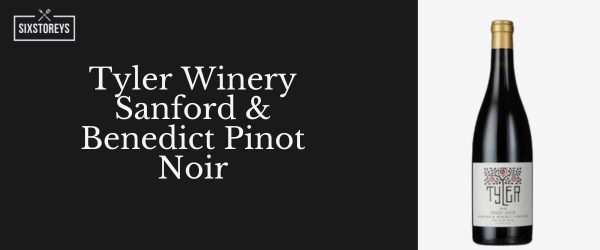 When you want a taste of classic California Pinot Noir, look no further than Tyler Winery Sanford & Benedict Pinot Noir. With its dark cherry, earth, and light spice aromas, this lush and supple wine embodies the essence of New World charm. Bursting with intense fruit flavors, well-integrated tannins, and a subtle hint of oak, this medium-bodied gem is an instant crowd-pleaser and one of the best red wines for casual drinking. Best of all, it only gets better with time, so don't be afraid to age a few bottles in your wine collection.
4. Woodward Canyon Artist Series Cabernet Sauvignon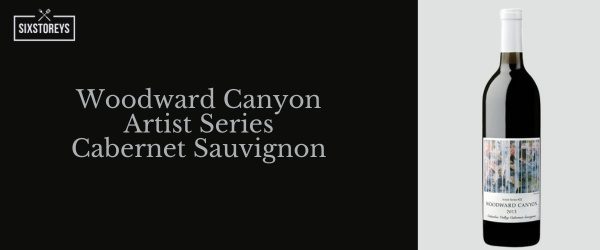 Woodward Canyon Artist Series Cabernet Sauvignon combines the rich, bold taste of Washington State wines with the creative spirit of the region's inspiring artists. Every year, a talented artist is commissioned to create an original artwork for the label, making each vintage a collector's item.
Beyond its visually stunning appearance, this Cabernet Sauvignon delivers a symphony of flavors, from black cherry and cassis to savory herbs and velvety tannins. This full-bodied delight is not just a wine – it's a celebration of the artistry and passion that goes into every glass.
5. J. Bouchon País Salvaje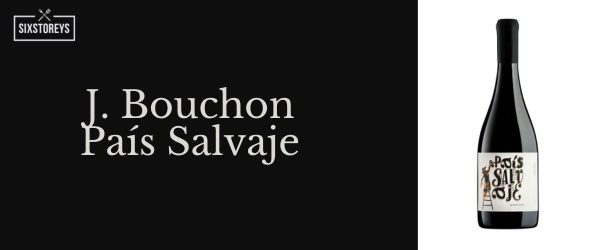 Hailing from Chile, the J. Bouchon País Salvaje is a product of the country's rich winemaking history and innovative spirit. Made with the indigenous País grape variety, this wine is wild and wonderful, just as its name suggests. On the nose, it boasts an alluring combination of red fruits, florals, and earthy undertones. On the palate, notes of fresh, bright fruit are balanced by smooth tannins and vibrant acidity. Ideal for sharing and pairing with a variety of dishes, the J. Bouchon País Salvaje is an invigorating journey into the heart of Chilean winemaking.
6. Charles Krug Cabernet Sauvignon: A Cab with Character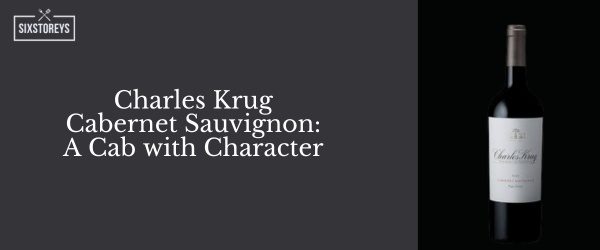 As the oldest winery in Napa Valley, Charles Krug has long been known for producing expertly crafted, high-quality wines. Their Cabernet Sauvignon stands out as a rich, bold, and beautiful showcase of what this grape can do. Its deep ruby color and aroma of black cherry, currant, and cedar notes tantalize the senses.
On the palate, you'll find a delightful combination of blackberry, plum, and vanilla flavors that meld together seamlessly. The finish is long, with velvety tannins that leave you wanting another sip. This impressive wine pairs well with a variety of foods, from hearty stews to dishes featuring rich, red meats.
7. Achaval - Ferrer Quimera: A Taste of Argentina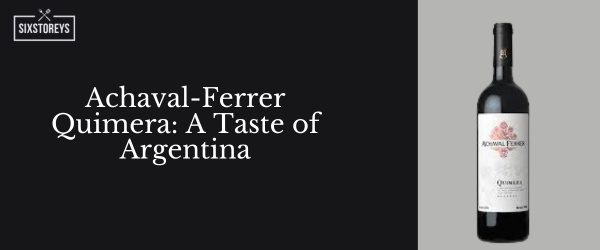 Hailing from the Mendoza region of Argentina, Achaval-Ferrer Quimera is a stunning blend of Cabernet Sauvignon, Merlot, and Malbec grapes. This complex and intense wine showcases the hallmark qualities of each grape variety while managing to create a harmonious and well-balanced end result.
The wine itself is a deep garnet color, with enticing aromas of black fruit, mocha, and a subtle earthiness. In the glass, the flavors of cassis, black cherry, and chocolate come alive. The lengthy finish is characterized by bold tannins that provide structure and sophistication. This is an excellent wine to enjoy on its own or with a delicious steak or roasted lamb.
8. Larkmead Napa Valley Cabernet Sauvignon: California Dreaming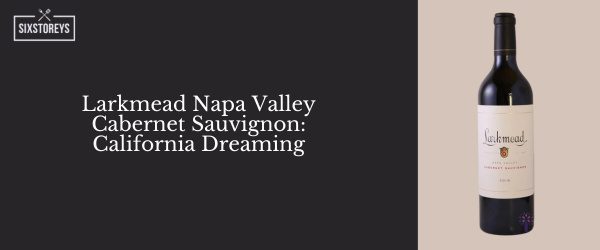 Larkmead is a classic Napa Valley winery with a storied history and a reputation for crafting exceptional wines. Their Napa Valley Cabernet Sauvignon exemplifies the rich, powerful characteristics that have made this region famous among wine enthusiasts. The beautiful deep purple hue is the perfect visual representation of the bold flavors that await within.
Aromas of blackberry, cassis, and violet waft from the glass, while flavors of black fruit, cocoa, and spice burst onto the palate. Boasting a velvety texture and refined tannins, this wine has an elegant finish that lingers, allowing you to fully appreciate its complexity. Pairing well with flavorful and robust dishes like grilled ribeye or braised short ribs, this Cabernet Sauvignon is a wonderful addition to your wine collection.
9. Cabernet Sauvignon Robert Mondavi Private Selection: Affordable Luxury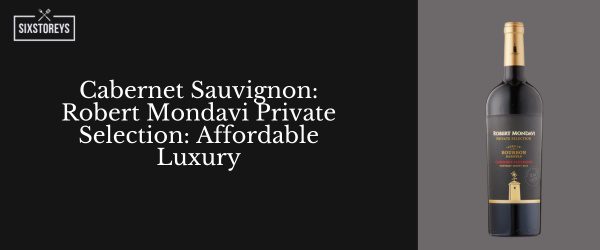 Robert Mondavi Private Selection Cabernet Sauvignon brilliantly showcases the potential for high-quality wine at an affordable price point. Produced in California's Central Coast region, this wine is a testament to the fertile soils from which the grapes are harvested. As you pour the wine, you'll notice its appealing deep garnet color and inviting black cherry and cassis aroma.
On the palate, you'll be treated to robust flavors of ripe plum, blackberry, and a touch of oak that seamlessly lead to a smooth, lingering finish. This well-rounded, smooth, and approachable Cabernet Sauvignon is perfect for casual gatherings or as an everyday indulgence. Try pairing it with a juicy burger or hearty pasta dish to further elevate your experience.
10. Silver Oak Alexander Valley: A Classic Cabernet Sauvignon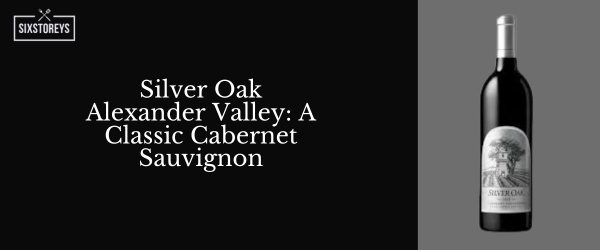 Silver Oak's Alexander Valley Cabernet Sauvignon is a perennial favorite among wine aficionados, revered for its full-bodied flavors and impeccable balance. The captivating ruby hue embodies the wine's opulent characteristics. Engulfing your senses with notes of blackberry, cassis, and cedar, this Cabernet Sauvignon boasts unrivaled complexity.
Each sip reveals flavors of black cherry, ripe plum, and an undercurrent of sweet oak and supple tannins that contribute to the wine's memorable finish. Although this wine can easily be relished on its own, it pairs especially well with rich meats and savory dishes. Take your taste buds on a journey to the pinnacle of elegance with Silver Oak's Alexander Valley Cabernet Sauvignon.
11. Merlot Dark Horse: A Dark, Rich Delight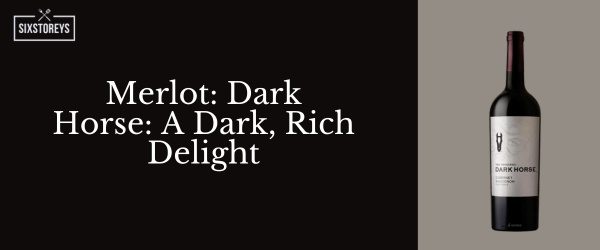 The Dark Horse Merlot is an exceptional example of the luscious, velvety nature of this grape variety. With its deep, rich color and captivating aromas of black cherry, vanilla, and raspberry, this wine enthralls the senses from the very first encounter. Experience a wave of bold flavors on the palate, such as dark fruit, chocolate, and toasty oak, skillfully melding together in a harmonious marriage of taste and texture.
Boasting smooth tannins and a full-bodied mouthfeel, this Merlot culminates in a satisfyingly long finish that's sure to captivate even the most discerning wine connoisseurs. Dark Horse Merlot is a versatile wine that pairs well with an array of dishes, from grilled vegetables and pizza to decadent chocolate desserts, making it an obvious choice for your collection of casual-drinking reds.
12. Prats & Symington Prazo de Roriz: A Classic Portuguese Blend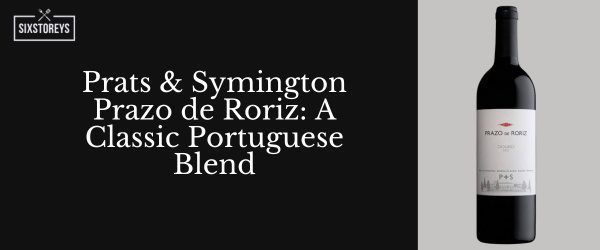 Prats & Symington Prazo de Roriz is a harmonious blend of Portuguese varietals Touriga Franca, Tinta Roriz, and Touriga Nacional. This rich and full-bodied wine showcases a deep ruby color and an enticing perfume of black fruits, toasty oak, and earthy nuances. On the palate, it boasts firm tannins and bold flavors of ripe red berries, cassis, and a hint of spice that all intertwine beautifully with a long, elegant finish. This classic Portuguese blend makes a delightful accompaniment to hearty dishes such as beef and lamb, indulgent cheese plates, or traditional Portuguese fare.
Also Read: Best Wine Cooler Drinks
13. Emidio Pepe Montepulciano d'Abruzzo: Italian Excellence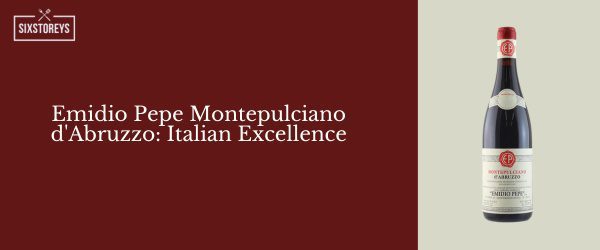 Emidio Pepe Montepulciano d'Abruzzo is a luxurious Italian red that celebrates the authentic essence of the Montepulciano grape. This opulent wine presents a deep garnet hue and seductive aromas of dark cherries, dried herbs, and licorice. When sipped, the palate is indulged with flavors of ripe blackberries, earthy undertones, and a complex minerality that pays homage to its origins. With soft, integrated tannins and a persistent finish, this exquisite Italian gem pairs wonderfully with Mediterranean-inspired dishes, wild game, and savory cheeses.
14. Barons De Rothschild Legende Bordeaux Rouge: A Timeless Classic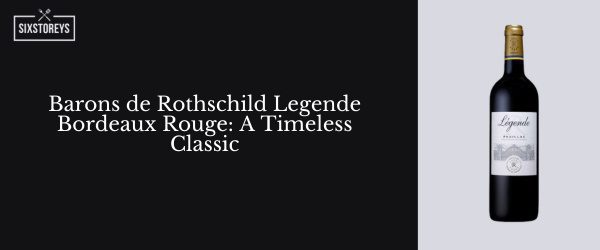 The Barons de Rothschild Legende Bordeaux Rouge is a superb testament to the enduring appeal of Bordeaux wines. Made predominantly from Cabernet Sauvignon and Merlot, this enchanting red wine offers a deep ruby color and a complex bouquet of black currants, tobacco, and cedarwood.
On the palate, expect a velvety-smooth mouthfeel, accompanied by an engaging medley of blackberry fruit, cloves, and toasted oak, supported by well-structured tannins. This timeless classic is an exceptional choice for any casual occasion, be it alongside hearty dishes, artisanal bread, or a selection of fine cheeses.
15. Barbaresco: Italian Elegance and Depth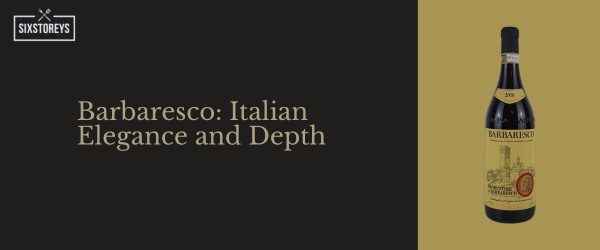 As one of Italy's most revered wines, Barbaresco is a stunning demonstration of the Nebbiolo grape's potential, offering an expression that is both captivating and sophisticated. Hailing from the Piedmont region, this elegant red boasts a garnet hue and a complex bouquet of red cherries, truffles, and floral notes.
On the palate, the wine reveals a delicate balance between ripe red fruit, earthy undertones, and well-integrated tannins that provide a lengthy and captivating finish. A perfect companion to rich meat dishes, aged cheeses, or simply a cozy fireside conversation, Barbaresco's timeless appeal is truly captivating.
16. Beaujolais Nouveau Georges Duboeuf: Celebrating The Harvest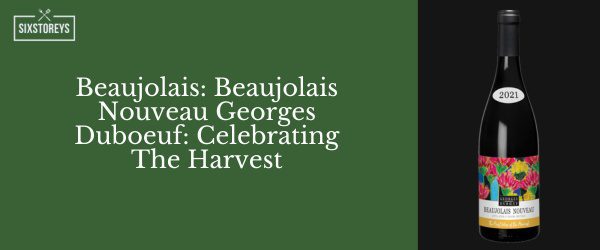 Synonymous with celebration, Beaujolais Nouveau Georges Duboeuf is a vibrant red wine that livens up any gathering. Made from Gamay grapes, the release of this spirited wine is eagerly anticipated each year on the third Thursday of November. A lively ruby color greets the eye, followed by a bouquet of fresh red fruit, violets, and a hint of banana. The palate is treated to a fruity, light-bodied profile, with a distinctive burst of juicy strawberries and cherries, culminating in a delightful finish. Whether you're commemorating the harvest season or raising a toast at a casual soirée, this cheerful wine is a perfect companion.
17. Cooper Mountain Pinot Noir: Oregon's Best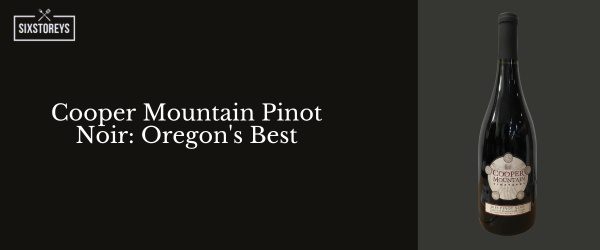 Oregon has emerged as a premier winemaking region, and the Cooper Mountain Pinot Noir is an excellent example of its prowess. Grown in the renowned Willamette Valley, this luscious wine offers a delightful bouquet of berries, cherries, and spice on the palate. It's bright acidity and mild tannins make it delightfully easy to drink, especially when paired with roasted or grilled vegetables, pork, and mild cheeses. Whether enjoying a summer barbecue or simply sipping it on a quiet evening, this wine promises a truly captivating experience.
18. Pinot Noir - Gary Farrell Hallberg Vineyard: Californian Sensation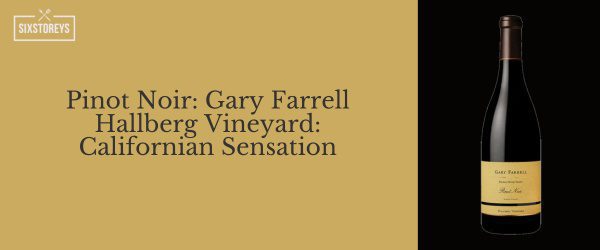 Hailing from the esteemed Russian River Valley in California, the Gary Farrell Hallberg Vineyard Pinot Noir expertly showcases the bountiful flavors this region can produce. With its vibrant fruit-forward profile, this opulent wine boasts delectable notes of red berries, plum, and hints of vanilla and oak. Harmonious tannins and lively acidity make it an ideal companion for charcuterie, grilled salmon, or your favorite pasta dish. Relish in its beautifully-balanced elegance for a truly enchanting wine-drinking occasion.
19. Pinot Noir - The Pinot Project Pinot Noir 2020: A Crowd-Pleaser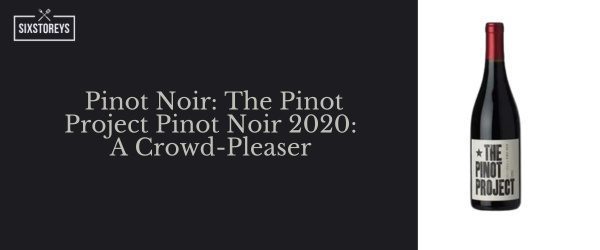 The Pinot Project Pinot Noir 2020 is an approachable and well-rounded wine that offers a tantalizing mixture of fruit and earthiness. Sourced from various vineyard sites across California, this superb blend masterfully balances fruity aromas with savory undertones for a versatile, crowd-pleasing experience. Pairing flawlessly with roasted chicken, pork, or even pizza, this delightful Pinot Noir is the perfect choice for casual dinners or cozy gatherings among friends and family.
20. Pinot Noir Ritual Casablanca Valley: A Chilean Adventure
Embark on a Chilean adventure with the Ritual Casablanca Valley Pinot Noir. Grown in the cool climate and fertile soils of Chile's Casablanca Valley, this exquisite wine exudes all the enticing qualities you'd expect from a top-tier Pinot Noir.
Aromas of cherry, raspberry, and subtle earthy undertones enchant the senses, while the taste offers generous fruitiness balanced by refined acidity. Complemented by hints of minerality, this captivating wine can be enjoyed alongside grilled meats, mushroom dishes, and even spicy cuisine.
21. Syrah Chateau Ste. Michelle Columbia Valley: Washington State Syrah Unleashed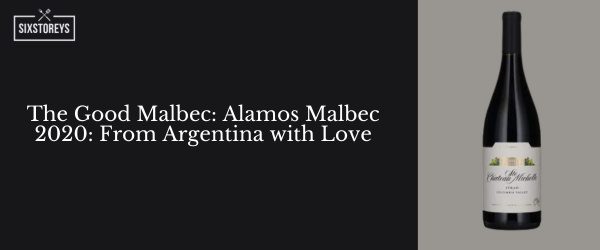 The Chateau Ste. Michelle Columbia Valley Syrah perfectly embodies the immense potential of Washington State's wine industry. With its savory character, plush tannins, and layered complexity, this wine offers an alluring tapestry of dark fruit and smoky flavors. Notes of blackberry, plum, and a hint of black pepper linger on the palate, providing an enriched sensory experience. Pair with hearty meals like grilled lamb braised short ribs, or a sumptuous cheese platter for a truly delightful gastronomic adventure.
22. Malbec - Alamos Malbec 2020: From Argentina with Love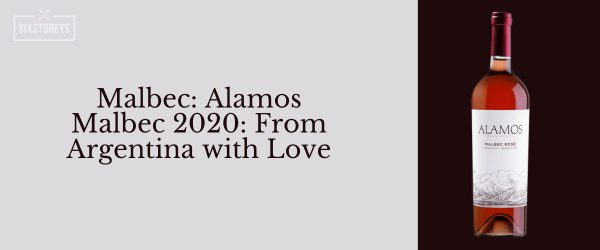 Discover the passion of Argentine wine with the Alamos Malbec 2020. This lush and velvety Malbec showcases intense flavors of dark fruit, plum, and blackberry with hints of chocolate and spice. Its silky tannins and bright acidity make it an inviting and versatile choice for casual sipping or pairing with an array of cuisines. Steak, spicy dishes, and blue cheese all make excellent companions to this robust yet approachable wine, inviting you to indulge in the bold flavors of Argentina.
23. Malbec - Altos Las Hormigas Malbec Reserve: Exquisite Argentine Red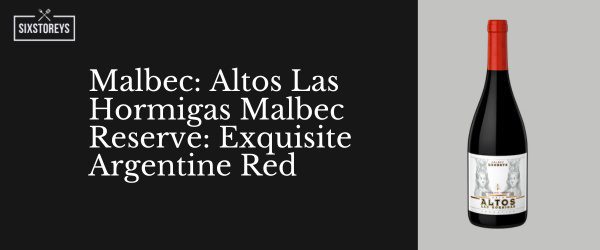 Delight in the opulence of the Altos Las Hormigas Malbec Reserve, an outstanding example of Argentine winemaking at its finest. Sourced from select vineyards in the esteemed Mendoza region, this sumptuous wine displays rich, ripe red fruit flavors underscored by enticing hints of spice and tobacco. The velvety texture and elegant tannins make it an irresistible accompaniment to red meat, pork, and grilled vegetables, offering a taste of luxury that's perfect for elevating even the most casual of occasions.
24. Malbec - Catena Zapata Malbec Argentino: The King of Malbecs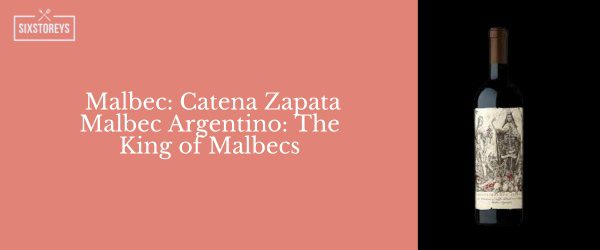 For a truly majestic wine experience, look no further than the Catena Zapata Malbec Argentino. Known as the "King of Malbecs," this wine is the epitome of Argentinean excellence, crafted from carefully-selected grapes harvested from the Andean foothills in Mendoza. On the palate, indulge in a symphony of ripe black fruit, violet, and a touch of minerality, accompanied by a long and luscious finish. This regal wine pairs beautifully with rich, bold dishes like steak, game meats, and decadent desserts, promising to make any casual drinking occasion a memorable affair.
25. Vega Sicilia Único 2009: A Legendary Spanish Wine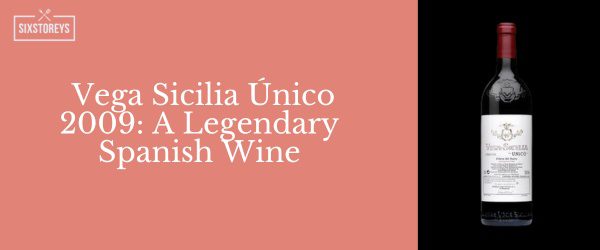 Originating from one of Spain's most iconic wineries, the Vega Sicilia Único 2009 has firmly established itself as a wine that turns any occasion into a celebration. This superbly crafted Tempranillo blend exemplifies the rich history and exceptional terroir of the Ribera del Duero region.
With over a decade of maturation in the bottle, the Único 2009 flaunts a deep ruby color and an aromatic complexity that is absolutely mesmerizing. Notes of black cherry, tobacco, cedar, and licorice intermingle on the nose – creating an olfactory experience that is both sophisticated and enrapturing. On the palate, the wine is full-bodied and generously textured, with well-integrated tannins and a nuanced oak influence that allows the fruit flavors to shine through. The remarkable finish is long and satisfying, making every sip a true pleasure.
As a wine that transcends time and trends, Vega Sicilia Único 2009 is an exquisite choice for celebrating life's special moments or elevating a simple gathering into an unforgettable event.
26. Penfolds Bin 389 South Australia Cabernet/Shiraz: Down Under Delight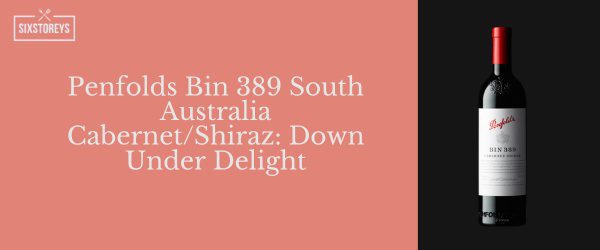 Hailing from Australia's renowned Penfolds winery, the Bin 389 Cabernet/Shiraz represents a delightful marriage of two noble grape varieties: Cabernet Sauvignon and Shiraz. Often referred to as "Baby Grange," in homage to Penfolds' legendary Grange bottling, this red blend exudes charm and richness that are universally enjoyable.
The Bin 389 greets you with an alluring nose packed with aromas of blackberries, cassis, and a hint of eucalyptus. As you take a sip, you'll be greeted by an assortment of dark fruit flavors, punctuated by notes of chocolate and a touch of spice. The wine's generous mouthfeel and velvety tannins create an inviting canvas for the vibrant flavors to unfold, culminating in a lengthy, satisfying finish.
With its versatility and approachable style, Penfolds Bin 389 is an excellent choice when you want to share a memorable and engaging red wine with friends and loved ones.
27. Molo 8 Lambrusco Mantovano: Bubbly Italian Charm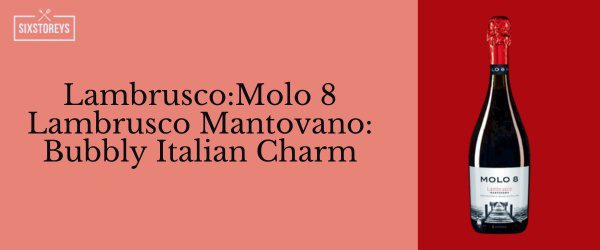 Few things can brighten a casual gathering as effectively as a chilled, soothing glass of sparkling red wine. Hailing from Italy's Emilia-Romagna region, Molo 8 Lambrusco Mantovano is a wine that effortlessly embodies the spirit of conviviality and refreshment.
One of the many unique aspects of Molo 8 Lambrusco is its enticing ruby-red hue and vivacious effervescence. The aromas of fresh red berries, florals, and a subtle earthiness entice the senses, while the palate offers a harmony of crisp acidity, delicate sweetness, and lively bubbles. These elements coalesce to create a truly refreshing and satisfying drinking experience.
Whether it's a rooftop party or a cozy picnic, Molo 8 Lambrusco adds a touch of Italian flair, making it the perfect companion for creating unforgettable memories.
Also Read: Best Creme De Menthe Cocktails
Why Choose These Red Wines for Casual Drinking?
As we delve into the world of casual wine consumption, it's essential to understand why these carefully selected red wines make the cut. The best red wines for casual drinking offer a balance of these crucial factors:
Affordability without sacrificing quality
While some red wines may carry a hefty price tag, it's possible to find affordable options that still deliver on quality. The wines featured here provide exceptional value, offering a delicious and satisfying taste without burning a hole in your wallet.
Versatility: Paring with various cuisines
A top-quality red wine should enhance a meal, regardless of the cuisine. The best casual red wines exhibit versatility, making them suitable for a range of dishes, from hearty meat dishes to lighter vegetarian fare.
Approachable taste profiles for wine enthusiasts at any level
Beginners and experienced wine drinkers alike will appreciate how these red wines are chosen for their approachable and well-rounded taste profiles. Exploring these selections is an excellent way for anyone to expand their wine knowledge and develop a discerning palate.
Creating the Perfect Wine-Tasting Experience at Home?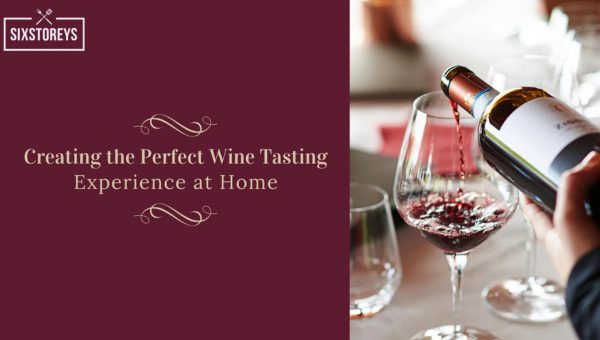 To truly savor the complexity and nuances of a great red wine, it's crucial to create an enjoyable ambiance for your casual wine tasting experience at home.
How to set the ambiance for casual wine tasting and enjoyment?
Choose a comfortable and inviting space with ample seating and a suitable surface area for your wine glasses and accessories.
Opt for soft lighting, such as dimmed lamps or candles, to create a cozy atmosphere.
Curate a relaxing playlist to accompany your wine tasting experience. Opt for instrumental music or soft jazz for a sophisticated touch.
Enhancing your wine experience with the right glassware
Invest in quality, stemmed wine glasses specifically designed for red wines, as their shape can affect both the aroma and taste.
Ensure each of your selection's wine glasses is sparkling clean and odor-free before pouring.
Hosting a DIY casual wine-tasting event for friends and family
Invite a small group of friends or family members to join you for a fun and laid-back wine tasting experience.
Provide each guest with a tasting sheet to take notes on the aroma, flavor, and overall impression of each wine.
Encourage conversation and sharing of opinions on the wines, discussing tasting notes, and comparing thoughts on each selection.
Ready to dive into these exceptional red wines? From hosting a delightful wine tasting experience to understanding their unique characteristics, these best red wines for casual drinking promise to exceed your expectations and elevate your wine appreciation experiences.
How to Store and Serve Red Wines for Optimal Taste?
Getting the most out of your favorite red wines involves more than just picking the right bottle; it's also important to store and serve these wines correctly. Here are some key guidelines to help you enjoy your preferred reds to the fullest.
Proper storage conditions: Temperature and humidity
The ideal temperature for storing red wines is between 50°F and 60°F. Keeping wines, especially the best red wines for casual drinking, in a constant, cool environment prevents premature aging and helps them retain their flavors. A wine fridge or a basement cellar are excellent storage locations. Maintaining a humidity level of 60-70% is also essential to prevent corks from drying out and exposing the wine to oxidization.
Decanting: When and why it matters
Certain red wines benefit from decanting, which allows them to "breathe" and improve their flavor profile. Young red wines with aggressive tannins and those with sediments are ideal candidates for decanting. To decant your red wine, simply pour the wine into a decanter and let it stand for at least 30 minutes before serving.
Serving temperature guidelines for different red wine varieties
Red wines often taste better when served at the proper temperature. Here's a general overview of recommended serving temperatures for various types of red wines:
Light-bodied reds (e.g., Pinot Noir): 55°F to 60°F
Medium-bodied reds (e.g., Merlot, Chianti): 60°F to 65°F
Full-bodied reds (e.g., Cabernet Sauvignon, Syrah): 60°F to below 70°F
Fine-tuning the temperature as per your personal preferences can further enhance the taste of the best red wines.
The Health Benefits of Red Wine: Why Casual Drinking Can Be Good for You?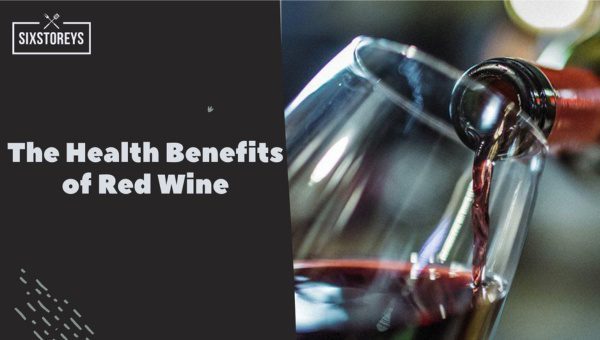 When consumed in moderation, red wine can offer various health benefits, making it a guilt-free pleasure.
The role of antioxidants in promoting overall health
Red wine is rich in antioxidants, such as resveratrol, which is primarily found in grape skins. Resveratrol is known to protect the heart, lower "bad" cholesterol levels, and prevent blood clots. Furthermore, it may have anti-inflammatory and anti-cancer properties.
Moderation: Enjoying wine responsibly for optimum benefits
It's crucial to enjoy red wines in moderation to experience their health benefits. For women, one 5-ounce glass per day is considered moderate, while for men, two 5-ounce glasses per day is acceptable. Excessive alcohol consumption can cause various health problems, undermining the benefits of red wine.
How red wine can complement a healthy lifestyle?
Incorporating red wine into a balanced diet and healthy lifestyle can be beneficial, especially as part of a Mediterranean-style eating plan, which emphasizes fruits, vegetables, whole grains, and healthy fats. By adopting a balanced approach to wine consumption and maintaining an active lifestyle, it's possible to enjoy red wine's potential health benefits without overindulgence.
Also Read: Best Rums For Mojitos
Frequently Asked Questions
What factors should I consider when choosing a red wine for casual drinking?
Look for an affordable, versatile red wine with an approachable taste profile. You may also want to explore different varieties, regions, and styles to find a wine that suits your personal preferences.
Does the price of a red wine always determine its quality?
No, the price of a red wine does not always determine its quality. While price can be an indicator of quality, there are many affordable wines that offer an excellent taste experience for casual drinking.
Is it necessary to decant red wine before serving it to guests?
Decanting can improve the taste of some red wines by allowing them to breathe, which can enhance the flavors and aromas. However, not all red wines require decanting. Deciding whether or not to decant a particular wine depends on its age, tannins, and individual characteristics.
Can I enjoy red wine with any type of cuisine?
Yes, red wine is versatile and can pair well with various types of cuisine. Though certain red wines will complement specific dishes better than others, feel free to experiment with different combinations to discover your personal preferences.
What is the recommended serving temperature for red wines?
The ideal serving temperature for red wines can vary depending on the specific variety. As a general rule, light-bodied red wines should be served slightly chilled, at around 55°F (13°C), while medium and full-bodied red wines are best served at a slightly warmer temperature, between 59-64°F (15-17°C).
How can I tell if a red wine is suitable for casual drinking?
A suitable red wine for casual drinking will have a balanced taste with smooth tannins, making it approachable and enjoyable for a wide range of wine enthusiasts. Look for wines that are versatile, affordable, and have a demonstrated reputation for being great for casual consumption.
Can casual red wines also be suitable for special occasions?
Yes, many casual red wines can still add a special touch to more formal events and celebrations. Versatile, affordable wines with an approachable taste profile can be enjoyed on any occasion, whether casual or upscale.
How long can I store an open bottle of red wine?
Once opened, a bottle of red wine can last for 3-5 days if stored correctly. To preserve its quality, re-cork the bottle after each use and store it in the refrigerator to slow down oxidation.
Are there health benefits to drinking red wine in moderation?
Yes, there are several health benefits associated with moderate red wine consumption, including promoting heart health, reducing the risk of certain diseases, and providing antioxidants. However, it is important to note that moderation is key and excessive consumption of alcohol can lead to adverse effects on overall health.
Conclusion
After journeying through a colorful world of delightful red wines, it's clear that there is a wealth of options perfect for casual drinking. From classic French and Italian varietals to approachable New World favorites, these red wines offer a delightful fusion of excellent taste, complexity, and affordability. As you continue to explore and savor the nuances of various red wines, remember that discovering your personal preferences and trusting your taste buds is paramount.
Don't be afraid to experiment with different winemaking styles, regions, and grape varieties to curate a collection that speaks to you. Every bottle uncorked presents an opportunity to celebrate the joys and shared experiences of casual wine drinking. So raise a glass, and here's to endless adventures and unwinding moments in the enchanting realm of red wines.
Beverage Explorer and Tastemaker 🍻🥃🍷 Aman's quest for liquid delights knows no limits. From hoppy brews to aged spirits, he uncovers the tales behind each sip. His eloquent descriptions and accessible insights make every drink an adventure worth raising a glass to.