29 Best Reposado Tequila Brands of 2023 [Premium Picks]
Updated On: November 17, 2023
Tequila, the liquid gold straight from the heart of Mexico, has its many charms and variations, but none are more captivating than the reposado variety. Aged in oak barrels and showcasing a stunning golden hue, reposado tequila is an exquisite dance of the senses, bringing together the earth's rawness and the elegance of refined distillation. Journeying through the lineage of Mexico's finest, let's embark on a rich flavor excursion to discover the 'Best Reposado Tequila.'
This sublime range contributes to the world of spirits in ways unparalleled, leaving both connoisseurs and casual explorers absolutely entranced. Whether mixed in a cocktail or savored on its own, each sip of these hand-picked reposados carries a piece of tequila's rich heritage and enticing complexity.
Also Read: Best Tequilas To Drink On The Rocks
29 Best Reposado Tequila Brands of 2023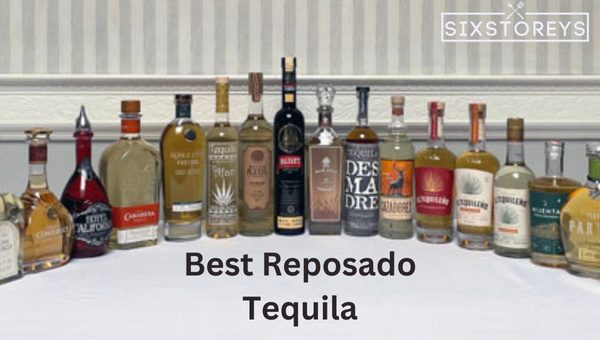 Discover the luxurious world of Reposado tequila with our curated list of top-shelf favorites. From its alluring golden hue to the depth of flavors matured in oak barrels, allow us to take you on a tasteful journey. Delve into the nuances of each renowned label, their unique characteristics, and why they top the charts in the realm of fine Reposado Tequilas. Join us as we uncork the magic of Mexico's finest spirits.
1. Casa Maestri Reposado: The Quintessential Luxury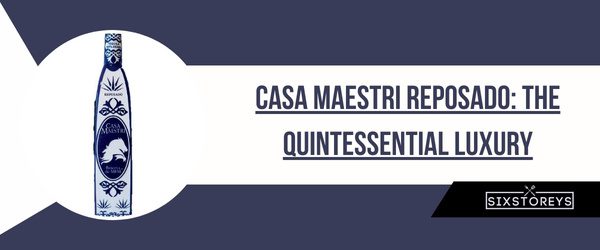 When it comes to savoring the 'Best Reposado Tequila', few can compete with the allure and opulence of Casa Maestri Reposado. Housed in a meticulously handcrafted bottle that exudes elegance, it mirrors tequila's commitment to purity and top-quality craftsmanship.
This matchless Resposado is double-distilled in traditional pot stills and aged in white oak barrels, resulting in a flavor profile that is nuanced with balanced sweetness and a heavenly touch of spice. An intense nose of pine, honey, vanilla, and soft caramel transports you to the raw and alluring landscapes of Mexico, long before the first sip.
Sampling Casa Maestri Reposado mirrors visiting a grand art gallery. Each sip redefines elegance, allowing patrons like myself to appreciate the artisanal craftsmanship of tequila-making. From the appealing amber shade to the exciting nose and rounded experience in the palate, it is a collector's delight.
Add this masterpiece to your home bar and enjoy the layered flavors of ripe fruit, cooked agave, and delicate spice. Pair with delicacies like Guacamole, Chiles en Nogada, or even a sumptuous Beef Wellington to introduce that extra zing to your meal. So, if you're seeking to invigorate your senses with a tequila graced with both depth and complexity, Casa Maestri Reposado is the quintessential luxury reserved for the true connoisseur.
2. Corralejo Reposado Tequila: Taking On the Spice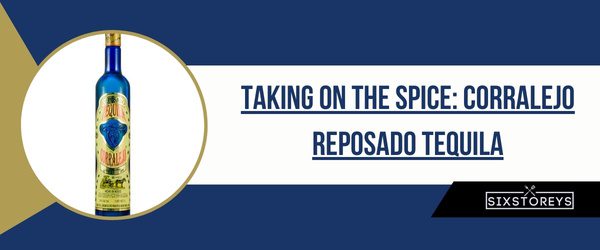 Venture into a whimsical dance of spice and everything nice with Corralejo Reposado Tequila, a hallmark of the robust Mexican spirit. Made by traditional fermentation and distilling processes, its rich flavor profile and unique spice elements rightfully garner it a position on the list of 'Best Reposado Tequila.'
Winning hearts and palates since 1775, Corralejo Reposado is triple-distilled and matured for at least four months in three different types of barrels - American oak, French oak, and white oak. The result? A tequila that tastes as bold as it looks. The deep golden hue is a prelude to the exciting flavor journey that awaits the drinker. Corralejo Reposado is an engaging symphony of citrusy lemon, peppery notes, and warm cinnamon rounded off with a dash of honey — a vibrant and tantalizing tribute to the festive spirit of Mexico itself.
Sipping on Corralejo Reposado is like taking a daring trek up a craggy mountain, with each sharp turn unveiling a surprising and enticing aroma. It is a hearty companion to traditional Mexican dishes like Carnitas or Tacos al Pastor, where the tequila's distinctive taste adds exuberance to the dining experience.
Not just for spice addicts, Corralejo Reposado is perfect for anyone looking to discover new terrains of sensory pleasure. Brave the tantalizing peaks of this fiery Reposado and embark on an unforgettable tasting tour.
3. Don Julio Tequila Reposado: Matured Masterpiece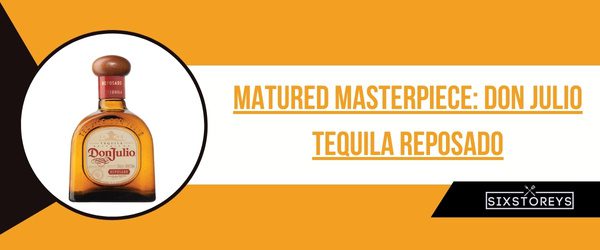 Don Julio Tequila Reposado defines the phrase 'aged to perfection'. Its time in American white-oak barrels lends it a mesmerizing golden hue and alluring aroma, promising a truly unforgettable tequila experience.
On the nose, it is delectably expressive, with a heady aroma of tropical fruits, caramel, and honey, evoking the vibrant spirit of Mexico. This masterfully aged tequila lies on your palate like velvet, revealing a wave of toasted agave, fresh-cut grass, and touches of citrus that give way to a soothingly warm and creamy finish.
Don Julio Reposado encourages you to explore the rich tapestry of its flavor profile. Whether enjoyed neat, on the rocks, or in a classic Margarita, this golden elixir guarantees a memorable drinking experience every time. Pair it with Mexican cuisine or dishes bursting with bright flavors; your taste buds are sure to embark on an exciting gourmet adventure.
4. Roca Patrón Reposado: Stature in Every Drop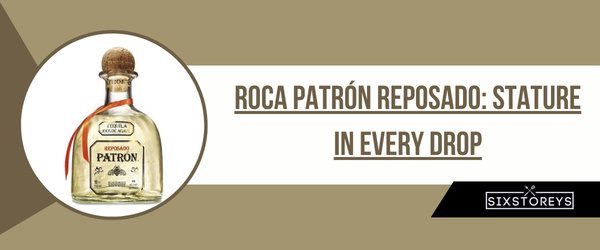 Among the list of the 'Best Reposado Tequilas', Roca Patrón Reposado earns a special mention for its individuality and grand persona. Handcrafted using the finest blue Weber agaves through ancestral 'tahona' crushing, this tequila is a class apart.
Beautifully golden and full-bodied, the tequila offers a rich bouquet of vanilla, American oak, and ginger on the nose. On the palate, it unfolds a delightful medley of robust flavors, including baked agave, spices, and tropical fruits, followed by a long, complex finish.
Every sip of Roca Patrón Reposado is a voyage that reflects passion, dedication, and a relentless pursuit of perfection. Best enjoyed with rich, hearty meals, it adds an extra layer of elegance to your dining experience.
5. Siembra Azul 15th Anniversary Reposado: A Celebration in Every Sip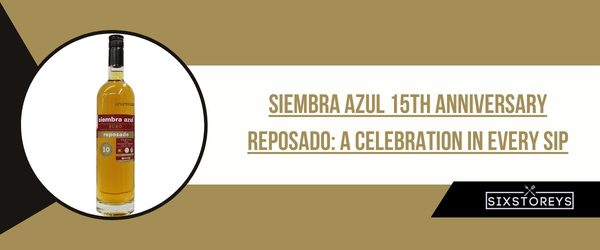 The Siembra Azul 15th Anniversary Reposado is nothing less than an exquisite party in a bottle. This special edition Reposado features a refined gold hue that showcases the tequila's distinguished aging process. This limited-run tequila, touted as one of the 'best Reposado Tequila', is a perfect ensemble of finesse, history, and tantalizing flavors.
Produced in the highlands of Jalisco, its unique flavor is a result of natural fermentation, double distillation, and aging in white oak barrels. Wrapped within each sip of this elixir, you find irresistible hints of butterscotch, hazelnut, vanilla, dried fruits, and a touch of jasmine. The subtly sweet introductory notes gradually bloom into an oaky warmth, further rounded off by a gentle, lingering finish.
Celebrating the magnificence of Siembra Azul, it is not just a tequila; it's a tribute to Mexico's artisanal craftsmanship and time-honored traditions. Pair it with steak fajitas or a crispy duck confit, and there you have a gastronomic adventure that matches the grandeur of this tequila.
6. Mijenta Reposado: Earthy Elegance in a Bottle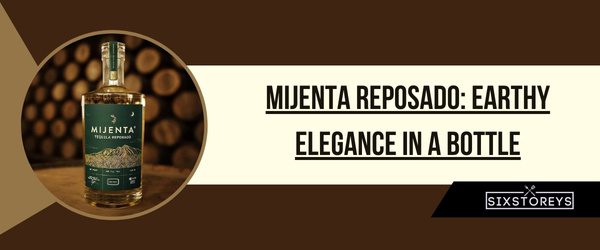 Mijenta Reposado celebrates the essence of the highlands of Jalisco - the heartland of tequila. This earthy delight holds the raw and seductive appeal of its origin, promising the taste and experience of a lifetime.
This amber-hued beauty offers a compelling combination of aromas - ripe pineapple, honey, and orange peel complemented by a hint of espresso. With a silky texture and organically sweet taste on the palate, it offers flavors of chocolate, fruits, and vanilla, unfolding slowly and ending on a pleasant savory note.
Mijenta Reposado perfectly encapsulates the reverence for nature, playing with a flavor profile that is deeply connected to the soil. Whether enjoyed neat or in sophisticated cocktails, the tequila spellbinds you at every step. It truly adds an earthy extravagance to any meal, be it a cheese platter or grilled steak. Let Mijenta Reposado be your perfect companion in unraveling the secrets of the 'Best Reposado Tequila'.
7. Tequila Partida Reposado: The Taste of Expertise
Tequila Partida Reposado sits elegantly on the throne of premium spirits. Sourced from the very heart of Jalisco, this tequila showcases a wonderful blend of age-old traditions and modern methods.
Garbed in an enchanting golden hue, this tequila leads with an inviting aroma of almonds, dried fruits, vanilla, and baked agave. The palate surprises you with rich chocolate, vanilla, and subtle hints of hazelnut that give way to a prolonged, elegant finish with just a touch of spice.
Tequila Partida Reposado asserts its reputation through a flavor profile that encapsulates years of expertise and passion. It accompanies grilled fish or chicken ideally, rendering a gourmet experience that will leave you longing for more. With every drop of this tequila, one embarks on a journey to discover the 'Best Reposado Tequila'.
8. ArteNom 1414 Reposado's: Distinctive Taste and Artistic Appeal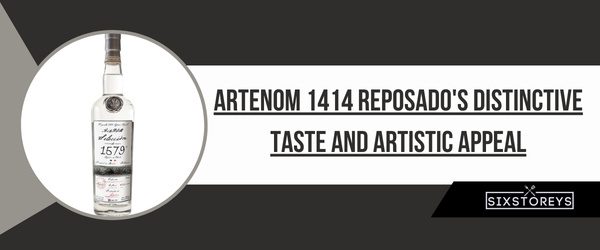 Join the ranks of the discerning with ArteNom 1414 Reposado, a tequila that blurs the line between spirit and art. Embodied in beautiful bottles paying homage to the patron saint of Tequila, every inch of this tequila embodies perfection.
ArteNom 1414 Reposado portrays an array of vibrant golden hues, it reels you in with intriguing aromas of sweet vanilla, oak, and slight fruitiness. Upon tasting, the tequila unfurls layers of cured meat, cocoa nibs, and a dash of cinnamon that beautifully blankets your palate, tapering off to a mildly spicy finish.
The allure of ArteNom 1414 lies in its unique organoleptic characteristics, making it more than just a drink, but a complete experience enabling you to dive deeper into the realm of 'Best Reposado Tequila'. A bottle of ArteNom 1414 Reposado introduces you to the Mexican culinary world - whether indulging in hearty meat or savoring lighter seafood, every bite becomes a symphony.
9. G4 Reposado: Rush of Flavor and Strength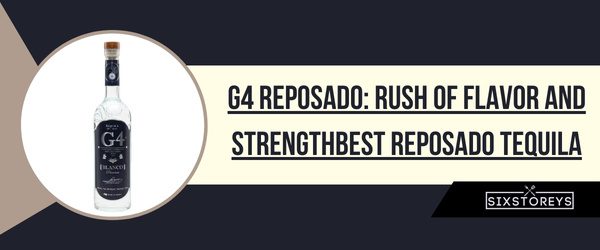 G4 Reposado owns a distinctive place on this flavor excursion with its impressive proof and robust flavor. Handcrafted in the distillery El Pandillo by Felipe Camarena, this tequila champions tradition and innovation.
The lovely, warm amber color of G4 Reposado hints at a synchronous interplay of flavors about to unfurl. The enticing aroma of agave, tropical fruits, and subtle olive tease the senses, leading you to a powerful palate laced with cooked agave, caramel, vegetal notes, and lingering pepper bite.
Lauded for its high strength and harmonious flavor profile, the G4 Reposado effortlessly straddles boldness and smoothness. A sip of this pack-a-punch tequila beautifully complements a steak or savory, spiced dishes, which makes it a worthy contender in the list of 'Best Reposado Tequila.'
10. Fortaleza Reposado Winter Blend: Toast to the Winter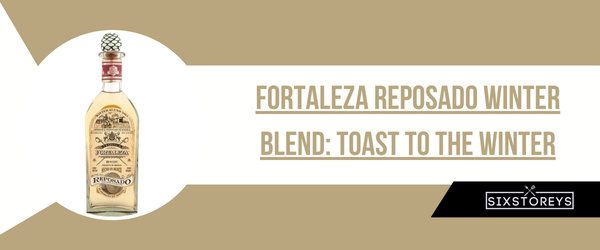 Fortaleza Reposado Winter Blend is a testament to the beautiful marriage between tequila and the winter season. Aged in American and French oak barrels to perfection, this limited-edition delight screams exclusivity.
The barrel kisses its golden hue, and the nose is greeted with inviting aromas of cooked agave, caramel, vanilla, and a whisper of red fruit. The palate is unfailingly smooth, offering layered tastes of rich oak, buttery caramel, and toasted coffee, leading up to a warm, sultry finish.
The sublime mix of casual and refined flavors makes it a perfect festive cheer for wintry nights or cozy indoor dates, adding to its magic in the hunt for the 'Best Reposado Tequila.' A slice of blue cheese or some dark chocolate could be an excellent pair to release the full potential of this winter blend.
11. Casa Noble Tequila Reposado: A Noble Choice Indeed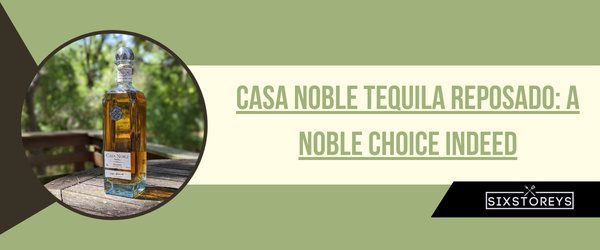 With Casa Noble Tequila Reposado, experience the pleasure of diving into the profound depth of masterfully crafted Reposado tequilas. Maturing for a full 364 days in French white oak barrels lends this tequila a fascinating allure.
Upon swirling around in your glass, the rich, golden Casa Noble Reposado releases evocative aromas of butter, vanilla, and green herbs intertwined with sweet honey. The palette is complex but harmonious, and greets you with caramel, cooked agave, and fruitiness, expertly balanced before bidding adieu with a pleasantly lingering finish.
Embrace the nobility of Casa Noble Reposado with every sip, each one a passage through opulence and tradition. It is truly versatile, pairing well with poultry or seafood, fortified desserts, and light cheesy dishes. A bottle of this famed Reposado tequila elevates any dining experience into a noble feast.
12. Codigo 1530 Rosa Reposado Tequila: Experience Luxury in Rosa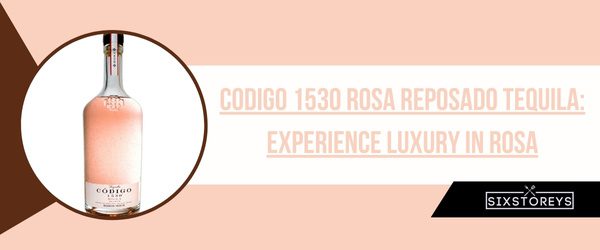 Codigo 1530 Rosa Reposado offers a unique variation on classic reposado. A delightful result of resting in French White Oak red wine barrels, the tequila effortlessly marries the bright, lively spirit of a blanco with the intriguing complexity of an añejo.
Boasting a captivating rose-gold tone, a delicate whiff captures your senses with tones of vanilla, nuts, and a touch of cocoa. Its palate is floral and rich, cradling notes of toasted almonds, oak, and dried fruit, resulting in a smooth and pleasurable finish.
With every sip of Codigo 1530 Rosa Reposado, you're tasting history and luxury shaken and stirred into a delightful balance. It pairs beautifully with grilled meat and complements caramel desserts, making it a prized gem in the journey of unearthing the 'Best Reposado Tequila'.
Also Read: Best Tequilas For Shots
13. Casamigos Tequila Reposado: Taste of the Stars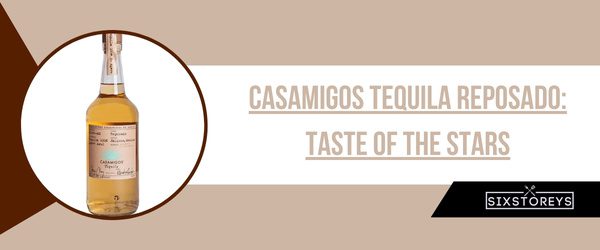 Enter Casamigos Tequila Reposado, a brainchild of George Clooney and Rande Gerber, ensuring an incredible sipping experience. Winner of numerous accolades, Casamigos sits rightfully among the 'Best Reposado Tequila.'
Its deep caramel color showcases the effort and time invested in 7-month-long aging. The tantalizing aroma of cocoa and caramel fills up your senses while the conversion in your mouth reveals toffee, agave, and oak, with a slightly smoky finish that sits long on your tongue.
Its star-studded story and stunning flavor profile declare it a must-try for tequila enthusiasts and casual admirers. Whether you are planning a jazzy-themed event or a tranquil evening beside your fireplace, Casamigos Tequila Reposado would make an excellent company. Serve it with spicy grilled food or seafood for a gloriously sumptuous experience.
14. PaQuí Tequila Reposado: Journey to Blissful Indulgence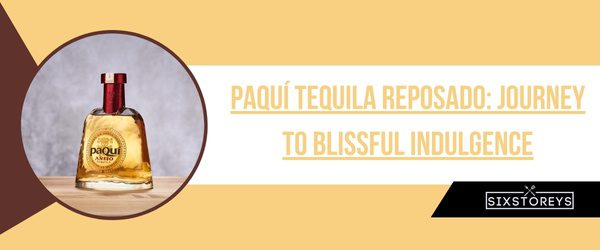 PaQuí Tequila Reposado stands as a fine example of luxury soaked in tradition. Crafted in small batches from mature blue Weber agave, PaQui (meaning 'to be happy') lives up to its name offering pure indulgence.
Copper in color, PaQui offers attractive aromas of vanilla, pear, and crisp apple, making way for a delightful dance of luscious flavors like agave, chocolate, cherry, and spice on the palate. The finish is impeccably smooth and rich, lingering long after the tequila is gone.
Each sip of PaQuí opens doors to a soulful tequila experience, leading you to moments wrapped with delight and happiness. Best savored neat or on the rocks, the tequila forms a beautiful symphony with a plate of spicy and richly flavored foods, making it an inclusive part of the 'Best Reposado Tequila' journey.
15. Herradura Reposado Colección de la Casa Port Cask: The Port Wine Connection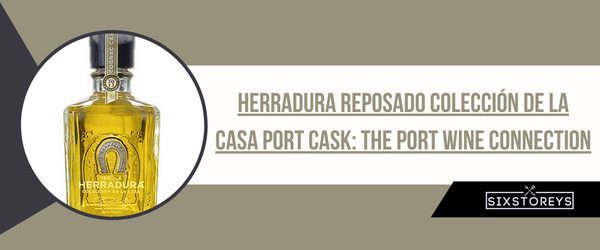 Produced by Casa Herradura, Herradura Reposado Colección de la Casa Port Cask showcases a unique blend of Mexican craftsmanship and Portuguese tradition. Aged for 11 months in medium-char American oak casks and then matured for two additional months in hand-selected vintage Port casks, Herradura Reposado offers a treat of profound complexity.
Boasting a deep amber hue, it features an enticing aroma of dried fruits, toasted oak, and spice. Witness dark chocolate, cherry, and almonds standing out in the layered palate, and a warm, lingering finish enveloped in hints of sweet agave, pepper, and a touch of Port wine.
Exceptionally smooth and deeply satisfying, this rich spirit inventively bridges the gap between tequila and Port wine. Ideally enjoyed neat, pair it with red meat and cheese to project its varied dimensions of flavor.
16. 123 Organic Reposado Tequila Dos: Pouring Purity in Every Glass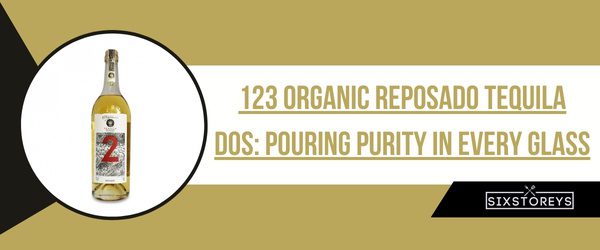 Leaning towards the notion of sustainable luxury, 123 Organic Reposado Tequila Dos advocates for pure perfection encased within unique bottles crafted from recycled glass and labels printed with soy ink.
Securing a golden hue through a six-month aging process in white oak barrels, the Reposado gets its name – Dos (Two) indicating its second stage of maturation. The fragrance of vanilla, spice, and toasted almonds lingers in the air, and once you take a sip, you're enveloped by the delightful flavors of coffee, chocolate, and deep caramel.
The whispering sweetness of agave provides balance, and this symphony of classical and unconventional flavors continues to unfurl even after you've swallowed, courtesy of the smooth finish.
123 Organic Reposado Tequila Dos makes purity palatable in every sip. Accompanied ideally by vegetarian dishes or a light fish preparation, this tequila is a distinctive entrant on the list of best Reposado tequila.
17. Santera Tequila Reposado: An Ode to Traditional Crafting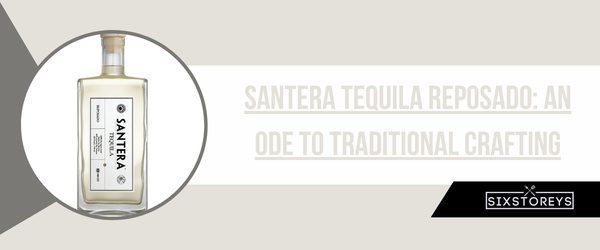 Crafted from mature agave, harvested by hand from the red volcanic soils of the Mexican highlands, Santera Tequila Reposado stands as a testament to traditional tequila crafting methods.
Aged in American oak barrels, this tequila boasts a golden color with an aroma complemented by hints of dried fruits, spices, and toasted oak. A sip unveils a balanced array of flavors, presenting notes of vanilla, caramel, and chocolate, along with ripe fruit undertones. The finish is lengthy yet subtle, leaving a satisfying taste.
Santera Tequila Reposado promises a rich and sophisticated tequila experience, telling tales from the traditional crafting process. Best enjoyed neat or on the rocks, it forms a sensational duo with salty and spicy Mexican dishes.
18. Tequileño Reposado: Touch of Heritage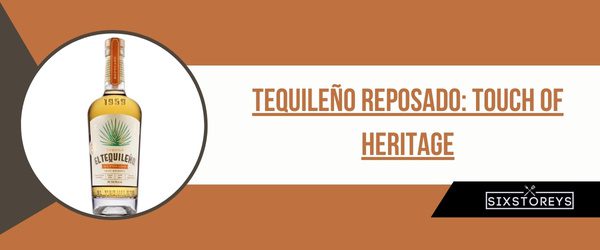 Heralding the charm and beauty of artisanal tequila, Tequileño Reposado ensures an authentically distinct experience. Aged in American white oak barrels for a period of six months, Tequileño Reposado ripples with Mexican tradition and flavor, echoing their unwavering craftsmanship.
Color of deep amber, a whiff of this tequila takes you on a sensorial journey with nuances of toasted oak, apple, and vanilla. Its standout palate features a harmonious blend of flavors with cooked agave, spice, and oak playing a delightful symphony. The finish is prolonged, laced with marked flavors of vanilla and butterscotch.
Whether it's a casual hangout or a special occasion, savoring Tequileño Reposado is like unfolding a piece of Mexico's rich heritage. Enjoy it on the rocks or mixed in a cocktail, and pair it with a hearty steak or well-seasoned Mexican dish for a robust flavor experience.
19. Don Fulano Reposado: Full-Flavored and Radiant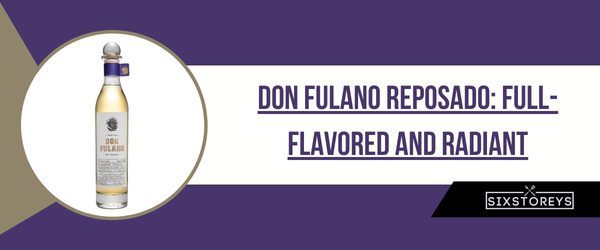 Taking center stage in the world of luxury tequilas, Don Fulano Reposado extends an invitation to an exquisite tequila experience. Hailing from Jalisco, Mexico, home of some of the finest agave, Don Fulano Reposado gracefully ages for eight months in French oak barrels, emitting a radiant golden hue.
Elegant and expressive, its nose showcases sublime notes of roasted agave, cocoa, and an echo of eucalyptus. The palate unfolds a splendid array of layered flavors with spicy, herbal undertones harmoniously coupled with candied fruit, culminating in a warming finish.
Whether you're relaxing after a long day or need a distinguished companion for your next social gathering, Don Fulano Reposado is a perfect fit. For an unforgettable culinary adventure, pair it with grilled meat or a spicy seafood dish.
20. Volans Reposado Single Barrel: A Singular Sensation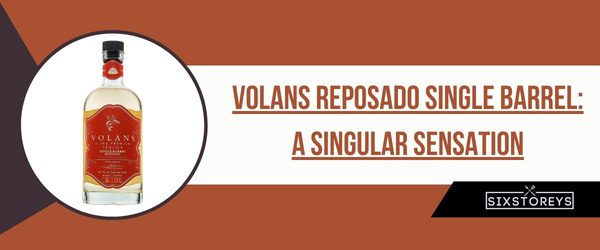 As a remarkable entrant in the realm of luxury spirits, Volans Reposado Single Barrel shines brightly with its individuality. Its aging process, elegantly carried out in American White Oak Bourbon barrels, extends for over six months, bestowing upon it a distinguished amber hue.
The introduction of bourbon barrels into the aging process imparts a unique character to this stunning spirit. Its inviting aroma features notes of cooked agave, vanilla, and a whisper of smoke. This tequila delights every sense, offering up a balanced and complex composition of flavors, culminating in a delectably smooth and delightful finish.
Individual and elegant, Volans Reposado Single Barrel is indeed a singular sensation. It pairs splendidly with gourmet chocolates and bold cheeses, promising a luxurious tasting experience.
21. Clase Azul Reposado: Class Wrapped in Craftsmanship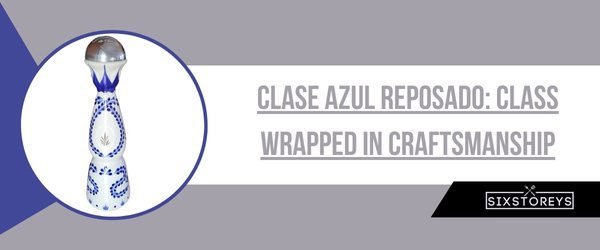 Synonymous with Mexico's heart and soul, Clase Azul Reposado stands tall as a representation of unparalleled craftsmanship. Aged for a minimum of 8 months in oak barrels, this Reposado carries a stunning amber color and encases a whirlwind of robust flavors and intricate values.
The attractive bottle deserves a mention - its unique design, hand-crafted by Mexican artisans, displays an intertwined narrative of refined aesthetics and cultural richness. Once poured, this tequila releases a warm aroma of caramel, vanilla, and agave on the nose. On the palate, it delivers aromatic flavors, including apple cider, jasmine, cinnamon, and the sweet tang of cooked agave.
Clase Azul Reposado offers a class in a glass, ideally enjoyed straight or on the rocks. Pair it with spicy Mexican food for an enchanting taste experience.
22. Villa One Tequila Reposado: Embrace the Vibrancy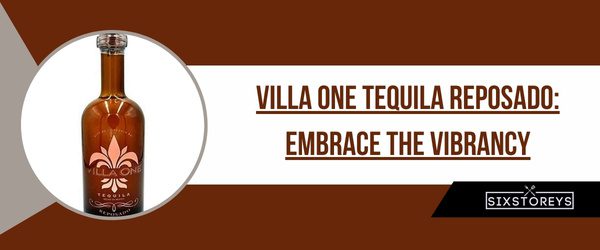 Redefining vibrancy in the tequila world, Villa One Tequila Reposado is a spirited concoction that delights like none other. Aged for six months in American oak barrels, it dons a light golden hue, mesmerizing onlookers with its effervescent charm.
Its magnificent aroma is reminiscent of dried fruits, vanilla, and a hint of caramel. Flavor-wise, it bears a harmonious blend of cooked agave, dried fruits, and spices, with a pleasant finish that leaves you with trace notes of cocoa and wood.
Villa One Reposado gives a whole new definition to luxury tequila, unapologetically loud and incredibly vibrant. Delightfully enjoyed neat or mixed into a cocktail, it pairs perfectly with tangy citrus dishes, promising a tequila experience etched in luxury.
23. Lobos 1707 Tequila Reposado: Unleash the Wolf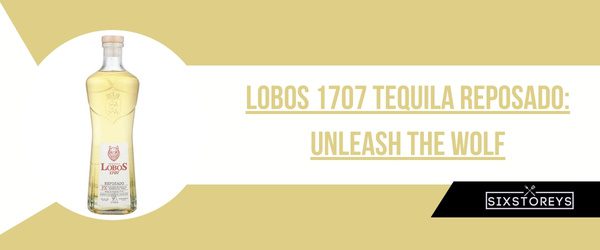 Lobos 1707 Tequila Reposado stands out as a unique breed in the world of refined tequilas. With an aging process that uses Pedro Ximenez wine barrels, this Reposado adopts an amber-gold hue that reflects in the eyes of a discerning connoisseur.
Unleashing a bold aroma of vanilla, caramel, and chocolate, this enthralling tequila embraces a remarkable balance of sweet and spicy undertones. Tasting it unfolds a delightful combination of honey, nuts, and leather, leading to a satisfying and full-bodied finish.
Savor the essence of Lobos 1707 Tequila Reposado either neat or with a squirt of lime over ice; pair it with savory meat dishes to unleash the full potential of this "wolf."
24. Ocho Reposado Widow Jane: Mexican Charisma Meets American Elegance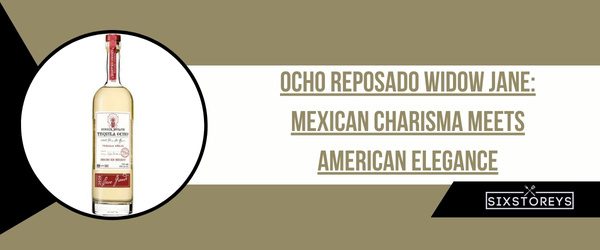 Ocho Reposado Widow Jane thrives on an innovative blend of two cultures, combining Mexican charisma with American elegance. Maturing in oak barrels for over two months, it manifests itself with a regal golden hue.
On the nose, it promises a delightful amalgamation of fresh mint, green pepper, and agave. Subtle hints of apricot, pear, and guava add an exquisite tropical touch to its flavor profile. This journey of flavors continues until the very end, offering a smooth, spicy finish.
The harmony of Ocho Reposado Widow Jane is best relished neat or in a refreshing cocktail. Think of pairing it with a hearty steak, and it makes for an enchanting culinary affair.
25. ArteNOM Seleccion de 1414 Reposado: Artistry in a Bottle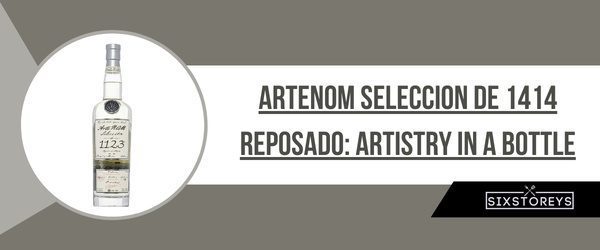 ArteNOM Seleccion de 1414 Reposado is a testament to how intricate the art of tequila making can be. Distilled at the well-renowned Destileria Purisima del Jazmin in Jalisco, Mexico, this Reposado is aged for a period of 364 days in American white oak barrels, offering it a distinct caramel color.
The nose is greeted by the sweet aroma of baking spices, agave, and a hint of creamy vanilla. Sip it and sense the rich taste of toffee, oak sap, and dried fruits swirling together harmoniously within your palate, leading to an exceptionally smooth finish.
ArteNOM Seleccion de 1414 Reposado is true artistry in a bottle and is best enjoyed neat, in the company of good friends, and paired with spicy finger foods for a memorable experience.
26. El Tesoro Reposado: The Hidden Treasure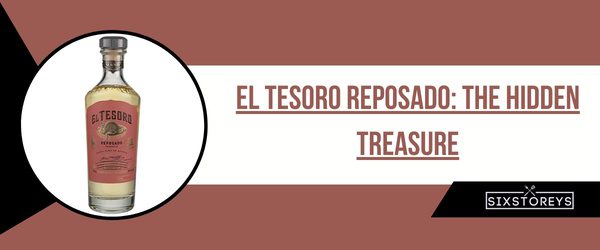 El Tesoro Reposado, or 'The Hidden Treasure', is produced in the hills of Jalisco, Mexico, and is certainly an embodiment of its name. This Reposado is aged for 8 to 11 months in American oak barrels that gift it a vibrant golden hue and enrich its characteristic flavor.
On the first whiff, an aromatic palette of tropical fruits and spices greets you. With a sip, a symphony of cinnamon, banana, and apple descends onto your palate, alongside delicate hints of agave. The finish is smooth and unique, with a trail of butterscotch and lingering sweet spiciness.
El Tesoro Reposado is best served neat or mixed into a classic cocktail. Enhance this savory rendezvous with a spicy appetizer and sit back as the extraordinary thrill of this 'hidden treasure' unfolds.
27. Siete Leguas Reposado: Seven Leagues of Flavor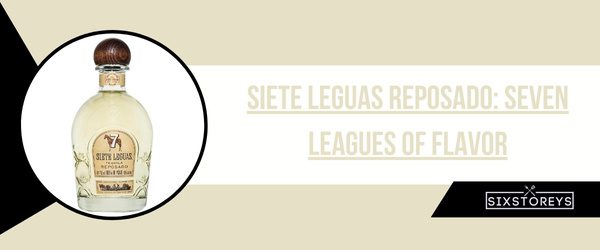 Siete Leguas Reposado or 'Seven Leagues Reposado,' earns its reputation from the seven-league boots worn by the Mexican revolutionary, Pancho Villa. This Reposado is aged for 8 months inside white oak barrels and reveals itself in a brilliant shade of straw.
The nose is filled with inviting fragrances of sweet fruit, vanilla, and cooked agave, with slight hints of wood. Your palate will be delighted with the flavorful coming together of caramel, apple, and hints of hazelnut, concluding in a clean and prolonged finish.
Siete Leguas Reposado can be beautifully enjoyed on its own or in a margarita. Combine it with a plateful of crunchy, spicy nachos to truly savor it's seven leagues of flavor.'
28. Cabrito Reposado: Kid Playfulness meets Matured Elegance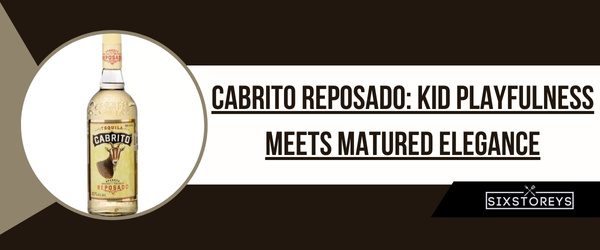 Cabrito Reposado, a delightful concoction from Casa Centinela, bridges the gap between playful enthusiasm and matured elegance. This Reposado ages for 4-6 months, ensuring the spirit's vibrant personality is perfectly balanced by the oak's sophisticated nuances.
Caramel, vanilla, and a whisper of spice grace your nose when you open a bottle of Cabrito Reposado. Taking a sip introduces your taste buds to a captivating swirl of honey, cinnamon, and apple, finished with an elegant touch of toasted almond.
Sip this spirit neat or splash it into a traditional tequila cocktail for a memorable drinking experience. Pair it with a Mexican-styled barbecue and revel in the intricacy of flavors playing out in each sip of Cabrito Reposado.
29. Suerte Reposado: Fortified Flavors, Lucky You!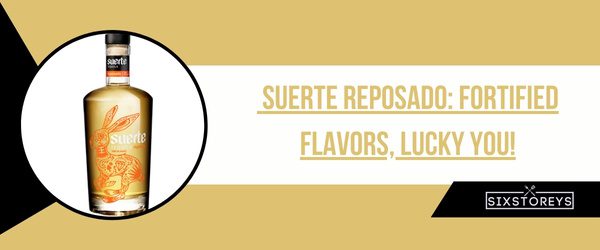 Suerte Reposado is a 'fortified flavor' in a bottle, bestowed by the double distillation process and an 8-month aging period in charred American White Oak whiskey barrels. True to its name - Suerte, meaning luck - this spirit promises you an exceptional drink that feels like stumbling upon a lucky charm.
Upon uncorking, the nose meets a sweet and smoky harmony of vanilla, hazelnut, and agave. On savoring, a splendid blend of toffee, dark chocolate, and cooked fruit unfurls on your palate, leading to a crisp and satisfying finish.
Whether enjoyed neat or in an innovative cocktail, Suerte Reposado ensures a delightful treat. Pair it with a rich, spicy dessert, and you're truly in for a stroke of luck!
Also Read: What to Mix With Tequila to Drink?
How to Choose the Perfect Reposado Tequila?
Choosing the perfect reposado tequila may seem like a daunting task, given the wide array of choices available in the market. Here are a few pointers to guide you on this journey:
Source of Agave: Tequila is primarily made from the Blue Agave plant found in Mexico. Look for "100% Agave" on the label to ensure its authenticity.
Aging Period: Reposado tequilas are aged anywhere between 2 months to a year. Depending on your taste palette preference, you might choose a younger, more vibrant profile or a matured, complex flavor.
Taste and Aroma: High-quality reposados offer a bouquet of flavors, including hints of honey, chocolate, and spices. If you prefer a sweet or spicy profile, keep an eye out for these notes.
Packaging: While it shouldn't be the chief determining factor, well-packaged tequilas often reflect the care that goes into the product.
Price Point: While price isn't always an indicator of quality, very affordable tequila might compromise on quality. Aim for a balance between cost and reputation.
Brand Reputation: Research the brand's history and reviews. Brands with longstanding reputations usually offer consistent quality.
Sustainability: For those conscious about their carbon footprint, look out for brands that advocate for sustainable agave farming and production methods.
Why Reposado Tequila Is a Must-Have In Your Bar Cabinet?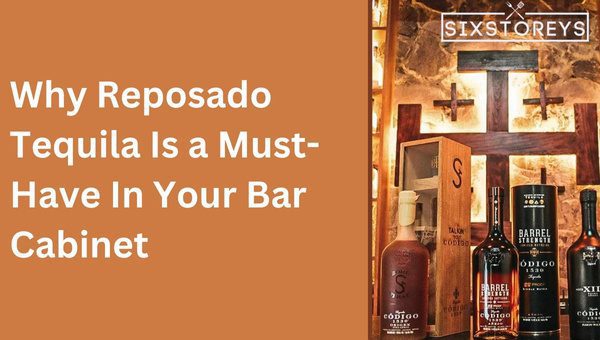 If you're a liquor aficionado or simply like to host gatherings over good food and drinks, having a bottle of high-quality reposado tequila in your bar cabinet is a must. Here's why:
Tantalizing Taste: Reposado tequila stands out with its unique blend of sweet and spicy notes matured to perfection in oak barrels.
Versatility: It can be enjoyed neat, on the rocks, or as a sophisticated component of a cocktail, showcasing its versatility.
Conversational Piece: The rich history and complexity of reposado tequila can be a great talking point, adding a dash of culture to your conversations over drinks.
Wide Appeal: Reposado tequila's smooth and mellow flavor tends to appeal to a broad range of palettes, making it a safe yet interesting choice for your guests.
Elevates Culinary Experiences: Reposado pairs remarkably well with various dishes, enhancing the dining experience at your parties.
Ultimate Treat for Tequila Lovers: If you're into tequila, having a bottle of premium reposado is like cherishing a piece of Mexican heritage right at your home.
Choosing the perfect expresado tequila requires a careful assessment of the agave source, aging period, taste, aroma, packaging, price point, brand reputation, and sustainability. And once you've made your choice, there's no end to the joy a good bottle of reposado tequila can add to your home bar, offering an extraordinary blend of taste, versatility, and cultural richness, sure to please any palate.
Why is Reposado Tequila More Flavorful than Others?
Tequila is richly varied, with each expression - blanco, young, reposado, añejo – bearing its own distinct characteristics and charm. But what sets Reposado Tequila apart is its meticulously crafted and matured depth of flavor that owes itself to an intricate process of aging.
Unlike Blanco tequila, which is bottled just after distillation, or young tequila that sees minimal cask time, Reposado (which translates to 'rested' in Spanish) is aged in white oak barrels for a period ranging anywhere between 2 months and one year. This resting period within the cask's depth allows reposado to acquire the wood's characteristics - a process referred to as extraction.
The exchange between the spirit and the barrel involves processes like oxidation and osmosis, significantly transforming the tequila. It evolves, adding a soft, smooth semblance to reposado tequila. These aged tequilas bring forth complex flavor profiles, with hints of vanilla, caramel, butterscotch, or honey, blending delightfully with intrinsic agave notes. The intricate flavor play in Reposado makes it exceptionally versatile - perfect to sip straight, on the rocks, or as a choice spirit in a refined cocktail. No wonder, when it comes to taste, Repo stands as a flavorful heavyweight among its kin.
How to Maximize Your Reposado Tequila Experience?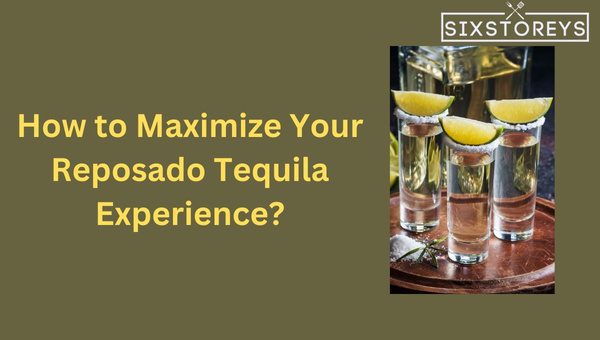 Unarguably, Reposado Tequila is a spectacular sensation for the senses. Yet, maximizing this pleasure asks for a few additions to the regular sipping. Here are a few tips to enhance your repo journey further:
Savor It Neat: Reposado is well-balanced and smooth, making it perfect to drink straight. A proper tequila glass can accentuate the tasting experience.
Serve Chilled: Reposado tequila serves well chilled to bring out its complex flavors. Hence, chilling the glass or serving it on the rocks is recommended.
The Right Pair: Reposado pairs beautifully with a certain range of foods. Cheese, seafood or spicy Mexican dishes enhance the tequila's fruity, spicy undertones.
Explore Cocktails: Reposado is the prime choice for several classic tequila cocktails. Explore Margarita, Bloody Maria or the tequila sunrise to make your evenings more animated.
Respect the Ritual: In traditional Mexican style, you can serve tequila with a side of Sangrita (a sweet, sour, and spicy drink) and a slice of lime. It's a fun variant on the American lick-sip-suck routine with salt and lime.
Nose It Right: Before you take a sip, take a moment to smell your tequila. The bouquet of a reposado tequila is usually as complex and enjoyable as the drink itself.
Navigating the world of tequila is thrilling, and the reposado variety is a must-stop destination on this tour. Its rich flavor palate and dashing flexibility indeed make it a distinguishing figure in the world of spirits!
How to Pair Reposado Tequila with Your Meals?
Reposado tequila, with its multifarious taste profile, can elevate your dining experience by pairing beautifully with a range of dishes. Whether served neat, on the rocks, or as part of a cocktail, Reposado can complement your meals in unimaginable ways.
Bold Flavors
Starting with more robust flavors, Reposado pairs well with spicy Mexican dishes. The smooth, wooden undertones of the tequila can balance out the piquancy of a tantalizing Chilli Con Carne. The slightly caramelized notes of Reposado also work well with BBQ dishes. It wonderfully offsets the smokiness of grilled meats.
Lighter Bites
For those preferring lighter meals, try pairing Reposado with seafood. Whether it's a classic mussel in white wine sauce or a hearty shrimp stir-fry, the fresh ocean taste combined with the matured tones of Reposado renders a magical gastronomy experience.
Cheese and Desserts
Lastly, at the end of your meal, Reposado exhibits its versatility by partnering with both cheese and desserts. Try a range of mature cheese, such as cheddar or gouda, and your palate will revel in the blend of creamy textures and reposado's subtly sweet finish. For those with a sweet tooth, desserts like flan or caramel-drizzled churros enhance the inherent caramel and vanilla accents of reposado tequila.
Remember, pairing Reposado tequila with your meals should be an exciting exploration of taste and cultures. So, don't be afraid to experiment, create, and most importantly, enjoy the process. After all, the best part about Reposado is its ability to adapt and connect with a plethora of flavors, taking your culinary exploits to a whole new level.
Why Reposado Tequila is the Best Choice for Cocktails?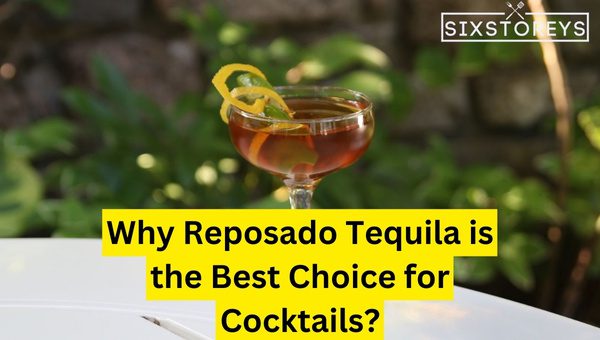 Reposado tequila has long been the spirit of choice for mixologists around the globe. It's the gold standard when it comes to crafting cocktails that pack a punch and leave a lasting impression.
Exceptional Flavor Profile
The flavor of Reposado tequila is one of a kind. Aged in oak barrels, for at least two months and up to a year, it develops an exquisite flavor profile that's more intricate than Blanco (unaged) and less powerful than Añejo (aged for longer periods). This complex and balanced flavor enhances any cocktail, amplifying the overall tasting experience.
Versatility in Mixology
Reposado's versatility makes it a true champion in mixology. Due to its unique process of aging, it carries layers of flavors and aromas from sweet to spicy, crisp to creamy, and everything in between. Whether it's in a traditional Margarita, a robust Tequila sunrise or a classy Paloma, Reposado tequila blends seamlessly and adds character to every cocktail.
Adds a Layer of Sophistication
Cocktails made with Reposado tequila carry a certain sophistication that is hard to find elsewhere. Its distinguishable golden hue, the aura of its history, and the wide array of tasting notes make every sip a rewarding experience.
Also Read: Best Flavored Tequilas
Frequently Asked Questions
What differentiates Reposado Tequila from other tequilas?
Reposado Tequila, meaning 'rested', stands apart due to its maturation process. Unlike Blanco or Silver tequilas, which are bottled immediately after distillation, Reposado Tequila is aged in oak barrels for a period of 2 months to 1 year. This process gives it a golden hue and a unique, rich flavor profile, distinguished by smoothness and depth.
How does the aging process influence the flavor of Reposado?
The aging process plays a crucial role in a Reposado Tequila's flavor profile. As it rests in oak barrels, the tequila imbibes flavors from the wood, resulting in notes of caramel, honey, and vanilla. The aging period also intensifies the agave flavors, providing a warm, complex, and smooth taste on the palate.
What is the best way to enjoy Reposado Tequila?
There's no one way to enjoy Reposado Tequila and preference may vary. Some prefer to savor it neat or on the rocks to fully enjoy the complex flavors it offers. It's also a great choice for cocktails, providing depth and uniqueness of flavor. Reposado can also be paired with food, especially dishes with spices and bold flavors.
Is Reposado Tequila more expensive than other types of tequila?
In general, the price of Reposado Tequila can be higher than Blanco Tequila and lower than that of Añejo or Extra Añejo Tequilas. However, the price also depends on factors such as the brand, the quality of the agave used, the production process, and whether it is a premium or a super-premium tequila.
Can I use Reposado Tequila for cooking?
Absolutely. Reposado Tequila can make a fabulous addition to your culinary creations. From marinades to desserts, it offers a rich, smooth flavor that can enhance a variety of dishes.
How to store Reposado Tequila once it's opened?
While tequila is less likely than wine to be affected by air, it's still important to store it properly. Once opened, ensure to seal the bottle tightly. Keep it upright in a cool, dark place to preserve its flavor profile.
What are some popular brands of Reposado Tequila?
There are many top-notch brands for Reposado Tequila, each offering its unique variations. Some of them include Don Julio, Casa Noble, Siembra Azul's 15th Anniversary Reposado, Roca Patrón Reposado, and Codigo 1530 Rosa.
Is Reposado Tequila 100% agave?
A true Reposado should be 100% agave. If the label states "100% de Agave" or "100% Puro de Agave", it indicates that no additional sugars were added during fermentation. Always check the label to ensure you're getting pure, unadulterated tequila.
What are Reposado Tequila's health benefits?
Many believe that because tequila is made from the agave plant, it carries some of the same health benefits. Some studies suggest that natural sugars found in agave, called agavins, could support weight loss and improve digestion. Remember, however, these benefits would only come from moderate consumption.
What are some classic cocktails using Reposado Tequila?
Reposado's complex flavor profile makes it a versatile choice for many classic cocktails like Margareta, Tequila Sunrise, and Paloma. Its smoothness and depth add an extra dimension, making the cocktails more enjoyable and favorable.
Conclusion
Tequila, especially the Reposado variety, carries with it an air of sophistication and richness that promises a complex yet enjoyable journey for your senses. Each sip unfurls a beautiful tapestry of flavors harking back to its root—the heart of blue agave. Considering its versatile nature—being splendid solo or as a charismatic cocktail companion—it's clear why Reposado Tequila is revered globally.
Deciphering the Best
From the subtly spiced Corralejo Reposado Tequila to the artisanal character of ArteNom 1414, the dialogues of flavors are as diverse as they are intriguing. Let's not forget the full-bodied Don Fulano Reposado and 123 Organic Reposado Tequila Dos' purity that prevail among the range of luxurious tequilas we've explored. Each has its own charm, and choosing the 'Best Reposado Tequila' becomes a personalized affair—depending on your taste preference.
Your Turn to Explore
So, the next time you decide to explore the realms of this mesmerizing Mexican spirit, remember that choosing a tequila goes beyond the name. It's about the journey—right from how each brand crafts its liquid gold, why certain Reposados stand out, to the ultimate tasting experience, and how it pairs with your favorite bites.
And remember - a good tequila, especially a Reposado, is designed for sipping and savoring, not just throwing back in a shot glass. The final piece of advice for the search for your perfect Reposado tequila - take your time, savor the nuances, and most importantly, enjoy the journey.
Beverage Explorer and Tastemaker 🍻🥃🍷 Aman's quest for liquid delights knows no limits. From hoppy brews to aged spirits, he uncovers the tales behind each sip. His eloquent descriptions and accessible insights make every drink an adventure worth raising a glass to.