24 Best Whiskeys for Whiskey Sours [Must-Try 2023 Selection]
Updated On: September 9, 2023
Whiskey sours have long been a favorite among cocktail enthusiasts, known for their delightful combination of sweet and sour flavors paired with a robust whiskey. This classic combination effortlessly balances bright citrus notes and simple yet rich sweetness, creating a satisfying and refreshing drink. As a whiskey lover, it's important to select the best whiskey for whiskey sours, to enhance the overall experience and bring out the finest qualities of this timeless cocktail.
In this post, we'll explore some of the top whiskey choices perfect for whiskey sours and delve into the unique flavor profiles and tasting notes that make each option stand out. So, grab a glass, and let's embark on a journey to find the best whiskey for your whiskey sour experience.
Also Read: Best Whiskeys To Drink Straight
24 Best Whiskeys for Whiskey Sours in 2023
Sipping on a classic Whiskey Sour is a rite of passage for many whiskey aficionados. But with a plethora of whiskey brands vying for attention, which ones truly elevate this iconic cocktail? Dive into our curated list of the 24 best whiskeys that promise to make your Whiskey Sour experience unforgettable.
1. Lot 40 Rye Whiskey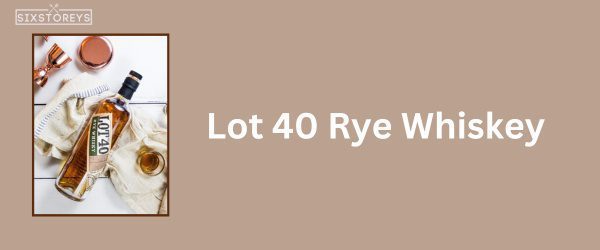 Lot 40 Rye Whiskey is a Canadian favorite known for its rich, bold, and spicy taste. Made from 100% rye, this whiskey's flavor profile is the perfect companion for a whiskey sour. Its complexity stems from a combination of pot distillation and aging in new, charred oak barrels. The result is a whiskey with a deep and intense taste, featuring notes of caramel, spice, and a hint of citrus.
When used in a whiskey sour, Lot 40's robust character enhances the tart citrus flavors and smooth sweetness, creating a well-rounded and satisfying cocktail. Whether sipped slowly or guzzled down in celebration, Lot 40 Rye Whiskey remains a top choice for those seeking a whiskey sour that leaves a lasting impression.
2. Sazerac Rye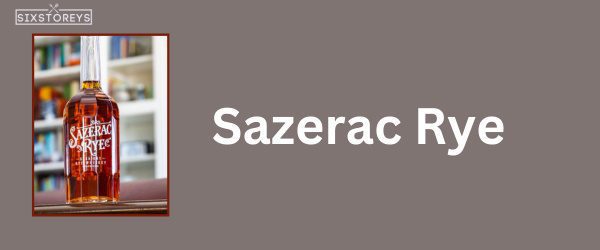 Sazerac Rye is a classic choice for whiskey sours, with its balanced flavors and versatile character. Produced in New Orleans, this rye whiskey boasts a delightful mix of sweet and spicy notes, along with an underlying essence of anise and cloves. Its medium finish carries a touch of lingering warmth, making it perfect for sipping or mixing.
In a whiskey sour, the complexities of Sazerac Rye shine through, offering a enjoyable contrast of sweet and sour. Its versatility ensures that every sip is just as captivating as the last. For those looking to add an element of tradition to their whiskey sour experience, Sazerac Rye is a must-try.
3. Wild Turkey 101 Rye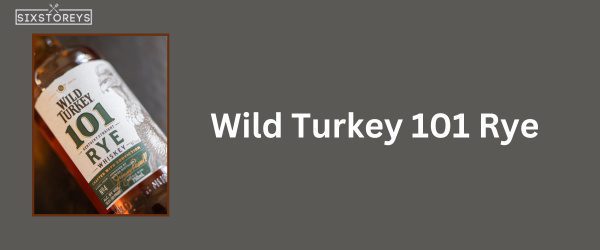 With its high proof and bold character, Wild Turkey 101 Rye is an excellent choice for a whiskey sour that packs a punch. This American-made rye whiskey features a powerful, spicy flavor profile with notes of black pepper and cinnamon. The high rye content brings intensity to every sip, while the long and warm finish leaves a lasting taste on the palate.
When incorporated into a whiskey sour, Wild Turkey 101 Rye adds depth and vibrancy to the drink. The bold and spicy tones enhance the citrus elements, culminating in an exquisite balance of flavors. For those wanting a more spirited and robust whiskey sour, Wild Turkey 101 Rye is the answer.
4. Old Forester Rye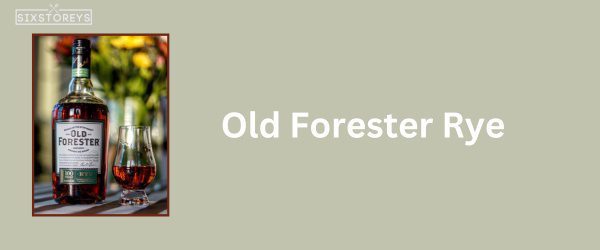 Old Forester Rye offers whiskey sour enthusiasts a versatile and unique tasting experience. Distinct from its bourbon counterpart, this rye whiskey contains a high percentage of malted barley and corn, which adds an array of flavors, including notes of chocolate, caramel, and various spices. Its smooth and mellow texture only enhances the whiskey sour by allowing the diverse flavors to harmonize perfectly.
The versatility of Old Forester Rye provides an opportunity to experiment with different techniques and ingredients when preparing whiskey sours. It showcases a full-bodied, flavorful profile that complements the classic cocktail's tart citrus notes and rich sweetness. Whether savored in a simple mix or a more elaborate concoction, Old Forester Rye is an excellent choice for those looking to personalize their whiskey sour experience.
5. Widow Jane Oak & Applewood Aged Rye Mash Whiskey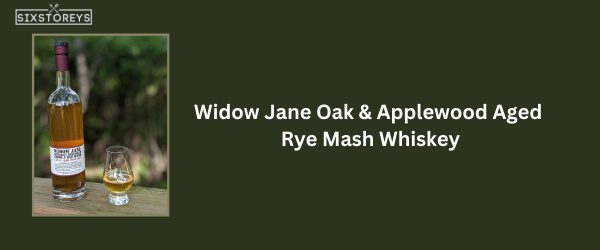 Widow Jane Oak & Applewood Aged Rye Mash Whiskey is an exceptional choice for whiskey sour lovers seeking a distinctive finish to their cocktail. Produced at Widow Jane Distillery in Brooklyn, New York, this rye mash whiskey is aged in charred oak barrels and then finished in oak and applewood staves. The result is a complex and charming whiskey with a delightful hint of dried fruit and smoke, accompanied by the warmth and kick one expects from a well-crafted rye.
In a whiskey sour, the intriguing taste of Widow Jane adds a unique twist, merging its fruity and smoky character with the foundational citrus elements of the cocktail. The resulting blend of flavors is nothing short of divine, making Widow Jane Oak & Applewood Aged Rye Mash Whiskey an ideal choice for anyone wanting to experience a whiskey sour like never before.
6. Rittenhouse Rye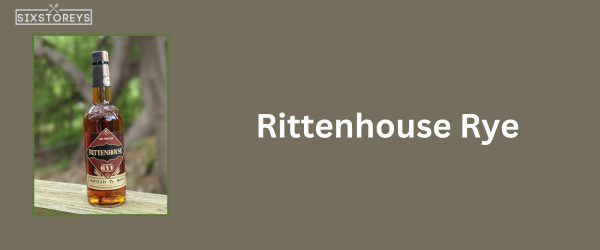 A cost-effective choice that doesn't sacrifice flavor or quality, Rittenhouse Rye is a fantastic option for crafting delicious whiskey sours. Produced by Heaven Hill Distillery, this USDA Certified Biobased Product earned praise as a bottled-in-bond rye whiskey with its talents. The whiskey's character is defined by its boldness and spiciness, alongside notes of leather, tobacco, and orchard fruits.
The rich and intense profile of Rittenhouse Rye makes it a brilliant accompaniment to whiskey sours. The strength of the rye creates a remarkable balance with the citrus and sweetness of the cocktail, and its affordability means it's an excellent choice for those who love to frequently indulge in a tasty whiskey sour. To enjoy a remarkable whiskey sour without breaking the bank, Rittenhouse Rye is your go-to choice.
7. Elijah Craig Small Batch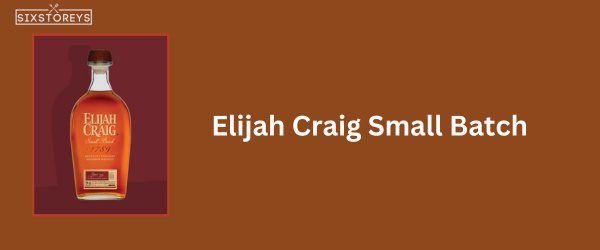 Elijah Craig Small Batch bourbon comes from the esteemed Heaven Hill Distillery, nestled in the heart of Kentucky's Bourbon country. This award-winning bourbon has garnered significant attention in the whiskey community, winning numerous accolades for its depth of flavor and smooth finish.
At 94 proof, this small-batch bourbon offers a rich and robust flavor that effortlessly complements a whiskey sour's citrus notes and sweetness. Elijah Craig Small Batch showcases a distinctive caramel sweetness with hints of vanilla, providing a well-balanced taste that pairs especially well with the bright and tangy flavors of a whiskey sour. Its smooth finish and excellent value make it an ideal choice for those looking to expand their whiskey cocktail repertoire.
8. Eagle Rare Bourbon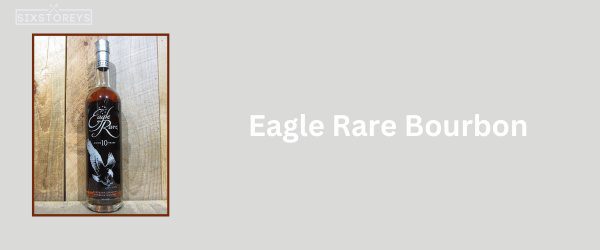 Created by the renowned Buffalo Trace Distillery, Eagle Rare Bourbon boasts a ten-year aging process that imparts a unique depth of character to this hand-crafted whiskey. With a mash bill that includes a high percentage of corn, Eagle Rare delivers a notably smooth and sweet profile that whiskey enthusiasts love.
For whiskey sours, Eagle Rare's smooth, sweet, and balanced flavors meld beautifully with the cocktail's signature citrus notes. Its subtle hints of oak and nutmeg contribute to the complexity of the whiskey sour, making it a truly enjoyable and memorable experience.
9. Woodford Reserve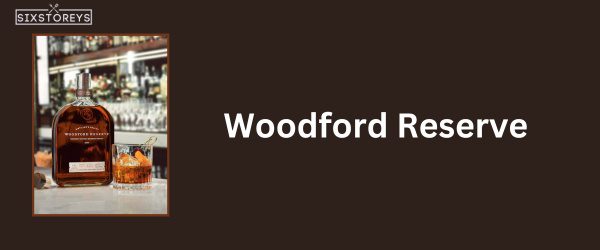 Produced at one of Kentucky's oldest distilleries, Woodford Reserve is revered by whiskey aficionados for its timeless taste and unique flavor combinations. This classic bourbon has garnered praise for its rich character, making it a go-to choice for those seeking an exceptional whiskey for their sour.
Woodford Reserve brings its unmistakable depth of character to any whiskey sour, featuring a fascinating mixture of sweet, spicy, and fruity flavors that create an enticing and multi-layered profile. As you sip your whiskey sour, you'll notice rich vanilla and caramel sweetness, followed by bold spices and dried fruit notes. These flavors meld harmoniously with the citrus zest and sweetness of a whiskey sour, resulting in a transcendent and unforgettable cocktail experience.
Also Read: Best Cinnamon Whiskey Brands
10. Russell's 10-Year Reserve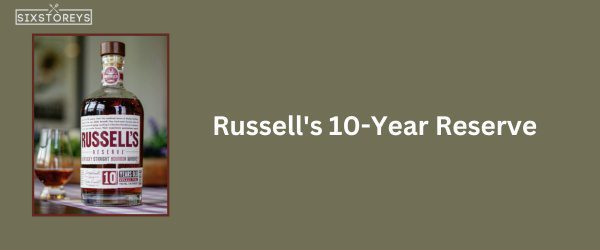 Russell's Reserve 10-Year Bourbon comes from Wild Turkey Distillery, a brand with an impressive heritage in bourbon production. This bourbon, crafted by legendary Master Distiller Jimmy Russell and his son, is aged for a full decade—giving the whiskey a rich taste that speaks of tradition and craftsmanship.
When using Russell's 10-Year Reserve in a whiskey sour, you'll appreciate the bourbon's robust flavor and subtle sweetness that complements the bold citrus notes. The bourbon's distinctive vanilla, toffee, and oak undertones provide a layer of complexity to the classic whiskey sour recipe, elevating the taste to new heights.
11. Basil Hayden's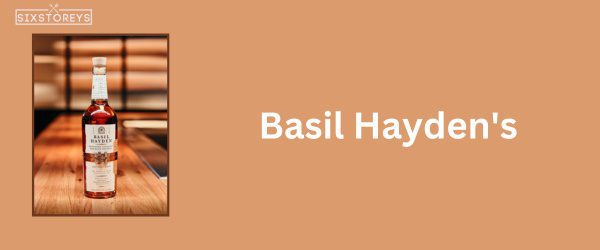 The Basil Hayden's bourbon story is one of intrigue, with the whiskey named after a distiller who migrated to Kentucky in 1792. This unique bourbon stands out for its unconventional mash bill, featuring a higher percentage of rye than traditional recipes.
Basil Hayden's imparts a smooth finish with enticing touches of pepper and spice in a whiskey sour, counteracting the sweetness and creating a well-rounded drinking experience. The gentle honeyed sweetness creates a rich backdrop for the citrus notes, resulting in a harmonious and unforgettable whiskey sour.
12. Jameson Black Barrel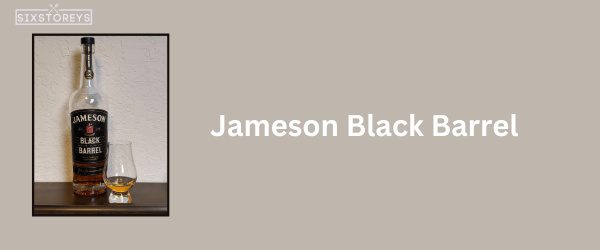 One of Ireland's most famous whiskeys, Jameson Black Barrel is a premium option that marries smoothness with enticing caramel notes. Its triple distillation process and expert blending of grain and pot still whiskeys result in a rich, complex flavor profile. Pairing it with some lemon juice and simple syrup highlights its underlying sweetness and works well with the cocktail's citrus notes. The unmistakable Irish character adds an unmistakable accent to a classic whiskey sour.
13. The Glenlivet Scotch Whisky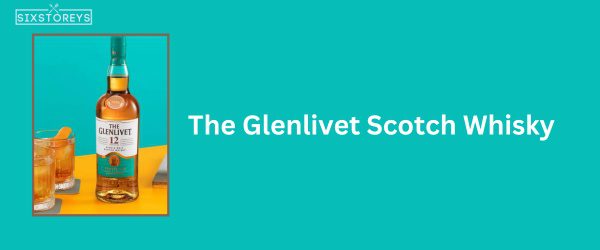 One of the most iconic single malt Scotch whiskies, The Glenlivet boasts a light and fruity flavor profile that adds depth and layered nuances to a whiskey sour. Hints of vanilla and pear complement the citrusy tang of the cocktail, offering a more delicate and subtle take on the classic drink. Sophisticated and elegant, The Glenlivet presents a refined option for those seeking a whiskey sour with a touch of Scottish charm.
14. Buchanan's Scotch Whisky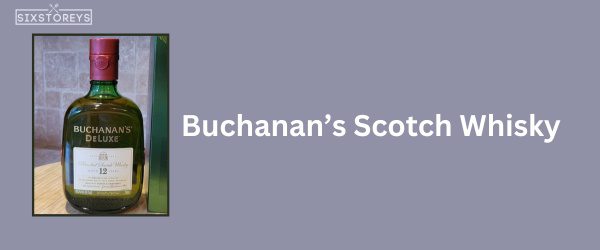 Another Scotch whisky worth considering is Buchanan's. This delightful blended Scotch showcases a mix of fruit, chocolate, and nut flavors imparting a bold and rich taste to your drink. The smoky undertones and fairly long finish create a balance between the savory and sweet elements of a whiskey sour, offering a sophisticated option for those who enjoy a complex, well-rounded flavor journey.
15. Johnnie Walker Red Label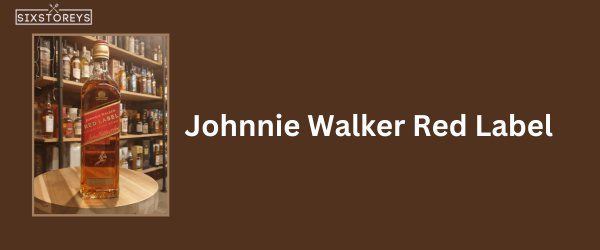 Widely known for its smooth and accessible taste, Johnnie Walker Red Label serves as an excellent, cost-effective option for a Scotch-based whiskey sour. The smoky essence derived from blending malt and grain whiskies lends an interesting and unique dimension to the cocktail. The youthful and vibrant character of Johnnie Walker Red Label is perfect for those who appreciate a little Scottish flair without breaking the bank.
16. Nikka Days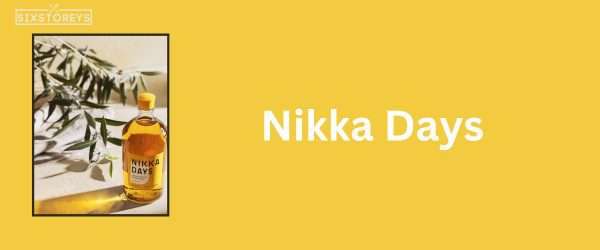 For a more exotic option, try incorporating Japanese blended whiskey Nikka Days into your whiskey sour. This light, floral whiskey, crafted with a mix of grain and malt whiskies from the Miyagikyo and Yoichi distilleries, presents a harmonious fusion of flavors perfect for a refreshing cocktail. Touches of citrus and herbal tones complement the lemon juice and simple syrup, delivering a delicate yet distinctive twist to your whiskey sour experience.
17. Traverse City Cherry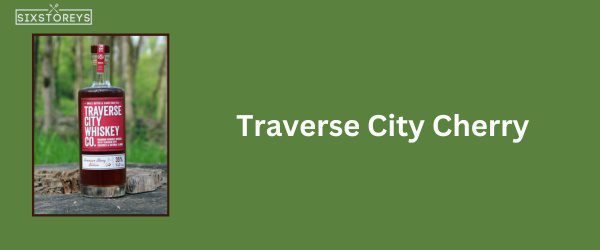 Traverse City Cherry whiskey offers a delightful fruity twist on the classic whiskey sour. This Michigan-made whiskey is infused with Montmorency cherries, which add a vibrant ruby hue and a subtle natural cherry flavor to your cocktail. The tart cherry taste enhances the sour elements of the whiskey sour and balances well with the sweetness of the simple syrup, making for a refreshing and distinctive drink. The Traverse City Whiskey Co. has managed to capture the essence of these world-renowned cherries in a bottle, providing a unique and exceptional whiskey that's perfect for whiskey sour enthusiasts looking to try something new.
18. Harlem Standard American Whiskey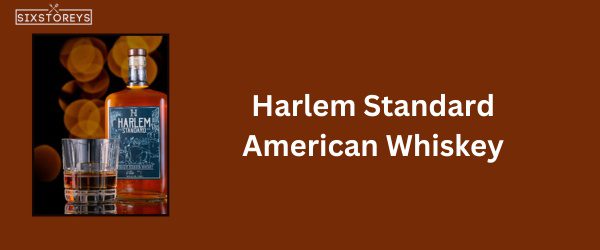 Harlem Standard American Whiskey is another excellent option for adding a unique touch to your whiskey sour. This smooth, easy-drinking whiskey features a mash bill of corn, rye, barley, and wheat, resulting in a harmonious blend of flavors. The combination of grains creates a versatile whiskey with a rich, well-rounded taste, ideal for brightening up a whiskey sour. The Harlemite founders of this brand pride themselves on creating a small-batch whiskey that celebrates the vibrant culture of New York City while remaining committed to high-quality craftsmanship. Choosing Harlem Standard American Whiskey for your whiskey sour gives the drink a smooth, velvety mouthfeel and a refined finish.
19. Treaty Oak Ghost Hill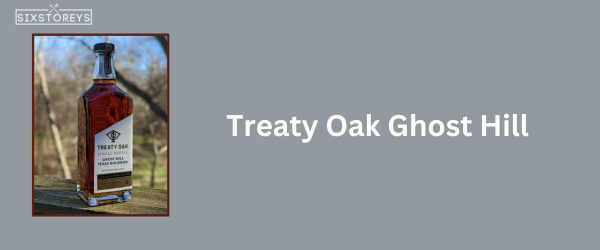 The Treaty Oak Ghost Hill whiskey is an exceptional blend of sweet and spicy flavors, making it an intriguing choice for whiskey sours. Distilled in Texas, Ghost Hill whiskey is made using local grains and limestone-filtered water to create a distinct spirit that reflects its regional terroir. This bourbon is aged for at least two years in charred American oak barrels, adding a layer of rich, smoky flavors to the final product. With its unique blending of corn, wheat, and malted barley, Treaty Oak Ghost Hill offers a bold, yet balanced fusion of flavors perfect for invigorating your whiskey sour experience.
20. Bulleit Rye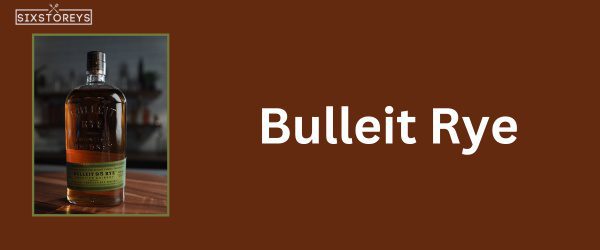 If you're looking for a whiskey with a bold flavor profile and a high rye content for your whiskey sour, look no further than Bulleit Rye. This award-winning whiskey boasts a mash bill containing 95% rye, resulting in a robust, spicy spirit perfect for adding an extra kick to your cocktail. The Bulleit brand is known for its commitment to quality and craftsmanship, and its rye whiskey is no exception.
Aged for at least four years, Bulleit Rye delivers a full-bodied, complex flavor with a hint of sweetness, making it an outstanding choice for whiskey sours. The boldness of this rye whiskey serves to enhance the classic characteristics of the cocktail, creating a flavorful and memorable experience.
21. Michter's US1 American Whiskey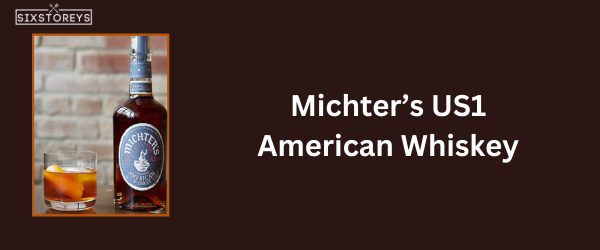 For whiskey sour enthusiasts looking for a drink that boasts a rich and well-rounded taste, Michter's US1 American Whiskey is an excellent option. Michter's approach to whiskey-making combines traditional methods with modern innovations, resulting in products that exude elegance and sophistication. Their US1 American Whiskey is aged in charred oak barrels that have previously held bourbon, imparting richness and depth to the final product.
Its unique flavor profile includes elements of vanilla, caramel, and fruit, which blend harmoniously with the sour and sweet components of the whiskey sour. Imbued with elegance and aromatic complexity, Michter's US1 American Whiskey elevates the whiskey sour to a luxurious level of craftsmanship, providing a cocktail experience to be savored.
22. Gentleman Jack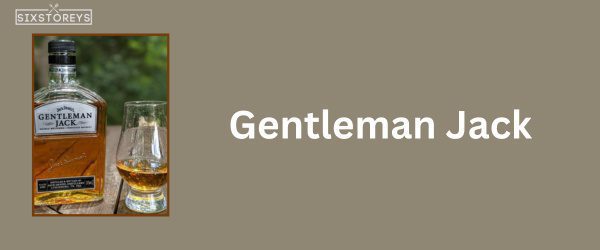 Gentleman Jack is a premium Tennessee whiskey made by the iconic Jack Daniel's distillery. Renowned for its mellow character, Gentleman Jack undergoes a special double charcoal mellowing process, making it stand out from its counterparts. This process softens the whiskey and imparts exceptional smoothness, which lends itself well to the whiskey sour.
Tasting notes:
Nose: Sweet caramel, toasted oak, and light fruitiness
Palate: Rich vanilla, pronounced oak, and a touch of citrus
Finish: Smooth, clean, and balanced
When used in whiskey sours, Gentleman Jack's candied fruit and caramel notes provide a counterbalance to the cocktail's signature citrus acidity, resulting in a harmonious blend that's well-rounded and pleasant on the palate.
23. Jack Daniel's Gentleman's Jack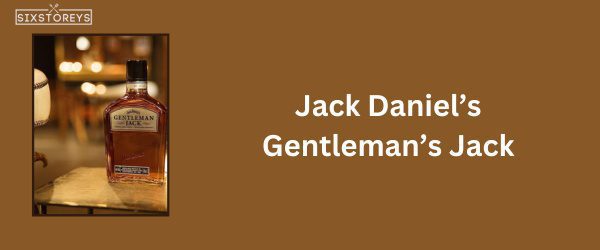 Also hailing from Jack Daniel's is Gentleman's Jack, a refined variant of the classic Old No. 7, asserted by some to be a slightly better version. The secret to its enhanced profile lies in the double-mellowing process, filtering it through maple charcoal before and after aging.
Tasting notes:
Nose: Light and fruity with traces of caramel, oak, and spice
Palate: Honey-like caramel sweetness, toasted oak, and mellow fruitiness
Finish: Long, lingering, and warm with hints of soft oak
In whiskey sours, Gentleman's Jack adds an extra layer of velvety complexity and a distinctive richness, enhancing the traditional cocktail with a sophisticated twist.
24. Fireball Cinnamon Whisky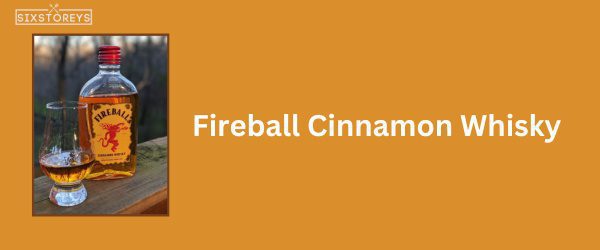 For those who prefer an unconventional approach to their whiskey sour, Fireball Cinnamon Whisky offers an intriguing alternative. This whiskey-based liqueur delivers a bold cinnamon kick, waking up your taste buds and adding a fiery twist to the classic cocktail.
Tasting notes:
Nose: Bold cinnamon spice, sweet syrup, and a subtle alcoholic character
Palate: Sweet and spicy cinnamon candy, reminiscent of Red Hots candies
Finish: Warm, spicy burn with a lingering sweetness
Using Fireball Cinnamon Whisky in a whiskey sour introduces a unique spiced element, perfectly complementing the rich sweetness of the simple syrup and the zesty profile of citrus elements in the drink.
Also Read: Best Peanut Butter Whiskey Brands
How to Choose the Best Whiskey for Your Whiskey Sour Preferences?
When it comes to selecting the best whiskey for your whiskey sours, there are numerous factors to consider. Your personal taste preferences and desire for certain flavor profiles play a significant role in making the right choice. In this section, we will break down the unique characteristics of various whiskeys and help you find the perfect match for your cocktail.
1. Flavor Profile
Sweet Whiskeys
If you have a sweet tooth, opt for whiskeys that have a predominantly sweet flavor profile. Look for options that boast rich caramel, toffee, or vanilla notes, such as:
Woodford Reserve: Smooth, rich, with a hint of sweetness
Elijah Craig Small Batch: Caramel, toffee, and toasted oak notes
Spicy Whiskeys
For those who prefer a spicy kick in their whiskey sours, you'll want to explore rye-heavy whiskeys that carry a characteristic boldness and warmth. Some recommendations include:
Bulleit Rye: Deep spice, with a hint of mint and cherry
Old Forester Rye: Bold, balanced, and versatile with a strong spicy character
2. Price Range
Budget plays an essential role when selecting a whiskey. We've listed options from affordable to more high-end price ranges:
Budget-Friendly Options
Johnnie Walker Red Label: Smooth, smoky, and accessible
Rittenhouse Rye: Rich flavor at a great value
Luxury Selections
Russell's 10-Year Reserve: Aged for a decade, offering a mature, complex taste
Basil Hayden's: Elegant choice with a smooth finish and spicy notes
3. Regional Preferences
Whiskey comes from various regions, each with its distinct characteristics.
American Whiskeys
Seek the bold character of American whiskeys like:
Buffalo Trace: Classic bourbon, rich and smooth
Sazerac Rye: A New Orleans favorite, balancing sweet and spice
Irish Whiskeys
Look for the smoothness and creaminess of Irish whiskeys:
Jameson Black Barrel: Rich caramel and butterscotch notes
Tullamore D.E.W.: Triple-distilled, resulting in a lighter, smoother profile
4. Unique Influences
Infused whiskeys and daring blends bring a twist to your whiskey sours.
Infused Whiskeys
Explore whiskeys with added flavors to change the dynamics of your classic whiskey sour:
Fireball Cinnamon Whisky: A fiery cinnamon kick to spice things up
Traverse City Cherry: The fusion of whiskey and cherry for a delightful twist
Daring Blends
Push the boundaries of your whiskey sours with inventive and novel blends:
Harlem Standard American Whiskey: Smooth blend with a touch of apple and honey
Nikka Days: A Japanese whiskey blend offering light and vibrant notes
By considering these factors, you can confidently select the best whiskey for your whiskey sour preferences, crafting a delightful cocktail tailored to your taste buds. Take the time to experiment with different options and discover your new favorite whiskey for the perfect whiskey sour experience.
Why Quality Whiskey Matters in Whiskey Sours?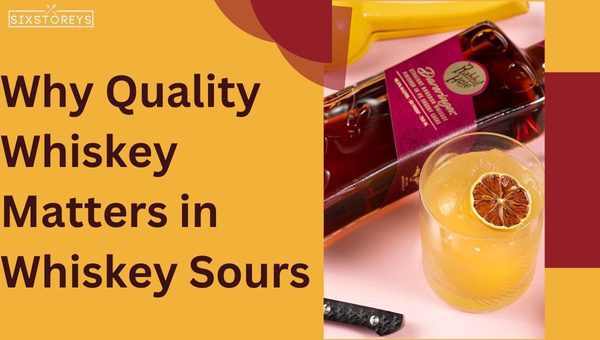 A whiskey sour is only as good as the whiskey used to make it. The reason quality whiskey matters in whiskey sours is multi-faceted:
Impact on taste and texture: The quality of whiskey plays a pivotal role in determining the taste and texture of the cocktail. A well-crafted whiskey will bring out the depth of flavor and enhance the overall drinking experience.
Unique whiskey characteristics: Each whiskey has its own distinct profile, affected by factors such as the distillation process, aging method, and even the type of barrel used. These factors contribute to the cocktail's complexity, harmony, and final taste.
Balance of flavors: Quality whiskeys often feature a superior balance between strong and delicate flavors, making it easier to create a whiskey sour that's neither too sweet nor too tart. This allows the cocktail to be enjoyed by a broader range of palates. Investing in high-quality whiskey for your whiskey sour is essential for crafting a cocktail that showcases the best of both the whiskey and the accompanying ingredients. Embrace the importance of quality in your whiskey sour creations with pride.
How to Enhance Your Whiskey Sour with Garnishes and Presentation?
The art of making the perfect whiskey sour isn't limited to just the concoction itself. Enhance your whiskey sour with garnishes and presentation by considering the following:
Choose the Perfect Glassware
A rocks glass or an old-fashioned glass is the traditional choice for whiskey sours. These glasses have a wide brim, allowing room for ice and garnishes while providing an elegant and classic presentation.
For a more modern and avant-garde twist, try a stemless wine glass or a coupe glass which adds a touch of sophistication to the overall experience.
Garnish Options to Complement Flavor Profile
Lemon twist: A citrus essential, a lemon twist adds a zesty and visually appealing touch to any whiskey sour.
Maraschino cherry: For a touch of sweetness and a burst of color, a maraschino cherry makes the perfect whiskey sour garnish.
Fresh herbs: Some whiskey sours may benefit from an aromatic and flavorful herb garnish, such as a sprig of rosemary or thyme. Be sure to consider the whiskey's profile while choosing a herb garnish to ensure a harmonious blend of flavors.
Orange slice: To add a touch of boldness to your whiskey sour, consider including an orange slice. This garnish pairs particularly well with a bourbon-based whiskey sour.
Dedicating the effort to the presentation and garnishing of your whiskey sour will elevate the cocktail experience and showcase the unique flavors and attributes of the carefully chosen whiskey you've invested in. Great garnishes and presentation set the stage for a truly enjoyable whiskey sour occasion.
Why Whiskey Cocktails like Whiskey Sours Deserve Your Attention?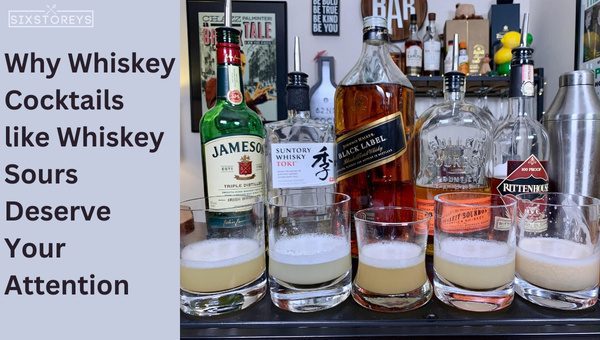 If you're looking for an exciting way to explore the world of whiskey, delving into whiskey cocktails like the whiskey sour is an excellent avenue to take. These classic cocktails allow you to experience the depth and complexity of this versatile spirit while enjoying a refreshing and balanced drink. Here are a few key reasons why whiskey cocktails like whiskey sours deserve your attention.
Reinventing the Classic Whiskey Sour
The whiskey sour is a timeless classic that has stood the test of time since its inception in the 1800s. However, it's the variety and adaptability of this cocktail that truly shines. There are numerous variations and twists on the whiskey sour, allowing you to explore different flavors and styles, use your creativity, and make whiskey sours uniquely tailored to your personal preferences.
Experimentation and Discovery
Whiskey cocktails, especially whiskey sours, offer a great opportunity for experimentation. Each whiskey brings its own flavor profile and character to the table, allowing you to discover new and exciting combinations. The journey of exploring different whiskeys and their impact on the finished cocktail helps to expand your palate and whiskey appreciation.
Accessible to Whiskey Enthusiasts of All Levels
The beauty of whiskey cocktails like whiskey sours is they can be equally appreciated by both whiskey novices and aficionados. For beginners, whiskey sours can serve as a stepping stone, making the rich world of whiskey more accessible by introducing the spirit through a well-balanced and enjoyable cocktail. On the other hand, experienced whiskey connoisseurs can appreciate the versatility and nuances each whiskey brings to the mix.
Perfect for Socializing
Whiskey sours and other whiskey cocktails also play a vital role in social settings. Sharing whiskey cocktails with friends or family can elevate gatherings and enable you to bond over your shared appreciation for whiskey. Attempting to recreate the classic magic of whiskey sours together is not only an enjoyable pastime but can also spark interesting conversations and debates.
In conclusion, whiskey cocktails like whiskey sours deserve your attention because they provide a versatile and accessible means to explore and enjoy the world of whiskey. Through experimentation, creativity, and shared experiences, these delightful drinks offer endless opportunities for whiskey enthusiasts at every level of expertise to further expand their appreciation for the versatile and fascinating spirit that is whiskey.
Also Read: Best Types of Bourbons to Drink
Frequently Asked Questions
What is a whiskey sour?
A whiskey sour is a classic cocktail made with whiskey, lemon juice, and simple syrup, typically shaken and served over ice in a rocks glass. It has a delightful balance of sweet and sour flavors.
Can I use any type of whiskey for a whiskey sour?
While you can use any type of whiskey for a whiskey sour, choosing a quality whiskey with a flavor profile that complements the sweet and sour elements of the cocktail will result in a better-tasting drink.
Is it necessary to use egg whites in a whiskey sour?
Egg whites are optional in a whiskey sour, but they add a creamy texture and a frothy finish to the cocktail. If you prefer, you can make a whiskey sour without egg whites, also known as a Boston Sour.
What is the best type of citrus to use in a whiskey sour?
Fresh lemon juice is the most common citrus used in whiskey sours due to its bright, acidic flavor that balances the sweetness of the simple syrup. However, you can experiment with different citrus fruits like lime or grapefruit to create your own twist on the classic cocktail.
Can I use a store-bought sour mix in place of fresh lemon juice and simple syrup?
Using a store-bought sour mix is an option, but fresh lemon juice and homemade simple syrup contribute to a more authentic and vibrant flavor. Try making your own sour mix at home with fresh ingredients for the best taste.
How do I know which whiskey is the best for whiskey sour?
The best whiskey for a whiskey sour depends on your personal preference and your desired flavor profile. Taste different whiskeys and read tasting notes to determine which one appeals to you the most.
Are there any non-alcoholic alternatives for making whiskey sours?
While whiskey is the primary ingredient in a whiskey sour, you can substitute it with a non-alcoholic whiskey alternative or a flavored syrup to create a mocktail version of the drink.
How can I make a whiskey sour with less sugar?
To make a whiskey sour with less sugar, simply reduce the amount of simple syrup you use in the cocktail. Experiment with different ratios of whiskey, lemon juice, and simple syrup to find the perfect balance for your taste preferences.
How do I properly shake a whiskey sour?
To properly shake a whiskey sour, add all the ingredients to a cocktail shaker filled with ice. Shake vigorously for at least 10-15 seconds until the exterior of the shaker is cold. Strain the cocktail into a rocks glass filled with fresh ice.
Can I use flavored whiskeys in a whiskey sour?
Flavored whiskeys, such as cherry-infused or cinnamon-flavored whiskeys, can be used in a whiskey sour to add an extra layer of flavor and complexity to the cocktail. Just be aware that the flavored whiskey might alter the balance of sweet and sour, so adjust the other ingredients accordingly.
Conclusion
After exploring an extensive range of whiskey options, it's apparent that the perfect whiskey sour lies in the intersection of your personal preferences and the unique characteristics each whiskey brings to the table. Whether it's the boldness of rye, the smoothness of bourbon, or the distinctive notes of international whiskeys, there's a choice for every palate to enjoy this classic concoction. Don't be afraid to venture out and try new combinations, infusions, and variations – the journey of discovery is part of the joy of whiskey-loving.
With a well-stocked home bar and a collection of carefully chosen whiskeys, you'll be on your way to creating whiskey sours that not only impress your guests but also satiate your taste buds and elevate your cocktail experience to new heights. Cheers to embarking upon your greatest whiskey sour adventure!
Beverage Explorer and Tastemaker 🍻🥃🍷 Aman's quest for liquid delights knows no limits. From hoppy brews to aged spirits, he uncovers the tales behind each sip. His eloquent descriptions and accessible insights make every drink an adventure worth raising a glass to.