19 Best Winter Gin Cocktails of 2023 [Unforgettable Flavors]
Updated On: August 24, 2023
The days are getting shorter, and the temperature is dropping. It's time to put away the fruity summer cocktails and break out the cozy sweaters and warm blankets. But, fear not, my fellow cocktail enthusiasts! The chilly season comes with a fantastic opportunity to explore the world of the best winter gin cocktails.
The familiar juniper-forward flavor of gin can be the star of many comforting and delicious concoctions perfect for those cold days and long nights. Swap the tropics for these heartwarming libations, and let me guide you through a selection of rich and flavorful winter gin cocktails that will warm your spirits and make your festivities truly memorable.
Also Read: Winter Vodka Cocktails
Best Winter Gin Cocktails To Try in 2023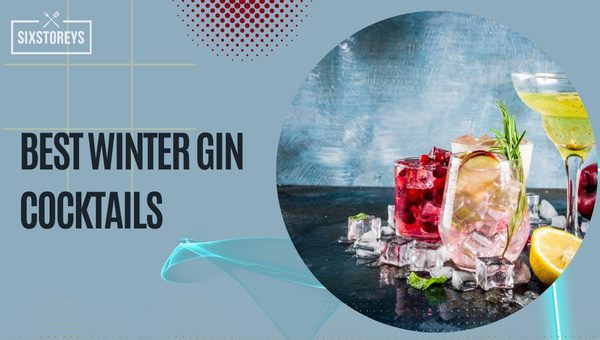 The winter season is upon us, and it's time to embrace the cold weather with a collection of the 19 best winter gin cocktails to enjoy by the fireside or at your next holiday gathering. These delightful drinks showcase the diverse and fascinating world of gin. Let's dive in and learn about each of these enticing concoctions.
1. Blackberry Bramble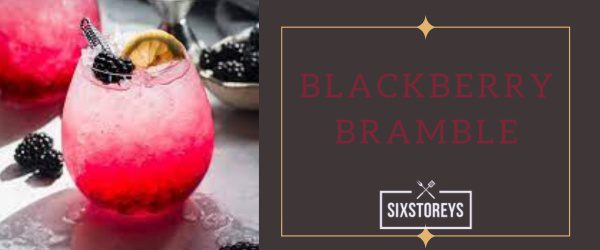 A classic cocktail with origins in London, the Blackberry Bramble boasts a delightful mixture of sweet and tart flavors. The crème de mure, a blackberry liqueur, contributes a rich, fruity sweetness that pairs beautifully with the juniper notes of the gin.
Muddle fresh blackberries in the bottom of a rocks glass, and add gin, lemon juice, and crème de mure. Top with crushed ice, and mix gently. For an elegant garnish, thread a couple more blackberries on a cocktail skewer and drape a lemon twist over the edge of the glass.
2. Winter Gin and Rosemary Paloma: A Twist on a Classic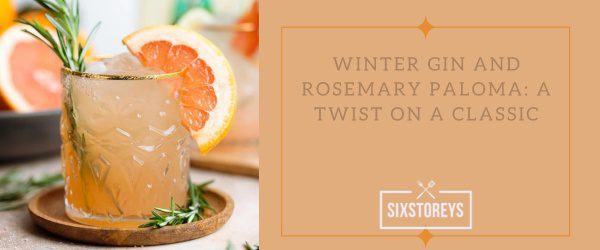 The traditional Paloma combines citrusy grapefruit with the warmth of tequila. In this winter version, give it a splendid seasonal touch by using gin and rosemary. The herbaceous gin flavors perfectly complement the vibrant grapefruit taste, while the addition of rosemary syrup enhances the drink's warm, earthy notes.
Combine gin, grapefruit juice, rosemary syrup, and a splash of soda water in a rocks glass filled with ice. Garnish with a sprig of rosemary and a slice of grapefruit for a beautiful and inviting presentation.
3. Frosted Cranberry Empress Gin Cocktail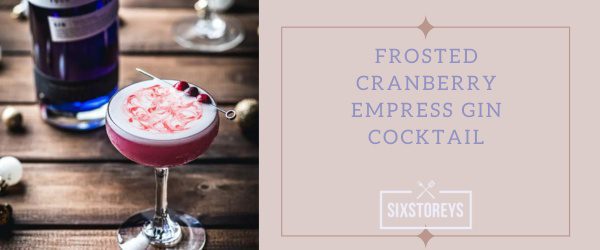 This visually stunning drink features the unique Empress gin, known for its impressive indigo hue and botanical flavors. Adding cranberry juice creates a beautiful color transition and offers a delightful tartness.
To make the frosted cranberry garnish, simply toss some fresh cranberries in egg whites and roll them in sugar. Let them dry before adding them to your cocktail. Mix Empress gin with cranberry juice, a squeeze of lime, and simple syrup for a touch of sweetness. Shake with ice and strain into a chilled martini glass, and finish it off with the sugar-frosted cranberries.
4. Greyhound with a Winter Twist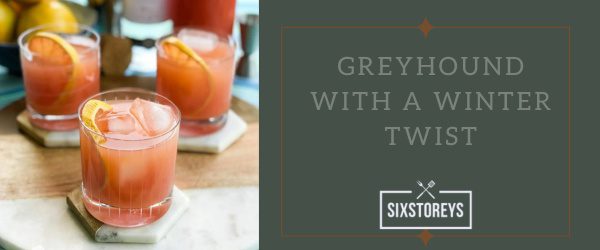 Transport yourself to a sunny winter orchard by savoring this refreshingly simple yet delicious Greyhound cocktail. Highlighting the vibrant taste of fresh-squeezed grapefruit juice, combine it with your favorite gin for an invigorating libation.
To imbue a festive, winter-inspired aroma, add a sprig of rosemary to the mix. Shake the ingredients with ice, then strain into a rocks glass filled with fresh ice. The frosted appearance and wafting scent of rosemary make this Greyhound the perfect companion on a frosty winter day.
5. Martinez: Classic and Warming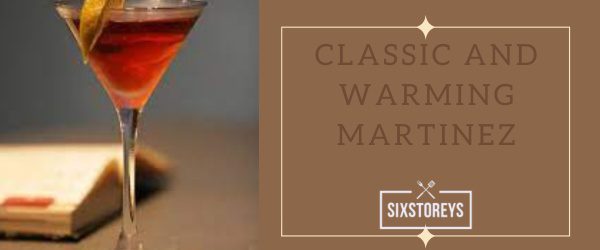 Since its origins in the 1860s, the Martinez has stood the test of time, and for a good reason. This classic cocktail expertly balances sweet and bitter flavors to create the perfect winter warmer. Combine gin, sweet vermouth, maraschino liqueur, and orange bitters in a stirring glass with ice. Stir gently and strain into a chilled coupe or martini glasses. Add a lemon twist or cherry garnish to lend an elegant touch to this timeless drink.
6. French 75 with a Seasonal Spin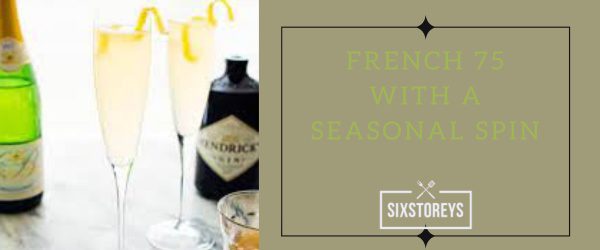 Glamorous and effervescent, the French 75 is the epitome of sophistication. Traditionally made with gin, lemon juice, simple syrup, and sparkling wine, this fizzy concoction is ideal for holiday parties or festive gatherings.
To add a seasonal flair, consider incorporating cranberry or pomegranate syrup instead of the usual simple syrup. This modification not only lends a beautiful hue to the drink but also imparts a deliciously fruity twist. Serve in a champagne flute and garnish with a lemon twist or a few cranberries for a festive touch.
Also Read: Best Creme De Menthe Cocktails
7. Blood Orange Gin & Tonic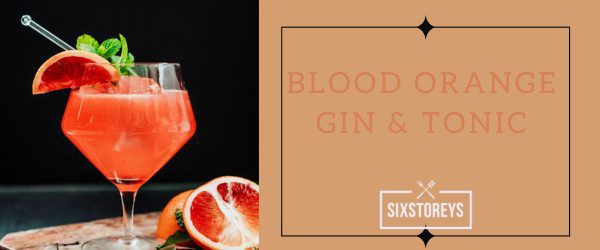 The winter season is abundant with citrus fruits, and the stunning blood orange is a particularly eye-catching variety. Deep red in color and slightly sweeter than its traditional counterpart, the blood orange takes center stage in this winter gin and tonic.
To showcase this delightful fruit, mix gin with blood orange juice and tonic water. Serve in a glass filled with ice, garnished with a slice of blood orange and a sprig of rosemary for an aromatic twist.
8. Honey-Sweet Bees Knees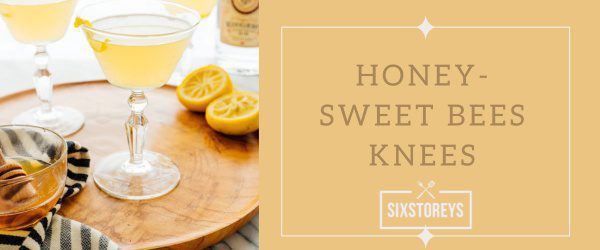 With roots dating back to the Prohibition era, the Bees Knees is a classic gin cocktail that's perfect for bridging the gap between summer and winter. Incorporate honey syrup for added richness and warmth. Start by combining gin, lemon juice, and honey syrup in a cocktail shaker with ice.
Shake vigorously, then strain into a chilled coupe glass. For a truly buzzing garnish, add a lemon twist or even a small piece of honeycomb to complete the presentation of this sweet and comforting cocktail.
9. Hanky Panky: A Bold Winter Cocktail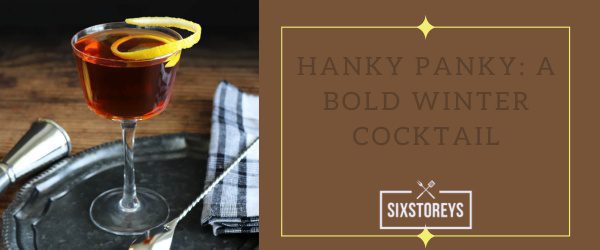 The Hanky Panky is a classic gin and sweet vermouth cocktail with a bold, bracing kick from Fernet-Branca. With its herbal and bittersweet notes, Fernet-Branca brings sophistication and depth to this wintry concoction.
To make a Hanky Panky, mix equal parts gin and sweet vermouth with ¼ ounce Fernet-Branca in a mixing glass with ice. Stir until well chilled, then strain into a chilled coupe glass. Adding an orange twist garnish will provide a bright aroma and a pop of color.
10. Winter Gin Mule: A Spiced-up Classic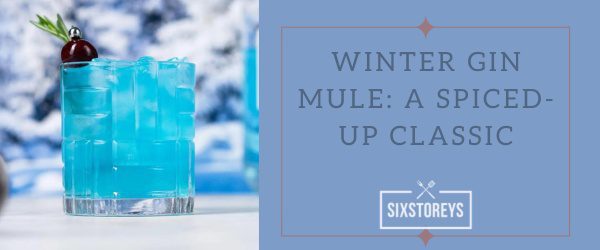 The Moscow Mule, typically a combination of vodka, ginger beer, and lime, gets a seasonal makeover in this winter gin variant. By incorporating gin in place of vodka, the cocktail gains a whole new level of flavor.
Adding mulling spices or a cinnamon-infused simple syrup can contribute a deliciously festive warmth. Combine the gin, cinnamon syrup, and lime juice in a copper mug filled with ice. Top with ginger beer and garnish with a lime wheel and cinnamon stick for a delightful aromatic touch.
11. Finnish Long Drink: A Wintry Take on a Classic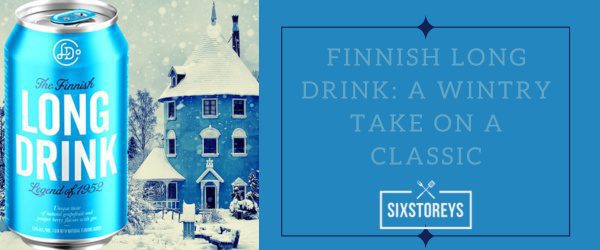 Born during the 1952 Helsinki Olympics, the Finnish Long Drink is a marriage of gin, grapefruit soda, and a touch of lime. In a winter rendition, mix gin with a spicy ginger beer and grapefruit juice for a vibrant taste that's perfect for those cold nights.
Shake the gin, grapefruit juice, and lime juice together with ice, then strain into a highball glass filled with ice. Top with ginger beer and garnish with a slice of grapefruit or a sprig of rosemary for a Nordic-inspired imbibe.
12. Brûléed Blood Orange Spiced Winter Gin & Tonic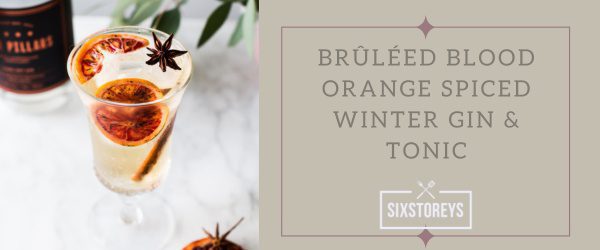 Take the classic gin and tonic up a notch by adding a delectable brûléed citrus garnish. Start by cutting a blood orange (or any other favorite citrus fruit) into round slices. Using a kitchen torch or broiler, caramelize the surface of the fruit until it's slightly charred and bubbly.
Then, mix your gin of choice with tonic water and any preferred wintry spices, such as cloves, cinnamon, or cardamom. Add ice, and don't forget to drop in your brûléed blood orange slice for an elevated and captivating touch.
13. Berry Sweet: Blackberry Gin and Jam Cocktail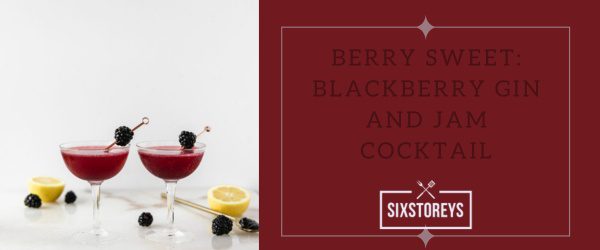 Bring out the sweetness of the season with this blackberry gin and jam cocktail. Utilizing blackberry jam not only imparts an incredible fruit flavor but also contributes to the drink's thicker texture.
To make this delicious concoction, mix gin, lemon juice, and a spoonful of blackberry jam in a shaker filled with ice. Shake well and double strain into a chilled glass. To enhance this drink's visual appeal, add a few fresh blackberries and a lemon twist as garnish.
14. Winter Gin & Tonic with Elderflower & Sloe
Looking for a gin and tonic with a touch of elegance? The combination of elderflower and sloe gin in this version provides a floral yet fruity take on the traditional gin and tonic. Mix a good-quality gin with sloe gin, elderflower liqueur, and tonic water.
Serve this delightful libation in a large wine glass filled with ice, and garnish with pomegranate seeds or a sprig of thyme to enhance its visual appeal and fragrance.
15. Pomegranate Grapefruit Gin & Tonic Cocktail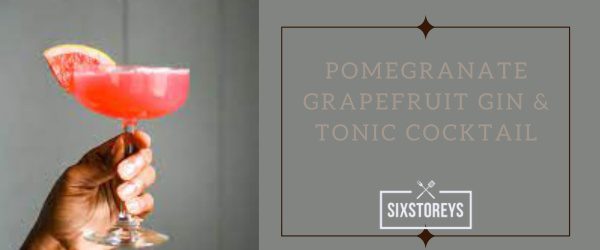 Inspired by the abundance of winter fruits, this pomegranate grapefruit gin & tonic cocktail showcases the beauty of pomegranate seeds and their burst of juicy sweetness. Mix pomegranate juice and grapefruit juice with your choice of gin, and top it off with tonic water. Pour this eye-catching concoction into a glass filled with ice, and add pomegranate seeds as a colorful and flavorful garnish.
16. Spiced Gin Warmer: A Perfect Holiday Treat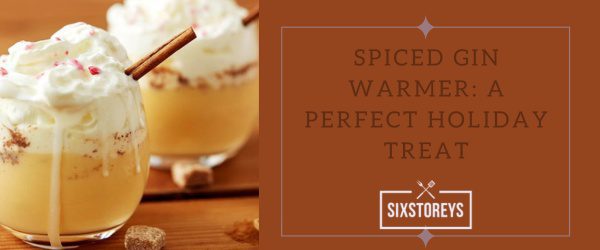 The comforting warmth of spiced apple cider meets the lively botanical notes of gin in this Spiced Gin Warmer, ideal for holiday gatherings or cozy nights. In a pan, heat up apple cider with a selection of mulling spices, such as cinnamon, cloves, and orange slices.
Add the gin and warm the mixture gently while avoiding boiling. Serve it in a heatproof glass or mug, garnishing with an orange wedge, cinnamon stick, and a few cloves to create the perfect aromatic experience.
17. Hot Gin Toddy: A Soothing Winter Warmer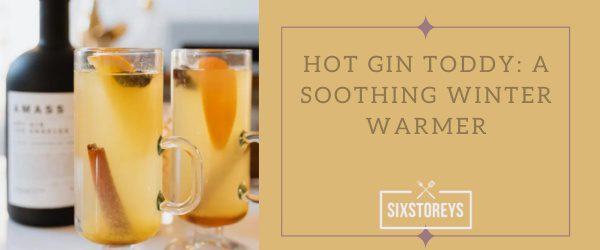 A well-known remedy for the common cold or chill, the classic hot toddy gets a refreshing herbal twist with the inclusion of gin. To create the Hot Gin Toddy, steep a lemon and rosemary tea bag in boiling water with a slice of lemon and honey.
Allow the flavors to meld before adding a generous slug of gin to the mix. Sip this soothing elixir from a mug, and let the warmth of the fragrant liquid work its magic on your body and soul.
18. Winter Jasmine Cocktail: A Floral Delight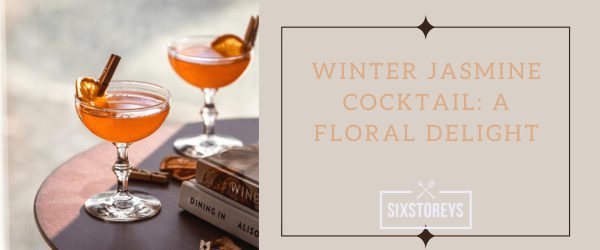 Surprise your taste buds with the Winter Jasmine Cocktail, a unique blend of gin, Grand Marnier, and the sweet fragrance of jasmine liqueur. Combine these ingredients with lemon juice and honey, shake with ice, and strain it into a coupe glass.
For an elegant finishing touch, garnish with a twist of lemon peel. This Winter Jasmine Cocktail is a bright and floral concoction that will transport you to a blossoming garden, even amidst the chilliest of winter evenings.
19. Winter Florals: A Botanical Celebration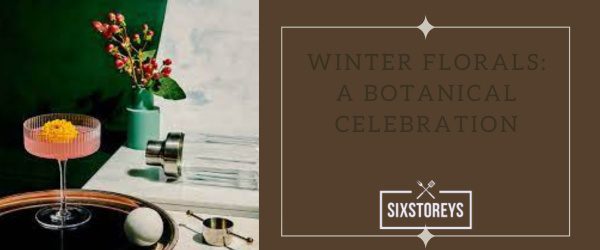 Finally, let's show some love to the wide array and versatility of gin's botanical spirit with the Winter Florals cocktail. Select a gin with a strong, well-rounded profile, brimming with delicate floral notes.
Muddle fresh rosemary and thyme at the bottom of a mixing glass, and add the gin, lime juice, and some elderflower liqueur. Shake well and strain into a tumbler filled with ice, then top with soda water. Garnish with sprigs of fresh herbs and beautiful edible flowers to create a visually stunning and fragrant cocktail.
Also Read: Best Sour Cocktails
How to Choose the Perfect Gin for Your Winter Cocktails in 2023?
When it comes to crafting the ideal winter gin cocktail, selecting the right gin can make all the difference. With so many options available, it can be challenging to nail down the perfect choice. Consider these essential factors to ensure your winter gin cocktails are a hit:
The Flavors of Winter
Look for gins with warm and inviting flavors that complement seasonal ingredients. Juniper-forward gins with notes of pine, citrus, and spice tend to work best for winter cocktails. Think about pairing your gin with the tastes of cinnamon, nutmeg, clove, and ginger.
Gin Styles
Understanding the different styles of gin can help you find the perfect match for your winter cocktails. London Dry is the classic choice, with its bold juniper and herbaceous flavors. Modern gins, on the other hand, may be more approachable and fruity for a smoother finish. Old Tom gin balances sweetness and botanicals, making it ideal for vintage-inspired mixology.
London Dry Gin: Bold, classic, and herbaceous
Modern Gin: Approachable, fruity, and versatile
Old Tom Gin: Sweet, botanical-rich, vintage-inspired
Sloe Gin: Fruit-infused, slightly sweet, winter-friendly
Pairings and Combinations
Experiment with different gin styles and flavors to find the perfect combinations. Try a London Dry gin with a cinnamon-infused simple syrup for a warming spiced cocktail, or a vibrant modern gin with fresh blood orange juice for a refreshing yet cozy beverage. Don't be afraid to mix and match different elements to create your signature winter gin cocktail.
Sample Pairings
| | | |
| --- | --- | --- |
| Gin Style | Winter Ingredient | Suggested Cocktail |
| London Dry Gin | Cinnamon-infused Syrup | Hot Gin Toddy |
| Modern Gin | Blood Orange Juice | Blood Orange Gin & Tonic |
| Old Tom Gin | Honey Syrup & Lemon | Bees Knees |
| Sloe Gin | Elderflower Liqueur | Sloe Gin and Elderflower Fizz |
Trust Your Palate
In the end, the right gin for your winter cocktails is a matter of personal taste and preference. Trust your palate and sample different gins to find the one that truly speaks to you. As you build your gin collection, mix and match brands and styles, and narrow down your favorites.
How to Batch Your Winter Gin Cocktails in 2023?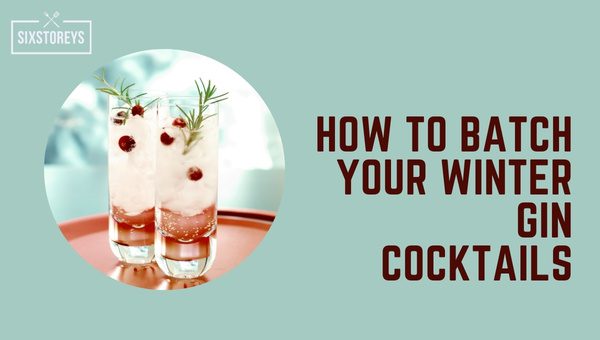 When you're hosting a gathering or just want to prepare a variety of gin cocktails for the winter season, batching your cocktails can save time and energy. In this section, we'll cover essential tips and steps to help you effectively batch your winter gin cocktails and ensure consistent flavor and quality in every glass.
1. Choose Your Gin Cocktail Recipe
First, decide which gin cocktail recipe (or recipes) you'd like to batch. Keep in mind the flavors you want to emphasize during your gathering. You should also consider the storage space and resources you have available.
2. Calculate the Number of Servings
Decide how many servings you'll need, and scale up your recipe accordingly. Be mindful of the size of the containers you'll be using for batching and storage, as well as the number of guests you're planning to serve.
3. Mix Your Ingredients
When you're ready to mix your batched gin cocktail, combine all the non-carbonated ingredients in a large container – such as a punch bowl, glass dispenser, or large pitcher. It's crucial to give every ingredient enough space to mix thoroughly. For an even distribution of flavors, use a long-handled mixing spoon or a whisk to combine everything.
4. Dilute Your Cocktail
One essential aspect of batching gin cocktails is diluting them properly. Since you won't be shaking or stirring individual servings over ice, you need to integrate water into the mix to achieve the desired consistency and flavor.
You can do this by adding cold, filtered water to your batch. The amount of water depends on the recipe, but a general rule of thumb is to substitute the ice volume with an equal amount of water. You can adjust the water ratio, depending on the cocktail and the level of dilution you prefer.
5. Store Your Batch
Transfer your batched cocktail into sealable, airtight containers. Store them in the fridge or another cool area to ensure the freshness and quality of your batched gin cocktails.
6. Serve Your Batched Winter Gin Cocktails
Before serving your batched cocktails, make sure to give them a good stir to maintain consistent flavor. Pour your cocktail into a glass filled with ice, and add any carbonated ingredients – if needed – right before serving. This ensures that your drinks maintain the perfect effervescence. Finally, garnish each glass and enjoy!
To enhance your hosting experience, you can leave a batched cocktail station with all the essentials and instructions for your guests to mix their desired gin cocktails. This adds a more interactive component to your gathering, allowing guests to discover and enjoy new flavors.
Batching your winter gin cocktails is a practical and efficient way to prepare impressive drinks for your guests while freeing yourself to enjoy your party. Remember, successful batching requires meticulous planning, attention to detail, and careful execution.
Why Winter Citrus and Gin Make The Perfect Duo in 2023?
When it comes to crafting cocktails, the combination of gin and winter citrus fruits is a match made in heaven. The versatile nature of gin, with its unique flavor profiles and aromatics, is elevated when paired with the distinct tang of seasonal citrus. So, what makes these two ingredients so remarkably compatible, and how can you harness their potential in your own winter cocktail creations?
Distinctive Gin Flavor Profiles
First and foremost, gin brings an array of bold flavors that work harmoniously with the bright and tangy notes of winter citrus. The predominant flavor of gin, juniper berries, lends a pine-like quality and a certain depth to the spirit. Apart from classic juniper-forward options, there are also gins infused with various botanicals, such as fruits, spices, and herbs, which add an extra dimension of flavor. These diverse flavor profiles make gin a versatile and dynamic base for any cocktail.
Winter Citrus Season
The winter season is the prime time for various citrus fruits, including blood oranges, tangerines, grapefruit, and lemons. With their vibrant colors and varying degrees of sweetness and tartness, these fruits offer a myriad of possibilities when paired with gin. The intense citrus burst enhances the gin's complexity, creating a perfect balance between bold, refreshing, and bright.
Complementing and Contrasting Flavors
Gin's botanicals can either complement or contrast the flavors of winter citrus, making it a truly adaptable ingredient. While some gins exhibit harmonious citrus-forward notes, others provide an exciting contrast with herbal, floral, or spicy infusions. By carefully selecting the right gin, your winter citrus cocktails can be impeccably balanced and tantalizingly creative.
Examples of Ideal Gin and Winter Citrus Pairings
Below are a few stunning examples of how gin and winter citrus can work together to create the ultimate cocktail experience:
Blood Orange Negroni: Swap the traditional orange twist for a blood orange wheel and enjoy the enticingly rich and bittersweet flavors this classic cocktail has to offer.
Tangerine and Thyme Gin Sour: A modern twist on the gin sour combines fragrant tangerines with a whiff of fresh thyme, elevating the standard lemon-gin combination.
Grapefruit and Rosemary Greyhound: The zesty grapefruit juice provides a refreshingly tart base, enriched by the herbal complexity of gin, and balanced with a hint of rosemary.
The duo of winter citrus and gin yields endless opportunities to craft flavorful, refreshing, and unique cocktails for any cold-weather soiree. With their powerful combination of contrasting and complementary notes, these seasonal delights come together to create an unforgettable drinking experience.
How to Warm Up Your Classic Cocktails with Winter Flavors?
Winter is the perfect time to give your classic cocktails a seasonal makeover. By incorporating the rich and cozy flavors of winter, you can add warmth and depth to your favorite gin drinks. Let's explore some easy ways to bring a winter twist to classic cocktails.
1. Use Seasonal Ingredients for a Festive Flair
One of the simplest ways to add winter flavors to your cocktails is by using seasonal ingredients. Winter fruits like pomegranates, blood oranges, and cranberries can provide a vibrant splash of color and a burst of fresh flavor.
Example: Blood Orange Negroni
Replace the traditional orange garnish with a blood orange slice for a visually stunning and flavorful upgrade of the Italian classic.
2. Add Warming Spices and Herbs to Create Depth
Experiment with adding warming spices, such as cinnamon, cloves, nutmeg, and star anise, to your cocktails. These flavors pair beautifully with gin, and they enhance the natural botanicals found in the spirit. Herbs like rosemary, sage, and thyme can also be used to give a savory touch to your drinks.
Example: Spiced Martini
Infuse your gin with your choice of winter spices or add a couple of dashes of spiced bitters to your classic martini recipe.
3. Get Creative with Syrups and Bitters
Homemade infused syrups are a great way to introduce winter flavors into your cocktails. Try making gingerbread syrup, or brown sugar and cinnamon syrup, to add warmth and sweetness to your drinks. Bitters can also help balance out flavors and add complexity to your winter cocktails.
Example: Cinnamon and Maple Bee's Knees
Replace the honey syrup with cinnamon and maple syrup for a comforting winter variation of this classic.
4. Opt for Richer, Fuller-Flavored Spirits
Consider swapping the gin you usually use for a variant with more robust flavors. Barrel-aged gins, Old Tom gins, and sloe gins have the potential to bring richer and deeper notes to your winter cocktails, matching the hearty flavors of the season.
Example: Sloe Gin Fizz
Enhance the fizz with fruity and slightly sweet sloe gin for a decadent winter treat.
5. Serve Your Cocktails Warm or Hot
Another way to make your cocktails more winter-appropriate is to serve them warm or hot. This not only gives them a cozy feel but can also enhance and transform the flavors you're working with.
Example: Hot Gin Toddy
Replace the whiskey in a traditional hot toddy with gin for an aromatic and soothing winter warmer.
Making small changes to your favorite classic cocktails can transform them into festive winter delights, opening up a whole new world of seasonal concoctions for you to enjoy.
Also Read: Best Wine Cooler Drinks
Frequently Asked Questions
What types of gin work best in winter cocktails?
For winter cocktails, consider using gins with a more robust flavor profile, such as London dry gin or those featuring warming botanicals like cinnamon, cardamom, or clove. However, feel free to experiment with different types of gin to find the one that suits your taste preferences best.
How do I adjust a classic gin cocktail recipe for colder weather?
To adapt a classic gin cocktail for winter, try incorporating seasonal ingredients like citrus, pomegranate, cranberry, or spices like cinnamon, nutmeg, or star anise. You can also experiment with warming garnishes or switch from shaken to stirred and served on the rocks or even heated, depending on the recipe.
Can I make a non-alcoholic version of a winter gin cocktail?
Yes, you can create a non-alcoholic version of many winter gin cocktails by using a non-alcoholic spirit like Seedlip or an alcohol-free gin alternative as a substitute for the gin. You can also create your own mocktail versions by focusing on the non-alcoholic ingredients and flavors in the cocktail recipe.
How can I infuse my gin with winter flavors?
To infuse your gin with winter flavors, simply combine your chosen gin with ingredients such as orange peel, cinnamon sticks, cloves, star anise, or other winter spices in a sealed jar. Allow the mixture to steep for a few days to a week, depending on the desired intensity of the flavors. Strain the infused gin and store it in a clean bottle.
Can I use a flavored gin in my winter cocktails?
Yes, flavored gins can add an extra layer of flavor and complexity to your winter cocktails. Many brands now offer seasonal or spiced gins, such as sloe gin or rhubarb gin, that can be a perfect addition to your cold-weather drinks. However, adjust the other ingredients accordingly to ensure a balanced flavor.
How do I store leftover winter cocktails or syrups?
When storing leftover cocktails, place them in a sealed container in the refrigerator and consume them within a couple of days. Syrups and infusions should be stored in airtight containers in the refrigerator and can last several weeks. Remember to check for any signs of spoilage, such as off-odors or mold, before using.
Conclusion
Experimentation and creativity are at the core of crafting incredible cocktails, and winter is no exception. The 19 best winter gin cocktails we've explored here are just a starting point for your magical winter gin adventure. With the classic, inventive, and delightfully cozy options available, you'll quickly find that gin is a potent and versatile force in the realm of cold-weather drinks. Raise a glass to your festive concoction and stay warm, my friends.
Beverage Explorer and Tastemaker 🍻🥃🍷 Aman's quest for liquid delights knows no limits. From hoppy brews to aged spirits, he uncovers the tales behind each sip. His eloquent descriptions and accessible insights make every drink an adventure worth raising a glass to.