18 Best Buzzballz Flavors of 2023 [Sip, Sip, Hooray]
Updated On: August 11, 2023
Diving into the world of the best Buzzballz flavors is like stepping into a vibrant celebration, where every sip invites a delightful dance of your taste buds. These compact cocktail balls pack a punch of distinct taste profiles, mixing high-quality spirits with vibrant flavors that ensure both novice and seasoned drinkers enjoy an unforgettable experience.
Every ball is a bubbling rush of enthralling tastes, making Buzzballz a popular choice for those looking to expand their drink repertoire or simply seeking a pleasant switch-up from their usual cocktail choices. Let's start our flavorful journey and explore the best flavors of Buzzballz that have made quite the buzz in the vibrant universe of handheld cocktails.
Also Read: Best Mio Flavors
18 Best Buzzballz Flavors of 2023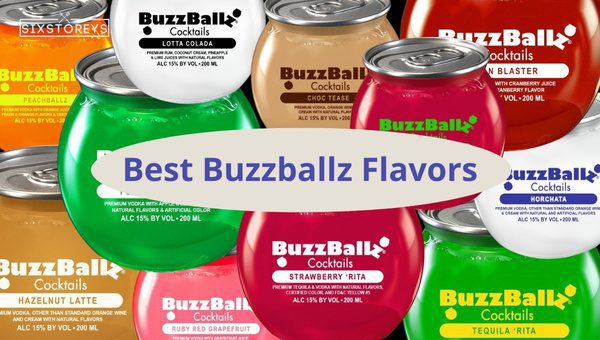 Unleashing a taste adventure like no other, Buzzballz cocktails parade an impressive spectrum of flavors that are sure to delight any palate. Packaged in colorful spherical cans is a world of 18 unique flavors, each proving to be a vibrant standout in its own right. This list will guide you through these 18 best Buzzballz flavors that charm the taste buds and tantalize the senses.
1. Forbidden Apple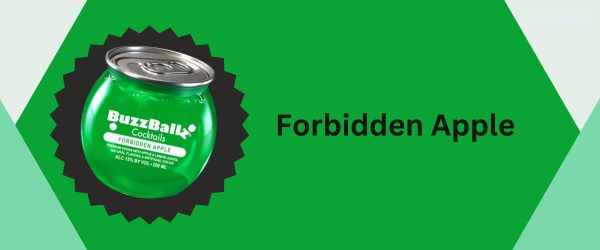 This Buzzballz flavor offers a wild swirl of flavors that leaves your taste buds completely captivated. The Forbidden Apple is an exotic mixture that draws you in immediately and is considered to be the best Buzzballz flavor.
Upon my first sip, the crisp, fresh, and slightly tart sensation of a green apple was so discernible that it felt as though I was biting into one. It's a refreshing change from the usual suspects in the cocktail menu list.
The Forbidden Apple is bold, and it feels almost enchantingly forbidden, tantalizing even the reluctant drinkers. The draw of the vibrant apple makes this cocktail an instant favorite. It's a delightful blend that you can enjoy all year round, making every day feel like Halloween.
2. Watermelon Smash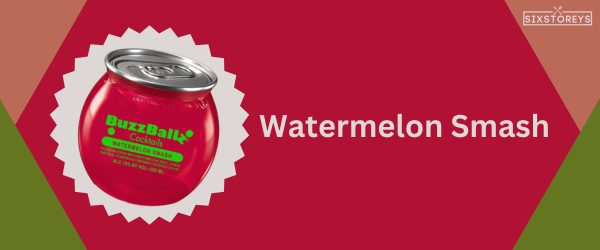 Buzzballz certainly smashed it with this flavor! Could anything be more refreshing than a watermelon on a boiling summer day? Imagine that sweet, thirst-quenching delight of a fresh watermelon enhanced with the kick of alcohol. Simply divine!
When I tasted Watermelon Smash, it was like summer rolled into a tiny ball. A light, fruity cocktail with the awesome taste of ripe, juicy watermelon paired perfectly with a hint of alcohol. It was simply irresistible.
This is the quintessential summer drink, a perfect choice to cool off in a hot afternoon. Watermelon Smash is an exceptionally refreshing cocktail, one that I could enjoy over and over again. Trust me, nothing screams summer more than this delightful cocktail mix.
3. Cran Blaster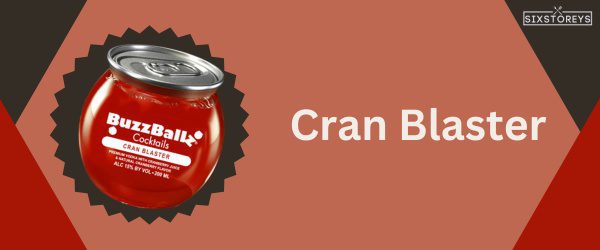 An exciting encounter with the Cran Blaster leaves anyone, including me, craving more of its delightful flavor. Wrapped in a deceivingly innocent pink, this cocktail ball is a beautiful blend of cranberry juice, orange juice, and vodka, resulting in a concoction reminiscent of Cosmopolitan. What sets this cocktail apart is the bold and vibrant cranberry flavor that grips you from the very first sip. The tartness of the cranberries, perfectly balanced with the sweetness of oranges and the subtle sharpness of vodka, creates an irresistible cocktail that's not too sweet or too tangy – just perfect.
There's a masterful blend at play here, where every ingredient has its role and shines, creating a harmonious taste profile. In every sip of the Cran Blaster, you get a burst of fruity freshness, followed by a delightful aftertaste that lingers and invites the next sip. This is the kind of drink that you can enjoy at any time of the day, whether you're unwinding after work or kickstarting a lively evening.
One image that often flashes before my eyes when I'm sipping on a Cran Blaster is a balmy summer by the beach, complete with a light sea breeze and the sound of waves. It's a soothing sensation that makes the whole experience even more enjoyable.
4. Ruby Red Grapefruit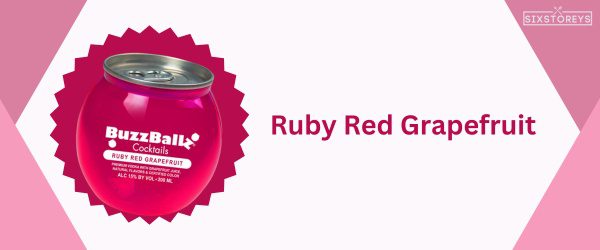 The Ruby Red Grapefruit Buzzballz flavor is a bold and commanding showstopper. This simple yet sophisticated cocktail combines the refreshing flavor of ruby red grapefruit with the smooth subtleness of vodka. This unique mixture creates an elaborate symphony of taste that left me pleasantly surprised and undoubtedly hooked.
Upon the first taste, I was met with a bold and tangy punch from the rich grapefruit flavor. But it didn't stop there. What followed was an elegant sweetness that was simply irresistible. The perfectly matched vodka brought a smoothness that undercut the citrusy edge of the grapefruit, making it not too sweet, but just right.
I am especially impressed with the well-crafted balance of this flavor. It's neither overwhelmingly fruity nor overly dominant with the kick of the vodka. Instead, these two elements meld together to create a flavor that seems made for those warm, sunny days where lounging by the pool with a refreshing cocktail in hand seems like the ideal way to spend the day. And at night? Ruby Red Grapefruit easily transitions from a daytime delight to a perfect evening companion.
5. Strawberry Rum Job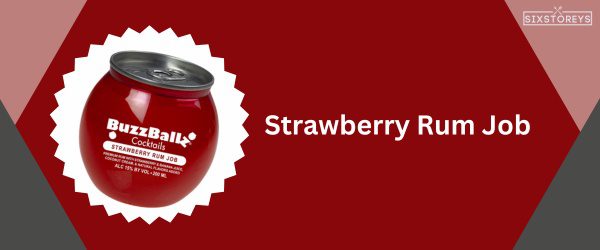 There's just something about the combination of strawberries and rum that exudes a tropical, beachy vibe. Strawberry Rum Job perfectly captured this sentiment and translated it into a thrilling cocktail experience. This delightful Buzzballz offering had me falling in love with its incredibly vibrant and juicy strawberry flavor, expertly mixed with the earthy smoothness of premium rum.
The cocktail kicks off with a sweet and vivid strawberry flavor that's reminiscent of biting into a ripe, juicy strawberry. But the fun doesn't stop there. Just when you're reveling in the fruitiness of the cocktail, the rum gently unveils itself, bestowing a rich, smooth kick that, combined with the strawberry, makes every sip an absolute delight.
On a bright, sunny day, Strawberry Rum Job is my preferred companion that perfectly embodies relaxation and playfulness in a single serve. And on those nights when I yearn for something a little different, this exotic cocktail is a reliable go-to, adding a certain flair to my evening.
6. PeachBallz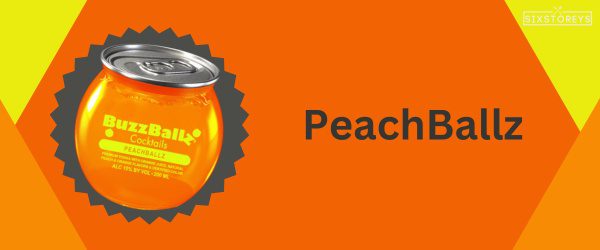 From the groovy peach color to the pleasingly fragrant aroma and the exquisite taste profile – everything about the PeachBallz flavor was love at first sight, smell, and taste for me. PeachBallz is like biting into a ripe, juicy peach, but even better thanks to the playful kick of alcohol.
The PeachBallz is a beautiful medley of juicy peach flavor, a hint of grenadine, and vodka. With each sip, you are met with a wave of velvety smooth peach flavor that tastes fresh, real, and not overly sweet. The grenadine adds a delightful richness and depth to the cocktail that is balanced perfectly by the vodka. This fine balance results in a drink that has a strong peach essence without being overly fruity or overly alcoholic.
What I find incredibly enjoyable about PeachBallz is its versatility. It is a flavor that you can enjoy all year round, irrespective of the season. Be it a cold winter evening when you're craving a cocktail with a lively, tropical vibe, or a hot summer afternoon when you need a cool, refreshing drink to beat the heat – PeachBallz is a dependable choice that will not disappoint.
7. Pumpkin Pie Eater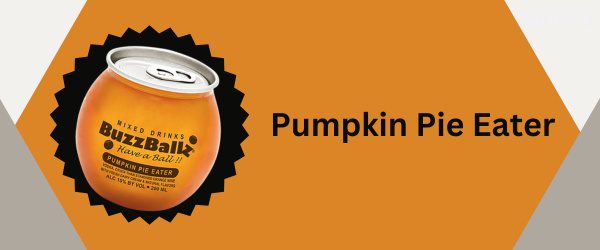 Pumpkin Pie Eater is not your everyday cocktail; it's a seasonal treat that wraps your senses in its warm, cozy embrace, reminiscent of a comforting slice of grandma's pumpkin pie. This rich and delectable Buzzballz flavor offers a unique, well-crafted mix of pure pumpkin pie delight and a complementary hint of high-quality cream liqueur. Perfect for those who crave something different and exciting in their drink choices.
The taste journey of Pumpkin Pie Eater begins with the familiar, comforting, and delicious sweetness of pumpkin pie which is soon followed up with a voluptuous creaminess provided by the cream liqueur. It's a fantastic dance between flavors that makes this cocktail a joy to sip on a cozy evening by the fireplace or as a festive treat during the holiday season.
A swig of the Pumpkin Pie Eater is like savoring a sweet, creamy dessert, only better, because it hits you with that smooth, warming buzz that's the best part of any alcoholic beverage. It's also a nice way to switch things up from the fruity and sweet Buzzballz flavors. This flavor is a complete game-changer, proving once and for all that cocktail balls can offer the same satisfaction that a plated, kitchen-cooked dessert can.
Whether it's just an ordinary day you want to spice up or you're celebrating a special occasion, Pumpkin Pie eater is a delicious little luxury that brings a dash of fun and warmth into moments that matter.
8. Espresso Martini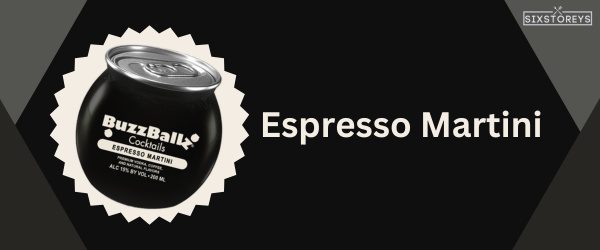 As someone who thoroughly enjoys an excellent cup of coffee, Espresso Martini was a much-anticipated revelation. Awakening my senses with the robust espresso flavor paired with hints of chocolate and the unmistakable martini kick was an experience I can only describe as downright irresistible.
From the first sip itself, I was completely entranced by the strong, decadent espresso flavor that bursts right onto the palate. Then the soft tones of the chocolate slowly make their presence known, balancing the bold espresso with a sweet, velvety touch. The vodka martini provides the cocktail with a sharp twist, keeping the overall taste dynamic and edgy.
What I love most about this Buzzballz flavor is the harmonious balance of the coffee-chocolate-spirit trinity. Each flavor is distinct yet beautifully tied together, with no one element overpowering the other. Espresso Martini is the perfect choice for evenings when you need a pick-me-up, but also a moment of indulgence. It makes me feel like I am savoring a deliciously buzzy dessert while also delivering that coffee kick I love so much. A perfect late-night companion, indeed.
Also Read: Best Olipop Flavors
9. Choc Tease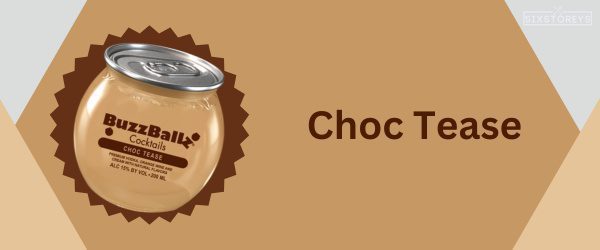 For those with a sweet tooth and a love for dessert-style drinks, look no further than Choc Tease. This unique blend of creamy chocolate, coffee, and rum makes for an indulgent experience, akin to enjoying a decadent chocolate dessert. And let's not forget the hint of alcohol that adds a thrilling twist to the whole affair.
Upon my first sip, the deep and rich chocolate flavor was what hit me first. The creamy sweetness of high-quality chocolate mingled with the deep tones of coffee to create a taste extravaganza. What followed was a smooth and mild wave of rum, which tied the whole experience together in an extravagant bow.
Choc Tease is an ode to all things sweet and luxurious. If a small retreat into the world of chocolates and rum is what you are looking for, then this cocktail is your ticket. It's like a fine dessert drink in a ball, perfect for those cozy nights in.
10. Mile High Krush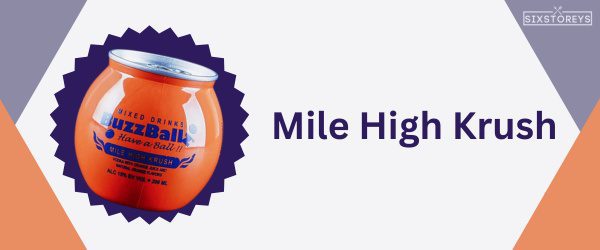 Imagine the sun, the sand, and the breeze in your hair, the sound of waves crashing nearby, and a taste of the tropical life in your mouth- that's the Mile High Krush for you. Tropical notes of pineapple and coconut unified with premium rum, creating a drink that tasted like a vacation in every single sip.
The first burst of flavor comes from the succulent sweetness of fresh pineapple. A moment later, the coconut shimmers through, adding a creamy depth. The rum perfectly enhances the tropical twist, making it a revitalizing and refreshing concoction.
Mile High Krush undoubtedly has a feel-good factor. It offered an immediate escape to a beach, something I instantly fell in love with. Be it a hot summer day or a chilly winter evening, each sip from this delightful creation felt like being transported to a sunny, tropical paradise.
11. Tequila 'Rita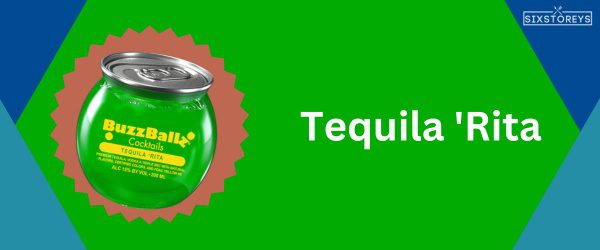 Tequila 'Rita is a heady, intoxicating swirl of tequila and lime that promises an enthralling experience. To say that this flavor packs a punch would be an understatement – it's daring, it's tangy, and just the right amount of edgy.
With my first sip, the smooth yet bold flavor of tequila immediately hit my palate. Following closely was the distinct zestiness of lime which acted as the perfect counteractor to the strong tequila, striking a balance of electrifying spirit and refreshing sourness.
The Tequila 'Rita manifests itself as a party in every sip, packed with just enough punch to keep things interesting. As a lover of spirited bursts of flavor, Tequila 'Rita now holds a standing reservation on my list of go-to cocktails. Be it a party or a quiet evening of solitude, this flavor adds that much-needed kick of excitement to your day.
12. Horchata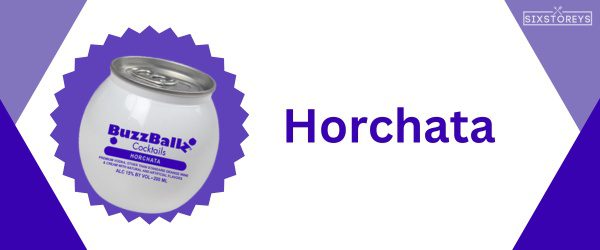 Horchata is a classic Mexican drink, revered for its lusciously smooth concoction of cinnamon and vanilla flavors, with a hint of rice milk. Now, imagine that celestial combo with an alcoholic twist, that's the Buzzballz Horchata flavor for you.
The flavor explosion was immediate. The warm swirl of cinnamon and creamy vanilla overtones was like a comforting blanket wrapping itself around my taste buds. The earthy, rich mix of flavors perfectly complemented the punch of alcohol. It left me completely entranced, my senses basking in the intoxicating taste.
This distinct flavor is a soulful showstopper among the Buzzballz variants. If you're looking for a memorable, distinct cocktail, you need not look further than the Horchata Buzzballz flavor.
13. OJ Screamer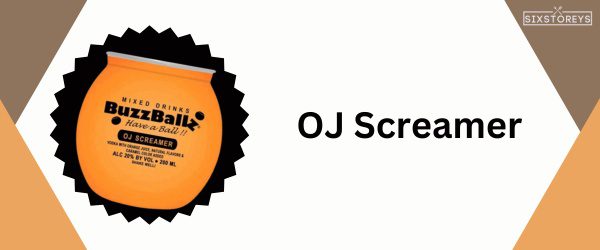 If you're the kind who seeks the refreshing zing of oranges, OJ Screamer is the cocktail for you. This tangy cocktail expertly blends the sweetness of orange juice with the subtle sharpness of vodka, giving your taste palate a delightful wake-up call with every sip.
When I first tasted this, the dominant flavor was definitely the juicy sweetness of fresh orange juice. The vodka lingers in the background, adding a hint of spiciness that prevents the drink from becoming overwhelmingly sweet.
OJ Screamer was a refreshing trap, balancing the right amount of fruity sweetness and vodka's punch. A great option for those looking for a spirited citrus cocktail, it is indeed a delightful scream of taste explosion.
14. Strawberry 'Rita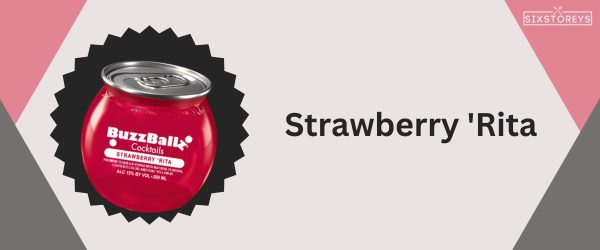 If you have an affinity for strawberries and margaritas, prepare to be smitten by Strawberry 'Rita. With a pool of fresh strawberries and the twist of margarita in a single gulp, it makes for an absolutely thrilling experience.
There's something beautiful about the combination of ripe, sweet strawberries and the iconic margarita mix. The flavor profile strikes a fine balance – it's sweet, it's tart, and there's just enough alcohol to make a statement without overpowering the primary flavors. If I had to describe it in one word, it would be Invigorating.
Strawberry 'Rita simply grabs you with its delightful mix of taste profiles which makes for an absolutely pleasing cocktail experience.
15. Chili Mango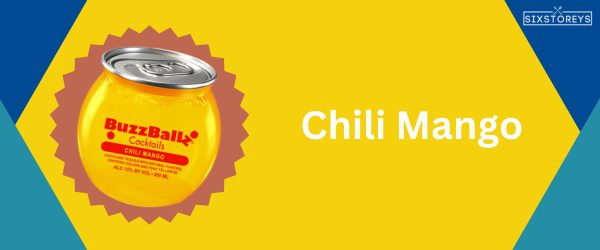 This one is for the adventurous souls who crave for a change from the usual. Imagine the combination of sweet mango juice with a chili kick – sounds enticing, right? That's what Chili Mango is all about.
The first taste that hits your tongue is of a sweet, ripe mango. Just when you're caught up admiring the fruitiness, there comes the zing of chili. The heat from the chili does not overwhelm but instead, it co-exists with the fruity sweetness, dancing a delicious tango with the mango.
Chili Mango is unexpectedly bold and refreshing, making for a cocktail that is beautifully unforgettable. It's like summer in a bottle, with the heat of chili leaving you craving for the next sip. It's fruity, it's spicy, and absolutely delightful!
16. Hazelnut Latte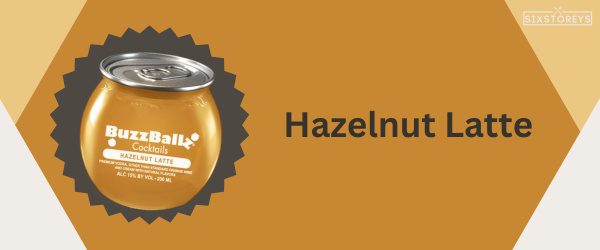 One taste of the Hazelnut Latte Buzzballz flavor and you'll get why this is a favorite for many. Who would have thought that the addition of rum to the creamy blend of coffee and hazelnut could offer such a remarkably sophisticated taste?
When I took my first sip, the robust taste of coffee hit me immediately. The bitter-sweetness of the coffee quickly melded with the buttery richness of the toasted hazelnuts, leaving me perfectly warmed. Rum dances subtly in the background, giving it a deliciously buzzy flavor that left me completely hooked.
I enjoyed every sip till the very last drop. It's a dream come true for coffee lovers, a perfect cocktail for late night chilling or a refreshing pick-me-up after a long day.
17. Lotta Colada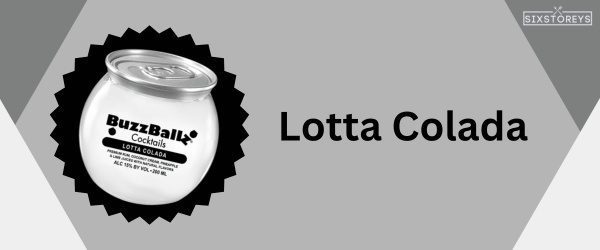 One taste of this tropical symphony and you'll feel as though you've been transported straight to a sandy beach, the ocean waves lapping at your feet. That is the power of the Buzzballz Lotta Colada flavor. It's like a mini vacation, wrapped up in a small, compact ball.
I was enamored from the first sip. The tangy burst of pineapple, followed by the smooth, creamy undertones of coconut, amazed me. They married together like a bewitchingly tropical concerto, stirring up images of sunlit beaches and swaying palm trees. It's truly a taste of paradise.
Savoring this cocktail wasn't just about the beverage. It was also about soaking in that laid-back, holiday feeling that Lotta Colada so flawlessly evokes. A definite go-to for times when you need a break from it all!
18. Blueberry Blitz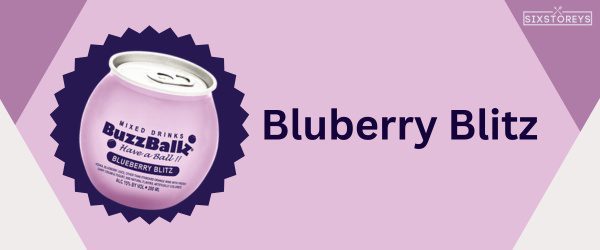 Finally at the end of my list, but definitely not least, is the famed Blueberry Blitz flavor. It's a fizzy cocktail with the signature Buzzballz punch, infused with the sweet, yet slightly tart, essence of fresh blueberries.
When I tried this flavor, it felt like an entire blueberry bush exploded in my mouth. The sweet and fruity flavor of the blueberries, along with a surprisingly pleasant tart aftertaste, created a beautifully tantalizing blend. It was an immediate taste explosion, a total 'blitz' indeed.
The Blueberry Blitz is a fantastic option for those who love fruity cocktails. If you have a thing for blueberries, this flavor will have you hooked in no time. It's a true celebration of blueberries in a cocktail. An absolute must-try!
Also Read: Best Poppi Soda Flavors
How the Buzzballz Burst with Flavor: The Secret Behind Their Unique Taste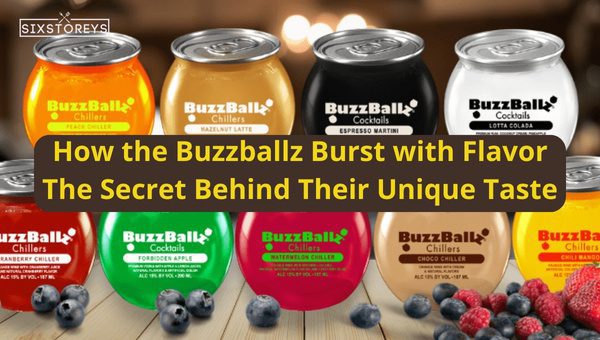 It's often a conundrum – how does such a compact cocktail manage to deliver such an intense taste? I, for one, had my curiosity piqued from the first sip. It all boils down to the genius combination of various factors that make each Buzzballz flavor extraordinary.
Firstly, the quality of spirits used plays a crucial role. While some canned drinks lose their original flavors because lower-quality spirits are used, in contrast, Buzzballz maintains a steadfast commitment to using high-grade spirits. This integrity to quality forms the backbone to the rich taste in every Buzzballz flavor.
Secondly, it's all about the blend. These ravishing cocktail balls masterfully balance spirit percentages with the desired flavors, creating a harmonious fusion that is as delightful as it is unexpected. The Buzzballz team employs the right balance and choice of ingredients so that neither the alcohol's potency nor the flavor's essence is marginalized.
Lastly, the final touch is their innovative packaging. Each cocktail ball is introduced within a powerful, bold sphere, sealing in all the flavor vigor and spirit vivacity. The spirited blast from these handheld cocktails melts divinely on your palate, making each sip a flavorful adventure.
Why Buzzballz is the Ultimate Party Companion?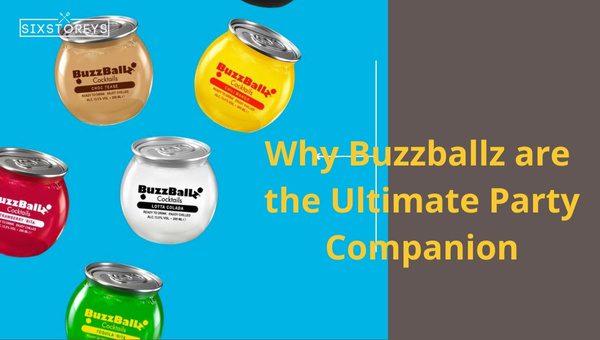 When it comes to parties, convenience is the key without compromising on taste, and this is where Buzzballz truly shines. Its bold, compact packaging makes these cocktail balls incredibly portable and hassle-free to serve. Just pop it open and voila! No need for a cocktail mixer or an expert bartender on site.
Moreover, the phenomenal collection of flavors that Buzzballz present is, in itself, a cocktail party waiting to happen. From tropical fruit blends like the Mile High Krush and Watermelon Smash to the dessert-like offerings of Espresso Martini and Choc Tease, there's a flavor for everyone. The diverse range keeps your tongue on its toes and the party lively and exciting.
Lastly, the consistent quality of Buzzballz puts it leagues above other canned cocktails. Every single ball delivers on its promise of an invigorating rush of flavors, making it a reliable choice for party planners and spontaneous gatherings.
Bringing Buzzballz to the party is like inviting a theme park of flavors, each promising an exhilarating ride. It's not just a drink – it's an experience that adds thrill and charm to any celebration. Pair it with your favorite appetizer, and you've got the perfect party starting in style!
How to Serve Buzzballz for the Best Taste Experience?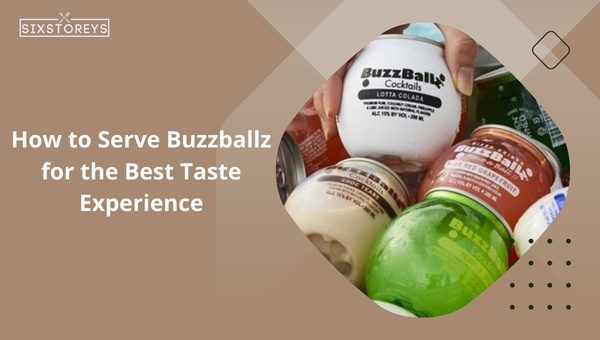 Whether you're a pro at planning pre-drinks or just want to savor these delightful cocktail balls, there are a few tricks and tips to enhance your Buzzballz experience.
First and foremost, always keep your Buzzballz chilled. Every flavor tastes far better cold from the fridge than at room temperature.
You can enjoy them straight from the ball, or if you're hosting a little soirée or appreciate a nice presentation, consider pouring your Buzzballz into a glass. With the beautiful colors that each flavor brings, they look just as good as they taste. For instance, something as simple as a clear glass or cocktail glass can elevate your drinking experience.
As for pairings, Buzzballz offers such a diverse variety of flavors that they can be paired with a wide array of nibbles. Some of my personal favorites include:
Cran Blaster with sharp, mature cheese.
Peachballz with light salads or soft goat cheese.
Espresso Martini with chocolate, desserts, or anything sweet.
Savory snacks like nachos or fries with our champ, Tequila Rita.
Remember, the goal is to maximize your taste experience and create a balance between your snacks and your Buzzballz. Experiment with different combinations, after all, flavor discoveries shouldn't stop at your drink's contents.
Why You Should Try Buzzballz Flavors?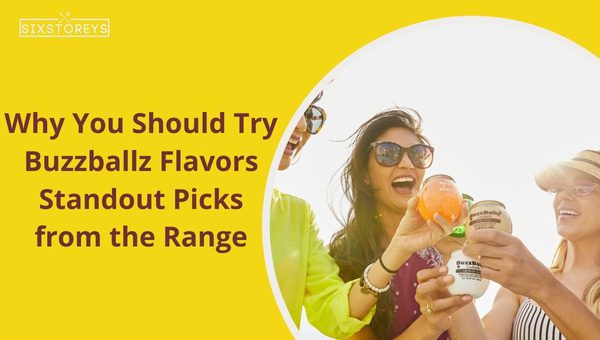 Wondering why you should shake hands with these exciting cocktail balls? Well, it's all about the unexplored world full of flavors it offers. Trying every bit of the Buzzballz range feels like going on a wild, enriching taste adventure. While they're all delicious in their own respect, there are some buzz-worthy standouts that deserve special mention.
Our first spotlight shines brightly on Pumpkin Pie Eater, particularly adored in the autumn season, efficiently captures the warm, comforting spirit brought by the mix of pumpkin spice and cream.
Next in line is Horchata, a true testament to Buzzballz's innovative blend of flavors. Its unique mixture of cinnamon and vanilla with alcohol makes it a must-try for anyone ready to step outside the traditional cocktail specialties.
On to the beach vibes, Mile High Krush promises a tropical escape within a sip, thanks to its refreshing blend of coconut and pineapple.
And for coffee lovers, Hazelnut Latte brings a creamy, warm, and nutty flavor that is downright irresistible.
So there you have it! Delicious, innovative, and promising mind-blowing flavor explosions with each sip. Buzzballz drink range is worth all the buzz for a reason. So, why not take a sip and see for yourself? They might just become your go-to choice for convenient, fun, and killer cocktails.
How to Choose the Best Buzzballz Flavor for You?
It may seem overwhelming to look at the wide assortment of Buzzballz flavors and try to decipher which one best suits you. However, the beauty of Buzzballz lies exactly within its diverse spectrum of flavors, catering to almost any palette. Here are some considerations to help you cut through the confusion when making your choice.
If you are a fruit lover, flavors like Cran Blaster, PeachBallz, or Watermelon Smash would be an excellent choice. They are packed with fresh, sweet flavors that take you back to a juicy bite of the fruit itself.
For coffee aficionados, flavors like Espresso Martini and Hazelnut Latte blend the rich earthy tones of coffee with the smoothness of alcohol, a perfect match for you.
If you have a liking for dessert-like flavors, Choc Tease is an absolutely divine pick. The blend of creamy chocolate and rum mimics your favorite dessert with an additional kick.
For lovers of traditional cocktails, Strawberry 'Rita, Tequila 'Rita, and Lotta Colada offer a canned twist on the classic Margarita and Pina Colada.
Why the Buzz About Buzzballz: What Makes this Brand Stand Out?
Ever since Buzzballz entered the canned cocktail market, they've continuously turned heads. But what exactly creates all this buzz around Buzzballz?
Firstly, it is their commitment to quality. Buzzballz employs high-quality spirits and merges them with delightful flavors, leading to an exceptional balance of fun and finesse.
Secondly, there's a tangible air of innovation about everything Buzzballz. Their revamped cocktail recipes, spirited combinations, and iconic spherical packaging break the mold and are always a conversation starter.
Last, but definitely not least, is the sheer variety of flavors. From the sweetness of peach to the heat of chili, Buzzballz has a flavor for everyone. Their line of flavors truly runs the gamut, ensuring that everyone has a unique experience per their preference.
Ultimately, Buzzballz becomes more than just a choice of cocktail. It becomes a lifestyle choice - where quality, innovation, and variety are celebrated in every sip.
Also Read: Best Pedialyte Flavors
Frequently Asked Questions
Where can I buy Buzzballz products?
You can usually find them in your local liquor store, but for those who prefer the convenience of online shipping, they're available on various e-commerce platforms as well.
How much alcohol is in a Buzzball?
Each Buzzball contains 15% ABV, making it a potent little cocktail. However, the delicious flavors make it an enjoyable experience rather than just a stiff drink.
Does Buzzballz need to be refrigerated?
While they don't necessarily need to be refrigerated, serving them chilled can significantly enhance the flavor profile.
Is Buzzballz vegan-friendly?
Most of the Buzzballz flavors are vegan-friendly. However, if you have specific dietary restrictions, it's recommended to check the ingredients for each flavor.
How many calories are in a Buzzball?
The calorie content varies depending on the flavor. On average, you can expect around 200-220 calories per Buzzball.
What are the most popular Buzzballz flavors?
While individual preference plays a significant role, some customer favorites include Strawberry Rum Job, Choc Tease, and Lotta Colada.
What cocktails does Buzzballz taste like?
Each Buzzball is unique! They incorporate different cocktail flavors like martini, margarita, and others, with an exciting twist of ingredients for a distinct taste.
Does Buzzballz offer non-alcoholic options?
For those who want to enjoy the taste of Buzzballz without alcohol, they offer BuzzTallz, which is non-alcoholic and just as tasty.
Is there an ideal way to serve Buzzballz?
Buzzballz is ready to drink right out of its unique spherical containers. However, you may also pour them into a glass of ice for a traditional cocktail experience.
Are Buzzballz recyclable?
Yes, the Buzzballz containers are 100% recyclable, making them an eco-friendly choice for a canned cocktail.
Conclusion
Exploring the world of Buzzballz flavors has been an absolute delight, and I hope this journey has incited you to dive in and try some yourself. Each ball is a universe of flavors that delights your senses and gives you an exciting drinking experience that stands out from the crowd. The versatility, quality, and sheer thrill that comes with each sip make these balls more than just beverages, but rather little adventures in a sphere.
Indeed, it's no wonder these delightful cocktail balls are making rounds in spirited soirees and quiet introspective evenings alike. So the next time you crave something different, something fun, and something excitingly flavorful - you know which direction to head. After all, in the mesmerizing world of Buzzballz, there is a flavor to tickle every fancy and add a touch of magic to your everyday moments.
Beverage Explorer and Tastemaker 🍻🥃🍷 Aman's quest for liquid delights knows no limits. From hoppy brews to aged spirits, he uncovers the tales behind each sip. His eloquent descriptions and accessible insights make every drink an adventure worth raising a glass to.