20 Best High Protein Frozen Meals [2023 Fitness Goals]
Updated On: October 23, 2023
In the fast-paced world we live in, finding the time and energy to prepare wholesome, balanced meals every day can be a big challenge. But thanks to the rise in the quality and variety of frozen meals, it's never been easier to whip up a delicious meal in minutes. Frozen meals have come a long way from the days of tasteless TV dinners—they're now more nutritious, satisfying, and tastier than ever.
When it comes to packing a nutritional punch, the best high protein frozen meals truly hit the spot. These meals are not just convenient—they are also a fantastic way to ensure you're getting the vital protein you need in your diet in a tasty, easy-to-prepare form. Whether you're a fitness enthusiast needing post-workout fuel or someone just seeking healthier food options with a busy schedule, high-protein frozen meals are the perfect fit.
Also Read: Best Frozen Burger Brands
20 Best High Protein Frozen Meals of 2023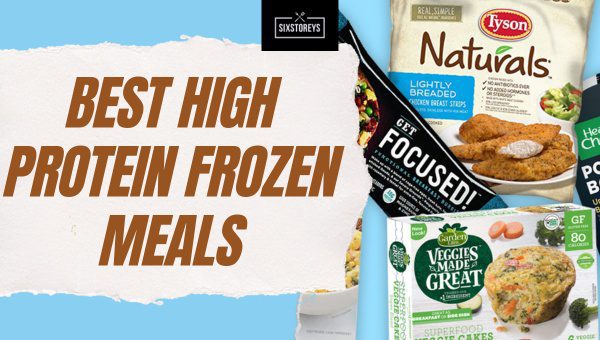 Let's explore the world of convenience mixed with nutrition, in the form of the 20 best high protein frozen meals. They are not just quick to cook but pack a hefty nutritional punch. With these meals, maintaining a healthy, protein-rich diet has never been easier or tastier. Whether you're looking for breakfast, lunch, dinner, or even a snack, there's something here for every taste and dietary need.
1. Frozen Edamame: A Perfect Snack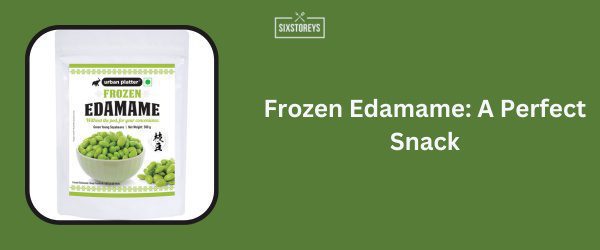 Edamame, the young green soybeans popular in Asian cuisine, makes for an ideal protein-rich snack straight out of the freezer. Studies suggest that incorporating soy into your diet can lower cholesterol and reduce the risk of cardiovascular disease. While it might seem like a simple frozen veggie, Frozen Edamame turns out to be a treasure trove of nutritional benefits carrying a highly significant amount of proteins, fiber, vitamins, and antioxidants.
Every bit of the frozen edamame feels like a delightful treat, seasoned perfectly to blend with the natural sweetness of the beans. They are individually quick-frozen, securing their freshness one bean at a time—the classic example of modern food technology meeting nutritional needs. One of the best things about frozen edamame is its ease of preparation. Simply pop it into the microwave, and within minutes, you'll have a tasty snack that's not just fulfilling, but packed with proteins.
Speaking of its taste, the natural nutty flavor, coupled with a sweet undertone and the perfect pinch of salt, takes me back to my Sunday afternoons in the local sushi restaurant. As a bonus, its slightly crunchy texture is quite satisfying to munch on. A quick toss with your favorite spices can turn this delightful snack into a yummy treat within a matter of minutes.
But, are frozen edamame beans as good as fresh? Well, there's a misconception that frozen means lower quality, but it's not always the case. In fact, with sensitive vegetables like edamame, freezing can lock in the nutritional value and flavor that might otherwise be lost during transportation. The next time you're running short on time and need a quick protein-rich snack, frozen edamame could be your ultimate pick.
2. Kirkland Vegetable & Shrimp Stir-Fry: A Delicious Blend of Nutrients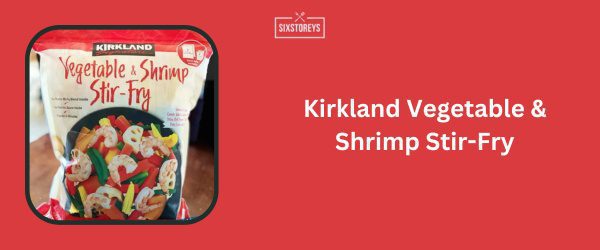 Coming to Kirkland Vegetable & Shrimp Stir-Fry, it's a flavor-packed protein-rich meal that's ready in minutes. Stir-fries are my go-to dishes for when I'm craving something quick and nutrient-dense - and when the craving hits, the Kirkland brand offers this delicious all-in-one meal.
This meal is not just a feast for your taste buds, but a treasure trove for protein seekers! Bursting with color from a variety of vegetables and packed with protein-rich shrimp, it's a wholesome meal that leaves you feeling satisfyingly full.
The key to any delicious stir-fry lies in its balance of flavors and textures - and Kirkland's Vegetable & Shrimp Stir-Fry knocks it out of the park. The succulent shrimp adds a succulent savory flavor to the meal, nestling perfectly with the myriad of crunchy, vibrant vegetables. The soy-based sauce envelops every ingredient, adding a characteristic tangy-sweet flavor that Asian stir-fry dishes are famous for.
The advantage here is that the vegetables in this stir-fry are frozen at peak freshness, preserving the crisp texture and bright colors better than anything I'd get from a can. Moreover, shrimp are an excellent source of lean protein, making them an ideal ingredient for a healthy frozen meal.
The cooking process is as effortless as it can be - simply toss the contents into a hot skillet and stir occasionally. As your kitchen fills with the aroma of tasty stir-fry, you will feel a sense of culinary accomplishment which often accompanies the tedious process of chopping vegetables and marinating proteins.
A key highlight of Kirkland's Vegetable and Shrimp Stir-Fry, as with any stir-fry meal, is the versatility it brings to the table. You can enjoy it as it is, or give it your flair by adding your choice of spices. Top it off with a sprinkling of sesame seeds or peanuts for additional taste and texture, and your protein-rich Asian-inspired dinner is ready.
When you want an easy, satisfying, and healthful frozen meal, opt for Kirkland's Vegetable & Shrimp Stir-Fry. It offers an abundance of protein and vegetables, a mouthwatering flavor profile, and a quick cooking time. You're not just getting an easy meal solution; you're treating yourself to a protein-packed, flavorful journey.
3. Teton Waters Ranch 100% Grass-Fed Beef Burger Blend: Bursting with Flavor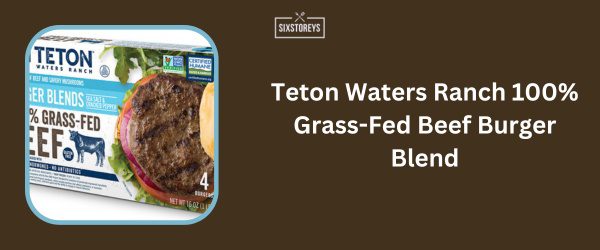 Speaking of protein-rich frozen meals, burgers often get a bad rap. However, the Teton Waters Ranch 100% Grass-fed Beef Burger Blend redefines that notion, proving that burgers can indeed be a wholesome, balanced meal.
Quite significantly, the serene pastoral imagery that the 'grass-fed' attribute brings is not merely poetic. Studies suggest grass-fed beef has a better fatty acid profile, more antioxidants, and can offer more heart-healthy omega-3 fats than its conventional counterparts. This makes Teton Waters Ranch's offering a visibly heart-friendly choice for burger lovers.
Coming to the flavor, I must admit that these burger patties have rejuvenated my faith in frozen burger blends. The beef exudes a fresh, rich flavor character that, once cooked correctly, fills your mouth with imposing savory gusto. The meat texture is just about perfect, not too dense but robust enough to hold together on the grill.
The cooking is elementary, and whether you're broiling, grilling, or pan-frying, they cook in no time, delivering a scrumptiously moist and flavorful burger on your plate. Pair them with a whole wheat bun, a slice of cheese, and a myriad of your favorite toppings, and you have a protein-packed meal that goes beyond the ordinary.
4. Healthy Choice Chicken Tikka Masala: Spicing Up Your Meal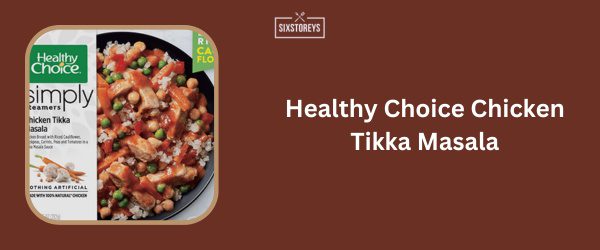 Next up on my flavorful high protein frozen meal journey is Healthy Choice Chicken Tikka Masala. There's something unmistakably unique about the intricate flavors of Indian cuisine, and this meal captures it astonishingly well.
Believe me, when I say this, the taste of this meal left me pleasantly surprised. The chicken is not only a great source of protein, but it's also quite flavorful, marinated perfectly in an enticing blend of signature Indian spices. The chunky pieces of chicken are enveloped in a rich, vibrant masala sauce that boasts a delightful clash of tangy, spicy, and sweet flavors.
The accompanying basmati rice is more than just a side dish - its fluffy texture and delicate flavor work wonderfully to balance the robust taste of the chicken tikka masala. I especially appreciate that the common gripe with 'too dry or too mushy' frozen rice was nowhere to be found. The cooperation of the flavors at play here between the chicken, the sauce, and the rice is something to be admired, truly embodying the spirit of a well-made Chicken Tikka Masala.
While traditional Chicken Tikka Masala could be calorie-dense, this meal by Healthy Choice stands true to its name, breaking out of the stereotype. It successfully finds the sweet spot between delicious and health-conscious food, making it an ideal protein-packed savior for your hunger pangs.
5. Lean Cuisine Protein Kick Four Cheese Pizza: An Italian Delight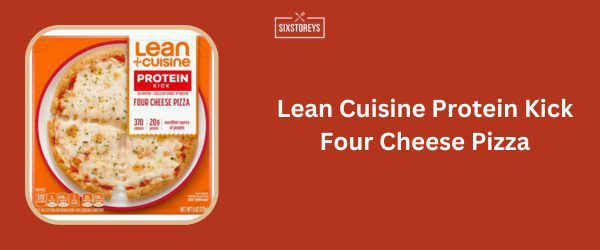 Lean Cuisine's Protein Kick Four Cheese Pizza stands out as a stellar choice among high protein frozen meals. This pick proves that pizza, often seen as a 'cheat meal,' can also deliver a delightful blend of melty, cheesy goodness while being packed with protein.
Cheese is naturally high in protein but can be high in fat as well, which is where Lean Cuisine's version comes in. It's topped with a scrumptious blend of reduced-fat mozzarella, parmesan, Romano, and Asiago cheese on a crispy pizza crust. The four-cheese blend, each lending its unique texture and taste to the party, results in a heartwarming Italian feast, right out of your oven.
I was impressed by how well each cheese's unique flavors married together, giving every bite an amazing blend of sharp, salty, sweet, and creamy tones. And while the cheese truly takes center stage here, the crust holds its own too. Thin yet sturdy with a pleasing crunch, it was a surprisingly great compliment to the cheesy extravaganza.
Heating it up is as easy as popping it into your oven or microwave for a few minutes, and presto - a hot, delicious, protein-rich pizza is ready to serve. This Lean Cuisine protein kick pizza is the perfect blend of convenience and taste - a feast fit for any pizza enthusiast looking for an easy, delicious, protein-packed meal.
6. SmartMade Chicken with Spinach Fettuccine: A Gourmet Choice for Pasta Lovers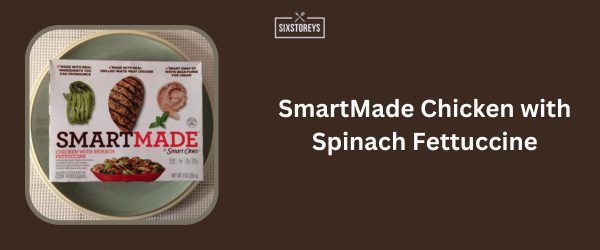 Moving into the realm of Italian cuisine, we have SmartMade's Chicken with Spinach Fettuccine — a tantalizing mix of protein-rich chicken and fiber-packed spinach. This dish takes pasta to a new, nutrition-focused level without skimping on taste.
Let's start with the chicken. The sizable chunks of white meat chicken are tender and lean, and thankfully, do not have that overly "processed" texture that is a common gripe with many frozen meals. The chicken, marinated subtly yet effectively, meshes well with the creamy sauce, making each bite a protein-packed, succulent delight.
Beyond the chicken, the real winner of this dish lies in the spinach fettuccine. The pasta – firm, never mushy, and noticeably green, thanks to the spinach infusion – offers an extra helping of nutrients with every mouthful, and its presence enhances this frozen meal from a mere convenience to a relatively guilt-free indulgence.
As you dive further into this dish, what strikes you is how the dish maintains a delicate balance between the creaminess and the robust flavors of garlic and Parmesan. The result is a harmonious medley of flavors that tugs at your tastebuds. Each bite is gratifying and leaves you reaching for more, all the while packing a high-protein punch.
7. Banquet Buffalo-Style Chicken Mac 'N Cheese: Classic Comfort Food with a Spicy Twist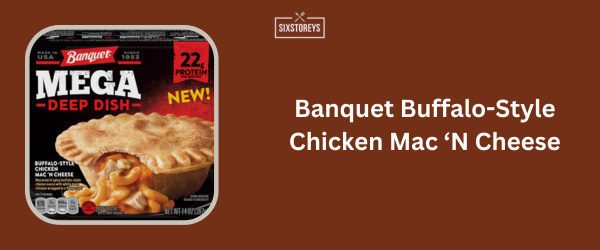 Banquet has thrown a spicy curveball into the mix with their Buffalo-Style Chicken Mac 'N Cheese. This harmonious blend of comfort and heat managed to win me over with its effortless simplicity yet engaging flavor.
The golden, slightly crisp chicken combined with the creamy, comforting macaroni and cheese sets the tone for a fulfilling meal. And it's no shy in the protein department either. The chicken is lean and provides a healthy dose of protein, lending substance to the dish.
The true fun begins the moment the buffalo-style heat hits you. The kick of spiciness from the buffalo sauce is unexpected, yet it works wonders in breaking the monotony of the classic mac 'n' cheese. With each mouthful, you get a creamy, cheesy undertone rounded off with a subtle hit of tang and spice, stirring a flavourful riot that your tastebuds will be thankful for.
The convenience of this frozen meal is certainly its strong suit - within minutes, you have a meal that ticks all the comfort food boxes while delivering a substantial amount of protein. Banquet's Buffalo-Style Chicken Mac 'N Cheese is the kind of meal that stays with you, a testament to frozen foods' potential to embody home-cooked flavors.
8. Trader Joe's Chicken Burrito Bowl: Unleashing Global Flavors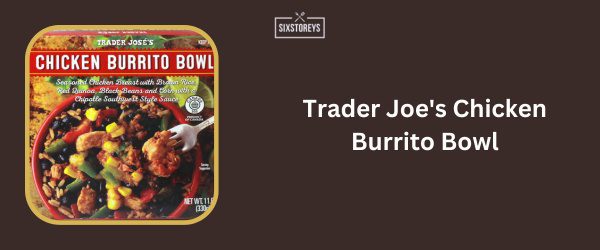 From the vibrant, diverse world of frozen meals, the Trader Joe's Chicken Burrito Bowl stands out, proof that frozen meals need not be bland or boring. This high-protein meal certainly stands its ground, making for a palatable escape to the flavors of Mexican cuisine.
At first glance, the dish appears to be your typical frozen meal - colorful, neatly compartmentalized, strongly hinting at convenience. Upon diving in, it quickly transforms into a fiesta of flavors, one that is packed with high-quality protein and myriad textures that refuse to disappoint.
The chicken and the brown rice lay a solid foundation. The chicken — lean, hearty, and generous in portion, is wonderfully seasoned and leaves no room for wanting. The brown rice, with its gentle chew, acts as the perfect companion to the chicken, readily soaking up all the surrounding flavors.
The accompanying components truly steal the show. With every mouthful, you get a distinct taste of sweet corn, black beans, and roasted peppers, all tied together with a tangy, refreshing tomatillo salsa. Each component brings its unique texture and taste to the table, culminating in a medley of flavors that outdo any of your usual frozen meal expectations.
Overall, the Trader Joe's Chicken Burrito Bowl is a protein-rich nod to authentic Mexican cuisine that fits in your freezer. In each serving, this meal managed to blend flavor, convenience, and high-quality protein into a culinary experience that I would be more than happy to relive.
9. Lean Cuisine Protein Kick Meatloaf & Mashed Potatoes: A Classic High-Protein Dish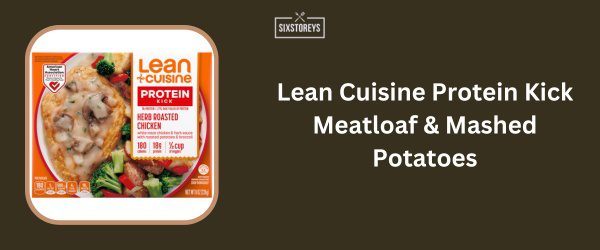 Taking comfort food to a new level, Lean Cuisine's Protein Kick Meatloaf & Mashed Potatoes sets a benchmark for delectable high protein frozen meals. Their artful blend of homestyle meatloaf with creamy mashed potatoes holds true to the dish's classic charm, all while delivering a beneficial dose of protein.
The meatloaf is the star of the dish, which is lean, hearty, and teeming with flavor. It's seasoned subtly yet effectively, capturing that home-cooked meatloaf essence that tugs nostalgically at anyone's tastebuds. The result is a mouthful of moist, savory meat, guaranteed to curb any meat craving with ease.
Paired with the meatloaf, the creamy mashed potatoes are an iconic side dish that warms the soul. The potatoes carry a smooth texture and a mild, buttery flavor that acts as a wonderful counterpoint to the rich meatloaf. But beyond the harmonious pairing, each spoonful of mashed potatoes also serves as an additional source of protein.
The delicious pairing aside, this meal's protein kick lies in the robust gravy, which packs an unexpected yet satisfying high-protein punch. This adds a further depth of flavor to the meatloaf and mashed potatoes, coating them in a savory sauce that enhances every bite.
10. Lean Cuisine Marketplace Tortilla Crusted Fish: A Seafood Delight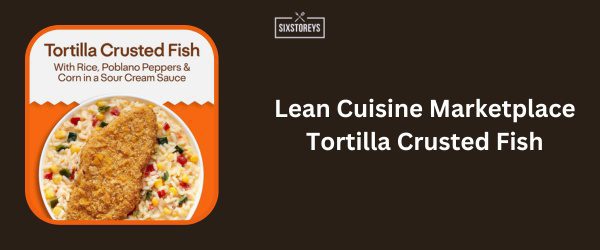 The Lean Cuisine Marketplace Tortilla Crusted Fish is a testament to the idea that frozen meals can be both healthy and delicious. Offering a fantastic blend of flaky fish and crispy tortilla crust, this dish ensures you get a tasty protein fix.
The tortilla-crusted fish is the highlight of this meal, elevating the otherwise common layer of batter on frozen seafood dishes. It's delightfully crispy without being overly oily, the crunchiness of the tortillas creating an inviting texture that harmonizes well with the fish.
Underneath the tortilla crust, the fish is tender, flaky, and teeming with quality protein. It flakes off all too easily with each forkful, confirming that Lean Cuisine has managed to preserve the integrity of the fish despite freezing it.
The complimenting side dishes also deserve their share of praise, particularly the corn mix. The corn mix is not just vibrant; it is equally flavorful, lending a delightful sweetness that brightens the entire meal. The cilantro lime rice, also gives a refreshing note that cuts through the rich tortilla crust, creating harmony in every bite.
Also Read: Best Frozen Fish Sticks
11. Healthy Choice Cuban Style Pork: A Rich, Savory Pick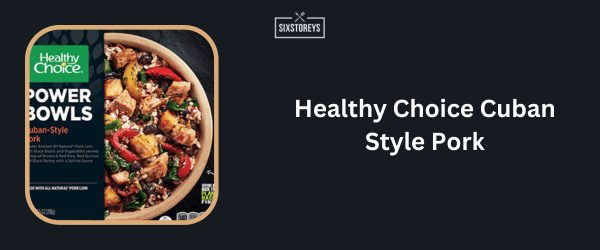 Healthy Choice Cuban Style Pork ranks high on my list as one of the best high protein frozen meals, impressive with its rich, savory flavors and high protein content.
The pork is the dish's star - it is succulent, well-seasoned, and offers an impressive amount of protein. Each bite radiates the tangy, savory flavors of a traditional Cuban dish, yet the meal never feels overwhelmed by its robustness.
This dish also shines in providing a beautiful diversity of textures and flavors. The comforting blend of rice, beans, bell peppers, and onions lends a hearty depth to this enthralling ensemble. The brown rice is cooked perfectly, the beans are tender, and the bell peppers give the dish a crunch that counteracts the succulence of the pork.
The sauce that ties the dish together captures the tanginess and spiciness of Cuban cuisine. It's perfectly seasoned to bring out the best flavors from the ingredients without overpowering the delicate balance of tastes. It adds that "oomph" factor that transforms a good dish into a great one.
While the Healthy Choice Cuban Style Pork is a convenient frozen meal, it goes above and beyond in delivering the nutritional benefits of a high protein meal. Through flavorful bites of succulent pork and veggie-packed sides, this dish is a testament that frozen meals can indeed offer a nutritious, protein-rich diet.
12. Red's Frozen Bean & Cheese Burrito: Rise and Shine with Protein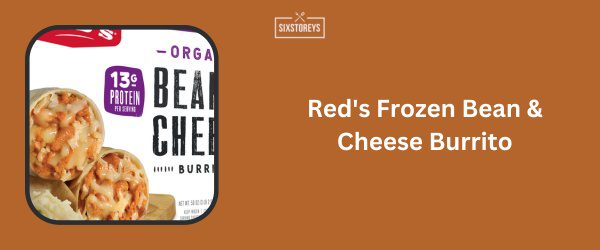 Starting the day with a delicious meal is something we can all agree on, and what better way than with Red's Frozen Bean & Cheese Burrito. Unwrap the goodness of a zesty, protein-packed burrito, jammed with a lean, clean, and wholesome blend of beans and cheese.
Surprisingly filling and rich in flavor, the creamy refried beans and soft, melted cheese combination is a winner. The beans are plump, bursting with natural flavor, and deliver a beautiful texture that perfectly complements the smooth cheese. From a nutritional standpoint, you get a generous helping of fiber and protein from the beans, making it a fantastic kick-start to your day.
Its cheese does not disappoint either. Beautifully melted, it insulates the warm burrito with a creamy, cheesy layer that'll have you lost for words. It combines impeccably with the beans, not merely for the rich taste, but also for the protein it adds to the mix.
However, the star of the show is the tortilla. Fresh and moist, it does a perfect job of holding all the delicious fillings together. Although a mere wrap on the outside, let's not discount its contribution to the protein content of this burrito—overall, a splendid start to your day!
13. Zatarain's Blackened Chicken Alfredo: A Creamy Sensation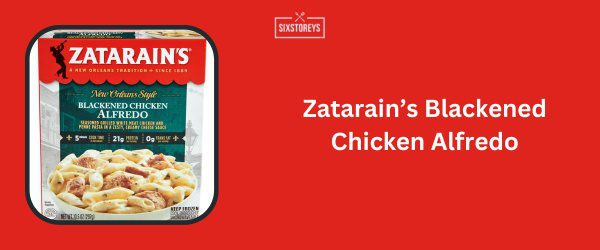 When it comes to indulging in a rich, creamy high-protein frozen meal, Zatarain's Blackened Chicken Alfredo is a top-tier pick. It gives you exquisite blackened chicken served over a bed of pasta, all under a layer of creamy Alfredo sauce.
The blackened chicken, the highlight of this dish, is a savory treat. Beautifully cooked, moist, and infused with rich flavors, it delivers international cuisine right to your plate. It further outscores the nutritional front, contributing significantly to the protein content.
Served alongside the chicken is the creamy, buttery Alfredo pasta. Cooked to perfection, it becomes a spot-on partner to the chicken—so good indeed that it qualifies as a hearty meal in itself. The creamy Alfredo sauce is another delight, coating the pasta and chicken in a velvety blanket of garlicky goodness.
To elevate this delectable masterpiece is the mix of bell peppers which simply adds to the crunch and sweetness of this dish. Who knew a frozen meal could be so elevated and yet high in protein!
14. Kodiak Frozen Power Waffles Buttermilk & Vanilla: Sweet Powerhouse of Protein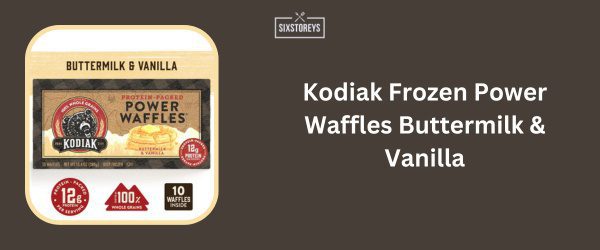 Yes, you read that right! The Kodiak Frozen Power Waffles Buttermilk & Vanilla is the ultimate protein-rich breakfast treat. These waffles land a perfect score, hitting the spot for both, taste and nutrition.
Let's talk about what sets these waffles apart: their unbeatable flavor profile. The perfect balance between the tanginess of buttermilk and the sweetness of vanilla, it is a symphony of taste that your tastebuds will appreciate.
The waffles' texture also needs due acknowledgment. Crisp on the outside, fluffy on the inside—the ideal condition of a dream waffle. Pop these in the toaster, and you're in for a world-class breakfast experience right at home.
However, the real crowd-pleaser is the protein content of these waffles. In addition to making a delicious breakfast, they offer a whopping protein kick that leaves you energized for the day ahead. The blend of whole grains and buttermilk ensures maximum nutrient absorption, making them every bit as healthy as they are delicious.
Morning nutrition simply doesn't get better than this—an exceptional combination of brilliant taste, incredible texture, and a good old protein fix to boot.
15. Luvo Roasted Vegetable Lasagna: Say Hello to Veggie-Packed Goodness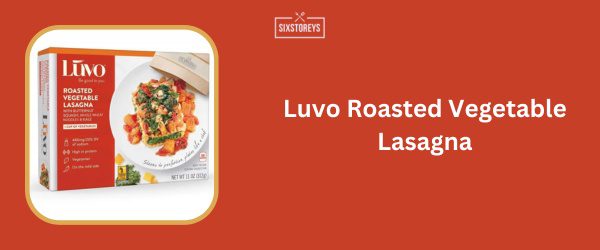 Switching to healthier frozen meals doesn't mean compromising on taste. Case in point, the Luvo Roasted Vegetable Lasagna. This masterpiece of a meal combines hearty lasagna pasta with a rich medley of roasted vegetables, all smothered in a robust tomato sauce.
The pasta in this dish is a showstopper. Soft and nicely cooked, it adds an inviting touch to the meal without overpowering the other ingredients. Its contribution to the overall protein content of the dish is worth a mention too.
The star attraction, however, is the roasted vegetables. These are not your average bland veggies. They are deeply flavorful, with the roasting bringing out their natural sweetness. The combination of zucchini, bell peppers, and eggplants works like a charm, and every bite into these veggies feels like a bite into a healthier you.
Top it all off with a robust tomato sauce, the perfect blend of tart, sweet, and tangy. It brings together the pasta and vegetables in a delicious dance of flavors, making the meal high in not just protein, but also taste.
16. Just Bare Lightly Breaded Chicken Breast Fillets: Taste The Goodness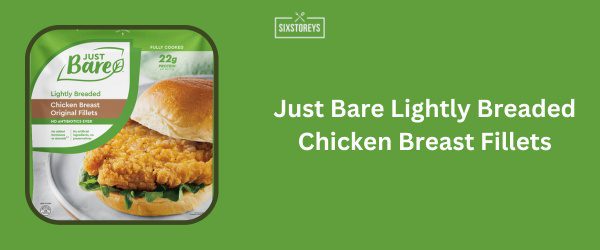 If you're in the mood for something simple yet satisfyingly delicious, then Just Bare Lightly Breaded Chicken Breast Fillets deserve your attention. Tender chicken fillets are enveloped in a light, crispy breading, making it a dish high in protein and taste.
The chicken fillets in this meal are top-notch. Juicy and succulent, they offer a substantial protein boost. Coupled with the expertly spiced, crunchy breading, it creates a perfectly balanced flavor profile that leaves you wanting more.
The thing that really hits home is the versatility of these fillets. Want to make a meal of it? Serve it with some mashed potatoes or a side salad. Fancy a quick snack? Just pop one out of the box and into the oven, and you have a delicious chicken strip ready to be dipped and devoured.
17. Smart Made Mediterranean-Style Chicken Bowl: Exotic Flavors, Home-Grown Nutrition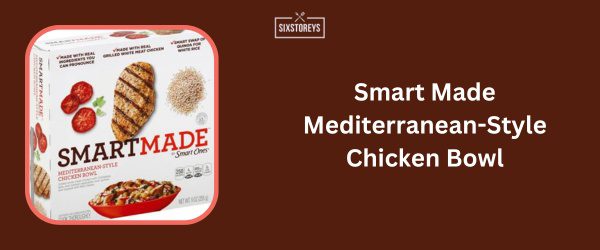 If you are one who enjoys versatile flavors and culinary adventure, brace yourself for the Smart Made Mediterranean-Style Chicken Bowl. Infused with the exotic flavors of the Mediterranean, this is a dish that will take your tastebuds on a delightful journey.
At the heart of this bowl is the chicken, cooked to perfection and bursting with flavor. Each bite brings with it a burst of taste and a multitude of nutrients, primarily protein.
The vegetables that accompany the chicken are equally notable. Brimming with everything from tomatoes and spinach to red onions and bell peppers, this is a meal that's chocked full of vitamins.
Another element that deserves special mention is the feta cheese. It adds a touch of creamy indulgence to the meal, and, of course, throws in some extra protein. Last, but certainly not least, is the couscous. Light and fluffy, it ties all other elements together wonderfully while also adding to the dish's overall protein content.
Truly, the Smart Made Mediterranean-Style Chicken Bowl is more than just a nourishing treat; it's a culinary experience that's high in protein and flavor.
18. Trident Wild Caught Alaska Salmon Burgers: The Ocean's Bounty on Your Plate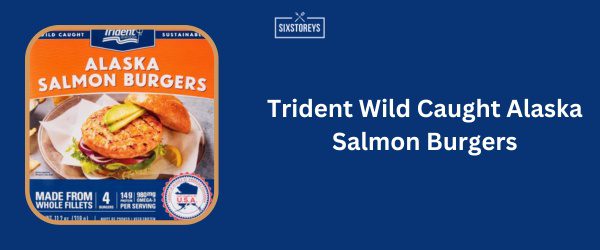 There's nothing quite like the taste of fresh, wild-caught salmon, especially when it's forged into a high-protein, convenient meal. The Trident Wild Caught Alaska Salmon Burgers brings the best of the ocean to your plate, ensuring a nutritious frozen meal brimming with tantalizing flavors.
Each burger is made of wild-cooked Alaskan salmon, rich in high-quality protein and contaminant-free Omega-3 fatty acids. Let's just say that these burgers don't just deliver an unparalleled flavor but also contribute to heart health, cognitive function, and overall wellness.
When it comes to flavor, the salmon burgers are a winner in my book. Inside the crisp exterior is a center bursting with the bold flavor of freshly caught salmon. A hint of citrus rounds it off, nicely complementing the natural fish flavor.
These salmon burgers are incredibly versatile too! Serve them on whole wheat buns with a crisp side salad or slice it up to toss into a hearty Caesar salad. You can also enjoy it simply grilled and served over brown rice. Whichever way you choose, you're in for a high-protein, low-fat treat!
19. Cali'Foods Lasagna with Meat Sauce: Hearty Comfort Food with a Healthy Twist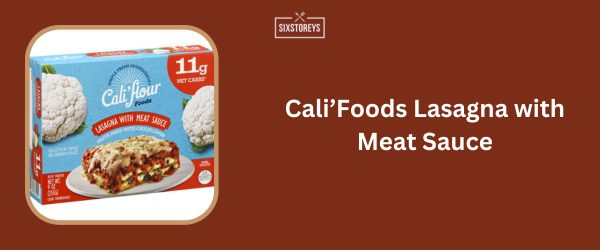 When it comes to comfort food, Lasagna holds a special place. But, who says comfort food cannot be healthy? That's where Cali'Foods Lasagna with Meat Sauce sets itself apart. This frozen meal masterfully combines a comforting classic with the benefits of a protein-packed meal.
The lasagna sheets are soft yet sturdy, perfectly cooked to hold the high-protein layers. The meat sauce, which is the star of the meal, is a rich blend of ground meat, tomatoes, and subtle seasoning. Each bite of the meat sauce is a burst of flavor, add to that the high protein content, and you've got yourself a winning dish.
The flavorful meat sauce is complemented by creamy ricotta and mozzarella cheeses, further upping the protein ante. The cheese adds a comforting subtle sweetness and creaminess that's hard to resist. It's lasagna done right – no compromise in taste and high on nutrition.
20. Protein Lover's Frozen Breakfast Burrito: The Power-Packed Start To Your Day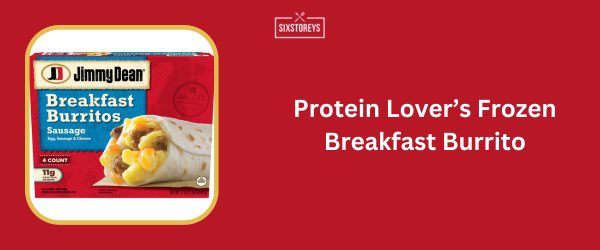 Breakfast is the most important meal of the day. And if you kick-start your day with a high-protein meal, you're surely doing it right. The Protein Lover's Frozen Breakfast Burrito offers just that – a delicious protein-packed breakfast that's filled with goodness.
Stuffed with scrambled eggs, sausage, bacon, and queso blanco, every bite of this burrito is a flavor explosion. The eggs provide a good chunk of protein that will keep you satisfied for hours. Meanwhile, the sausage and bacon lend a smoky, savory punch to the meal.
What I love most about this burrito is the interplay of textures. The tender eggs, chewy sausage, crispy bacon, and gooey cheese all come together beautifully in every mouthful. It truly is a complete breakfast wrapped neatly in a flour tortilla shell, making it perfect for those on-the-go mornings.
You can choose to microwave it for a quick meal or oven-bake it for a crispier finish. Either way, this meal is a protein-packed, flavor-packed way to charge up your mornings.
Also Read: Best Frozen Meatballs
How To Choose the Best High Protein Frozen Meals?
When it comes to selecting the best high protein frozen meals to meet your nutritional goals, it's essential to consider a few key things:
Understand Nutritional Labels
Start by reading the nutritional labels. Check for the meal's protein content, as this is the main reason you're considering the product. The higher the protein content, the better. However, don't ignore other nutritional information like calories, carbohydrates, fat content, fiber, and sodium. A balanced meal should provide a good mix of these macronutrients.
Consider Your Dietary Needs
Personal dietary needs should also play a significant part in your decision. For instance, if you follow a vegetarian, vegan, or gluten-free diet, make sure the meal you choose aligns with these requirements.
Don't Forget the Taste Factor
Lastly, don't forget about taste preferences. Even the most nutritionally balanced meal won't do you any good if you don't like the taste. Therefore, select meals that contain your favorite ingredients, proteins, and flavors.
Why High Protein Frozen Meals are Essential for Athletes?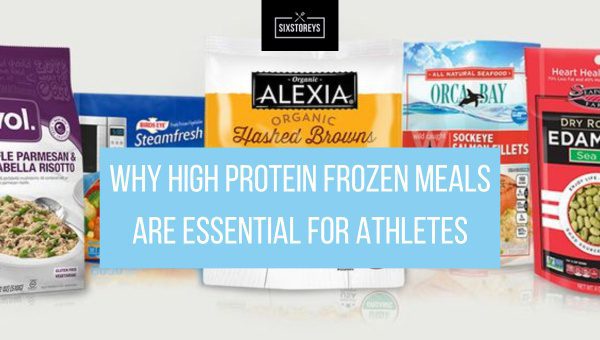 High-protein frozen meals are a perfect solution for athletes for the following reasons:
Protein is Crucial for Muscle Recovery and Growth
After an intense workout, your body needs protein to repair and grow muscles. Protein consists of amino acids, which are the building blocks of muscle tissue. Therefore, consuming a high-protein meal post-workout gives your body the necessary nutrients to recover and build muscle.
Convenience is Key
Athletes have busy schedules juggling between training, secondary jobs, or education and recovery sessions. Thus, the convenience factor of high protein frozen meals becomes essential. With these meals, athletes can have a nutritionally balanced meal ready in minutes, saving time for other crucial activities surrounding their sports life.
Regular Nutrient Supply for the Body
Lastly, regular consumption of high protein meals helps athletes meet their daily protein requirements, which are often higher than non-athletes. Including high protein frozen meals in their diet ensures athletes get a reliable and convenient source of protein and other essential nutrients all day, supporting their performance and overall health.
Why High Protein Frozen Meals Are a Lifesaver for Parents?
As parents, we face the daily challenge of providing nutritious and tasty meals for our children. With school, work, after-school activities, and the unexpected chaos that often comes with family life, there's rarely enough time in the day. In these moments, high protein frozen meals can truly become a lifesaver.
Ease of Preparation: High-protein frozen meals are designed to be fast and simple to prepare. Time is a luxury most parents don't have. So having a meal that just needs a few minutes in the microwave can be a huge relief on those especially hectic days.
Nutrition: Ensuring your child gets enough protein for their growth and developmental needs can be difficult. High-protein frozen meals are often nutritionally balanced, providing not just protein, but also essential vitamins, fiber, and minerals. This variety can help children meet their nutritional needs more effectively than relying solely on fresh foods.
Variety: Frozen meals offer a plethora of options these days— ethnic flavors, vegetarian or vegan choices, allergy-friendly alternatives, and much more. This means even picky eaters can find something they enjoy, making mealtimes less stressful.
Portion Control: These meals are also portion-packaged, which can be useful in preventing overeating, maintaining a healthy weight, and teaching children about balanced meal portions.
Prevent Food Wastage: Realistically, in a hectic family schedule, it's easy for fresh groceries to go bad before they're used. Frozen meals, on the other hand, can be stored for a longer period and used as needed, reducing food waste.
Overall, the convenience, nutritional balance, variety, and portion control of high protein frozen meals act as a vital tool for busy parents, helping ensure our kids have access to nutritious food options even in the midst of our bustling schedules.
How to Properly Store and Prepare High Protein Frozen Meals?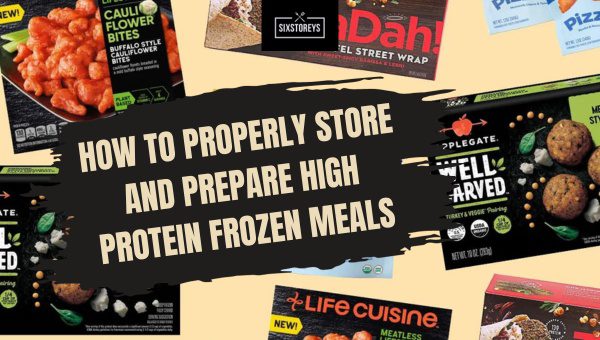 Proper storage and preparation of high protein frozen meals are crucial to maintaining their quality, taste, and nutritional value. Follow these tips to maximize the benefits of your meals.
Storage Tips
Freezer Temperature: Keep your freezer at 0°F or lower. Higher temperatures can cause foods to spoil more quickly.
Packaging: Ensure the meals are tightly sealed to prevent freezer burn. If a meal's packaging is damaged or opened, it's best to consume it right away to prevent spoilage.
Expiration Dates: Take note of these dates. Even in the freezer, meals do have a shelf-life. Eating food beyond its expiration date can lead to a decrease in nutritional value and taste, or even food safety issues.
Preparation Tips
Follow Instructions: Adhere to the instructions on the package. These usually involve microwaving the meal, but can also include oven heating for certain items. The instructions are designed to bring out the optimal flavor and texture of the meal.
Use a Thermometer: While most packaging gives approximate cooking times, it's always safer to check that the meal has reached the recommended internal temperature for safe consumption (usually 165⁰F for most meals).
Add Extra Flavor: Feel free to add your own twists to high protein frozen meals. Add fresh herbs, spices, or a side salad to elevate the meal and make it more satisfying.
By properly storing and preparing your high protein frozen meals, you can maintain their quality and nutritious benefits, ensuring every quick dinner, lunch, or snack is tasty and satisfying.
Also Read: Best Frozen Chicken Patties
Frequently Asked Questions
How are high protein frozen meals better than regular frozen meals?
High-protein frozen meals are packed with protein, an essential nutrient for muscle growth, tissue repair, and satiety. Regular frozen meals may not have the same amount of protein, making them less suitable for those with higher protein requirements or those wanting to manage weight more effectively.
Does freezing meals affect their protein content?
Freezing does not significantly impact the protein content of foods. So, when you consume high protein frozen meals, you can still take in the same amount of protein as if the food was fresh.
What types of proteins are usually found in high protein frozen meals?
A variety of proteins can be found in high protein frozen meals, depending on the meal itself. Common types of proteins include chicken, beef, fish, eggs, cheese, beans, and soy products like edamame and tofu.
Can vegetarians and vegans benefit from high protein frozen meals as well?
Absolutely! There are numerous plant-based high protein frozen meals available, made from things like legumes, lentils, chickpeas, and soy products. Some examples include the Luvo Roasted Vegetable Lasagna or Red's Frozen Bean & Cheese Burrito.
Are high protein frozen meals ideal for weight loss?
High protein meals can provide satiety, which helps prevent overeating. Therefore, high protein frozen meals can be a part of a balanced diet for weight loss, given they are consumed in appropriate portions and part of an overall balanced, nutrient-dense diet.
How often should I eat high protein frozen meals?
The frequency can vary based on your personal health goals, activity level, and specific nutritional needs. It can be helpful to consult with a dietitian or nutritionist to determine the optimal frequency for you.
Can I eat high protein frozen meals if I have certain medical conditions?
Yes, but it's important to discuss this with your healthcare provider first. They can advise you on the most suitable options based on your health status and nutritional needs.
Do high protein frozen meals taste good?
The quality and taste of high protein frozen meals have significantly improved over the years. With numerous brands and options available, you're likely to find many meals that suit your taste preferences.
Are high protein frozen meals expensive?
The price of high protein frozen meals can vary, but many options are quite affordable, especially when you consider the convenience and nutritional value they provide. They can often be less expensive than eating out or buying fresh ingredients for every meal.
Can I take high protein frozen meals on the go?
Most high protein frozen meals are designed for convenience, making them ideal for taking on the go. All you typically need is a microwave or oven to heat them up, which can be found in many office, school, and travel settings.
Conclusion
Through this exciting exploration of the best high protein frozen meals, we've come to see that these options are not only convenient but also packed with valuable nutrients. The variety available today ensures that everyone, from the fitness fanatic to the busy professional, can find meals that fit their preferences and dietary needs. Don't let the hustle of life deprive you of a nutritious, protein-rich diet. Embrace these high protein frozen meals, redefine your eating habits, and step towards a healthier lifestyle.
Our choices have the potential to shape our health, and choosing these meals is certainly a step in the right direction. Indulge in these flavorsome, protein-packed meals, and give your body the fuel it requires. After all, isn't it about time we turned towards healthier, easier, and tastier options?
Food Lover and Storyteller 🍽️✨ With a fork in one hand and a pen in the other, Shivani brings her culinary adventures to life through evocative words and tantalizing tastes. Her love for food knows no bounds, and she's on a mission to share the magic of flavors with fellow enthusiasts.