16 Best Frozen Chicken Patties in 2023 [Crispy & Juicy]
Updated On: August 20, 2023
In the hustle and bustle of daily life, everyone appreciates a helping hand in the kitchen, especially when it comes to whipping up a quick and delicious meal. Now, one such superstar in the frozen foods aisle is the ever-reliable chicken patty. But, not all patties are created equally.
Each brand offers something unique in terms of flavor, texture, and nutritional value. After countless taste tests and much consideration, I've rounded up the best frozen chicken patties that are sure to win hearts and satisfy taste buds at your family's dinner table.
Also Read: Different Types of French Fries
16 Best Frozen Chicken Patties of 2023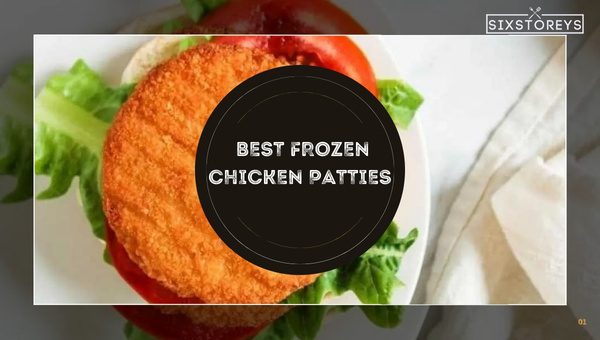 In this section, we will embark on a tasty journey, unveiling the 16 best frozen chicken patties which are sure to elevate your meals with their mouthwatering flavors.
1. Perdue Fully Cooked and Frozen Breaded Chicken Patties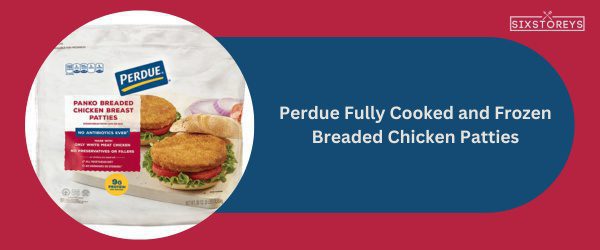 Perdue is a brand that hardly ever misses the mark when it comes to poultry, and their fully cooked and frozen breaded chicken patties are a clear testament to this fact. I always find myself gravitating towards this particular product on my weekly grocery runs, due to its quality, convenience, and most importantly - taste.
Biting into one of these Perdue chicken patties can only be described as a delightful culinary experience. The sensation you get as you cut across the crispy golden-brown breadcrumb coating to reveal the succulent, tender chicken underneath is immensely satisfying. What's more, the chicken is generously seasoned with a mix of spices and herbs that leave a pleasant aftertaste lingering on your palate.
One of the main reasons I stock up on Perdue's chicken patties is its convenience factor. The fact that they come fully cooked is a real time-saver for me, especially on those busy weeks filled with deadlines and meetings. All I need to do is pop the frozen patties into my oven or air-fryer, and within minutes, I have a delicious meal ready to be savored. In fact, these patties form the base of many meals at my place, owing to their versatility. Add them to a salad, slice them up in a wrap, or simply tuck them into a bun to create a fulfilling chicken burger.
While I am drawn to their taste and ease of preparation, I must also commend Perdue for their quality. As someone who is quite discerning about their meat, I'm reassured knowing that the brand uses 100% real chicken and avoids any unnatural or artificial ingredients. I genuinely believe this is evident in the taste of the final product - it's wholesome, authentic, and natural. In essence, these Perdue patties are the perfect middle ground between convenience and quality, making these my go-to choice for frozen chicken patties.
2. Yelloh! Fully Cooked Breaded Chicken Breast Patties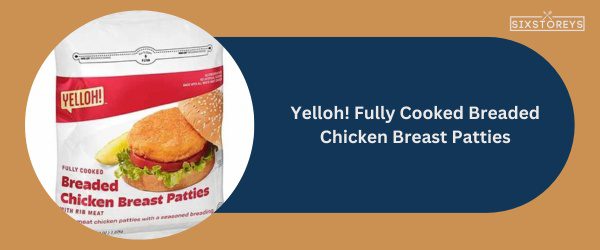 Embarking on a journey to find the perfect chicken patties led me to Yelloh!, a brand less mainstream but twice as impressive. Their fully cooked breaded chicken breast patties caused quite a stir in my kitchen with their phenomenal taste and texture.
The first thing that strikes you about these patties is their robust flavor profile. They're made from real chicken breast and seasoned flawlessly with herbs and spices that don't overpower the natural flavor of the chicken, but only elevate it. The taste is so delightful, I often catch myself enjoying them plain without any additions, simply to relish the distinct taste.
Once you navigate past the taste, the texture of the Yelloh! chicken patties is what captures your attention. The breadcrumb coating is crunchy, almost to the point where it cracks upon biting, contrasting beautifully with the tender chicken nestled within. This remarkable consistency is maintained even after freezing and reheating, which speaks volumes about the quality and care Yelloh! invests in its products.
Speaking of freezing and reheating - as these patties are fully cooked, preparation is a breeze. In less time than it takes me to finish an episode of my current Netflix favorite, I have a warm, golden-brown patty waiting to be devoured. They can fit into any dish of your liking - whether it be a Caesar wrap, a classic chicken burger, or even as a topping on your homemade pizza.
One aspect of Yelloh! that I greatly admire is their commitment to using premium quality chicken breast in their patties. In each bite, I taste the freshness and quality of the ingredients they use, which, in my book, significantly enhances the overall dining experience and effectively earns them a spot on my list of the best frozen chicken patties.
While these might not be your regular, go-to brands for chicken patties, both Perdue and Yelloh! are definitely worth considering. Their relentless focus on taste, quality, and convenience makes them stand out in the crowded frozen foods aisle, offering customers a high-end dining experience right in the comfort of their own kitchens.
3. John Soules Foods Chicken Patties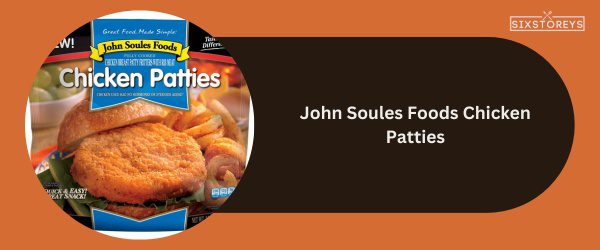 Stepping into my kitchen on a busy weekday, I often reach for John Soules Foods Chicken Patties, one of the most dependable items in my freezer. I am truly a fan of their genuine flavor profile and the quality they bring to the table.
When it comes to taste, I believe John Soules Foods chicken patties are nothing short of an artist's masterpiece – a flavorful blend of chicken and seasoned breading. The breading is not only crispy but carries a fantastic collection of light spices that helps lift the overall flavor of the patties.
What captivates my senses is the excellent consistency between the perfectly seasoned breading and the tender chicken. The bite is substantial and yet, surprise surprise, amazingly tender! To me, achieving this balance shows a deep understanding of cooking techniques and speaks volumes about the brand's expertise in creating a top-notch chicken patty.
The aspect that truly makes these patties a star in my kitchen is their effortless preparation. Whether it's being baked, fried, or air-fried, these patties always come out with beautiful color and taste. Being able to pull off a satisfying meal during the rush of weekdays is a remarkable feature of these patties and one of the reasons they are a staple in my freezer.
4. Tyson All Natural Frozen Chicken Breast Patties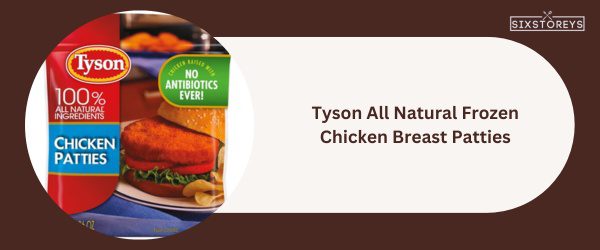 Tyson holds a special place in my heart for presenting meals that are humble yet flavorful. Their All Natural Chicken Breast Patties are the epitome of this approach, taking me back to the days of good, old-fashioned cooking.
The thing about Tyson's All Natural Chicken Breast patties that struck me the most was their simplicity. Unlike a lot of frozen chicken patties, Tyson does not overdo the breading or seasoning. The patties are simply breaded, cooked to perfection, and then frozen, leaving them with a rich, natural chicken flavor that is authentically appetizing.
I enjoy these patties, especially on days when I want something lighter, simpler, but still satisfying. I often serve them alongside a colorful vegetable salad to complement their natural chicken flavor. They cook up a beautiful golden brown, with a mouthwatering aroma that gets me excited for the meal to come.
These patties are not just about taste and aroma, they are also about peace of mind. Tyson's promise to keep things natural is reassuring, knowing that I am serving my family meals made from real chicken, without unnecessary additives. This conscious choice by Tyson is why these patties are a top pick in my kitchen.
5. Gardein Ultimate Plant-Based Chick'n Filets, Vegan, Frozen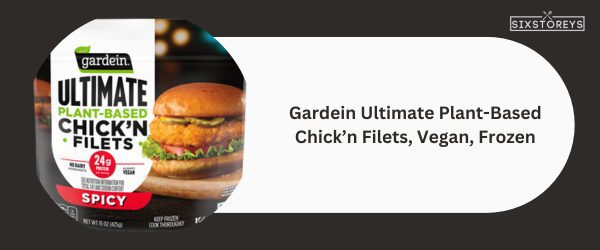 From my endless adventures in the frozen food aisles to my kitchen adventures, I have tackled various products and their claims. When it came to plant-based chicken, I was skeptical at first. However, Gardein's Ultimate Plant-Based Chick'n Filets managed to change my perspective entirely.
Intriguingly enough, these vegan patties bear an uncanny resemblance to real chicken, not just in appearance, but also in taste. Each bite into these filets is moist and tender, with a perfectly golden and crispy exterior that adds a delightful crunch. The way Gardein has managed to replicate the texture is outstanding, to say the least.
When it comes to flavor, these filets are impressive. They're seasoned magnificently, with just the right amount of spices to give an enjoyable kick. If you're looking for a palate-pleasing alternative to chicken patties, then these plant-based delights are definitely worth a try.
But the real beauty about these frozen filets lies in their convenience. Just like the conventional frozen patties, these vegan alternatives are incredibly easy to prepare. In a matter of minutes in the oven, you have a hot, fulfilling meal ready. As such, they make for a fantastic, compassionate alternative without any fuss, and definitely earned their spot in my kitchen.
In choosing chicken patties, whether traditional or plant-based, one must always consider the quality of ingredients, taste, and convenience. John Soules Foods, Tyson, and Gardein satisfy all these factors, making them some of the best frozen chicken patty options that I absolutely vouch for.
6. Foster Farms Classic Chicken Patties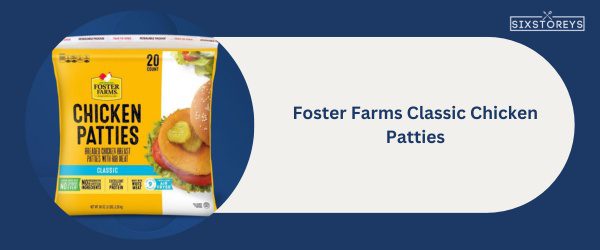 For days I am in the mood for something making my taste buds tingle, I invariably find myself reaching for the Foster Farms Classic Chicken Patties. Their slightly spicy heat combined with the tender chicken meat encased within perfectly crisp breading is a match made in heaven, to say the least.
When it comes to texture, Foster Farms classic chicken patties honestly tick all the boxes. The golden exterior is delightfully crispy, providing a satisfying crunch with every bite. The interior, on the other hand, is pure, juicy, chicken joy! The chicken meat is succulent and persuasively marinated, bursting with flavor that leaves a beautiful aftertaste.
The light peppery flavor gives these patties a unique twist, separating them from the typical chicken patty on the market. To me, this refined flavor profile is evidence of Foster Farms' commitment to exceptional quality and a memorable eating experience.
7. Don Lee Farms Grilled Antibiotic-Free Chicken Patties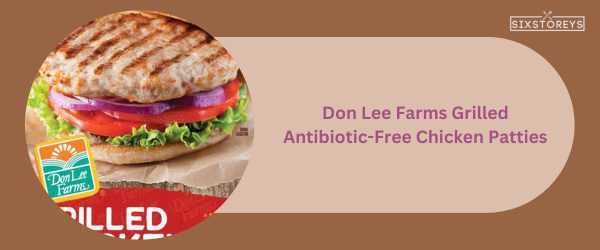 In an era when healthy eating has become an essential part of our daily diet, I'm always on the lookout for wholesome options. The Don Lee Farms Grilled Antibiotic-Free Chicken Patties meet this specification and check my taste preferences too.
Don Lee Farms does an astounding job grilling these antibiotic-free chicken patties to perfection. The patties exude an enticing aroma as they cook, reminiscent of a home barbecue. The taste matches the aroma, with the smoky, char-grilled flavor coming through in each bite.
What really stands out about these patties is the exceptional nutritional value they bring. They're crafted from antibiotic-free chicken, reducing exposure to potentially harmful substances. Knowing I'm consuming a product that's not just delicious, but also considerate of my health, is a breath of fresh air.
8. On-Cor Chicken Patties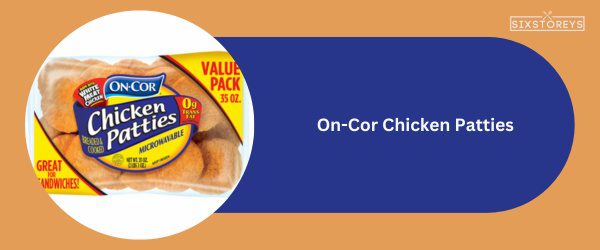 There's something irresistible about the effortless simplicity and great taste of On-Cor Chicken Patties. They are one of my favorite go-to's when I need to rustle up something delicious in a snap.
One of the things that make On-Cor Chicken Patties stand out is their crispy breading. It's perfectly browned, and beautifully seasoned, and lends a lovely crunch that complements the tender chicken inside.
The chicken meat used is delicate and full of authentic flavor, every piece telling a story of high-quality selection and careful preparation. They are effortlessly warm and satisfying, making them a popular choice for family meals, game day snacks or when hosting guests.
From the moment they enter the oven to the time they're served on the plate, On-Cor Chicken Patties are a pleasure in every sense. They're a delicious, easy-to-prepare option that's always a hit. Regardless of the occasion, they never fail to impress with their great taste and inviting aroma.
9. Kirkwood Breaded Chicken Breast Patties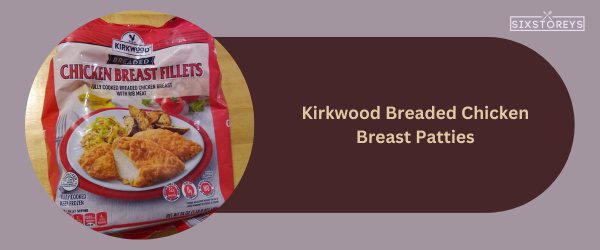 Kirkwood Breaded Chicken Breast Patties are what I often reach for when I long for that ultimate comfort food. Encased in a crisp, golden breading, the tender and juicy chicken breast in these patties never disappoints.
Unlike your typical, standard-issue chicken patty, Kirkwood's version takes it a notch higher. I love the satisfying crunch delivered by the crispy exterior. Their ever-so-light hint of seasoning really lets the flavor of the natural white chicken shine through. They are vibrant yet delicate, perfectly seasoned, and deliciously juicy.
On days I am hungry for a sandwich, Kirkwood Breaded Chicken Breast Patties are my first choice. Not only do they taste delightful on their own, they also provide a wonderful base that compliments any flavors you want to add. Whether I toss them on a bun with a tangy array of pickles, or a dollop of mayo or serve them simply with a side of ketchup, they are a delight in every sense of the word.
10. Good & Gather Chicken Breast Patties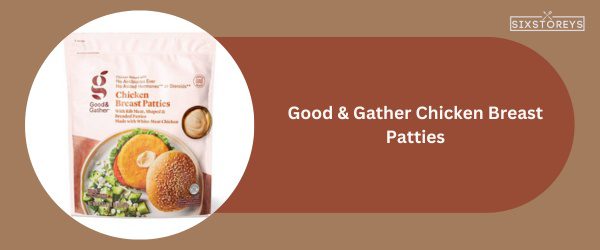 Good & Gather Chicken Breast Patties deserve a special mention for their tantalizing taste and an incredible texture that make them virtually indistinguishable from homemade patties.
What sets Good & Gather apart from other brands out there is that upon biting, I noticed generous chunks of white chicken meat, rather than a puree or fillers that some rivals resort to. A noticeable difference in quality is evident with each mouthful, making these patties worth every penny.
The moisture and texture of the chicken breast meat are preserved, emulating a tenderness that is undeniable. Plus, these patties are neither overly seasoned nor underspiced. This perfect balance helps accentuate the natural flavors of the chicken, a quality I immensely appreciate.
Good & Gather Chicken Breast Patties have successfully captured authenticity and genuine taste in a simple, easy-to-prepare frozen food product. These patties truly reflect what good, quality food should taste like.
11. Bell & Evans Frozen Breaded Chicken Patties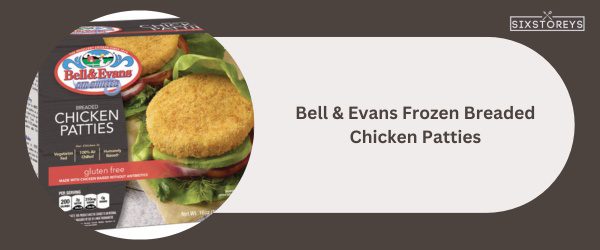 Bell & Evans Frozen Breaded Chicken Patties have carved out a niche for themselves as one of the most premium chicken patties out there. Raised to roam free, the chicken used for these patties is of the highest quality, providing an incredibly rich and satisfying flavor.
What I love about Bell & Evans is how they've nailed the perfect balance of crispy breading and moist chicken. A thin, crispy, seasoned crust that achieves a beautiful golden brown when cooked envelopes the tender, juice-filled chicken inside. The result? A crunchy, savory, high-quality chicken patty that you'll want to savor with every bite.
When it comes to taste, these chicken patties tastefully capture the essence of farm-fresh chicken. The light seasoning accentuates the taste of the chicken, resulting in a delightful savoriness that is second to none. Whether you make them into sandwiches or serve them as the star of your meal, they are guaranteed to be a hit!
12. Tyson Breaded Chicken Patties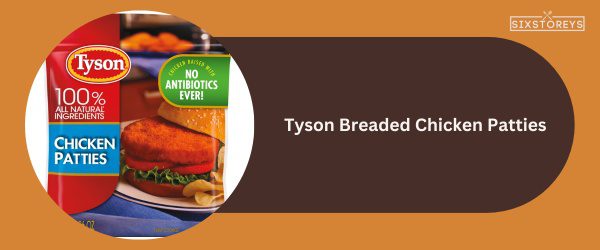 Tyson Breaded Chicken Patties instantly excite your tastebuds, drawing you in with their combination of tender chicken, crispy breadcrumb coating, and savory spices. Each bite carries a delicate crunch followed by the lusciousness of juicy, white meat chicken.
What truly sets these patties apart is Tyson's seasoned breading. The breading comprises a wonderful blend of spices, including paprika and black pepper. This adds an additional layer of complexity to the flavor profile, bringing about a delicate yet distinct hint of smokiness and piquancy. This is what I believe makes Tyson's breaded chicken patties stand out from the crowd, and earns them a permanent spot in my freezer.
These patties are versatile too. They work wonders in a classic burger layout, where the peppery patty pairs well with a layer of creamy mayo and crunchy lettuce. You can also get adventurous and incorporate them into a Caesar salad, converting a casual meal into a slightly fancy feast.
13. Banquet All Natural White Meat Chicken Breast Patties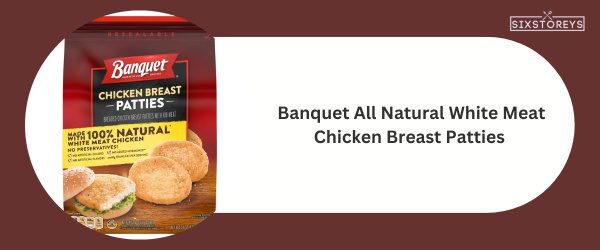 Banquet's All Natural White Meat Chicken Breast Patties are just the thing when you are in the mood for a simplistically delicious meal. At the heart of these patties lies all-natural white meat chicken encased in a flavorful, lightly breaded coating.
One can notice the Banquet difference with the very first bite. The texture of the patties is firm, yet satisfyingly tender, with the unmistakable flavor of authentic, boneless white chicken breast coming through beautifully. The exterior breading is equally delectable — it crisps up in the oven to create a satisfying crunch with every bite.
These patties do a brilliant job on a toasted bun with a leisurely spread of mustard or nestled with some cheddar in a tortilla wrap. There are no elaborate garnishes or eclectic flavors, but sometimes it's the simplicity that counts.
14. Kirkwood Mexi Cali Chicken Patties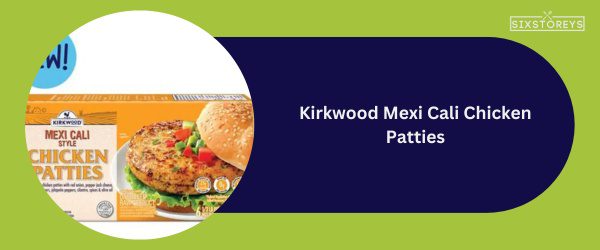 Kirkwood Mexi Cali Chicken Patties bring together the best of chicken patties and the vibrant flavors of Mexico. These patties are generously infused with red and green bell peppers and onions, providing each bite with a delightful complexity and an elevated flavor profile.
Kirkwood Mexi Cali Chicken Patties take your tastebuds on an exotic ride. Instead of just the classic, comforting flavor of chicken, you will find an inviting tanginess from the bell peppers and a slightly sweet note from the onions. These flavors are cushioned by the tender, juicy texture of the chicken, making each bite an explosion of flavors.
These patties make for a quick and easy dinner fix, providing an exciting twist to the traditional chicken patty. Be it serving them on a fresh bun with a dollop of guacamole for a fun twist on classic chicken burgers or tossing them in a tortilla wrap for a hearty chicken wrap, there's no wrong way to enjoy these zesty patties.
15. Applegate Chicken Patties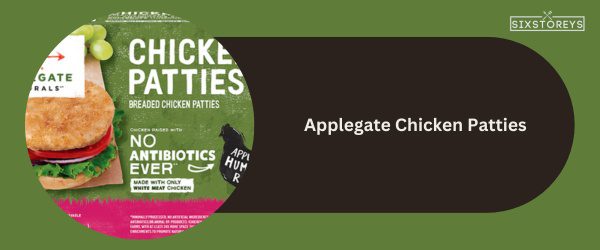 The Applegate Chicken Patties are another fantastic option that has managed to earn a special place in my heart. These hearty patties are an excellent source of protein, gluten-free, and made from free-range chickens, converging on a balance of nutrition, ethics, and taste.
What I truly appreciate about Applegate is their commitment to using simple, Non-GMO ingredients. The texture of these patties is impeccably smooth, and you can tell that they have been made with care. The breading offers a nice crunch and the savory seasonings are well-balanced and never overpowering.
These patties are just as versatile as their regular counterparts. Dress them up with your favorite cheese in a burger or chop them up for a high protein addition to your post-workout salad. Regardless of how you serve them, these patties give you a chance to enjoy a meal that feels both indulgent and health-conscious.
16. Fresh Brand – Plant-Based Chick'n Patties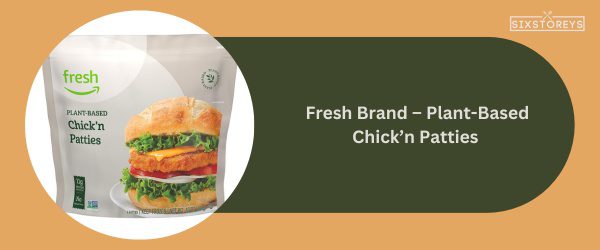 I was pleasantly surprised by Fresh Brand's Plant-Based Chick'n Patties. As someone who has explored the world of plant-based alternatives, these patties are easily some of the best I've tried. The fact that this plant-based wonder can so convincingly simulate the real chicken experience is, quite frankly, amazingly impressive!
Having had numerous plant-based dishes, I must say Fresh Brand has done an outstanding job. The texture of these patties is commendably close to actual chicken, which is not an easy feat to achieve in a vegan substitute. The flavor is equally impressive - savory, well-rounded, and satisfying.
These are perfect for making vegan-friendly versions of your favorite chicken patty dishes. To be honest, there is an immense satisfaction in the fact that you're serving up something so delicious, completely cruelty-free. Whether you're a full-time vegan, a flexitarian, or even a curious omnivore, these plant-based patties are indeed worth trying.
Also Read: Best Cheeses For Chicken Sandwich
How to Choose the Best Frozen Chicken Patties?
When it comes to selecting the best frozen chicken patties, there are several factors that you must consider to ensure you're getting a premium, flavorful product. Here are some tips to guide you:
Determine the Nutritional Value
Nutritional value is a major consideration when browsing the frozen food section. Search for those patties that have a balanced ratio of protein, fats, and carbohydrates. All nutritional information should be clearly listed on the packaging. While you're at it, also make sure the sodium and sugar content per serving are within healthy limits.
Look for Quality Ingredients
The ingredient list can be quite telling about a product. Opt for chicken patties made from lean chicken breast or those labeled as 'all-natural' or 'antibiotic-free'. This not only gives them a superior flavor but also ensures they're healthier. Avoid those with a long list of unpronounceable ingredients or too many additives and preservatives.
Consider the Preparation Time
Lastly, consider the cooking method and time. If you're constantly on-the-go, opt for fully cooked variants that simply need heating. However, if you prefer preparing your meals from scratch, the uncooked versions would be more apt.
There are numerous products in the market, each unique in its own way. Remember to factor in these points the next time you are shopping for frozen chicken patties.
Why Opt for Frozen Chicken Patties?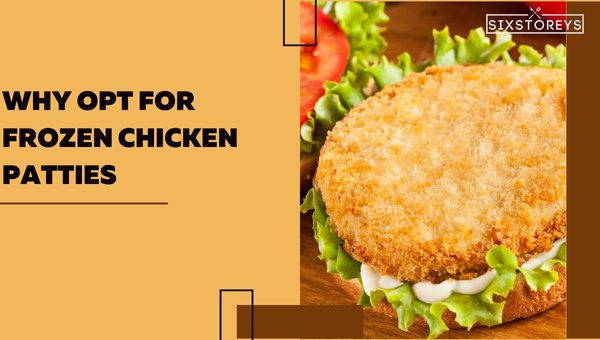 Frozen chicken patties are a godsend for those hectic days when you're too tired to cook from scratch but still crave some comfort food. But there's more to these patties than just convenience. Here are some reasons why you should consider adding them to your freezer stash:
Convenience and Easy Preparation
First and foremost, they offer sheer convenience. Most frozen chicken patties are pre-cooked, meaning you can have a hearty chicken patty sandwich or a wholesome meal with minimal effort and time. Just pop them in the oven, air fryer, or even a pan on the stovetop, and voila! Your meal is ready.
Variety in Taste and Brands
Secondly, the variety of brands and flavors available is truly astounding. From classic breaded variants to spicy Mexi Cali flavors, there's a chicken patty for every palate out there. This allows you to try new flavors and keep your meals exciting.
Ideal for Quick Meals
Lastly, frozen chicken patties make for an ideal quick meal solution. Whether it's an impromptu gathering, a sudden pang of hunger, or just a busy weekday dinner, a pack of frozen chicken patties is a lifesaver.
Remember, while it's always good to have freshly made meals, there's no harm in relying on some frozen staples now and then. When selected wisely, these can be just as healthy and delicious. Let these be your secret weapon for those unbearably busy days!
How to Serve Your Frozen Chicken Patties: Recipe Ideas
When it comes to serving up your frozen chicken patties, the sky's the limit. Let's explore some creative ways to savor these succulent patties.
Classic Chicken Patty Sandwich
There's nothing quite like a classic chicken sandwich. Simply heat up your favorite frozen chicken patty, place it on a toasted bun, and top it with lettuce, tomato, onion, and your choice of condiment. For a touch of gourmet, try adding some avocado or a slice of gouda cheese.
Incorporating Patties into Salads
Yes, salads! Toss the fried chicken patties into your salad for a protein-rich twist. Dice up your chicken patties, add them to a mixture of leafy greens, cherry tomatoes, cucumbers, and olives for a complete, nutritious meal.
Using Patties in Appetizers
Feeling creative? You can cut up your chicken patties into bite-sized pieces, top them with a piece of cheese, and slide them onto a cocktail stick for a quick and tasty appetizer.
Why Chicken Patties are a Budget-Friendly Meal Solution?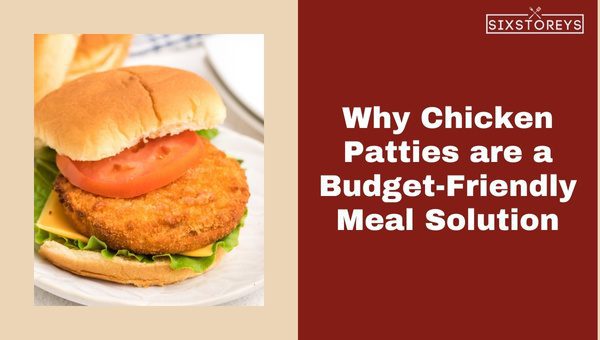 Aside from being downright delicious, chicken patties are also a cost-effective solution to homemade meals. Here's why:
Cost-per-meal analysis: When you compare the cost of restaurant-bought meals or even some home-cooked dishes, frozen chicken patties offer a more economical solution.
Savvy shopping tips: Buying in bulk, opting for store brands, or purchasing during sales can reduce costs even further.
Comparing brands and prices: Different brands offer different prices. It's possible to find a brand that offers quality and affordability in balance, like Perdue or Tyson.
Less wastage: Since these patties are frozen, you can simply use the number of patties you need and store the rest for later, cutting down on waste.
In a world where saving money and time is imperative, chicken patties are a great solution for budget-conscious families or single residents who want to enjoy a delightful meal without breaking the bank. Feel free to explore and experiment with these patties to fit your dietary preferences and needs. Remember, creativity has no boundaries in the kitchen!
Also Read: Best Wingstop Chicken Sandwich Flavors
Frequently Asked Questions
How do you prepare frozen chicken patties at home?
Frozen chicken patties are typically prepared by baking them in the oven, air frying, or pan-frying. The instructions vary by brand, but most require preheating the oven to around 400 degrees Fahrenheit, placing the patties on a baking sheet, and baking for about 15-20 minutes.
What are the health benefits of frozen chicken patties?
Most frozen chicken patties are a good source of protein, which is crucial for building and repairing tissues in the body. They also often contain vitamins such as Vitamin A and B complex, as well as minerals like iron and zinc. That being said, not all chicken patties are created equal, and the nutritional content can vary widely by brand. Always check the label for details, and select patties that are low in sodium and free from artificial ingredients.
Can I air-fry a frozen chicken patty?
Absolutely! Air frying provides a healthier way to enjoy your favorite frozen chicken patties. It reduces the need for oil, allowing for a lower fat content in your meals. To air fry, preheat your air fryer to about 375 degrees Fahrenheit, place the patties in the basket, and air fry for about 15 minutes. Always check the internal temperature with a food thermometer to ensure it reaches 165 degrees Fahrenheit.
Is it safe to eat frozen chicken patties that have been thawed and refrozen?
Generally, it is not recommended to refreeze thawed chicken products as it can potentially contribute to the growth of harmful bacteria. It's better to only defrost what you plan to consume. However, if the patties have been thawed in the refrigerator and have not been left out at room temperature for more than two hours, they can usually be safely refrozen.
What is the shelf life of frozen chicken patties?
From a food safety perspective, frozen chicken patties, if kept continuously frozen at 0°F, will remain safe and edible indefinitely. However, the quality starts to degrade after a period of time. Most brands recommend consuming them within 6 months for the best taste and texture.
Are there vegan options for frozen chicken patties?
Yes, there are several brands that offer vegan alternatives to traditional chicken patties. These patties are made from plant-based ingredients that mimic the texture and flavor of chicken. Brands like Gardein and Fresh Brand have developed well-reviewed plant-based chicken patties.
Can you grill frozen chicken patties?
Yes, you can grill frozen chicken patties, but the grilling time would be a bit longer than usual since they are frozen. It's essential to ensure the internal temperature of the patties reaches a safe 165 degrees Fahrenheit. An extra tip: Thawing them before grilling will allow for more even cooking.
Are there gluten-free frozen chicken patties available?
Applegate Chicken Patties are a gluten-free option for those with dietary restrictions. Always check the package labeling before purchase, as ingredients and manufacturing processes can vary between brands.
Conclusion
After extensive tasting and analysis, it's clear that the world of frozen chicken patties is truly diverse, catering to a range of taste buds and dietary preferences. From traditionally breaded and seasoned to plant-based alternatives, everyone is likely to find a product that appeals to them. Armed with this carefully selected list of the best frozen chicken patties, the next meal preparation would not just be a swift affair but also a delightful culinary experience.
Ensuring delicious and satisfying meals will now be easier than ever, even on the busiest of days. Each product on this list holds a promise - a promise of convenience, quality, and most importantly, flavor. Enjoy exploring these options and happy dining!
Food Lover and Storyteller 🍽️✨ With a fork in one hand and a pen in the other, Shivani brings her culinary adventures to life through evocative words and tantalizing tastes. Her love for food knows no bounds, and she's on a mission to share the magic of flavors with fellow enthusiasts.