18 Best Sun Chips Flavors Ranked (2023) Unleash Snacking Joy
Updated On: September 4, 2023
Imagine finding a snack that hits that perfect spot between tasty and healthy - that's the magic of Sun Chips. Those delightful ripples, along with the light crunch and enticing flavors, never fail to offer a fulfilling yet guilt-free snacking experience. Dive with me into a flavorful exploration of some of the best Sun Chips flavors – each flavor profile possessing its own unique, mouthwatering charm. From the classic to the exotic, these snacks will take your taste buds on an unparalleled culinary journey. Whether you're a fan of spicy heat, crave an old favorite, or are eager to try something new and exciting, there is a Sun Chip flavor waiting to meet you.
Also Read: Best Kettle Chips Flavors
18 Best Sun Chips Flavors Ranked As of 2023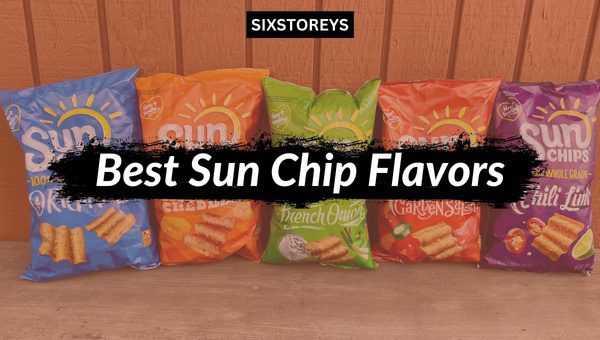 How delicious it would be to rekindle your connection with an age-old favorite or explore a new flavor adventure? Let's embark on a journey that unwraps the treasure trove of the 18 Best Sun Chip flavors. Each bite is a promise of a whirlwind of taste and texture, leaving your palate craving more. Ready to crunch? Let's dive in!
1. Veggie Harvest Farmhouse Ranch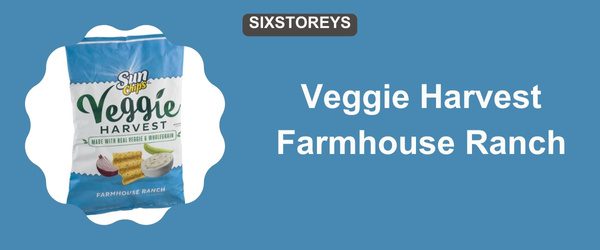 When it comes to the Veggie Harvest Farmhouse Ranch flavor, one can imagine that it's just like walking into a rustic farmhouse nestled deep in the heartland, breathing in the earthy scents of freshly harvested vegetables, and savoring the tangy, rich creaminess of homemade ranch dressing. This Sun Chip flavor is a carefully crafted blend of those sensations, aiming to captivate taste buds with its unique, mouthwatering appeal.
The very first crunch introduces the palate to the honest-to-goodness taste of vegetables. It's a gentle, subtle hint that intertwines beautifully with the more savory note of potato. But just as you're settling into this fresh, earthy flavor, the farmhouse ranch aspect of these chips takes the spotlight, setting the course for a wild flavor ride.
Ranch dressing has always been loved for its creamy texture and tangy taste, and it's perfectly replicated in this Sun Chip variant. Every bite gives your tongue a velvety texture, imbued with a zesty tang that kisses every taste bud with a delectable tingle. It heightens the flavor of the veggies, balancing their earthy taste while adding an exciting, luscious dimension that holds the palate captive.
The Veggie Harvest Farmhouse Ranch aren't just chips - they're a delightful tapestry of tastes. They call to mind picnic lunches on a warm summer day or the comfortable chatter of a family dinner. And just as those events bring joy and pleasure, so does opening a bag of these chips. Their light, satisfying crunch provides the perfect vessel for compelling flavors, creating a multi-sensory snack experience that won't easily be forgotten. The combination of textures and tastes will have you reaching for chip after chip until you realize that you've reached the bottom of the bag.
2. Monterrey Jack and Garden Tomato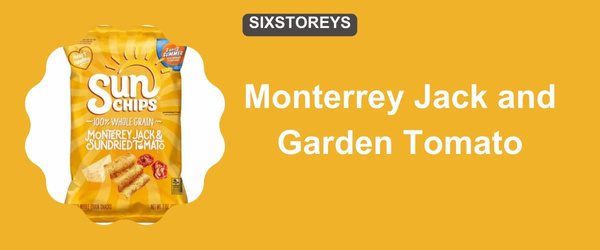 On the other hand, the Monterrey Jack and Garden Tomato flavor transports you to a different location - a sunny Southern California garden laden with succulent tomatoes, bathed beneath the warm, golden sunshine. With this flavor, Sun Chips beautifully captures the spirit of this idyllic setting in bite-sized, crunchy morsels.
As you bite into a Monterrey Jack and Garden Tomato chip, the first flavor note that greets you is the unmistakable, juicy taste of sun-kissed tomatoes. It's a bright, fresh taste, one that brings to mind a tangy-sweet summer salad bursting with juicy, ripe tomatoes. But just as you're savoring this refreshing taste, another flavor announces its presence - the creamy, robust flavor of Monterrey Jack cheese.
Monterrey Jack, often just called Jack cheese, is known for its mild flavor that complements a variety of ingredients. And true to its reputation, in this Sun Chip variant, it serves as the perfect accompaniment to the tomato. The cheese flavor doesn't overpower; instead, it hugs the tomato flavor, enhancing its sweetness while adding a tempting, creamy dimension that makes every bite utterly satisfying.
With this Sun Chip flavor, snacking becomes a mini getaway. Each crunch carries the flavors of a sunny west coast garden, the juicy tomato flavor, and creamy cheese coming together in a symphony of tastes that draws you in, making you savor every single chip. It's reminiscent of cheesy tomato pasta or a fresh caprese salad, only it's conveniently packaged into light and crispy chips that you can enjoy on the go or in the comfort of your own home.
3. Sun Chips Original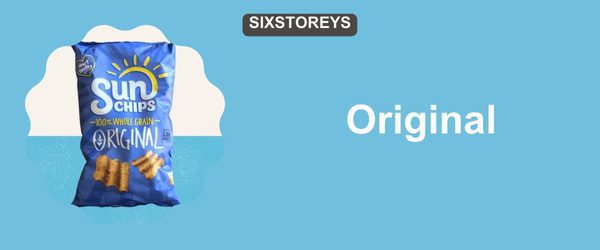 Every story has its origin and every symphony has its key-note. In the delightful universe of Sun Chips, Original flavor holds that place of honor. It is the perfect manifestation of something special created from the simplest of ingredients – whole grains, sunflower oil and sea salt, handcrafted with love and care.
As I picked up my first chip, I noticed the classic waves that create a sense of familiarity and continuity. Biting into it, I was immediately greeted by a satisfying crunch that never grows old. It left an echo, a crunchy resonance that lingers in the best possible way. The texture is part of the charm - crispy, yet hearty. It is quintessential Sun Chips, essence de whole grain.
The flavor is like a whispered secret, subtle and delightful. The delicate balance of saltiness is not overbearing, rather it perfectly highlights the natural, wholesome flavor of the grains. It's a taste that's undeniably earthy, capturing the soul and the simplicity of the grains it's made from.
Staying true to its forename, the Original flavor is a class in itself, a noble homage to the bare beauty of grains, their texture, and their flavor. It has stood the test of time and continues to reign with its unadulterated, understated elegance. Easily paired with your favorite dips or savored solo, the Original is the bedrock upon which the many marvelous Sun Chip variations are built.
4. Peppercorn Ranch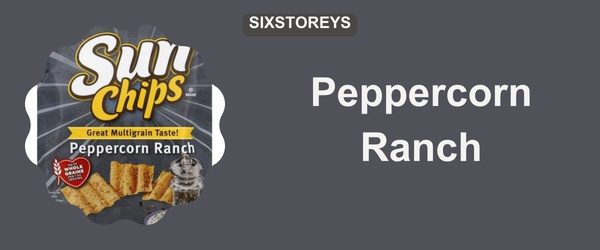 Imagine the serenity of a ranch under the expansive blue sky, with notes of exotic peppercorn wafting through the air. Meet Peppercorn Ranch, where the classic zestiness of ranch gets a spicy, peppery make-over. The moment I opened the bag, I could almost feel myself on that ranch, my senses treated to an intriguing blend of flavors.
As I bit into the first chip, the peppery flavor made itself known. It's not overtly strong, but teasing, like a whisper of wind carrying tantalizing secrets of spice. The piquancy of pepper has been skillfully controlled, providing just enough heat to make things lively without veering into the territory of overwhelming.
And then comes the sublime ranch flavor. Known for its tang and creaminess, this tried-and-true dressing settles into a beautiful harmony with the peppercorn, stacking layers of taste on my palate. The fusion of the warm, peppery sensation coupled with the cool ranch is downright delicious.
The peppercorn doesn't eclipse the ranch, and the ranch doesn't stifle the peppercorn - they instead come together to create an almost musical medley. The overall effect is a bag of chips bursting with flavor, from the spice of the peppercorn to the recognisable twang of cool ranch.
Whether your invigoration finds roots in the Original's wholesome goodness or your adventure vibes with the peppery tune of Peppercorn Ranch, Sun Chips has a flavor that can cater to every preference. With each variety bringing its unique flavor to the table, the taste journey with Sun Chips promises to be nothing short of spectacular.
5. Black Bean Spicy Jalapeño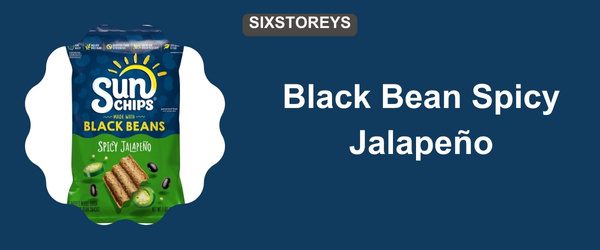 Next on my flavor exploration was the enticing Black Bean Spicy Jalapeño. Just the name alone evokes an image of a tantalizing Mexican fiesta. As soon as I opened the bag, a bold and fresh smell wafted out, immediately alerting my senses that they were in for a treat.
Upon the first bite, the kick of the jalapeno was more than noticeable - it was hard to ignore! And just when I thought the spiciness was about to get too crazy, the earthy black bean flavor kicked in. It was like a culinary dance, with each ingredient knowing just when to step in, ensuring the overall flavor never became overbearing.
The texture of the chips was unique. There was the signature Sun Chips crunch, mixed with a slightly smoother finish. I'm guessing this was thanks to the black beans. This complex texture was a welcome addition to the overall experience. Every now and again, I'd encounter a little extra bite of jalapeño, which provided welcomed heat waves that only ramped up the overall flavor journey.
The Black Bean Spicy Jalapeño Sun Chips elevate the chips game, adding a fiery burst to their hallmark wholesome flavor. When you're in the mood for a snack that brings the heat, this bag demands your attention.
6. French Onion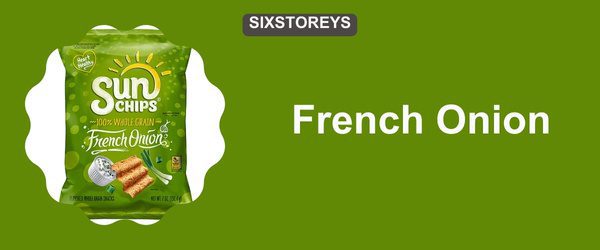 The French are known for their exquisite cuisine, from their decadent desserts to their aromatic sauces. Having sampled the French Onion Sun Chips, I can say that they have managed to package that French culinary excellence into a snack bag. The moment I opened it, I was greeted by a creamy, savory aroma that compelled me to dig in.
Taking my first bite, I was met with an unexpected surprise. This isn't your ordinary onion-flavored chip. The flavor is deeper, richer, and more nuanced. The onion taste doesn't smack you in the face but rather caresses your taste buds, delivering a sophisticated sweetness reminiscent of caramelized onions.
The creaminess of the flavor profile can't be overstated. It's smooth, and delicate, and lingers long after you've swallowed. The balance of flavors is perfect. The onion notes are delightfully tempered with the creaminess, which is subtlety offset by a just-right splash of savory.
The texture here is just as noteworthy as the flavor. There's an extra level of satisfaction that comes with each crunch, making for a fulfilling snacking experience. French Onion Sun Chips truly stands as a testament to culinary creativity, representing a snack that steers clear of the ordinary.
7. Sweet & Spicy BBQ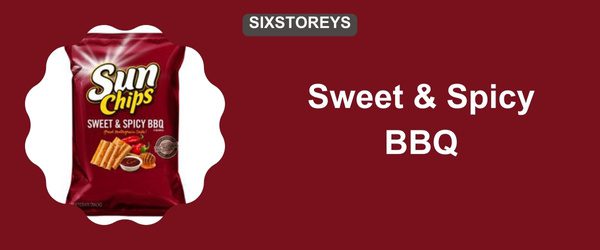 Next on my gastronomic journey were Sweet & Spicy BBQ Sun Chips. The moment I opened the packet, it was as if I stepped into a smoky backyard barbecue. The smell alone was enough to build anticipation for the flavorful crunch waiting inside.
The flavor journey of these chips is much like a carefully orchestrated symphony. At first bite, you are introduced to a delectably smoky flavor, like meat slowly smoked over hickory woodchips, that immediately tantalizes your taste buds. Just when you start sinking into that smoky goodness, a bright wave of sweetness comes along, masterfully balancing the smoky barbecue flavor.
But the experience doesn't stop there. Just when you think you've got a handle on the flavors, the spiciness kicks in, but it's a slow burn. It creeps up and adds a delightful zing to the overall taste. The balance between sweetness, smokiness, and spiciness is an exquisite dance of flavors that will leave you reaching into the bag for more.
In terms of texture, these chips bring that beloved Sun Chips crunch, delivering a satisfying snap with every bite. Moreover, they've managed to incorporate the grainy texture one often finds in barbecued dishes.
Sweet & Spicy BBQ Sun Chips are a treat and a testament to how multifaceted chip flavors can be. If you can't make it to a barbecue, rest assured these chips are more than capable of bringing that grill-side experience to you.
8. Sun Chips Chili Lime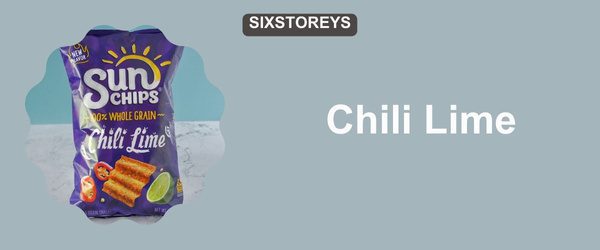 The next flavor took me on an unexpected roller coaster ride of tanginess and heat. The Chili Lime Sun Chips are a boldly flavored snack that doesn't hold back on delivering a spicy punch and a zesty twist of lime. This is a flavor that has been carefully crafted for those adventurous snackers who enjoy a bit of fireworks with their munchies.
Upon opening a bag, the fascinating aroma of fresh lime and chili peppers wafted out, instantly alerting me to the dynamic flavor combination within. My first bite was an exciting one, delivering the tangy lime flavor upfront that left my taste buds tingling. But the excitement didn't stop there. Just moments after the lime had refreshed my palate, the chili began to make its unmistakable appearance, washing over the initial coolness with a warm, spicy intensity.
Crunchy, spicy, tangy, and a hint of sweet, these chips are essentially a carnival of flavors on your palate, keeping you guessing with each bite, and leaving you in delightful anticipation of what the next chip will bring.
9. Sun Chips Cinnamon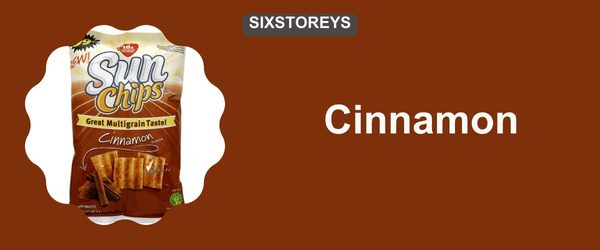 Yet another surprising twist from Sun Chips was the Cinnamon flavor. The unique combination of sweet cinnamon infused in the healthy multi-grain snack surface may seem unorthodox, but once experienced, it makes all the sense in the world.
Upon opening a bag of Cinnamon Sun Chips, it's like walking into a kitchen touched by the aroma of freshly baked cinnamon rolls. It's all at once warm, inviting and full of promise. As soon as I took the first bite, the unmistakable flavor of cinnamon unfurled, subtle at first, then strengthening, enveloping your taste buds in a spicy, sweet embrace.
Although it seems unusual to have a sweet chip, Sun Chips have again got the balance just right. It's not overly sweet--the taste of grain and healthiness is still apparent. The cinnamon flavor does not overpower, but instead mingles harmoniously with the natural taste of the chips.
Whether you're trying to satisfy a sweet tooth or venturing out for a unique snack, Cinnamon Sun Chips are a bold choice that proves to be worth every savory bite.
10. Roasted Sweet Chili
An intriguing blend of spicy and sweet, Roasted Sweet Chili is yet another ingenious flavor from Sun Chips. Upon opening a bag, I was greeted by a rich, spicy aroma that was enticing. The texture of these chips had the classic Sun Chips crunch with an added level of surprise - the sweet warmth of roasted chili.
Heated in the afterglow of the roasted chili, you can taste a slight sweetness that dances on your tongue, a sweet heat that contrasts brilliantly with the savoury crunch of the chip. Each bite of the Roasted Sweet Chili chips became more addictive than the last. What a remarkable blend of flavors that generated a harmonious melding of sweet, spicy, and salty, bringing all the nuances your taste buds would appreciate.
Also Read: Best Ruffles Chips Flavors
11. Garden Salsa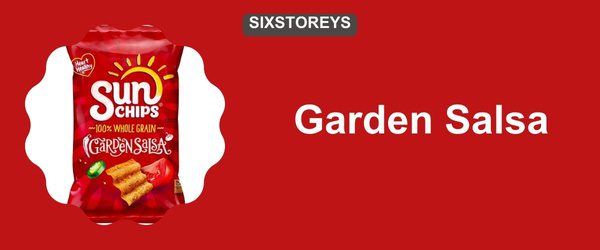 Switching up gears, Garden Salsa Sun Chips were up next. As the name suggests, this flavor offers a fresh and tangy twist to the classic Sun Chip. Packing in the vibrant notes of a garden-fresh salsa, this flavor offers a unique and lively snacking experience.
The moment you open the bag, the appetizing aroma of fresh vegetables mixed with a hint of spiced salsa hits your senses. On taking the first bite, the tanginess of the salsa immediately shines through, followed by a delightful spiciness that seems to linger pleasantly. The tomatoes and onions' freshness, combined with tingling spices, make these chips feel like a fiesta in your mouth.
There's an effervescence to the taste that matches the active crunch of the Sun Chip. Just like a bowl of hearty and freshly made salsa at your favorite Mexican restaurant, these chips are an absolute thrill to the senses. As with each flavor, Sun Chips had yet again pulled a surprise out of their hat with this one. Having combined the zesty tanginess of a summertime salsa with the mellow, savory crunch of a chip, they've crafted a chip that delivers a mouthful of summer in every crunchy bite.
12. Grain Medley Parmesan & Herb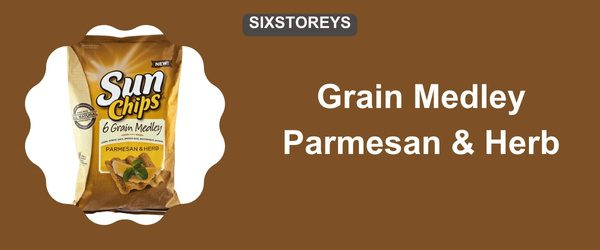 Next up, we have the Grain Medley Parmesan & Herb - yet another exceptional flavor in the Sun Chips catalogue. This one speaks of elegance and layers of flavor, starting with an enticing aroma that greets you as soon as the bag is opened. Notes of Parmesan cheese whisper gently, along with hints of aromatic herbs. As someone who loves the classic flavor of Parmesan cheese and its rich, nutty notes, I found the aroma and subsequent taste remarkably satisfying.
Upon biting into a chip, you'll first taste the intricate and elegant blend of Parmesan and herbs. The flavor starts off subtle, but builds into a robust, full-bodied cheese and herb medley with each bite. With a perfect balance of savory cheese and thyme, each chip is a delightful surprise that I could not get enough of. This flavor would probably be a personal favorite and an interesting recommendation for culinary enthusiasts who enjoy a more complex taste profile.
13. Veggie Harvest Spring Herb & Parmesan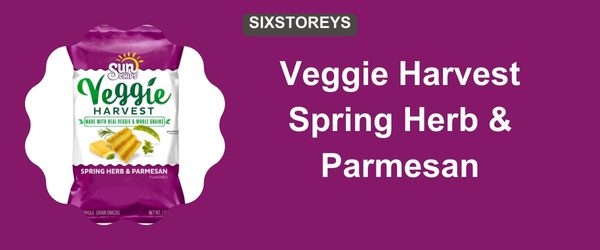 The Veggie Harvest Spring Herb & Parmesan variant stood out for its tangy flavor that beautifully contrasted the chip's salty crunch. With a hint of bright, springtime herbal notes that pair wonderfully with the distinct flavor of Parmesan, this crunchy snack represented a true fusion of flavors. The ingredient combination was fantastic, with the fresh spring herb notes providing a bright counterbalance to the umami-rich Parmesan.
The overall palate experience gives a sense of nibbling on a cheesy herbed flatbread, with each note of flavor clearly defined yet harmoniously blended. This is another must-try for anyone who appreciates a balanced blend of savory and herbaceous notes in their snacks.
14. Sweet Potato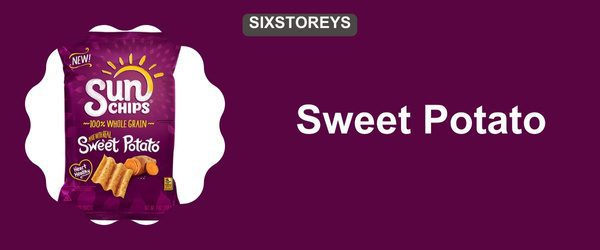 I have always been a fan of sweet potatoes in every form, and this foray into Sweet Potato Sun Chips did not disappoint. This flavor certainly stands out among the Sun Chips line-up due to its unique flavor combination — it balances both sweet and salty notes in a dance as old as time.
From the moment you open the bag, the subtle, inviting aroma of baked sweet potato wafts out. With the first bite, there's a sensation of biting into something comforting and familiar, yet unexpectedly innovative. The subtle sweetness of sweet potato is immediately noticeable, followed by the quintessential Sun Chips crunch. The pairing was simple but unbelievably delicious; savory whole-grain goodness meets the natural sweetness of sweet potatoes. Next time you are on the hunt for a satisfying snack that is a tad sweeter than the usual chip offerings, give the Sweet Potato Sun Chips variant a go!
15. Harvest Cheddar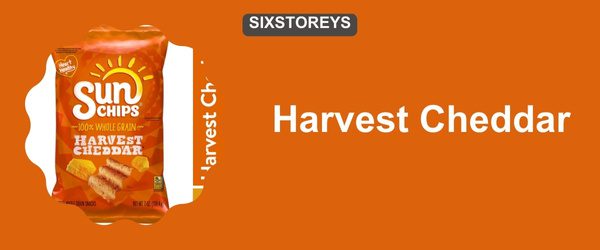 Among the colorful palette of Sun Chip flavors, Harvest Cheddar holds a special place. As a cheese lover myself, I always have a special place for cheese-flavored snacks. Cheddar cheese, with its rich and tangy flavor profile, has always been my top favorite. No surprise, Harvest Cheddar Sun Chips have a special spot on my snack list. It provides a cheesy overload that perfectly harmonizes with the crispy texture of the chip.
The chips encapsulate the creamy, bold essence of cheddar with a delightful crunch leading to a home-run snacking experience. Each chip is a delectable treat, transporting me to a comforting world of everyone's beloved childhood snack - cheese and crackers. For anyone who adores a good crunchy, cheesy snack, Harvest Cheddar Sun Chips is your ticket to cheesy nirvana.
16. Grain Medley Onion & Thyme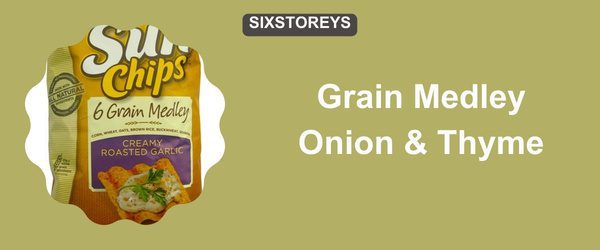 Next on our flavor exploration is the Grain Medley Onion & Thyme. I've never been one to shy away from rich, aromatic flavors. If you can relate, then look no further than this beautifully nuanced offering from Sun Chips. With aromatic herbs paired with the sweetness of the onion, this flavor offers an appealing twist with its subtle spiciness and an additional layer of sweet onions.
Greeted with the tantalizing fragrance of thyme upon opening the bag, the onion notes build gradually and intensify with each bite, balancing perfectly with the earthy notes of thyme. It made each experience of reaching into the packet for more chips an explosion of flavor and crunch. There's something so deliciously addictive about this combination; it's like your favorite onion thyme bread turned into a delightfully crunchy snack.
17. Black Bean Southwestern Queso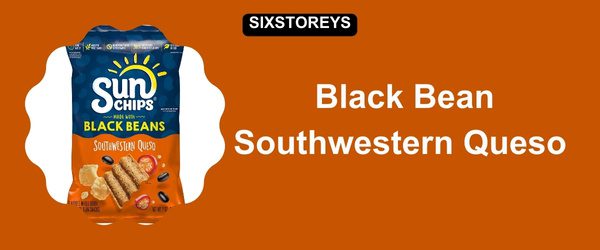 In our quest for the best Sun Chip flavors, the Black Bean Southwestern Queso variant provides a delightful departure from the norm. The moment I opened the bag, I was greeted with a mouth-watering aroma that instantly transported me to a bustling Mexican fiesta. The chips, speckled with flavors, make a visually inviting promise of the taste that's about to thrill your palate.
The first bite was an explosion of distinct Southwestern flavors - a flavorful fiesta that was wonderfully unexpected. The earthy notes of the black bean were beautifully elevated by the cheesy queso. It was a perfect blend of wholesome and spicy that keeps your taste buds captivated from the first crunch to the last.
Each flavorful bite invoked the spirit of a rich, flavorful queso dip paired with the freshness of black beans. So if you are intrigued by international flavors and have a particular liking for a Mexican twist, Black Bean Southwestern Queso is one flavor you absolutely must try.
18. Tomato, Basil & Cheese Veggie Harvest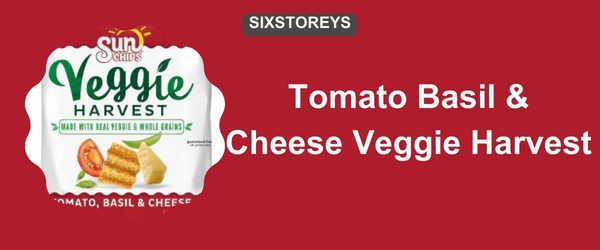 Last but not least, we have the tangy Tomato, Basil and cheese Veggie Harvest flavor. As an Italian cuisine enthusiast, this Sun Chips variant naturally caught my attention. Intrigued by the mix promising the essence of pizza, I was eager to give it a try.
To my surprise, the first crunch was a ride straight to Italy. The vibrant notes of juicy tomato, the aromatic fresh basil, and the comforting dose of cheese was delectably enjoyable. It felt as if I was snacking on a bruschetta sprinkled with cheese on a sunny afternoon in Italy. The delightful tangy twist brought the perfect sense of balance to the salty, crunchy textures of the chip.
Each delightful crunch feels like an Italian feast in mini form, instantly transporting me to the vibrant streets of Rome with a pizza margherita in hand. If you're seeking an international flavor experience, do not miss out on the Sun Chips Tomato, Basil & Cheese Veggie Harvest!
Also Read: Different Types of French Fries
How Sun Chips Balance Nutrition and Flavor
When it comes to snacking, finding the balance between taste and health can be quite the quest. Sun Chips has found the golden mean, successfully combining excellent flavor and nutritional value.
Whole Grains Galore: Sun Chips are made primarily from whole grains. Whole grains are an important part of our diet. They're high in fiber, thereby promoting better digestion, and they can help to reduce cholesterol levels, lowering the risk of heart disease.
Lower Sodium: Compared to other chip brands, Sun Chips has significantly less sodium. This makes them a healthier option for those who want to monitor or lower their sodium intake.
Flavor Intensity: Despite their health benefits, Sun Chips does not skimp on the flavor. Be it the smoky tang of Sweet and spicy BBQ or the creamy splash of French Onion, each flavor is robust and rich. This ensures that you're not compromising on taste while choosing a healthier snack option.
Portion Control: One individual bag of Sun Chips is considered to be one serving. This eliminates the guesswork involved in portion control - making it easier for you to enjoy your snack without overindulging.
The All-Natural Promise: Sun Chips is committed to offering snacks made from all-natural ingredients. This enriches not only the taste but also the nutritional value of the chips.
Why Sun Chips are Revolutionizing Snack Time with Unique Flavors?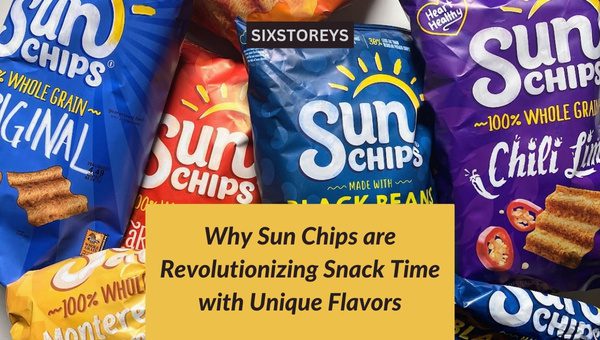 Every so often, a product comes along and completely reinvents an industry norm; Sun Chips is that product for the snack universe. They are shaking up snack time by offering unique, taste-expanding flavors that challenge the traditional potato chip norm. But how exactly are they revolutionizing the realm of snacks?
Sun Chips' revolution is multi-faceted. For one, they are turning the adage "junk food" on its head by using whole grains as the fundamental ingredient in their chips. This nutritious base instantly adds a health-conscious aspect that most other snacks lack, making Sun Chips a guilt-free snack. But what truly sets them apart from the rest are their innovative, bold, and unique flavors.
Many snack brands rest on traditional flavors like plain salted, cheese, or BBQ. However, Sun Chips dared to be different by creating an array of flavors that are as diverse as they are delicious. They have ventured into flavor territories that no chip brand dare to.
There is whimsy in their Sweet & Spicy BBQ flavor, where they have taken a typical BBQ flavor and added a sweet afternoon that livens up your taste buds. They experimented with unique ingredients in the Garden Salsa flavor where you can experience the zesty freshness of a homemade salsa.
They also appeal to sweet-toothed snackers. Their Cinnamon and Sweet Potato & Brown Sugar bring a dessert-like sweetness to the savory chips' canvas. The Roasted Sweet Chili flavor presents a harmonious blend of spicy and sweet that stimulates your palate.
In their bid to cater to health-conscious snackers, they introduced the Veggie Harvest and Grain Medley collections. These lines blend whole grains, veggies, and real cheese to create a healthier snack that doesn't compromise on flavor. The Grain Medley Onion & Thyme flavor is a refined and aromatic combination that could easily belong in a gourmet platter.
Sun Chips also pay homage to world flavors with their Chili Lime and Black Bean Southwestern Queso. These flavors bring an authentic global taste to your snack times.
In essence, Sun Chips is revolutionizing snack time by showing consumers that they can enjoy a snack that is both nutritionally balanced and incredibly flavorful. Their flavors go beyond simple taste enhancement; they are narratives, experiences, and journeys. They show that snack time can be a fulfilling, taste-bud driven adventure. By continually challenging flavor norms and delivering unique taste experiences, Sun Chips has secured their slice in the snacking revolution.
Also Read: Best Frozen Chicken Patties
Frequently Asked Questions
Are there any healthy flavors of Sun Chips?
Yes, Sun Chips are known for being a healthier snack option compared to many other chips out there. They are whole grain chips, packed with fiber. All flavors incorporate this health aspect, though the nutrients may slightly vary depending on the specific flavor.
How do the flavors of Sun Chips compare to one another?
Every Sun Chips flavor is unique. Some are bold and spicy, like the Black Bean Spicy Jalapeno, while others lean more towards the sweet side, such as the Sweet Potato & Brown Sugar. There are classic flavors like Harvest Cheddar and innovative ones like the Grain Medley Onion & Thyme. It's all about personal preference, and each flavor offers its own delightful taste experience.
Which is the best Sun Chips flavor to pair with a sandwich?
Original Sun Chips is a versatile flavor that pairs excellently with any sandwich. Its clean, crisp taste doesn't overshadow the star of your meal - the sandwich, but adds a nice, crunchy contrast.
What makes Sun Chips different from other chips?
Sun Chips stand out for their distinct, wavy texture and the fact they're made from whole grains. Their flavors are known for being more adventurous and varied compared to regular chips. From classic profiles like French Onion to exciting mixes like Sweet & Spicy BBQ, there's a flavor for everyone.
Is the flavor of Sun Chips intense?
Intensity of flavor varies among Sun Chips. Some flavors like Chili Lime and Black Bean Spicy Jalapeno are indeed quite bold and intense. However, other flavors like Original and Sweet Potato have a more mild, subtle flavor profile.
Are Sun Chips suitable for people with dietary restrictions?
Sun Chips are generally safe for people with dietary restrictions as they don't contain any meat or meat products. However, some flavors may contain dairy, so those with lactose intolerance or following a vegan diet should check the specific flavor's ingredients list.
Where can I buy Sun Chips?
You can find Sun Chips at your local supermarket or grocery store. They are also available online through various retailers.
Are there any limited edition Sun Chips flavors?
Occasionally, Sun Chips come out with limited edition flavors, which are often seasonal or themed. Always check their official website or social media sites for the most recent updates and new releases.
Conclusion
Unleashing a whirlwind of flavors, Sun Chips indeed possesses the winning equation of a snack that is both tasty and healthier than most. Their impressive range of flavors caters wonderfully to various taste preferences, ensuring there's something in their collection for everyone. From timeless classics to innovative combinations, Sun Chips never fails to surprise and excite with its delectable offerings. For those looking to boost their snacking experience, this taste exploration adventure is undoubtedly a must-try. With each crunch, let yourself be carried away into a world of truly remarkable Sun Chip flavors. Your taste buds will thank you!
Food Lover and Storyteller 🍽️✨ With a fork in one hand and a pen in the other, Shivani brings her culinary adventures to life through evocative words and tantalizing tastes. Her love for food knows no bounds, and she's on a mission to share the magic of flavors with fellow enthusiasts.