15 Best Jarred Vodka Sauce Brands [2023's Sensational Pick]
Updated On: August 20, 2023
There's nothing more comforting than a delicious pasta dish topped with a rich and creamy vodka sauce. With so many options available in the grocery aisles, finding the perfect jarred vodka sauce can be quite a challenge. Having tasted my way through countless jars, I've gathered my thoughts and experiences on the best jarred vodka sauce brands that can turn a simple pasta recipe into a restaurant-worthy dish.
Whether you prefer a classic Italian-American recipe or seeking a healthier alternative, this guide will help you find the perfect vodka sauce choice to make your pasta nights simply unforgettable.
Also Read: Best Taco Bell Sauces
15 Best Jarred Vodka Sauce Brands of 2023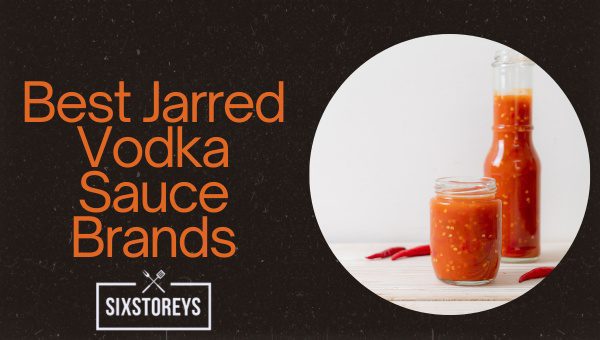 Searching for the perfect jarred vodka sauce can seem like an endless journey, but not to worry, as I have narrowed down the search for you. Here are my top 15 favorite brands that have left my taste buds wanting more, creating unforgettable pasta dishes each time.
1. Rao's Homemade Vodka Sauce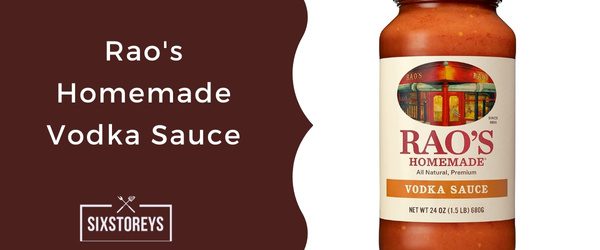 Rao's Homemade Vodka Sauce is my all-time favorite jarred vodka sauce and for good reason. This sauce is made with high-quality ingredients like Italian tomatoes, oregano, basil, and a hint of crushed red pepper for a bit of spice. The creamy richness comes from a blend of Parmesan and Pecorino Romano cheese, making this sauce absolutely mouthwatering.
This sauce pairs perfectly with penne pasta, grilled chicken, or shrimp. I've even used it as a dipping sauce for garlic bread on occasions when I needed to impress my guests with minimal effort. Trust me; Rao's Homemade doesn't disappoint!
2. Classico Vodka Sauce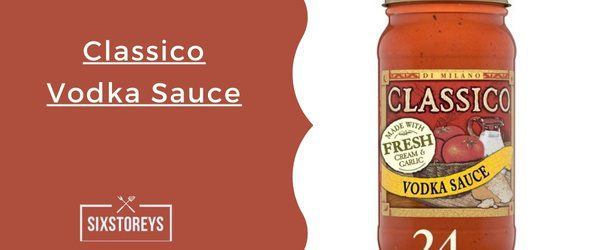 Classico Vodka Sauce is another top contender in the jarred vodka sauce lineup. This brand is known for its authentic flavors and affordable price point, making it a go-to choice for many home cooks. The sauce has a delightful balance of tomato, cream, and a touch of garlic, which gives it a nice depth of flavor.
I particularly love using Classico Vodka Sauce as a base for my baked ziti, adding ricotta cheese and mozzarella for a satisfying, cheesy pasta dish. The consistency of this sauce is perfect, and it coats the pasta evenly every time.
3. Trader Joe's Vodka Sauce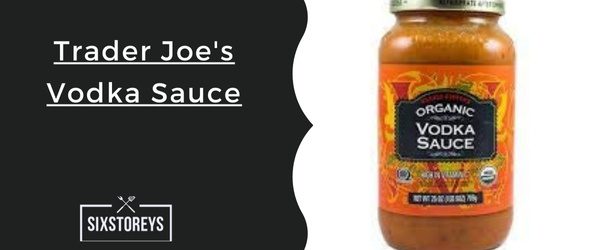 If you're a fan of grocery shopping at Trader Joe's, you'll definitely want to check out their Trader Joe's Vodka Sauce. Made with a blend of tomatoes, cream, Parmesan cheese, and vodka, this sauce is a lovely addition to your pasta night menu.
One thing that sets Trader Joe's Vodka Sauce apart is its unique, tangy flavor profile due to the vodka addition. I often pair it with sausage, mushrooms, and spinach to create a hearty and filling tortellini dish. Next time you're in Trader Joe's, make sure to grab a jar of this sauce to try!
4. Bertolli Vodka Sauce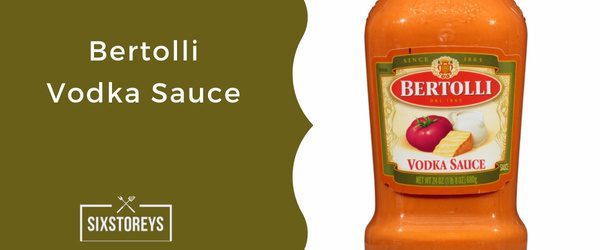 Bertolli Vodka Sauce is another fantastic option when searching for jarred vodka sauces. This brand has a long history in Italy and is known for producing high-quality, authentic products that bring the taste of Italy right to your kitchen.
Bertolli's Vodka Sauce is well-balanced, with a delightful combination of sweetness from the tomatoes, creaminess from the cream, and a hint of spiciness from the red pepper flakes. I've used this sauce to make some memorable chicken and penne dishes that left my family craving for more.
5. Barilla Vodka Sauce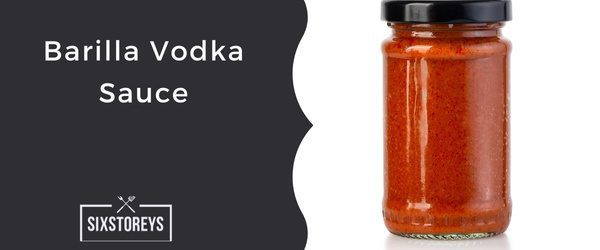 Barilla Vodka Sauce is a classic Italian-American option you can find at most grocery stores. With its tomato and cream base, it has a rich and velvety texture that works well with many types of pasta dishes. Barilla is known for making quality pasta, and their vodka sauce is no exception.
I've found Barilla Vodka Sauce pairs particularly well with fettuccine and Alfredo-style dishes, as the creamy tomato sauce adds a nice flavor contrast. Additionally, it works great as a base for vegetable-heavy pasta dishes, adding a rich and fulfilling texture. Give Barilla Vodka Sauce a try for your next pasta night!
6. Hoboken Farms Vodka Sauce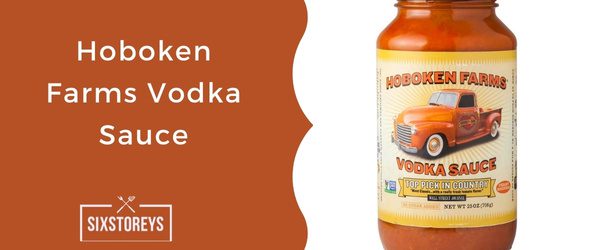 Hoboken Farms has established its mark in the sauce realm with its Vodka Sauce that boasts of a rich and creamy consistency. This sauce is a delightful blend of sun-kissed tomatoes, fresh cream, and a bold splash of vodka, resulting in a taste that is both indulgent and refreshing.
The magic of Hoboken Farms lies in their dedication to sourcing the best ingredients. Whether you're tossing it with tagliatelle or using it as a pizza base, the flavors promise to uplift any dish. Garnish with some roasted vegetables or charred chicken, and you've got a dish that's both hearty and flavorful.
7. Full Circle Vodka Cream Pasta Sauce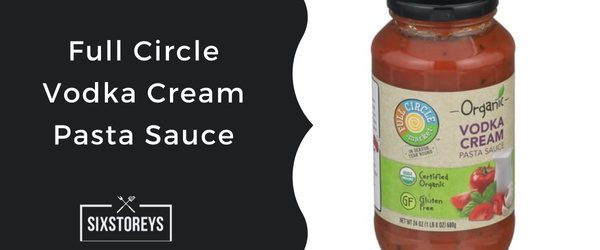 The Full Circle brand brings to the table a Vodka Cream Pasta Sauce that is both organic and irresistibly delicious. With a firm commitment to sustainable and quality ingredients, this sauce is a delightful blend of ripe tomatoes, luscious cream, and the right amount of vodka to offer a distinct tang.
One of the standout features of this sauce is its smooth texture, which clings perfectly to pasta, ensuring every bite is flavorful. A plate of spaghetti aglio e olio gets a delicious twist with this sauce. The Full Circle Vodka Cream Pasta Sauce is truly a wholesome choice for those wanting to savor clean, organic flavors without compromising on taste.
Also Read: Best Chipotle Sauces
8. Prego Creamy Vodka Pasta Sauce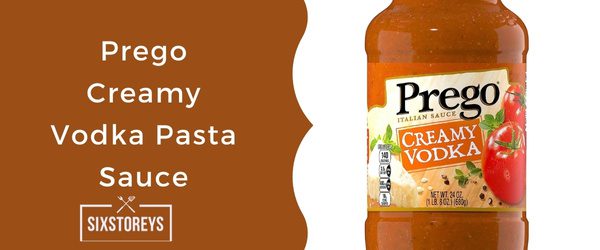 Prego's Creamy Vodka Pasta Sauce is an ode to the perfect blend of sweetness and zest. The sauce highlights ripe, juicy tomatoes and luscious cream, but the hint of vodka makes it truly distinctive. Every spoonful promises a medley of tastes that are both comforting and invigorating.
Prego has a long-standing reputation for crafting sauces that are both high-quality and versatile. This Vodka Sauce, in particular, lends itself beautifully to dishes like lasagna or stuffed shells. Just a generous ladle over your favorite pasta can elevate your meal from ordinary to exquisite. For those looking for a consistent, trusted flavor, Prego should be on the top of the list.
9. Cento Vodka Pasta Sauce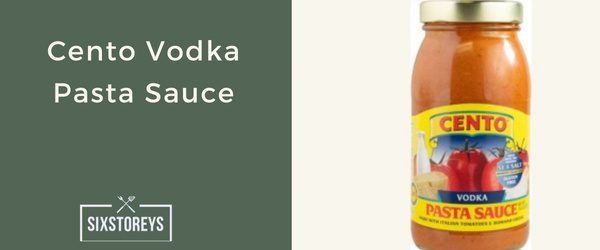 Cento's Vodka Pasta Sauce stands tall amongst its peers with a rich texture and an impeccable taste profile. The combination of Italian tomatoes, fresh cream, and a spirited dash of vodka culminates in a sauce that's both robust and harmonious.
What sets Cento apart is its dedication to authenticity. This Vodka Sauce makes for a mouth-watering companion to gnocchi or even a base for a savory tomato soup. The nuances in flavor make it adaptable to both classic and experimental Italian dishes. For a taste that resonates with the heart of Italy, Cento is a commendable choice.
10. Primal Kitchen Vodka Sauce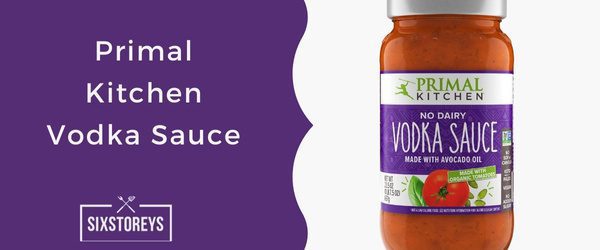 For those who prioritize clean eating without compromising on flavor, Primal Kitchen's Vodka Sauce is a revelation. Infused with the finest organic tomatoes, a touch of vodka, and devoid of any artificial additives, this sauce celebrates natural goodness in every bite.
The beauty of Primal Kitchen's offering lies in its simplicity. Its paleo-friendly and keto-approved nature makes it a favorite amongst health enthusiasts. The sauce pairs beautifully with zucchini noodles or spaghetti squash, making for a healthful and delicious meal. If wellness and taste are what you seek, Primal Kitchen is the way to go.
11. Isola Vodka Pasta Sauce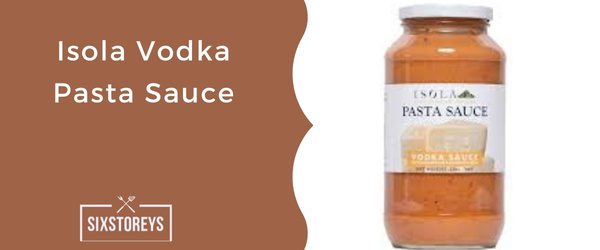 Isola Vodka Pasta Sauce introduces a taste of tradition, perfectly blended with contemporary flavors. A concoction of vine-ripened tomatoes, creamy textures, and the unmistakable zest of vodka results in a sauce that is both timeless and trendy.
Isola ensures a culinary journey with every jar. The sauce is a delightful addition to a classic carbonara or even a risotto, imparting flavors that are deep and resonant. When you're in the mood for a pasta dish that's both comforting and sophisticated, Isola should be your pick.
12. Botticelli Premium Alla Vodka Pasta Sauce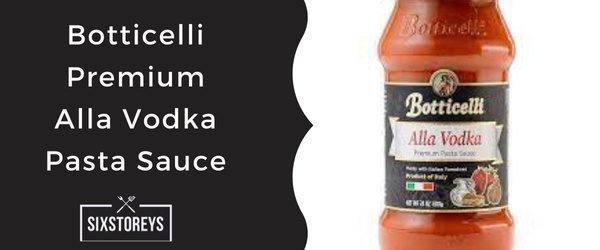 Botticelli's Premium Alla Vodka Pasta Sauce is luxury encapsulated in a jar. Harnessing the purity of fresh tomatoes, the richness of the finest creams, and the spirited punch of vodka, this sauce is a testament to fine Italian cuisine.
Botticelli has a legacy of delivering gourmet experiences, and this sauce is no exception. Perfect for a romantic dinner or a lavish family feast, it pairs well with everything from rigatoni to ravioli. If you seek a touch of opulence in your meals, Botticelli's Premium Alla Vodka Pasta Sauce is a must-try.
13. DeLallo Pomodoro Fresco Creamy Vodka Sauce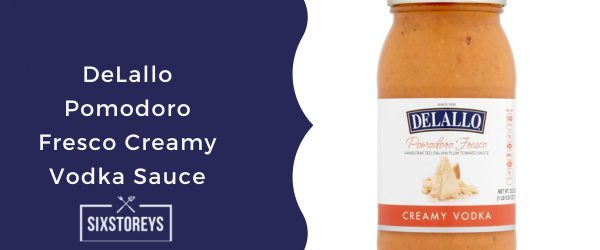 DeLallo's reputation for delivering rich flavors is showcased in their Pomodoro Fresco Creamy Vodka Sauce. Combining the finest tomatoes with the deep richness of cream, a touch of vodka, and fresh garlic, this sauce offers a delightful depth of taste that's hard to beat. Every spoonful is a delightful embrace of Italy's finest culinary ingredients.
For those who appreciate authenticity, DeLallo's sauce captures the essence of a home-cooked Italian meal. This sauce is a fantastic complement to linguini or spaghetti, and when paired with meatballs or fresh basil, the experience is elevated to a gourmet level. If you're ever in the mood for an authentic Italian experience without leaving your kitchen, DeLallo is a must-try.
14. Victoria Vodka Sauce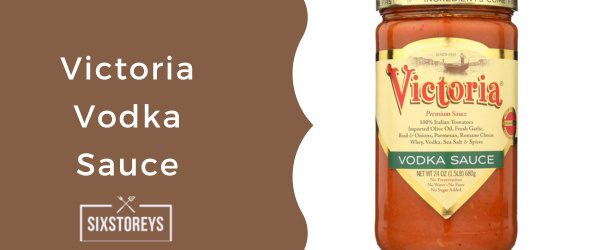 A true culinary masterpiece, Victoria Vodka Sauce is a delightful concoction of ripe tomatoes, genuine cream, and the perfect hint of vodka that imparts a unique tanginess. This sauce has a distinct richness that is both bold and comforting, perfectly capturing the essence of Italian-American cooking.
Victoria's brand has long been celebrated for its commitment to authentic flavors and quality ingredients. This sauce, in particular, pairs wonderfully with rigatoni, topped with some freshly grated parmesan and fresh basil leaves. Whether it's a simple family dinner or a special occasion, Victoria Vodka Sauce promises to be a crowd-pleaser.
15. Lidia's Vodka Sauce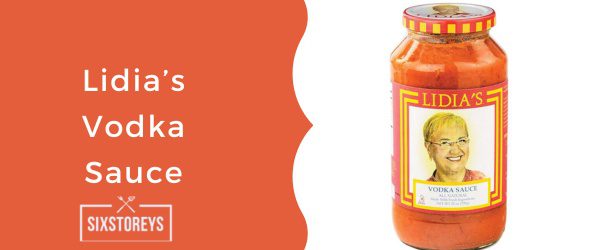 The love and passion for Italian cooking is evident in every jar of Lidia's Vodka Sauce. Bursting with flavors from ripe tomatoes, rich cream, garlic, and a hint of vodka, this sauce promises a symphony of flavors with every bite.
Lidia's sauce is more than just a condiment; it's an experience. Layer it over some freshly boiled ravioli or use it as a base for a seafood pasta dish, and you'll be instantly transported to an Italian grandmother's kitchen. There's a touch of nostalgia and warmth in this sauce, making it a favorite for those who cherish heartfelt, home-cooked meals.
Factors to Consider When Choosing Jarred Vodka Sauce in 2023
When it comes to selecting the perfect jarred vodka sauce, there are several important factors you need to consider. Paying attention to these aspects will ensure you make the ideal choice that will elevate your pasta dishes and bring satisfaction to your taste buds.
1. Ingredients Quality and List
First and foremost, always check the list of ingredients on the label—the top-quality vodka sauce should contain high-quality tomatoes, real cream, natural flavors, and a balanced combination of herbs and spices. Keep an eye on any additives, artificial colorings, or high fructose corn syrup, as these may compromise the flavor and texture of the sauce.
2. Price Point
The price of jarred vodka sauce can vary significantly among different brands. While it's true that quality often comes with a higher price tag, don't assume that the most expensive sauce is the best. Instead, focus on balancing your budget with the ingredients and overall taste.
3. Brand Reputation
Some brands have established a positive reputation for their jarred vodka sauce based on years of customer satisfaction. Reading reviews and recommendations from fellow pasta enthusiasts can help you in identifying a trustworthy brand that consistently delivers on quality.
4. Packaging and Shelf Life
The packaging of jarred vodka sauce should not only be visually appealing but also practical. Glass jars are preferable to cans, as they can help retain the freshness and flavor of the sauce. Moreover, always check the shelf life and expiration date to ensure that the sauce you're using is at its peak of freshness.
By keeping these factors in mind, you can confidently choose a canned vodka sauce that will add a delicious touch to your favorite pasta dishes. Remember, taste preferences can vary, so don't be afraid to try different brands until you find the one that best suits your personal culinary needs.
Tips for Using Jarred Vodka Sauce in Your Cooking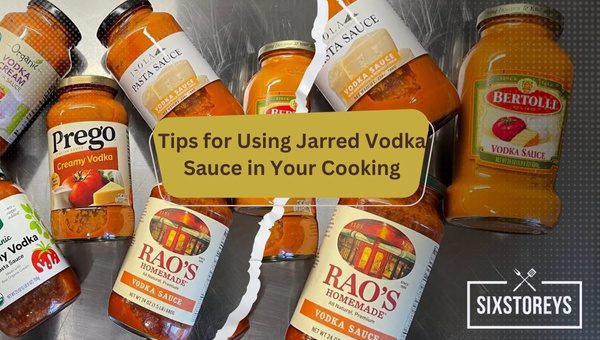 When it comes to using jarred vodka sauce in your cooking, there are several ways to elevate your dish and make it truly shine. By personalizing and enhancing your pre-made sauce, you can create a meal that tastes as if it came from the kitchen of a fine Italian restaurant. Below are a few simple tips that will take your dishes to the next level.
Enhance Your Sauce with Fresh Ingredients
Adding fresh ingredients to your choice of jarred vodka sauce can significantly improve the overall dish. Consider the following additions to boost the flavor profile:
Sautéed onion and garlic: First, heat some olive oil in a pan. Then, add finely chopped onion and minced garlic, and cook until soft and fragrant. Mix this into your sauce for some added depth of flavor.
Fresh herbs: Basil, parsley, or oregano can all enhance the taste of your vodka sauce. Finely chop your chosen herb and stir it into the sauce just before serving, preserving its fresh taste and vibrant color.
Crushed red pepper flakes: For those who enjoy a little kick to their sauce, adding a pinch of red pepper flakes can elevate the heat levels without overwhelming the overall flavor.
Storage and Reheating Instructions
To ensure your jarred vodka sauce retains its flavor and freshness, follow these storage and reheating tips:
After opening, store your jarred sauce in an airtight container in the refrigerator, and use it within one week.
When reheating your sauce, heat it gently over low-medium heat, gradually increasing heat, and stirring often to prevent sticking or scorching.
Avoid heating the sauce directly in its original jar, especially if it's made of glass, as sudden temperature changes can cause the glass to crack.
Also Read: How to Reheat Seafood Boil in a Bag?
Diversify Your Dishes
Jarred vodka sauce doesn't have to be limited to just pasta recipes; try using it in other dishes for a flavor twist:
Pizza: Swap traditional pizza sauce for vodka sauce to create a unique and tasty pizza base. Try adding toppings like Italian sausage, arugula, or goat cheese.
Lasagna: Use vodka sauce in place of your standard tomato sauce for a creamy, velvety lasagna that is sure to impress.
Baked ziti or rigatoni: Mix cooked pasta with vodka sauce, ricotta cheese, and mozzarella, then bake until bubbly for a comforting casserole.
Chicken or eggplant parmesan: Try replacing traditional marinara sauce with vodka sauce for an extra burst of flavor.
By following these tips and ensuring you choose one of the best jarred vodka sauce brands, your dishes will not only save time in the kitchen but also be bursting with flavor. Give these ideas a try and discover the versatility that jarred vodka sauce can provide in your culinary creations.
DIY Vodka Sauce Recipe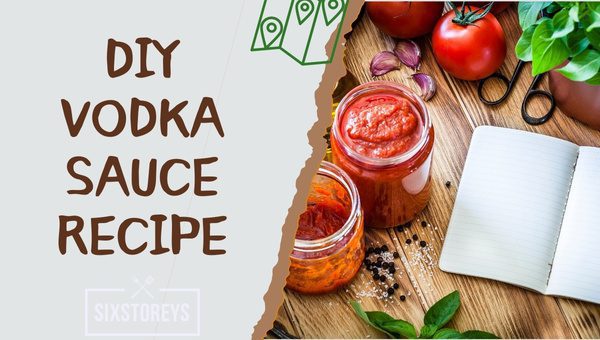 If you're feeling adventurous in the kitchen and prefer to make your own vodka sauce, this easy homemade recipe will be right up your alley. With just a few basic ingredients and simple steps, you can create a delicious and flavorful sauce tailored to your taste preferences.
Ingredients
1 tbsp olive oil
1 small onion, finely chopped
2 cloves garlic, minced
1 cup canned crushed tomatoes
1/2 cup tomato paste
1/4 cup vodka
1 cup heavy cream
Salt and pepper, to taste
Crushed red pepper flakes (optional)
Fresh basil leaves for garnish
Instructions
In a large skillet or saucepan, heat the olive oil over medium heat. Add the finely chopped onion and cook until it becomes translucent and softened.
Add the minced garlic to the skillet, and cook for an additional 1-2 minutes, being careful not to burn the garlic.
Stir in the crushed tomatoes and tomato paste, ensuring that the vegetables are well coated. Allow the mixture to simmer for about 5 minutes on medium-low heat.
Carefully pour the vodka into the skillet, stirring to combine. Let the sauce simmer for around 8-10 minutes, allowing the alcohol to cook off and the flavors to meld together.
Gradually pour in the heavy cream, whisking it into the sauce until it reaches a velvety smooth consistency. Season the sauce with salt, pepper, and crushed red pepper flakes (if desired) to taste.
Allow the sauce to simmer for another 5 minutes to thicken up and develop the flavors further.
Serve your homemade vodka sauce over your favorite pasta, and garnish with freshly chopped basil leaves for an added touch of flavor.
This DIY vodka sauce recipe is not only satisfying but also gives you the freedom to adjust the sauce's flavors to your liking. With a little experimentation, you'll soon create your own signature vodka sauce that rivals even the best jarred vodka sauce brands.
Pairing Your Vodka Sauce with the Perfect Pasta
When it comes to pairing a delicious jarred vodka sauce with pasta, the key is to choose the right pasta shape and type that will hold the sauce well and enhance the flavors. In this section, we'll discuss our recommendations for pasta shapes, types, and tips for cooking pasta that will perfectly complement your chosen vodka sauce.
Perfect Pasta Shapes
The ideal pasta shape is one that adheres well to the sauce, allowing every bite to be loaded with the delicious vodka sauce flavor. Some of our personal favorites include:
Penne - A classic choice that's great at holding the sauce, thanks to its ridges and hollow centers.
Rigatoni - Similar to penne, but wider and larger, which makes it ideal for a hearty dish.
Rotini (or Fusilli) - The spiral shape of this pasta helps it cling to the sauce and absorb its flavors.
Farfalle - This bow-tie-shaped pasta has a nice texture that works great with creamy vodka sauce.
Types of Pasta
While the traditional choice is of course wheat-based pasta, you can always mix it up with different types of pasta to suit various dietary preferences or simply to experiment with new flavors:
Whole Wheat Pasta - A healthier option with a slightly nutty flavor, which adds an interesting dimension to the dish.
Gluten-Free Pasta - Comes in various forms, such as rice, quinoa, or corn-based pasta, and is perfect for those with gluten allergies or sensitivities.
Vegetable Pasta - Made with pureed vegetables, such as spinach or beets, these pasta varieties offer a colorful and nutritious twist on traditional pasta.
Cooking Tips for the Perfect Pasta
To make the most of your chosen pasta, here are a few tips on how to cook it to perfection:
Use plenty of water - Be generous with the amount of water you use when boiling pasta, and make sure it's at a rolling boil before adding the pasta.
Salt the water - Add a generous pinch of salt to the boiling water to enhance the pasta's flavor.
Cook the pasta al dente - Avoid overcooking the pasta, as it should be cooked to a perfect al dente texture, so it's tender but still has a slight bite to it.
Reserve some pasta water - Before draining the cooked pasta, save a cup of pasta water to add to the sauce in case it needs to be thinned out. The starchy water helps create a smoother, silkier sauce.
Mix the pasta and the sauce - Combine the cooked pasta and the vodka sauce in a pan over low heat, stirring gently, allowing the pasta to absorb and meld with the sauce for a harmonious result.
By following these guidelines, you'll be able to create a memorable dish with your favorite jarred vodka sauce and the perfect pasta to complement it.
Enhancing Your Vodka Sauce with a Touch of Alcohol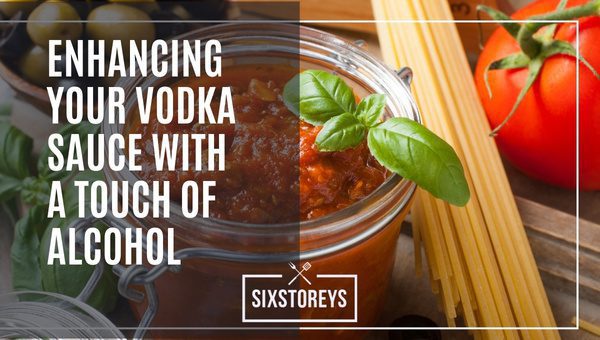 Vodka sauce is already packed with rich flavors, and adding a splash of actual vodka can elevate the taste even further. When cooking with alcohol, it's essential to understand how much to add, when to add it, and which types of vodka are best for use in a sauce. Here, I'll share my personal experiences and recommendations on getting the best results when enhancing your jarred vodka sauce with alcohol.
Choosing the Right Vodka
Selecting the right vodka for your sauce is an important step. While you may think that any vodka will do, I recommend using a mid-range vodka that isn't too cheap or too expensive. Choose one with a smoother finish so it blends well with the other flavors in the sauce. Some of my personal favorites include Tito's Handmade Vodka and Absolut Vodka.
How Much Alcohol to Add
When enhancing your vodka sauce with alcohol, moderation is key. Adding too much can overwhelm the flavors, while using too little may not make a noticeable difference. I recommend starting with 1 tablespoon (15 milliliters) of vodka per cup of sauce. Adjust the amount based on your personal preference and the flavor of the alcohol.
The Best Time to Add Vodka
Timing can make all the difference when introducing alcohol to your recipe. I recommend adding the vodka midway through the cooking process to allow the alcohol to cook off properly, leaving behind the essence of the vodka and its subtle flavor additions. This will also ensure that you don't end up with an overpoweringly alcoholic taste in the final dish.
An Alternative to Vodka
If you're worried about using vodka for any reason, consider substituting it with a white wine that has a high alcohol content. Select a dry white wine like a sauvignon blanc or pinot grigio, as the acidity will help cut through the richness of the sauce. Keep in mind that using a different type of alcohol will change the flavor profile, but it's an option worth experimenting with.
By following these tips on enhancing your jarred vodka sauce with a touch of alcohol, you'll be able to create an elevated dining experience for yourself and your guests. Keep in mind that every palate is different, so feel free to adjust accordingly and enjoy!
Also Read: Best Store-Bought Pizza Sauces
Frequently Asked Questions
What is vodka sauce, and what are its main ingredients?
Vodka sauce is a creamy tomato-based sauce that typically includes ingredients like tomatoes, heavy cream, onions, garlic, and a touch of vodka. It is most commonly used in pasta dishes such as penne alla vodka.
Does vodka sauce actually contain alcohol?
Yes, vodka sauce contains a small amount of vodka, which is typically cooked off during the preparation process, leaving behind a subtle flavor enhancement without the alcohol content.
Can I make vodka sauce without using vodka?
Yes, while vodka adds a unique flavor, you can still make a creamy tomato sauce without it. Just substitute the vodka with vegetable or chicken broth, or simply omit it altogether.
I'm dairy-free or lactose intolerant; can I still enjoy vodka sauce?
Absolutely! Many brands offer dairy-free or lactose-free vodka sauces made with milk alternatives like almond milk or cashew cream. Look out for labels that specify "dairy-free" or "lactose-free."
How long can I store jarred vodka sauce in my pantry or refrigerator?
Unopened jarred vodka sauce can typically be stored in a cool, dry place like your pantry for up to a year. Once opened, it should be refrigerated and consumed within 5-7 days for optimum freshness and quality.
Can I freeze leftover vodka sauce?
Yes, vodka sauce can be portioned out into airtight containers and stored in the freezer for up to 3 months. When ready to use, the sauce can be thawed in the refrigerator or heated directly from frozen in a saucepan, stirring occasionally.
Beyond pasta, are there any other dishes that pair well with vodka sauce?
Jarred vodka sauce can be used in a variety of dishes beyond pasta, from topping pizza to serving as a sauce in seafood dishes or even as a creamy base in casseroles. Have fun experimenting with different uses for this versatile sauce!
Conclusion
The perfect jarred vodka sauce can make a world of difference in the taste and quality of your homemade pasta dishes. While my top picks prove that you can't go wrong with Rao's Homemade, Classico, Trader Joe's, Bertolli, or Barilla, it's essential to explore other brands and find the one that suits your taste buds and dietary preferences best.
From Hoboken Farms to Botticelli Premium Alla Vodka Pasta Sauce, there's a vast array of options to choose from. So, the next time you're craving that mouthwatering pasta with vodka sauce, experiment with the best jarred vodka sauce brands and let your taste buds guide you to a truly delightful meal.
Food Lover and Storyteller 🍽️✨ With a fork in one hand and a pen in the other, Shivani brings her culinary adventures to life through evocative words and tantalizing tastes. Her love for food knows no bounds, and she's on a mission to share the magic of flavors with fellow enthusiasts.