15 Best Chipotle Sauces of 2023 [Spice Up Your Meals]
Updated On: August 19, 2023
Discovering the perfect sauce can truly elevate a meal from ordinary to extraordinary. With so many options available, it can be hard to find the one that complements your dishes just right. As a fellow food enthusiast, I have gone on a quest to find the best Chipotle sauces that will add an irresistible smoky flavor and a delightful touch of heat to every meal.
From homemade classics to unique concoctions, I've sampled numerous chipotle sauces, and now I am thrilled to share my findings to help you spice up your dishes and enhance your culinary journey. Don't be afraid to experiment with these rich and robust sauces; after all, the best Chipotle sauces just might be waiting to elevate your next meal to the realm of the extraordinary.
Also Read: Best Mcdonald's Sauces
15 Best Chipotle Sauces of 2023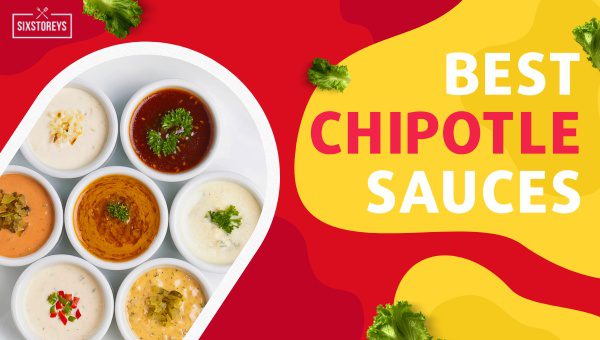 Get ready to ignite your taste buds and elevate your culinary game with these 15 best Chipotle sauces! With offerings that range from fruity and mild, to fiery and smoky, this diverse collection caters to every spice preference. So, go ahead and explore these spectacular Chipotle sauces, as they are sure to transform your meals in truly unforgettable ways.
1. Classic Homemade Chipotle Sauce [Best of the Best]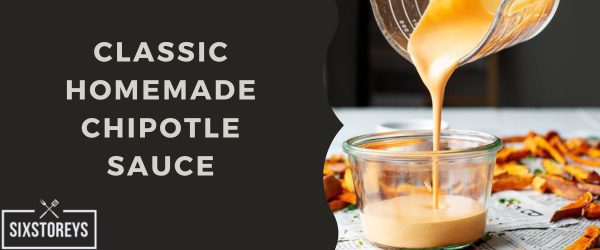 A classic homemade chipotle sauce is truly something special – a blend of flavors that brings together spice, smokiness, creaminess, and tang all in one delicious mix. This versatile sauce is a must-try for anyone who loves a little extra kick in their dishes, plus, it's incredibly easy to make. So, let's take a closer look at what makes this sauce such a standout and how to whip it up in your own kitchen!
The most remarkable thing about the classic homemade chipotle sauce is its delightful list of ingredients. To create this masterpiece, you will need:
Mayonnaise: This serves as the creamy and rich base for this sauce, giving it a smooth and luscious mouthfeel.
Sour cream: Adding an extra layer of creaminess as well as a zesty tang, it balances the kick from the peppers.
Chipotle peppers in adobo: The star of the show! These smoked jalapeño peppers add a deep, smoky flavor and a moderate level of heat.
Garlic: Introducing a subtle, earthy-savoriness that complements the other ingredients and helps blend the flavors perfectly.
Lime juice: The citrus twist that brightens the sauce and accentuates the mix of flavors. A great way to finish off this tasty creation!
Once you have all these ingredients, it's merely a matter of mixing them together in a blender or food processor until completely smooth, and voila! - you've created your very own classic homemade chipotle sauce. This scrumptious sauce can be customized to suit your taste buds, whether you prefer a milder experience or a spicy adventure! Feel free to add extra lime juice, garlic, or chipotle peppers until you reach your sauce nirvana.
One of the things I adore about the classic homemade chipotle sauce is its versatility. It can really enhance a variety of dishes, ranging from sandwiches and wraps to salads and grilled meats. Some of my personal favorite uses include:
Spread on a turkey or roast beef sandwich
Drizzled over a chicken or steak salad
Topping for a baked potato
As a dipping sauce for veggies and chips
Glaze for grilling fish or vegetables
Ultimately, the only limit when using this incredible sauce is your imagination. So, go ahead and experiment, knowing that this homemade chipotle sauce will quickly become a staple in your kitchen as it has in mine!
2. CaJohn's Raspberry Honey Mustard Hot Sauce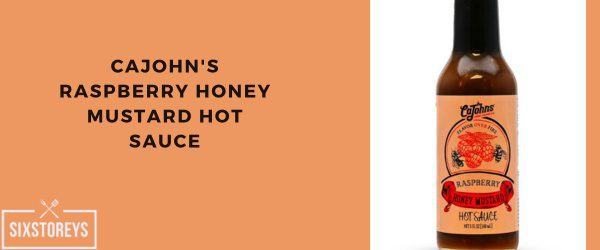 If you're looking for a unique twist on the traditional chipotle sauce, then CaJohn's Raspberry Honey Mustard Hot Sauce is a game-changer. This captivating blend features the perfect fusion of sweetness and heat, thanks to its delightful combination of ingredients. With vibrant raspberries and rich honey playing a central role, this sauce defies expectations and captures taste buds with its sweet, tangy, and smoky essence.
At any gathering, it's bound to be a conversation starter. This hot sauce offers endless possibilities for enhancing your dishes. Whether you love indulging in crispy chicken wings or prefer to keep things light with a fresh salad, a dollop of this sauce works wonders. It's incredibly versatile, making it the ideal dipping sauce for anything from pretzels to fresh veggies.
To create an unforgettable dish, try this raspberry honey mustard chipotle sauce with your next grilled cheese sandwich, or use it to glaze your holiday ham. Recipes that combine savory and sweet flavors will benefit from this palate-pleasing sauce, offering an unexpected culinary delight.
3. CaJohns Wild Mushroom Hot Sauce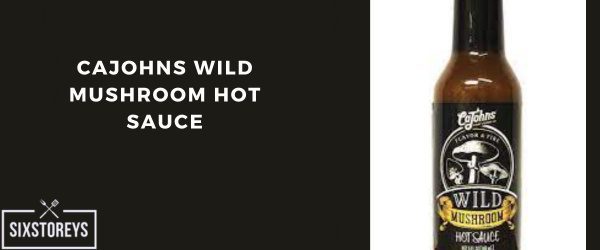 With the unique blend of earthy flavors and smoky heat, CaJohns Wild Mushroom Hot Sauce is a must-try for any true food adventurer. This extraordinary sauce is crafted with an exceptional medley of wild mushrooms, chipotle peppers, and a mix of spices that come together to deliver a taste sensation like no other. If you're a mushroom lover, this sauce is a dream come true.
At first glance, mushrooms and hot sauce might seem like an unlikely pairing. However, this creative concoction proves otherwise. The earthiness of the mushrooms complements the smokiness of the chipotle peppers, while the added spices give just the right kick of heat. This daring combination will awaken your dishes with bold and distinctive flavors.
Why not drizzle this wild mushroom chipotle sauce atop your favorite pizza, mix it into a creamy pasta dish, or even use it as a base for your homemade ramen? Experimenting with this sauce will undoubtedly inspire new recipes and adventurous culinary pursuits for anyone craving something truly different.
4. Blues Brothers Blues Mobile Hot Sauce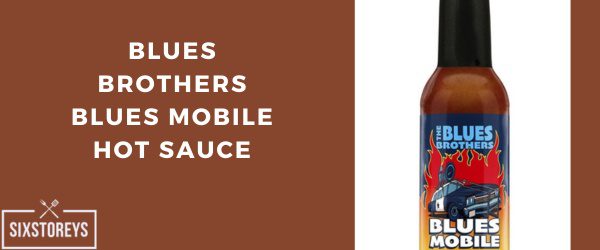 When I first spotted the Blues Brothers Blues Mobile Hot Sauce on the shelf, I was intrigued by its vibrant and eye-catching label showcasing the famous duo. Little did I know, this would soon become one of my favorite Chipotle sauces.
This unique sauce strikes the perfect balance of smoky chipotle peppers and a special blend of fruity flavors, giving it a well-rounded taste profile that isn't overwhelmed by spiciness. Upon trying the sauce, the initial flavors of blueberries, blackberries, and raspberries hit my palate. The fruity notes are immediately followed by the smokiness of chipotle peppers and hints of garlic and onion.
What really sets this sauce apart is its versatility. It serves as a fantastic complement to grilled meats, seafood, and sandwiches, and even as a dipping sauce for appetizers. For a truly unforgettable culinary experience, I like to marinate my chicken wings in Blues Brothers Blues Mobile Hot Sauce before grilling them. This imparts an irresistible flavor and tenderizes the meat, resulting in mouth-watering wings.
The Blues Brothers Blues Mobile Hot Sauce is a must-try for food enthusiasts who appreciate a unique balance of sweet and smoky flavors.
5. Bumblefoot's Bumblicious! Hot Sauce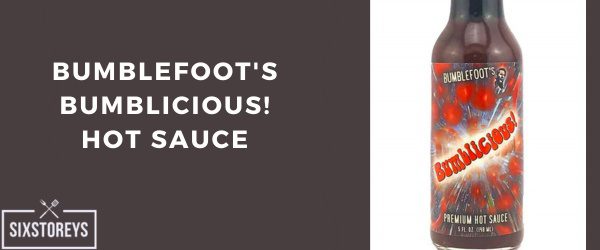 One taste of Bumblefoot's Bumblicious! Hot Sauce left me absolutely hooked on its unique blend of flavors. Although I was initially skeptical of a honey-based hot sauce, this particular chipotle sauce blew my expectations out of the water.
The moment this sauce touches your taste buds, you'll be blown away by the marvelous harmony of chipotle heat and the sweetness of natural honey. The heat is accompanied by a citrusy kick, thanks to the addition of lemon and orange.
The sauce's combination of smoky, sweet, and tangy flavors make it an ideal choice for drizzling over pizza, fried chicken, and tacos. My personal favorite is adding a generous amount to my homemade chicken and cheese quesadillas, which creates a beautiful medley of flavors, with the melty cheese providing a lovely contrast to the spiciness of the sauce.
I highly recommend giving Bumblefoot's Bumblicious! Hot Sauce a try, as its unparalleled match of sweet and spicy, is sure to become a favorite addition to your meals.
Also Read: Best Checker's Sauces
6. El Yucateco Chipotle Hot Sauce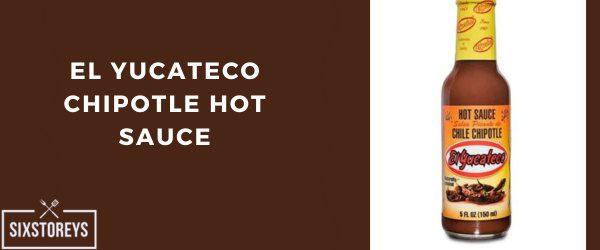 When it comes to traditional Mexican hot sauces, few can compete with the deliciously rich flavors of El Yucateco Chipotle Hot Sauce. This hot sauce combines the velvety smokiness of chipotle peppers with a hint of sweetness, making for a delectable condiment that leaves your taste buds craving more.
As a fan of Mexican cuisine, I have found this sauce to be the perfect addition to many classic dishes like tacos, quesadillas, and burritos. The robust flavor of El Yucateco also works wonders on grilled meats, vegetables, and even a hearty bowl of chili. One of my favorite ways to use this versatile sauce is by incorporating it into homemade salsa or guacamole, giving these dips an extra layer of zesty deliciousness.
If you're looking to experiment with different levels of heat, this chipotle hot sauce might just be your perfect match. Its moderate spiciness means that it can enhance your dishes without overpowering the other flavors.
7. Hellfire Chilimasters Reserve Hot Sauce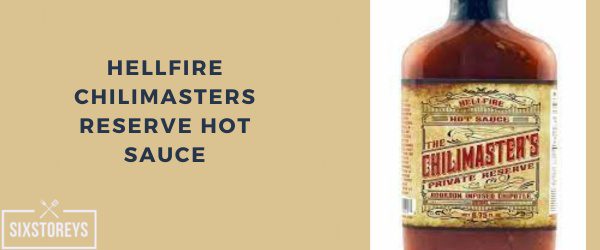 The tantalizing taste of Hellfire Chilimasters Reserve Hot Sauce is not for the faint of heart. This incredibly spicy, rich blend of chipotle, ghost, and scorpion peppers packs a powerful punch that will challenge even the most experienced heat seekers. Boasting a uniquely complex flavor, this sauce is ideal for those who love to push their taste buds to their limits.
Aside from its intense heat, Hellfire Chilimasters Reserve Hot Sauce also offers a deep, smoky undertone with a slight tanginess that enhances the flavor of any dish. I've personally found it to be a delightful addition to slow-cooked meals like pulled pork, spicy chili, and jambalaya, where its robust flavors can truly shine. And if you're feeling particularly daring, try adding a few drops of this fiery sauce to your next Bloody Mary for an unforgettable cocktail experience.
8. Cajohn's Bourbon Infused Chipotle Habanero Hot Sauce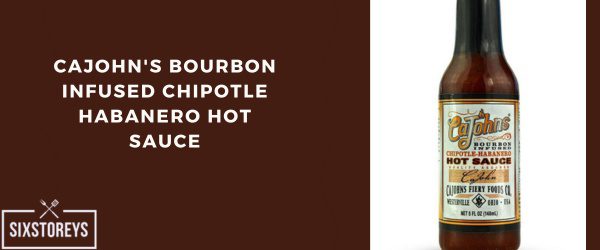 Prepare your palate for a fireworks display of flavors courtesy of Cajohn's Bourbon Infused Chipotle Habanero Hot Sauce. This sauce is not for the faint-hearted! Combining the smokiness of chipotle peppers with the fiery kick of habanero peppers, this concoction is perfect for those who can handle the heat.
The incorporation of bourbon in this hot sauce adds another dimension to the flavor profile, lending a subtle sweetness and a touch of oakiness that sets it apart from other chipotle sauces on the market. The bourbon infusion makes this sauce a truly unforgettable experience.
For heat lovers seeking a unique flavor combination, this sauce is perfect for enhancing barbecue dishes, pulled pork, ribs, and many more. I would also suggest adding a few dashes to your stews and soups for an extra layer of warmth and a pleasing smoky aroma.
Don't be afraid to take the plunge and experience the exhilarating heat of Cajohn's Bourbon Infused Chipotle Habanero Hot Sauce.
9. Dark Side of the Pepper Chipotle Hot Sauce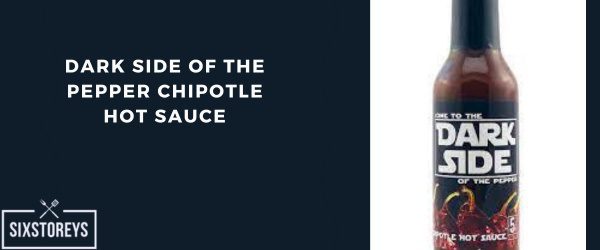 Unleash your inner heat connoisseur with the Dark Side of the Pepper Chipotle Hot Sauce. This devilishly delicious sauce combines the smokiness of chipotle peppers with a powerful punch of spiciness, satisfying those who truly crave a bold taste sensation.
Turn up the heat on your traditional nachos, fajitas, or chili dishes by adding this adventurous hot sauce to the mix. The intense flavor of this sauce, with its complex blend of spice, smoky heat, and subtle sweetness, will add an unrivaled depth to your culinary creations. If you're searching for a versatile go-to sauce that can pack a punch in a wide range of dishes, look no further.
Dark Side of the Pepper Chipotle Hot Sauce doesn't shy away from intensity, but that's part of its charm. Whether you're a seasoned spice lover or new to the world of hot sauces, this sauce will undoubtedly push your taste buds to the limit - and leave you eager to explore even more exciting flavors in the realm of chipotle sauces.
10. Iguana Smoky Chipotle Pepper Hot Sauce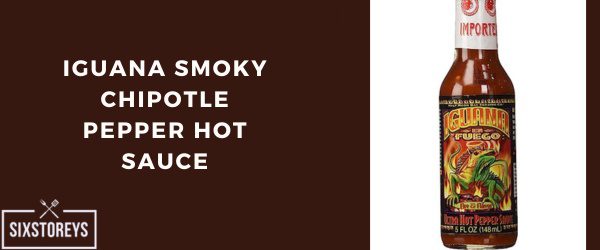 For those who prefer a slightly milder kick to their meals, Iguana Smoky Chipotle Pepper Hot Sauce might just be the answer. This smooth, smoky sauce delivers a robust flavor that is balanced by its mild-to-medium heat level, making it a fantastic option for anyone who enjoys the taste of chipotle without the overwhelming spiciness.
One of the many reasons I love Iguana Smoky Chipotle Pepper Hot Sauce is its versatility. The sauce tastes incredible when drizzled over grilled meats, added to sautéed vegetables, or even used as a dipping sauce for chips or veggies. Its subtle, lingering heat and smoky flavor profile have made it a staple in my kitchen. The sauce also enhances classic dishes, like fajitas, enchiladas, and even mac and cheese.
To get your hands on this delicious sauce, you can find Iguana Smoky Chipotle Pepper Hot Sauce in most grocery stores. Give this versatile sauce a try and bring a whole new level of smoky goodness to your culinary repertoire.
11. High Desert Sauce Co. Hotter Adobo Hot Sauce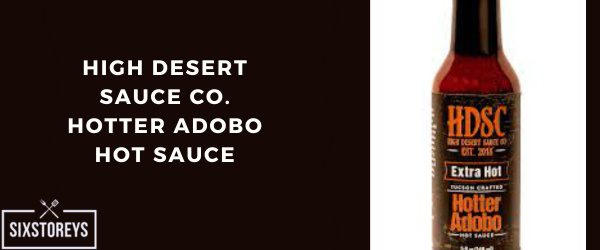 When it comes to exploring unique and daring flavors, High Desert Sauce Co. Hotter Adobo Hot Sauce does not disappoint. This adventurous blend of adobo sauce and chipotle peppers results in a concoction that caters to spice enthusiasts and those seeking a truly distinct flavor profile. Infused with a medley of spices, this sauce graces your taste buds with a smoky touch of heat and a pleasant tang, elevating the flavors of any dish it accompanies.
One of the standout features of this sauce is its impressive versatility. High Desert Sauce Co. Hotter Adobo Hot Sauce works wonders when used as a marinade for meats such as chicken, pork, and beef. Its distinct and flavorful essence penetrates the meat, ensuring tender and succulent results. Additionally, this sauce is a fantastic addition to salsas and guacamole, providing an extra zing that true spice lovers crave.
For a satisfying meal, try using High Desert Sauce Co. Hotter Adobo Hot Sauce as a base for your next batch of chicken wings or as a fiery drizzle on top of grilled vegetables. The possibilities are endless, and I assure you that this sauce will quickly become a staple in your kitchen.
12. Ring of Fire Chipotle & Roasted Garlic Hot Sauce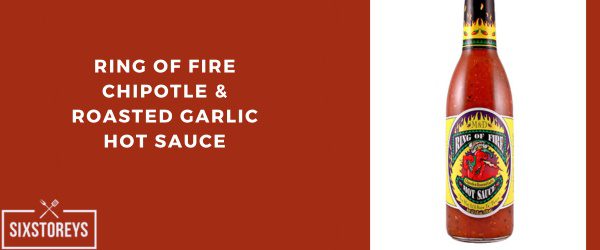 If you enjoy bold, complex flavors, prepare to be captivated by Ring of Fire Chipotle & Roasted Garlic Hot Sauce. This masterfully crafted sauce melds the distinct aroma and taste of roasted garlic with the smoky heat of chipotle peppers, creating a harmonious blend that is both robust and flavorful. The addition of various spices lends an extra depth, resulting in a sauce that is a real game-changer for your culinary ventures.
Equally adaptable as it is delicious, the Ring of Fire Chipotle & Roasted Garlic Hot Sauce is a blessing for those who love experimenting with creative flavor profiles. It makes an excellent dipping sauce for chips, fried treats, and veggies. Moreover, incorporating this sauce into your grilling or sautéeing adventures is equally rewarding. The flavors are beautifully accentuated when cooked, transforming your meats, seafood, and veggies.
To truly experience the power of Ring of Fire Chipotle & Roasted Garlic Hot Sauce, try incorporating it into a pasta sauce, hearty stew, or a smoky risotto. Trust me, you won't be disappointed!
13. Pappy's Chicks Dig Me Mango Chipotle Grilling Sauce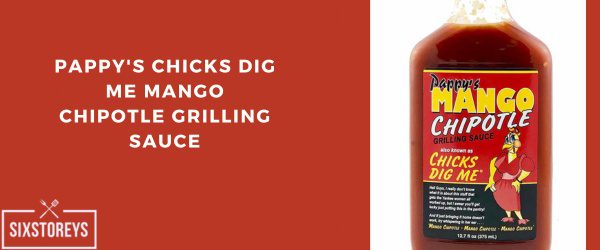 Pappy's Chicks Dig Me Mango Chipotle Grilling Sauce stands out among other chipotle sauces due to its refreshing and delightful combination of tropical flavors. The fusion of savory smokiness from chipotle peppers, sweet mangoes, and tangy pineapples creates a harmonious blend perfect for anyone looking to brighten up their grilling game.
This versatile sauce works wonders on a variety of dishes, but it truly shines when used as a marinade for your proteins. Imagine chicken breasts soaking up the flavors before grilling, or a white fish fillet basting on the barbecue. The sauce works wonders on shrimp, as well, lending the shellfish a hint of fruity sweetness. Pappy's Mango Chipotle Grilling Sauce is more than just a marinade, though – it also functions as an excellent dipping sauce. Try it with wings, taquitos, or even a simple bowl of fresh tortilla chips.
Incorporating Pappy's Chicks Dig Me Mango Chipotle Grilling Sauce into your favorite recipes will bring your taste buds on a delightful journey to the tropics. Consider adding it to your homemade tacos or incorporating it into a pineapple salsa for an enticing twist on traditional flavors.
14. Pyromania Hot Sauce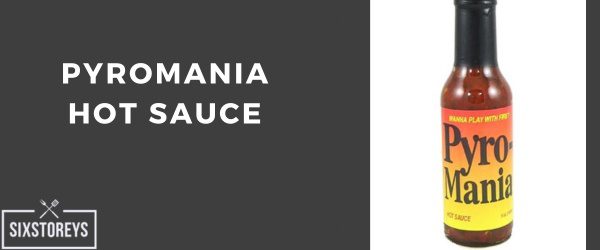 For aficionados of all things spicy and fiery, Pyromania Hot Sauce is just the ticket. With an intense heat balanced by full-bodied flavor, this chipotle sauce demands your attention and quickly propels you into a world of fiery delight. The sauce represents a brilliant marriage of chipotle peppers and a potent blend of spices, creating an alluring and addictive taste experience.
While its heat level may intimidate some, the versatility of Pyromania Hot Sauce makes it well worth exploring for those who dare to challenge their taste buds. This sauce is a fantastic addition to dishes that need a fiery flavor boost, such as chili, jambalaya, and even mac and cheese. And for the daring individuals who love a challenge, consider concocting a spicy Bloody Mary that packs a punch by infusing this hot sauce into your favorite brunch beverage!
Incorporating Pyromania Hot Sauce into your recipes, whether it's a showstopping burger topping or an invigorating marinade, is bound to impress your friends and family with your culinary prowess. So go ahead, embrace the heat, and let Pyromania Hot Sauce transform your meals into a fiery adventure you'll never forget!
15. Melinda's Chipotle Pepper Sauce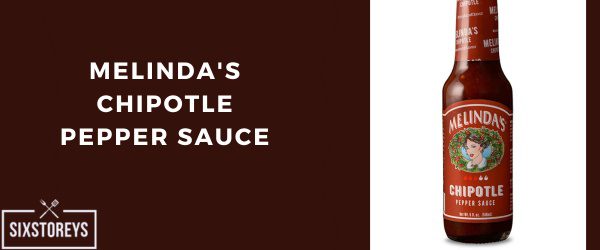 For those who seek a classic Chipotle experience that's rooted in tradition, look no further than Melinda's Chipotle Pepper Sauce. What sets Melinda's sauce apart is the slow-simmered blending of flavors, using the finest ingredients resulting in a rich and velvety sauce, perfect for enhancing any meal.
Boldness and depth are the cornerstones of Melinda's Chipotle Pepper Sauce. It masterfully showcases the smoky and slightly sweet taste of chipotle peppers, enrobing them in a luxurious sauce that feels like a warm embrace to your palate. Chipotle purists will find themselves entranced by the flavor profile, especially when they try it in traditional dishes like enchiladas, tacos, and burritos.
However, don't let its classic nature limit your creativity in the kitchen. Melinda's Chipotle Pepper Sauce can add a mouthwatering smoky depth to soups, stews, and chili. For example, try using the sauce as a secret ingredient in your next pot of beef stew or chicken tortilla soup. You'll find that the sauce's perfect balance of smokiness and heat can truly elevate these dishes to new heights.
Whether you're seeking to stay true to traditional flavors or branch out and experiment, your pantry won't be complete without Melinda's Chipotle Pepper Sauce. To discover new ways to enjoy this sumptuous sauce, consider exploring these 'Melinda's Chipotle Recipes', and lose yourself in the delectable realm of Chipotle possibilities.
Also Read: Best Subway Sauces
Why Chipotle Sauces is a Must-Try?
Chipotle sauces bring a distinctive and delightful combination of flavors to the table that you simply can't ignore. Below are the key reasons why Chipotle sauces should be on your must-try list:
Versatility
One of the most impressive aspects of Chipotle's sauces is their versatility. You can use them as a marinade, dipping sauce, or cooking sauce, or add them to a variety of recipes to enhance flavors. Whether you're preparing tacos, grilled chicken, sandwiches, or trying your hand at a unique fusion dish, chipotle sauces can easily become your go-to companion to help you create culinary masterpieces.
Unique Flavor Profile
Chipotle peppers are jalapeño peppers that have been smoke-dried, imparting a distinctive smoky and spicy flavor. When combined with other ingredients, the result is a completely unique and irresistibly complex sauce. These sauces often mix heat with a touch of sweetness, making them ideal for both spicy food lovers and those who prefer just a hint of a kick.
Culinary Adventure
Incorporating chipotle sauces into your cooking routine can open up a whole new world of culinary experiences. As you explore different Chipotle sauce brands and flavors, you may find that your tastes evolve and expand, leaving you eager to experiment with new recipes.
Transform Your Dishes
A well-crafted chipotle sauce has the power to completely transform an ordinary meal into something truly memorable. One dollop of a smoky, flavorful sauce can take your burger, salad, or pasta dish to the next level. With so many varying flavor profiles available, there is a chipotle sauce for every palate and every dish.
Chipotle sauces have proven themselves as a must-try addition to any kitchen due to their versatility, unique flavor profile, ability to transform dishes and the sense of culinary adventure they bring. Don't miss out on these incredible sauces; start exploring the world of Chipotle sauces today!
Ways to Use Chipotle Sauces in Your Everyday Cooking
When it comes to incorporating Chipotle sauces into your daily meals, the possibilities are virtually endless. The unique blend of smoky, spicy, and sometimes sweet flavors lends itself well to a wide range of dishes. Here are some tips and recipes to help you make the most of your Chipotle sauce collection.
Sandwiches and Wraps
Give your sandwiches and wraps a flavor boost by spreading a generous layer of chipotle sauce. Whether it's a classic turkey club or a veggie-packed wrap, the smoky, spicy kick from the sauce will add a delicious new dimension to your lunchtime staple.
Grilling and BBQ
When barbecue season rolls around, chipotle sauces become your best friend. Marinade or brush your choice of meat, fish, or veggies with a chipotle sauce for a delicious smoky taste. You can also mix some sauce into your BBQ condiments, such as ketchup or mayonnaise.
Salad Dressings and Dips
Transform your regular salad dressings and dips by incorporating some chipotle sauce. Mix it into ranch or Caesar dressing to add some heat, or blend it into hummus for a delightful smoky kick.
Tacos, Fajitas, and Burritos
A classic use for chipotle sauces is to drizzle them over your favorite Mexican dishes. From tacos and fajitas to burritos and enchiladas, a touch of chipotle sauce adds an authentic Mexican flavor to your meal.
Pasta and Pizza
Kick your pasta and pizza up a notch with a dash of chipotle sauce. Mix it into marinara or Alfredo sauces, or drizzle a small amount over your pizza. Be careful not to overpower the other flavors; just a little bit goes a long way.
Soups and Stews
Add depth and smokiness to your soups and stews by stirring in a tablespoon of chipotle sauce. The heat and flavor will create a lovely, warming sensation that pairs perfectly with cool-weather comfort food.
| | |
| --- | --- |
| Dish | Suggested Chipotle Sauce |
| Turkey Club Sandwich | Blues Brothers Blues Mobile Hot Sauce |
| Barbecued Chicken | Pappy's Chicks Dig Me Mango Chipotle Grilling Sauce |
| Caesar Salad | Melinda's Chipotle Pepper Sauce |
| Chicken Tacos | El Yucateco Chipotle Hot Sauce |
| Spaghetti and Meatballs | Dark Side of the Pepper Chipotle Hot Sauce |
| Beef Chili | High Desert Sauce Co. Hotter Adobo Hot Sauce |
Remember to always be open to trying new combinations and dishes! The key is to experiment with different Chipotle sauces for various meals and allow yourself to be surprised by the incredible flavors that you discover.
Pairing the Right Chipotle Sauce with Your Favorite Dishes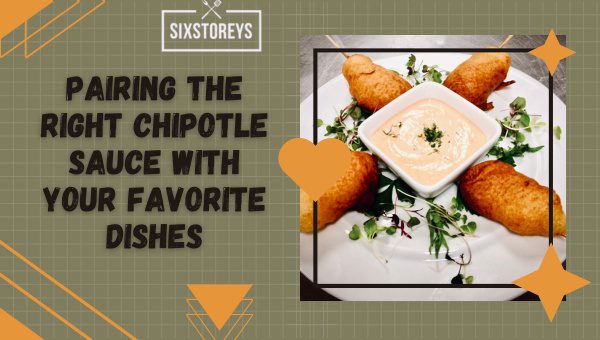 Choosing the perfect chipotle sauce for your favorite dishes not only elevates the flavor but can also create a memorable culinary experience. Understanding the distinct profiles of different Chipotle sauces will help you select the right one for your dish.
Classic Homemade Chipotle Sauce
Works well with: sandwiches, wraps, salads, and fish tacos
Smooth and creamy, this sauce perfectly complements lighter dishes, adding a delightful smokiness and a touch of heat. The lime juice adds a tangy undertone, while the garlic brings a savory depth.
Iguana Smoky Chipotle Pepper Hot Sauce
Pairs best with: enchiladas, tortilla chips, chicken, and steak fajitas
With its well-balanced, smoky heat, this sauce enhances grilled meats and Mexican dishes without overpowering them. The mild spiciness appeals to a broader range of palates.
Cajohn's Bourbon Infused Chipotle Habanero Hot Sauce
Ideal for: barbecued meats, chili, stews, and spicy pasta dishes
The infusion of bourbon offers a sophisticated, rich flavor that pairs wonderfully with hearty meals. The habanero peppers provide a fiery kick for those who enjoy a bit of heat.
Pappy's Chicks Dig Me Mango Chipotle Grilling Sauce
Great choice for: grilled chicken, shrimp, vegetables, and tropical-style pizzas
The fruity mango and pineapple flavors add a refreshing, tropical twist to traditionally smoky chipotle sauces. This sauce is perfect for summertime grilling and festivities.
Melinda's Chipotle Pepper Sauce
Perfect match for: soups, stews, pot pies, and oven-roasted dishes
With its slow-simmered earthy flavor, this sauce enhances the richness and depth of slow-cooked comfort foods. The smokiness balances perfectly with hearty, savory dishes.
Ring of Fire Chipotle & Roasted Garlic Hot Sauce
A good fit for: burger, fried chicken, grilled vegetables, and fries dipping sauce
The combination of chipotle peppers, roasted garlic, and spices creates a sauce that adds a robust, savory taste to a wide range of dishes. This versatile sauce can lighten up everyday meals or elevate a special occasion feast.
The key to successfully pairing chipotle sauces with dishes is to embrace experimentation and adjust according to your personal preferences. Always be open to discovering new flavor combinations and culinary adventures, as this is an essential part of developing your taste buds and expanding your appreciation for diverse cuisines.
Also Read: Carl's Jr Sauces
Frequently Asked Questions
What is the main ingredient in Chipotle sauce?
The primary ingredient in chipotle sauces is chipotle peppers, which are smoked, dried jalapeño peppers. They offer a distinct smoky and spicy flavor that defines Chipotle sauces.
Are all Chipotle sauces spicy?
While chipotle sauces generally have a spicy kick, their heat levels can vary significantly. Some sauces have a milder heat, while others pack a more intense punch. It's essential to check the heat level when choosing a chipotle sauce.
What dishes pair well with chipotle sauces?
Chipotle sauces work well with a wide variety of dishes, including grilled meats, tacos, burgers, sandwiches, salads, and soups. They can also be used as dipping sauces, marinades, and glazes.
Can I substitute chipotle sauce with another hot sauce?
While it is possible to substitute chipotle sauce with another hot sauce, keep in mind that the unique smoky flavor distinguishes chipotle sauce. Replacing it with another hot sauce may alter the taste of your dish.
How do I store Chipotle sauces after opening?
Most chipotle sauces should be stored in an airtight container in the refrigerator after opening to maintain their freshness and flavor. Always follow the specific storage instructions on the product label.
Is it possible to make chipotle sauce at home?
Yes, making your chipotle sauce at home can be relatively easy and allows you to customize the taste to your preferences. All you need are some basic ingredients like chipotle peppers in adobo sauce, mayonnaise, sour cream, lime juice, and garlic.
How can I adjust the heat level of a Chipotle sauce?
To adjust the heat level of a chipotle sauce, you can add or remove the number of chipotle peppers or modify the amount of adobo sauce used in the recipe. For store-bought sauces, consider mixing them with a milder sauce to tone down the heat.
Are chipotle sauces suitable for vegetarians and vegans?
Many chipotle sauces are suitable for vegetarians, but not all are vegan as some may contain dairy products like sour cream or mayonnaise. Carefully check the ingredients list and look for specifically labeled vegan Chipotle sauces if needed.
Can I use Chipotle sauce if I have gluten intolerance?
Some Chipotle sauces are gluten-free, while others may contain traces of gluten due to their ingredients or manufacturing processes. Look for sauces labeled as gluten-free or check the ingredients list and any allergen information to ensure compatibility with your dietary restrictions.
Conclusion
After trying and testing a diverse range of Chipotle sauces, it's evident that there is a sauce to suit every taste preference and culinary need. Whether you crave a sweet and smoky accompaniment for grilled chicken or a fiery kick to enhance your barbecue dishes, these best chipotle sauces promise to elevate your meals and make your taste buds dance.
So go ahead and indulge in exploring new flavors, textures, and heat levels. By expanding your culinary horizons and discovering the perfect chipotle sauce, you'll be taking every bite to heights you never thought possible.
Food Lover and Storyteller 🍽️✨ With a fork in one hand and a pen in the other, Shivani brings her culinary adventures to life through evocative words and tantalizing tastes. Her love for food knows no bounds, and she's on a mission to share the magic of flavors with fellow enthusiasts.