12 Best Subway Sauces of 2023 [Unleash Your Sub's Potential]
Updated On: August 20, 2023
Choosing the perfect sauce can make all the difference in the taste and enjoyment of your Subway sandwich. With numerous options available, it can be quite a task to decide which one to pick. The "Best Subway sauces" not only add a unique and delightful flavor to your sandwiches, but they also help enhance the overall dining experience at Subway.
As a seasoned Subway fan, I have tried almost every sauce they offer. In this article, I will share my personal favorites and guide you through the incredible world of Subway sauces, ensuring your next sandwich is nothing short of a masterpiece!
Also Read: Burger King Sauces
12 Best Subway Sauces of 2023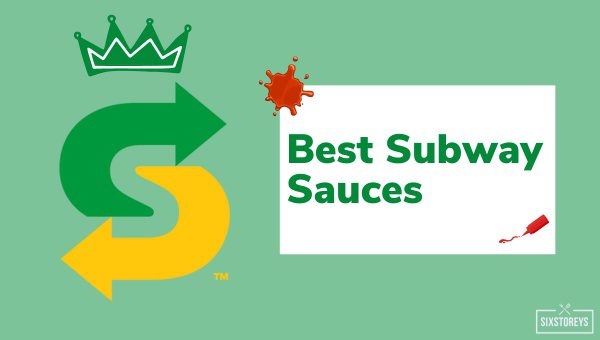 As mentioned earlier, my love for Subway sandwiches led me to experiment with various sauces and understand their impact on sandwich composition. In this section, I will share my personal experiences, giving you an inside scoop on which sauces work best with your favorite sandwiches.
1. Subway Oil Sauce: Savor the Smooth and Simple Flavor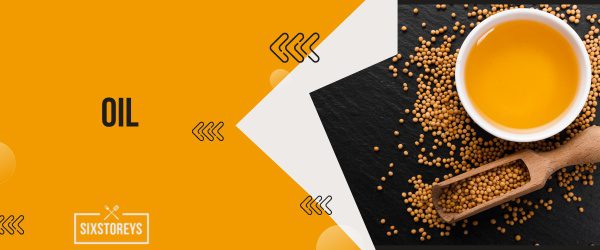 Sometimes, the best option is to keep it simple, and that's exactly the role that Oil plays in a Subway sandwich. It offers a smooth texture and a light, unobtrusive flavor that enhances your sandwich without overpowering the main ingredients. When I want my fresh vegetables and cold cuts to truly shine, Oil is my go-to choice. For me, the best sandwiches to pair with Oil are the Turkey Breast, Veggie Delight, and Black Forest Ham. Trust me, you'll experience a delectable lightness in every bite!
2. Subway Peppercorn Ranch: Tangy and Spicy

When I'm craving something with a bit more kick, I look no further than the Peppercorn Ranch sauce on my Subway sandwich. The tantalizing combination of tangy and spicy flavors makes this sauce an instant hit for those who appreciate a little heat. The slight hint of garlic adds an extra layer of depth, making the Peppercorn Ranch a well-rounded choice for spicing up any sandwich.
My absolute favorite pairings for Peppercorn Ranch include Oven Roasted Chicken, Spicy Italian, and Steak & Cheese. Give it a try, and I'm sure the Peppercorn Ranch will provide the spice and zest your meal needs!
3. Subway Red Wine Vinegar Sauce : Add a Touch of Class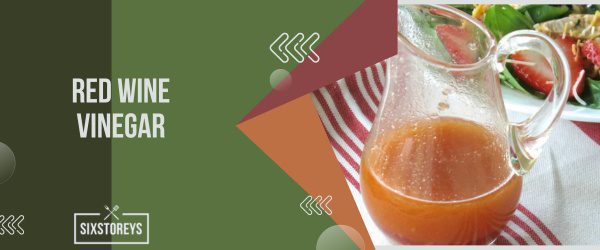 In my experience, the subtle, sophisticated taste of Red Wine Vinegar can instantly elevate any Subway sandwich. The tangy and slightly acidic flavor not only adds a touch of class but also effortlessly highlights the various components within your sandwich. This sauce is perfect for those seeking a mature yet delightful taste for their meal.
I've found that the Red Wine Vinegar pairs exceptionally well with the Cold Cut Combo, Italian B.M.T., and Tuna sandwiches. The next time you crave an enhanced sandwich experience, go for the Red Wine Vinegar and enjoy a refined taste in every bite!
4. Subway Sweet Onion Teriyaki Sauce: Intoxicating Sweetness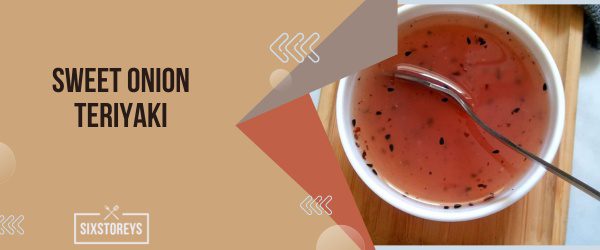 The nonpareil blend of sweet and savory in Sweet Onion Teriyaki sauce is what truly sets it apart from the other available options. The moment it hits your taste buds, you'll find yourself indulging in the intoxicating sweetness infused with a hint of tang, which ultimately forms a truly satisfying flavor profile.
If you're like me and appreciate the perfect balance of sweetness and savoriness, then Sweet Onion Teriyaki is a must-try. I've discovered that it complements the Sweet Onion Chicken Teriyaki (no surprises there), Turkey Breast, and Roast Beef sandwiches to perfection. So, if you're looking to master that sweet and savory combination, look no further than the Sweet Onion Teriyaki sauce at Subway.
5. Subway Honey Mustard Sauce: Go Bold and Satisfy Your Cravings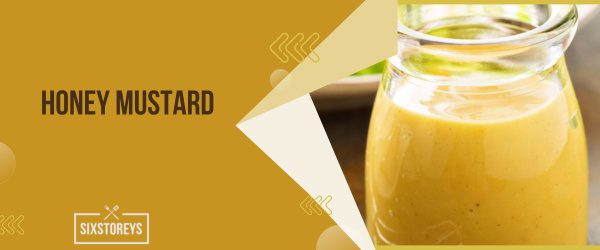 Whenever I crave a bold and distinctive taste, I turn to the ever-reliable Honey Mustard sauce. Its unique combination of sweet and tangy flavors takes my sandwich experience to the next level. The luscious golden sauce not only adds a burst of color to the sandwich but also contributes to a balance that delicately offsets the richness of meats or the crunchiness of veggies.
My top choices for sandwich pairings with Honey Mustard are the Sweet Onion Chicken Teriyaki, the Honey Mustard Ham, and the Subway Club. Give it a whirl, and I guarantee you won't be disappointed with the flavorful twist it brings!
6. Subway Baja Chipotle Sauce: Dive into a Tasty Adventure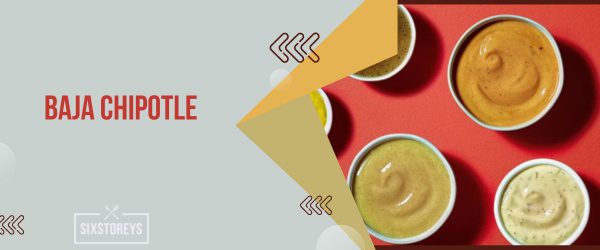 For those who enjoy a smoky, spicy kick in their Subway sandwiches, the Baja Chipotle sauce is a must-try. This sauce transports me to a fiesta of flavors with every bite, fully immersing me in the adventure that is a well-crafted sandwich. The robust aroma and zesty taste make it an amazing option for elevating the flavor profile of your meal.
When I'm in the mood for something a little more adventurous, I pair Baja Chipotle with the Spicy Italian, the Chicken & Bacon Ranch Melt, or the Tuna sandwich. Trust me when I say that the delectable spiciness of this sauce will have you dreaming of fire-roasted jalapeños and savory meats!
Also Read: Jack in the Box Sauces
7. Subway Roasted Garlic Aioli Sauce: Unleash the Richness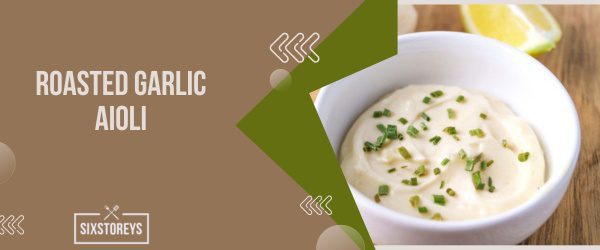 Roasted Garlic Aioli is one of those sauces that plays a dual role in the sandwich world: adding depth of flavor while also delivering a velvety, smooth texture. The rich roasted garlic, combined with the creaminess of the aioli, creates a mouthwatering sensation that elevates any sandwich it graces.
The sandwiches I love to indulge in with this luscious sauce include the Meatball Marinara, Roast Beef, and Turkey & Black Forest Ham. Don't hesitate to give this delightfully bold sauce a try on your next Subway sandwich; you won't regret it!
8. Subway Yellow Mustard Sauce: Simple and Classic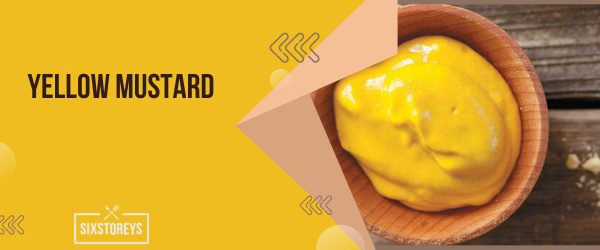 Sometimes, the classics are the best choice, and Yellow Mustard stands as a tried-and-true option. With its tangy and mildly spicy flavor, it adds a delightful touch to any sandwich. I believe Yellow Mustard is the perfect companion for many of Subway's classic sandwiches. My personal favorites include the Italian BMT, Cold Cut Combo, and Turkey Breast & Black Forest Ham. With Yellow Mustard, you can't go wrong, as it brings out the best flavors of the ingredients it's paired with.
9. Subway Regular Mayonnaise Sauce: Creamy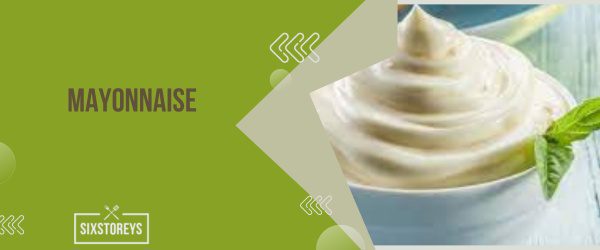 For those who appreciate the creamy, rich texture combined with the slightly tangy flavor, Regular Mayonnaise is the best sauce choice for your Subway sandwich. A crowd-favorite, this sauce can blend seamlessly with a variety of sandwich types, providing a moist and velvety mouthfeel.
I find that Regular Mayonnaise works wonders with the Tuna, Turkey, or Roast Beef sandwiches, where the creamy consistency helps bind the ingredients together while enhancing the overall taste. If you're a fan of good old mayo, these pairings will undoubtedly please your palate.
10. Subway Buffalo Sauce: Turn Up the Heat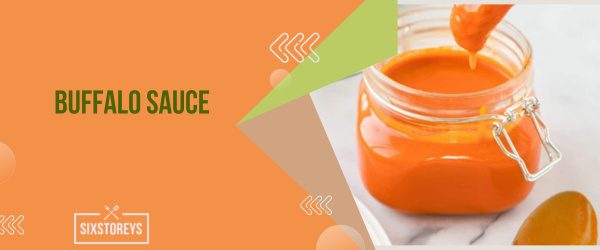 Fans of spicy sauces, rejoice! The Buffalo Sauce at Subway offers that much-desired heat with a tangy twist. Its bold flavors can transform any sandwich into a fiery and scrumptious delight. Personally, I find that the spiciness and tanginess in Buffalo Sauce pairs exceptionally well with Subway's Chicken & Bacon Ranch Melt and the Buffalo Chicken.
If you're looking for a sauce that packs a powerful punch, Buffalo Sauce is the one for you. Just be prepared for a bit of that lip-smacking heat - but trust me, it's all worth it!
11. Subway Creamy Sriracha Sauce: Experience the Thrill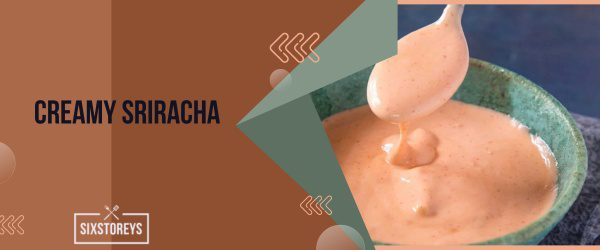 If you're ready to take your taste buds on a wild ride, then get ready to experience the thrill of Creamy Sriracha sauce. With a wonderful blend of spicy sriracha and smooth cream, this sauce quickly became a personal favorite. The moment it hits your tongue, you'll feel the heat from the sriracha, followed by the soothing creaminess that balances everything out.
When it comes to choosing the right sandwich for Creamy Sriracha, I recommend opting for the Meatball Marinara, Chicken & Bacon Ranch Melt, or the Tuna. The bold flavors and heat of the Creamy Sriracha perfectly complement these sandwich options, leaving your taste buds begging for more.
12. Subway Parmesan Vinaigrette Sauce: Be the MVP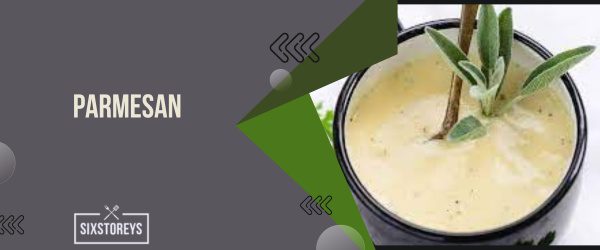 Ah, Parmesan Vinaigrette, the sauce that truly deserves the title of MVP! From its tangy zing to its cheesy parmesan undertones, this sauce quickly elevated itself to the top ranks of my personal favorite Subway sauces. The vinaigrette creates a unique harmony between the sharp tastes of vinegar and the umami of parmesan, resulting in a flavor-packed punch that shines through in every bite.
When deciding on the ultimate sandwich to pair with Parmesan Vinaigrette, I suggest trying the Italian BMT, Subway Club, or Turkey & Provolone. The rich flavors of this sauce marry beautifully with the sandwich ingredients, creating a meal that is both delicious and satisfying. With Parmesan Vinaigrette on your side, your Subway experience is sure to be a winning one!
Also Read: Carl's Jr Sauces
Mix and Match Your Way to the Perfect Subway Sandwich
One of the greatest aspects of dining at Subway is the endless variety of sandwich combinations you can create. With a myriad of choices in bread, veggies, meats, and of course, sauces, you can customize your sandwich to cater to your taste buds! In this section, we will discuss the art of mixing and matching sauces to accentuate the flavors in your sandwich.
Experiment with Different Combinations
Don't be afraid to try new things! Create a bold flavor by combining contrasting sauces, such as Sweet Onion Teriyaki with Buffalo sauce. A surprising combination might just become your new favorite, so go ahead and let your taste buds be your guide.
Develop a Signature Blend
As you experiment with sauce combinations, you may discover a mix that you feel complements just about any sandwich. Perhaps a 50-50 concoction of Creamy Sriracha and Honey Mustard delivers the right balance of heat and sweetness for your taste. Once you've found a sauce blend that delights your palate, make it your go-to choice for the ultimate Subway sandwiches.
Balance is Key
When mixing and matching sauces, strive for a balance between mild and spicy, creamy and tangy, or sweet and savory. For instance, if you're enjoying bold, spicy meat like pepperoni, consider pairing it with a mild sauce, such as Roasted Garlic Aioli, to achieve a harmonious flavor profile.
A Few Combination Ideas to Get You Started
For a melt-in-your-mouth experience, blend the Baja Chipotle and Peppercorn Ranch sauces.
If you're a fan of zest, combine the Red Wine Vinegar and MVP Parmesan Vinaigrette for an explosion of flavors.
For a sweet 'n' spicy blend, mix Honey Mustard with Buffalo sauce.
At the end of the day, there's no wrong way to mix and match your Subway sauces. You can even get creative and request a 3-sauce blend! So next time you walk into a Subway, let your imagination run wild and craft the ultimate sandwich experience with the best Subway sauces around.
How to Choose the Right Subway Sauce for Your Sandwich?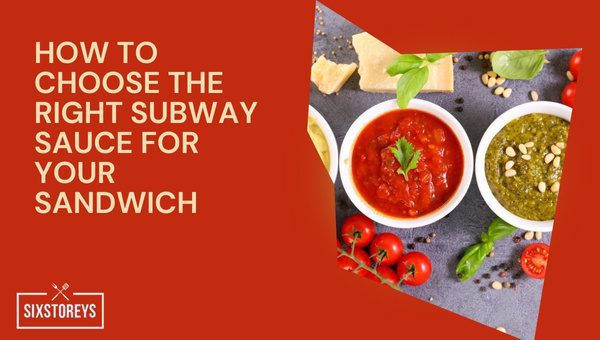 Selecting the ideal Subway sauce can affect your overall sandwich experience. There are several factors to consider when making your decision. Here, I break down the critical aspects to keep in mind when choosing the perfect Subway sauce to elevate your sandwich.
Personal Taste Preferences
Your sauce choice should align with your preferences. For example, if you enjoy spicy flavors, opt for a sauce that delivers a kick, like Buffalo or Creamy Sriracha. On the other hand, if you prefer milder tastes, a classic sauce like Yellow Mustard would be a great choice.
Dietary Restrictions and Health Goals
Sauces, though enhancing a sandwich's flavor, can contain added calories, sugar, or fat. If you follow a specific diet or try to stick to healthy eating habits, consider the nutritional content when choosing your Subway sauce. For instance, Red Wine Vinegar and Oil are great options for individuals counting calories or following a low-fat diet.
Sandwich Ingredients
Some sauces complement specific ingredients better than others. It's essential to consider the sandwich's main components when choosing a sauce. For example, if you're having a Subway Club sandwich packed with turkey, ham, and roast beef, a tangy sauce like Honey Mustard or Peppercorn Ranch would be an excellent choice.
Exploring New Flavors
Sometimes it's fun to venture outside your comfort zone and try something different. Subway offers a variety of unique sauces to explore, such as the Sweet Onion Teriyaki or MVP Parmesan Vinaigrette. You never know; you might just stumble upon your new favorite sauce!
Limited-Time Offers
Keep an eye out for limited-time offers on Subway's menu. These are opportunities to try exclusive and exciting sauce options that might not be regularly available. A perfect example is the Fiery Habanero, a sauce introduced during limited-time promotions.
The key to choosing the right Subway sauce for your sandwich lies in considering your preferences, dietary needs, and sandwich ingredients along with the willingness to explore new flavors. With these factors in mind, you'll be well on your way to enjoying an unforgettable sandwich experience!
Why Experimenting with Subway Sauces Can Elevate Your Dining Experience?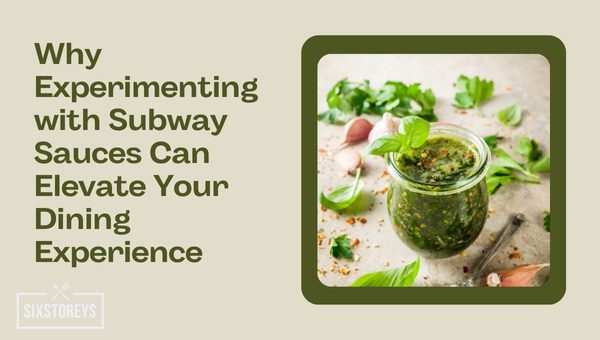 Variety is the Spice of Life
One of the main reasons to experiment with Subway sauces is to add diversity to your meals. With a multitude of sauce options available, you're sure to find exciting new flavors that perfectly complement your favorite sandwiches. Moreover, mixing up your choice of sauces helps prevent your taste buds from getting bored and keeps your lunches exciting.
Discover New Taste Sensations
When you venture beyond your usual go-to sauces, you open up your palate to a whole new world of taste sensations. You might be surprised by the unique flavor combinations and textures that are revealed when you explore different Subway sauces. For instance, the bold and spicy Baja Chipotle or the delectable Roasted Garlic Aioli could be just the ticket to elevating your sandwich experience.
Unleash Your Inner Foodie
As a food enthusiast, experimenting with Subway sauces enables you to tap into your inner foodie and show off your sense of adventure. You'll be able to create a signature sandwich tailored to your unique taste preferences and get a sense of personal satisfaction from doing so. Your friends and family might even ask you for recommendations after hearing about your exciting Subway sauce adventures!
Master the Art of Pairing
By trying out different Subway sauces, you'll inevitably become better at pairing your choice of sauce with the various types of sandwiches. This can be especially helpful if you have specific dietary preferences or restrictions, as you'll learn which sauce complements your meal without compromising on taste or health.
Inspire Others to Experiment
As you share your experiences experimenting with Subway sauces, you may inspire others to do the same. The act of trying new things together can be a fantastic bonding experience, whether it's with family, friends, or colleagues. You could even turn it into a fun, collaborative activity, with everyone discussing their favorite sauce combinations and discoveries.
Experimenting with Subway sauces can significantly elevate your dining experience at Subway by introducing you to new flavor sensations, sparking your creativity, and refining your sandwich pairing skills. So, go ahead and let your culinary imagination run wild! Who knows? You might just stumble upon the perfect sauce combo for your next Subway sandwich.
Guilt-Free Subway Sauces for Low-Calorie and Healthy Eating
In today's health-conscious world, many of us are looking for low-calorie and healthy options when dining out. Luckily, Subway offers a variety of guilt-free sauces that can turn any sandwich into a delicious and nutritious meal while still packing in the flavor. Here's a closer look at some of these guilt-free sauces to consider on your next Subway visit.
1. Fat-Free Sweet Onion
This sauce is a crowd favorite, offering a unique combination of sweet and tangy flavors. With no fat and only 40 calories per serving, it's a wonderful choice to make your sandwich enjoyable without overloading it with unhealthy ingredients.
2. Yellow Mustard
A classic choice, Yellow Mustard adds a mild tang to your sandwich and is as healthy as it is delicious. With zero calories and zero fat, it's perfect for those watching their weight and keeping their meals light.
3. Red Wine Vinegar
This condiment brings a subtle, fruity acidity to your Subway meal, and its very low calorie count of around 5 calories per serving makes it an ideal option for anyone seeking healthy choices without sacrificing flavor.
4. Lite Mayonnaise
For those who can't resist the creamy texture of mayonnaise but want to keep their sandwich on the healthier side, Lite Mayonnaise is a great alternative. Containing half the calories of Regular Mayonnaise, this option allows you to indulge guilt-free.
Healthier Alternatives to Traditional Sauces
Subway also offers better-for-you versions of some popular sauces, such as:
Honey Mustard Lite: This version contains less sugar and fewer calories than the original Honey Mustard sauce.
Creamy Sriracha Lite: With less fat and fewer calories, this spicy option still packs a punch without weighing you down.
| | | |
| --- | --- | --- |
| Sauce | Calories | Fat (g) |
| Sweet Onion | 40 | 0 |
| Yellow Mustard | 0 | 0 |
| Red Wine Vinegar | 5 | 0 |
| Lite Mayonnaise | 50 | 5 |
| Honey Mustard Lite | 30 | 0 |
| Creamy Sriracha Lite | 20 | 1 |
So, the next time you visit a Subway, keep these healthier sauce options in mind when customizing your sandwich.
Also Read: Best Popeyes Sauces
Frequently Asked Questions
Which Subway sauce is the most popular among customers?
While personal preferences vary, some of the most popular Subway sauces include Sweet Onion Teriyaki, Honey Mustard, and Chipotle Southwest.
Are there any vegan sauce options available at Subway?
Yes, Subway offers vegan-friendly sauces, such as Yellow Mustard, Red Wine Vinegar, and Oil. Be sure to ask for the latest vegan sauce options at your local Subway restaurant.
Which Subway sauces are gluten-free?
Most Subway sauces are gluten-free, including Yellow Mustard, Honey Mustard, and Creamy Sriracha. However, always check with your local Subway restaurant for the most accurate gluten-free information.
Can I request a custom sauce combination for my Subway sandwich?
Absolutely! Subway encourages customers to personalize their sandwiches by choosing their favorite sauce combinations. Just ask your sandwich artist to add your preferred sauces to your meal.
Does Subway offer any seasonal or limited-time sauces?
Yes, Subway sometimes introduces limited-time sauces and sandwich offerings based on seasonal ingredients or special promotions. Keep an eye out for their latest offerings at your local restaurant or on their website.
Can I buy Subway sauces to use at home?
While Subway does not sell its sauces directly, you may find similar sauces at your local grocery store. Additionally, there are some copycat recipes available online for recreating your favorite Subway sauces at home.
Are there any low-calorie Subway sauce options?
Yes, Subway offers several low-calorie sauces like Red Wine Vinegar, Yellow Mustard, and Oil. These options are great for those who want to enjoy the taste of Subway without adding too many extra calories to their meal.
How can I know which Subway sauce will pair best with my sandwich?
While personal preferences play a key role in sauce selection, the article above provides suggestions to make the best sandwich and sauce pairings. You can also ask for advice from your sandwich artist to discover the most suitable sauce combination for your meal.
Can I request extra sauce on my Subway sandwich?
Yes, you can ask your sandwich artist to add extra sauce or even multiple sauce layers on your sandwich, according to your taste preferences.
What should I do if I am not sure which sauce to choose?
When in doubt, you can always ask your sandwich artist for their recommendations based on your sandwich selection. Moreover, you can try different sauces on multiple visits to discover your favorite flavor pairings.
Conclusion
So there you have it – my thoughts and reviews on the best Subway sauces to amp up your sandwich game. Whether you're a fan of smooth and classic flavors or crave something bolder and spicier, I'm sure you'll find a sauce in this list that will satisfy your taste buds. Don't shy away from experimenting with different sauce combinations and discovering which one truly makes your sandwich a culinary delight.
Now, all that's left to do is head to your nearest Subway, armed with this tasty knowledge, and indulge in a mouth-watering sandwich experience like no other. Happy eating!
Food Lover and Storyteller 🍽️✨ With a fork in one hand and a pen in the other, Shivani brings her culinary adventures to life through evocative words and tantalizing tastes. Her love for food knows no bounds, and she's on a mission to share the magic of flavors with fellow enthusiasts.