13 Best Taco Bell Sauces of 2023 [Taste the Fiery Fiesta]
Updated On: August 17, 2023
Exploring the world of fast food is like taking a taste adventure through a diverse palette of flavors, and among these experiences, Taco Bell sauces stand out as an essential component of this delicious journey. Born from popular demand by devoted fans, these delightful condiments have become an integral part of the Taco Bell experience, with each offering a unique twist to the classic dishes you know and love.
From the heat of the Diablo to the creamy goodness of the Avocado Ranch, this array of sauces caters to everyone's taste buds, inviting us to continually explore and savor the irresistible flavors Taco Bell has mastered. So, join me as I share my personal journey through these mouthwatering options and unfold the secrets behind Taco Bell's must-have sauces.
Also Read: Best Store-Bought Pizza Sauces
13 Best Taco Bell Sauces of 2023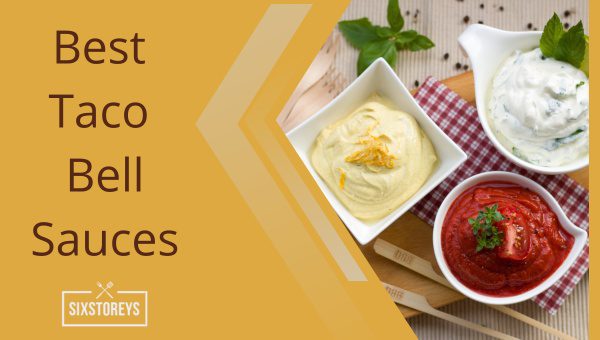 When it comes to bringing the heat, Taco Bell doesn't disappoint with its selection of fiery sauces. Let's dive deeper into the world of Taco Bell sauces and discover what makes them the perfect companions to your favorite Taco Bell meals.
1. Diablo Sauce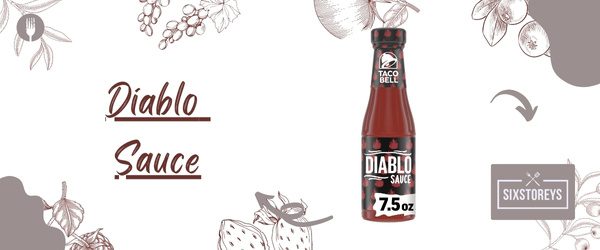 The Diablo Sauce is the newest addition to Taco Bell's spicy sauce lineup, and, as the name suggests, it packs a fiery punch. Boasting a blend of peppers, including a touch of ghost pepper, this sauce is reserved for those who crave extreme heat.
In addition to its bold spiciness, the Diablo Sauce also provides a hint of sweetness, thanks to a combination of tomato and spices. While not everyone can withstand the heat of this powerful sauce, for those brave enough to give it a try, it adds a unique twist to classic Taco Bell dishes like Crunchy Tacos and Chalupas.
2. Fire Sauce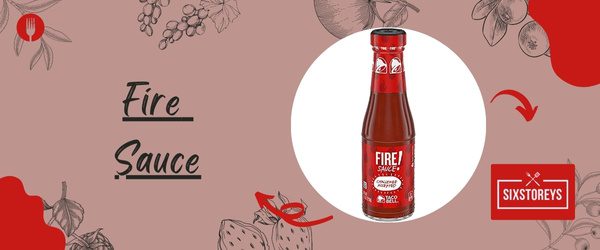 As the heat level decreases slightly, we encounter Fire Sauce, a longtime favorite among Taco Bell enthusiasts. It strikes the perfect balance between spicy and flavorful, with a blend of jalapeño peppers and uniquely zesty spices that add depth to its heat.
While less intense than the Diablo Sauce, the Fire Sauce still packs a considerable punch and delivers the right amount of kick to elevate your favorite burritos, tacos, and quesadillas. For those seeking a bold step up from Hot Sauce without venturing into the realm of Diablo, the Fire Sauce is an excellent choice.
3. Hot Sauce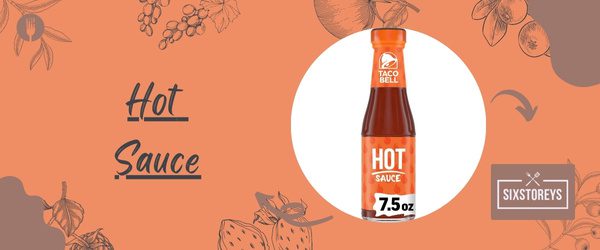 Next in line is Taco Bell's Hot Sauce, offering a moderate spice level that appeals to the majority of spice lovers. A perfect blend of jalapeño and cayenne peppers, this sauce's inviting warmth is subtle yet satisfying.
This versatile, mildly-spicy condiment complements a wide range of Taco Bell menu items. Drizzle it over a Crunchwrap, mix it into a Burrito Supreme, or simply add a touch of heat to your classic taco. The Hot Sauce is the go-to choice for those desiring a flavorful and versatile option without venturing into the realm of fire and brimstone.
4. Reduced-Fat Sour Cream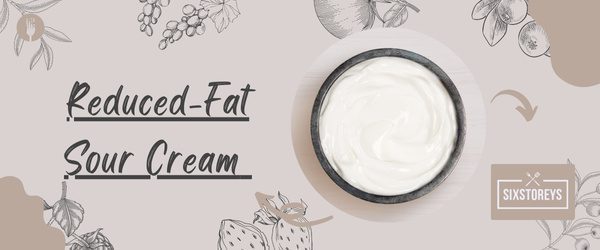 The Reduced-Fat Sour Cream at Taco Bell serves as the ideal counterbalance to the robust and fiery sauces in the lineup. Crafted with a slightly lower fat content, this creamy delight ensures that your Taco Bell dishes have a rich, velvety texture without compromising on health. The mild tanginess of the sour cream adds a refreshing touch and helps to tame the heat from some of the spicier sauces.
Perfectly swirled into a 7-Layer Burrito or dolloped on top of a Fiesta Salad, this Reduced-Fat Sour Cream offers a creamy respite in a world of spice and zest.
5. Guacamole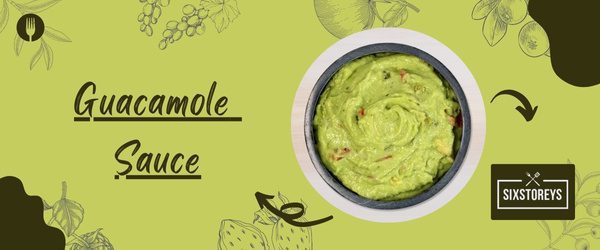 An ode to the creamy richness of avocados, Taco Bell's Guacamole sauce is an irresistible addition to their sauce repertoire. With hints of lime and cilantro, this sauce has a slightly tangy, refreshing undertone that harmoniously complements the richness of the ripe avocados. Each bite carries with it the essence of a traditional Mexican fiesta.
Whether you're layering it onto a Chicken Soft Taco, diving a tortilla chip straight in, or enriching a Veggie Power Menu Bowl, the Guacamole ensures a burst of creamy freshness to any dish it accompanies.
6. Mild Sauce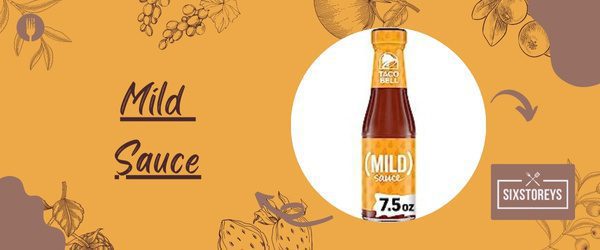 The Mild Sauce is the go-to option for anyone who seeks a gentle touch of heat without overpowering their meal. It offers a flavorful medley of spices, onion, and garlic that perfectly complements the tasty items on Taco Bell's menu.
With its agreeable heat level and pleasant tanginess, the Mild Sauce is perfect for those who prefer a gentler kick or for adding an extra layer of flavor to your favorite Crunchwrap Supreme or Soft Taco. It's truly a versatile sauce that caters to all taste buds.
7. Creamy Jalapeño Sauce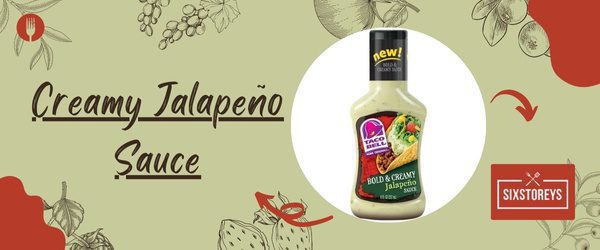 If your taste preferences lean towards the creamier side of things, then the Creamy Jalapeño Sauce is a match made in heaven for your Taco Bell meals. This luscious concoction delivers a mild heat level, thanks to the presence of jalapeño peppers. Still, its creaminess keeps the spice in check and ensures a smooth, mouthwatering experience.
The Creamy Jalapeño Sauce shines brightest when paired with items like the Quesadilla or a custom-built Crunchwrap, where its velvety texture adds a layer of decadent richness to every bite. The combination of mild heat and creamy deliciousness makes this sauce an absolute crowd-pleaser for Taco Bell lovers.
Also Read: Best Popeyes Sauces
8. Red Enchilada Sauce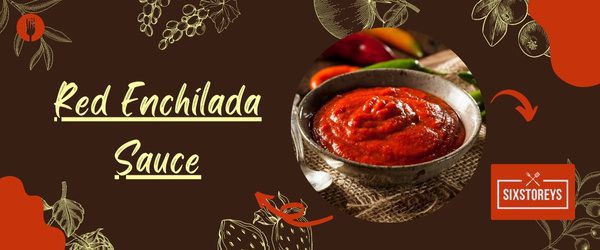 Taking inspiration from traditional Mexican cuisine, Taco Bell's Red Enchilada Sauce delivers a rich, earthy flavor that perfectly complements a variety of dishes. Made from a blend of spices, chili peppers, and tomatoes, this sauce adds depth to all your favorite menu items without overpowering them.
The Red Enchilada Sauce truly shines when coupled with Taco Bell's Smothered Burrito or the Double Stacked Enchilada Tacos. However, don't be afraid to experiment and pair it with other dishes like the classic Crunchy Taco, where it adds an unexpected yet delightful twist to a familiar favorite.
9. Spicy Ranch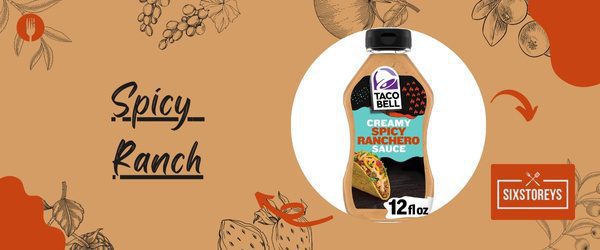 For those who enjoy a blend of tangy and spicy flavors, Taco Bell's Spicy Ranch sauce is a must-try. This creamy sauce combines the bright, refreshing taste of traditional ranch dressing with a hint of heat provided by, none other than, ghost pepper extract.
Though not as overwhelmingly spicy as Diablo Sauce, the Spicy Ranch adds just the right amount of kick to keep your taste buds entertained. The creaminess of the sauce pairs perfectly with Taco Bell's Crispy Chicken offerings, such as the Spicy Ranch Chicken Crunchwrap Slider. Additionally, you can jazz up your quesadillas, nachos, or burritos with a drizzle of Spicy Ranch for an enhanced flavor experience.
10. Chipotle Sauce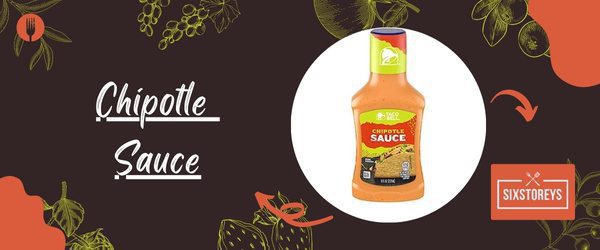 Chipotle Sauce from Taco Bell is a dream come true for those who appreciate smoky, creamy goodness in their food. Made from a blend of chipotle peppers, mayonnaise, and spices, this versatile sauce adds a subtle kick to every bite.
The Chipotle Sauce shines brightest when paired with the likes of Crunchwrap Supremes, Cheesy Gordita Crunches, and Grilled Stuffed Burritos. The smooth, robust flavor complements Taco Bell dishes, making it an ideal addition for anyone seeking to enhance their meal with a hint of smokiness and creaminess.
11. Avocado Ranch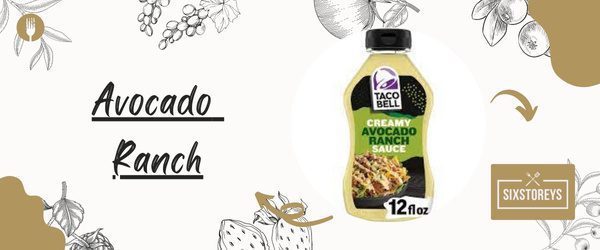 A true fan favorite, Avocado Ranch sauce is an explosion of creamy and zesty notes that elevate each dish it touches. This delightful sauce is crafted by blending ripe avocados, buttermilk, and a mix of herbs and spices, creating a distinctively tangy and velvety sensation for your taste buds.
From drizzling over Power Bowl salads and Doritos Locos Tacos to dressing your Chalupas or Quesaritos, the Avocado Ranch sauce offers an inviting twist to your beloved Taco Bell classics. Its mildly tangy character pairs well with various menu items, allowing fans to play with different combinations for a customized dining experience.
12. Nacho Cheese Sauce
Velvety, smooth, and packed with rich, creamy flavor, Nacho Cheese Sauce is synonymous with the Taco Bell experience, and an absolute must-try for any cheese lover. Incorporating real cheese and a blend of secret spices, this sauce leaves you craving more with every bite.
The beauty of Nacho Cheese Sauce lies in its versatility, making it a perfect addition to a wide range of dishes. Pair it with warm, crispy nacho chips for a simple treat, or take your meal to the next level by drizzling it over a Beefy 5-Layer Burrito. You can even use it as a dip for your favorite potatoes or quesadillas, but let's face it - when it comes to this classic sauce, the possibilities are endless. Whether it's your first time at Taco Bell or you're a seasoned regular, Nacho Cheese Sauce is a timeless classic that's sure to keep you coming back for more.
13. Red Sauce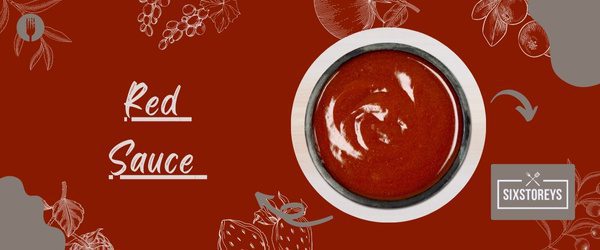 Last, but certainly not least, is Taco Bell's classic Red Sauce. A blend of mild chili spices and tomatoes, this sauce provides a rich and flavorful experience. While it may not boast the fiery heat of Diablo or Fire sauces, the Red Sauce shines in its own right, adding depth and a subtle kick to any meal.
Ideal for layering on Bean Burritos or drizzling over Nachos BellGrande, this sauce's hearty character has made it a staple among Taco Bell patrons. For those who desire a touch of spiciness without the overpowering heat, the Red Sauce remains a time-honored choice.
Sauce Combining: Experimenting with Taco Bell's Flavor Extravaganza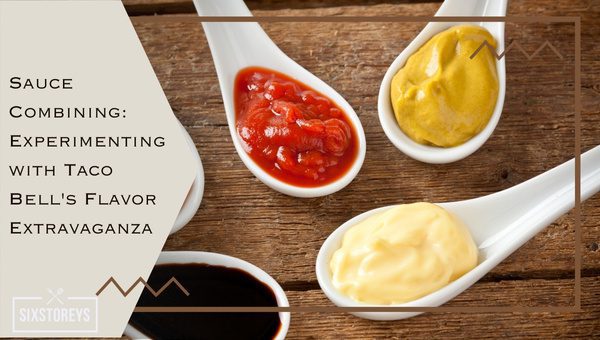 With a plethora of flavorful sauces to choose from, Taco Bell encourages customers to indulge in a bit of culinary creativity through sauce combining. Whether you're looking for a thicker, creamier concoction or simply seeking to create a new flavor bomb, this section is dedicated to exploring the endless possibilities of combining Taco Bell sauces.
1. Diablo Sauce + Creamy Jalapeño Sauce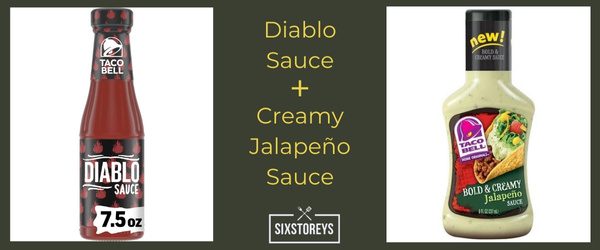 For those who love both heat and creaminess, the combination of Diablo Sauce and Creamy Jalapeño Sauce is a match made in heaven. The Diablo brings the heat while the Creamy Jalapeño helps to mellow out the intensity without compromising the bold flavors.
Just imagine a Cheesy Bean and Rice Burrito drizzled with this velvety, spicy mixture – it's a taste sensation that will keep you coming back for more.
2. Hot Sauce + Spicy Ranch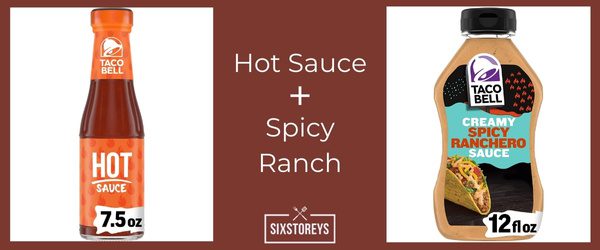 Bringing together the moderate spice of Hot Sauce with the tangy kick of Spicy Ranch creates a beautiful marriage of flavors that's both zesty and pleasantly warm. This combination is perfect for adding a distinctive twist to classics like the Crunchwrap Supreme or Grilled Steak Soft Taco.
The zesty notes of Spicy Ranch enhance the warmth of the Hot Sauce, resulting in a tasty fusion that is versatile enough to work with a variety of menu items.
3. Avocado Ranch + Chipotle Sauce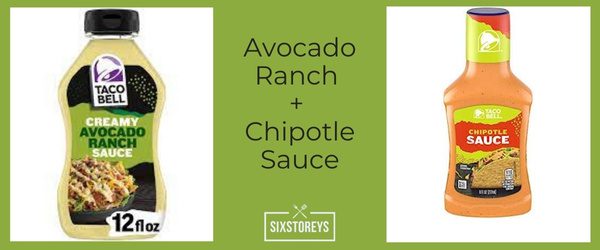 For those who desire a blend of smoky and smooth flavors, combining Avocado Ranch sauce with Chipotle Sauce is a must-try. The smooth creaminess of the avocado ranch meshes wonderfully with the slightly spicy, smoky essence of the chipotle sauce.
This delectable duo works exceptionally well with Veggie Power Bowls or layered inside a chicken quesadilla, providing a burst of flavor that is both satisfying and distinctive. The precise amount of each sauce may vary based on personal preferences, but once you've found that perfect balance, you'll be hooked on this incredible combination.
Also Read: Carl's Jr Sauces
How to Incorporate Taco Bell Sauces into Your Own Recipes?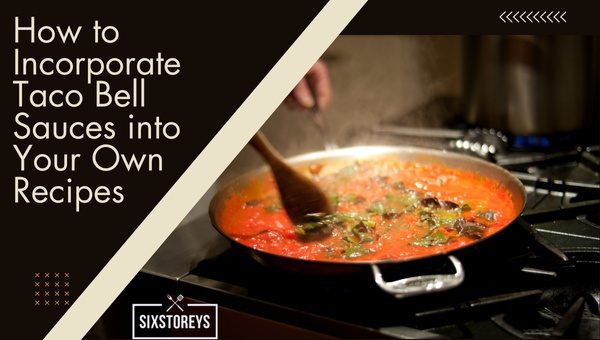 Taco Bell sauces can effortlessly elevate any meal with their unique flavors. While they're delicious on your favorite Taco Bell dishes, don't feel limited—incorporate them into your own recipes for a creativity boost. Here are some innovative ways to bring the taste of Taco Bell sauces into your home cooking.
Homemade Taco Night with Your Favorite Taco Bell Sauces
Recreate a classic Taco Bell-inspired meal with a twist: homemade tacos spiced up using your preferred Taco Bell sauce. Create a taco bar with various Taco Bell sauces, such as Diablo, Mild, and Creamy Jalapeno, for a lively and customizable meal. Guests will love discovering a new favorite sauce while indulging in a familiar, comforting dish.
Marinating Your Protein in Taco Bell Sauce
Transform ordinary chicken, steak, or tofu into a flavor-packed delight by marinating it in a Taco Bell sauce of your choice. For example, mix Fire or Hot Sauce into a marinade for a spicy and smoky flavor. Or, for a milder option, try marinating with Creamy Jalapeno Sauce. This technique works great for grilling, baking, or stir-frying, creating a scrumptious main course.
Taco Bell Sauce-Inspired Dips
Bold and spicy Taco Bell sauces effortlessly transform into mouthwatering dips with the addition of a few essential ingredients. Mix Creamy Jalapeno Sauce, Chipotle Sauce, or Avocado Ranch with sour cream and cream cheese, turning them into delightfully rich and creamy dips. These new creations will impress your guests and quickly become party favorites.
DIY Taco Bell-Inspired Pizza
Combine the craveable flavors of Taco Bell with everyone's beloved pizza by creating a unique Taco Bell-inspired pizza! Use a flavorful sauce, such as the Red Enchilada Sauce, as a base, and then add your favorite toppings—think ground beef, black beans, jalapenos, and shredded cheese. Finish with a drizzle of Spicy Ranch for an irresistible fusion of flavors.
Elevating Simple Side Dishes
Give ordinary side dishes a flavor boost by incorporating Taco Bell sauces. Drizzle Chipotle Sauce on roasted vegetables, mix Spicy Ranch into a coleslaw, or fold Avocado Ranch into mashed potatoes for an unforgettable spin on traditional sides. These additions result in crowd-pleasing dishes that showcase your culinary creativity.
Overall, incorporating Taco Bell sauces into your own recipes is a fantastic way to add a touch of spice, creativity, and nostalgia to your home cooking. Experiment with different flavors and combinations, and voila! You'll have a personalized Taco Bell-inspired feast right in the comfort of your own kitchen.
Why Taco Bell Sauces Hold a Special Place in our Hearts?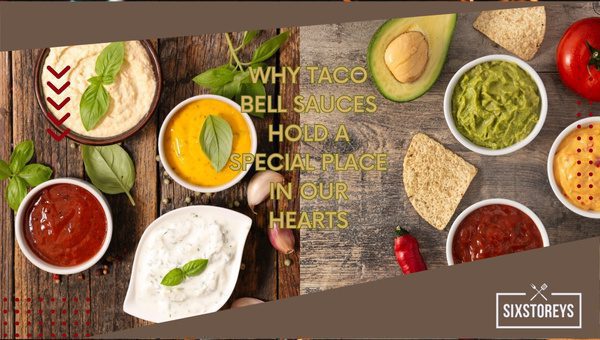 There's something magical about the sensation of nostalgia that certain flavors can evoke. Taco Bell sauces, in particular, hold a special place in the hearts of many. This undeniable attachment is attributed to several factors that resonate with people across generations.
1. Reliving Fond Memories
Remember those late-night post-party meals, the thrill of trying new menu items, and the laughter-filled road trips with friends and family members? Taco Bell's vast array of sauces plays a significant role in preserving such memories. Each mouthful brings back a flood of emotions as your taste buds awaken to the familiar flavors that transport you back to those cherished moments.
2. Comfort in Challenging Times
Everyone has their go-to comfort food, whether it's a secret stash of cookies or a soothing bowl of mac and cheese. With the perfect blend of spices, heat, and tanginess, Taco Bell sauces can provide an escape from the daily grind and offer a comforting refuge during difficult times. Whether it's Diablo for the heat seekers, Mild for those seeking a subdued kick, or Creamy Jalapeno for those who love a rich and spicy treat, each sauce in the lineup has its unique allure.
3. A Flavor Explosion
The flavors of each Taco Bell sauce blend harmoniously with each other, giving the palate a unique and unforgettable experience. In a world where fast food options are aplenty, Taco Bell sauces have managed to create a lasting impact on our gastronomic memories. The sauces bring an unmatched zing to every bite of Taco Bell's iconic dishes.
A Staple in the Fast Food Pantheon
Taco Bell, through its creative recipes and out-of-the-box marketing campaigns, has claimed its rightful place in the fast-food pantheon. This status is undeniably owed to its fantastic array of sauces that add a touch of individuality to every meal.
Taco Bell sauces represent much more than just a simple condiment for your favorite Crunchwrap Supremes or Doritos Locos Tacos. They are an intrinsic part of the Taco Bell experience, a key ingredient to our cherished moments, and ultimately, a special place-holder in our hearts.
Also Read: Jack in the Box Sauces
Frequently Asked Questions
What is the spiciest Taco Bell sauce available?
Diablo sauce is known to be the spiciest sauce offered by Taco Bell, boasting bold flavors and intense heat.
Are Taco Bell sauces gluten-free and vegetarian-friendly?
Most of Taco Bell's sauces are considered to be gluten-free and vegetarian-friendly. However, it is important to always double-check the ingredient list, as recipes can change over time.
Can I buy Taco Bell sauces in stores or online?
Yes, Taco Bell offers some of its sauces in bottled form, which can be found in various stores and online retailers for you to enjoy at home.
How can I request extra sauce packets when placing a Taco Bell order?
You can usually request additional sauce packets when placing your order either at the drive-thru, in-store or through their online ordering system or app.
Are there any limited edition or seasonal Taco Bell sauce flavors to look out for?
Taco Bell has been known to release limited edition or seasonal sauce flavors occasionally. Keep an eye on their menu updates and announcements to catch any new, exclusive sauces.
Which Taco Bell sauce would you recommend for someone who prefers a milder taste?
Taco Bell's Mild sauce is perfect for those who prefer a milder taste, as it provides a flavorful yet subtle kick without overpowering your meal.
Can I mix Taco Bell sauces together to create my own custom sauce blend?
Absolutely! Feel free to mix and match your favorite Taco Bell sauces to create a unique and personalized flavor combination that best suits your taste buds.
Conclusion
Taco Bell sauces offer a wide variety of flavors and heat levels that cater to every taste bud. Each sauce has its unique characteristics, making them the perfect accompaniment to elevate and customize your Taco Bell dining experience or your own homemade meals. The emotional attachment and nostalgic connection to these sauces make them a beloved choice for both late-night snacks and everyday meals.
Whether you enjoy the boldest and spiciest Diablo sauce or the mellow creaminess of Avocado Ranch, there's undoubtedly a Taco Bell sauce for everyone. With endless possibilities for combination and experimentation, it's no wonder Taco Bell sauces continue to hold a special place in our hearts and our taste buds. Now it's time to embark on your own flavorful journey by trying out each sauce and finding your personal favorite, while perhaps even discovering a new go-to combination.
Food Lover and Storyteller 🍽️✨ With a fork in one hand and a pen in the other, Shivani brings her culinary adventures to life through evocative words and tantalizing tastes. Her love for food knows no bounds, and she's on a mission to share the magic of flavors with fellow enthusiasts.