25 Best Non-Caffeinated Drinks At Starbucks [2023 Blissful]
Updated On: August 13, 2023
When it comes to enjoying our favorite beverages at Starbucks, we often only think about their famous caffeinated selections like lattes, cappuccinos, and Frappuccinos. However, Starbucks offers an impressive array of non-caffeinated drinks that are just as delicious and satisfying as their caffeine-charged counterparts. For those of you who want to avoid caffeine due to health reasons, sensitivity to its effects, or simply because of personal preference, there are plenty of tempting options waiting for you at your local Starbucks.
As someone who has always had a devout appreciation for a good drink, I've made it my personal mission to try out as many Starbucks beverages as I can. In doing so, I've discovered a treasure trove of caffeine-free delights that keep me coming back for more. From warm, comforting sips to ice-cold refreshments, let me guide you through my top picks for the best non-caffeinated drinks at Starbucks that you'll want to add to your must-try list.
Also Read: Best Starbucks Tea Drinks
25 Best Non-Caffeinated Drinks At Starbucks of 2023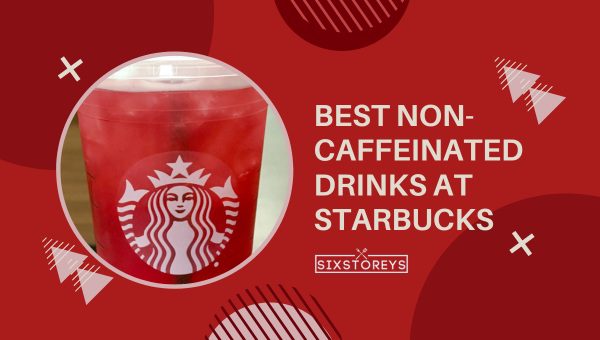 Over time, I have carefully selected 25 of the best non-caffeinated drinks Starbucks has to offer which, of course, includes classics like steamed apple juice and lemonade, but also features seasonal delights such as eggnog crème and peppermint white hot chocolate. Additionally, you'll find intriguing blends like the iced guava passionfruit drink or the soothing peach tranquility tea, promising a tasty experience for everyone. With this extensive list, you can indulge in the perfect beverage without the worry of caffeine, while still enjoying the signature Starbucks experience.
1. Strawberry Crème Frappuccino

The Strawberry Crème Frappuccino is your ticket to a fresh and fruity respite from the daily grind. Real strawberries blended with ice and milk create a smooth, refreshing sensation that is, undoubtedly, a classic and beloved choice among caffeine-free Starbucks options.
As I took my first swig of this phenomenal strawberry concoction, I felt an instant burst of freshness embrace my taste buds. The strawberries' natural sweetness played in perfect harmony with the cool and creamy base, striking a balance between bright refreshment and comfort. The whipped cream topping only served to accentuate its delightful arrangement, adding a delightful dollop of joy.
The Strawberry Crème Frappuccino is ideal for those seeking a caffeine-free yet exciting beverage that takes you on a whirlwind adventure filled with fruity flavors. Its fusion of classic and beloved flavors makes it a reliable friend no matter the hour or season.
2. Vanilla Crème

For lovers of classic and comforting flavors, Vanilla Crème is a delightful choice for an indulgent, caffeine-free treat. This smooth and velvety drink showcases the subtle sweetness of vanilla, shining in both its aroma and taste.
When I found myself craving something sweet and satisfying, I decided to give Vanilla Crème a try. From my very first sip, the warm, fragrant essence of this beverage embraced my senses like a cashmere blanket. The velvety texture, coupled with soothing notes of sweet, smooth vanilla, provided the perfect elixir of comfort and solace.
Perfect for anyone seeking a soothing and delightful non-caffeinated drink, the Vanilla Crème offers warmth, familiarity, and a little bit of luxury – anytime, anywhere.
3. Pistachio Crème Frappuccino

The Pistachio Crème Frappuccino is a nutty, sweet, and unique option for when you're seeking an indulgent, caffeine-free treat to savor. With a captivating play of pistachio and sugar, this frozen delight offers a new and exciting taste adventure to your Starbucks visit.
When I first savored the Pistachio Crème Frappuccino, I was immediately transported into a world of sweet nuttiness. The rich, pistachio-infused base offered a delightful contrast to the traditional flavors I had come across in previous Frappuccinos. The blend of sweet cream and distinct nutty notes created a smooth, satisfying flavor that kept me delighted with each sip. Topped with whipped cream, this non-caffeinated option offers both a delightful texture and a taste experience to remember.
The Pistachio Crème Frappuccino is ideal for those on the lookout for an exciting and incredible flavor combination. Fulfill your sweet cravings without the caffeine, while indulging in a creamy, nutty delight that captures the essence of goodness in a cup.
4. Steamed Apple Juice

When the temperature begins to drop and you're searching for a warm and cozy beverage to curl up with, steamed apple juice from Starbucks is certain to hit the spot. This delicious drink is made with 100% pure apple juice, which is warmed gently over steam to elevate its natural sweetness and comforting aroma. The end result is a cozy embrace in liquid form that delights the senses while warming your heart and soul.
What truly sets the steamed apple juice apart from other seasonal favorites is its timelessness – it's perfect for people of all ages, both young and old. Its classic flavor is reminiscent of apple cider, however, it retains a slightly lighter body and slightly lower acidity due to the absence of spice. It's the ideal drink to enjoy while wrapped up in a warm blanket or while sharing a cheerful conversation with friends.
The steamed apple juice from Starbucks is a simple and unassuming option that undoubtedly deserves a place on your list of non-caffeinated drinks to try. Don't underestimate the power of these humble caffeine free Starbucks drinks – sometimes, the purest and most familiar flavors are exactly what we need to bring warmth and happiness into our lives.
5. Caramel Apple Spice

The Caramel Apple Spice is the perfect seasonal delight that brings together the comforting classic flavors with a sweet twist. This decadent dessert-like beverage features steamed apple juice as its base, which is then enhanced by the addition of sweet cinnamon syrup, velvety whipped cream, and rich caramel drizzle that blend together harmoniously to create a festive taste sensation.
This beverage truly shines as a wonderful indulgence, especially during autumn when the crisp, cool weather calls for something warm and satisfying. Taking a sip, you'll immediately be transported back to memories of hayrides, apple orchards, and family gatherings. The marriage of caramel and apple in this drink evokes the charming tradition of dipping apples in gooey, melted caramel, making it a nostalgic treat for the taste buds - the Caramel Apple Spice is sure to fill you with feelings of warmth and a touch of nostalgia.
Despite its richness, the Caramel Apple Spice manages to maintain a delicate balance of flavors, ensuring that it's never overwhelmingly sweet. It's an ideal choice for those who appreciate dessert-inspired beverages but still want to enjoy the comforting taste and aroma of warm apple juice with a little added flair. So, the next time you find yourself craving a sweet, seasonal drink without caffeine, Caramel Apple Spice is the one to fulfill your desires.
6. Chocolate Chip Cookie Crumble Crème Frappuccino

There's nothing quite like the mouthwatering combination of cookies and cream, and the Chocolate Chip Cookie Crumble Crème Frappuccino from Starbucks brings this beloved duo to life. At first glance, the drink is a visual treat with layers of thick, creamy goodness studded with chunks of chocolate cookies. Perfect for the young and young-at-heart, it's every dessert lover's dream in a cup.
A sip of this blended beverage reveals a rich, smooth base reminiscent of a classic cookies and cream ice cream. The star of the show, however, are the tiny bits of chocolate chip cookies that bring a delightful crunch and contrast to the creaminess. Garnished with a whipped cream topping and a generous sprinkling of cookie crumble, it's a multi-textured experience that is both refreshing and indulgent.
The Chocolate Chip Cookie Crumble Crème Frappuccino stands out for those afternoons when you need a sweet pick-me-up without the jolt of caffeine. Its delightful combination of flavors and textures is sure to bring a smile to your face.
7. Iced Passion Tango Tea Lemonade

If you are seeking a vibrant and tropical getaway in a cup, look no further than Starbucks' Iced Passion Tango Tea Lemonade. This eye-catching and delightful drink combines the flavors of hibiscus, lemongrass, and apple, creating a refreshing and mouthwatering beverage perfect for warm days and leisurely afternoons.
The first thing that caught my attention about the Iced Passion Tango Tea Lemonade is its striking color. The bright magenta hue is simply irresistible and immediately puts a smile on my face. As I take a sip, the fruity and herbal flavors come together like a tropical medley that guides my palate through an exciting adventure. The tango of sweet and tart notes, with a hint of lemongrass, makes for a truly unique flavor profile that leaves me longing for more.
What truly shines about this non-caffeinated drink from Starbucks is its versatility. The Iced Passion Tango Tea Lemonade is fantastic on its own and can also be mixed with other beverages like lemonade or sparkling water for an extra twist. Its vivacious color and flavors make it a fantastic choice for entertaining, outdoor parties, or just brightening up a mundane day.
8. Iced Passion Tango Tea

A delightful drink that's perfect for both the hot summer months and year-round refreshment is Starbucks' Iced Passion Tango Tea. This caffeine-free alternative is not only icy and fruity but also boasts a unique burst of herbal and fruit flavors that set it apart from other options on the menu.
My first encounter with the Iced Passion Tango Tea treated me to the same exciting magenta hue as its Lemonade sibling. However, it offers a slightly different flavor experience – one that is a bit bolder and focuses on the herbal infusion that's inherent to the tea itself. With each refreshing sip, I pick up on the infusion of hibiscus, rose hips, and orange peel, which lends a delightful combination of sweet, citrusy, and slightly tangy flavors.
Sometimes it can be a challenge to find a truly satisfying non-caffeinated drink that still packs a punch in terms of taste and refreshment. Starbucks' Iced Passion Tango Tea manages to hit that sweet spot, offering a unique and delightful beverage that's both invigorating and thirst-quenching.
9. Peach Tranquility

Seeking a beverage that transports you to a place of peace and serenity? Starbucks' Peach Tranquility tea is your passport to a calming and aromatic oasis. This enchanting blend of peach, pineapple, and chamomile creates soothing and subtly sweet flavors that gently linger on the palate.
When I first discovered Peach Tranquility tea, I was immediately drawn in by its wonderfully delicate aroma – a soft, fruity fragrance with wisps of fragrant chamomile. As I took my first sip, I felt the comforting warmth spread through my body, carrying the gentle flavors of fresh peach and hints of ripe pineapple with it. Each successive sip was like a warm embrace, with the delicate chamomile undertones working harmoniously with the fruity notes to create a relaxing experience.
Enjoying a cup of Peach Tranquility tea is like being enveloped in a warm, aromatic hug. It's the perfect non-caffeinated drink for any time of the day, whether you need a break from work, a moment of peace before bedtime, or simply a cozy companion on a rainy day.
10. Pineapple Ginger Syrup Iced Lemonade

A tropical twist on the classic lemonade, Starbucks' Pineapple Ginger Syrup Iced Lemonade is a taste of summer in a cup. This vibrant drink combines the tang of freshly squeezed lemons with the tropical sweetness of pineapples, with an unexpected but welcome kick from ginger syrup.
Every sip offers a burst of fruity freshness, perfectly balanced with a hint of spiciness from the ginger, making it an exciting yet comforting choice. The drink's bright and cheerful yellow hue, punctuated by floating pieces of real pineapple, adds to the overall appeal.
Whether you're lounging on a beach, stuck in the middle of a workday, or catching up with friends, the Pineapple Ginger Syrup Iced Lemonade provides a refreshing escape, transporting you to a tropical paradise with its tantalizing blend of flavors.
11. Peppermint White Hot Chocolate

The Peppermint White Hot Chocolate is a sumptuous concoction that never fails to impress. This delightful beverage boasts an irresistibly velvety white chocolate base, which is infused with a subtle hint of refreshing peppermint to deliver the ultimate sip of satisfaction. It's an ideal choice for the winter season, but I personally find this drink delightful enough to enjoy all year round.
As I take my first sip, I'm immediately swept away by the rich and silky white chocolate that effortlessly blends with the stimulating minty undertones. The peppermint not only adds a cooling effect but also elevates the otherwise sweet and creamy drink, creating a perfect harmony that leaves me wanting more. Topped with a generous dollop of whipped cream and a drizzle of peppermint syrup, this drink is truly a dream come true for anyone who appreciates the timeless combination of chocolate and mint.
This Peppermint White Hot Chocolate is an excellent non-caffeinated alternative for those who crave something indulgent and comforting. Whether you want to curl up with a good book and a warm drink on a cold winter day or simply enjoy a sweet treat alongside your favorite dessert, the Peppermint White Hot Chocolate is a guaranteed crowd-pleaser. Don't let the seasonality of this drink deter you - it's perfect for making any day feel like a special occasion.
12. Eggnog Crème

The festive Eggnog Crème drink is everything you could hope for in a holiday-themed beverage. Combining the rich and creamy taste of traditional eggnog with Starbucks' own unique twist, this drink is perfect for satisfying your cravings for a comforting and indulgent treat without the added buzz of caffeine. As soon as the aroma of the steamed eggnog mixture with hints of nutmeg wafts toward me, I find myself instantly transported into the holiday spirit.
Upon taking a sip, I am greeted by a velvety, custard-like texture with just the right balance of sweetness and spice. Many might think that eggnog is too heavy or that it has an overpowering taste, but Starbucks has genuinely nailed the equilibrium between these flavors, making it a delightful drink for both eggnog enthusiasts and skeptics alike. Topped with a sprinkling of ground nutmeg, the Eggnog Crème is a decadent delight and a true testament to the joy and flavors of the holiday season.
For those who appreciate the nostalgic taste of eggnog and want to enjoy it in a slightly different form, the Eggnog Crème is a must-try. Its rich, creamy texture and warming spices create an authentic holiday experience in every cup, making it a perfect selection to enjoy throughout the festive season and beyond.
13. Cinnamon Dolce Crème

The Cinnamon Dolce Crème is a delightful concoction that envelops your taste buds in a cozy embrace with every sip. Featuring the enticing flavors of cinnamon and brown sugar, this warm and comforting beverage is perfect for any time of the year, especially when you're craving something that will instantly lift your spirits.
As I take my first taste of this heartwarming caffeine free Starbucks drink, I'm immediately captivated by the sweet and spicy cinnamon blended seamlessly with the rich and creamy steamed milk. The brown sugar adds a subdued sweetness, enhancing the natural warmth of the cinnamon without overpowering the balance. Topped with a dollop of whipped cream and dusted with a sprinkle of cinnamon dolce powder, this drink exudes a sense of comfort and indulgence that's hard to resist.
The Cinnamon Dolce Crème is a fantastic non-caffeinated option for anyone seeking a drink that provides a sense of warmth, satisfaction, and familiarity. Its spiced yet delicate flavor profile makes it perfect for enjoying solo, alongside your favorite pastry, or even as a delightful accompaniment to a savory snack. Don't be surprised if you find yourself drawn to the welcoming warmth of the Cinnamon Dolce Crème time and time again.
14. Blended Caramel Ribbon Crunch Crème Frappuccino

The Blended Caramel Ribbon Crunch Crème Frappuccino is an irresistible frozen treat that combines the enticing flavors of caramel and whipped cream to create a symphony of sweetness. This luxurious beverage takes the traditional Frappuccino and elevates it to new heights with a decadent caramel sauce and a delightful crunch that adds a surprising and delightful texture.
As I savor each sip, the cool and creamy consistency of the Frappuccino base intermingles with the rich and buttery caramel sauce and the crunch from the caramel sugar sprinkling, creating a unique and satisfying experience for my taste buds. The whipped cream adds a light and airy contrast to the substantial caramel notes, resulting in a perfectly balanced drink that's both lavish and refreshing.
The Blended Caramel Ribbon Crunch Crème Frappuccino is an ideal non-caffeinated option for those who wish to indulge in a decadent and refreshing escape. Its delightful combination of textures and flavors is perfect for enjoying on a warm day, as a dessert, or as a special treat when you want to pamper yourself. Don't be surprised if you find yourself craving the indulgent taste and unique texture of this luxurious Frappuccino.
15. Mint Majesty Tea

The Mint Majesty Tea is a soothing and invigorating experience that will elevate your tea-drinking ritual to new heights. This refreshing herbal infusion features a well-crafted blend of peppermint and spearmint, creating an enchanting melody of revitalizing flavors that is perfect for any time of the day.
The moment I take my first sip, I'm instantly transported to a state of serenity and relaxation. The invigorating aromatics of the mint hit my senses first, providing a revitalizing and unmistakable scent. The taste is supremely refreshing, with the cooling sensation of peppermint complemented beautifully by the subtle warmth of the spearmint. This caffeine-free herbal tea is as revitalizing as it is soothing, making it the perfect beverage choice for anyone seeking an herbal alternative to traditional caffeinated teas.
The Mint Majesty Tea is an excellent non-caffeinated Starbucks drink for tea lovers and those looking to expand their palate. Its delightful blend of flavors, soothing qualities, and vibrant aroma make for a truly enchanting experience. So, the next time you find yourself in search of a calming and rejuvenating beverage, I recommend giving Mint Majesty Tea a try.
16. Pike Place Decaf Coffee

For the coffee purists who love the rich aroma and robust flavor of a classic brew but prefer to go caffeine-free, the Pike Place Decaf Coffee is a must-try. Named after the famous market in Seattle where Starbucks first opened its doors, this blend carries the brand's rich history and commitment to quality.
Each cup is a testament to the art of coffee-making, offering a well-rounded flavor profile with notes of cocoa and toasted nuts. The medium roast brings out the bean's natural sweetness, providing a balanced and smooth finish that doesn't compromise on flavor, despite being decaffeinated.
Ideal for any time of the day, Pike Place Decaf Coffee is perfect for those cozy mornings, mid-day breaks, or quiet evenings. It's a gentle reminder that you can indulge in the authentic coffee experience without the effects of caffeine.
17. Iced Peach Green Tea Lemonade


A refreshing medley of sweet, tart, and slightly bitter, the Iced Peach Green Tea Lemonade is the quintessential summer beverage. Starting with a base of freshly brewed green tea, renowned for its subtle earthy notes and mild bitterness, this drink is elevated with the infusion of sweet peach and the tangy kick of lemonade.
As you take a sip, the flavors dance harmoniously on the palate. The sweetness of the peach complements the tartness of the lemonade, all while being anchored by the green tea's calming presence. Served over ice, it's a thirst-quenching delight that promises a burst of flavors with every sip.
Ideal for hot days or whenever you're in need of a rejuvenating drink, the Iced Peach Green Tea Lemonade stands as a testament to Starbucks' innovation in creating beverages that are both delightful and refreshing.
18. Milk Steamer

The Milk Steamer is a simple yet customizable non-caffeinated drink that provides the perfect canvas for your taste buds to imagine and create your own favorite flavor combinations. Offered with a choice of milk options, this steaming beverage can be enjoyed with a dash of your favorite flavored syrup or simply plain and warm.
My personal favorite variety of the Milk Steamer features a touch of caramel syrup, transforming the velvety steamed milk into a silky-smooth, rich, and creamy treat. Each comforting sip feels like a warm hug in a cup, embracing my taste buds with its soft and divine texture. This delightfully uncomplicated drink brings me back to the simple yet delicious pleasure of warm, flavored milk.
The Milk Steamer is undoubtedly a fantastic non-caffeinated option for anyone looking for a touch of warmth and comfort in liquid form. Its versatility and ease of customization make this beverage a brilliant choice that can cater to different tastes and preferences. Don't be shy to experiment with various flavor combinations and discover your very own personalized version of the Milk Steamer.
19. Lemonade

When the sun is shining, and the weather is warm, there's nothing quite like a refreshing glass of Lemonade to quench your thirst. Starbucks offers a classic take on this beloved beverage that is tart, tangy, and oh-so-satisfying. Made with simple yet quality ingredients, this lemonade provides the right balance of tanginess and sweetness that leaves you craving for more.
From the moment I take a sip of Starbucks' Lemonade, I'm hit with that zesty lemon flavor, which is both energizing and incredibly thirst-quenching. Each sip feels like a revitalizing splash of summer, transporting me to sun-soaked afternoons spent lounging by the water. This delightful non-caffeinated drink is versatile and can be enjoyed on its own or mixed with other drinks to create exciting new flavor combinations.
Whether you're seeking a break from your usual caffeinated drinks or looking for something to enjoy on a hot summer day, Starbucks' Lemonade is an excellent choice that surely won't disappoint.
20. Blended Strawberry Lemonade

Are you in the mood for a fruity and refreshing drink that captures the essence of summertime? Look no further than Starbucks' Blended Strawberry Lemonade. This slushy-like concoction is a delightful fusion of sweet strawberries and zesty lemonade, which creates a unique and satisfying beverage perfect for a sunny day.
Upon first sip, the Blended Strawberry Lemonade presents a delightful burst of vibrant and juicy strawberry flavor, followed closely by the tanginess of the lemonade. The perfect balance of sweet and sour is a flavor match made in heaven that makes my taste buds dance with joy. The drink's slushy texture feels incredibly refreshing as it melts in my mouth, providing an invigorating escape from the heat.
Whether you're a fruit lover or simply searching for a new non-caffeinated Starbucks drink to try out, the Blended Strawberry Lemonade deserves a spot at the top of your list. Enjoy it while relaxing poolside, at the beach, or taking a leisurely stroll on a sunny day – this caffein-free starbucks drink is bound to become a summer favorite.
Also Read: Best Starbucks Matcha Drinks
21. Iced Guava Passionfruit Drink

Starbucks' Iced Guava Passionfruit Drink is your ticket to a tropical escape with every sip. This refreshing and fruity mixture of sweet guava, tangy passionfruit, and mellow coconut milk creates an irresistible symphony of flavors that'll transport your taste buds to a sun-drenched island paradise.
Upon my first taste of the Iced Guava Passionfruit Drink, I was instantly captivated by its beautiful, delicate shade of pastel pink. The drink's uplifting appearance was matched by its equally delightful flavor profile. The harmony of guava and passionfruit delivers a perfectly balanced mix of sweetness and tang, bringing a taste adventure that dances on the tongue. The smooth coconut milk adds a creamy, soothing layer to the concoction, providing a luxurious texture and depth to the overall experience.
The tropical and invigorating flavors of the Iced Guava Passionfruit Drink make it a brilliant non-caffeinated option for those who yearn for a vacation without leaving the comfort of their favorite Starbucks. It's a treasure trove of taste that brings the sun to even the iciest of winter days.
22. Flavored Sparkling Water

For those mindful of their sugar intake, Flavored Sparkling Water at Starbucks is the perfect non-caffeinated choice. Fizzy, customizable, and exuding simplicity, this refreshing beverage allows you to maintain control of flavor by adding just the right amount of fruity syrup.
The beauty of Starbucks' Flavored Sparkling Water lies in its adaptability. You can opt for popular fruit flavors like strawberry and peach or create your own unique concoction. As a fan of jazzing up my beverage, I experimented with a combination of blackberry and pineapple syrup. As I took my first sip, the tingling carbonation greeted my palate, followed by the smooth, subtle fruitiness of the blackberry mingling with the zesty pineapple—pure refreshment in a cup.
Flavored Sparkling Water is an ideal pick for those who desire a light, effervescent, and caffeine-free drink that can be tailored to individual preferences. Whether you're perusing the menu for a quick pick-me-up or seeking an accompaniment to your meals, this simple yet delightful option is hard to resist.
23. White Chocolate Crème Frappuccino

The White Chocolate Crème Frappuccino is a dream come true for those with a penchant for all things sweet and indulgent. This caffeine-free frozen delight combines the rich taste of white chocolate, a velvety base, whipped cream, and a drizzle of extra sauce to create a satisfying and decadent treat.
My first sip of the White Chocolate Crème Frappuccino transported me to a world of sugary bliss. The luscious white chocolate base hugged my taste buds, providing a creamy and luxurious texture that sent shivers of delight down my spine. The whipped cream topping added a soft, airy layer, perfectly complementing the sinful richness underneath. The additional drizzle of white chocolate sauce ensured that there was not a moment amiss in this sweet symphony of flavors.
If you're craving a sweet caffeine-free indulgence, the White Chocolate Crème Frappuccino is a must-try. Its smooth, rich texture and a lovely balance of flavors make it a sinful delight that everyone should seek out at least once.
24. Bottle Fruit Juice

A bottle of fruit juice is an excellent choice for those seeking a healthy and convenient non-caffeinated option at Starbucks. With an assortment of flavors available, ranging from zesty orange to tropical blends brimming with pineapple, mango, and passionfruit, fruit juice provides a delicious and refreshing alternative to other drinks.
As someone who likes to stay active and always craves fresh flavors, I often grab a bottled fruit juice on my way to work or after a workout. From my experience, Starbucks consistently offers high-quality bottled juices with delectable flavors. Packed with vitamins and antioxidants, these thirst-quenching fruit juices provide an energizing pick-me-up without the caffeine jitters.
Whether you're on the go or looking for a quick fruity refreshment, bottled fruit juice is a smart and pleasant choice for any caffeine-free drink seeker. With so many incredible flavors to choose from, you can easily satisfy your taste buds while providing your body with the nutrients it craves.
25. Vanilla Bean Crème Frappuccino Blended Beverage

At the pinnacle of classic caffeinated delights stands the Vanilla Bean Crème Frappuccino. This incredible beverage takes you on a journey of indulgence and sophistication. With its fusion of Madagascar vanilla bean and a creamy, ice-cold base, the Vanilla Bean Crème Frappuccino offers an unparalleled taste experience for those who adore all things vanilla.
When I first tasted this magnificent concoction, I couldn't help but be mesmerized by the symphony of flavors. The natural fragrance of Madagascar vanilla bean sang in harmony with the smooth and creamy base, creating a truly luxurious experience with each sip. Each taste was as divine as the first, leaving me eager to revisit this exceptional drink time and time again.
The Vanilla Bean Crème Frappuccino Blended Beverage is an absolute must-try for anyone seeking an extraordinary yet caffeine-free Starbucks experience. Its captivating blend of sophistication and classic sweetness promises to delight your taste buds and become a firm favorite in your Starbucks repertoire.
Also Read: Best Starbucks Caramel Drinks
The Role of Starbucks in Social and Environmental Sustainability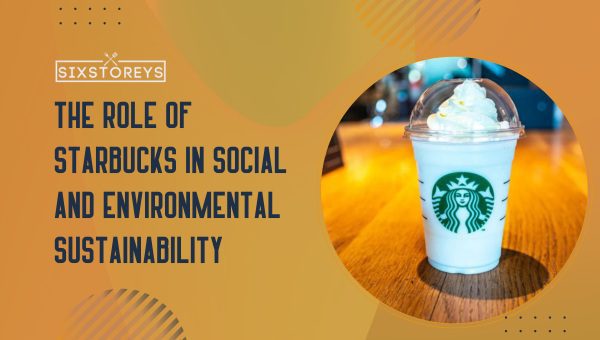 In addition to offering an extensive menu of delectable beverages to suit all preferences, including non-caffeinated drinks, Starbucks is committed to making a positive impact on the environment and society at large. Their dedication to social and environmental sustainability has led to the implementation of several valuable initiatives that reflect their corporate responsibility and focus on creating a better world.
Ethical Sourcing and Supporting Farmers
Starbucks has been on a mission to ethically source 99% of its coffee supply through its Coffee and Farmer Equity (C.A.F.E.) Practices program. This program establishes guidelines to provide high-quality coffee while ensuring farmers are paid fairly and working conditions are safe. Starbucks also collaborates with Conservation International to help improve the livelihoods of coffee farmers and promote sustainable farming practices, which will benefit generations to come.
Reducing Carbon Footprint and Waste
Starbucks has made significant strides in reducing waste and its overall carbon footprint. They are working towards making all of their stores LEED certified, with energy-efficient designs and materials. The introduction of strawless lids for cold beverages is one of many efforts to decrease plastic waste.
Moreover, Starbucks encourages customers to use reusable cups by offering a discount when bringing their own. The company is also researching and developing more sustainable cup options, including functional recyclable and compostable cups, in collaboration with the NextGen Cup Challenge.
Starbucks' Greener Apron Program
Designed to educate and empower partners (Starbucks employees) in environmental stewardship, the Greener Apron program offers workshops focusing on energy conservation, waste reduction, and sustainable living. The program's aim is to help partners take meaningful action both within the workplace and their local communities.
Community Involvement
Giving back to the community is a significant aspect of Starbucks' corporate culture. Apart from its commitment to ethical sourcing practices, the company also supports various initiatives, such as Global Month of Service, where partners engage in volunteer activities and projects to strengthen local communities. Additionally, Starbucks has provided employment and educational opportunities through its Opportunity for All initiative, with a focus on supporting refugees, veterans, and at-risk youth.
Starbucks takes its commitment to social and environmental sustainability seriously. From ethically sourcing their ingredients and minimizing waste to investing in renewable energy and supporting local communities, Starbucks strives to make a tangible difference not only in the coffee industry but in the world we live in. And by enjoying your favorite non-caffeinated drinks at Starbucks, you can show your support for these worthy initiatives that ultimately contribute to a better future for everyone.
Nutritional Considerations of Starbucks' Drinks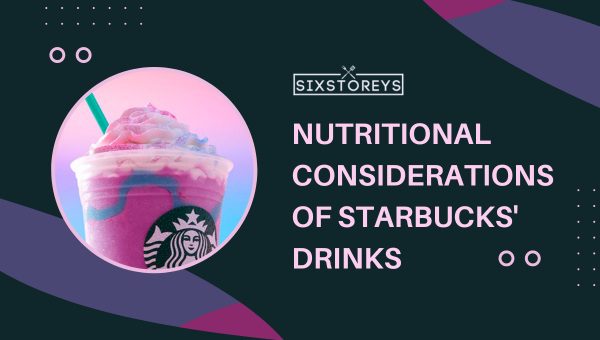 As we explore the world of non-caffeinated drinks at Starbucks, it's important to consider the nutritional content of our favorite beverages. While indulging in a sweet drink is a delightful treat, it's essential to balance that indulgence with healthier choices. Here, we'll discuss some ways to understand and make better decisions about the nutritional content of various Starbucks drinks.
Calories and Sugar: Some Starbucks drinks can be high in calories and sugar, especially those with added syrups, whipped cream, and other sweeteners. Keep an eye on these elements when choosing your beverage and adjust them according to your preference and dietary needs. You can ask the barista for half-sweet, sugar-free, or a lower-calorie alternative.
Alternative Dairy Options: Starbucks offers various dairy alternatives such as almond milk, soy milk, coconut milk, and oat milk. These can be healthier options, particularly for those with lactose intolerance or those looking to reduce their dairy consumption.
Beverage Sizes: To control the nutritional content of your drink, consider opting for a smaller size. Starbucks offers Short, Tall, Grande, Venti, and Trenta sizes for their drinks, allowing you to find the size that best suits your dietary preferences.
Customize and Swap Ingredients: Starbucks encourages customization, which is great for those who want a healthier version of their favorite drinks. You can experiment with different ingredients or swap out certain elements, such as using unsweetened teas or sugar-free syrups.
Hydration Matters: Staying hydrated is essential for overall health, so don't forget about classic options like water, flavored sparkling water, or unsweetened iced tea that can help quench your thirst without too many added sugars or calories.
Light and Refreshing Options: Starbucks also offers a variety of lower-calorie beverages, such as the cool lime refresher, shaken iced green tea, and cucumber mint green tea lemonade, which can all provide a light and delicious pick-me-up without overloading on sugar or calories.
Nutritional Information: Familiarize yourself with the nutritional information of Starbucks drinks by checking out their website or using apps like MyFitnessPal, as this knowledge can help you make more informed decisions when ordering your favorite drinks.
By being aware of the nutritional considerations of Starbucks' drinks, you can better enjoy your experience while keeping your health and wellness in mind. Don't hesitate to ask the barista for ingredient options and customizations that cater to your needs, making your Starbucks visit both enjoyable and nutritionally balanced.
Pairing Your Starbucks Non-Caffeinated Drink with Food Offerings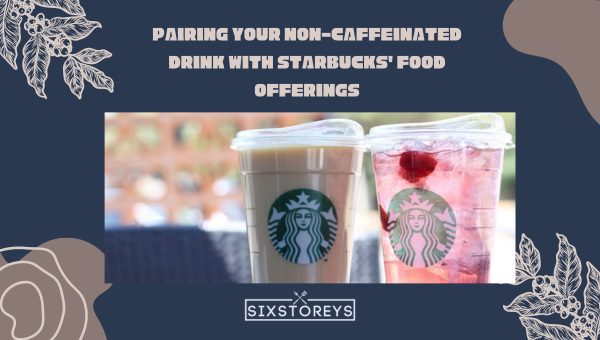 One of the best parts of enjoying your favorite non-caffeinated Starbucks drink is finding the perfect food to complement your beverage. Starbucks offers a wide range of food options, including breakfast items, sandwiches, salads, and baked goods. Here are some suggestions for pairing your non-caffeinated drink with delightful Starbucks food offerings for a gratifying experience.
1. Steamed Apple Juice & Classic Oatmeal

Start your day with a warm and comforting combination. The natural sweetness of the steamed apple juice pairs well with the heartiness of the classic oatmeal. Top your oatmeal with your preferred fruit or nuts for added texture and taste.
2. Caramel Apple Spice & Cheese Danish

The sweetness of the caramel apple spice complements the tangy and creamy flavors found in cheese danish. This pairing offers a satisfyingly rich dessert or snack, leaving your taste buds delighted.
3. Peppermint White Hot Chocolate & Double Chocolate Chunk Brownie

Looking for a decadent treat? The refreshing notes of peppermint in the white hot chocolate complement the dense richness of the double chocolate chunk brownie. This duo will perfectly satisfy those sweet and chocolatey cravings.
4. Iced Passion Tango Tea Lemonade & Southwest Veggie Wrap

The tropical taste of the iced passion tango tea lemonade pairs well with the zesty and spicy flavors found in the southwest veggie wrap. This balanced combination of refreshing and filling makes for an ideal lunch or dinner option.
5. Peach Tranquility & Lemon Loaf

For a light and fruity pairing, enjoy the soothing peach tranquility tea with a tangy lemon loaf. This match brings out the fruit flavors in both the tea and the cake, creating a delightful harmony.
6. Milk Steamer & Chocolate Croissant

Feeling traditional? Pair a milk steamer with a chocolate croissant for a simple and classic snack. The creamy warmth of the steamed milk is a perfect companion to the buttery and flaky pastry filled with rich chocolate.
7. Strawberry Crème Frappuccino & Chicken & Quinoa Protein Bowl

Looking for a refreshing and nourishing meal? Try pairing the fruity strawberry crème Frappuccino with a chicken & quinoa protein bowl. The sweet taste of the Frappuccino complements the savory, wholesome ingredients of the protein bowl, offering a satisfying contrast of flavors.
8. Vanilla Bean Crème Frappuccino Blended Beverage & Blueberry Muffin

Experience a classic pairing with the rich and creamy vanilla bean crème Frappuccino and a fluffy blueberry muffin. The sweetness of the beverage enhances the inviting flavor of the muffin, making it perfect for breakfast or a scrumptious snack.
Remember, these are just a few examples of harmonious pairings, but the possibilities are truly endless. Feel free to get creative and try out different combinations of your non-caffeinated Starbucks beverages and their food offerings for the ultimate Starbucks experience.
Also Read: Best Starbucks Cinnamon Drinks
Frequently Asked Questions
Are all of Starbucks' non-caffeinated drinks suitable for children?
While many non-caffeinated drinks are kid-friendly, it is essential to consider sugar content and other ingredients, depending on individual preferences and tolerances.
Can I customize non-caffeinated drinks at Starbucks to make them dairy-free or vegan?
Yes, Starbucks offers a variety of dairy-free milk alternatives like almond, soy, coconut, and oat milk. Ensure to check and substitute other ingredients like whipped cream or syrup to make your drink vegan.
Are there any sugar-free non-caffeinated drink options available at Starbucks?
While Starbucks doesn't offer entirely sugar-free drinks, you can customize some drinks to have less sugar by choosing sugar-free syrups or reducing the number of sweeteners.
Can I request my non-caffeinated drinks to be made hot or cold, depending on my preference?
Yes, Starbucks encourages customization, and you can ask the barista to make your beverage hot or cold according to your liking.
Are all the caffeine free Starbucks drinks also decaf?
Decaf refers to drinks that have most of the caffeine removed but might still contain minor traces, while non-caffeinated beverages are naturally free from caffeine. The list provided includes non-caffeinated beverages and not decaf coffee drinks.
Do the non-caffeinated beverages at Starbucks change with the seasons?
Starbucks often introduces seasonal non-caffeinated drinks, like the Eggnog Crème during the winter holidays. Regular menu items might also get a seasonal twist, such as adding fall-inspired syrups to a milk steamer.
Can I find all the non-caffeinated Starbucks drinks listed in every location?
While the drinks mentioned are widely available, some Starbucks locations might have limited menus or seasonal differences. Make sure to check with your local Starbucks for their specific menu offerings.
Are the nutritional information and allergens for Starbucks drinks available online?
Yes, you can visit the Starbucks website to find detailed nutritional information and allergens for each drink. If you have any specific concerns, it's recommended to consult the Starbucks staff before placing your order.
Can I earn Starbucks Rewards points on the non-caffeinated drinks as well?
Yes, you can earn Starbucks Rewards points on all eligible purchases, including non-caffeinated drinks. Make sure to use your Starbucks Rewards app or registered card to accumulate rewards on your orders.
Are there any Starbucks drinks that include non-caffeinated tea options?
Starbucks offers various non-caffeinated tea options such as Mint Majesty and Peach Tranquility, which can be enjoyed as hot or iced teas. Additionally, Starbucks' Iced Passion Tango Tea and Iced Passion Tango Tea Lemonade use a non-caffeinated herbal tea blend as their base.
Conclusion
Starbucks offers an impressive variety of non-caffeinated drinks at Starbucks that cater to different tastes, preferences, and even dietary needs. By exploring their menu, you're bound to discover a new favorite or even enhance your love for a classic staple. Whether you're after something warm and cozy during the colder months or a refreshing, fruity alternative in the summer heat, Starbucks has you covered with its delightful beverage options.
So, the next time you find yourself at Starbucks craving a caffeine-free option, remember this diverse list of drinks that can cater to your needs. You'll not only appreciate the choices available, but you might even find yourself pleasantly surprised by the unique flavors and creative combinations that await you. And who knows, you might just inspire others to experiment with their drink choices as well!
Beverage Explorer and Tastemaker 🍻🥃🍷 Aman's quest for liquid delights knows no limits. From hoppy brews to aged spirits, he uncovers the tales behind each sip. His eloquent descriptions and accessible insights make every drink an adventure worth raising a glass to.