24 Best Starbucks Matcha Drinks to Order [Trending in 2023]
Updated On: October 15, 2023
Exploring the world of Starbucks can feel a little bit like venturing into a limitless jungle of delicious options. Amidst this cornucopia of caffeinated delights, one unique beverage category stands out: matcha drinks. Possessing a rich history, matcha is the finely ground powder of specially grown and processed green tea leaves, and it's revered for its health benefits and distinctive taste. It's an acquired taste for some but, for those of us who love it, it adds a touch of luxurious, smooth flavor to any beverage.
If you're a fan like me, or even thinking about dabbling into the world of matcha, I am thrilled to guide you through the best Starbucks matcha drinks that have made it to the top of my list. So, whether you're a green tea enthusiast or a matcha novice, hang tight and prepare to bookmark these recommendations because matcha drinks at Starbucks prove matcha is more than just a wellness craze - it's a taste sensation unlike any other!
Also Read: Best Starbucks Caramel Drinks
24 Best Starbucks Matcha Drinks in 2023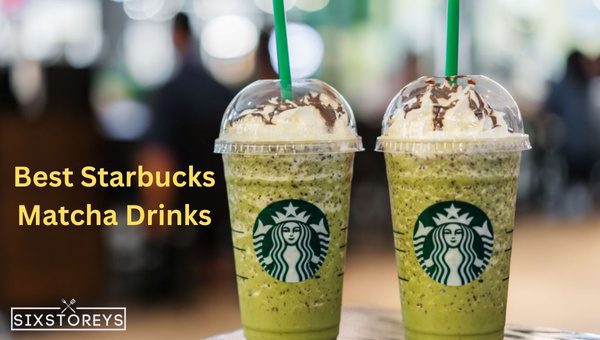 Now let's venture into the labyrinth of the Starbucks menu to discover the best Matcha drinks that are definite must-tries. Whether you're the adventurer type who loves to experiment with flavors at different levels or a matcha aficionado seeking to expand your horizons, these drinks won't disappoint.
1. Green Tea Matcha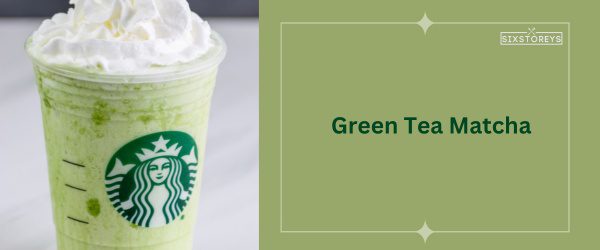 One of my absolute favorites, and the first on the list, Green Tea Matcha, is a delightful representation of Starbucks' skill in crafting exceptional beverages. It has a gentle, mystical flavor profile that seamlessly combines the bitterness of matcha with the natural sweetness of milk. Dressed in a vibrant green coat, the Green Tea Matcha is simple yet sublime. Pack it with ice for those hot summer days, savor hot for comforting winter nights, or add a shot of espresso ("Matcha Express") for a quick pick-me-up. This drink, with its unique blend of flavor and versatility, is undeniably a must-try for all matcha lovers.
2. Secret Menu Green Drink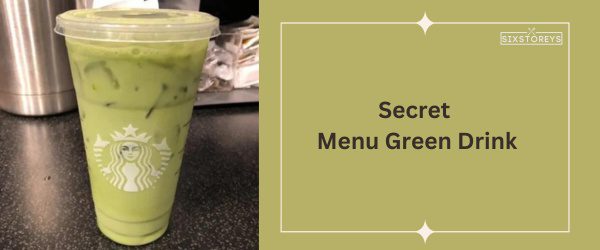 Up next is a hidden gem from Starbucks' not-so-secret Secret Menu - the Green Drink. This delightful concoction is an interesting fusion of the robust flavor of matcha green tea, the sweetness of vanilla syrup, coconut milk's creaminess, and a splash of ice. This four-ingredient combo might seem simple, but it produces an amazing symphony of flavors in your mouth that lingers even after the last sip. If you're into adventurous Starbucks orders, do italicize the Green Drink on your list.
3. Matcha Pink Drink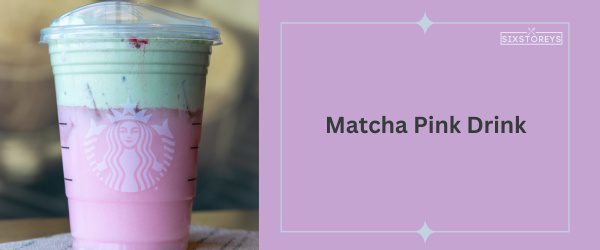 If you're a fan of Instagram-worthy beverages, the Matcha Pink Drink will be right at home on your Starbucks favorite list. Not only is it aesthetically pleasing with its funky two-toned color of green and pink, but it is also a real treat to your taste buds. This medley drink combines the subtly sweet Strawberry Acai Refresher with aspects of the creamier Coconut Milk Matcha Latte. It's a matcha-infused take on the viral Pink Drink that's definitely worth the hype. Experimenting with the Matcha Pink Drink easily makes for a bold Starbucks escapade.
4. Iced Pineapple Matcha Drink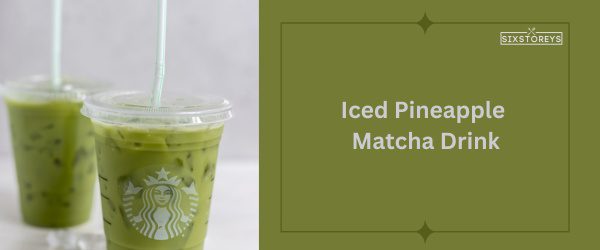 One of the newer additions to Starbucks' menu, the Iced Pineapple Matcha drink, is a tropical delight with a matcha twist. It is a refreshing blend of premium matcha green tea, pineapple, ginger flavors, and creamy coconut milk, served over ice. A perfect tropical getaway in a cup, combining fruity sweetness, ginger's zing, and the velvety texture of coconut milk juxtaposed with the slightly bitter, earthy notes of the matcha. This Starbucks special is a tropical matcha masterpiece designed to whisk you away to a beachfront on those sweltering summer days.
5. Nutty Caramel Iced Matcha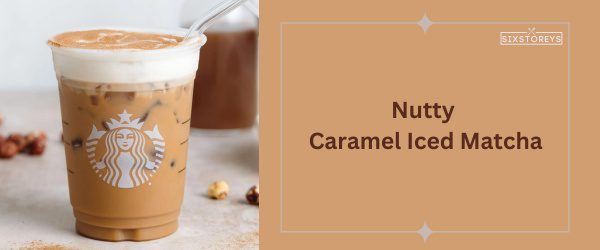 For those who can't resist the allure of toasted nuts and caramel, the Nutty Caramel Iced Matcha is just the beverage to satisfy your cravings. This addictive drink is a blend of rich matcha green tea, milk, caramel syrup, and toffee nut syrup, topped with whipped cream, and the crowning glory - a sprinkle of caramel brûlé topping. In my opinion, the interplay of the creamy, nutty, and sweet flavors with matcha's bitterness is a tantalizing treat for the palate. The Nutty Caramel Iced Matcha definitely stands out as a unique Starbucks creation.
Also Read: Most Caffeinated Drinks At Starbucks
6. Cha Cha Latte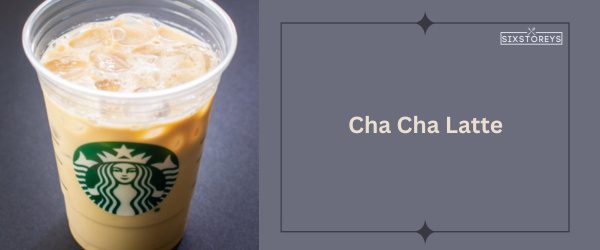 Cha Cha Latte is an unmatched concoction for all the latte lovers out there. This tantalizing blend combines the delicate matcha flavor with the caressing warmth of milk and the veil of sweetness that lattes love to boast. The smooth, creamy texture envelops the fine matcha powder in such a way that it sustains the delicate balance of bitter and sweet. Think of it as your comforting, go-to drink on gloomy days that need a burst of gentle flavor.
7. Starbucks Green Drink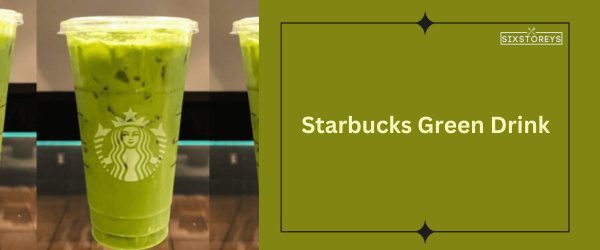 When it comes to Starbucks Green Drink, it's indeed a mysterious blend. Not quite as iconic as the Pink Drink, it's still worth exploring for its unique flavor profile. It's quite refreshing, with a delicate hint of matcha that gives it an appealing color and taste. Combined with coconut milk and bits of fruit, it's a summery beverage that's also incredibly Instagram-worthy.
8. Clover Cold Brew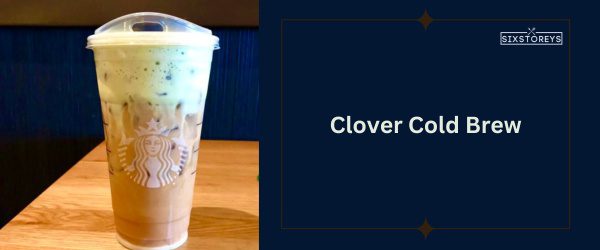 Starbucks' Clover Cold Brew elevates your matcha game to a whole new level by offering a matcha-infused cold brew coffee. The result is a sweet, creamy, and complex combination of flavors, where the earthy matcha shines alongside the robust flavor of cold brew. The vibrancy of matcha and the depth of cold brew creates a harmonious dichotomy in a cup.
9. Baby Yoda Frappuccino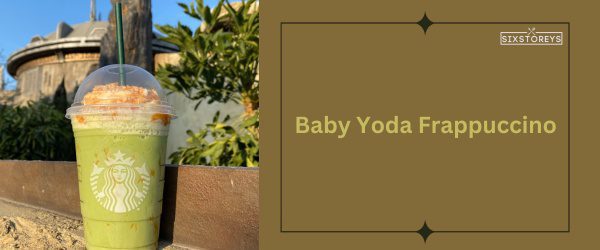 A matcha twist on Starbuck's beloved Frappuccino, the Baby Yoda Frappuccino, is not just cute, but also downright delicious. Imagine a green matcha Frappuccino topped with caramel drizzle and whipped cream, invoking the adorable look of none other than Baby Yoda himself. The bold matcha flavor contrasts with the sweet, indulgent layers of caramel and cream, making it a playful, fun-to-drink option.
10. Lucky Leprechaun Frappuccino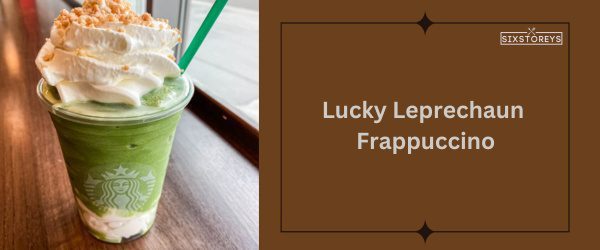 Adding a splash of color and fun to your regular matcha, the Lucky Leprechaun Frappuccino is an unofficial secret menu item with a blend of matcha, peppermint, and vanilla bean powder. Drizzled with classic syrup and topped with whipped cream, it's a delightfully minty, creamy treat that provides a fun twist to the regular Starbucks matcha offerings.
11. Matcha Crème Frappuccino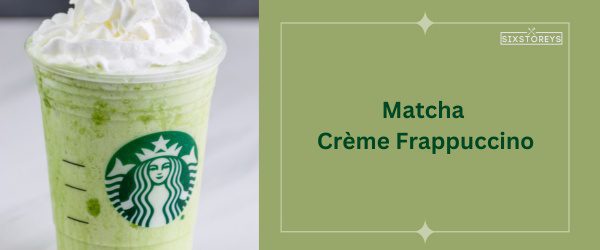 Parading light, delightful tones of green, the Matcha Crème Frappuccino offers a refreshing and revitalizing escape from the usual. Its preparation involves a blend of premium matcha powder, milk, and ice, finished with a generous dollop of whipped cream for that creamy, luxurious touch. The beautiful balance of earthy green tea and creamy sweetness not only results in an enticing color but a taste that's reminiscent of green tea ice cream in the best possible way.
12. Grasshopper Frappuccino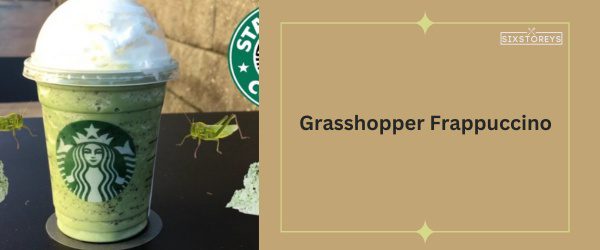 Inspired by the classic grasshopper cocktail, Starbucks' Grasshopper Frappuccino is an off-the-menu delight that has quickly gained a cult following. This beverage combines matcha powder with Frappuccino Roast Coffee and mint syrup, creating an invigorating blend of earthy tea, cooling mint, and a hint of coffee. The creamy texture coupled with this unique flavor combination provides a sensory experience that redefines traditional Frappuccino.
13. Peppermint Pow Frappuccino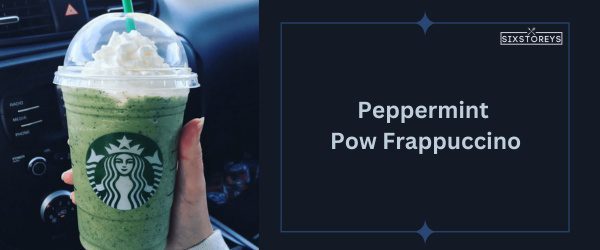 One of the most festive drinks on Starbucks' secret menu, the Peppermint Pow Frappuccino is my go-to winter warmer. At its heart lies an alluring combination of matcha powder and peppermint syrup that's made super creamy with whole milk and ice. Its mint-to-matcha ratio is just right, delivering enough zip from the peppermint to keep things interesting while letting the matcha really shine through. Sure, it's a little whimsical, but that's part of its charm, right?
14. Mermaid Frappuccino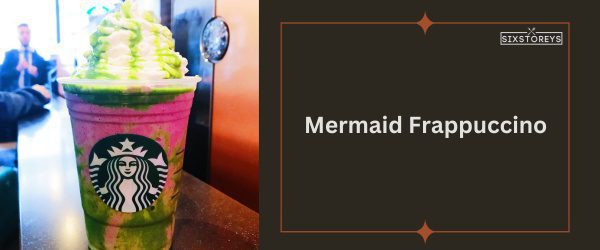 Starbucks' Mermaid Frappuccino, an off-menu sensation, indeed captures the mythical allure of its namesake. This vibrant and quirky drink is made by blending matcha with coconut milk, mocha sauce, and mango syrup for a tropical twist. Along with its taste, the striking green appearance gives this mermaid-themed Frappuccino a beyond-Instagrammable edge.
15. Mint White Chocolate Crumble Frappuccino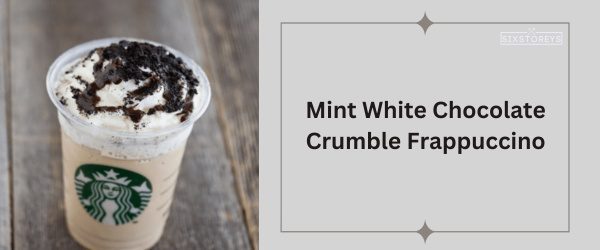 Prepare to be swept off your feet with the indulgent Mint White Chocolate Crumble Frappuccino. This drink bursts with balanced flavors of matcha, sweet white chocolate, and mint, all topped with a crumbly, cookie-style topping. It's essentially your favorite holiday cookie in liquid form, touched by the earthiness of matcha. Whether you're new to matcha or a seasoned admirer, this drink is an exploration of flavor that'll leave you craving more.
Also Read: Best Starbucks Cinnamon Drinks
16. Shamrock Frappuccino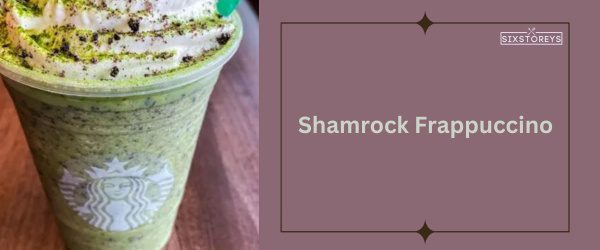 Shamrock Frappuccino boasts a bright emerald hue that shadows the lush green of a four-leaf clover, perfectly embodying the festive cheer. As I took my first sip, the flavor transported me into a world of rich vanilla and mint, underpinned by a robust matcha flavor. The whipped cream on top and a dusting of green match powder are the icing on the cake. Often ordered as a secret menu item, the Shamrock Frappuccino was my companion during the St. Patrick's Day celebrations. The taste serves as a refreshing and scrumptious reminder of the luck of the Irish.
17. Shamrock Shake (McDonald's Knockoff)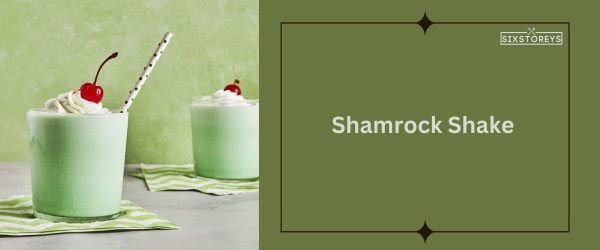 Next up is the Shamrock Shake (McDonald's Knockoff), a playful tribute to a classic. The amalgamation of sweetness from the vanilla and the cool, crisp freshness of mint makes a formula surely made in heaven. And the powder of matcha green tea takes it up a notch, putting a unique Starbucks spin on this fan-favorite. Embellished with a generous layer of whipped cream, this jade green beverage is all things festive and fabulous. So, are you ready for a matcha fiesta disguised as your favorite McDonald's shake?
18. Grinch Drink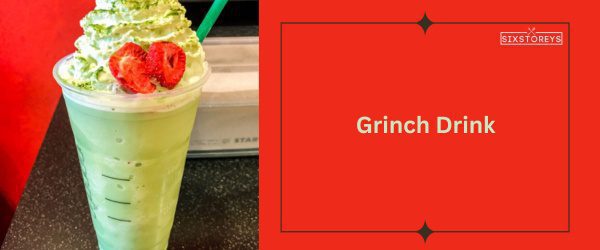 You don't have to wait for Christmas to sip the Grinch Drink, but it does add a dash of holiday spirit, transforming an ordinary day into a joyous celebration! Can you imagine a better way to kick off the festivities than sipping a bright green elixir, celebrating the emerald misanthrope himself? If the thought of matcha and caramel sounds exciting to you, this is the drink to order. Packed with swirls of luscious caramel against the perplexing complexity of matcha, each sip of this specialty drink leaves me savoring the sweet echoes of yuletide. I can wholeheartedly say that the Grinch didn't steal Christmas, but it surely stole my heart.
19. Shamrock Tea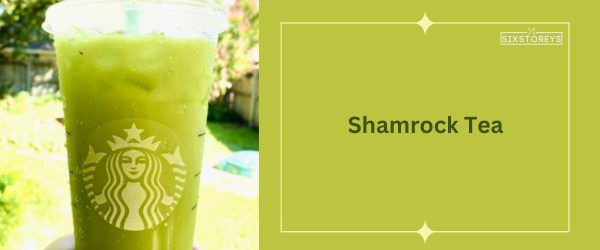 Now, the incredible Shamrock Tea. Encased in a vibrant green hue, symbolizing the spirit of Irish folklore, this is a latte like no other. The sweetness of white chocolate, the serene calmness of chamomile, and the dominant matcha come together to create a harmony of flavor. It's a delightful potion that sends my taste buds on an exhilarating flavor ride. Served either iced or hot, it's an undeniable treat to relish on a lazy afternoon. The Shamrock Tea proved itself to be an excellent ambassador of the fun and festive tea experience that Starbucks provides.
20. Popeye Tea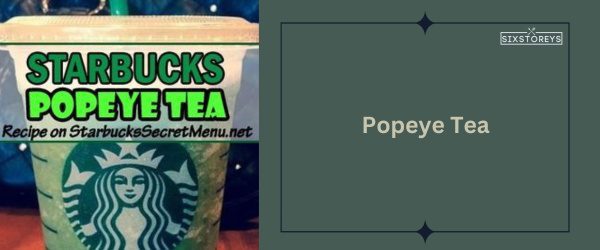 Earnestly, I have to admit, Popeye Tea at Starbucks is like spinach to Popeye - an explosive source of flavor and refreshment. This formidable brew combines the earthy tones of matcha green tea with a delightful tanginess of lime. Traditionally served over ice, this drink is sure to add a kick to your day. The characteristically robust flavor of matcha blends seamlessly with the zesty lime, creating a uniquely exhilarating experience that's both nutritious and delicious!
21. Matcha Tea Latte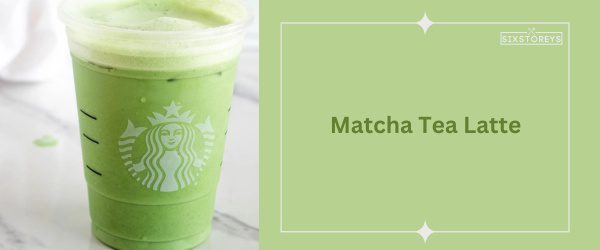 Matcha Tea Latte is the epitome of creaminess, subtly sweet, and chock-full of the nutritional goodness of matcha. Steamed milk is sheathed over matcha green tea, creating an irresistibly silky beverage that'll warm you from the inside out. I particularly love the gentle echo of sweetness that bounces around my palate, a sole tribute to Starbucks' mastery of balancing flavors. I typically enjoy this on a late rainy afternoon when I need a bit of warmth and delight.
22. Iced Matcha Tea Latte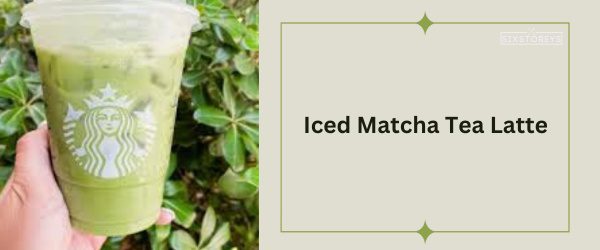 Allow me to introduce you to the colder cousin of the Matcha Tea Latte: the Iced Matcha Tea Latte. It is an ideal choice for those sizzling summer days when you could use a cool, refreshing lift. Don't be fooled by its simplicity, though. This icy brew packs a punch of unparalleled flavor and the perfect dose of refreshment. Every sip takes you on a journey that's both invigorating and smooth. It's dreamy, creamy, and brilliantly hued - simply a joy to drink!
23. Iced Matcha Lemonade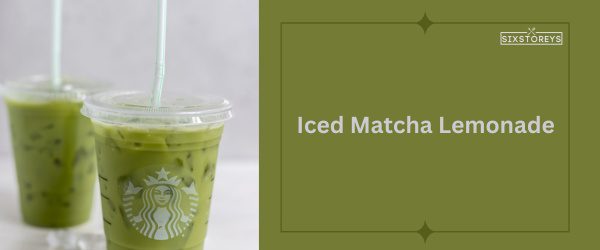 Now, you must be wondering, what happens when the subtleness of matcha collides with the liveliness of lemonade? The answer is a delightful surprise: Iced Matcha Lemonade. This blend, with its stunning jade green hue, is the embodiment of tang and tranquility. The tartness of lemonade and the earthy matcha flavor strikes a perfect balance, making it a summer winner in my books. It's the ultimate thirst-quenching treat that's sure to tickle your taste buds!
24. Green Goblin Latte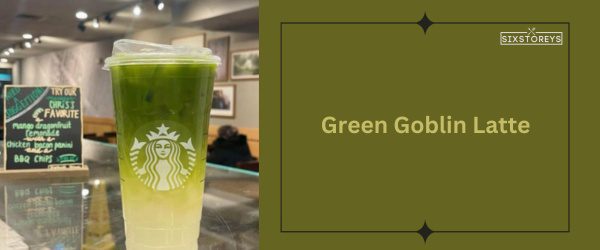 Finally, we have the Green Goblin Latte, a secret-menu item that has captured my heart. It's a beautifully layered drink with matcha green tea positioned amidst a shower of whipped cream and sweet caramel drizzle. The result is a surprisingly harmonious meld of flavors; the creaminess of the latte is perfectly complemented by the sweet caramel, while the matcha imparts an unexpected, welcome bite to the indulgent mix. For those looking for an exciting matcha twist that encompasses both decadence and delight, this is a drink you must absolutely try!
Also Read: Best Starbucks Refreshers
How to Choose Your Starbucks Matcha Drink?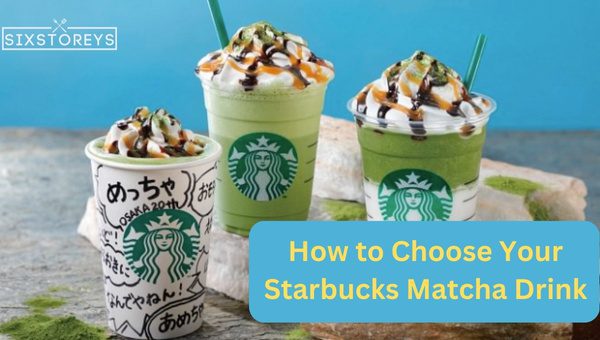 Choosing the perfect matcha drink at Starbucks might seem a bit overwhelming to many, especially given its expansive menu. However, trust me, it's not as convoluted as it might look initially. Here's a step-by-step guide:
Decide on your preferred beverage type: Decide if you want a creamy latte, an icy frappuccino, a sweet and fruity variant, or if you wish to opt for a pure, uncomplicated matcha tea.
Assess your sweetness level: Starbucks allows customization. If you have a sweet tooth, you might want to go full throttle on the sweet level, or you might want to cut it down.
Consider any dietary restrictions: Starbucks offers dairy-free alternatives like almond, soy, and coconut milk.
Try something new: Don't be afraid to experiment. You never know which drink might turn out to be your new favorite.
What Makes Starbucks Matcha Drinks So Unique?
As a seasoned Starbucks matcha visitor, I can wholeheartedly say that the matcha drinks offered by Starbucks have something special about them. Here's why:
Quality of Matcha: Starbucks sources its matcha from Japan, the hub of matcha production. Its high-quality blend has a mild, creamy sweetness that combines beautifully with the other ingredients in the drinks.
Wide Variety: Starbucks takes the versatility of matcha to another level. Whether you want matcha to be a dominating flavor or a subtler one, Starbucks has got your back. The different varieties mean that there's something for everyone.
Customization: Starbucks allows you to fully customize your drinks, perhaps more so than any other major coffee chain. You can change the milk, adjust sweetness levels, and even add extra shots of matcha if you like.
Innovation: Starbucks is always upping its game by introducing interesting twists and new concoctions on the menu, keeping matcha lovers hooked and excited.
Among the allure of the usual latte and the promise of caffeine, the delightful matcha offerings at Starbucks surely steal the show. The exotic, vibrantly green, and inherently calming drinks with a distinctive taste - always promise a unique experience that continues to draw more and more people towards this unique variant.
Health Benefits: Why Starbucks Matcha Drinks Aren't Just Delicious but Healthy Too?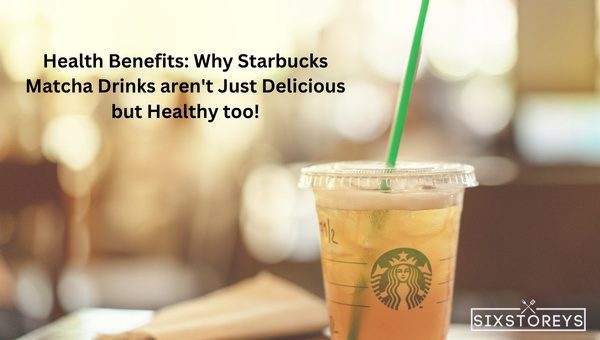 Matcha, as a key ingredient in these enchanting drinks, doesn't just add flavor; it adds a substantial health kicker too! Let me illustrate why these drinks aren't just delicious, but also your healthy go-to option.
Matcha is chock-full of antioxidants called catechins, which are known for their cancer-fighting properties. Not just that, Matcha is also a powerhouse of vitamins and minerals. From boosting the immune system to enhancing calmness and improving mental clarity, the health benefits of matcha drinks are all-encompassing.
Did you know that matcha contains a unique form of caffeine called theophylline, which releases the caffeine in the bloodstream slowly? This means you get a gentle lift that lasts longer, instead of a quick coffee high followed by a crash.
To top it all off, the low sugar content in Starbucks' matcha drinks can help keep your calorie count in check! So next time you're in line at your local Starbucks, consider ordering a matcha drink. It's pretty much wellness in a cup!
So there you go. Whether it's the versatility, the refreshment factor, or the blend of wellness with taste, the matcha drinks from Starbucks have it all to be your new favorite go-to refreshment. Step out of your coffee comfort zone, and give these deliciously healthy drinks a try!
Also Read: Cheapest Starbucks Drinks
Frequently Asked Questions
What is matcha powder made of?
Matcha is a type of powdered green tea, produced from the leaves of the tea plant Camellia sinensis. The leaves are shaded from the sun for several weeks before being ground into a fine powder, which makes matcha brighter and full of more nutrients than regular green tea.
Is Starbucks matcha drink good for you?
Yes, matcha drinks from Starbucks contain numerous health benefits as matcha is packed with antioxidants and boosts metabolism. However, as with any beverage, it's essential to be mindful of added sugars and syrups which can increase calorie and sugar content.
What Starbucks matcha drinks are vegan-friendly?
The matcha green tea latte, iced matcha green tea latte, matcha lemonade, and matcha green iced tea are all vegan-friendly. Always be sure to ask for your drink to be made with a non-dairy milk alternative, and without whipped cream, to ensure it is indeed vegan.
How much caffeine is in a Starbucks matcha drink?
There are roughly 55mg of caffeine in a grande (16 oz) Starbucks matcha green tea latte, but keep in mind caffeine content can vary with sizes and preparation methods.
Can I get a Starbucks matcha drink without sugar?
Yes, you can ask for a "no classic" version of the drink to minimize sugar content. You could also ask to swap the classic syrup with any of Starbucks' sugar-free syrup options.
What is the best time to drink Starbucks matcha?
You can enjoy a Starbucks matcha drink at any time of the day. However, if you're sensitive to caffeine, it might be better to enjoy your matcha in the morning or early afternoon.
Are there any decaf Starbucks matcha drinks?
Unfortunately, Starbucks does not offer decaffeinated matcha at this time because the process of decaffeinating matcha would strip away the flavors.
Can you get a Starbucks matcha to drink iced?
Yes, of course! Starbucks offers iced versions of their matcha drinks including the popular iced matcha green tea latte. You can even customize it with additions like lemonade for a refreshing twist!
Conclusion
All things considered, Starbucks matcha drinks truly offer something for everyone. Whether you love your matcha in a latte, combined with refreshing lemonade, or mixed into a creamy Frappuccino, there's a drink out there that's perfect for you. And don't forget about the secret menu items which add another layer of excitement to your coffee house adventures. Exploring these choices is half the fun, and the other half is savoring the unique and flavorsome taste of matcha that leaves your taste buds wanting more.
Next time when you visit Starbucks, dare to stray from the usual vanilla latte or iced coffee and give these matcha drinks a shot. Trust me, your tastebuds will thank you for the aromatic and flavored adventure. Let the green goodness of matcha sweep you away!
Beverage Explorer and Tastemaker 🍻🥃🍷 Aman's quest for liquid delights knows no limits. From hoppy brews to aged spirits, he uncovers the tales behind each sip. His eloquent descriptions and accessible insights make every drink an adventure worth raising a glass to.