23 Cheapest Starbucks Drinks That'll Save You Money in 2023
Updated On: August 27, 2023
Discovering the perfect balance of taste, quality, and affordability can sometimes feel like a challenge, especially when it comes to indulging in your favorite coffee chain. But fear not, fellow caffeine aficionados, because seeking out the cheapest Starbucks drinks doesn't mean you have to sacrifice flavor or enjoyment.
In this blog post, we'll dive into the most budget-friendly options from your local Starbucks, ensuring that both your palate and your pocketbook are equally satisfied. Whether you're in the mood for a hot cup on a chilly morning or an icy treat to beat the heat, we've got you covered with the best and cheapest Starbucks drinks. So let's embark on a flavorful journey and unveil the hidden gems that will delight your taste buds without breaking the bank!
Also Read: Best Decaf Starbucks Drinks
23 Cheapest Starbucks Drinks You Need to Try in 2023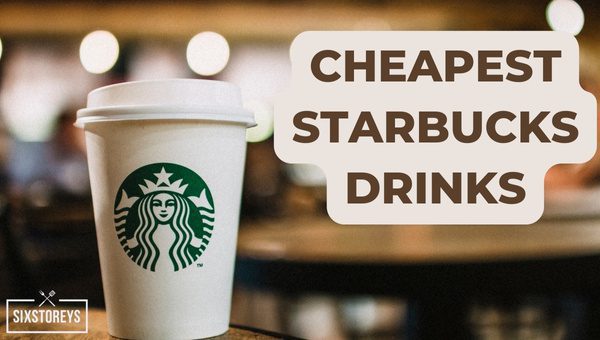 Warm up on a chilly day or start your morning right with these budget-friendly beverages from Starbucks. Find out which of these tasty choices will become your new go-to drink!
1. Hot Chocolate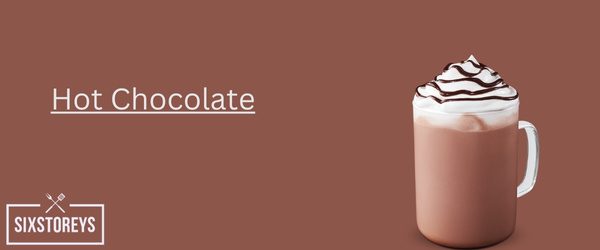 Who can resist the comforting and sweet taste of a good cup of hot chocolate? At Starbucks, the Hot Chocolate blends rich and velvety cocoa with steamed milk, providing a decadent and soothing experience.
It also comes topped with a dollop of whipped cream, adding a luxurious touch to this classic beverage. Perfect for a cozy evening indoors, or as a treat for the little ones in your life, Starbucks Hot Chocolate proves that you don't have to spend a fortune to enjoy a warm and delicious drink.
2. Freshly Brewed Coffee Tall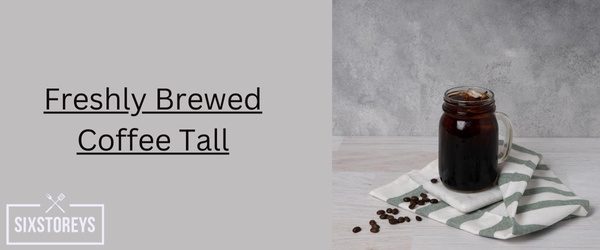 Nothing quite compares to the rich, bold flavor of a perfect cup of freshly brewed coffee. Starbucks takes pride in its exquisite range of coffee blends, ensuring that each cup provides you with the satisfaction and energy you crave. A tall, freshly brewed coffee offers the timeless taste of Starbucks without a hefty price tag. Perfect for those who seek a straightforward and affordable caffeine fix, this choice offers both quality and value.
3. Caffe Latte Tall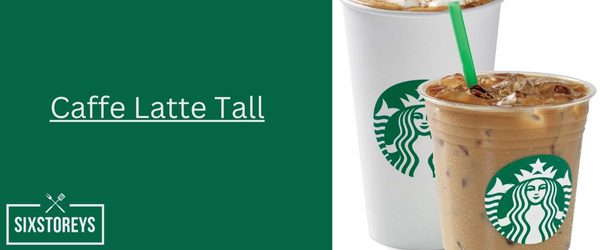 Searching for something a little more indulgent than a simple cup of coffee? The Caffe Latte Tall may just be the perfect choice for you. This popular Starbucks beverage expertly pairs rich, robust espresso with velvety steamed milk.
The result is a creamy, satisfying, and ultimately comforting drink that's ideal for savoring during your daily routine or as a weekend treat. With a reasonable price for such a delicious drink, the Caffe Latte Tall is a fantastic option for coffee lovers looking for something a bit more luxurious without breaking the bank.
4. Caffè Misto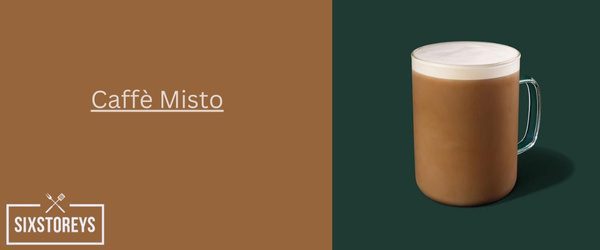 If you're looking to balance your love for coffee with the calming and smooth texture of steamed milk, the Caffè Misto offers the best of both worlds. This delightful combination is a harmonious blend of Starbucks' signature coffee and steamed milk, delivering a satisfying flavor that's equally enjoyable on a busy weekday morning or a slow, relaxing day. Priced affordably, the Caffè Misto is an ideal option for those seeking a balance between boldness and creaminess without a hefty cost.
5. Iced Espresso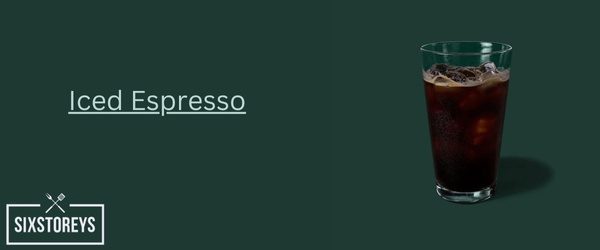 Iced Espresso offers a straightforward approach to enjoying your daily caffeine fix. The bold and rich flavor of espresso, balanced with ice and water, creates a cool and invigorating beverage that's perfect for hot summer days or whenever you need a pick-me-up.
With Starbucks' focus on high-quality beans and an expertly crafted extraction process, you can savor the delightful punch of caffeine without worrying about the price. Customize your Iced Espresso with your choice of milk, sweetener, or flavor shot to make it uniquely yours.
6. Iced Coffee (With or Without Milk)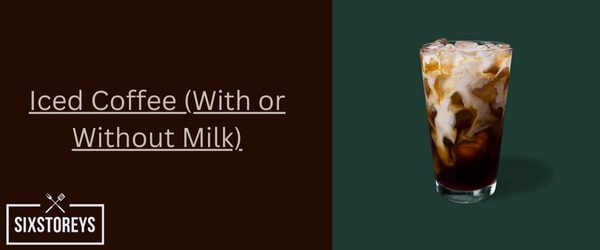 The Iced Coffee at Starbucks is a classic and affordable option for those looking for a delicious cold drink to satisfy their coffee cravings. Made with Starbucks' signature house blend, this beverage maintains the perfect combination of smoothness and boldness.
You can choose to enjoy it with or without milk, depending on whether you prefer a creamy touch or a robust coffee experience. Don't forget to personalize your Iced Coffee with a variety of sweeteners and flavor syrups available, or go sugar-free for a healthier option.
7. Iced Tea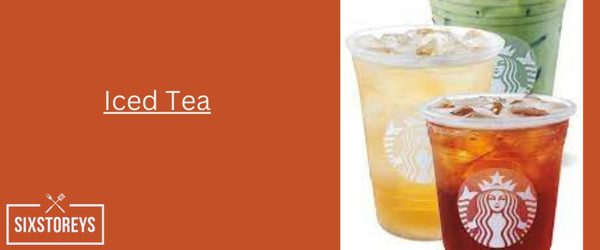 Tea lovers, rejoice! Starbucks offers a delightful range of Iced Teas that cater to all taste preferences, from sweet and fruity to more traditional blends. These chilled drinks are expertly brewed and infused with various flavors to provide a refreshing and budget-friendly alternative to coffee.
Choose from options like Iced Green Tea, Iced Passion Tango™ Tea, and many more to find the perfect iced tea to suit your taste buds. Add a touch of lemonade or sweetener for an extra layer of flavor and enjoyment.
8. Caffè Americano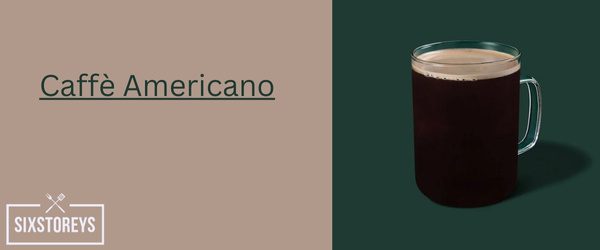 For those who crave the taste of espresso without the intensity, the Caffè Americano serves as an ideal option. This classic Starbucks staple consists of hot water poured over expertly crafted espresso shots, providing a full-bodied, satisfying flavor.
The Caffè Americano is perfect for sipping on a slow afternoon or as a soothing accompaniment to your favorite baked treat. Despite the quality, this beverage remains one of Starbucks' most affordable hot drinks, making it a great choice for those searching for a budget-conscious, delicious coffee option.
9. Espresso con Panna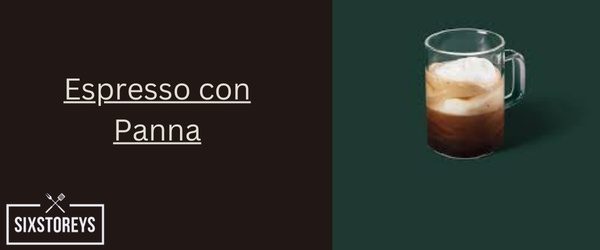 If you're an espresso enthusiast looking for a touch of indulgence, the Espresso con Panna should definitely be part of your Starbucks order. A simple yet scrumptious treat, this beverage combines a beautifully balanced shot of espresso with a generous dollop of whipped cream sitting on top.
Every sip presents a harmonious blend of bold espresso and sweet, creamy delight, making it a popular choice among coffee lovers who enjoy a little twist on their favorite drink. With an affordable price tag, the Espresso con Panna remains a wallet-friendly way to satisfy your espresso cravings.
10. Hot Tea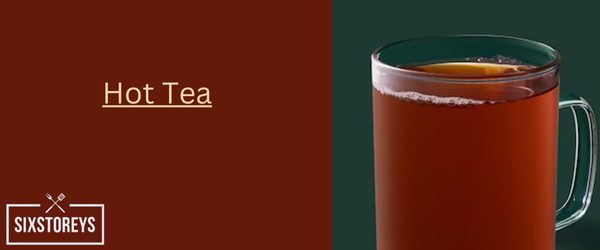 In the mood for something soothing and caffeine-free? Starbucks offers a fantastic range of hot tea options that cater to a variety of tea lovers' preferences. Whether it's a classic black tea, fragrant herbal tea, or calming green tea, Starbucks has something for everyone.
Served piping hot and expertly steeped, these teas are the perfect choice for chilly days or moments when you want to unwind and relax. The best part? These delicious infusions come at a great price, ensuring you indulge in your favorite hot tea without worrying about your budget.
11. Steamed Apple Juice
As a cozy and heartwarming seasonal option, steamed apple juice provides a unique flavor experience at Starbucks. Their deliciously sweet apple juice is gently steamed to create a comforting beverage that's perfect for sipping on a crisp fall day.
It's a popular choice for those looking for a caffeine-free option or simply a different take on their hot drink selection. Affordable and enjoyable, the steamed apple juice is a must-try for anyone seeking a flavorsome option that won't break the bank.
12. White Chocolate Mocha Tall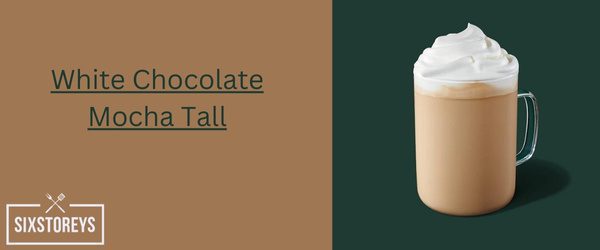 Craving the perfect blend of coffee and creamy sweetness? The White Chocolate Mocha Tall is the drink for you. With a scrumptious mix of Starbucks' signature espresso, rich white chocolate sauce, and velvety steamed milk, this drink is sure to satisfy your sweet tooth.
It's topped off with a dollop of whipped cream, creating a delectable beverage that's both indulgent and affordable. Give the White Chocolate Mocha Tall a try when you're looking for a more luxurious coffee option that won't hurt your finances.
Also Read: Best Starbucks Lattes
13. Steamed Milk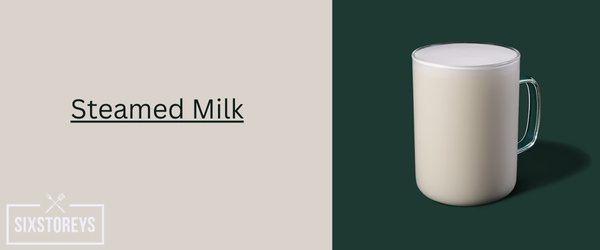 Sometimes, the simplest pleasures in life can bring the most satisfaction, and the classic steamed milk from Starbucks is no exception. Gently steamed to perfection, it's a comforting beverage that can be enjoyed on its own or mixed with your favorite syrup for added flavor. The steamed milk provides a sense of ease and relaxation, and its affordability makes it an attractive choice for coffee lovers and non-coffee drinkers alike.
14. Iced Caffè Americano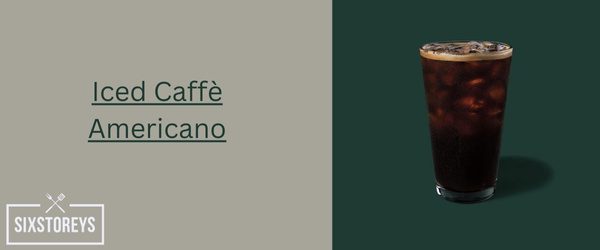 Looking for a budget-friendly iced drink with a little more caffeine kick? Iced Caffè Americano is the perfect choice. This fan favorite blends bold Starbucks espresso with ice and water, offering a smooth and satisfying texture that's perfect for sipping on a hot day.
The strong coffee notes shine through the icy backdrop, providing a refreshing alternative to your regular hot Caffè Americano. Personalize it with your preferred type of milk, syrup, or sweetener to make each cup an individual experience.
15. Coffee Frappuccino Tall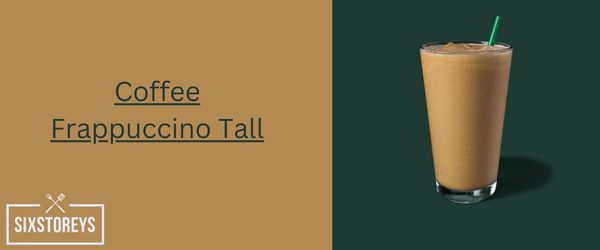 Indulge in the scrumptious world of Starbucks Frappuccinos without breaking the bank with the Coffee Frappuccino Tall. This delightful concoction blends ice, milk, and Starbucks coffee with a touch of sweetness for a dessert-like treat that's perfect for those sweltering days. Amp up the indulgence with available add-ons like whipped cream, chocolate drizzle, or caramel sauce, or keep it simple and enjoy the satisfying harmony of coffee and ice.
16. Iced Tea Lemonade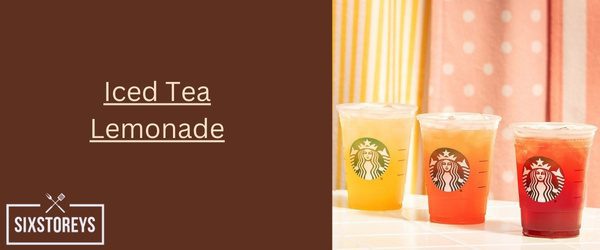 If you're searching for something sweet, tangy, and invigorating, look no further than Starbucks' Iced Tea Lemonade. This delightful concoction combines two classic, refreshing drinks to create the perfect beverage for quenching your thirst and cooling down in style.
Available in various tea flavors, from black to green and passion fruit, you can mix and match your Iced Tea Lemonade to suit your personal preference. The blend of bold tea, zesty lemonade, and ice creates a beautifully harmonious experience, all without breaking the bank.
17. Cool Lime or Very Berry Starbucks Refreshers Tall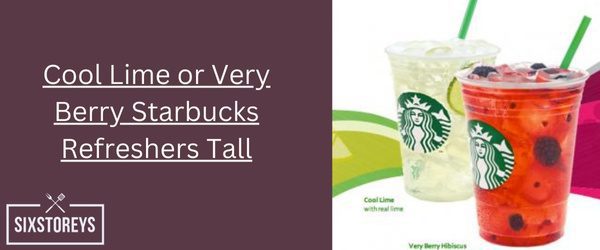 For an energizing and revitalizing drink that won't hurt your wallet, try the Cool Lime or Very Berry Starbucks Refreshers™ Tall. These fruity and invigorating concoctions are made with Starbucks Green Coffee Extract, providing a pleasant caffeine boost without a strong coffee taste. The Cool Lime Refresher bursts with a zesty lime flavor that is perfectly complemented by the light and crisp sweetness of the beverage. The Very Berry Refresher, on the other hand, offers a mix of juicy berry flavors that is sure to please your taste buds. Each option provides a marvelous way to stay refreshed and energized, all without spending a fortune.
18. Espresso Macchiato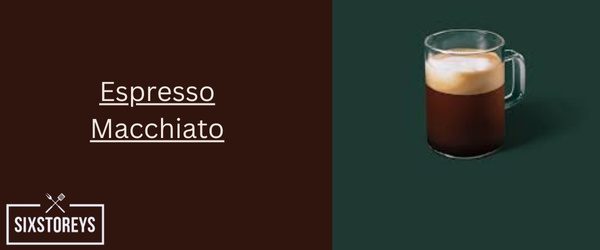 The Espresso Macchiato, often referred to as a "stain" or "spot" in Italian, is a minimalistic coffee drink that packs a punch. Made by simply adding a dollop of steamed milk or foam to a shot of espresso, it's a small yet mighty beverage that will invigorate your taste buds.
With its powerful espresso flavor and a hint of creamy milk, the Espresso Macchiato remains a cost-effective choice for those craving the aroma and taste of espresso without the added expense of a larger drink. Plus, its simple preparation allows you to enjoy the nuances of Starbucks' carefully crafted espresso blend.
Additionally, the Espresso Macchiato can be customized with your choice of milk, such as whole, skim, or non-dairy alternatives like almond and soy. So, not only is this small marvel wallet-friendly, but it's also adaptable to suit your dietary preferences.
19. Espresso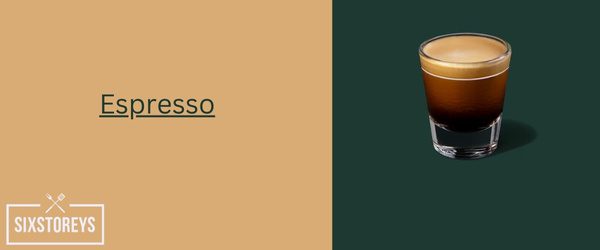 Sometimes, there's nothing quite like enjoying the unadulterated taste of a perfectly brewed espresso. For those who revel in the unembellished flavor of this coffee classic, the budget-friendly option of a single or double shot of espresso should not be overlooked.
Starbucks prides itself on the quality and consistency of its espresso, ensuring that you'll savor every last drop. It's a combination of bold, intense flavors with subtle, fruity notes that can be appreciated with every sip.
A single or double shot of espresso is not only easy on the wallet but also presents the opportunity to experience coffee in its purest form. With just a few calories per serving, it's a perfect choice for those looking to indulge in the Java experience without the added extras.
Also Read: Best Non-Caffeinated Drinks At Starbucks
20. Cool Lime Starbucks Refresher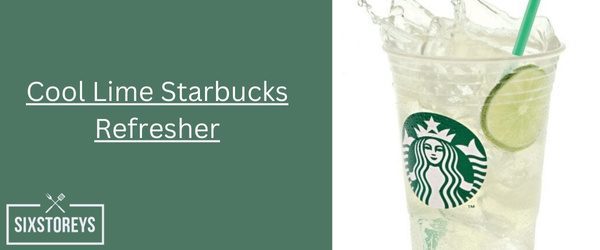 Cool Lime Starbucks Refresher is an effervescent blend of zesty lime, cucumber slices, and a hint of mint. With a lively medley of cool and citrusy flavors, this drink is an excellent choice for those seeking a low-calorie and caffeine-free alternative to traditional iced teas or sodas. Made with natural ingredients like fresh fruit, real juice, and sparkling water, the Cool Lime Refresher offers energizing benefits without being too sweet. Savor the invigorating marriage of tangy and herbal tones, perfect for recharging your batteries on a warm afternoon.
21. Very Berry Hibiscus Starbucks Refresher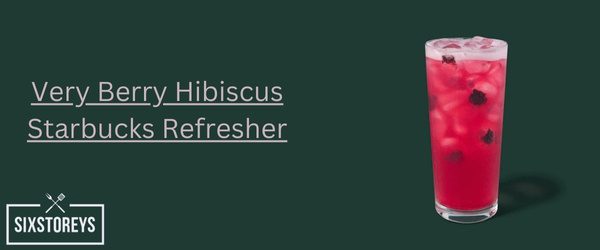 Dive into a fruit-forward sensation with the Very Berry Hibiscus Starbucks Refresher. Bursting with bright flavors, this drink showcases the finest whole blackberries, tart hibiscus, and sweet, fragrant elderflower. The medley of real fruit and green coffee extract provides a mild caffeine boost to reawaken your senses, making this refresher an ideal mid-day beverage.
Its deep ruby hue and a myriad of floating fruit pieces add to its allure, making the Very Berry Hibiscus Starbucks Refresher as visually stunning as it is delicious.
22. Strawberry Açaí Starbucks Refresher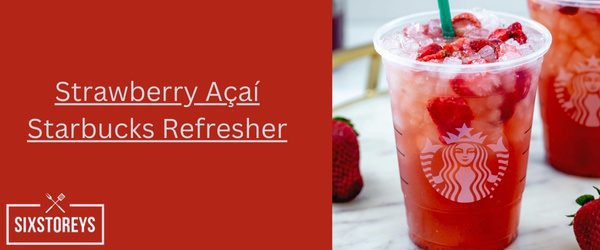 Sink your taste buds into the Strawberry Açaí Starbucks Refresher, an exotic blend of fruity flavors and rejuvenating green coffee extract. With a fusion of strawberry, açaí, and passion fruit, this vibrant refresher delivers a tropical taste sensation that's not only delicious but also invigorating. For an extra layer of coolness, the drink features chunks of real strawberries, offering a satisfying textural contrast to the smooth liquid. The Strawberry Açaí Starbucks Refresher is a truly unique and energizing beverage experience—one that's sure to put a spring in your step!
23. Caffe Mocha Tall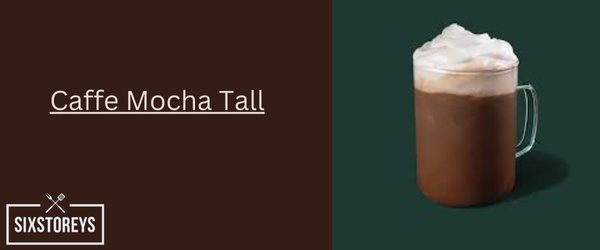 Last but not least, the Caffe Mocha Tall is a dream come true for chocolate and coffee lovers. Expertly blended with bold espresso, rich chocolate syrup, and smooth steamed milk, this delightful beverage is topped with a generous helping of whipped cream.
It's the perfect mixture of sweet indulgence and robust coffee flavor, all while remaining easy on your wallet. Be sure to give the Caffe Mocha Tall a chance when you're craving something sweet, satisfying, and budget-friendly.
How to Customize Your Starbucks Drink for the Best Value?
Striking the perfect balance between affordability and taste at Starbucks doesn't have to be an arduous task. Follow these simple tips to get the most value out of your Starbucks experience.
Save by Ordering a Smaller Size
Opting for a Tall or Short size instead of a Grande or Venti can save you both money and calories. You'll still get your caffeine fix while keeping your spending in check.
Cut Back on Syrups and Extras
While it's tempting to order a drink loaded with sweeteners and syrups, every additional pump can add to the cost of your beverage. Stick to basic flavors, or try skipping the extras altogether for a more budget-friendly option.
Maximize Free Modifications
Take advantage of the free modifications that Starbucks offers to achieve a custom and wallet-friendly drink. A few options to consider are:
Adding ice to a hot drink and getting two drinks out of it
Ordering a tea latte without water to create a stronger, more enjoyable flavor
Asking for an extra shot of espresso to boost your drink without extra expense
Utilize Starbucks Rewards
Join the Starbucks Rewards program to earn stars with every purchase, which can then be redeemed for free drinks and food items. Additionally, members gain access to exclusive deals and promotions throughout the year.
Why Choose Affordable/Cheapest Starbucks Drinks?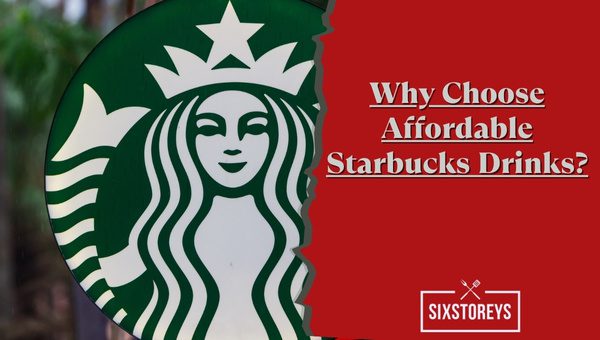 There are plenty of reasons why opting for more affordable Starbucks offerings is a wise choice.
Stay on Track with Your Budget
By choosing cost-effective drinks, you can keep your caffeine habit without breaking the bank. Enjoying a delicious coffee or tea from Starbucks shouldn't prevent you from reaching your financial goals!
Embrace Minimalism
Savoring the simple, outstanding taste of Starbucks' affordable options allows you to appreciate the high-quality ingredients. Embrace minimalism in your drink choices and find satisfaction in every sip.
Discover New Flavors
Saving money doesn't mean boring drinks. Experiment with more affordable Starbucks options, and you may uncover a new favorite that delights your taste buds without straining your budget.
Eco-friendly Savings
By bringing your own reusable cup to Starbucks, you can save on your drink price while also reducing waste. Contributing to a more sustainable environment has never been so rewarding!
How to Save More Money on Your Starbucks Visits?
Finding the cheapest Starbucks drinks is a great way to enjoy your favorite coffee chain without breaking the bank. But there are many other ways to save money on your visits, ensuring that you can enjoy your caffeine fix on a budget.
Sign up for Starbucks' Rewards Program
By joining the Starbucks Rewards Program, you can earn stars for every dollar spent, eventually redeeming them for free drinks. Additionally, members enjoy exclusive perks, such as free refills on hot or iced coffee and tea, birthday rewards, and early access to new products.
Utilize Device/App Deals
Regularly check your Starbucks app or subscribe to the Starbucks newsletter to stay up-to-date with the latest deals and promotions. By doing so, you'll ensure you're always taking advantage of the best bargains.
Keep an Eye on Happy Hour Specials
Starbucks often hosts Happy Hour events where you can get discounts on select beverages. These offers typically run during off-peak hours and can be a great way to enjoy flavor-packed drinks at a fraction of the regular price.
Bring Your Own Reusable Cup
Not only is bringing your own reusable cup an eco-friendly choice, but Starbucks also offers discounts for customers who do so. With each visit, you'll save a little money and reduce your environmental impact.
Why does Starbucks continue to be a Fan Favorite, Even with Affordable Options?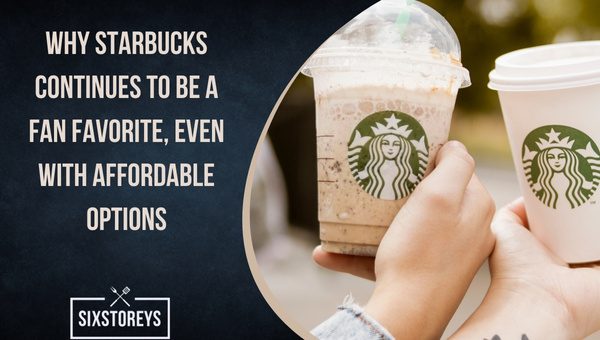 Despite the numerous budget-friendly options to choose from, Starbucks never compromises on quality. This dedication makes the brand a fan favorite for a wide range of customers. Here's why Starbucks remains so popular with affordable options:
Exceptional Taste and Quality
Starbucks prides itself on using high-quality coffee beans. This commitment ensures that even their (italic)cheapest drinks(italic) boast a delicious and robust flavor profile, unlike some competitors' budget options.
Accommodating Diverse Preferences
Starbucks continuously develops new and innovative offerings that cater to a variety of tastes and budgets. The affordable drink options make Starbucks more accessible, allowing everyone to enjoy their coffee experience.
Consistency Across Locations
One major advantage of Starbucks is the consistent experience across all locations. No matter where you go, you can expect to find the same affordable options offered at every Starbucks, ensuring you never have to worry about breaking the bank while traveling.
Strong Brand Identity and Community
Starbucks has cultivated a strong brand identity, and with it, a sense of community among customers. The combination of high-quality coffee, affordable options, and an inviting atmosphere continue to draw customers in, making Starbucks not just a place to grab a drink but also a go-to destination for people to gather and connect.
Also Read: Best Coffee to Drink Black
Frequently Asked Questions
What is the cheapest drink available at Starbucks?
The cheapest drink at Starbucks is typically their fresh, hot brewed coffee in a tall size, costing around $1.85 depending on the location.
Can I customize my Starbucks drink while still keeping it affordable?
Yes, you can customize your drink by opting for a smaller size, choosing fewer add-ons, taking advantage of free modifications, and utilizing Starbucks Rewards to earn and redeem free drinks.
Are there any Starbucks drinks for under $3?
Yes, several Starbucks drinks are available for under $3, such as hot brewed coffee, Caffè Americano, hot tea, and more. Prices may vary based on location.
Do Starbucks Refreshers cost less than other drinks?
Starbucks Refreshers are an affordable choice, starting at around $2.95 for a tall size. They offer unique flavors and a lower price compared to some other Starbucks beverages.
Can I save money by bringing my own cup to Starbucks?
Yes, Starbucks offers a small discount (usually about $0.10) when you bring a reusable cup for your drink. This not only saves you money but also helps reduce waste.
Does Starbucks offer any discounts for students or seniors?
While Starbucks does not have a specific student or senior discount, you can take advantage of their Starbucks Rewards program, utilize Happy Hour deals, and follow them on social media for exclusive promotions.
Are there any secret menu items that are budget-friendly?
There are numerous secret menu items at Starbucks, some of which may be more affordable than regular-priced items. Keep in mind that price may vary depending on any customizations or extra add-ons.
Should I opt for a smaller size if I'm on a tight budget?
Choosing a smaller size, like a short or tall one, can definitely help you maximize your Starbucks experience while sticking to your budget.
Is Starbucks' cold brew coffee more affordable than other cold drinks?
Starbucks' cold brew coffee starts at around $2.95 for a tall size, which makes it a budget-friendly option compared to some other cold drinks like Frappuccinos. Prices may vary based on location.
Conclusion
Finding the perfect Starbucks drink that pleases your taste buds while keeping your wallet happy can be a truly satisfying experience. As we've explored in this guide, there are numerous affordable options available to cater to those seeking hot, cold, or even fruity drinks. So next time you pay a visit to your local Starbucks, remember that enjoying the little luxuries in life doesn't have to break the bank.
With this newfound knowledge of the cheapest Starbucks drinks, go ahead and treat yourself to a delightful coffee or refreshing beverage without any guilt.
Beverage Explorer and Tastemaker 🍻🥃🍷 Aman's quest for liquid delights knows no limits. From hoppy brews to aged spirits, he uncovers the tales behind each sip. His eloquent descriptions and accessible insights make every drink an adventure worth raising a glass to.