28 Best Starbucks Lattes in 2023 [Get a Caffeine Kick]
Updated On: August 17, 2023
If you're anything like me, you find yourself constantly craving that perfect cup of coffee, especially when it comes to the best Starbucks latte. There's nothing quite as satisfying as taking that first warm, frothy sip, surrounded by the familiar aroma of freshly ground beans and steamed milk. Whether I'm grabbing one to kickstart my morning or indulging in a well-deserved afternoon pick-me-up, the wide array of Starbucks lattes has always provided me with the ultimate coffee experience.
In this blog post, we'll dive into the world of the best Starbucks lattes, exploring the mouthwatering range of options available to cater to every taste bud imaginable. From classic, rich flavors that have become our everyday go-to, to indulgent temptations that are sure to satisfy the sweetest tooth, join me as I share my reviews after sampling top-notch artisan creations. These are the lattes you simply can't miss when you're in search of that perfect caffeinated indulgence.
Also Read: Best Non-Caffeinated Drinks At Starbucks
28 Best Starbucks Lattes of 2023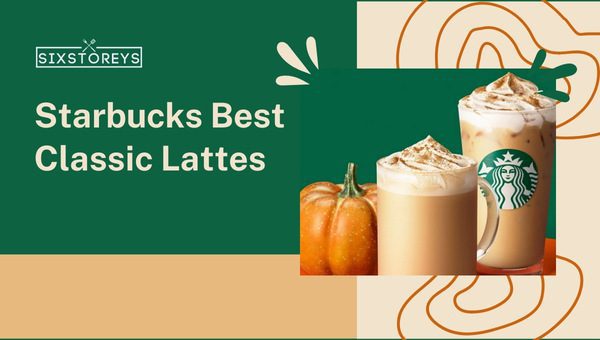 When it comes to classic lattes, Starbucks has an impeccable variety. They manage to create a strong foundation with these timeless favorites, and there's a high chance you'll be able to find the perfect latte that caters to your taste buds. Let's take a closer look at these essential Starbucks lattes that have captured our hearts (and taste buds) over the years.
1. Caffè Latte

As the fundamental base of all lattes, the Caffè Latte features the perfect combination of rich, velvety espresso and steamed milk, topped with a dollop of frothy foam. This classic option has remained popular for its straightforward yet harmonious balance of flavors. Its creamy texture, along with the robust notes of espresso, makes it an excellent choice for coffee lovers seeking a traditional and comforting experience.
2. Blonde Vanilla Latte

The Blonde Vanilla Latte offers a lighter and more delicate spin on the espresso experience by using Starbucks' signature Blonde roast. This espresso blends effortlessly with the sweet, creamy vanilla syrup and perfectly steamed milk, creating a smooth and mellow cup of latte. The Blonde roast provides a brighter and more nuanced flavor profile, which makes this latte more approachable and enjoyable for those who might not typically gravitate towards intense coffee beverages.
3. Mocha Latte

A match made in heaven, the Mocha Latte combines the bold flavors of espresso with the rich and velvety taste of chocolate. This indulgent beverage is a go-to for chocoholics and caffeine aficionados alike, blending together its two main stars in perfect harmony. A dusting of cocoa powder on top adds an extra layer of sophistication and enhances the overall sensory experience.
4. Starbucks Chai Tea Latte

For those who crave the exotic, the Starbucks Chai Tea Latte is a fusion of spiced black tea, creamy milk, and a delightful mix of cinnamon, cardamom, and ginger notes. This enchanting concoction provides a unique and warming twist on a classic latte, and is perfect for those seeking a departure from coffee-based beverages. The combination of spices makes this drink an irresistible option for people who love a little extra flair in their daily dose of caffeine.
5. Pumpkin Spice Latte

A true harbinger of fall, the Pumpkin Spice Latte has become synonymous with cozy sweaters, changing leaves, and cooler temperatures. This delightful concoction boasts a blend of pumpkin puree, warm spices such as cinnamon, nutmeg, and cloves, and a smooth mix of espresso and steamed milk. Topped with whipped cream and a sprinkling of fragrant spices, the Pumpkin Spice Latte is an autumnal treat that's perfect for warming up on chilly days.
6. Gingerbread Latte

During the festive winter season, the Gingerbread Latte brightens our spirits and fills our cups with joy. Its comforting blend of espresso, gingerbread-flavored syrup, and steamed milk evokes nostalgic memories of freshly baked gingerbread cookies. The spicy warmth of ginger, cloves, and nutmeg complements the rich coffee, and a heavenly dollop of whipped cream topped with a dusting of nutmeg makes this latte the ultimate holiday indulgence.
7. Chestnut Praline Latte

The Chestnut Praline Latte has become a cherished winter treat, with its luxurious blend of caramelized chestnuts and subtle spiced praline flavors. Swirled together with bold espresso and silky steamed milk, this dreamy concoction is topped with whipped cream and a crunch of praline crumbs. Its rich and nutty profile never fails to bring a comforting warmth during the cold, wintry days.
8. Eggnog Latte

A classic holiday favorite, the Eggnog Latte offers a rich, creamy taste of eggnog that is perfectly mixed with bold espresso and frothy steamed milk. This indulgent latte captures the essence of the traditional eggnog beverage, complete with a dash of ground nutmeg on top. Savoring this festive delight in front of a crackling fire will have you feeling the true spirit of the holiday season.
9. Starbucks Cinderella Latte

The Starbucks Cinderella Latte is a fairytale-inspired creation and a delightful twist on the beloved Pumpkin Spice Latte. Combining pumpkin spice with an enchanting touch of white chocolate mocha syrup, this dreamy beverage transports you to a whole new world of flavor. The harmonious blend of the warm pumpkin-spice flavor and the creamy sweetness of white chocolate is nothing short of magical.
10. Butterbeer Latte Starbucks

For those who wish to indulge in a wizarding world treat, the Butterbeer Latte Starbucks features caramel and toffee nut syrups, perfectly melded with steamed milk and a dash of cinnamon. It's no surprise that this concoction captures the hearts of Harry Potter fans everywhere with its magical, warming, and comforting taste.
11. Snickerdoodle Latte Starbucks

Inspired by the classic cookie, the Snickerdoodle Latte Starbucks blends cinnamon- and sugar-flavored syrup with creamy steamed milk and aromatic espresso. Topped with a dusting of cinnamon, this sweet and cinnamony latte invokes memories of indulging in your favorite childhood cookies while satisfying your caffeine cravings.
12. Horchata Latte Starbucks

Taking cues from the popular Mexican and Spanish drink, the Horchata Latte Starbucks adds a unique twist on the traditional latte by blending almond milk with cinnamon syrup and a shot of espresso. The smooth and frothy texture, combined with the perfect balance of sweet and spicy, creates an exotic and refreshing coffee experience that's sure to delight adventurous latte lovers.
13. Oleato Caffè Latte With Oat Milk

The Oleato Caffè Latte With Oat Milk is a delightful alternative to the classic Caffè Latte, combining the rich, creamy flavors you know and love with a new twist. Oat milk offers a slightly earthy and nutty taste, blending seamlessly with the espresso for a satisfying, smooth texture. It's an excellent option for those seeking a dairy-free option without compromising on taste or experience.
14. Pistachio Latte

The Pistachio Latte, though available with dairy milk options, truly shines when paired with a dairy-free alternative like almond milk. This indulgent combination of smooth espresso, luxurious pistachio syrup, and creamy almond milk creates a nutty and rich flavor profile that feels like a decadent treat. It's the perfect beverage for when you want to enjoy a touch of indulgence without any guilt.
15. Matcha Latte

Elevating the latte experience to new heights, the Matcha Latte features high-quality, finely ground green tea blended into steamed soy milk for a rich and earthy flavor. This latte is not only delicious and dairy-free but also provides a variety of health benefits, making it a definite must-try. The vivid green color and unique taste of matcha make this beverage a true standout for tea enthusiasts.
16. Starbucks Green Tea Latte

Another dairy-free delight for tea lovers, the Starbucks Green Tea Latte combines refreshing green tea with your choice of dairy-free milk, creating a beverage that is both calming and invigorating. The velvety smoothness of the milk alternatives complements the delicate taste of the green tea, resulting in a latte that is both light and delightful, perfect for starting your day on a refreshing note.
Also Read: Best Starbucks Tea Drinks
17. Iced Pistachio Latte

The Iced Pistachio Latte is a cool, creamy treat that masterfully melds the flavors of espresso and pistachio with a touch of sweetness. This nutty, unconventional delight offers an escape from the typical summer heat by providing a palate-pleasing combination of flavors for those searching for something different. The pistachio-infused milk foam on top adds a lovely texture to this already delicious iced drink.
18. Reserve Iced Latte

The Reserve Iced Latte takes iced lattes to a whole new level, featuring Starbucks Reserve™ espresso. This exclusive, artisanal blend of coffee beans provides an unparalleled depth of flavor that is distinct from your regular iced latte. The rich and bold taste of the espresso shines through, while the expertly steamed milk offers a velvety smoothness, making this a top choice for coffee connoisseurs looking for an exceptional iced latte experience.
19. Iced Cinnamon Dolce Latte

If you're searching for a beverage that encompasses the perfect combination of summer spice and sweet refreshment, look no further: the Iced Cinnamon Dolce Latte is here. This drink incorporates the sweet, spiced notes of cinnamon dolce syrup with the robust taste of espresso and the creaminess of milk for a beverage that is as enjoyable as a tall glass of iced lemonade. The cinnamon dolce sprinkle on top provides the perfect finishing touch to satisfy your summer cravings.
20. Iced Blonde Vanilla Latte

Light, velvety, and oh-so-refreshing, the Iced Blonde Vanilla Latte is ideal for sipping under the sun. This iced variant of the hot Blonde Vanilla Latte showcases the lighter and more nuanced Blonde espresso, delivering a delightful mix of the smooth and subtle sweetness from the vanilla syrup, crisp, cool milk, and a vibrant espresso profile. It's a fantastic pick for those who desire a more approachable yet invigorating iced option during the scorching summer months.
21. Caramel Latte

The Caramel Latte pairs the bold espresso we adore with a luxurious and velvety caramel sauce, creating a delightful balance between the two main components. The smooth, luscious caramel complements the stronger coffee notes, making this drink irresistibly sweet and satisfying. Topped off with a generous drizzle of caramel, it's easy to see why this latte is an all-time crowd-pleaser.
22. Caramel Brulee Latte

Inspired by the elegance of French desserts, the Caramel Brulee Latte elevates your classic caramel latte to new heights of sophistication. This exquisite drink is a harmonious blend of espresso, steamed milk, and a sensationally rich caramel brulee sauce. Finished off with whipped cream and a sprinkling of crunchy caramel brulee topping, this latte is nothing short of a masterpiece that you won't want to miss.
23. Sugar Cookie Latte

As a delightful holiday season treat, the Sugar Cookie Latte is truly a cookie lover's dream come true. Featuring a cozy combination of espresso, steamed milk, and sugar cookie syrup, this latte evokes the nostalgic feeling of enjoying freshly-baked sugar cookies on a cold winter day. Adorned with a beautiful dusting of cookie crumbles, this drink is sure to make you feel the joy of the holiday season in every sip.
24. White Chocolate Latte Starbucks

For those who crave the sweet, creamy indulgence of white chocolate, the White Chocolate Latte is a heavenly option. This artful concoction blends rich white chocolate sauce with robust espresso and creamy milk, resulting in a swirling, velvety beverage that tastes like a dream. The harmonious play of flavors provides a unique sensory experience, making this latte perfect for satisfying your sweet tooth on any occasion.
25. London Fog Tea Latte Starbucks

A charming blend of British influence and Starbucks' classic latte, the London Fog Tea Latte features an enchanting mix of Earl Grey tea, velvety frothed milk, and a touch of sweet vanilla syrup. This captivating brew offers a velvety and delightful alternative to standard coffee-based lattes, whisking you away to the foggy streets of London with each sip.
26. Starbucks Butterscotch Latte

Indulge in buttery, sweet bliss with the Starbucks Butterscotch Latte. This rich and smooth treat combines rich espresso with creamy, luscious butterscotch syrup, and steamed milk. Topped with a dollop of whipped cream and a drizzle of caramel, this dessert-like creation serves up a cozy, comforting, and utterly scrumptious caffeine delicacy.
27. Starbucks Popcorn Latte

Evoke the nostalgic scent of movie theaters and childhood memories with the Starbucks Popcorn Latte. This adventurous offering combines the familiar notes of buttery popcorn with the bold flavor of espresso and frothy milk. This salty-sweet combination may seem unconventional, but it's a must-try for those looking to challenge and tease their taste buds with inventive new latte flavors.
28. Strawberry Latte Starbucks

Add a fruity twist to your regular latte routine with the refreshing Strawberry Latte. This dreamy drink pairs sweet, ripe strawberry puree with rich and aromatic espresso, then combines them with creamy steamed milk. The result is a remarkable, delightful, and vibrant alternative to traditional lattes that will keep you coming back for more. Perfect for summertime sipping or simply as a revitalizing change of pace, the Starbucks Strawberry Latte is one you won't want to miss.
Also Read: Best Starbucks Matcha Drinks
How to Customize Your Starbucks Latte?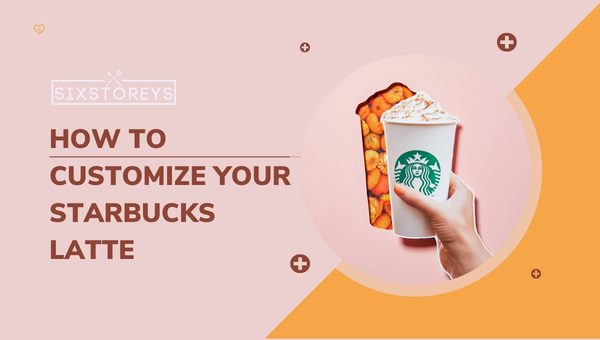 One of the most enticing aspects of ordering a Starbucks latte is having the ability to make it your own. With so many options at your disposal, you can personalize every aspect of your drink until it becomes uniquely yours. Let's explore the various choices you have when customizing your Starbucks latte.
Choose a Milk Alternative
Starbucks offers various milk alternatives that can completely transform the taste and texture of your latte. If you'd like to try a dairy-free option, consider oat milk, almond milk, or soy milk. Coconut milk is another popular choice that adds a hint of tropical flavor.
Adjust the Sweetness
Control the sweetness of your latte by specifying the number of syrup pumps you want. If you're looking to cut down on sugar, request fewer pumps than usual, or opt for sugar-free sweeteners and syrups.
Combine Flavors
Let your creativity run wild by experimenting with different flavor combinations. Mix chocolate and caramel to create a rich, sweet sensation or combine cinnamon dolce and toffee nut for a truly unique taste experience.
Add an Espresso Shot
Need an extra caffeine boost? Add an additional espresso shot to your latte for an invigorating concoction that'll provide the extra kick you're craving.
Top It Off
Customize the finishing touches on your latte by selecting your preferred topping. Choose between classic whipped cream, or jazz it up with a sprinkle of nutmeg, cinnamon, or even cookie crumbles. Don't be afraid to make a special request!
Remember, the key to personalizing your Starbucks latte is open communication with your barista. They're there to help make your drink exactly how you want it, so don't be shy in explaining your preferences. With these customization tips, you'll soon enjoy a Starbucks latte that's tailored to you and fits your tastes perfectly.
Save Money on Your Starbucks Latte in 2023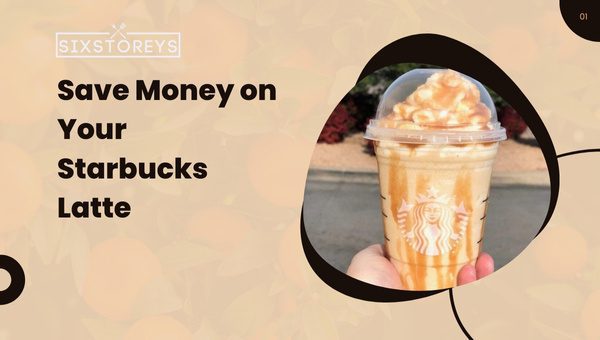 Even though we all love indulging in the best Starbucks latte, it's no secret that these tasty beverages can become quite pricey, especially for daily drinkers. However, there are several ways to save money on these delightful drinks without compromising taste or quality.
Starbucks Rewards Program
First and foremost, sign up for the Starbucks Rewards program to take advantage of the numerous perks and discounts offered to loyal customers. Earn stars with every purchase – which can be redeemed for free beverages or food items! Plus, you'll receive personalized offers for additional bonuses and deals.
Happy Hour Deals
Consistently check for Starbucks' Happy Hour promotions, which typically occur once or twice a month. During these events, you can score BOGO deals or enjoy up to 50% off on your favorite lattes, usually during a set time in the afternoon or early evening. It's a great opportunity to try new flavors or simply enjoy your beloved drinks at a discounted price.
Bring Your Own Reusable Cup
Show your commitment to sustainability while also saving a little extra cash by bringing your own reusable coffee cup to Starbucks. The company offers a small discount on your drink order when you do – every cent counts when you're looking to stretch your coffee budget!
Ordering Up
Size matters when it comes to saving money on your favorite Starbucks latte. Consider purchasing a larger size (such as Venti or Trenta) and splitting the drink into two servings. You'll likely pay just a bit more for double the amount of beverage – a smart move for penny pinchers!
How to Make Starbucks Lattes at Home?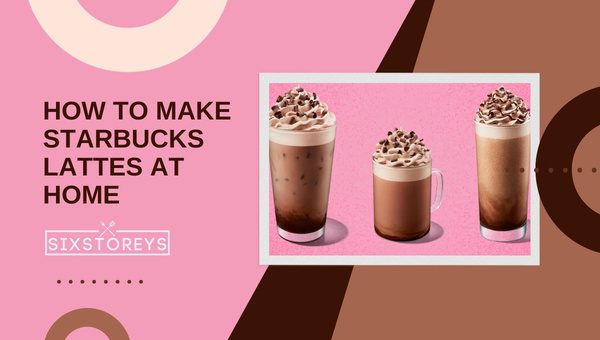 Bringing the Starbucks experience into your home not only helps you save money, but it also allows you to get creative with your favorite drinks. By mastering a few skills and stocking up on essential ingredients, you'll be crafting your own barista-style lattes in no time. Here are the main steps to consider when attempting to recreate your favorite Starbucks lattes at home.
Get the Right Equipment and Ingredients
Espresso machine – Investing in a good-quality espresso machine is key to replicating that authentic Starbucks latte taste. Some offer built-in milk frothing options as well.
Coffee beans – Keep it Starbucks-approved by using their signature espresso beans or blonde roast for a lighter touch.
Milk – Choose your preferred type of milk for steaming, ranging from dairy to plant-based alternatives like oat, almond, or soy.
Syrups and sauces – To get that Starbucks flavor, consider purchasing Starbucks-branded syrups and sauces for your homemade concoctions.
Frothing wand or electric frother – If your espresso machine doesn't have a built-in frothing option, invest in a separate device to create splendidly velvety milk foam.
Learn the Steps to Creating the Perfect Latte
Grinding the coffee beans: Start by grinding your beans to a fine consistency, ideal for brewing espresso.
Brewing the espresso: Using your espresso machine, brew a double shot of espresso directly into your coffee mug.
Steaming and frothing the milk: While the espresso brews, warm and froth your milk using a frothing wand or electric frother until it reaches a creamy, velvety consistency.
Mixing the flavor: If you want a flavored latte, add the desired amount of syrup or sauce to the hot espresso and mix well.
Adding the milk: Gently pour the steamed milk over the espresso, holding back the foam with a spoon. Once the milk is added, top off the drink with a dollop of beautifully frothed foam.
Finishing touches: To make it extra indulgent, you can sprinkle your latte with some cocoa powder or a dash of cinnamon, or add a drizzle of caramel sauce on top.
Don't be afraid to experiment with flavors and techniques as you refine your at-home barista skills. With practice, the art of making your favorite Starbucks latte will become second nature. And who knows? You might even surprise yourself by creating your very own, unique latte masterpiece.
Exploring Starbucks Secret Menu Lattes of 2023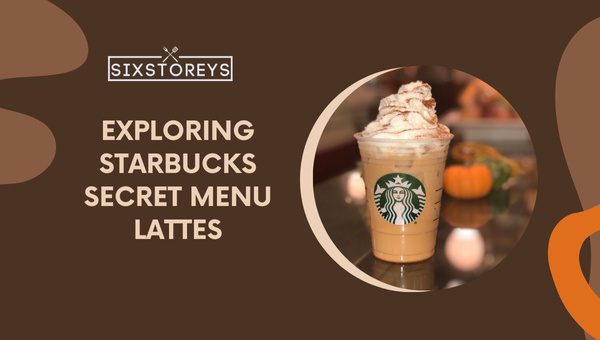 Have you ever found yourself wondering if there's more to Starbucks than meets the eye? The answer, my friends, lies in the enchanting universe of the secret menu. Below, I've provided you with a glimpse into some delightful, off-menu concoctions that will surely impress even the most avid Starbucks aficionado.
1. Nutella Latte
To order this sweet, chocolatey indulgence, ask for a Cafè Mocha with a pump of hazelnut syrup. Top it off with whipped cream and treat your taste buds to an explosion of Nutella-inspired flavor.
2. Triple Cinnamon Latte
For those who love cinnamon, you're in for a real treat. Order a Cinnamon Dolce Latte, request an additional pump of cinnamon flavoring, and opt for a sprinkle of sweet, ground cinnamon on top.
3. S'mores Latte
Craving the nostalgic taste of s'mores in a cozy cup? Request a Toasted White Mocha Latte and ask your barista to mix in a pump of marshmallow syrup. Enjoy it in a to-go cup with a drizzle of chocolate inside, whipped cream, and a dash of graham cracker crumbs on top.
4. Mint Chocolate Chip Latte
This unique latte combines the classic appeal of a Mocha Latte with pumps of peppermint syrup. Add chocolate chips (when available) and enjoy the irresistibly refreshing mint chocolate taste.
5. Birthday Cake Latte
Celebrate any day with this delightful creation! Start by ordering a Vanilla Latte and ask for pumps of both hazelnut and vanilla syrup, top it off with whipped cream and, ideally, a birthday candle!
While the secret menu lattes are not official Starbucks items, the Baristas can usually help you out if you let them know about the specific customizations. Keep in mind that ingredients, syrup availability, and willingness to create these drinks may vary depending on your location. Don't be afraid to venture into uncharted latte territory and mix up your Starbucks experience with these unique concoctions. Who knows? You might just discover a newfound love for a hidden treasure!
Understanding Starbucks Latte Sizes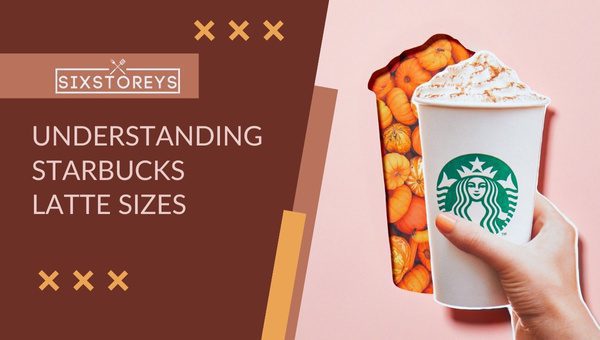 One key aspect of ordering the perfect latte is selecting the right size to suit the occasion. Starbucks offers a unique and somewhat confusing size naming system that can catch new customers off guard. Don't worry – I've got you covered; we'll navigate through the mysterious world of Starbucks latte sizes together.
Short (8 ounces)
The Short size is actually the smallest on the Starbucks menu and is often overlooked. Though it isn't always listed on the menu, it is still available for most hot drinks including lattes. If you're looking for a quick caffeine fix or for a smaller portion without overdoing it, the Short size is your ideal choice.
Tall (12 ounces)
Commonly mistaken as the smallest size, Tall is typically the smallest size listed on the Starbucks menu. A synonymous relationship with the latte, this is a good option for those who want a bit more than the Short size but don't need a large serving.
Grande (16 ounces)
It's not a surprise if your go-to size is the Grande – it's actually the most popular choice among Starbucks customers. Providing a satisfying, substantial latte experience, the Grande strikes the perfect balance between quantity and enjoyment.
Venti (20 ounces)
When it comes to hot drinks, Venti is the largest serving size at Starbucks. This is the size to grab when you're in for the long haul – perhaps during a long study session or a particularly busy workday. It's also great if you find yourself craving a decadent indulgence to linger over!
Venti Iced (24 ounces)
It's important to note that the Venti size for iced drinks contains an additional 4 ounces compared to the hot version. If you opt for an iced latte, you're treating yourself to a refreshingly cool caffeine fix in a size perfect for those hot summer days.
To choose the perfect Starbucks latte size, it's essential to consider your caffeine cravings, the occasion, and even the weather. After all, the true magic of these delightful lattes lies not only in their flavors but also in the sheer variety of ways they can cater to your every desire.
Also Read: Best Starbucks Caramel Drinks
Frequently Asked Questions
What's the most popular Starbucks latte?
While preferences may vary, the classic Caffè Latte and seasonal Pumpkin Spice Latte are among the most famous and popular choices at Starbucks.
Are there dairy-free latte options available at Starbucks?
Yes, Starbucks offers a variety of milk alternatives such as almond, coconut, soy, and oat milk, making it simple to customize your latte to be dairy-free.
How can I decide which latte size to order at Starbucks?
Starbucks offers a variety of size options such as Short (8 oz), Tall (12 oz), Grande (16 oz), and Venti (20 oz for hot drinks and 24 oz for iced drinks). Choose the size based on your caffeine needs and personal preferences.
Can I customize the sweetness level of my Starbucks latte?
Absolutely! You can ask your barista to adjust the amount of flavored syrup in your latte or opt for sugar-free alternatives to suit your taste and dietary preferences.
What Starbucks latte has the least amount of calories?
The calories in a latte largely depend on the ingredients and size. You can reduce calories by choosing a smaller size, opting for a lower-calorie milk option, or skipping or reducing the flavored syrup.
Are Starbucks lattes gluten-free?
Most Starbucks lattes are gluten-free, but it's essential to check the ingredients of specific drinks and flavored syrups, as some may contain gluten. Additionally, cross-contamination is a possibility; inform your barista about your sensitivity to gluten.
Are there any kid-friendly latte options available at Starbucks?
While caffeinated lattes may not be suitable for kids due to their espresso content, Starbucks offers "steamed" milk beverages that can be flavored with various syrups, providing a kid-friendly alternative to traditional lattes.
How do I order a latte from the Starbucks Secret Menu?
To order a latte from the Starbucks Secret Menu, simply provide your barista with the specific modifications and ingredients necessary for the desired latte. Keep in mind that not all baristas may know the secret
Conclusion
Navigating the world of Starbucks lattes can be an exciting yet overwhelming adventure, filled with delightful flavors and unique concoctions. We've explored classic favorites, seasonal specialties, dairy-free alternatives, and even exotic international offerings. With this extensive list of options, you can confidently customize your beverages to create your very own masterpiece, tailor-made to satisfy your caffeine cravings and indulge your senses.
Remember that discovering the best Starbucks latte is a personal journey, and there's no better way to find your perfect match than to experiment and explore the multitude of flavors available. So, go ahead and treat yourself to a comforting cup of your favorite latte or step out of your comfort zone to try something innovative and different. The opportunities await you at your nearest Starbucks location, and who knows, you may just stumble upon your next go-to caffeinated creation. Cheers to finding the latte that fuels your soul and brightens your day!
Beverage Explorer and Tastemaker 🍻🥃🍷 Aman's quest for liquid delights knows no limits. From hoppy brews to aged spirits, he uncovers the tales behind each sip. His eloquent descriptions and accessible insights make every drink an adventure worth raising a glass to.