27 Best Organic Energy Drinks of 2023 [ Energize Your Life]
Updated On: August 14, 2023
In today's fast-paced world, we all need to keep our energy levels up to conquer each new day with enthusiasm. However, with many of us becoming more conscious about our health and wellness, finding the perfect source of energy that's both effective and guilt-free can be a challenge. Luckily, the world of organic energy drinks has exploded in recent years, offering a plethora of healthier and eco-friendly alternatives to traditional caffeine-laden beverages.
As a seeker of healthier choices and a curious explorer of new tastes, I embarked on a journey to find the best organic energy drinks that deliver the much-needed boost without jeopardizing my overall well-being. In this blog post, I'm excited to share my findings with you, hoping that your energy levels will soar as high as mine have throughout this delicious and adventurous quest. So, tag along as we delve into the remarkable realm of the best organic energy drinks that will not only brighten your day but also bring a positive impact on both your body and our planet.
Also Read: Best Celsius Flavors
27 Best Organic Energy Drinks in 2023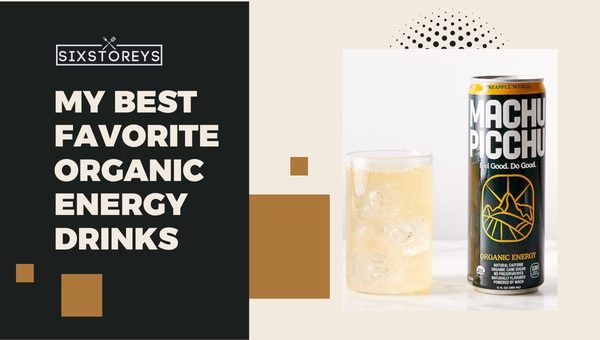 As I discovered a myriad of organic energy drinks, I found myself reaching out for 27 standout options that have become my personal favorites. Each of these beverages is unique in its own way and offers a delicious blend of natural and organic ingredients. Here's a closer look at my top 27:
1. Hi-Ball Organic Energy

As someone who cherishes the classic flavors of energy drinks, I immediately fell in love with Hi-Ball Organic Energy. This delightful beverage is packed with organic caffeine, organic guarana, and organic ginseng that deliver a natural pick-me-up without the unwanted jitters.
Hi-Ball also manages to be sugar-free and calorie-free, making it the perfect choice for those who seek a guilt-free energy boost. With its sleek packaging and refreshing taste, Hi-Ball Organic Energy has become an absolute staple for powering through my busy days.
2. Runa Organic Clean Energy Drink

Stepping away from conventional energy sources, Runa Organic Clean Energy Drink drew my attention with its unique ingredient: the powerful Amazonian guayusa leaf. This remarkable plant provides a sustained energy release and contains antioxidants that I found to be a great addition to my daily energy needs.
Runa, with its low sugar content and infused natural flavors, has a clean and crisp taste that will certainly appeal to a wide audience. Not to mention, the company's commitment to sustainability and fair trade makes every can of Runa a celebration of mindful consumption.
3. Sambazon Organic Amazon Energy Drink

The tropical flavors of Sambazon Organic Amazon Energy Drink instantly transported me to the Amazon rainforest. It's crafted from organic açaí berries and invigorating natural ingredients like yerba mate and green tea extracts.
The energy-boosting concoction is a delightful experience for the taste buds and an efficient way to pump up my energy levels. Sambazon Organic Amazon Energy Drink is also low in calories and a great source of antioxidants, making it a top choice for the health-conscious among us.
4. Guru Organic Energy Drink

Born out of the necessity for a clean, organic energy source, Guru Organic Energy Drink has stolen my heart with its delicious and refreshing taste. The drink brings together the best of both worlds with its perfectly balanced blend of natural caffeine from green tea and organic guarana.
Guru's mildly sweet and fruity flavor truly sets it apart in the realm of organic energy drinks. With every sip, I discovered new layers of invigorating natural energy that encouraged me to power through my tasks without an energy crash looming on the horizon.
5. Marquis

Marquis is a uniquely sophisticated and sugar-free organic energy drink. Offering an uplifting blend of yerba mate, green tea, and green coffee, Marquis provides clean and sustained energy that's perfect for any time of the day.
I was especially delighted by the diverse flavor options available, each with its vibrant and delicious taste profile. Marquis has quickly soared to the top of my favorites list, not just for its impeccable energy delivery but also for its commitment to being a non-GMO, vegan, and keto-friendly beverage.
Also Read: Best Highnoon Flavors
6. NOOMA Organic Sport Energy Drink

NOOMA is an electrolyte-packed organic sport energy drink that is perfect for those seeking a performance-enhancing boost during exercise. Boasting a blend of organic coconut water, sea salt, and natural fruit flavors, this brand promises to keep you well-hydrated in addition to providing both energy and electrolytes.
As an added benefit, NOOMA is also gluten-free, non-GMO, and paleo-friendly. While sipping on this low-calorie drink, I was impressed by how refreshing it tasted and how efficiently it replenished the lost electrolytes during my workouts.
7. Rockstar Organic Energy Drink

Next up is Rockstar Organic Energy Drink, which is notable for being a popular mainstream brand that has ventured into organic energy drink territory. This particular drink is formulated with only a handful of organic ingredients, like organic cane sugar and caffeine from organic green coffee beans, which contribute to its smooth flavor. As I enjoyed my Rockstar Organic experience, I found that the energy boost was quick and effective, enough to keep me going throughout the day.
8. Aspire

Aspire is an energy drink that emphasizes metabolic support and calorie-burning properties. Powered by natural caffeine and a proprietary blend of vitamins and organic nutrients, this beverage is intended to kick-start your metabolism and provide sustained energy without any jitters or crashes.
When I gave Aspire a try, I appreciated the refreshing taste and noticed that it kept me alert and focused without the dreaded energy slump that often follows traditional energy drinks.
9. DARK DOG Organic Energy Drink

Lastly, in our honorable mentions list, we have DARK DOG Organic Energy Drink, which originated in Europe and has since expanded its reach to the US market. This drink stands out because of its commitment to using only organic and non-GMO ingredients, including a mix of superfruits, vitamins, and mineral-rich coconut water.
During my rendezvous with DARK DOG, I found the taste to be on par with traditional energy drinks, and the energy boost was both long-lasting and steady, allowing me to tackle my to-do list without crashing halfway through.
10. OCA – Plant-Based Energy Drink


OCA is a refreshing plant-based energy drink that prides itself on using only natural ingredients to provide sustained energy throughout the day. Made with organic tapioca and infused with electrolytes and vitamins, this beverage is specifically designed to deliver energy without the crash or jitters often associated with conventional energy drinks.
During my time with OCA, I found it to be delicious, leaving a pleasant, tangy aftertaste that made me want to reach for more while enjoying the benefits of a clean and powerful energy boost.
11. PURPS Plant-based Organic Energy Drink

PURPS is another outstanding plant-based organic energy drink that packs an antioxidant punch thanks to its blend of superfruits. Developed by world-famous surfer Kelly Slater, PURPS delivers a powerful energy boost while also proactively supporting your health with its high-quality organic ingredients. I was particularly impressed by the fact that PURPS is free from artificial sweeteners, preservatives, and colors, ensuring a clean and natural energy-enhancing experience.
12. Mantra Labs Go Natural Energy Drink Mix

Mantra Labs Go is a plant-based energy drink mix that offers customizable energy levels, depending on how much powder you use. Its unique blend of adaptogens, nootropics, and electrolytes promises to keep you energized, hydrated, and focused throughout the day. I especially enjoyed the convenience of being able to control my desired energy level, making Mantra Labs Go the perfect companion for both workout sessions and busy workdays.
13. Green Blends Energy

Incorporating superfoods into an organic energy drink, Green Blends Energy is a powerhouse of nutrients and antioxidants. This beverage features a variety of green superfoods, including spirulina, chlorella, and wheatgrass, which offer a multitude of health benefits along with the desired energy boost. When I tried Green Blends Energy, I loved the revitalizing feeling it provided, and the added bonus of greens in my diet was a welcomed plus.
14. Guayaki Yerba Mate

Finally, the list would be incomplete without mentioning Guayaki Yerba Mate, a culturally significant plant-based energy booster sourced from South America. Yerba Mate is a naturally caffeinated leaf known for its stimulating and invigorating effects, often likened to the power of coffee without the jitters. Drinking Guayaki Yerba Mate gave me a consistent and uplifting energy boost that helped me sail through my day with ease.
15. Remedy Natural Energy Drink

Remedy Natural Energy Drink combines naturally-derived caffeine from green coffee beans with a prebiotic fiber called inulin to create a unique functional drink. Not only does it provide an energy boost to fuel your day, but the inulin makes this drink gut-friendly by supporting digestive health. Upon trying Remedy, I was delighted by its clean, refreshing taste, and found myself feeling energized without the unwanted crashes often associated with conventional energy drinks.
16. Pep Rally

Pep Rally is an organic energy drink that stands out for its combination of functional ingredients designed to promote brain health. With a blend of natural caffeine, amino acids, and electrolytes, this drink not only gives you a quick pick-me-up, but it also supports cognitive function and mental clarity. I loved how refreshing and invigorating Pep Rally was, and I could sense an improvement in my focus and attention throughout the day.
17. Clean Cause – Yerba Mate


Clean Cause – Yerba Mate is an inspiring brand that offers a range of organic energy drinks based on yerba mate, a natural stimulant known for its numerous health benefits. In addition to providing a gentle energy lift, yerba mate is packed with antioxidants, vitamins, and minerals vital for overall health.
I truly enjoyed Clean Cause's distinct, earthy flavor and felt the sustained energy it provided throughout my day. Plus, the brand's mission to support addiction recovery initiatives adds an extra feel-good factor to each sip.
18. Zipfizz

Zipfizz is a powdered energy drink mix that is both low in calories and rich in essential nutrients. The mix contains 100 mg of natural caffeine derived from green tea and guarana, along with over 20 other vitamins and minerals.
This electrolyte-packed drink helps to boost energy and promote healthy hydration. I found Zipfizz to be a convenient, portable option, and I was pleasantly surprised by its smooth, fruity flavor. The fact that it's sugar-free and packed with essential nutrients makes it an ideal choice for the health-aware consumer.
Also Read:  Best Liquid IV Flavors
19. GT's Alive Mushroom Elixir

First on our list is GT's Alive Mushroom Elixir, a beverage that harnesses the power of adaptogenic mushrooms to promote sustained energy and overall well-being. With ingredients like reishi, chaga, and turkey tail mushrooms, this elixir offers a potent blend of antioxidants and adaptogenic properties to help your body adapt to stress, support immune functions, and enhance mental clarity. As I savored the earthy and subtly tangy flavor, I noticed an increased sense of focus and vitality that kept me going throughout the day.
20. Mushroom Boost

Another mushroom-based choice is Mushroom Boost, which combines the strength of cordyceps and reishi mushrooms with green tea and ginseng to create a unique energy drink mix. Just add the powder to water for an instant, revitalizing pick-me-up. As I experimented with Mushroom Boost, I was surprised by the smooth taste and found the energy boost to be more gradual and consistent, without any sudden crashes or jitters.
21. FLOW Drink Mix

FLOW Drink Mix is an innovative plant-based beverage mix featuring natural adaptogens, nootropics, and functional herbs to support mental focus, physical performance, and overall well-being.
The ingredients, such as organic maca, ashwagandha, and ginkgo biloba, are carefully chosen for their ability to aid in mental clarity and relaxation. When I tried FLOW, I found it easy to mix and customize with my favorite beverage, and it delivered a calm, steady stream of energy that lasted throughout the day.
22. Sound Sparkling Water

Taking a refreshing turn in our exploration, Sound Sparkling Water offers a sophisticated and unique blend of sparkling water infused with organic tea and botanicals. This bubbly concoction provides a gentle energy boost with all-natural ingredients, and it's perfect for those seeking a lighter and more delicate alternative. As I sipped on this delightful beverage, I discovered a mild yet invigorating lift in energy that complemented my daily activities perfectly.
23. Laird Superfood Instafuel

Finally, we have Laird Superfood Instafuel, a convenient and versatile energy drink mix that combines coffee, coconut milk powder, and functional superfood extracts. This versatile mix is ideal for those who love their morning coffee but are looking for a more nutritious and powerful upgrade. When I started my day with Laird Superfood Instafuel, I enjoyed the rich and creamy taste and noticed an increase in energy, mental clarity, and productivity throughout the morning.
24. PureLYFT

PureLYFT is an innovative energy stir stick that dissolves seamlessly into your favorite beverage, transforming it into a powerful energy drink. Packed with green coffee bean extract, vitamins, and natural flavors, PureLYFT offers a versatile and clean source of caffeine that can be effortlessly integrated into your daily routine.
When I first tried this product, I was impressed by how it virtually added no taste to my water, yet provided me with a much-needed energy boost that saw me through the latter part of the day.
25. Proper Wild Energy Shots

Small but mighty, Proper Wild Energy Shots are designed to provide you with an instant and sustained flow of energy in a compact package. With organic caffeine from green tea extract, L-theanine, and fruit juice concentrates, these energy shots help improve focus and productivity without causing a crash. My experience with Proper Wild Energy Shots was a pleasant surprise. I appreciated the clean, smooth energy lift it provided me without the artificial flavors and colors found in many other energy shots on the market.
26. Yerba Mate

Hailing from South America, Yerba Mate has long been celebrated for its natural energy-enhancing properties. Enjoyed as a tea or in ready-to-drink cans, it provides a unique blend of vitamins, minerals, and stimulants, like caffeine and theobromine, to keep you energized throughout the day. My personal Yerba Mate journey has been nothing short of delightful, with a soothing and invigorating experience that has made it an integral part of my daily energy routine.
27. Zevia

Lastly, Zevia is a brand that offers an array of zero-calorie, sparkling energy drinks made with plant-based ingredients and sweetened with Stevia. Available in a wide variety of flavors, Zevia provides a guilt-free energy boost without any artificial flavors or preservatives.
I have often enjoyed Zevia's refreshing assortment of flavors as an afternoon pick-me-up, discovering that its unique blend of natural ingredients delivered a delightful, consistent energy burst without any side effects.
Best Organic Energy Drinks For Different Needs (2023)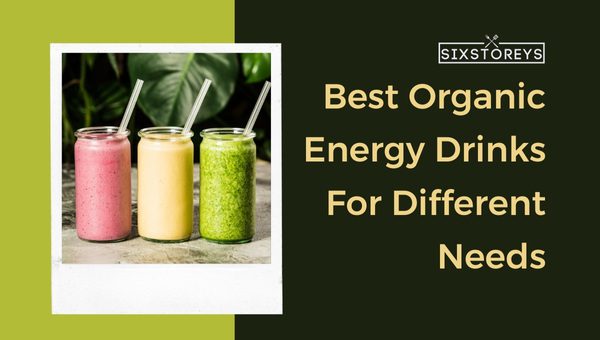 Understanding that everyone's energy requirements and preferences can vary, it's crucial to explore the different types of organic energy drinks available in the market. From flavor preferences to specific health needs or even fitness and athletic goals, there's something for everyone in the world of organic energy drinks. So, let's take a deeper look into the various options that cater to diverse needs and tastes.
Best Fitness-Friendly Organic Energy Drinks
For those with an active lifestyle or athletic goals, certain organic energy drinks prioritize providing a healthy balance of natural nutrients and energy sources. These will maximize your performance and ensure a speedy recovery post-exercise. NOOMA Organic Sport Energy Drink and Guayaki Yerba Mate are great examples of fitness-friendly energy boosters. Both these drinks focus on hydration and electrolyte replenishment, which are essential during intense workout sessions.
Best Energy Drinks for a Day-to-Day Energy Boost
Keeping up with the daily grind can be exhausting, and many of us often rely on a quick pick-me-up to help us stay focused and productive. For this purpose, several organic energy drinks provide a natural energy kick that is gentle on your system and won't result in the dreaded energy crash. Hi-Ball Organic Energy and Runa Organic Clean Energy Drink offer a perfect balance of invigorating flavors and steady energy release that can keep you going throughout the day with ease.
Best Organic Energy Drinks for Vegans and Plant-Based Dieters
As the vegan and plant-based movement continues to gain momentum, finding suitable energy drinks that align with specific dietary choices is crucial for many. In response to this demand, options such as OCA – Plant-Based Energy Drink and PURPS Plant-based Organic Energy Drink have emerged as popular choices. These drinks are not only powered by nutrient-rich ingredients but also come in an enticing array of flavors that cater to plant-based enthusiasts.
Best Low-Calorie Organic Energy Drinks
For individuals who are maintaining a strict diet or simply prefer low-calorie options, organic energy drinks such as Zevia and Remedy Natural Energy Drink provide just the right amount of energy without the extra calories. Both these drinks contain zero added sugars and boast a refreshing, guilt-free taste to keep up with your energy demands.
Best Nutrient-Rich Organic Energy Drinks
Individuals seeking to boost their overall health with added nutrients and minerals can find solace in organic energy drinks specifically formulated for such needs. Options like Green Blends Energy and Mantra Labs Go Natural Energy Drink Mix are packed with vitamins, minerals, and antioxidants to give you more than just an energy boost. They offer an all-in-one health kick that will leave you feeling revitalized all day.
The Key Ingredients Behind Organic Energy Drinks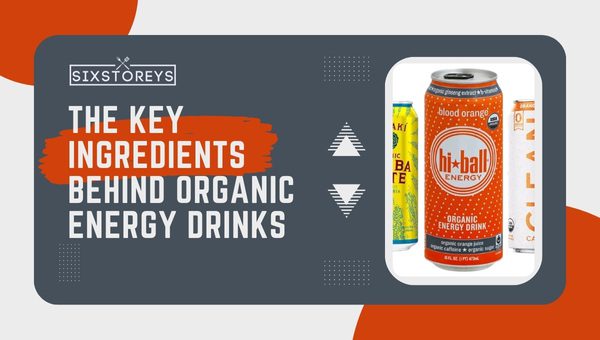 Organic energy drinks are a healthier alternative to conventional energy drinks as they rely on natural sources to provide a physical and mental boost. In this section, we delve deeper into the essential components that make up organic energy drinks.
Natural Sources of Energy
Three main ingredients are common in many organic energy drinks, each contributing to the drink's energy-boosting properties:
Green Tea: Rich in antioxidants and natural caffeine, green tea extract is a popular choice among organic energy drink manufacturers. It not only provides a steady energy boost but also has numerous health benefits for the body.
Guarana: Sourced from the seeds of the Guarana plant, this South American herb contains a higher concentration of caffeine than most plants. The slow release of caffeine in the system ensures a sustained energy boost without jitters or crashes.
Yerba Mate: Known for its energizing properties, this South American plant is packed with caffeine, antioxidants, and nutrients that help improve focus, increase energy, and enhance physical performance.
Synergy of Organic Ingredients
Combining the power of key ingredients isn't the only aspect of organic energy drink formulations. Manufacturers also focus on adding complementary ingredients to support the energy boost and offer additional health benefits. Some of these additions include:
B Vitamins: Vital for maintaining energy levels and supporting metabolism, B vitamins work in synergy with the main ingredients to ensure balanced energy.
Superfruits and Antioxidants: Acai, blueberries, or other exotic fruits often make appearances in organic energy drinks, providing an immunity boost and a potent dose of antioxidants.
Natural Sweeteners: Many organic energy drinks are sweetened with honey or other alternatives like Stevia, keeping in line with healthier choices.
Wholesome Nutrients and Clean Energy
The unique formulations in organic energy drinks ensure that they provide a clean and healthy energy boost. By using a variety of natural, plant-based ingredients, manufacturers craft nutritionally dense beverages that support optimal physical and mental performance. As a result, these drinks are free from synthetic chemicals and artificial additives, allowing consumers to enjoy a guilt-free energy boost any time of the day.
Organic energy drinks owe their effectiveness to carefully selected, natural ingredients. These drinks cater to consumers seeking a wholesome and natural way to power their day, without the side effects typically experienced with conventional energy drinks.
Unveiling the Secrets of Organic Energy Drink Formulations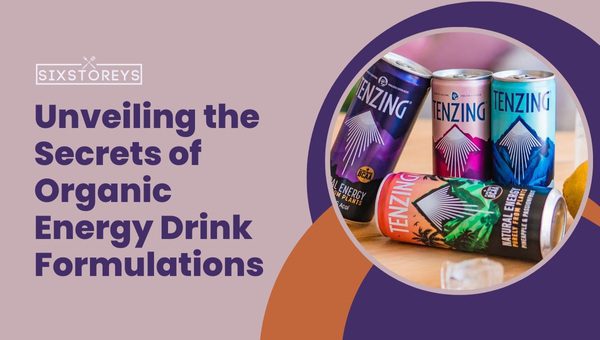 Organic energy drinks have been gaining popularity due to their natural ingredients and numerous health benefits. Let's unravel the secrets behind their unique formulations and understand how they provide clean energy without side effects.
The Role of Organic and Natural Ingredients
Organic energy drinks are made using ingredients that are derived from naturally sourced nutrients and organic farming practices. Some common ingredients include:
Green tea extract: Rich in antioxidants and a natural source of caffeine, green tea helps in boosting energy levels and improving cognitive function.
Guarana: An Amazonian plant known for its stimulant properties, guarana seeds contain natural caffeine and other essential nutrients.
Yerba mate: Popularly used in South American countries, yerba mate is a rich source of antioxidants, vitamins, and minerals. It provides a gentle energy lift without the usual jitters associated with caffeine.
Adaptogenic herbs: Herbs like ashwagandha, Rhodiola, and ginseng help the body combat stress while improving overall mental and physical performance.
Avoiding Jitters and Energy Crashes
One remarkable feature of organic energy drinks is their ability to provide sustained energy without causing jitters or crashes. This is achieved through the fine balance of ingredients and the absence of artificial additives that often contribute to these issues. Ingredients such as L-theanine, natural caffeine sources, and B-vitamins help in prolonging and stabilizing the energy surge, providing a steady flow of vitality throughout the day.
The Science Behind Safe and Effective Energy Boosting
The efficiency of organic energy drinks lies in the synergy created when combining natural ingredients in well-researched formulations. The perfect balance of nutrients, minerals, and antioxidants supports various bodily functions responsible for energy production and metabolic processes, leading to enhanced overall performance. Moreover, the boosted energy levels come without the risks of dehydration, jitters, or dependence found in traditional energy drinks.
Debunking Myths: The Truth About Organic Energy Drinks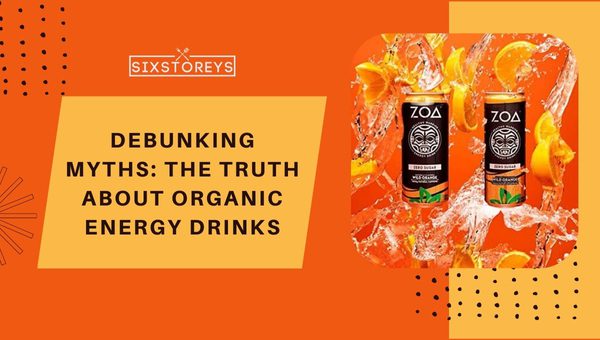 Myth 1: Organic Energy Drinks Aren't Effective
Fact: Organic energy drinks contain natural sources of caffeine like green tea, yerba mate, and guarana, which are known to provide energy without causing jitters or crashes. Research has shown that these plant-based caffeine sources are effective in boosting energy levels and mental focus for a sustained period.
Myth 2: Organic Energy Drinks Are Just a Marketing Gimmick
Fact: The term "organic" is regulated by the USDA, requiring strict adherence to guidelines on the ingredients, processing, and manufacturing of the product. Organic energy drink manufacturers prioritize sourcing high-quality, organic ingredients that contribute to more potent and healthful energy boosts. Additionally, these drinks often support environmental sustainability and fair trade practices.
Myth 3: Organic Energy Drinks Are Too Expensive
Fact: It's true that organic energy drinks can be more expensive than their conventional counterparts. However, the price difference is often justified by the use of superior-quality ingredients, environmentally responsible sourcing, and a commitment to well-being. Rather than cutting corners on health, consider organic energy drinks as an investment in your long-term wellness.
Myth 4: All Energy Drinks Are Unhealthy and Harmful
Fact: While conventional energy drinks have been linked with negative health effects due to excessive amounts of sugar and artificial additives, organic energy drinks prioritize natural, minimally processed ingredients. This focus on quality ingredients often results in a balanced nutritional profile that provides a safe and effective energy boost.
Myth 5: There's No Significant Difference in Taste Between Organic and Conventional Energy Drinks
Fact: Organic energy drinks offer a unique flavor profile owing to the use of natural and unprocessed ingredients, which can provide a clean and refreshing taste. Many people prefer the flavors of organic energy drinks, as they tend to lack the chemical aftertaste commonly associated with conventional energy drinks.
Also Read: Best Buzzballz Flavors
Frequently Asked Questions
Are organic energy drinks better for my health than traditional energy drinks?
In general, organic energy drinks offer various health benefits compared to traditional energy drinks. They often contain fewer sugars, no artificial sweeteners, and are packed with natural nutrients and antioxidants. As a result, they provide a more sustained energy boost without causing energy crashes.
Can I replace my coffee with organic energy drinks?
Yes, organic energy drinks can be a good alternative to coffee, as they often contain natural sources of caffeine, such as green tea or yerba mate. These drinks not only provide a steady energy boost but also come with added benefits like vitamins, minerals, and antioxidants that may not be present in coffee.
Are all organic energy drinks plant-based or vegan?
Many organic energy drinks are plant-based and contain vegan ingredients. However, it's essential to read the label and verify the specific product's ingredients, as some might include non-vegan components, such as honey. Be sure to look out for vegan certifications on the packaging if you strictly follow a vegan lifestyle.
How can I incorporate organic energy drinks into my workout routine?
You can consume organic energy drinks as a pre-workout energizer for a performance boost or as a post-workout pick-me-up to aid in recovery. Consider choosing a drink with added electrolytes, such as coconut water or specialized sports energy drinks, to help replenish essential minerals lost during exercise.
Can I consume organic energy drinks daily, or should I limit my intake?
While organic energy drinks offer healthier alternatives to traditional energy drinks, moderation is still essential. Consuming in moderation can provide you with energy and the added benefits of natural nutrients without overloading your system. Be sure to pay attention to your body's signals and adjust your intake accordingly.
Conclusion
Navigating through the numerous options in the realm of the best organic energy drinks can be an exciting and delightful journey. As our awareness of health and sustainability grows, it's essential to make smart, informed choices that nourish our bodies while being gentle on our planet. Remember that everyone's tastes and preferences are unique, so don't be afraid to explore different organic energy drinks to find your perfect match.
The list of recommendations provided in this blog post is a great starting point to discover the incredible variety of organic energy drinks available. I hope that by sharing my experiences and favorite picks, you too will be inspired to try some of these wonderful beverages.
Embrace the benefits of choosing organic energy drinks, and let's continue supporting healthier, eco-friendly alternatives that give us the energy boost we need to make every day extraordinary. Cheers to a vibrant, energized life with the best organic energy drinks by our side!
Beverage Explorer and Tastemaker 🍻🥃🍷 Aman's quest for liquid delights knows no limits. From hoppy brews to aged spirits, he uncovers the tales behind each sip. His eloquent descriptions and accessible insights make every drink an adventure worth raising a glass to.