36 Best Decaf Starbucks Drinks of 2023 [Must-Try Favorites]
Updated On: August 24, 2023
If you're like me, indulging in the perfect cup of coffee or a refreshing Starbucks drink is one of life's greatest pleasures. But for those of us who are sensitive to caffeine or simply looking to enjoy our favorite drinks without the stimulating effects, finding decaf alternatives can be a challenge. Thankfully, Starbucks has recognized our needs and offers a wide range of decaffeinated options to satisfy our cravings!
In this blog post, I'm going to share some of the best decaf Starbucks drinks that I have tried and loved. From mouthwatering Frappuccinos to soothing teas, there's truly something for everyone in the world of decaf at Starbucks. So, without further ado, let's dive in and explore some of these amazing caffeine-free options!
Also Read: Best Starbucks Lattes
Best Decaf Starbucks Frappuccinos for a Refreshing Treat (2023)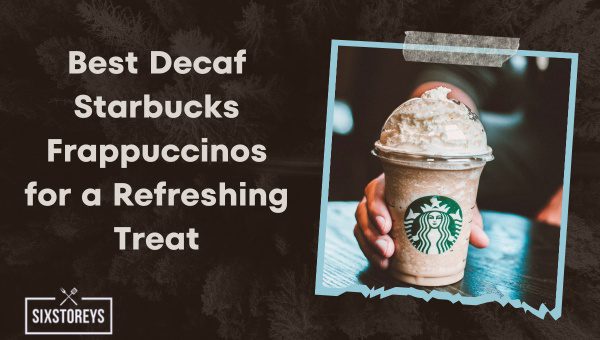 Frappuccinos are a staple of Starbucks' menu and a fan favorite for those who crave a tasty, chilled beverage. In the world of caffeine-free options, decaf Starbucks Frappuccinos are a delightful way to enjoy the flavors and textures that we know and love, without the jitters. Let's explore the best Starbucks decaf drinks in this category and why they are worth trying.
1. Vanilla Bean Crème Frappuccino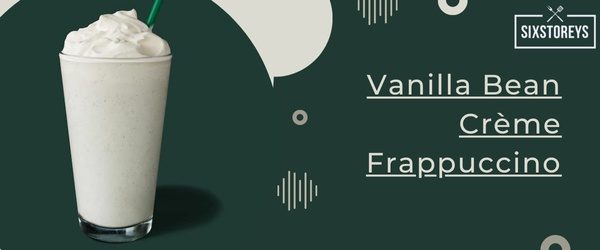 The Vanilla Bean Crème Frappuccino is a perfect combination of sweet and simple. Made with Starbucks' signature ice, milk, and rich vanilla bean powder, this smooth Frappuccino is bound to please your taste buds. Topped with a hearty swirl of whipped cream, it's a classic choice for those who seek a refreshing and uncomplicated treat.
2. Pistachio Crème Frappuccino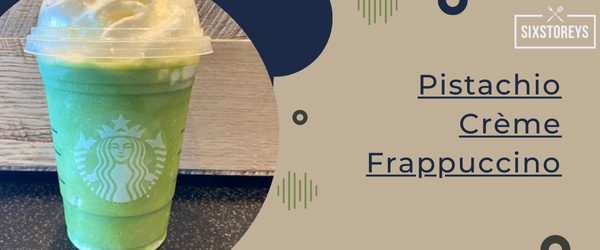 For a slightly more adventurous option, the Pistachio Crème Frappuccino offers its unique, nutty delight to decaf fans. This beverage combines creamy pistachio sauce with milk and ice for a distinct and indulgent texture. Topped with a sprinkle of crunchy, crushed pistachios, it's a satisfying and extravagant choice for those who crave a touch of the exotic in their caffeine-free repertoire.
3. Starbucks Strawberry Crème Frappuccino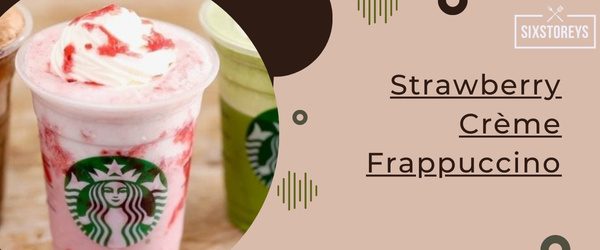 The Strawberry Crème Frappuccino provides a fruity and refreshing burst of flavor that is perfect for a hot summer day. This gorgeous pink concoction combines juicy strawberry puree with milk and ice for a vibrantly smooth and delightful beverage. With a dollop of whipped cream and a drizzle of strawberry sauce, it meets the desire for a delicious and guilt-free decaf treat.
4. Cinnamon Roll Frappuccino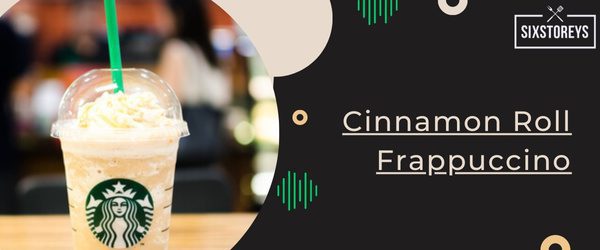 Who wouldn't want dessert in a cup? The Cinnamon Roll Frappuccino offers just that, with a delectable combination of cinnamon dolce syrup, white chocolate mocha sauce, and coffee that is blended with ice and topped with whipped cream and a cinnamon sugar sprinkling. This sugary masterpiece may satisfy your sweet tooth and transport you to your favorite bakery, all without the caffeine kick.
5. Sugar Cookie Almond Milk Crème Frappuccino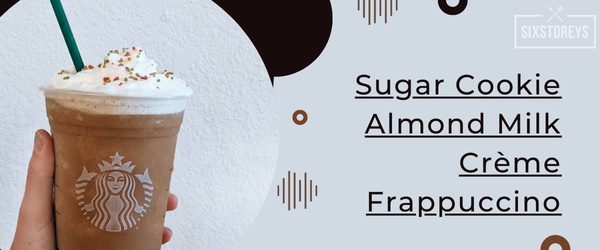 For the health-conscious and dairy-free consumer, the Sugar Cookie Almond Milk Crème Frappuccino is a dream come true. This guilt-free indulgence consists of almond milk, ice, and sugar cookie syrup to create a silky Frappuccino that won't break the calorie bank. The drink is topped with luscious whipped cream, and colorful sugar sprinkles, making it a perfect treat for those days when you want to indulge without overdoing it.
6. Pumpkin Spice Crème Frappuccino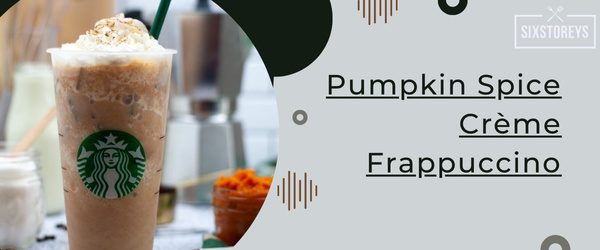 A fall favorite for pumpkin spice enthusiasts, the Pumpkin Spice Crème Frappuccino brings the warmth of autumn into a decaffeinated drink. The creamy blend of pumpkin and fall spices, like cinnamon and nutmeg, is combined with the classic Frappuccino base. Topping this delightful concoction with whipped cream and an extra dusting of spices makes for a decaf treat you'll crave year-round.
7. Caramel Ribbon Crunch Crème Frappuccino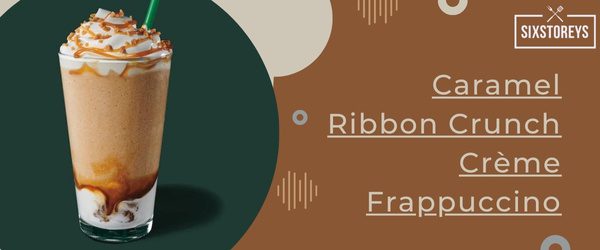 The Caramel Ribbon Crunch Crème Frappuccino is perfect for caramel lovers who want to enjoy delightful tastes without the caffeine. Velvety layers of caramel sauce are blended with ice and milk to create this decadent treat. Topped with whipped cream, caramel drizzle, and a satisfying crunch from the cascade of caramel sugar topping, this drink delivers an irresistible blend of flavors and textures that will keep you coming back for more.
8. Strawberry Funnel Cake Crème Frappuccino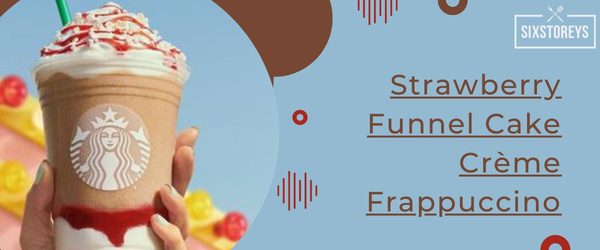 Last but not least, the Strawberry Funnel Cake Crème Frappuccino takes you on a nostalgic trip to your favorite carnival or fair. This unique blend features luscious strawberry puree, funnel cake syrup, and milk that are combined with ice to create a carnival of flavors in your cup. The drink is topped with whipped cream, and a generous dusting of powdered sugar to bring out the best qualities of a freshly made funnel cake, without the caffeine.
As you can see, Starbucks has a wide variety of decaf Frappuccinos that offer tantalizing taste sensations, and they're perfect for a refreshing treat without the kick of caffeine. You'll be sure to find the one that matches your preference or mood, regardless of the season!
Best Decaf Starbucks Teas and Lemonades for a Lighter Option (2023)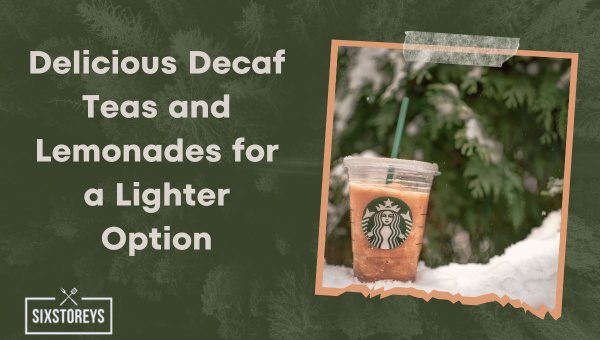 Sometimes, we crave something lighter and more refreshing than a traditional latte or Frappuccino. In these moments, Starbucks' decaf teas and lemonades are the perfect go-to drinks. The variety of flavors and blends will make your taste buds sing while still maintaining the caffeine-free appeal. Let's explore some of these decaffeinated Starbucks drinks, and maybe you'll discover a new favorite!
1. Iced Passion Tango Tea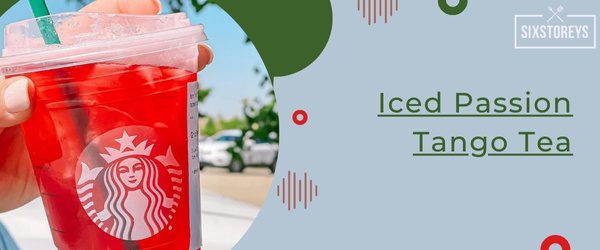 The Iced Passion Tango Tea is a beautiful, vibrant drink that is both caffeine-free and full of flavor. This delicious herbal infusion features a delightful combination of hibiscus, lemongrass, and apple, creating a fruity and tangy profile that is perfect for sipping on a warm afternoon.
The red hue of the drink, derived from the hibiscus, adds a visual appeal that makes it even more irresistible. I love enjoying this tea over ice, as it adds a refreshing and invigorating touch to the already wonderful flavor combination.
2. Iced Passion Tango Tea Lemonade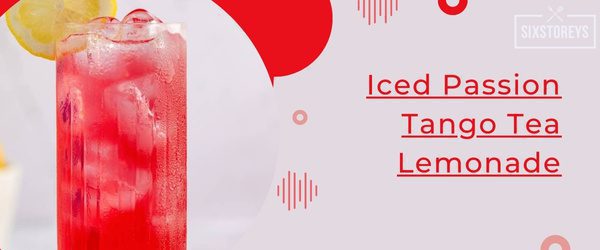 For those seeking a zesty twist on the already delightful Iced Passion Tango Tea, the lemonade version brings an added layer of brightness that is hard to resist. The combination of the herbal tea blend and the sweet, tangy lemonade creates a drink that is equal parts flavorful and thirst-quenching. This harmonious mix of flavors has made this one of my go-to drinks during the hot summer months when I crave something both refreshing and satisfying.
3. Starbucks Lemonade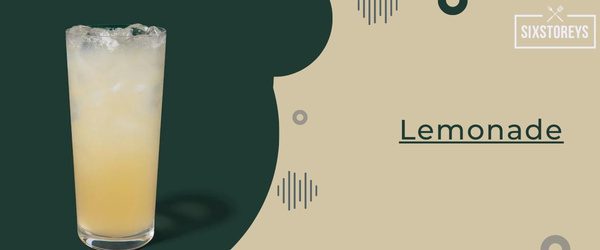 Sometimes, simplicity is the ultimate form of sophistication. Starbucks' lemonade is a prime example of this sentiment, featuring a perfectly balanced blend of sweet and tangy that will leave you feeling refreshed and satisfied. Ideal for sipping on a sunny day, this caffeine-free option is a staple in any summer drink rotation. The bold, citrus-forward flavor is a delicious pick-me-up that almost feels like an indulgence.
4. Blended Strawberry Lemonade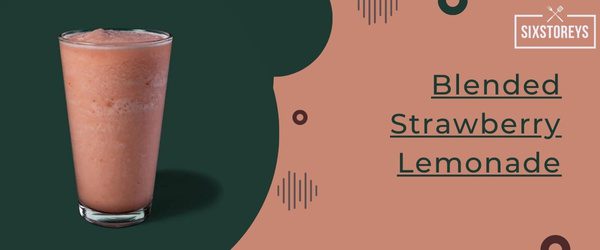 If you're a fan of blending fruit flavors with the classic sweet-tart taste of lemonade, Starbucks' Blended Strawberry Lemonade is the perfect option for you. This drink blends tangy lemonade with a hint of sweet, juicy strawberries to create a harmonious medley that will tantalize your taste buds.
It's also blended with ice, resulting in a delightful slushy texture that provides an extra-refreshing twist. This is one of my favorite fruity and caffeine-free beverages for those hot summer afternoons.
5. Starbucks Mint Majesty Tea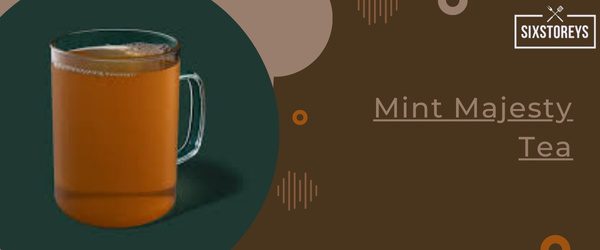 For a soothing and invigorating caffeine-free option, Mint Majesty Tea is a must-try. This herbal tea offers a wonderful combination of spearmint, peppermint, and a touch of lemon verbena, creating a drink that is equal parts calming and refreshing.
I find this tea to be the perfect companion on a chilly day or when I'm in need of a comforting, warm beverage. The natural aromatherapy provided by the minty scents only adds to the overall experience, making each sip a moment of pure relaxation.
6. Peach Tranquility Tea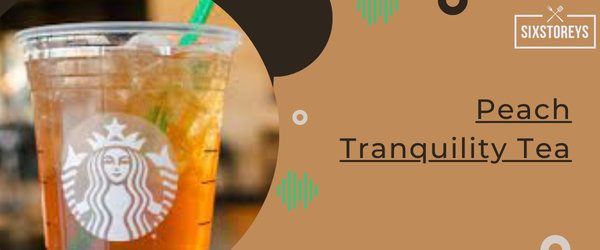 Last but not least, let's not forget the Peach Tranquility Tea, which boasts a delightful mix of fruity and floral flavors. This caffeine-free herbal tea is a luxurious blend of peach, pineapple, chamomile, and lemon verbena, which come together to form an aromatic and soothing concoction.
Best enjoyed hot, every sip feels like a warm embrace, comforting you from the inside out. I particularly enjoy this tea during a quiet evening, when I'm in need of some tranquility to help unwind and relax.
Also Read: Best Non-Caffeinated Drinks At Starbucks
Best Warming Starbucks Decaf Drinks for a Cozy Experience (2023)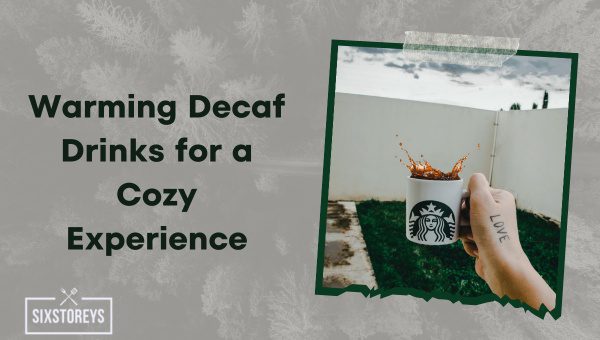 When the weather gets chilly or you're simply in the mood for something warm and comforting, Starbucks has you covered with its selection of decaf warming drinks. These best decaf drinks at starbucks are perfect for huddling under a blanket, catching up with a good book, or enjoying a leisurely conversation with friends.
1. Steamed Apple Juice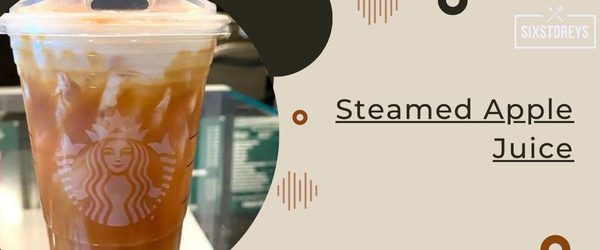 If you're craving something simple, yet satisfying, the Steamed Apple Juice is a fantastic choice. Made with 100% pressed apple juice, this drink is gently steamed to a perfect temperature, resulting in a soothing and naturally sweet concoction. The aroma of warm apples will make you feel right at home, while the rich flavor of the juice provides a comforting embrace.
2. Caramel Apple Spice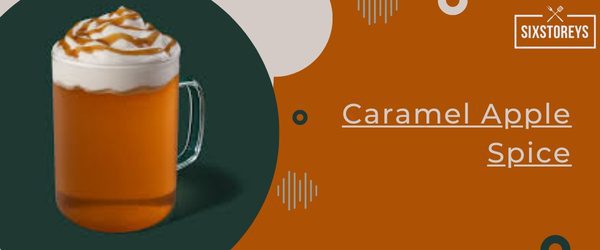 Next up, we have the Caramel Apple Spice, which offers a delightful autumnal twist on the classic Steamed Apple Juice. Combining warm apple juice with a hint of cinnamon, this drink is topped with whipped cream and a caramel drizzle, creating an irresistible blend of flavors perfect for the fall season. The decadence of the caramel and cream is perfectly balanced by the tanginess of the apple juice and the spiciness of the cinnamon.
3. Starbucks Decaf Flat White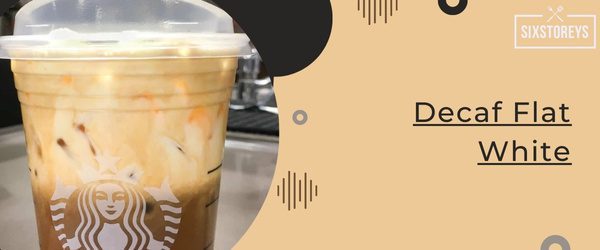 For coffee lovers who want to keep things simple without sacrificing flavor, the Decaf Flat White is an excellent choice. With creamy, steamed milk poured over a double shot of decaffeinated espresso, the Decaf Flat White offers a balanced and velvety cup of coffee. The microfoam on top adds a deliciously smooth texture, making it a true delight.
4. Cinnamon Dolce Crème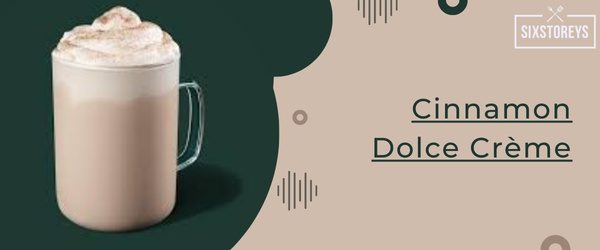 If you're yearning for a warm, dessert-like treat, the Cinnamon Dolce Crème is an absolute must-try. This delectable beverage combines steamed milk, cinnamon dolce syrup, and whipped cream, resulting in a sweet and spicy symphony of flavors. It's like sipping a cinnamon roll, making it perfect for indulging your sweet tooth on a cold day.
5. Steamed Milk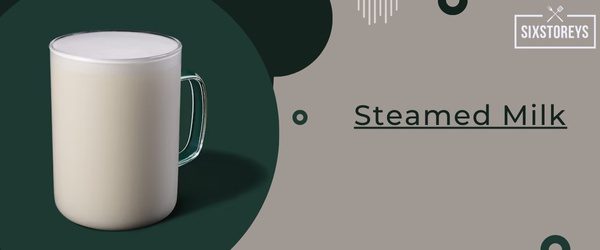 Sometimes simplicity is the key to comfort, and that's where Steamed Milk comes in. This classic drink is nothing more than warm, creamy milk steamed to perfection, allowing you to savor the pure, natural goodness of this wholesome beverage. A dash of your favorite syrup can also add a hint of flavor to this simple yet satisfying option.
6. Starbucks Vanilla Crème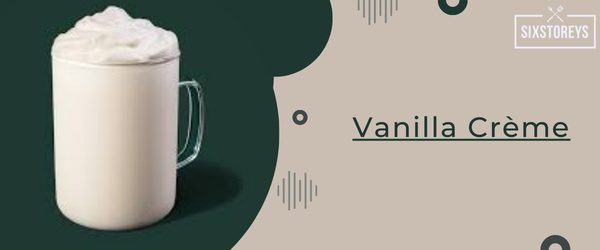 The Vanilla Crème proves that there's no need to complicate things when it comes to creating a delicious warm drink. Featuring a blend of steamed milk, vanilla syrup, and whipped cream, this treat offers a rich and creamy experience that feels like a hug in a cup. It's a perfect option for anyone who craves the familiar, soothing flavor of vanilla.
7. White Hot Chocolate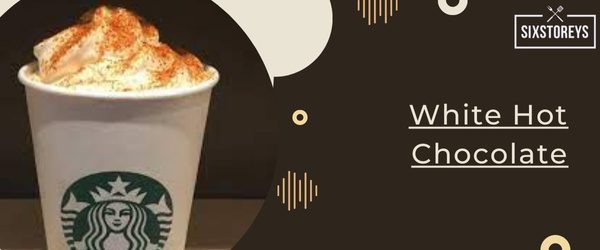 For chocolate lovers who seek a touch of indulgence, the White Hot Chocolate is a dream come true. Made with steamed milk, white chocolate flavored syrup, and whipped cream, this luxurious concoction is rich, creamy, and oh-so-satisfying. The sweetness of the white chocolate is balanced by the velvety texture of the steamed milk, making this drink a true comfort in a cup.
8. Pumpkin Spice Crème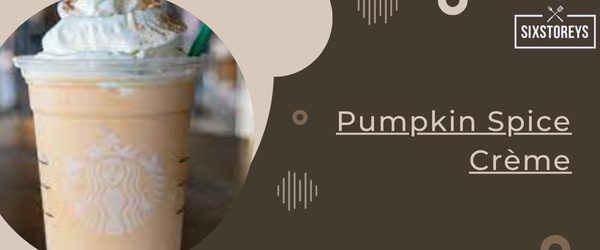 When fall arrives, nothing quite hits the spot like a warm Pumpkin Spice Crème. This seasonal favorite is a blend of steamed milk, pumpkin spice sauce, and whipped cream, expertly combined to create a beautifully spiced, warm beverage. The fragrant aroma of cinnamon, nutmeg, and cloves makes this a nostalgic and comforting choice during the cooler months.
9. Caramel Brulée Crème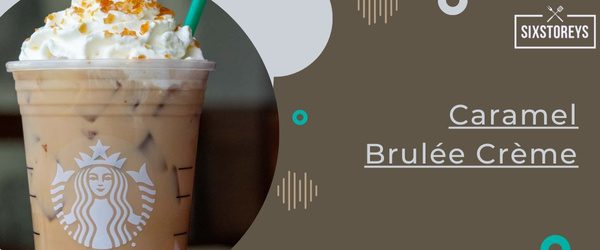 The Caramel Brulée Crème offers an elevated level of decadence, perfect for those days when you want to wrap yourself in luxurious flavors. Smooth steamed milk is blended with caramel brulée sauce, topped with whipped cream, and finished with a crunchy caramel brulée topping. The silky texture and rich caramel notes create an unforgettable experience for your taste buds.
10. Peppermint White Hot Chocolate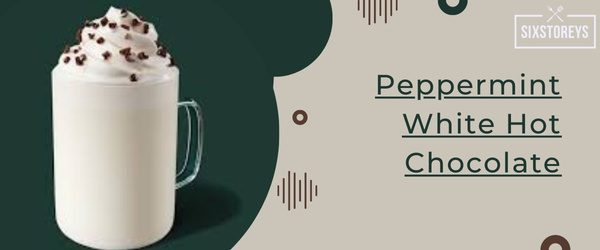 If you're craving a taste of the holidays, the Peppermint White Hot Chocolate is the perfect choice. Combining steamed milk, white chocolate flavored syrup, peppermint syrup, and whipped cream, this festive concoction is a delightful blend of sweet and minty flavors. The subtle cooling effect of the peppermint adds an invigorating twist to this warm, cozy treat.
11. Chestnut Praline Crème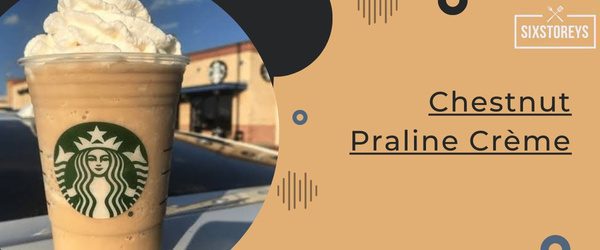 Another excellent festive option is the Chestnut Praline Crème, a warm and nutty delight perfect for the holiday season. Steamed milk is blended with chestnut praline flavored syrup, topped with whipped cream, and dusted with a crunchy chestnut praline topping. The nuttiness of the chestnut and the smoothness of the steamed milk create a harmonious flavor well-suited to cold weather.
12. Toasted White Hot Chocolate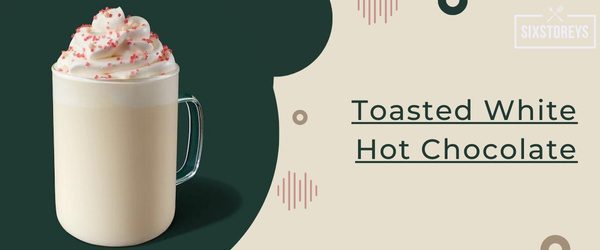 Last but certainly not least, the Toasted White Hot Chocolate offers an updated spin on the classic White Hot Chocolate. Steamed milk is combined with toasted white chocolate flavored syrup, whipped cream, and a caramel drizzle, resulting in a drink that is both familiar and pleasantly surprising. The toasted notes elevate the rich, creamy drink, making it a delectable option for those seeking a unique, warm beverage.
Best Exotic and Blended Decaf Starbucks Drinks for Adventurous Tastes (2023)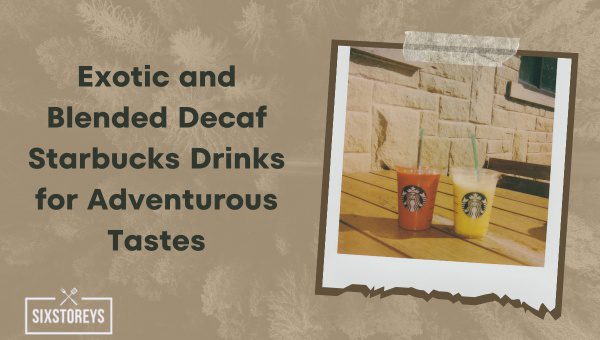 Sometimes, we all crave something a little different, a taste that tantalizes our taste buds and transports us to new realms of flavor. With these exotic and blended decaf Starbucks drinks, you'll surely satisfy your adventurous side without the risk of a caffeine high. Let's go on a flavor journey with these diverse and delectable delights!
1. Starbucks Pistachio Crème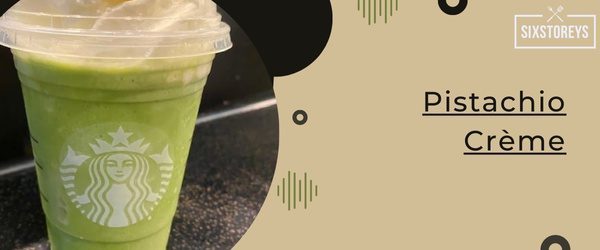 The Pistachio Crème beverage is truly a unique and flavorful experience. Blending the rich taste of pistachios with a luscious, creamy texture, this drink manages to be both refreshing and sumptuous all at once. Inspired by the Mediterranean, this delightful combination awakens your senses and creates an indulgent escape from the daily grind. Paired with ice, this beverage is perfect for those hot summer days when you crave something indulgent but caffeine-free.
2. Caramel Brulée Crème Frappuccino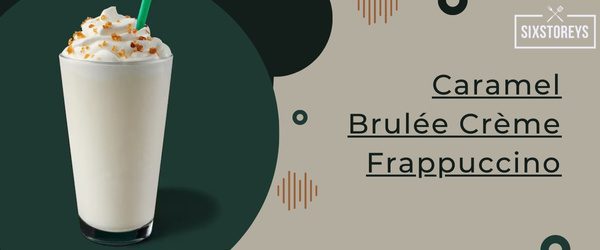 Take your sweet tooth on an adventure with the Caramel Brulée Crème Frappuccino. This luxurious cold beverage starts with a decaf coffee base and blends in the velvety flavors of caramel brulée sauce with whipped cream and a subtle hint of caramelized sugar. The final touch? A generous drizzle of caramel sauce on top, makes this an irresistible treat that is just as eye-catching as it is delicious. Trust me; you won't miss the caffeine with this scrumptious concoction!
3. Peppermint White Chocolate Crème Frappuccino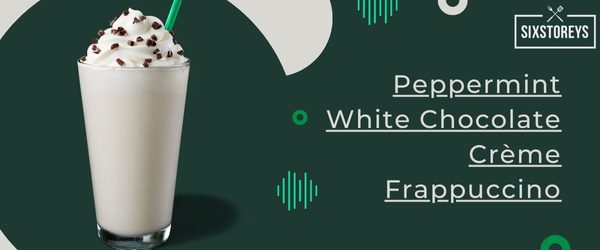 Embrace the spirit of the holiday season with the Peppermint White Chocolate Crème Frappuccino. This decaf masterpiece combines the irresistible flavor of white chocolate with a peppermint kick, creating a refreshing and festive treat that's perfect for the winter months. The whipped cream and crushed peppermint candy pieces add an extra touch of decadence, making this frappuccino a delightful seasonal indulgence that you can enjoy without the buzz of caffeine.
4. Chestnut Praline Crème Frappuccino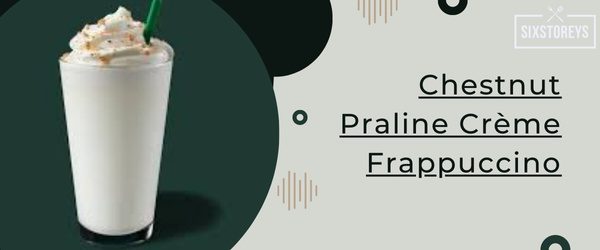 Nutty, sweet, and undeniably delicious, the Chestnut Praline Crème Frappuccino is a fabulous choice for the more adventurous Starbucks patrons. With rich chestnut praline syrup blended smoothly with decaf coffee, milk, and ice, this delectable treat conjures images of cozy winter evenings by the fire. Topped with whipped cream, spiced praline crumbs, and a drizzle of caramel sauce, this caffeine-free concoction is ideal for festive celebrations, or any day you're craving a unique and flavorful experience.
5. Toasted White Chocolate Crème Frappuccino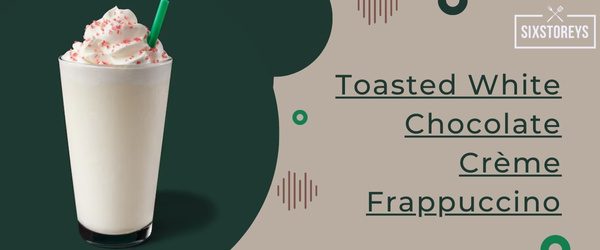 The Toasted White Chocolate Crème Frappuccino offers an enticing twist on a classic flavor. This decaf frappuccino features a scrumptious blend of toasted white chocolate mocha sauce, milk, and ice, topped with whipped cream and a playful dusting of candied cranberry sugar. The result is a delightful combination of sweet, tart, and toasty notes that make for an unforgettable beverage. Next time you're craving a bold and frosty treat without the caffeine kick, give this one a try – you won't be disappointed!
Best Energizing Starbucks Decaf Drinks with Evolution Fresh Juices (2023)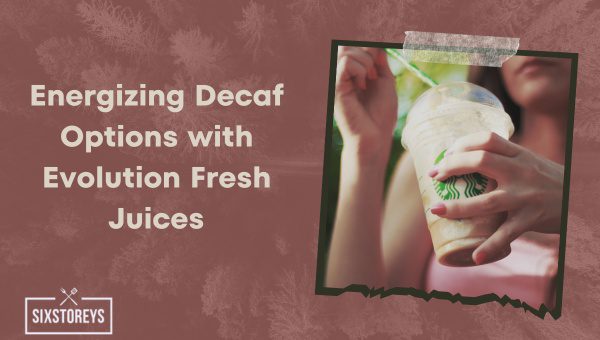 Starbucks has partnered with Evolution Fresh to bring you a range of nutrient-packed juices that are perfect for those seeking decaf options. These delicious and energizing drinks are made from carefully selected, high-quality fruits and vegetables to satisfy your thirst and cater to your health needs.
1. Starbucks Defense Up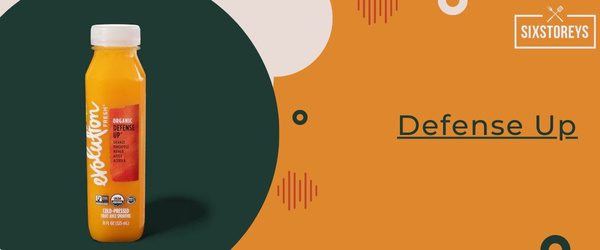 Packed with Vitamin C, this refreshing blend of pineapple, mango, and orange juices not only tastes fantastic but also provides an immunity boost to help keep you healthy.
The Defense Up juice is a delightful beverage for those seeking a burst of tropical flavor without the caffeine. The abundance of Vitamin C helps support your immune system, making it a great choice during flu season or whenever you're feeling a little run down.
2. Organic Ginger Limeade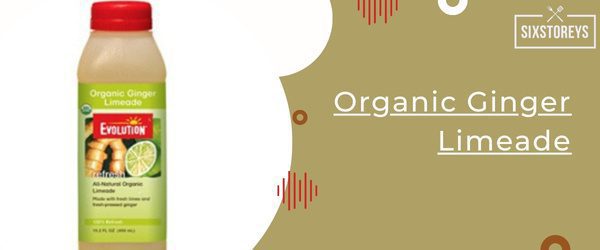 A delicious and invigorating blend of ginger and lime, this organic juice offers an uplifting, caffeine-free experience perfect for starting your day on the right note.
Organic Ginger Limeade is a zesty, energizing, and refreshing drink that won't leave you missing your daily dose of caffeine. The ginger provides a gentle, natural energy boost, while the lime offers a tangy twist that lights up your taste buds. It's a tasty and revitalizing option for any time of day.
3. Organic Green Devotion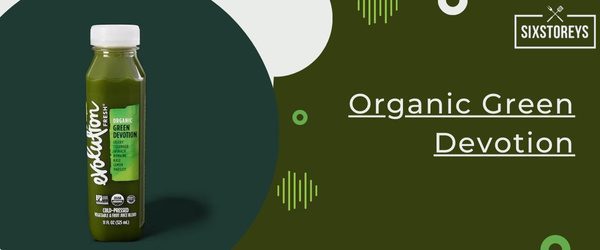 Brimming with nutrients from dark leafy greens, cucumber, and lemon, this juice is naturally hydrating and revitalizing.
For those seeking a nutrient-rich and caffeine-free beverage, Organic Green Devotion is the perfect choice. Its blend of spinach, kale, romaine lettuce, cucumber, and lemon packs a punch with essential vitamins and minerals. This green juice is an excellent way to increase your daily veggie intake and enjoy a revitalizing pick-me-up without caffeine.
4. Organic Strawberry Lemonade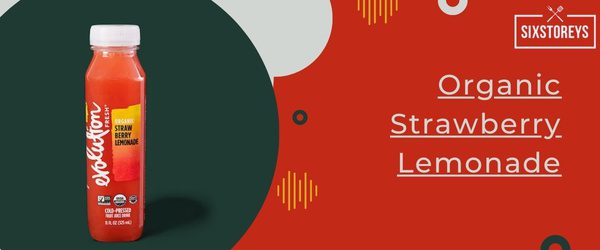 A refreshing and delicious combination of strawberries and lemonade, this juice offers a tantalizing twist on a classic summertime staple.
Who doesn't love a glass of cold lemonade on a hot day? The Organic Strawberry Lemonade from Evolution Fresh elevates the classic drink with the addition of sweet, ripe strawberries. This caffeine-free beverage is both thirst-quenching and satisfying with an enjoyable fruity essence.
5. Starbucks Organic V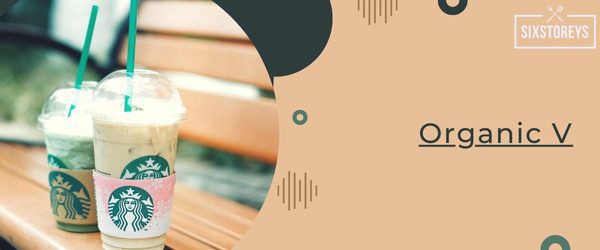 A revitalizing blend of tomato, celery, carrot, and bell pepper juices creates a satisfying experience for those seeking a savory, low-sodium, and antioxidant-rich option.
For those who prefer savory flavors, Organic V is a tasty and antioxidant-packed juice alternative that omits caffeine. With its various vegetable ingredients, this juice offers a mix of essential vitamins and minerals, including Vitamin A, Vitamin C, and potassium. The low-sodium content adds to its appeal for health-conscious individuals.
Feel free to explore the vast selection of Evolution Fresh juices at your nearest Starbucks to find the perfect decaf drink to suit your tastes and needs. These energizing options give you the variety and nutrition you crave without caffeine!
Also Read: Best Starbucks Tea Drinks
Why Choose Decaf Starbucks Drinks: Benefits for Your Health and Lifestyle
When it comes to choosing the perfect beverage, many of us don't wish to compromise on taste or quality, but there are various reasons you might consider reaching for the decaf Starbucks drinks. Decaf options offer enticing flavors, while providing you with health benefits and supporting your lifestyle choices. Let's take a look at some of the key reasons to choose decaf drinks from Starbucks.
1. Caffeine Sensitivity and Sleep Quality
For those who experience caffeine sensitivity, limiting or avoiding caffeine is crucial. Opting for decaf beverages allows you to still enjoy your favorite Starbucks drinks without the jitters or sleep disturbances that can result from caffeine intake. This is particularly important for individuals with insomnia or other sleep issues, as consuming caffeine can further exacerbate sleep problems.
2. Pregnancy and Nursing Considerations
During pregnancy and while nursing, women are advised to moderate their caffeine intake to promote the health of their baby. Choosing decaf Starbucks drinks is a great way to satisfy your cravings while adhering to any suggestions or recommendations provided by your healthcare provider.
3. Reduced Anxiety and Stress Levels
For some people, caffeine can trigger or worsen feelings of anxiety and stress, which is not desirable in our already fast-paced world. Swapping out your regular Starbucks drinks for decaf versions can help you maintain a sense of calm and balance without feeling like you're missing out on your favorite treats.
4. Lower Risk of Heart Issues
While moderate caffeine consumption is considered safe for most people, excessive intake may be linked to heart issues. Switching to decaf Starbucks drinks on occasion can help you manage your caffeine intake in order to maintain a healthy heart and an overall healthier lifestyle.
How to Customize Your Decaf Starbucks Order for Personal Preference or Dietary Needs?
Whether you're a regular Starbucks customer or just an occasional visitor, it's essential to know that you can easily customize your decaf Starbucks drinks to suit your personal preferences and dietary needs. By making some simple adjustments, you can create the perfect beverage that aligns with your taste buds and lifestyle. Here are some ways to personalize your decaf Starbucks order:
1. Swapping Out Syrups and Sweeteners
If you're looking to change the flavor of your decaf Starbucks drink, consider swapping out the syrup. Most Starbucks locations offer a variety of sugar-free and regular syrups that include vanilla, caramel, hazelnut, and more. Additionally, you can switch to natural sweeteners like honey, agave, or stevia if you're trying to avoid artificial sweeteners or sugar.
2. Choosing Alternative Milk Options
Many individuals have dietary restrictions or follow a plant-based diet that requires the use of non-dairy milk. Luckily, Starbucks has several alternative milk options, such as soy, almond, coconut, and oat milk. You can easily replace the dairy milk in your decaf drink with any of these alternatives to cater to your specific dietary needs.
3. Adding or Removing Whipped Cream or Toppings
Customizing your decaf Starbucks drink can be as simple as adding or removing whipped cream and toppings. Most Starbucks drinks come with whipped cream and/or a variety of toppings such as caramel drizzle, chocolate chips, or cinnamon dolce sprinkles. Just let your barista know your preference, and they'll be happy to make the adjustments for you.
4. Adjusting the Level of Sweetness
If you find that your decaf Starbucks drink is too sweet or not sweet enough, fear not! You can request that your barista adjust the level of sweetness in your beverage by adding more or less syrup, or by using a different sweetener altogether.
Don't be afraid to get creative with your decaf Starbucks order. Starbucks is all about personalization and giving you the best experience possible. By customizing your drink to meet your personal preferences or dietary needs, you can enjoy a delicious, satisfying beverage that is tailored just for you.
Decaf Starbucks Drinks for Different Moods and Occasions (2023)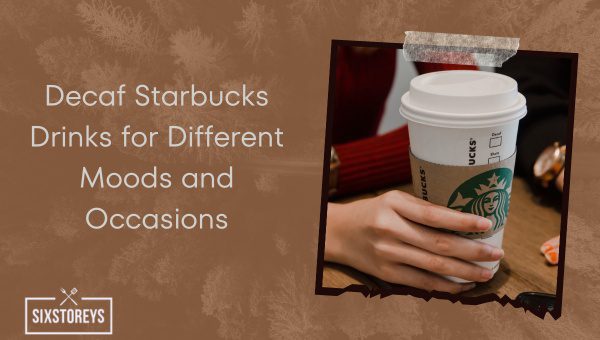 Quiet Mornings or Lazy Afternoons
Spending quiet mornings or lazy afternoons reading, working, or simply enjoying some me-time can be perfectly complemented with a soothing Decaf Flat White or a Peach Tranquility Tea. These warm and comforting beverages can help you relax and focus on your current activity without the jitteriness that comes with caffeine.
Meeting Friends or Conducting Business Meetings
When catching up with friends or attending a casual business meeting, a refreshing and light beverage such as the Iced Passion Tango Tea Lemonade or Blended Strawberry Lemonade is the way to go. These decaf options are both delightful and invigorating, making them perfect for social gatherings and conversations.
Seasonal Celebrations and Gatherings
As the holiday season approaches, Starbucks is famous for its festive drink offerings, with many available in decaf versions as well. Options like the Chestnut Praline Crème Frappuccino and Peppermint White Hot Chocolate cater to both your taste buds and the spirit of celebration. These decaf beverages will make you feel a part of the festivities without the caffeine kick.
Treating Yourself to a Guilt-free Dessert
Sometimes it's essential to indulge in life's little pleasures, and Starbucks' decaf dessert beverages are perfect for these moments. With options like the Caramel Ribbon Crunch Crème Frappuccino or Toasted White Chocolate Crème Frappuccino, you can enjoy the richness and decadence of your favorite desserts without the added caffeine guilt.
Tips and Tricks for Getting the Most Out of Your Decaf Starbucks Experience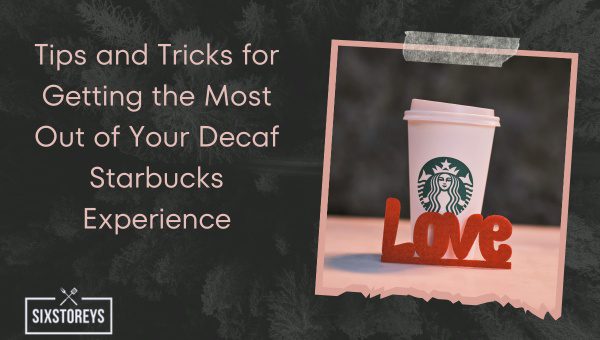 1. Understand Starbucks Lingo and Sizing
Familiarize yourself with the Starbucks language for a smoother ordering experience. Their cup sizes are known as Tall (12 oz), Grande (16 oz), and Venti (20 oz for hot drinks, 24 oz for iced drinks). You can also order a Short (8 oz), which is a smaller size that's not on the menu. When ordering, simply ask for a "Decaf [Drink Name]" in your preferred size.
2. Maximize Loyalty Rewards and Promotions
Join the Starbucks Rewards program to earn stars for every purchase. Stars can be redeemed for free drinks, food items, and exclusive merchandise. Keep an eye on seasonal promotions, where you can earn bonus stars, and don't forget to enjoy your free birthday treat!
3. Explore Secret Menu Options
The secret menu at Starbucks is a treasure trove of unique, off-menu concoctions created by baristas and enthusiastic customers. While not an official part of Starbucks' offerings, these decaf creations can be made by providing the recipe to your barista. For example, try a Decaf Snickerdoodle Latte by requesting a Decaf Cinnamon Dolce Latte with a pump of White Mocha. The possibilities are endless!
4. Experiment with Unique Combinations and Customizations
Don't be afraid to customize your decaf Starbucks order to suit your taste and dietary requirements. Request different syrup flavors, and alternative milk options (almond, soy, or coconut milk), and adjust the sweetness or toppings of your beverage. This way, you can enjoy your decaf drinks without compromising on flavor or quality.
Tip: Remember that some customizations may incur additional charges. Make sure to ask your barista about any extra costs.
| | |
| --- | --- |
| Customization Options | Examples |
| Syrup Flavors | Hazelnut, Toffee Nut |
| Alternative Milks | Almond, Coconut, Oat |
| Sweetness Level | Extra sweet, less sweet |
| Toppings | Caramel drizzle, sprinkles |
5. Keep Track of Seasonal and Limited-Time Offerings
Starbucks frequently introduces new and exciting decaf options during festive seasons or as limited-time offers. Make sure to try these exclusive drinks while they're available and expand your decaf Starbucks repertoire.
Tip: Follow Starbucks on social media or subscribe to their newsletter to stay updated on the latest seasonal and limited-time offerings. Starbucks Instagram
With these tips and tricks up your sleeve, you'll be well-equipped to make the most of your decaf Starbucks experience. So go out there, and discover a world of decaffeinated delights!
Also Read: Best Starbucks Matcha Drinks
Frequently Asked Questions
What is the difference between decaf and regular coffee?
Decaf coffee has undergone a process to remove most of its caffeine content, making it a suitable option for those who are sensitive to caffeine or seeking a low-caffeine beverage.
Is there any caffeine in decaf Starbucks drinks?
While decaf coffee and beverages have significantly lower caffeine content compared to regular options, they still contain trace amounts. The exact caffeine content varies depending on the specific drink and size.
Do decaf Starbucks drinks taste different from their caffeinated counterparts?
Decaf coffee and beverages do tend to have slightly different flavor profiles due to the decaffeination process. However, Starbucks takes great care to ensure that its decaf options provide a satisfying and delicious experience.
Can I order any Starbucks drinks in a decaf version?
While not every Starbucks drink can be made decaf, there are a wide variety of beverages available, including coffee, teas, and Frappuccinos. You can always ask your barista about decaf options for your favorite drinks.
Are decaf Starbucks drinks less healthy than regular ones?
Decaf options can offer health benefits for certain individuals, such as those sensitive to caffeine, pregnant or nursing women, and people with certain medical conditions. Generally, the healthiness of a drink depends on its overall ingredients and can be modified by choosing alternative milk or sweeteners.
How is Starbucks' decaf coffee made?
Starbucks uses a method called the "supercritical carbon dioxide process" to decaffeinate their coffee beans. This process extracts caffeine from the beans without compromising the taste, aroma, or quality of the coffee.
Can I customize my decaf Starbucks drink to suit my dietary needs or preferences?
Yes, you can customize your decaf Starbucks order in many ways, such as swapping out syrups, choosing alternative milk options, or adjusting the level of sweetness to fit your tastes or dietary requirements.
Are there seasonal decaf Starbucks drinks available throughout the year?
Starbucks offers several seasonal decaf beverages, such as the Pumpkin Spice Crème Frappuccino and the Peppermint White Hot Chocolate. These drinks are usually available during specific times of the year and add a festive touch to the decaf menu.
Can I try Starbucks drinks from around the world in decaf versions?
While many international Starbucks drinks might not have a decaf version readily available, you can ask your local barista about possible substitutions or ingredients that can be used to recreate a similar decaf beverage.
How can I discover new decaf Starbucks drinks to try?
Keep an eye on Starbucks' promotional materials, social media channels, and in-store menus for new decaf options. Additionally, many Starbucks fans create unique decaf beverages by combining various ingredients, offering an endless range of possibilities for you to explore.
Conclusion
As we've explored throughout this blog post, the world of decaf Starbucks drinks is vast, diverse, and delightfully enticing. Whether you're a fan of refreshing Frappuccinos, soothing teas, or cozy hot beverages, Starbucks has a caffeine-free option for everyone. By embracing the variety of decaf choices available, you can indulge in delightful flavors and satisfy your cravings without the worries that come with consuming caffeine.
So next time you visit Starbucks, don't hesitate to explore their decaf menu – you might just discover a new favorite drink that keeps both your taste buds and your health in mind. After all, you don't have to compromise on flavor while enjoying decaffeinated drinks at Starbucks – the possibilities are endless, and they're all just waiting to be savored.
Beverage Explorer and Tastemaker 🍻🥃🍷 Aman's quest for liquid delights knows no limits. From hoppy brews to aged spirits, he uncovers the tales behind each sip. His eloquent descriptions and accessible insights make every drink an adventure worth raising a glass to.