23 Best Starbucks Refreshers of 2023 [Hottest Summer Sips]
Updated On: September 1, 2023
There's no denying that on a hot day, nothing beats the feeling of sipping on a cool, invigorating beverage. Among the endless options, Starbucks Refreshers stands out as the ultimate thirst-quenchers when you need something both delicious and energizing. In this article, we will explore the best Starbucks Refreshers, providing you with a comprehensive guide to choose from based on your taste preferences.
With a variety of flavors and creative combinations, Starbucks craftily combines real fruit juice with its signature Green Coffee Extract for an energy boost that doesn't taste like coffee. So, let's dive into the colorful world of Starbucks Refreshers and uncover the must-try beverages to keep you cool and revitalized during those sweltering summer days!
Also Read: Cheapest Starbucks Drinks
23 Best Starbucks Refreshers of 2023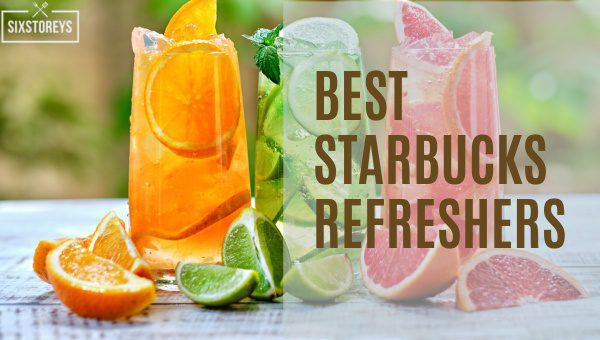 Summertime calls for a burst of fruity flavors to accompany the rays of sunshine. What better way to start than to introduce you to the best Starbucks Refreshers that tantalize your taste buds and provide that much-needed energy kick. With an array of bright and refreshing beverages, these fruity concoctions are perfect for those who can't imagine a world without their daily serving of vibrant, natural, fruity goodness.
1. Mango Dragon Fruit Refresher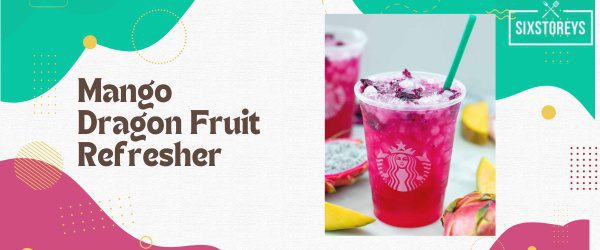 Allow me to introduce you to the Mango Dragon Fruit Refresher, a beautifully hued beverage that combines the tropical sweetness of mango and the exotic essence of dragon fruit. With a vibrant magenta hue and pieces of actual dragon fruit — also known as pitaya — this fruity concoction is both stunning and delectable. It's the ideal drink to quench your thirst while you soak up the sunshine on a warm sunny day.
2. Strawberry Acai Refresher
Strawberry Acai Refresher is another sensational option that you simply cannot miss out on. This refreshing blend of sweet strawberries and tangy acai berries results in a delicately balanced beverage, which is packed with fruity goodness. The subtle hints of caffeine found in the green coffee extract add a unique twist to this colorful drink. It's not only a thirst quencher but also a treat to the eyes with its charming shade of light pink.
3. Kiwi Starfruit Refresher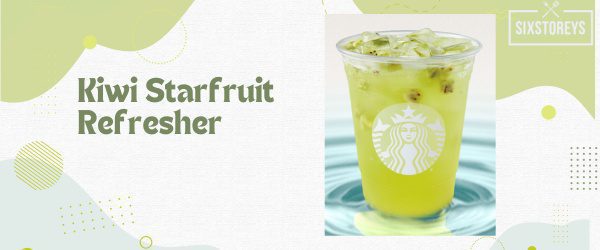 Let's venture into more exotic territory with the Kiwi Starfruit Refresher. This drink boasts a bold blend of tangy, sweet kiwi and luscious starfruit that creates a tantalizing taste experience. The visually attractive bright green color of this drink only adds to its appeal. Its zesty flavors combined with green coffee extract make this Starbucks Refresher a go-to drink for those scorching hot days when you need a revitalizing pick-me-up.
4. Pineapple Passionfruit Refresher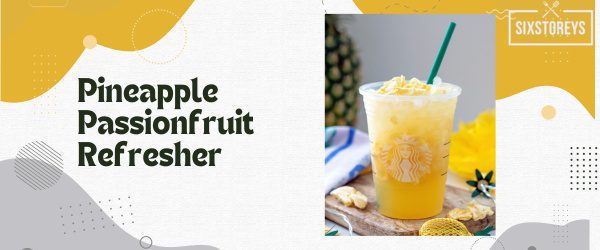 Delve into a tropical paradise with the Pineapple Passionfruit Refresher. This delightful concoction offers a tempting mix of tangy pineapple, sweet passion fruit, and cool green coffee extract, creating a thirst-quenching sensation that transports you straight to a lush island getaway. Feel your senses awaken with every sip of this fruit-infused drink.
5. Blueberry Açaí Refresher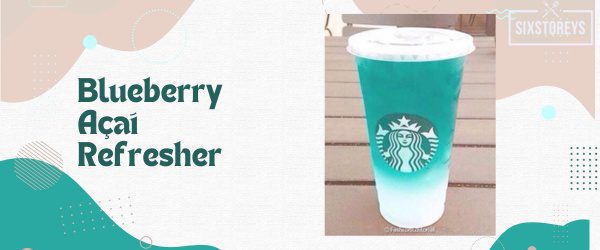 Now, indulge your taste buds with the Blueberry Açaí Refresher. This delicate merger of ripe blueberries and luscious acai berries produces a delightful violet-colored elixir packed with fruity flavors. Its subtle notes of green coffee extract add a unique layer to this thirst-quenching beverage, making it the perfect drink to keep you cool and refreshed on those balmy summer days.
6. TikTok Pink Drink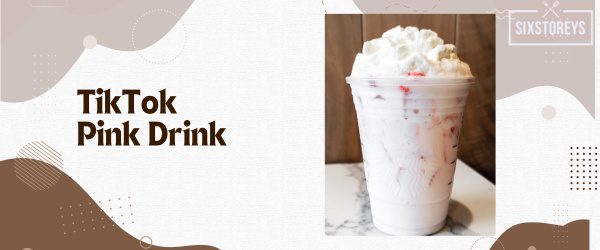 This aesthetically pleasing and scrumptious drink has gained much attention on TikTok, not only for its vibrant color but also for its delightful taste. The Pink Drink consists of Starbucks' Strawberry Acai Refresher with a splash of coconut milk, creating a creamy and fruity concoction that will make you come back for more. To further enhance the flavor, some people add diced strawberries to create an extra burst of fruitiness. Perfect for a warm sunny day, this drink is the epitome of Instagrammable and lip-smacking goodness.
7. TikTok Sunset Drink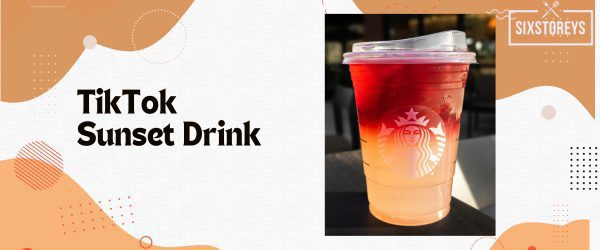 The TikTok Sunset Drink showcases an eye-catching ombre effect that ranges from orange to pink, drawing everyone to its beauty. This multi-layered refresher is made using a combination of lemonade, passion tea, and Raspberry Syrup to give it a gradient color that resembles a stunning sunset sky. This tantalizing drink offers the perfect blend of flavors, with raspberry and lemonade complementing each other to create a sweet yet tangy taste.
8. TikTok Rose Gold Refresher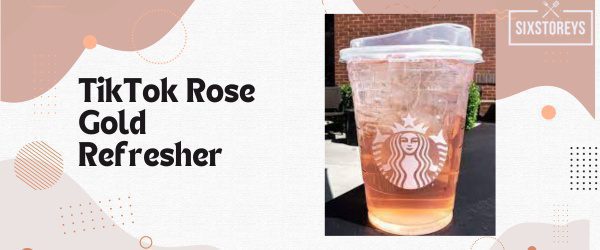 Next on our list, the TikTok Rose Gold Refresher is sure to impress with its classy and elegant appeal. Made by blending Starbucks' Strawberry Acai Refresher, Peach Juice, and Green Tea, this drink achieves a beautiful rose gold color that's hard to resist. Not only is the appearance striking, but the flavor combination is also nothing short of paradisiacal. The peach and strawberry flavors blend seamlessly while the green tea adds a hint of earthiness, creating the perfect balance of sweetness and herbal notes.
9. TikTok Matcha Pink Drink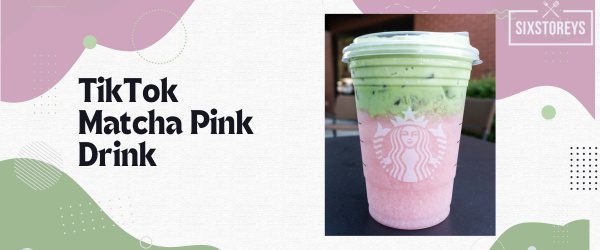 The TikTok Matcha Pink Drink is another popular refresher that has emerged from the platform with numerous users raving about its unique taste. This vibrant beverage is created by adding matcha green tea powder to the standard Pink Drink, resulting in a visually striking layered appearance.
With every sip, you'll experience a harmonious blend of fruity sweetness from the Pink Drink, coupled with the earthy and slightly bitter notes of matcha green tea. This innovative concoction is an excellent choice for those who prefer a less sugary refresher with a touch of flavor complexity.
Also Read: Best Decaf Starbucks Drinks
10. Chocolate Covered Strawberry Pink Drink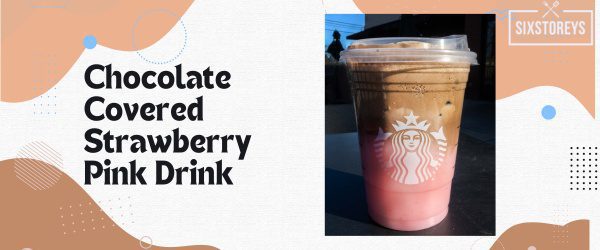 Taking the classic flavors of a chocolate-covered strawberry, this delicious refresher combines the flavors of strawberries, coconut milk, white chocolate mocha, and whipped cream into a single mouthwatering beverage. The sweet and smooth combination of the strawberry acai base with a hint of chocolaty goodness makes it an irresistible treat for any time of the day. Moreover, the whipped cream on top adds an extra layer of indulgence, making it a refreshing drink that also satisfies your sweet tooth.
11. Material Girl Refresher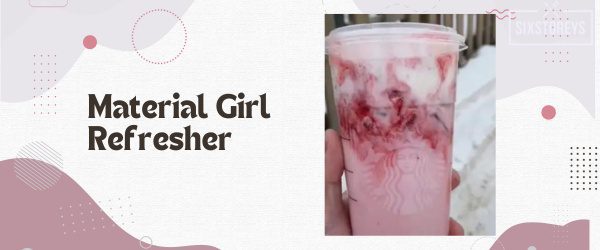 The Material Girl is an appealing and eye-catching drink that's popular for its stunning appearance and refreshing taste. Blending the flavors of the Violet Drink and Pink Drink, you'll be treated to a beautiful mix of purple and pink hues in your cup.
Featuring a base of Starbucks' Very Berry Hibiscus Refresher mixed with coconut milk and the sweet, fruity notes of wild berries, the Material Girl creates a fantastic blend of fruity and creamy flavors. With its visually stunning presentation and exotic taste, it's no surprise that this drink has gained a loyal following from Starbucks patrons.
12. Pink and Purple Drink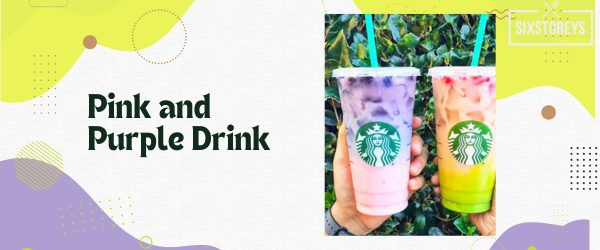 As the name suggests, the Pink and Purple Drink is an aesthetically pleasing blend of Starbucks' popular Pink Drink and Violet Drink. Combining the fruity flavors of the Strawberry Acai Refresher, coconut milk, and the Very Berry Hibiscus Refresher, this hybrid delight is a striking mix of vibrant pink and violet colors. Not only is it a treat for the eyes, but it also offers a fruity and creamy flavor that will leave you craving more.
13. Violet Drink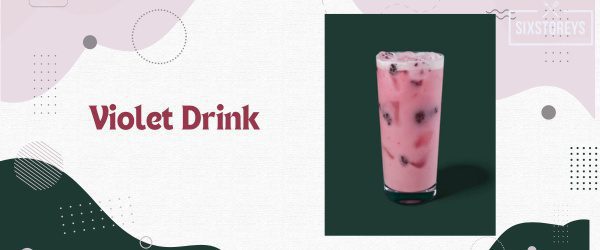 The Violet Drink is another great hybrid refresher option, featuring the rich flavors of the Very Berry Hibiscus Refresher combined with creamy coconut milk. The result is a mesmerizing violet hue and a tantalizing taste that strikes a perfect balance between fruity and slightly tangy. This unconventional and striking combination makes the Violet Drink an unforgettable experience for both your eyes and your taste buds.
14. Paradise Drink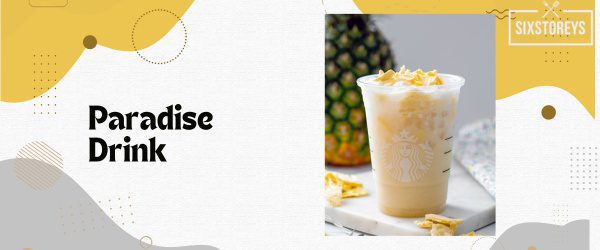 The Paradise Drink transports your senses to a tropical vacation with its blend of sweet and citrus flavors. It starts with a Strawberries and Crème Frappuccino base, which is then blended with Starbucks' Mango Dragonfruit Refresher to add a bright and tropical tang. This refreshing drink's fruity and creamy taste perfectly pairs with its aesthetically pleasing look. The Paradise Drink is a true embodiment of its name, providing a taste of paradise in every sip.
15. Mango Dragon Fruit Lemonade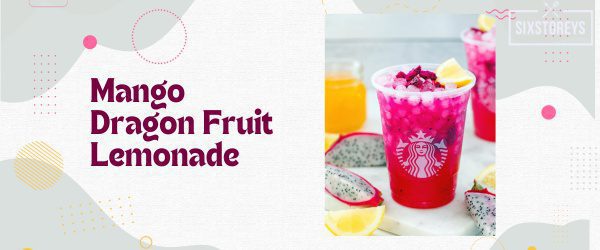 The Mango Dragon Fruit Lemonade is a delicious and visually stunning drink. This vibrant refresher mixes the exotic flavor of dragon fruit with the sweet tropical taste of mango and the invigorating taste of lemonade. The drink gets its beautiful pink hue from a combination of mango and dragon fruit pieces, making it not only a treat for the taste buds but also a feast for the eyes.
Exceling in both flavor and appearance, the Mango Dragon Fruit Lemonade is a must-try for those who enjoy their lemonade with a twist.
16. Strawberry Acai Lemonade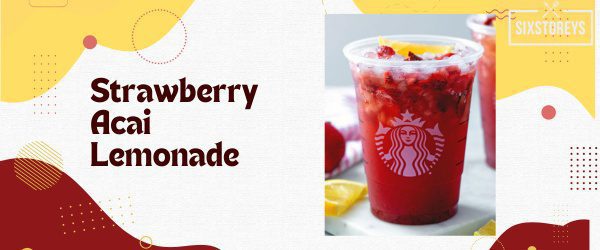 With its lusciously red color, the Strawberry Acai Lemonade pairs the bold flavors of strawberry and acai with the classic lemonade base, creating a supremely delightful and fruity beverage. This refreshing drink is perfect for those who love a little extra sweetness alongside their lemonade. The strawberry and acai flavors blend perfectly, and the addition of real strawberry pieces provides a lovely contrast to the lemonade's tanginess.
If berry flavors are your go-to during the summer, you won't want to miss out on the Strawberry Acai Lemonade.
17. Kiwi Starfruit Lemonade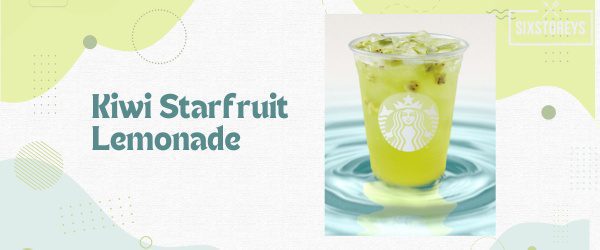 A perky green color emanates from the Kiwi Starfruit Lemonade, promising a unique and refreshing lemonade experience. Combining the tropical flavors of kiwi and starfruit, this Starbucks refresher is a clear winner for those seeking a revitalizing beverage that isn't overly sweet. The kiwi adds a subtle tartness, while the starfruit's gentle sweetness complements the lemonade base.
Should you find yourself craving a lively, tropical drink, the Kiwi Starfruit Lemonade is your ideal choice.
18. Very Berry Hibiscus Lemonade Refresher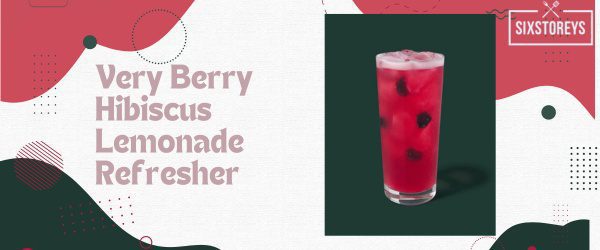 For those who are berry enthusiasts, the Very Berry Hibiscus Lemonade Refresher offers a delightful blend of sweet and tart flavors, with hibiscus, lemonade, and an impressive lineup of mixed berries. The hibiscus imparts a lovely, deep-red color to this refresher, while the generous addition of real berries intensifies the overall flavor and creates a beautiful, fruity medley.
With a perfect balance of bold flavors, this Very Berry Hibiscus Lemonade Refresher should definitely be on your Starbucks Refreshers bucket list.
19. Dragon Drink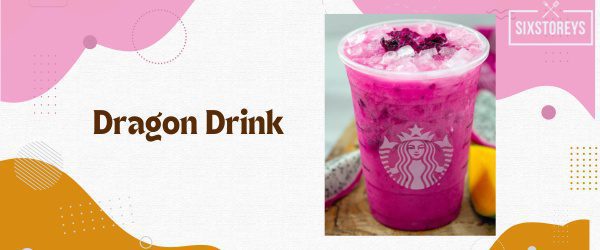 The Dragon Drink is a fun and exotic addition to the Starbucks Refreshers lineup. This colorful concoction features the vibrant Mango Dragon Fruit Refresher mixed with coconut milk, giving it a creamy texture and a tropical taste reminiscent of an island getaway. The combination of fruity and creamy flavors is what sets Dragon Drink apart from other refreshers. If you're a fan of vacation-themed beverages or simply enjoy the combination of fruit and coconut, the Dragon Drink is a must-try.
20. Star Drink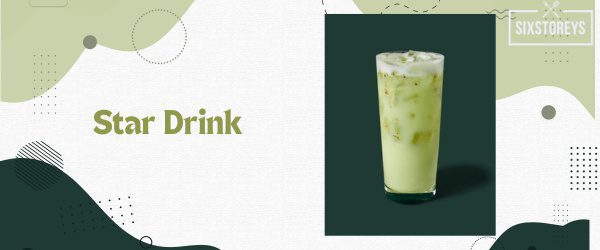 The Star Drink is another coconut milk-based refresher that offers a unique flavor profile. This refreshing drink is made using the Kiwi Starfruit Refresher and pairs it with creamy coconut milk, resulting in a tangy yet smooth beverage that's perfect for those seeking a blend of sweet and slightly sour flavors. The Star Drink, with its bright green color, is not only visually appealing but also provides a burst of refreshing flavor, making it an ideal choice for anyone searching for something out of the ordinary.
Also Read: Best Starbucks Lattes
21. Very Berry Hibiscus Refresher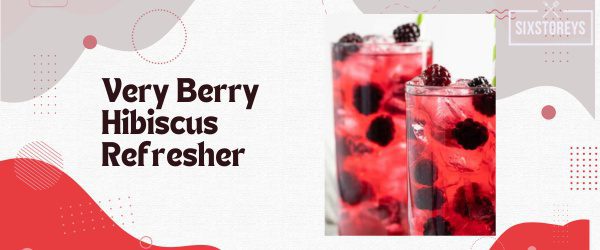 The Very Berry Hibiscus Refresher is a Starbucks classic that should not be overlooked. Packed with bold berry flavors and a hint of hibiscus, this drink provides a satisfying fruity experience with just the right touch of tartness. Made with whole blackberries, the Very Berry Hibiscus Refresher not only offers impeccable taste but also boasts a visually pleasing deep red color. For fans of berries and those who prefer a slightly tart beverage to balance out sweetness, this refresher is definitely worth a try.
22. Pink Drink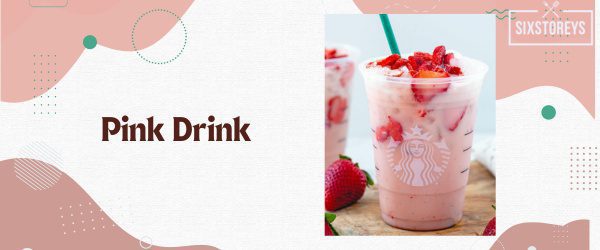 The Pink Drink has skyrocketed in popularity due to its beautiful appearance and delightful taste. The Pink Drink is a variation of the Strawberry Açaí Refresher, which swaps water for coconut milk, creating a pastel pink, creamy beverage. The sweetness of the strawberry flavor, paired with the velvety texture of coconut milk, creates a perfect balance that pleases the palate. If you're looking for an Instagram-worthy drink that doesn't compromise on taste, the Pink Drink is an excellent choice.
23. Pineapple Passion Fruit Lemonade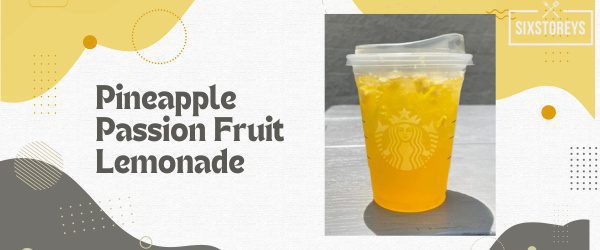 Lastly, we have the Pineapple Passion Fruit Lemonade. This scrumptious refresher combines the refreshing taste of lemonade with two tropical giants – pineapple and passion fruit. As soon as you take your first sip, you'll be transported to a tropical oasis. The sweet yet tangy flavor of pineapple perfectly complements the lemonade's punch, while the passion fruit adds a layer of depth and an exotic edge.
If a mental vacation to a tropical paradise is what you're seeking in a drink, the Pineapple Passion Fruit Lemonade is your perfect match.
How to Customize Your Starbucks Refresher?
Starbucks is known for its versatile drink menu, allowing customers to tailor beverages to their preferences. When it comes to Starbucks Refreshers, there is no exception! Below, we'll explore various ways to customize your refresher, making it the perfect concoction that suits your taste buds.
Alternative Milk Options
While most Starbucks Refreshers don't come with milk, some like the Pink Drink do include it. Feel free to swap out the default milk option for one that suits your dietary needs or preferences. Here are some popular alternatives:
Almond milk – Great for a nutty flavor and a dairy-free option
Soy milk – Another dairy-free option with a creamier texture
Coconut milk – Adds a tropical touch to your refresher
Oat milk – A rich, dairy-free option for those looking for a smoother finish
Adjusting Sweetness Levels
Whether you prefer your refresher a little sweeter or a tad less sugar-laden, adjusting the sweetness is a breeze. Just inform the barista of your preference when placing your order:
Less sweet: Ask for fewer pumps of any syrup included in the drink (i.e., half the regular amount or even less).
Sweeter: Request extra pumps of syrup, or try adding a drizzle of caramel, mocha, or another flavored sauce.
Mixing and Matching Flavors
Embrace your creative side and experiment with different flavor combinations in your refresher. A few ideas to get you started:
Combine Strawberry Acai and Mango Dragon Fruit for a burst of tropical paradise.
Mix Kiwi Starfruit with Pineapple Passionfruit for a refreshingly tangy beverage.
Blend Blueberry Açaí with Very Berry Hibiscus for a flavorful berry fusion.
Adding Extra Fruit
Some Starbucks Refreshers already come with fruit inclusions, but don't be shy about asking for more! Add an extra scoop of strawberries, blackberries, or any other available fruit to enhance your drink's overall presentation and taste.
With these customization ideas, you're well on your way to creating a personalized Starbucks Refresher that feels like it was concocted just for you! So go ahead, get creative, and enjoy the endless possibilities offered by Starbucks to satisfy your thirst and express your style.
Lesser-Known Gems: Discovering Unique Refreshers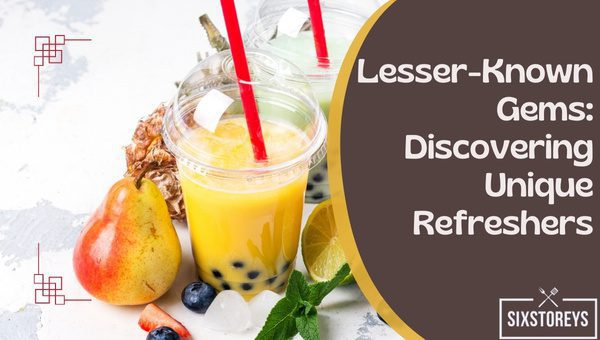 Secret menu refreshers
Starbucks has a plethora of hidden gems lurking in its secret menu. To access these exclusive refreshers, you'll need to know how to order them. One popular secret menu item is the Raspberry Peach Refresher. To request it, simply ask for a Peach Citrus White Tea Infusion with raspberry syrup added. It's the perfect blend of two fruity flavors!
Seasonal refreshers
Keep an eye out for limited-time seasonal refreshers that Starbucks occasionally introduces. These special offerings make the most out of fresh, seasonal ingredients. An example is the Orange Creamsicle Refresher, which seamlessly combines the classic summer taste of an orange creamsicle into an invigorating beverage - typically available when fresh oranges are in season.
International favorites
Embark on a refreshing journey around the world with Starbucks Refreshers available in different countries. The Tropical Mango Pineapple Fizzio is an effervescent concoction exclusive to Starbucks in Asia, while the Cool Lime Refresher quenches your thirst in various European markets. Don't hesitate to explore different locations and try these unique and region-specific refreshers!
Comparing Starbucks Refreshers to Other Icy Beverages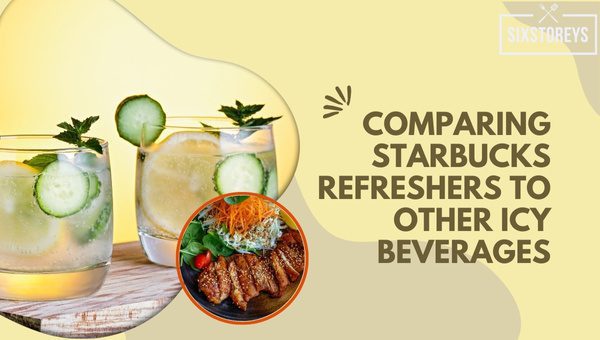 Refreshers vs. Iced Teas
While both Refreshers and iced teas make for invigorating summer drinks, there are a few key differences. Starbucks Refreshers offer an energy boost due to their Green Coffee Extract, while iced teas rely on the natural caffeine found in tea leaves. Additionally, Refreshers typically have bolder fruit flavors compared to the more subdued herbal notes in iced teas.
Favorite iced teas: Iced Passion Tango Tea
Refreshers vs. Frappuccinos
The primary contrast between Refreshers and Frappuccinos lies in their consistency and ingredients. Refreshers are made to be light, cool, and fruity, with a focus on real fruit juice and Green Coffee Extract for energy. On the other hand, Frappuccinos are blended drinks that verge on dessert territory, with a thicker consistency and ingredients like whipped cream and syrups.
Top Frappuccinos: Mocha Cookie Crumble Frappuccino
Refreshers vs. Smoothies
Smoothies are a popular and healthy alternative to indulgent icy beverages. The main difference between Refreshers and smoothies is the base ingredient: while Refreshers utilize real fruit juice, smoothies usually consist of whole fruits and vegetables. Smoothies might be a better choice for individuals looking to incorporate more fiber and whole nutrients into their beverage selections.
Delicious smoothies: Strawberry Banana Smoothie
A Deeper Look into Starbucks' Green Coffee Extract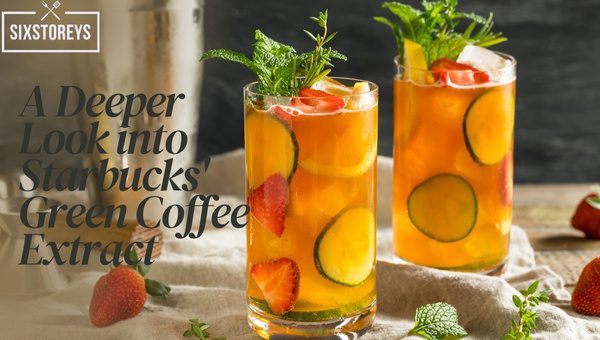 What is Green Coffee Extract?
Green Coffee Extract is derived from unroasted, green coffee beans. It is rich in antioxidants, particularly chlorogenic acid, which is believed to have numerous health benefits such as weight loss and improved heart health. Starbucks uses this extract as the energy-boosting component in their Refreshers, providing a unique non-coffee flavor while still offering that vital caffeine kick.
The Benefits of Green Coffee Extract
Green Coffee Extract has gathered significant attention in recent years due to its potential health benefits. Some of the key advantages of Green Coffee Extract include:
Weight loss: Research suggests that chlorogenic acid could help with weight loss by reducing the absorption of carbohydrates and fats, and regulating blood sugar levels.
Antioxidants: Green Coffee Extract is rich in antioxidants that help protect the body against harmful free radicals and oxidative stress.
Improved heart health: Studies indicate that Green Coffee Extract may help to lower blood pressure, thereby reducing the risk of heart disease.
Reduced impact on sleep: As Green Coffee Extract contains less caffeine than roasted coffee, it may be less likely to impact your sleep patterns compared to traditional coffee-based beverages.
Green Coffee Extract vs. Regular Coffee
The primary difference between Green Coffee Extract and regular coffee lies in the taste and the caffeine content. Green Coffee Extract is derived from unroasted coffee beans, which gives it a milder, non-coffee flavor, whereas regular coffee comes from roasted beans, possessing the familiar bold, robust taste. The caffeine content in Green Coffee Extract is also lower than that in regular coffee, making Refreshers a popular choice for those who prefer a moderate caffeine kick without the strong coffee flavor.
Customizing Refreshers for Dietary Restrictions and Sensitivities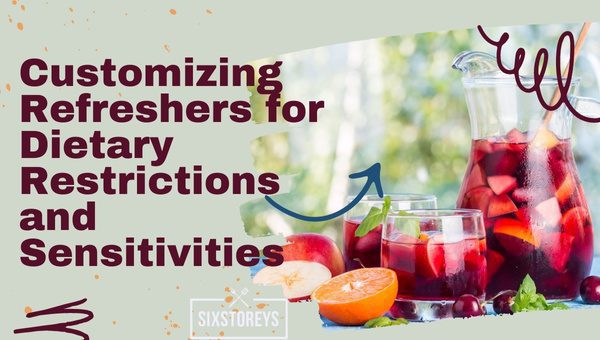 Vegan and Vegetarian-Friendly Options
Many of Starbucks' Refreshers are vegan or vegetarian—just make sure to double-check the specific ingredients used in each drink. For example, the Pink Drink uses coconut milk as a dairy-free alternative, making it suitable for vegans.
Dairy, Non-Dairy, and Alternative Milk Options
For those with lactose intolerance or preference for non-dairy alternatives, Starbucks offers a variety of milk options, such as almond, coconut, oat, or soy milk. When ordering your Refresher, simply specify your preferred milk choice for a perfect customized drink.
Adjusting Sweetness and Sugar Content
If you're watching your sugar intake or prefer a less sweet drink, you can request that the barista reduce the amount of classic sweetener or flavored syrup in your Refresher. Additionally, Starbucks offers sugar-free options for some of their syrups, allowing you to enjoy a guilt-free version of your favorite beverage!
By paying attention to the ingredients and making simple customizations, Refreshers can be tailored to accommodate a variety of dietary restrictions and preferences. As a result, they remain an inclusive, refreshing option that everyone can enjoy.
The Art of Pairing Refreshers with Starbucks Snacks
One of the keys to fully enjoying your Starbucks experience is not only choosing the perfect refresher but also finding the ideal snack to pair it with. Pairing your chosen Starbucks Refresher with a complementary snack provides the perfect balance of flavors and adds immensely to your overall experience. In this section, we'll explore various Starbucks snacks that pair remarkably well with Starbucks Refreshers.
Sweet Pairings
Iced Lemon Loaf Cake: This tangy dessert pairs beautifully with fruity refreshers, such as the Strawberry Acai Lemonade Refresher or the Kiwi Starfruit Lemonade. The sharp lemon flavor of the cake intensifies the fruity notes of the refreshers, providing a delightful contrast.
Double Chocolate Chunk Brownie: When you have a sweet tooth, try pairing the indulgent Double Chocolate Chunk Brownie with the bold Very Berry Hibiscus Refresher. The rich chocolate notes complement the tangy flavor of the hibiscus, creating a harmonious balance.
Savory Pairings
Tomato & Mozzarella Panini: When you crave a savory snack, this panini pairs exceptionally well with the Blueberry Açaí Refresher. The subtle sweet and tangy flavors of the refresher provide a refreshing contrast to the savory tomato and mozzarella.
Spinach, Feta & Cage-Free Egg White Wrap: This nutrient-packed wrap is best enjoyed with a Pineapple Passionfruit Refresher. The tropical pineapple flavors refresh your palate after a bite of the savory wrap, offering a delightful interplay of flavors.
Light and Healthy Pairings
Protein Boxes: Starbucks offers a variety of protein boxes, from the Cheese & Fruit Protein Box to the Eggs & Cheese Protein Box. These selections pair wonderfully with the Pink Drink or Violet Drink, as they provide a light and refreshing balance to the protein-rich snacks.
Raspberry Lemon Yogurt Parfait: This fruity and citrusy yogurt is a match made in heaven with the Dragon Drink. The creaminess of the yogurt pairs well with the fruity and mild flavors of the refresher, creating a delightful combination perfect for a light and fulfilling snack.
As you can see, the art of pairing Refreshers with Starbucks snacks is an enjoyable way to enhance your overall experience. So the next time you visit your local Starbucks, don't hesitate to experiment with these suggested combinations or even find your own perfect pair!
Also Read: Best Non-Caffeinated Drinks At Starbucks
Frequently Asked Questions
What caffeine content can I expect in Starbucks Refreshers?
Starbucks Refreshers contain between 40 to 55 milligrams of caffeine per 16-ounce (Grande) serving, depending on the flavor. This caffeine amount is considered moderate, about half of what you can find in a regular cup of coffee.
Are Starbucks Refreshers suitable for vegans and vegetarians?
Most Starbucks Refreshers are suitable for vegans and vegetarians. However, some drinks with coconut milk or certain toppings may not be 100% vegan, so always check the ingredients or ask your barista for clarification.
Can I customize a Starbucks Refresher to reduce the sugar content?
Yes! You can adjust the sweetness of a Starbucks Refresher by asking your barista to reduce the syrup content or use sugar-free alternatives. Additionally, you can ask for less fruit or fruit juice to further reduce the overall sugar content.
What alternative milk options does Starbucks offer for Refreshers?
Starbucks offers a variety of alternative milk options that can be added to your Refresher, such as almond milk, soy milk, coconut milk, and oat milk. Experimenting with different milk options can create new flavors and textures for your favorite drinks.
Are Starbucks Refreshers gluten-free?
Generally, Starbucks Refreshers are considered gluten-free, as they do not contain any wheat-based ingredients. However, some additives or cross-contamination risks in the store could affect people with severe gluten sensitivities. Always inform your barista about your dietary restrictions.
How do Starbucks Refreshers compare to iced teas in terms of calories and sweetness?
Starbucks Refreshers and iced teas generally have similar calorie counts and sweetness levels, with both options offering a less calorie-dense alternative to other Starbucks drinks like Frappuccinos. However, keep in mind that the specific calorie and sugar content depends on each beverage and customization options.
Are there limited-time or seasonal Starbucks Refreshers that I should look out for?
Starbucks often releases limited-time or seasonal Refreshers to keep things interesting. Keep an eye on their social media channels and menu boards in the store for the latest additions and seasonal offerings.
Can I order off-menu or secret Starbucks Refreshers from the store?
Many secret Starbucks Refreshers have gained popularity, and baristas are usually familiar with them. However, it's best to know the specific ingredients or customization options for off-menu beverages to ensure you get the exact drink you desire.
Conclusion
After exploring the captivating world of Starbucks Refreshers, it's clear that there is a flavor and combination tailored to suit every taste bud. From fruit-based concoctions to the increasingly popular TikTok-inspired creations, as well as lemonade-infused twists and personalized drink customizations, Starbucks truly offers a delightful array of refreshing options for everyone.
As the summer days heat up, there has never been a better time to delve into these fantastic refreshers and discover your new favorite beverage. Whether you're on the go or relaxing at home, remember to experiment and explore the various combinations to challenge your taste buds and uncover the perfect drink that hits the spot.
Don't forget to make use of Starbucks' mobile app for seamless ordering and reward point maximization when purchasing these delicious refreshers. And, if you feel inspired, try recreating some of your favorite flavors at home, so you're never far from enjoying the energizing blend of green coffee extract combined with vibrant fruit flavors.
Ultimately, your ideal Starbucks Refresher may be one sip away, waiting to refresh and revitalize your senses while keeping you cool and satisfied no matter the temperature outside. Cheers to discovering the best Starbucks Refreshers and creating memorable moments with every flavorful sip!
Beverage Explorer and Tastemaker 🍻🥃🍷 Aman's quest for liquid delights knows no limits. From hoppy brews to aged spirits, he uncovers the tales behind each sip. His eloquent descriptions and accessible insights make every drink an adventure worth raising a glass to.