20 Best Red Wines at Costco in 2023 [Treat Yourself Tonight]
Updated On: September 20, 2023
Sipping on a glass of quality red wine at the end of a long day sounds like a luxury reserved for special occasions, but thanks to Costco, it doesn't have to be. This membership-only warehouse club offers a stunning array of carefully curated red wines that cater to every preference and price range. Whether you love the full body and deep flavors of a Cabernet Sauvignon or the light and fruity undertones of a Pinot Noir, each bottle offers an exquisite symphony of flavors that elevates even the simplest of meals.
With an extensive wine selection so readily available and accessible, your foray into the world of viniculture starts at Costco. Continue reading this article as I share my top picks for the best red wines at Costco. But before you venture into the wine aisle, remember that a fantastic bottle of wine doesn't necessarily have to break the bank.
At Costco, you can fill your wine rack with exceptional red wines that turn everyday meals into an indulgent feast without straining your budget. Let's delve into the world of Costco's wonderful red wines that are sure to please even the most discerning palates.
Also Read: Best Red Wines For Casual Drinking
20 Best Red Wines at Costco in 2023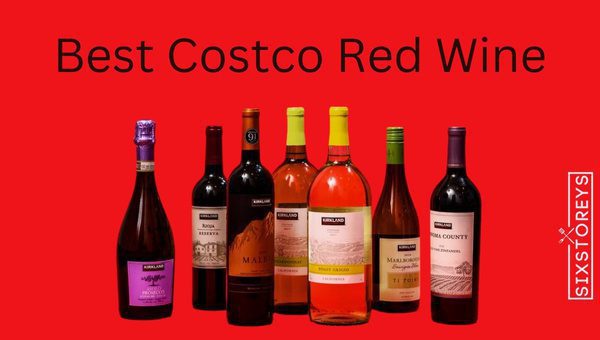 Looking for the finest red wines Costco has to offer? Look no further! From the diverse vineyards of France to the robust terroirs of Argentina, we've curated a list of Costco's top-notch offerings. So, slide into that comfortable armchair, pour yourself a glass, and join us as we explore the 20 best Costco red wines. Get your shopping list ready; I assure you this journey of taste will be a memorable one.
1. 2018 Mosquita Muerta Pispi Blend de Tintas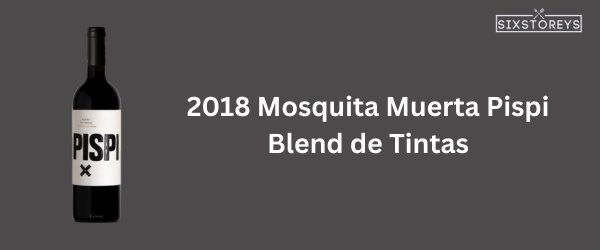 The 2018 Mosquita Muerta Pispi Blend de Tintas is an exquisite offering that hails from Argentina. Stacked with rich, complex flavors, this robust wine has quickly become a favorite of mine. It is a blend of several red varieties—anchored primarily by Malbec—with each grape type contributing to a unique, harmonious taste profile.
Upon the first sip, you are immediately hit with an explosion of ripe fruit. This symphony of flavors includes fresh figs, tart cherries, juicy plums, dark berries, and even a touch of sour currants. These fruity introductions gradually give way to a richer, smokier taste as hints of vanilla and mocha become more prominent, a finish that is a testament to the oak barrels in which this wine is nurtured.
Additionally, there's an unmistakable touch of merlot that adds soft, silky textures to this wine, injecting an element of elegance and depth. Its high tannins and moderate acidity make it an excellent accompaniment to red meats, particularly roast beef, and hearty stews.
What truly sets the Mosquita Muerta Pispi Blend de Tintas apart is the subtlety with which it introduces its layered flavors. From the bright burst of fruit to the smoky oak finish, each flavor is allowed to shine without overpowering the others. This thoughtful balance has elevated it from the realm of just another red wine to a must-try for anyone interested in exploring the world of Argentinian blends. Trust me, it's worth every sip.
2. Kirkland Signature Barolo DOCG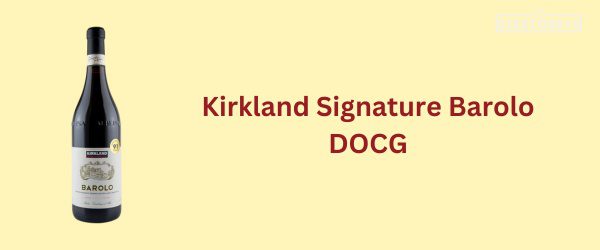 When it comes to red wine, sometimes you have to visit the classics to find that perfect balance of taste and aroma. And a classic is exactly what the Kirkland Signature Barolo DOCG offers. A red wine staple, Barolo is often known as the 'king of wines,' a title that becomes crystal clear once you experience this particular offering.
Hailing from the beautiful vineyards of Piedmont, Italy, the Kirkland Signature Barolo DOCG demonstrates why this region is so revered in the world of wine. Upon taking your first sip, your palate is immediately hit by an explosion of fruit flavors, predominantly cherry and plum. Gradually, these initial fruit flavors fade into more decadent notes of cocoa and hints of cinnamon spice.
This Barolo's bright acidity and high tannin content create a delightful structure—an inviting mouthfeel that provides the perfect backdrop to bold, unapologetic flavors. Whether you're serving this with a traditional Italian dish like osso buco or opting for a cheese plate, the signature Barolo will always be a crowd-pleaser.
But no review of this wine would be complete without discussing its captivating ruby red color. It is hands down, one of the most visually stunning wines available. Pour it into a glass, hold it up to the light, and you'll see a depth and richness of color that instantly transforms your wine-drinking experience.
It is the boldness and complexity of the Kirkland Signature Barolo DOCG that make it such a compelling choice. From the initial fruity notes to the rich, dark embrace of cocoa and spice, no flavor is left unexplored. This is a wine that demands your attention from the first sip to the last droplet, and believe me, it deserves every bit of it.
3. 2019 Kirkland Signature Sonoma County Old Vine Zinfandel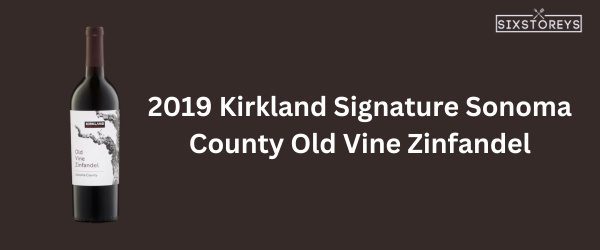 Turning to another Kirkland favorite, the 2019 Sonoma County Old Vine Zinfandel speaks volumes of Sonoma's unparalleled legacy. Trust me when I say that this Californian Zinfandel puts forward a powerful case for Zinfandel being dubbed 'the American wine'.
Touted for its intense concentration of flavors obtained from old vines, this Zinfandel proves to be bold and flavorful from start to finish. It opens up by caressing the palate in a fruity-berry hug, a grandeur not uncommon in old-vine Zinfandels. As the cavalcade progresses, subtler notes emerge, infusing the wine with a balanced blend of toasty oak, piquant black pepper, and mysterious licorice.
In this Zinfandel, the rich fruity intensity is harmoniously balanced with a spicy pepper finish, creating an unmatchable allure. And when it's grilling season, few things on the planet can match this Zinfandel's ability to brighten up a juicy burger or a seasoned steak!
Whether you are a novice or a seasoned wine connoisseur, the 2019 Kirkland Signature Sonoma County Old Vine Zinfandel should definitely be on your tasting list and an addition to your wine collection. This fine wine is an ode to the American vine-growing legacy and brilliantly embodies the sunny-golden spirit of Sonoma County.
4. Kirkland Signature Columbia Valley Cabernet Sauvignon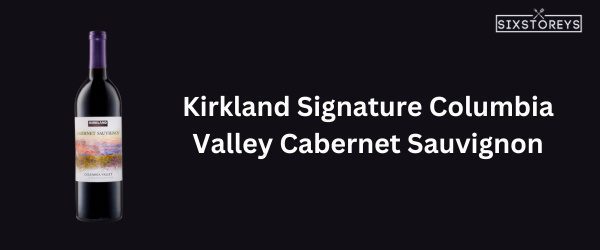 One cannot explore the offerings at Costco without raving about the Kirkland Signature Columbia Valley Cabernet Sauvignon. Hailing from Washington State, this red wine proves that the Pacific Northwest is a force to be reckoned with when it comes to world-class wines.
This Cabernet Sauvignon is a vibrant and fruity offering that nails the balance between depth and accessibility. On the palate, black cherry and blackcurrant flavors take center stage. But the performance doesn't end there - the aftertaste introduces notes of toasted oak that add a bold richness to the finish.
Boasting a smooth yet robust mouthfeel, this wine is the perfect accompaniment to a savory roast, a flavorful stir-fry, or even a well-curated cheese board. Bold, yet approachable, the Kirkland Signature Columbia Valley Cabernet Sauvignon is a testament to Costco's commitment to offering value and quality in the same bottle.
5. Kirkland Signature Gigondas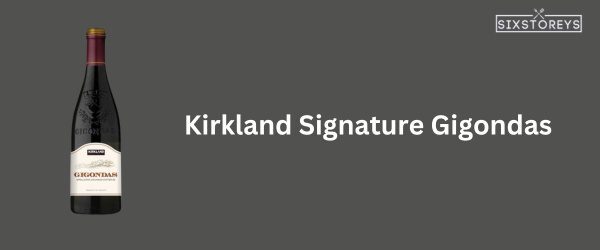 If a trip to the French vineyards is your dream, consider the Kirkland Signature Gigondas your passport in a bottle. Hailing from the south part of France's Rhone Valley, this red blend, dominated by Grenache, Mourvedre, and Syrah grapes, perpetuates the region's robust and spicy reputation.
The first sip of this wine takes you on a journey, immersing your palate in the tanginess of ripe blackberries, followed by the earthy allure of truffles. This fruity and earthy flavor is then accentuated by a finish that hints at spices, making this wine a fantastic choice to accompany rich meats like lamb, venison, and duck.
From the first sip to the last drop, the Kirkland Signature Gigondas embodies the lush, sun-drenched vineyards of the southern Rhone Valley. This wine is an absolute standout among Costco's abundant offerings for its richness and expansiveness of flavors.
6. 2017 Kirkland Signature Brunello di Montalcino DOCG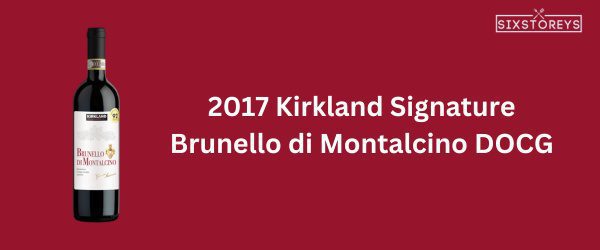 Ah, the 2017 Kirkland Signature Brunello di Montalcino DOCG, my passport to the serene hills of Tuscany, Italy, where this luscious ruby-red wine originates. Brunello di Montalcino is a beautifully complex wine made from carefully hand-picked Sangiovese grapes, and Kirkland has undoubtedly done it justice in their 2017 vintage.
Each sip of this wine is an adventure. The journey begins with subtle hints of cherry that soon mellow down to reveal a depth of character, infused with earthy tobacco and rich leather notes. The finale is sweet, a smidgen of spice that lingers, inviting you to take another sip. Like a beautifully composed symphony, it's a harmonious interplay of unique flavors, each note perfectly complementing the other.
High in acidity and tannins, this wine boasts a characteristically full-bodied yet smooth delivery, an attribute that sets Brunello di Montalcino wines apart. Its garnet hue further enchants, rendering it as much a pleasure to behold as it is to savor.
Whether you revel in its complexities alone, paired with robust Italian dishes such as braised meats, risottos, or even a simple charcuterie board, this wine does not disappoint. It deftly bridges the gap between the old and new world flavor palettes, making it genuinely deserving of a spot on the top shelf of any wine enthusiast's collection.
7. Michael David Freakshow Cabernet Sauvignon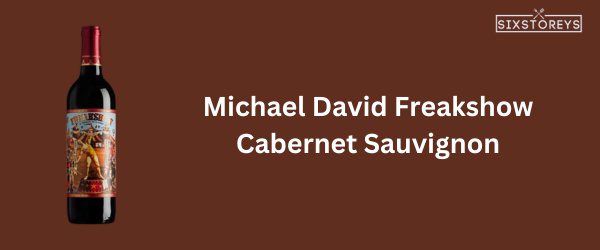 Among the fascinating composition of wines adorning the aisles of Costco, one particularly stands out in its unabashed exhibit of flavors, the Michael David Freakshow Cabernet Sauvignon. This Californian treasure is nothing short of a carnival for your taste buds, making it a unique addition to the list of Costco red wines.
Richly full-bodied, this Cabernet draws you in with a flavorful extravaganza that begins with fruity-berry notes. Upfront, the wine dances with exuberant flavors of blackberry, cherry, and plum. Subsequently, the spotlight shifts to the show's finale, marked by traces of velvety vanilla and smoked oak. The soft whispers of spice tiptoeing in the finish add a fantastic twist, rounding off a lavish procession of flavors.
Each sip perfectly captures the vivid essence of a carnival - bustling, vibrant, and enthralling, with a delight at every corner. An excellent choice to pair with a flame-grilled steak or succulent lamb racks, this cabernet sauvignon is a wine like no other, a showstopper in the truest sense.
Also Read: Best Red Wines For Diabetics To Drink
8. Caymus Cabernet Sauvignon 2020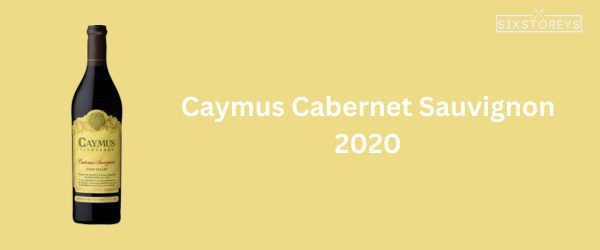 Offering a flavorful excursion to the iconic Napa Valley, the Caymus Cabernet Sauvignon 2020 is a masterstroke from Costco's collection. This quintessential cabernet, with its harmonious medley of fruit, tannin, and acid, is an absolute treat for any wine enthusiast.
Upon tasting, you're instantly hit with a burst of sweet black cherry, offering a melodic prelude to the rich flavor profile that unfolds. Threads of chocolate accompany the fruit, and a touch of warmly toasted oak punctuates all these flavors, creating a finish that is both luxurious and endlessly gratifying.
This Cabernet Sauvignon is a fantastic choice to accompany hearty meats or rich chocolate desserts, but I often find myself relishing it solo, fully immersed in its layered complexity. Overall, the Caymus Cabernet Sauvignon 2020 exhibits the finesse and quality that define Napa Valley Cabernets.
9. 2020 Boen Pinot Noir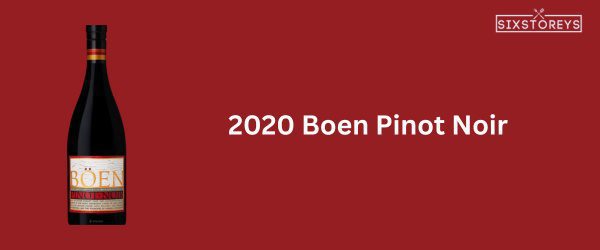 When you think of Californian wines, Pinot Noir may not be the first variety that springs to mind, but the 2020 Boen Pinot Noir is looking to change that. Produced in California's famed Russian River Valley, this wine convinces with its silky texture and palate-appeasing flavor profile.
The Boen Pinot Noir is delightfully light-bodied and introduces itself with a charming array of flavors - think ripe strawberries and red cherries with subtly earthy undertones. By far, the boldness of the fruit stands out without overshadowing the traces of spice and earth that give this wine its balance and complexity.
Whether it's to accompany a roast chicken dinner or a succulent pork loin this Pinot Noir is up to the task. That said, its smooth texture and light tannins make it versatile enough for enjoying on its own as an apéritif, a quality I particularly treasure in a wine. Give the 2020 Boen Pinot Noir a try, and let it enthrall your senses with its Californian charm.
10. Joseph Phelps Cabernet Sauvignon 2019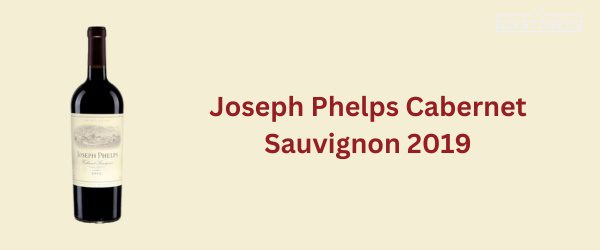 This iconic Napa Valley-made 2019 Joseph Phelps Cabernet Sauvignon is one of the stars of American winemaking. Offering a full-bodied exploration of flavor, it teems with notes of blackberry, black cherry, and vanilla with just the right amount of minerality. It's like biting into a fruit cake undergirded by a robust wooden base. Refined tannins and a hint of cedar in its lengthy finish add layers of complexity that left quite an impression on me.
Let's not forget the art of pairing. With its bold and fruity overtones, this Cabernet Sauvignon is a delightful partner to a juicy steak or slow-roasted beef. A sip of this velvety red wine brings back fond memories of summertime barbecues and cozy winter evenings - an absolute delight.
11. 2019 Four Graces Pinot Noir Willamette Valley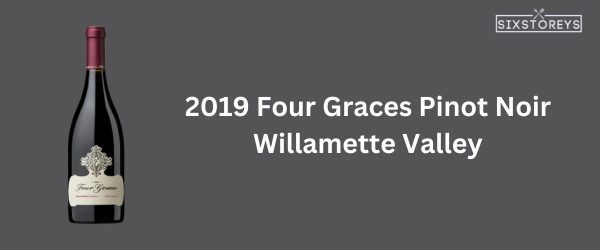 Pinot Noir lovers take note. The 2019 Four Graces Pinot Noir, from Oregon's Willamette Valley, brings to your table all the elegance, finesse, and balance that has defined this grape variety.
What I adore about this radiant ruby red wine is its chic, light, and subtly fruity profile that balances beautifully with its deeper undertones. It gracefully opens with luscious notes of raspberry and cherry, and over time, it reveals a hint of spice and earthy notes, evoking a sense of graceful complexity.
With its velvety smooth character and lively acidity, this Pinot Noir complements a range of foods from roast chicken to grilled salmon, root vegetables to vibrant salads. However, I personally love to savor it on its own, allowing the interplay of flavors to fully unravel on my palate.
Having the 2019 Four Graces Pinot Noir on your table is having a piece of Oregon's sun-dappled vineyards in your glass. A definite must-try for those who appreciate the delicate finesse of a well-rounded Pinot Noir.
12. 2019 Kirkland Signature Toscana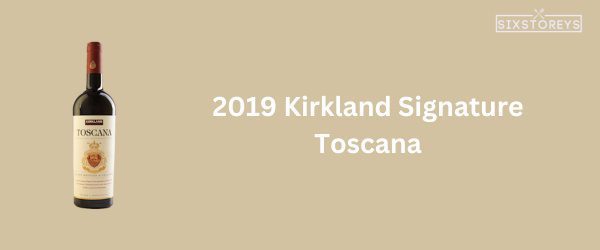 The 2019 Kirkland Signature Toscana is a love letter to the heart of Italy. It's a delightful blend of wines native to Tuscany: Sangiovese, Cabernet Sauvignon, and Merlot, each contributing uniquely to a complex flavor profile.
Upon first savoring this Toscana, I was greeted with artful freshness coming from the fruity overtures of crisp red and succulent black cherries. This fruitiness was quickly followed by an earthy and almost leathery depth that speaks to the strong character of this blend. The finish provided a comfortable zing of black pepper on my palate, adding to an already outstanding performance and creating a harmonious balance overall.
This gorgeous Tuscan blend is a versatile feast companion, complementing a range of dishes from a hearty bolognese pasta to a flavorful tomato and basil pizza or even a mouth-watering ribeye steak. If there's an Italian night at your home, the 2019 Kirkland Signature Toscana is your go-to wine.
13. 2020 Kirkland Signature Cotes du Rhone Villages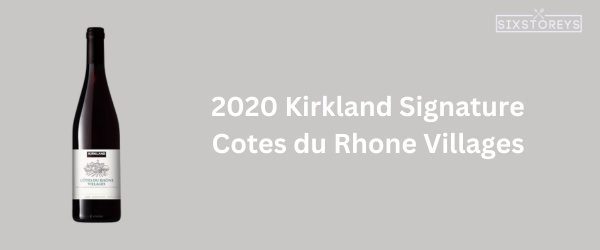 No wine list would be complete without an ode to French winemaking, and the 2020 Kirkland Signature Cotes du Rhone Villages accomplishes just that. This is a wine that showcases the expert blending techniques typical of the Rhone Valley, and it is skillfully crafted to paint a delicious portrait of the French countryside.
What struck me upon pouring the first glass was the vibrant crimson color, followed by the inviting aroma hinting at the fruity ensemble inside. The taste gives prominence to dark berries - blackberries and blueberries mainly - with a hint of black pepper adding a spicy zing. Underlying all these juicy, vibrant flavors is a gentle trace of silky tannins, making for a smooth, well-rounded drinking experience.
Having this wine at a dinner party or casual BBQ is sure to please your guests. It pairs nicely with a wide range of foods, from grilled vegetables to your favorite cuts of beef.
14. 2020 Kirkland Signature Series Columbia Valley Red Wine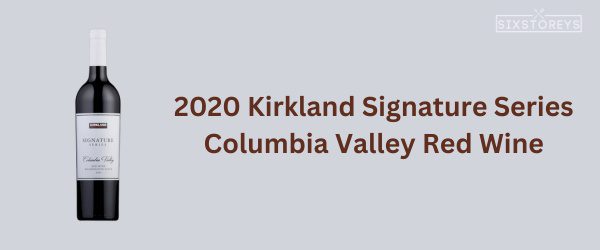 As a seasoned wine adventurer, I am often on the lookout for wines that taste far beyond their price range. The 2020 Kirkland Signature Series Columbia Valley Red Wine is one such discovery that bestows upon the drinker, a voluptuous fruit-forward experience without causing a strain on the wallet.
Hailing from the renowned vineyards of Washington State, this robust, full-bodied red echoes the luscious promise of its deep ruby hue. Upon opening, it unfurls aromas of ripe blackberries and juicy black cherries, intricately laced with subtle notes of chocolate and oak. Each sip is like biting into a choc-dipped, sun-ripe berry, both smooth and satisfying.
Whether it's with home-grilled steak, roast lamb, or merely for unwinding after a long day, this decadent red wine stylishly elevates the experience. Net-net, Kirkland's Columbia Valley Red is an expressive example of the region's prowess with Bordeaux-style blends.
15. 2017 Department 66 D66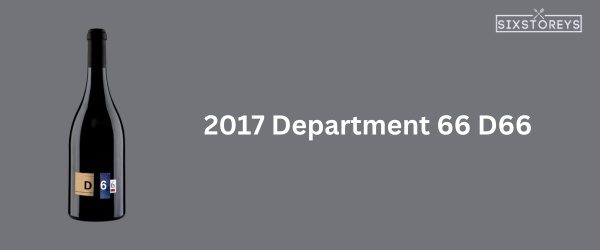 Department 66 D66 hails from the Department 66 region of France, near the Spanish border. This Grenache-based red wine exceeds my expectations each time I indulge in its rich, dark taste. It takes only one sip for this red to command my attention thoroughly.
This wine's seductive charm begins with a lavish bouquet of lush, inky fruits wafting from the glass. As I took my first sip, I reveled in a broad-spectrum taste profile, bright with dark fruit principles, along with cocoa undertones. The velvety, lingering finish was another sensory delight, rounding off a splendid tasting experience.
When it comes to food compatibility, the notes of berries, cocoa, and spice make this Grenache a perfect match for rich meats. It paired remarkably well with a hearty beef stew or a succulent lamb roast, enhancing the meaty nature of these dishes.
16. 2018 Devois des Agneaux d'Aumelas Languedoc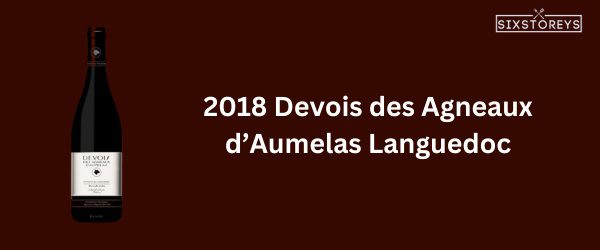 Drinking the 2018 Devois des Agneaux d'Aumelas Languedoc feels much like sinking into a plush armchair. This blend of Syrah, Grenache, and Mourvèdre offers comfort and familiarity, yet with enough intrigue to keep your senses captivated. Straight from the picturesque vineyards of Languedoc in Southern France, this wine is a delightful surprise.
My first taste of this wine was marked by fruity notes of ripe blackberry and cherry mingling with nuances of sweet plum. All these vibrant flavors are wrapped up in an earthy cloak that speaks of the rugged Languedoc terrain. Not too tannic nor too acidic, this wine sported an appealing, smooth texture with a finish that lingered delightfully, making it an instant favorite of mine.
When it comes to food pairing, the Devois des Agneaux shines with a classic platter of assorted cheeses or a simple pasta dish. But I also enjoy it in the most uncomplicated setting - in my hand, as I relax on the patio during a cool evening.
17. Tabula Ribera del Duero Tempranillo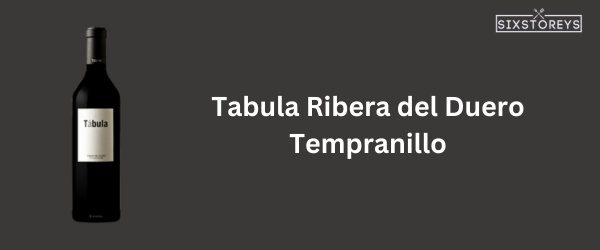 Tabula Ribera del Duero Tempranillo is a shining example of modern Spanish winemaking. This bold, rich red, brimming with old-world elegance, is a sensory rollercoaster ride from the first sniff to the long-lasting finish.
Once I uncorked the bottle, the Tempranillo bewitched my olfactory senses with dark fruit aromas. My first sip was layered with a symphony of ripe plum and blackberry flavors cradled on a plush velvety texture, reminiscent of walking through a bountiful Spanish orchard. And the finish? It smoothly, unobtrusively, trailed off, leaving me with a satisfying warm feeling, a testament to the well-integrated oak.
This wine is remarkably versatile in its pairing potential. From roasted flavors to grilled gastronomic delights, it complements just about any indulgent main course with aplomb. The Tabula Ribera del Duero Tempranillo has quickly become a prized possession in my wine collection!
18. 2019 Kirkland Signature Chianti Classico Riserva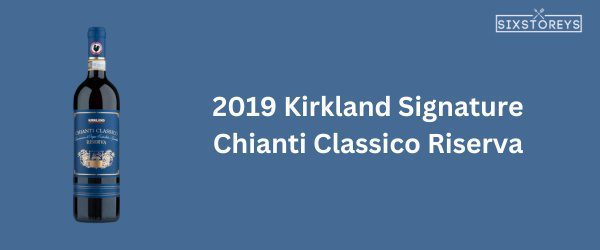 Embarking on the trail of Italian wines, I was more than delighted when I stumbled upon the 2019 Kirkland Signature Chianti Classico Riserva. This Tuscan delicacy boasts a balanced blend primarily constituting the Sangiovese grape variety, beautifully reflecting the wine's classic character.
Displaying a delightful ruby red tint, this wine fills the nose with bursting red fruit aromas, inviting me to take a sip. Upon tasting, a riot of red fruit flavors greeted my palate, beautifully transitioning into a well-rounded and pleasingly earthy finish. The highlight was the slight hint of spicy oak that brought an excellent balance and added depth to the overall taste profile.
For me, the chance to savor this Chianti Classico alongside my favorite pizza or a hearty pasta dish is always a celebration. Whether you are hosting a Friday pizza night or conducting an elegant Italian-themed dinner, this Chianti will certainly steal the limelight.
19. 2017 Kirkland Signature Rioja Reserva
As a devout follower of Spanish wines, the 2017 Kirkland Signature Rioja Reserva is an absolute must in my collection. Crafted from Tempranillo grapes, classic to the Rioja region, this red wine captivates you with its old-world charm and intricate blend of flavors.
Once poured the ruby-red liquid swirls to release expressive aromas of ripe black fruit mingled with spicy oak nuances. As I indulged in my first sip, the pleasantly surprising flavors of black cherry and plum fused beautifully with the fiery oak, rendering a silky texture that was certainly noteworthy. The well-structured finish, underlined with an elegant balance of fruit and acidity, was impressive and stayed on my palate longer than expected, reminding me why I return to this Rioja time and again.
When it comes to meal pairing, this wine is marvelous with spicy dishes. The Rioja struck an irresistible harmony with a spicy lamb curry but also shone alongside mildly spiced tapas-style dishes. For me, the Kirkland Rioja Reserva is a sure-fire winner in the Spanish wine category.
20. 2020 Kirkland Signature Malbec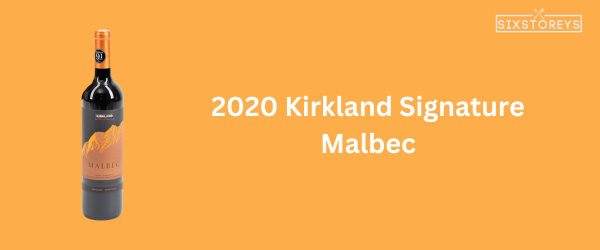 The story of my wine adventures would be incomplete without the mention of a good Malbec. The 2020 Kirkland Signature Malbec, sourced from the vineyards of Mendoza, Argentina, holds a special place in my heart for its robustness and full-bodied finish.
Pouring a glass reveals a deep, vibrant red color, characteristic of a traditional Malbec. The aromas of dark fruit gracefully waft up, enchanting me even before my first sip. When tasted, the flavors of plum and blackberry hit the palate, gracefully fused with a touch of spice, which then culminates in a finish that is as satisfying as it is lasting.
This Malbec is an ideal companion to your barbecue or smoked meats, enhancing the flavors in a fantastic interplay of taste. Whether it's a casual barbecue day or a formal dinner, the Kirkland Signature Malbec does an excellent job of making the meal an event to remember.
Also Read: Best Red Wines For Pot Roast
How to Select the Best Costco Red Wine for Your Palate?
While Costco's diverse range of red wines can be overwhelming, there are specific factors to consider when choosing a bottle that aligns with your personal tastes and preferences.
Identify Your Preferred Flavor Profile
First off, knowing your palate is vital. Elements such as sweetness, acidity, tannin levels, and body can drastically alter the experience of drinking wine. Understanding your preferences - whether you enjoy fruity notes, bold flavors, or dry wines- can help you find a wine that you'll love.
Wine Varieties and Regions
Secondly, wine varieties and their respective regions contribute significantly to a wine's taste. Are you an aficionado of full-bodied reds like Cabernet Sauvignon, or do you favor lighter, fruitier wines like Pinot Noir? The type of grape, as well as the region where it was grown, significantly influences its taste and characteristics. Knowing these profiles can lead you to your perfect bottle.
Learn About the Vintage
Vintage years can also be a determiner. While "older is better" is common wisdom, truthfully the vintage of a good wine is more about the weather conditions during the growing season, which can dramatically influence a wine's character.
Consider Food Pairings
Lastly, consider the type of food you would like to pair with the wine. For example, bold reds often pair well with hearty meats, while light reds are excellent with fish or chicken.
Why Costco's Red Wines are a Great Choice for Wine Lovers?
There's a reason Costco is the largest wine retailer in the country. Its budget-friendly prices and extensive selection make it a top choice for wine lovers, but the quality it consistently delivers is what makes Costco exceptional.
Commitment to Quality
Costco is committed to offering their customers not just any wine, but quality wine. Their Kirkland Signature wines are produced in cooperation with top wineries from around the world, ensuring that you get premium-quality wine at a fraction of the price.
Unbeatable Prices
The affordability of Costco's wines cannot be overstated. The buying power of Costco allows it to source and sell wines at unbeatable prices, often beating out even major wine retailers. This significant advantage means even budget-conscious shoppers can enjoy top-quality wine without breaking the bank.
Extensive Selection
Costco's extensive selection ensures every wine lover can find something to suit their taste. Whether you're a casual wine drinker or a seasoned sommelier looking for a unique vintage, Costco's vast array of regional and international wines is sure to impress.
Experts on Hand
Finally, the presence of wine stewards in most Costco wine departments is a valuable resource. They are there to guide customers in selecting the perfect bottle of wine for any occasion, meal, or personal taste which makes wine shopping at Costco an enjoyable and productive experience.
The varied selection, unbeatable prices, and commitment to quality make Costco's red wines a phenomenal choice for any wine enthusiast. So let your taste buds and Costco's exceptional offerings guide you to your next favorite bottle, invariably providing an enriching wine-drinking experience.
Understanding the Origins of Costco's Top Red Wines
When exploring Costco's top red wines, it's crucial to understand their origins to appreciate not only their unique flavors but also the history and craftsmanship behind each bottle.
The USA: Many of the top reds in Costco, including Kirkland Signature Barolo DOCG, Michael David Freakshow Cabernet Sauvignon, and 2019 Kirkland Signature Sonoma County Old Vine Zinfandel, originate from the USA, specifically from regions renowned for their vineyards like California and Washington State.
Italy: Costco's selection provides a wonderful tour of Italy's diverse wine regions. Wines like the Kirkland Signature Brunello di Montalcino DOCG, 2019 Kirkland Signature Toscana, and the 2019 Kirkland Signature Chianti Classico Riserva, hail from the famous Italian regions, each carrying a distinct flavor profile.
France: France, a wine powerhouse, also has representation in Costco's wine aisle. Wines such as the Kirkland Signature Gigondas and the 2018 Devois des Agneaux d'Aumelas Languedoc transport you to the French vineyards with their distinct flavor profiles.
Argentina: The 2018 Mosquita Muerta Pispi Blend de Tintas and the 2020 Kirkland Signature Malbec are great examples of rich and complex wines from this South American nation.
Spain: Delight in distinctive Spanish flavors with the Tabula Ribera del Duero Tempranillo and the 2017 Kirkland Signature Rioja Reserva.
Each origin has its unique winemaking traditions and practices, soil, and climate, commonly known as terroir in winemaking circles, which heavily influence the resulting wine's taste and characteristics.
Pairing Tips for the Best Costco Red Wines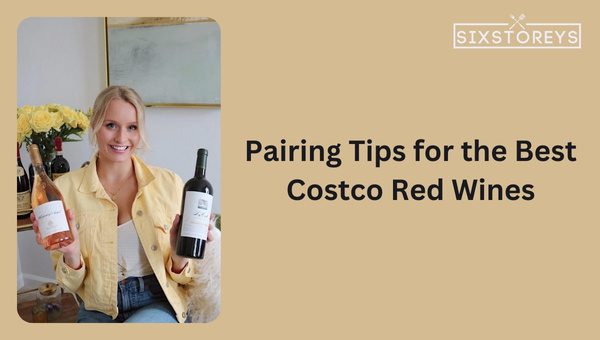 Understanding how to pair your favorite Costco red wines with food can significantly elevate your dining experience. The right pairing can bring out the flavors in both the food and wine, creating harmony and balance on your palate.
Harmonizing with flavors: Look for flavor parallels in both your food and wine. For instance, the fruity flavors of the 2018 Mosquita Muerta Pispi Blend de Tintas would pair nicely with dishes that include fruit elements.
Tannic wines with rich dishes: Full-bodied, tannic wines such as the Kirkland Signature Barolo DOCG and the Kirkland Signature Columbia Valley Cabernet Sauvignon hold up well next to rich, meaty dishes.
Matching the weight: A wine should complement the dish, not overpower it. Lighter wines such as the 2019 Four Graces Pinot Noir Willamette Valley go well with light dishes like fish or chicken.
Playing with contrasts: Sometimes a contrast can be as delightful as a match. The sweetness of a bold wine like the Caymus Cabernet Sauvignon 2020 can be a fantastic counterpoint to a savory steak.
Versatile Wines: Certain wines, like the 2020 Kirkland Signature Cotes du Rhone Villages, have a balance of fruit, tannin, and acid, making them versatile for a variety of dishes.
Remember, these are guidelines, not rules set in stone. The best pairing, at the end of the day, is your personal preference. So, do not be afraid to experiment. After all, the joy of wine pairing lies in discovering surprising and delightful combinations.
How Does Costco's Wine Selection Compare with Other Retailers?
When comparing Costco's wine offerings with those of other retailers, a few notable distinctions stand out. Most notably, Costco offers a significantly wider selection of both national and international wines, ensuring there's something to suit every palate or occasion. Additionally, Costco has an exclusive range of wines under the Kirkland Signature label, which speaks volumes about its dedication to offering the best to its club members.
To further enhance their customers' experience, Costco also ensures their wines are displayed in special temperature-controlled areas, maintaining the wine's quality, unlike some retailers where wines are often placed on regular shelves.
Undoubtedly, one of the major attractions at Costco is the attractive price point. Owing to their massive buying power, Costco offers prices that are hard to beat, providing excellent value for money given the high-quality wines they carry.
Diving into the Flavor Profiles of Costco's Most Popular Reds
If variety is the spice of life, then Costco's red wine selection would be a veritable feast. Each red wine possesses a unique flavor profile that will enthrall your taste buds.
2018 Mosquita Muerta Pispi Blend de Tintas
This Argentinian blend boasts a bold, full-bodied flavor with delightful fruity overtones of fig, plum, and cherry. The finish is unequivocally smoky, adding depth and complexity.
Kirkland Signature Barolo DOCG
This Italian gem abounds with rich, full-bodied flavors. The dominant notes of cherry, plum, cocoa, and cinnamon bring out the underlying structure of this classic wine.
Michael David Freakshow Cabernet Sauvignon
For those who enjoy depth and complexity, this California Cabernet Sauvignon combines the exuberant fruit flavors of blackberry, cherry, and plum with the warmth of vanilla and smoked oak.
2020 Boen Pinot Noir
This pinot noir is a lighter-bodied red that is packed with delightful flavors of strawberry and cherry, displaying a subtly earthy profile that would leave you cherishing every sip.
Joseph Phelps Cabernet Sauvignon 2019
Perhaps one of the most intricate wines on our list, this Californian cab marshals an incredible fusion of blackberry, black cherry, and vanilla flavors, offering refined tannins culminating in a dash of cedar.
The sheer variety, extraordinary quality, enticing prices, and compelling flavor profiles make the red wine selection at Costco a peerless playground for wine enthusiasts.
Also Read: Best Moscato Wines
Frequently Asked Questions
How Does Kirkland Signature Wines Compete with Other Brands?
Kirkland Signature wines, Costco's in-house brand, often compete very favorably with other brands. They are often produced by high-quality wineries and offer excellent taste profiles at a fraction of the price. More importantly, they provide exceptional value for money.
Is Kirkland Signature Barolo DOCG Worth It?
For lovers of Italian wine, the Kirkland Signature Barolo DOCG is a worthwhile investment. Known for its robust characteristics and complexity, it offers a delightful mix of cherry, plum, cocoa, and cinnamon notes.
What Makes the Michael David Freakshow Cabernet Sauvignon Unique?
What sets the Michael David Freakshow Cabernet Sauvignon apart is its unique blend of exuberant fruit flavors of blackberry, cherry, and plum, tempered with traces of vanilla and smoked oak. It's ideal for those looking for a distinctive and bold California Cabernet.
Can I Buy Wine Online from Costco?
Yes, you can purchase wine online from Costco. However, due to shipping restrictions on alcohol, service can vary based on local laws. It's always a good idea to check your local guidelines before making a purchase.
What are Good Food Pairings for Costco's Red Wines?
The food pairings for Costco's red wines widely vary depending on the specific variety you choose. For a full-bodied red like the 2018 Mosquita Muerta Pispi Blend de Tintas, pair it with hearty dishes like roast beef or stews. On the lighter side, the 2019 Four Graces Pinot Noir Willamette Valley pairs excellently with seafood dishes, particularly salmon.
How Can I Store My Costco Red Wine?
Storing your Costco red wine properly is critical to maintaining its flavor and quality. Keep your wine in a cool, dark, and stable environment, preferably between 53 to 57 degrees Fahrenheit. When stored under these conditions, red wine can maintain and even improve its taste over time.
Why is the Year or 'Vintage' Important in Selecting Wines?
The vintage year on a bottle of wine indicates the year the grapes were harvested. Weather conditions vary from year to year, affecting the quality and flavor of the grapes, hence the wine's quality. A great vintage year will often mean a great-tasting wine. However, remember that modern winemaking techniques have minimized the impact of a bad year, so don't dismiss a wine solely based on its vintage.
Does Costco Offer Wine Tasting Events?
Costco doesn't typically host wine-tasting events due to their warehouse-style setup and legal restrictions in certain locations. However, they frequently offer excellent deals on a wide range of wines, allowing you to experiment and find your new favorite at home.
Conclusion
The world of wine is one easily lost within - the complexities, the bouquet of flavors, the diverse landscapes encapsulated within each bottle. Costco makes this journey accessible and enjoyable with its breathtaking variety of red wines, which offer nods to various wine regions and styles. Whether you're a seasoned oenophile or a curious wine enthusiast, navigating Costco's wine aisles promises an exploration into the world of viticulture without the need for a hefty budget. There is a certain delight in finding that perfect bottle - a beautiful complement to your meal, a sommelier-worthy gift, or a comforting companion after a long day.
Remember, wine appreciation is a deeply personal experience, there's no right or wrong choice. The best Costco red wine is, after all, the one that satisfies your taste. Here's raising a glass to your exquisite wine journey at Costco! May it be filled with discovery, delight, and wonderfully memorable tastes. Cheers!
Beverage Explorer and Tastemaker 🍻🥃🍷 Aman's quest for liquid delights knows no limits. From hoppy brews to aged spirits, he uncovers the tales behind each sip. His eloquent descriptions and accessible insights make every drink an adventure worth raising a glass to.