13 Best Substitutes For Black-Eyed Peas in 2023 [New List]
Updated On: August 9, 2023
Black-eyed peas, known for their distinctive flavor and texture, have long since been a staple in many cuisines worldwide. However, there are times when you might find yourself without this cherished ingredient or perhaps, you're simply looking to mix it up a bit. Fear not! Your culinary journey needn't be halted. There is a plethora of equally flavorful and fulfilling alternatives waiting to be discovered.
This vibrant culinary guide will introduce you to some of the best substitutes for black-eyed peas. Whether you're a lover of traditional Southern fare, or an aspiring gourmet on the hunt for that next great ingredient, strap in for a flavorful ride into the world of legumes and beans.
Also Read: Best Chili Garlic Sauce Substitutes
13 Best Substitutes For Black-Eyed Peas in 2023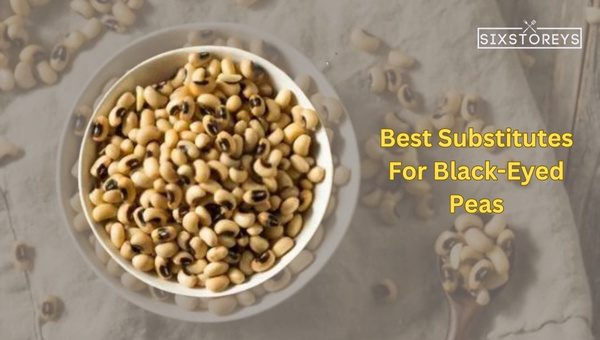 Navigating the world of beans and legumes can be a little overwhelming, but I've got you covered. Today we'll dive into a list of the 13 best black-eyed peas substitutes, making your culinary journey easier and your palate more experienced.
1. Crowder Peas as an Excellent Substitute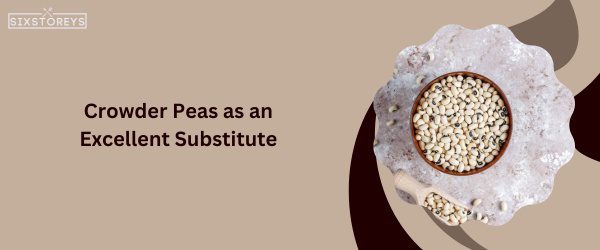 Certainly, one of the best substitutes for black-eyed peas is the ever-reliable Crowder Pea. What makes it a great stand-in? Well, for starters, it has a similar texture to black-eyed peas, but with a slightly more nutty and earthy flavor. While they are traditionally found in Southern cooking, their use is gaining popularity in different cuisines.
Crowder peas are so-called because they're 'crowded' in their pod, and this compact living seems to translate into a heartier pea, one that holds up exceptionally well in cookery. These tasty legumes work splendidly in a variety of recipes - everything from Southern classics like Hoppin' John and succotash to your grandma's famous warm pea salad.
2. White Acre Peas: A Flavorful Option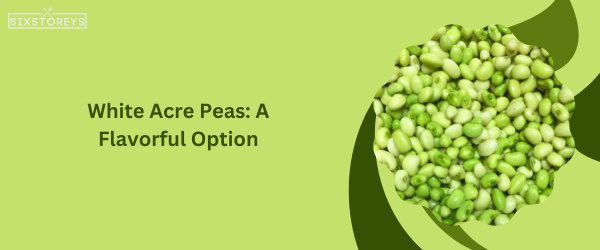 Next on our list of flavorsome substitutes, let's talk about White Acre Peas. If you're looking to introduce a subtle, yet distinctly sweet and creamy flavor to your dishes, then these peas may be just what you're looking for. White Acre Peas are characterized by their tender skin and small, delicate kernels. They hold their shape well during cooking, which makes them an attractive replacement for black-eyed peas in recipes that demand a certain aesthetic, apart from flavor.
Their sweet taste can also offer a surprising and delightful contrast to spicy or savory dishes. Keep in mind, though, that their flavor could get obscured when incorporated into an overly robust or spicy recipe. Thus, these snowy legumes might be best appreciated in simpler preparations—think light soups, salads, and stews, or even simply sauteed with a medley of your favorite fresh garden herbs. A word of advice: don't let their delicate disposition fool you; these peas pack a nutritional punch with their high fiber and iron content.
3. Purple Hull Peas and Their Nutritional Advantagesy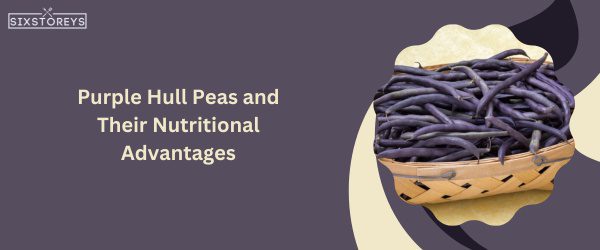 Top on my list of perfect replacements for black-eyed peas are Purple Hull Peas. Not only do these peas bear a striking resemblance to black-eyed peas in terms of taste and texture, but they are also packed with a fair amount of nutrients.
Primarily grown in the Southern United States, Purple Hull Peas are a rich source of fiber, protein, and complex carbohydrates. They have a slightly sweeter flavor than black-eyed peas, which can bring a unique twist to your traditional recipes.
An interesting fact to note, these peas are also low in fat and cholesterol, which makes them a healthier alternative. Incorporating Purple Hull peas into your diet can help reduce the risk of chronic diseases such as heart disease and diabetes. With their nutritional advantages, Purple Hull Peas can be considered more of an upgrade than just a mere substitute for black-eyed peas.
4. Why Pinto Beans Make a Fab Substitute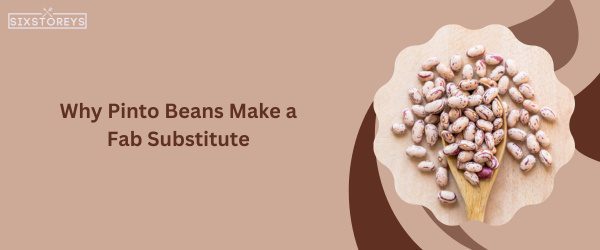 Next up on the list are Pinto Beans. If you're a fan of Mexican cuisine, you're probably familiar with this staple ingredient. The mild, earthy flavor and creamy texture of Pinto Beans make them a versatile legume, fitting into various dishes splendidly.
Just like Black Eyed Peas, Pinto Beans are a great source of fiber and protein. Interestingly, they're also rich in various minerals and vitamins, such as iron, magnesium, and B Vitamins, which support various body functions. Furthermore, they're often praised for their potential to reduce blood cholesterol levels.
If you're trying to create a heartier soup or stew, Pinto Beans are your best friend. Their texture holds up well during long cooking times and they can add a wonderful depth of flavor to your dish. Whether you're whipping up a batch of chili, a pot of soup, or a tray of oven-roasted veggies, Pinto Beans can stand in for black-eyed peas and possibly even enhance your dish!
So next time you find yourself out of black-eyed peas, reach out for a can of Pinto beans without hesitation. Your taste buds will surely thank you for it!
5. Fresh Lima Beans: Perfect for a Unique Twist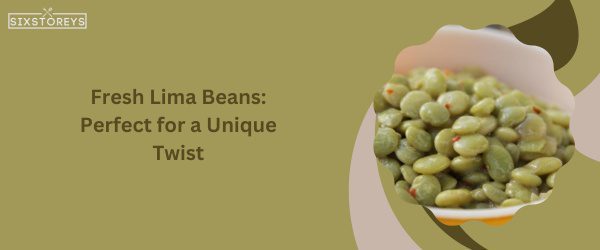 Fresh Lima Beans, also known as "butter beans" in some circles, are an enticing alternative to black-eyed peas that are sure to add a unique twist to your dishes. Boasting a delicate, buttery flavor and a creamy texture, Lima Beans make for a wonderful substitute in many dishes that traditionally call for black-eyed peas. Not only do they bring a delightful taste to the table, but they also pack an impressive nutritional punch, being rich in fiber, protein, and iron.
A great dish to try with Lima Beans would be a comforting bowl of succotash, a popular Southern dish. You can also try adding Lima Beans to salads, stews, or casseroles, where they can act as a stand-in for black-eyed peas.
Also worth noting, when using Lima Beans as a substitute in your recipes, make sure to adjust cooking times accordingly as they tend to take a little longer to cook than black-eyed peas.
Also Read: Best Kewpie Mayo Substitutes
6. Fresh Romano Beans: A Tasty Alternative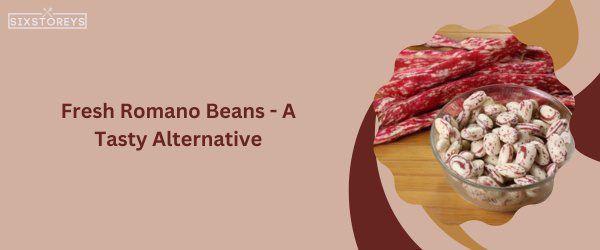 Moving on to another charming substitute for black-eyed peas, let me introduce you to the Fresh Romano Beans. Sporting a vibrant green color and a slightly sweet flavor, Romano Beans, also known as Italian Flat Beans, are indeed a tasty alternative.
Just like Lima Beans, Romano Beans are rich in dietary fiber and protein, making them a nutritious addition to your meals. They also have an advantage over black-eyed peas when it comes to versatility - you can enjoy them raw in salads, cooked in soups and stews, or even grilled for a BBQ side dish.
One interesting point to consider when using Romano Beans as an alternative is their crunchy texture. Unlike the creamier black-eyed peas, Romano Beans hold their shape and bite, even when thoroughly cooked. This characteristic can be used to your advantage in dishes that call for a bit of crunch or where textural contrast is desired.
7. Kentucky Wonder Beans and Their Robust Flavor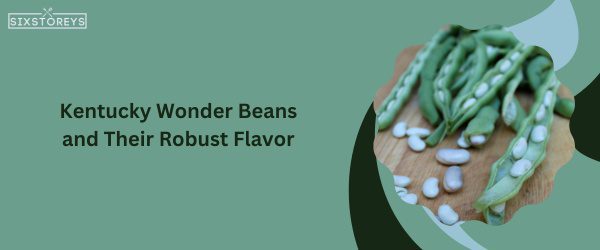 Kentucky Wonder Beans, also known as old homestead pole beans, is truly a hidden gem in the world of legumes. Boasting a robust flavor profile, these beans make a hearty substitute for black-eyed peas. When cooked, they have a tender, meaty texture and a full-bodied flavor, enriching any recipe with a touch of homespun, traditional goodness.
Just cooked up in a simple stew or integrated into a more complex casserole, these beans are a failsafe way to shake up your typical black-eyed peas recipes. Also, don't forget – they're rich in essential nutrients, too, featuring high levels of protein, vitamin A, vitamin C, and iron!
8. White Navy Beans: Familiar Yet Different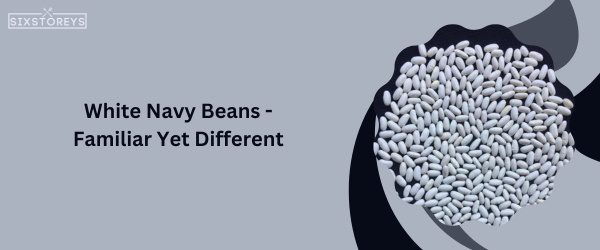 Moving along, let me introduce you to another impressive substitute - White Navy Beans. Renowned for their mild flavor and delicate texture, these beans have been a staple in many cupboards around the world. While their light taste may seem familiar, it's their versatility that truly highlights them as a unique alternative for black-eyed peas.
Pair them in a rich tomato sauce or toss them in a refreshing salad - their gentle flavor profile is adaptable in a myriad of dishes. Plus, their high fiber content aids in digestion, making them a health-conscious swap for black-eyed peas.
9. Cannellini Beans: Italian Staple, Global Substitute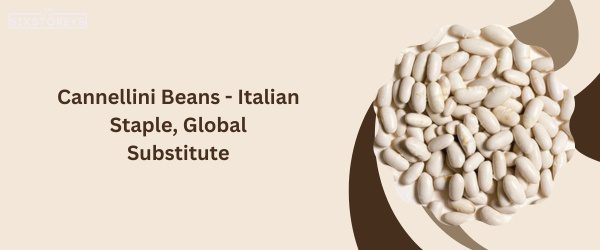 Cannellini Beans, an Italian staple, also hailed as white kidney beans, are revered for their creamy texture and nutty taste. As a global substitute for black-eyed peas, they make a savory statement in soups, pasta dishes, and even as a simple side.
Mix them into your Tuscan soup or blend them into a creamy sauce - their transition from an Italian classic to a global staple is nothing short of impressive. Not to mention, they're packed with protein and other essential nutrients, making for a wholesome substitute.
10. Fava Beans: A Mediterranean Delight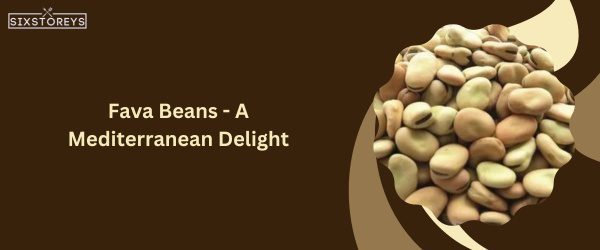 Fava beans, also known as broad beans, have been widely grown in the Mediterranean region for years and have gradually grown in popularity globally. These delightfully meaty, creamy legumes are almost tempting enough to swap out black-eyed peas permanently - almost! Their slightly sweet, earthy flavor is perfect in dishes where black-eyed peas would typically shine. You can reach out to these delights as one of the best substitutes for black-eyed peas!
With a nutritional profile just as robust -n rich in protein, fiber, and B vitamins- Fava beans also carry plenty of health promises. Dare to diverge a bit and try Ful Medames, a traditional Middle Eastern dish made from slow-cooked Fava beans, traditionally swapped for black-eyed peas in their native lands.
11. Green Beans: A Common Household Substitute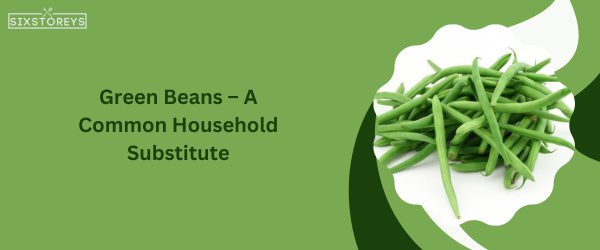 Sure, Green beans might not be the first substitute that comes to mind when you think of black-eyed peas. But with their widespread availability and recognizable taste, they prove to be a remarkable substitute. With a crunchy texture and subtly sweet flavor, green beans can be used in salads, stews, or casseroles, just like black-eyed peas.
Additionally, they're packed with vitamins A, C, and K, as well as folate and fiber, keeping the nutritional value of your dishes intact. Try substituting them in dishes like Hoppin' John or Texas Caviar for a new spin on classic recipes.
12. Southern Pink Lady Peas: A Southern Delight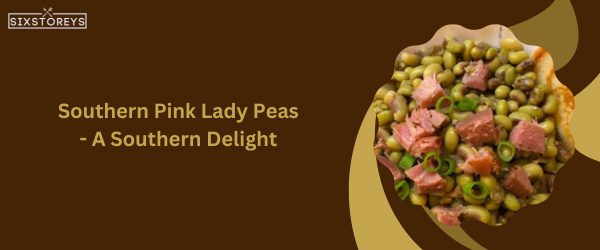 Southern Pink Lady peas, also known as pink-eyed peas, are a Southern favorite and can easily be substituted for Black-eyed peas. With their cream color and pink-eye, these peas provide a unique, hearty flavor that is not too different from black-eyed peas.
Perfect in traditional Southern dishes like gumbo or jambalaya or as a simple side dish, these pink ladies bring all the richness and full-bodied flavor that black-eyed peas are known for. Not to forget, they're equally rich in fiber, protein, and essential minerals. If you're up for exploring some southern charm in your dishes, these delightful Pink Lady peas are just the ticket!
13. Borlotti Beans: An Uncommon but Effective Substitute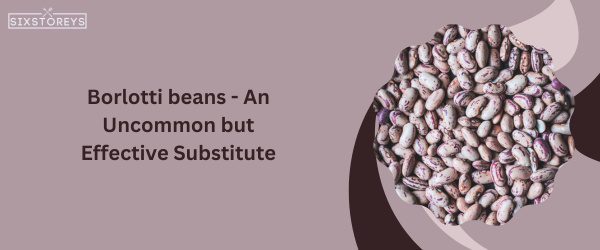 Few might have heard of Borlotti beans, but these Italian legumes could be the secret ingredient you're looking for! With their pretty pinkish-red speckled skins, Borlotti beans often darken after cooking, providing a distinct, appealing, aesthetic feel to your dishes. They have a creamy texture and a nutty, sweet flavor that could seamlessly substitute black-eyed peas in recipes.
From soups, stews, and salads to delightful Italian dishes like Pasta e Fagioli, you can easily use Borlotti beans wherever you'd typically use black-eyed peas. Like their other legume counterparts, they're nutrient-dense, packed with fiber, protein, and minerals. Next time you run out of black-eyed peas, remember there's an intriguing Italian guest, Borlotti beans, ready to bring a pleasing twist to your favorite dishes!
Also Read: Best Adobo Sauce Substitutes
Understanding the Nutritional Profile of Black Eyed Peas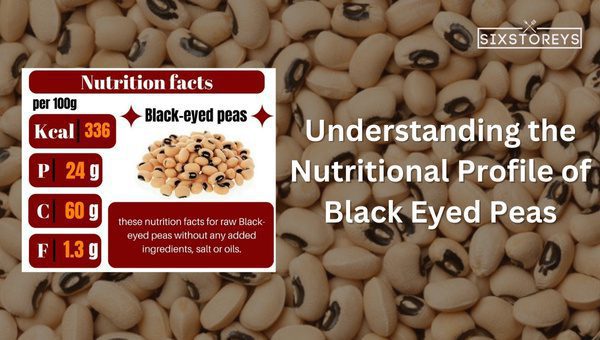 Black-eyed peas, also known as cowpeas, are a type of legume that is highly regarded for its nutritious value. They are rich in many essential nutrients. To begin with, they're an excellent source of soluble fiber, which is beneficial for digestive health and regulating blood sugar levels.
Furthermore, they pack a decent amount of protein, making them an excellent choice for vegetarians, vegans, and those trying to increase their protein intake. Black-eyed peas are also low in fat and calories, which is beneficial for those keeping an eye on their caloric intake.
Additionally, black-eyed peas are known to be rich in many important micronutrients such as potassium, iron, and folate. Potassium can help to maintain a healthy heart rhythm and blood pressure, while iron is essential for transporting oxygen throughout your body. Folate, on the other hand, is vital for proper brain function and plays an important role in mental and emotional health.
Let's break down the general nutrient content per one cup of cooked black-eyed peas:
Calories: 160
Protein: 5g
Carbohydrates: 33g
Dietary fiber: 8g
Fat: 1g
Potassium: 239mg
Iron: 4mg
Folate: 209mcg
I would advise to always consider the nutritional values when choosing between black-eyed peas and their substitutes. This will greatly influence your dietary balance and overall health.
Choosing Between Fresh, Dried, or Canned Substitutes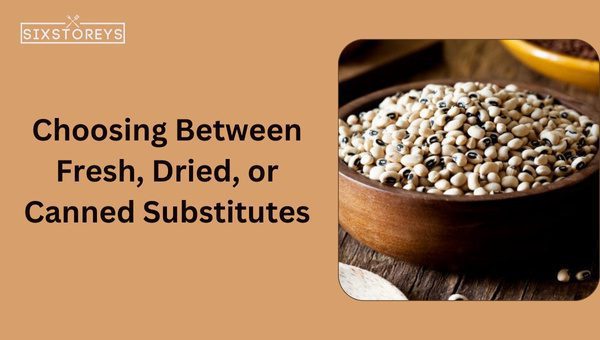 When it comes to choosing a substitute for black-eyed peas, the form in which the legume or bean is available is another factor to consider. They can be available in fresh, dried, or canned forms with each presenting its unique set of advantages and considerations.
Fresh legumes and beans generally have a superior taste and texture. If you're inclined towards cooking from scratch and enjoy spending extra time in the kitchen, fresh is usually the best. Just bear in mind that they often require additional prep time to wash, sort, and sometimes soak before cooking.
Dried legumes and beans involve a bit more effort, as they need to be soaked prior to cooking. They are, however, an economical choice and can be stored for a longer period. They offer a distinct advantage in terms of flavor, as they absorb the flavors of the dish they are cooked in.
Canned legumes and beans are the most convenient of the three. They're pre-cooked, so they are a real time-saver, especially for dishes that need a quick turn-around time. The downside is they may contain extra sodium, so be mindful of this if you're watching your salt intake.
Your choice between fresh, dried, or canned substitutes for black-eyed peas can affect your recipe's flavor, cooking time, and nutritional content. Be sure to consider these factors before making a selection.
Where to Buy These Amazing Substitutes for Black-Eyed Peas?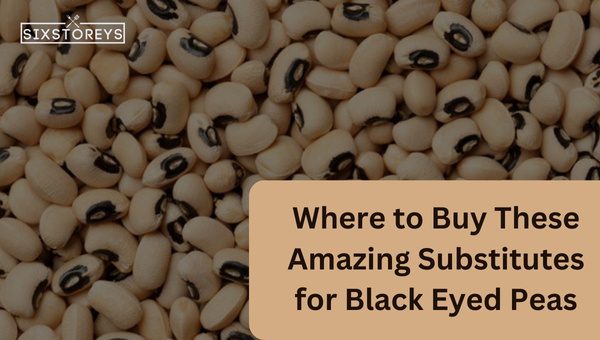 In the era of online shopping, finding these incredible substitutes for black-eyed peas is easier than ever. Most of the substitutes are readily available both locally and globally.
Local Grocery Stores
Your local grocery store is always a good place to start. They typically carry a wide variety of beans and legumes, making it easy to find some of the more common substitutes like pinto beans, green beans, fresh lima beans, and white navy beans.
Tip: Check out the canned goods as well as the fresh produce and dried goods sections for different forms of these substitutes.
Farmers' Markets
Local farmers' markets are often teeming with fresh, seasonal produce. Here you can find naturally grown beans and peas, such as Kentucky wonder beans, purple hull peas, fresh Romano beans, and, on occasion, some rather uncommon ingredients like Southern Pink Lady peas.
Tip: Talk to the farmers directly to learn more about the beans, how to store them properly, and even some fantastic recipe ideas.
International Markets or Ethnic Food Stores
If you're seeking more exotic substitutes like Borlotti beans or Cannellini beans, making a trip to your local international market or ethnic food store can be tremendously helpful.
Tip: Italian and Mediterranean markets specifically offer a rich selection of beans used in their local cuisines.
Online Marketplaces
For those who prioritize convenience, online marketplaces like Amazon and Walmart stock up an impressive inventory of both local and international substitutes for black-eyed peas. Whether you want Crowder peas or fresh white acre peas, they've got you covered with either dried or canned options.
Remember, regardless of where you buy these substitutes, always strive for high-grade, fresh produce. This way, you can unlock the fullest flavor possible in your delightful culinary creations!
Also Read: Best Cheeses For a Turkey Sandwich
Frequently Asked Questions
Can I substitute any kind of pea or bean for black-eyed peas?
While many substitutes retain the texture of black-eyed peas, the flavor might not be the same. It's essential to carefully choose substitutes based on your recipe needs.
Are Purple Hull Peas a suitable substitute for a vegan diet?
Yes, Purple Hull Peas, like other peas and beans, are plant-based and perfectly suitable for a vegan diet.
Are White Acre Peas similar in nutrition to black-eyed peas?
White Acre Peas and black-eyed peas are nutritionally comparable, both are rich in protein, fiber, and a range of vitamins and minerals.
Will Pinto Beans change the taste of my dish if I substitute them for black-eyed peas?
Pinto beans have a slightly creamier taste and texture compared to black-eyed peas, which might subtly change your dish's taste.
Can I use Fresh Romano Beans in a salad?
Yes, Fresh Romano Beans can be a delightful addition to salads, as they hold their shape well and have a slightly sweet flavor, particularly when cooked.
Is substituting Kentucky Wonder Beans for black-eyed peas a good idea for soups?
Absolutely, Kentucky Wonder Beans have a robust flavor that complements soups wonderfully when substituted for black-eyed peas.
Which is a better substitute for black-eyed peas - Cannellini Beans or Fava Beans?
Both Cannellini Beans and Fava Beans can be great substitutes depending on the dish. Cannellini Beans hold their shape well and have a mild flavor, making them suitable for stews or casseroles, whereas Fava Beans have a buttery texture, perfect for Mediterranean dishes.
Can Borlotti beans be used as an alternative in a salad or should I stick with Green Beans?
Both Borlotti and Green Beans can make for a healthy, hearty salad. While Green Beans are a more common choice due to their crisp texture and mild flavor, Borlotti beans can also provide a unique taste and softer bite to salads.
Conclusion
Navigating the wide array of legume and bean options available to substitute black-eyed peas needn't be an intimidating task. From the thick, creamy texture of Crowder Peas to the burst of flavor provided by exotic Borlotti beans, you're sure to find a substitute that not only fits your recipe but also introduces an exciting new element to your plate. Whether you're in pursuit of that comforting taste of home or venturing out into the uncharted territories of world cuisine, remember - variety is the spice of life.
So, go ahead and explore these delightful alternatives; you might just stumble upon your new favorite ingredient. Isn't that the beauty of it all? Cooking expands our horizons, tantalizes our taste buds, and makes every day a delicious adventure. Here's to the joy of discovery! Cheers, my fellow food explorers, this culinary journey has only just begun!
Food Lover and Storyteller 🍽️✨ With a fork in one hand and a pen in the other, Shivani brings her culinary adventures to life through evocative words and tantalizing tastes. Her love for food knows no bounds, and she's on a mission to share the magic of flavors with fellow enthusiasts.