14 Best Vegan Frozen Pizza Brands of 2023 [Tastiest Picks]
Updated On: November 1, 2023
In our fast-paced world, finding quick meals that align with our dietary habits can be a challenge. For those of us following a vegan lifestyle, it might seem like options are limited - but that's far from the truth! The world of frozen vegan pizza has come a long way with an extended variety of flavors, creative toppings, and even gluten-free or whole-grain crust options.
If you think 'vegan' and 'frozen pizza' don't harmonize, it's time to reconsider. In my personal journey, I've discovered some palatable, healthy, and hands-down mouth-watering choices. If you're ready to sink your teeth into some of the best vegan frozen pizzas these brands have to offer, read on. You're in for a real treat!
Also Read: Best Snacks for Gaming
14 Best Vegan Frozen Pizza Brands of 2023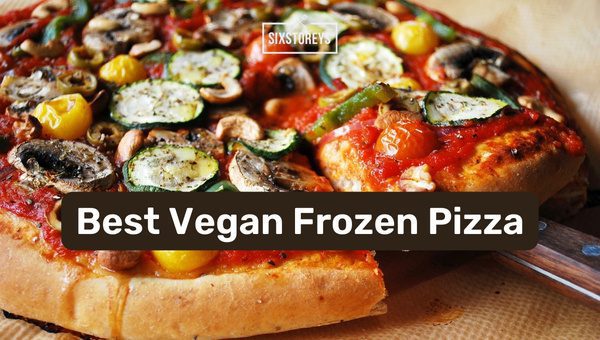 Venturing into the world of veganism comes with discovering innovative plant-based alternatives, including the realm of frozen foods. If you are looking to explore the best of what the vegan frozen pizza offerings have to deliver, you've come to the right place! Let's embark on this voyage reviewing 14 of the best vegan frozen pizzas that promise to satisfy your cravings and keep your vegan lifestyle intact.
1. Oggi Foods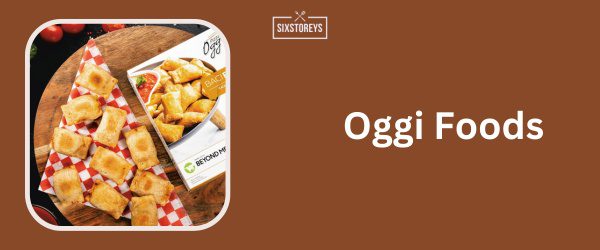 Often, when it comes to frozen food, we may feel that we're making a compromise, typically for the sake of convenience. But with Oggi Foods, it is evident that quality and flavor are intricately woven into every bit of their heavenly vegan-friendly pizzas.
Their Gluten-free Spinach & Vegan Goat Cheese Pizza is a triumph of the senses. The gluten-free crust (a blend of rice flour, potato starch, and chickpea flour) crackles appetizingly with every bite, offering a kind of satisfaction that you thought was long lost in your gluten-free journey. This lush base is then smothered in a sumptuous vegan goat cheese, surprisingly true to the tangy notes associated with traditional goat cheese. The toppings, a melange of spinach and marinated artichoke hearts give the pizza a fresh, earthy taste that contrasts beautifully with the richness of the faux cheese. Finally, a touch of garlic ties all these flavors together into a harmonious symphony that leaves your taste buds singing.
Then comes the Gluten-Free Bruschetta Pizza, recreating a classic appetizer on a pizza base. The medley of traditional bruschetta toppings - the sweetly acidic tomatoes, verdant basil, piquant garlic, and sharp onions - is a flavor bomb that explodes with every bite. Each ingredient remains distinct, and together they paint a bold and vibrant picture that is hard to resist. The vegan mozzarella shreds echo real cheese so well that you would be forgiven for questioning its plant-based claim.
2. Blackbird Foods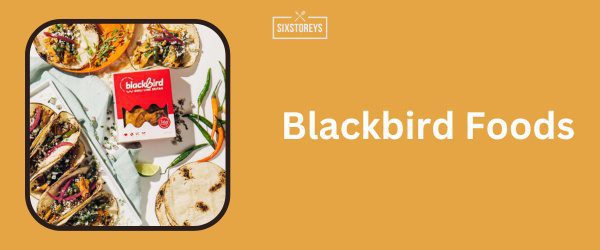 Blackbird Foods has been successful in singing a melodious vegan tune that often leaves me craving their pizzas. As a massive fan of Seitan, the Seitan's Cheesesteak Pizza was right up my alley.
Every bite of this pizza was a masterclass in texture and flavor balance. The marinated seitan was succulent, its rich umami notes providing a base over which the rest of the ingredients staged their performance. The mushroom, onion, and green bell pepper trio, sauteed until just soft, lent an earthy sweetness that was beautifully contrasted by the subtle heat of the jalapenos. A smooth, punchy vegan cheddar cheese brought all these elements together.
Equally impressive was the Vegan Margherita Pizza. There's a simplicity to Margherita that makes it a perfect litmus test for any pizza maker. The tomato sauce, fresh basil, and vegan mozzarella cheese combo may be classic, but it requires skill to balance. Blackbird Foods accomplishes this balance flawlessly. Their pizza sauce, tangy and robust, with harmonizing sweet undertones, steals the show. Fresh basil leaves strategically placed across the pizza brings a refreshing, aromatic respite from the richness of the vegan cheese, which stretches and bubbles just like its dairy counterpart.
Now, as I sit at my kitchen table, mindlessly tapping my keyboard while lost in delectable memories, I realize that the journey of discovering the best vegan frozen pizza has been not just an exploration of food, but a deeper understanding of flavors, craft, and imagination that these brands bring to the table.
3. The Pizza Plant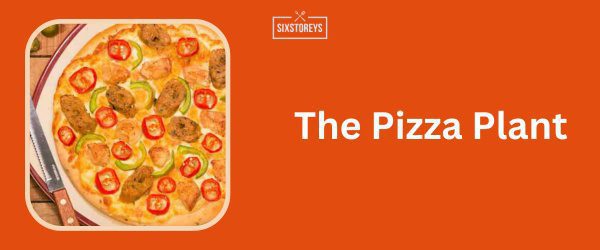 If we imagine the pizza universe as a dense forest, The Pizza Plant is a shining gem nestled among the foliage. Every creation appears to be made with utmost care and attention to detail, using organic, non-GMO ingredients that evoke feelings of warmth and home.
Consider their 'Not Your Cheese' pizza, for instance. The harmonic symphony begins with a crust that has been created with a balance of organic wheat flour, extra-virgin olive oil, organic brown sugar, and Himalayan pink salt. This crust forms the perfect canvas for delicately flavored toppings. The bed of roasted garlic leaves a trail of mellow, sweet aroma that lingers seductively. Their organic cashew truffle cheese is a texture and taste miracle, a luscious and creamy eruption of umami. Finally, the toppings — organic spinach and artichoke hearts — add to the impressive ensemble, their combined textures, and flavors adding dimensions to every bite. A pizza that speaks the language of love, indeed!
4. Banza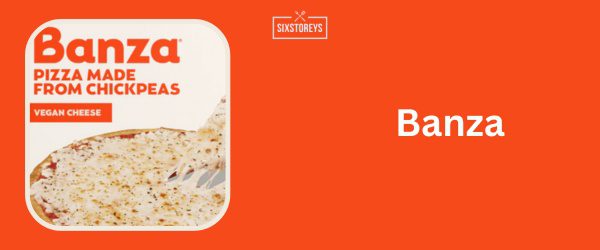 Sometimes, the stars align themselves in such a manner that something magically delicious comes into existence. This is precisely what happened when the ever-popular chickpea pasta brand Banza decided to launch its offerings of frozen pizzas.
Let's take the Chickpea Margherita Pizza as an example. Comprising a chickpea crust which is a healthier and gluten-free alternative, you are met with a mix of guilt-free pleasure and resounding textures. The fresh-made pizza sauce is both vibrant and subtly tangy, creating an exquisite foundation for the toppings. Fresh basil leaves lace the pizza exuding refreshing aromas, while vegan cheese provides a creamy and scrumptious finale to the masterpiece. This pizza not only manages to successfully balance taste and nutrition but makes it a thrilling experience.
5. Sweet Earth Foods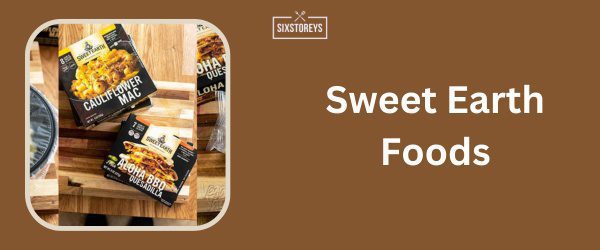 The thing about Sweet Earth Foods is that they have a knack for surprising you. Who would think a veggie pizza could be that interesting? Well, I was in for a surprise with their Veggie Lover's Pizza.
First of all, talking about "veggies," this pizza is certainly not one to shy away from. Broccoli, Brussels sprouts, mushrooms, corn, and sweet potatoes grace this pizza from top to bottom, providing a diversity in taste and texture that you never knew you needed in a pizza. The addition of zesty marinara and a generous sprinkle of vegan cheese blend makes this a party where everybody's invited, even the staunchest carnivores.
Each bite takes you on a fresh, gardenesque tour with surprising pops of corn sweetness and the earthy mushroom and Brussels sprouts, all bound by the common denominator, the vegan cheese. With the Veggie Lover's Pizza, Sweet Earth Foods has successfully debuted in my book of incredible vegan frozen pizzas.
6. Alex's Awesome Sourdough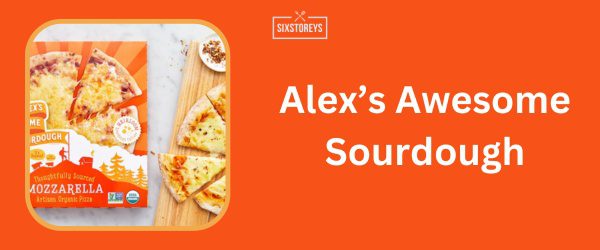 As someone who's long championed the distinct flavors of sourdough, Alex's Awesome Sourdough offered an entirely novel way to appreciate this age-old bread form. Their Vegan Margherita pizza is a slice of the sublime that had me coming back for more every single time. The sourdough crust endowed the pizza with an irresistible tanginess and an exceptional texture.
The lively dance between the ripe, organic tomatoes and the fragrant basil played out against the backdrop of melt-in-your-mouth vegan cheese. This manifestation of the timeless Margherita pizza shows the world that plant-based eating can be just as, if not more, sensory and delectable.
7. Daiya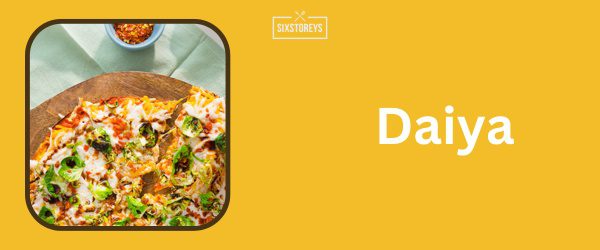 Journeying into the realms of Daiya felt akin to reliving fond dairy-filled memories of yesteryear. Their Mozzarella Style Shreds Pizza swept me off my feet with its extraordinary likeness to authentic mozzarella. The pizza boasted succulent, mellow morsels of mozzarella-style vegan cheese erupting over a crispy gluten-free crust.
It really was a tribute to the timeless and classic Margherita pizza we all know and love. The result? An eating experience that was as close as I've ever gotten to replicating the dairy days of my past, without any actual dairy seeping into the mix.
8. Amy's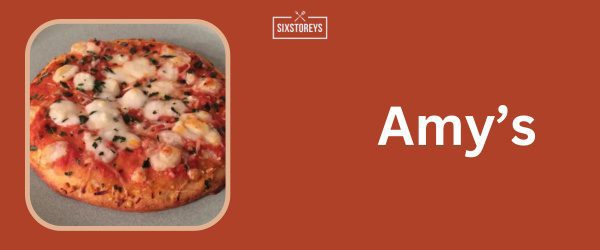 Speaking of hidden gems in the frozen food aisle, Amy's vegan Margherita Pizza is one more addition to the string of delightful discoveries. The pizza's magical concoction of organic basil and garlic tied together with a drizzle of extra virgin olive oil transported me to the Italian countryside with every bite. The delectable vegan cheese melted on an exquisite gluten-free crust, creating an amalgamation of flavors so good it would make a dairy aficionado give it a try.
What I particularly loved about Amy's pizza was the authentic, homemade vibe it gave off, making every dining experience feel special. Plus, it's free from dairy, soy, and lactose, making it an excellent option for those with specific dietary needs. Truly, a taste of home and health that hits the mark!
9. American Flatbread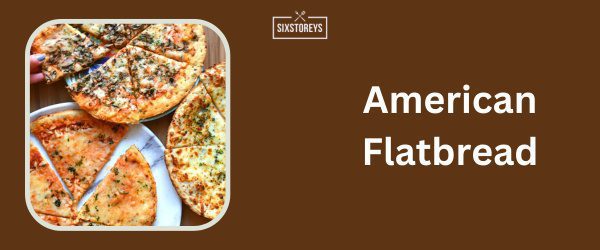 American Flatbread's Vegan Harvest is a no-nonsense pizza that embodies simplicity and authenticity in every slice. What struck me most about it was the respect it gave to its ingredients. Everything from the crispy, perfect crust to the variety of vegetables tasted real and unadulterated.
This, coupled with a reasonable price point, makes American Flatbread's Vegan Harvest an exceptional deal for those on plant-based diets. Whether you want a quick vegan snack or a laidback meal, this pizza would be, without a doubt, a fitting choice.
Also Read: Best Frozen Burger Brands
10. Alpha Foods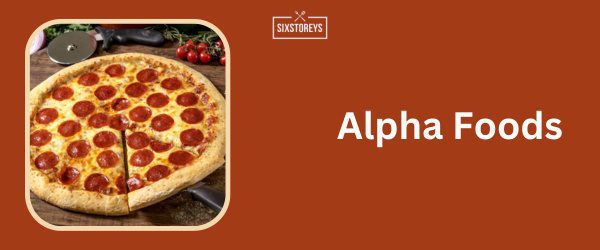 Alpha Foods' Pizza'oli was one of the top-notch pizzas I came across, replete with an explosion of flavors. The pizza owes its uniqueness to the bell peppers, onions, and vegan sausage- a trifecta that brings protein, crunch, and a seasoned kick to the party.
A generous layer of dairy-free provolone crowns the ensemble, offering a taste akin to real cheese. This pizza truly left me marveling at how flavourful and filling a vegan diet could be, even when it comes to traditionally non-vegan foods like pizza!
11. Trader Joe's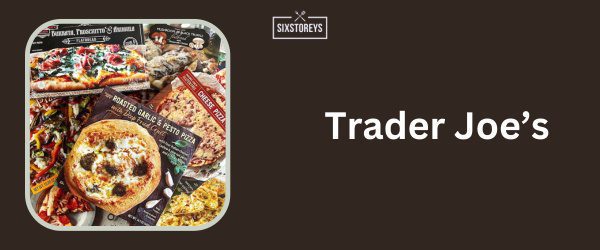 Trader Joe's Vegan Pizza proved to be a treasure trove of vegetarian goodness. Trader Joe's Veggie Pizza of the Day celebrates a variety of vegetables on a crispy crust, crowned with an unexpected star ingredient: hummus. Yes, you heard that right! Hummus as a topping offers a creamy, protein-packed alternative to cheese, and when combined with a medley of vibrant vegetables, you get a burst of freshness in every bite. This hearty, healthful, and humble pizza made it effortlessly from my grocery shopping list onto my dinner table.
12. Wholly Veggie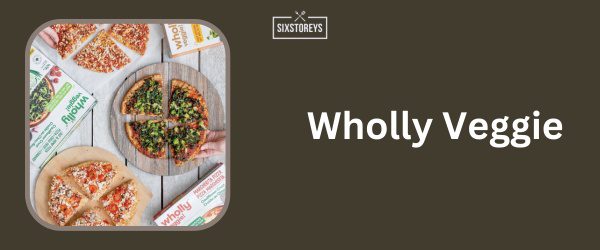 Wholly Veggie's Margherita Pizza truly marks the epitome of healthy indulgence. What won me over was the veggie crust, packed full of cauliflower, gluten-free flour blend, and quinoa. Not just that, but their clever use of dairy-free cheese and a hint of smoky flavor in the reflection of a traditional Margherita stole the spotlight. It's a culinary masterpiece that maintains a delicate balance between health and flavor.
Whether you're watching your diet or just fancy a change from the traditional crust, this is your go-to choice. I can't recommend Wholly Veggie's Margherita Pizza enough!
13. Tattooed Chef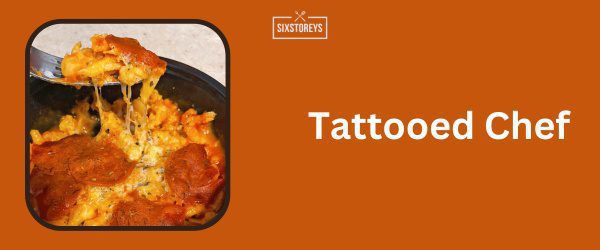 Tattooed Chef's Plant-Based Pepperoni pizza became a highlight of my vegan food experience. The star feature of this pizza is the Plant-Based Pepperoni, a spice-filled taste bomb that's as close as vegan pepperoni comes to its meat counterpart. Coupled with a perfect crust and a generous topping of vegan cheese, it provides a tantalizing mix of flavors. You would be surprised at the balance between texture, taste, and zest. This pizza had me longing for another slice every time, making it a staple in my freezer!
14. Rachel's Cosmic Cuisine Pizza Bagels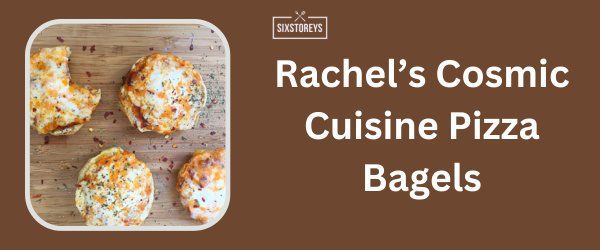 The last on my list, but definitely not the least, is Rachel Cosmic's Pizza Bagels. Topped with marinara, vegan cheese, and veggies, these pizza bagel bites are an incredible combination of comfort food and vegan delight. They are playful and reminiscent of my favorite childhood snacks, only made better and healthier. As someone who never outgrew their love for bite-sized foods, these pizza bagels hit the right chord. They are delicious, wholesome, and an excellent option for quick and satisfying vegan snacks. Rachel's Cosmic Cuisine Pizza Bagels are truly a fun, vegan twist on a nostalgic delicacy!
How to Choose the Best Vegan Frozen Pizza for Your Preferences?
Choosing the best vegan frozen pizza is a matter of realizing what you cherish most about pizza. Is it the tangy sauce, the melty cheese, or perhaps a crispy crust? Or are you all about the toppings?
Crust Preferences
Start by deciding your preferred crust. If you adore a traditional, flour-based crust, then you might favor brands like Alex's Awesome Sourdough and Trader Joe's. If gluten isn't your friend, brands like Oggi Foods and Daiya offer delicious gluten-free options. For the health-conscious, Banza's chickpea crust provides a healthy yet scrumptious base.
Sauce and Cheese
Vegan cheese has come an extremely long way in the last few years. If you're looking for loads of vegan cheese that melds just right, you won't be disappointed with Daiya or Amy's. And, if you value a robust, flavorful sauce, give Alpha Foods or Rachel's Cosmic Cuisine Pizza Bagels a try.
Toppings
Finally, the toppings. Want your pizza loaded up with veggies? Go with Sweet Earth Foods or Trader Joe's. Craving something spicy like vegan pepperoni? Turn to Tattooed Chef.
The beauty of the frozen pizza world is the freedom to try different brands until you find the one that satisfies your vegan pizza cravings.
Why Opt for Vegan Frozen Pizza?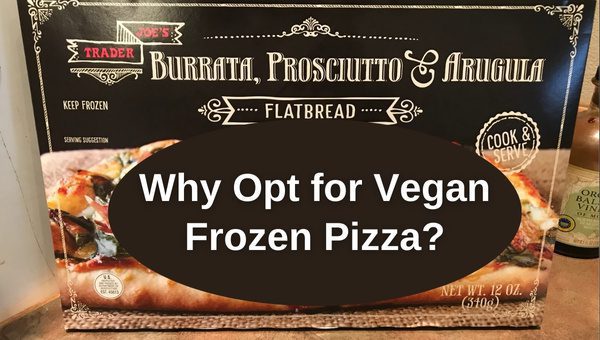 From the standpoint of health, ethics, and the environment, switching to vegan options can make a world of difference.
Health Benefits
By choosing vegan options, you're likely to consume more nutrient-rich fruits, vegetables, and grains. Vegan pizzas often contain lower saturated fats and are heavier on the veggies. Brands like Sweet Earth Foods make it a point to load their pizzas with a variety of veggies.
Ethical Considerations
By opting for vegan pizza, you contribute to reducing the demand for animal products, thereby promoting animal welfare. Every choice matters, and choosing vegan options can help make a difference.
Environmental Responsibility
Vegan frozen pizzas also have a smaller environmental footprint compared to their meat and dairy counterparts. As we become more conscious about climate change, opting for plant-based foods like vegan pizzas can be a small but rewarding step towards achieving a more sustainable future.
In essence, choosing vegan frozen pizzas can be an act of responsibility not just towards oneself, but also towards animals and the planet. So next time you're craving pizza, why not reach for a frozen vegan delight?
How Brands are Changing the Vegan Frozen Pizza Game?
It's exciting to see how brands have stepped up their games in the vegan frozen pizza space. They aren't just replacing traditional pizzas with vegan alternatives; they're reinventing the entire pizza experience.
Quality Ingredients: Brands like Oggi Foods and Tattooed Chef use high-quality, organic, and Non-GMO ingredients for healthier and tastier pizzas that rival their non-vegan counterparts.
Delicious Cheese Alternatives: Brands like Daiya have mastered the science of mimicry using plant-based ingredients to create cheese that melts, stretches, and tastes like the real deal.
Creative Crusts: From chickpea crusts from Banza to the amazing sourdough crust by Alex's Awesome Sourdough, brands have ushered in an era of delightful variety.
Inclusive Products: Brands understand that vegans may also have other dietary restrictions. Hence, gluten-free, soy-free, lactose-free vegan pizza options like the ones from Amy's exist.
Going Beyond Pizza: Beyond offering regular pizzas, brands such as Rachel's Cosmic Cuisine are shining in niches such as mini pizza bagels.
Perhaps most importantly, these brands are aiding transitions to vegan diets by ensuring convenience, familiar flavors, and simplicity. What a time to live on a plant-based diet!
Also Read: Best Frozen Beef Burritos
Frequently Asked Questions
Is all pizza crust vegan?
Not all pizza crusts are vegan. Some may contain dairy products like butter or eggs. When purchasing a vegan frozen pizza, ensure you read the ingredients carefully.
Can vegans eat yeast?
Yes, vegans can consume yeast. It is a single-celled organism and part of the fungi family, similar to mushrooms. It is used in many pizza crusts to provide rise and a subtly sweet flavor.
Do I need to add extra toppings to my vegan frozen pizzas?
Adding extra toppings to vegan frozen pizzas entirely depends on one's personal preference. While many of them come loaded with vegan cheese, vegetables, and even vegan meats, you are always welcome to add your favorite ingredients to make it more to your liking.
Is vegan cheese healthy?
While "healthy" can be subjective, most vegan cheeses are free from cholesterol, and some are lower in fat and calories than dairy cheese. However, be sure to look at the sodium content, which might be high in some brands to replicate the salty taste of cheese.
Can a frozen vegan pizza be cooked in a microwave?
Yes, most frozen pizzas can be cooked in a microwave, but the texture usually turns out better when heated in an oven. The crust tends to be less crispy in the microwave. Be sure to check the cooking instructions provided on the packaging!
Does vegan frozen pizza taste like regular pizza?
Vegan frozen pizza tends to have a unique taste, dependent on the brand and ingredients used. Many meat-based toppings and cheese substitutes can replicate the taste of regular pizza pretty closely, but the overall flavor might be quite distinctive.
What's the best way to store vegan frozen pizza?
The best way is to keep it in the freezer in its original packaging. If you've already opened it but haven't used it all, make sure to tightly wrap it up in foil or a plastic freezer bag to keep it fresh.
Conclusion
So there you have it - my personal scoop on the best vegan frozen pizzas that have tantalized my palate and reaffirmed my faith in plant-based deliciousness. Gone are the days when 'vegan' and 'pizza' seemed like strange bedfellows. With such a delectable variety of brands and flavors, these frozen delights have made a place in my heart and my freezer, ready to rescue me on frenzied weeknight dinners or lazy weekend snacking.
I encourage you to explore these delicious options yourself, adding a tasty twist to your vegan journey with the delectable convenience of frozen pizza. Trust me; your taste buds are in for a treat!
Food Lover and Storyteller 🍽️✨ With a fork in one hand and a pen in the other, Shivani brings her culinary adventures to life through evocative words and tantalizing tastes. Her love for food knows no bounds, and she's on a mission to share the magic of flavors with fellow enthusiasts.