7 Gluten-Free Options at Popeyes [Yummy Secrets of 2023]
Updated On: October 9, 2023
Navigating the fast-food landscape can be a bit of a challenge, especially when you're dealing with certain dietary restrictions. Gluten sensitivities, in particular, can make ordering at your favorite spots a tricky experience. However, it's heartening to see more and more brands stepping up to accommodate the gluten-free community. Among these stands a renowned name in the fast-food game - Popeyes. Offering a flavorful menu traditionally famous for its Louisiana-inspired fried chicken, one might question: Where do I find gluten-free options at Popeyes?
You would be pleasantly surprised to know that for those of us seeking gluten-free alternatives, we have a variety of choices courtesy of Popeyes. From their well-seasoned side orders to an array of beverages, Popeyes has something for everyone, ensuring that no one has to miss out on their mouth-watering servings due to dietary restrictions. Yes, even in this deep-fried wonderland, the gluten-free options at Popeyes do exist! Let's dive in and familiarize ourselves with them.
Also Read: Best Popeyes Sauces
7 Gluten-Free Options at Popeyes in 2023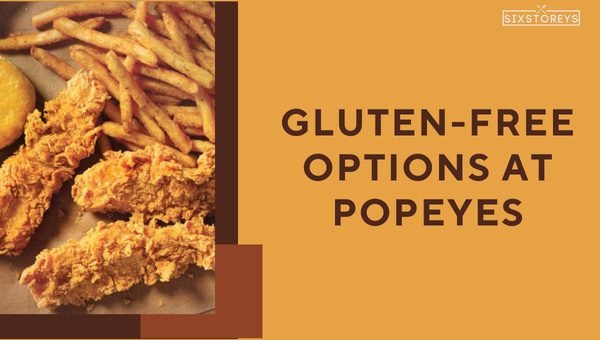 When you think of Popeyes, it's almost impossible not to imagine those delightful, golden pieces of fried chicken. After all, that's what they are world-renowned for. But as someone who watches their gluten intake, focusing solely on the main courses won't do. It's equally important if not more so, to pore over those side dishes that sit alongside the stars of the show. It's here, in this wide assortment, where we find the gluten-free options at Popeyes.
1. Apple Sauce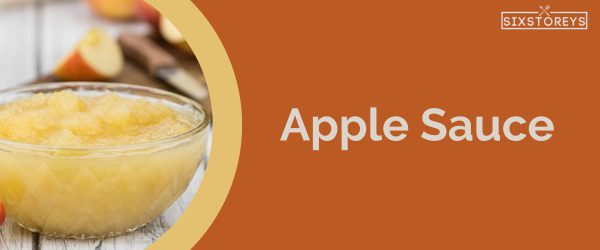 For those among us with a yen for sweet, apple sauce is a wonderfully light option. Popeyes offers this versatile side that serves as a delightful palate cleanser and an excellent pairing with some of the spicier offerings. It's satisfying while still being light, steering clear of the heavy, gluten-ridden path that many such fast-food options take. Additionally, its fruity, slightly tangy profile brings forth the much-needed balance in any heavy meal.
Now, I bet you might be asking: "But can it satiate my sweet tooth?" In my experience, it absolutely can! Popeyes apple sauce is thoughtfully sweetened, capturing the inherent sweetness of cooked apples rather than relying heavily on added sugars. It's the sort of treat that doesn't sit heavy in your stomach but still brings that comforting sweetness you crave.
2. Cole Slaw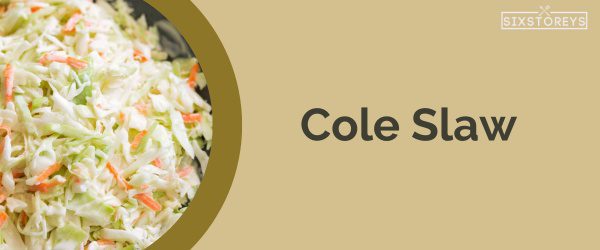 No Southern meal is complete without a serving of cole slaw, and Popeyes carries this tradition forward in its menu. This creamy side is a delightful combination of shredded cabbage and carrots, doused in a slightly sweet, tangy sauce. The best part? It's totally gluten-free!
Cole Slaw is the unsung hero of the Southern dining table. It offers a refreshing contrast to the spicy and fried delights by providing a cool, crunchy element. For those who've never tried it, I'd describe it as a chilled salad with a vibrant flavor profile, adding a pinch of sugar, and a healthy dose of vinegar. The result? A side that not only complements the main course but holds its own with aplomb.
3. Corn on the Cob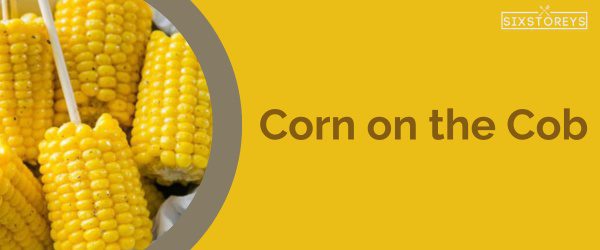 A classic side with universal appeal - corn on the cob is hard to resist. It's an American staple and for a good reason. The corn at Popeyes is steamed just right, preserving the natural sweetness of the vegetable. It's tender, juicy and provides that satisfying pop when you bite into it. The best part, though? It's gluten-free!
Corn on the cob is one of those sides that goes just as beautifully with fried chicken as it would with grilled fish or barbecued ribs. It's that versatile. Plus, it's one of the healthier options on the menu - a win-win, in my book!
4. Cajun Rice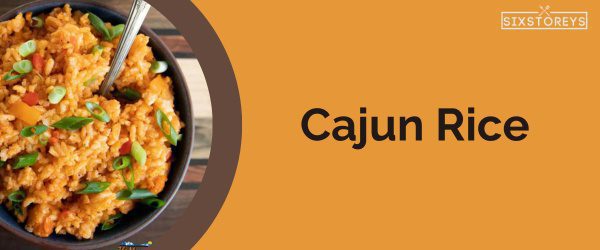 Ah, the wonders of Cajun rice! Hailing from the heartlands of Louisiana, this flavorful dish slides perfectly into the gluten-free options at Popeyes. The rice isn't just a plain-Jane side; it's a textural marvel, cooked to tender perfection without turning mushy. Each grain stands separate, yet bonded by the unifying spice blend that gives Cajun cuisine its unique identity - a combination of paprika, garlic, and cayenne pepper, among other spices.
But what brings this seemingly humble dish into the limelight isn't just its immediate flavorful punch. It's the lasting, warm comfort that lingers long after you've polished off your plate. The Cajun rice at Popeyes beautifully captures this spirit, enveloping you in a comforting culinary hug.
5. Red Beans & Rice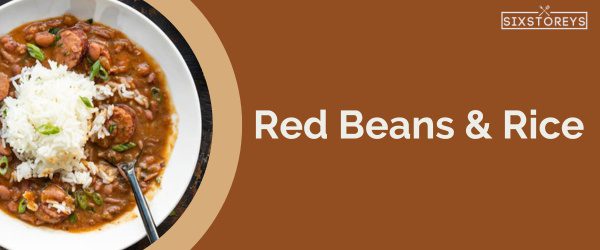 Mildly spiced and hearty – red beans and rice is a comforting combo that resonates with the soulful cooking of Louisiana. It's a delicious and wholesome blend of creamy red beans and flavored, fragrant rice. This delightful duo is rich in flavors and is a must-try for anyone visiting Popeyes.
Rustic and wholesome, red beans and rice is comfort food at its finest. It's the kind of serving that envelopes your palate with a feeling of warmth and homeliness. You can't help but have seconds, and guess what? It's gluten-free!
6. Jalapenos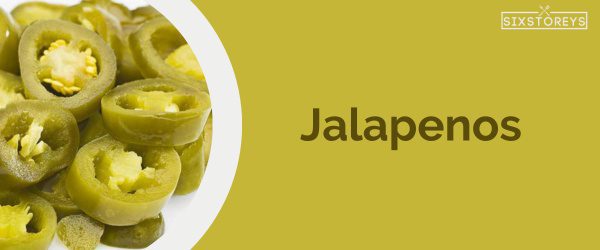 For those who like their food with a bit of a kick, jalapenos are the way to go. These green chilies might look small and innocent, but boy do they pack some heat! Add them to your order, and they're sure to add a fiery touch to your meal.
Yes, they're spicy, but don't let that deter you. The heat is balanced out by a certain tanginess, and the overall experience can be quite addictive. Moreover, they're gluten-free, so they provide that much-needed kick without the addition of gluten-laden sauces or spices.
7. Soft Drinks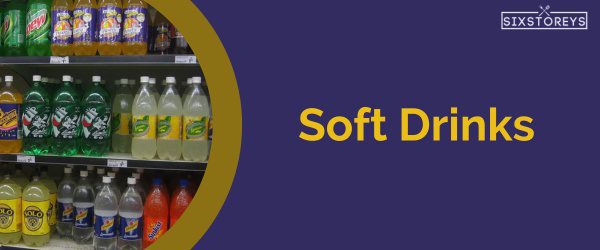 Of course, no fast food experience would be complete without a swig of your favorite soft drinks. From classic colas to spritz lemon-lime blends, Popeyes houses a range of fizzy soft drinks for you to choose from. These beverages are ideal for those moments when you want something refreshing to wash down the sumptuous food, or just need a sweet sip to round off your meal.
While they might not be the healthiest options, they are indeed gluten-free and sometimes just what you want to complete your Popeyes experience. After all, who can resist the appeal of that musical fizz, bubbling away in a chilled glass?
Also Read: Is Popeyes Halal?
How Does Popeyes Make Gluten-Free Eating Convenient?
When you're counting carbs or dealing with gluten sensitivities, you understand what a task it can be to order food. Fast food, in particular, has always been a tricky territory. Thanks to Popeyes, doing so has now become a much easier, more convenient, and let me say, pleasant experience.
When eating gluten-free, it's not just about removing wheat from the diet. It involves so much more. Gluten can creep into your food in many unexpected ways. Like some fast food chains, you might find Popeyes using shared fryers for their gluten and non-gluten items. Sounds alarming, doesn't it? But, that's not the case at Popeyes.
Popeyes employs stringent preparation techniques. These techniques ensure cross-contamination is kept at bay, allowing people with gluten sensitivities to enjoy their meals without worry. It exhibits their commitment towards their patrons' wellbeing, a trait not so common amongst fast food giants.
But the stand-out feature, in my opinion, is their detailed and transparent allergen information. Popeyes lets its beloved patrons be aware of all the ingredients in their food. They subscribe to the philosophy that every customer has the right to be in the know about the food they eat. This transparency reassures gluten-sensitive eaters and assures them of safe and enjoyable dining.
Moreover, they have designed diverse menus full of amazing choices.
My Personal Gluten-free Experience at Popeyes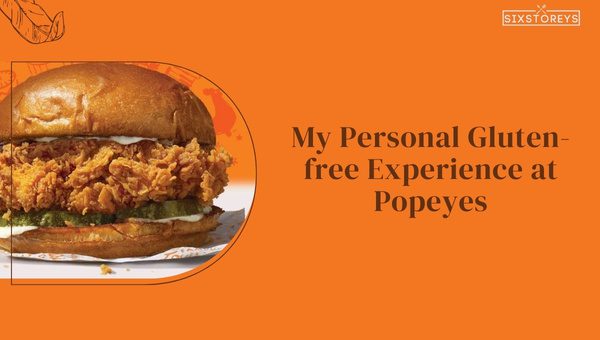 My dietary journey as a gluten-intolerant has often been fraught with frustration, especially when I'm yearning for a quick, convenient fast food fix. And if you're expecting my experiences with Popeyes to be the same, you'd be mistaken. My discovery of gluten-free options at Popeyes was nothing short of a revelation. Let me share this mouth-watering journey with you.
Apple Sauce
I remember walking into Popeyes on a chilly evening and wondering what would cut the chill. My eyes wandered over the menu and landed softly on a sweet, delightful option - Apple Sauce. Served chilled, the Apple Sauce had just the right balance of tartness and sweetness. It was almost like a bowlful of the essence of fall. Each spoonful was a comforting reminder that gluten-free does not mean devoid of flavor. The smooth texture was consistent, indicating the superior quality of the apples used. All in all, this is a dish for all who desire a sweet, gluten-free escape in a bowl.
Cajun Rice
Next up on Popeyes' gluten-free parade was the Cajun Rice. It felt like I was tucking into a little slice of Louisiana, right in the middle of my usual weeknight dinners. Infused with the essence of the bayou, the Cajun rice caught me by surprise. The blend of long grain rice, bell peppers, ground meat, and fluffy grains created a beautiful symphony of flavors. Popeyes managed to prepare this dish so authentically that it transported me straight to the heart of Cajun country. Items like these make you realize that a fast-food restaurant can excite your palate just as easy as any high-end establishment, all without a speck of gluten.
Cole Slaw
Oh, the Cole Slaw! as I write this, I can still taste the creaminess, the crunch, and the hint of that classic Southern tang. The Cole Slaw at Popeyes was a pleasant surprise. It had a beautiful color scheme of greens, purples, and whites - all mingled together in a creamy symbiosis of textures. More importantly, it offered a refreshing crunch, a perfect counterbalance to the rich and robust flavors of their other dishes.
Corn on the Cob
I'm a big fan of corn, and when it's on a cob, it's a delightful experience. The Corn on the Cob at Popeyes was fresh, sweet, and perfectly steamed. Each bite was a burst of natural sweetness and texture, a testament to the freshness of the ingredients. The highlight of this gluten-free option was its simplicity - all natural, no fuss. Perfect for those times when you just want to enjoy a simple, wholesome snack.
Jalapenos
Let's take a moment to address the heat of the party. The Jalapenos at Popeyes were more than just a garnish. Each one packed a fiery, tangy punch that made the whole Popeyes experience pop. With their vibrant colors and intense flavor, these Jalapenos managed to steal the show every time. If you're someone who enjoys a dash of risk-taking with their palette, you're in for a treat. One fun tip: Pair these with the Apple Sauce for an exciting hot, sweet, and sour fiesta on your tongue.
Red Beans & Rice
Every bite of Popeyes' Red Beans & Rice was a hearty spoonful of warmth and comfort. The beans were soft and well-cooked, lovingly soaked in a flavorful broth that beautifully complemented the fluffy bed of rice. This gluten-free dish was so abundant in taste and portion size that it could easily stand as a full meal on its own.
Soft Drinks
Last I polished off each of these culinary delights, my thirst was quenched by the chilled selection of soft drinks. From fizzy pops to iced teas, Popeyes had me covered for both my caffeinated days and my caffeine-free stretches.
In conclusion, each visit to Popeyes served to strengthen my belief that gluten-free and fast food could actually share a harmonious relationship, a belief that is strongly jarred every time I expose myself to establishments less considerate of their customers' needs.
Understanding Gluten: Why Opt for Gluten-free at Popeyes?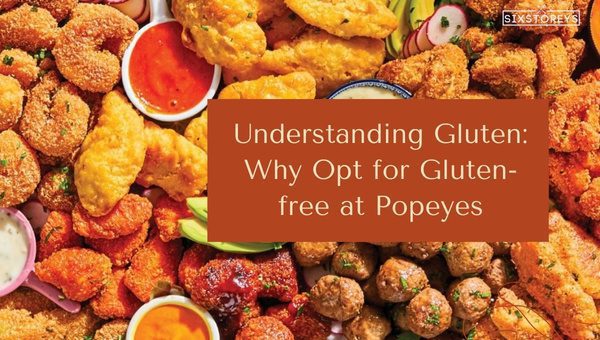 If you are new to the term "gluten", it refers to a set of proteins found commonly in grains such as wheat, barley, and rye. While gluten is fine for most folks, for others - particularly those with Celiac disease or gluten sensitivity - it can actually cause indigestion, inflammation, and a host of other issues. This is why many people opt for a gluten-free lifestyle. But does this mean giving up on fast-food indulgences? Absolutely not!
Having a meal at your favorite spot, like Popeyes, doesn't necessarily mean you'll have to forego your dietary requirements. Popeyes, a brand known for its deep-fried delights and savory side dishes, offers a range of gluten-free options that are not only true to their flavors but also mindful of the dietary needs of their customers.
Popeyes' Commitment to Catering Gluten-Free Needs
In an era where customers are becoming more aware of their dietary inputs, companies that accommodate these needs truly stand out. Popeyes deserves special mention in this regard. Their commitment to catering to the gluten-free community is very evident in their menu.
Popeyes has taken substantial measures to ensure those preferring or requiring a gluten-free diet can also enjoy their food without concern. By including several gluten-free options like Apple Sauce, Cajun Rice, Corn on the Cob, Red Beans & Rice, and others among their side orders, they make sure their customers don't miss out on their rich and diverse flavors.
It's clear that Popeyes isn't just about 'fast food'; they truly care about their customers' needs. This, coupled with their lip-smacking, Louisiana-inspired menu makes them a favorite choice for many, even those on a gluten-free diet.
Also Read: Does Popeyes Take Apple Pay?
Frequently Asked Questions
Are there any gluten-free options available at Popeyes?
Definitely! Popeyes has several gluten-free side orders on its menu. These include Apple Sauce, Cajun Rice, Cole Slaw, Corn on the Cob, Jalapenos, and Red Beans & Rice. You can also enjoy any of their soft drinks as they are gluten-free.
Does Popeyes have a dedicated gluten-free menu?
While Popeyes does not have a dedicated gluten-free menu per se, it serves several side orders and drinks that are gluten-free. These can be found listed on their regular menu.
Are Popeyes' fried chicken or biscuits gluten-free?
Unfortunately, the iconic Popeyes chicken and biscuits are not gluten-free. They are prepared with wheat flour, which contains gluten. However, you can still enjoy several other gluten-free options at Popeyes.
Can I trust that the gluten-free options at Popeyes are truly gluten-free?
Yes. The gluten-free sides do not contain wheat, rye, barley, or any of their derivatives. However, it's worth noting that all items at Popeyes are prepared in the same kitchen, so there might be a risk of cross-contamination. If you have Celiac disease or a severe gluten intolerance, it's best to consult with a medical professional before eating at fast-food places.
What is a good gluten-free meal option at Popeyes?
A good gluten-free meal at Popeyes could include Cajun Rice, Corn on the Cob, and Red Beans & Rice for sides, rounded off with a soft drink. For a lighter meal, consider the Apple Sauce or Cole Slaw. These options will allow you to enjoy a satisfying meal while steering clear of gluten.
Conclusion
Keeping these options in mind, it's easy to see that Popeyes certainly delivers when it comes to creating a gluten-free experience that doesn't sacrifice flavor. With an expansive range of delicious sides like the classic Cajun Rice, hearty Red Beans and Rice, and even simple, fresh picks such as Apple Sauce or Corn on the Cob, the chain ensures that everyone can enjoy their offerings without worry. If you're going for something extra zestful, Jalapenos will add that kick, and the ever-reliable Soft Drinks can wash it all down perfectly.
It's more than just about providing gluten-free options; it's about understanding and catering to the needs of every customer. And that's exactly what Popeyes is doing. By providing these alternatives, Popeyes gives everyone the chance to indulge and savor their comforting, flavorful fast-food delights. This attentiveness to dietary requirements is what helps to keep Popeyes at the top of the fast-food game.
Now with gluten-free options at Popeyes, your food restrictions don't have to restrict your dining options anymore. Each trip to this fast-food favorite can still be filled with enjoyment, great flavors, and full bellies. Remember, eating out with dietary restrictions may have its challenges, but that doesn't mean it has to be any less delicious or satisfying. Happy eating!
Wanderlust Foodie and Cultural Ambassador 🌍🍴 Neha's passport is a menu, and her journeys are flavored with global tastes. As he navigates culinary landscapes, her narratives bridge the gap between cuisines and cultures. Join her as she proves that the world is best explored through its diverse dishes.