18 Best Burger King Desserts of 2023 [Savor the Sweetness]
Updated On: August 14, 2023
As a self-proclaimed dessert connoisseur and a fast-food aficionado, finding the perfect sweet treat after indulging in a scrumptious burger meal is nothing short of a dream come true. To fully satisfy your cravings, you need a dessert that not only complements your meal but adds that final delightful flourish. From soft to crunchy, creamy to fruity, Burger King has a surprisingly vast array of dessert options that cater to every taste bud. The versatility and quality of their dessert menu are something I can't help but rave about.
In this post, I'll be sharing my personal favorite Burger King desserts, featuring those that have never failed to put a sweet smile on my face. Grab your imaginary spoons, my fellow dessert lovers, and let's embark on a delicious journey as I review the best Burger King desserts!
Also Read: Best Jack in the Box Desserts & Shakes
18 Best Burger King Desserts (2023)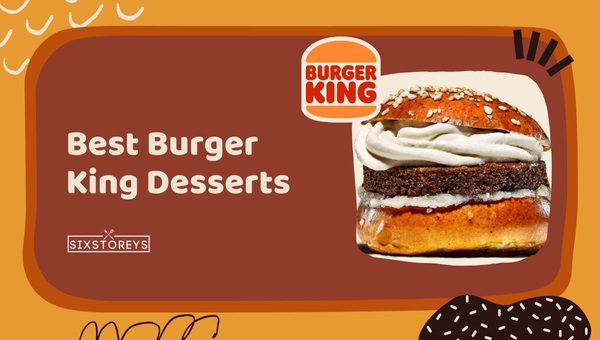 In this tantalizing roundup, we're diving deep into the sweet world of Burger King's most delectable treats. From creamy shakes to classic pies, discover the 18 best Burger King desserts that have left an indelible mark on dessert aficionados everywhere.
1. Chocolate OREO Cookie Shake

This delightful concoction is a blend of Burger King's velvety vanilla soft serve, OREO cookie pieces, and a rich chocolate sauce. The combination of the creamy ice cream base and the crunchy OREO bits transports your taste buds to a world of pure bliss.
Best enjoyed through a straw, the chocolate OREO shake brings the iconic, much-loved cookies to life in a frosty and refreshing form, providing the perfect balance of flavors and textures for a truly extraordinary chocolate treat.
2. 2 Chocolate Chip Cookies

Burger King has mastered the art of cookies - their chocolate chip cookies are a classic favorite. These freshly-baked goodies are warm, soft, and generously filled with rich, gooey chocolate chips. The cookie's perfect balance between a crispy exterior and a soft, chewy center puts a smile on my face with every bite.
An order comes with two cookies, making it an ideal dessert to share with a loved one or enjoy all by yourself. Paired with a cup of coffee, Burger King's chocolate chip cookies are a sweet and comforting way to end a satisfying meal.
3. Chocolate Sundae

Is there anything more simple and more perfect than a classic chocolate sundae? Burger King truly goes all out with their smooth, tender vanilla soft serve, decadently smothered in a glossy, rich layer of chocolate syrup. The generous drizzle of syrup and the chilled, creamy ice cream come together in mouthwatering harmony, offering a timeless dessert experience that always brings a sense of nostalgia.
The final touch comes with a cherry on top, adding a bright burst of flavor that charms and elevates this unpretentious masterpiece. I can never resist sneaking a spoonful or two when I crave a classic dessert that brings the best of comfort and indulgence.
4. Hershey's Sundae Pie

The Hershey's Sundae Pie is truly the pie de résistance of the Burger King dessert menu. With a crunchy chocolate crust as its foundation, this exceptional pie features a luxurious, creamy chocolate filling blended with whipped cream, all topped off with a rich chocolate drizzle and crunchy chocolate chips.
Not only is this dessert divinely satisfying with its various textures and flavors, but its presentation offers a tantalizing feast for the eyes as well. It's truly the pinnacle of Burger King's chocolate dessert offerings - a sinfully luscious and indulgent treat that is irresistible to any true chocolate lover.
5. Chocolate Shake

No chocolate dessert list is complete without the mention of Burger King's iconic chocolate shake. This fan-favorite beverage melds luscious, rich chocolate sauce with Burger King's renowned vanilla soft serve, resulting in a velvety-smooth and thick shake that is truly a chocolatey delight.
Perfectly blended and served ice cold, this shake is an excellent way to cool down during hot days, while simultaneously satisfying your craving for something sweet and chocolaty. The chocolate shake acts as both a dessert and a beverage – making it an indispensable finale to any Burger King meal.
6. Soft Serve Cup

The Soft Serve Cup is a quintessential favorite and a comforting reminder of the simple joys in life. Made from Burger King's creamy, scoopable vanilla soft serve, it serves as the perfect pick-me-up on a warm day or a deliciously sweet finale to your meal.
This unpretentious dessert has a melt-in-your-mouth quality that's worth savoring. The simplicity of the Soft Serve Cup allows the smooth, cool vanilla ice cream to shine, making it ideal for anyone desiring a classic dessert experience.
7. Burger King Cini Minis

For those seeking a dessert that's warm, comforting, and irresistibly aromatic, Burger King's Cini Minis are a delightful choice. These bite-sized cinnamon rolls are baked to perfection, with a soft and fluffy interior and a golden-brown, slightly crisp exterior.
Each Cini Mini is generously coated in a sweet glaze that's infused with the warm essence of cinnamon, creating a harmonious blend of flavors that's both cozy and indulgent. Whether enjoyed on their own or dipped in the accompanying creamy icing, these Cini Minis offer a taste of cinnamon-spiced paradise that rounds off any Burger King meal on a high note.
8. Caramel Sundae

Who can resist the heavenly combination of caramel and ice cream? Burger King's Caramel Sundae starts with its signature vanilla soft serve, which is then generously adorned with a glossy, golden caramel sauce. The sweetness of the caramel perfectly complements the subtle hint of vanilla in the soft serve, resulting in a harmonious blend of flavors.
Topped with a cherry to add a touch of brightness, this sundae is a perfect example of why some classics just never go out of style. The Caramel Sundae is a warm, comforting hug in dessert form that never fails to put a smile on my face.
9. Soft Serve Cone

As a testament to the maxim "less is more," the Soft Serve Cone is a triumphant ode to the classic ice cream parlor experience. Burger King's signature vanilla soft serve is gracefully swirled on a crispy, golden-brown sugar cone – seamlessly even-textured and irresistibly smooth to taste.
The simplicity of this dessert offers a unique, old-fashioned charm that has you savoring it until the very last lick. The Soft Serve Cone is a testament to the enduring allure of the classics, providing a delightful, simple pleasure that knows no bounds.
10. Dutch Apple Pie

For those seeking a more traditionally wholesome dessert, the Dutch Apple Pie is a must-try. This warm, fruit-filled delight features tender, cinnamon-spiced apple pieces encased in a light, flaky pastry. The pie is topped with a delectable streusel crumb, adding a layer of buttery, sweet crunch to this time-honored dessert.
Whether in conjunction with a cup of coffee or simply enjoyed as it is, the Dutch Apple Pie is an undeniably heartwarming classic that delivers that timeless "home-baked" taste. This dessert provides a nostalgic journey into the essence of American comfort food, which is why it has remained a fan-favorite throughout the years.
Also Read: Best Sonic Milkshakes
11. OREO Cookie Shake

The OREO Cookie Shake offers a delightful taste adventure for any cookie lover. This smooth shake is generously infused with the mouthwateringly familiar taste of OREO cookies, perfectly balancing the creaminess of Burger King's soft-serve with the addictive crunch of OREO bits.
A whipped cream topping adds an extra cloud-like layer of sweetness, while the cookie crumbles garnished atop provide a satisfying finishing touch. It's an irresistible combination of textures and flavors that's difficult to pass up.
12. Strawberry Shake

Pairing fruity freshness with the smooth creaminess of ice cream, the Strawberry Shake is an undeniably luscious option. This shake bursts with a natural, authentic strawberry flavor that reminds you of summer days and juicy, hand-picked fruits.
The pink hue and velvety texture of the shake, along with a generous dollop of whipped cream, make for a tantalizingly refreshing treat. The Strawberry Shake's perfectly balanced sweetness and fruity charm make it a bright, delightful choice that's sure to make your taste buds sing.
13. Hand-Spun Shake

For those seeking a traditional, customizable shake experience, Burger King's customizable Hand-Spun Shake lets you dictate your taste preferences. Select your preferred base – chocolate, vanilla, or even strawberry – and watch as the shake is masterfully spun by hand, resulting in a dreamy, creamy concoction tailored just for you.
This shake's decadent consistency, irresistible taste, and personalized touch make it enormously gratifying. The Hand-Spun Shake celebrates the nostalgia of a classic milkshake while indulging in its own distinctive charm.
14. Vanilla Shake

Paying tribute to the quintessential simplicity of this beloved flavor, the Vanilla Shake is a timeless classic that never fails to please. Burger King's smooth vanilla soft serve is blended into a dreamy, frosty shake, with a richness and velvety texture that seems to envelop your taste buds in pure bliss.
Topped with whipped cream, this shake is the ultimate comfort beverage for fans of unfussy, straightforward sweetness. The Vanilla Shake showcases the true essence of a classic shake, delivering a purely delightful experience that satisfies every time.
15. Donut Holes

If you're a donut enthusiast looking for a bite-sized snack, then Burger King's Donut Holes could be just the treat for you. These little balls of joy pack a delightful punch, combining the taste and texture of the perfect donut in a convenient, portable form.
Each Donut Hole boasts a golden crispiness on the outside with a soft, warm, and fluffy center that practically melts in your mouth. Finished with a light dusting of powdered sugar, the Donut Holes provide a satisfyingly sweet experience that's just the right size for a quick snack or a lovely finish to your meal.
16. Cinnabon Minibon

Taking the classic cinnamon roll to new heights, the Cinnabon Minibon has quickly become one of my all-time favorite Burger King desserts. Created in partnership with the much-adored Cinnabon brand, these bite-sized delights are the perfect solution for when you need a small but indulgent treat.
The Cinnabon Minibon features the signature combination of warm dough, cinnamon, and brown sugar, all swirled together to create a perfectly gooey center. Topped with the legendary Cinnabon cream cheese frosting, each bite delivers a heavenly blend of flavors and textures that tease and tantalize the taste buds.
The Cinnabon Minibon brilliantly straddles the line between a classic dessert and a fresh, innovative concept, satisfying those who crave the familiar while also charming those who long for a taste of adventure.
17. Strawberry Shake

For a burst of fruity flavor to complement your fast food meal, look no further than the delicious Burger King Strawberry Shake. This thick and creamy shake boasts a velvety texture that's loaded with the sweet, tangy taste of ripe strawberries. A generous dollop of whipped cream atop the shake adds an extra touch of decadence, while the classic cherry garnish provides a fun pop of color and taste.
The Strawberry Shake is a delightful way to elevate your dessert experience at Burger King, offering a refreshing twist that will make you come back for more. Whether you're a strawberry enthusiast or prefer a fruity alternative to the usual chocolate, this luscious shake is a must-try.
18. Dutch Apple Pie

Burger King's Dutch Apple Pie is a heartwarming concoction that celebrates the comfort of homemade fruit pies while raising the bar for fast-food dessert standards. Brimming with tender, juicy apple chunks bathed in a warm, sweet-spiced filling, this dessert provides layers of flavor that taste like a warm hug on a chilly evening. The golden crust is perfectly flaky and crispy, offering an exquisite contrast of textures.
Topped with a generous dollop of whipped cream or a scoop of soft serve, the Dutch Apple Pie becomes an even more indulgent experience. This dessert is a testament to the fine art of fruit-based treats, paying homage to a classic while delivering the unique Burger King touch. If you've got a soft spot for fruit pies but crave something convenient and quick, give this delightful dessert a go—you won't be disappointed.
Unlocking the Ultimate Dessert Combo: Pairing Desserts with Burger King Meals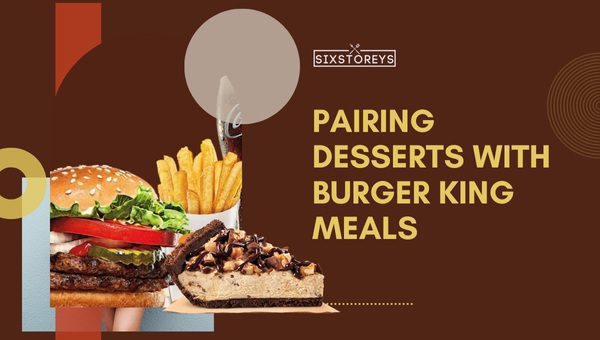 Having a delicious dessert after a satisfying meal can truly elevate your overall dining experience. Pairing the perfect dessert with your favorite Burger King meal can be an art, and I am here to help you master it. Let's delve into some mouth-watering dessert combos:
1. Classic Whopper + Chocolate OREO Cookie Shake

A classic Whopper calls for a rich, creamy counterpart to refresh your palate. Nothing complements a juicy, well-seasoned burger better than a cold Chocolate OREO Cookie Shake. The shake's velvety-smooth texture combined with the crunchiness of OREO cookie bits makes it the ideal companion to your beloved Whopper.
2. Veggie Burger + 2 Chocolate Chip Cookies

If you're opting for a lighter fare with a Veggie Burger, consider pairing it with 2 Chocolate Chip Cookies for a well-rounded dessert experience. The warm, chewy cookies, packed with gooey chocolate morsels, add just the right amount of sweetness and decadence to your meal without being overindulgent.
3. Chicken Sandwich + Caramel Sundae

A succulent Chicken Sandwich deserves a dessert that can match its flavor profile. A Caramel Sundae does the job with its heavenly combination of creamy soft-serve ice cream drizzled with silky caramel sauce. This dessert's simple yet tantalizing flavors create a harmonious balance with the savory chicken sandwich.
Ultimate Burger King Meal + Dessert Pairings Table

| | |
| --- | --- |
| Meal | Paired Dessert |
| Bacon & Cheese Whopper | Hershey's Sundae Pie |
| Impossible Whopper | Dutch Apple Pie |
| BBQ Bacon Crispy Chicken | Strawberry Shake |
| Spicy Crispy Chicken | Cinnabon Minibon |
Of course, these pairings are ultimately a matter of personal preference. Feel free to mix and match these desserts with your favorite Burger King meals to discover your perfect combination!
Also Read: Best Tillamook Ice Cream Flavors
Burger King Dessert Hack: Creative Customizations to Try in 2023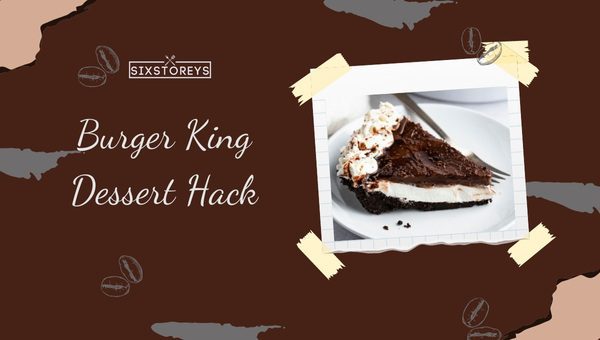 Experimenting with different customizations can elevate your dessert experience and bring out new, tantalizing flavors. Here are some creative Burger King dessert hacks to enhance your sweet satisfaction.
1. Classic Dessert with a Twist
OREO Cookie Shake & Chocolate Syrup: Add a drizzle of chocolate syrup to the classic OREO Cookie Shake for an extra dash of chocolaty goodness.
Caramel Sundae & Nuts: Ask for some nuts to be sprinkled on top of your Caramel Sundae for that satisfying crunch.
2. Mix 'n' Match for Ultimate Indulgence
Chocolate Sundae & Strawberry Shake: Combine the rich Chocolate Sundae with the fruity Strawberry Shake for a delightful combination.
Hershey's Sundae Pie & Soft Serve: Enjoy the decadence of Hershey's Sundae Pie with a side of refreshing Soft Serve for a perfect contrast of flavors and textures.
3. Secret Menu Adventures
The Pie Shake: Blend any Burger King pie (like the Dutch Apple Pie or Hershey's Sundae Pie) into a Vanilla Shake for your very own customized Pie Shake concoction!
Remember, not all customizations may be available at every location. Don't hesitate to ask the staff at the counter for the available options and share your creative vision for your ideal dessert.
Expert Tips for Savoring and Enjoying Burger King Desserts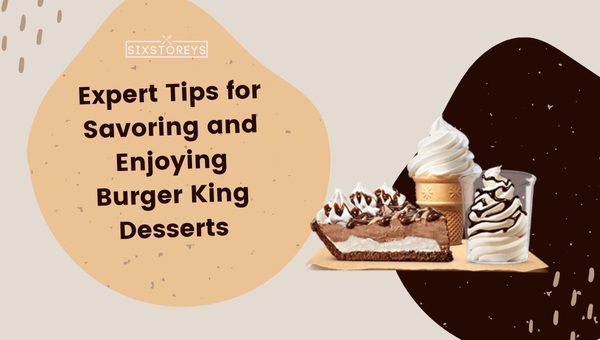 Burger King's wide range of dessert offerings is a treasure trove for anyone with a sweet tooth. To maximize your experience, here are some expert tips on how to savor and enjoy Burger King desserts to their fullest potential:
1. Timing is Everything
Some desserts taste best when consumed right after your meal, while others are perfect as an afternoon or late-night treat. Try out different times to see which works best for you.
After Dinner:
Soft Serve Cone and Cup
Chocolate Chip Cookies
Vanilla Shake
Afternoon & Late-night Treats:
Hand-Spun Shakes
Donut Holes
Caramel Sundae
2. Go DIY with Your Desserts
Don't be afraid to get creative and mix up your Burger King desserts. Experiment with different toppings or sauces for a more personalized taste. For example, request M&M's, cookie crumbles, or caramel sauce as additional toppings for your Soft Serve.
3. Share the Sweetness
Invite your friends and family to join you in the dessert experience. Sharing offers the chance to taste multiple Burger King desserts at once, broadening your sweet horizons.
4. Appreciate the Art of Desserts
Treat yourself to a little mindful eating when trying Burger King desserts. Savor each bite, focus on the flavors and textures, and take your time. Remember, the key to enjoying desserts is to indulge responsibly and cherish every moment.
DIY Burger King Desserts: Recreating Popular Recipes at Home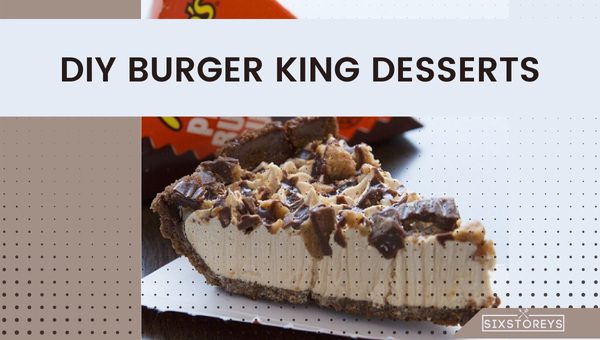 Sometimes, the craving for a Burger King dessert just hits you, but you can't get to a restaurant. No worries – we have you covered! Here are some fantastic DIY Burger King dessert recipes you can whip up in the comfort of your own kitchen.
1. Hershey's Sundae Pie

Ingredients:
1 pre-made chocolate cookie pie crust
1 cup cold milk
1 package instant chocolate pudding mix
1 ½ cups whipped topping, divided
½ cup chopped Hershey's chocolate bars
Instructions:
In a medium bowl, whisk together milk and chocolate pudding mix for 2 minutes until it thickens.
Fold in ¾ cup whipped topping, then pour the mixture into the chocolate cookie pie crust.
Top with remaining whipped topping, sprinkle with chopped Hershey's chocolate and refrigerate for at least 4 hours before serving.
2. Oreo Cookie Shake

Ingredients:
8 Oreo cookies
1 ½ cups vanilla ice cream
½ cup milk
Whipped cream (optional)
Instructions:
Add Oreo cookies, vanilla ice cream, and milk to the blender
Blend until smooth and well combined
Pour into a tall glass, top with whipped cream (if desired), and enjoy!
3. Cinnabon Minibons

Ingredients:
1 package crescent roll dough
1/4 cup melted butter
1/3 cup packed brown sugar
1 tablespoon ground cinnamon
1/3 cup cream cheese frosting
Instructions:
Preheat oven to 375°F (190°C).
Roll out crescent roll dough and press seams together.
Brush melted butter over dough.
Combine brown sugar and cinnamon in a small bowl, then evenly sprinkle the mixture over the dough.
Roll up the dough starting from the long side, then slice into 1-inch thick pieces.
Place rolls on a greased baking sheet and bake for 10-12 minutes or until golden brown.
Allow rolls to cool slightly and drizzle with cream cheese frosting.
With these simple recipes, you can enjoy your favorite Burger King treats without having to leave home. Happy baking and indulging in these delightfully sweet goodies!
Also Read: Best Mochi Ice Cream Flavors
Frequently Asked Questions
Are all Burger King dessert options available at every location?
Dessert options may vary depending on the specific Burger King location. Some items may not be available at all locations, so it is advisable to check the menu and availability before visiting.
Does Burger King offer any vegetarian or vegan dessert options?
While some Burger King desserts are vegetarian-friendly, such as soft serve and sundaes, vegan options are limited. Always check the ingredients and discuss dietary restrictions with the staff before ordering.
Are there any gluten-free dessert options at Burger King?
Some Burger King desserts may be gluten-free, like the soft serve, but it is essential to check the ingredients and possible cross-contamination risks. Confirm with the staff or review the allergen information provided on their website.
Is there a sugar-free dessert option on the Burger King menu?
Burger King does not currently offer specific sugar-free desserts. However, you can opt for lower-sugar alternatives like a plain soft-serve cup or cone.
Can I customize my dessert at Burger King?
While most Burger King desserts come as pre-set menu items, you can sometimes customize orders. For instance, you can request additional toppings or sauces for certain desserts, like sundaes or shakes.
Does Burger King offer seasonal or limited-edition desserts?
Burger King occasionally adds seasonal or limited-edition desserts to their menu, such as pumpkin or gingerbread-themed items during the holidays. Keep an eye on their menu and promotions for any updates.
Can I order a Burger King dessert through the drive-thru or delivery services?
Yes, you can order Burger King desserts through the drive-thru, as well as through numerous food delivery platforms, such as DoorDash, GrubHub, and Uber Eats, depending on your location.
Are Burger King's dessert portions sufficient for sharing?
Some Burger King desserts, like the Hershey's Sundae Pie, can be easily shared among two or more people. Shakes and sundaes can also work as a treat to share, depending on your appetite.
How can I find the nutritional information of a Burger King dessert?
You can check the Burger King website or ask the staff for detailed nutritional information, including calories, carbs, and allergen details, for each dessert on their menu.
Does Burger King offer any special offers, coupons, or discounts for their desserts?
Burger King often runs promotions and offers that may include discounts on their desserts. Check their website, social media accounts, or your local restaurant for ongoing offers or coupons.
Conclusion
There's no denying that Burger King's dessert menu offers a delightful array of options that cater to all taste buds, ensuring that everyone's sweet tooth is satisfied after enjoying their savory meal. From their decadent chocolate desserts to the classic offerings and unique surprises, each option is designed to tantalize your taste buds and leave you with a memorable dessert experience.
As a passionate dessert lover, it's difficult to choose just one or two favorites from this treasure trove of treats. However, if I must recommend a few, the Chocolate Oreo Cookie Shake, Hershey's Sundae Pie, and Cinnabon Minibon have consistently delivered on their promise of happiness with every bite (or sip!).
These options have a special place in my heart, and I hope they bring the same joy to you as they have to me. So, the next time you find yourself craving something sweet after indulging in a delicious Burger King meal, remember that there's a dessert just waiting to add that perfect finishing touch to your dining experience. Happy feasting!
Food Lover and Storyteller 🍽️✨ With a fork in one hand and a pen in the other, Shivani brings her culinary adventures to life through evocative words and tantalizing tastes. Her love for food knows no bounds, and she's on a mission to share the magic of flavors with fellow enthusiasts.