25 Best Tillamook Ice Cream Flavors of 2023 [Scoop by Scoop]
Updated On: August 17, 2023
There's nothing more satisfying than indulging in a bowl of delicious ice cream after a long day. Thankfully, Tillamook has a wide range of flavors that cater to every palate. Known for its premium ingredients and irresistibly creamy texture, this brand of ice cream has earned a devoted following from dessert enthusiasts – myself included.
In this guide to the best Tillamook ice cream flavors, you'll discover a world of sumptuous frozen treats that will tickle your taste buds. From fruity masterpieces to chocolate decadence, there's something for everyone to enjoy in this incredible lineup of flavors. So, grab a spoon, and let's dive into the world of Tillamook ice cream!
Also Read: Best Jeni's Ice Cream Flavors 
Introduction: A Love Affair with Tillamook Ice Cream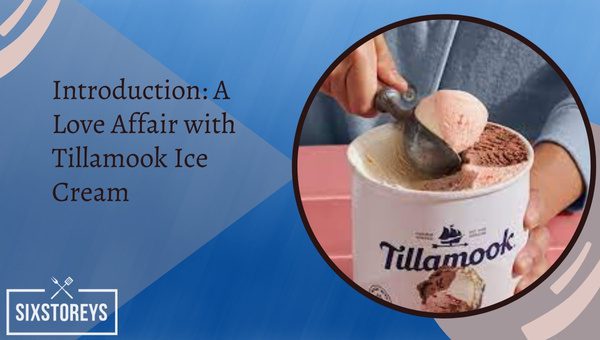 My passion for Tillamook ice cream has been a delicious journey that started when I first laid eyes on the classic Tillamook Dairy logo. I was intrigued by the company's philosophy of using quality ingredients and a time-tested churning process to create the perfect ice cream. It was love at first taste. Since then, I've made it my mission to sample as many Tillamook ice cream flavors as I can.
What truly sets Tillamook ice cream apart from the competition is its unwavering dedication to incorporating fresh, natural ingredients into each scoop. The rich, creamy texture is simply divine, making it worth every calorie! Plus, Tillamook offers a fantastic variety of flavors, ensuring that there's always a new adventure awaiting my taste buds.
After countless tastings and enthusiastic recommendations to friends and family, I've decided to share my journey by delving into the best Tillamook ice cream flavors that everyone should try. From fruity concoctions to classic delights, find your next favorite ice cream treat below.
25 Best Tillamook Ice Cream Flavors (2023)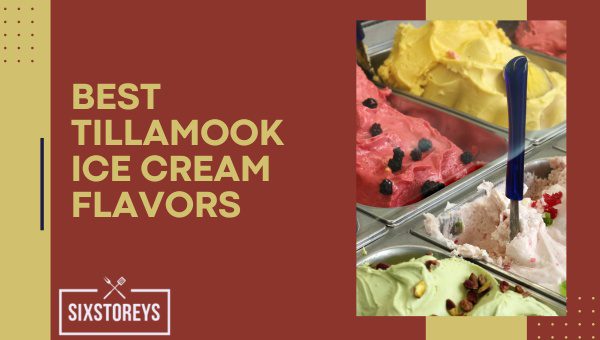 For those who adore the natural sweetness and freshness of fruit, Tillamook has created a collection of flavors that will make your heart soar. These wonders artfully blend high-quality ingredients with luscious fruit flavors, resulting in an unforgettable ice cream experience. Read on to discover the top flavors crafted by Tillamook.
1. Marionberry Pie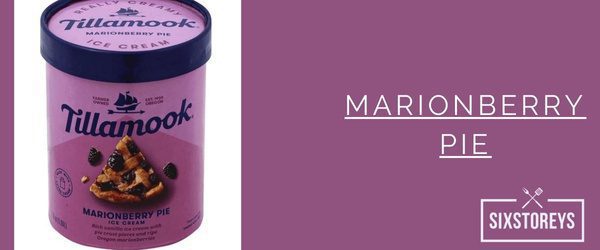 Marionberry Pie is a true Northwest delight. Made with ripe marionberries, this divine flavor offers a harmonious balance of tart and sweet, reminiscent of a homemade berry pie. Swirls of thick marionberry sauce are combined with a generous scattering of buttery pie crust pieces, creating a fantastic contrast in both taste and texture. You will find yourself transported to the rolling hills of Oregon, surrounded by the scent of marionberry fields after each delightful spoonful.
2. White Chocolate Raspberry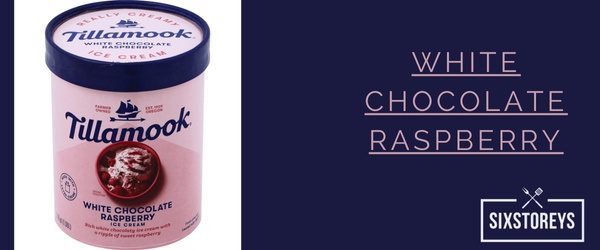 Tillamook's White Chocolate Raspberry captures the magic of a white chocolate raspberry truffle, frozen in time. The velvety white chocolate ice cream base offers a luxurious canvas for a symphony of tangy raspberries, creating a delightful dance of flavors that seduces the senses. Ribbons of raspberry sauce and chunky berry pieces make every bite unique, adding layers of depth to this edible masterpiece. A must-try for those who appreciate the refined pairing of white chocolate and raspberries.
3. Oregon Strawberry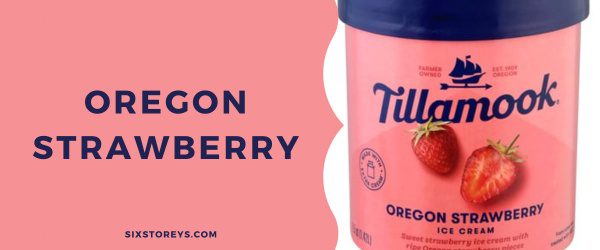 Experience the pure, unadulterated essence of Oregon's finest strawberries with this tantalizing flavor. Packed with sun-ripened strawberries, this ice cream delivers a taste that's both lusciously sweet and slightly tart. Every bite is bursting with the genuine flavor of freshly harvested strawberries, reminding you of picnics under a bright summer sky. Oregon Strawberry is a tribute to nature's bounty and Tillamook's commitment to using the finest fruit.
4. Mountain Huckleberry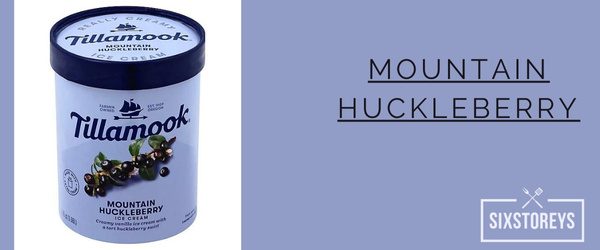 Mountain Huckleberry is one of Tillamook's most notable creations, attracting fans from all corners of the globe. This wild berry wonder offers an immediate burst of sweetness, followed by the subtle tanginess only found in the best huckleberries.
The rich, purple ice cream captures the rugged beauty of the Pacific Northwest mountains, conjuring up images of foraging for these delightful berries in generous abundance. A few spoonfuls of Mountian Huckleberry unveil depth and complexity rarely seen in fruit-flavored ice creams, quickly becoming a fast favorite for many.
5. Oregon Dark Cherry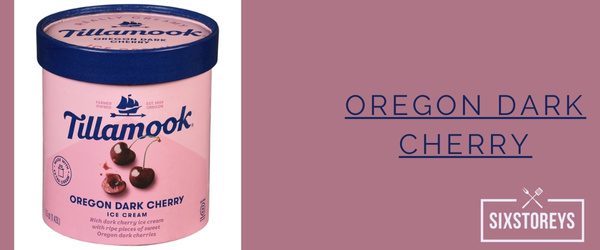 Allow yourself to be seduced by the dark, velvety allure of Oregon Dark Cherry. This sophisticated flavor showcases the sweet, lush cherries of the Oregon region, evoking the romance of a warm, summer's night under a canopy of cherry blossoms.
Each scoop boasts the presence of decadent chocolate chips; their bittersweet crunch offering a delightful contrast to the juicy cherries. Oregon Dark Cherry is perfect for those who enjoy the more decadent side of fruit, while still relishing the charms of high-quality ice cream.
6. Peaches and Cream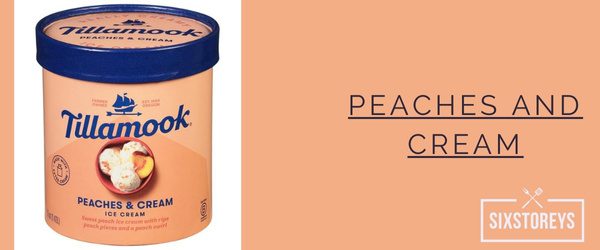 Indulge in the sweet Southern charm of Tillamook's Peaches and Cream. Reminiscent of a warm peach pie topped with a generous dollop of whipped cream, this ice cream will bring comfort and joy to your taste buds.
Filled with tender peach slices and the smooth, luxurious creaminess of the ice cream base, every bite is pure happiness and nostalgia. Perfect for summer barbecue desserts or as a refreshing pick-me-up after a long day, Peaches and Cream is a delectable classic that keeps you coming back for more.
7. Birthday Cake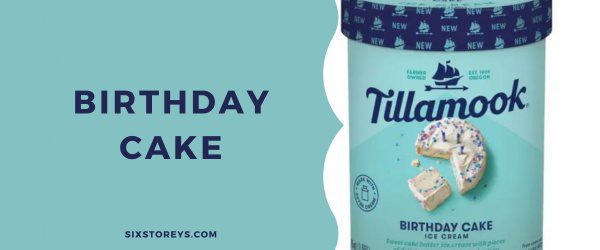 Dive into a celebration of flavors with Tillamook's Birthday Cake ice cream. Every spoonful feels like a party, blending the delightful sweetness of classic birthday cake with colorful sprinkles that add a playful crunch. The delicate vanilla base is reminiscent of your favorite childhood memories, taking you back to joyous birthdays of yesteryears. This flavor is a tribute to all the special moments in life and is sure to spread joy with its cheerful presentation and delightful taste.
8. Caramel Swirl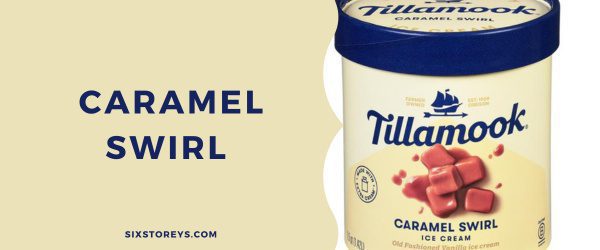 Tillamook's Caramel Swirl is a sweet symphony for the senses. The ice cream features a rich, creamy base swirled generously with ribbons of golden caramel. The sweet, buttery notes of the caramel harmoniously intertwine with the velvety texture of the ice cream, creating an indulgence that's both elegant and comforting. For those who find joy in the simple yet profound pleasures of caramel, this flavor promises a taste of pure bliss.
9. Banana Split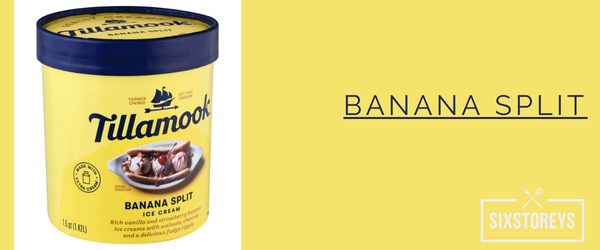 A classic dessert favorite, Tillamook's Banana Split ice cream combines all the elements we love in one delightful scoop. With a rich banana-flavored ice cream base, swirls of caramel, fudge, and strawberries are harmoniously woven in. Crunchy chocolate flakes and cherries add bursts of flavor and texture, making each bite a truly unforgettable experience. This flavor is perfect for those longing for a nostalgic treat that can be enjoyed from the comfort of home.
10. Udderly Chocolate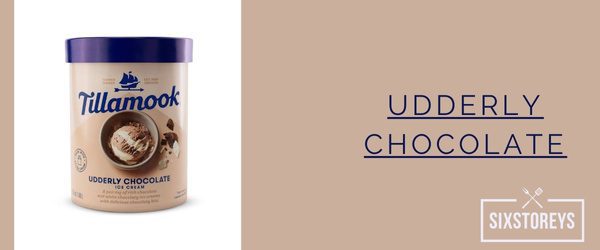 Chocoholics, rejoice! Udderly Chocolate is the ultimate embodiment of chocolate heaven. Featuring a luscious dark chocolate ice cream base, it offers a robust and robust cocoa flavor. However, it's the inclusion of soft, velvety white chocolate chunks that truly makes this flavor stand out, delivering a contrasting sweetness that complements the rich base. This Tillamook masterpiece proves that sometimes, the most basic ingredients can create truly extraordinary results when combined with care and craftsmanship.
11. Rocky Road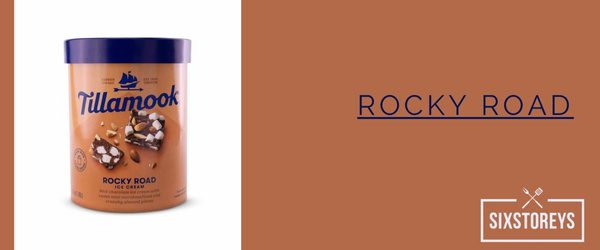 Tillamook takes the iconic Rocky Road flavor to new heights with their delectable offering. A scrumptious chocolate ice cream is packed with plump marshmallows and crunchy roasted almonds, resulting in a delightful harmony of textures that dance on your palate. The marshmallows, besides adding a playful chewiness, bring a hint of vanilla to the chocolate mix. For fans of the classic combination of chocolate, nuts, and marshmallows, Tillamook's Rocky Road is a must-try.
12. Caramel Butter Pecan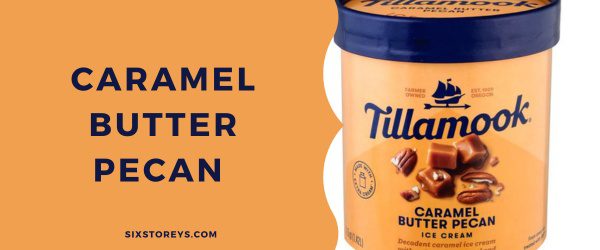 A flavor that is both rich and nutty, Tillamook's Caramel Butter Pecan is the epitome of indulgence. The creamy foundation of this ice cream is accentuated with a delightful blend of buttery caramel and roasted pecans. Each bite offers a delightful crunch from the toasted pecans, combined with the soft, melting sweetness of the caramel. It's a masterpiece that appeals to those who appreciate the finer nuances of nutty and caramel delights.
13. Oregon Hazelnut and Salted Caramel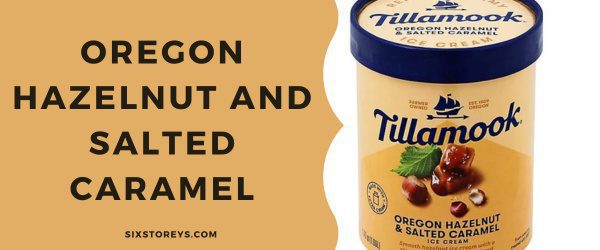 Dive deep into the heart of Oregon with this delectable treat. Tillamook masterfully marries the robust flavor of Oregon-grown hazelnuts with the sweet-salty allure of salted caramel. The result is a taste sensation that balances nuttiness with sweet and salty undertones. This ice cream embodies the very soul of the Pacific Northwest, with chunks of hazelnuts adding an irresistible crunch, making Oregon Hazelnut and Salted Caramel a flavor journey that ice cream aficionados won't want to miss.
14. Mudslide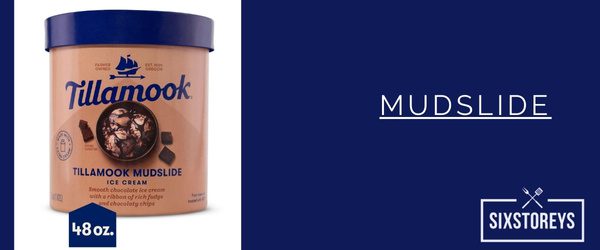 Indulge in the euphoric fusion of chocolate and coffee with Tillamook's Mudslide flavor. It begins with a rich and velvety chocolate ice cream that provides a dreamy base for the droplets of coffee-flavored swirls. The fusion is nothing short of magical, giving just the right nod to traditional mudslide cocktails. This flavor is ideal for those seeking a little taste of sophistication alongside their dessert fix.
15. Caramel Toffee Crunch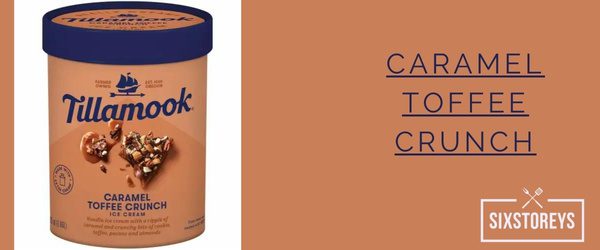 If you have a penchant for the irresistible combination of caramel, toffee, and crunch, then Tillamook's Caramel Toffee Crunch is truly tailored for you. The creamy, velvety ice cream base is mixed with generous dollops of gooey caramel and crunchy bits of toffee. The result: a tantalizing treat that is both rich and satisfying, while never tiring your taste buds. To make matters even better, the delightfully crunchy toffee pieces are wrapped in chocolate, further amplifying the overall indulgence.
Also Read: Best Mochi Ice Cream Flavors
16. Coffee Almond Fudge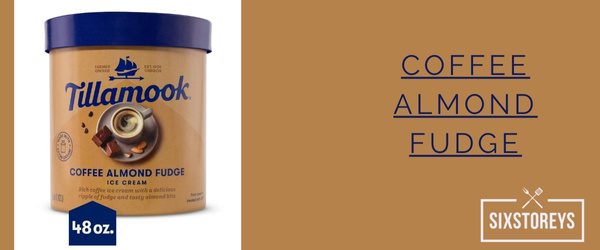 Oozing sophistication, Coffee Almond Fudge is a flavor that caters to broad tastes, from avid coffee lovers to die-hard nut enthusiasts. With a robust coffee ice cream base that's both smooth and invigorating, this Tillamook creation packs a punch. The chocolate fudge swirls provide a rich, gooey contrast, while the crunchy roasted almonds give the concoction a delightful texture.
The bold flavors that make up the Coffee Almond Fudge leave a lasting impression and keep you coming back for more. Each scoop is an exciting ride on the whirlwind of intense flavors and textures, making it an ice cream experience that's truly unforgettable.
17. Chocolate Peanut Butter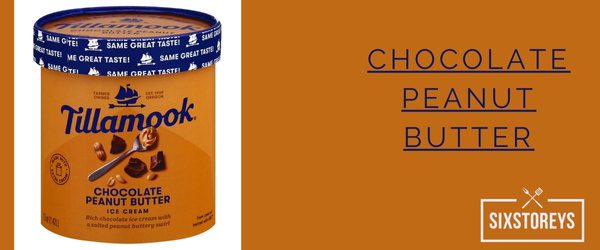 Tillamook's Chocolate Peanut Butter ice cream is a testament to the time-honored combination of chocolate and peanut butter. By harmoniously marrying these two classic flavors, Tillamook has created a masterpiece that's both indulgent and perfectly balanced. The velvety chocolate ice cream is enhanced by the smooth, silky ribbons of creamy peanut butter that run through it.
The rich waves of flavor are punctuated by delightful bursts of roasted peanuts, adding even more depth and texture to the mix. This Tillamook creation is truly the perfect union of chocolate and peanut butter, making it a must-try for nut lovers everywhere.
18. Butter Pecan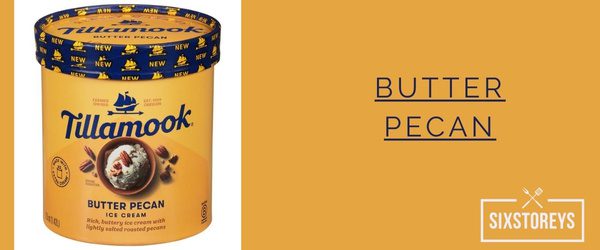 Butter Pecan is a classic frozen treat that has stood the test of time. With Tillamook's rich, creamy base, this flavor manages to elevate itself to a whole new level of deliciousness. Each bite is a journey through a smooth, buttery delight, brimming with perfectly roasted pecans that deliver a satisfying crunch.
The lusciousness of the butter-infused ice cream expertly complements the distinctive taste of the pecans, creating a sublime experience for your taste buds. Every spoonful brings sweet satisfaction, making it nearly impossible to stop indulging.
19. Chocolate Chip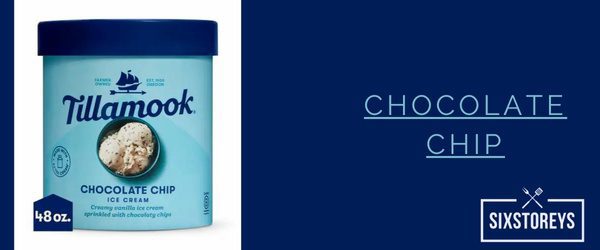 Every ice cream collection needs a staple Chocolate Chip flavor, and Tillamook's is simply divine. The exquisite balance of sweet, velvety ice cream speckled with irresistible chocolate chips will have you licking your lips in delight. As the classic ice cream taste combines with pockets of rich chocolate goodness, you may find yourself transported back to childhood memories of enjoying simple, delicious treats on warm summer afternoons.
20. Cookies & Cream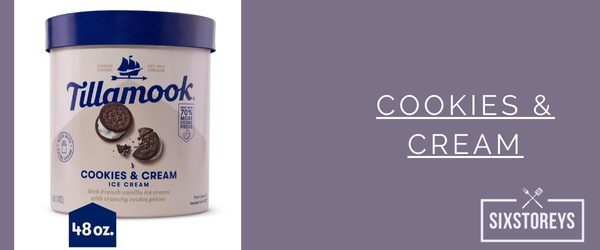 When it comes to classic flavors, Cookies & Cream reign supreme. Tillamook's heavenly version of this beloved combination features a rich and creamy vanilla base loaded with generous chunks of chocolate cookies. The ice cream's luxurious texture and the indulgence of chocolate cookies in every bite make it difficult to resist. An absolute crowd-pleaser, Tillamook's Cookies & Cream is perfect for satisfying that nostalgic craving or sharing with friends and family during a movie night.
21. French Vanilla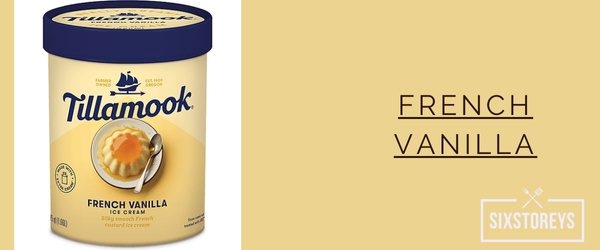 If you're looking for something a little more indulgent than standard vanilla ice cream, Tillamook's French Vanilla is the ultimate upgrade. It boasts a pronounced, delightfully rich vanilla flavor, derived from real Madagascar beans.
The decadent creaminess adds to the sumptuous sensory experience, making it a perfect pairing with virtually any dessert or enjoyed solo for a dreamy treat. With its distinct taste and velvety texture, Tillamook's French Vanilla is a true ice cream connoisseur's delight.
22. Vanilla Bean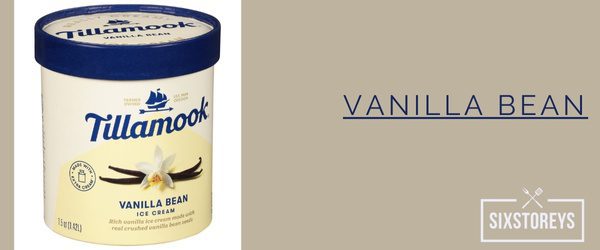 A perennial favorite, Tillamook's Vanilla Bean maintains a special place in the hearts of ice cream enthusiasts everywhere. This timeless treat is made from fresh cream and genuine Madagascar vanilla beans, resulting in a smooth and understated flavor. It's a subtle yet luxurious ice cream that doesn't need any fancy toppings to shine – just a spoon and a bowl. Its versatility also makes it an ideal accompaniment to pies, cakes, and any other dessert you can think of.
23. Mint Chocolate Chip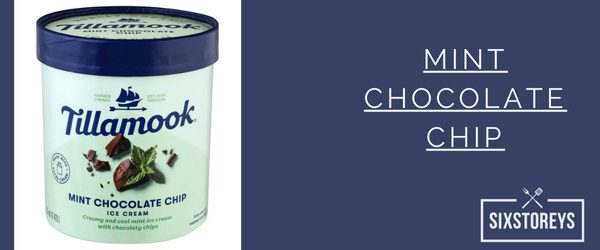 Refreshing and invigorating, Tillamook's Mint Chocolate Chip brings a whole new level of cool to ice cream. The perfect balance of mint flavor with semisweet chocolate chips creates a delightful, energizing combination. This Tillamook classic is destined to be a regular in your ice cream rotation. A fan favorite, Mint Chocolate Chip is the ideal accompaniment to a hot summer day or a refreshing palate cleanser after dinner.
24. Monster Cookie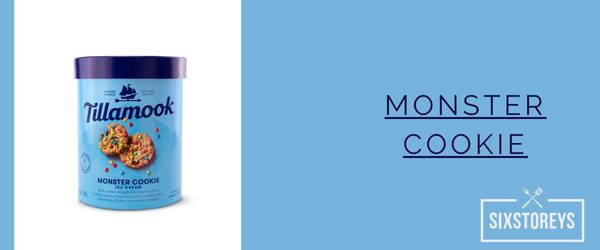 Considering its name, this quirky concoction will have you reminiscing about your childhood dreams. Introduced in 2015, Monster Cookie quickly became a fan favorite. Bursting with an assortment of ingredients, this flavor brings together the best parts of your most-loved sweets: oatmeal cookies and M&M minis.
Additionally, trusses of peanut butter ribbon run through the mix, creating a complex flavor harmony in every bite. Every spoonful of Monster Cookie is an amusement park for your taste buds, keeping you on the edge of excitement with new textures, colors, and mouthwatering flavors.
25. Strawberry Cheesecake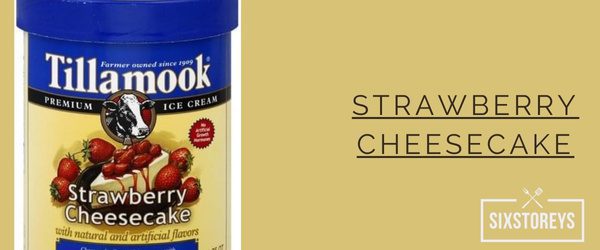 Strawberry Cheesecake amalgamates two timeless classics into one heavenly scoop. Instead of settling for a conventional strawberry ice cream, indulge your senses with this imaginative creation that combines strawberry and cheesecake in a frozen masterpiece. This creative twist features dreamy cheesecake ice cream infused with a sweet swirl of strawberry flavor, amplifying the fruity delight.
As if that weren't enough, the addition of crunchy graham cracker crumbles adds a delightful contrast of texture. Strawberry Cheesecake's alluring taste and creative flair make it an ideal option for those who wish to take their dessert experience to new heights.
Also Read: Best Snow Cone Flavors
A Flavor Celebration: Pairing Ideas for the Ultimate Dessert Experience
The Classic Pair: Ice Cream and Pie
Why resist an all-time favorite dessert pairing? Scoop up a generous helping of Tillamook ice cream and serve it alongside your favorite pie. For an exquisite combination, try these mouthwatering match-ups:
Marionberry Pie ice cream with a slice of warm apple pie
Vanilla Bean with a rich slice of chocolate fudge pie
Peaches and Cream ice cream on a slice of blueberry pie
Indulgent Ice Cream Parfaits: Layers of Deliciousness
Get creative and assemble a parfait with complementing Tillamook ice cream flavors, fruits, nuts, and other toppings. Use clear glass to showcase the beautiful layers. Try these delightful combos:
Coffee Almond Fudge and Caramel Toffee Crunch topped with whipped cream and a drizzle of caramel sauce
Layer French Vanilla and Oregon Dark Cherry with crushed graham crackers and a dollop of whipped cream
Combine White Chocolate Raspberry and Chocolate Chip with a layer of crushed chocolate cookies and white chocolate shavings
Delectable Ice Cream Sandwich Bites
Heighten the thrill of ice cream by sandwiching your favorite Tillamook flavor between soft cookies or brownies and cutting them into mini ice cream sandwich bites. Here are some tempting flavor pairings:
Mint Chocolate Chip between two chocolate chip cookies
Monster Cookie sandwiched between two soft oatmeal cookies
White Chocolate Raspberry between tender macaroon cookies
Crafting dessert masterpieces has never been more exciting and satisfying. With the wide assortment of Tillamook ice cream flavors, the possibilities are endless for finding your ultimate dessert experience.
Vegans, Rejoice: Tillamook's Dairy-Free Options (2023)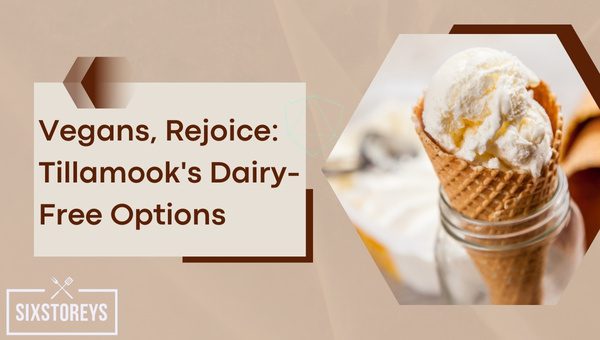 When it comes to enjoying delicious ice cream, people adhering to a vegan or dairy-free lifestyle shouldn't be left out. Luckily, Tillamook has got you covered with its delightful selection of dairy-free frozen desserts.
Assortment of Dairy-Free Delicacies
Tillamook's dairy-free offerings include a remarkable array of flavors made with top-notch coconut-based cream and real, plant-based ingredients. Indulge in favorites such as Oregon Strawberry, Chocolate Hazelnut Brownie, and Marionberry Cheesecake. It's truly a vegan ice cream lover's paradise!
Quality, Plant-Based Ingredients
Just as with their traditional dairy ice creams, Tillamook takes great care in selecting the best ingredients for their dairy-free desserts. This commitment ensures that the flavor, texture, and overall ice cream experience rival that of their conventional counterparts. From rich, velvety chocolate to the natural sweetness of Oregon-grown strawberries, these plant-based treats have it all.
Availability and Accessibility
Wondering where to find these dairy-free delights? Many retailers who carry Tillamook's ice creams also offer their dairy-free frozen desserts. Simply head to your favorite grocery store and look for these special treats in the frozen aisle. In addition, you can even order Tillamook's dairy-free options online for convenient doorstep delivery.
Tillamook's Continuous Innovation
Tillamook continually explores new flavors and product lines, satisfying the taste buds of vegans and dairy-free enthusiasts. Their innovative approach to creating delicious, high-quality dairy-free desserts has made Tillamook a go-to choice for plant-based ice cream lovers. As a result, they can confidently savor mouthwatering treats without compromising on taste or ethics.
Tillamook's dedication to offering an array of vegan and dairy-free frozen dessert options proves that they genuinely care about satisfying the needs of all ice cream lovers.
Also Read: Best Jack in the Box Desserts & Shakes
Frequently Asked Questions
What makes Tillamook ice cream different from other brands?
Tillamook is known for its commitment to high-quality ingredients, small-batch churning, and an impressive variety of flavors. They source premium dairy directly from their cooperative's local farms, ensuring a rich and creamy taste that sets them apart from other brands.
Are Tillamook ice creams gluten-free?
While many Tillamook ice cream flavors do not contain gluten, they are not certified gluten-free. Be sure to check the packaging for specific allergen information and be cautious if you have severe gluten sensitivity or allergy.
Does Tillamook offer any lactose-free or dairy-free options?
Yes! Tillamook has introduced a line of dairy-free frozen desserts made with high-quality plant-based ingredients, providing delicious options for those with lactose intolerance or who follow a dairy-free diet.
Are there any limited edition or seasonal Tillamook ice cream flavors to try?
Absolutely! Throughout the year, Tillamook releases limited edition and seasonal flavors to delight your tastebuds. Keep an eye out at your local retailer or on their website to discover the latest creations.
What is Tillamook's most popular ice cream flavor?
While everyone's tastes may vary, some of the most popular Tillamook ice cream flavors include Udderly Chocolate, Marionberry Pie, and Oregon Dark Cherry, among others. Don't hesitate to explore the entire lineup and find your personal favorite!
Can I visit the Tillamook Creamery to see how their ice cream is made?
Yes! The Tillamook Creamery in Oregon offers a visitor center where you can learn more about the company's history and see the ice cream-making process firsthand. Plus, you can taste their delicious ice cream at the onsite Parlor.
Can I order Tillamook ice cream online for delivery?
While Tillamook does not directly sell its ice cream online, you can find its products through various online grocery retailers and delivery services. Check your favorite online grocery store or delivery app for availability.
How should I store my Tillamook ice cream to maintain its quality and freshness?
To ensure you enjoy your Tillamook ice cream at its best, store it in the coldest part of your freezer, ideally between 0-5°F (-18 to -15°C). Be sure to close the lid tightly to prevent freezer burn, keeping the ice cream tasty and fresh.
Conclusion
As we embark on this delightful journey through the best Tillamook ice cream flavors, it becomes clear that there's a flavor for every taste and preference. With such a diverse array of options, from timeless classics to adventurous concoctions, you're sure to find your new personal favorite among these enticing offerings.
In the end, the beauty of ice cream lies in its endless variety, allowing us to explore a veritable cornucopia of taste sensations. I encourage you to treat yourself to a Tillamook ice cream experience, test out different flavors, and uncover your own sweet, frozen passion. After all, with Tillamook, the ice cream possibilities are as divine as they are diverse.
Food Lover and Storyteller 🍽️✨ With a fork in one hand and a pen in the other, Shivani brings her culinary adventures to life through evocative words and tantalizing tastes. Her love for food knows no bounds, and she's on a mission to share the magic of flavors with fellow enthusiasts.