14 Best Store-Bought Enchilada Sauces To Buy in 2023 [Gems]
Updated On: August 29, 2023
Enchilada sauce plays an essential role in Mexican cuisine, as it can elevate a dish from ordinary to extraordinary with its vibrant flavors and heartwarming aromas. From zesty greens to robust reds, the world of enchilada sauces is vast and rich. As a food lover, I have always been on the hunt for the best store-bought enchilada sauces, and my journey has led me to discover some incredible finds that are perfect for a variety of dishes and taste buds.
In this article, I will share my insights and personal experiences with some of the finest enchilada sauces available in your local grocery stores, so you too can enjoy the perfect condiment to create delicious and satisfying meals at home. Get ready to embark on a quest for the ultimate store-bought enchilada sauce!
Also Read: Best Jarred Vodka Sauce Brands
14 Best Store-Bought Enchilada Sauces of 2023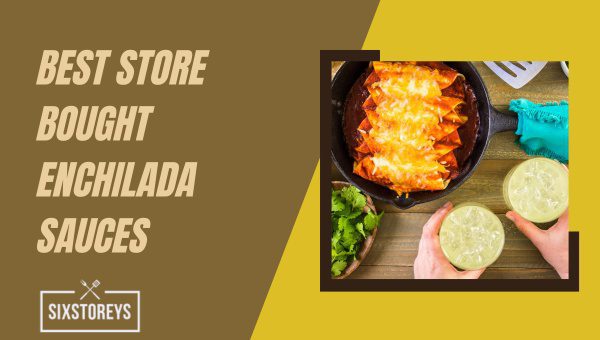 Embark on a culinary adventure as we explore the 14 best canned enchilada sauces sure to tantalize your taste buds and elevate your Mexican dishes. Uncover the rich flavor profiles and diverse options suitable for every palate, from the keto-conscious to the spice enthusiast.
1. La Costena Enchilada Sauce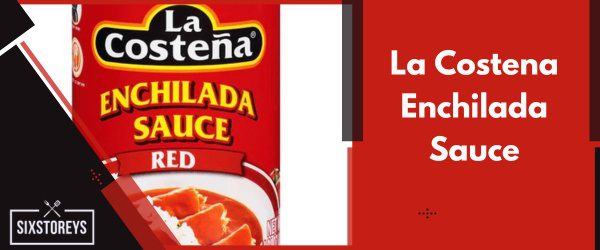 La Costena Enchilada Sauce is a fantastic addition to your list of store-bought choices. Its well-rounded flavor and pleasing consistency make it a favorite for many Mexican food lovers. Featuring just the right blend of spices, this sauce has the ability to turn a simple enchilada dish into a culinary masterpiece.
This versatile sauce works wonders with various types of enchiladas, be it chicken, beef, or even a veggie-packed recipe. Plus, the medium heat level is perfect for those who enjoy a little spice without being overwhelmed. I personally remember making some of the most savory enchiladas ever using this La Costena sauce. The aroma, as it simmered on the stove, was enough to make my family flock to the kitchen in anticipation of the delicious meal to come.
Aside from enchiladas, La Costena Enchilada Sauce can also be incorporated into other traditional Mexican dishes like chilaquiles, casseroles, and even soups for an extra kick of flavor. Don't let its versatility stop at Mexican cuisine, though; I've found this sauce to be a great addition to Tex-Mex dishes, as well.
2. Best Green: Frontera Enchilada Sauce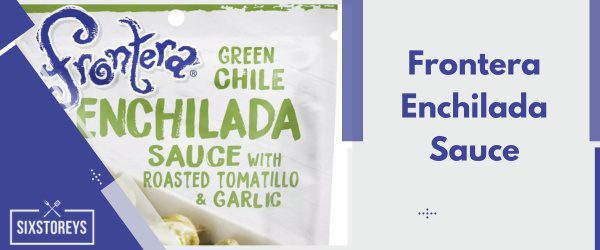 If you're a fan of green enchilada sauces, Frontera Enchilada Sauce should be at the top of your must-try list. This all-natural sauce boasts an exquisite freshness that is hard to find among other store-bought options. It's no surprise that Frontera has gained rave reviews from gastronomes keen on the tangy flavors of green sauces.
The robust taste of tomatillos, garlic, and zesty lime juice makes Frontera Enchilada Sauce the perfect choice for those looking to create authentic green enchiladas at home. I've paired it with various proteins and fillings, and every time, it has surpassed my expectations.
Beyond enchiladas, Frontera's green sauce is perfect for creating crowd-pleasing dishes like chile verde and salsa verde, or it can be used as a flavorful drizzle over grilled meats and vegetables. With its unmistakable zesty taste and impressive versatility, Frontera Enchilada Sauce is the undisputed choice for those seeking the best store-bought green enchilada sauce.
3. Siete Enchilada Sauce: Best Vegan Sauce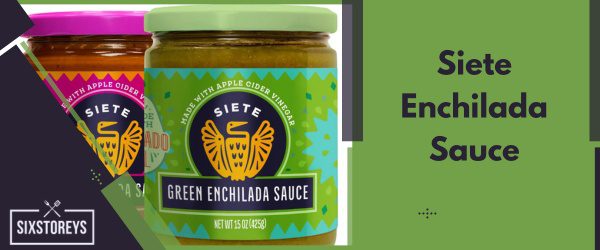 Siete Enchilada Sauce is a game-changer for those seeking a vegan and allergen-friendly option without sacrificing flavor. This incredible sauce is not only gluten-free but also free from dairy, soy, and corn, making it suitable for various dietary preferences.
A key feature of this vegan enchilada sauce is its use of high-quality, natural ingredients. Made with a base of delicious and nutritious ingredients such as tomato paste, spice blend, apple cider vinegar, and sea salt, this flavorful sauce is perfect for a wholesome meal any night of the week. I particularly enjoy pairing this sauce with a baked vegetable enchilada filled with zucchini, bell peppers, and black beans, topped with a generous drizzle of Siete Enchilada Sauce and a sprinkling of vegan cheese.
Another aspect that makes Siete Enchilada Sauce stand out is its amazing versatility. This sauce is excellent for drizzling over fresh salads, dipping tortilla chips, or adding a zesty touch to your taco nights! Moreover, the unique fusion of Mexican flavors such as jalapeño, chipotle, and ancho chili powders will elevate your enchilada game to the next level.
4. Gebhardt Enchilada Sauce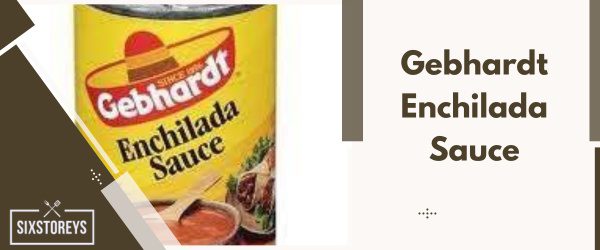 Next on the list is Gebhardt Enchilada Sauce, a delightful option for those who prefer a milder sauce that still packs a mouthwatering punch. The silky smooth texture of this sauce adds a luxurious element to any dish, providing a beautiful balance of flavor that melds seamlessly with your choice of protein.
What sets Gebhardt apart is its suitability for family dinners or gatherings. The mild heat level ensures that everyone can enjoy the meal, even those who may not typically indulge in spicier foods. I've served this sauce with chicken, beef, and cheese enchiladas, and each combination has been nothing short of delectable.
In addition to enchiladas, Gebhardt Enchilada Sauce can also be used in various dishes such as tamales, burritos, and tostadas. Its widespread appeal and loyal following have solidified its place as a must-have sauce to keep stocked in your pantry.
Also Read: Best Store-Bought Pizza Sauces
5. Hatch Enchilada Sauce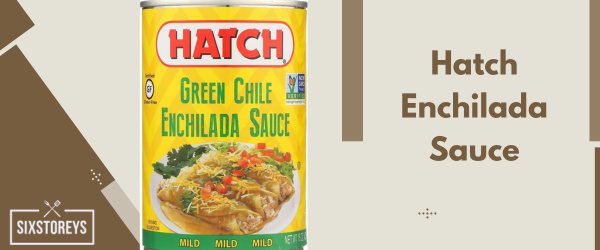 Embark on a spicy journey with the Hatch Enchilada Sauce, which brings the authentic flavors of New Mexico straight to your table. This iconic enchilada sauce is made using Hatch Green Chiles, a highly sought-after ingredient known for its distinct flavor and medium heat level. Trust me; these chiles make all the difference when it comes to a genuinely unforgettable enchilada sauce.
Hatch Enchilada Sauce shines when paired with slow-cooked meats such as pork or beef, as it enhances their natural flavors and adds an irresistible kick. When I made my shredded beef enchiladas using this sauce, my whole family raved about the robust flavor profile and the spot-on consistency that was just thick enough to cling to the tortillas without becoming soggy.
Presented in a convenient canned format, Hatch Enchilada Sauce is easy to store and prep, making this enchanting sauce an ideal choice for busy days or impromptu gatherings.
6. Old El Paso Red Enchilada Sauce Medium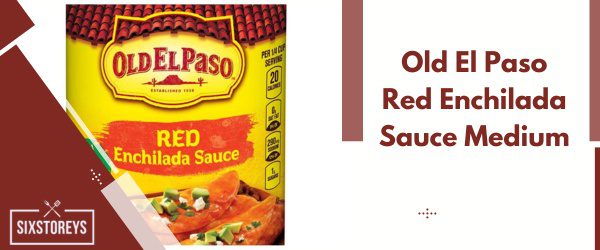 If you're someone who enjoys a nice medium heat level in your enchilada sauce, the Old El Paso Red Enchilada Sauce Medium is your go-to option. This medium variety offers a well-balanced flavor with just enough spice to keep your taste buds excited, without overpowering the dish.
While using this sauce, I found it particularly convenient for meal prep, as it took the hassle out of making my own sauce from scratch. The mouthwatering array of ingredients such as chili powder, garlic, and onions blend effortlessly to provide a scrumptious sauce that complements any type of enchilada filling.
So go ahead and give this medium-heat enchilada sauce a try and watch your homecooked meals transform into a delicious fiesta!
7. Las Palmas Green Enchilada Sauce Hot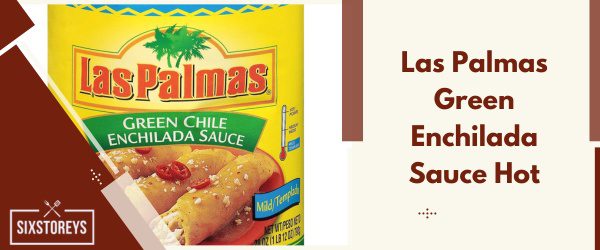 For those who love their green enchilada sauce with a fiery kick, the Las Palmas Green Enchilada Sauce Hot packs a punch. This hot and flavorful sauce is an excellent choice if you want to spice up your enchiladas and awaken your senses with its robust taste.
Particularly well-suited for seafood enchiladas, this green sauce cradles a mix of tomatillos, jalapeños, and spices, infusing your dish with a zesty flair that can't be beaten. I recall using this sauce to make some unforgettable shrimp enchiladas; they turned out spicy and delicious, with a fantastic blend of flavors that had me craving more.
Don't let the heat scare you away! With Las Palmas Green Enchilada Sauce Hot, your Mexican dishes will be alive with an intense, mouthwatering flavor that leaves you satisfied and invigorated for your next culinary adventure.
8. Macayo's Enchilada Sauce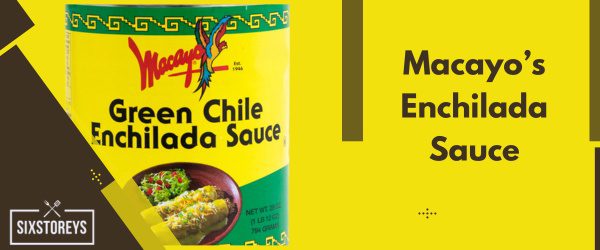 Experience the rich and smoky flavors of Macayo's Enchilada Sauce, an exquisite condiment that is perfect for both beef and chicken enchiladas. The secret behind this mouth-watering sauce is its combination of traditional Mexican ingredients such as dried red chiles, garlic, and a tantalizing blend of spices.
One of my favorite aspects of Macayo's Enchilada Sauce is how it effortlessly melds with various kinds of cheese, creating an exquisite symphony of flavors. When I first made chicken enchiladas with this sauce, I knew I had found something truly special. The sauce's velvety consistency and deep red color were nothing short of mesmerizing.
If you're planning a festive dinner or simply want to spice up your weekday meal, Macayo's Enchilada Sauce is a must-try option. Be prepared to receive compliments and recipe requests from your guests! Available in a jar format, you can stock up on this amazing enchilada sauce and have it ready for your next cooking adventure.
9. Best Mexican: Old El Paso Enchilada Sauce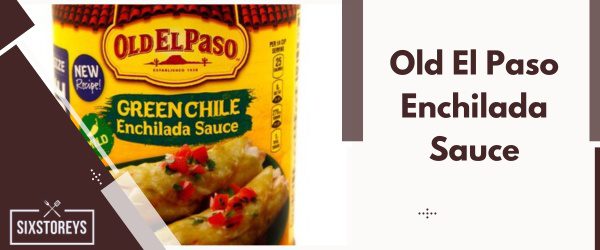 When it comes to the best Mexican store-bought enchilada sauce, Old El Paso Enchilada Sauce is a top contender. This classic staple in Mexican cuisine offers an authentic and delicious experience perfect for those craving a trip to Mexico through their taste buds.
The sauce has a wonderful blend of spices, tomatoes, and peppers, creating a well-rounded taste that works seamlessly with a variety of dishes. Besides being an excellent addition to your enchiladas, Old El Paso Enchilada Sauce can also be used for various creations, such as tacos, burritos, or even a spicy dip for chips.
One of the most appealing aspects of this sauce is its easy-to-use nature. Simply pour it over your prepped enchiladas, and you're ready to go. Additionally, its affordability and availability in most grocery stores make it a convenient option for anyone looking to enrich their home-cooked Mexican dishes.
10. Hatch Green Chile Enchilada Sauce Medium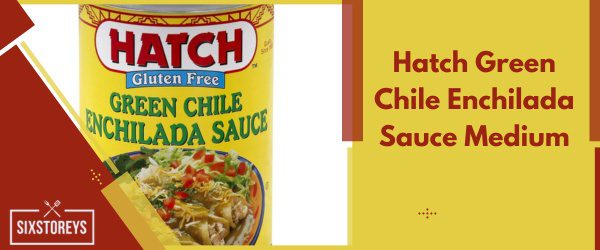 One cannot talk about the best enchilada sauces without mentioning the Hatch Green Chile Enchilada Sauce Medium. Hatch is well-known for their authentic New Mexican flavors, using fresh, sun-ripened green chiles grown in the fertile Hatch Valley. The result is an enchilada sauce that packs a remarkable punch with a distinct flavor and just the right amount of heat.
The medium option offers a perfect balance between the bold chile flavor and a pleasant, warming heat, making it an excellent choice for those who enjoy a bit of spice without being overwhelmed. This sauce is particularly amazing when paired with pork or beef, as it complements the richness of the meat while still letting its natural flavors shine through.
Some of the culinary delights you can create with Hatch Green Chile Enchilada Sauce Medium include:
Green chile pork enchiladas
Cheesy beef enchilada casserole
Vegetarian green chile enchiladas with zucchini and corn
New Mexican-style stuffed bell peppers
When using Hatch Green Chile Enchilada Sauce Medium, you can expect a top-notch, restaurant-quality dish bursting with flavor. Trust me when I say that you will never want to go back to any other green enchilada sauce after experiencing the taste of Hatch.
11. Best Keto Friendly: Rosarita Enchilada Sauce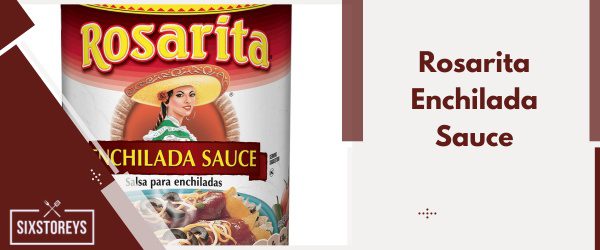 For those following a low-carb or ketogenic diet, it can be a challenge to find products that not only fit your dietary requirements but also maintain a delicious taste. Enter Rosarita Enchilada Sauce – a keto-friendly version that is low in carbohydrates while still being packed full of flavor. This enchilada sauce is a game changer for those who want to enjoy tasty Mexican meals while sticking to their health-conscious lifestyle.
What sets the Rosarita Enchilada Sauce apart from other enchilada sauces is its thick and rich consistency that sticks perfectly to your enchiladas. Additionally, it retains a great balance of spice and robust flavor that you'd expect from a traditional enchilada sauce. With this sauce, you can obtain the perfect flavor infusion for various dishes, including:
Keto-friendly chicken enchiladas with low-carb tortillas
Low-carb enchilada skillet with cauliflower rice
Zucchini enchilada rolls
Keto enchilada-stuffed peppers
Finally, a delicious and keto-friendly option for those who crave the brilliance of Mexican cuisine without compromising on their dietary principles. Rosarita Enchilada Sauce delivers the goods, making it my top pick in the keto-friendly category.
12. Ortega Enchilada Sauce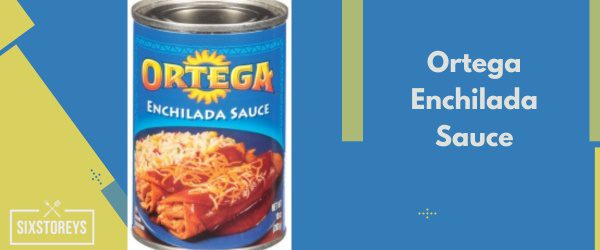 If you're looking for a sauce that imparts a tangy and robust flavor to your Mexican dishes, Ortega Enchilada Sauce is the answer. Its consistency and taste make it a fantastic choice for creating various homemade dishes with minimal effort and maximum flavor. Ortega's unique recipe, infused with spices and rich tomato sauce, results in a versatile, scrumptious condiment.
Your creativity can take flight with Ortega Enchilada Sauce, as its adaptability enables you to create countless dishes - everything from traditional enchiladas to quick and easy skillet meals. Some of my personal favorites to make with this sauce comprise the following:
Vegetarian black bean and spinach enchilada casserole
Shredded chicken enchilada-stuffed avocado
Ortega-style enchilada baked pasta
Quick and easy enchilada skillet
Ortega Enchilada Sauce is a flavorful and satisfying choice for cooking enthusiasts who desire a distinctive tang in their Mexican dishes. Be ready to indulge in some mouth-watering and vibrant meals with this enchanting red enchilada sauce.
13. Best Mild Red: La Victoria Enchilada Sauce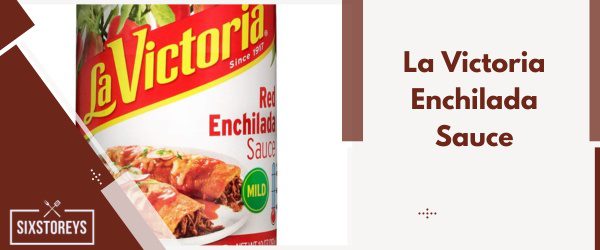 For those who prefer a more delicate heat in their enchilada sauces, La Victoria Enchilada Sauce is the perfect choice. As a mild red enchilada sauce, it offers a delectable, rich flavor that appeals to a wide range of taste buds, making it a fantastic addition to your culinary repertoire. La Victoria's enchilada sauce carries the bold and savory flavor of traditional Mexican cuisine without overwhelming you with spiciness.
With this mild yet flavorful enchilada sauce, you can effortlessly create traditional enchiladas, casseroles, and other Mexican-inspired dishes that will please adults and children alike. Some delicious and satisfying meals to prepare with La Victoria Enchilada Sauce include:
Mild red cheese enchiladas
Turkey and black bean enchilada casserole
Vegetarian enchilada stuffed zucchini boats
Layered beef enchilada bake
I highly recommend La Victoria Enchilada Sauce as the ideal option for those who appreciate authentic Mexican flavors without the heat, making it a consistently crowd-pleasing choice for gatherings and family dinners.
14. Best for Chicken Enchiladas: Las Palmas Enchilada Sauce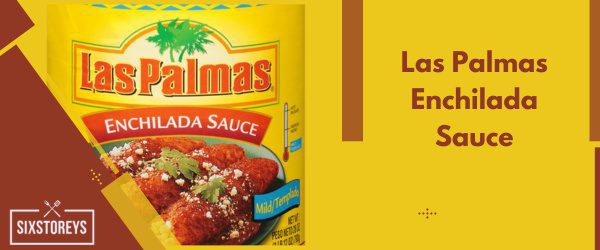 When it comes to creating the perfect chicken enchiladas, I have found that Las Palmas Enchilada Sauce is the ultimate secret weapon. This sauce has an incredibly rich flavor that marries beautifully with the tender chicken, melding the ingredients together into a mouth-watering, heavenly dish. The classic taste, combined with its consistency and aromas, makes Las Palmas Enchilada Sauce a must-try for chicken enchilada lovers.
This sauce pairs exceptionally well with various kinds of cheese, allowing you to create memorable, gooey chicken enchiladas again and again. With Las Palmas Enchilada Sauce, you can create an array of irresistible dishes:
Classic chicken and cheese enchiladas
Creamy white chicken enchilada casserole
Chicken enchilada-stuffed acorn squash
Chicken and cauliflower enchilada rice bake
Do yourself a favor and give Las Palmas Enchilada Sauce a go when making chicken enchiladas; the depth of flavor and deliciousness will keep you coming back for more.
Also Read: Best Sauces For Lobster Ravioli
The Role of Enchilada Sauce in Traditional Mexican Cuisine
Enchilada sauce has a storied history in the world of traditional Mexican cuisine, where it plays a central role in the dining experience. Originating from the Nahuatl word "enchilada", which means "chili-filled", the sauce embodies the essence of Mexico's rich and diverse culinary offerings.
Historical Perspective
Enchilada sauce traces its roots back to the ancient Aztecs, who commonly used chipotle, a chili pepper sauce, to season their meals. Over time, enchilada sauce has evolved, with various regions in Mexico developing unique flavors, ingredients, and preparation methods.
Regional Variations
Across Mexico, there is an incredible variety of enchilada sauces, each boasting distinct flavor profiles and spice levels. From smoky and complex mole enchiladas to fresh and tangy verde enchiladas made with green tomatillos, the variety is a testament to the rich cultural heritage of Mexican cuisine.
The Enchilada Experience
At the heart of any enchilada dish is its sauce. Enchilada sauce not only imparts flavor and moisture to a dish, but it also acts as a unifying component for the various ingredients and flavors within each enchilada.
How to Elevate Your Enchiladas with the Perfect Sauce?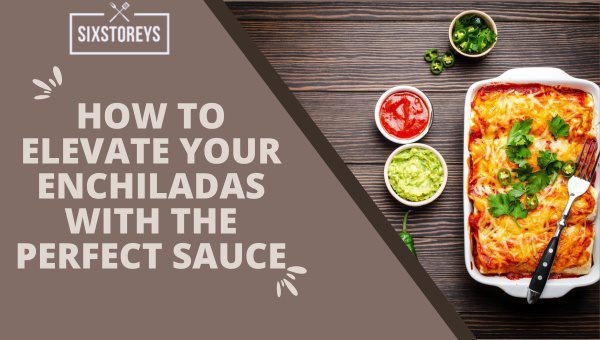 Finding the perfect enchilada sauce can be a culinary adventure. With a few expert tips, however, you can confidently pair the right sauce with your favorite dishes.
Pairing Sauce with Your Dish
When selecting an enchilada sauce, consider the flavors of the dish you are preparing. For example, green sauces like Frontera Enchilada Sauce pair well with lighter proteins such as chicken or shrimp, whereas red sauces like La Victoria Enchilada Sauce complement heartier proteins like beef or pork.
Creative Sauce Ideas
To mimic a restaurant-quality enchilada experience at home, experiment with canned sauces by customizing them with fresh and bold ingredients. Enhance a mild red sauce with smoky chipotle chilies or add a touch of sweetness with honey or agave syrup. Jazz up your verde enchilada sauce with freshly roasted poblano peppers or a generous sprinkle of chopped cilantro.
Versatile Enchilada Sauces
Finally, don't hesitate to embrace the versatility that enchilada sauces bring to your kitchen. Use them as a base for slow cooker meals, marinate meats, or even create fun fusion dishes. The possibilities with these store-bought enchilada sauces are truly endless. So, get creative!
Armed with this knowledge and an appreciation for the storied history of enchilada sauce in Mexican cuisine, you'll be well on your way to creating unforgettable, restaurant-quality dishes at home.
The Health Benefits of Enchilada Sauce
Enchilada sauce not only adds a burst of flavor to your dishes but can also offer various health benefits when chosen wisely. Here is a breakdown of some essential elements in these sauces and their impact on your health.
Nutritional Composition of Enchilada Sauces
Vitamins and Minerals: Enchilada sauce typically includes tomatoes, chilies, and spices, which provide an array of vitamins and minerals like vitamin C, potassium, and antioxidants.
Fiber: Many sauces contain a good amount of fiber that can help improve digestion and regulate blood sugar levels.
Low in Calories: Most enchilada sauces add rich flavor without significantly increasing calorie count.
Health-Conscious Sauce Selections
Low-Sodium Options: Opt for sauces with lower sodium content to cut down on unnecessary salt intake and manage blood pressure.
Gluten-Free and Vegan Varieties: Many store-bought sauces cater to specific dietary needs, ensuring everyone can enjoy a tasty enchilada.
Incorporating Healthier Enchilada Sauces
Focus on Vegetables: Pair your sauce with vegetable or chicken-based enchiladas for a nutrient-packed meal.
Modulate Portions: Use smaller amounts of sauce to retain flavor without going overboard on calories and sodium.
DIY vs. Store-Bought Enchilada Sauce: The Pros and Cons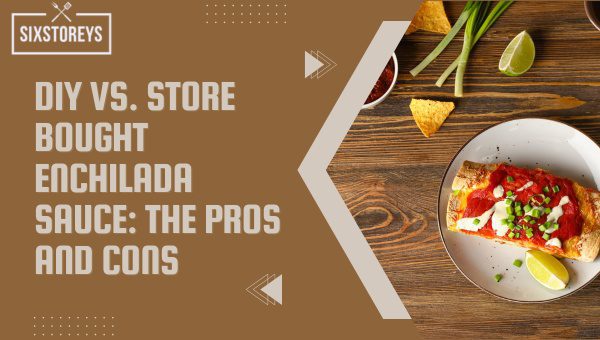 To fully enjoy enchiladas, it's essential to consider whether to make your sauce from scratch or buy it from the store. Each option has its merits and drawbacks.
Homemade Enchilada Sauce
Pro: Control over ingredients, allowing for adjustments in flavor, spice level, and overall consistency
Pro: The use of fresh, natural ingredients leads to a more authentic taste and tailored nutritional profile
Con: Time-consuming process, with the potential for inconsistent results
Store Bought Enchilada Sauce
Pro: Ultimate convenience, with a variety of options readily available at grocery stores
Pro: Consistent flavor and quality, enabling you to recreate your favorite dishes with ease
Con: Limited control over ingredients, which may include preservatives, added sugars, and high sodium content
Ultimately, the choice between homemade and canned enchilada sauce depends on personal preference, time constraints, and desired flavor profiles. Embrace your culinary journey by experimenting with both options and finding the perfect balance that suits your tastes and lifestyle.
The Art of Cooking Enchiladas: Tips for Success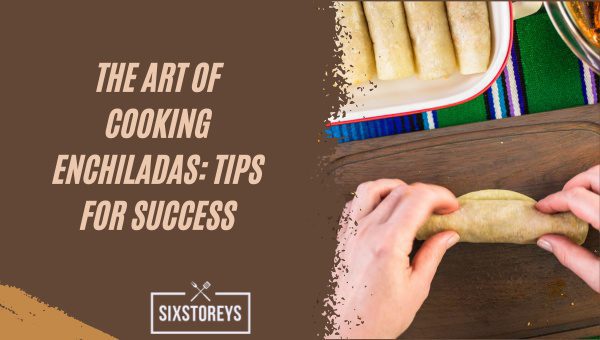 Perfecting Your Enchilada Ingredients
When it comes to creating mouth-watering enchiladas, the right ingredients make all the difference. Start with a high-quality tortilla (either corn or flour, depending on your preference) and select fresh, flavorful fillings such as proteins, veggies, and cheese. Don't forget about the most crucial component: choosing the perfect store-bought enchilada sauce, as discussed previously in this article.
The Assembling Process
Crafting superb enchiladas begins with proper preparation and assembly. Start by preheating your oven to 350°F (180°C). Next, warm your tortillas in the microwave or stovetop to make them more pliable and prevent cracking or breaking during the rolling process. A quick tip is to dip each tortilla in your chosen enchilada sauce before adding your filling, as this adds both flavor and ease of assembly.
Lay each tortilla flat on a clean workspace.
Place a generous amount of filling down the center, being careful not to overstuff.
Roll the tortilla tightly around the filling and place seam-side down in a baking dish.
Repeat for all tortillas.
Sauce Application
Once your enchiladas are assembled, it's time to layer on the sauce. Pour your chosen store-bought enchilada sauce evenly over the top to ensure consistent flavor throughout each bite. Be generous but avoid drowning the enchiladas, as you don't want a soupy dish.
Add a Finishing Touch
Complete your enchiladas by sprinkling a generous amount of shredded cheese on top. Opt for a classic Mexican cheese blend, or experiment with various types to suit your preference. As the cheese melts and creates a gooey, delicious layer, the final dish becomes irresistible.
Baking and Serving
Place your assembled enchiladas in the preheated oven and bake for about 20-25 minutes or until bubbly and golden on top. Allow the dish to rest for a few minutes before serving, as this helps the enchiladas set and maintain their shape. Finally, when plating, add a dollop of sour cream, a sprinkle of chopped cilantro, or a squeeze of lime, for a perfect finishing touch.
By following these expert tips for assembling, saucing, and baking enchiladas, you'll achieve impressive results that cement these scrumptious store-bought enchilada sauces as the secret weapon in your culinary arsenal.
Also Read: Best Red Robin Sauces
Frequently Asked Questions
What are the key differences between red and green enchilada sauce?
Red enchilada sauce is made from red chilies, tomatoes, and various spices, while green enchilada sauce is made from green chilies, tomatillos, and cilantro. Red sauces are often richer and slightly sweeter compared to the tangy and zesty flavors of green sauces.
Can I use store-bought enchilada sauce in other dishes besides enchiladas?
Absolutely! Enchilada sauce is versatile and can be used in various Mexican dishes such as tacos, burritos, chilaquiles, tamales, and stacked enchiladas, or for marinating proteins like chicken, beef, and seafood.
Are there gluten-free canned enchilada sauce options available?
Yes, there are gluten-free enchilada sauces available, such as Siete Enchilada Sauce and Frontera Enchilada Sauce. Be sure to read product labels for any allergy information and verify that a sauce is gluten-free before purchasing.
How long does store-bought enchilada sauce last after opening?
Opened store-bought enchilada sauce typically lasts around 5-7 days in the refrigerator when stored in an airtight container. However, always follow the specific guidelines and expiration date indicated on the packaging.
Can I freeze store-bought enchilada sauce for extended storage?
Yes, you can freeze enchilada sauce for up to 6 months in a freezer-safe container or resealable plastic freezer bag. Be sure to label and date the container to keep track of its freshness.
How do I thicken my store-bought enchilada sauce if it is too thin?
To thicken enchilada sauce, you can create a cornstarch or flour slurry by combining equal parts cornstarch or flour with water, then stir the mixture into your sauce over medium heat to reach the desired consistency.
What is the best way to heat store-bought enchilada sauce?
You can heat enchilada sauce in a saucepan over medium heat until warmed through, about 5-7 minutes. Alternatively, you can heat it in the microwave using a microwave-safe container in 30-second intervals, stirring in between until heated to your desired temperature.
Is store-bought enchilada sauce customizable? Can I add my own spices?
Yes, you can customize store-bought enchilada sauce to suit your taste preferences by adding spices such as cumin, oregano, paprika, or chili powder. You can also add fresh ingredients like onions, garlic, or cilantro to enhance the flavor.
Conclusion
Having explored the wide variety of store-bought enchilada sauces available, it becomes clear that the perfect sauce holds the power to transform our favorite Mexican dishes. Whether you prefer a mild, vegan, keto-friendly, or traditional sauce, each of the options discussed offers unique and mouthwatering flavors worth trying.
With these sauces, you can create culinary masterpieces for yourself, your friends, or your family to enjoy. So, dive into creating delectable enchiladas and other Mexican dishes that cater to your individual preferences by selecting and experimenting with the best canned enchilada sauces featured in this list, and indulge your taste buds in their rich, savory goodness.
Food Lover and Storyteller 🍽️✨ With a fork in one hand and a pen in the other, Shivani brings her culinary adventures to life through evocative words and tantalizing tastes. Her love for food knows no bounds, and she's on a mission to share the magic of flavors with fellow enthusiasts.