19 Best Canned Margaritas of 2023 [Elevate Your Happy Hour]
Picture this: you're hosting a gathering or planning a day outdoors, and you want to serve up some delicious cocktails without the hassle of prepping ingredients and playing bartender. Enter the canned margarita! In recent years, canned cocktails have taken the beverage industry by storm, offering a convenient alternative to traditional mixed drinks while still delivering flavor.
These ready-to-drink treats are perfect for those who love margaritas but don't want to spend time making them from scratch. With an incredible variety of brands and flavors available in the market today, it's never been easier - or more enjoyable - to indulge in this classic cocktail with minimal effort.
In this blog post, I'll be sharing my thoughts on why canned margaritas are worth trying out for yourself if you haven't already (spoiler alert: they're amazing!). From well-known brands to low-calorie options and unique flavor combinations that will leave your taste buds wanting more – there's something here for everyone. So let's dive into the world of best canned margaritas together as we explore my top picks for quenching your thirst in style! Cheers!
Also Read: Best Rare Bourbons
Why Choose Canned Margaritas?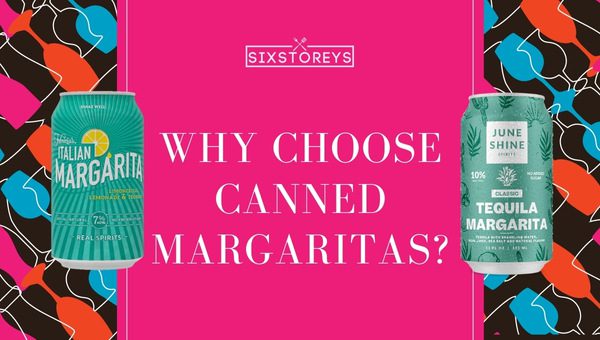 In a world where convenience is king, margaritas in a can are the perfect solution for those looking to enjoy a delicious cocktail without the hassle of preparing them from scratch. But there's more to these ready-to-drink concoctions than just convenience. Here are some compelling reasons why you should give canned margaritas a try:
Effortless entertaining: Hosting a gathering or planning an outdoor event? Canned margaritas make it easy to serve tasty drinks without needing bartending skills or worrying about stocking various ingredients. Simply grab your favorite cans, chill them, and serve!
Consistent taste: Crafting the perfect margarita can be tricky – too much lime, not enough tequila, or an uneven balance of flavors can easily ruin your drink. With canned margaritas, you get a consistently delicious beverage every time.
Wide range of flavors and varieties: The world of canned margaritas has exploded over the past few years with brands offering an array of tempting flavor combinations that cater to different taste preferences – from classic lime and strawberry to exotic hibiscus-infused options.
Eco-friendly packaging: Many brands opt for recyclable aluminum cans which have lower environmental impact compared to glass bottles or plastic containers.
Ideal for on-the-go adventures: Heading out for camping trips or picnics? Canned cocktails are lightweight and easily portable – making them the ideal drink choice when you're on the move.
No need for additional equipment: Forget about shakers, strainers, and other bar tools; with canned margaritas at hand, all you need is your favorite glassware (preferably garnished with salt)!
So whether you're throwing a party or simply want an easy way to unwind after work with minimal prep time involved - give canned margaritas a chance! You might just find yourself pleasantly surprised by the quality and variety they have to offer.
Top Brands for Canned Margaritas in 2023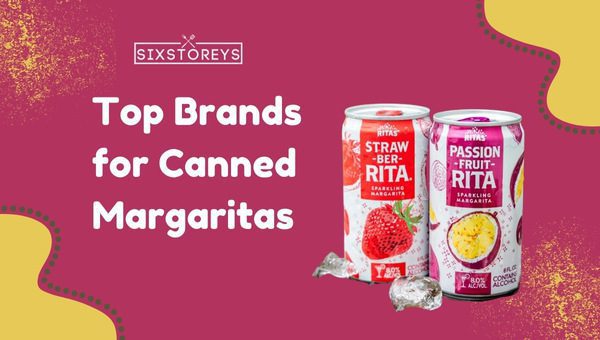 When it comes to best canned margaritas, the market is filled with delicious and convenient options. To make your choice easier, we've narrowed down the list to some of the top brands in the industry. Let's dive into their unique offerings and find out why these canned margaritas have gained such popularity.
1. Cutwater Spirits Tequila Lime Margarita

Cutwater Spirits is a renowned name in the world of canned cocktails, and their Tequila Lime Margarita is no exception. This ready-to-drink cocktail features the perfect blend of Cutwater's award-winning tequila, made from 100% blue agave, and their house-made mixers. The result is a refreshing margarita that expertly balances sweet and tart flavors with just the right amount of lime.
The Tequila Lime Margarita comes in cans containing 12.5% alcohol by volume (ABV), making it an ideal choice for those looking for something stronger than your average canned cocktail. Plus, each can contain two servings – perfect for sharing with friends or enjoying at a social gathering.
What sets this margarita in a can apart from its competitors is not only its smooth taste but also its commitment to quality ingredients. With no artificial flavors or preservatives, you can trust that you're getting a top-notch cocktail experience without any unwanted additives.
2. Jose Cuervo Sparkling Rosé Margarita

Jose Cuervo has been crafting premium tequilas since 1758 – so it's safe to say they know what they're doing when it comes to margaritas! Their Sparkling Rosé Margarita takes a unique spin on the classic drink by combining Jose Cuervo tequila with rosé wine and sparkling water.
This delightful concoction offers a light and refreshing twist on your traditional margarita while maintaining the distinct taste of tequila that fans love. With an ABV of 8%, this sparkling beverage provides just enough kick without being too overpowering.
This best canned margarita pink hue adds an elegant touch to any occasion – whether you're hosting friends at home or enjoying an outdoor picnic with your loved ones. So why not try something new? The Jose Cuervo Sparkling Rosé Margaritas are sure to impress even the most discerning tequila aficionados.
3. On The Rocks Premium Cocktails The Jalapeño Pineapple Margarita

Spice up your canned margarita experience with On The Rocks Premium Cocktails' Jalapeño Pineapple Margarita. This unique flavor combination is perfect for those who like a little heat in their drink. Made with Tres Agaves Reposado Tequila, triple sec, pineapple juice, and natural jalapeno flavors, this canned cocktail offers a sweet and spicy kick that will leave you wanting more.
At 20% ABV, this margarita packs a punch while still maintaining its smooth taste. Each can contains one serving – making it the perfect option for individual enjoyment or offering guests at your next gathering.
The high-quality ingredients and expert craftsmanship behind On The Rocks Premium Cocktails ensure that you're getting the best possible canned margarita experience. So go ahead – take a walk on the wild side and try their Jalapeño Pineapple Margarita today!
Low-Calorie Can Margarita Options: Sip Without Guilt!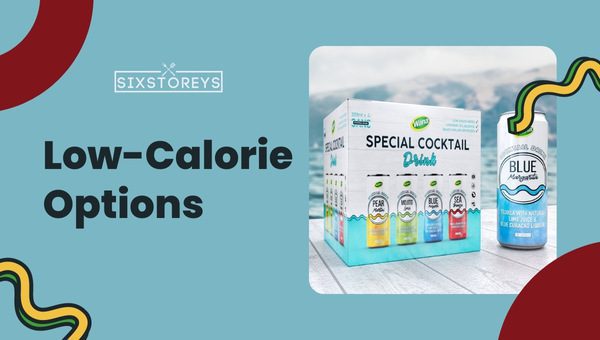 Indulging in a refreshing canned margarita doesn't have to come with the guilt of consuming too many calories. There are plenty of low-calorie options available that offer delicious flavors without breaking your diet. Let's dive into some fantastic low-calorie canned margaritas that allow you to enjoy your favorite cocktail without any regrets.
1. Skinnygirl White Peach Margarita

The Skinnygirl brand is synonymous with low-calorie alcoholic beverages, and its White Peach Margarita does not disappoint. This delightful concoction contains only 100 calories per serving and offers a light, fruity flavor profile perfect for those warm summer days.
The mixture blends tequila with white peach puree, offering natural sweetness while maintaining its low-calorie count. This guilt-free option allows you to savor the refreshing taste of a classic margarita without compromising your health goals.
2. MIGHTY SWELL Spiked Seltzers Mango Raspberry

For those who prefer their cocktails on the lighter side, MIGHTY SWELL's Mango Raspberry Spiked Seltzer is an excellent choice. This effervescent beverage boasts just 110 calories per can and combines sparkling water with tequila, mango juice concentrate, raspberry juice concentrate, natural flavors from agave nectar syrup and lime juice concentrate for a zesty yet fruity blend that is sure to satisfy your taste buds. It's gluten-free and vegan-friendly as well! This tantalizing option will keep you feeling refreshed while keeping your calorie intake in check.
Also Read: Italian Beer Brands
Unique Margaritas In A Can Flavors to Try in 2023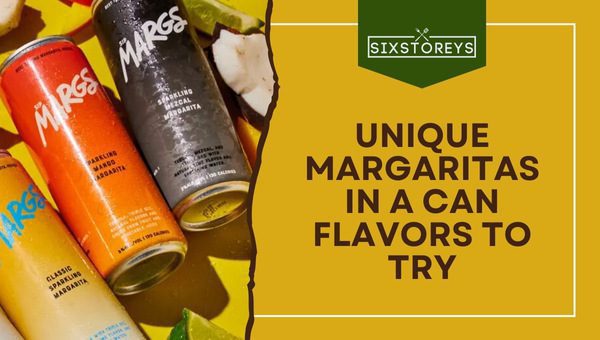 If you're looking to break free from traditional margarita flavors or simply want to experiment with something new and adventurous, there are several unique canned options waiting for you! These one-of-a-kind creations offer exciting flavor combinations guaranteed to elevate your cocktail experience.
1. La Vida Bonita Pink Lemonade Hibiscus Tea Infused Ready-to-drink Cocktail

For a fun twist on the classic margarita, La Vida Bonita's Pink Lemonade Hibiscus Tea Infused Cocktail is an excellent choice. This delightful beverage combines tequila with pink lemonade and hibiscus tea for a unique and refreshing taste that is perfect for those hot summer days.
With only 110 calories per serving, this canned cocktail offers a burst of fruity flavors balanced by the subtle earthiness of hibiscus tea. The result is a captivating and delicious drink, unlike any other margarita you've tried before.
2. Two Chicks Citrus Ginger Mint Sparkling Tequila & Lime Cocktail

Ready to experience something truly remarkable? Look no further than Two Chicks' Citrus Ginger Mint Sparkling Tequila & Lime Cocktail. This exceptional concoction combines tequila with zesty citrus notes, spicy ginger root, and cool mint for an extraordinary flavor profile that will leave your taste buds begging for more!
Each can contain 150 calories and offers an effervescent texture that adds to its invigorating appeal. Perfect for sipping poolside or at your next gathering, this unique canned margarita is sure to become a new favorite among adventurous cocktail enthusiasts.
Exploring Other Flavorful Canned Margaritas for Every Taste (2023)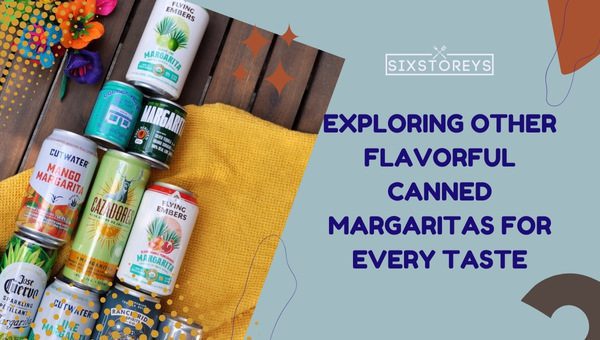 As someone who loves variety, I'm always on the hunt for new and unique flavors to try. In this section, we'll dive into some other canned margaritas that will tantalize your taste buds and introduce you to an exciting world of refreshing cocktails. Each of these options brings its own twist to the classic margarita, offering something special for everyone's palate.
1. Flying Embers Blood Orange Pomegranate Margarita

This delightful canned margarita from Flying Embers combines the tangy sweetness of blood orange with the tartness of pomegranate for a fruity explosion in every sip. The well-balanced blend is perfectly complemented by a subtle hint of tequila, making it an ideal choice for those looking to venture beyond traditional lime-based margaritas. With only 110 calories per can and zero sugars or carbs, this cocktail is not only delicious but guilt-free as well!
2. Flying Embers Classic Lime Margarita

The Classic Lime Margarita from Flying Embers is a true testament to the timeless appeal of this beloved cocktail. Made with premium tequila and a burst of refreshing lime flavor, this canned margarita offers an authentic taste that will transport you straight to a beachside bar.
With no added sugars or artificial flavors, it's an excellent option for those seeking a clean and pure margarita experience without sacrificing taste or quality. At just 110 calories per can, it's also perfect for health-conscious drinkers who want to indulge without overdoing it.
3. Villager Spirits Margarita

Villager Spirits bring us their take on the classic margarita with their ready-to-drink canned cocktail. This premium margarita blends high-quality tequila with fresh lime juice, orange liqueur, and agave nectar for a well-rounded flavor profile that is both sweet and tangy.
The result is an incredibly refreshing drink that pairs perfectly with sunny afternoons by the pool or weekend BBQs with friends.
4. JuneShine Tequila Margarita

JuneShine's Tequila Margarita adds a unique twist to the traditional marg by incorporating probiotic-rich kombucha into its formula. This innovative approach results in a lighter-bodied beverage packed full of live cultures and antioxidants alongside its classic tequila-lime essence.
The combination creates an invigorating experience that not only tastes great but also delivers potential health benefits – making it perfect for those looking to enjoy their favorite cocktail while still maintaining their wellness-focused lifestyle.
5. Cazadores Spicy Margarita

For fans of spicy flavors, Cazadores Spicy Margaritas are sure to hit the spot! Infused with jalapeño peppers, these canned cocktails deliver just enough heat without overwhelming your senses. The spiciness is perfectly balanced by notes of citrusy lime and smooth tequila – creating an exciting drinking experience that keeps you coming back for more. Serve this one with a plate of nachos or your favorite Mexican dish to add some extra zest to your meal.
6. Crafthouse Cocktails Smoky Margarita

Crafthouse Cocktails' Smoky Margarita is perfect for those who crave a bold, adventurous taste. This canned cocktail features mezcal, an agave-based spirit known for its smoky flavor profile that adds a unique layer of complexity to the classic margarita blend.
The combination of mezcal, fresh lime juice, and organic agave nectar creates an intriguing balance between sweet and smoky – offering an unforgettable experience that will have you reaching for another can.
7. Post Meridiem Spirits Margarita

Post Meridiem Spirits offer a canned margarita that stands out with its emphasis on quality ingredients. This cocktail starts with 100% blue agave reposado tequila as the base and then blends in real Key lime juice, an orange liqueur made from Valencia oranges, and organic agave syrup to create a perfectly balanced flavor profile. The result is a canned margarita that is intensely flavorful yet smooth – making it ideal for savoring on any occasion.
8. Dos Equis Margarita

Beer lovers rejoice! Dos Equis has created its own take on the classic marg by combining Mexican lager with traditional tequila flavors. The result is the Dos Equis Lager Rita – an easy-to-drink beverage that's perfect when you want something light but still craves those signature margaritas notes like lime-citrus tanginess and hints of tequila warmth. It's great served ice cold straight from the can or poured over ice into a salt-rimmed glass.
9. Ranch Rider Spirits Margarita

The Ranch Rider Spirits' Tequila Paloma combines high-quality reposado tequila with sparkling water infused with natural grapefruit and lime flavors for an incredibly refreshing take on the margarita. This canned cocktail is perfect for anyone seeking a lighter, more effervescent option while still enjoying bold tequila flavors. At only 120 calories per can and with no added sugars, it's also a healthier choice to enjoy without any guilt.
10. MXD Margarita

MXD Margaritas offers an affordable yet delicious alternative to some of the more premium cocktail options on this list. The combination of tart lime and sweet agave creates a satisfying flavor that remains true to the classic margarita taste, while the addition of carbonation adds an invigorating element that keeps things interesting. It's perfect for casual gatherings or when you want a simple, refreshing beverage without breaking the bank.
11. Cayman Jack Margarita

Cayman Jack's approach to crafting their canned margaritas focuses on using natural ingredients for a clean, authentic taste. They hand-select their limes from Colima Volcano in Mexico and use only 100% blue agave nectar as their sweetener – resulting in an incredibly fresh-tasting beverage that stands out amongst other canned cocktails. With its light carbonation and pleasantly balanced flavor profile, Cayman Jack Margaritas are sure to become your new go-to drink.
12. Buzzbox Margarita

Buzzbox offers a unique take on classic margaritas with its eco-friendly packaging designed for convenience and portability. Their Premium Classic Lime Margarita is made using high-quality tequila combined with real lime juice and triple sec – creating a delightful harmony between tart citrusy notes and smooth warmth from the spirit base. It's perfect for outdoor events where glassware isn't practical but you still want to enjoy top-notch cocktails in style!
Also Read: Best Peanut Butter Whiskey Brands
Tips for Serving Canned Margaritas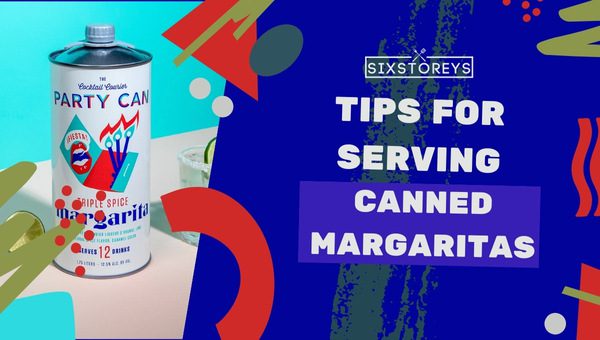 When it comes to enjoying canned margaritas, presentation and serving techniques can make a significant difference in enhancing the overall experience. Here are some tips for serving canned margaritas that will impress your guests and elevate your cocktail game:
Proper Chilling: Canned margaritas taste best when they're properly chilled. Make sure to refrigerate them for a few hours before serving or store them in a cooler with ice if you're at an outdoor event.
Glassware: Although canned margaritas can be consumed straight from the can, using appropriate glassware adds an extra touch of sophistication. Serve your canned margarita in a traditional stemmed margarita glass or opt for a highball or rocks glass if you prefer.
Salting the Rim: A salted rim is one of the signature elements of a classic margarita, so don't forget this step! To salt the rim of your glass, wet the edge with lime juice and then dip it into coarse salt (or try flavored salts like smoked sea salt or chili-lime salt for added pizzazz).
Garnish Options: Add visual appeal to your canned margarita by including garnishes such as lime slices, fresh fruit wedges (like pineapple or strawberry), jalapeno pepper slices (for spicy options), mint leaves, edible flowers, or even cocktail umbrellas!
Pouring Technique: If you decide not to drink straight from the can, pour your canned margarita gently down the side of your glass rather than splashing it into the center - this helps preserve any carbonation present in some varieties.
On The Rocks: For those who enjoy their cocktails over ice, feel free to fill your chosen glass with ice cubes before pouring in your chilled canned margarita.
Mixing It Up: Don't be afraid to get creative and mix different flavors together! For example, combine a classic lime margarita with a blood orange variety to create a unique, refreshing concoction.
Food Pairings: Canned margaritas pair well with various foods such as nachos, guacamole, tacos, and ceviche. Consider serving these dishes alongside your canned margaritas for an ultimate fiesta experience.
By following these simple tips for serving canned margaritas, you can elevate your cocktail experience and impress your guests at any gathering or event.
DIY Canned Margarita Recipes (2023): Customize Your Own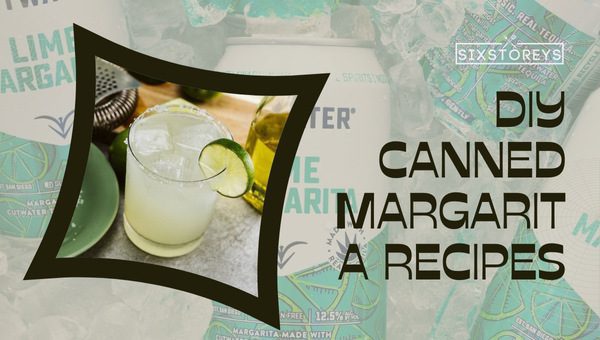 As a canned cocktail enthusiast, I've always been on the lookout for new and exciting flavors to try. But sometimes, I find myself craving something a little more personal and unique. That's when I decided to experiment with creating my own DIY canned margaritas! If you're feeling adventurous and want to customize your own refreshing concoction, follow these simple steps and tips.
1. Start with the basics
To create your DIY canned margarita, begin by mixing equal parts of tequila (I prefer using silver or blanco tequila for its clean flavor), lime juice (freshly squeezed is best), and an orange liqueur like triple sec or Cointreau. You can also add agave syrup or simple syrup if you prefer a sweeter taste.
2. Add fun flavor twists
Now comes the exciting part - customizing your margarita with additional flavors! Here are some ideas to get you started:
Fruit purees: Mix in fruit purees such as strawberry, mango, pineapple, or peach for a sweet twist.
Fresh herbs: Muddle fresh herbs like basil, cilantro, or mint at the bottom of your shaker before adding other ingredients.
Spicy kick: Add jalapeño slices or infuse your tequila beforehand by soaking it with chili peppers.
Smoky touch: Opt for mezcal instead of tequila for an earthy smoky hint.
3. Time to can it!
Once you have mixed all of the ingredients together in a shaker with ice and strained it into a glass pitcher, it's time to can your creation! Fill clean cans (preferably 12 oz) about three-quarters full with the mixture. Use either new cans from a homebrew supply store or thoroughly clean used cans (make sure there are no sharp edges). Seal each can using either snap-on plastic caps made for canning or a can sealer machine if you have access to one.
4. Chill, then enjoy
Refrigerate your canned margaritas for at least two hours before serving so they are perfectly chilled. When you're ready to enjoy, simply open the cans and pour them into salt-rimmed glasses with ice. Don't forget the garnish! Add a lime wedge, fresh fruit slice, or jalapeño pepper (depending on your flavor choice) to complete your DIY canned margarita experience.
And there you have it - a unique and personalized canned margarita made by none other than yourself! Feel free to get creative and experiment with different flavor combinations until you find the perfect mix that suits your taste buds.
Pairing Canned Margaritas with Food: A Flavorful Experience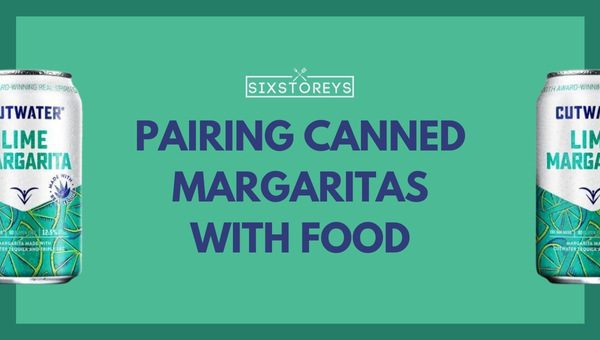 One of the many reasons I love canned margaritas is that they are an ideal companion for a wide array of delicious dishes. With so many flavors available, the possibilities for unique and flavorful experiences are virtually endless! In this section, I'll share some of my favorite food pairings that bring out the best in canned margaritas.
1. Classic Lime Margarita

A classic lime margarita pairs beautifully with traditional Mexican cuisine. The tangy citrus flavor and slight sweetness balance perfectly with spicy dishes such as tacos al pastor, chicken fajitas, or cheesy nachos loaded with jalapeños.
2. Spicy Flavors (e.g., Jalapeño Pineapple)

For those who enjoy a little heat in their canned margarita, try pairing it with cool or refreshing dishes to create a harmonious contrast on your palate. Some great options include ceviche, shrimp cocktail, fresh guacamole, and chips, or even a crisp summer salad topped with grilled fruits like pineapple or mango.
3. Fruity Flavors (e.g., Mango Raspberry)

Fruity canned margaritas can add an exciting twist to your meal when paired thoughtfully. For example, if you're enjoying a mango raspberry flavored margarita try serving it alongside coconut-crusted fish tacos topped with fresh fruit salsa or tender grilled chicken skewers marinated in a sweet chili sauce.
4. Unique Flavors (e.g., Citrus Ginger Mint)

When savoring unique flavors like citrus ginger mint in your canned margarita consider pairing them with Asian-inspired dishes to enhance the culinary experience further. Some excellent choices include fresh Vietnamese spring rolls served alongside peanut dipping sauce or crispy Thai-style fried calamari drizzled generously with sweet chili sauce.
5. Dessert Pairings

Who says you can't have dessert first? Some canned margaritas, especially those with sweeter profiles, make a delightful pairing for fruity or chocolatey desserts. For instance, try enjoying a blood orange pomegranate margarita with a rich flourless chocolate cake topped with fresh raspberries or a refreshing strawberry sorbet.
No matter which canned margarita you choose to enjoy, remember that pairing food and drinks is ultimately about personal preference and balance. Experiment with different combinations to find the perfect match that suits your taste buds best! Cheers!
Frequently Asked Questions
1. How long do canned margaritas last?
Unopened canned margaritas have a shelf life of about 1-2 years, depending on the brand and ingredients. Once opened, it is best to consume them within a day or two as the carbonation and flavor will start to diminish. Always check the expiration date on the can for specific information.
2. Are margaritas in a can gluten-free?
Most canned margaritas are gluten-free as they are made with tequila, which is distilled from agave and does not contain gluten. However, some brands may use additional flavorings or additives that could contain gluten, so always read the label carefully if you have any concerns.
3. Can I make a frozen margarita with a canned cocktail?
Yes! To create a frozen margarita using a canned cocktail, simply pour it into a blender along with ice and blend until smooth. You can also add fruit or other flavors if desired.
4. How do canned margaritas compare to freshly made ones in terms of taste and quality?
While nothing quite beats a fresh homemade margarita, many high-quality brands of canned cocktails come very close in terms of taste and quality! Canned options offer convenience without sacrificing too much on flavor—it all depends on your personal preferences.
5. What is the alcohol content in canned margaritas?
The alcohol content in most canned margaritas ranges from 5% to 12% ABV (alcohol by volume). This can vary depending on the brand and ingredients used—always check the label for specific information.
6. Are there any non-alcoholic canned margarita options available?
Yes! Non-alcoholic versions of Margartias called mocktails are available in select stores or online retailers under various names like 'Virgin Margartia' or 'Mocktail Margarita'. You can also make your own non-alcoholic margarita at home by combining lime juice, orange juice, and agave syrup with a splash of sparkling water for fizz.
Conclusion
In conclusion, canned margaritas have truly transformed the cocktail game by providing a refreshing, convenient, and delicious solution for all our margarita cravings. With so many brands and flavors available, there's certainly a canned margarita perfect for every taste preference and occasion.
Personally, I can't get enough of Cutwater Spirits Tequila Lime Margarita for its authentic taste and perfect balance of sweet and tart. When it comes to low-calorie options, Skinnygirl White Peach Margarita is my go-to choice when I want to sip without guilt. For those adventurous moments when I want to try something unique yet delectable, Two Chicks Citrus Ginger Mint Sparkling Tequila & Lime Cocktail never disappoints.
I highly recommend exploring the world of canned margaritas – whether you're hosting a party or simply enjoying a quiet evening at home. Remember that each person's taste buds are different; don't be afraid to experiment with various brands and flavors until you find your perfect match! Cheers!