51 Best Chardonnay Wines for 2023 [Sip Your Way to Euphoria]
Updated On: September 21, 2023
There's nothing quite like unwinding at the end of a long day with a glass of Chardonnay in hand. As one of the world's most popular white wines, Chardonnay has a magic that can transform any average day into an extraordinary occasion. Its rich, buttery profile kissed with a subtle hint of oak and undercurrents of crisp fruits can transport you to an iconic vineyard in Burgundy or a sun-drenched hillside in California.
My love for this golden-hued nectar comes from years of exploration, tasting, and appreciating its irresistible complexity. And in my journey, I have had the privilege to try some of the finest representations of Chardonnay wines globally. So, if you want to venture into the delightful realm of "Best Chardonnay wines", keep reading as I share some of my top picks, from classic French labels to rising New World stars and everything in between.
Whether you're a seasoned wine enthusiast or a curious novice on the lookout for an impressive bottle, this guide might just lead you to your next favorite Chardonnay.
Also Read: Best Red Wines at Costco
51 Best Chardonnay Wines of 2023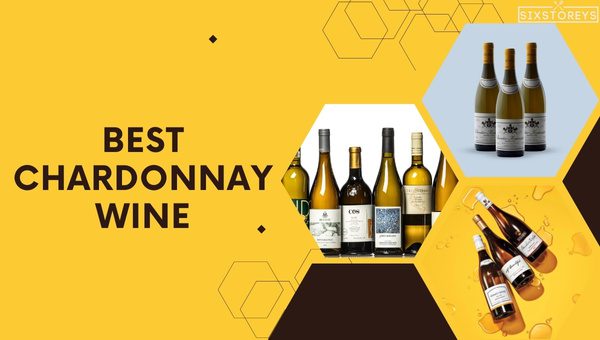 Embarking on a wine-tasting journey is always a delightful escapade, especially when it involves the globally cherished Chardonnay. This expressive white grape variety comes to life in excitingly different ways in each bottle, offering a multitude of tasting experiences.
So, let's traverse the wine world together as I unveil my curated list of 51 best Chardonnay wines that you must try. From the renowned vineyards of Burgundy to the sun-soaked valleys of California, each one promises a flavor-filled exploration of this magnificent varietal.
1. Sebastiani Butterfield Station Chardonnay: California's Best-Kept Secret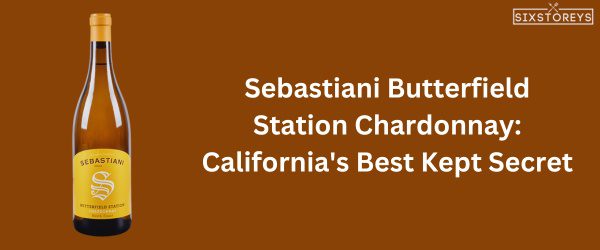 First up on my list is a hidden gem from the sunny vineyards of California, the Sebastiani Butterfield Station Chardonnay. This Chardonnay serves as a sublime representation of California's uncanny ability to deliver remarkable yet accessible wines. Produced by the storied Sebastiani Vineyards, a winery with over a century's worth of winemaking legacy in Sonoma County, this Chardonnay is a testament to their ceaseless strive for excellence.
Right from the first sip, this rich and luscious wine transports you to generous Californian groves. On the nose, the Sebastiani Chardonnay cascades an inviting array of tropical aromas. The hints of pineapple, green apple, and pear come first, followed by a brush of exotic lemon zest. Topping it off are the faint traces of vanilla and crème brûlée, adding that additional layer of complexity.
As for taste, this Chardonnay is delightfully refreshing, with the bright punch of crisp and invigorating fruit flavors taking the limelight. Its palate is marked by a harmonious blend of green apples, ripe pears, and pineapple, balanced with touches of citrus and delicate nuances of oak. The finish exudes the comforting effects of creamy vanilla, making the tasting experience all the more gratifying.
What's more, the Sebastiani Chardonnay also makes for a versatile pairing with a diverse spread of dishes. Its mild butteriness and fruit-forward profile act as the perfect foil for creamy pasta, roasted chicken, and grilled fish. And, of course, it serves as a delightful companion to a variety of cheeses, from creamy Brie to tangy goat cheese.
Overall, the Sebastiani Butterfield Station Chardonnay is an enchanting journey of fruit, cream, and mild oak that sets the scene for the exciting Chardonnays that follow.
2. Bouchard Père & Fils Meursault Les Clous 2017: European Elegance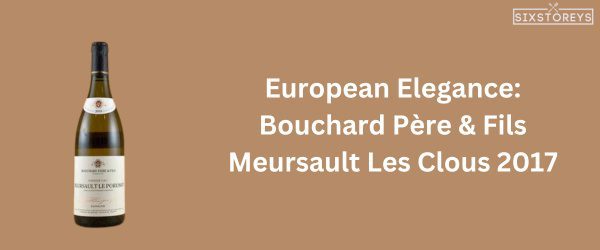 Venturing away from the sunlit hills of California, I find my next Chardonnay offering in the historic vineyards of Burgundy. The Bouchard Père & Fils Meursault Les Clous 2017 is indeed a testament to European elegance at its finest.
The Bouchard Père & Fils winery has a rich and storied tradition, having been a part of French winemaking history since 1731. The craftsmanship put into each bottle seeps through every sip, creating a distinct Chardonnay experience that effortlessly blends tradition and modernity.
Drawing you in with its golden straw hue, this Chardonnay greets you with alluring notes of floral petals, hazelnuts, fresh butter, and citrus fruit, all harmoniously blended in a rich and complex aroma. Take a moment to close your eyes and take a sniff; you'd be transported instantly to the manicured vineyards of Meursault.
Upon tasting, the Meursault Les Clous unfolds a splendid array of flavors. The initial entry is marked by richly nuanced flavors of ripe apples and citrus, intertwined with gleams of white flowers and toasted almonds. A slight mineral edge cuts through the wine's creaminess, leading you to a long, crisp, and satisfying finish. Its profound elegance is further enhanced by its vibrant acidity and full-bodied nature.
Pairing suggestions for this decadent Chardonnay range from lobster and scallops to creamy chicken dishes. But, if you truly want to honor its Burgundian roots, a pairing with French Comté or Gruyère cheese allows the wine's complexities to truly shine.
The Bouchard Père & Fils Meursault Les Clous 2017, with its lively character and timeless elegance, truly secure its spot as one of the best Chardonnays to grace your collection.
3. Flowers Sonoma Coast Chardonnay 2017: A Floral Masterpiece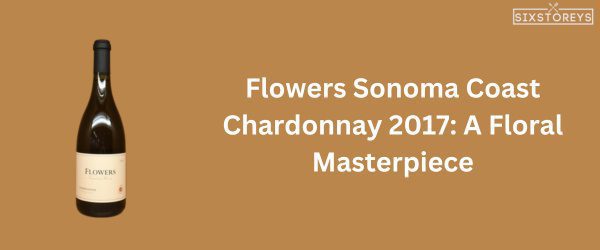 Heading back to the sunny American coast now, the Flowers Sonoma Coast Chardonnay 2017 has, in many ways, managed to encapsulate the quintessence of Californian vivacity with remarkable elegance. This bottle's provenance, the illustrious Flowers Vineyards & Winery, is well-renowned for being a pioneering establishment at the bounds of viticulture.
The first sense that this Sonoma Coast Chardonnay charm is your sight with its exquisite golden straw hue that almost shimmers in anticipation of the journey to come. It beguiles you next with its confluence of tantalizing aromas. Its bouquet unfurls wisps of ripe apple, pear, and melon, which are interlaced with the subtler undertones of baking spices and honey. A surprising whisper of flint sweeps in, adding a smoky intrigue to the otherwise fruity and lightly spiced character.
The palate sings with a vivacious, medium-bodied flavor profile. The first impression is of crisp citrus, overlaid with waves of green apple, apricot, and pear. The secondary flavors of toasted bread crust and buttered popcorn contribute to a most appealing complexity, blended together by a minerality that ties it all together seamlessly.
When it comes to food pairings, this Sonoma gem revels in the company of seafood – think grilled prawns or decadent lobster bisque. The beautiful dance of its flavors with succulent seafood is a culinary marriage worth savoring. Each sip of the Flowers Sonoma Coast Chardonnay is like stepping into a sun-dappled Californian grove – an experience that leaves a lasting imprint on one's sensory memory.
4. Church Road Grand Reserve Chardonnay: A Passage to New Zealand's Finest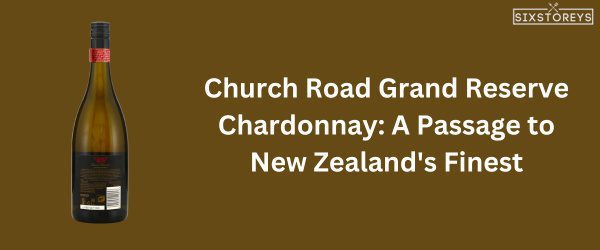 As we move away from American soils, I'd like to lead you down to the Southern Hemisphere, to the breathtaking, vineyard-clad scenery of New Zealand. Renowned for its premium white wines, this region is the proud home of the Church Road Grand Reserve Chardonnay.
Enter the bouquet - a striking symphony of white peach, nectarine, and grapefruit zest, flirtatiously interweaving with deeper tones of brioche and roasted hazelnut. The allure, however, does not stop there. As you take your first sip, the anticipation built up by the aroma is rewarded and exceeded by an exuberant display of flavor.
The palate unfolds with robust expressions of citrus fruits and green apples, cruising along with subtler suggestions of oak and vanilla. It's underlined by a definitive minerality that blooms towards the finish, while the delicate creaminess and balanced acidity create a textural intrigue that lingers.
When it comes to food pairings, brace for some mouthwatering combinations. The Church Road Grand Reserve Chardonnay pairs particularly well with hearty seafood dishes, like salmon or tuna steak, and white meat dishes such as chicken or pork roast.
5. Beringer Private Reserve Chardonnay: Classic and Premium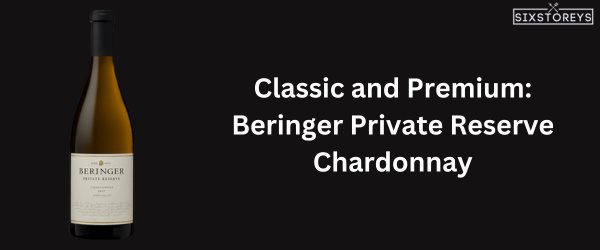 Returning to Californian shores, we encounter one of Napa Valley's esteemed names, Beringer, and their classic offering, the Private Reserve Chardonnay. This wine delivers a luxurious tasting experience that perfectly encapsulates the essence of Californian Chardonnay.
This bottle regales you with the perfume of fresh green apple, pear, and guava, harmoniously accented by the more delicate nuances of honey and toasted almond. The ensuing taste echoes these elements while introducing its own unique counterpoints.
As it dances on your palate, tastes of pineapple, green apple, and citrus take the limelight, ably supported by a chorus of toasted oak and vanilla. The creamy mouthfeel, judicious acidity, and enduring finish further accentuate the appeal of this elegant Chardonnay.
For food pairings, think rich, hearty dishes that match the wine's robust profile - perhaps a creamy crab linguine or a grilled lobster tail. The Beringer Private Reserve Chardonnay is truly a testament to Californian indulgence.
6. Jean-Marc Brocard Chablis Grand Cru 'Les Clos' 2018: French Class in a Glass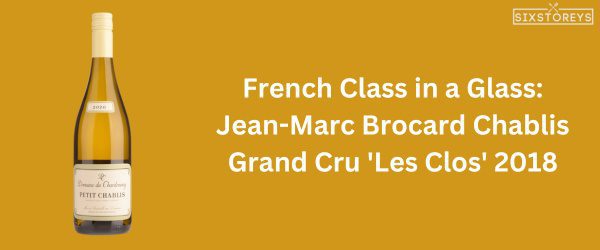 Next on my list is another testament to French winemaking brilliance – the Jean-Marc Brocard Chablis Grand Cru 'Les Clos' 2018. The brainchild of the renowned winemaker, Jean-Marc Brocard, this Chardonnay bottle offers a complex, yet finely balanced array of flavors that render it a class apart.
On the nose, it's an aromatic enrapture that greets you with hints of green apple, lemon, vanilla, and subtle suggestions of flint. It's an overture that delicately balances the vibrancy of its fruit character against the more subtle mineral elements.
Once you sip, you're thrust into an elegant potpourri of zesty citrus, stone fruit flavors, and a pleasingly pronounced minerality. The creamy texture, balanced acidity, and long, lingering finish make it a delightful journey from the first taste to the last remaining echoes on your palate.
In terms of food pairings, the Jean-Marc Brocard Chablis Grand Cru 'Les Clos' 2018 shines when paired with delicate seafood. Imagine a fine-dining classic like scallops or a sophisticated white fish dish – the citrus undertones of the Chardonnay meld beautifully with the seafood's inherent sweetness. Thus, it stands as a perfect example of sophistication and balance all bundled up into a bottle of Chardonnay.
7. Lava Cap Winery Reserve Chardonnay: A Toast to American Wine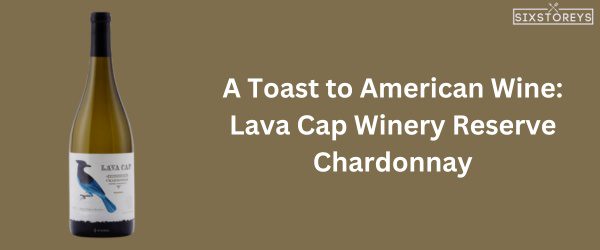 Let's head back to the US now with another unmissable American Chardonnay – the Lava Cap Winery Reserve. Nestled in the El Dorado hills of California, the Lava Cap Winery is a family-owned winery known for its commitment to quality and meticulous attention to detail that reflects in each bottle they produce.
The Lava Cap Reserve Chardonnay hosts a riot of welcoming aromas. From fresh apple tart and pear to the more understated brushstrokes of vanilla and toasted oak, it's an inviting fragrance profile that flows seamlessly into the flavors it presents on the palate.
You're greeted by a flavorful medley of green apples, mango, light citrus, and a hint of vanilla – a mixture that is both refreshing and invitingly warm. That combined with its creamy mouthfeel and the gentle guidance of oak create an opulent tasting experience.
When it comes to pairing, this wine's rich, full character asks for dishes with a strong presence. Think along the lines of barbecued chicken, roasted turkey, or even creamy pasta dishes. There isn't a doubt in my mind that the Lava Cap Winery Reserve Chardonnay is a bottle well worthy of joining any discerning wine lover's collection.
8. Kumeu River Village Chardonnay: A New Zealand Must-Have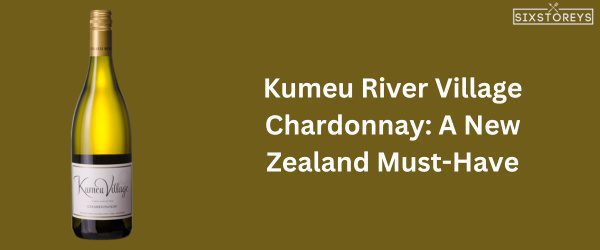 As we journey back to New Zealand, let's explore yet another gem - the Kumeu River Village Chardonnay. The Kumeu River winery, set just over thirty kilometers from downtown Auckland, is internationally acclaimed for its white wines.
On the nose, it's an extravagant but poised display of pear, apple, and lemon, dancing alongside flowing golden honey. But don't merely stop at the fragrance - the truly exquisite experience is in the taste.
Get ready for an entrancing mix of tropical fruits and citrus, cascading along a backdrop of nutty and yeasty undertones. The modest touch of oak imparts added complexity without overcomplicating the taste, creating a harmonious balance between fruit and wood flavors.
On the pairing table, it sits well with a range of seafood and chicken dishes. The Kumeu River Village Chardonnay provides a stunningly elegant option for all Chardonnay lovers and is a must-try for anyone keen to discover New Zealand's vinous offerings.
9. Domaine de la Fruitiere Chardonnay: Sipping Through France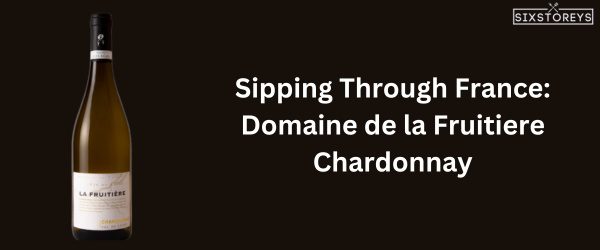 Next, let's journey to France, the birthplace of Chardonnay, and unravel the mystique of Domaine de la Fruitiere Chardonnay. Hailing from the verdant vineyards of Loire Valley, this wine embodies the classic French Chardonnay style.
First impressions count and this Chardonnay definitely gets that right with a vibrant bouquet of yellow apple, pear, and light citrus notes in symphony with subtle hints of honeydew. The scent is an enticing prelude to the melodious symphony of flavors that follows.
When you indulge in the first sip, you witness another revelation. The taste echoes the nose with crisp flavors of apple, pear, and lemon zest. Refreshing acidity underscores the fruit-forward profile, creating a wine that's brisk yet also opulent.
In terms of pairings, this wine is incredibly versatile, proving to be a great companion for seafood, chicken, creamy pasta, and even spicy Asian dishes.
10. Treana Chardonnay 2019: Bold and Beautiful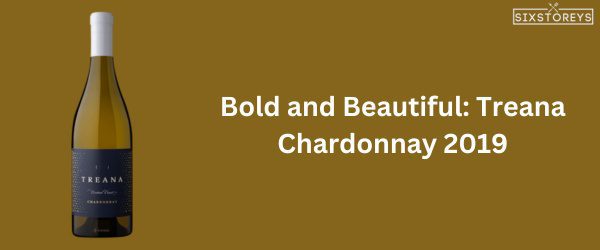 We remain in the States but cross over to California for our next hero, the Treana Chardonnay 2019. This Central Coast beauty embodies the essence of Californian wine craftsmanship.
Your encounter with this wine begins with an inviting aroma of ripe pear, yellow peach, and tropical pineapple, complimented by notes of sweet honey and toasted almonds – a delightful opener for the taste experience to follow.
On the palate, it brings a rich, full-bodied flavor profile. Layered notes of tangerine, honeydew melon, and crème brulée coalesce perfectly with a delicate toasted oak undertone to create a balanced, luxurious finish.
Serving this Chardonnay alongside rich fish and seafood dishes, creamy sauces, or a flavorful chicken variant is a culinary match you'll want to revisit. Trust me, the Treana Chardonnay 2019 won't disappoint.
11. Viña Echeverria 'Wild' PetNat: Wild Card Pick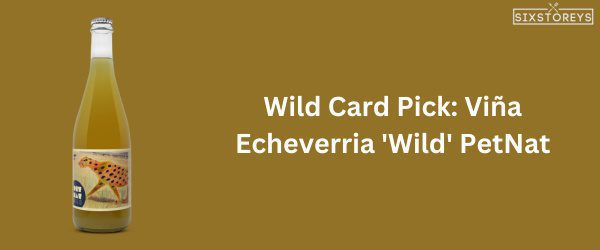 Leave all conventions behind as we embark on a journey to the unconventional with the Viña Echeverria 'Wild' PetNat Chardonnay. Produced by Viña Echeverría, a family-owned estate winery in Chile, this 'natural' wine is capturing the attention of wine enthusiasts around the globe.
This Chardonnay offers an inviting aroma brimming with citrus fruits, green apples, and a hint of funky yeast, thanks to its natural, minimalist processing. The absence of added sulfites and a distinctive ancestral winemaking method results in its unique, somewhat wild character.
Take a drink, and you'll encounter a vibrant, effervescent texture boasting flavors of zesty lemon, tart apple, and a playful nutty finish. The delicate bubbles add to its charm, while a crisp acidity keeps the palate invigorated and eager for the next sip.
Food pairings? Go for flavors that can stand up to its vibrant character; think spicy Asian delicacies, robust salads, or a platter of equally wild artisanal cheeses!
12. Corey Creek Coquillage Chardonnay: Refreshingly Subtle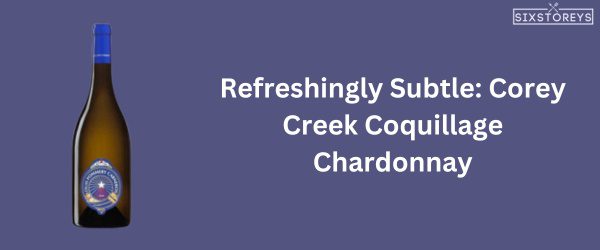 An irresistible blend of French elegance and the unique character of North Fork, Long Island, the Corey Creek Coquillage Chardonnay offers a refreshing dive into the world of refined Chardonnays.
The wine greets you first with an alluring aroma of peach, cantaloupe melon, and a gentle hint of vanilla, courtesy of its finely calibrated oak aging. Traces of toasted brioche tease your senses, preparing them for an enjoyable tasting experience.
Sip delicately to reveal a vivid set of flavors - rich stone fruits, lemon zest, delicate spices, and a whisper of salted caramel that pays homage to the vineyard's maritime influences. Its medium body and well-tuned acidity bring it all together in a pleasant, lingering finish.
Pair this subtle Chardonnay with grilled chicken, seafood pasta, or beautifully baked camembert cheese for an enlivened culinary experience.
Also Read: Best Wines With Sushi
13. Louis Latour Grand Ardeche Chardonnay 2019: Ending the Journey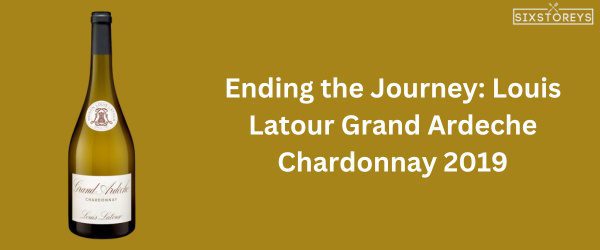 Our journey through the fascinating world of Chardonnay wines wouldn't be complete without dipping our toes into the Burgundy region's offering. Meet the Louis Latour Grand Ardeche Chardonnay 2019, an exquisite example of just how good Burgundy Chardonnays can be.
A significant presence of yellow fruit, vanilla, and brioche makes the opening statement. It's the wine's way of setting the stage for the captivating drama about to unfold in your wine glass.
On the palate, the Louis Latour Grand Ardeche asserts a harmonious balance of ripe apple, pear, and subtly sweet toasted oak flavors. The wine shows a complex, full-bodied structure, touching soft nuances from start to finish.
Its excellent affinity for a range of foods, from grilled white meats, and creamy cheeses to delicate fish dishes, makes it a reliable selection for any dining occasion. End your meandering journey through the world of Chardonnays with the reliable, exceptional Louis Latour Grand Ardeche Chardonnay 2019. You won't regret it.
14. Louis Jadot Petit Chablis: The Crowd Pleaser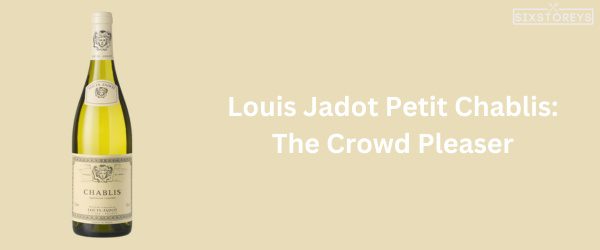 Our French sojourn continues, now with the revered Louis Jadot Petit Chablis. This wine is a pure, sublime expression of the Chardonnay grape, promising an unforgettable tasting journey.
As you approach this wine, the first welcome is a tantalizing aroma of white peach, nectarine, lemon curd, and subtler whispers of flinty minerality. This Petit Chablis ensures the nose is but a teaser of the rich tapestry of flavors to follow.
On the palate, you encounter a delightful array of bright fruity flavors again, punctuated by citrus notes and a resonant minerality. It's high acidity and medium body culminate in a persistently clean finish that leaves you yearning for the next sip.
Pair it with oysters, smoked salmon, or light salads, and you have a culinary match made in heaven.
15. Rombauer Vineyards Chardonnay 2019: Rich and Full-Bodied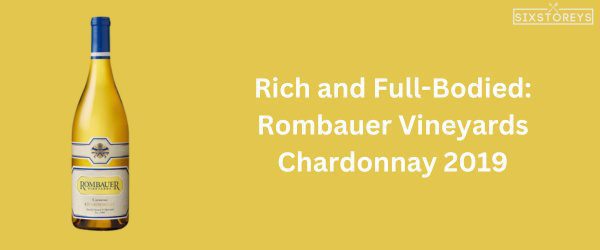 Relishing our return to Californian terroirs, we now explore the distinguished Rombauer Vineyards Chardonnay 2019. This wine often hailed as the 'iconic California Chardonnay,' is indeed a reflection of the Golden State's magic touch with this versatile grape.
The first thing you notice is the indulgent aroma— a sublime bouquet of ripe peaches, tropical fruits, toasted butter, and hints of sweet oak. It teases the senses just enough to build anticipation for the luscious palate that follows.
On the tongue, this Chardonnay unleashes a panoply of intense flavors. Think pineapple, melon, and guava underscored by undertones of vanilla and sweet buttery notes. You'll love the viscosity, the balance, and the lasting finish that makes each sip a grand celebration.
When it comes to pairing, Rombauer Vineyards Chardonnay 2019 offers an affinity with dishes like grilled seafood, roast chicken, or creamy pasta. A truly indulgent addition to any table, indeed.
16. Vasse Felix Chardonnay 2017: Luxury in Every Sip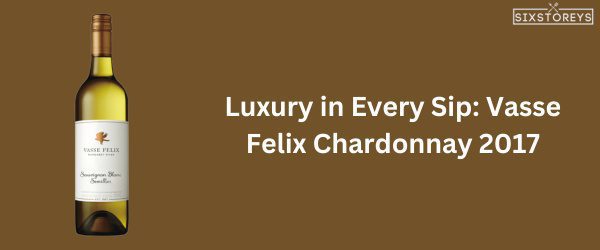 Allow me to present an Australian ambassador: the Vasse Felix Chardonnay 2017. Hailing from the breezy vineyards of Margaret River, this Chardonnay brings forward what true Australian winemaking elegance can deliver.
The very first allure is its scent, a delightful marriage of white peach, lime, wet stone mineral, and a wisp of new French oak. Just a sniff verifies you're about to embark on quite the tasting journey.
On your palate, this wine unabashedly delivers a cocktail of citrusy lime, grapefruit, creaminess, and a perceivable essence of vanilla. Every sip invites you to dive deeper into its richness.
As for food pairings, Vasse Felix Chardonnay 2017 shines when served alongside seafood, creamy chicken dishes, or a good selection of cheeses. Its balance between acidity and creaminess makes it a versatile and elegant companion on your dining table.
17. Texas's Becker Vineyards Reserve Chardonnay: Southern Comfort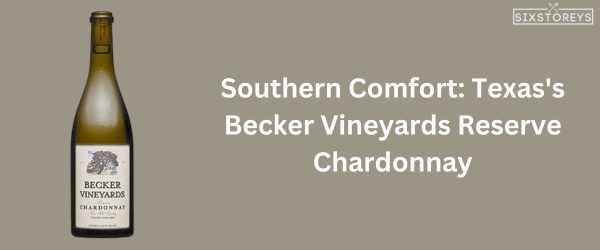 Let's head over to Texas for an underrated gem, the Becker Vineyards Reserve Chardonnay. This wine is a pleasant representative of Texas's burgeoning wine industry, showcasing the unique characteristics that an American terroir can bring to Chardonnay.
Greeted first by an inviting aroma that swirls with soft notes of apple, pear, vanilla, and a hint of buttery toast, your senses are drawn in, primed for the first sip.
As you swish the first sip around your mouth, you'll discover flavors of poached pear, crisp green apple, and underpinned by a rib of toasty oak. The acidic, crisp finish complements the creamy body, rounding off a truly delectable wine experience.
Pair this Texas beauty with seared scallops, grilled chicken, or creamy pasta dishes for a culinary event worthy of a special occasion!
18. Stags' Leap Wine Cellars KARIA Chardonnay 2019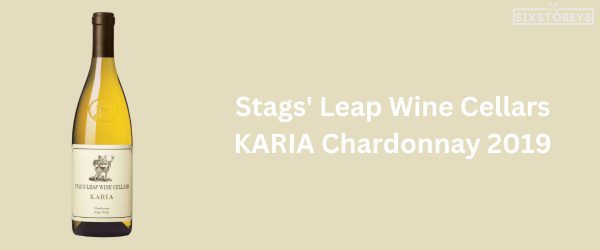 Imagine stepping into a sun-dappled orchard filled with ripe, juicy fruits, that's Stags' Leap Wine Cellars KARIA Chardonnay for you. This Napa Valley darling charms you right from the first waft. Aromas of pear, green apple, toasty oak, and a sprinkle of cinnamon spice envelope your senses, promising a fascinating-tasting journey.
On the palate, the KARIA Chardonnay lays a charming picnic of apple, nectarine, and lime zest flavors. All these are beautifully layered over an endearing creamy texture that fills the mouth, making every sip a memorable one. It shows well-balanced acidity that punctuates the ripe fruit flavors, culminating in a satisfying, lengthy finish.
Its versatility shines through when paired with food. Try KARIA Chardonnay with shellfish, chicken in a creamy sauce, or, for an elevated casual dining experience, even a humble grilled cheese sandwich!
19. Montes Alpha Series Chardonnay 2019: The Peak of Chardonnay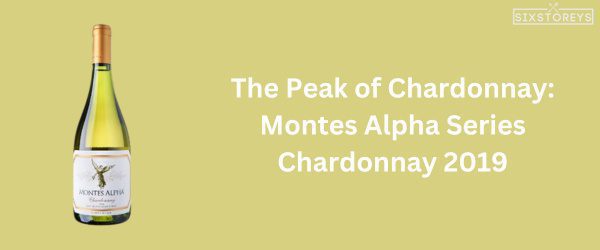 Filled with the romance and vigor of Chile, the Montes Alpha Series Chardonnay 2019 is a gem in its right. Created in the famed Aconcagua Costa region, this Chardonnay embodies the perfect union of terroir and varietal.
Upon pouring, the wine presents a bountiful bouquet of white peach, apricot, and toasted hazelnuts. Nuances of butter and a whiff of French oak add to the complexity of the aroma.
In your mouth, the Montes Alpha Series Chardonnay 2019 unfolds like a well-told story. Citrus and tropical fruit flavors are beautifully intertwined with toasted bread, underscored by an elegant oakiness. Every sip concludes with a long, pleasing finish that echoes its profile, leaving you anticipating the next taste.
Bold and vibrant, this wine holds up wonderfully against dishes with strong flavors. Think hearty roasts, rich, creamy pasta, or decadent lobster bisques.
20. Planeta Chardonnay 2019: A Sicilian Sensation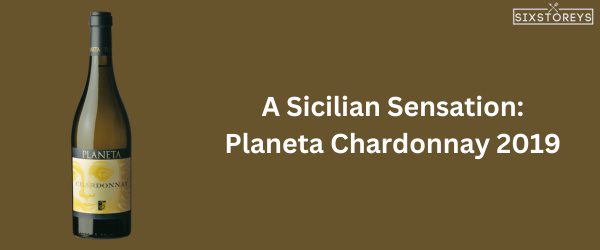 Our next entry transports us to the sun-soaked vineyards of Sicily with the Planeta Chardonnay. This Italian beauty sways away from the traditional path, offering a distinctly Mediterranean interpretation of the beloved varietal.
The Planeta Chardonnay 2019 is instantly appealing, greeting you with an intensely fragrant bouquet of mango, apricot, and orange blossoms with hints of vanilla and honey floating through.
Take a sip, and you'd be delighted by the superb integration of tropical and citrus fruits playing harmoniously with toasty spice, and oak undertones that evolve on the palate. The wine is wonderfully full-bodied, with a velvety texture and surprising minerality cutting through the richness, balancing the opulence.
Deliciously versatile, the Planeta Chardonnay 2019 stands up to rich dishes. Creamy risottos, grilled zucchini, flavorful fish dishes, and even herbed, roasted chicken become truly exceptional when paired with this Sicilian wonder.
21. St. Andrews Chardonnay: An Australian Gem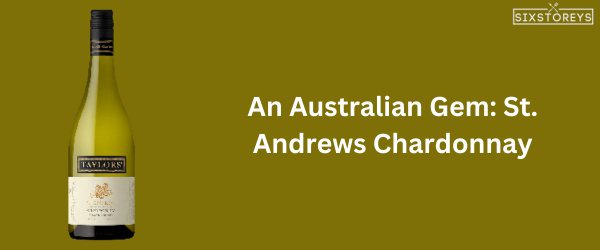 St. Andrews Chardonnay is a fine contribution from Australia to the world of Chardonnay, striking a delightful balance between traditional winemaking techniques and modern flavors. The wine hails from the cool climates of Victoria, allowing for a longer ripening period that imparts it with a unique brightness.
The first thing you notice is its hypnotic golden hue, leading the way to a bouquet of ripe peaches, nectarines, and toasted almonds. This is beautifully enhanced by light hints of creamy vanilla and a kiss of oak, heightening your senses in anticipation of the first sip.
Upon tasting, St. Andrews Chardonnay does not disappoint. It engulfs your palate with a broad tapestry of stone fruits, grapefruit, and citrus zest all brilliantly backdropped by toasty oak nuances. It's medium to full-bodied profile complete with a beautifully balanced acidity that makes it a delight to savor.
When it comes to food pairing, it pairs wonderfully with seafood, especially shellfish and creamy pasta dishes. The bold character works wonders to complement the rich flavors.
22. Ferrari Perlé 2015: Award-winning Elegance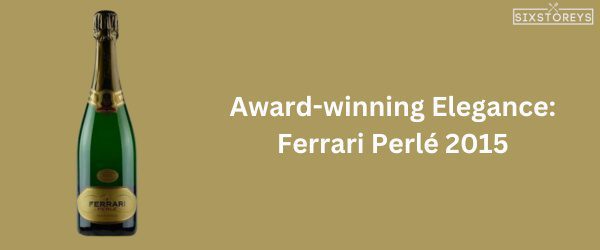 Next, we're off to the enchanting hills of Trentino, Italy, where the award-winning Ferrari Perlé 2015 is crafted. This bottle offers a unique take on Chardonnay, produced in the style of méthode champenoise, displaying bubbles that sparkle like sunny Italian mornings.
The Ferrari Perlé 2015 offers an enticing bouquet of freshly baked bread, crisp green apples, and chamomile flowers with hints of almond, emitting a sense of elegance and depth.
On the palate, you're greeted with bright citrus and green apple flavors supported by a fine effervescent sparkle. It strikes a masterful balance between freshness and complexity, culminating in a lingering finish that echoes its unique bouquet, leaving little wonder why it's a recognized award winner.
Ferrari Perlé 2015 pairs beautifully with truffled dishes, shellfish, and poultry. It's also an unforgettable standalone drink for special celebrations.
23. Domaine Serene Evenstad Reserve Chardonnay 2017: Unforgettable Encounters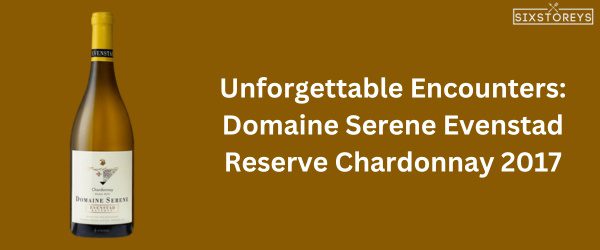 A list of the best Chardonnays would not be complete without a nod to the New World, and specifically, to Oregon. And Domaine Serene Evenstad Reserve Chardonnay 2017 is an excellent ambassador of Oregon Chardonnay.
This stunning wine beckons with a gleaming golden hue and an inviting nose of warm shortbread, candied lemon peel, and white flowers. A touch of vanilla adds a subtle sweetness, teasing your palate.
Upon tasting, the wine shows a glorious spread of tropical fruit, citrus, and mineral notes all coalescing beautifully with touches of toasted oak. The wine is medium-bodied with a rounded, creamy mouthfeel. Yet it retains a lightness from balanced acidity, making it delightfully complex yet easy to sip.
The Domaine Serene Evenstad Reserve might just become the star of your dining experience when paired with creamy pasta, poultry, or grilled seafood. One bottle is never enough of this enchanting Chardonnay!
24. Tzora Vineyards "Judean Hills" Blanc: Exploring More Varieties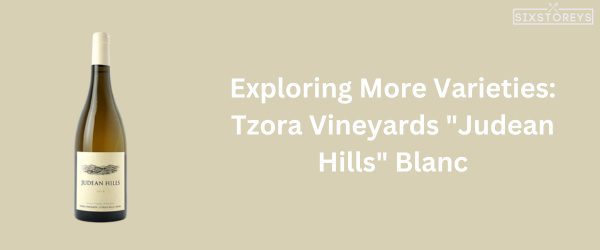 My exploration of the world of Chardonnay took an exciting turn when I discovered the Tzora Vineyards "Judean Hills" Blanc 2020 hailing from the picturesque vineyards of Israel. This enticing blend of 90% Chardonnay and 10% Sauvignon Blanc showcases Israeli winemaking at its best and offers a refreshingly unique tasting profile.
Firstly, it greets you with a glittering yellow-green hue that is immediately captivating. The shimmering nectar invites you into a rich bouquet of big tropical fruits, underpinned by grassy and herbaceous notes from the Sauvignon Blanc.
Upon tasting, the Chardonnay's round, full-bodied character shines through, its lush tropical flavors mellowed by the sharp, refreshing acidity of the Sauvignon Blanc. This delicate balance makes a dramatic finale with an enduring, mineral-tinged finish.
The ideal companion to this wine is a platter of fresh seafood or a light, herbed chicken dish. One taste of this mixture, and you'll discover a whole new dimension of Chardonnay.
25. Régnard Grand Régnard Chablis: A French Revelation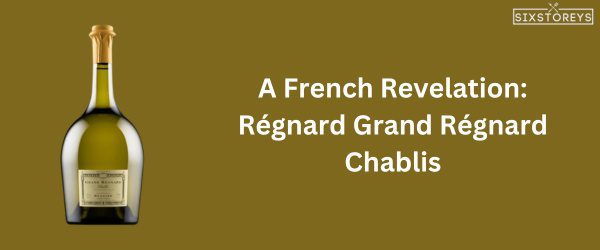 The Régnard Grand Régnard Chablis 2019, a spectacular white hailing from Burgundy's famous Chablis region, captivated my senses in a French Revelation. The wine's aura is unmistakably rich and grand, consistent with its respected heritage.
The first impression is highlighted by a characteristic pale gold color and a rich, complex nose. You will discover notes of ripe apples, freshly cut hay, and baked bread, all balanced by an underlying minerality that whispers of its unique terroir.
On the palate, the Régnard Grand Régnard surprises you with its contrast of luscious fruit flavors and sharp steely acidity that Chablis is known for. It ends with a long, bountiful finish that leaves you yearning for more.
Enjoy this sophisticated wine with shellfish, oysters, or fresh goat cheese to honor the French tradition.
26. 00 Wines VGW Chardonnay: The Ultimate Luxury Pick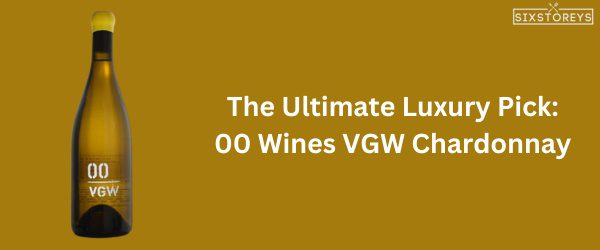 Every wine enthusiast deserves to splurge once in a while, and when that time comes, the 00 Wines VGW Chardonnay is an essential luxury pick. The wine is as lavish as it is satisfying, a testament to the beauty of Oregon's Eola-Amity Hills terroir.
The luxurious experience begins with the wine's attractive golden hue and a complex bouquet filled with honeyed citrus, white spring blossoms, and a delicious hint of elegant French oak. This sophisticated mix acts as a prelude to the real magic that transpires when you take a sip.
On the palate, the wine is both broad and balanced—showcasing ripe, tropical fruit and white florals against a backdrop of well-integrated oak and minerality. The finish is lengthy and satisfying, a testament to the masterful craftsmanship of the wine.
The 00 Wines VGW Chardonnay finds its perfect match in a spread of fine cheeses, risotto, or lobster and butter.
27. Antinori Castello della Sala Cervaro della Sala 2019: The Italian Stallion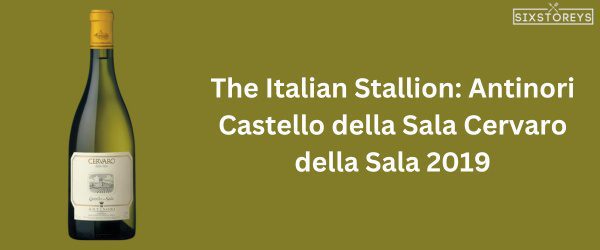 The Italian wine-making tradition is nothing short of legendary, and the Antinori Castello della Sala Cervaro della Sala 2019 is a stellar testament to this enduring legacy. Made from a blend of Chardonnay and Grechetto grapes, this wine carries the dignity and style that can only be found in Italy's Umbria region.
The elegant spectacle of this wine unveils itself in the glass's golden color. The aromatic profile reveals zesty citrus fruits, white flowers, honey, and a gentle hint of hazelnut – a complex, yet harmonized bouquet that invites you to take a sip.
On the palate, this Chardonnay unfurls with a rich, full-body, and smooth texture that swirls the tropical and citrus nuances around a well-integrated woodiness. The finish is stunningly persistent, leaving behind a pleasant, refreshing note that pulls you in for another sip.
This Italian Stallion makes an excellent companion to elegant pasta dishes or refined fish recipes, adding that extra spark of Italian flair to your meal.
28. Duckhorn Vineyards Chardonnay: California's Finest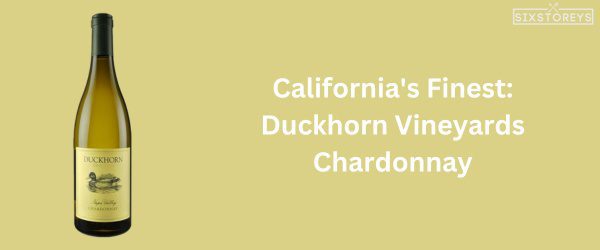 In the realm of New World wines, California is a stronghold of exceptional Chardonnays – and on top of that list is the Duckhorn Vineyards Chardonnay. Crafted in the heart of Napa Valley, this Chardonnay is as Californian as it can get, showcasing a complex blend of flavors and a beautifully balanced profile.
The sight of this Chardonnay is like a peek of Californian sunshine, sporting a stunning golden hue and an aromatic profile full of tropical fruits, toasted oak, melon, and spiced pear.
The First sip is an eruption of these flavors but with a surprising twist. The wine exudes a rich, creamy mouthfeel, beautifully balanced by the wine's crisp acidity. The lingering finish leaves behind a refreshing citrusy zest that compliments the earlier wave of creamy nuances.
Pair Duckhorn Vineyards Chardonnay with grilled seafood or chicken to enjoy a magnificently Californian wine-dine experience.
29. Far Niente Chardonnay 2019: California Dreaming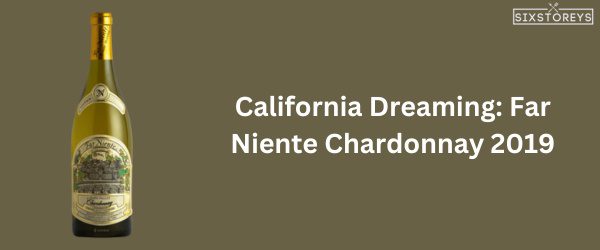 The Far Niente Chardonnay 2019 is quite simply the essence of California - sunny, vibrant, and full of life. Embodying everything there is to love about Californian Chardonnays, this beauty certainly dares to dream.
This Chardonnay springs forth with its lively, golden hue that catches the light just right. The nose promises an appealing blend of orange blossoms, honeydew melon, grilled peach, and toasted brioche, hinting at the treasures within.
Upon tasting, it graces your palate with a beautiful combination of bright citrus and ripe fruit flavors complemented by a lovely, delicate oakiness. The wine leaves you with a rounded, lingering finish that entices you for another sip.
Enhanced by pairing it with grilled chicken breast or fresh scallops, the Far Niente Chardonnay 2019 is sure to make any meal a Californian dream.
30. Brewer-Clifton Sta. Rita Hills Chardonnay: A Californian Wonder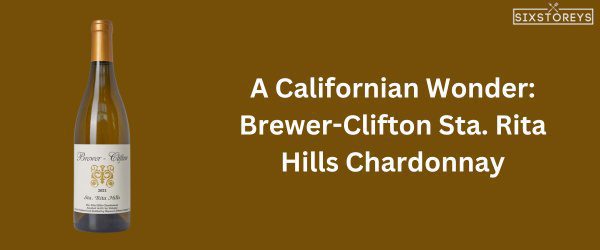 The Brewer-Clifton Sta. Rita Hills Chardonnay is a remarkable Californian masterpiece, vouching for the quality and character of American wines that can compete on the global stage.
This striking Chardonnay greets with a graceful golden-yellow color, hinting at the depth of flavors hidden within. The bouquet is a blend of apple and citrus notes layered with honeydew, announcing its powerful, yet balanced profile.
On the palate, it flawlessly echoes the aroma, infusing floral, fruit, and minerality in harmony. The long, steely finish is revived with each sip, making it a remarkable tasting experience.
The Brewer-Clifton Sta. Rita Hills Chardonnay is best savored with grilled fish or roasted poultry dishes, where its vibrant character can truly shine.
31. Lamoreaux Landing Wine Cellars Chardonnay: New York's Best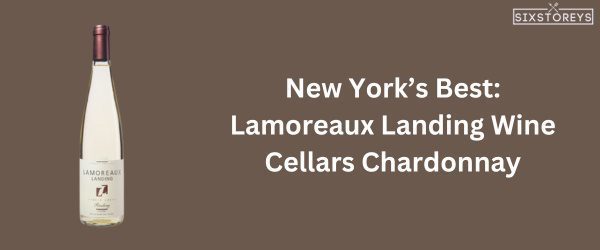 Lamoreaux Landing Wine Cellars Chardonnay is undoubtedly one of the best representations of New York's growing wine prowess. It promises exceptional quality despite being produced at a boutique winery tucked away on the charming shores of Seneca Lake.
At first glance, the wine enchants you with its vibrant golden hue and the promise of a fun, flavorful journey. Its aroma brims with notes of juicy apricot, delicate honeysuckle, and brioche soaked in honey that swirls together in a mesmerizing dance.
On the palate, this Chardonnay delivers a crispness with a well-balanced acidity, harmoniously intertwining with its fruit-forward notes. The lingering, creamy finish leaves you yearning for the next sip, demonstrating the wine's well-structured complexity.
Many will find Lamoreaux Landing Wine Cellars Chardonnay delightful to pair with creamy pasta dishes, soft cheeses, or a succulent lobster tail that can amplify its inherent flavors.
32. Lapostolle Cuvée Alexandre Chardonnay (Atalayas Vineyard) 2016: The Chilean Masterpiece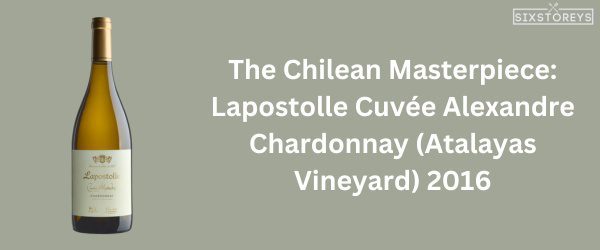 The Lapostolle Cuvée Alexandre Chardonnay, hailing from the beautiful Atalayas Vineyard in Chile, personifies Latin American winemaking flair. Its harmonious combination of classic and tropical vibes makes it nothing short of a masterpiece.
This elegant Chardonnay's white-gold color catches your eye while the aroma of pineapple, vanilla, and a subtle hint of florals draws you in. The sensory portfolio is lovingly encased within a veneer of oak, showcasing the finesse of Chilean winemaking.
The taste follows the promising nose, delivering a decent hit of minerality and plump fruitiness. This wine's elegance lies in its flavor depth that stays true all the way through its refreshingly balanced finish.
The culinary partner of choice for Lapostolle Cuvée Alexandre Chardonnay is seafood, particularly dishes featuring scallops or salmon, helping elevate its complex flavor profile.
33. Kendall-Jackson Vintner's Reserve Chardonnay: The Classic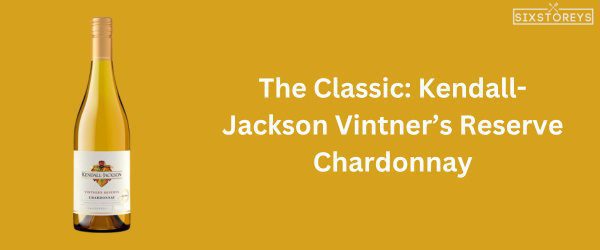 Being a classic, Kendall-Jackson Vintner's Reserve Chardonnay is a name that resonates with Chardonnay enthusiasts worldwide. This Californian wine is the encapsulation of the winemaker's enduring commitment to quality.
The wine offers a striking straw-yellow color, preparing the way for a delightful sensory expedition. A mixed bouquet of tropical fruits, caramelized pineapple, and underlying oak tones sets the stage for its flavorful spectacle.
Every sip of this Chardonnay introduces a lush and buttery taste, bursting with tones of mango, papaya, and vanilla bean, followed by a bright, lingering finish. The elegance of this wine lies in its well-balanced acidity and masterful interplay of sweet and savory notes.
Perfect for grilled seafood or poultry dishes, Kendall-Jackson Vintner's Reserve Chardonnay offers a classic Chardonnay experience that wine lovers will appreciate.
Also Read: Best Wines With Lasagna
34. El Enemigo Chardonnay: The Wildcard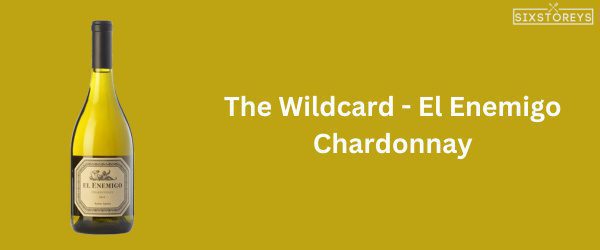 El Enemigo Chardonnay is a wildcard in this list and for an excellent reason! This Argentinian gem shatters expectations with its unconventional approach to crafting the beloved white wine.
At first glance, this Chardonnay awes you with its brilliant, light gold hue. Swirl the glass, and your senses are instantly drawn to the enticing mix of apple, pear, and aromatic French oak.
On the palate, El Enemigo Chardonnay strikes a perfect balance between the traditional buttery chardonnay and the bright tartness of green apples and limes. Each sip ends with an enticing, long-lasting finish, hinting at minerals and a subtle veggie note: a delightful experience that keeps you hooked.
The El Enemigo Chardonnay pairs amazingly well with baked fish or raw seafood dishes, allowing the flavors to perfectly come together. This potent blend of complexity and elegance sets El Enemigo Chardonnay as a unique standout.
35. Chateau Ste. Michelle Indian Wells Chardonnay 2017: Celebrating an American Classic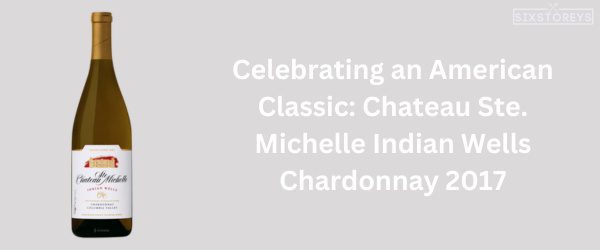 The Chateau Ste. Michelle Indian Wells Chardonnay 2017 is another notable American Chardonnay well worth your attention. Hailing from Washington State, this Chardonnay perfectly encapsulates the unique terroir of the Columbia Valley region.
The Chateau Ste. Michelle Indian Wells Chardonnay presents itself with a rich, golden color. On the nose, it bursts with scents of buttery apples, toasted almonds, and a creamy vanilla undertone – a tantalizing glimpse into the wine's intricate flavor profile.
On the palate, the wine delivers a harmony of rich, ripe fruits balanced by crisp, bright acidity, keeping the wine fresh and flavorful. The lasting, smooth finish leaves a delicate hint of spices that satisfies even the most discerning palate.
Pair this American classic with a warm, buttered lobster or creamy pasta dish to truly savor its inherent richness and complexity.
36. Longevity Chardonnay: Delightful Surprises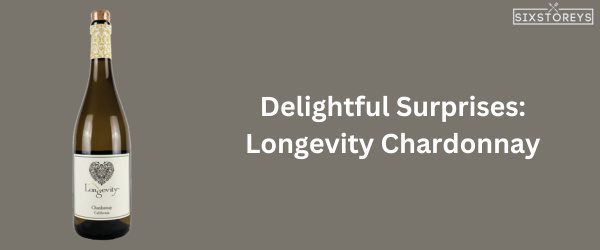 Hailing from California's Livermore Valley, Longevity Chardonnay is an absolute delight worth every sip. This rich, golden-colored gem makes a grand entrance with its distinct bouquet that is sure to fascinate every wine lover in the room.
The nose is a vivid amalgamation of creamy apple, toasted oak, and tropical fruit tones that beautifully express the wine's delectable character. Swirling the glass amplifies its enticing aroma, leaving a tantalizing hint of what the palate experience could be.
When sipped, the rich and intense flavors of this wine swirl effortlessly across the palette. Its full-bodied profile and perfect balance of creaminess and acidity are wrapped in a floral undertone, leaving a lingering smooth finish that you won't easily forget.
This Chardonnay pairs excellently with shellfish and poultry dishes, where its flavors shine brightest. The Longevity Chardonnay is indeed a treat worth savoring.
37. William Fevre Chablis Champs Royaux 2019: Simply Exceptional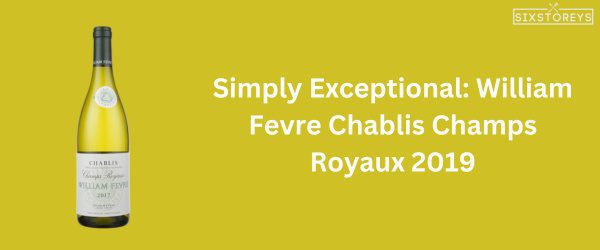 The William Fevre Chablis Champs Royaux 2019 is a classic example of French elegance encapsulated in a wine bottle. Hailing from one of France's most celebrated wine regions, this Chardonnay marks itself as an unparalleled masterpiece that commands attention.
Its strikingly light, straw-yellow hue sparks curiosity, while the nose entraps with an alluring blend of green and yellow apple, peach, and lime zest notes, rightly culminating the essence of the French countryside.
With a sip, the wine coats the palate with its refreshing acidity, balancing out the rich fruit flavors and a slight minerality. The finish is incredibly persistent, leaving behind a refreshing whiff of apple and lemon zest.
Whether you are dining on a lavish seafood platter or an elegant chicken dish, the William Fevre Chablis Champs Royaux 2019 makes the perfect wine pairing, adding a touch of French grandeur to your meal.
38. Meerlust Chardonnay 2018: A South African Treat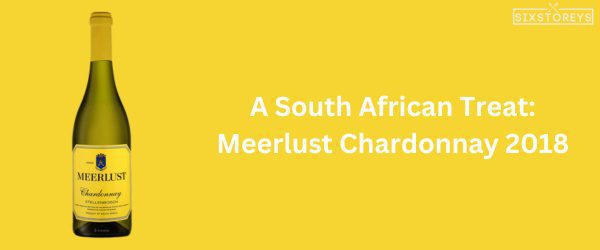 The Meerlust Chardonnay 2018, with its roots firmly planted in the fertile grounds of South Africa, brings forth a captivating wine experience packed with unique flavors and a story worth sharing.
The wine, with its light yellow color, teases the senses even before the first sip. The aroma is a sensory feast with a complex mix of lemon and lime, brioche, and a hint of zestful grapefruit.
On the palate, bursts of fresh citrus and tropical fruit flavors blend beautifully with mineral notes and remarkable acidity, making it taste as impressive as it smells. The lasting, oak-infused finish is a pure delight that keeps you coming back for more.
This South African Chardonnay is a fantastic accompaniment to seafood and poultry dishes, promising a dining experience you won't soon forget.
39. Chateau Montelena Chardonnay Napa 2019: The Napa Icon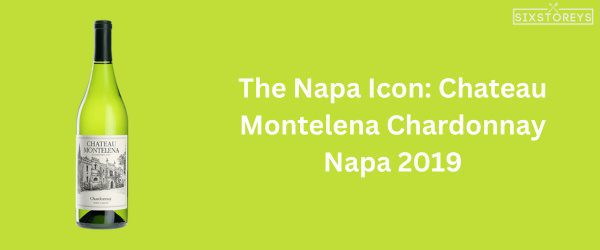 Chateau Montelena's Chardonnay Napa 2019 is a classic Californian gem that no wine enthusiast can ignore. Hailing from Napa Valley, this exquisite wine is a toast to one of the most esteemed wine regions in the world.
The wine greets you with a lovely golden hue, preparing you for a fantastic sensory journey. The aroma showcases an intricate mingling of fresh pear, white peach, and heather honey, with subtle undertones of creamy brioche, transporting your senses straight to sun-drenched vineyards.
When tasting, it washes over your palate, letting you savor the meld of fruity vibrancy, oaky nuance, and an assertive minerality that strikes a perfect balance. The lush and creamy finish lingers, leaving a pleasing reminder of its exceptional composition.
The Chateau Montelena Chardonnay Napa 2019 pairs especially well with poultry and shellfish dishes, amplifying the inherent flavors with every bite.
40. Lombardi Sonoma Coast Chardonnay: A Californian Star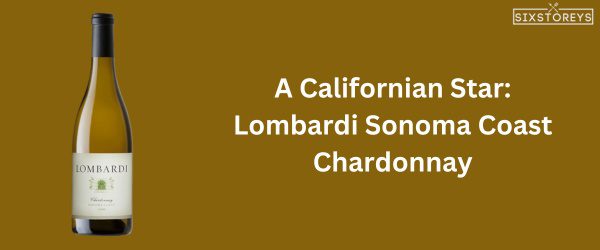 From the refreshingly cool sites of the Sonoma Coast comes the Lombardi Chardonnay, a Californian star that is worth a try.
Pour it, and you'll be greeted by a wine with an ethereal golden hue that promises a world of eclectic flavors. The aroma plays on the symphony of ripe lemon, honeydew melon, and the elegant touch of spice.
This Chardonnay spins a rich tale of texture on your palate, with a flavor profile encompassing butter, bright citrus, and a telling minerality that speaks of its coastal roots. Pair this wine with roasted poultry, and you have a match made in culinary heaven.
41. Joseph Drouhin Montrachet Grand Cru Marquis de Laguiche 2013: A French Masterpiece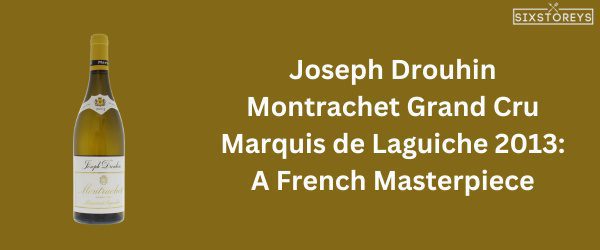 No list can ever be complete without an exquisite French selection. And that's where the Joseph Drouhin Montrachet Grand Cru Marquis de Laguiche 2013, a bona fide French masterpiece, comes in.
In the glass, it boasts a beautiful golden color, inspiring anticipation for the indulgence that's about to follow. The nose offers a remarkable combination of honey, nuts, mellow baked apple, and florals, hinting at a rich and refined palate.
On tasting, one can detect a wonderful complexity of flavors, from stone fruits to ripe citrus, mingling with a distinctive undertone of minerals. The finish is lingering and delightfully smooth, a testament to its Grand Cru status. With delicacies like cream-based poultry dishes and truffle-infused pasta, this wine's taste stands out, making it an unforgettable French indulgence.
42. Catena Alta Chardonnay 2017: An Argentinean Delight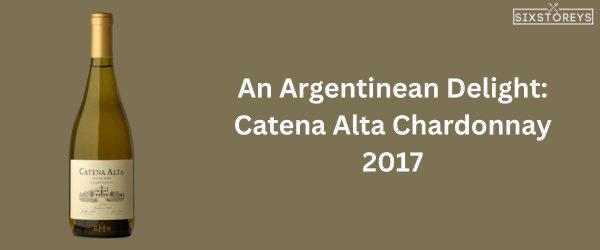 Perching atop the high-altitude vineyards of Argentina is where the delightful Catena Alta Chardonnay 2017 grapes are grown. This wine is, indeed, one of Argentina's finest Chardonnay offerings, and savoring it is a celebration in itself.
Sold in beautifully etched bottles, this delicious beverage pours into the glass with a vibrant golden hue, inviting you in with an enticing dance of color. The first sniff takes you on a rollercoaster of aromatic pleasures, transporting you to a lush, sun-soaked orchard filled with ripe peaches, freshly picked green apples, and toasty undertones.
Upon tasting, Catena Alta Chardonnay 2017 immediately impresses with a zesty citrus freshness intermingled with complex caramel notes and a poignant mineral edge. This wine has an appealing full body and a long, satisfying finish. Its complex layers of flavors are amplified when paired with citrus-marinated poultry or gruyere cheese. It is a masterful blend of intensity and elegance, a treat for any Chardonnay enthusiast.
43. Grgich Hills Chardonnay: The Napa Valley Ninja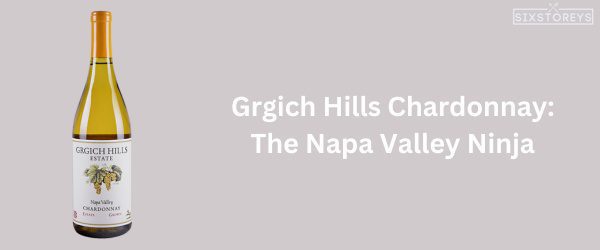 Grgich Hills, nestled in the renowned Napa Valley, is a winery synonymous with exceptional Chardonnays. Their Chardonnay is a complex blend of flavors, striking a harmonious balance that is at once sophisticated and welcoming—a true Napa Valley Ninja!
In the glass, you are met with a splash of radiant golden shades that whisper promises of complex flavor profiles. As you swirl your glass, wafts of the beautiful apple and pear aroma intertwined with wisps of vanilla and buttery pie crust create a sense of olfactory delight.
The taste, a harmonious symphony of flavors, is what sets Grgich Hills Chardonnay apart. Hinting at green apple, lemon zest, and a touch of oak, it culminates in a crisp, clean finish. It pairs wonderfully with creamy seafood pasta, bringing out the best in every bite and sip, thereby setting a trademark Napa Chardonnay experience.
45. Weingut Franz & Christine Netzl Chardonnay: Austrian Elegance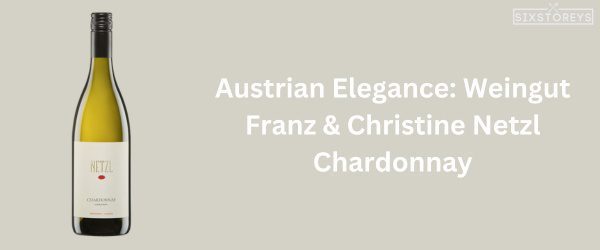 Channeling the elegance of Austrian wine-making culture, Weingut Franz & Christine Netzl's Chardonnay is nothing short of a masterpiece. This wine, a testament to Austria's rich wine heritage, finds its way straight to the heart of true Chardonnay lovers.
It greets you with a lively straw-yellow color, hinting at the full-bodied experience that lies ahead. The nose is filled with an enticing medley of tropical fruits and citrus, juxtaposed with a hint of soft lentils.
On the palate, this Chardonnay offers a balanced acidity that complements the orange peel, white peaches, and nectarine flavors. Each sip ends in a harmonious finish, leaving you craving the next mouthful. Pair this wine with white meats or lightly grilled fish, and you're in for an unforgettable culinary experience.
Embracing these delightful Chardonnays allows us to appreciate the artistry involved in making every bottle. Here's to more wine-fueled adventures that help us admire the nuances of Chardonnay from every corner of the globe!
46. Domaine Blain-Gagnard Chassagne-Montrachet Premier Cru 'Morgeot' Blanc 2018: The French Connection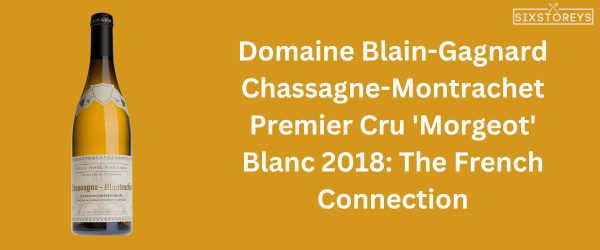 When it comes to enigmatic French wines, Domaine Blain-Gagnard Chassagne-Montrachet Premier Cru 'Morgeot' Blanc 2018 stands among the top tier. Hailing from Burgundy's Chassagne-Montrachet region, this wine beautifully epitomizes French elegance and finesse.
Every sip of Domaine Blain-Gagnard paints a masterpiece across your palate, winding through a gamut of flavors that eloquently express the Premier Cru's unique terroir. You're greeted, first, with its vivid, golden hue, which paves the way for a delightful bouquet of orchard fruits, citrus, and buttery notes, underscored by a subtle minerality.
The palate is a symphony of flavors, featuring bold strokes of honey, yellow apples, and toasted hazelnuts. The elegance and complexity are amplified by finely tuned acidity and a prolonged finish. This wine's distinctive complexity and intensity make it a perfect companion for a white fish dish or a plate of rich cheeses.
47. Drouhin Macon Villages: The French Staple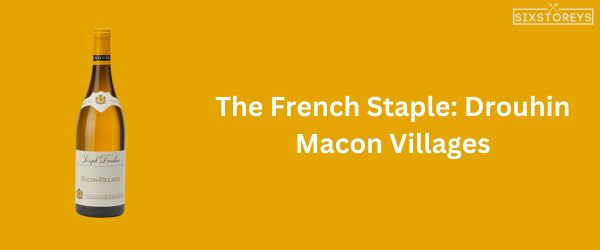 A classic that you can't afford to miss in this spectrum is the Drouhin Macon Villages. Renowned for its quintessential French charm, this Chardonnay is a treat for every oenophile.
This French beauty presents a clear, golden liquid that piques your curiosity from the moment it's poured. As you bring the glass closer, you encounter wafts of fresh apple, pear, and white blossom, punctuated by subtle streaks of vanilla and honey.
On taking a sip, you immediately realize the complexity of the Drouhin Macon Villages. The seamless marriage of bright green apple and creamy vanilla is accompanied by a surge of stimulating minerality and lively acidity. This rollercoaster of flavors ends with a satisfying, slightly fruity finish. A glorious companion to a platter of grilled shrimp or roasted chicken, this Chardonnay holds a cherished spot on my vinous journey.
48. D'Autrefois D'Autrefois Chardonnay: The Underdog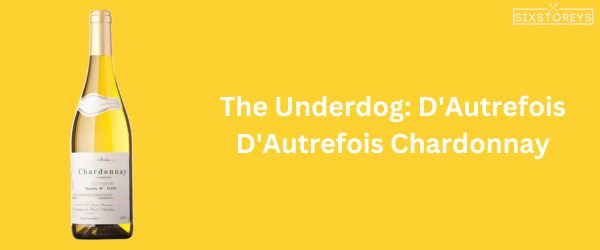 D'Autrefois Chardonnay is indeed a well-kept secret in the world of white wines. Based in the picturesque French region of Pays d'Oc, this Chardonnay has a unique way of wrapping you in a comforting aura that lets you savor life's simple pleasures.
Featuring a dazzling straw yellow color, this wine leaves you visually enchanted even before the tasting begins. Its aromatic profile is laden with scents of golden apple, ripe peach, pear, and honey, delivering a sweet symphony that woos the senses.
On the palate, she elegantly courses through a charming array of flavors that strike the perfect balance between fruit and oak. Impressions of green apple, vanilla, and caramel interweave with the subtler notes of toasted bread, ending in a silky, slightly sweet finish. D'Autrefois Chardonnay pairs beautifully with mild cheeses, grilled seafood, or chicken in creamy sauces.
49. Chamisal Vineyards Stainless Chardonnay 2020: Stainless Wonder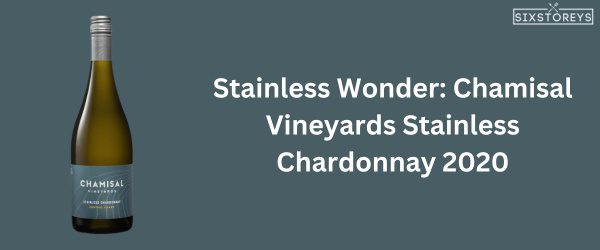 Hailing from California's Central Coast, the Chamisal Vineyards Stainless Chardonnay 2020 is, indeed, a unique stainless wonder. Devoid of oak aging, this wine shines with its pure fruity character and razor-sharp acidity.
This Stainless Chardonnay is as visually captivating as its name suggests, boasting a bright, crisp look that intrigues at first glance. Its aroma crashes into your senses with aromatic waves of fresh green apples, ripe peaches, and juicy pineapples.
Once it graces your palate, expect an explosion of vivid lime, melon, and green apple flavors, impeccably balanced by zesty acidity. The finish is clean, and refreshing, and leaves an enduring impression of subtle minerality. Pair this Chardonnay with fresh seafood or tangy goat cheese for a stellar gastronomic experience. Get ready to be charmed by the elegant simplicity of this wine that makes every moment extraordinary.
50. Cotes au Pretes San Soufre: A Voyage to France's Natural Wines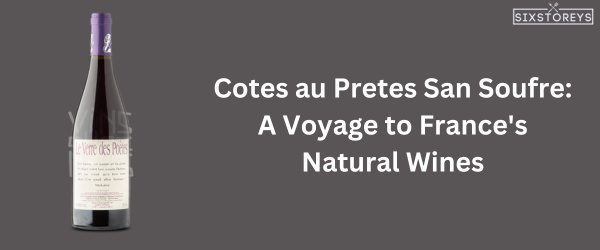 Navigating the terrain of organic and biodynamic French wines led me to the beguiling Cotes au Pretes San Soufre. Made without the addition of sulfur, this Chardonnay is a glorious testament to raw, unaltered winemaking.
Drawing you in with its radiant straw color, it unveils an enticing aroma that intermingles peach, golden apple, and brioche, faintly shadowed by a tease of mineral nuances.
In the mouth, the Cotes au Pretes San Soufre shines with a parade of crisp apple, lemon, and nuanced yeasty notes. Supple and rich, the persistent acidity carves through the wine, leading to a clean, crisp finish. Pair this beauty with shellfish or mushroom risotto, and let the wine work its magic.
51. Morgan Metallico Unoaked Chardonnay 2020: A Californian Gem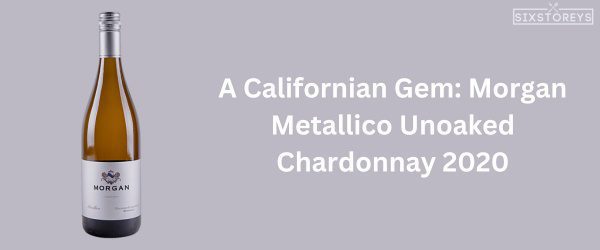 Last, but definitely not least on my list, is the trendsetting Morgan Metallico Unoaked Chardonnay. From the sun-soaked vineyards of California's Monterey County, this wine is a tribute to the pure, unadulterated expression of Chardonnay.
Introducing itself with a clear, golden hue, the Morgan Metallico Chardonnay arrests your senses with explosive aromas of citrus, green apple, and tropical fruits, with a soft undercurrent of minerality.
Exploring this Chardonnay further, you find a palate bursting with bright citrusy and stone fruit flavors, refreshing minerality, and vibrant acidity, all concluding in a bright, crisp finish. Its bone-dry, unoaked profile makes it a versatile pairing with a wide range of dishes - from sushi to salads. Here's to celebrating wins in their most pristine form. This Californian gem, in my opinion, deserves a standing ovation.
Also Read: Best Moscato Wines
How to Choose the Best Chardonnay Wine?
Choosing the best Chardonnay wine can often feel overwhelming due to its vast variety, stretching from fruity, unoaked styles to rich, full-bodied wines matured in oak barrels. Here are some factors to consider when choosing a Chardonnay:
Personal Preference
Your taste preference should come first. If you prefer wines with more fruity and fresh flavors, opt for unoaked or lightly oaked Chardonnays. On the other hand, if you enjoy rich, buttery, and full-bodied wines, go for an oaked Chardonnay.
Food Pairing
Food pairing is crucial when picking a Chardonnay. Rich, oaky Chardonnays pair well with heavy food like creamy pasta, while lighter, crisp Chardonnays go well with seafood or chicken dishes.
Occasion
Are you buying wine for a casual dinner at home or a grand celebration? Your occasion plays a significant role in your choice. More prestigious labels might be suitable for special events, while for weekday meals, a simple, yet delicious Chardonnay does the trick.
Budget
Chardonnays come at various price points, ranging from very affordable to super premium. Set a budget before purchasing and remember, price doesn't always determine quality - there are many high-quality Chardonnays that won't break the bank.
Region
The region influences the flavor of the Chardonnay. French Chardonnays, like those from Burgundy, are usually more acidic and minerally, while Californian Chardonnays are often fuller-bodied, with prominent fruit and oak flavors.
Remember, the best Chardonnay wine is the one that you enjoy drinking the most. Don't be afraid to trust your palate and choose a wine that you enjoy above all else.
Why Chardonnay is Considered the Queen of White Wines?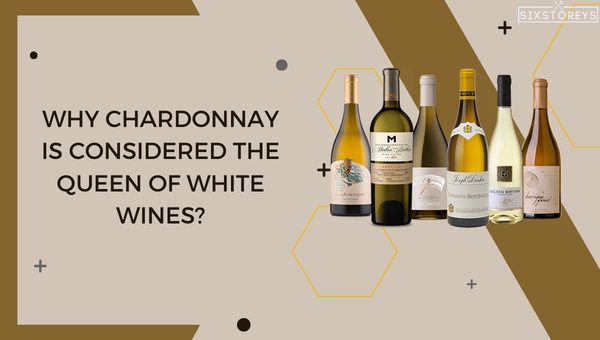 Chardonnay is often dubbed the Queen of White Wines for some really valid reasons. Let's delve into why this title is well-deserved.
Versatility
Chardonnay's remarkable versatility is one of the significant reasons it reigns as queen. This grape variety adapts beautifully to different climates and winemaking techniques, leading to an amazing array of styles. From the crisp, apple-driven Chardonnays of Chablis to the creamy, full-bodied versions from California, there's a Chardonnay to suit all palates.
Broad Flavor Profile
Chardonnay has a broad range of flavor profiles, thanks to its versatility. It can be light and zesty, rich and creamy, or elegant and complex, making it a wine style that can please a multitude of wine appreciators.
Global Presence
Chardonnay is grown in nearly every wine-producing region in the world. This global presence has helped Chardonnay win over a multitude of wine lovers and establish its solid reputation.
Food Pairability
The ability to pair beautifully with a wide range of dishes is another reason why Chardonnay is so beloved. From delicate seafood dishes to hearty roasted chicken, there's a Chardonnay that pairs beautifully with just about any dish.
Aging Potential
Many Chardonnays, particularly those from Burgundy or other high-quality wine regions, have excellent aging potential. As time goes by, these wines can develop intriguing layers of complexity, adding yet another dimension to the "Queen of White Wines".
These are just some of the many reasons why Chardonnay holds such a prestigious position in the world of wine. Its ability to offer a diverse spectrum of flavors, pair gracefully with food, and appeal to different palates makes Chardonnay truly deserving of its royal title.
How to Best Enjoy and Serve Chardonnay?
Chardonnay hailed as the king of both elegance and decadence, is a wine that can be played up or down, depending on its companion in the glass or at the table. However, what really stands out is that finding the best way to serve and enjoy it can truly accentuate its vivacious qualities.
Firstly, serving temperature plays an instrumental role. Chardonnay is not meant to be served ice cold like a crisp Sauvignon Blanc or Pinot Grigio. Too chilled, and you might miss out on its subtler notes. Conversely, too warm and the higher alcohol content can overpower its delectable fruit flavors. A temperature between 50-55°F (10-13°C) is considered ideal for most Chardonnays.
Secondly, choosing the right glass is another aspect of enhancing your Chardonnay experience. Larger, wide-bowled glasses, often referred to as "Bordeaux glasses," allow more room for the wine to breathe, ideally accentuating the complexities and bouquet of a rich and full-bodied Chardonnay.
But what's a deliciously chilled and elegantly poured glass of wine if you can't enjoy it in all its glory? So, take a moment. Let your Chardonnay breathe, swirl it around gently in your glass, take a good sniff to enjoy its delightful aroma, and then go ahead, and take a sip.
Why Ageing Matters in Chardonnay Wines?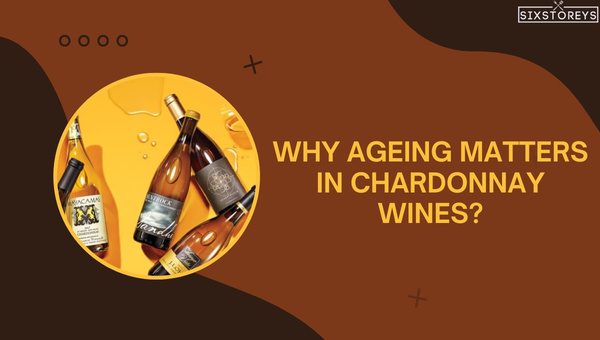 Just like fine cheese and the legendary Rolling Stones, some Chardonnays get better with age. But why, you ask? Let's delve into the intricacies.
The aging process for Chardonnay does two things fundamentally - it often enhances the flavor and impacts the texture of the wine. As Chardonnay wine ages, its strong fruit character begins to mellow down, making room for more complex and secondary flavors to surface, such as nuts, cream, and buttery caramel.
For instance, a Chardonnay from a cool climate region like Chablis, which is generally crisp with high acidity at a young age, can evolve to develop sublime notes of honey and hazelnut after some years of careful cellaring, showing a depth that's hard to match.
Even the texture of Chardonnay benefits from aging. While the wine is young, it may have a leaner texture. But with age, Chardonnay tends to become round and extraordinarily smooth.
However, do notice that not all Chardonnays are meant to be aged. Depending on where the wine comes from and how it's made, some Chardonnay wines are meant to be enjoyed young, especially those unoaked, leaner styles featuring aromatic freshness.
Understanding which Chardonnays age well and which don't is a nuanced play of factors like the vineyard's location, the vintage quality, and the expert hands behind the making of the wine.
Whether you're savoring a young, vibrant Chardonnay or appreciating a mature, well-aged version, remember that at the heart of it all is the joy and love of this wonderfully versatile wine. Enjoy the journey of exploration and the countless delicious moments it brings.
How Different Regions Influence the Flavor of Chardonnay?
Chardonnay is known for its adaptability to multiple growing regions worldwide, with each region contributing distinct touches to the wine's flavor profile.
French Chardonnay
Chablis - Bound by its cool climate and limestone-rich soil, Chablis creates a light, high-acid Chardonnay with a clean mineral taste and apple or green fruit notes. Some may note the lean flavors of oyster shell and wet stone, reflective of its unique terroir.
White Burgundy - White Burgundy maps beautifully into a more medium-bodied expression of Chardonnay with citrus, and peach flavors, and a distinctive minerality due to its unique blend of clay and limestone soils.
American Chardonnay
Sonoma Coast - Gives us a version with a lively citrus flavor along with green apple and pear notes. The hallmark is a refreshing acidity, distinct minerality, and often a hint of salinity.
Napa Valley- Recognizable by its full-bodied, lush, and often creamy style with ripe fruit flavors and a beautiful balance between oak and butter notes, thanks to the warmer climate and often malolactic fermentation.
Australian Chardonnay
Yarra Valley - Due to its cooler climate, Yarra Valley in Australia produces a Chardonnay with citrus and green apple flavors, high acid, and sometimes a touch of lush tropical fruits.
Margaret River- Offers a medium-bodied, lemon citrus-led expression with notes of nectarine. The wines here are elegantly oaked and reveal a high acid profile.
New Zealand Chardonnay
Marlborough- New Zealand's Marlborough region brings us Chardonnay with piercing acidity, zesty citrus notes, and occasionally tropical fruit flavors, thanks to a cooler growing environment.
What Foods to Pair with Your Chardonnay Wine?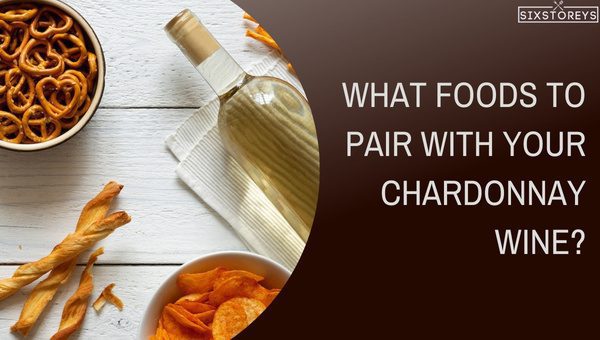 The beauty of Chardonnay lies in its ability to pair well with a wide variety of cuisines. However, successful matchmaking does depend on the style and region of your Chardonnay. Here are some delicious food options according to the different flavor profiles you might encounter:
For Crisp and Minerally Chardonnays:
Crisp and minerally Chardonnays like Chablis or the ones from the cooler regions, with their high acidity, go wonderfully with:
Oysters, are ideal for bringing out the citrus notes
Grilled fish, accentuating the clean taste
Goats cheese salad, adds a nice contrast to the tanginess
For Full-bodied, Oaky Chardonnays:
A rich, oaky Chardonnay such as those from the Napa Valley is a good match for:
Cream-based sauces on pasta or chicken, wherein the creaminess of both wine and dish enhance each other
Buttered Lobster or crab, considering the wine's affinity for buttery notes
Roasted pork with a fruity glaze, where the fruitiness of the dish will complement the ripe fruit notes in the wine
For Medium-bodied, Elegantly Oaked Chardonnays:
A well-balanced, medium-bodied Chardonnay like those from Margaret River or White Burgundy pairs exceptionally well with:
Roast chicken, creating a perfect balance with the wine's citrus and peach flavors
Grilled salmon, where the wine's acidity cuts through the fat.
A cheese platter, the nuttiness of aged cheese pairs well with the subtle oak flavors
With its impressive range and adaptability, it's clear that Chardonnay has rightfully earned its place in the hearts and cellars of wine lovers worldwide. No matter its region of origin, there's a bottle of Chardonnay waiting to enchant you. So whether you're seated at a fine dining table or enjoying a quiet evening at home, there's a Chardonnay and a splendidly matching dish waiting for you.
How to Store and Age Your Chardonnay Wine?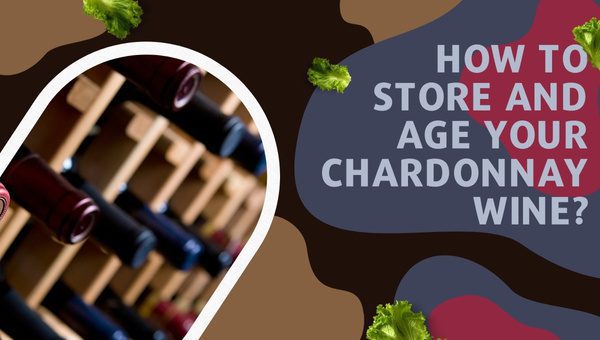 Choosing the right Chardonnay is just the beginning, the real challenge lies in preserving its flavor and aroma to experience the wine in its entirety at your convenience. So how do you store and age your Chardonnay? Let's explore.
Wine Cellar or Fridge
The ideal place to store Chardonnay is in a wine cellar or a wine fridge. These spaces provide a consistently cool temperature, a must for maintaining the wine's integrity. Most experts agree that Chardonnay is best kept at a temperature of around 50°F (10°C).
Laying the Bottle Down
It is vital to store wine bottles on their sides, as this keeps the cork moist. When the cork dries out, it can crack, allowing air into the bottle. This can accelerate the oxidation process, ruining your Chardonnay.
Light and Vibration
Light, especially sunlight, can be particularly harmful to wine, leading to premature aging and degradation. Similarly, excessive vibration can disturb the sediment in the wine, affecting its quality. Keep your Chardonnay in a dark, still environment.
Consider the Aging Potential
Despite common belief, not all wines improve with age, and this includes Chardonnay. While some Chardonnays, particularly those from Burgundy, can be aged for several years, most are best enjoyed within a few years from the vintage.
Take into consideration factors such as oak influence, acidity, and the region of origin when determining a Chardonnay's aging potential. Winemakers often provide guidance on the label or their websites. Remember that aged Chardonnay can develop complex tertiary aromas, but you may lose some of the vibrant fruit characters over time.
Monitor the Humidity
Lastly, remember to maintain a relative humidity level of around 60-70% in your storage area. This will prevent the cork from drying out and keeps it in good condition while allowing the wine to age gracefully.
Storing your Chardonnay properly can enhance your tasting experience. So, whether you're saving a bottle for a special occasion or laying down a Chardonnay for long-term aging, these tips will ensure that your wine remains in optimal condition.
Also Read: Best Wines With Pasta
Frequently Asked Questions
What does Chardonnay taste like?
Chardonnay is often described as a heavier-bodied white wine with primary fruit flavors ranging from apple and lemon in cooler climates to tropical fruits in warmer regions. Depending on the winemaking process, Chardonnay could also have secondary notes of vanilla, butter, or cream, especially when it's been aged in oak barrels.
What is the best temperature to serve Chardonnay?
To truly experience the nuanced flavors of Chardonnay, it's recommended to serve this white wine slightly chilled, roughly between 50 to 60 degrees Fahrenheit. Over-chilling can mute the flavors while serving it too warm can make the alcohol more prominent.
How should I store my opened bottle of Chardonnay?
Once opened, a bottle of Chardonnay should be recorked tightly and stored in the refrigerator. Ideally, it should be consumed within two to three days as exposure to air can start to degrade the wine's flavor and freshness.
How long can I age a bottle of Chardonnay?
The aging potential of a bottle of Chardonnay varies depending on its style and where it's from. High-quality Chardonnays from regions like Burgundy or certain Californian producers can age for a decade or more. However, most Chardonnays, especially those that are more fruit-forward, are intended to be consumed within a few years of production.
What food pairs well with Chardonnay?
Chardonnay is a versatile wine when it comes to food pairing. It pairs particularly well with white meats like chicken and fish, seafood dishes, and rich cream sauces. With its buttery undertones, it can complement dishes such as lobster bisque, roasted chicken, or creamy pasta elegantly.
What's the difference between oaked and unoaked Chardonnay?
Oaked Chardonnay is aged in oak barrels, which imparts additional flavors to the wine, such as vanilla, butter, cream, or even a toasty flavor. Unoaked Chardonnay, on the other hand, is fermented in stainless steel and retains more of the fruit's original flavors, making it crisper and lighter.
Where are the top regions for producing Chardonnay?
Chardonnay is produced in several wine regions worldwide, with Burgundy and Chablis in France and California in the United States being iconic for their Chardonnays. Other notable regions include Australia's Yarra Valley and Margaret River, New Zealand's Marlborough, and Chile's Casablanca Valley.
What does "buttery" mean in relation to Chardonnay?
When someone describes a Chardonnay as "buttery", they are likely referring to an oaked Chardonnay that's undergone malolactic fermentation, a process that converts the tart malic acid in the wine into softer lactic acid. This results in a creamy, buttery texture that's often accompanied by flavors of butter, toast, or cream.
Is Chardonnay sweet or dry?
Most Chardonnays are dry wines, meaning they have minimal residual sugar and often exhibit a broad range of fruit flavors, creaminess, and crisp acidity. However, its ripe fruit flavors can sometimes give the impression of sweetness. Sweet versions of Chardonnay – often labeled as 'Late Harvest' or 'Dessert Wine' – do exist but are far less common.
Conclusion
As we wind down this delightful journey through the diverse world of Chardonnay wines, it's clear that the charm of this beloved white varietal lies in its boundless range and versatility. Regardless of whether your palate leans towards the crisp, unoaked varieties or the rich, buttery stylings kissed with oak, there is a Chardonnay out there that is certain to captivate your senses. This guide, brimming with personal insights and reviews of some of the best Chardonnay wines, serves as a starting point.
Yet, the true joy of wine exploration lies in the countless sips, the delightful discoveries, and the shared moments that each bottle uncorks. So, embrace the adventure, indulge in the nuanced profiles, and let the beguiling world of Chardonnay wines unfurl its charm on your senses. Here's to the journey that awaits and the wines that, much like people, have stories to tell and memories to create.
Beverage Explorer and Tastemaker 🍻🥃🍷 Aman's quest for liquid delights knows no limits. From hoppy brews to aged spirits, he uncovers the tales behind each sip. His eloquent descriptions and accessible insights make every drink an adventure worth raising a glass to.