26 Best Shrimp Scampi Wine Pairings [2023 Finest Combos]
Updated On: September 27, 2023
Raise your glasses and prepare your palates for a gastronomic adventure into the world of wine and seafood combinations. I've been on a culinary quest to find the perfect wine pairings for the beloved dish of shrimp scampi, a delicate yet flavorful marvel that graces many a dinner table.
My journey through the vineyards of the world has led to an eclectic collection of wines, each with distinctive aromas and flavors that can incredibly elevate the mouthwatering delight of shrimp scampi. This quest for the best Shrimp Scampi wine pairings has been nothing short of delightful, delivering discoveries I can't wait to share. Let's dive in and uncork the enchanting world of shrimp scampi and wine harmony.
Also Read: Best Wines With Sushi
26 Best Shrimp Scampi Wine Pairings of 2023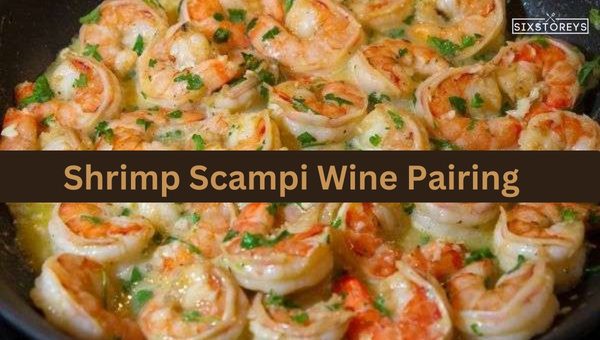 Take a flavorful journey through an exciting compilation of 26 wines that blend beautifully with the taste-bud tantalizing delight that is shrimp scampi. Allow me to guide you through this harmonious symphony of flavors and share the incredible depth each "Shrimp Scampi Wine Pairing" brings to your dining experience. Brace yourselves for sips of divine creations that will undoubtedly transform your seafood indulgence to subtler yet tangier extremes.
1. Viognier and Shrimp Scampi: Delight in Whites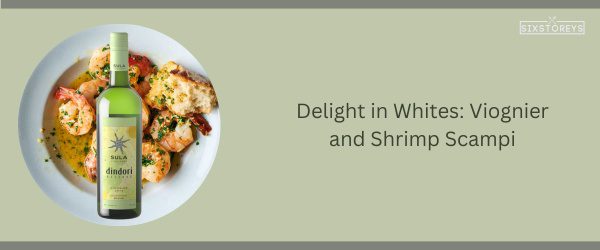 Believe me when I say this, the flirtatious nature of a well-structured Viognier is a match beyond perfection for the traditional shrimp scampi. My attitude towards Viognier is nothing less than love for this gentile white grape variety found mostly in the Rhône region of France.
Upon the first sip, the Viognier teases the palate with flavors of peaches, apricots, and nectarines. It has a certain opulent quality to it, juxtaposed with an intriguing hint of violet and a subtle undertone of minerality. The wine's full body and the low-acidity play a part in making it the ultimate partner for shrimp scampi. The shrimp's buttery texture and delicate umami flavors do a beautiful dance with the wine's fruity notes, creating a symphony of flavors that will leave you savoring every bite, and every sip.
Viognier, with its holiday hint of spice, bridges the gap between the zestiness of the scampi's lemon-garlic sauce and the buttery texture of the well-cooked shrimp. It acts as a liaison, a harmonizer, if you may, forming a cohesive bond between the dish and the wine. What you taste is not two separate entities, but a seamless culinary experience. The moderate alcohol content of Viognier also ensures that the overall union stays luscious and smooth, leaving a lasting impression on your taste buds.
In essence, pairing a Viognier with shrimp scampi is like a rendezvous with a sophisticated partner. It's a narrative of a love story told through flavors and balanced by textures. It's a dance, it's a charm, it's a delightful escapade you wouldn't want to miss.
2. Pinot Noir and Seafood: Discovering New Tastes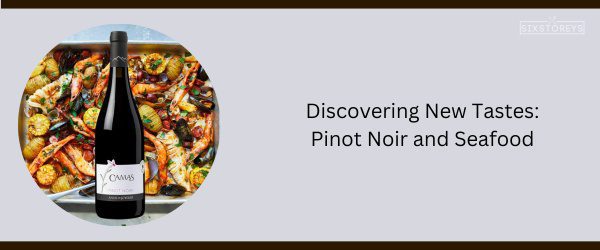 Now moving onto a bit of an unconventional pairing, one that combines the subtleties of seafood with the allure of a well-received red: the Pinot Noir. Yes, you heard it right. The innate belief is that seafood always pairs well with white wine, but let's challenge the status quo and walk on a road less traveled. The delicate structure and alluringly complex profile of Pinot Noir often do a great deal in complementing seafood, particularly our shrimp scampi.
Pinot Noir, just like our beloved shrimp scampi recipe, has a global presence. It is grown and loved across diverse wine regions, from Burgundy in France to Marlborough in New Zealand, to Oregon, USA, and many more in between. Each region contributes its unique characteristics to the wine's round, ripe, juicy fruits, balanced by earthy undertones and attractive acidity.
Now, try imagining savoring a forkful of succulent shrimp scampi, infused with tangy lemon, flavorsome garlic, and rich butter. Then take a sip of a glass filled with Pinot Noir brimming with its fragrant raspberry, cherry, and earthy aromas. The shrimp's buttery texture and the wine's velvety smoothness make for a fascinating combination, while the vibrant acidity of the Pinot Noir enhances the zesty lemon-garlic flavor.
Autumn's spices, often found in a good Pinot Noir (think cinnamon, clove, smokey, mushroom), add an exotic touch, creating a tapestry of warmth and sophistication. This unusual coupling proves that breaking away from tradition can indeed be revolutionary and can offer new flavors that unearth delightful gastronomic experiences.
In short, pairing Pinot Noir with shrimp scampi is indeed an unexpected pleasure – a detour that leads to delightful discoveries, forever changing the way we perceive the pairing of seafood and red wine.
3. Prosecco for a Festive Scampi Meal: Celebratory Bubbles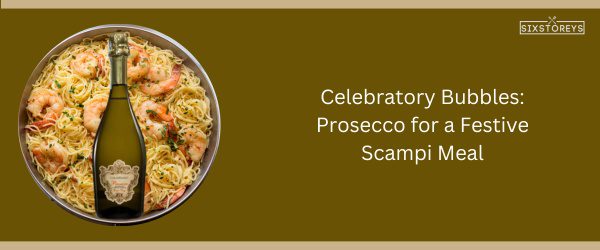 Nothing says celebration better than a chilled glass of Prosecco. This bubbly charm from northern Italy is a marvelous match for the flavorful shrimp scampi. The delicate bubbles and light, fruity notes of Prosecco are incredibly refreshing and cut through the rich, buttery flavor of the dish.
Prosecco offers a fruity bouquet with lovely hints of green apples, pears, and a whisper of white flowers that keep your palate invigorated. It's bubbles and crisp acidity punctuate the shrimp's rich textures while enhancing the flavor of the lemon-garlic sauce with an effervescent zing.
Unlike many other wines, Prosecco retains a low alcohol content, making it a harmonious pair that doesn't overpower the flavors of the shrimp scampi but rather enhances them. It's like a tickle of sparkle on your taste buds, setting the tone for a fun, feisty meal.
4. Sancerre with Shrimp Scampi: Fresh and Crisp Pairing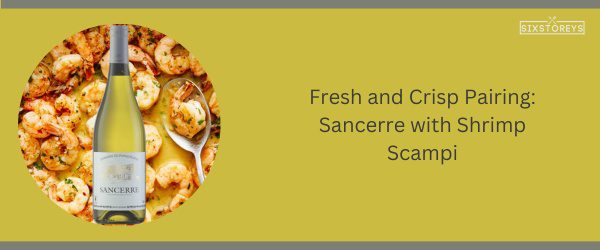 Say hello to Sancerre, the pride of Loire Valley in France, and a delightful companion to rich seafood dishes like shrimp scampi. Sancerre's bright, mineral-driven profile offers a refreshing twist on your regular seafood wine pairings.
With a straight-up crisp acidity and vibrant notes of citrus, flint, and subtle green pepper, Sancerre's aromatic profile dances beautifully alongside the buttery, garlic-rich shrimp scampi. The zesty flavors mingle perfectly with the creamy texture of the dish, creating a balanced culinary extravaganza.
5. White Rioja and Shrimp Scampi: The Elegant Contrast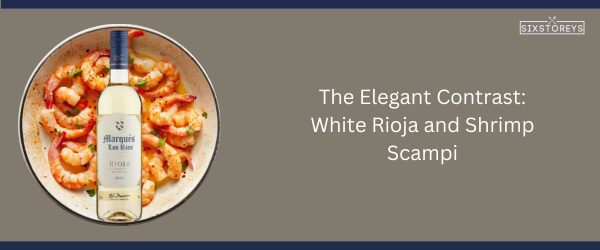 Leave it to the Spanish to concoct wine that perfectly balances the rich flavors of shrimp scampi. The lesser-known white variety of Rioja is an elegant, full-bodied wine with a beautiful contrast to the light and flavorsome shrimp dish.
White Rioja offers a symphony of flavors – from rich fruits, nuts, and spices, to toast and honey, that warms up the palate. It still manages to maintain a refreshing acidity that dances well with the citrusy and buttery notes of shrimp scampi. Together, they create an interesting contrast, adding a new dimension of taste to your meal.
6. Rosé: A Bright Pairing for Scampi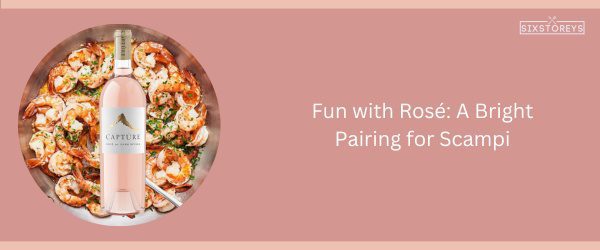 Awaken your senses with one of the most versatile wines: the Rosé. Its charming combination of acidity, fruity flavors, and structural depth make it a great match for the diverse flavors found in shrimp scampi.
Rosé, with its inviting notes of red fruit, flowers, citrus, and melon, balances the buttery goodness of the scampi. Its profile retains the wine's character without overwhelming the seafood, producing a bright, bursting flavor that harmonizes with the rich shrimp scampi.
7. Vinho Verde and Seafood: Exploring Portuguese Delights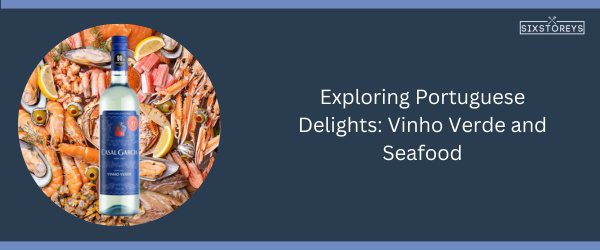 Lovers of seafood, embark on a delightful journey of taste with the Portuguese delight, Vinho Verde. Hailing from the cool, rainy northwest of Portugal, this light-bodied, youthful wine is a hidden gem for shrimp scampi lovers.
The Vinho Verde has a uniquely refreshing quality, with almost spritzy notes of green apple, citrus, and floral undertones. This high acidity that defines Vinho Verde slices through the shrimp scampi's richness, balancing the lemon-buttery goodness with a refreshing, clean nip.
Coupled with Vinho Verde's tantalizingly subtle effervescence, this pairing invigorates the palate, teasing the taste buds with bursting flavors that don't overwhelm but rather work together in a harmonious ensemble.
8. Sauvignon Blanc and Scampi: Classic and Satisfying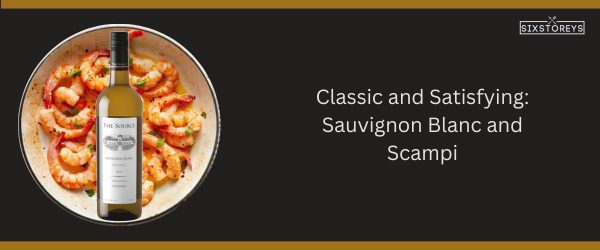 Sauvignon Blanc might be considered the old-school pairing for seafood, but this pairing is tried, true, and simply irresistible. It's like a classic love affair that just gets better with time and never fails to excite the senses.
Sauvignon Blanc's high acidity and citrine notes match perfectly with the tang-buttery signature of the shrimp scampi, amplifying and brightening the dish's flavors. Whether it's from the mineral-driven Loire Valley or tropical-fruity New Zealand, a Sauvignon Blanc brings forth irresistible hints of lime, green apple, passion fruit, and often a distinctive note of gooseberry.
It offers an elegant sharpness that enhances the culinary experience of devouring a plate of shrimp scampi, placing each flavor note in the spotlight and balancing it with sheer perfection.
9. Pinot Blanc and Shrimp Scamp: Light and Refreshing Complement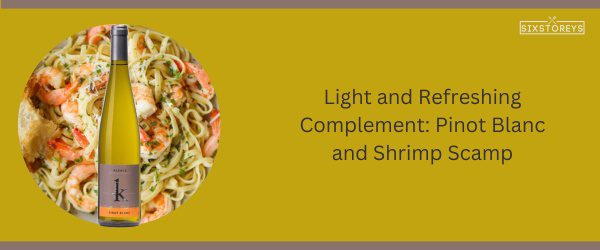 The Pinot Blanc, much like a white canvas, holds the power to seamlessly accompany nuanced dishes like shrimp scampi. Its light body and bright acidity feature as the right framework to enhance the meal without overpowering it.
Boasting subtle aromas and flavors of green apple, lemon, and a touch of floral, Pinot Blanc makes a delightful companion to the rich, distinct flavors of the chef's favorite scampi. It doesn't step on the toes of the dish but provides a beautiful balance, like a tango where both partners move in unison, each complimenting the other flawlessly.
10. Godello and Scampi: Unexpectedly Perfect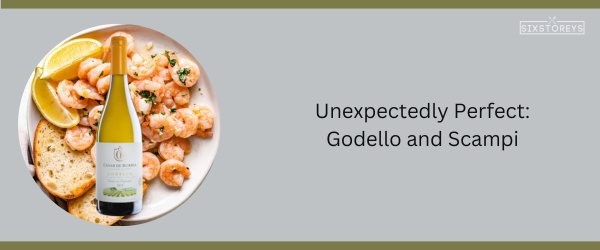 The grape varietal Godello might not be the first wine that comes to mind when considering a shrimp scampi pairing. However, venture into the uncrowded and get ready for a delightful surprise.
The Godello's medium body and refreshing acidity are a great match for the shrimp scampi. It offers a unique palate of flavors, from melon, apple to honey and vanilla, and an irresistible minerality. The wine's lean and clean profile works like magic with the creamy, buttery texture of shrimp scampi, coming together to create a gastronomic symphony that tastes just right.
11. Choya Silver White Wine with Scampi: The Asian Fusion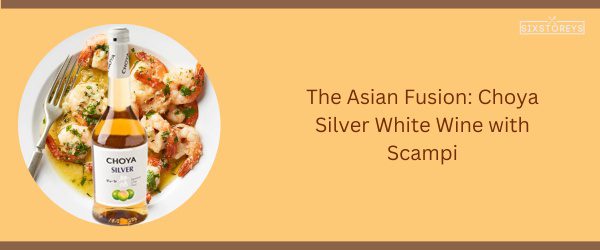 For a spirited gastronomic experience, explore the exotic taste of the Choya Silver, a Japanese white wine that pairs well with seafood like shrimp scampi. Its light, sweet, and slightly sour profile stands up to the rich, creamy scampi without overpowering it.
Choya Silver, made from ume fruit, delivers a satisfying balance of sweet and sour flavors that play well with the buttery, garlicky notes of the shrimp scampi. This unexpected pairing opens up the door to a world of fusion flavors, breathing a new life into your dining experience.
12. Albariño and Shrimp Scampi: At Home with Classics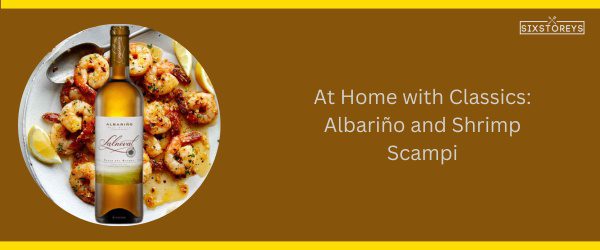 If you're in search of a classic wine that sings in unison with seafood, look no further than Albariño. This Spanish white is an incredible partner for the flavorful, buttery delight of shrimp scampi.
Albariño is celebrated for its high acidity and distinctive marine quality; its notes of citrus and stone fruits, underscored by salinity reminisce the sea breeze. These characteristics offer the perfect balance to the creamy texture and rich garlic-butter sauce of shrimp scampi. It serves as a reminder that, when it comes to food and wine, some classics are classics for a reason.
13. Verdicchio and Shrimp Scampi: Exploring Italian Wines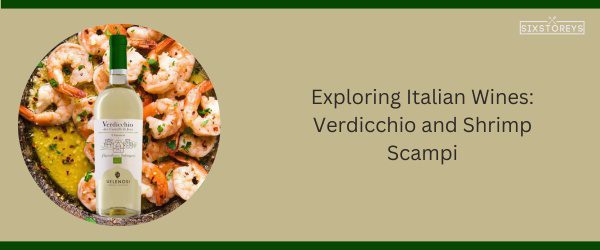 Immersing your palate in the synergy between Verdicchio and shrimp scampi is an expedition worth undertaking. Verdicchio, a flagship white grape from Italy's Marche region, brings a zesty, textural appeal to the dining table.
The wine's signature verdant and citrusy flavors flanked by floral and almond tonalities are an aromatic treat when paired with shrimp scampi. The richness of garlic, butter, and shrimp in the dish beautifully offset Verdicchio's nervy acidity and subtle bitterness, resulting in a harmonious junction of flavors.
14. Fiano di Avellino Paired with Shrimp Scampi: Southern Italy's Gem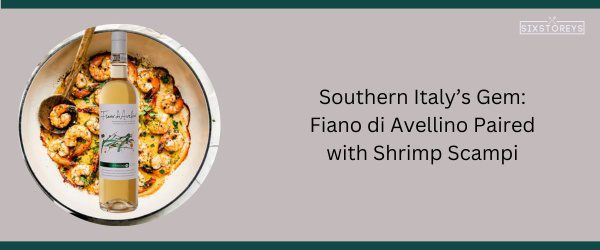 Take a culinary trip to Southern Italy by pairing your shrimp scampi with the region's delightful white wine, Fiano di Avellino. This wine, beloved for its deep and distinguishing taste profile, creates an enchanting mesh of flavors with the scampi.
The beautiful marriage of Scampi's buttery profile with Fiano di Avellino's bouquet of pear, citrus, honey, and toasted hazelnuts underscored by minerality and a hint of smokey character embarks the taste buds on a delightful sensory sojourn.
Also Read: Best Wines With Lasagna
15. Garganega Coupled with Shrimp Scampi: Uncover Pure Delight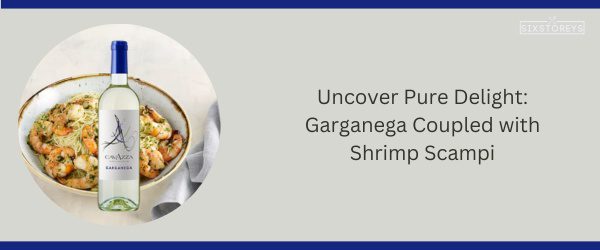 When I discovered the harmonious pairing of Garganega, a spirited Italian white wine, with shrimp scampi, it was a moment of pure gastronomic delight. The gentle serenade between the wine's delicate flavor profile and the dish's rich taste is something every seafood and wine lover should experience.
Garganega is known for its floral aroma, subtle citrus notes, and an undercurrent of bitter almonds. This white wine's nuanced palate brings out the succulent sweetness of the shrimp while melding seamlessly with the dish's garlicky, buttery sauce, creating an exciting culinary encounter.
16. Muscadet and Shrimp Scampi: The French Classic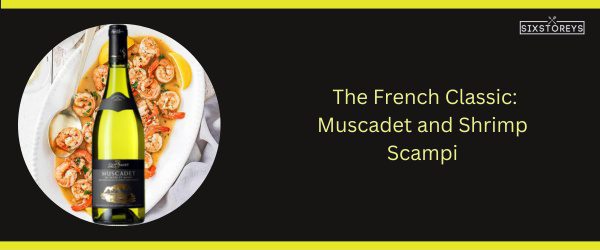 If you fancy a trip to the French seaside without leaving your dining room, allow me to introduce the matchless pairing of Muscadet and shrimp scampi. Muscadet, not to be confused with Moscato, is a dry, light-bodied white wine from the western end of the Loire Valley, distinctly known for its bright acidity and mineral-driven character.
Muscadet's signature saline minerality and crisp, apple notes beautifully balance the buttery richness of the scampi. The wine's lees aging lends a surprisingly creamy aspect, further enhancing this delightful symphony of tastes. It's a pairing that one would describe as 'fait pour être' – meant to be.
17. Pinot Grigio and Shrimp Scampi: Multiplicity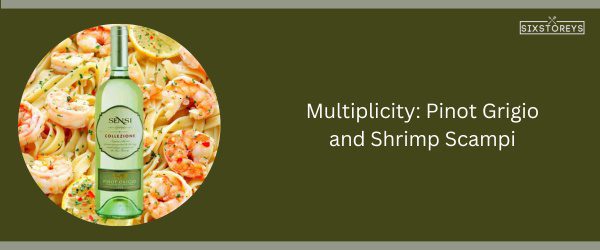 Pinot Grigio, known for its simplicity, is one of those wines that effortlessly tackles the various flavors that shrimp scampi brings to the table. This popular white wine, known as Pinot Gris in France, varies greatly from region to region. Its styles can range from light-bodied with crisp citrus notes in Italy, to full-bodied and floral in Alsace.
Its bright acidity and citrus character work like a squeeze of fresh lemon on the dish, thus cutting through the scampi's buttery, garlic-infused richness. The wine's subtly grassy undertones also pair well with the herbal flourish from the parsley garnish that often accompanies the dish.
18. Chardonnay and Shrimp Scampi: Unbeaten Traditional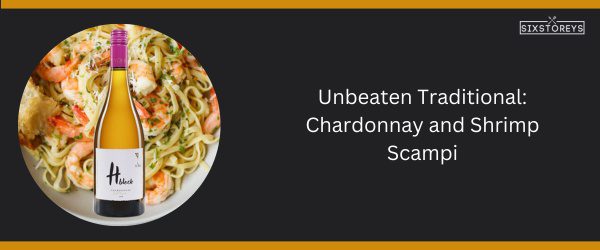 Chardonnay and shrimp scampi is an old-school pairing that effortlessly hits the spot. There's something about the way this classic white wine's buttery notes dovetail with the scampi's indulgent richness that feels undeniably right.
The full-bodied Chardonnay beautifully, complements the butter-infused shrimp with its broad range of intricate flavors - from tart green apple to ripe tropical fruit, from delicate lady's perfume to richly toasted oak. This diversity makes Chardonnay's complement to the scampi not just a wine pairing, but also a gastronomic adventure into the depths and breadths of flavors and aromas.
19. Soave Paired with Shrimp Scampi: Veneto Region's Special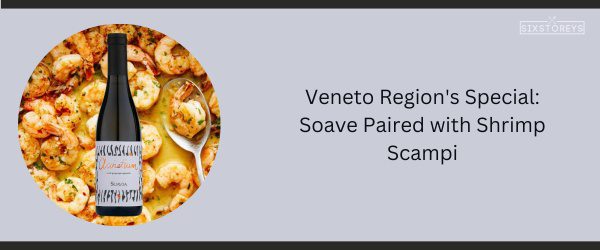 Soave - a crisp, dry white wine hailing from the Veneto region in Northeast Italy - uncorks a fabulous pairing with shrimp scampi. This wine is predominantly produced from the Garganega grape, lending it a distinct flavor profile that plays well with seafood dishes.
The wine is typically characterized by impressive mineral flavors, ripe pear and apple notes, and almond undertones, making it a lively companion for the shrimp scampi. It's high acidity and minerality balance the succulent shrimp, while its subtle fruitiness mirrors the dish's inherent sweetness. This gem from Veneto demonstrates why the simplicity of Italian cooking is depicted as a culinary masterpiece worldwide.
20. Chenin Blanc and Shrimp Scampi: The Balance in Every Sip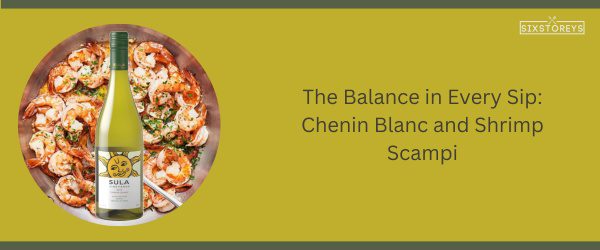 Chenin Blanc has an extraordinary knack for balancing richly textured dishes like shrimp scampi. This adaptable white wine, originating from the Loire Valley in France, graces the palate with various flavors mimicking the gastronomy of its region of production.
From dry and crisp with zesty lime notes, to honeyed with ripe nectarine undertones, Chenin Blanc effortlessly meets the rich complexity of shrimp scampi. This sweeter style delicately counterpoints the scampi's garlic intensity while highlighting the succulence of the shrimp, resulting in a well-rounded pairing full of delightful surprises.
21. Riesling and Shrimp Scampi: Thread of Sweetness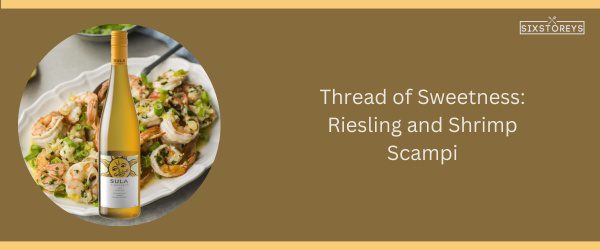 Daring yet duet-like, the pairing of Riesling and shrimp scampi offers a flavorful escapade for the adventurous palate. Known for its ability to range from bone dry to dessert wine sweet, Riesling's intense fruit flavors, underpinned by high acidity, make it a versatile partner to the rich scampi.
Vibrant notes of delicate blossoms, zesty lime, and crisp apples, intertwined with hints of petrol in aged Rieslings, pair beautifully with the scampi's garlic-infused butteriness. The wine's characteristic sweetness neutralizes the scampi's spice, while its innate acidity competently slices through the succulent shrimp's richness.
22. Falanghina Paired with Shrimp Scampi: Southern Italian Charm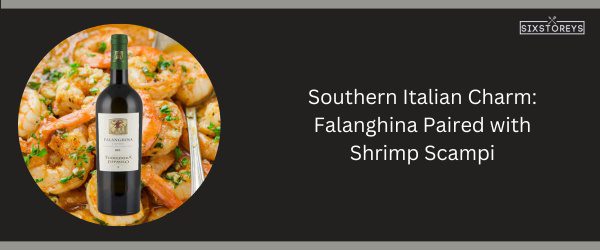 As a lover of Southern Italian delights, I was thrilled to find that Falanghina, with its robust and expressive character, pairs exceptionally well with shrimp scampi. This ancient Italian white varietal is known for its vibrant fruit flavors, subtle minerality, and mild spice.
Poured alongside scampi, Falanghina's signature aromas of ripe peaches, pears, and almonds, shadowed by subtle spice and floral undertones, beautifully mirror the shrimp's slight sweetness. Its fresh acidity and the faintest whisper of salinity uplift the dish's creamy, garlicky glory creating a perfect harmony on the palate.
23. Vermentino with Scampi: The Mediterranean Beauty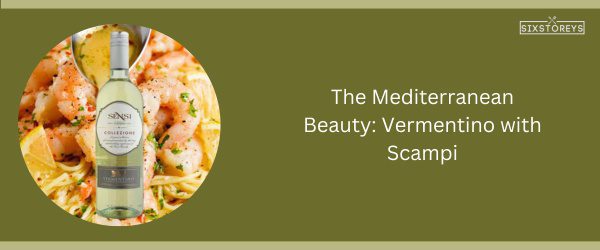 Sipping on a chilly glass of Vermentino as you tuck into a dish of lush shrimp scampi transports you to the alluring Mediterranean coast. Hailing from Sardinia, this sun-kissed wine with its sea-breeze freshness is a superlative seafood wine.
Typically crisp, with a medium body, Vermentino carries whispers of fresh herbs, almonds, and citrus fruits. These notes glide effortlessly alongside the shrimp scampi, collectively balancing the succulence of the shrimp, the creamy garlic sauce, and the al dente pasta. It's a Mediterranean match made in heaven!
24. Rosato and Shrimp Scampi: Summer Refreshing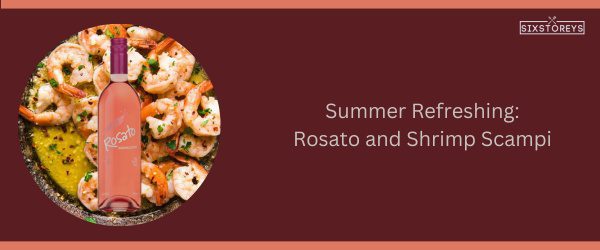 The vibrant and refreshing Rosato, Italy's rosé, makes a stunning partner for a hearty dish like shrimp scampi. With Rosato, the pairing becomes a delightful riot of flavors, from the vibrant fruitiness of the wine to the creamy, garlicky richness of the scampi.
Rosato's flavor profile is indeed welcoming for the dish, as it boasts a well-rounded mixture of cherry, strawberry, and citrus flavors with an underpinning hint of spice. This dynamic blend of flavors contrasts yet complements the buttery notes of shrimp scampi, enhancing the overall flavor experience. When it comes to pairing with scampi, Rosato shows that rosé wines can be joyous, refreshing, and utterly satisfying all at once.
25. Champagne and Shrimp Scampi: The Celebratory Favorite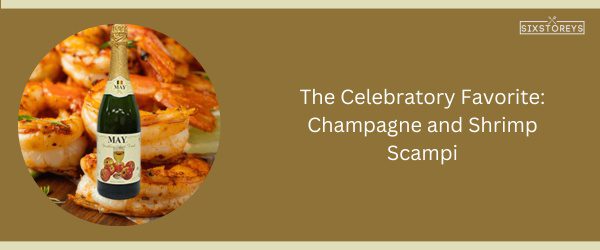 There's something unapologetically luxurious about savoring shrimp scampi with a glass of effervescent Champagne. The world's quintessential celebratory wine, Champagne with its bright acidity and delicate, persistent bubbles, offers a divine balance to the rich, buttery goodness of shrimp scampi.
The wine's complex attributes, from its lemony to green apple notes, creamy texture, and biscuit-like finish, all play wonderfully with the nuances of the scampi. The wine's high acidity and effervescence cuts through the richness of the dish, while the underlying complex flavors endow multilayered dimensions to the entire meal. This pairing embodies celebration, making everyday dining an unforgettable grand affair.
26. Beaujolais Nouveau with Shrimp Scampi: The Fruity Fun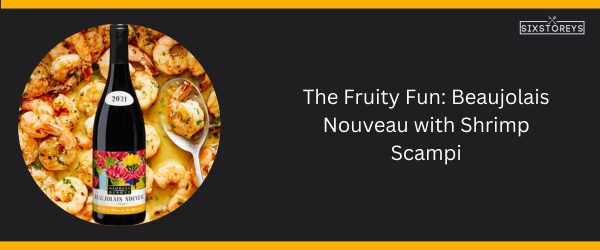 Beaujolais Nouveau, the youthful red from the Beaujolais region of France, delivers an unexpectedly delightful pairing with shrimp scampi. Known for its fresh and fruity profile, Beaujolais Nouveau is one of the few reds that can hold its own against the dish's complex flavors.
With dominant notes of ripe red fruits like strawberries and cherries, plus a hint of banana and bubble gum, this playful wine provides an exciting contrast to the savory scampi. Its light body and lively acidity further ensure that it doesn't overpower the delicacy of the shrimp, instead enhancing its sweet, juicy flavors. Beaujolais Nouveau and shrimp scampi is a pairing that underscores the mantra that life, just like wine, is here for fun.
Also Read: Best Wines With Pasta to Savor
Why the Right Wine Matters: Enhancing Your Shrimp Scampi Experience
Can a glass of wine make much difference to a dish like shrimp scampi? I can confidently say that the answer is yes, absolutely!
Wine, when paired deliberately, acts as a catalyst, elevating the flavors and textures of a dish to a whole new level. It's not just about washing down your meal, but rather about creating a harmonious blend of flavors that make each bite better than the last.
Take shrimp scampi for instance - inherently rich, buttery, and garlicky. These flavors could easily overwhelm a weakly paired wine, or worse still, the wine might overpower the subtle flavors of the juicy shrimp. But when you find the perfect pairing, it's like magic – the zesty citrus notes of the dish might be elevated, the creamy sauce made even richer, and the succulent shrimp given a new depth of flavor.
Imagine a burst of tropical flavors of a Sauvignon Blanc, cutting through the buttery richness of the shrimp scampi, or a sip of Champagne, with its crisp effervescence, cleansing the palate between mouthfuls. This is why the right wine matters! It's more than a beverage; it's a key player in your culinary experience.
How to Master Wine Pairings for Shrimp Scampi?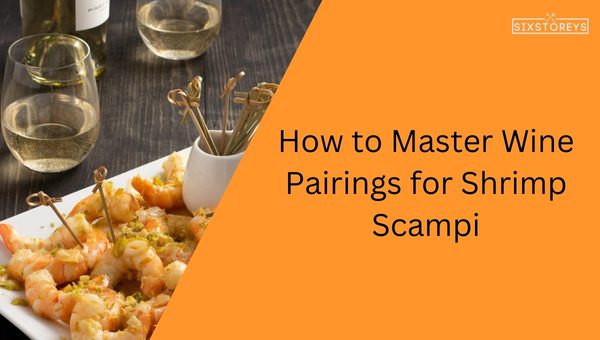 Mastering wine pairings can be a daunting task, with its complex terminology and endless varieties. But trust me, with a bit of knowledge, it can turn into a delightful habit. Here's a step-by-step guide to help you get started with matching wines for shrimp scampi:
Understand Your Dish: Shrimp Scampi is inherently rich with butter and olive oil, with underlying citrusy notes coming from lemon and a sharp kick from garlic.
Identify Compatible Flavors: Look for wines that can hold their own against the richer elements while elevating the more delicate ones. For example, dry white wines with good acidity like Sauvignon Blanc work well with this dish.
Experiment: Don't be afraid to venture into wines that aren't traditionally paired with seafood. Red wines, like a light Pinot Noir, can also complement the shrimp scampi, with its bright acidity and fruity flavors.
Think about the Occasion: Are you having a small party, an intimate dinner, or just treating yourself? Different scenarios can allow for different wine pairings.
Always enjoy the Process: The joy of discovering perfect wine pairings should never be overshadowed by the fear of getting it wrong. Remember, wine pairing is a subjective art and it's always about what tastes best to you.
Think of pairing wines with your shrimp scampi as a journey - there's a whole world of wines out there waiting to be explored, with a glass in your hand and a delicious shrimp scampi on your table, you're all set for a tasty adventure!
The Secret to Perfect Shrimp Scampi Wine Pairings: Uncovering the Science
Wine and food pairing is as much a science as it is an art, and if you've ever wondered about the magic behind the shrimp scampi and wine ensemble, let's delve into the chemistry that makes it tick.
When we talk about wine and food pairings, the goal is to bring out the best in both elements. It's about more than just flavor alone. We are also considering elements like body, acidity, sweetness, and amplification of subtler notes. Let's specifically peek into the liaison between shrimp scampi and wine.
Shrimp scampi is a dish that typically harmonizes the sweetness of shrimp with the zest of garlic, the tang of lemon, and the richness of butter. It's a balancing act of umami, sweetness, tanginess, and richness. What makes this concoction a rather flexible partner for many wines is its complexity.
Enhancing Umami
In terms of food and wine pairing, umami, the savory taste found in many foods, can be a challenge. Umami can interact with tannins in wine, leading to an unpleasant bitter taste. However, the umami in shrimp scampi is delicately balanced with a hint of sweetness that's innate in the meat. As such, it doesn't overpower the other elements and balances out with many wines.
Handling Acidity
Acidity plays a vital role in food and wine pairing. In shrimp scampi, we have the acidity from the lemon juice, which can "clash" with extremely tannic or sugary wines, throwing the whole balance off. However, it also brings liveliness to the dish, which can be matched with a wine with similar acidity levels, creating a harmonious balance. This is why you'll find that many wines suggested for shrimp scampi have a distinct note of acidity.
Why Does Shrimp Scampi Work So Well with These Wines?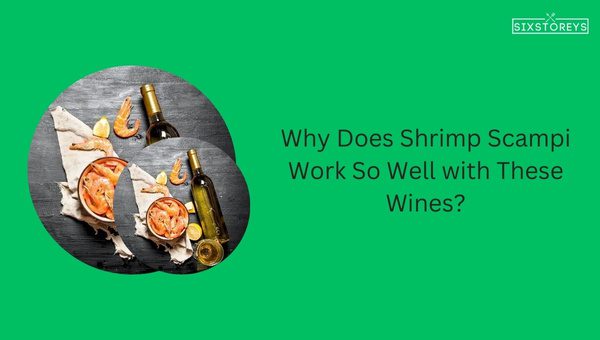 The beautiful symphony in pairing shrimp scampi with the correct wines comes from their interplay of flavors.
Complementing Flavours
A prime component of shrimp scampi is the richness of butter. In this case, the creamy texture and the heft of the dish often match well with whites. A white wine like Vermentino or Chardonnay, with its notes of citrus along with its weighty mouthfeel, beautifully complements the buttery shrimp scampi, each sip cleansing the palate for the next mouthful of food.
Enhancing Sweetness
A touch of sweetness in the shrimp finds a partner in wines such as Riesling. The sweetness in the wine dances beautifully with the sweet-umami flavor of the shrimp making each bite and each sip a reiterated delight.
Creating Balance
The key to understanding why these wines work so well with shrimp scampi is the balance they strike. Take the Sancerre, a wine known for its piercing acidity. This acidity is an asset to cut through the richness of the dish, lifting the flavors, as opposed to being a conflict.
In the harmonious combinations of shrimp scampi and wine, you're experiencing the balance of flavors, textures, intensity, and permissible contrast. A symphony of tastes where no instrument overpowers the other and each note brings forth a richer melody–that's the secret behind successful food and wine pairing.
How to Choose the Perfect Wine for Your Scampi Feast?
When choosing the perfect wine for your sumptuous shrimp scampi, there are a few key factors you should consider which will make the selection process easier.
Flavor Profile
Firstly, take into account the flavor profile of the wine. Is it rich or light, sweet or dry, fruity or citrusy, minerally or earthy? Consider the sauce of your scampi – if it's light and zesty, a wine with citrus notes might pair well. If it's a rich, creamy sauce, a fuller-bodied wine might be a better choice.
Balance
Secondly, the concept of balance is critical. The idea is not to let either the food or the wine overpower the other. For example, a robust red might overwhelm the delicate flavors of the shrimp, whereas a light white might get lost if your sauce is particularly bold.
Variety
Don't be afraid to experiment with variety. There are hundreds of grape varieties out there, all with distinct flavors and characteristics. While some are traditionally paired with seafood, there's no rule to say you can't go against the grain and try something different.
Now that you understand these aspects, making a decision will be easier. Remember, the best pairing is not always the most obvious one, and sometimes, the surprise element can bring a whole new level of enjoyment to your meal.
How to Experiment with Wine and Shrimp Scampi Pairings at Home?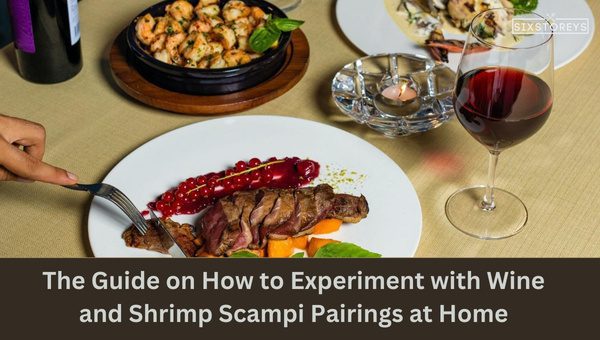 Experiencing the pleasure of a well-matched wine and food pairing is truly like a symphony in your mouth, where each note enhances and harmonizes with the other. Here's how you can experiment with wine and shrimp scampi pairings at home.
Try Different Wine Varieties
Start by selecting a few different types of wines – a mix of reds, whites, rosés, and maybe even a sparkling wine. Look for wines with different flavor profiles, levels of sweetness, and acidity, and see what works best with your shrimp scampi.
Pair with Different Sauce Varieties
Next, consider the sauce you are using in your shrimp scampi. A buttery, lemony sauce might pair well with a crisp white wine, while a spicy, tomato-based sauce might need a wine with more body and spice.
Keep Track
Keep a record of what you liked and what you didn't. This can be as simple as a quick note on your phone or as detailed as a full-blown wine journal with tasting notes.
Be Open
Most importantly, be open-minded. Traditional pairing rules, while helpful as guidelines, are not set in stone. Some of the best pairings may come from unexpected combinations.
This Shrimp Scampi Wine Pairing exploration is all about experimenting with different elements, finding what works for you, and inevitably making your dining experience more enjoyable. Remember, there is a world of wonderful wines out there waiting to be discovered, and your perfect match might just be an uncork away!
How to Impress Your Guests with Unique Shrimp Scampi and Wine Pairings?
Impressing your guests with a beautifully paired wine and food combination truly is an art. Here, I will share some unique pairings of shrimp scampi and wine that are bound to be a conversation piece at your next dinner gathering.
Start With Understanding Your Wines
Knowing your wines is the first step in making impressive pairings. The complexity and myriad flavors found in wine can create a symphony of taste, harmonizing with food to create a gastronomic experience that astounds your guests. Familiarize yourself with primary wine characteristics, from sweetness, acidity, and alcohol content, to tannin levels, and how these can complement or contrast your dishes.
Vinho Verde with Shrimp Scampi
The fresh and vibrant Vinho Verde from Portugal is a surefire way to treat your guests to an unexpected but truly delightful pairing. With its youthful green notes and slight effervescence, this wine delicately underscores the sweet succulence of shrimp scampi.
Viognier Paired with Shrimp Scampi
Here's an unexpected partner for shrimp scampi: the full-bodied Viognier. Bursting with stone fruit flavors and a creamy finish, it smoothly matches the rich, garlicky notes of shrimp scampi.
Pairing with Ingredients
Consider the main components of your shrimp scampi. Alongside shrimp, a prime ingredient is garlic, known for its robust and impactful flavor. Pairing garlic-rich foods isn't always easy, but certain wines do stand up to the challenge:
Beaujolais Nouveau and Shrimp Scampi
The exuberant fruitiness of Beaujolais Nouveau provides a sweet counterpoint to the savory, garlic-laden shrimp scampi. The wine's low tannins prevent it from clashing with the shrimp, making it a truly unique and guest-impressing choice.
Lastly, don't be afraid to experiment and let your palate guide you. After all, wine pairing is not a one-size-fits-all, but a vibrant exploration filled with unique tasting experiences.
Also Read: Best Red Blend Wines
Frequently Asked Questions
Why does wine pair so well with shrimp scampi?
The richness, acidity, and flavor attributes of different types of wines can highlight and complement the subtle flavors of shrimp scampi. The right wine can either balance out or enhance these flavors, leading to a more elevated dining experience.
How do I choose the right wine for shrimp scampi?
Look for wines that generally pair well with seafood. Wines with high acidity, or those that are light and crispy, tend to complement the buttery and garlicky flavor of shrimp scampi.
Does red wine work with shrimp scampi?
In general, white wines are often chosen for their capability to complement seafood dishes like shrimp scampi. However, pairing a lighter red like Pinot Noir can also work, thanks to its subtle fruity touch.
Can I pair champagne with shrimp scampi?
Absolutely! The bubbles in champagne can cut through the rich, buttery flavor of shrimp scampi, refreshing your palate after each bite.
Why is Sauvignon Blanc a classic pairing for shrimp scampi?
Sauvignon Blanc is known for its crisp, acidic profile which effectively cut through the richness of the scampi. It also often has citrusy notes that work excellently with seafood.
Is a sweet or dry wine better for shrimp scampi?
Most prefer dry wines to pair with shrimp scampi due to their ability to balance the dish's richness. However, a lightly sweet wine like a Riesling can provide a delightful contrast to the scampi's savory flavors.
Are there any Italian wines that go well with shrimp scampi?
Certainly, there's a wealth of Italian whites that pair excellently with shrimp scampi. Pinot Grigio, Soave, Vermentino, and others have profiles that cocktail well with the shrimp's delicate flavor.
How does rose go with shrimp scampi?
Rosé, especially those on the drier side, can work splendidly with shrimp scampi. Their robust character and bright acidity harmonize with the rich, garlic-laden scampi.
Can I pair spicy wine with shrimp scampi?
While spicy wines are not typically chosen for shrimp scampi, they can work depending on your personal preference and the specific flavors of the scampi. A spicy wine might compete with rather than complement the scampi flavors.
What are some unexpected but delightful pairings for shrimp scampi?
Experimenting with wine pairings can lead to delightful surprises. Lesser-known varieties like Godello, Sancerre, or a white Rioja can create a unique and memorable dining experience with your shrimp scampi.
Conclusion
After exploring this comprehensive voyage through the symphony of wines and their exquisite pairing with shrimp scampi, it's evident that the perfect wine can do wonders to enhance and elevate your dining experience. Whether it's a bottle of crisp white, a bubbly rosé, a light red or even a vibrant champagne, the key lies in matching the wine's unique characteristics to complement the seafood's light but rich flavors. Don't be afraid to dabble and experiment, for the joy of food lies in the discovery of new, delightful pairings.
So, go ahead and pour a glass from one of these wonderfully curated wines, grab a forkful of scrumptious shrimp scampi and revel in an extraordinary gastronomical journey. Remember, there's a whole world of "Shrimp Scampi Wine Pairing" waiting to be discovered!
Beverage Explorer and Tastemaker 🍻🥃🍷 Aman's quest for liquid delights knows no limits. From hoppy brews to aged spirits, he uncovers the tales behind each sip. His eloquent descriptions and accessible insights make every drink an adventure worth raising a glass to.