41 Best Red Blend Wines of 2023 [Prepare to Be Astonished]
Updated On: September 22, 2023
Unfolding a world of flavors in the caress of a single sip, red blend wines have long charmed my palate and ensnared my senses. These carefully curated selections aren't just mere beverages, they are an art form – telling stories, sparking moments, and leaving impressions that linger. The journey through the world of red blend wines is akin to an intricate dance, flowing seamlessly from one step to another as the composition of each blend reveals new twists in the narrative.
It's safe to say that the charms of the "Best Red Blend Wines" are as multifaceted as the granules of grapes that give birth to its taste. In this blog post, I'm excited to share with you my top picks in the adventurous realm of red blend wines.
Also Read: Best Red Wines at Costco
41 Best Red Blend Wines in 2023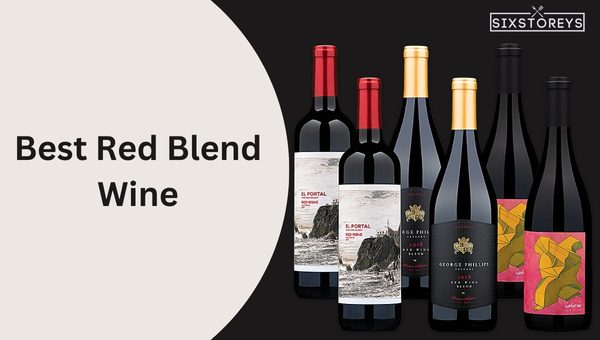 Are you a wine enthusiast ready to embark on a delightful journey, or a casual sipper looking to upgrade your vino game? Join me as we uncork and unravel the complexities of these 41 best red blend wines, a collection of my personal favorites that have enchanted my senses and tingled my taste buds.
1. Early Mountain Eluvium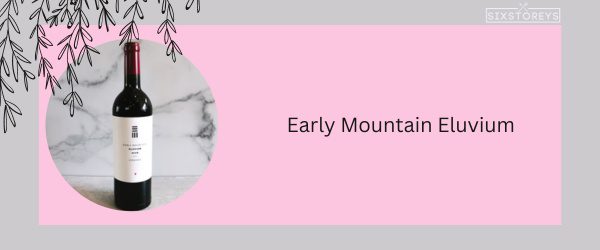 Often, a single sip of the Early Mountain Eluvium transports me back to the vineyard's serene vista nestling in the foothills of the Blue Ridge Mountains. Like the rural tranquility eloquently mirrored in their wines, the Eluvium red blend recites a sublime poem of the Virginian terroir.
This captivating wine is primarily a blend of Merlot and Petit Verdot, displaying an inviting, bright garnet hue. On the nose, it teases your senses with charming hints of dark berries, laced with seductive whispers of cassis and lavender, enticing enough to kindle curiosity.
Upon savoring, I experienced a rush of ripe, juicy plum, black cherry, and cassis enveloping my palate, encapsulating the essence of the Merlot. Accentuating it further were additives of cocoa and anise leveraged by the Petit Verdot. This cleverly layered complexity distinguishes the wine and leaves a lasting impression.
The wine's complexity is further enhanced by the hints of limestone and earthy undertones. These undertones bring a grounded quality, giving the wine a robust depth that, while enticing the experienced palate, remains pleasingly approachable for less seasoned wine lovers.
Every sip draws you deeper into its narrative with beautifully balanced acidity and soft, mature tannins. This leads to a surprisingly bright, yet sophisticated finish that leaves a lingering hint of cherries and blackberries in your mouth. This wine was undoubtedly made to delight your taste buds, but it's also robust enough to stand up to hearty meals. Whether it's a flavor-packed stew or a succulent roast, this Eluvium can undeniably elevate your dining experience.
2. The Language of Yes 'En Passerillage'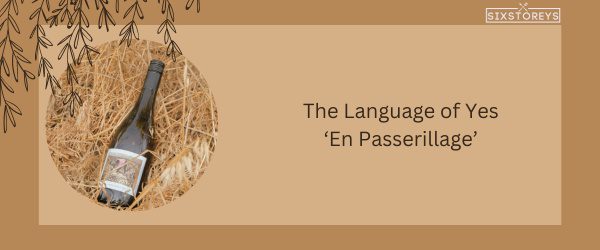 With a unique name that evokes intrigue, the Language of Yes 'En Passerillage' made me fall in love with its extraordinary attributes. The name itself translates to 'in passerillage,' suggesting the practice of letting grapes partially raisin on the vine to concentrate sugars.
As alluring as the art form it's named after, when poured, the En Passerillage presents a beautiful dark ruby color, akin to a gemstone gleaming in the early morning light. The color itself speaks volumes about the intricate depth of this wine and draws one in to explore more.
On the nose, it blossoms with intricate bouquets of ripe wild berries, hinting at the sweetness within. The scent of this poetry in a bottle blends with ephemeral floral notes of rose and violet, offering a tantalizing sneak peek into its promising flavors.
A wine lover will not be disappointed when they take a step further and sip this nectar from the gods. As I dove in, I was enthralled by a deeply-layered palate of beautifully ripe red and dark cherries, bolstered by succulent notes of blackcurrants.
Amid these voluptuous fruit flavors, you can discern a hint of spice and earthy undertones that add a layer of complexity to the wine. This melange of flavors creates a beautiful symphony, harmonizing well and giving this wine a unique character.
This wine feels like a dance across your palate, swirling and twirling through the music of the flavors, leaving a trail of tantalizing sweetness behind. Despite its seemingly sweet profile, it's beautifully balanced with just the right amount of acidity, leading to a lingering, velvety finish that will leave you yearning for another glass.
3. Messina Hof GSM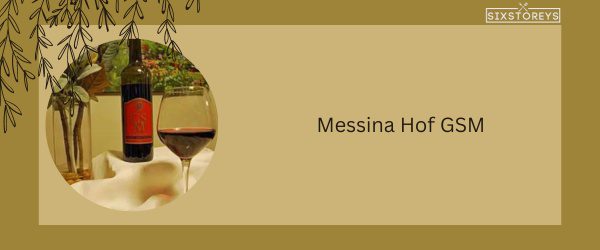 The moment you take a sip of the Messina Hof GSM, it's akin to divulging a brilliantly kept secret. Known for their dedication to creating wines of exceptional character inspired by family tradition, Texas winemakers Messina Hof capture the essence of Grenache, Syrah, and Mourvèdre in this charming blend.
Once in the glass, this wine's presentation is an intoxicating deep ruby color. The nose is a captivating swirl of dark berry aromas, with a subtle hint of plum that promises an indulgent sip. As I took my first taste, I was swept off my feet by lush, ripe plum and cherry flavors, further accentuated by soft, supple tannins.
Interwoven into this triumphant trio of grape varieties are nuanced notes of chocolate and spice, dancing across the palate in a playful exchange. What truly impressed me was the wine's exquisite balance and complexity. Perhaps it's the marriage of the GSM's fruit-forward flavors and yet an underlying sense of restraint that leaves one desiring that next sip.
With its silky-smooth finish, the Messina Hof GSM entices you to sit back, unwind, and appreciate the parade of flavors that this undeniably versatile blend brings to your table.
4. Gamble Family Vineyards Paramount Red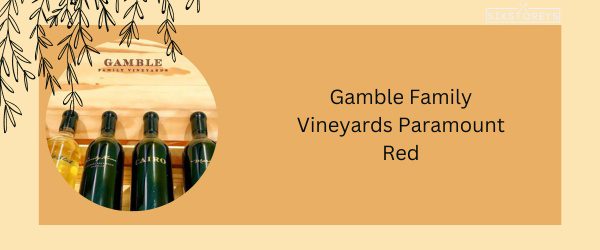 The Gamble Family Vineyards Paramount Red is nothing short of an intriguing voyage into the artistry of blending. A typical Bordeaux-style amalgamation, this Californian beauty harmoniously unites Cabernet Sauvignon, Merlot, Petit Verdot, and Cabernet Franc, creating an alluring narrative brimming with character.
The color - a deep crimson in the glass, leaves you reminiscent of velvet under candlelight. The aroma offers a tempting foretaste: abundant dark fruits, mocha, and the tailored addition of spices that send an echo of anticipation down your spine.
Now, to the best part - the tasting. This blend's backbone is its robust structure and valiant tannins, establishing a lavish foundation for its notable fruit flavors. Blackcurrant, blackberries, and plum flood your palate with bold richness, intertwined with earthy undertones.
There's a refined dance between the fruit and the bitter elements, neatly tied together with a faint yet unmistakable hint of sweet vanilla. But don't let the sweetness fool you - the wine wraps up with a lingering, almost teasing finish, leaving your senses captivated by this masterfully bold blend.
5. Boordy Vineyards Landmark Series Dry Bench Reserve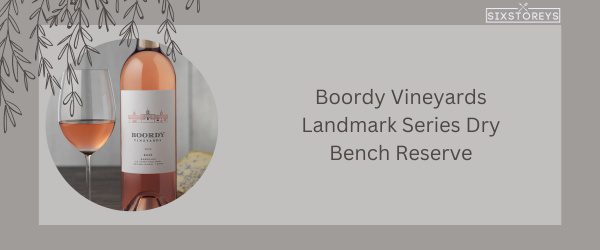 A proud product of Maryland, this blend is as grounded as the sturdy land from which it comes, blending Merlot, Petit Verdot, and Cabernet Franc.
Its commanding ruby-red color boldly arrests your attention, while its inviting aromas of plump red and black fruit effortlessly lure you in. The notes bring forth a tapestry of traditional plum, black cherry, and blackberry seamlessly woven together and softly veiled by a hint of spice.
When this blend meets your palate, it triumphantly delivers its ripe red fruit flavors with a slight edge of spice, finishing with an underlying note of sweet toasty oak. Harmoniously balanced tannins and acidity serve the dual role of softening the wine while adding depth and persistence to its structure.
This culmination results in a well-rounded, vigorously fruit-forward wine that ends on a high note with an unexpectedly bold finish. Whether served at parties or intimate gatherings, the Dry Bench Reserve is likely to steal the show.
6. Port of Leonardtown Winery Old Line Red Wine
The Port of Leonardtown Winery Old Line Red Wine from Maryland, USA is a blend that, despite its informative name, unveils a sea of mystery with each sip. Showcasing the synergy between Merlot, Petit Verdot, and Malbec, it gives a full-bodied taste bearing the signature of its winemaker's bold vision.
This wine displayed a deep garnet hue when poured, reminiscent of berry-stained twilight. A whiff was like wandering through a bustling spice market with hints of ripe fruit carrying from some unseen distance.
The sip was an explosion of robust red fruit layered with crushed herbs and spices. Jam-like dark fruits wrestled with twirls of cinnamon and clove, while a distant echo of caramel sweetness seemed to hover, leaving a pleasant surprise on the tongue.
This old line was a treat, creating a balance that plays those contrasting elements of each other, producing an approachable, pleasing mouthful. It's moderate tannins and bright fruit flavors give it a high recommendation mark on the drinkability scale in every category.
7. Farmhouse Vineyards Jack Knifed GSM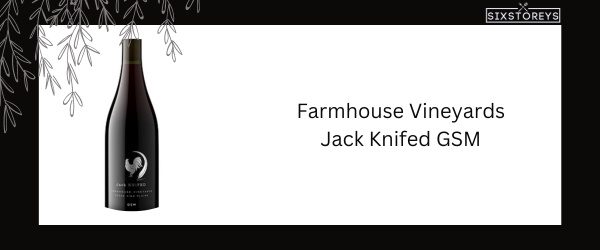 A roller coaster of flavors, the Farmhouse Vineyards Jack Knifed GSM is that daring blend that turns your wine experience into an adrenaline adventure. It's a bold coupling of Grenache, Syrah, and Mourvedre, living up to the GSM monogram, and it presents robust fruit that goes hand-in-hand with an almost wilderness character.
When poured, its color was like a twilight canopy in the autumn forest, greeting the senses with ripe fruits and earthy accents. The nose picked up black cherry, ripe plums, and a whiff of vanilla that snuck in with a burst of earthy undertones.
As I took a sip, it welcomed my palate with a popping eruption of flavors. Like a carnival lineup, ripe blackberries, red cherries, and wild plums embarked on a parade, while the spices and minerals formed the festive audience, creating a wonderfully balanced sip.
The Jack Knifed is a wine that has a full-bodied grip without letting go. It leaves you utterly charmed with its powerful show of tannins, and it retains an approachable, soft finish, leading to an almost paradisiacal wine experience.
8. Windridge Vineyards Seneca Red Wine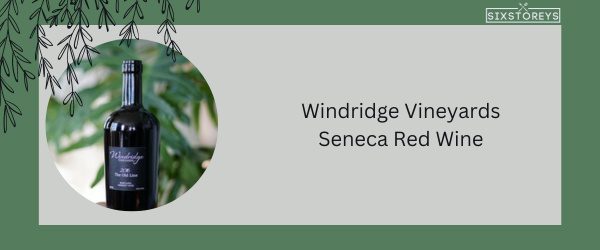 The Windridge Vineyards Seneca Red Wine is an intoxicating poetic blend that champions the art of winemaking. A bountiful fusion of Cabernet Sauvignon, Merlot, and Cabernet Franc, it delivers a myriad of flavors that waltz harmoniously across the palate.
Drawn into the glass, I noticed how it appeared like a pool of well-aged mahogany, veiled in an entrancing mystery. As I leaned in for a sniff, the vibrant notes of blackberries and currants met my senses, intertwined with an endearing hint of vanilla and a distant whisper of cocoa.
The tasting journey was an unscripted ballet of flavors. Lush berries collided with the rustic earthiness of subtle mineral tones, each sip punctuated with the smoothest whisper of dark chocolate. This harmonious dance of elements successfully navigates your taste buds through a chorus of assertive tannins and a kaleidoscope of flavors, leaving a well-balanced blend in its wake.
Celebrated for its boldness, the Windridge Seneca also holds a certain elegance that makes it a marvel to drink, irrespective of the occasion. The wine is a truly splendid achievement of balance, offering a tasting experience that lingers long after the last sip.
9. C.L. BUTAUD Cease & Desist Red Blend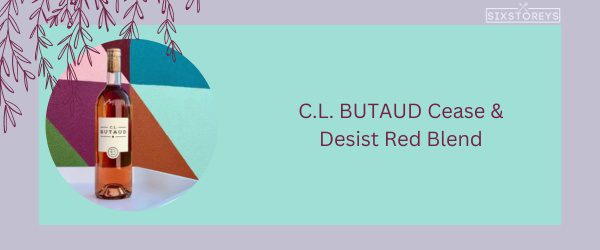 Texas-made C.L. BUTAUD Cease & Desist Red Blend is a decidedly engaging expression of winemaker Randy Hester's adventurous spirit. This particular blend of Grenache, Mourvedre, Syrah, and Cinsault brings to life a symphony of flavors that dance intricately across the palate.
It's a beautiful garnet color in the glass, the red blend proffering the allure of a funfair in a single pour. On the nose, the bouquet of ripe cherries and blackberries is perfectly melded with a tantalizing hint of oak, promising an enticing taste expedition.
Each sip was a wonderful play of ebbs and flows between fruity and oaky elements. The bold tones of ripe blackberry play a sensual tango with subtle undercurrents of herbs and dark chocolate. The wine is vibrant yet holds an undeniable elegance, with perfectly balanced tannins and acidity that serve as the backbone of its character.
The Cease & Desist Red Blend is as much a conversation starter as it is a palate-pleaser. It leaves a distinctly memorable impression - expressive, bold, subtly elegant, and incredibly satisfying.
10. Stolpman 2021 G-S-M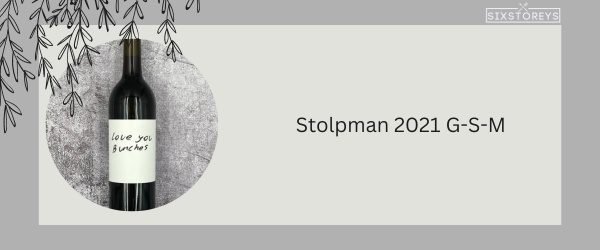 Barely contained within quietly luxurious aesthetics, the Stolpman 2021 G-S-M is a star-studded blend of Grenache, Syrah, and Mourvedre. From the prestigious soils of Santa Barbara, California, the G-S-M captures the essence of its origin, weaving a mesmerizing tapestry of flavors.
In my glass, it flaunted a charming garnet hue, beckoning me with its enrapturing allure. On the nose, the seductive festival of spice-soaked dark fruits promised an exciting rendezvous with my taste buds.
The first sip revealed a delightful medley of flavors, from ripe dark forest fruits and berries to a delicate peppery edge. It was as if I could taste the sunlight and the cool coastal climate captured in a delightful fusion. The subtle nuances of earthiness provided an elegant finish, etching an unforgettable mark on your sensory memory.
The Stolpman 2021 G-S-M is not just a beautiful composition of three grape varieties; it's a tasting experience that transports you to sunnier climes with every sip. A luscious, unhurried indulgence that expresses sheer elegance and complexity in a glass.
11. Peterson Vignobles Red Wine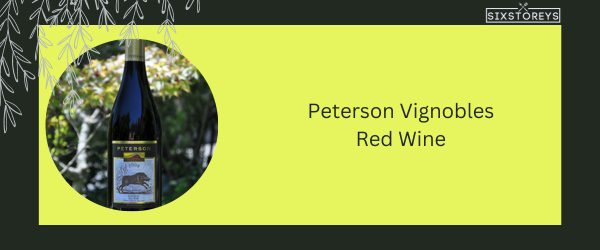 The Peterson Vignobles Red Wine, all the way from the esteemed vineyards of Bordeaux, is one such blend that has left a memorable footprint on my wine-tasting journey. This blend harmonizes the virtues of the Cabernet Franc and Merlot varieties into an exotic symphony of taste that elegantly dances on your palate.
Colored as vibrant as a flushed sunset, this omni-seasonal delight starts with a seduction of the sense of smell. The aromas are a unique musical composition of ripe and luscious black-fruit harmonies, counterpointed by the occasional high note of fragrant herbs, setting the stage for a truly memorable tasting experience.
As I took the first sip, a rush of intense flavors came forth. The remarkably juicy blackberries' succulence and blackcurrant's tanginess stand out, tangled with the earthy notes of herbs, leaving a delightful tingle on the tongue. Intriguingly, amidst the fruity and herby richness is a barely detectable gentle caress of dark chocolate, a touch that solidifies the complex persona of this blend.
The Peterson Vignobles Red Wine displayed a beautifully balanced act of the sophisticated fruity flavors and tannin's rounded texture - a delicate dance that climaxes into a crescendo during the finish, leaving a pleasant and enduring aftertaste.
12. Kalasi Kanchi Heritage Reserve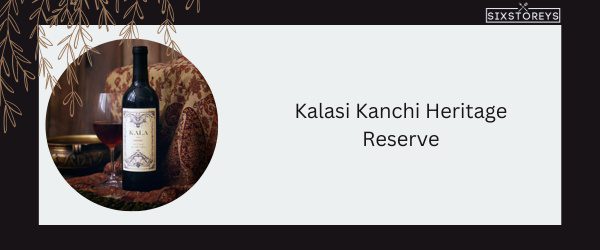 The Kalasi Kanchi Heritage Reserve is a bold discovery from the world of blends, cajoling even the most composed wine enthusiast's senses. It unites Cabernet Sauvignon, Malbec, Syrah, and other red raspberry varieties in a lavish display of virtuosity that entices you right from the first visual contact.
When poured into a glass, this rich blend beams a dark ruby color that's as intriguing as the enigmatic taste it exudes. As I took the first whiff, an aggressive swirl of captivating aromas greeted me - a fusion of dark and ripe berries, exquisitely underscored by intriguing tertiary notes.
The tasting promised a unique thrill. Robust and ripe dark fruit flavors adorned the foreground, mingling with the heady intensity of the earthy undertones and herbal infusions. Complementary to all these components, a gentle touch of smoky oak consolidated the rich complexity of this blend.
This Heritage Reserve's tannin's warmth is as enduring as the blend name suggests - lasting long after the wine has made its journey down the palate, leaving an inviting invite for the next sip on the tongue.
13. Palmeri Front Porch Farm Red Wine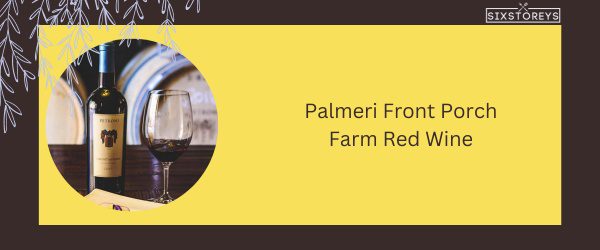 From California's heartlands, another blend that captured my imagination and taste buds is the Palmeri Front Porch Farm Red Wine. Mainly a Cabernet Franc and Merlot blend, it holds a taste that is pleasingly consistent and effortlessly addictive.
Peeking through the glass with its lively red hue, the Front Porch offers a tantalizing bouquet of ripe red fruits, beautifully married with subtle notes of sweet spices like cardamom and vanilla. The upfront candor in the aroma coaxes a smile onto faces, preparing the palate for an equally delightful experience.
The first sip does not disappoint. I was greeted with a mingling of flavors that ranged from fresh seasonal red berries to sunlit ripened plums. The quintessentially fresh fruit base was beautifully balanced by subtly touched brewed spices, which lent an exciting edge to the wine.
The finale had a soft texture, rounded off with a balance of tannins and acidity, leaving a pleasant, smooth finish. With every sip, the Front Porch cements its position as the go-to option for first-time enthusiasts or connoisseurs looking for a gratifying everyday wine.
14. Pollak Vineyards Meritage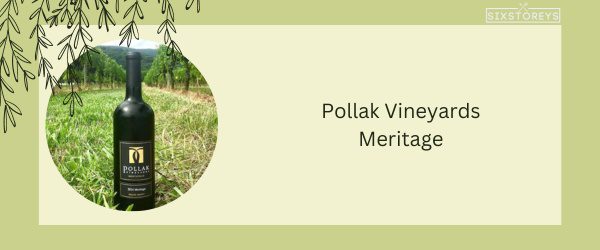 The herculean class act of the east coast, Pollak Vineyards Meritage is a red blend that seriously challenges your palate, yet it's still a bashful treat. This tangle of Cabernet Franc, Cabernet Sauvignon, Merlot, and Petit Verdot is like a balanced see-saw, swaying between fruits, herbs, and spices.
A deep, ruby red when poured, it's the kind of wine you lose yourself in as you stare into the glass. It greets your nose with a medley of blackberry and ripe plum, breaking into the spicy warmth of clove and pepper, a tantalizing hint of the spectacle that awaits.
The first sip was like diving into a deep sea of extraordinary flavors. I tasted the ripeness of summer fruits, a bite of herbaceous freshness, and a shake of exotic spices. This balance makes the Meritage both a stand-alone delight and a worthy companion to a range of meals.
Bold without being too forward, this wine leaves a serenade of tastes in its finale. Its tannins leaned on the gentler side, crafting a well-rounded, smooth finish that lingered on my palate, beckoning for another sip.
15. Flora Springs Trilogy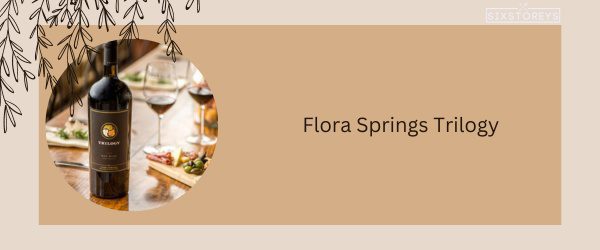 Trilogy by Flora Springs is a class apart. This Bordeaux-style blend, an opulent fusion of Cabernet Sauvignon, Merlot, and Malbec, is a testament to the winemaker's skill and the perfect embodiment of California winemaking.
Visually, the Trilogy is a seductive maroon that glows in the glass, inviting the viewer to explore further. On the nose, it unfolds an alluring medley of freshly ripened blackcurrant, spicy clove, and comforting vanilla - reminiscent of a warm country kitchen.
As I took my maiden sip, my senses were first tickled with the taste of spiced dark fruit, followed by the warm and earthy undertones of subtle toasted oak. The intensity of flavors, yet their harmonious blend, imprints a unique character on the tongue. Every subsequent sip unravels the layers intricately woven into this elegant wine - dark fruit, spice, a hint of oak - playing an exhilarating game with your palate.
The tannins are bold but well-integrated, giving the Trilogy its velvety finish and full-bodied opulence. Whether you relish it on its own or pair it with a meal, Flora Springs Trilogy offers a memorable wine-drinking experience, leaving an aftertaste that lingers long after the glass is empty. Much like a well-composed symphony, it leaves you in a delightful daze, cherishing the flavorful ride it just offered.
16. Esteban Martin Garnacha Syrah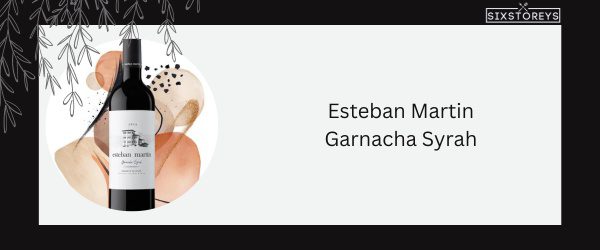 Esteban Martin Garnacha Syrah makes a powerful statement of Spanish elegance. This robust blend of Garnacha and Syrah from the sun-kissed vineyards of Carinena offers a truly delightful tasting experience.
When poured into the glass, it glistens with a radiant ruby hue, the attractive glimmer hinting at the charming flavors within. Aromatically, the blend offers an enticing mix of ripe berries and softly fragrant spices, enough to make one anticipate the flavors it promises.
The moment I tasted this Spanish marvel, a rush of ripe, juicy berries enveloped my taste buds, harmoniously accompanied by a subtle spice. The gorgeous fruity notes blend generously with a hint of spice and surprising floral undertones, shaping a panorama of flavors that keep evolving in your mouth.
However, what truly sets this blend apart is its deep, intense finish. The symphony of taste concluded on a rich, harmonious note as the ripe fruit flavors left an enveloping aftertaste. The elaborate dance of flavors, coupled with soft tannins, works wonders in embedding this experience deep into your memory.
17. Pedroncelli Sonoma Classico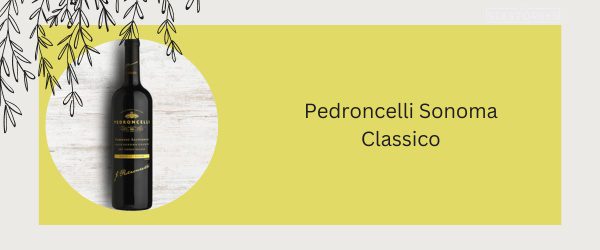 The elegance and charm of the Californian wine scene translate beautifully into the Pedroncelli Sonoma Classico. Crafted from a blend of Merlot, Syrah, Zinfandel, and Sangiovese, the Sonoma Classico embraces the best characteristics of each grape to reveal a magical potion.
Visually, the blend is a bold, vibrant ruby, shimmering brightly in the glass. On the nose, it painted a vivid picture of frolicking in a berry orchard, with comforting undertones of soft, toasted spice.
With the first sip, there was an eruption of flavors on my palate. The taste of fresh, bold, black fruit played a tantalizing tango with the rustic charm of soft, toasted spice. The beautifully balanced flavors danced intriguingly across my palate, each sip revealing a new dimension of the blend's character.
What I loved the most about this Californian beauty was its versatility. The Sonoma Classico is as apt a choice for a casual mid-week sip as it is for a weekend dinner party, making it a must-have addition to every wine enthusiast's collection. Its approachable complexity makes it appealing to seasoned wine lovers and beginner drinkers alike.
18. William Chris Vineyards Enchanté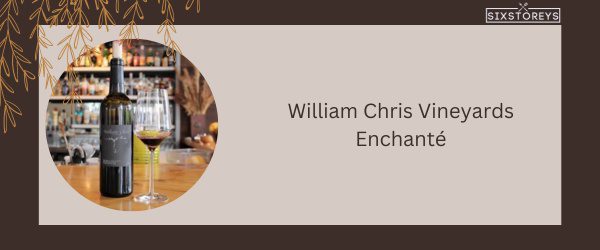 From the famous wine-growing region of Texas, comes an exciting blend of Mourvédre and Merlot: the William Chris Vineyards Enchanté. This elegantly crafted red blend is indeed a dance of captivating flavors that enchanted my senses every single time.
Enchanté greets you with a vivid ruby hue that looks like a glassful of intoxicating sunshine. The nose is enticingly packed with an array of ripe berries, dark cherries, and a touch of alluring spice - building anticipation for the enchantment to follow.
Upon sipping, Enchanté proved to be a well-structured wine that beautifully balances its fruity and spicy elements. The taste of ripe dark fruits and cherries paints a lavish canvas that's highlighted by subtle spices and nuanced earthy undertones. The tantalizingly layered flavors sway rhythmically around your palate, resulting in a memorable tasting experience.
The wine is medium-bodied, with a gentle but persistent grip of tannins that lends Enchanté a smooth, long-lingering finish. This versatile wine pairs well with a variety of dishes, but it's also charming enough to be enjoyed by the glassful on its own.
19. Margerum 2018 M5 Reserve Red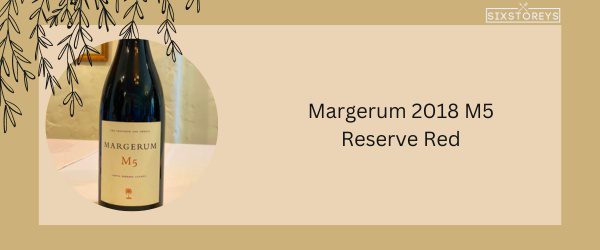 A wine that resonates with the true Californian soul, the Margerum 2018 M5 Reserve Red is a blend of Grenache, Syrah, Mourvèdre, Counoise, and Cinsaut. A symphony of grape varieties, the M5 Reserve Red unfolds into a sensual dance of flavors that leaves a lasting impression.
This wine draws the eyes with its deep garnet color, beautifully lending an air of allure and mystery. On the nose, it fills your senses with a tantalizing array of ripe dark fruits with a subtle hint of cocoa and earthy tones.
The tasting journey of this blend is an exhilarating ride. The initial sips introduce a medley of juicy black cherry and plum flavors that are skillfully layered with earthy notes and cocoa's comforting warmth. It's balanced acidity and well-rounded tannins contribute to a rich, well-structured body that cascades into a velvety, lingering finish.
The Margerum M5 Reserve Red is a memorable and sophisticated wine-drinking experience, inviting you to discover and relish its layered complexity.
20. Bedell Cellars Musée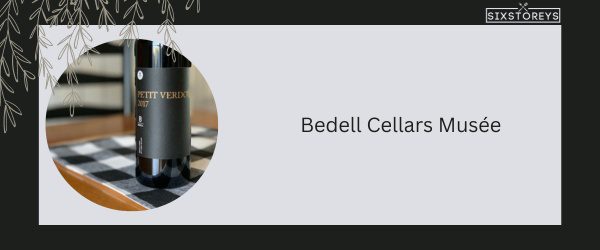 The North Fork of Long Island is graced with a gem that boasts an artistic touch - the Bedell Cellars Musée. A blend of Merlot, Petit Verdot, and Malbec, the Musée is a world-class wine that delivers a complex and sensory experience.
Musée holds a captivating allure - a stately garnet red that glistens enticingly when poured into a glass. It woos your senses with the exquisite aroma of ripe berries, fragrant plum, pepper, and an appealing hint of earthiness.
The palate is treated to a vibrant balance of flavors. The ripe feel of raspberry and plum greets the tongue first, masterfully intertwined with the pepper's spiciness and a delightful earthiness that adds depth to every sip.
This red blend's backbone is its strong tannins that lend a robust structure to the wine, resulting in a well-rounded wine with a satisfying, enduring finish. The Bedell Cellars Musée is not just a glass of wine - it's an artwork that skillfully involves all your senses, imprinting an unforgettable tasting experience.
21. Robert Mondavi Winery Napa Valley Red Blend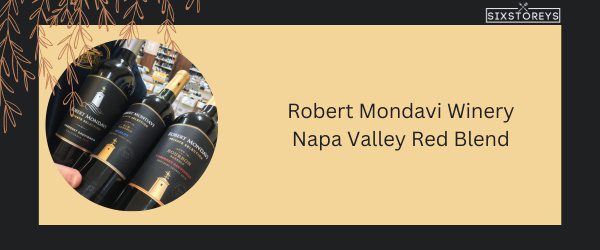 The renowned Robert Mondavi Winery in the heart of Napa Valley graces us with a beautiful red blend that embodies the essence of Californian winemaking. This blend composes a variety of grapes, including Cabernet Sauvignon, Merlot, and Petite Sirah to name a few. Each grape contributes not just to the taste, but to this beautiful tapestry of flavors that make it a truly memorable wine.
Pouring this wine into a glass, I've been captivated by its deep ruby color. On the nose, it unravels the story of Napa Valley with its aromatic bouquet of dark fruits layered with the unmistakable note of toasted oak, a delightful whisper of vanilla, and a pinch of spice.
On the palate, the deep flavors of blackberries and plums come alive, harmoniously mingling with the bold undertones of toasted oak and spice. The resulting taste is a masterful blend that's both powerful and graceful, the distinctive flavors dancing beautifully on the palate. The full-bodied mouthfeel, soft tannins, and balanced acidity lend a great structure to the wine, culminating in a wonderfully long, fruit-forward, and toasted oak finish.
22. Hilmy Cellars Politics and Religion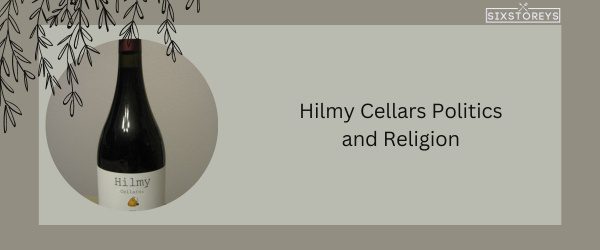 Taking a playful approach to names, the Hilmy Cellars Politics and Religion wine is no laughing matter when it comes to its flavor profile. Composed of Grenache, Mourvedre, Syrah, and Viognier, this Texas blend brings a surprising sophistication to your table with its well-paced complexity.
The inviting ruby hue of the wine holds an enigmatic charm while the nose is laden with ripe dark berries, accented with hints of herbs and cocoa. This stylish bouquet promises an invigorating tasting journey that doesn't disappoint.
The wine strikes a beautiful balance on the palate with the bold, juicy flavors of blackberries romancing delicate undertones of herbs and spice. The expressive fruitiness is wrapped up by a touch of cocoa that gives the wine a distinct, rounded taste. It is medium-bodied with finely tuned tannins that leave a lasting impression.
23. Marietta Cellars Armé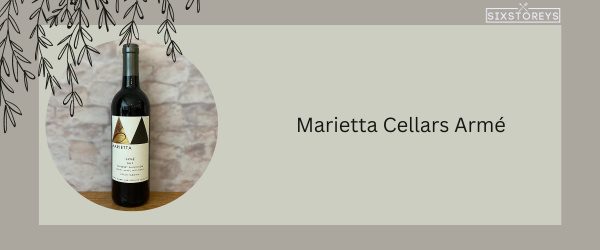 Hailing from the sunny vineyards of California, the Marietta Cellars Armé is a loving tribute to the winery's Italian heritage. This Bordeaux-style blend masters the art of synchronizing the flavors of Cabernet Sauvignon, Merlot, Malbec, and Petit Verdot.
Armé greets you with its deep garnet color that speaks volumes of the opulence that is to follow. The nose of this robust red blend is like a fragrant bouquet, swaying with dark fruits and spice.
When tasted, this wine comes alive with beautifully balanced notes of luscious ripe fruit and indulgent spice. Dark plums, blackberries, and cherries leap onto the tongue, intermingling with undertones of nutmeg and cloves. This medley of flavors is nestled in a firm structure of plump tannins, giving the wine a round fullness that enchants the palate. The perfect balance between its fruity sweetness and subtle spice lends a velvety depth to the wine that makes it a true treat to sip leisurely. The medium-bodied character capped with a lengthy, spice-tinged finish further enhances its overall appeal. Embodying a vibrant spirit, Armé exhibits a bold character steeped in elegance that bids you relax, sip, and savor.
24. McBride Sisters Collection Red Blend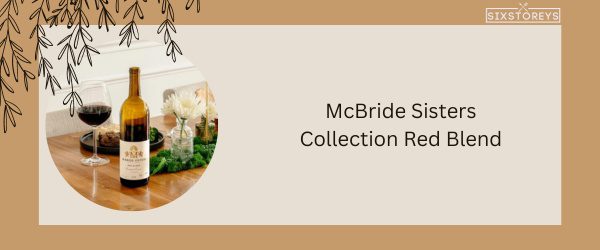 The McBride Sisters Collection Red Blend is an enchanting wine, born out of the passion of real-life sisters intent on breaking the traditional norms of the winemaking industry. The blend consists of Merlot, Zinfandel, Malbec, and Petit Sirah, each grape variety meticulously chosen to add depth and character to this soulful blend.
Pouring the McBride Sisters Red Blend into a glass reveals a deep garnet color, hinting at the rich experience that awaits. The nose is an intoxicating mix of dark black fruits, dominated by blackberries and black cherries, beautifully supported by hints of warm spices and soft oak.
The first sip brings instant joy. Bright, rich, and smooth, it gently bewitches the senses with its luscious dark fruit flavors, subtly punctuated by spice. Its velvety texture caresses the palate, the soft tannins, and balanced acidity providing a harmonious platform for the unfolding of this flavor symphony. The finish is medium to long, with the intoxicating flavors of the ripe fruit and the kiss of spice lingering, making you yearn for another sip.
Also Read: Best Semi Sweet Red Wines
25. Mount Peak Winery Gravity Red Blend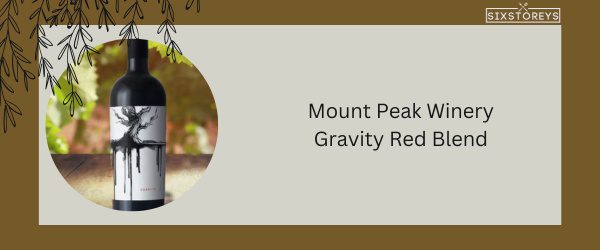 Mount Peak Winery Gravity Red Blend is a wine of immense character. This Californian blend is a towering force, a bold statement of the winery's dedication and respect towards the time-honored winemaking traditions.
Dressed in a deep ruby robe, Gravity intrigues and invites. The nose is an abundant mix of dark summer fruits like black cherries and plums, with evocative notes of dark chocolate and sweet spices adding depth and intrigue.
The palate unfolds like a great saga. The bold, ripe flavors of dark fruit coalesce with heady notes of spicy oak, the beautifully choreographed dance of flavors making it impossible to ignore. Robust and flavorful, yet showcasing a beautifully balanced structure, Gravity brings a confident pattern of weight and depth to explore. It delivers a strong, arresting taste that is both comforting and exciting. The beautifully integrated tannins and the lengthy, luxurious finish promise a memorable wine journey.
26. Chateau Roudier Montagne Saint-Emilion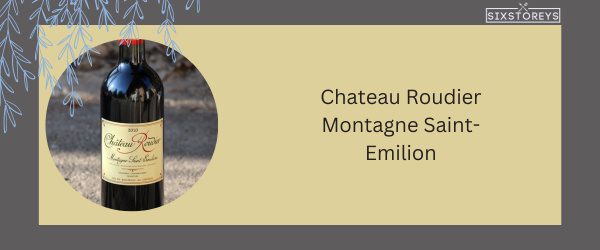 There's simply no denying the allure of French wines, and the Chateau Roudier Montagne Saint-Emilion is a notable testament to this assertion. This blend, an elegant composition of Merlot, Cabernet Franc, and Cabernet Sauvignon, showcases the best of the Bordeaux region.
The magic begins as you pour the wine, its mesmerizing dark, ruby color capturing the essence of Bordeaux's charm. The nose springs forth a seductive bouquet of ripe blackberry and black cherry, tingled with notes of savory herbs and a truffle undertone.
As the flavors dance on the palate, the entry is intense and fruity, the delicious ripe flavors indulged by subtle notes of toasted oak and cocoa. Medium-bodied with a fine structure, this wine strikes a beautiful balance on the palate, the interplay of its bold black fruit flavors and the soft tannins forming the harmonious melody. The finish is enduring and pleasant, reminiscent of the wine's sophisticated charm and elegance. This is a classic choice for those who appreciate the traditional nuances Bourbon wines bring to the table.
27. Orin Swift Papillon Red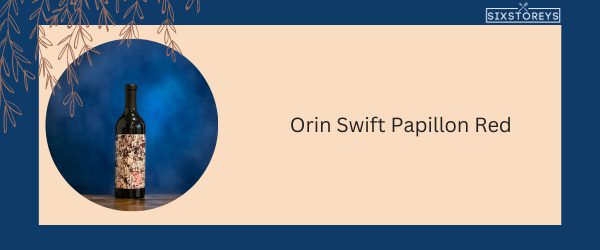 I fondly remember the deep satisfaction that washed over me when I sampled the Orin Swift Papillon Red for the first time. This amazing blend of Bordeaux varietals, led by Cabernet Sauvignon and Merlot, is an absolute delight and a superb representation of Napa Valley's prowess.
On visual inspection, Papillon boasts an almost brooding, saturated crimson color that immediately captures interest. The nose offers a rich and complex mix of dark fruits, wood spice, and a hint of vanilla creating an intricate bouquet that immediately begs for a taste.
The palate is greeted by an opulently textured mix of blackcurrant, cherry, baking spices, and a hint of mocha. Every sip is like a dip into a decadently rich and luscious pool, full of intense yet balanced flavors. With a firm structure and polished tannins, the weighty mouthfeel of this full-bodied blend envelops the senses in a luxurious embrace. The finish is gracefully long, a lingering memory of a well-crafted, harmonious, and indulgent experience. If you're seeking a bottle that shows Napa Valley at its best, the Orin Swift Papillion Red is a fantastic choice.
28. Kirkland Signature Series Columbia Valley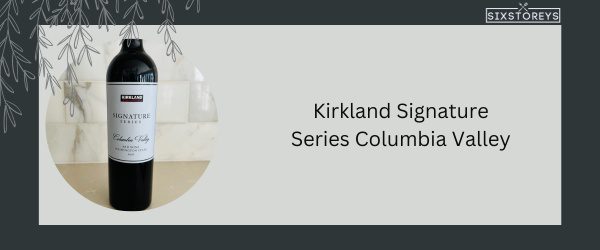 Exploring the wonders of wine doesn't always have to burn a hole in your wallet, and the Kirkland Signature Series Columbia Valley red blend is a testament to this. A harmonious blend predominantly of Merlot and Syrah, with a supporting cast of other varietals, this wine is fantastic value for its price.
To the eye, the blend sparkles in a vibrant ruby red, an enticing prelude to the symphony of flavors that lies within. The aromatic profile immediately draws you in, with delightful blue and red fruit notes on the nose.
Upon tasting, the delightful fruit-forward palate truly shines, revealing a vibrant mix of ripe red fruits and subtle spice. The medium body and silky tannin create a balanced, gratifying whole that belies its accessible price tag. The excellent balance is reflected right through to the lingering, pleasantly dry finish. An approachable, wholesome wine that pairs wonderfully with a range of dishes, the Kirkland Signature Series Columbia Valley is sure to be a crowd-pleaser.
29. Dancing Flame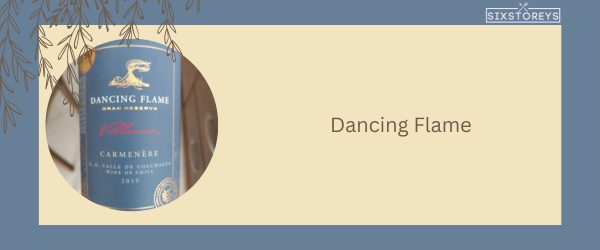 Every time I have sipped upon the Dancing Flame, I've been reminded of the lively, joyous nature that a good wine brings to the table. This Chilean blend, a fusion of Cabernet Sauvignon and Merlot, is a vivacious dance partner to your palate.
Visual delight begins with the pour, showcasing a vibrant, deep scarlet color. It pulls you into a lively aroma landscape, intermingling red and black fruit notes with a whisper of unexpected spice.
Take a sip, and the Dancing Flame truly starts its performance on your palate. The wine unfolds gracefully, letting the bright red fruit flavors pirouette joyfully before acquainting them tastefully with a touch of sweet spice. Good acidity and approachable tannins maintain the smooth tempo of the wine, culminating in a light yet spirited finish. A wonderful embodiment of its name, the Dancing Flame leaves you with a spirited performance that lingers on the tongue and in the memory.
30. Tenuta Luce Lucente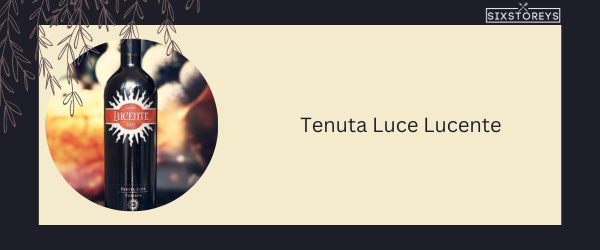 Tenuta Luce Lucente is a wine that serves as an homage to the Tuscan countryside – a delicious testament to the high-quality grapes cultivated in its vineyards. This Italian blend will surely steal your heart with its harmonious coupling of Merlot and Sangiovese grapes.
This elegant wine entices the senses with its deep ruby color that shimmers with luminous intensity. The nose is a melange of aromas – ripe black cherries, plums, and enticing spices that promise a feast for the palate.
The silken smooth flavor profile awakens on the palate with a deep, mixed berries core that gracefully merges into tones of sweet spice, culminating in an irresistible medley. This blend is wonderfully complex and bold, yet retains a sense of balance and finesse that is so quintessentially Italian. Full-bodied with finely-grained tannins and a lively acidity to balance things out, this wine provides a harmonious palate experience. Ending on a long, lingering finish, it leaves you with the lasting memory of its robust character and intoxicating charm.
31. McPrice Myers Paper Street Vineyard Cuvee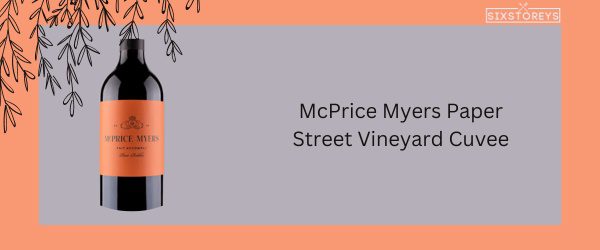 The work of art that is the McPrice Myers Paper Street Vineyard Cuvee had me captivated from the first pour. This Californian masterpiece hails from the Paso Robles AVA, crafted from a harmonious trio of Mourvèdre, Syrah, and Grenache.
The wine's enthralling ruby-red hue alludes to the robust flavors encapsulated within. On the nose, an array of dark fruits, cherry, plum, and spice mingle with nuances of olivine minerality and some gamey touches – just enough to intrigue and entice.
On the palate, the personality of this red blend shines masterfully. The juicy dark fruit flavors, layered with subtle spice, unfurl with each sip, offering a bold and intense mouthful. The structure of this wine stands out, the richly concentrated fruit flavors weaving seamlessly with the whispering tannins, lending an air of rustic elegance to the overall experience. The finish is prolonged, well-rounded, and compelling. This is beyond doubt a beautifully composed and textured wine to savor.
32. Frescobaldi 2019 Tenuta Perano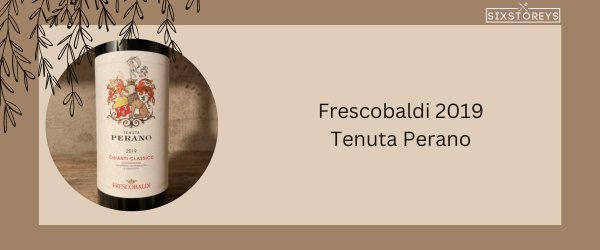 Italian wines have always held a special place in my heart, and the Frescobaldi 2019 Tenuta Perano red blend took that affection to a whole new level. Primarily a Sangiovese, this Tuscan red blend also includes a modest percentage of Merlot to create a beautifully dynamic and unique blend.
Visually, this bold red gem catches the eye with its intensely glossy, nearly purple hue. Its aromatic profile enchants with the gleeful mingling of ripe fruit, pleasantly mixing with vanilla and toasted oak notes.
Upon tasting, a concert of flavors bursts forth. The ripe, juicy red berries take center stage, with tangy cherry and succulent plum playing supporting roles. Slowly, the narrative shifts as the firm tannins step in, accompanied by moderate acidity. The finish is lengthy and enveloping, with a gentle warmth that lingers playfully. This is no doubt an affable, intriguing wine that takes you on a wonderful journey through the Tuscan landscape and adds a spark to any occasion.
33. Daou Vineyards 'Bodyguard' Red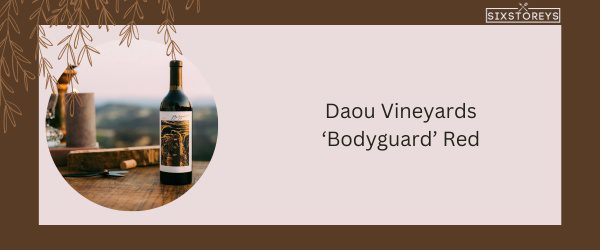 With every sip, the Daou Vineyards 'Bodyguard' Red has been a staunch defender against the lackluster and the mundane. Straight from the pioneering vineyards of Paso Robles, this Californian wine showcases an exquisite blend of Petite Sirah and Petit Verdot grapes.
A sight for sore eyes, the Bodyguard presents a rich, deep violet hue in the glass. The olfactory experience starts off with a robust blend of fruit and spice; think ripe blackberries, plums, and a pinch of freshly ground black pepper.
Upon tasting, the fruits continue to dominate the experience, with the addition of complex chocolate undertones proving a delightful surprise. The wine is robust and voluptuous, the kind that coats your palate and captivates your senses. A warm spice follows the rich full-bodied texture, building up to a powerful, bold finish. The high acidity makes it an incredibly balanced wine, making the Bodyguard a perfect red blend for those special celebrations or indulgent nights in.
34. Ancient Peaks Winery Oyster Ridge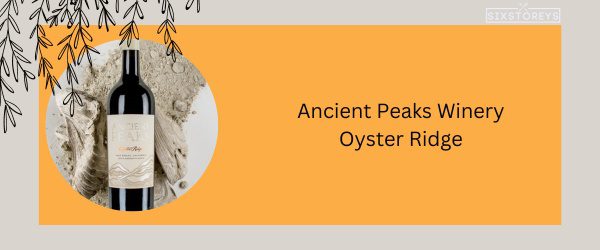 As an explorer of fine wines, the Ancient Peaks Winery Oyster Ridge never ceases to thrill and impress me. Nestled along California's Central Coast, this estate blend combines Cabernet Sauvignon, Merlot, Petite Sirah, Petit Verdot, and Malbec, to delight the senses.
The wine pours a beautiful, dense ruby red into the glass, ensuring visual appeal is met seamlessly. The opulent perfume of fresh cherries, blackberries, and a distinct note of wild herbs fills the air at first sniff, setting the stage for an explosive taste experience.
On the palate, flavors of juicy dark fruits intermingle with unexpected notes of coffee roast and mocha, rounded off with a dash of black currant. The wine provides a full-bodied, yet smooth encounter, with beautifully integrated tannins working their magic. The finish is impressively long, with echoes of ripe fruit and earthy tones lingering. If your taste buds are seeking an unforgettable adventure, embark on the journey with Ancient Peaks Winery Oyster Ridge.
35. Brutocao Torrent and Cabernet Sauvignon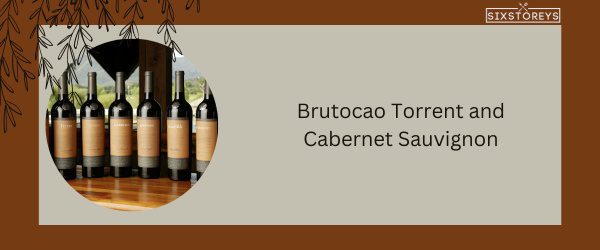 There's an undeniable thrill that the Brutocao Torrent and Cabernet Sauvignon impart on the taste buds, making it a clear winner in my list. This Californian blend elegantly combines Sangiovese and Cabernet Sauvignon, creating a powerful harmony of flavors.
Upon pouring, the blend casts a lustrous drumskin hue in the glass, promising a tantalizing flavor profile. At the nose, the wine offers a cornucopia of ripe blackberry and juicy cherry aromas, subtly nuanced by seductive hints of vanilla.
When sipped, the Brutocao unfurls a landscape of robust flavors. Dark stone fruits and sweet cherries fill the mouth, while hints of toasted oak and vanilla add a sophisticated depth to the taste. The wine boasts a structured body, well-rounded and harmonious. The finish is satisfyingly lengthy, with a gentle toasty sensation. The Brutocao Torrent and Cabernet Sauvignon make for a delightful sipping experience that keeps getting better.
36. Mas Igneus 2019 M Red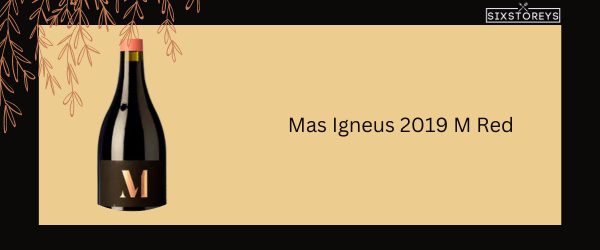 From the diverse winemaking landscapes of Spain, the Mas Igneus 2019 M Red stands out remarkably. This blend beautifully marries together Grenache and Carignan to form an oeno-treat that dances daintily across the taste buds.
Presenting in the glass, the wine holds a captivating bright ruby shade, inviting one's senses for an aromatic exploration. The nose is presented with a charming array of succulently ripe cherries, hints of spices, and fragrant undertones of moist soil that lend it an intriguing edge.
When it hits the palate, the dance continues. The taste is marked by ripe cherries and redcurrants, which are perfectly paired with a subtle spice hint. The wine is well-structured and medium-bodied, with tannins that delicately coat the palate, leading towards a medium, well-rounded finish. Drinking the Mas Igneus 2019 M Red is like unraveling an eloquent narrative with a captivating plot - it brings surprises with each sip, leaving a memorable impression long after the last drop.
37. Roustabout Meritage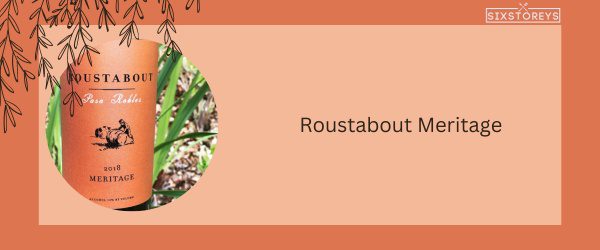 The Roustabout Meritage blend is an absolute sensory delight. Crafted in the heart of Napa Valley, it showcases impressive Californian craftsmanship. A captivating mix of Cabernet Sauvignon, Cabernet Franc, Merlot, and Petit Verdot grapes, this blend delivers a riveting combination of fruit, earth, and spice.
To the eye, the wine presents a deep burgundy color that speaks of its richness. The bouquet is enticing with rays of ripe blackberries, plums, and an overtone of fresh sweet cherries, draped in a tantalizing veil of warm spices.
When sipped, the wine offers a vivacious display on the palate. There's an immense burst of juicy black fruits that is equally matched with a distinctive spiciness. As the wine moves over the palate, it reveals complex backnotes of earthiness, harmoniously paired with a dash of cedary oak influence. Its tannins are robust yet inviting, adding depth to the prosperous fruitiness, whilst ensuring a tantalizing grip and finish.
Each sip of Roustabout Meritage is like a well-choreographed ballet of flavors, where each element dances harmoniously on the palate, leaving a finale that continues to unfurl even after the last sip.
38. Château Eugénie 2020 Tsar Pierre le Grand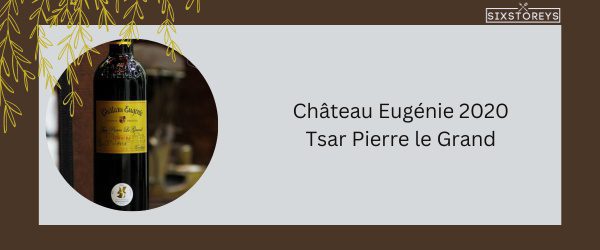 In my red blend explorations, the French masterpiece Château Eugénie 2020 Tsar Pierre le Grand has held its rightful place as a royal treat. Hailing from the heart of Cahors, this wine is an exceptional blend of Malbec and Merlot grapes, a perfect delight for those who appreciate the depth and complexity in their glass.
In appearance, Tsar Pierre le Grand presents an invitingly rich rubescent harmony, subtly illuminating under the light. My nose is greeted by an immediately enticing blend of ripe black fruit and a hint of cocoa, signaling a sumptuous taste fest to follow.
On tasting, the wine opens up to beautiful bold flavors of ripe blackberries and currants with a hint of cocoa that adds extra depth to the ensemble. It is a full-bodied blend with rich tannins, providing a perfect foil to the juicy fruits. There's a harmonious balance between the acidity, tannins, and bold flavor palette, which, in the finale, extends to a long, layered finish. Château Eugénie 2020 Tsar Pierre le Grand truly manifests as a regal delight in each sip.
39. Wilson Creek Winery & Vineyards Double Dog Red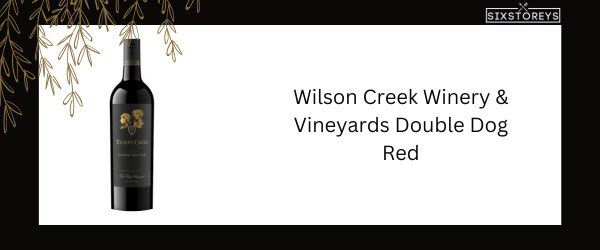 Nothing short of a friendly companion, the Wilson Creek Winery & Vineyards Double Dog Red is a classic Californian blend. The clever union of Syrah, Zinfandel, and Merlot results in a jovial wine that's as enjoyable as it's memorable.
Its vibrant, zesty red color is visually pleasing, hinting at the fruity pleasures to come. I'm transfixed by the distinctive aroma of ripe red fruits, peppered with a sweet spice that's deeply invigorating.
Upon tasting, the wine showcases a flavorful ensemble of ripe red cherries and dark raspberries, etched with a pleasant spice character. It is comfortably approachable, light to medium-bodied, and delightfully refreshing. A touch of sweetness complements the mellow tannins, leading to a harmonious finish that begs for a second glass. The Double Dog is an excellent choice for casual sipping and an ideal companion to light meals.
40. Baron De Taste Reserve Margaux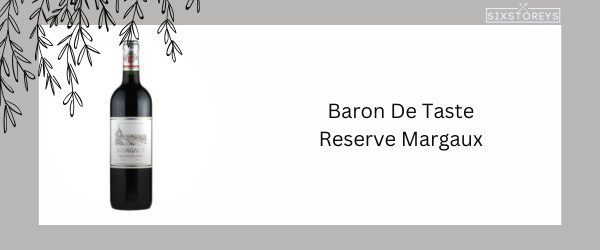 An expression of timeless Bordeaux allure, the Baron De Taste Reserve Margaux is French winemaking at its finest. A composed blend of Merlot and Cabernet Sauvignon, this wine offers an eloquent tale of taste complete with shades of ripe fruit, exotic spices, and aromatic oak.
Visually, the wine is an elegant ruby red, promising a rich-tasting experience. The aroma is compelling, swirling with the fragrance of ripe dark fruits coupled with a subtle hint of spices that provoke my curiosity.
Once tasted, the wine unfolds beautifully. Ripe flavors of plum and black currant lead the narrative, supported by robust structure and smooth tannins. The dark fruitiness is artistically balanced with a touch of sweet spices and toasted oak that delivers a delightfully layered complexity. The finish is long, adroitly tracing the wine's journey across the palate and leaving you yearning for the next sip.
41. Miguel Torres 2019 Familia Torres Secret Del Priorat Red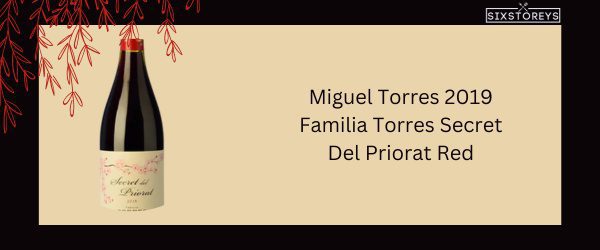 Spanish reds are renowned for their deep flavors and amazing quality, and the Miguel Torres 2019 Familia Torres Secret Del Priorat Red is no exception. This excellent blend of Grenache and Carignan grapes brings the unique character of the Priorat region into every glass.
In the glass, the wine displays a vibrant ruby-red color with purple highlights that catches the eye. Upon smelling it, I am charmed by the fruity and floral notes of red berries, layered with undertones of light toasty nuances, hinting at the complex taste to come.
Upon tasting, the wine is wonderfully immersive. It reveals lush flavors of ripe red fruits, beautifully intertwined with light toasty undertones and a hint of spice. The taste perfectly mirrors its aromas, creating a harmonious balance between fruit, terre, and time. The result is an eminently drinkable red, with soft yet expressive tannins and a deeply satisfying finish. Tasting the Miguel Torres 2019 Familia Torres Secret Del Priorat Red is like decrypting a delightful secret, one that you can't help but share with fellow wine lovers.
Also Read: Best Red Wines For Pot Roast
Why Red Blend Wine Should Be Your Next Drink?
There is an undeniable charm in a glass of red blend wine that speaks to the soul of every wine enthusiast. This style of wine, crafted from a mix of different grape varieties, creates an intriguing amalgamation of flavors, aromas, and textures, providing a unique tasting experience. As such, red blend wines have become increasingly popular among both beginners and connoisseurs.
Here are a few reasons why your next drink should be a red blend wine:
Variety of Flavors: Red blends can offer intriguing complexity, with a multitude of flavors spanning from bright, ripe berries to earthy undertones depending on the grape varieties used and the winemaker's vision. This wide spectrum of taste profiles ensures there is a blend to suit everyone's palate.
Versatility with Food Pairings: Thanks to their varied flavor profiles, red blends can pair well with a diverse range of cuisines. From spicy dishes to rich red meats, the balance of flavors in these wines pairs perfectly with a variety of foods.
Accessible to Every Budget: Red blends come in a wide range of prices, from budget-friendly options to high-end selections, making them accessible to every wine lover. Regardless of your budget, there's a red blend out there for you.
Complex, Yet Balanced: The innate complexity of red blends does not compromise their balance. Winemakers meticulously curate the blend to ensure that no single variety dominates, hence creating a harmonious and enjoyable taste experience.
Mastering the Art of Choosing a Perfect Red Blend Wine
Choosing the perfect red blend can be a journey full of joy, adventure, and learning. Here are a few guidelines that can help you in your selection process:
Understanding Your Palate: As the saying goes, "Drink what you love." Understanding what suits your palate - whether you prefer fruit-forward, spicy, or full-bodied wines - can narrow your search and help you find your perfect blend.
Consider the Occasion: Are you enjoying an evening with friends, a romantic dinner, or simply savoring some quiet time? The occasion can guide your choice towards a bold, lively red blend or something more subtle and relaxing.
Read the Label: A wine label is like a mini CV of the wine, providing information about its origin, the grape varieties used, and sometimes even about its tasting notes. This information can guide you in making an informed choice.
Be Adventurous: The world of red blend wines is full of exciting possibilities. Don't be afraid to venture out of your comfort zone and also be open to recommendations. You might just stumble upon a new favorite!
Remember, the world of wine is highly subjective. There are no hard and fast rules, only guidelines. So the best advice when it comes to choosing a red blend wine, as with any wine, is to drink what you love and keep an open mind. Cheers to venturing on your own red blend journey!
Decoding the Complex Profile of Red Blend Wine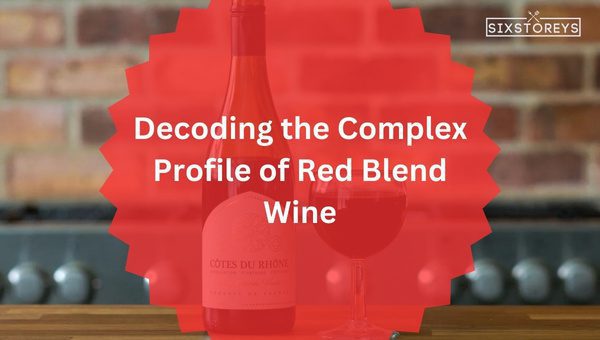 Blending wines is truly an art that requires the winemaker to balance numerous variables to create a harmonious and tantalizing final product. It goes beyond simply mixing two or more wines together; it's about understanding the chemistry of the wines and how they interact with each other. When well-executed, the combination of different grape types can balance out each other's shortfalls and enhance beneficial properties, offering a captivating experience for the wine drinker.
Red blend wines can be composed of a wide variety of grape types, which stand as the base of their distinctive flavor profile. The most common varieties used in red blends include Cabernet Sauvignon, Merlot, Syrah, and Grenache, each contributing its own unique flavor and structure to the blend. However, there are no hard and fast rules here. The blend may also feature lesser-known varieties, offering a surprise for the adventurous wine lovers out there.
Another significant factor that shapes a red blend wine's profile is the winemaking process. Top red blends are often aged in oak barrels, which not only helps the wine mature but also imparts incredible aromas and flavors, such as vanilla, baking spices, caramel, and sometimes a bit of smokiness.
Lastly, the wine's origin plays a critical role in determining its character. The terroir- the unique combination of geography, climate, and soil where the grapes were grown- leaves a distinctive fingerprint on the wine that cannot be replicated elsewhere. This is why you will often find red blends from renowned wine regions like Bordeaux, Napa Valley, and Tuscany offering unique experiences, each telling a story of the land from which it hails.
How to Pair Your Food with Red Blend Wine?
Elevating the enjoyment of a good bottle of red blend wine can be achieved by skillfully pairing it with the right dishes. It could either be contrasting flavors or complementary tastes, which would provide a delightful dining experience.
Medium-bodied red blends, like Grenache or Merlot-based wines, usually have medium tannins and moderate acidity, which makes them remarkably food-friendly. These blends are versatile and pair well with a wide range of cuisines. They are perfect with roasted chicken, grilled vegetables, or even fatty fish like salmon.
Full-bodied red blends, such as those based on Cabernet Sauvignon or Syrah, are known for their bold flavors and high tannin content. They enjoy the company of equally robust dishes like red meats and strong cheeses. Consider pairing them with grilled steak, lamb chops, or a flavorful cheese platter.
It's important to note that these are general guidelines, and the best food pairing often boils down to personal preferences. So, don't be afraid to experiment and find what works for your palate.
My journey through the world of red blend wines has taken me on a rollercoaster of flavors and experiences. With each new sip, I unlock a diverse spectrum of possibilities and embrace a deeper understanding of this fascinating elixir. So go ahead, venture into the vast universe of red blends, and see where each bottle takes you. Cheers to never-ending wine adventures!
Also Read: Best Red Wines For Casual Drinking
Frequently Asked Questions
What exactly is a red blend wine?
Red blend wines are a mix of different types of grape varieties, all crafted together to create a unique flavor profile. The art of blending multiple red wine grapes allows winemakers to enhance the strengths and balance the flaws of the constituent grapes.
How is red blend wine made?
Crafting a red blend wine involves careful selection and combination of different grape varieties. Each variety is typically fermented separately, and once the fermentation process is complete, they are purposefully blended together. The proportion of each grape used in the blend can greatly affect the overall taste, aroma, and body of the wine.
Why should I try a red blend wine?
Red blend wines offer a distinctive and often exciting wine drinking experience. Due to the mix of grape varieties, these wines can present a broad range of flavors, complexity, and depth that you might not find in a wine made from a single grape type. Whether you're new to the wine world or a seasoned sipper seeking variety, red blends are a delightful choice.
What food pairs well with red blend wine?
The beauty of red blend wines is their versatility in pairing with food. Depending on the specific blend, they can nicely complement a range of dishes. Hearty meats, rich pasta, cheese, and even chocolate can be excellent pairings.
Is red blend wine sweet or dry?
Not all red blend wines are the same, and their sweetness or dryness can vary depending on the blend. Some may be sweet if they're crafted with sweeter grape varieties or if fermentation is stopped early to retain some of the grape's natural sugars. Others are dry, having had all their natural sugar converted to alcohol during fermentation.
How do I choose a good red blend wine?
Selecting a good red blend wine depends largely on your personal preference. Read the label for information on the grape varieties used, the region, and the winemaker's notes. Don't be afraid to experiment and explore different blends to discover what suits your palate.
Do red blend wines age well?
Red blend wines can age well, but it depends on the specific blend and the way it's been crafted. Some blends are designed to be enjoyed young, while others might benefit from years of maturation. If in doubt, consult with a wine expert or the winemaker.
What are some top red blend wine brands to try?
There are many excellent red blend wine brands to explore worldwide. Some of my top picks include Early Mountain Eluvium, The Language of Yes 'En Passerillage', Gamble Family Vineyards Paramount Red, and PETERSON VIGNOBLES RED WINE.
What's the difference between red blend wine and varietal wine?
A red blend wine is made from a mix of different grape varieties, while a varietal wine is made from one single grape type. The complexity and variety of flavors in a blended wine can be different from those in a varietal wine.
Is red blend wine expensive?
Like any wine category, the price of red blend wines can vary greatly. You can find delightful and affordable options as well as premium, more expensive blends. Remember, a higher price doesn't always guarantee that you'll enjoy the wine more - the best wine is one that suits your personal liking.
Conclusion
Drinking red blend wines is like getting lost in a rich, enchanting novel, with each sip revealing a new chapter of flavors and aromas. Throughout my endearing quest, each of these wines bestowed exceptional experiences and memories that I'll carry forever. If you haven't embarked much on the path of red blends before, consider this a call to adventure.
Uncover new tastes, new favorites, and new experiences in the wondrous world of red blends. Remember, each bottle has a story waiting to be unraveled. So fill up your glass, gather some good company, and raise a toast to the splendors of the best red blend wines!
Beverage Explorer and Tastemaker 🍻🥃🍷 Aman's quest for liquid delights knows no limits. From hoppy brews to aged spirits, he uncovers the tales behind each sip. His eloquent descriptions and accessible insights make every drink an adventure worth raising a glass to.