20 Best Starbucks Sandwiches of 2023 [Crack the Flavor Code]
Updated On: September 11, 2023
"Best Starbucks sandwiches" might sound like a simple phrase, but to anyone who's a catering connoisseur with a palate for quick yet delicious meals, it's a term that holds a beautifully layered world. Starbucks isn't just about great coffee. They have reinvented themselves into a haven for those seeking warm, hearty, and scrumptious sandwiches. From the gloriously cheesy to the wholesomely meaty, the vegan-friendly to the gluten-free, Starbucks' sandwiches have got everyone's tastes and preferences covered.
In this blog, I invite food enthusiasts like myself to discover the culinary wonders tucked between slices of bread, buns, and wraps behind those shiny counters of our local Starbucks. Dive in, fellow foody, and let's explore the magic of the best Starbucks sandwiches together.
Also Read: Most Caffeinated Drinks At Starbucks
20 Best Starbucks Sandwiches of 2023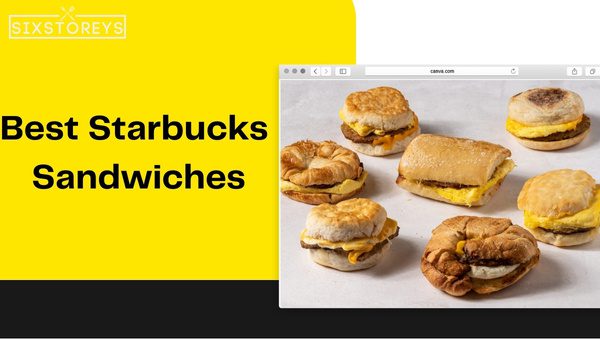 Cranking up the love for sandwiches a notch higher, I present to you my carefully curated list of the 20 best Starbucks sandwiches. Join me as we embark on a tantalizing tour through delectable fillings, perfectly toasted bread, and the essence of flavors that give these Starbucks selections a rightful claim to fame. Ready? Here we go!
1. The Impossible Breakfast Sandwich: Starting the Day Right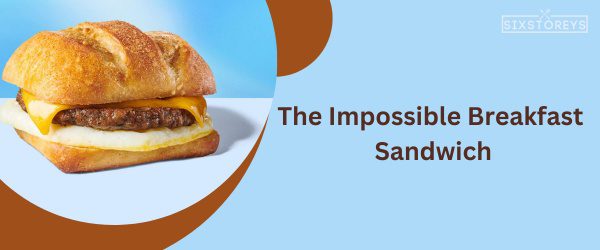 The Impossible Breakfast Sandwich is nothing short of a revelation. As a plant-based product, it has a really appealing texture and flavorful combination reminiscent of a traditional breakfast sandwich.
This sandwich deviates from the conventional by satisfying both our taste buds and our growing concern for the environment. The plant-based sausage patty comes with such an amazing texture and taste that it had me questioning how it wasn't real meat the first time I tried it. Cooked with searing heat, the patty is laden with spices and herbs, emitting such a savoury aroma that it's hard to resist.
Next comes the bright, cheerily fried, cage-free egg. Perfectly seasoned, it sports a sunny yellow yolk, making every bite feel like a morning ray of sunshine. The egg adds just the right amount of creaminess and succulence and serves as a fantastic companion to the fantastic plant-based sausage patty.
The age-old friend of any good sandwich, cheese, surprises no one by making an appearance. The robust aged cheddar commandeers attention as it melts into the crevices, imparting a rich, sharp flavor subtly balanced by the distinct notes of the artisanal bread.
To hold all this together is a wonderful Ciabatta roll, the unsung hero of any sandwich. Being slightly crusty on the outside yet amazingly soft on the inside, the ciabatta roll nestles the all-star ingredients and imparts a slight nuttiness that completes the taste in every sense of the word. It truly is an impossible feat of breakfast sandwich engineering that pleases the palate while going easy on the planet.
To accompany this sandwich, nothing beats a warm cuppa of Starbucks' expertly brewed coffee. But for the adventurous ones out there, you might want to try it with a matcha green tea latte - a combination that I absolutely adore.
2. Chicken BLT Salad Sandwich: A Healthy Indulgence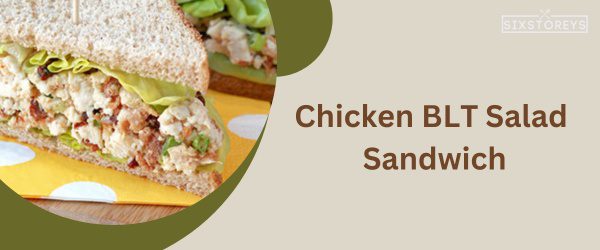 Now, let me take you through the wholesome journey of an absolute delight, the Chicken BLT Salad Sandwich. Calling all health enthusiasts - this sandwich here redefines the game of flavors and health.
To begin, the sandwich is a loving homage to the all-time classic BLT, elevated with a lean strip of well-marinated grilled chicken that adds a tender, juicy layer to the crispy, classic trifecta. The chicken is flavorful, and subtly tinged with a smoky essence that gives a comforting, home-cooked feel.
Riding on the wave of freshness is the crisp lettuce, adding a much-needed crunch and fresh bite, a necessary mood lifter I would say. Sharing the space generously is the sweet tomatoes, a burst of tangy-sweet song in the medley that takes you to your happy place.
Let's not forget the MVP, shall we? The bacon heaps on the indulgence, being crispy around the edges yet chewy within, rendering a smoky flavor that turns the classic BLT from good to best. A luxurious spread of mouth-melting mayo holds this culinary masterpiece together, imparting a buttery texture that ties the bow on this beautiful parcel.
All this goodness is lovingly encased in whole grain honey oats bread, which brings a mildly sweet and distinctive oaty flavor. The bread is dense, providing a satisfying chewiness that widens the flavor palette with each bite.
As most of these ingredients can be found in a salad, hence the fitting title. But don't let the name fool you because this sandwich - it's a monster of an indulgent treat that's as healthy as it is delicious. To complete this meal, I suggest enjoying it with a refreshing iced green tea - It's the perfect concoction to wash down the wholesome treat that is the Chicken BLT Salad Sandwich.
3. Spinach, Feta & Egg White Wrap: Vegan-friendly Delight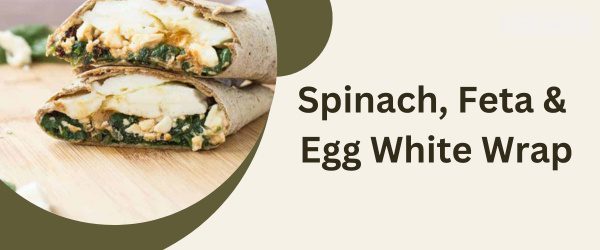 On my journey through the marvelous sandwiches at Starbucks, one dazzling discovery was the Spinach, Feta, and Egg White Wrap. With a spotlight on wholesome ingredients and delightful flavors, this wrap triumphs as a solid choice for vegan-friendly nourishment.
One of the main stars in this wrap is the egg white, whipped lusciously and cooked just right to maintain its subtle, delicate flavors. The egg white lends a soft, fluffy texture that effortlessly meshes with other elements, creating a harmony that is both pleasing to the taste buds and to the waistline.
Let's not forget the spinach, which brings a vibrant touch not only visually, but also taste and healthwise. Fresh and tender, the spinach leaf is a notable player, working perfectly in tandem with the other ingredients while enriching the wrap with carotenes and other beneficial nutrients. The subtly bitter, yet incredibly complex flavor profile of spinach laces every bite with a hint of guilt-free indulgence.
Rounding off this trio is feta cheese, sprinkled generously in the wrap. The creamy and crumbly texture combined with a slightly tangy and salty taste forms a beautiful contrast with the mellow egg and spinach leaves, giving each bite an astonishingly delicious twist.
Quick to grab on the way to work or for a delightful afternoon snack, the Spinach, Feta, & Egg White Wrap pairs incredibly well with a Tall Pike Place Roast coffee, creating a perfectly balanced and satisfying meal.
4. Double-Smoked Bacon, Cheddar, & Egg: The Classic All-Rounder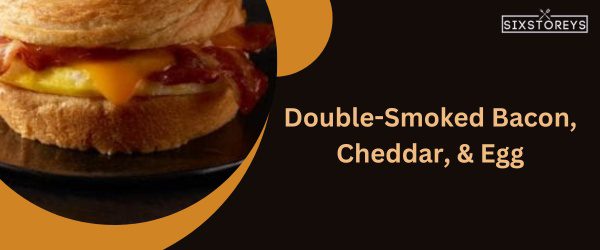 As my exploration of Starbucks sandwiches continued, I found myself utterly infatuated with the Double-Smoked Bacon, Cheddar, & Egg. A revisiting of a familiar breakfast sandwich, the addition of double-smoked bacon takes the flavors up a notch, showing us that sometimes, revisiting classics with a little twist works wonders.
To call the double-smoked bacon merely delicious would be an understatement. Each strip, cured and wood-smoked not once, but twice, carries an intense smoky aroma that gives the sandwich a rich, savory depth. Perfectly crispy, the bacon lends a satisfying crunch that makes each bite a treat.
The cheddar cheese layer steps in to add a blanket of creamy gooeyness. The cheese, smooth and sharp, strikes a nice contrast with the crispy bacon, creating a textural dance that keeps the taste buds constantly entertained.
What sets this sandwich apart is the egg layer, cooked to perfection, seasoned lightly, and providing that ideal soft counterpoint to the crisp bacon and chewy cheese. Comforting and filling, the egg is every bit instrumental in harmonizing the flavors with the rest of the elements.
Housed in a soft, tender, bakery-style bun that's light yet hearty, this fantastic combination of flavors works to recreate the classic sandwich scenario with an added punch. Whether it's breakfast on the go or a leisurely weekend brunch, Double-Smoked Bacon, Cheddar, & Egg sandwich hits all the right notes every time. My personal favorite pairing is with a Caramel Macchiato, it's a flavor pairing that forms a heavenly brunch alliance.
5. Turkey, Provolone & Pesto on Ciabatta: Italian Inspiration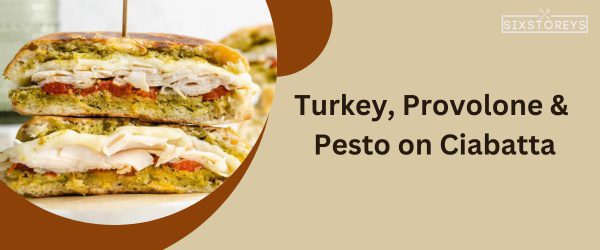 On my sandwich-tasting expedition, I stumbled upon the Turkey, Provolone & Pesto on Ciabatta, a global treat tucked away amidst Starbucks' extensive menu. A mix of authentic Italian and American influences, this sandwich is a testament to Starbucks's creative and diverse culinary range.
Let's kick off with the turkey. Freshly sliced and incredibly juicy, the turkey is the heart of this sandwich. Its lightly seasoned and perfectly roasted texture provides a succulent contrast to the melting provolone cheese, creating a harmony that makes each bite a culinary adventure.
But, what piqued my interest here was the provolone cheese layer. Renowned for its mild flavor and creamy texture, Provolone softly wraps the turkey slice, melting effortlessly and adding a touch of creaminess that perfectly complements the meat.
Then, comes the magic, the pesto. An authentic Italian basil-based green sauce with robust flavors of garlic and parmesan, it spreads across the layers of turkey and cheese, intermingling and enhancing their flavors. It serves as a flavor powerhouse that adds an intense, herby undertone that is deliciously exciting.
Adding the final touch to this beautiful blend of flavors is the fresh ciabatta bread. Its slightly crisp crust breaks with a satisfying crunch, revealing a soft, hole-rich interior that does an excellent job holding all the ingredients together. Its neutral flavor provides the perfect base for the heavy flavors in this sandwich, absorbing and complementing them.
6. Sausage, Cheddar, & Egg Sandwich: Hearty Classic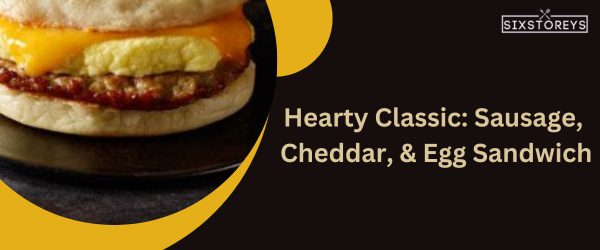 When it comes to trusty breakfast classics, you simply cannot overlook the mighty Sausage, Cheddar, & Egg Sandwich from Starbucks. For me, it is comfort food at its best, bursting with a perfect combination of flavors that never fails to kickstart my day on a high note.
The main attraction of this sandwich is its succulent sausage patty, a marvelous creation combining a pronounced meaty savoriness with just the right seasoning. As I take the first bite, I am greeted by its aromatically spiced juiciness, a delicate balance that invariably raises my appreciation for the craft of sandwich-making a notch higher.
Next in line is the layer of good-old cheddar cheese. The cheese, mature and rich, lends a beautiful creaminess to the sandwich. As it melts over the sausage, it fills every nook and cranny, bringing a smooth texture and a subtle sharpness setting off the hearty flavors absolutely wonderfully.
The iconic egg layer is not merely an inclusion but a star player. Starbucks has nailed the perfect cooking style for breakfast eggs, making them fluffy yet firm, seasoned to perfection, and placed nicely to add an extra heartiness to every mouthful. It's every morning's favorite for a reason.
To bring it all together, the sandwich uses an English muffin. Its toasty exterior, when coupled with the soft, slightly chewy texture inside, creates the perfect stage for the subtle complexity of flavors encapsulated within. Every bite is a testament to the brilliance of keeping things simple yet significant.
Whether you pair it with a piping hot cup of coffee or a refreshingly chilled iced tea, this sandwich delivers a fantastic gastronomic experience that will have you rooting for more. For me, the iconic Caffè Americano is the perfect accompaniment, making every breakfast an event to remember.
7. Bacon Biscuit And Chicken Sausage: A Unique Blend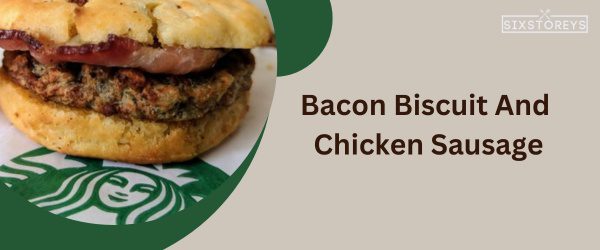 Switching gears from the classics, let's delve into the unique realm of the Bacon Biscuit and Chicken Sausage sandwich offered by Starbucks. It took me by surprise the first time I tried it - not because it was "out there", but because it was unexpectedly delightful.
At the helm of the show here is enigmatic chicken sausage, an unconventional choice for a sandwich but a great one nonetheless. Cooked to perfection, it hits a perfect balance of hearty and flavorful, leaving a pleasant, lingering taste. It's lean yet juicy, offering a complex taste and texture that intrigues with every bite.
Adding a kick of smokiness and crispiness is applewood smoked bacon. The bacon is cooked to a crisp, adding that iconic salty-sweet smokiness that evokes the warmth of homely comfort food. Combined with the chicken sausage, it creates a harmony of flavors that's truly irresistible.
Introducing an exclusive flair to this sandwich is the bacon-infused biscuit. This is where the sandwich differs significantly from its brethren. The biscuit, flaky and rich, is woven with the subtle flavor of bacon, making every bite a mesmerizing experience. It's a textural wonderland, sandwiching the other ingredients with a firm, crumbly grip that compliments rather than overshadows.
Each layer of the Bacon Biscuit and Chicken Sausage sandwich brings something unique to the table, creating a symphony of flavors that beckons you again and again. For anyone seeking to break away from the traditional sandwich, this is a worthy contender. A suggestion from my side - enjoy it with a tall glass of freshly squeezed orange juice for a full-bodied breakfast experience like no other.
8. Bacon, Sausage, & Egg Wrap: All Day Breakfast Favorite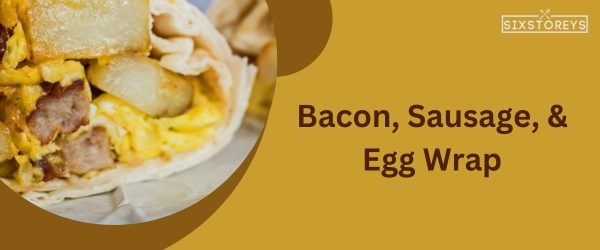 On another one of my visits, I decided to delve into the surprise fan-favorite - the Bacon, Sausage, & Egg Wrap. It fits in perfectly as a breakfast staple, but don't let that limit you - it's wonderful at any time of the day.
To start with, let me bring your attention to Bacon. Each slice, crisped to perfection, gives the wrap a smoky, meaty flavor that builds a savory foundation. The crispy texture of the bacon serves a stunning contrast to the soft wrap and egg, making each bite an exciting experience.
Next, the sausage adds a robust and slightly spicy edge to the flavor profile. Grilled and seasoned beautifully, it elevates the whole wrap by adding depth to every bite. Its juicy texture makes it an irresistible component of the wrap.
Then comes the egg - soft, fluffy, and comforting. Whisked and lightly seasoned, the egg blends in perfectly with the strong flavors of bacon and sausage, lending a creamy texture that ties the ingredients together.
And to hold all these delightful layers together is a tortilla wrap. Slightly grilled on the outside, and soft and chewy on the inside, the wrap is the perfect exterior for this sandwich, welcoming the filling and elevating the taste of each ingredient.
This Bacon, Sausage, & Egg Wrap proves how a classic breakfast can become a versatile meal. Pair it with a creamy latte, or a fresh orange juice, and it's a smashing hit, every single time.
9. Ham & Swiss on Baguette: A Classic Refined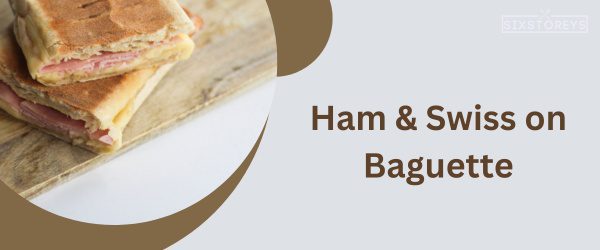 Let me lure you into another classic, the Ham & Swiss on Baguette. Starbucks reinvents the traditional ham and cheese sandwich into a refined delight that I cannot resist whenever I drop by.
The star of this sandwich is, of course, the ham. Savory, tender, and delicately sliced, the ham greatly contributes to the delectable flavor palette of the sandwich. Each bite into the juicy layers of ham brings forth an explosion of flavors that embody a comforting homeliness.
Let's shift the spotlight to Swiss cheese. The cheese's mild and nutty flavor, coupled with its smooth and semi-hard texture, balances beautifully with the delectable richness of the ham. The ensuing melody of flavors takes your taste buds on a journey that is as delightful as it is memorable.
Then there's the Dijon butter layer, adding an unexpected but delightful twist to the mix. The mustard's tangy kick coupled with the butter's creamy texture layered under the ham and Swiss cheese gives the sandwich an extra depth of flavor, enhancing the entire culinary plot.
Finally, the baguette holding all these layers is no lesser contributor. The baguette, which lends its name to the sandwich, offers a soft, chewy interior encased by a crispy, golden crust. Its neutral flavor acts as the perfect backdrop for the sandwich's strong flavor profile.
Also Read: Best Starbucks Cinnamon Drinks
10. Ham & Swiss Croissant: Versatile and Tasty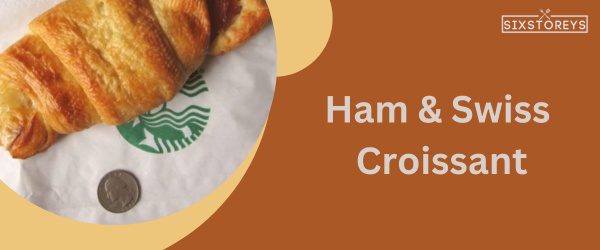 Then there is the Ham & Swiss Croissant that provides a novel twist to the classic combination of ham and cheese. This sandwich is an artful blend of simple but satisfying flavors that never miss the mark.
The ham component in this sandwich is an absolute delight. Its tender slices, perfectly seasoned, melt easily in your mouth, providing each bite with a solid and hearty base that's both comforting and delicious.
Matching the ham in both flavor and texture is the Swiss cheese. Its light nutty flavor elevates the sandwich's overall taste by balancing the richness of the ham, ultimately offering a lovely and delicious contrast.
What sets this apart for me is the croissant. It embraces the cheese and ham as its rich and buttery flakiness unfolds. Crisp on the outside while tender and slightly sweet on the inside, the croissant's versatility perfectly complements and heightens the delicious dance between the ham and Swiss cheese.
The Ham & Swiss Croissant successfully creates a beautiful culinary interplay with its simple but impactful ingredients. Paired with a cup of freshly brewed Americano, this sandwich has an irresistible charm that guarantees an incredible gastronomic experience.
11. Tomato & Mozzarella on Focaccia: A Taste of Italy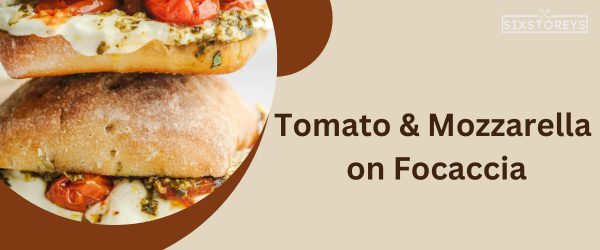 Imagine biting into a sandwich that transports you to the sun-kissed fields of Italy with every mouthful; that's exactly the experience the Tomato & Mozzarella on Focaccia sandwich at Starbucks offers.
Commencing the flavor ensemble is the ripe, succulent tomato. With its sweet and tangy notes, the tomato slices are the zesty accomplices to the symphony, adding a refreshing burst amidst the sumptuous ingredients.
The other half of this duo is the mozzarella — creamy, and luscious, delivering a mellow taste that balances the tangy accent of the tomato perfectly. This cheese, famous in Italian cuisine, doesn't overpower but adds an indulgent layer to the canvas of flavors present in the sandwich.
The whole creation is served on fresh, crisp Focaccia bread, a flat oven-baked Italian bread that does justice to the sandwich's authenticity. Its soft and chewy texture is infused with olive oil, and sprinkled with herbs, and provides a delightful crunch, perfectly complementing the creamy mozzarella and ripe tomato.
12. Bacon, Gouda, & Egg Sandwich: The All-American Classic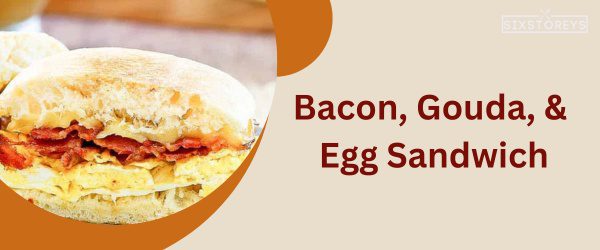 Sometimes, you just can't beat a classic combination. The All-American Bacon, Gouda, & Egg Sandwich from Starbucks sets the tone for what a breakfast sandwich should taste like.
Starting with a soft, fluffy English muffin, resisting the urge to take an immediate bite becomes a challenging task. The muffin is toasted to achieve that delicate combination of crisp exterior and soft interior, making it a pleasure to hold and an even greater joy to eat.
Insert an exquisitely cooked egg that is neither too runny nor too firm, The scrambled egg provides the sandwich with a smooth, creamy base, allowing the other flavors to shine while also contributing a protein-packed touch to the meal.
Adding to this is a thick layer of rich Gouda. The cheese, with its slightly sweet and nutty flavor, is melted onto the sandwich, intertwining with the other ingredients and taking the taste and texture to a mouthwatering level.
Topping off this enchanting mix is the smoky and crispy bacon that adds a satisfying crunch and a burst of flavor with each bite. Representing the quintessential American breakfast ingredient, the bacon is perfectly cooked, with a balance of sweetness, smokiness, and a hint of saltiness.
The All-American Bacon, Gouda, & Egg Sandwich combines these classic ingredients seamlessly to create a breakfast sandwich that never gets old and always leaves you craving more. As someone who appreciates a hearty breakfast packed full of vibrant flavors and textures, this sandwich is one I can't recommend enough.
13. Monterey Jack, Spicy Chorizo, And Egg: A Little Bit of Spice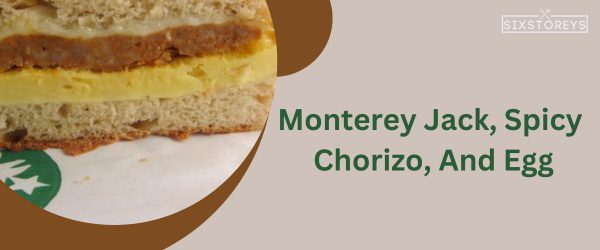 Chorizo is a gem within the world of sandwiches, and Starbucks, knows exactly how to showcase it. The Monterey Jack, Spicy Chorizo, And Egg sandwich is a fiery delight that is sure to wake up your taste buds.
I was first drawn in by the delectable aroma of the spicy chorizo. The sausage is smoky and rich, with a heat that is perfectly balanced and not overpowering.
Coming to the Monterey Jack cheese, it wonderfully complements the spicy burst of chorizo with its mild flavor and creamy texture. The cheese is alluringly melted and offers a delightful chewiness that tames down the heat, enhancing the overall flavor profile of the sandwich.
Adding a layer of satisfaction to the mix is the egg. Gently cooked to perfection, it adds a subtle, comforting taste that ties the bold flavors together.
And giving this whirlwind of taste a comfortable landing is the soft, slightly crusty ciabatta roll. It's fresh, doughy, and the perfect canvas letting the dynamic interplay of flavors hold the main stage.
The combination of creamy cheese, spicy chorizo, soft egg, and crusty bread makes for one heck of a sandwich. It's an unexpected blend that hits all the right notes on the flavor spectrum.
14. Chicken & Bacon on Brioche: Fulfilling Chicken Combo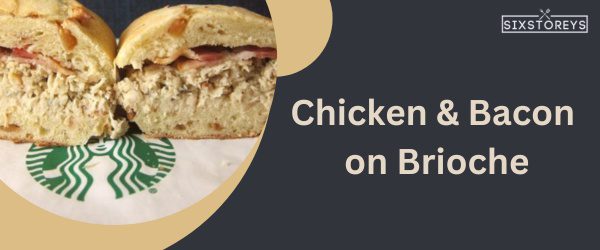 There's something comfortably classic about a chicken and bacon combination, and Starbucks' rendition with their Chicken & Bacon on Brioche nails it in every possible way.
The grilled chicken is tender and deliciously seasoned. Each bite reveals a satisfying chewiness and the juicy, savory flavors of the chicken.
Adding a delightful crunch and smokiness to the mix is the perfectly crispy bacon. The balance of the bacon's crisp texture paired with its rich, smoky flavor elevates the sandwich to a whole new level of deliciousness.
Nestled between these layers is a thin spread of mayonnaise. It adds a slight tang and creaminess that perfectly complements the savory notes of the chicken and bacon.
And then comes the showstopper - the brioche bun. It's golden, slightly sweet, and by far one of the best things about this sandwich. The bun is toasted just right, creating a satisfying crunch that gives way to soft, buttery bread in each bite.
The Chicken & Bacon on Brioche is a sandwich that packs a punch in terms of flavor. Every bite is a symphony of tastes and textures that work harmoniously together, making it a sandwich I find myself going back to time and time again.
15. PB&J Protein Box: For the Sweet Tooth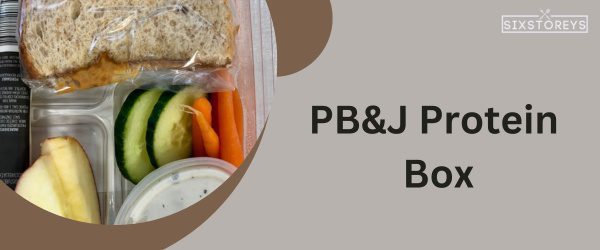 We often indulge our sweet tooth, and for those moments, turn to the classic PB&J Protein Box at Starbucks. More than a sandwich, it's a savory-sweet indulgence encased in a handy, portable box.
The heart of this assembly is the classic peanut butter and jelly (PB&J) sandwich. Creamy and luscious peanut butter is spread thickly on soft wheat bread, meeting its sweet counterpart, the fruity jelly on the other side. This dance of savory and sweet, a universal childhood favorite, evokes comfort and nostalgia in every bite.
While the sandwich itself is delightful, the "Box" factor takes this offering to another level. Accompanying the PB&J sandwich are a selection of wholesome snacks - a hard-boiled egg for a protein punch, crisp apple slices that add a natural sweetness and fresh crunch, string cheese for a salty, cheesy bite, and grapes, which lend a refreshing flavor and texture to the mix.
This harmonious blend of flavors makes the PB&J Protein Box an ideal choice to satisfy your sweet cravings while providing a balanced array of proteins and fibers. It's a delightful medley that I turn to when I need an energy boost, a satisfying snack, or a bit of sweet nostalgia.
16. Gluten-Free Certified Sandwich: For the Gluten-sensitive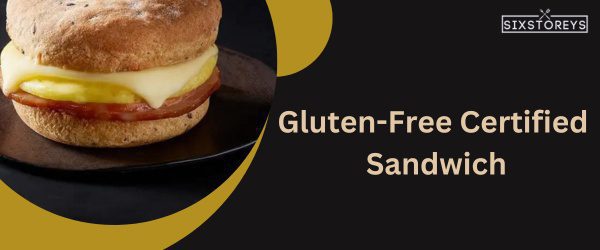 Eating out, especially when it comes to fast food, can be a real hassle for those of us with dietary restrictions. But Starbucks takes all this into account, and that's where the Gluten-Free Certified Sandwich comes in. It's not just about removing gluten - it's about creating a sandwich that tastes incredible, regardless of your dietary preferences.
The sandwich starts off with two slices of gluten-free bread which perfectly mimic the consistency and flavor of conventional white bread. The bread is toasted to perfection, with a crisp exterior and a fluffy interior that forms the ideal vessel for the fillings.
Between these slices goes a generous layer of tender carved turkey. The turkey is moist, flavorful, and packed with protein, providing a guilt-free indulgence for meat lovers.
To complement the turkey, there is a layer of fire-roasted peppers that add a delightful kick to the sandwich. The peppers are sweet, spicy, and smoky, enhancing the overall profile of the sandwich without overwhelming the other ingredients.
The Gluten-Free Certified Sandwich once again proves that 'free-from' doesn't mean 'free-from flavor'. It's a sandwich that anyone, whether gluten-sensitive or not, can dig into and enjoy.
17. Tomato & Mozzarella on Focaccia: The Vegetarian Choice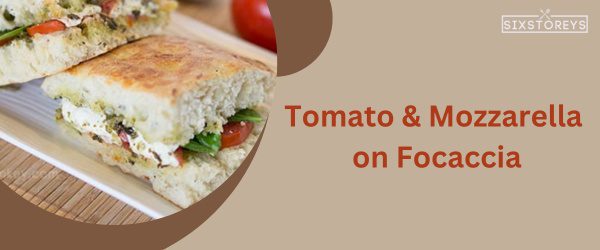 Ah, the beloved Tomato & Mozzarella on Focaccia! As a vegetarian option, this sandwich steals the show at Starbucks. Combining the exquisite flavors of rich, ripe tomatoes, creamy mozzarella, and fresh basil pesto within the comforting enclosure of soft, herb-infused focaccia bread - this sandwich is an epicurean tour de force.
Upon biting into this delightful package, the first thing that hits is the juiciness of the tomatoes, which are refreshingly sweet yet tangy. The abundant cheese only amplifies this delight. Mozzarella, in its smooth glory, laces every inch of the sandwich, melting and melding perfectly with the tomatoes. It's a classic Italian marriage of flavors, and it is just as comforting and delicious as it sounds.
The magic doesn't stop there. The green layer of basil pesto generously spread across the bread acts as a flavor bridge, seamlessly blending the contrasting tomato and mozzarella while adding its own punchy, aromatic profile to the mix. It creates this beautiful symphony of tastes that will leave you savoring each bite.
And let's not forget about the focaccia. Soft, yet retaining a slight crunch on the exterior, the flat oven-baked bread has a rustic charm that is hard to resist. The herbs baked into the bread surface offer an additional note of flavor, making every bite an adventure.
As a veggie delight, this sandwich hits all the right notes and will make you come back for more, regardless of your dietary preferences.
18. Crispy Grilled Cheese on Sourdough: The Comfort King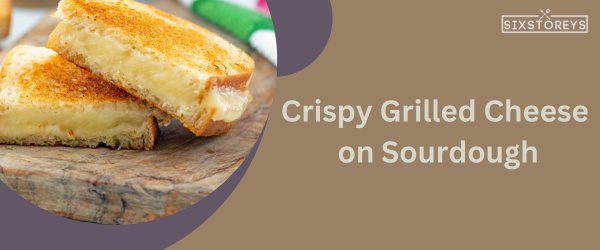 Is it possible for a sandwich to give you a warm hug? If any can, it's definitely the Crispy Grilled Cheese on Sourdough from Starbucks. A timeless classic, this sandwich offers a level of comforting familiarity that is like a slice of home.
The star, of course, is the cheese. There's a generous amount of it sandwiched between the bread slices, creating a heart-warming, cheesy delight. Once grilled, the cheese becomes warm and gooey, making for the most satisfying pull-apart moments. It's rich and velvety, creating a feel-good experience that makes every bite feel like the first.
Equally important are the thick slices of sourdough bread. The flavorful crust offers a delightful crunch that contrasts beautifully with the soft, tangy interior of the bread. The hints of sourness from the bread balance the rich cheese, resulting in a well-rounded flavor experience.
The grilled cheese sandwich can seem simple, but when done right, it's nothing short of spectacular. The Crispy Grilled Cheese on Sourdough from Starbucks is an example of this crave-able simplicity done perfectly - It's the familiar made extraordinary. Comforting, indulgent, and utterly satisfying, it's a sandwich that is bound to bring a smile to your face.
19. Roasted Tomato & Mozzarella Panini: A Perfect Lunch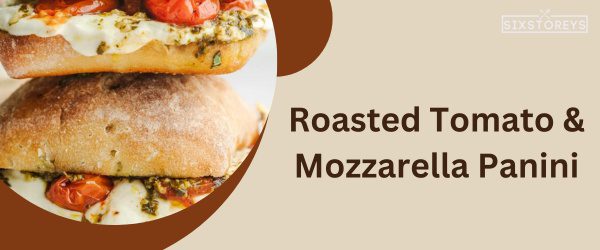 The Roasted Tomato & Mozzarella Panini hold a fond place in my memories of lunch breaks. With every bite, there's an unmatched sense of comfort and satisfaction. This delightful treat intertwines the flavors of sweet roasted tomatoes, exquisitely rich mozzarella cheese, and a hint of basil, all toasted to perfection within a gorgeous rustic panini bun.
In this panini, tomatoes play a massive role. They are slow-roasted, which allows them to develop a deep, concentrated sweetness that's beautifully balanced by their natural acidity. When you couple these roasted gems with the soft, milky, and slightly mellow flavor of the mozzarella cheese, the combo is positively transcendent. The cheese meets the warmth of the tomatoes and transforms into a molten crescendo of flavor.
Let's not forget the delectable freshness brought on by a hint of basil. Just a smidge, mind you, but enough to weave its subtle magic through the sandwich, lifting and enhancing the flavors of its counterparts.
Finally, the panini bread. This bread sports a thin, crisp crust that yields to a chewy interior, offering a welcome textural contrast to the soft filling. When it is all toasted together, the result is a perfectly balanced, savory panini that nails the game of flavors and textures, making every lunch hour feel like a mini Italian holiday.
20. Turkey, Provolone, & Pesto on Ciabatta: Classic Indulgence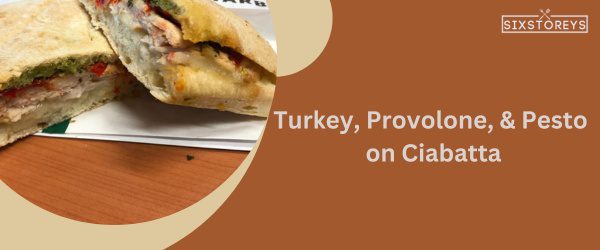 When it comes to the Turkey, Provolone, & Pesto on Ciabatta sandwich from Starbucks, it can only be described as a flavor-packed, mouthwatering masterpiece. Layered with roasted turkey, provolone cheese, and deliciously fresh basil pesto all on a light, airy ciabatta roll, this sandwich is an exciting bouquet of flavors and textures.
The thin slices of roasted turkey serve as the star of the show with their succulent, mildly smoky flavor. It's lean yet satisfying, shining even more when accompanied by slices of provolone cheese. The cheese brings not just a creamy texture, but a subtle sharpness that intertwines playfully with the soft meat.
And let's not forget the basil pesto. This bright, fragrant spread created from basil leaves, parmesan cheese, garlic, and olive oil adds a punchy, deeply aromatic flavor that ties in beautifully with the turkey and provolone, creating a whole that is greater than the sum of its parts.
But what about the ciabatta roll? When sliced and toasted, the crusty exterior gives way to reveal a moist and chewy interior. The rolls have a slightly sour flavor that complements the savory flavors of the filling.
This tantalizing sandwich is, all in all, an indulgent yet balanced treat that brings a certain gourmet touch to your daily lunch break. Its rich flavors coupled with its hearty textures, wrapped up in a beautifully crusted ciabatta roll, make for an unequivocally divine experience, with every bite as rewarding as the last.
Also Read: Best Starbucks Refreshers
How Starbucks Sandwiches Cater to Different Dietary Needs?
Underneath Starbucks' delightful and diverse sandwich menu lies an intentional commitment to embrace a range of dietary needs and lifestyles. Their creative culinary team has woven the values of inclusivity and versatility into each of the sandwich options on offer.
Vegan and Vegetarian Options
For those embracing a plant-based diet, Starbucks has a delectable range of vegan-friendly choices. The Impossible Breakfast Sandwich is a testament to this. The main player here is the plant-based sausage patty, which captures the hearty bite and savoriness of traditional sausage without any animal product. Substitute the cheese and egg with their vegan alternatives, and you've got a delightful vegan breakfast on the go.
Gluten Sensitive Choices
For people adhering to a gluten-free or gluten-sensitive lifestyle, Starbucks ensures you won't miss out on their amazing sandwich offerings. Their Gluten-Free Certified Sandwich has been crafted with all the care and flavor one expects from Starbucks, all while retaining the integrity of a gluten-free meal.
Protein Packed Offerings
If you are following a high-protein regimen, the PB&J Protein Box is a standout option. Peanut butter, known for its high protein content, and the sweet tanginess of jelly in a sandwich, plus the accompanying nuts and fruits in the box, make for a high protein and nutritious intake.
Why Starbucks Sandwiches Make for the Perfect Grab-n-Go Meal?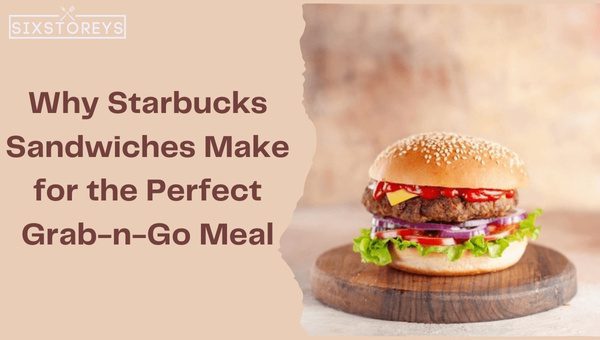 In today's fast-paced life, convenience has become a key factor when it comes to meals. Starbucks has ingeniously made their sandwiches to be the ideal grab-n-go meals, without the slightest compromise on taste or quality. So why does every Starbucks sandwich make for the perfect meal in a hurry?
Quick Service
A key part of Starbucks' service model is speed. Nobody wants to spend half their lunch break waiting for their order to arrive. Starbucks' sandwich collection is a part of their ready-to-eat menu. Simply order, pay, and you're all set to enjoy your flavorful meal.
Handheld Convenience
The whole premise of a sandwich revolves around handheld convenience. Whether you are enjoying a Chicken & Bacon on Brioche in between work or tucking into a Bacon, Gouda, & Egg Sandwich on your commute, every sandwich is designed to be effortlessly enjoyed while you're on the move.
Balanced and Wholesome
While they are quick and convenient, Starbucks sandwiches are far from your typical fast food fare. Each sandwich, be it the Double-Smoked Bacon, Cheddar, & Egg or the Tomato & Mozzarella on Focaccia, contains a balanced proportion of proteins, carbs, and veggies. So, you're not just eating fast, you're eating right.
With such a mindful and delicious approach to their sandwich collection, it's no wonder that Starbucks continues to reign as a favorite destination for a quick meal. After all, who can resist a brand that pairs convenience with delectable taste and honors dietary needs as well.
How to Make a Healthier Choice at Starbucks?
When it comes to picking a surprise sandwich from Starbucks' vast menu, focusing on the blend of ingredients and nutritional values can lead your intuition to a healthier choice. It's a myth that all fast-food stands on the unhealthy side of the scale, and Starbucks is here to debunk this fallacy with its range of healthier alternatives.
Let's start with the Veggie & Hummus Protein Box. It's a perfect example of how Starbucks has incorporated healthy eating into its menu. The balanced and nutritious box includes hearty baby carrots and snap peas, coupled with creamy, protein-rich hummus and a delicious nut and fruit mix catering to the crunch factor!
For bread lovers, there's the Spinach, Feta, & Egg White Wrap. Perfect for breakfast or a light lunch, it boasts a good dose of protein, thanks to the fluffy egg whites. Combined with the nutritional goodness of spinach and a subtle hint of feta cheese, it strikes the perfect balance of being both scrumptious and healthy. I'll frequently pick it when I'm looking for a lean, green meal on busy mornings.
Why Do Starbucks Sandwiches Stand Out in the Fast Food Industry?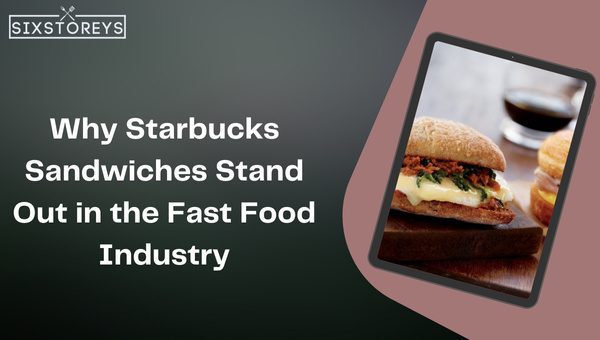 Among the homogenized landscape of the fast food industry, Starbucks sandwiches bring a refreshing and sophisticated touch to the casual dining experience, setting them apart from their competitors.
One key factor that strikes me every time I hold a Starbucks sandwich is the quality of the ingredients. Their sandwiches are more than just a quick bite put together thoughtlessly. Each sandwich features well-curated, high-quality ingredients that create a symphony of flavors, a testament to Starbucks' commitment to creating quality food. From the hearty Applewood smoked bacon in their breakfast sandwiches to the authentically Italian pesto in their Italian-inspired sandwiches, quality stands firm in every bite.
Secondly, the variety of the sandwich menu at Starbucks is genuinely commendable. Be it catering to various dietary needs or incorporating the essence of diverse cultures, each sandwich bears its unique identity and caters to a wide range of taste palettes. It's this willingness to embrace diversity in flavors that makes their sandwiches stand out on a global stage.
Last, but by no means least, the convenience aspect is another factor that makes Starbucks sandwiches so appealing. The company has effectively shaken the perception of 'fast food' being synonymous with 'unhealthy food'. Their sandwiches are both comforting and healthy at the same time. Whether you want something protein-packed after a gym session or a sumptuous, indulgent treat for your luncheon, you can find your fit at Starbucks—making it a go-to fast food outlet for any time of the day.
Starbucks sandwiches triumph in the cosmos of the fast food industry because they represent a successful marriage of quality, diversity, and convenience, a mantra that has clearly resonated with customers worldwide. To taste it is to believe it - it's all there between the bread.
How Starbucks Sandwiches Embody Cultural Diversity?
Starbucks, an American original, impressively blends global culinary traditions in its sandwich offerings. Since its inception, Starbucks has made a point of celebrating other cultures through its menu, a sentiment which is vividly echoed in its sandwiches.
Looking to enjoy a taste of Italy? The Roasted Tomato and Mozzarella Panini offer a remarkable simulation of Italian flavors. The Focaccia bread has a light, airy texture that perfectly complements the classic Italian pairing of juicy, sun-drenched tomatoes and creamy mozzarella.
Or perhaps, you fancy an All-American classic for breakfast? Look no further than the Bacon, Gouda & Egg Sandwich. It wraps up all the comforting wholesomeness of a hearty American breakfast with a warm, fluffy English muffin.
To satisfy vegan preferences, Starbucks even borrows from Mediterranean cuisine with Spinach, Feta, & Egg White Wrap. It masterfully brings together the fresh, leafy flavor of spinach with the tangy creaminess of feta cheese, all bundled together in a delightful wrap reminiscent of the fresh, wholesome tastes of the Meditteranean.
Through these and several other sandwiches, Starbucks beautifully demonstrates how a fast-food chain can skillfully incorporate an array of global flavors, thereby catering to a worldwide audience's diverse palate.
How to Pair Your Starbucks Sandwich with the Perfect Beverage?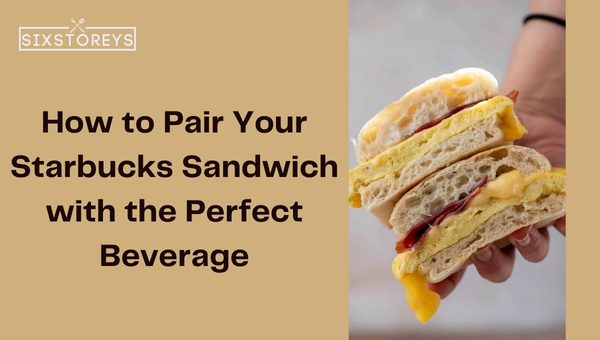 Enjoying a well-crafted sandwich is a pleasing experience in itself, but when paired with the perfect sip, it ascends to a whole new level of gastronomical delight. Here are few of my favorite Starbucks sandwich and drink pairings that you should definitely try out.
Turkey, Provolone, & Pesto on Ciabatta with Iced Green Tea Lemonade - The savory pesto sandwich balanced with the refreshing, slightly sweet iced green tea lemonade creates a beautiful symphony of flavors.
The Spinach, Feta, & Egg White Wrap with Almond Milk Latte - The fresh and tangy wrap aligns wonderfully with the smooth, subtly sweet almond milk latte, providing an utterly satisfying meal with a Mediterranean touch.
The Sausage, Cheddar, & Egg Sandwich with Nitro Cold Brew - A classic hearty breakfast sandwich calls for a classic beverage. With its rich, creamy texture and uniquely sweet undertones, the Nitro Cold Brew coffee is a knockout partner for this indulgent sandwich.
Ham & Swiss Croissant with Caffè Misto - The robust hot coffee wonderfully complements the buttery ham and cheese croissant, making this an ideal pairing for a warm and comforting breakfast or lunch.
Note: Don't be afraid to experiment with your own pairings. After all, finding the perfect sandwich-and-drink duo is a voyage of culinary self-discovery, isn't it?
Starbucks, with its natively American roots, flawlessly fuses a myriad of multicultural tastes into its menu, pushing the envelope in the realm of fast-food sandwiches. Whether it's evoking the homely warmth of an All-American breakfast, sourcing inspiration from an Italian deli, or borrowing from heart-healthy Mediterranean cuisine, Starbucks has proven itself a culinary chameleon, demonstrating a keen understanding and appreciation of global food traditions.
On the flip side, to complete your Starbucks experience, pairing your meal with the right drink is key. With the mix-and-match possibilities being endless, finding a combination that works best for you might well turn out to be a delightful exercise in gourmet creativity!
Also Read: Cheapest Starbucks Drinks
Frequently Asked Questions
What are some of the healthier sandwich options at Starbucks?
There are several healthier options to choose from at Starbucks. The Chicken BLT Salad Sandwich and the Spinach, Feta, & Egg White Wrap are two great examples. Both deliver essential nutrients without packing in too many calories. Also notable is the PB&J Protein Box providing a healthier version of a childhood favorite with a good dose of protein.
Are there plant-based or vegetarian-friendly sandwiches available in Starbucks?
Certainly, Starbucks has made strides in catering to diverse diets, and vegetarians are definitely included. The Impossible Breakfast Sandwich is a fantastic plant-based option with a delicious plant-based sausage. Other vegetarian-friendly sandwiches include the Tomato & Mozzarella on Focaccia and Spinach, Feta, & Egg White Wrap.
What are the gluten-free sandwich options offered by Starbucks?
For those searching for gluten-free options, Starbucks proudly serves its Gluten-Free Certified Sandwich. It is specially designed to cater to gluten-sensitive or gluten-intolerant individuals, ensuring that they too can enjoy a tantalizing sandwich without worry.
Do all Starbucks outlets serve the same variety of sandwiches across different regions?
While Starbucks tries to maintain a standard menu across most of their outlets, regional variations as well as seasonal offerings do exist. For an exact list of sandwiches available at your local Starbucks, it's best to consult with the outlet directly or check the specific menu on the Starbucks website.
Are Starbucks sandwiches fresh?
Starbucks takes pride in quality and freshness. They prepare their sandwiches every day using fresh ingredients. It's this commitment to quality that makes their sandwiches a reliable and tasty choice.
Do Starbucks Sandwiches cater to specific dietary requirements?
Starbucks offers sandwiches that cater to a range of different dietary requirements. They've carefully curated their menu to accommodate a varied customer base. From low-calorie selections, vegetarian options, gluten-free sandwiches, to protein-packed boxes, there's a choice for everyone.
Can I customize my sandwich at Starbucks?
While Starbucks does offer a certain degree of customization when it comes to beverages, their food menu, including sandwiches, is usually served as is. However, don't hesitate to ask your barista about any potential adjustments. They're always happy to help to ensure you enjoy your Starbucks experience!
Conclusion
Navigating the eclectic genre of Starbucks sandwiches is indeed a journey worth savoring. With their mindful fusion of textures, hues, and flavors, these sandwiches serve as a testament to Starbucks' pledge to cater to the tastes and dietary needs of its diverse global community. Be it a quick bite amidst a hectic workday or a comfortable sit-down meal while catching up with friends, Starbucks' offering of hearty, tasty, and healthy sandwiches reaffirms why this chain is more than just America's favorite coffee shop.
Each sandwich tells its own delicious tale, with a promise of satisfaction at its heart. So march ahead, brave food explorers, and remember, there's always a perfect sandwich waiting for you at Starbucks. Let the quest for your perfect sandwich keep your culinary spirits high!
Food Lover and Storyteller 🍽️✨ With a fork in one hand and a pen in the other, Shivani brings her culinary adventures to life through evocative words and tantalizing tastes. Her love for food knows no bounds, and she's on a mission to share the magic of flavors with fellow enthusiasts.