13 Best All You Can Eat Sushi in Minneapolis [September 2023]
Updated On: August 11, 2023
Nothing quite compares to the experience of enjoying fresh, impeccably-prepared sushi. If you have an insatiable appetite for this delicacy, and you find yourself in the vibrant city of Minneapolis, you're in for a treat. Home to a wide array of restaurants serving "All You Can Eat Sushi", Minneapolis is a haven for sushi enthusiasts offering everything from traditional styles to modern twists.
From the moment you pick up your chopsticks to the last piece of sushi you will savor, dining in these sushi restaurants is an experience that's sure to linger in your memory and palette. The best all you can eat sushi restaurants in Minneapolis, I'm about to introduce offer nothing less than a feast, sure to satisfy even the most voracious of sushi aficionados.
Also Read: Best All You Can Eat Sushi In Houston
13 Best All You Can Eat Sushi Restaurants in Minneapolis (2023)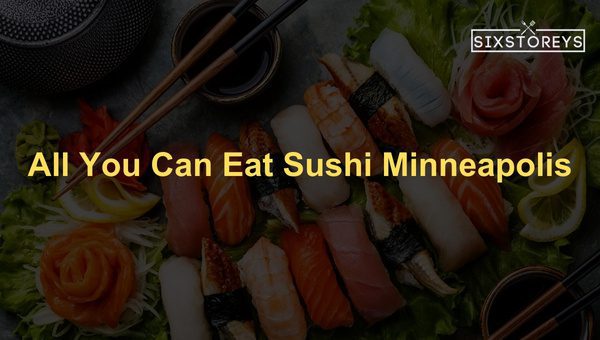 Embark on a culinary journey exploring the enticing world of sushi right here in Minneapolis. The city is bursting with sushi joints that offer an endless feast of your favorite rolls. Here's a curated list of the 13 prime destinations for the best "All You Can Eat Sushi" in Minneapolis to elevate your sushi-tasting experience to unforgettable heights.
1. Takara Sushi: An Unassuming Gem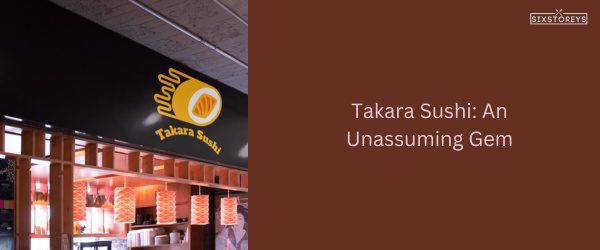 With over a dozen sushi spots spread across Minneapolis, you'd think it would be quite a challenge to pick out the truly exceptional from the extensive average. But once you stumble upon Takara Sushi, you'll quickly realize the gem it truly is.
Nestled in an unpretentious corner of downtown Minneapolis, Takara Sushi is like a trump card up the city's sleeve. To an unsuspecting passerby, the exterior might seem quite ordinary. However, the instant I set foot inside, it was evident that this place meant business.
Right off the bat, the establishment radiates a warm and inviting atmosphere with its subdued lighting and minimalistic decoration. The Japanese-inspired wooden fixtures paired with the simple, clean lines of the interior encompass a truly Zen vibe. It's an environment that urges you to let go of the outside world and focus solely on the culinary experience that awaits. For me, that's an integral part of any dining experience.
When it comes to its offerings, Takara Sushi boasts a comprehensive all-you-can-eat menu. From the familiar California roll, packed with fresh crab stick and creamy avocado to the exotic Dragon roll, which features eel and cucumber topped with avocado, the variety is truly commendable. Every roll I've tried has been artistically presented and has tasted absolutely delightful. What I admire the most about their sushi is the perfect balance they manage to achieve: the rice is always flawlessly seasoned and complements the highly fresh fish without overpowering it. The texture and taste combine to create a sushi experience unlike any other.
But perhaps the most surprising aspect of it all is the price point. Despite the superior quality and the vast selection, the all-you-can-eat menu at Takara Sushi is surprisingly pocket-friendly. That's an unbeatable combination, in my books. This is without a doubt my go-to place in Minneapolis to satiate my sushi cravings without feeling the heat in my wallet.
2. Iwa Sushi: A Fusion of Traditional and Modern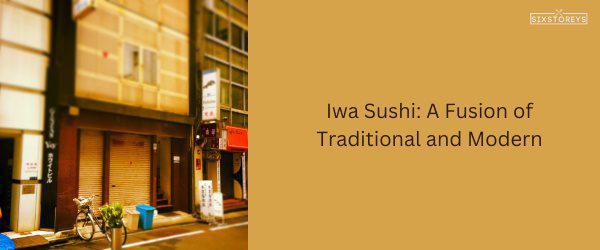 One of the glorious aspects of sushi is its versatility. While we can admire and respect the traditional forms, there's no harm in dabbling with imaginative variations. This precisely is where Iwa Sushi steps in, and boy, do they make an impression!
Based in Minneapolis's bustling city center, Iwa Sushi is a powerhouse of fusion cuisine. They mélange the timeless elements of sushi with innovative presentations. The result? A dazzling array of sushi that sheds light on the past while looking firmly into the future.
Walking into Iwa Sushi, I was struck by the contemporary design of the restaurant. The sleek furniture, sublime art installations, and fine selection of soft music created an aura of modern sophistication. Iwa Sushi is one of those places where, from the outset, you get the feeling that you're in for something special.
And special indeed it was. The all-you-can-eat sushi menu at Iwa Sushi is a virtual odyssey into a world of flavors. From the succulent Unagi roll, featuring eel and rice glazed with a sweet soy reduction, to the fiery Samurai roll, bursting with spicy tuna and cucumber, they offer a spectrum of taste experiences.
Each roll is crafted with an eye for perfection. The expert sushi chefs clearly know their craft, and the fusion of flavors in most offerings is testimony to their proficiency. However, it's not just the sushi that wins hearts here but the entire dining experience. The service is prompt, and the staff is well-versed in the menu to guide you based on your taste preferences.
I'll say this: When your sushi cravings lean towards the adventurous side, Iwa Sushi should definitely be on your radar. With their robust range of traditional, contemporary, and fusion rolls tickling my taste buds, I've found myself already planning my next visit.
3. Tokyo 23 Hibachi Buffet: Far From Ordinary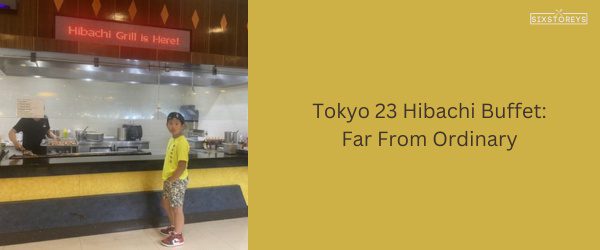 Perhaps one of the most exceptional sushi spots in Minneapolis, Tokyo 23 Hibachi Buffet forever changed my perception of buffets. It proves that buffets and sophistication are not mutually exclusive, but can coexist harmoniously. This place is an absolute game-changer, combining the indulgence of a buffet with the finesse of à la carte dining.
Situated in Minneapolis' bustling uptown, the restaurant's exterior is unassuming, but step inside, and you are greeted by tastefully minimalist decor reminiscent of the Far East. As a die-hard sushi fan, seeing the sushi buffet bar filled with an array of vibrant, intricately crafted rolls was quite an alluring sight. I was intrigued and excited about the culinary journey I was about to embark on.
On my visit, I indulged in the Rainbow Roll, a beautiful coming together of tuna, salmon, yellowtail, and avocado topped on a California roll. There is a harmony to the flavors and textures that gives homage to the mastery of the seasoned chefs. Each roll oozed freshness, suggesting the exceptional quality of the ingredients.
Additionally, the buffet offers a variety of international cuisine items, including hibachi and desserts, perfect for those who desire variety. But the true marquee is the sushi hosted there.
Despite being an 'all-you-can-eat' buffet, Tokyo 23 Hibachi Buffet's sushi tastes anything like mass-produced food. On the contrary, every sushi roll seems delicately handcrafted, promising an elevated culinary experience with each bite. If richness, diversity, and sophistication are what you look for in an all-you-can-eat sushi setting, Tokyo 23 Hibachi Buffet is sure to exceed your expectations.
4. Samurai Hibachi & Sushi: Royal Feast Awaits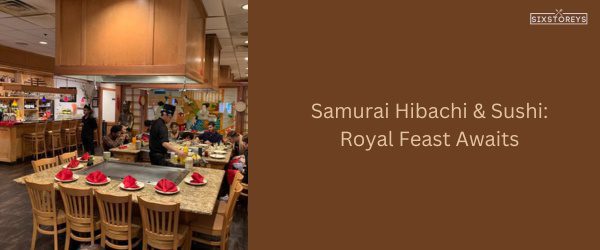 Samurai Hibachi & Sushi is one of those sushi spots in Minneapolis that serves as an echo of Japan's rich culinary legacy, specifically the ancient tradition of the Samurai. This place is all about high-quality sushi, excellent value, and a fantastic dining experience.
Centrally located in bustling Minneapolis, Samurai Hibachi & Sushi works its charm with an easy-going atmosphere and minimalist interiors, focusing on the real business - the food. Oh, the food!
First off is their Shrimp Tempura Roll - one of the finest I've ever tried. The generous, tender shrimp paired with crispy tempura make for a delightful surprise with every crunch. But the star of the show is their exhaustive 'all-you-can-eat' menu. A vast spread of gorgeously rolled sushi, sashimi, and numerous other delicacies - it looks like a royal feast, and it lives up to it!
Bringing traditional Japanese cuisine to the city while maintaining an approachable ambiance, Samurai Hibachi & Sushi strikes a lovely balance between authenticity and extravagance. Dishes are expertly prepared, service is swift and courteous, and every dining experience has been nothing short of fantastic.
From bite-sized classics like the Dragon Roll or the Spicy Tuna Roll to unique local creations, Samurai offers a sushi feast you're bound to enjoy. These mouth-watering servings are not just visually appealing, but they also taste as good as they look.
Given the quality, portions, and affordable price point, it's no surprise that Samurai Hibachi & Sushi has become a hot favorite in Minneapolis for sushi lovers like me. To all sushi enthusiasts out there, Samurai Hibachi & Sushi is where a royal feast awaits.
Also Read: Best Restaurants in Fort Collins, CO
5. Sumo Grill & Buffet: The Underrated Powerhouse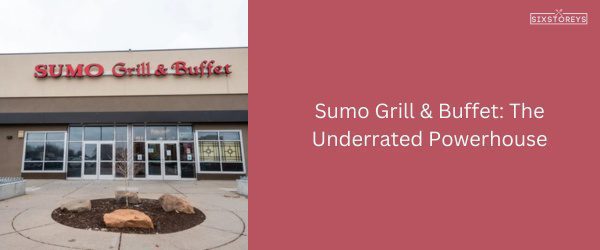 There's a saying - "Don't judge a book by its cover," and it could not ring more true in the case of Sumo Grill & Buffet. From a distance, it seems like any other sushi place, but it's the taste that makes all the difference. Let's dive deeper into what makes this place an underrated powerhouse of sushi in Minneapolis.
At Sumo Grill & Buffet, sushi is more than just food; it's a craft. Every roll served reveals the time and effort the sushi chefs devote to crafting the perfect sushi experience. The skill and artistry behind creating each roll are evident in the beautiful presentation and the burst of flavors as you take a bite.
As for the all-you-can-eat service, it is much beyond just a daily dining offer; it's a delightful sushi marathon. From the classic rolls and variations to inventive sushi concoctions, the restaurant's menu is diverse and tantalizing, with something to satisfy everyone's sushi desires.
One of my favorite dishes from their menu was the fresh salmon sushi. I still remember the taste of that tender, flavorful salmon melting in my mouth, perfectly complemented by the bed of expertly prepared sushi rice. It was an unforgettable culinary experience that had me coming back for more.
So, the next time you find yourself in Minneapolis, seeking exquisite sushi without burning a hole in your pocket, head out to Sumo Grill & Buffet. Trust me; you'll be pleasantly surprised.
6. Tokyo Sushi: A Global Affair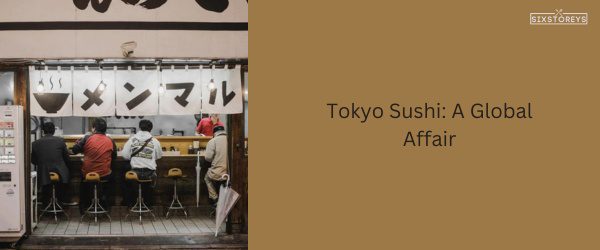 Have you ever wished to embark on a global sushi affair, tasting unique sushi styles from around the world? If yes, Tokyo Sushi in Minneapolis is your go-to sushi blast!
The first thing that struck me about Tokyo Sushi, apart from the friendly and welcoming staff, was the array of sushi on display. There's sushi for every taste and occasion, from traditional rolls to bold and exotic creations. It's like a sushi-themed world tour on a platter - international flavors masterfully captured within rice and seaweed!
The much-coveted 'all-you-can-eat' offer at Tokyo Sushi is just fantastic. Here, this concept is more than just a far-stretched menu; it's a celebration of sushi. It's a chance for sushi enthusiasts to bask in the glow of unlimited sushi, a fairy tale for those who dream of sushi buffets!
On my second visit, I decided to try something new and went for the Spicy Scallop Roll. The combination of fresh, sweet scallops with a hint of spice was a delightful change. It was a perfect amalgamation of creamy texture and subtle kick, tingling my taste buds.
Tokyo Sushi has a take on sushi that's both global and original, making it a standout sushi spot in Minneapolis. So if you're planning a special sushi meal, or want to experiment with eclectic sushi flavors, make a pit stop at Tokyo Sushi. I can vouch for a memorable sushi experience that will keep you coming back.
7. Sushi Train: Next Stop, Flavor Town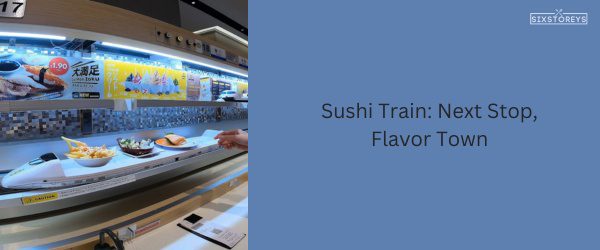 When you're in Minneapolis and in the mood for lip-smacking sushi, all roads lead to Sushi Train. Famed for its unique serving style, where each dish is placed on a miniature wooden "sushi" train that goes around the restaurant, this place is nothing short of a thrilling gastronomic adventure.
Stepping off the busy streets of Minneapolis and into Sushi Train is like entering a different world altogether. The whimsical train filled with different sushi dishes, the vibrant decor, and the mouthwatering sight of the sashimi is enough to pique any food lover's interest.
But that's not all. The extensive 'all-you-can-eat' menu is quite thoroughly thought out and brilliantly executed, with a pleasing selection of both traditional and innovative sushi dishes. I tried the traditional tuna nigiri on my first visit, and it was love at first bite. The freshness of the fish and the quality of the rice were unparalleled.
Dining at Sushi Train is not just about the great sushi but also the unique and fun experience that accompanies it. It's a delightful adventure for both the tastebuds and the eyes.
8. Dong Hae Korean Grill & Sushi: An Unforgettable Experience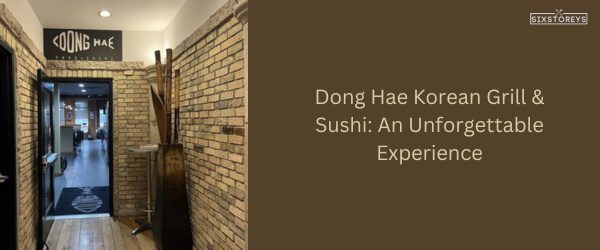 Dong Hae Korean Grill & Sushi is a hidden gem among the myriad sushi places in Minneapolis. Despite its Korean name, the sushi at Dong Hae is authentic, delightful, and on par with any top-tier sushi place in the city.
The restaurant's ambiance is uniquely captivating, accentuated by the lovely Korean decor and the courteous staff. But it's the food that leaves a lasting impression. The sushi served here deserves all the praise for its flawless presentation, taste, and texture.
The 'all-you-can-eat' menu at Dong Hae serves a veritable feast of sushi rolls, nigiri, and other delicacies, offering something for everyone. The Dragon Roll, with its expertly layered flavors and beautiful presentation, is my definite favorite. The soft, creamy avocado complements the sharp zest of the pickled ginger, making the roll feel like an explosion of flavors in your mouth.
Dong Hae Korean Grill & Sushi provides not just a meal but an experience that can only be described as 'exquisite.' If you're a sushi aficionado or someone looking to try something new and delicious, then Dong Hae Korean Grill & Sushi stands out as an unforgettable experience in the heart of Minneapolis.
9. Billy Sushi: Delighting the Taste Buds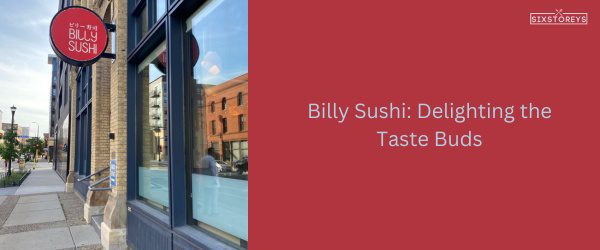 Billy Sushi has effortlessly made its place in my list of go-to sushi spots in Minneapolis and for all the right reasons. It's one of those charming nooks you'd pass by, but upon entering, a culinary journey unfolds, one that has your taste buds dancing with joy.
From the warm hospitality to the intricately decorated interiors, everything about Billy Sushi spells comfort. Of course, the real show-stopper is the food. Whether you're sampling their sushi for the first time or are a regular, each bite is as delightful as the last.
Their 'all-you-can-eat' sushi menu caters to all taste preferences, offering an array of sushi creations that range from traditional to innovative. I still recollect the exhilarating burst of flavors when I first tasted their Dragon Roll, a stunning mélange of textures and tastes that keeps me coming back for more.
Both presentation-wise and taste-wise, Billy Sushi is a treat. Next time you're craving some delightful sushi in Minneapolis, Billy Sushi is one destination you wouldn't want to miss.
10. Wakame Sushi & Asian Bistro: A Dining Destination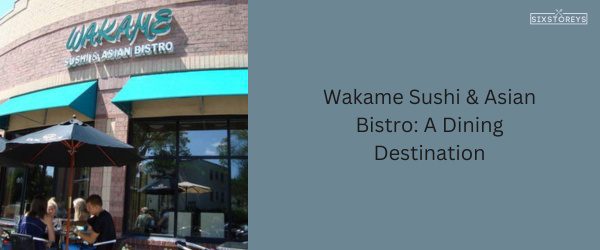 Prepare to be blown away by the sophisticated dining experience at Wakame Sushi & Asian Bistro. Nestled in the buzzing heart of Minneapolis, this eatery quickly captured my heart, and taste buds, with its refreshing take on traditional Japanese cuisine.
Every element in Wakame Sushi & Asian Bistro, from the contemporary interiors to the tantalizing aroma of fresh sushi, exudes an inviting warmth. Patrons would also appreciate the top-notch service provided by the friendly staff.
The sushi, which I believe is the soul of any sushi restaurant, does not disappoint. Their 'all-you-can-eat' sushi menu explores the breadth and depth of sushi artistry, featuring an enticing selection of hand-rolled sushi, sashimi, and more. On my first outing there, I chose the Philly Roll, a delicate roll packed with fresh salmon, cream cheese, and cucumber. Every bite was a blend of exquisite flavors making a sensation worthy of a repeat experience.
In essence, Wakame Sushi & Asian Bistro is an ideal fusion of a relaxed ambiance, excellent service, and delicious sushi. It's a destination that promises a memorable dining experience to sushi lovers.
11. Akita Sushi & Hibachi: Sushi at Its Best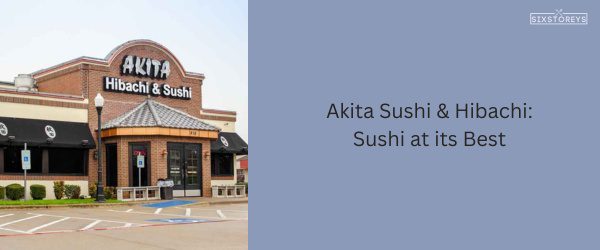 The moment I stepped into Akita Sushi & Hibachi, I knew I was in for an extraordinary dining experience. The floor-to-ceiling windows offer a delightful city view, the cozy seating arrangements, the frolicking lights dangling from the ceiling, and the aroma of fresh seafood - everything about this place radiates warmth and welcome.
Akita's all-you-can-eat sushi menu is undoubtedly the star of the show. Each piece of sushi is rolled to perfection, with a supreme emphasis on using premium quality, fresh ingredients. My favorite is their Tuna Roll, an enchanting harmony of fresh tuna, rice, and a hint of wasabi that leaves me craving for more every time!
Whether you're a sushi connoisseur or not, the variety of Akita's sushi menu will surely impress. This place beautifully encapsulates the profound joy of indulging in a delicious sushi feast.
12. Kyatchi: An All-Around Winner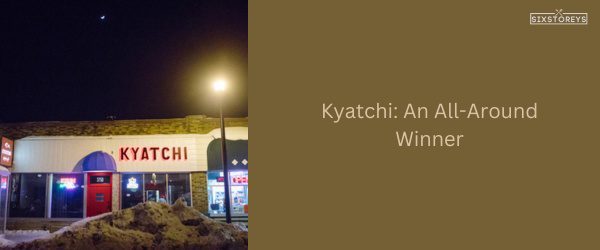 Stepping into Kyatchi feels like entering a secret sushi haven tucked away in the bustling heart of Minneapolis. This sushi joint has an all-around winning formula - from the laid-back atmosphere to the exceptional sushi, everything leaves an indelible impression.
Their all-you-can-eat sushi menu is a food lover's dream come true. Each roll is packed with serious flavor and freshness that's hard to ignore. A bite of their Signature Kyatchi Roll transports me to sushi heaven. It's a beautiful mingling of fresh tuna, scallions, and pickled ginger bound together by perfectly cooked sushi rice.
At Kyatchi, sushi is not just a dish but a remarkable experience that tantalizes your taste buds and enchants your senses. It's little wonder why they've managed to win the hearts of so many sushi lovers in Minneapolis – mine included!
13. Kyoto Sushi: Ending on a High Note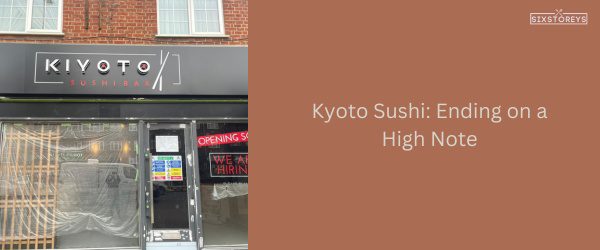 Kyoto Sushi encapsulates an ideal sushi dining experience. Right from the moment you step in, you're greeted by a mouthwatering array of sushi, elegantly lining the buffet like a piece of delicious artwork. When it comes to the 'all-you-can-eat' sushi experience in Minneapolis, I always recommend Kyoto without hesitation.
The quality and freshness of their sushi are always top-notch, and the variety is simply commendable. The Spider Roll, packed with soft-shell crab, cucumber, and avocado, and beautifully garnished with caviar, has a permanent spot in my food memories.
Kyoto Sushi offers an unforgettable dining adventure, one that beautifully rounds up the ultimate 'all-you-can-eat' sushi journey in Minneapolis. Each visit always leaves me satiated, yet eagerly awaiting my next sushi feast!
Also Read: What is Ebi Sushi?
How to Find the Best All You Can Eat Sushi Spots in Minneapolis?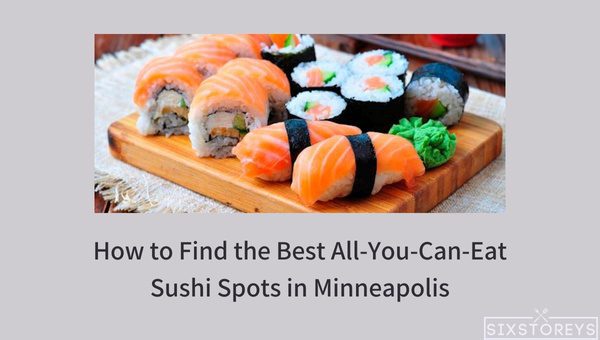 Finding the best all-you-can-eat sushi spots in Minneapolis might seem like a daunting task given the city's blossoming culinary scene. Fear not! Here are some tips to help you discover the sushi heaven of your dreams in this vibrant city.
Prioritize Review Sites
Yelp and TripAdvisor are gold mines of information when it comes to finding the best restaurants. These platforms are especially valuable because they offer firsthand experiences from people who've dined at these establishments before. Pay close attention to reviews as they can give you an idea about the restaurant's sushi quality, service, and ambiance.
Ask Around
Don't underestimate word of mouth. Locals often know the best spots that may not necessarily pop up on tourist guides or search engines.
Use Social Media
Many restaurants nowadays have Instagram accounts where they regularly post images of their dishes. Checking these out will not only whet your appetite but also give you an idea of the restaurant's sushi offerings.
Try Multiple Spots
The best way to find the ultimate sushi bar is by trying out as many as you can. Remember, the sushi experience can be subjective. What suits your palate might not suit others!
Consider Your Budget
Last but not least, always consider your budget. All-you-can-eat sushi places in Minneapolis range from affordable to high-end. It's nice to splurge on an expensive meal every once in a while, but there are also many affordable spots that serve quality sushi.
Why Minneapolis is a Haven for Sushi Lovers?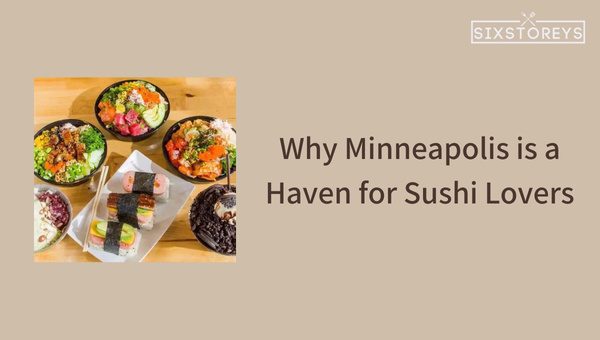 Minneapolis might be significantly distanced from the ocean, but it doesn't stop the city from being a haven for sushi lovers. With an array of spots offering all-you-can-eat sushi, this city in the heart of the Midwest continues to impress with its sushi offerings.
Unwavering Commitment to Quality
Minneapolis sushi restaurants' unwavering commitment to quality is one primary reason the city is a sushi lover's paradise. Freshness is the soul of sushi, and Minneapolis spots source the freshest ingredients for their sushi.
Experimental Sushi Menus
The city champions experimental sushi menus meaning it caters to both traditional sushi lovers and diners who are seeking adventurous flavors.
Variety of Options
Finally, the variety. You can find everything from expensive, upscale sushi bars to affordable all-you-can-eat places that don't compromise on quality.
Establishments with Japanese Chefs
Some sushi establishments in Minneapolis even boast Japanese chefs, which ensures a splendid sushi experience that sticks closely to the dish's cultural roots. You get the authentic experience without even having to step foot out of Minneapolis!
From traditional nigiri to fusion rolls, Minneapolis has something to offer to anyone who appreciates sushi. So here's to the city that continues to up its sushi game and make sushi enthusiasts feel right at home. Cheers!
Understanding the Art of Sushi Making in Minneapolis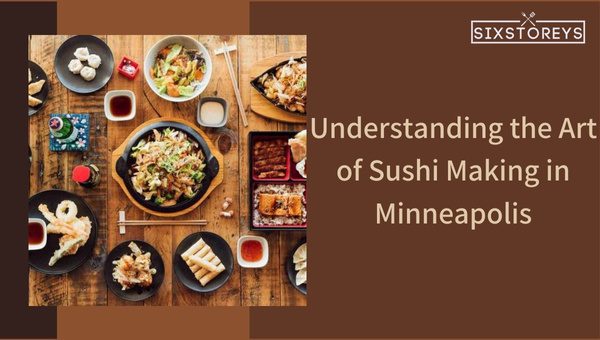 At its core, the making of sushi is an art form, rich in history and tradition. In Minneapolis, many sushi chefs have traveled from Japan or were trained by master sushi chefs, bringing authenticity and a deep respect for the craft of sushi making.
While the art of sushi making can be complex, there are four key elements that every sushi chef in Minneapolis prides themselves on: rice, fish, nori (seaweed), and vinegar. From selecting the right grain of sushi rice to sourcing the freshest fish, every component is handled with precision and care.
A crucial facet of sushi making is the rice. The quality, preparation, and cooling of the rice play a significant role in the sushi's final taste and texture. The ratio of rice to other ingredients also matters. Getting this balance right is a delicate art, like a dance, navigated with practiced ease by these sushi maestros.
The sushi scene in Minneapolis is about more than just mass production for the all-you-can-eat buffets; it's about honoring and perpetuating the age-old art of sushi making. When you eat sushi in this city, you're not only satisfying your tastebuds – you're participating in a longstanding tradition of culinary artistry.
How to Maximize Your All-You-Can-Eat Sushi Experience in Minneapolis?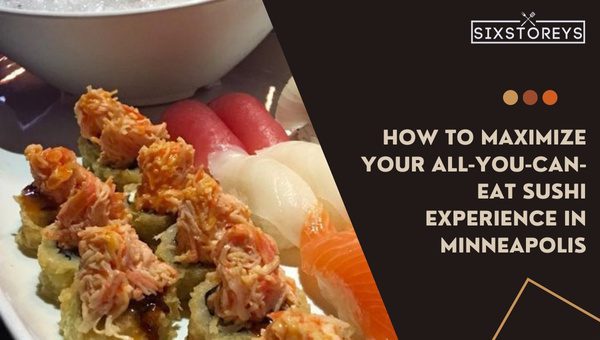 Firstly, maximize your experience by exploring various sushi places. It is a common misconception that 'all you can eat' at a sushi restaurant entails only sushi. The diversity presented in these sushi establishments offers more than just sushi rolls – think miso soup, edamame, and tempura to balance the sushi intake.
Secondly, aim to become familiar with different types of sushi. Understand the distinction between Nigiri, Sashimi, and Maki. A basic understanding of the sushi menu will ensure that you're getting the most out of the sushi experience. Try out everything, even those that might seem outside your comfort zone.
Thirdly, prioritize quality over quantity. The joy of sushi lies in the quality, not necessarily how much you can consume in one sitting. Take time to relish each bite. Appreciate the skill and artistry put into each piece.
Lastly, pace yourself. It's easy to get carried away at an all-you-can-eat sushi establishment. Resist the urge to pile your plate high from the get-go. Gradually savour the offerings, ensuring you don't overload your palate – or your stomach!
The Health Benefits of "All You Can Eat" Sushi Options in Minneapolis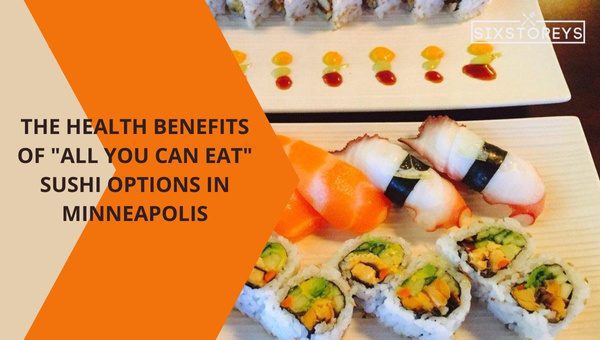 Many people might associate "all you can eat" with indulgent eating. However, sushi is one of the healthier options when it comes to this type of eating style. Regarded as a balanced meal comprising proteins, carbs and vegetables, you're in for a tasteful journey of eating healthily.
First and foremost, sushi is rich in Omega-3 fatty acids. Most sushi rolls include fish like Tuna and Salmon, which are abundant in Omega-3, great for heart health.
Besides, sushi rolls often incorporate avocado, a fruit lauded for its array of health benefits including good fats and high fiber content. Naturally, there's the inevitable boost of vitamins and minerals from other ingredients used in sushi preparation such as seaweed wrap (nori), which is a good source of iodine, and wasabi, known for its anti-inflammatory properties.
Keep in mind, though, that moderation proves key when enjoying "all you can eat" sushi. One may argue, yes, it's beneficial for health, but a wave of sushi consumption might quickly turn into a tidal wave of calories if you're not careful.
However, acknowledging these healthy factors and making the right choices can turn your all-you-can-eat sushi experience in Minneapolis into an equally delicious and healthy treat!
A First-Timer's Guide to Enjoying All You Can Eat Sushi in Minneapolis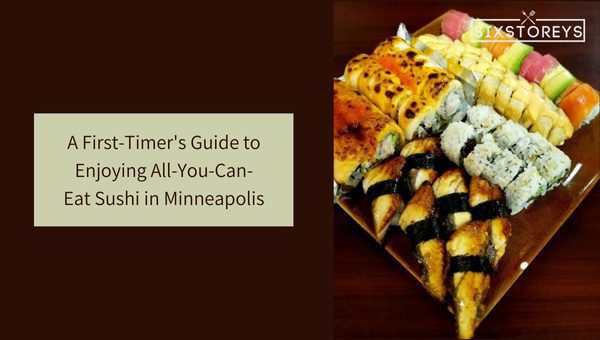 If you're new to the Minneapolis sushi scene or are trying sushi for the very first time, you are in for an exciting culinary journey. Here are some tips on how to make the most of your first all-you-can-eat sushi experience in Minneapolis.
Start with the Basics
As a sushi novice, it can be tempting to dive right into the world of exotic sushi rolls. However, starting with simpler, more traditional rolls will help you appreciate the intricate balance of flavors in sushi. Look for rolls like the classic California roll or the tuna roll.
Explore the Menu
Once you've familiarized yourself with the basic flavors, it's time to explore. In an all-you-can-eat sushi setting, you have the freedom to try out different types of sushi without being constrained by price. Take advantage: try the nigiri, hand rolls, or sashimi. You never know what you might find yourself favoring!
Keep an Eye on Quality
In any all-you-can-eat scenario, there can be a temptation to prioritize quantity over quality. However, sushi is all about the freshness of ingredients. Make sure to choose a sushi place that is known for its fresh ingredients and quality offerings—just like the ones I've mentioned in this list.
Respect the Etiquette
While sushi is enjoyed worldwide, it's important to respect sushi etiquette. For example, when dipping sushi into soy sauce, make sure to dip the fish side, not the rice side — you want the flavor to enhance the fish, not absorb into the rice.
Enjoy the Experience
Above all, eating sushi is about enjoying the entire experience—the atmosphere of the restaurant, the craftsmanship of the sushi chefs, and of course, the exquisite balance of flavors in every roll.
Embarking on a sushi journey in Minneapolis can be an enriching experience. There's a world of exotic flavors and unique combinations waiting to be discovered, so take your time, keep an open mind, and don't forget to savor every bite!
Also Read: Best All You Can Eat Sushi In San Diego
Frequently Asked Questions
What is "All You Can Eat Sushi"?
All You Can Eat Sushi is a style of dining where you pay a fixed price and then can enjoy unlimited servings of sushi. The idea is to provide customers with a variety of sushi offerings for one set price.
Where Can I Find the Best All You Can Eat Sushi in Minneapolis?
Minneapolis has a host of sushi restaurants offering all-you-can-eat sushi. Some of the top places include Takara Sushi, Iwa Sushi, Tokyo 23 Hibachi Buffet, Samurai Hibachi & Sushi, and Sumo Grill&Buffet among others.
What Should I Expect from All You Can Eat Sushi Restaurants?
Most all-you-can-eat sushi restaurants will let you order as much sushi as you like from a specific menu. You can enjoy various types of sushi prepared with the freshest ingredients.
Are There any Rules for Eating Sushi in Minneapolis?
Generally, there are no specific rules for eating sushi in Minneapolis. However, some sushi restaurants may have their own rules, such as a time limit or an extra charge for excessive waste.
How Much Does All You Can Eat Sushi Cost in Minneapolis?
While prices can vary, you can generally find all-you-can-eat sushi options ranging from around $20 to $35 per person.
How Should I Make the Most of My All You Can Eat Sushi Experience in Minneapolis?
To make the most of your all-you-can-eat sushi experience, try a variety of sushi rolls, and don't fill up on rice. Taste different types of sushi to experience the full spectrum of flavors available.
Can I Take Leftovers Home from an All You Can Eat Sushi Restaurant?
Usually, leftovers from an all-you-can-eat sushi meal cannot be taken home. This is to discourage waste and over-ordering. Always check with the restaurant about their take-out policies.
Is it Necessary to Make a Reservation at a Sushi Restaurant in Minneapolis?
While it's not always necessary, it's recommended to make a reservation, especially during peak times or if you're planning to visit a popular sushi restaurant.
How Fresh is the Sushi in All You Can Eat Restaurants?
Sushi in all-you-can-eat restaurants in Minneapolis is generally very fresh. Many restaurants prepare their sushi to order, ensuring the highest quality and freshness.
Is There Vegetarian Sushi Available in Minneapolis?
Yes, many sushi restaurants in Minneapolis offer a variety of vegetarian sushi options. You can find rolls made with ingredients like avocado, cucumber, carrot, and more.
Conclusion
After immersing myself in the Minneapolis sushi scene, I came to realize that sushi is not just a dish, but a cultural encounter that pieces together art, tradition, and flavors into bite-sized perfection. Every restaurant has its own approach, and every roll tells a story. The places I've shared with you offer an unrivaled all-you-can-eat sushi experience in Minneapolis, enticing sushi novices and veterans alike with the promise of unlimited plates layered with fresh fish, expertly seasoned rice, and a plethora of innovative ingredients.
So, unleash your appetite and let these gems of Minneapolis guide you to a remarkable sushi journey that transcends the spectrum of flavors. Every morsel is an adventure worth taking. Until then, keep your chopsticks ready and your sushi cravings alive.
Wanderlust Foodie and Cultural Ambassador 🌍🍴 Neha's passport is a menu, and her journeys are flavored with global tastes. As he navigates culinary landscapes, her narratives bridge the gap between cuisines and cultures. Join her as she proves that the world is best explored through its diverse dishes.