50 Best BBQ Chips Brands 2023 [Crunchiest Delights]
Updated On: November 14, 2023
Diving into a bag of best BBQ chips is truly a unique pleasure. The delightful crunch, the tangy, smoky flavor, and the unmistakable hint of sweetness; it all combines to provide a snack experience like no other. Whether you're enjoying a quiet evening at home or hosting a gathering for family and friends, the best BBQ chips are sure to hit the spot every time. These thinly-sliced, fried or baked delights coated in a savory barbecue rub are the epitome of comfort food for many.
Whatever the occasion, the BBQ chip is surely a superstar, with its myriad of flavors that capture the essence of a summer cookout. The wide world of best BBQ chips boasts a variety of textures, spice mixes, and styles. And while they all promise a flavor-packed crunch, each offers a distinct barbequed taste. Join me as I explore the best BBQ chips that you absolutely must try.
Also Read: Best Sour Cream And Onion Chips
50 Best BBQ Chips Brands of 2023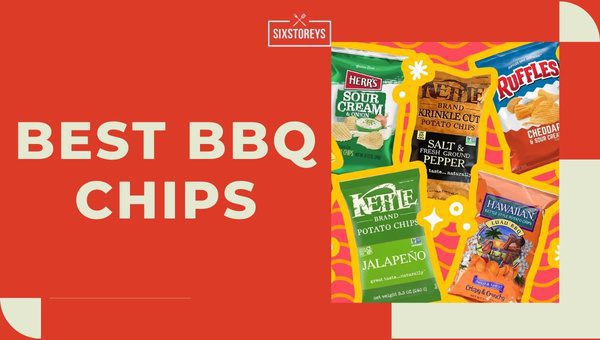 Whether you're a barbecue connoisseur, a snacker, or simply a potato chip lover, the sheer variety of BBQ chips on the market can surely satisfy your taste buds. The diversity, the flavors, and the textures are all spellbinding. So let's buckle up and explore my handpicked list of the 50 best BBQ chips that will make your snack moments memorable.
1. Lay's Sweet Southern Heat Barbecue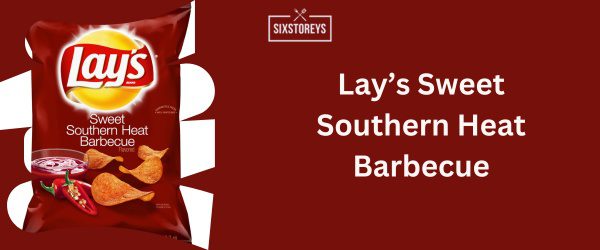 Looking for that perfect sidekick to make your picnics, movie nights, or evening get-togethers favored with a Southern touch? Then let me introduce you to Lay's Sweet Southern Heat Barbecue chips. These chips promise a delightful blend of spice and sweetness that hits the palate just right.
Lay's masterfully infuses the sweet and smoky essence of Southern-style barbecue sauce - you know, the kind that slowly simmers for hours, filling the air with its enticing aroma - right into their chips. The sweet aspect pays homage to the molasses traditionally found in Southern BBQ sauces while the heat echoes the tangy spiciness that makes every BBQ plate unforgettable.
Taking the first bite, you're immediately met with an overwhelmingly rich barbecue flavor, characterized by a deep, smoky sweetness coupled with a hint of spice - a delightful juxtaposition that echoes through each satisfying crunch. Each chip simultaneously delivers the heat yet guards your tongue with its sweetness. It's almost like enjoying two snacks in one!
The thing I personally love about the Lay's Sweet Southern Heat Barbecue chips is their authentic homage to Southern BBQ. They don't simply give you a typical BBQ flavor – it is as if each chip is a memory of a Southern summer. And the consistency of the flavor reflects Lay's attention to detail and dedication to quality. Each chip from start to finish echoes with the same captivating tastes without overwhelming the taste buds. A bag of Lay's Sweet Southern Heat Barbecue chips is essentially a delightful culinary journey through the South and its rich barbecue tradition.
Now let's shift gears to a chip variant that promises a flavor packed twist on a traditional favorite meat - Herr's Baby Back Rib.
2. Herr's Baby Back Rib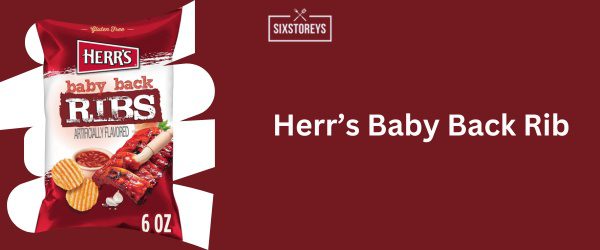 Nothing screams barbecue like Baby Back Ribs. The succulence of the meat, the rich marinade, and the signature charred flavor; all contribute to creating an unforgettable barbecue experience. Herr's has brilliantly captured this experience in the form of a potato chip with their Baby Back Rib flavor.
If you're like me and can't resist the faithful replication of flavors in a snack, then these chips are for you. The Herr's Baby Back Rib chips emulate the finger-licking good flavor of juicy ribs coated in savory barbecue sauce, and they do so brilliantly.
Beginning with the classic crunch of Herr's chips, you next encounter the rich, meaty essence. Each chip exhibits a deep, smoky flavor rounded out with a touch of sweetness, creating a taste experience very similar to biting into a hearty, well-cooked baby back rib slathered in sweet, smoky barbecue sauce.
Another feature that stands out with Herr's Baby Back Rib chips is the texture. Herr's commitment to providing quality chips is apparent in every bite, with the thickness of the chips reminiscent of robustly cooked ribs.
But the true magic lies in the extraordinary blend of flavors. With each bite, there's a burst of smoky flavor, followed by the subtle sweetness that regular BBQ lovers know all too well. The hint of tanginess offers a delightful contrast, providing an authentic Baby Back Rib experience without any need for napkins!
What will truly amaze you about Herr's Baby Back Rib flavored chips is the potential for these chips to replace your actual rib dishes! They make an excellent replacement for those days when you crave the succulent taste of ribs but lack the time or means to prepare the real deal. Believe me, these chips round off the barbecue craving brilliantly!
3. Deep River Snacks Kettle Chips, Mesquite BBQ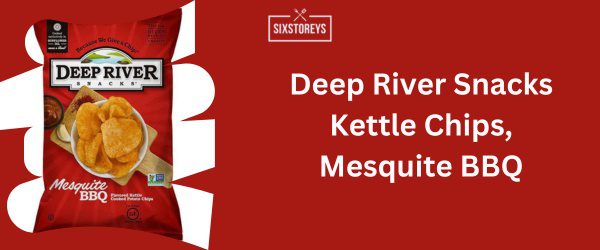 BBQ chips have a special place in our hearts, but sometimes, we need something more. Well, look no further, I present to you, Deep River Snacks Kettle Chips in Mesquite BBQ flavor.
The best of the best, these chips seem to have stepped straight out of a smoky barbecue pit. Gourmet grilling at its finest is what comes to mind when I bite into these magnificent, crunch-laden chips. This is because mesquite wood, a famous barbecue addition, is known for the distinctive, slightly sweet, and robustly smoky flavor it imparts. And these chips? They serve it all on a plate… well, a bag.
Deep River Snacks hasn't held back with their Mesquite BBQ chips. Each one is coated generously in a flavor blend that immediately transports you to a warm, Sunday afternoon barbeque gathering. Perfectly smoky, slightly sweet, and balanced with a savory tang, these chips are true to their name. They even go one step further, offering the iconic kettle-cooked crunch, which adds an additional dimension to the snacking experience.
I truly appreciate how these chips offer a sturdy, more substantial bite, akin to ribs or brisket. It becomes even more impressive when coupled with their determination to a Non-GMO product, gluten-free, and a commitment to "giving a chip" by donating a portion of their profits. They aren't just serving great flavor; they are also providing peace of mind.
4. 365 BBQ Chips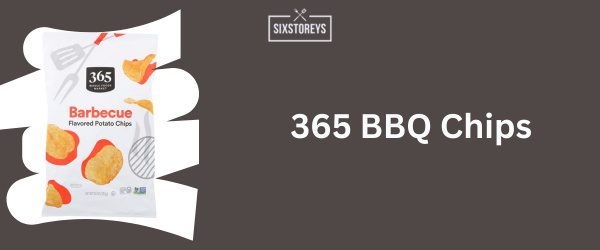 365 BBQ chips are undeniably praiseworthy in their nuanced flavor profile. They are a product of 365 by Whole Foods Market, a brand renowned for its focus on quality, value, and sustainability.
The charm of 365 BBQ chips lies in their simple yet fulfilling presentation. A fantastic balance of flavor, texture, and richness - these chips offer a classic, 'never-fail-you' barbeque flavor you'd expect at any summertime gathering.
The sauce flavor in these chips is a harmonious blend of sweet, tanginess, with just the right amount of smokiness. The balance is so well-executed; it's like having a barbecue party inside your mouth, engrossing your taste buds in a full-throttle BBQ symphony.
One outstanding feature about these 365 BBQ chips is the crunch. Perfectly crispy without straying into 'jaw-breaking' territory, these chips also offer a lighter alternative that can easily satisfy your desire for a crunchy snack without being overwhelmingly salty or greasy.
The 365 BBQ Chips can truly claim their space on the shelf as an iconic staple that guarantees a high-quality, tasty snack time whenever you need it.
5. Fritos Flavor Twists Honey BBQ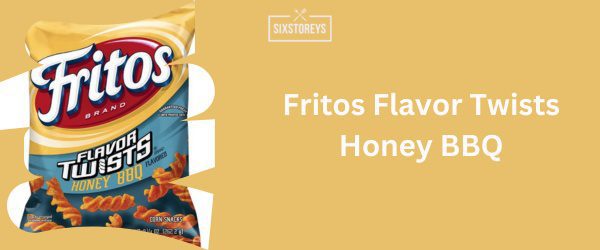 I'm sure we all agree that a little twist in flavor never hurt anybody. That's precisely what Fritos brings to the snack table with their Flavor Twists Honey BBQ.
Packaged in what looks like twisted corn chips, these snacks deserve an award for their creativity and uniqueness, not just in shape but also in flavor. The innovative look provides a quirky appeal, and with each twist, you get the luscious goodness of honey, a taste of BBQ essence, and a unique crunch reminiscent of classic Fritos.
Each spiral carries a sweet yet smoky honey barbecue flavor profile that's impossible to resist. First, you catch hints of honey, coating your palate with sweetness that's just perfect and not cloying. Following closely is the smoky BBQ flavor, reminding you this is still a BBQ chip at heart. Together, the flavors engulf your senses, leaving you reaching for more.
Honestly, Fritos Flavor Twists Honey BBQ have their own special place in the world of snacks. They're not just ordinary barbeque chips; they're a testament to the exploration of the familiar with an exciting twist. Truly a delightful adventure to snack town!
6. Clancy's Barbecue Potato Chips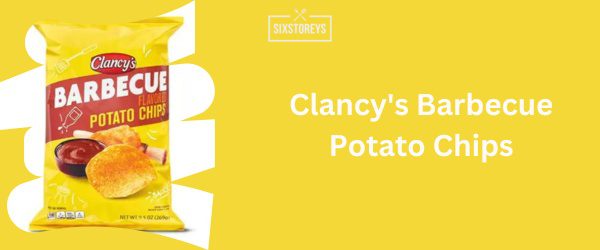 Barbecue chips are a classic, but when we talk about the standout flavors, I must mention Clancy's Barbecue Potato Chips. Living up to their tagline "Dedicated to Quality," Clancy's does not disappoint when it comes to delivering an excellent BBQ chip experience.
One of the things that draw me to Clancy's is a distinctive blend of tanginess, smokiness, and subtle sweetness that gives their BBQ chips the right depth of flavor. The beautiful medley of tastes burst forth with every bite, providing an enriching and satisfying snack journey. The addition of onion and garlic to their flavor mix adds an extra layer of complexity, and the result is authentically delightful barbecue snack goodness.
These chips exhibit a crisp, firm texture that stays true even when you are reaching the end of the bag. No excess grease to worry about either. I find them perfectly snackable and entirely crave-worthy.
Whether you are celebrating a victory, nursing a broken heart, or simply cozying up with a movie on a weekend, these chips are a fantastic munching partner.
7. TERRA Sweet Potato Chips, BBQ Sweets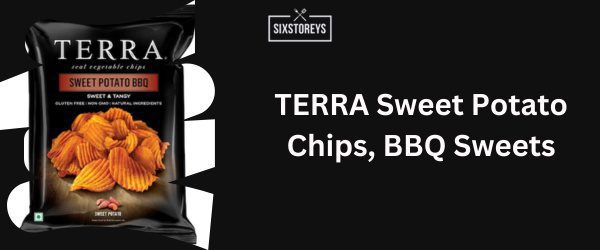 Imagine the marriage of sweet potatoes with barbecue flavor, and you've got TERRA Sweet Potato Chips, BBQ Sweets. Sounds like an unlikely pairing? Believe me, it's a match made in snack heaven.
While sweet potato in itself is a treat, TERRA has cleverly woven in the essence of barbecue to create an exotic flavor profile that's both unique and tantalizing. There's something decadently delicious about the earthy sweetness of the sweet potato meeting the smoky, tangy BBQ flavor.
Each chip is perfectly crisped, creating a lovely balance of texture against the soft sweetness of the sweet potato. Every bite is different and interesting. The hint of barbecue is subtle but just enough to give you a delightful peek into the world of BBQ flavors.
Even the chips' colors are a rustic blend ranging from golden orange to deep purple, making them visually appealing too.
TERRA's commitment to non-GMO, gluten-free ingredients ensures you have a bag of tasty treats that are also mindful and health-conscious. TERRA puts the 'sweets' in BBQ Sweets and keeps me reaching reflectively into the bag for more!
8. Pringles Scorchin BBQ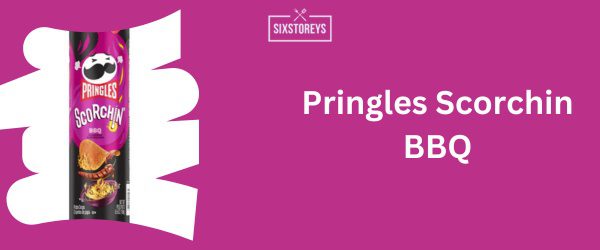 Are you a BBQ chip lover with a penchant for heat? Pringles' Scorchin BBQ should be on your must-try list. Known for their distinct saddle shape and neat packaging, Pringles chips do not just offer a convenient snacking option but also bring the heat when it comes to flavor.
At first glance, these chips might seem like the usual Pringles fare, but a single bite is all it takes to set your taste buds ablaze. Pringles has turned up the notch with the Scorchin BBQ, skillfully blending classic BBQ taste with a spicy kick.
Starting off with the well-known barbecue flavor we all love, the smoky sweetness subtly changes into a spicy explosion that wakes up even the sleepiest of taste buds. The spice level is not overwhelming, however, which makes this an approachable snack even for those who want to take baby steps into the spicy world of BBQ chips.
Texturally, these chips hold up to the Pringles' standard, offering the same crisp crunch you'd expect.
Whether you choose to savor it slowly or crunch it down in one go, Pringles Scorchin BBQ guarantees an adventurous ride down the flavor lane!
9. Ruffles Flamin Hot BBQ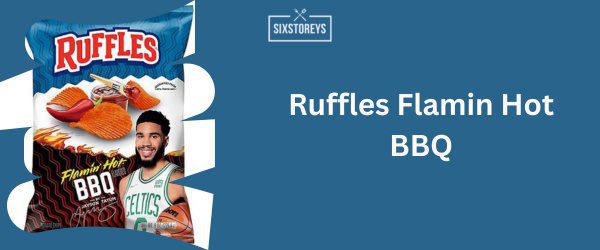 For fans of heat and flavor, there's nothing quite like the Ruffles Flamin Hot BBQ. The iconic ridges of Ruffles make for a perfect vessel to deliver a distinct blend of smoky barbecue flavor with a fiery heat wave that pulls no punches.
From the first bite, there's an initial burst of classic BBQ goodness followed by a kick of molten spice, which creeps up and sets your mouth on a flavorful lively adventure. The payout, however, is not just heat for heat's sake but a well-rounded, palate-pleasing barbecue snack that's exciting to chew and challenging to put down.
One major advantage of these chips is their texture. Ruffles' signature ridged chips are thicker than your average chip, providing a satisfying crunch and aiding the longevity of texture and flavor even when tackled with robust dips. Talk about durability!
Ruffles Flamin Hot BBQ is the perfect accompaniment to fun evenings with friends or solo snack sessions that call for some hearty crunch and an elevated flavor profile.
10. Kettle Bourbon BBQ Potato Chips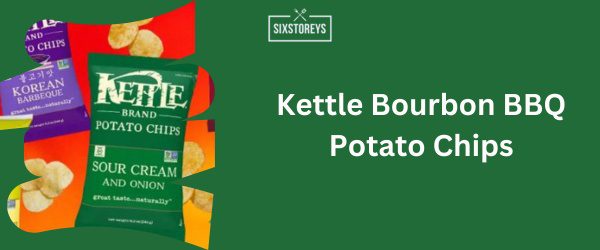 If the term 'borbon-infused' caught your attention as it did mine, then Kettle Bourbon BBQ Potato Chips should definitely be on your snack radar. Kettle brand has nailed the balance between an authentic bourbon hint and classic BBQ flavor in these chips.
Robust and supremely flavorful, these chips have a unique aroma that's equally enticing. The sweet and tangy BBQ flavor coupled with the smooth, oak-aged, slightly sweet, and full-bodied character of bourbon whiskey is a snack experience like no other. The flavor whispers of grilled open flames, clandestine distilleries, and Southern charm.
Each chip is cooked to perfection in the purest oils and seasoned with the finest spices, ensuring every bite is a journey of taste. The texture is just as delightful, with a solid crunch and sturdy feel that makes the chips a thoroughly enjoyable snack to munch on.
Kettle Bourbon BBQ Potato Chips truly prove that when it comes to creating unique, top-quality snack experiences, Kettle is a name you can trust.
11. Siete Chipotle BBQ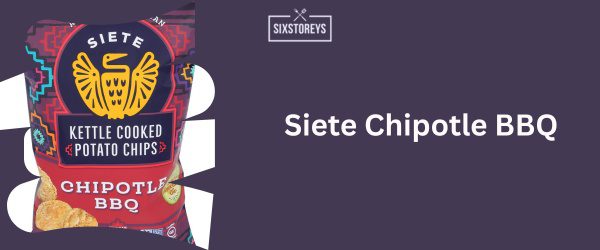 For BBQ chip enthusiasts looking to level-up their snack game, I can't recommend the Siete Chipotle BBQ enough. A family-made Mexican-American food brand, Siete brings the flavors of both worlds to your snack dish, adeptly merging authentic Mexican spices with classic BBQ essence.
The hint of Chipotle pepper brings a smoky flavor combined with a slow-burning, subtle heat that balances perfectly with the tangy, sweet barbecue essence, delivering a rich complexity of flavor.
Beyond the flavor, these chips stand out because of their crisp, light texture. The fact that they are grain-free means they not only satisfy taste-wise but health-wise too. Siete Chipotle BBQ is gluten-free and vegan, prepped in avocado oil, making it a great snack for those with dietary preferences.
From the unique mesquite flavor to its wholesome ingredients, the Siete Chipotle BBQ chips offer a scrumptious and guilt-free snacking experience that's hard to resist.
12. Miss Vickie's Smokehouse BBQ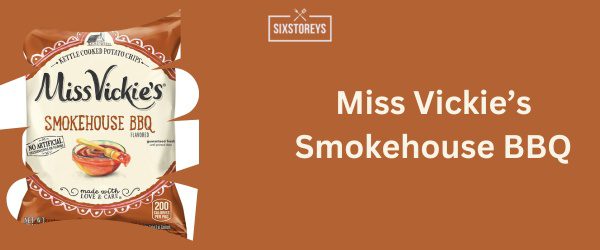 Smokehouse enthusiasts, lend me your ear. Miss Vickie's Smokehouse BBQ chips bring the quintessential smokehouse essence right into your hands. As you open the bag, you're greeted with the unmistakable whiff of a classic barbecue pit, enticing your taste buds before your first bite.
Each crunch teleports you to a world of smoky flavor, beautifully coupled with the signature barbecue tang. These kettle-cooked chips deliver an authentic BBQ flavor that's a choice pick for anyone who loves the dense and rich notes of smokehouse cooking.
The chips themselves are delightfully crisp with a firm texture that gives you that satisfying crunch with every single bite. When it comes to smokehouse flavors and crispy satisfaction, Miss Vickie's Smokehouse BBQ chips take the crown.
13. Middleswarth Hand Cooked Old Fashioned KET-L Potato Chips Bar-B-Q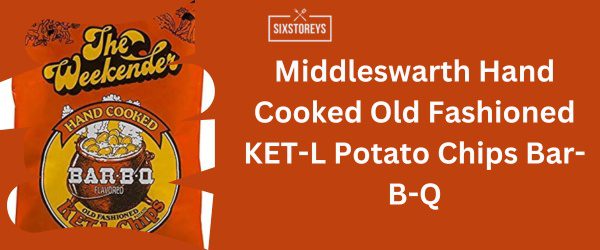 If you fancy taking a trip down memory lane, one bite of Middleswarth Hand Cooked Old Fashioned KET-L Potato Chips Bar-B-Q will do the trick. Middleswarth brings out the retro vibe, delivering BBQ chips that are hand-cooked and styled in an old-fashioned approach that will have nostalgic snackers beaming.
The unmatched flavors stemming from an age-old kettle cooking technique hits all the right notes. They're delightfully crunchy, multi-layered with flavor profiles, and offer a touch of nostalgia in every bite.
Every chip is coated with a beautiful blend of smoky BBQ goodness, generating a taste explosion that's both comforting and satisfying. For an authentic, old-fashioned BBQ experience, you can't go wrong with Middleswarth.
14. Late July Organic BBQ Potato Chips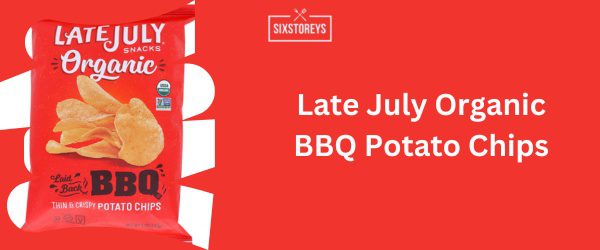 Are you a BBQ chip enthusiast who also cares for natural, organic ingredients? Your search ends here with Late July Organic BBQ Potato Chips. Designed for the eco-friendly, health-conscious snacker, these organic BBQ chips don't compromise on flavor.
The chips come packed with tangy, smoky BBQ goodness, with the delightfully addictive taste you expect from a classic barbecue snack. Not only that, but you can also savor these knowing you're enjoying non-GMO, gluten-free, and completely organic chips.
Late July Organic BBQ Potato Chips establish that you don't have to compromise on taste when choosing an organic snack. Crunchy, flavorful, and responsibly made— they redefine the BBQ chip-snacking experience.
15. Pringles BBQ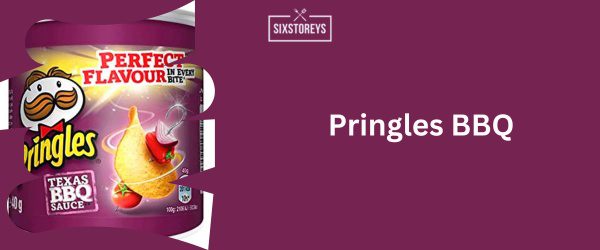 Bringing the classic Pringles shape and crackle to barbecue lovers, Pringles BBQ lives up to its reputation. The cylindrical pack greets you with the teasing whiff of BBQ sauce, which gets you scooped immediately into a burst of tangy, smoky, and a hint of sweet flavors that epitomize the best of barbecues.
The lovingly coated chips offer a mellow BBQ flavor without overpowering your palate and a lightly salty strain that balances the flavors just right. The unique taste coupled with the familiar Pringles crunch makes for an experience quite unlike any other.
Perfect as a standalone snack or a companion with your favorite dip, Pringles BBQ seizes the throne for providing that soothing, classic BBQ flavor with every bite.
16. Lay's Baked Barbecue Flavored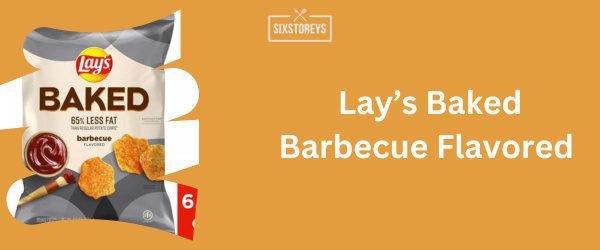 Paving the way for a lighter, crunchier BBQ experience, Lay's Baked Barbecue Flavored chips are truly a revelation for those craving a guilt-free snack. These chips promise 65% less fat than regular potato chips, ensuring that you can indulge your BBQ chip cravings without straying from your health goals.
As for the flavor? The taste reflects the very essence of a slow-cooked, smoky BBQ, perfectly balanced with a sweet and spicy tang. Every chip is thin and light, offering a profoundly satisfying crunch without the weight of the oil used in traditionally fried chips.
For those looking for a healthier alternative to their BBQ snacks, Lay's Baked Barbecue Flavored chips balance health with a burst of flavors right on point!
17. 365 Whole Foods Kettle Cooked Texas Style BBQ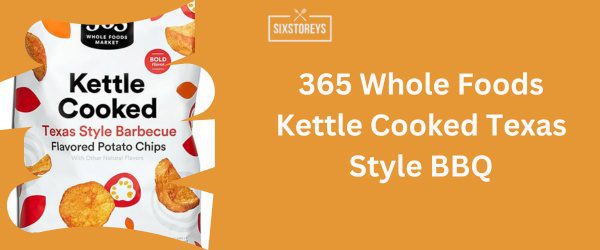 Bringing the heat and hearty flavor of Texas to snack lovers, the 365 Whole Foods' Kettle Cooked Texas Style BBQ chips are a serious flavor carnival. These chips seem to encapsulate the soul of Texas barbecue - smoky and bold with a bit of a spicy kick that hits the sweet spot on your palate.
The kettle-cooked method gives the chips a delightful crunch, with every bite carrying a hefty payload of Texas-style BBQ flavor. An additional layer of spicy kick adds depth to these chips, making them a hit among fans of strong, impactful flavors.
Whether you're in a cowboy hat in the sweltering heat or just lounging in your living room, 365 Whole Foods Texas Style BBQ chips bring out the spirit of Texas with every crunch.
18. Wise BBQ Potato Chips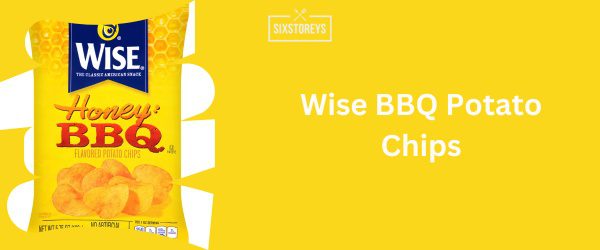 Wise BBQ Potato Chips offer an engaging barbecue experience that is hard to compete with. The first open of the bag and there is a sudden waft of distinct BBQ aroma, a delicate blend of smoky and spicy—it's deliciously inviting. Then comes the moment you pick up your first chip, perfectly crisp and generously coated with seasoning, promising a delectable flavor journey.
When bitten into, the chip offers a flawless crunch, an experience the Wise brand is decidedly famous for. The first taste is a melody of sweet, tangy, and slightly spicy flavors greeting your palate in the most delightful way. What sets these chips apart is how they capture the true essence of a classic barbecue, with the perfect mix of sweetness from the molasses, tanginess from the vinegar, smokiness from the toasted spices, and a hint of spice.
Tailored for simple yet refined flavor lovers, Wise BBQ Chips is an excellent choice for any snacking occasion, offering you a standard BBQ flavor carried out to perfection.
19. Hawaiian Crispy & Crunchy Luau BBQ Kettle Style Potato Chips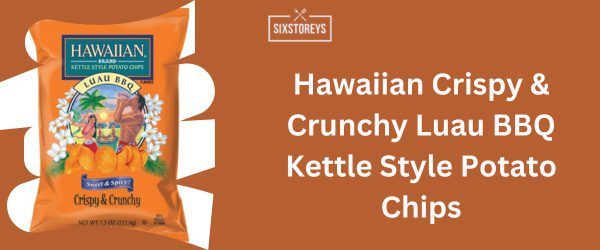 If you are looking to kick back with a bag of barbeque chips that remind you of the tropics, then Hawaiian Crispy & Crunchy Luau BBQ Kettle Style Potato Chips are your snack. Straight from the bag, the chips introduce you to the luau, a traditional Hawaiian party with distinct flavors and bold aromas.
These chips are kettle-cooked to provide a hearty crunch and pack a more intense flavor. Each chip delivers a balanced blend of smoky and sweet, beautifully capturing the spirit of the luau. The real showstopper, however, is the flavor-infusion of tropical spices, which transport your senses straight to a Hawaiian beach - a unique barbeque flavor profile that tantalizes your taste buds and keeps you reaching for more.
Hawaiian Crispy & Crunchy Luau BBQ Kettle Style Potato Chips are a serious contender for BBQ chip lovers. The tropical spin on traditional barbeque is an adventure you don't want to miss!
20. Golden Flake Sweet Heat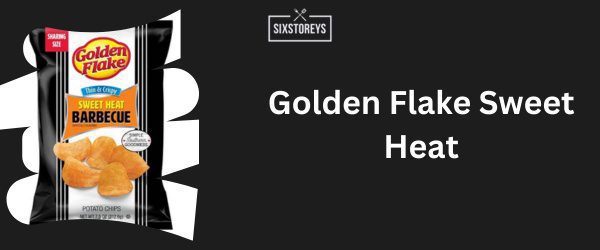 Golden Flake Sweet Heat Barbecue Chips truly live up to their name. Blending the sweetness of molasses with the energetic heat of black and red pepper, these chips are an exploration of contrast that hits the sweet spot in a snack experience.
At first bite, these chips welcome you with an undeniably delectable sweetness that gradually gives way to an exciting spicy kick that refreshes your palate. Each chip is seasoned generously, ensuring an unforgettable savory journey from the start.
The heat in these chips is carefully controlled so that it ignites a flavorful bevy of sensations without being overwhelmingly spicy. Likewise, the sweetness is perfectly subdued to ensure the balance is maintained.
For lovers of a sweet and spicy combo, Golden Flake Sweet Heat is raucously good – a standout in the world of BBQ Chips!
21. Uglie's Bar-B-Que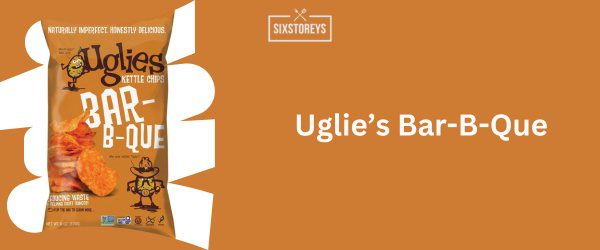 A first look at Uglie's Bar-B-Que and you will find the name to be an amusing contrast against the delightful barbeque experience they offer. These chips, contrary to their modest name, pack a full-bodied barbeque flavor that's everything a BBQ chip should be. The distinct combination of sweet, tangy and smoky flavors is expertly balanced and provides a savory crunch in each and every chip.
As you first bite into an Uglie's chip, you're met with the universal appeal of a hearty BBQ flavor. The sweet molasses, tangy vinegar, and smoky blend of spices all work in harmony to bring forth a robust barbeque flavor. Underneath, pleasant earthy notes of the potato come through, adding a welcomed depth to the chip's flavor profile.
Uglie's Bar-B-Que, despite its unique name, is a flavorful challenger in the BBQ chip game. Its full-flavored BBQ profile, balanced just right, definitely calls for a taste.
22. Spud Love Organic BBQ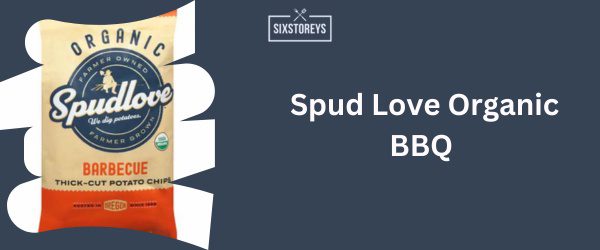 BBQ chip lovers who prefer an organic wanderlust will absolutely adore Spud Love Organic BBQ. These chips maintain a wonderful BBQ flavor whilst being mindful of the quality of ingredients they utilize. Every bite feels like a celebration of Earth's natural goodness channeled into a delightful barbecue experience.
The chips feature a quintessential smoky barbecue taste that doesn't shy away from bold flavor. Each chip is a play of familiar barbecue ingredients - a touch of sweetness from the sugar, a note of tanginess from the vinegar, and a hint of heat from the spices. All this while still managing to emphasize the essential potato flavor, making these chips wholesomely delicious.
What sets these chips apart is not only their organic nature but also their thick-cut style, giving a satisfyingly hearty crunch with each bite. Spud Love Organic BBQ, a healthier alternative in BBQ chips, is worth a try for every BBQ chip enthusiast.
23. Old Vienna Red Hot Riplets Hot Barbecue Flavored Potato Chips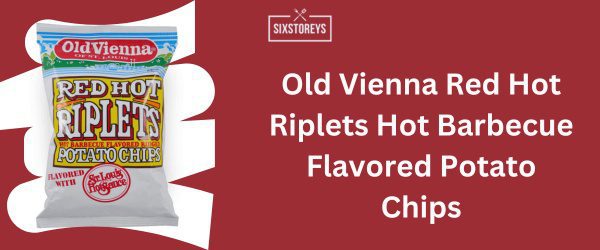 Bringing the heat to the BBQ chip game are the Old Vienna Red Hot Riplets Hot Barbecue Flavored Potato Chips. A classic in the barbeque chip world, these chips are a postcard from St. Louis, promising a memorable snack experience.
These chips are all about the heat. From the moment you bite into the crisp texture of the chip, the fiery barbecue flavor makes its presence known. There's an initial sweetness that quickly gives way to a piquant heat that tingles your taste buds, the warmth building slowly but surely. It's a delightful experience for those who enjoy a bit of kick in their snacks without overwhelming the palate – the balance with the barbecue flavor is just right.
Even in a sea of barbecue chips, Old Vienna's Red Hot Riplets manage to distinguish themselves. An ideal chip for those who prefer a perfect blend of sweetness, smokiness and a dose of heat in their BBQ chips.
Also Read: Best Ruffles Chips Flavors
24. Grippo's BBQ Potato Chips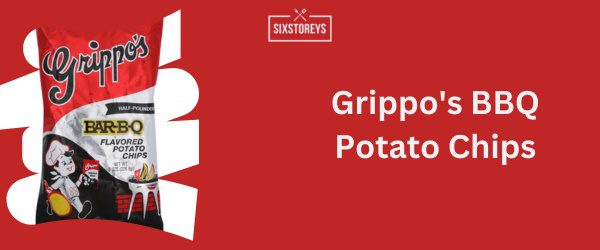 The Grippo's BBQ Potato Chips are notably a favorite among many barbecue chip devotees. The Grippo's have a longstanding reputation, being in the snack industry since 1919, and their expertise shows in the delivery of flavor and texture.
Upon your first bite, you are greeted with a jubilant crunch that carries the flavor straight to your taste buds. The chip harmonizes the flavors of sweet, spice, and smoky notes akin to the essence of a perfect backyard barbecue gathering. The well-rounded barbecue taste lingers on your palate, leaving you longing for the next flavorful bite.
The unique selling point of Grippo's BBQ chips lies in their delectable sweetness that sets them apart in the vast sea of BBQ chips. The generous coating of BBQ spice teamed with the unique sweetness offers an exciting contrast to typical savory-leaning BBQ chips. Go on, try Grippo's BBQ Potato Chips for an enchanting BBQ experience that you just can't resist.
25. Sprouts Potato Co. Kettle Style Chips BBQ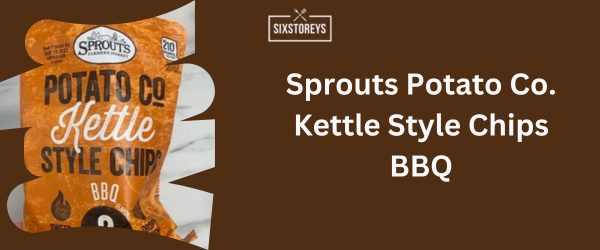 The Sprouts Potato Co. Kettle Style Chips BBQ are an exciting option for barbecue chip enthusiasts who love an excellent crunch with their chips. The brand, known for their high-quality sprouts, proves their snack game is just as strong with a delightful play of flavors in these kettle-cooked chips.
The chips feature a thick, rugged texture that delivers an exceptional crunch, distinctive of kettle-cooked chips. Each crunch unravels an intricate panorama of BBQ flavors – sweet, smoky, and slightly tangy. The barbecue flavor, teamed with the natural potato taste and saltiness, presents a well-rounded snack experience.
The charm of Sprouts Potato Co. Kettle Style Chips BBQ comes, undoubtedly, from the memorable crunch. Add in the dance of delightful BBQ flavors and you have an incredible snack that makes any time crunch-time.
26. The Good Crisp Company Outback BBQ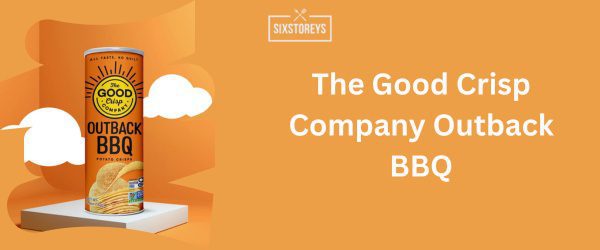 Taking the BBQ chip experience to lands down under, The Good Crisp Company's Outback BBQ chips bring an Aussie twist to the BBQ chip table. These chips promise a snacking experience that carries you to backyards of Australia with a barbie on.
The Outback BBQ chips strike a pleasing balance between smoky barbecue and a subtle hint of sweetness. Remarkably, these chips manage to avoid being overly salty, giving the sweet and smoky barbecue flavor a chance to shine. Plus, a slight onion and garlic breeze adds an additional layer to the flavor profile.
The Good Crisp Company's Outback BBQ pulls you in with its intriguing Australian barbecue influence and keeps you there with a delightful balance of flavors. A must-try for adventurers seeking a taste expedition to the lands down under.
27. Zapp's Mesquite Bar-B-Que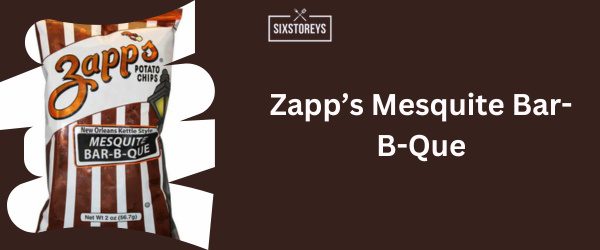 Venturing down south, Zapp's Mesquite Bar-B-Que chips offer a one-way ticket on a flavor express train, heading straight to the heart of Louisiana. These chips feature a unique blend of traditional barbecue taste with the irresistible smokiness of mesquite.
From the first bite, the undeniably satisfying crunch accompanied by a blast of well-balanced flavors will make your senses dance. The carefully curated mesquite flavor gives the chips a smokey edge that is complemented by a hint of sweetness, keeping it rooted to its BBQ identity.
One of the standout features of these chips that I adore is its robust and natural taste. When you bite into a Zapp's chip, you know it's a Zapp's! The mesmerizing taste of mesquite and traditional barbecue blend together in a symphony of flavors. Pair this with any southern-style meal or enjoy it solo, these chips are sure to satisfy your snack cravings.
28. Popchips BBQ Potato Chips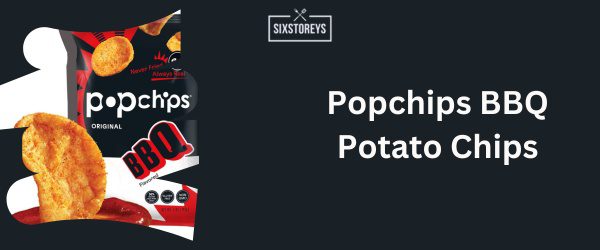 Attention, health conscious snackers! Popchips BBQ Potato Chips are here for you. These are not your regular barbecue potato chips. Popchips are known for being a healthier version of our beloved potato chips, hence being "popped" instead of deep-fried in oil. You get to enjoy the same nostalgic barbecue flavor, but without the added guilt.
Upon biting into a Popchip, the light and airy texture is instantly noticeable. The flavor profile is impressively robust despite their light texture. The smoky BBQ taste is complimented by a hint of tanginess and rounded off subtly with a touch of sweetness.
One of the things I enjoy most about the Popchips BBQ Potato Chips is that they do not compromise on flavor. Despite being a healthier snack option, the robust barbecue flavor more than delivers. These chips are a guilt-free snacking experience that doesn't skimp on taste or crunch.
29. 365 Organic Barbecue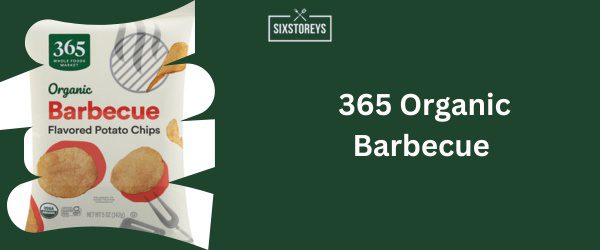 Taking barbecue chips to new, healthier heights is the 365 Organic Barbecue variant. Brand 365, a Whole Foods Market private label, offers an organic take on the beloved BBQ flavor which is absolutely delightful.
These thick, kettle-cooked chips have the right amount of crunch balanced with the perfect blend of smoky and tangy barbecue flavors. The taste has a classic appeal, paying homage to the traditional BBQ flavor profile. The organic ingredients lend a clean and wholesome aftertaste.
What I absolutely love about the 365 Organic Barbecue chips is that they manage to maintain their flavorful edge, despite their organic tag. The chips do not compromise taste for health and offer a wholesome yet flavorful snacking experience. This makes them a preferred choice for snacking during family movie nights or friendly gatherings. Don't miss out on trying this healthier twist to your favorite BBQ chips!
30. Utz Potato Chips Carolina Style Bar-B-Q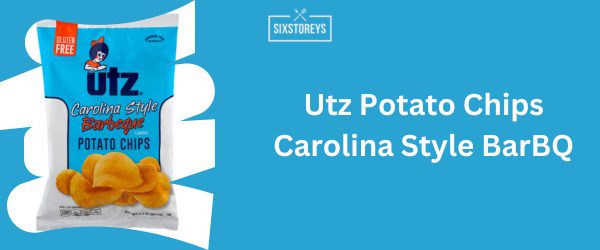 Straight out of Hanover, Pennsylvania, Utz Potato Chips deliver a Carolina-style barbecue flavour with their dedicated variant. The unique blend of spices will transport taste buds to the heartland of Carolina-style barbecue.
Playing on the traditional tomato and vinegar-based barbecue customary to Carolina region, these chips masterfully balance a tangy tang with a sweet edge. The robust smoky finish will have you reaching out for more, bite after satisfying bite.
From a personal standpoint, these chips are an explosion of flavors. The tangy taste coupled with the sweet and smoky flavor is a delightful sensation. Utz Potato Chips Carolina Style Bar-B-Q does a brilliant job of encapsulating the essence of Carolina Barbeque on a chip, making it a BBQ chip worth trying.
31. Jackson's Avocado Oil Sweet Potato Chips – Carolina BBQ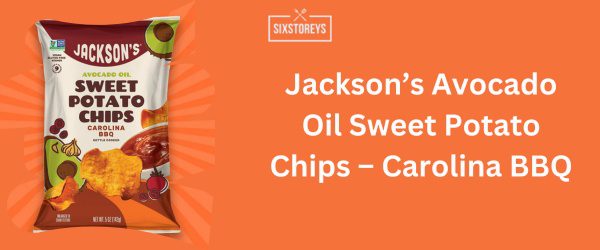 Taking chips to a new level, Jackson's Avocado Oil Sweet Potato Chips – Carolina BBQ combine the classic flavor of Carolina BBQ with the rich, velvety taste of avocado oil. These are not just ordinary chips; these are gourmet experiences in the form of snackable, crispy bites.
The healthy fat of avocado oil teams up with the nutritious goodness of sweet potatoes, creating a perfect base for the vibrant Carolina BBQ flavor. It's a celebration of tangy, sweet, and slightly smoky flavors on a healthy, crunchy canvas.
For me, these chips stand out because they offer a different flavor profile from the usual potato chips. The sweet potato offers a subtly sweet undertone that pairs well with the spicy Carolina BBQ flavor. The avocado oil adds a hint of richness that further enhances the overall tasting experience. If you're looking to get adventurous with your BBQ chips, give these a try!
32. Deep River Mesquite BBQ Potato Chips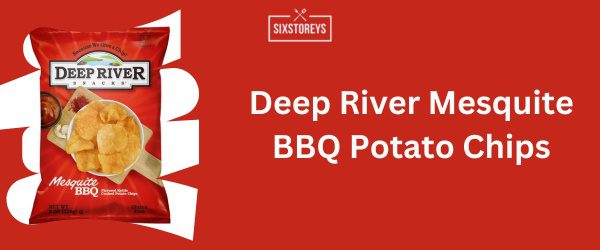 Dive into the deep, savory flavor of Deep River Snacks Mesquite BBQ Potato Chips. These kettle-cooked potato chips, complete with the smoky taste of barbeque, taste as good as they sound.
From the first crunch, these thick, flavorful chips deliver the distinct mesquite taste, reminiscent of an open fire grill. Embedded with a blend of sweet and smoky spices, every chip managed to capture the essence of a summer barbecue.
From my personal experience, they offer a hearty crunch and a mesmerizing taste that toys with the taste buds, striking the balance between sweet and smokey flawlessly. The depth of flavor is real. If you like your BBQ chips with a hint of smoky mesquite, these are the go-to choice. The Deep River Mesquite BBQ Potato Chips are truly a bold and fiery contender in the catalogue of best BBQ chips.
33. Lay's Kettle Cooked Mesquite BBQ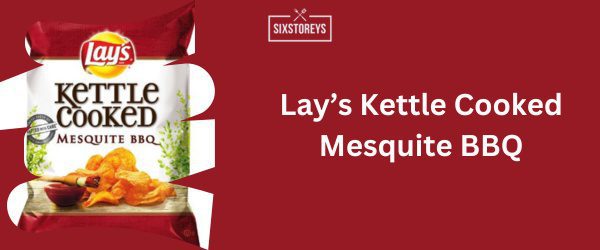 Every fan of BBQ chips is undoubtedly familiar with the Lay's brand. Lay's Kettle Cooked Mesquite BBQ is a variant that brings a fresh, smoky twist to the table and does it incredibly well. Made with all-natural oil and featuring that lip-smacking mesquite barbecue flavor, these chips are a feast for your palate and a party in your mouth.
The crunch is beyond satisfying - a testament to the kettle-cooked method. The thicker slices of potatoes hold up the bold, robust flavor magnificently. The smoked mesquite wood adds an irresistible aroma and a note of authentic barbecue.
Personally, I have always admired the consistency of Lay's chips, and this variant is no exception. The kettle cooking elevates the experience, providing the crunch I crave. And the sweet, smoky flavor, well, it's like enjoying a barbeque in the backyard on a lazy summer afternoon. Lay's Kettle Cooked Mesquite BBQ holds a spot in my heart and of course, in the roster of best BBQ chips.
34. Boulder Canyon Hickory Barbeque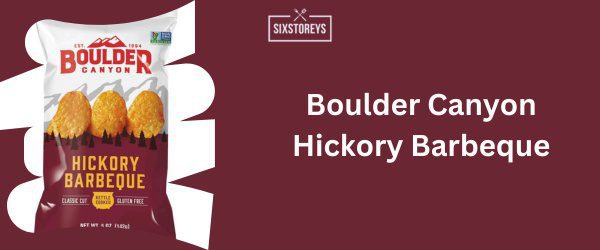 Adventure awaits you in every bag of Boulder Canyon's Hickory Barbeque Chips. The severe hickory flavor combined with the distinctive barbecue rub truly sets these chips apart. Avid snackers will appreciate the exceptional crunch of these kettle-cooked chips, paired with a hefty serving of hearty BBQ flavor.
Boulder Canyon captures the essence of outdoor barbeque grilling, with a touch of hickory intensifying the standard barbeque spice blend. These retailer-packed chips promote a real flavor explosion, backing up their bold taste declaration.
From my experience, what makes Boulder Canyon Hickory Barbeque chips noteworthy is the audacious hickory flavor that amplifies without overwhelming. The chips have an enjoyable crunch, and the barbecue taste is a satisfying blend of tangy, sweet, and smoky. If you choose to embark on an adventurous BBQ chip exploration, be sure to include Boulder Canyon Hickory Barbeque.
35. Market Pantry Barbecue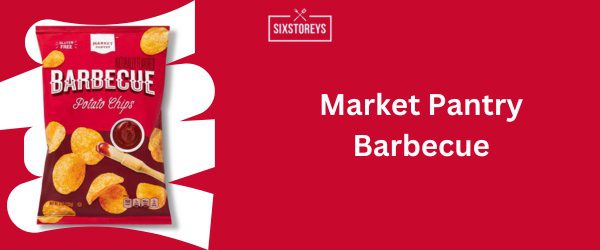 Imagine a basic barbecue chip but improved in every way - that's what Market Pantry Barbecue chips are. They offer a simple, unpretentious barbecue flavor that is nothing short of delicious. Crispy, lightly seasoned, and with a hint of sweetness that perfectly complements the smoky barbecue, these chips are a pantry essential.
Beginning with select, premium potatoes, the chips are then seasoned with a signature barbecue recipe that is tangy, smoky, and slightly sweet, resulting in a mouthwatering snack that is notably satisfying.
Personally speaking, Market Pantry Barbecue chips have a certain nostalgic quality to their taste that I adore. They are reminiscent of classic, old-school barbeque chips but offer a little something extra - a perfect balance of flavors that hits the sweet spot. Simplicity sometimes trumps complexity, and when it comes to BBQ chips, Market Pantry seemingly embodies this ethos.
36. Full Of Chips Barbecue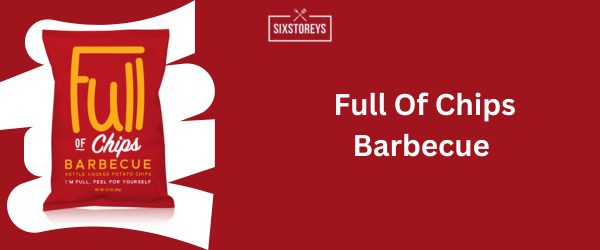 One might argue that the whole point of BBQ chips is to be flavorful, and Full Of Chips Barbecue certainly overdelivers in that department! These chips are literally bursting with barbecue goodness. Layer after layer of tangy, smoky, and sweet elements infuse each chip, ensuring a flavor-packed experience with every bite you take.
An interesting play at work here is the potent mix of spices. The combination of savory and sweet caters perfectly to those who favor a multidimensional taste experience. Although these chips have a robust flavor, it's never overwhelming, hence enhancing the overall snack-eating encounter.
From my personal bag of memories, I recall Full Of Chips Barbecue as a favorite game-night snack. The crunchy satisfaction they provide is second to none. So, if you're looking for a bag of BBQ chips that keeps giving till the last chip, Full Of Chips Barbecue is the one for you.
37. Snyder of Berlin BBQ Chips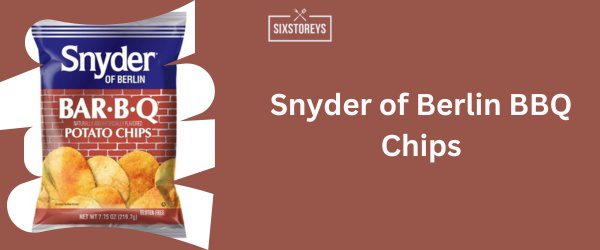 When it comes to capturing the essence of an old-world charm in a snack, Snyder of Berlin BBQ Chips does a fantastic job. They offer a distinctly seasoned chip that makes your tastebuds scream in delight. Their secret? An outstanding mix of spices that enhance the barbecue flavors.
There's a certain richness in the taste that transports you back in time, as if you're part of an old-world barbecue party. It's an experience that not a lot of chips can offer. The flavor isn't too intense, which I find preferable, as it allows your palate to appreciate each nuance of the barbecue seasoning.
On a personal note, Snyder of Berlin BBQ Chips are some of the best out there. They're great as an afternoon snack, amazing at evening soirees, and make an interesting addition to a variety of dishes.
38. Tim's Cascade Style Potato Chips, Honey BBQ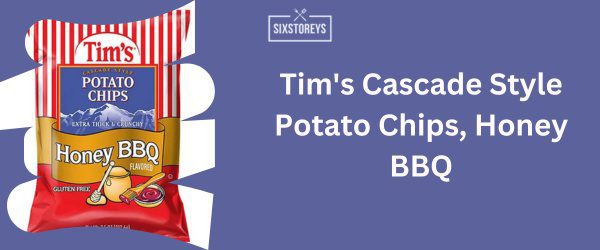 The concept of bringing together honey and barbecue flavor is nothing short of genius. Tim's Cascade Style Potato Chips offer this fusion creating a delightful snacking experience. These chips boldly embrace honey's sweetness and BBQ's savoriness, creating a unique, well-rounded experience that is both salivating and memorable.
The chips exhibit a noticeable thick-cut style, which means more potato to savor. As a result, they carry the heaviness of the flavor remarkably well, leading to an impactful munching experience.
As an ardent fan of honey barbecue, I find these chips especially enticing. The mellow sweetness of honey tones down the intense smokiness of BBQ, resulting in a harmonious balance on the tongue. If you want a BBQ chip that satiates but also surprises, Tim's Cascade Style Honey BBQ Potato Chips certainly fit the bill.
39. Route 11 Barbeque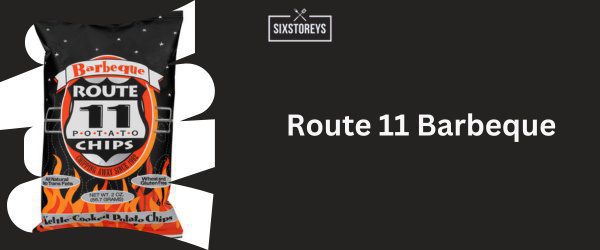 With a bag of Route 11 Barbeque chips at hand, you're set for an adventurous road trip, a movie night, or simply an afternoon snack. They might come in a modest package but never underestimate their extraordinary offering. The all-time American favorite barbecue flavor is wonderfully encapsulated in each piece of these chips.
Simultaneously sweet, tangy, and smoky, they offer a grand symphony of barbecue-inspired flavors that captivate your senses immediately. Crispy and delicious, the chips come in a thicker style, adding depth to the taste, as well as better texture.
From my personal experience, I can vouch for the fact that Route 11's layering of flavors is unlike any other. The gentle smokiness pairs perfectly with the subtle sweetness for a balanced tasting experience that is both satisfying and nuanced.
40. Humpty Dumpty BBQ Potato Chips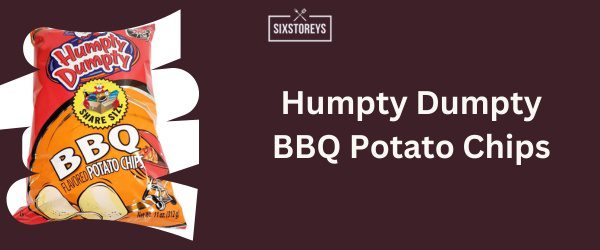 Humpty Dumpty BBQ Potato Chips aren't your average BBQ chips, they've got a memorable name coupled with a fairy tale flavor. Tangoing perfectly between sweet and savory nuances, these chips never disappoint.
The seasoning has a noteworthy depth to it, which from the first bite, leaves a lingering smoky sweetness on the taste buds. The hard-to-resist combination of a distinct BBQ flavor with a unique crispness makes this bubbly-textured treat a family favorite.
What I love about these vibrant tasting chips is their surprise element. Just when you think you've experienced all BBQ flavors, Humpty Dumpty proves otherwise. Their distinct punch and texture offer a culinary journey that keeps you coming back for more.
41. Kettle Brand Backyard Barbecue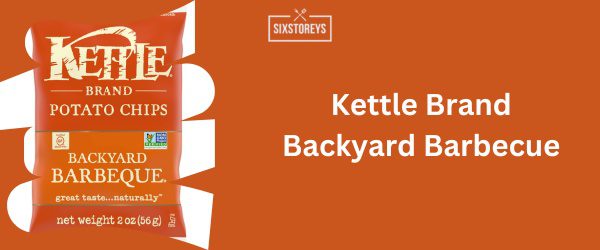 Looking for a chip that's perfect for your backyard cookouts or any outdoor gathering? Well, don't look further than Kettle Brand Backyard Barbecue chips. Combining rustic smoky flavor with a touch of sweetness, these chips bring to mind festive barbecues filled with laughter and camaraderie.
Crunchy in texture and robust in flavor, these chips present a well-rounded BBQ experience. It's as if the essence of a home-styled backyard barbecue is captured in a convenient chip form.
As a personal fan of Kettle Brand, I am always impressed by how their Backyard Barbecue chips continue to otherwise reinvent the classic BBQ flavor. The result is akin to an endless summer cookout, inviting you to enjoy and celebrate the simple pleasures of life.
42. Cape Cod Sweet Mesquite BBQ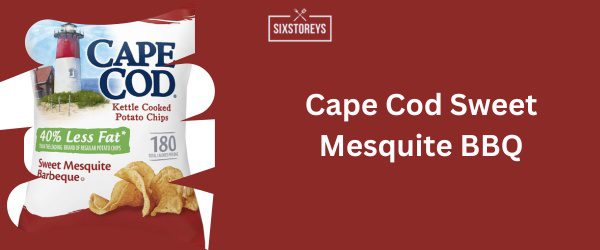 Taking a bite of the Cape Cod Sweet Mesquite BBQ chips is like soaking in the warm sunshine along the mesquite-scented coastlines. The unique blend of sweet and smoky mesmerizes your taste buds, taking you on a journey to the heart of a summer cookout.
Each chip is kettle-cooked to perfection, guaranteeing an irresistible, satisfying crunch. Infused with the delicate flavors of mesquite wood, these barbecue chips have a rich, full-bodied taste that excellently melds sweetness and smokiness.
From a personal standpoint, Cape Cod's adaptation of the BBQ flavor is ingenious. Every chip is a celebration of the traditional barbecue spirit, capturing the intense experience of a wood-fired grill coated with a sweet and tangy sauce.
43. Better Made Sweet BBQ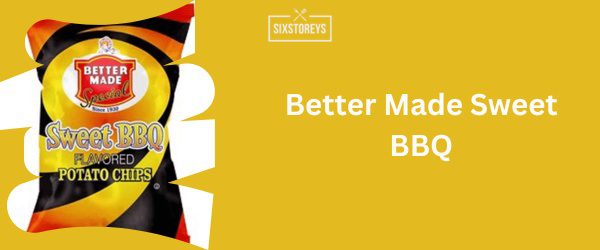 Better Made Sweet BBQ chips indeed live up to their name, promising a 'better made', flavorful snack-time experience. The chips' delightfully sweet BBQ flavor springs from their balance of sweet and tangy, interspersed with the smoky undertones that BBQ lovers expect.
The texture is just as noteworthy as the flavor. The delightful crispness, combined with the taste, leaves you wanting more. These crunchy chips fill the senses with a luxurious BBQ feel, making them a perfect snack for any occasion.
Speaking from my own favorable experiences, Better Made chips remind me why I love BBQ chips. The perfectly sweet, smoky blend and satisfying crunch result in a truly rounded snack experience.
44. Wise Foods Honey BBQ Potato Chips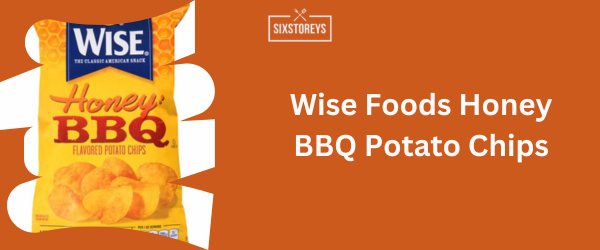 Wise Foods Honey BBQ Potato Chips present a delightful pairing of a sweet honey infusion with the smoky barbecue flavor, making these chips a favorite among sweet and smoky lovers alike.
Each chip offers a signature taste that combines the rich, complex flavor of barbecue with the sweet essence of honey. The taste of that sweet golden nectar is recognizable from the first bite, playing off the savory and tangy barbecue notes.
To be honest, Wise Foods' foray into the world of BBQ is commendable. The Honey BBQ chips bring something different to the table by not just holding on to tradition but also adding innovation with a touch of sweetness. As a BBQ enthusiast, the combination of sweet, smoky, and tangy in these chips is a real treat.
45. "Dirty" Deli Style Mesquite BBQ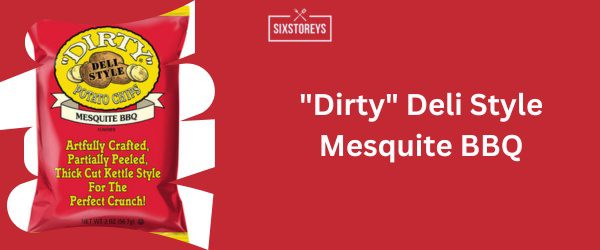 As someone who relishes the rich depth of mesquite smoke, the "Dirty" Deli Style Mesquite BBQ chips are a true delight. These chips don't owe their name to their look but to the intense flavor they carry. When you taste these chips, you instantly notice the robust, hearty taste of mesquite barbecue, like nothing you've ever experienced.
Each chip is generously coated in a smoky, tangy seasoning, giving you a flavor-packed bite every single time. It's like an authentic Texan barbecue, replete with the smoky scent of the mesquite woodfire, encapsulated in a crispy chip.
From a personal standpoint, the balance in these chips between the generous flavoring and the kettle-cooked, extra-crunchy texture makes for a flawless barbecue chip.
46. Hawaiian Brand Luau BBQ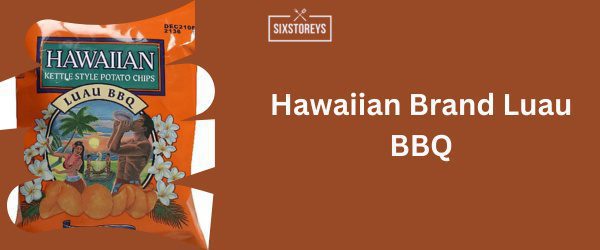 Imagine a tropical island palate. Now, imagine that same taste on a regular barbecue chip. That's what you get with Hawaiian Brand Luau BBQ chips - a perfectly seasoned tropical barbecue flavor on a delightfully crispy chip.
The taste journey begins with a sweet, fruity taste reminiscent of a Hawaiian Luau's vibrant tropical flavors, which gradually gives way to a mild smoky BBQ finish. Each chip is kettle-cooked to achieve a satisfying crunch, adding an extra level of texture to the flavorsome journey.
Having personally savored these chips, they incite a palette full of flavors in perfect harmony, offering an exciting twist to traditional BBQ chips.
47. Old Dutch Mesquite BBQ Kettle Chips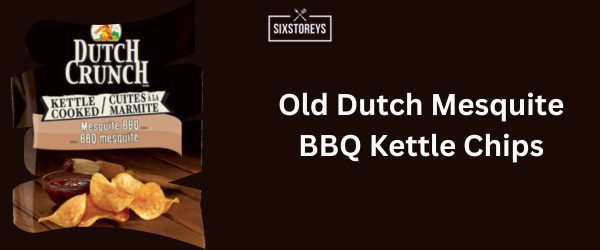 When it comes to the top contenders in the world of BBQ chips, Old Dutch Mesquite BBQ Kettle Chips easily rank among the best. Featuring a delectable mesquite flavor infused with traditional barbecue notes, these chips offer an unmissable, lip-smacking treat.
The thick, hearty cut of the kettle chips provides a robust platform for the flavoring. The crunch is highly satisfying, coupling perfectly with the blend of the smoky BBQ seasoning for an ultra-rich taste.
I can personally vouch for the addictive quality of these chips. The mesquite BBQ flavor is expertly executed, providing a taste sensation that is both deeply satisfying and wonderfully tantalizing.
48. Kettle Brand Bourbon BBQ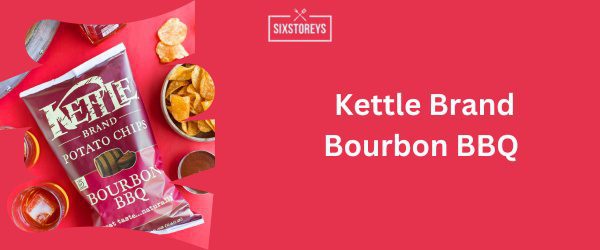 Talk about a unique flavor fusion; the Kettle Brand Bourbon BBQ chips serve up an adventure for your taste buds. With the rich, sweet flavor of bourbon integrated into the traditional barbeque seasoning, these chips are abundantly satisfying.
The bourbon provides a distinct depth of flavor, its unmistakable sweetness and richness marrying beautifully with the tangy barbecue finish. The texture of these kettle-cooked chips really shines, providing a satisfying heartiness with each bite.
From my own experience, the marriage of bourbon and barbecue in these chips creates a flavor journey that replicates the complex layers of a grilled delicacy basted in a bourbon-infused BBQ sauce. Hands down, a must-try for all BBQ chip enthusiasts out there.
49. Boulder Canyon Potato Chips-Hickory BBQ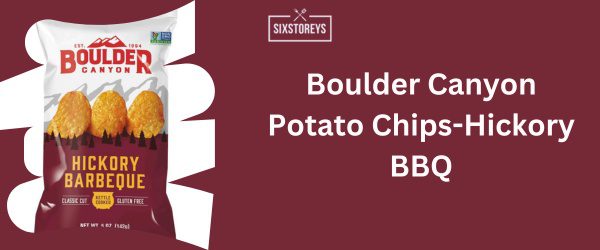 Boulder Canyon Potato Chips have nailed the quintessential BBQ flavor with their Hickory BBQ offering. These chips encapsulate the essence of grilling, complete with the sweet, smoky, and slightly tangy taste of hickory barbecue.
Each chip is generously sprinkled with the BBQ seasoning that perfectly balances the smoky hickory and sweet undertones. These chips don't hold back on providing an audacious palette of flavors, all harmonized to create a distinctive BBQ profile.
From a personal standpoint, these chip options' boldness makes them immensely satisfying, whether enjoyed alone or as a side to your favorite barbeque meal.
50. Kroger Sweet & Smoky BBQ Flavored Potato Chips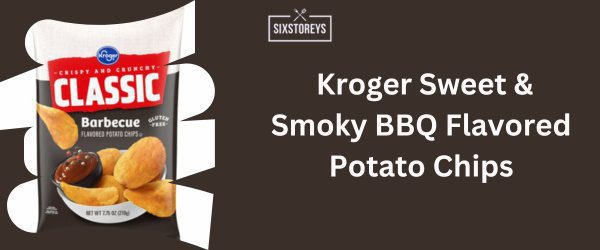 Kroger's Sweet and Smoky BBQ Flavored Potato Chips bring two tantalizing tastes together in a delicious symphony of flavors. A deft blend of sweet molasses undertones with the rich, smoky essence of barbecue results in a chip that's a crowd-pleaser.
The succulent sweetness perfectly complements the smoky flavor, each bite is a play of flavors that merge together to tickle your taste buds. The chips themselves are thin and crispy, the perfect carrier for the rich flavor profile.
From my personal tasting experience, these chips offer a well-rounded flavor that captures the spirit of a classic BBQ - sweet, smokey, tangy, and downright delicious.
Why BBQ Chips are the Ultimate Snack?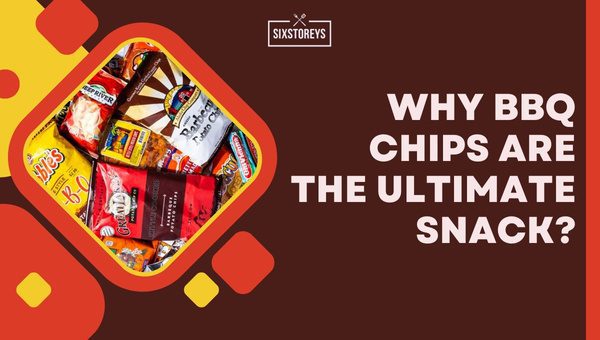 BBQ chips hold a special place in the snack world as they seamlessly blend the beloved taste of barbecuing with the convenience of munch-on-the-go. But why exactly are these flavor-packed crunches the ultimate snack?
To start with, BBQ chips offer a rich, versatile flavor profile. Tangy, smoky, sweet, and a hint of spice, all wrapped into one, presents a well-rounded taste tour in every bite. You don't need to fire up a grill to experience the magic of BBQ!
Additionally, BBQ chips are universally appealing. Whether you're a kid at a school lunch, a student pulling an all-nighter, or an adult at a cocktail party, BBQ chips are undoubtedly a crowd-pleaser.
BBQ chips also deliver on the texture front. The satisfying crunch and the melt-in-your-mouth experience make the snacking affair worthwhile. Regardless of whether they are kettle-cooked, classic, wavy, or ruffled, the textural delight remains top-notch.
Finally, they are convenient and readily available. BBQ chips are hassle-free snacks that you can easily carry around and snack anytime, anywhere.
How to Choose the Best BBQ Chips for Your Snack Time?
Choosing the best BBQ chips can be a daunting task, given the galaxy of flavors and brands available. Here, I'll share a few tips to help you select the perfect BBQ chip that suits your preferences.
Decide on the BBQ Flavor Profile: Different brands offer unique twists to the classic BBQ flavor. Some use a sweet and smoky combination, others opt for a spicy and tangy formula, or even incorporate bourbon or mesquite hints. Consider your preference when choosing.
Consider Your Dietary Restrictions or Choices: Are you on a gluten-free diet or prefer organic foods? There are BBQ chips out there that cater to specific dietary needs. Make sure to check the label for nutritional information and ingredients.
Experiment with Brands: Everyone has their go-to chip brands. However, when it comes to finding the best BBQ chips, don't be afraid to try a variety of brands. Taste is subjective, and you might find your new favorite among lesser-known or newer brands.
Think About The Texture: Would you prefer a thick, hearty crunch, or a light, flaky chip? Texture plays a significant role in the overall experience, so consider whether a kettle-cooked, ruffled, or traditional chip is your pick.
Read Reviews and Recommendations: Check out online reviews and ask friends and family for their preferred BBQ chips. This allows you to get an idea of popular and loved flavors.
Remember, the best BBQ chips for your snack time are ultimately the ones that satisfy your taste buds and make your snacking moments memorable.
Also Read: Best Sun Chips Flavors
Frequently Asked Questions
Why are BBQ chips so popular?
BBQ chips have a unique and versatile flavor profile - a blend of sweet, smoky, and sometimes spicy that appeals to a wide range of taste buds. This fusion of flavors, coupled with a satisfying crunch, makes them a well-loved snack worldwide.
What differentiates kettle-cooked BBQ chips?
Kettle-cooked chips are traditionally thicker and have a distinct crunch as compared to regular chips. They are fried in smaller batches, allowing for careful monitoring, resulting in a heartier texture. When combined with savory BBQ flavors, kettle-cooked chips often have a bolder, more robust taste.
Can BBQ chips be considered a healthy snack?
While BBQ chips are generally categorized as a comfort food, there are healthier options available. Chips that are baked instead of fried, made from whole grains or sweet potatoes, and those with lower sodium contents provide healthier alternatives. However, like all snacks, they should still be enjoyed in moderation.
How are BBQ flavors added to chips?
BBQ flavors are usually added in the form of a powdered seasoning blend, that can include onion and garlic powder, paprika, brown sugar, pepper, and other herbs and spices. This blend is precisely measured to impart a balanced, savory, smoky and sweet flavor profile.
What's the difference between mesquite and hickory BBQ chips?
Both mesquite and hickory BBQ chips offer a smoky taste, but the flavor varies due to the different type of wood used. Mesquite imparts a strong, hearty, almost sweet flavor, whereas hickory provides a more subtle, milder smokiness.
What alcohol pairs best with BBQ chips?
Depending on the intensity of the BBQ flavor, different alcoholic beverages can be paired with BBQ chips. Craft beers, especially IPAs or amber ales, pair well due to their malty sweetness and hint of bitterness. For wine lovers, a chilled glass of Sauvignon Blanc or Riesling pairs excellently, as their acidity cuts through the smokiness of the chips.
Can BBQ chips be used in recipes?
Absolutely! Crushed BBQ chips can make a flavorful addition to your dishes. They work well as an ingredient in meatloaf, as a coating for chicken or fish, sprinkled over casseroles for some added crunch, and even as a fun topping on a baked potato.
Are there gluten-free BBQ chips options?
Yes, there are many brands that cater to dietary needs, providing gluten-free BBQ chips options. When shopping, always check the snack aisle for products labeled 'gluten-free' to ensure they meet the required standards.
Are BBQ chips vegan?
While many BBQ chips are vegan, it's crucial to check the ingredient list. Some might contain dairy products or animal-derived flavors. Many manufacturers label their packs with 'vegan' if they meet the criteria.
What are the top BBQ chip brands I should try?
This is subjective as taste preferences vary, but among the top choices are Lay's, Kettle Brand, Pringles, and Cape Cod. Each brand offers BBQ chips with a unique flavor twist, promising a delightful snacking experience.
Conclusion
So, there you have it, a comprehensive list of the best BBQ chips that are sure to serve as a delight for your taste buds. Whether you're reaching for a classic bag of Lay's Sweet Southern Heat Barbecue or trying out a hint of the unique flavor of the Terra Sweet Potato Chips, you're sure to find a snack that hits those perfectly tangy, smoky, and sweet notes that a good BBQ chip promises. Go ahead and indulge in that culinary adventure that you've been waiting for; remember, there's a whole world of BBQ chips out there waiting to be explored.
Each one with its unique flavor profile and tempting crunch, ready to make your movie nights, gatherings, or snack times even more delightful. You deserve the best, and with these BBQ chips, that's exactly what you're going to get. So, get ready to enjoy some crunchy, flavorful goodness. But remember, no matter which BBQ chips you choose, make sure to enjoy every bite!
Food Lover and Storyteller 🍽️✨ With a fork in one hand and a pen in the other, Shivani brings her culinary adventures to life through evocative words and tantalizing tastes. Her love for food knows no bounds, and she's on a mission to share the magic of flavors with fellow enthusiasts.