17 Best Beers For Beer Cheese in 2023 [Gastronomic Delight]
Updated On: September 19, 2023
Dipping into a bowl of beer cheese with a hearty piece of pretzel might just be one of life's simplest, yet most savoury delights. The marriage of cheese and beer dates back centuries, creating a culinary love story that has withstood the test of time. In this journey of concocting the perfect beer cheese, selecting the suitable beer is paramount. The right brew doesn't just enhance the flavors, but it steers the entire dish towards absolute culinary delight.
Each beer lends its personality to the cheese, creating a symphony of flavors that's hard to resist. But with a plethora of beers available, how do you whisk out the best from the rest? Fret not, for this article is your golden ticket to brewing up the best beer cheese. We've explored, tasted, and tested to bring you the "Best beers for beer cheese." Take my advice, strap in, and prepare for a gastronomical adventure. Promise, it's going to be brew-tiful!
Also Read: Best Beers For Chili
17 Best Beers For Beer Cheese in 2023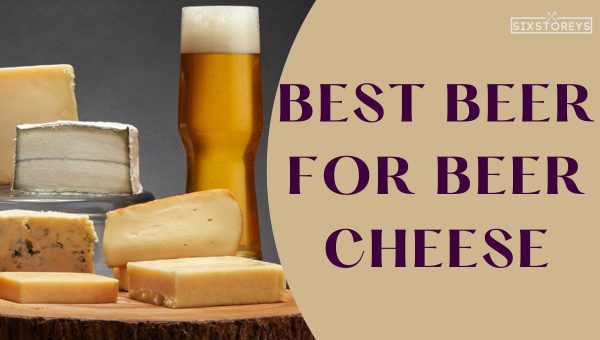 Who says beer and cheese are only for pairing? Welcome to a fusion where two of life's finest indulgences collide into one mouthwatering dish - beer cheese. Allow me to guide you on a tasty exploration of the 17 best beers to elevate your beer cheese to gastronomic heights. From refreshing lagers to robust stouts, we've got it all covered!
1. Yuengling Light Lager: The Light Choice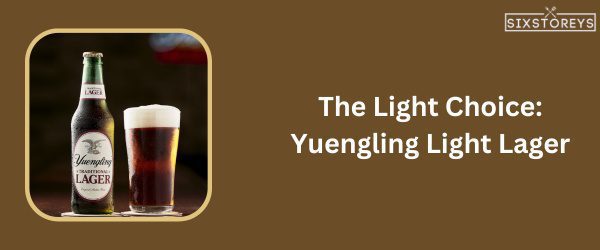 Making the first mark on my list, the Yuengling Light Lager brings a unique charm to the beer cheese equation. Light and crisp, it weaves into the texture of cheese without overpowering its natural notes. Its brilliance lies in how it beautifully ensembles with the cheese, creating a riot of flavors that stays gentle on the palate.
Being an American lager, Yuengling carries the legacy of one of the oldest breweries in the U.S., offering a blend of caramel and light hop flavors. Its iconic light taste blends with just about any cheese variety. But when teamed up with creamy, mild cheese, like mozzarella or Monterey Jack, it creates a delightful and light beer cheese dip that's hard to resist. The beer's subtle sweetness and bright carbonation facilitate a great balance in the dish, making the cheese's inherent wholesomeness shine through.
What sets Yuengling Light Lager apart is that at just 99 calories, you get to savor at the intersection of health and taste. The low-carb content ensures you don't compromise your dietary goals at the altar of your indulgences. It's the optimal choice for someone who loves to relish their dips guilt-free, yet wouldn't want to miss out on that burst of creamy cheesiness. Hence, with its light profile, smooth texture, and unmistakable flavor that blends just the right amount of malts and hops, Yuengling is the light choice you can happily endorse when brewing your next pot of beer cheese.
Beyond beer cheese, Yuengling Light Lager marries well with a multitude of dishes. Whether it's a house party or a simple get-together, this beer gloriously stands as a crowd-pleaser. A popcorn movie night, a bowl full of crisp fries, or simply a glass on its own, its versatility is its charm.
While it might be light on the palate, its influence on beer cheese is anything but that. Bright, crisp, and flavourful - it makes for an enjoyable gourmand journey.
2. Fat Tire: Perfect Balance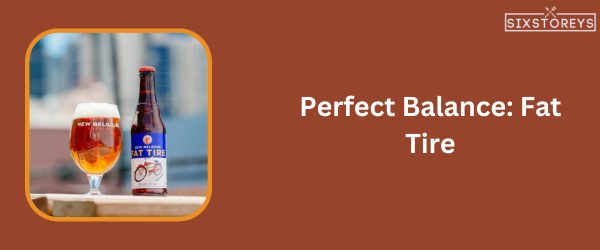 Taking us forward in the pursuit of the perfect beer for beer cheese is the Fat Tire. Named in honor of a co-founder's bike trip through Europe, Fat Tire Amber Ale presents a balance that celebrates both the ingredients and the brewing process.
Presented by Colorado-based New Belgium Brewing, Fat Tire is an Amber Ale that proudly displays its medium malt body with biscuity goodness. Its toasty malt character and gentle hop flavor, coupled with bright carbonation, add an irresistible depth to the beer cheese. The yeast strain, offering a hint of fruitiness, combines with cheese, especially the likes of sharp cheddar, to create a fine gastronomic delight.
What makes Fat Tire a personal favorite is its harmony. No flavor outshines the other, creating a balance that shines through each bite of the beer cheese. It works exceptionally well with spicy dishes, where the maltiness neutralizes the heat, delicately packed with a crisp finish that lingers, extending the premium taste experience.
With Fat Tire, it's not just about the enjoyment. It's a tale of a brewing ensemble, where each ingredient is celebrated, revered, and allowed to flaunt its persona. Combined with cheese, it creates a blend so perfect, so balanced, you'd be reaching for seconds before you know it.
As a standalone beer, its earthy and multi-grain breadiness, with a hint of caramel, is a treat for the senses. It shines through the spectrum of foods, be it a succulent roast chicken, a spicy sausage, or a crisp apple pie. No wonder it's an Ale that America has taken to heart!
From hot summer afternoons to cozy winter nights, Fat Tire strikes the perfect chord between flavor and mellowness, bold yet friendly, robust yet approachable. It's that amber color filling up the pint glass, the fresh aroma of the brew, and then the lingering taste on the tongue - an absolute charmer.
Crafting beer cheese with Fat Tire is an experience in itself - one that pleases the taste buds and cherishes the balance in flavors. With Fat Tire, the journey to perfect beer cheese achieves a new high!
3. Heater Allen Pils: Classic Pick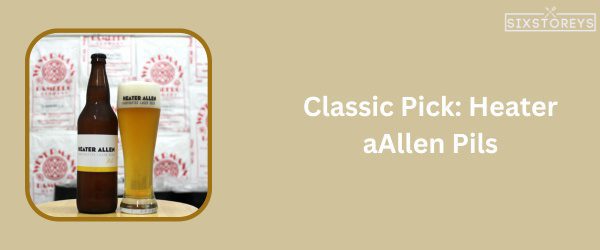 Simplicity is the heart of elegance, they say, and Heater Allen Pils couldn't have defined it better. With its classic, crisp flavors, and clear golden hue, this traditional beer is an excellent choice that simply glorifies any cheese it's paired with.
Heater Allen Pils, named after the brewing company's father and grandfather, is a thoughtful nod towards the German Pilsner. It's brewed using only German Pils malt and three hop varieties all imported from Germany. The result? A well-rounded, rich, and superbly balanced beer.
The traditional beer enhances your cheese with its delicate malt sweetness and impressive hop character, tinkering with the cheese's creamy layers to produce an unforgettable beer cheese. Whether it's a subtly flavored Gouda or a robust extra mature cheddar, the pilsner's balance between light, floral hops, and clean malt makes it a versatile act in the art of beer cheese making.
It has a way of cutting through strong, spicy flavors, creating an avenue for the cheese to shine through. With its bubbly charm and its classic, golden look, Heater Allen Pils introduces a traditional twist to a modern treat.
Trust me, whether you're hosting an elaborate dinner or a casual game night, serving a beer cheese dip made with Heater Allen Pils is your way to a memorable event. The interplay of flavors it brings to the kitchen is nothing short of captivating.
4. Guinness 0.0: The Non-Alcoholic Pick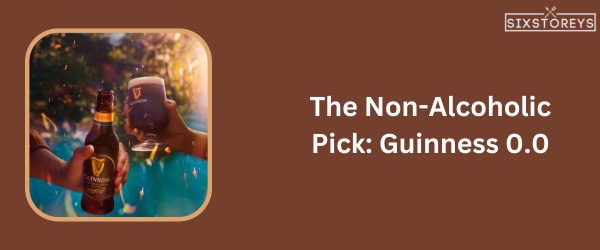 The taste shouldn't have to be compromised for the sake of keeping it on the sober side, and Guinness 0.0 testifies to this just right. With all the rich, smooth tastes of the classic Guinness Draught but devoid of alcohol, it proves to be a delightful addition to any beer cheese concoction.
Harvesting all the traditional flavors, Guinness 0.0 is born from a unique cold filtration process that protects the integrity of its taste and character while removing alcohol. This distinctive beer portrays a theme of balance with its sweet and bitter notes, making it a genius choice for tangy, homemade beer cheese.
By lending their signature smoothness to any cheese of your choice, Guinness 0.0 ensures the creaminess of your beer cheese gets amplified without an overwhelming note of alcohol. Select a mature cheddar or mozzarella, and allow the beer to do its magic. The ending result is a velvety, delightful dip that's perfect for any party. Furthermore, the roasted malts with just a hint of chocolate and coffee underscore the cheese's natural flavors and enhance the richness of your beer cheese.
If you wish to have a non-alcoholic addition to your beer cheese without missing that extra depth that beer typically brings, look no further. Guinness 0.0, with its dark mahogany shade and creamy head, brings the best of both worlds to the table, with feet in tradition but eyes on moderation.
As a proud descendant of the Guinness family tree, it makes for a hearty pairing with a diverse palette of food. Be it a robust steak, chargrilled vegetables, or pie, it plays a versatile role, enhancing the dining experience.
With Guinness 0.0, taste, tradition, and health blend into a brilliant rendition of lightness and flavor – The right pick for a lighter yet delicious beer cheese experience.
5. Samuel Smith's Nut Brown Ale: Nutty Goodness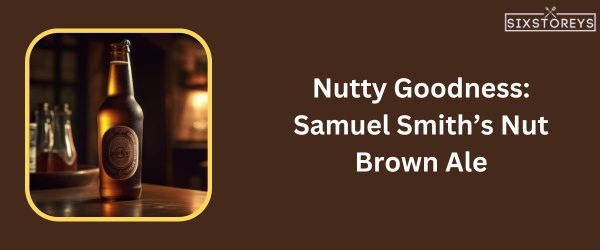 Imagine the sweet, rich taste of nuts lending itself to a deliciously creamy cheese. Now pour that vision into a glass of beer, and you've got Samuel Smith's Nut Brown Ale. This British import introduces a celebration of flavors, adding character and depth to your beer cheese.
Samuel Smith's Nut Brown Ale is made using a manual ferment technique in the age-old Yorkshire Squares which contributes to its pure ale character. There's a melody of flavors playing here: caramel, roast malt, creamy nuts, and a hint of fruit from the yeast, all blending perfectly to enrich your beer cheese.
The beer's complex taste profile is a match made in heaven with cheeses like Gouda or Swiss, providing a delicate nutty goodness that is downright addictive. The nut brown ale acts like a grid, complimenting the cheese, playing with its texture, and accentuating the tang. The result is a spread that's not too bitter, has a buttery mouthfeel, and just the perfect hint of malty-nutty sweetness. It's like comfort food but in a beer cheese form.
Tradition, flavor, amalgamation, and balance - all concocted to create brewing perfection in this fine ale. Whether paired with hearty roast meat, flavorful curry, or a humble homemade sandwich, the nuttiness of the ale makes every bite delectable.
Samuel Smith's Nut Brown Ale brings the charm of the old-world pubs right to your kitchen. Rich, frothy, and uniquely satisfying, it truly brings out the artisan in you, as you craft your batch of beer cheese, with its nutty goodness amplifying every mouthful. And I promise, your taste buds are going to sing a melody of flavors with each bite. Totally nut-ch a bad idea, eh?
6. Spaten Premium Lager: European Favorite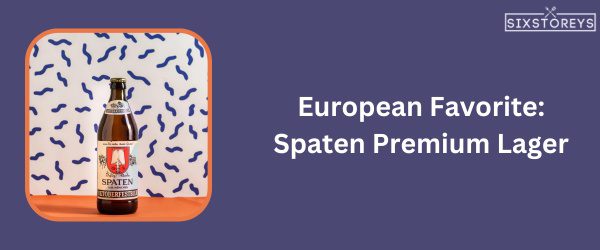 Elevating beer cheese from delicious to divine is a step that requires the right beer. And when discussing premium beers, Spaten Premium Lager undeniably captures the spotlight.
This absolute beauty from Bavaria is a European classic, crafted following centuries-old brewing traditions. A distinctly bright straw yellow color with a delicately foamy head, it's genuinely a sight to behold. Sipped cold, its pure, full-bodied taste with a hint of citrus on the palate is enough to transport you to the cozy German beer gardens.
But when added to the cheese, it works its real magic. Its rich maltiness, combined with the earthly aromas and slight bitterness, unravels the cheese's complexities like no other. Try it with a strong, sharp cheese, and let it graciously amplify the tang while taming the creaminess. It's like opening a hidden door of flavors that you didn't even know existed.
The Spaten Premium Lager stands tall when paired with robust, spicy foods like antipasti or strong, meaty stews, making the dining occasion nothing short of a gourmet experience. If elegance and tradition are what you seek in a beer, and depth is what you desire in your beer cheese, Spaten Lager is the route to take.
7. Sierra Nevada Pale Ale: Hops Heaven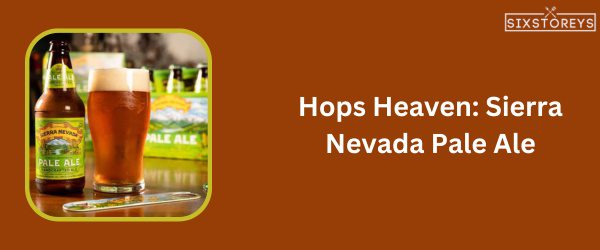 Hops are to beer what soul is to the body: maintaining a fine balance while breathing life into the brew. And nobody does hop quite as well as Sierra Nevada Pale Ale.
This Pale Ale is remarkable, not only for being one of the top-selling beers in the United States but also for its unique, vivid flavors. Its character is defined by an exceptional blend, one that involves Two-row Pale and Caramel malt along with generous amounts of Perle and Cascade hops. A sip of the Sierra Nevada Pale Ale is a sublime combination of crispy malt flavors with a fruity punch originating from the hops used.
In the realm of making beer cheese, this Pale Ale has a soaring reputation. It creates an unmistakable blend when united with a creamy, decadent cheese to create a beer cheese that boasts a complex flavor profile. Whether it's an ultra-creamy Camembert or a soft, creamy Roquefort, the Sierra Nevada Pale Ale streamlines their flavors, brushing them with a vibrant freshness that is truly unique.
It's not just a choice; it's a celebration of craftsmanship that has stood the test of time, proud of its quality and exemplary in its flavor delivery. So, whenever beer cheese is on the menu, remember to embrace the hoppy rides of Sierra Nevada Pale Ale. It's not just a beer; it's a hops heaven that your cheese will thank you for!
8. Deschutes Black Butte Porter: Dark Delight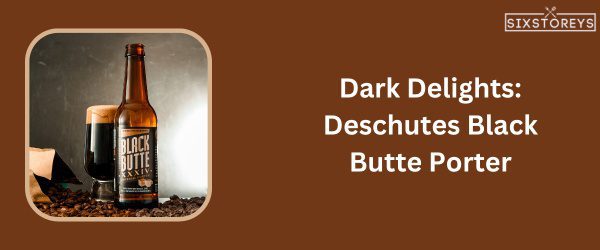 Taking a step on the darker side of brews, one cannot omit to mention the bold majesty of Deschutes Black Butte Porter. Originating from Oregon's Deschutes Brewery, it's a dark beer characterized by its unique notes of chocolate and coffee.
Deschutes Black Butte Porter looks almost like a freshly brewed cup of coffee, deep and inviting. Taking a sip, you're instantly flooded with the flavors of dark chocolate, exploding with rich, toasted malts and a delightful hint of hop bitterness. But it's the subtle undertones of dry-roasted coffee that sets it apart.
Imagine this vast spectrum of flavors amalgamating with cheese. The Porter's full-bodied flavors manage to cut through the richness of the cheese, lending the beer cheese a depth that's remarkable. Pairing it with a classic cheddar or a crumbly aged gouda results in a rich, luscious cheese base that's full of intense, savory goodness, elevated by the rich, dark notes of the Deschutes Black Butte Porter.
Whether it's a late-night snack or a cozy winter afternoon, a bowl of beer cheese made with this dark beer is the comfort food you will wholeheartedly cherish.
9. Paulaner Oktoberfest Bier: The Oktoberfest Special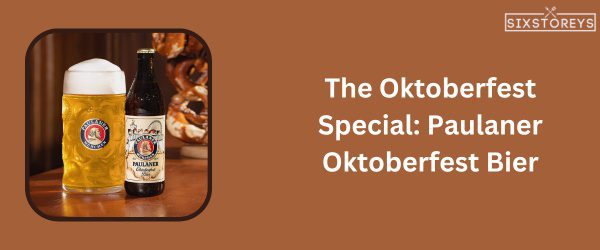 Imagine the clang of beer mugs, the aroma of bratwurst, the sights of traditional German Lederhosen and Dirndl – these are memories stitched beautifully into the fabric of a German Oktoberfest. And what brew other than the Paulaner Oktoberfest Bier to relive these moments?
This rich, amber-hued Märzen Lager brings the essence of the Oktoberfest to life. Brewed only once a year in restricted quantities, Paulaner ensures that this beer is an experience to be savored.
A sip reveals an extraordinary balance of malt sweetness and hop bitterness that is intriguing yet comforting. In the context of beer cheese, this Oktoberfest Bier is nothing short of a festive special. The malty sweetness acts as a subtle partner to robust, intense cheeses and rounds off any sharp edges, creating a harmony of beer and cheese that spells indulgence.
Imagine creating a beer cheese with a well-aged Gruyere or a block of piquant Munster; the Paulaner Oktoberfest Bier enriches them with the perfect sweetness, enhancing the overall profile of your beer cheese. This Oktoberfest special will make your brew pot a scene right out of the Bavarian festivities. With each bite, you get to experience Oktoberfest, no matter where you are.
Also Read: Best Beers For Beer Can Chicken
10. Hofbräu Original: The Original Bavarian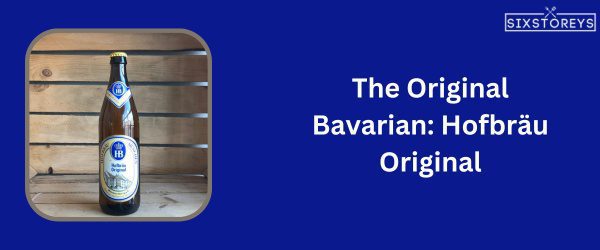 What's better than Bavarian beer for beer cheese? Especially one that comes with high regard and historical pride like the Hofbräu Original? It's like a time machine, whispering stories of German beer halls and centuries-old brewing arts in each sip.
One can't help but admire its inviting golden straw color and the frothy head that finds a perfect balance between its substantial malt body and its elegant hops. Hofbräu Original has a classic taste profile that is slightly bitter, yet overwhelmingly refreshing, the taste of Munich in a glass.
This beer makes its magic when paired with cheese, giving birth to a beer cheese reeking of tradition and class. The sharp hops cut into the creaminess of the cheese, making for an intense yet complex flavor profile. Provolone or a pungent blue cheese find just the right balance with this beer, balancing out the punch and allowing the consummate play of flavors.
The Hofbräu Original is a force to be reckoned with when paired with food. Bratwurst, schnitzel, or even a hearty loaf of rye bread, this beer stays true to its origins. Bursting with a unique blend of tradition, class, and flavor, Hofbräu Original is a sure shot for those seeking an authentic Bavarian experience in their beer cheese. It's not just a beer; it's a picture of Munich, packaged in a perfect brew.
11. Boston Lager: An American Classic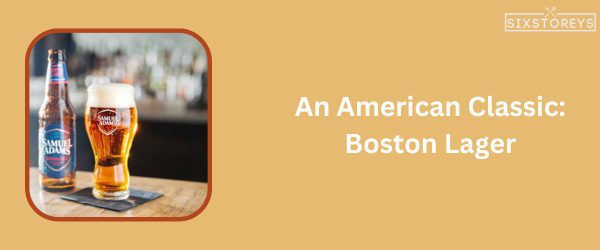 When we speak about beer, inescapably, one of America's finest - Boston Lager comes to mind. As the original beer of the Samuel Adams line, Boston Lager has not only captivated hearts for its robust flavor but has etched itself into the very fabric of American brewing history.
Carefully crafted with a blend of rich, aromatic hops and caramel malt, this Lager is a delightful mix of sweet and bitter. It proudly holds its amber color, signifying the ripe, flavorful foundation that this beer extends to anything with which it pairs. To put it simply, Boston Lager is a full-bodied beer with a complexity that simply mesmerizes.
Taking a sip, you are greeted with the robust sweetness of malt, followed by a slightly spicy, piney note of hops, creating a symphony of flavors. When utilized for beer cheese, it carefully introduces this depth of flavors, standing up effortlessly to sharp, tangy cheeses, whether an American cheddar or a piquant English Stilton. The Lager lets the flavor of the cheese unfold in cascading waves, as it enriches your beer cheese with a character that is distinctly its own.
The Boston Lager becomes a catalyst that pushes the boundaries of taste and allows the cheese to express its true nature. Hosting a casual get-together or just spending a Saturday night in? This all-American classic will make your beer cheese dip an irresistible delight. Without a doubt, having Boston Lager for beer cheese is like relishing a piece of American heritage, all from the comfort of your own home.
12. Shiner Bock: Deep South Flavor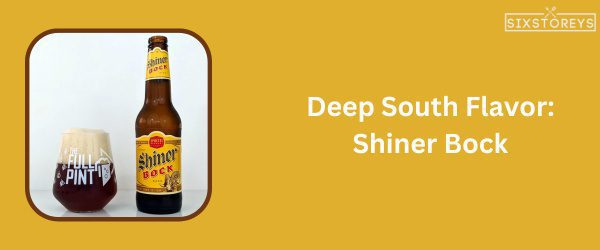 When the conversation veers towards full-bodied beers that can stand up to the intense flavors of cheese, Shiner Bock naturally makes the list. Hailing from the 'Lone Star State' - Texas, the Spoetzl Brewery has been turning out this Southern favorite for over a century.
Shiner Bock, with its deep amber color, embodies the spirit of simplicity and character. It boasts a rich, malty flavor, rounded off with a hint of sweetness and a light touch of hop bitterness. In effect, each gulp offers you a taste of Texan hospitality.
The rich, deep profile of Shiner Bock makes it perfectly suitable for beer cheese, particularly those made with spicier cheeses. Are you whipping up a batch of beer cheese with pepper jack or jalapeno cheddar? The deep-south flavor of Shiner Bock is your go-to companion, promising to balance the heat and offer depth to the flavors.
Much like a Texan sunset, this beer brings about an ambiance of warmth to your cheese dip, making it a perfect companion for a hearty snack of chips or pretzels.
13. Brekle's Brown: The Ale Advantage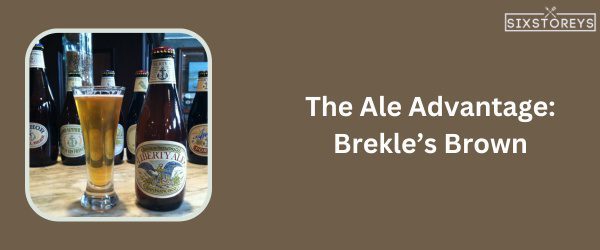 Venturing into the grand landscape of beers, it's hard to overlook the charm packed in Ales, and what better representation than Brekle's Brown from the Anchor Brewery. Named after the brewery's founding brewer, Gottlieb Brekle, this Brown Ale offers a throwback to the traditional style of Ales - simple, flavorful, and completely satisfying.
On pouring, you'll notice the Ruby-brown hue, not unlike an autumn sunset, beckoning you to delve into its depths. Boasting of a complex array of flavors, Brekle's Brown is a single-malt, single-hop brown ale that interweaves a toffee caramel sweetness with nutty, roasted barley flavors, which are topped with a hint of citrus zest.
When combined with cheese, the result is the nirvana of flavors. Consider pairing it with an American cheddar that can complement the Ale's complex flavors without overpowering them. As you simmer together the Brekle's Brown and your choice of cheese, the ale emboldens the cheese, creating a beer cheese dip that's rich, fully packed with flavors, and deeply satisfying.
In short, Brekle's Brown brings an ale advantage into the culinary realm of beer cheese, promising an indulgence that you won't forget in a hurry.
14. Dogfish Head Raison d'Etre: Fruity Twist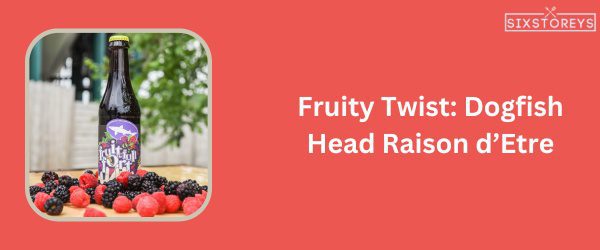 Unexpected combinations often give way to the most delightful surprises. If you're ready to venture off the beaten path with your beer cheese, say hello to Dogfish Head Raison d'Etre. It's a beer rich in malt flavor laced with an irresistible fruity twist that undoubtedly brings something special to the table.
Boasting a deep mahogany tone, Dogfish's Belgian-style brown ale is brewed with beet sugar, raisins, and Belgian-style yeast. As soon as you take your first gulp, you're enveloped in a rush of complex flavor profiles, majorly dominated by maltiness, underpinned with a lingering sweetness from raisins and a slight spiciness characteristic of Belgian brews.
When it comes to pairing this fruity powerhouse with cheese, you have an opportunity to create a unique flavor experience. Consider cheeses that lean towards a sweet and creamy profile such as a nice Brie or a mild Gouda. The raisin essence and Belgian undertone of Raison d'Etre wonderfully elevate the creaminess of these cheeses, creating a beer cheese that's delectably addictive in its uniqueness.
In the vast realm of beer cheese, Dogfish Head Raison d'Etre is assuredly the wild card that's sure to impress anyone looking for something unconventional and gratifying.
15. Montauk Wave Chaser IPA: Wild for Waves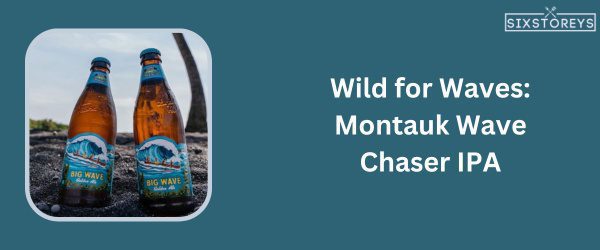 As you prepare to create a stellar beer cheese, one cannot overlook the robust world of IPAs (India Pale Ales). One of my absolute favorites is the Montauk Wave Chaser IPA. As the name suggests, it's an ode to the mighty waves, packing an intense flavor wave that is both refreshing and invigorating.
The moment you pour out Montauk Wave Chaser IPA, you're greeted with a bright, golden amber hue that's representative of the illuminating joy it brings. This beer seamlessly blends floral and citrusy hops with caramel malts, resulting in a refreshing balance of bitterness and sweetness.
Brewing beer cheese with Montauk Wave Chaser IPA is a tropical delight in the making. The pronounced bitterness and citrusy flavor brilliantly temper the richness of robust, fatty cheeses like blue cheese or vintage cheddar. The result is a beer cheese dip that's complex, with a perfect amalgamation of intense flavors, bound to leave you craving for more.
If you're ready to chase the flavor waves, the Montauk Wave Chaser IPA should definitely top your list!
16. Heater Allen Pils: Classic Pick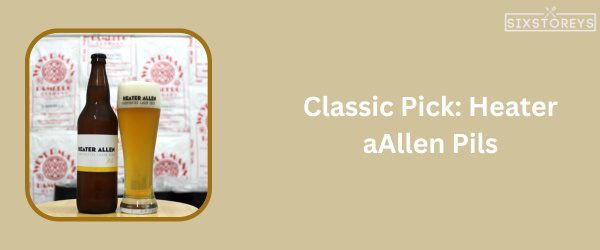 Speak to any beer connoisseur and they'll attest to the timeless appeal of a well-made Pilsner. Crisp, refreshing, and subtly flavorful, the Pilsner has a special place in the heart of beer lovers worldwide. Among them, the Heater Allen Pils stands out. This coastal Oregon brewery has carved a niche with its German-style Pilsner, acclaimed for its crisp, light feel and balanced taste.
Heater Allen Pils has a beautiful golden hue, beckoning for a taste. Brewed in the traditional German malt and hops style, the flavor profile of this beer is primarily light and touch bitter, with a slight hint of breadiness. It's this simplicity of flavor that makes it a clear contender for your beer cheese.
Consider pairing Heater Allen Pils with a delicate, young, and slightly nutty cheese like a Swiss Emmental or a baby gouda. The robust and full-bodied nature of Heater Allen complements these cheeses, contributing to a sumptuous beer cheese that is delicate, yet robust in taste. If there's one beer that embodies the phrase 'less is more', it is the Heater Allen Pils.
17. Half Acre Original Reaper Stout: An Intense Finish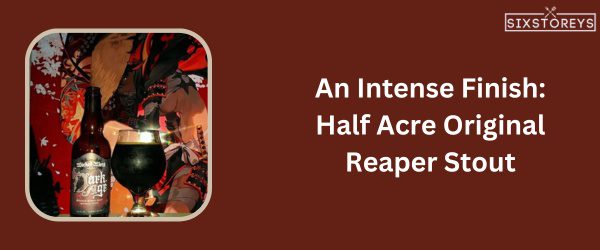 Rounding off my handpicked list is the dark and intriguing - Half Acre Original Reaper Stout. This Chicago favorite has gained a stout (pun intended!) reputation for its intense flavors and full-bodied richness that can deliver an incredibly nuanced beer cheese.
Pouring out a deep and ecstatically dark color that's bordering on black, the Original Reaper Stout looks as enticing as it tastes. The beer reveals a profound blend of flavors capped with cocoa, coffee, and caramel notes. It's this multifaceted flavor profile that grants the Half Acre Original Reaper Stout its grandeur.
The pronounced flavors of Original Reaper Stout are destined to complement robust, bold cheeses like Gruyere or Roquefort. As you simmer your cheese of choice in a broth of stout, the beer seems to waltz with the cheese, yielding an intense, flavor-packed beer cheese with a profound depth.
For an experience in beer cheese that's unforgettably decadent and rich on the palate, the Half Acre Original Reaper Stout is a choice that truly satiates all the right senses.
Also Read: Best Beers For Beer Bread
How to Select the Right Beer for Your Beer Cheese?
Selecting the right beer for your beer cheese is crucial to achieving the perfect combo of flavors. A few factors can guide your selection process:
Taste of the Cheese: The intensity of the cheese flavor. Mild cheeses like mozzarella or Monterey Jack may require a lighter beer such as a Lager or Pilsner, while robust cheeses like sharp Cheddar or Gruyère might need a more assertive counterpart like a dark Ale or Stout.
The Occasion: Are you preparing the beer cheese for a casual gathering, a holiday celebration, or a sports event? Matching the mood can help determine the beer you choose. For example, an Oktoberfest Bier for autumn festivities or a stout for a winter get-together.
Your Personal Preferences: At the end of the day, the ideal beer for your beer cheese is the one you enjoy drinking.
Why the Right Beer Matters in Brewing Delicious Beer Cheese?
Food and drinks, when correctly paired, can deliver a gastronomic experience that is more than the sum of its parts. Think of a juicy steak with a robust red wine, or a delicate bruschetta with a crisp white - the right match elevates the flavors to another level.
The kind of beer you use in your beer cheese can significantly impact the taste and texture of the final dish. The malty sweetness, hoppy bitterness, or the yeasty fruitiness present in different beer varieties interacts with the tang, richness, and creaminess of the cheese. The intermingling of these flavors gives the beer cheese its unique taste.
A lighter beer can lend a subtle hint of malt and hops, barely nudging the cheese's flavor. Wheat beer can provide slight sweetness that counters the tang of a sharp cheese. A brown ale, with its complex mix of hops, malt, and roast notes, can deeply enrich cheese flavor, especially if it's smoked or an aged one.
Finally, remember to choose the best beer for your beer cheese based on the strength of the cheese used – a strong beer for a strong cheese, a lighter beer for a milder cheese. Together, they can create a flavorful harmony, a celebration on the palate that leaves everyone craving for more.
Why Does Fat Tire Make a Great Companion for Robust Cheeses?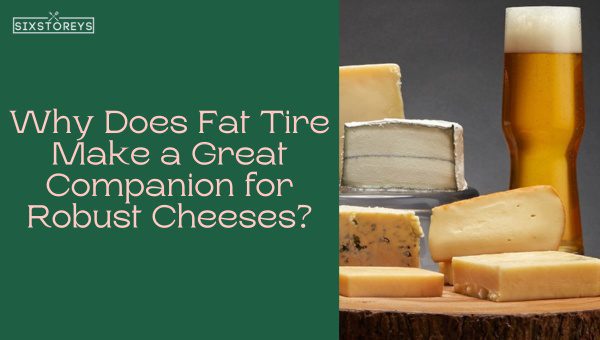 Fat Tire, the celebrated amber ale, is undoubtedly a hit in many comforting recipes, and when it comes to beer cheese, it's no different. This well-balanced brew is renowned for its toast-like malt character. It boasts a certain sweet biscuit-like quality coupled with a robust, yeasty essence.
Its layers of caramel notes and toffee undertones knit wonderfully well with robust cheeses. The subtlety of Fat Tire does not overpower the sharpness of robust cheeses like English cheddar, aged gouda, or gorgonzola. Its signature undertones beautifully amplify the assertive flavors these cheeses bear.
Furthermore, what makes it a perfect sidekick for these bold cheeses is its inherently smooth finish. The seamless blend of intense cheese and the mellow, malty Fat Tire is noteworthy. The fizzy carbonation cuts through the rich and heavy palate of the cheese, setting the gastronomic stage for a balanced, indulging mouthful every single time.
How to Choose the Perfect Beer for Different Types of Cheeses?
Choosing the right kind of beer, much like picking the perfect wine for your cheese, comes down to balancing and complementing flavors. A well-paired beer and cheese can heighten and enhance the experience of both.
Light Cheeses
For light and creamy cheeses such as Brie, Camembert, or Mozarella, opt for lighter, crisp beers. A lager such as Yuengling Light Lager or Spaten Premium Lager can be the perfect pick. These light beers do not crowd the subtle creamy and buttery profiles of these cheeses.
Tangy Cheeses
If you are dealing with semi-hard, tangy cheeses like Gouda, Cheddar, or Swiss, you would want to pair it with an Ale, preferably Amber Ale, like the Fat Tire, or darker beers such as Brown ale - Samuel Smith's Nut Brown Ale, or even stouts like Half Acre Original Reaper Stout.
Strong Cheeses
If your cheese flaunts bold, assertive flavors like Blue Cheese or Aged Cheddar, you can stand up to their robust palates with flavorful, full-bodied beers, such as a rich Stout or Trappist Ale. Consider Deschutes Black Butte Porter and Dogfish Head Raison d'Etre, which are strong enough to complement these cheeses.
In essence, pairing beer and cheese is an exploration of tastes - it's about finding harmony between flavors. It's a journey best taken one sip, one bite at a time.
How to Use Brekle's Brown and Paulaner Oktoberfest Bier in Your Beer Cheese?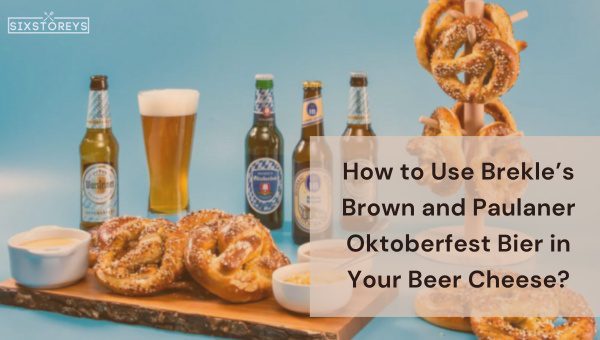 When it comes to crafting the perfect beer cheese dip or sauce, choosing the right beer is essential. Let's delve into how you can incorporate two flavorful brews, Brekle's Brown and Paulaner Oktoberfest Bier, into your beer cheese.
Brekle's Brown
This all-malt, single-hop brown ale is rich in its complexity. It boasts caramel and chocolate notes, which can add a sweet yet savory kick to your beer cheese.
To infuse Brekle's Brown into your beer cheese:
Start by preparing your cheese. Choose a type that pairs well with the ale's flavors, like sharp white cheddar or even a milder nuttier cheese like Gouda.
Simmer Brekle's Brown ale on medium heat in a saucepan until it reduces by half.
Add the cheese little by little, continually stirring until it's fully melted and blended with the beer.
Add spices as necessary. Think about mustard, garlic, or even a little hot sauce. These options can add an extra layer of complexity to your beer cheese.
Expect a deep, robust flavor with a lingering malty sweetness when using Brekle's Brown. It's sure to give your beer cheese a unique twist.
Paulaner Oktoberfest Bier
Paulaner Oktoberfest Bier has a rich hue and smooth malt flavor with a hint of honey. This makes it a phenomenal choice for more decadent, sweet cheeses, such as Swiss or gouda.
To use Paulaner in your beer cheese:
Prep your cheese.
Simmer the Paulaner Oktoberfest Bier, similar to the Brekle's Brown, until it reduces.
Add in the cheese piece by piece, making sure to keep stirring.
Mustard and clove are particularly good spices to consider with this bier. They bring out the maltiness of the bier and the sweetness of the cheese.
Using Paulaner Oktoberfest Bier gives your beer cheese a beautiful Oktoberfest twist.
Also Read: Best Grapefruit Beers
Frequently Asked Questions
Why is the right beer important for making beer cheese?
A selection of the right beer is instrumental in determining the final flavor profile of your beer cheese. The essence, aftertaste, and undertones embodied in the beer of your choice will steep into your cheese, and hence the beer becomes the soul of your dish.
How can I pick the best beer for my beer cheese recipe?
The beer you select essentially boils down to your personal preference. However, considering the type of cheese, the strength of flavors, and the occasion can guide you. Light lagers and ales usually go well with mild cheese, while stouts and porters can stand up to strong, robust cheeses.
Can I use non-alcoholic beer for beer cheese?
Yes, you can certainly use non-alcoholic beer for beer cheese. Guinness 0.0 is a great choice for those seeking a non-alcoholic alternative. It delivers the same malty and sweet attributes of a regular beer but without the alcohol.
Do dark beers like stouts and porters work well in beer cheese?
Absolutely! Dark beers, with their rich and bold flavors, really stand out when used in beer cheese. They can hold their own amidst the robust cheese flavor. Deschutes Black Butte Porter, for example, adds a delightful hint of chocolate and coffee to your beer cheese.
Can I use ale in my beer cheese recipe?
Yes, ale can be a wonderful ingredient in beer cheese. Ale's versatile flavors, ranging from fruity and spicy, to malty and nutty, can add a distinctive character to your dish. Brekle's Brown is a sturdy choice for its caramel and chocolate notes.
What kind of beer pairs well with spicy cheeses?
For spicy cheeses, you'd want a beer that's rich and full-bodied to balance the heat. Shiner Bock is a good representative of such beer that pairs well with spicier cheeses.
Does seasonality affect my beer selection?
Indeed, it does. Some beers, like the Paulaner Oktoberfest Bier, are seasonal. Their distinctive flavors can enhance the festive nature of your dish.
Can the hoppy flavor of IPAs be a good match for beer cheese?
Yes, the hoppy taste of IPAs, like the Sierra Nevada Pale Ale, brings out an exciting contrast when paired with creamy and robust cheeses. They create a flavor stroke that's both refreshing and rich at the same time. It's a delightful dance of flavors in your mouth.
Conclusion
Whether you're seeking to satiate a casual indulgence or striving to master culinary versatility, the allure of crafting the perfect beer cheese never fades. Understanding the subtle interplay between the flavors of various beers with those of cheese can truly elevate this dish to unprecedented gastronomic heights. From the crisp, refreshing taste of a pilsner paired with a light, creamy cheese, to the robust assertion of a stout meeting the spiciness of a mature variety, each pairing creates a flavor story that's unique and enticing.
Once you've embarked on this flavor-filled adventure, there's no turning back. Beer cheese, in its glorious simplicity, can bring a whole new dimension to the way you perceive and savor food. With the right beer, you can transform this classic dish into a show-stopper.
In each sip and each bite, there lies an opportunity, a journey of flavor exploration ready to be embarked on. The selection of beers we've shared with you today is just the beginning. Don't be afraid to experiment, seek out new combinations and craft your unique beer cheese story.
So, go forth and brew, and remember, there's no such thing as too much cheese or too much beer. The perfect coupling might just be a bottle (or draft) away! Here's to the culinary adventures that await! Happy brewing.
Beverage Explorer and Tastemaker 🍻🥃🍷 Aman's quest for liquid delights knows no limits. From hoppy brews to aged spirits, he uncovers the tales behind each sip. His eloquent descriptions and accessible insights make every drink an adventure worth raising a glass to.