16 Best Grapefruit Beers of 2023 [Citrus Bliss Unleashed]
Updated On: September 7, 2023
If you, like me, have a penchant for craft beers with a unique and refreshing twist, you're probably always on the lookout for fresh flavors to tantalize your taste buds. Good news. There's a refreshing brew that harmoniously melds bitterness with a citrusy punch — yes, I'm referring to grapefruit beers! These brews marry the wonderful bitterness of a beer with the tangy and sweet notes of grapefruit, making them a delightful drink.
Dive in as we passionately talk about the "Best Grapefruit beers" - a magical amalgamation of flavors that'll make you re-think everything you thought you knew about craft beer! Trust me, these grapefruit-infused beers are game changer. So, whether you are a seasoned beer connoisseur or just a curious beer lover, buckle up, and let's explore this captivating world of grapefruit beers.
Also Read: Italian Beer Brands
16 Best Grapefruit Beers For Hop Lovers in 2023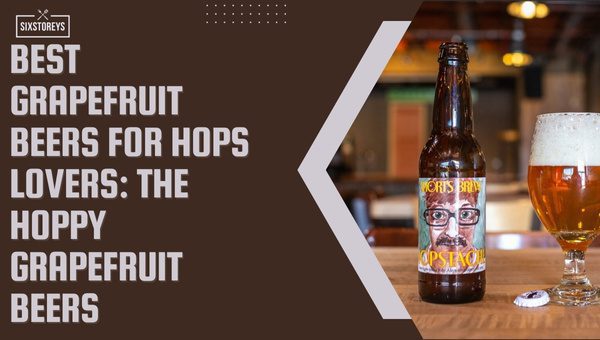 Drinkers who adore the bitter bite of hops in their beer will find a perfect match in grapefruit beers. There's something appealing about the combination of a slightly bitter, citrusy grapefruit tang and the vivid, zippy profile of hops, making grapefruit beers truly alluring for any hophead. Here are the three that stand out from the pack:
1. Stone Grapefruit Slam IPA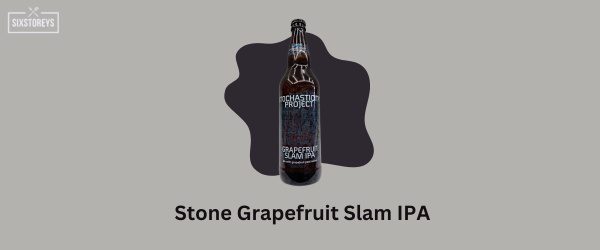 Heading the list is the remarkable Stone Grapefruit Slam IPA. Quite honestly, the first time I raised the can to my lips, the burst of citrus hit my senses even before the first swig. The aroma itself is a tantalizing blend of grapefruit and hoppy bitterness. The first sip is a refreshing collision of grapefruit notes expertly blended with resinous, piney hops.
As a lover of hops, the assertive bitterness was an enjoyable element that enhanced its overall character. It had a crisp finish, only further tantalizing my taste buds. Indeed, for me, it was the perfect mixture of tart, bitter, and crisp in a beer.
2. Schlafly Grapefruit IPA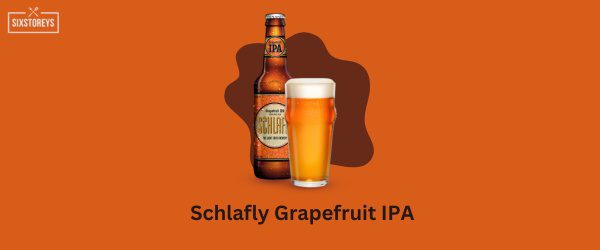 Next on my list is the fantastic Schlafly Grapefruit IPA, a beer that strikes an elegant balance between the bitterness of hops and the zest of grapefruit. The beer boasts a lovely golden hue with an impressive white froth. The taste, oh the taste! Believe me when I say it's a perfect symphony, beginning with a burst of hoppy bitterness rounded off by a mild sweetness and finishing with a splash of grapefruit zest. Schlafly Grapefruit IPA is a beer that I found to be charmingly complicated, leaving a delightful lasting bitterness on my palate.
3. Grapefruit Sculpin Summer IPA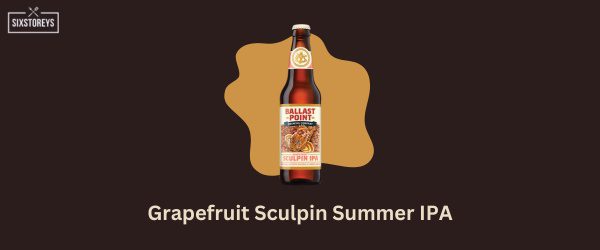 The third beer I'd like to highlight is the iconic Grapefruit Sculpin Summer IPA. It is a beer whose name alone can trigger a longing for a bright, sunny summer's day. On the pour, it reveals a deep golden color with a creamy, slightly off-white head. The scent is a wild dance of hoppy hints and grapefruit whispers.
The Palate is treated to a fantastic blend of citrusy grapefruit and hops in perfect harmony, rounded off by a malty finish. The balance of flavors is sublime, keeping the bitterness I adore without overwhelming the delightful grapefruit character. This one is a pleaser for a hophead with a soft spot for citrus.
4. Stiegl Grapefruit Radler [Best Citrusy Grapefruit Beer]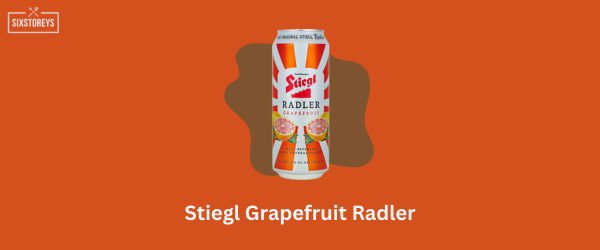 Stiegl Grapefruit Radler is, in my humble opinion, an epitome of summer refreshment. Serving a light 2% ABV, this mix of 50% Stiegl Goldbräu Lager and 50% fruit juice is the true definition of a "cyclist's beer" – the literal translation of the German word "Radler". The bitter-sweet symphony of this beer evokes memories of lazy summer afternoons, and its naturally cloudy hue is as inviting as it gets. With each sip, you'll experience a brisk wave of tangy grapefruit juice that's balanced out by the sweetness of malted barley. This beer is sunshine in a bottle!
5. Great Divide Roadie Grapefruit Radler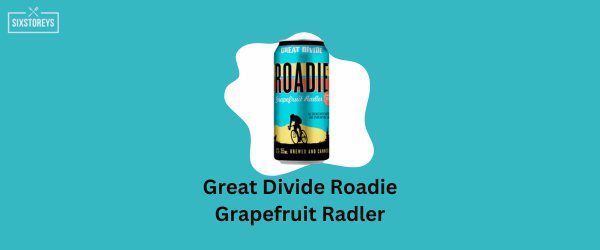 Next on my list is the Great Divide Roadie Grapefruit Radler. Crafted with natural grapefruit puree, this exquisitely tart and bright beer propelled me into a whirlpool of citrus adventures. There is a slight bitterness that sets the stage, followed by a cascade of grapefruit zest, providing an effervescent and refreshing finish. At a mild 4.2% ABV, this Radler is a cool companion for a hot day.
6. Captain Lawrence Effortless Grapefruit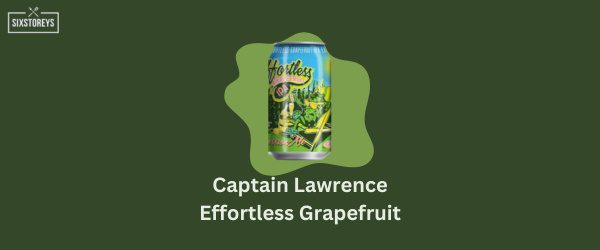 Now let's talk about Captain Lawrence Effortless Grapefruit. This brew is where tradition meets modernity. Brewed with an avalanche of Grapefruit Pith, Peel, and Juice, the faint bitterness of this IPA is sublimely compensated by the lively, juicy grapefruit punch. It stands at an ABV of 4.5% - enough to provide a nice buzz but light enough to quench summer thirsts. Its vibrant citrus zest is a tempting treat for any beer fanatic.
7. Leinenkugel's Grapefruit Shandy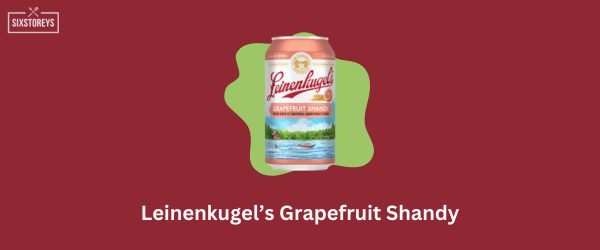 Leinenkugel's Grapefruit Shandy, a traditional wheat beer with a refreshing natural grapefruit flavor caught me by surprise. This drink sits at a relaxed 4.2% ABV. It's invitingly smooth and, bolstered by hints of malt and honey, it radiates a vivacious citrus aroma. The sweet malt and bitter grapefruit combination create a perfect symmetry, providing a refreshing finish.
8. Schöfferhofer Grapefruit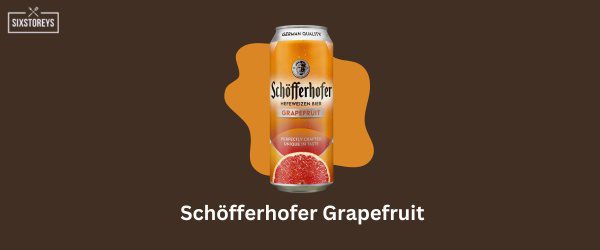 Schöfferhofer Grapefruit is a delightful brew with a vibrant cloudy orange hue and a strong fruity aroma. With a light 2.5% ABV, this beer is a harmonious marriage of wheat beer and grapefruit juice. It delivers a perfectly balanced flavor, where neither the wheat beer nor the grapefruit juice overpowers the other. This beer is disarmingly palatable and tantalizingly refreshing!
9. Shiner Ruby Redbird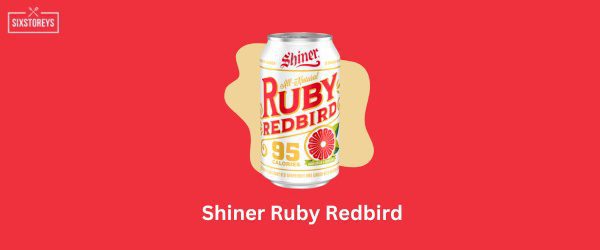 The Shiner Ruby Redbird beer is a divine blend of tart grapefruit and ginger at 4.01% ABV. It has a beautifully hazy, golden color and a crisp finish that sings with a twang of tart grapefruit, perfectly harmonized with a kick of ginger. Every sip brings a revitalizing shock to your palate, making it the ideal cooler for an energized summer session.
Also Read: Best Bars in Brandon, Florida
10. Crane Brewing Grapefruit Gose [Best Tangy Grapefruit Beer]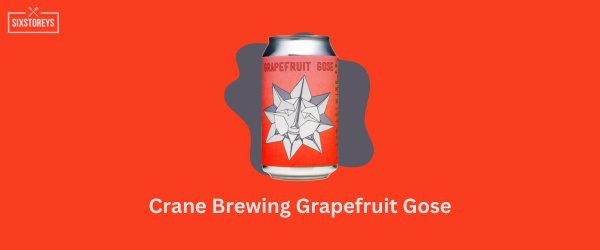 Crane Brewing Grapefruit Gose brings an adventurous twist to the typical sour beer with its spunky emphasis on grapefruit. This Kansas-based brewery truly understands how to craft a refreshing, tart beer. From the moment you pop the cap, this brew welcomes you with a distinctive grapefruit aroma.
You get an immediate tart punch that is expertly balanced by a sharp citrus zest and a delicate salty finish. With an ABV of 4.1%, it's a perfect choice for those looking to enjoy a light, tart brew on a hot summer day.
11. RAR Brewing Grapefruit Nectar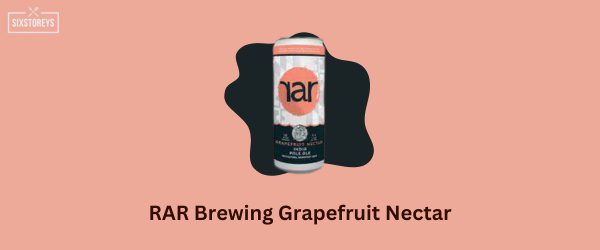 RAR Brewing Grapefruit Nectar from Maryland-based RAR Brewing is an enticing mixture of sour and fruity. It plays up the tartness of grapefruit nectar, producing a beer that is beautifully hazy and absolutely bursting with grapefruit essence. Bold in its tartness, it is balanced by just the right hint of sweetness, a testament to the artistry with which it is brewed. It carries a slightly higher ABV at 7%, ensuring a lasting and gratifying sour beer experience.
12. Lawson's Finest Liquids Double Sunshine Ruby Red Grapefruit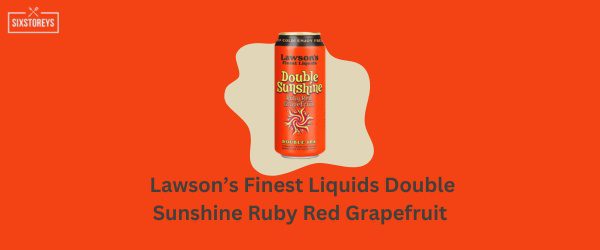 From Vermont-based brewers, Lawson's Finest Liquids Double Sunshine Ruby Red Grapefruit is a remarkable creation. This imperial IPA gives a rich, hop-forward flavor brimming with fresh, tangy grapefruit tones. With an ABV of 8%, it packs quite a punch, but it attributes its boldness to intricate flavor complexities. The sourness is prominent yet smooth, with a delightful grapefruit zest accompanying each sip, making it a brilliant addition to any sour beer enthusiast's collection.
13. Pizza Port Grapefruit Puncher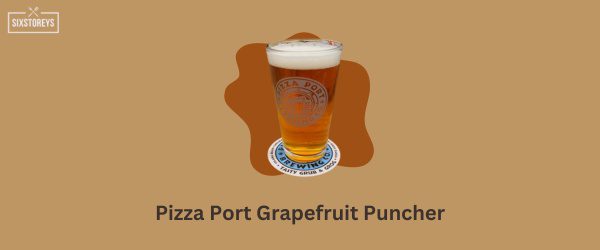 If you're searching for a beer that packs a punch, look no further than the Pizza Port Grapefruit Puncher. This IPA is both aggressive with its bitter hops yet balanced with an unmistakable grapefruit twist. The aroma is pungent and the taste follows suit with a complex blend of malt sweetness and hop bitterness. With an alcohol content of 6.7%, it's not overwhelming but enough to keep things exciting. It's the kind of beer you don't forget in a hurry and would pair perfectly with a spicy pizza or tangy cheese.
14. 18th Street Grapefruit Dead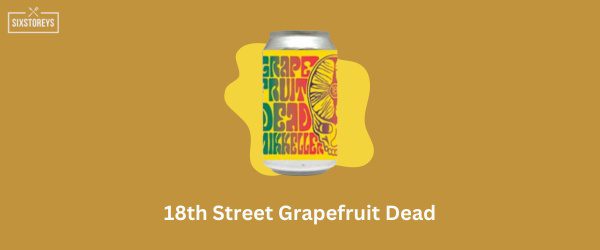 The 18th Street Grapefruit Dead is nothing short of an enigmatic brew. This double IPA presents an intense grapefruit flavor that is sharp but mellowed down by a solid malt backbone. The result is a beer that is bold, slightly bitter, but surprisingly smooth. Each sip leaves you with a lasting taste of citrus and a subtle hint of pine. Offering an alcohol content of 9.7%, it is one of the stronger beers on the list but maintains a balance between alcohol strength and taste.
15. Goose Island Sofie Paradisi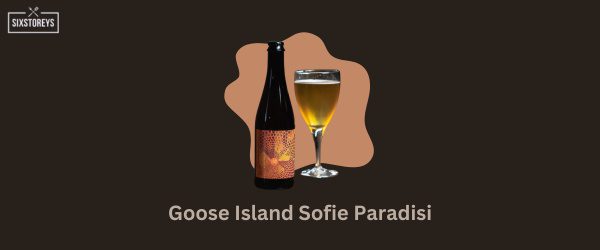 Stepping slightly out of the IPA realm, we come to the Goose Island Sofie Paradisi - a sophisticated blend of Belgian-style farmhouse ale and grapefruit. Freshly squeezed grapefruits and champagne yeast during brewing lend to its exotic and effervescent mouthfeel. The beer stays light on your palate while delivering a complex note of spice, citrus, and a touch of vanilla. With 6.7% ABV, this beer is a champagne lover's delight.
16. Founders Más Agave Clásica – Grapefruit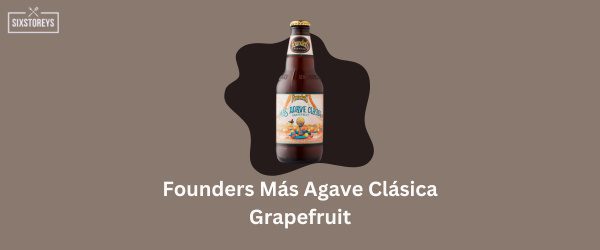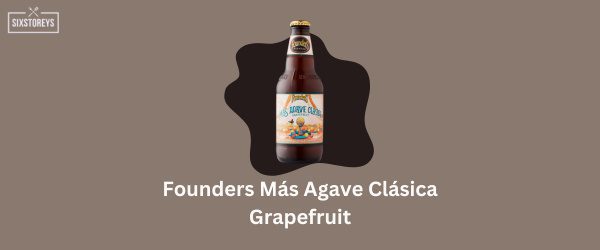 Rounding off our list is the Founders Más Agave Clásica with Grapefruit. This unique brew masterfully blends the world of beer and cocktails. It screams summer with its vibrant, sunny hue and sweet tartness reminiscent of a classic margarita. Aged in tequila barrels, this imperial gose delivers a punch of salt, sweet, sour, and bitter all at once. At 9.7% ABV, it's definitely not for the faint-hearted, but certainly worth a try for those seeking something truly different in their glass.
Also Read: Best Rums For Cocktails
How Grapefruit Beers are Crafted: The Riveting Brewing Process
Crafting a grapefruit beer isn't as simple as throwing grapefruit rinds into a batch of beer. It's a meticulous process that requires an expert brewer's knowledge and skill. To begin with, the grapefruit character is generally introduced in two ways: either through the inclusion of actual grapefruit (e.g., peel, juice, zest) during brewing, or through the use of specific, citrusy hops that naturally mirror grapefruit flavors.
Brewing with Real Grapefruit: Here's where the real grapefruit comes into play. Brewers often add grapefruit zest or juice during the boil or the fermentation phase. This infuses a bold, zesty essence, enhancing the beer's citrus notes.
Brewing with Grapefruit Flavored Hops: Some breweries prefer using particular hop varieties — like Cascade, Citra, or Simcoe — which naturally hold a grapefruit-like flavor. This method imparts a more subtle, but equally delightful, fruity profile.
Why are Grapefruit Beers Becoming a New Favorite: Unraveling the Popularity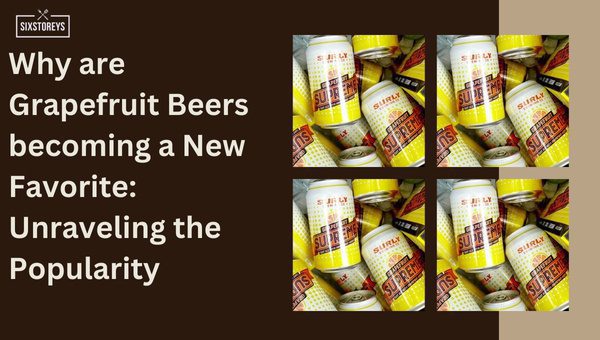 While every palette is distinct, the surge in popularity of grapefruit beers can be attributed to their unique taste profile and universal appeal.
A Refreshing Tang: Grapefruit beers strike a perfect middle ground for individuals looking for something between a fruity cider and a traditional beer. They incorporate a refreshing, zesty twist to standard beer, making it an attractive option, particularly in warmer climates.
Adventurous Drinking: Today, beer consumers — especially craft beer enthusiasts — yearn for unique, complex flavors and are always eager to try something new. The balance of bitter hops and tangy grapefruit creates a unique taste, which has catapulted grapefruit beers into the limelight.
A Healthier Alternative: Though one must always drink responsibly, consumers might perceive grapefruit beers as a 'healthier' choice. Grapefruit is known for its health benefits including its high vitamin C content, and while beer isn't exactly a health drink, the thought of combining the two can be appealing.
The rise of grapefruit beers can be credited to their unique, flavorful character, and the change in consumer preferences towards more adventurous and varied beer options.
Grapefruit and Food: How to Pair Grapefruit Beers with Food?
Grapefruit beers are an exciting addition to the world of beers and deserve just as much consideration when it comes to food pairing. An engaging interplay unfolds with the right food combination that can truly level up your beer experience.
For starters, consider the key flavor attributes of grapefruit beers – their distinct tanginess and slight bitterness. This makes them ideal counterpoints for weighty, rich dishes that are screaming for something to cut through the fat.
Foods high in fat like avocados, cheese, seafood dishes with creamy sauces, and deep-fried items such as fish and chips or chicken tenders pair exceptionally well with grapefruit beers. The beer's citrusy tang makes a refreshing contrast to the richness of these foods while its hop bitterness can balance out their heaviness.
Moreover, don't shy away from pairing these citrusy brews with spicy dishes. The spicy heat of plates like tacos, jalapeno poppers, or spicy chicken wings is effectively complemented by the soothing coolness and fruity brightness of grapefruit beers.
For the perfect bow on your beer and food pairing experience, wrap up with a grapefruit-zest-infused dessert. This duo will leave you thrilled with the harmony of matching flavors, keeping your palate singing with joy and contentment.
Health Benefits: Is Drinking Grapefruit Beers Good for Your Health?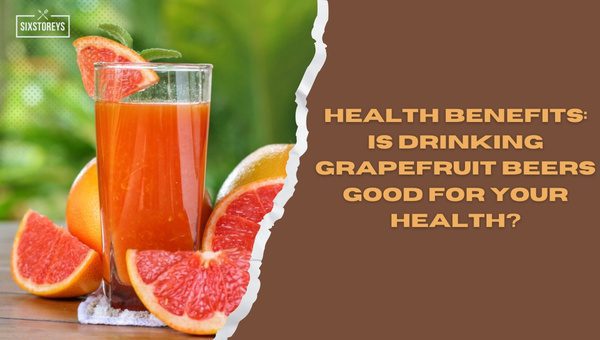 While it's crucial to note that moderation is key when consuming any alcoholic beverage, sipping on your favorite grapefruit-infused beer may offer some fringe benefits.
The grapefruit in your beer doesn't just add zest and what I call that "sunshine spark." This citrus fruit is packed with vitamins, particularly Vitamin C, known to boost your immune system. In addition, grapefruit contains antioxidants that help your body fight off harmful free radicals.
It's also worth mentioning the potential health benefits of beer itself (again, in moderation!). Moderate beer consumption is linked to a lower risk of kidney stones, improved cardiovascular health, and potentially even better bone health, thanks to its silicon content.
However, it's crucial to point out the health risks associated with grapefruit consumption. Certain compounds in grapefruit can interfere with the metabolism of specific medicines, leading to potentially severe effects. If you're on any medications, particularly statins, consult your doctor before indulging in grapefruit beers.
While it may offer some benefits, grapefruit beer should be consumed as part of a balanced lifestyle. Enjoying it responsibly, paired with good food and good company, is the best way to reap its potential health benefits while avoiding any negative repercussions.
Also Read: Best Creme De Menthe Cocktails
Frequently Asked Questions
What makes a beer a grapefruit beer?
A grapefruit beer is a beer that has grapefruit juice, zest, or flavor added during the brewing process. This addition lends a tangy, citrusy taste profile to the beer making it tart, refreshing, and slightly bitter.
Are grapefruit beers high in alcohol content?
The alcohol content of grapefruit beers can vary by brand and type. However, they are often on the lighter side with alcohol by volume (ABV) usually ranging from 4% to 7%.
What does grapefruit beer taste like?
Grapefruit beer offers a unique balance of sweet and sour. It typically has a pronounced bitterness from both the hops and citrus and carries a refreshing grapefruit aroma.
Can I pair grapefruit beer with food?
Absolutely! Grapefruit beers are great with seafood, summer salads, grilled chicken, or even spicy Mexican dishes. The citrusy notes of the beer help balance the flavors of the food.
Are there any health benefits of grapefruit beers?
While grapefruit beers should be consumed in moderation, they do provide the benefits associated with grapefruit. This includes vitamin C and antioxidants. However, remember that beer also has its downsides like calories and alcohol content.
What are the best grapefruit beers in the market?
Some of the top-rated grapefruit beers include Stone Grapefruit Slam IPA, Schlafly Grapefruit IPA, and Great Divide Roadie Grapefruit Radler. However, personal preferences can greatly influence what may be the best for you.
Why are grapefruit beers so popular?
The popularity of grapefruit beers can be attributed to their refreshing and tangy taste profile. They offer a unique twist to traditional beers and are particularly loved during hot summers.
Can I brew my own grapefruit beer at home?
Brewing your own grapefruit beer at home is definitely doable if you have some basic brewing knowledge and equipment. You can incorporate grapefruit by adding peels, juice, or aroma at different stages of the brewing process.
Conclusion
After exploring this diverse array of grapefruit beers, one thing is certain: there's a refreshing brew out there for every palette. For those who embrace the bitter hoppiness of an IPA, the Stone Grapefruit Slam IPA or the Schlafly Grapefruit IPA makes for an unforgettable drinking experience. Those partial to a more light, citrusy brew might find their next favorite in the Stiegl Grapefruit Radler or the swiftly quenching Leinenkugel's Grapefruit Shandy. And let's not forget the tart and tangy grapefruit beers like the Crane Brewing Grapefruit Gose that bear the signature sour twist.
But don't just take my word for it! Whether you're a seasoned beer aficionado or a curious newcomer ready to dip their toes in the craft beer pool, give these grapefruit beers a whirl. Their unique flavors and creative spins on classic beer styles might just surprise you. Here's to new discoveries and the joy of finding the perfect brew to quench your thirst!
Remember, the world of grapefruit beers is vast and varied, ensuring there is a delightful discovery waiting for everyone. As the craft beer industry continues to push the boundaries, who knows what exhilarating twists on grapefruit beers we have to look forward to next. For now, let's toast to the zesty, tangy, hoppy delight that is grapefruit beer. Cheers to a refreshingly tangy journey through the universe of grapefruit beers!
Beverage Explorer and Tastemaker 🍻🥃🍷 Aman's quest for liquid delights knows no limits. From hoppy brews to aged spirits, he uncovers the tales behind each sip. His eloquent descriptions and accessible insights make every drink an adventure worth raising a glass to.