20 Best Canned Clam Chowders (2023) Soup Lovers Rejoice
Updated On: September 24, 2023
Diving into a bowl of clam chowder, with its creamy texture and array of oceanic flavors, is a divine culinary pleasure one can't resist. Despite being a staple of seaside cuisines, this comfort food can now be savored right from the comforts of your own home, thanks to a plethora of canned options available on the market.
However, not all canned clam chowders are created equal, which is why I've sifted through the myriad of choices to bring you the "Best canned clam chowder" picks. Whether you prefer the cream-based New England style or the tomato-rich Manhattan variant, this guide is your key to discovering the best bowls of briny deliciousness from a can!
Also Read: Best Canned Refried Beans
20 Best Canned Clam Chowders in 2023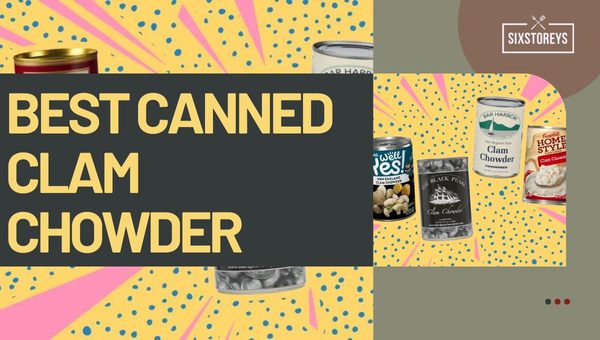 If you find yourself yearning for a taste of the coast but can't make the journey, worry not. This guide to the 20 best canned clam chowders offers shelter in the form of a briny, satisfying chowder that can whisk your taste buds off to the seaside. So sit back, grab a spoon, and get ready to explore the world of canned clam chowder right from your dining room!
1. Progresso Rich & Hearty New England Clam Chowder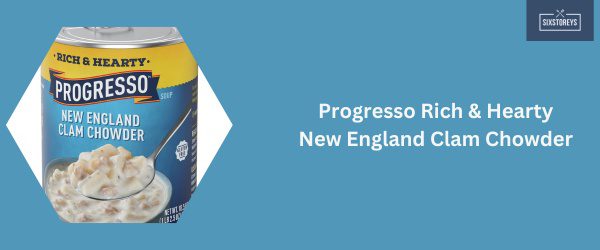 Progresso Rich & Hearty New England Clam Chowder is undoubtedly one of the leading names in the clam chowder universe, and it's not without good reasons. Crack open a can of this delight and you are instantly met with a hearty aroma reminiscent of the New England coast.
From the first spoonful, the creamy broth is the game changer here. It's rich with the unmistakable oceanic taste of clams, perfectly balanced on the fine line between indulgent and delicately light. The consistency hits just the right note between watery and overly thick, making it a delightful treat to the palette that brings so much essence to this dish.
How could we not mention the generous helping of clams, potatoes, onions, and celery? Every mouthful is a symphony of consistency. The clams are tender and sweet. They are neither rubbery nor gritty but have that perfect texture, elevating the taste to new heights. The potatoes, cooked to the ideal point, provide the right amount of thickness to the broth and add an earthy layer to the bouquet. The onions and celery provide just a slight crunch and a subtle flavor to offset the richness of the chowder.
One of the things I love about Progresso Rich & Hearty New England Clam Chowder is its versatility. It's hearty enough to be a meal on its own, making it a perfect choice for a quick lunch or dinner. But it can also work wonderfully as a starter, priming your taste buds for the main course.
In terms of seasoning, there's a healthy balance of herbs and spices that are not overpowering but tantalizing enough to add that extra layer of satisfaction. Salt, pepper, garlic, thyme – there's a hint of each, creating a complexity of flavors that's nothing short of wonderful.
Whether it's a cold winter evening or a breezy summer night, Progresso Rich & Hearty New England Clam Chowder feels like a comforting hug that never fails to warm you up from the inside out, making you yearn for just one more spoonful.
2. Ivar's Puget Sound Style Clam Chowder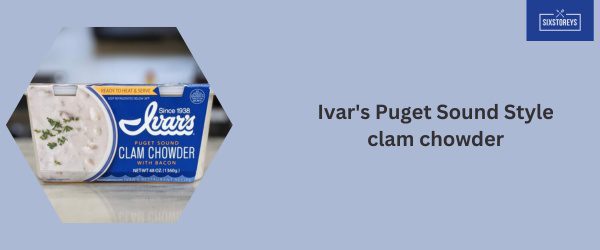 Diving into the world of canned clam chowders, you often find yourself swimming amidst New England and Manhattan styles. But if you're a connoisseur like me, who enjoys explorations beyond the beaten path, then Ivar's Puget Sound Style clam chowder is one to set your sights on.
Hailing from the waters of the Pacific Northwest, it diverges from the traditional path, tantalizing your taste buds with a unique blend that's neither strictly New England, nor Manhattan. Yes, it's creamy, having the comforting richness you'd expect from any chowder, but it's not overwhelmingly thick. It's a perfect medley that allows each ingredient to shine, echoing the charm of Puget Sound with every scoop.
Don't skip on the ingredients - this chowder is packed with decadent chunks of clams. Tender and flavorful, they offer a true maritime experience that is undeniable. Paired with the clams are succulent pieces of potato - understated, yet pivotal in creating the harmony of texture and flavor. Every bite is a testament to the delight this dish promises.
An unseen hero in Ivar's Puget Sound Style clam chowder is its complement of seasonings. There's an almost subtle undercurrent of smoked flavor that lends this chowder a deliciously smoky aftertaste, and the freshness of the herbs used, pairs beautifully with the clam, making each bite an experience rather than just another spoonful of soup.
When you're savoring Ivar's Puget Sound Style clam chowder, it's not just about the can in front of you. It's about a culinary journey. Do you know the feeling when suddenly a bite transports you to a place you've never been, but you'd know instantly if you went? That's how this clam chowder feels, like a visit to the lush and flavorful Puget Sound.
This chowder also stands out in its ability to pair well with a variety of dishes. Whether it's a simple loaf of sourdough bread, some crunchy crackers, or an elaborate seafood platter, Ivar's Puget Sound Style clam chowder holds its own and shines.
Ivar's Puget Sound-style clam chowder doesn't try to fit into a mold. It creates its own unique experience, celebrating the best of what the Pacific Northwest has to offer. For an adventurous seafood enthusiast, Ivar's Puget Sound Style clam chowder is an experience not to be missed. In a sea of chowders that tend to blend into each other, it offers a refreshing depth and variety that beckons you back for more.
3. Bar Harbor New England Clam Chowder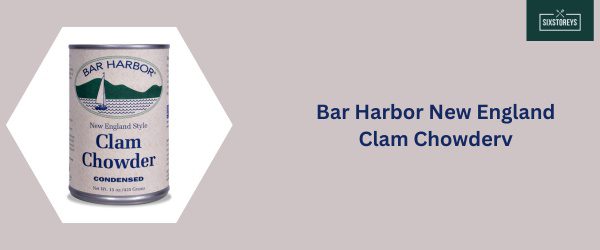 The minute you pop open a can of Bar Harbor New England Clam Chowder, you understand that you're in for an exceptional experience. This is no run-of-the-mill canned soup; it's a full-bodied spectacular of distinguished Maine tradition that captures the essence of a seaside clambake in a handy, ready-to-serve container.
The deeply satisfying, creamy broth instantly takes center stage. You'll notice that it's not thick to the point of being stodgy. Instead, it offers an exquisite balance, providing just the right level of creaminess while letting the other ingredients possess their moment in the spotlight.
The colossal hardshell clams, the real star of the show, lend an undeniable oceanic punch to the chowder. These are no puny mollusks hidden away within the soup. Their size is met by their taste, fresh and sweet, minus any unpleasant grittiness. They are as close to 'just harvested' as possible, considering they've emerged from a can.
The clam's partners in crime, the hand-cut potatoes and onions, complement the seafood brilliantly. They offer a delightful bite and nestle comfortably within the creamy embrace of the soup. In addition, the uncomplicated seasoning enhances the chowder's overall flavor and adds an interesting layer of depth without diverting attention from the key players.
Bar Harbor's take on New England Clam Chowder is also free of any artificial preservatives or MSG, and this clean, honest approach to ingredients is what sets it apart in the vast seas of canned clam chowders.
So, when the craving for an authentic clam chowder hits and you can't exactly cruise up to Maine, reach out for a can of Bar Harbor New England Clam Chowder. It will transport your taste buds on a northern journey that tastes every bit as genuine as the lighthouse-decorated can it arrives in.
4. Cole's New England Clam Chowder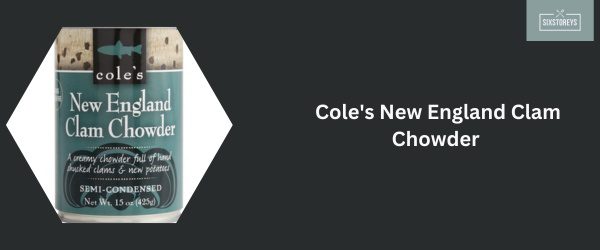 Cole's New England Clam Chowder might not proclaim an extravagant experience, but instead, it delivers a soup that is satisfying, well-balanced, and immediately comforting. When your heart yearns for a bowl of clam chowder, sans fussy frills, and over-the-top servings, this is the can to reach for.
The comforting depth of the broth is the first thing to greet your senses. While some might consider it to be a touch thinner, I found it to be an enticing element that keeps you longing for more. The texture is also evenly balanced, leaving out any uncalled-for extra creaminess, and creating a smooth, cohesive blend.
Next, let's talk clams! The clams in Cole's chowder are tender and impart a beautiful taste that complements the basic, unpretentious charm of the chowder. They drive the seafood flavor forward but don't overpower it, rather blending together with the rest of the ingredients in an enjoyable unison.
The potatoes and onions, worthy companions, add body and an earthy tone to the chowder. They're soft and soak up the clam-infused broth charmingly. No big chunky distractions here - just understated, well-integrated ingredients contributing to a matter-of-fact goodness.
Seasoning-wise, it's spot on! No additional salt is required, and the rest of the spices echo in the background, adding a finishing touch to every spoonful without launching an all-out assault on your taste buds.
With Cole's New England Clam Chowder, the promise is simple – a tasty, easy-to-prepare meal that doesn't pull any fancy tricks but stands sturdy on the fundamental expectations of what we all love in a clam chowder. It's like being wrapped in a warm comfort blanket that whisks you home with each serving.
5. Progresso Traditional New England Clam Chowder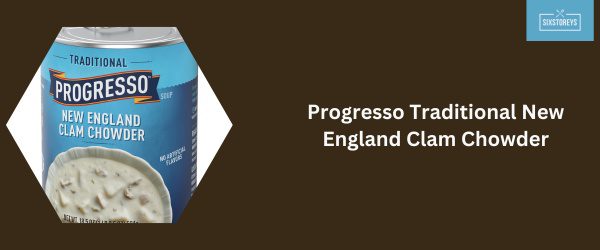 Opening a can of Progresso Traditional New England Clam Chowder often feels like opening a little parcel of joy. Every spoonful you dunk into this fantastically creamy chowder takes you on a gastronomic journey, making your everyday lunch or dinner encounter a delightful surprise.
Progresso's chowder boasts a consistency that I would term as absolutely alluring. It's thick but not too heavy, striking the perfect balance. It revels in the creaminess without losing sight of its purpose, which, in my opinion, is to offer a comforting bowl of soup working in harmony with every ingredient.
Speaking of ingredients, the clams present in this canned chowder surely deserve the limelight. While some brands seem to skimp on these, that's not a corner Progresso seems to ever cut. The clams are plentiful, and juicy and carry that quintessential seafood taste that forms the soul of any deserving clam chowder. You can savor the fresh-from-the-ocean flavor in every bite.
The potatoes add a chunky contrast to the cream-laden soup base. They are finely cut, and softly crumbled with just the right amount of bite, effortlessly complimenting the clams by providing an additional layer of texture. The onions, celery, and a careful blend of herbs and spices dance in the background, harmonizing all of the flavors without overpowering the protagonists in this meal.
Convenience is another quality that shines in this can of Progresso Traditional New England Clam Chowder. You can transform this can of chowder into a quick, satisfying meal in a matter of minutes by simply heating it up. Add a handful of your favorite crackers and voilà; you've got dinner covered!
So, when it's been a long day, and you're yearning for something quick, warm, and delicious, Progresso Traditional New England Clam Chowder is a commendable choice.
6. Chincoteague Seafood Manhattan Clam Chowder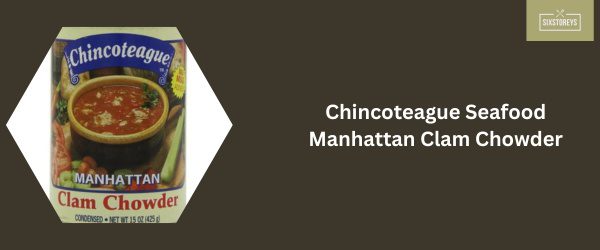 Following a traditional entrée, let's spice things up, or should I say, tomato it up! Chincoteague Seafood Manhattan Clam Chowder, inspired by the Manhattan style, is a step off the creamy path that ventures into the tangy lane of tomato-based chowders.
As soon as you heat it up, the vibrant red color of the chowder is a sight to behold. There's an undeniable zest at play here, offering a refreshing departure from the rich and cream-based cousins. It's a tangy triumph that revitalizes your palette with its robust, hearty flavor profile.
Within the heartening red broth, the clams hold their ground decisively. True to the spirit of clam chowder, they do not lose their distinct marine flavor beneath the sea of tomatoey goodness. Juicy, generous, and tender, the clams in classic Chincoteague style have a fine texture that makes you appreciate the unique delivery of this Manhattan chowder.
Complementing clams in this tomato swim are the vegetables - potatoes, carrots, and other greens are finely diced and well-cooked. They combine to lend a chunky depth to the chowder, creating a pleasing meld of textures. While you enjoy the clams, you will find equal delight in these bits of veggies that bring an earthy balance to the bold soup.
Lurking in the backdrop of this fabulous setting are the spices and herbs that lend a unique richness to the chowder. It's not shy of being boldly flavorful and offers up a delightful dose of herbs that well complements the tangy soup base and the seafood.
Chincoteague Seafood Manhattan Clam Chowder provides an exciting alternate route for clam chowder enthusiasts who would not mind charting a course into tomato territory. It's a deliciously diverse pick amongst the ocean of creamy choices. A bite of this exciting chowder, and you will savor the bold flavors exploding on your palette, convincing you that tomatoes and clams share quite the culinary camaraderie!
7. Campbell's Homestyle New England Clam Chowder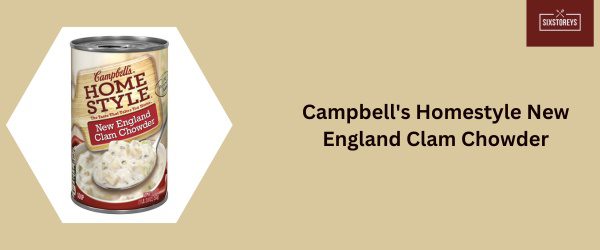 When it comes to Campbell's Homestyle New England Clam Chowder, what springs to mind is comfort and nostalgia. This canned chowder offers an experience akin to leaning into the cozy embrace of a much-loved sweater on a chilly day.
The first spoonful of this clam chowder reveals a delectable creaminess that is just spot-on. It hugs your palate with a smooth, silky texture that sits delightfully between broth and stew. It's complemented by a hint of buttery undertones, adding an extra layer of indulgence to the entire experience.
A key feature of Campbell's Homestyle New England Clam Chowder is its tender chunks of clams. These briny delights are spread generously throughout the chowder, offering a seafood burst in every bite. Coupled with the creamy base, these succulent clams truly embody the essence of a traditional New England clam chowder.
Let's not forget the potatoes. Soft, chunky, and plentiful, they lend a robust earthiness that contrasts nicely with the richness of the clams. These filling and hearty potatoes truly make this chowder a meal on its own!
In terms of flavor, this chowder is genuinely comforting. It carries a delicate hint of peppery goodness that beautifully complements the creamy, clam-laden base. The balance of flavors here is commendable, with nothing too overpowering to disturb the harmony.
Recreating the warmth of home cooking in a can is a daunting task, but Campbell's hits the mark. The convenience of this tasteful chowder, combined with its homestyle charm, makes it a go-to for busy days or when you need a dash of nostalgia on your dinner table.
8. Stonewall Kitchen New England Clam Chowder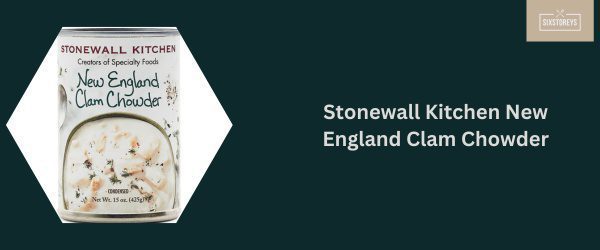 When luxury and convenience meet in a can, you get Stonewall Kitchen New England Clam Chowder. Straight from their gourmet food line, this chowder presents an opportunity to indulge in a restaurant-quality meal from the comfort of your home.
One look at this chowder and you can tell it's special. The cream base prominently features high-quality clams and succulent pieces of potato. The clams offer a taste that is genuinely close to fresh, providing a delicate seafood flavor that isn't drowned out by the rest of the ingredients.
The potatoes, cooked to the perfect texture, play an understated but pivotal role in this gastronomic experience. They soak in the creaminess of the chowder and offer a hearty bite with each spoonful. The result is a pleasing contrast of textures that keeps you reaching for more.
Perhaps what differentiates this offering from Stonewall Kitchen from others is its subtlety. While some chowders can be overwhelmed by a burst of flavors, this one is beautifully reserved. The emphasis is clearly on the quality of each ingredient and how they can work together to offer an exquisite taste experience.
This chowder isn't shy of seasonings either. Each sip captures the essence of a well-rounded blend of herbs and spices that have been considered for their ability to enhance the overall flavor. The result is a soup with a taste that's intricate yet well-balanced.
The convenient aspect isn't lost despite the gourmet branding. It allows you to enjoy a gourmet soup experience by merely popping open a can, heating the contents on the stove or in the microwave, and serving yourself a bowlful of indulgence.
So, for those nights when you're yearning for a touch of fancy without the effort of from-scratch cooking, Stonewall Kitchen New England Clam Chowder could be your culinary secret weapon. It packs an impressive taste and a touch of luxury that is sure to impress your taste buds.
9. Snow's by Bumble Bee Condensed New England Clam Chowder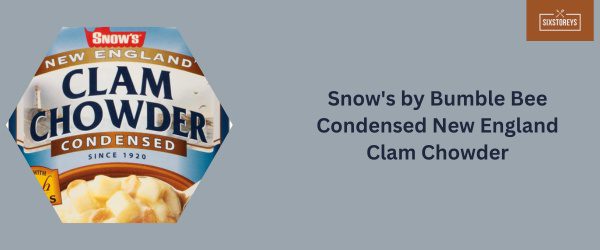 When cupboard space is at a premium, cans of condensed soups are a game changer. They conveniently sit in the pantry, waiting for your culinary inspiration to bring them to life. One such canned delight that always appeals to me is Snow's by Bumble Bee Condensed New England Clam Chowder.
Unlike other chowders that you can eat straight from the can, this condensed version requires an extra step. Just add an equal amount of milk or cream, heat it up, and you have a bowl of rich, creamy clam chowder ready to be devoured. For those who enjoy personalizing their soup experience, this level of control over the final outcome is fantastic.
The foundational flavor of the clam chowder is undeniably delicious even straight from the can. The clams are central to the overall taste, providing a delightful seafood essence at the heart of the chowder. They're tender and abundant, creating a wonderful "catch of the day" sensation with each mouthful.
Supporting these clams are hearty potatoes that soak in the luxurious creamy soup base. They lend a much-needed earthy contrast against the backdrop of the briny clams and the creamy broth.
Snow's by Bumble Bee Condensed New England Clam Chowder wonderfully balances the flavors. Not one note is too overpowering. Instead, it presents a harmonious symphony of creamy, salty, and earthy notes.
This condensed New England clam chowder gives you the ability to control the final thickness and creaminess, holds its own flavor, and saves on pantry space. Perfect for those days when the cravings for a bowl of clam chowder kick in and all you have is that one little can sitting on the pantry shelf.
10. Progresso Traditional Manhattan Clam Chowder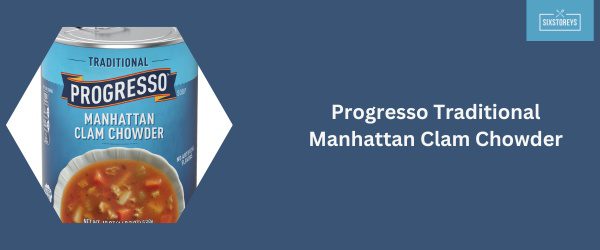 For those who lean towards the tomato-enriched world of Manhattan-style clam chowder, Progresso Traditional Manhattan Clam Chowder is a culinary delight that deserves recognition. The rise of a tomato-based broth over the traditional creamy base is a delicious departure from the norm that captures the vibrant spirit of Manhattan itself.
From the moment you open this can of chowder, you're greeted by the inviting aroma of ripe tomatoes. It provides the perfect teaser for the feast to come. Generously ladling this chowder into a bowl, you'll witness a rich, tomato broth teeming with tender clams, chunky potatoes, and a medley of other vegetables.
Taking a spoonful of this chowder transports you to an oceanfront, where the taste of the succulent clams is as real as if they were fresh from the catch. Marrying well with these clams, the potatoes offer an earthy counterpoint that ensures the soup remains well-rounded and satisfyingly hearty.
More than the interplay of clams and potatoes, though, it's the broth that steals the spotlight. The tomatoes lend a delicious tanginess that is beautifully balanced by a careful blend of herbs and spices. As the soup gently simmers, these flavors coalesce into a hearty and rich broth that packs a delightful punch.
So, if you have a penchant for clam chowder but yearn for something other than the classic creamy affair, give Progresso's Traditional Manhattan Clam Chowder a try. This tangy, tomato-based rendition will surely tickle your taste buds, offering a different yet equally rewarding clam chowder experience.
11. Tony's Clam Chowder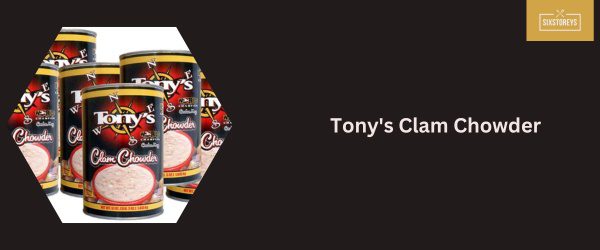 Stepping away from the mainstream brands because sometimes the most unassuming can hide the most pleasant surprises. One such gem that I've chanced upon is Tony's Clam Chowder. A classic, old-time style chowder that embodies the wholesome essence of a homemade soup.
Tony's clam chowder is quite the spectacle for its wonderful flavors and generous portions of ingredients. Each spoonful of this comforting soup unveils succulent clams and hearty potatoes, mingling in a delectably creamy broth. The consistency of this chowder deserves a special mention as it falls into that sweet spot between being too thin and too gloopy.
The first bite of the chowder reveals an explosion of flavors shadowed by the taste of scrumptious clams. There's a slightly rustic twist to Tony's clam chowder that I find delightful. It brings forth an old-world taste that contrasts fondly with the sophisticated flavors of other brands.
The baseline flavors of this chowder are remarkably well-seasoned, ensuring you get the perfect taste in every bite. Tony's Clam Chowder brings together simplicity and depth of flavor in an unpretentious can, creating a chowder experience that is entirely delightful.
12. Bar Harbor Rhode Island Style Clam Chowder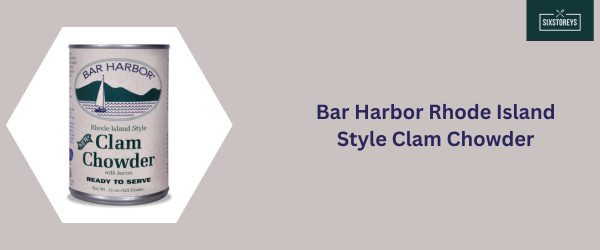 Another wonderful variant of clam chowder, the Rhode Island style bears a distinct identity with its clear, broth-based foundation. One of my top picks for this style of clam chowder is Bar Harbor's Rhode Island Style Clam Chowder. It offers a different yet incredibly enjoyable flavor profile that distinguishes itself from its creamy New England and tangy Manhattan counterparts.
Popping open a can of Bar Harbor's Rhode Island Style Clam Chowder, the spotlight shines clearly on the deliciousness of the tender clams and hearty potatoes. Submerging my spoon into the chowder, gathering a bit of the clam, potato, and clear broth yields an appetizing spoonful.
The first taste of this clear soup is a revelation. The broth is beautifully seasoned, a gorgeous symphony of spices and herbs that complements, instead of overpowering, the delicate taste of the clams. the potatoes add dimension and body to the chowder while the onions lend a subtle sweetness.
The combination of the clear broth and clams presents a mouthful of oceanic freshness intertwined with a wholesome, homely flavor. The clams are plentiful, and their briny flavor cuts through the rich broth beautifully.
Bar Harbor's Rhode Island Style Clam Chowder boasts a beautifully clear broth that allows the flavors of the clams, potatoes, and onions to shine through. Its simplicity is its charm, and it is just the thing when you yearn for a comforting bowl of clam-loaded goodness that isn't weighed down by cream or dominated by tomatoes.
13. Campbell's Chunky Manhattan Clam Chowder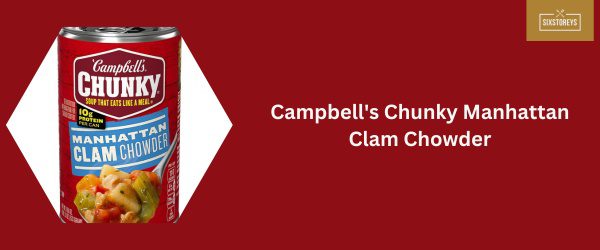 One aspect of Campbell's I've always admired is their ability to cater to a variety of taste preferences. They've tapped into the world of clam chowders exquisitely, with another variant that deserves a mention – the Chunky Manhattan Clam Chowder. This rendition of clam chowder is a standout, offering a hearty, tomato-enriched chowder teeming with goodness.
For the uninitiated, Manhattan chowder is distinctively different from the creamy New England style as it jumps onto the tomato bandwagon. And within the realm of this variation, Campbell's Chunky Manhattan Clam Chowder is indeed a robust champion. It displays a thick consistency generously filled with chunks of clams, potatoes, and carrots, presenting a hearty, viscous soup that unarguably satiates your hunger.
Dipping my spoon into the murkiness of this chunky soup, I felt my palate awaken by the vivacious play of tangy tomatoes dancing with succulent clams, underscored by the gentle crunch of carrots and potatoes. Campbell's Chunky Manhattan Clam Chowder does not just stop at providing a meal; it delivers a satisfying, filling experience that leaves you with a warm, fulfilled glow.
14. Boudin San Francisco Wharf Clam Chowder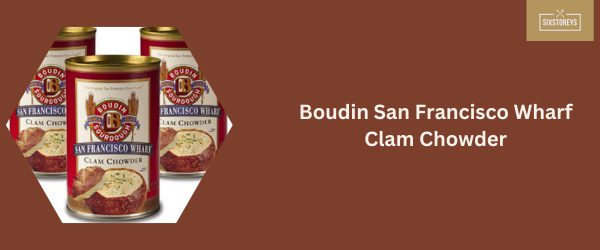 Once considered the humble food of fishermen, Clam Chowder has undeniably commanded a rightfully deserved reputation. A name that shines bright in the clam chowder constellation is Boudin's San Francisco Wharf Clam Chowder.
Known for its original recipe dating back to 1849, this can deliver a taste that sends you barrelling down the nostalgic lanes of San Francisco's Fisherman's Wharf. Every spoonful is a feast of rich, full-flavored chowder packed with succulent clams, and tender potatoes and harmonized with finely tuned seasonings.
The chowder strikes the perfect balance between creamy and chunky, letting you enjoy both the rich, luscious soup and the hearty bites of clam simultaneously. A bowlful of Boudin's San Francisco Wharf Clam Chowder has a unique effect - one of instant comfort coupled with a delightful reminiscence of fresh sea air and iconic landscapes of San Francisco.
Reaching for a can of Boudin's delight is akin to lazily strolling down the wharf, the enticing smell of fresh clams caught in the ocean breeze, coaxing your senses. It's no surprise that a taste of Boudin's chowder, so rich in history and flavor, feels like home.
15. Campbell's Slow Kettle Style New England Clam Chowder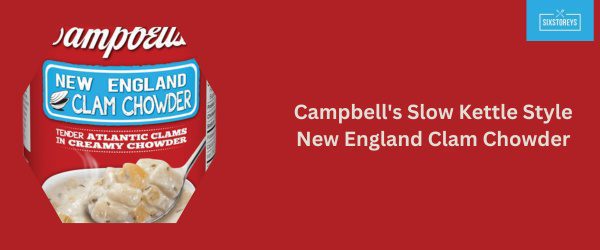 Sticking true to the mantra, 'good things take time', Campbell's Slow Kettle Style New England Clam Chowder is a testament to the joy of slow cooking. It effortlessly encapsulates the long-standing heritage of New England clam chowders in a whiff and a mouthful.
Upon opening a can of this goodness, I was greeted with an alluring aroma of oceanic delight intermingled with the earthiness of celery, onions, and potatoes. Gradually, the bouquet amplified tantalizingly, hinting at a beautiful taste journey that awaited me. When I delved into the creamy, chunky broth, it was an experience that was comfortingly reminiscent of a warm, rustic kitchen in New England.
The spotlight was evenly shared among the tender diced potatoes, succulent clams, and cream, which culminated in a harmonious burst of hearty flavors dancing on my palate. It was as if each spoonful had been meticulously crafted, providing the right balance of everything. Trust me, a bite of Campbell's Slow Kettle Style chowder is a soothing journey you wouldn't want to miss.
16. Bar Harbor Manhattan Style Clam Chowder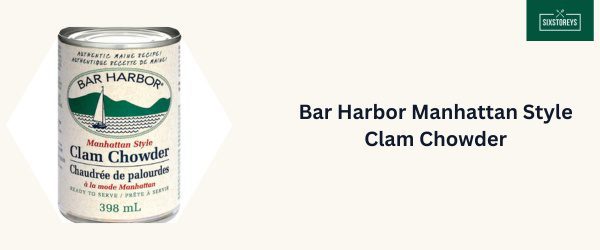 Bar Harbor's Manhattan Style Clam Chowder is a delightful concoction that marries the best of the coasts in a can. The brand synonymous with high-quality seafood offers an exciting and invigorating seafood treat that features a tangy tomato base with a mix of hand-sorted hard-shell clams and chunky potatoes to deliver a bold, refreshing, and rich flavor palette.
The moment I enjoyed my first bite of this chowder, I was transported to a sunny street-side café in Manhattan. This clam chowder is a balanced blend of zesty tomatoes and sea-salty clams with a fresh, distinct flavor unlike anything else on the market.
While most Manhattan chowders may flood you with overwhelming tomatoes or skimp on the clams, Bar Harbor's rendition gets the balance just right. The chowder's tangy kick is expertly complemented by the juicy clam chunks, leading to a comforting yet mouth-watering explosion of taste. If Manhattan's red chowder is your preference, Bar Harbor's version is a must-try.
17. The Black Pearl Clam Chowder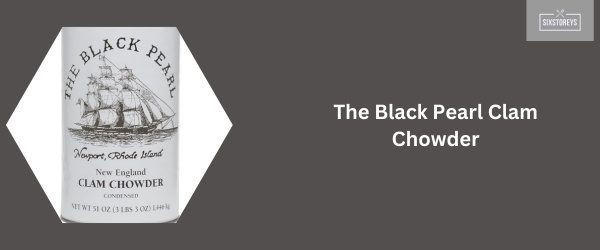 Named after a legendary ship, The Black Pearl Clam Chowder is a treasure trove of tantalizing flavors. Dubbed the signature recipe of the famed seafood restaurant in Newport, Rhode Island, each can bring the coastal delights to your home, promising a taste that's as refined as the rare gem it's named after.
The chowder exudes a fine balance of seafood flavor complemented by the right amount of creaminess. Once I tried a spoonful, I was blown away by the freshness and quality of the ingredients. The perfectly cooked potatoes and tender clams played a melodious seafood symphony on my taste buds.
One of the unique aspects of this chowder is its velvety texture. It's ridiculously smooth, creating a luxurious mouthfeel that feels like a warm hug on the coldest winter day. The flavor is robust, yet remains subtle, and satisfying without being overwhelming.
In the world of chowders, The Black Pearl is a unique delicacy – a clam chowder that manages to evoke the aromas and feelings of a quaint seaside tavern in every flavorful bite. If you're on the hunt for a canned chowder that feels like a treat for special occasions, this is the one to reach for.
18. Campbell's Chunky Clam & Corn Chowder with Bacon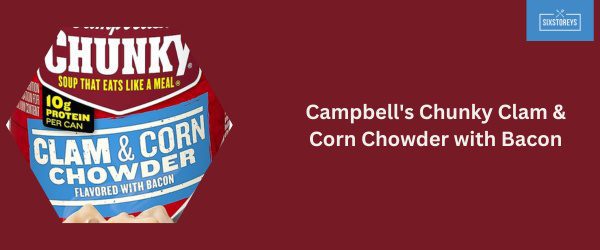 Every spoonful of Campbell's Chunky Clam & Corn Chowder with Bacon is a mini feast — a harmonious coming together of clams, corn, and smoky bacon, set in a seductively creamy broth. As an unexpected pairing, this chowder intrigued me, but with my very first taste, quickly won me over.
Campbell's, widely recognized for its garden-fresh ingredients, truly delivers on that front with this entrant. Tender pieces of potato, succulent clams, sweet corn, and smoky bacon form a captivating flavor that leans on the side of indulgence. The creaminess of the broth, paired with these ingredients, provides an immensely satisfying medley of tastes. There's this playful push and pull between the sweetness of the corn and the smoky flavor of bacon that had me reaching for seconds and thirds.
Additionally, this chowder is wonderfully chunky. I mean, you could practically eat it with a fork! The impressive volume of clam and corn pieces in each can is a testament to Campbell's commitment to hearty goodness.
19. Great Value Clam Chowder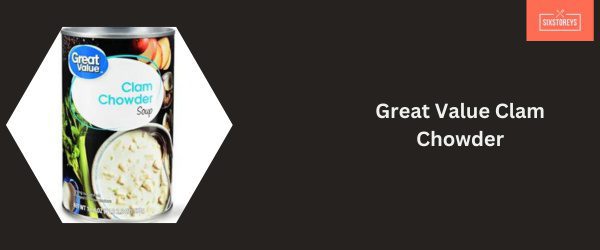 If you're looking for a clam chowder that delivers on taste without shattering your budget, the Great Value Clam Chowder is a wonderful pick. Last on the list but certainly not least, this cream-based chowder was able to take me on a delightful culinary journey reminiscent of New England holiday getaways.
Upon opening a can, I was greeted with a thick, creamy broth packed with chunks of clam and potato, a promise fulfilled upon taking the first spoonful. The quality is impeccable, and the flavor profile is spot on. The chowder exudes a classic yet deeply comforting taste — modest but not dull.
The clams and potatoes feature a perfect texture, neither too mushy nor hard. The creamy base has a well-balanced flavor that does not overpower the sweetness of the tender clams. Add some crackers, and you're sorted for a warm and cozy meal on a chilly evening.
20. Progresso Spicy New England Clam Chowder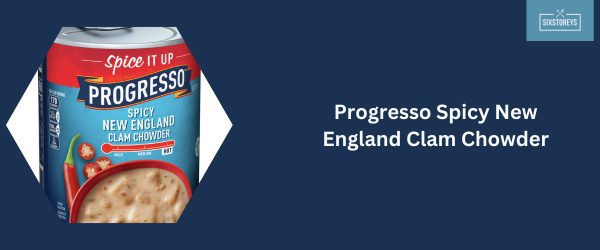 Now, who said New England clam chowder has to always be traditional and comforting without any edge or boldness to it? Certainly not me, and definitely not Progresso. Their Spicy New England Clam Chowder makes sure of it. This variant provides a healthy dose of heat, guaranteed to awaken your senses in all the right ways.
I found the spice quotient to be quite intriguing. There's just the right amount to spark your palate, yet it doesn't overshadow the conventional clam chowder elements we all love. The cream, clams, and potatoes create a familiar backdrop, but the spice gives it an unforgettable twist.
Being a fan of foods that pack some heat, this chowder was like my holy grail. The spiciness enhances the personalities of the other ingredients rather than drowning them out. Each mouthful struck a balance between the richness of the traditional New England favorites and the kick of spices. If you're someone who loves a bit of heat, this one is tailor-made for you.
How to Choose the Best Canned Clam Chowder for Your Preferences?
Choosing the best canned clam chowder for your preferences can be a bit daunting considering the plethora of options available. However, by considering certain factors, you can streamline your decision-making process and ensure you have the most delicious and satisfying canned clam chowder experience.
1. Identify Your Preferred Style
The first step is understanding the different styles of clam chowder — New England, Manhattan, and Rhode Island style. New England Style is known for its creamy, rich base, often accompanied by a hearty mix of clams, potatoes, onions, and sometimes even bacon. On the other hand, Manhattan Style is tomato-based, providing a tangy alternative to the cream-based version. It is usually packed with chunks of clams, vegetables, and spices. The lesser-known Rhode Island Style is a clear broth clam chowder filled with clams, potatoes, and sometimes onions, offering a simpler and clearer taste profile.
2. Examine Ingredient Lists
To get the best out of your clam chowder experience, it's crucial you skim through the list of ingredients. Look for products that use all-natural ingredients. Chowders that use fresh clams, cream, onions, potatoes, and avoid preservatives and artificial additives will let the authentic clam chowder taste shine through.
3. Brand Reputation Matters
Consider the brand reputation before making a purchase. Established brands like Progresso, Bumble Bee, Bar Harbor, and Campbell's are known to deliver consistently in terms of quality and taste. However, do not shy away from trying newer or less known brands. Always look up reviews and ratings before making a decision.
4. Flavor Preferences
Consider your personal flavor preferences while choosing canned clam chowder. If you like your food spicy, the Progresso Spicy New England Clam Chowder is worth a try. If you have a sweet tooth, a chowder with a hint of corn like Campbell's Chunky Clam & Corn Chowder with Bacon might tickle your fancy.
5. Nutritional Requirements
Lastly, keep your nutritional requirements in mind. If you're watching your salt intake, find a chowder that aligns with that. For the calorie-conscious, there are lighter variations of clam chowder as well.
The process of selecting the perfect canned clam chowder boils down to knowing what you want and need. By focusing on these aspects, you are sure to select the clam chowder that will satisfy your specific taste preference and dietary requirements.
Why Canned Clam Chowder is a Pantry Must-Have?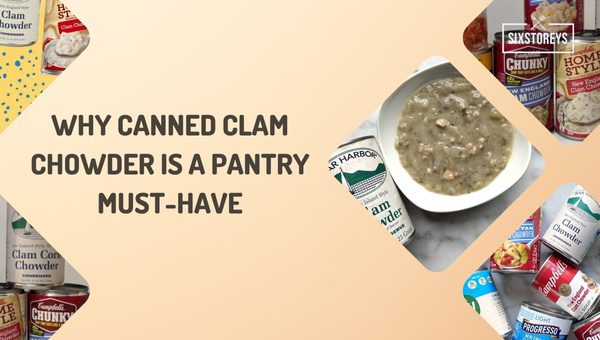 When it comes to pantry staples that offer comfort, convenience, and deliciousness, canned clam chowder is a quintessential inclusion. This comfort food, tucked neatly into a shelf-stable can, provides an effortless way to enjoy a delicious, hearty meal even on the busiest of days. Here, I'll uncover some reasons why canned clam chowder should make its way to your pantry shelves, if it hasn't already.
1. Convenience is Key
In an increasingly fast-paced world, convenience in food is a crucial factor for many. Canned clam chowder is a perfect example — simply pop open a can, heat it up on the stove or in the microwave, and voila, your meal is ready! This is particularly useful on those days when time is a luxury you can't afford.
2. Versatility in Meals
Notably, canned clam chowder serves as a versatile food option. While it's hearty and satisfying on its own, you can also use it as a base for numerous quick meals. For example, bake it in a bread bowl for a fun dinner or pour it over crispy fries for an indulgent treat. The possibilities are endless!
3. Shelf-stable and Long-lasting
Canned clam chowder has a long shelf-life that allows it to be stored for an extended period without losing its quality. This makes it an excellent choice for both regular use and as emergency food supplies.
4. Variety in Flavors
Canned clam chowder comes in a wide variety of styles and flavors. Whether you prefer the classic New England style, the tomato-based Manhattan style, or even unique variations like Bar Harbor's Rhode Island Style or Progresso's Spicy New England Clam Chowder, you are bound to find something that matches your specific palate.
5. Affordability
Again, when compared to restaurant or homemade versions, canned clam chowder is a more affordable choice. Despite being a budget-friendly option, it still offers a rich, satisfying taste that can match or even surpass its pricier counterparts.
6. A Balanced Meal in a Can
Most canned clam chowders, like Campbell's Homestyle New England Clam Chowder, offer protein, carbs, and essential nutrients all in one can. This well-rounded nutrient profile offers you a balanced meal, especially when paired with a salad or some crusty bread.
With all of these benefits, it's clear that canned clam chowder deserves a spot in your pantry. It combines convenience, taste, variety, and nutrition like no other canned soup can. So next time you're looking for a meal that warms your soul without stressing your schedule, reach out to that can of clam chowder you've wisely stocked!
How to Enhance Your Canned Clam Chowder Experience?
One of the many appealing aspects of clam chowder is its versatility. Clam chowder is incredibly adaptable – you can enjoy it as it comes, or with a little creativity, you can easily elevate it into a gourmet meal. If you're looking to have a unique culinary adventure with your next bowl of chowder, here are some ways to enhance your canned clam chowder experience.
Incorporate Additional Ingredients
Give your canned chowder a personal touch by incorporating additional ingredients. Here are a few ideas:
Extra Clams - If you want to increase the seafood flavor, add some extra canned or fresh clams. Ensure you adjust the cooking time accordingly if you use fresh ones.
Bacon Bits - Bacon can add a smoky flavor to your chowder. Cook the bacon until it's crispy, crumble it into pieces, and sprinkle over the soup just before serving.
Cheese - Add some shredded cheddar or a dollop of cream cheese for an extra creamy finish.
Herbs - Fresh herbs like parsley, thyme, or dill can give a refreshing note to your chowder. Sprinkle some chopped herbs on top just before serving.
Spices - Try adding a pinch of smoked paprika or cayenne for an extra kick.
Veggies - You can also add extra veggies like corn, celery, or leeks to boost the nutritional value and enhance the texture of the soup.
Perfect the Bread Pairing
The ubiquitous duo of soup and bread is hard to beat, particularly when the soup in question is clam chowder. Whether served with crispy baguettes or inside a hollowed-out bread bowl, the right bread pairing can elevate your chowder experience.
Sourdough - With its slightly tangy flavor, sourdough is a fantastic pairing for any creamy soup like clam chowder.
Baguette - There's nothing like a fresh, warm baguette to sop up the last bits of chowder from your bowl. Crusty on the outside, soft on the inside, it's just perfect.
Oyster Crackers - Although not actually bread, oyster crackers are the traditional accompaniment to clam chowder.
Bread Bowl - For an impressive serving idea, hollow out a round loaf of bread and fill it with piping hot chowder. The bread soaks up the delicious soup and adds a pleasant contrasting texture.
Experiment with Garnishes
Garnishes aren't just for fancy restaurant dishes; they can enhance your home-cooking experience. Here are some suggestions.
Fresh Herbs - Sprinkling some fresh herbs right before serving can add color and fresh flavor.
Croutons - Homemade or store-bought, croutons add crunch and are a practical choice for getting every drop of chowder.
Grated Cheese - Sprinkling some grated cheese over the top will seem luxurious as it melts into the hot soup.
With these tips, your canned clam chowder can transform from a quick meal can to a beautiful dining experience.
Also Read: Best Korean BBQ In San Diego
Frequently Asked Questions
What Makes the Best Canned Clam Chowder?
The best canned clam chowder is all about a delicious balance between clams, cream or tomato base (depending on the style), and vegetables such as potatoes and onions. Top canned varieties often use premium ingredients for a taste that rivals homemade or restaurant versions.
How to Prepare Canned Clam Chowder?
It's quite simple to prepare canned chowder. Simply pour it into a pot and heat it over medium until it's hot, stirring occasionally. Some like to add their own herbs, butter or cream for extra richness.
What's the Difference Between New England and Manhattan Clam Chowder?
The most significant difference between these two popular chowder variants lies in the soup base. New England clam chowders are recognized by their rich, cream-based broth, while the Manhattan version offers a tomato-based, often more herb-filled broth.
Can I Use Canned Chowder As a Base for Other Dishes?
Definitely! Apart from enjoying it straight from the can, you can also use canned clam chowder as a base for pasta sauces, pot pies, dips, or even chowder baked in a bread bowl. It's incredibly versatile.
Is Canned Clam Chowder Healthy?
Most canned clam chowders offer a good dose of protein due to the clam content. However, like many prepared foods, they can be high in sodium and calories, particularly the cream-based versions. Opt for brands that advertise as low sodium or check the nutrition label if you are conscious of sodium intake.
Where Can I Buy Canned Clam Chowder?
Canned clam chowder can be found in the soup aisle of most grocery stores. It is also available online on major e-commerce sites like Amazon. You can also often find it at warehouse club stores like Costco or Sam's Club.
Conclusion
There's nothing more comforting than indulging in a bowl of warm, creamy clam chowder. From the rich, hearty flavors of New England style to the tangy vibrancy of the Manhattan style, braving the canned soup aisle can indeed yield a delicious dividend. Whether you're a seasoned chowder veteran or a curious beginner, there's a particular brand of canned clam chowder suited perfectly to your palate.
The convenience and versatility offered by these canned chowders genuinely make them a pantry essential, ready to whisk you off on a culinary journey in your kitchen. Discover your best spoonful today, savor the richness, and let the echoes of the sea in each bite transport you to the coastal shores. The world of canned clam chowders is yours to explore and enjoy!
Food Lover and Storyteller 🍽️✨ With a fork in one hand and a pen in the other, Shivani brings her culinary adventures to life through evocative words and tantalizing tastes. Her love for food knows no bounds, and she's on a mission to share the magic of flavors with fellow enthusiasts.