16 Best Fast Food For Weight Watchers in 2023 [Guilt-Free]
Updated On: September 9, 2023
Navigating the vast menu of a fast food restaurant can be a daunting task, especially if you're a weight watcher. With loaded burgers, creamy milkshakes, and crispy fries peeking from every corner of the menu, the struggle to stick to a healthy eating plan becomes real. However, believe it or not, there's an array of healthier alternatives hidden amidst these high-calorie options.
You just need the right guidance to unveil them. And that's where we come in! This blog post is curated to help you discover the "Best fast food for weight watchers". Stay tuned to learn how you can satisfy your fast-food cravings without sabotaging your health and fitness commitments.
Also Read: Best Fast Food Mascots
16 Best Fast Food For Weight Watchers in 2023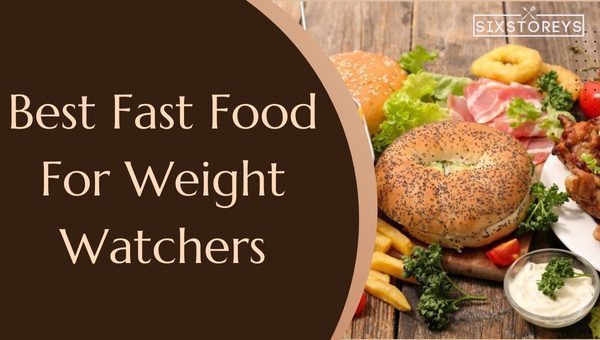 Embarking on a weight loss journey doesn't mean bidding farewell to your favorite fast food spots. Instead, it's about making mindful choices that align with your health goals. This guide to the "16 Best Fast Foods for Weight Watchers" is aimed at helping you enjoy a delicious meal out while keeping your diet in check. Read on to discover the healthier options hidden in plain sight on the menus of your favorite fast-food restaurants.
1. Burger King: Healthy Whoppers?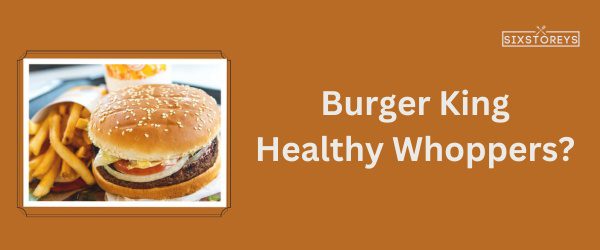 Every time I've visited a Burger King outlet, I've been left in awe of their Whopper, and if you're a fellow burger lover, you probably share a similar sentiment. However, being a Weight Watcher, I had to control my urge and look for healthier alternatives. And guess what, I found them right there at Burger King!
Let's admit, nothing on their menu can undercut the grandeur of a Whopper. Thankfully, Burger King has several lighter options that keep the calorie count in check without compromising on the taste. Start with their Veggie Burger. It is devoid of any meat and provides an explosion of vegetables with every bite. This burger racks up only 390 calories, almost half the calorie content of a regular Whopper.
And if you're not a fan of burgers, you can opt for their Grilled Chicken Sandwich. With only 430 calories, this sandwich is a protein powerhouse. Plus, it's topped with a delectable honey mustard sauce that won't wreak havoc on your diet. Don't forget to pair it with their heart-friendly Garden Side Salad and Apple Slices.
Burger King helps you go the healthy way without sidelining your love for fast food. So next time you're there, make sure to remember these options and order wisely.
Also Read: Best Burger King Desserts
2. Taking a Healthier Bite at McDonald's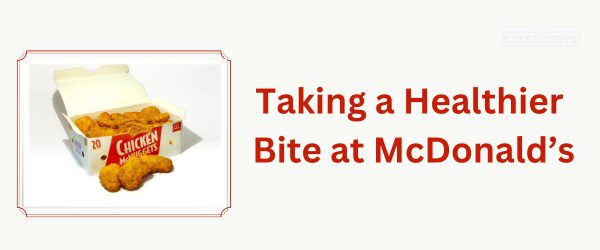 McDonald's, the worldwide emblem of fast food, can also do wonders for the health-conscious people among us. Surprised? So was I, when I decided to dig deep into their menu to locate the healthier gems.
Typically, a McDonald's menu brings succulent burgers and crispy fries to mind. But, if you manage to look beyond these, you'll find numerous lighter options that can keep your weight goals in line.
Interestingly, their Side Salad was a revelation for me. Loaded with mixed greens, carrots, and tomatoes, this modest salad fills you up without piling on the calories. Add a packet of Newman's Own Low Fat Balsamic Vinaigrette, and you'll have a light meal ready.
And who can miss the classic Grilled Chicken Sandwich at McDonald's? I can vouch that it's nothing short of a delight. Hosting tender pieces of grilled chicken breast dressed with lettuce and tomato on a toasted wheat bun, it is both delicious and weight watcher-friendly.
Now, if you have a sweet tooth, McDonald's has got you covered. The Apple Slices and Fruit 'N Yogurt Parfait_ make for perfect low-cal dessert options.
The key takeaway here is that McDonald's offers a multitude of healthy eating options. It all depends on what you pick from the menu.
Also Read: Best McDonald's Coffee
3. Dunkin' Donuts: More than Just Donuts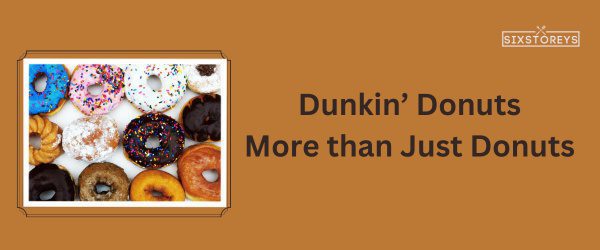 Who would have thought that a place famous for donuts could also cater to those watching their waistline? That's right! Dunkin' Donuts is way more than just those fluffy, decadent pastries; it is also a treasure trove for folks like us keeping a strict eye on the 'calories column'.
Now, I am a 'coffee first thing in the morning' kind of person, and I must admit, their Freshly Brewed Iced Coffee never disappoints me. For the perfect low cal, yet energising drink, get your hands on their medium-sized brew with a splash of skim milk. Only 30 calories, not bad at all!
But what about food, you ask? Well, their Wake-Up Wraps turned out to be the real deal for me. These petite little delights contain just the right balance of protein, carbs, and fats. My personal favourite is the Egg and Cheese Wake-Up Wrap. With a mere 150 calories, it slides right into my breakfast routine.
Of course, I cannot leave without mentioning the DD Smart menu, tailor-made for the health-conscious crowd. This menu features healthier versions of your favorite Dunkin' classics. I often find myself picking up the Multigrain Bagel or the Turkey Sausage Sandwich.
Turns out, you don't need to resist your Dunkin' Donuts cravings. With the right choices, it fits in comfortably with the lifestyle of a weight watcher.
4. Wendy's: Finding a Healthier Square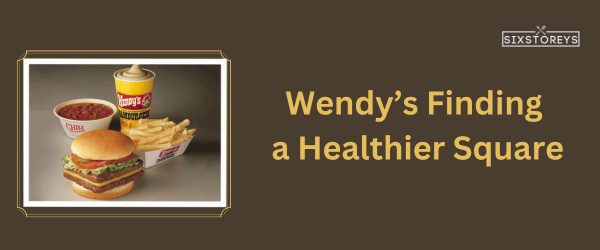 Wendy's might be famous for their square patties, but they also know how to please us health enthusiasts. My first encounter with Wendy's was with a Classic Double Stack, and oh boy, was it delicious! But, with my aspiration to maintain a healthy lifestyle, the hefty 390-calorie tag was a no-go.
Wendy's range of salads immediately grabbed my attention. Their Apple Pecan Chicken Salad is one of my go-to options when I crave something fresh but filling. This salad is a medley of lettuce, grilled chicken, blue cheese crumbles, crunchy apples and dried cranberries. Might I say, the creamy, yet low-fat pomegranate vinaigrette adds the perfect finishing touch!
Wendy's Grilled Chicken Wrap did a fair job of providing a high-protein, low-calorie fast food option. But what surprised me most was the Baked Potato. It's a simple, yet satiating way to incorporate complex carbs in your diet. Pair it with a small chili or a side garden salad, and voila, you have a balanced meal right in front of you.
Wendy's deserves a round of applause for being a fast-food joint that goes above and beyond to offer nutritionally balanced meals. Trust me, it caters to your indulgence as well as your health goals.
Also Read: Is Wendy's Chili Gluten-Free?
5. Low-Calorie Options at Arby's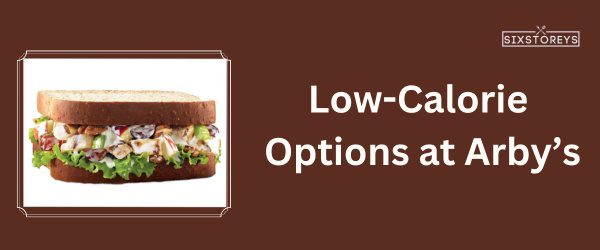 When I first ventured into Arby's, their extensive menu offering roast beef, ham, and bacon sandwiches felt like a weight watcher's nightmare. Yet, I found challenges can often lead to pleasant surprises. Arby's proved me right.
Among all the dense options, my eyes landed on an unsuspected hero – the Classic Roast Beef. A delightfully tender and shaved roast beef placed inside a warm, toasted bun, boasted a calorie count of just 360! I must say, it easily satisfied my lunchtime hunger pangs without tipping my daily calorie bank.
Arby's menu also flaunts a variety of Market Fresh Wraps - nutritious, full of greens and quite satisfying. The stand-out for me is the Turkey & Swiss Wrap - lean turkey, crunchy lettuce, juicy tomatoes, and tangy Swiss cheese wrapped together. With just 490 calories, it ticks all boxes on my checklist - protein-rich, fiber-full, and lusciously delicious!
The final delight at Arby's that won me over was the Chopped Side Salad. This small, 70-calorie bowl with crisp lettuce, shredded cheddar cheese, and juicy tomatoes filled me up without weighing me down.
Don't let anyone tell you that Arby's and healthy eating don't go together. It is doable if you know where to look!
Also Read: Best Arby's Sauces
6. Subway: Perfect for Calorie-Counting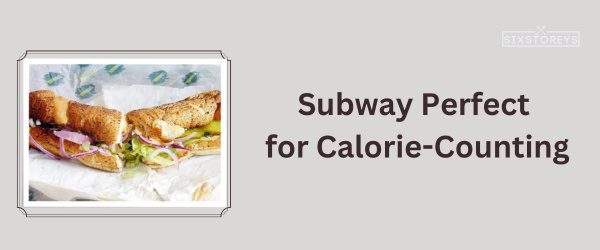 There's no beating around the bush here - I love Subway! A place where you can fully customize your meal while keeping a steady count of your calorie intake? Yes, please.
I believe in simple pleasures and often find myself gravitating towards Subway's 6-inch Veggie Delite. I usually ask for it to be served on 9-grain wheat bread, loaded with all the veggies. And with my love for spice, I never miss adding a touch of jalapenos and sweet onion sauce. This sub comes under 200 calories and is vegan-friendly too!
But suppose you're after a protein hit. In that case, I highly recommend the Oven Roasted Chicken Salad. It's a scrumptious amalgamation of tender chicken strips, fresh veggies, and flavorsome sauces. And the most exciting part? It's an entirely guilt-free pleasure at a mere 140 calories!
Subway also has delightful wraps on offer. My favourite is the Steak & Cheese Wrap. Its blend of steak slices, melted cheese, and a whole lot of veggies loaded into a flatbread is nothing short of divine.
Eating at Subway can be fun and fit. So go ahead, live up your Subway moments without a worry!
Also Read: Best Subway Sauces
7. Panda Express: Healthier Take on Chinese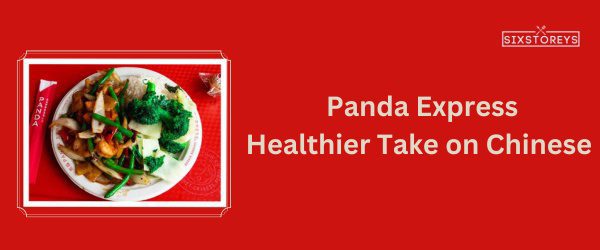 There's no denying - I have a soft spot for Chinese food. Add fast food to the mix, and I'm over the moon! But as an avid weight watcher, diving into Panda Express often left me apprehensive. However, my first brush with their String Bean Chicken Breast changed it all. Grilled chicken, crunchy green beans, and diced onions sautéed in a delicious ginger soy sauce was flavorful yet healthy, coming in at only 190 calories per serving.
Next on the list is their Super Greens side dish- a tasteful and nutritious mix of broccoli, kale, and cabbage steamed to perfection. Just one serving of this healthy melange delivers a powerful punch of nutrients at just 90 calories.
And for everyone with a love for shrimp like me, the Kung Pao Shrimp brings a delightful surprise! This spicy, tangy dish brimming with succulent shrimp, crunchy peanuts, and vibrant veggies stands at only 220 calories and never fails to satisfy my East Asian food cravings healthily!
8. Chipotle: Wholesome Mexican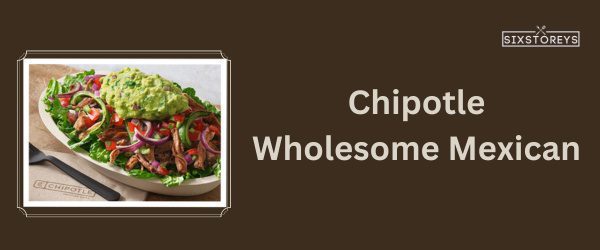 Navigating through Chipotle's menu can be intimidating, but their healthy bowls have always stolen my heart. My personal favorite is the Chicken Salad Bowl. It's an explosion of fresh lettuce, tender chicken, black beans, and a sprinkle of Monterey Jack cheese. What's more, it's a wholesome meal of just 360 calories that keeps me full and satiated.
For vegetarians or those seeking a break from meat, the Sofritas Bowl is a heavenly delight. This meatless bowl packed with tofu Sofritas, brown rice, black beans, fajita veggies, and fresh tomato salsa is a delicious steal at about 600 calories.
The biggest bonus of dining at Chipotle? It's their commitment to using high-quality, fresh ingredients in their dishes, making them a steadfast choice for weight watchers aiming for nutritious fast food.
Also Read: Best Chipotle Sauces
9. Sonic: Eating Healthier in a Drive-In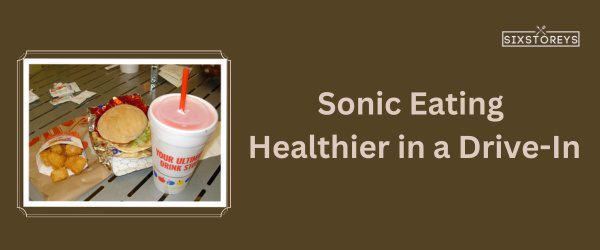 Drive-in fast food was a concept I couldn't refuse. Sonic, with its unique serving style, has always been a preferred spot for quick bites. Yet, as I began to take my health seriously, I discovered Sonic's Chicken Wrap and found my ultimate comfort food. This grilled chicken wrap, loaded with fresh lettuce, ripe tomatoes, and light mayo, and nestled in a flour tortilla, is a heart-winning culinary delight, clocking in at just 440 calories.
For breakfast on the go, Sonic's Classic Ultimate Meat & Cheese Burrito is a healthier choice when you remove the sausage. With scrambled eggs, melty cheddar cheese, onions, and flavorful tots, it serves a protein-packed meal for under 400 calories.
Between the neat packaging and their drive-in concept, Sonic has made healthy eating absolutely hassle-free for all the weight watchers on wheels.
Also Read: Best Sonic Blast Flavors
10. Chick Fil-A: Stay Healthy with Poultry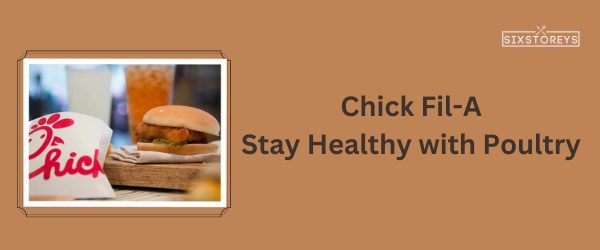 Chick-fil-A is a paradise for chicken lovers. However, their fried chicken delicacies often spell trouble for weight watchers. That's when I discovered their Grilled Chicken Cool Wrap and it was love at first bite. Sliced grilled chicken breast, rolled in a flaxseed flour flatbread with a diverse range of fresh veggies – it's a perfect blend of taste and nutrition coming in at only 350 calories.
And let's not forget the classic grilled chicken sandwich. A lean chicken breast marinated with a blend of seasonings, served on a multi-grain brioche bun with lettuce and tomato makes for a satisfying lunch or dinner at just 310 calories.
The best part about Chick-fil-A? They offer a variety of delicious low-fat dressings to complement your meal. My personal favorite is the Zesty Apple Cider Vinaigrette which is not only delicious but tops up my meal at just 50 calories.
11. Hardee's: Healthy Options Amidst Thick Burgers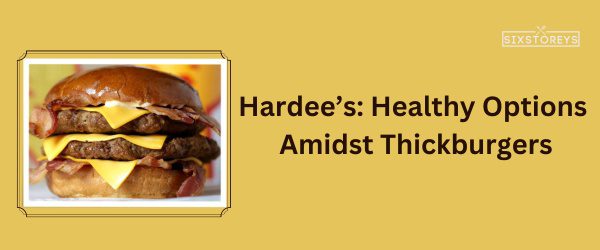 I must confess, I was initially drawn to Hardee's for its decadent Thickburgers. However, as a weight watcher, I soon needed to find healthier options on the menu and was pleasantly surprised by what I discovered. The most appealing alternative I found was the Low Carb Charbroiled Chicken Club. Wrapped in lettuce instead of a bun, this hearty sandwich replaces the high-calorie bread while keeping all the delicious fillings intact. It's packed with a charbroiled chicken breast, melted Swiss cheese, bacon, tomatoes, and mayo - a luscious combo that totals to 370 calories.
Additionally, their 3-piece Hand-Breaded Chicken Tenders™ served me well when I craved lean protein. With around 260 calories, these chicken strips make a tasty, filling snack at any time of the day.
With these options in mind, I enjoyed my Hardee's visits, knowing I could maintain my balanced diet without sacrificing on taste.
Also Read: Best Hardee's Sauces
12. Taco Bell: Nutritious Mexican Fast-Food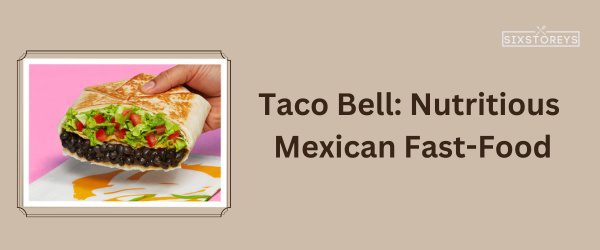 I must admit, the word 'healthy' never crossed my mind when thinking of Taco Bell until I delved deeper into their menu. There are several options waiting to be explored by weight watchers. My top pick is their Power Menu Bowl - Veggie. A filling of black beans, seasoned rice, guacamole, romaine lettuce, real cheddar cheese, topped with pico de gallo & reduced-fat sour cream; this dish is a vegetable lover's delight at just 430 calories.
When the taco craving hits hard, I opt for the Fresco Soft Tacos. With a variety of fillings available, the calorie count ranges from 140 to 210 calories per taco. This makes it not only a tasty treat but also a healthier alternative to traditional tacos.
The journey of exploring the healthier side of Taco Bell has been rewarding and ensured I enjoy flavorful Mexican fast food without any guilt trips.
Also Read: Best Taco Bell Sauces
13. KFC: Beyond Fried Chicken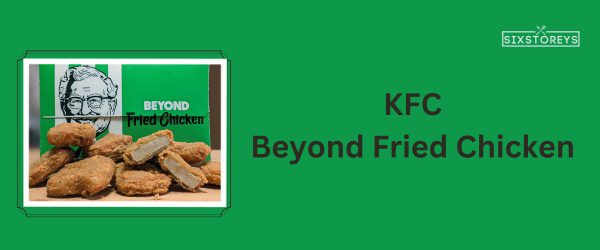 When I think about KFC, it's usually their succulent, famous fried chicken that comes to mind first. What I found, however, is that there's a lot more on the menu that can cater to weight watchers without sacrificing on taste.
After a lot of research and frequent visits, I found my staple - the Extra Crispy™ Tenders. Each tender is a good source of protein at only 140 calories. If choosing a dipping sauce, I usually opt for the Summertime BBQ dipping sauce which adds just another 40 calories to the meal.
Additionally, I came across KFC's Grilled Chicken - downright delicious and slightly smoky. A whole piece of grilled chicken contains a mere 180 calories making it a great lean protein option.
Lastly, to pair with the chicken, I often go for the Corn on the Cob. It's flavorful, juicy, and completely guilt-free at 70 calories. All in all, my trips to KFC have taken a delightful turn as I've discovered the wealth of healthier options they offer.
Also Read: Best KFC Sauces
14. Popeyes: Eating Healthy with Cajun Flavors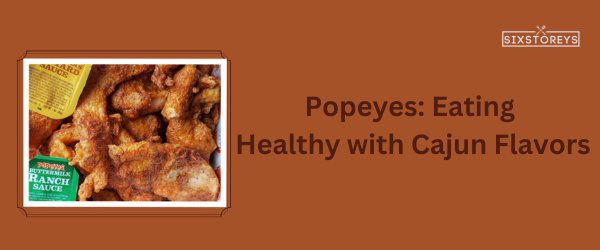 Popeyes, known for its Louisiana fast food, was a tricky field to explore at first due to its attraction for fried and soul food. But, as I delved deeper into the menu, I was pleasantly surprised to find healthier alternatives that didn't compromise on those beloved cajun flavors.
One of the hidden gems I discovered is the Blackened Chicken Tenders. Unlike the regular chicken tenders, these are not breaded or fried, but well seasoned and grilled, making them a guilt-free indulgence for weight watchers like myself. Depending on your hunger level, you can choose either the 3-piece (170 calories) or the 5-piece variant (283 calories).
When it comes to sides, Cajun Rice is my personal favorite. A flavorful blend of seasoned rice and tender ground chicken, a regular serving comes in at 183 calories.
As a dessert lover, abstaining from sweet treats was hard at first. But, upon discovering their Cinnamon Apple Pie, I haven't looked back. Each pie is around 236 calories, and seriously – who can resist a warm, delicious apple pie?
Clearly, my visits to Popeyes are now filled with anticipation for a treat that is as flavorful as it is balanced.
Also Read: Gluten-Free Options at Popeyes
15. Starbucks: Fueling up the Healthier Way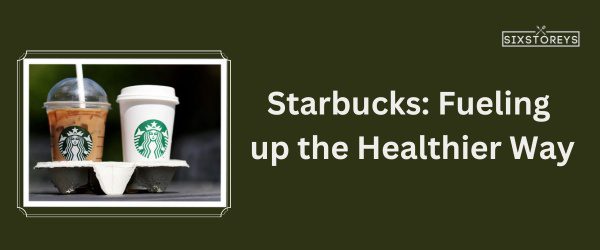 As a coffee lover, Starbucks is high on my list of places to hang out and get work done. But beyond just coffee, this popular café offers some stellar options that fit perfectly in a weight watchers diet plan.
One such item is the Protein Bistro Box. It's packed with a cage-free egg, sliced apples, grapes, white cheddar cheese, multigrain muesli bread and a delicious honey peanut butter spread. A complete, protein-rich meal for only 370 calories. Whenever I'm in a rush and need a filling lunch or breakfast, this is my go-to box.
For beverages, I've found the Cold Brew Coffee is a calorie-friendly option at only 5 calories for a grande serving, and the Iced Green Tea is a refreshing option with 0 calories.
And let's not forget about the delicious and nutritious hot breakfast options. Well, there's nothing as comforting and filling like Starbucks' Egg White & Roasted Red Pepper Sous Vide Egg Bites. They are tender, flavorful, packed with 12 grams of protein, and only 170 calories. Such a wholesome way to start the day, isn't it?
So, don't be fooled into thinking Starbucks is all pastries and high-calorie frappuccinos. With a little bit of savvy selection, you can find wonderfully healthy options that will keep you fueled without the guilt.
Also Read: Most Caffeinated Drinks At Starbucks
16. Five Guys: Healthy Between the Patties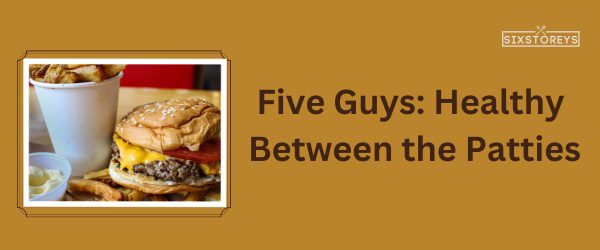 At first glance, Five Guys may seem like a disaster zone for anyone watching their weight or fat intake. But my repeated visits have proved otherwise.
When you think of Five Guys, you probably conjure images of juicy, greasy burgers and overflowing bags of fries. But among these indulgent options, the Veggie Sandwich truly stands out. It's stuffed with freshly grilled onions, mushrooms, green peppers, lettuce, and tomatoes, all nestled in a fluffy bun with a choice of your favorite sauce. It's around 440 calories which isn't too bad for a hearty sandwich meal.
If burgers are more your thing, I'd recommend the Little Hamburger. This smaller version of their standard hamburger is around 480 calories. I enjoy it with lettuce, tomatoes, onions, and mustard. Packing a substantial protein punch of 23g, it's a good choice when looking to indulge a bit without straying too far off the weight watchers' path.
All in all, my trips to Five Guys have been a surprising but delightful exploration of Weight watchers friendly options in a world dominated by grease and glorious burgers.
How to Navigate Fast Food Menus for Healthier Choices?
Navigating through the calorie-packed fast food menu to find healthier choices can be a bit confusing. Although, with the right insights, even this daunting task could turn into an exciting food adventure. Here are some tips to help you make wise choices:
Look beyond buzzwords: This might sound straightforward but terms like "organic," "locally sourced," and "artisan" don't necessarily mean healthy. Instead, focus more on the nutritional information.
Grill it (if possible): Instead of picking options that are baked or fried, go for grilled. It uses less oil and is healthier. More on this later.
Opt for whole grains: When given a choice between regular and wholegrain bread, always go for the latter. Whole grains are packed with fiber, keeping you satisfied for longer periods.
Mind the sauces and dressings: Even the healthiest salads can be drenched in calorie-heavy dressings. Ask for them to be served on the side, and use them sparingly.
Portion sizes matter: No matter how healthy your food is, consuming it in large quantities can rack up those calories. Stick to regular or small sizes and avoid the tempting oversized portions.
Consider the food preparation method: Grilled, baked, steamed, or boiled foods are typically healthier than fried or crispy ones.
Incorporating these tips the next time you step into a fast food joint can potentially steer your order in a healthier direction.
Why Opting for Grilled Over Fried Makes a Significant Difference?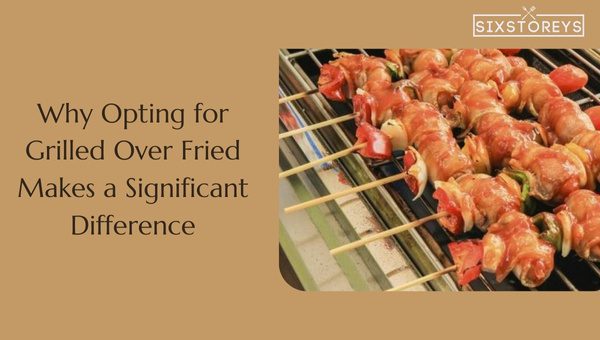 When it comes to fast food, one of the biggest culprits behind those calorie-rich meals is the style in which the food is prepared. It's no news that deep-fried foods are incredibly high in calories and unhealthy fats. But have we ever stopped to think - why is it so?
The answer lies in the method. In deep-frying, the food is completely submerged in hot oil, which the food soaks up during cooking, resulting in a calorie-dense final product. Grilled food, on the other hand, is prepared on a grill with minimal to no extra oil. The excess fat drips off during the grilling process, which can result in fewer calories and less fat in the final serving.
Choosing grilled over fried food not only lowers our calorie intake but also reduces our consumption of unhealthy, saturated fats. Options like grilled chicken, seafood, or vegetables could easily turn a fast-food meal into a more balanced, nutrient-rich diet. Embracing this simple switch could make a significant difference in your journey of healthier eating, without having to compromise fast food altogether.
Understanding Salad Choices: How to Pick the Healthiest Option at Fast Food Chains?
When it comes to fast food, a salad might seem like a safe and healthy choice. But beware! Not every salad dish that graces these menus is your waistline's friend. Don't let the bed of greens fool you. A salad drenched in high-fat dressings, topped with crunchy croutons, and brimming with cheese is nothing short of a calorie bomb in disguise. So, what are the rules for picking a healthy salad at a fast food chain?
Dressing Wisely
First, always ask for the dressing on the side. This will give you control over the amount. Go for vinaigrettes rather than creamy dressings, as they tend to be lower in calories and fat.
Knowledge is Power
Familiarize yourself with the common ingredients used in salads and their nutritional value. For instance, opt for darker leafy greens like spinach and kale over iceberg lettuce as they are nutritionally superior.
The Protein Factor
Including lean proteins in your salad can make it not just healthy, but also filling. Grilled chicken, fish, or tofu are your best bets here.
Don't mistake fried chicken strips tossed around in a salad as a healthy option. They are not!
By following these guidelines, you can ensure that your decision to go for the salad benefits your weight management endeavors.
Why You Should Consider Whole Grains at Fast Food Restaurants?
We've all heard about the perks of whole grains. They are packed with fiber, vitamins, and minerals and have been linked to a lower risk of heart disease, type 2 diabetes, and obesity. But how often do we consider whole grain alternatives when ordering at a fast food restaurant?
Fast food and grains might sound like an odd duo. But many chains have started offering whole grains in their dishes, be it in the form of brown rice, whole wheat buns, or oat-topped breakfast items.
Whole grains, unlike their refined counterparts, have all parts of the grain — the bran, germ, and endosperm. The bran and germ contain fiber, Vitamin B, antioxidants, and protein, which are stripped away during the refining process.
The Whole Truth about Whole Grains
Fast food restaurants like Chipotle and Taco Bell let you substitute white rice with brown rice while Subway offers wheat bread. By making this swap, you're adding volume to your meal and promoting a feeling of fullness, thus aiding portion control.
Incorporating whole grains into your fast food meals ensures that your meals are not just filling, but also packed with essential nutrients.
Healthy eating at fast food restaurants is all about making informed and wise choices. Armed with this knowledge, you can make your next fast food run a nutritious one.
Why Calorie Counting Alone Isn't Enough: Importance of Nutrients in Fast Foods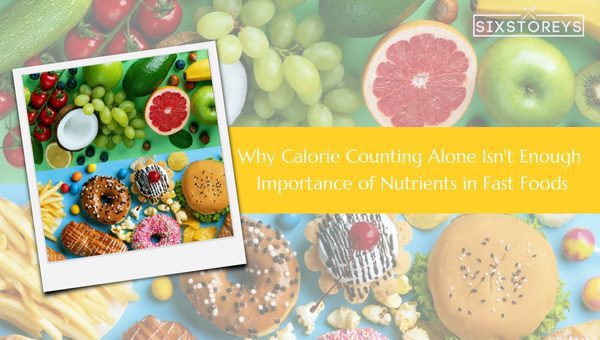 Diving headfirst into the world of weight watching, your first instinct might be to count every single calorie. True enough, it's a logical first step, but it's important to recognize that not all calories are created equal. For instance, a calorie from a juicy apple comes packed with vitamins, fiber, and other nutrients, while a calorie from a soda is essentially "empty" - no nutritional perks, just sugar.
This is why, alongside counting calories, you should be mindful of the nutritional quality of the foods you eat. This becomes especially relevant when dining out at fast food joints. Many fast food options might seem appetizing due to their low-calorie count, but a quick look at their nutritional information reveals a different story.
You might stumble upon a low-calorie burger, but upon closer inspection, find it shockingly high in sodium or saturated fats. In another case, a salad might initially seem like a healthy option, but it can come laced with a high-sugar dressing and cheese, skewing the balance of nutrients.
So, while the calorie content is a crucial part of healthy eating, always remember to check the breakdown and balance of macronutrients (proteins, fats, carbohydrates), vitamins, and fiber intake. Incorporating a diverse range of nutrients in your meals can ensure your body receives all it needs to stay healthy while you keep your weight in check.
How to Balance Cravings and Conscious Eating at Fast Food Chains?
Eating out and weight watching can coexist harmoniously. It involves a delicate balance – giving in to cravings without overstepping the boundaries of conscious eating. After all, we're all human, bound by our desires for a juicy burger, crispy fries, or a creamy milkshake once in a while. And that's perfectly okay.
The trick lies in moderation and smart swaps. Let's take an example. You might find yourself in the drive-thru lane at Wendy's, craving a Baconator. However, your conscious eating resolution holds you back.
Here's how you can strike a balance. Opt for the Junior Bacon Cheeseburger instead. It's smaller, controlling portion size, but doesn't completely deprive you of the flavors you're currently yearning.
Also, pay attention to sides and drinks. Swap the regular fries for a small chili and the soda for a water or unsweetened iced tea. This way, you'll satisfy your cravings while still adhering to healthier eating habits.
The key is to listen to your body while making mindful choices that align with your health goals. Remember, you're not just a weight watcher; you're a nutrition enthusiast!
Also Read: Best Tartar Sauce Brands
Frequently Asked Questions
Is it actually possible to eat healthily at fast food restaurants?
Yes, it is possible. Fast food chains have become much more nutrition-conscious in recent years. You might have to dig a little deeper through their menus, but there are plenty of healthier options to choose from. You can often find salads, grilled poultry, veggie patties, fruit cups, and more.
Can I trust the nutritional information provided by fast food joints?
Most fast food chains provide nutritional information for their entire menu. While they are generally accurate, it's important to remember that these are averages, and actual values can vary.
What is a good rule of thumb when choosing healthier fast food?
Opt for items with fewer calories and low saturated fat content. Also, look for options that are high in protein, and be mindful of the amount of sugar and sodium.
Are salads the only healthy option at fast food restaurants?
While salads can be the obvious choice for healthier fast food, they are not the only option. Grilled chicken, turkey burgers, and items loaded with veggies are also excellent picks. Furthermore, a salad is only as healthy as its toppings and dressings.
What are some lower-calorie substitutions at fast food restaurants?
Opting for a side salad, fruit cup, or yogurt instead of fries, and choosing water, unsweetened iced tea or a diet drink instead of a regular soda are just a few examples of healthier substitutions.
Can I customize my orders at fast food chains?
Absolutely! Customization is one of the best strategies to make your fast food healthier. Most joints are more than willing to adjust their menu items according to your preferences. Skip cheese and sauces, go for whole-grain options, ask for extra veggies – make it the way you like!
Are there any fast food options for vegetarians and vegans?
Indeed, there are! Fast food outlets are increasingly including a variety of vegetarian and vegan dishes to their menus. From veggie patties and salads to dairy-free shakes and beyond, the options are extensive.
What is the best way to control portion sizes at fast food restaurants?
The easiest way to manage portions is to go for "small" or "kid-size" servings. Share your meals with a friend or ask for a take-home box and save half for later.
Conclusion
Imposing a strict restriction on fast foods is not the only way to win the battle of the bulge. It's about making the right choices, even when you're at your favorite fast food haunt. You can absolutely stick to a healthier eating regime without having to compromise on taste or convenience. After exploring "Best Fast Food for Weight Watchers" across different popular outlets, it's evident that there's a healthful balance to be struck.
From grilled burgers to protein-packed salads, light sandwiches to nutrient-dense bowls, fast food can indeed cater to the calorie-conscious without disappointing the taste buds. It's all about making informed choices. So, the next time you walk into a fast food joint, remember, you're not destined for a diet disaster. With a little effort and attention, you can turn it into a more wholesome experience. Now, you're fully equipped to navigate through the fast food labyrinth with confidence! Happy healthy eating!
Food Lover and Storyteller 🍽️✨ With a fork in one hand and a pen in the other, Shivani brings her culinary adventures to life through evocative words and tantalizing tastes. Her love for food knows no bounds, and she's on a mission to share the magic of flavors with fellow enthusiasts.