18 Best Canned Smoked Oyster Brands of 2023 [Hidden Gems]
Updated On: August 26, 2023
Discovering new culinary delights is a thrilling adventure, especially when you come across unique flavors and textures. One such gastronomical gem that deserves a shining spotlight is the delectable canned smoked oyster. A delightful combination of smoky flavors and tender seafood, canned smoked oysters not only excite your palate but can also elevate your dishes to new heights.
In this blog post, I will guide you through a flavorful journey to explore and appreciate the best canned smoked oyster brands available on the market. Whether you are a seasoned seafood connoisseur or a curious beginner, grab a fork, and let's dive in!
Also Read: Best Cheeses for Charcuterie Board
18 Best Canned Smoked Oyster Brands of 2023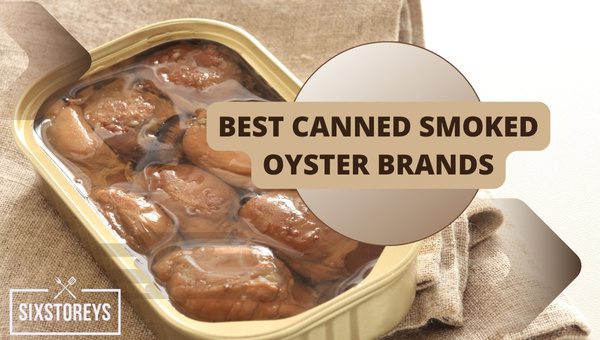 Choosing the ultimate canned smoked oyster can be a bit of a challenge, considering the wide variety of options available in the market. But worry not! I have meticulously tasted and evaluated numerous brands to bring you my top picks. Here are my absolute favorite canned smoked oysters that will surely give you a taste of the best in the seafood world. Let's dive deeper into the details and see what makes each of these options stand out from the rest.
1. Crown Prince Natural Smoked Oysters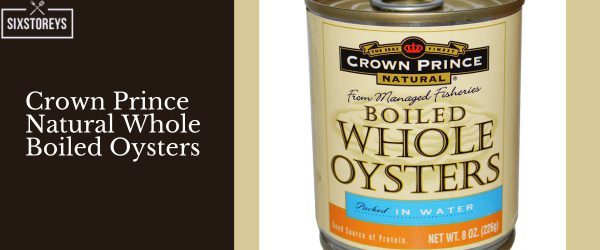 Crown Prince Natural Smoked Oysters are a fantastic treat for anyone seeking an authentic, smoky flavor. These oysters are naturally smoked over hardwood, giving them a distinct, exquisite taste. With their firm yet tender texture, they make a perfect ingredient for various dishes, or simply enjoy them straight from the can!
What I truly adore about Crown Prince is their commitment to sustainability. They only use responsibly sourced, MSC-certified oysters—supporting both ocean health and local communities. Moreover, their packaging is BPA-free, ensuring a healthier experience for consumers.
2. Geisha Fancy Smoked Oysters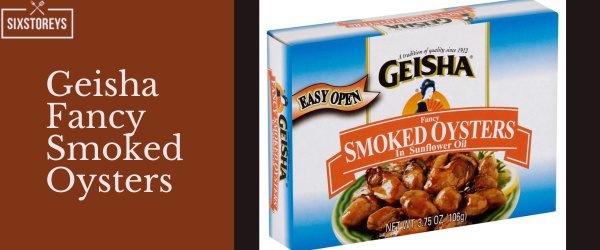 Feast on the aromatic and delightful Geisha Fancy Smoked Oysters to satisfy your cravings for a truly gourmet experience. These oysters are smoked using premium wood, adding a signature, nuanced taste to every bite. They are carefully handpicked and packed in cottonseed oil, which enhances their distinctive flavor.
Geisha Fancy Smoked Oysters are also remarkably versatile—you can enjoy them on their own, tossed in a salad, or serve them on top of crackers for astonishing appetizers. In addition, their texture nicely balances tenderness and firmness, winning the hearts of oyster lovers everywhere.
3. Reese Large Smoked Oysters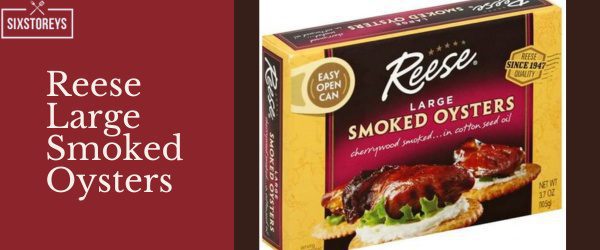 Satisfy your appetite with the generous and meaty Reese Large Smoked Oysters_. _These oysters are generously sized and boast a sumptuous smoky flavor that pairs exceptionally well with their firm yet succulent texture—making them a fantastic option for any oyster enthusiast.
Reese Large Smoked Oysters are submerged in a delicious, high-quality oil that enhances their mouthwatering taste and makes them even more enjoyable. Be it on appetizer plates, main courses, or in a delightful pasta dish, these oysters can effortlessly enhance any recipe with their savory goodness.
4. California Girl Smoked Oysters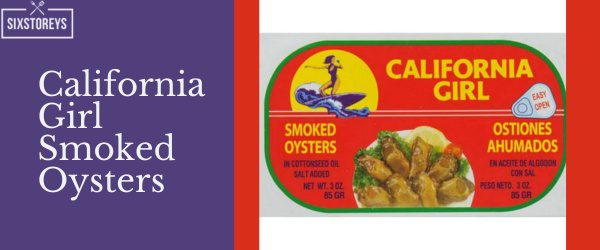 These California Girl Smoked Oysters are not just a treat; they're an experience. When you pop open a can, you're immediately greeted with a pleasing aroma that beckons you to take a bite. Sustainably harvested and naturally smoked, these oysters deliver a balanced combination of saltiness and smokiness.
California Girl prides itself on its natural smoking process, which imparts a one-of-a-kind smoky flavor to the oysters. The oysters are bathed in sunflower oil, giving them a slightly nutty undertone that perfectly complements their natural taste. These are ideal for incorporating into a variety of dishes—be it stews, chowders, or stir-fries—or savoring them straight from the can.
5. Pacific Pearl Fancy Smoked Oysters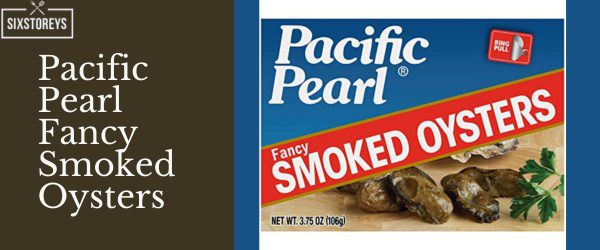 For those who take their oyster experience seriously, Pacific Pearl Fancy Smoked Oysters are an exceptional choice. These luxurious oysters are hand-selected for their quality and size, ensuring that each bite is a perfect blend of smokiness and oceanic flavor. Smoked over specialty woods and packed in a fine olive oil, they offer a unique twist on the classic canned oyster.
Notably, Pacific Pearl is committed to eco-friendly and sustainable harvesting practices, which means you can indulge guilt-free. The texture of these oysters is exceptionally smooth and tender, making them suitable for a range of culinary applications—from gourmet appetizers to elaborate main courses.
6. Polar Fancy Whole Smoked Oysters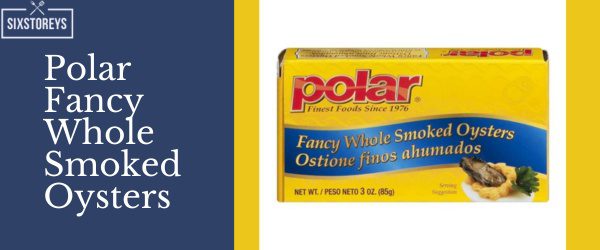 If you're looking for a reliable and satisfying option, Polar Fancy Whole Smoked Oysters are the way to go. These oysters feature a rich, hearty smokiness that comes from a meticulously controlled smoking process. They are generously sized and have a texture that strikes the perfect balance between chewy and tender.
Packed in quality, non-GMO cottonseed oil, these oysters are not just a delicious treat but also a nutritious one. They are high in protein and omega-3 fatty acids, providing a healthy alternative for those keen on both taste and nutrition. Polar Fancy Whole Smoked Oysters are incredibly versatile and work well as a standalone snack, in tapenade, or as a superb addition to paella and other seafood dishes.
7. Roland Oysters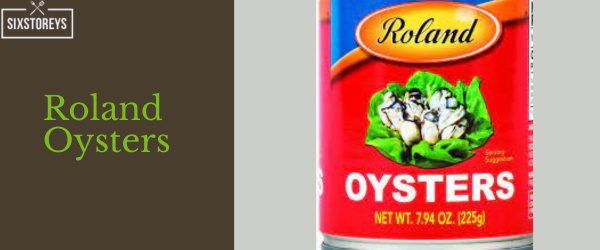 These delectable Roland Oysters offer a pleasing balance of smoky and savory flavors that make them a fantastic addition to your pantry. Their versatile taste allows them to be used in various recipes, from simple crackers to more elaborate appetizers and salads. Moreover, Roland Oysters are packed in oil, which contributes to their moist and tender texture. Trust me, you won't be disappointed when you give these delicious canned smoked oysters a try!
8. Bumble Bee Whole Oysters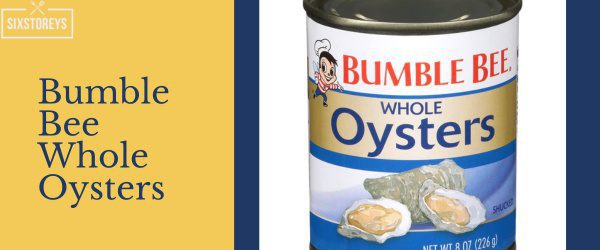 Bumble Bee Whole Oysters are a delightful choice for seafood lovers who appreciate the brand's commitment to convenient, high-quality, and sustainable products. These canned smoked oysters offer a mild smoky flavor that is neither overpowering nor distracting, making them an excellent choice for people who prefer a more subtle taste. Their whole oyster presentation further adds to their appeal, making them great for entertaining guests or simply enjoying them at home.
9. Chicken of the Sea Smoked Oysters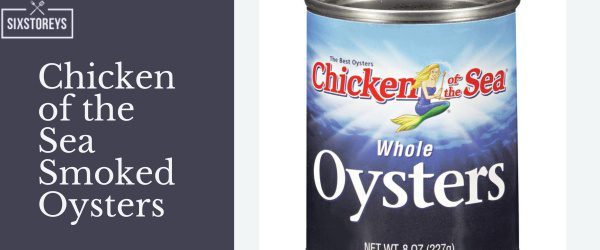 For a well-known name that delivers on taste, look no further than the Chicken of the Sea Smoked Oysters. These canned oysters come in a flavorful oil mixture, offering a tender and juicy bite that will leave you craving more. The smoke flavor is mellow, allowing the natural taste of the oyster to shine through. These oysters are a great snacking option, and their ease of use makes them a stress-free choice for cooking up quick and delicious recipes.
10. Ekone Original Smoked Oysters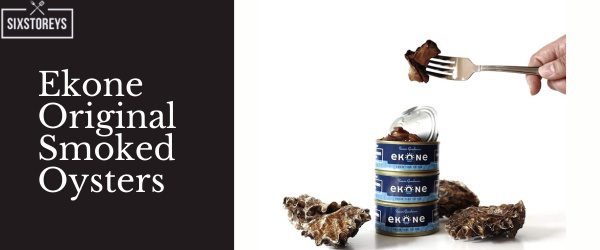 Taking pride in their sustainable and artisanal approach, Ekone Original Smoked Oysters are a delightful treat for the environmentally conscious consumer. With a rich and bold flavor profile, these oysters provide a taste experience that is sure to impress even the most discerning seafood aficionados.
The unique smoking process that Ekone employs for their oysters ensures a remarkable balance between the smokiness and the natural brininess. They are truly an indulgence worth trying!
11. Otter Kingdom Premium Smoked Oysters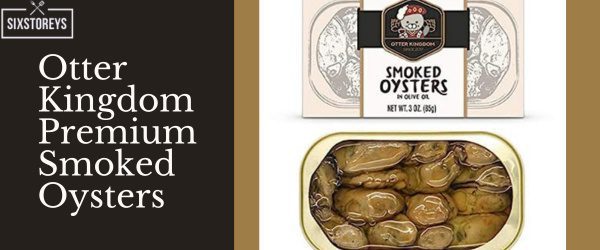 Quality reigns supreme at Otter Kingdom, where their Premium Smoked Oysters are a testament to their dedication to excellence. Sourced and produced in sustainable methods, these oysters come packed in olive oil, providing a silky and luxurious texture.
You will enjoy a deep, smoky flavor with just the right amount of seasoning to complement the natural taste of the oysters. Otter Kingdom Premium Smoked Oysters are perfect for those who value sustainability and exceptional taste in their seafood.
Also Read: Best Sour Cocktails
12. Pampa Smoked Oysters in Vegetable Oil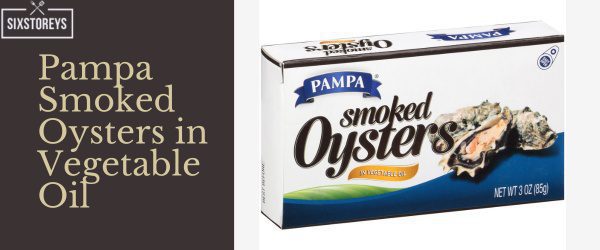 Originating from the Pampa brand, which is known for its commitment to quality and affordability, these Pampa Smoked Oysters in Vegetable Oil are a fantastic choice for budget-conscious seafood lovers.
The vegetable oil in which these oysters are packed contributes to their tender texture and satisfying mouthfeel. With a pleasingly mild smoky flavor, they are a versatile option for snacking or incorporating into various recipes. You won't have to compromise on taste while enjoying these cost-effective canned smoked oysters!
13. Roland Foods Premium Smoked Petite Oysters in Oil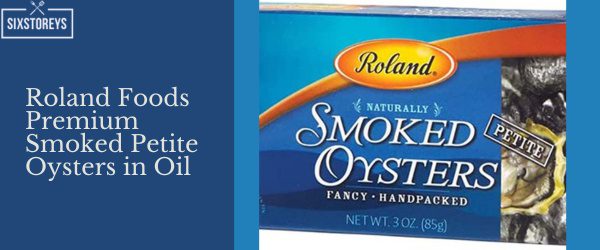 Delivering a great taste in an adorable package, the Roland Foods Premium Smoked Petite Oysters in Oil are a delightful choice for those who appreciate smaller-sized oysters. Each petite oyster bursts with smoky goodness, offering both a new textural experience and a fantastic taste. Packed in oil and seasoned to perfection, these oysters make for excellent party appetizers, gourmet snacks, or even as a topping for your favorite seafood dishes.
14. Pacific Pearl Whole Oysters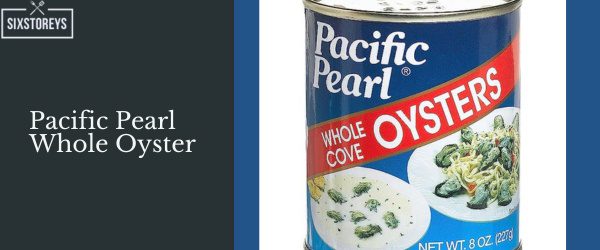 Emphasizing their commitment to quality and freshness, Pacific Pearl Whole Oysters are a great option when looking for an authentic seafood experience. These canned smoked oysters boast a full-bodied flavor, with a satisfying balance of smokiness and salty brine. Their whole presentation enhances the taste experience and keeps each oyster moist and tender. Falling in love with this exceptional brand of canned smoked oysters is practically unavoidable!
15. Bumble Bee Hardwood Smoked Oysters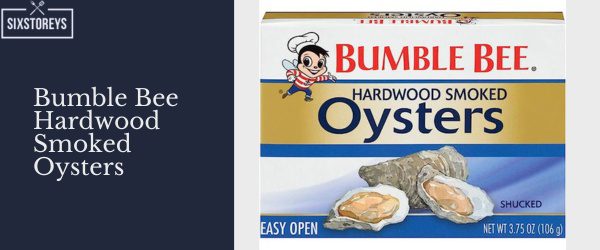 Hints of smoky goodness can quickly elevate any dish, and that's precisely what you'll experience with the Bumble Bee Hardwood Smoked Oysters. These oysters are slow-smoked over hardwood, giving them a rich, smoky flavor that complements the succulent taste of the oysters. They are hand-packed in olive oil, making them a scrumptious and nutritious treat that goes well with crackers, pizza, or stirred into pasta dishes.
16. Ocean Prince Boiled Oysters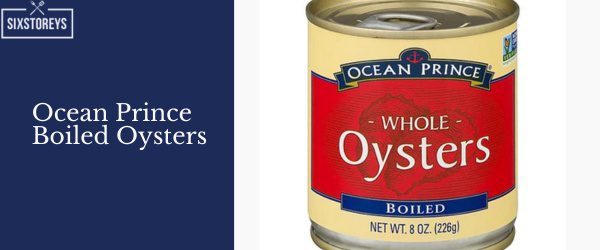 With an emphasis on quality and freshness, Ocean Prince Boiled Oysters are a fantastic option for those who appreciate simplicity. Unlike smoked oysters, these boiled oysters retain a pure, untainted sea taste - offering you a clean and straightforward flavor. They are packed in water, showcasing their natural flavor, and are an excellent choice for recipes that allow the oyster taste to shine through.
17. MW Polar Oysters Pieces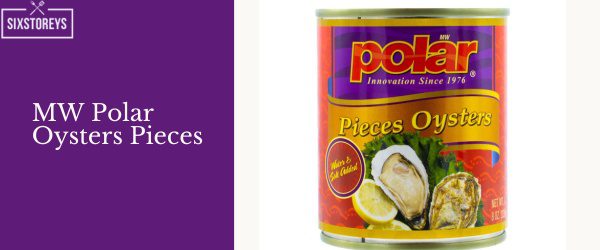 When you're looking to amp up the oyster quotient in your dishes, MW Polar Oysters Pieces are the go-to choice. These oyster pieces are incredibly versatile and can easily be incorporated into your favorite recipes, from soups and stews to stir-fries and even pasta sauces. Affordable and delicious, these oyster pieces truly elevate your everyday meals.
18. Reese Medium Smoked Oysters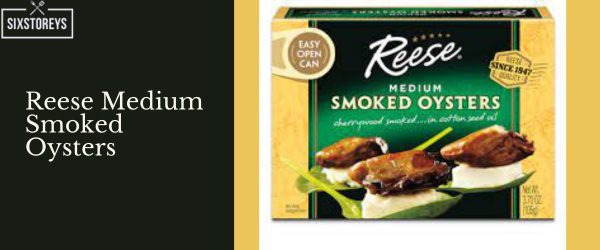 Last but not least, the Reese Medium Smoked Oysters deserve a place on this list for their downright delicious flavor profile. These medium-sized oysters offer a memorable taste with their smoky exterior and juicy, tender interior. Their texture is perfectly balanced, making them an excellent choice for a wide variety of recipes or a satisfying snack. Reese, a brand with a long-standing reputation for quality, has undoubtedly lived up to its name with these beautifully crafted smoked oysters.
Also Read: Best Vanilla Vodkas
Gourmet Pairings and Recipe Ideas with Smoked Oysters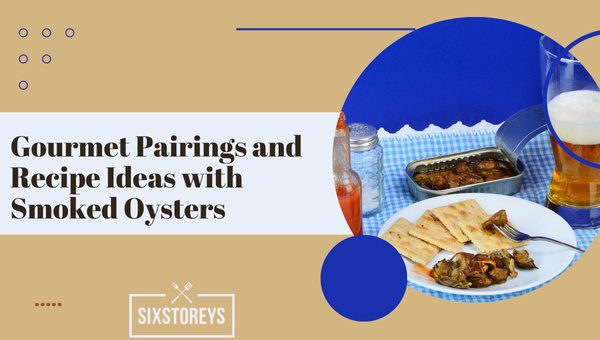 Wine Pairings for a Sophisticated Experience
Few things can elevate a meal quite like pairing it with the perfect wine. When it comes to smoked oysters, you'll want to look for a white wine with bright acidity to counterbalance the richness of the oyster. Here are a few suggestions:
Sauvignon Blanc: Offers crisp, zesty citrus flavors that balance the smokiness of the oysters.
Chenin Blanc: A versatile white wine with aromas of pear, apple, and melon, that pairs well with the seafood.
Albariño: A Spanish white wine with a characteristically fruity and refreshing profile that complements the briny flavors.
Easy-to-Make Smoked Oyster Appetizers and Dishes
Smoked oysters lend themselves to both quick-and-easy meals and more elaborate creations. Here are some delicious recipe ideas that make the most of the best canned smoked oysters:
Smoked Oyster Spread
This creamy and flavorful spread combines smoked oysters with cream cheese, garlic powder, and hot sauce, making it the perfect accompaniment for crackers or crusty bread.
Smoked Oyster and Mushroom Risotto
Infuse your next risotto dish with the rich and distinctive flavors of smoked oysters and earthy mushrooms, creating a memorable and savory meal.
Smoked Oyster and Bacon Deviled Eggs
Upgrade your classic deviled eggs with the addition of smoked oysters and crispy bacon for a mouthwatering twist on a traditional favorite.
Tips for Incorporating Smoked Oysters into Your Favorite Recipes
Broaden your culinary horizons by experimenting with smoked oysters in your everyday cooking. Here are some ideas on how to incorporate them into your meals:
Adding smoked oysters to pasta dishes, such as linguini or spaghetti, can create a delectable seafood pasta bursting with flavors.
Mix smoked oysters into your favorite mac and cheese recipe for a smoky, gourmet twist.
Use smoked oysters as a unique pizza topping, paired with caramelized onions or sundried tomatoes.
Try adding smoked oysters to your beloved clam chowder recipe for a new twist on a classic soup.
By finding the best canned smoked oysters and pairing them with the right wines or incorporating them into your favorite recipes, you'll open the doors to new and exciting culinary adventures that will delight your taste buds and leave your guests in awe.
Health Considerations: Best Practices for Enjoying Canned Smoked Oysters
While canned smoked oysters offer a unique and mouthwatering experience, it's important to consider the health aspects of these delectable treats to enjoy them responsibly and safely. In this section, I'll discuss their nutritional benefits, potential concerns, and best practices for consumption.
Nutritional Benefits of Oysters
Rich Source of Nutrients: Canned smoked oysters are packed with essential nutrients such as protein, vitamin C, vitamin B12, zinc, iron, and selenium. These elements are crucial for maintaining a healthy immune system, red blood cell production, and optimal cognitive function.
Low in Saturated Fat: Most of the fat in canned smoked oysters is unsaturated, which is considered heart-healthy. Eating moderate amounts of unsaturated fat can help reduce bad cholesterol levels and lower the risk of heart disease.
Omega-3 Fatty Acids: Oysters are a valuable source of omega-3 fatty acids, which have been linked to heart health, reduced inflammation, and improved brain function.
Potential Health Concerns
High Sodium Content: Canned smoked oysters can be high in sodium due to the brining and smoking process. Consuming excessive sodium can lead to increased blood pressure and a higher risk of heart diseases. Look for low-sodium options or enjoy canned smoked oysters in moderation.
Cholesterol: Oysters contain moderate amounts of cholesterol; however, their high content of heart-healthy fats may balance this concern. It's essential to consult your healthcare professional if you have any health issues related to cholesterol.
Possible Contaminants: Some oyster species and regions may have potential contaminant issues, including heavy metals or bacteria. Opt for sustainable, trusted brands that follow strict fishing and processing guidelines. Always store and prepare your canned smoked oysters properly to ensure their safety.
Best Practices for Enjoying Canned Smoked Oysters
Enjoy canned smoked oysters in moderation, especially if you have health concerns related to sodium or cholesterol.
Look for low-sodium and responsibly sourced varieties to minimize health risks and support sustainable practices.
Incorporate other nutrient-dense foods like fresh vegetables, whole grains, and lean protein sources to create balanced and delicious meals with canned smoked oysters.
Always follow proper food storage and handling guidelines to ensure the freshness and safety of your canned smoked oysters.
By keeping these considerations in mind, you can enjoy the world of best canned smoked oysters responsibly while savoring their unique flavor and texture. Happy tasting!
How to Store and Serve Canned Smoked Oysters to Maximize Flavor and Freshness?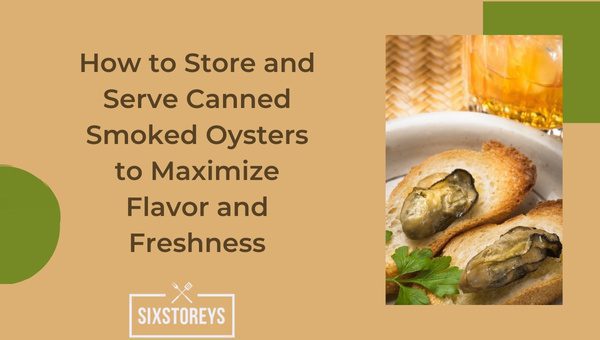 To truly enjoy the delicacy of canned smoked oysters, it is essential to handle, store, and serve them properly. By following these recommended practices, you can ensure that your oysters maintain their tantalizing flavor and remain fresh all the way onto your plate.
Storing Canned Smoked Oysters
Proper storage is crucial to the longevity and freshness of this delicious seafood treat. Here are the best practices for storing canned smoked oysters:
Unopened cans: Keep unopened cans of smoked oysters in a cool, dry place, preferably at room temperature or slightly below. Avoid exposing the cans to direct sunlight. A kitchen cupboard or pantry is an ideal storage location.
Opened cans: If you've opened a can of smoked oysters and have a few leftovers, be sure to transfer them into an airtight container with their oil or sauce. Store the container in the refrigerator and consume the oysters within 2-3 days.
Serving Canned Smoked Oysters
Presentation plays a vital role in any gourmet experience, and canned smoked oysters are no exception. Elevate the simple yet exquisite offerings with these tips:
Drain excess oil: Before plating, place the oysters on a paper towel or sieve to drain any excess oil. This process will ensure a clean presentation and spare your guests from too much greasiness.
Temperature: Canned smoked oysters can be served either chilled or at room temperature. Chilled oysters complement a cold appetizer spread, while oysters served at room temperature work well as an accompaniment to cocktails or a wine-tasting event.
Plating ideas: Arrange the oysters on a beautiful platter, perhaps accompanied by whole-grain crackers, crostini, or sliced baguette. To add some color and contrast, consider adding slices of cucumber or radish, sprigs of fresh dill, or even a small dish of tangy cocktail sauce.
Pair with complementary flavors: Canned smoked oysters taste fantastic when paired with other complementary flavors, such as cream cheese or tapenade. You can also serve them atop a bed of fresh greens, such as arugula or baby spinach, which will accentuate the smokiness of the oysters with their peppery undertones.
By following these storage and serving tips, you can enhance the overall experience of enjoying the best canned smoked oysters, providing perfect culinary moments for your friends, family, or just for yourself.
Why Canned Oysters are an Environmentally Conscious Choice?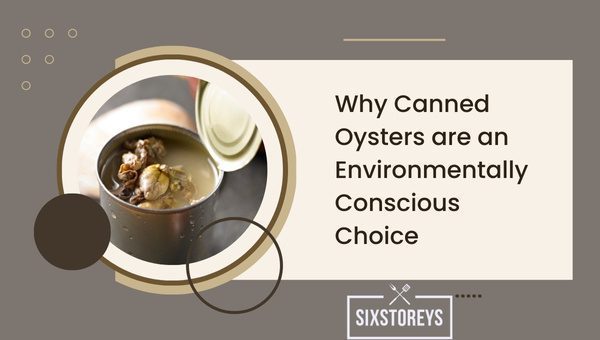 Lower Carbon Footprint
Canned oysters are an eco-friendly option for many reasons, one of which is their lower carbon footprint. Fresh oysters require a significant amount of resources to ship and store, including ice, refrigeration, and transportation. In contrast, canned oysters are shelf-stable, compact, and lightweight, leading to more efficient shipping and storage.
Sustainable Aquaculture
Many canned oyster brands turn to sustainable aquaculture practices to source their oysters. These methods ensure better control over the oyster's growth environment, minimize the risk of overharvesting, and help maintain the natural balance of marine ecosystems. When selecting canned oysters, look for products with certification from reputable organizations like the Marine Stewardship Council (MSC) or Aquaculture Stewardship Council (ASC).
Preservation of Live Oyster Reefs
By choosing canned oysters, you directly contribute to the preservation of live oyster reefs. These unique ecosystems provide essential habitats for marine species, promote biodiversity, and maintain water quality. With the global decline of wild oyster populations, supporting alternative sources such as farm-raised canned oysters becomes vital for sustaining both the marine ecosystem and our love for these flavorful treats.
Reduced Pressure on Wild Oyster Stocks
The demand for fresh oysters has led to overharvesting and depletion of wild oyster stocks in some areas. Choosing canned oysters allows you to enjoy delicious seafood without contributing to the pressure on fragile wild populations.
Companies Supporting Sustainable Practices
Many canned oyster brands are actively involved in protecting the environment and supporting sustainable practices. Examples include:
Ekone Oyster Company - Committed to organic and sustainable farming methods, promoting healthy ecosystems, and reducing waste.
Otter Kingdom - Uses wild-caught oysters and supports sustainable and responsible fishing practices.
Pacific Pearl - Collaborates with organizations to promote marine stewardship, develop sustainable practices, and invest in innovative technologies for resource management.
Canned oysters are not only a convenient, shelf-stable, and delectable seafood option, but also an environmentally responsible choice for the modern-day consumer.
Why Best Canned Smoked Oysters Brands are Ideal for Busy Home Cooks?
As a home cook who is constantly on the hunt for ways to save time without sacrificing taste or nutrition, I cannot stress enough how incredibly handy canned smoked oysters have been for me. There are countless benefits to incorporating these scrumptious shells into your pantry staples, especially if you find yourself short on time during busy weeknights. Let's talk about why canned smoked oysters are the secret weapon for every busy home cook.
Quick and Convenient Preparation
Canned smoked oysters come pre-cooked, meaning you can just open the can and dig in. In fact, you can even toss them into salads, dips, or pasta dishes for an instant seafood boost. No need to spend time shucking fresh oysters or preparing sauces. In my experience, they have become the ultimate go-to item for impromptu guests or last-minute meal preps.
Versatile and Delicious Options for Cooking and Serving
The flavorful punch of canned smoked oysters can turn any ordinary dish into an exquisite culinary creation. Whether you want to whip up a tasty oyster and spinach tart or sprinkle them on top of your favorite pizza, there are seemingly endless possibilities when it comes to experimenting with these little gems. In addition, the smoky flavor makes them an ideal ingredient for giving an extra depth of taste to your seafood chowder or bisque.
Nutritious and Flavorful Addition to Meals
Oysters are packed with essential nutrients like omega-3 fatty acids, zinc, vitamin D, and vitamin B12. They are also a source of lean protein that helps satiate even the most demanding taste buds. Including canned smoked oysters in your meals provides a double bonus—not only do you get great taste, but you also add a healthy component to your dishes.
Cost-Effective and Space-Saving Solution
Purchasing fresh oysters can be quite expensive, particularly if you live far from the coast. However, canned smoked oysters offer an affordable alternative without skimping on the taste and quality. In addition, their compact packaging makes them easy to store in your pantry, as they don't require refrigeration until opened, giving you space-saving solutions for your kitchen.
It's clear that canned smoked oysters are the unsung heroes of any busy home cook's pantry. They save time, effort, and money while providing an incredibly flavorful and nutritionally-packed ingredient for your meals. Give them a try, and I guarantee that your taste buds and your busy schedule will thank you!
Also Read: Best Grape Soda Brands
Frequently Asked Questions
Are canned smoked oysters good?
Yes, canned smoked oysters are delicious and can be enjoyed in various ways. They have a tender texture and smoky flavor, which makes them a delightful addition to a variety of dishes like pasta, salads, and appetizers.
Can you eat canned oysters right out of the can?
Absolutely! Canned smoked oysters are fully cooked and ready to eat straight out of the can. They make a great snack or a quick and easy addition to your favorite recipes.
Are smoked oysters fully cooked?
Yes, smoked oysters are fully cooked during the smoking process, which preserves the tender texture and rich flavor of the oysters while ensuring their safety for consumption.
Are smoked oysters high in cholesterol?
Oysters do contain cholesterol, but they are also exceptionally rich in nutrients like omega-3 fatty acids, zinc, and iron. Consuming them in moderation can be a part of a balanced diet, but if you have concerns about cholesterol, it is advisable to consult with your healthcare professional.
How long can I store canned smoked oysters after opening?
After opening a can of smoked oysters, transfer the contents, including the oil, to an airtight container and store it in the refrigerator. Consume the opened canned oysters within 2 to 3 days for the best flavor and freshness.
Can I use canned smoked oysters for grilling?
Yes, canned smoked oysters can be used for grilling. Drain the oysters from the can and thread them onto skewers or place them in a grill basket. Grill them for 2 to 3 minutes on each side until they are heated through and have grill marks.
Are canned smoked oysters safe to eat during pregnancy?
It's important to consult your healthcare provider for personalized advice during pregnancy. Generally, it is safe to consume canned oysters during pregnancy as they are cooked and low in mercury. However, moderation is key, and your doctor's recommendations should always be followed.
Do canned smoked oysters have a strong fishy taste?
Canned smoked oysters have a distinctive taste, which includes a smoky flavor and a subtle briny essence. The taste is not overwhelmingly fishy, making them enjoyable even for those who may not typically prefer strong seafood flavors.
Can canned smoked oysters be a part of a low-carb or keto diet?
Yes, canned smoked oysters can be suitable for a low-carb or keto diet, as they are high in protein and healthy fats while being low in carbs. However, it's essential to check the nutritional information on the label and ensure that you consume them in moderation to maintain a balanced diet.
How can I tell the canned smoked oysters I purchased are of high quality?
High-quality canned smoked oysters should have a tender, yet firm texture, a pleasant smoky flavor, and should be well-packed and preserved in oil. Check the packaging for signs of quality like BPA-free cans, sustainably sourced certifications, and the reputation of the brand. Additionally, pay attention to the expiration date and storage instructions on the label.
Conclusion
Throughout this scrumptious adventure, we have navigated the tasty world of canned smoked oysters, discovering a myriad of flavors and textures they can offer. From the rich, smoky essence of Crown Prince Natural Smoked Oysters to the delicate balance of smoke and briny goodness in Geisha Fancy Smoked Oysters, the best canned smoked oysters truly have the power to transform your culinary creations and enrich your taste buds.
Not only do these oysters make for enjoyable snacking on their own, but they also serve as flavorful additions to your favorite recipes. As you continue to explore the versatile realm of canned smoked oysters, remember to keep your preferences and dietary needs in mind, and most importantly, don't be afraid to try out new brands and varieties. After all, a seafaring culinary quest is most rewarding when you sail fearlessly into undiscovered waters, guided by your adventurous palate and unwavering love for exceptional flavor experiences. Bon appétit and happy oyster hunting!
Food Lover and Storyteller 🍽️✨ With a fork in one hand and a pen in the other, Shivani brings her culinary adventures to life through evocative words and tantalizing tastes. Her love for food knows no bounds, and she's on a mission to share the magic of flavors with fellow enthusiasts.