13 Best Vanilla Vodkas of 2023 [Fill Your Cup with Joy]
Updated On: August 25, 2023
Discovering the best vanilla vodka can completely transform your cocktail experience and elevate your appreciation for this versatile spirit. As a standout flavor in the world of infused vodkas, vanilla vodka adds a sweet and smooth touch to classic and innovative cocktails alike. With so many options in the market, it becomes essential for enthusiasts to identify the top players that truly capture the essence of this beloved flavor.
In this article, I will take you on a tasting journey of the finest vanilla vodkas, evaluating them based on taste, mixability, and overall experience. So, sit back, grab a glass, and let's delve into the world of the best vanilla vodka offerings to elevate your palate and inspire your next drink.
Also Read: Best Caramel Vodka Brands
13 Best Vanilla Vodka of 2023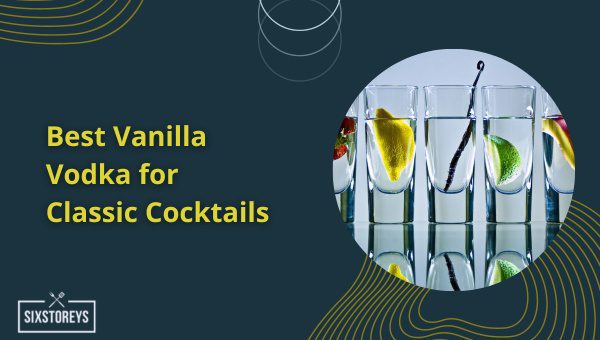 When it comes to classic cocktails, the right vanilla vodka should enhance the drink's character without overpowering it. Let's explore the best vanilla vodkas that blend harmoniously with classic cocktail recipes.
1. Smirnoff Vanilla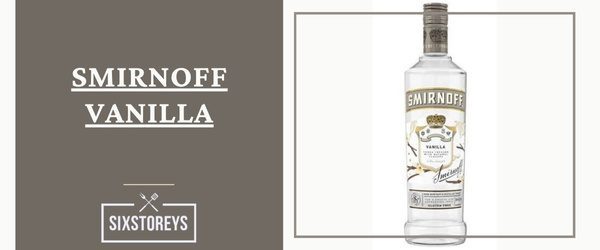 Smirnoff has consistently been a go-to brand for flavored vodkas, and their vanilla offering does not disappoint. It is smooth, moderately sweet, and effortlessly blends with mixers – a testament to Smirnoff's dedication to quality. This vanilla vodka lends itself well to classics such as Vanilla Vodka Martinis or a delectable White Russian.
It's also a versatile option for seasonal concoctions like a Vanilla Apple Cider or a cozy hot chocolate upgrade. Visit the official Smirnoff site for more about their vanilla vodka and other offerings.
2. Absolut Vanilia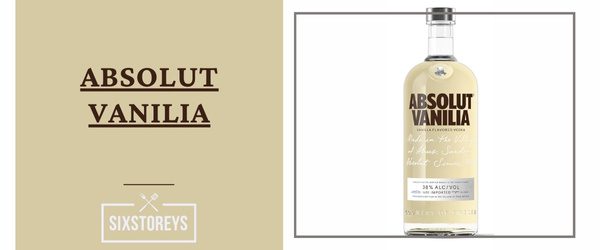 Famed for its distinct flavors and lasting presence on the palate, Absolut Vanilia has a pronounced and vibrant vanilla taste that shines through in classics, like the aptly named Vanilia Espresso Martini or an exotic Vanilia Piña Colada. This Swedish vodka brings its clean and rich profile to cocktails without being overly sweet or cloying. To explore more about Absolut Vanilia and their recipes, check out the Absolut site.
3. Stolichnaya Vanilla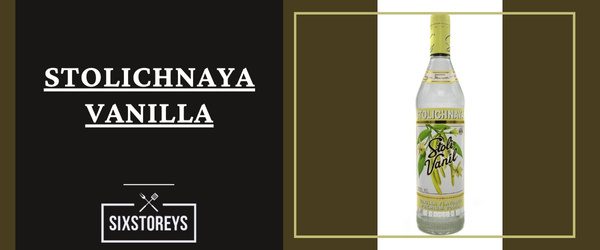 Stolichnaya's unassuming bottle belies the rich and elegant flavor it contains. Stoli Vanilla captures a true-to-form vanilla taste that adds depth to time-tested cocktails. With its natural sweetness and smooth texture, it is ideal for pairing with classics like a Vanilla Cosmopolitan or a simply refreshing Vanilla Lemonade. Stoli's commitment to quality and tradition shines in this reliable vanilla vodka choice. Find more information about Stoli and their products at the Stolichnaya site.
4. Grey Goose La Vanille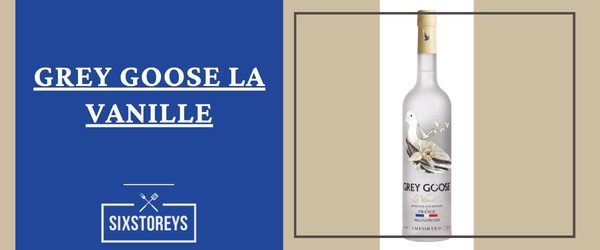 Embodying the spirit of luxury, Grey Goose La Vanille is a seamlessly balanced and aromatic vodka that boasts a rich, velvety taste. This French vodka is infused with natural Madagascar vanilla beans, lending an exotic and complex character that is easily enjoyed on its own or over ice. When sipping Grey Goose La Vanille, one can expect a delightful experience from start to finish. Visit the Grey Goose site for more information about this exquisite vanilla vodka.
5. Ciroc French Vanilla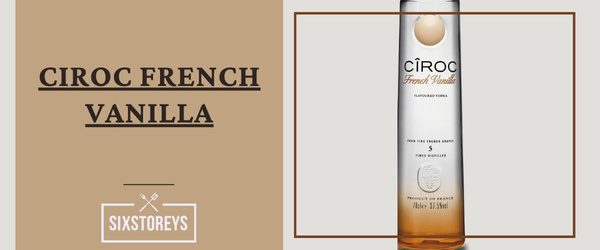 Daring to be different, Ciroc French Vanilla offers a truly unique sipping experience. Distilled from French grapes, this quality vodka showcases a lush combination of vanillas from France and Madagascar, resulting in a smooth, creamy, and sophisticated palate. Its luxurious character is perfect for slow sipping or elevating classic cocktails to new heights. Learn more about Ciroc French Vanilla at the Ciroc site.
6. Triple Eight Vanilla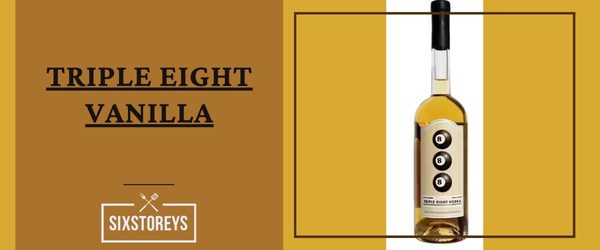 This small-batch wonder, Triple Eight Vanilla, hails from Nantucket's esteemed Cisco Brewers. Made using real Madagascar Bourbon Vanilla beans, this artisan vodka stands out with a delicate aroma and a full-bodied flavor. The exceptional smoothness and depth make Triple Eight an ideal choice for those looking to truly indulge in the finer nuances of premium vanilla vodka. Interested in learning more about this exquisite spirit? Visit the Triple Eight Distillery site.
Also Read: Best Skyy Vodka Flavors
7. Van Gogh Vanilla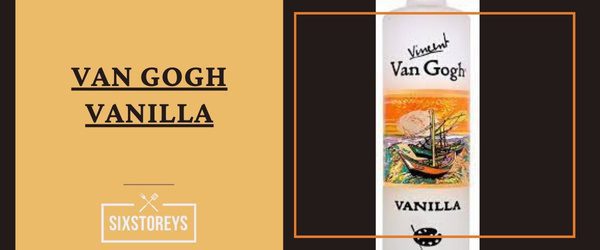 Hailing from the Netherlands, Van Gogh Vanilla has an artful approach to flavor infusion that makes it a truly distinctive offering. A subtle balance of sweet and creamy, it has notes of toffee and caramel that tease the palate. It shines in the Van Gogh Chocolate Splash recipe, where the bourbon vanilla extracts complement chocolate and espresso liqueurs perfectly. To learn more about Van Gogh Vanilla and other flavored vodkas in their lineup, check out the Van Gogh Vodka site.
8. Corsair Vanilla Bean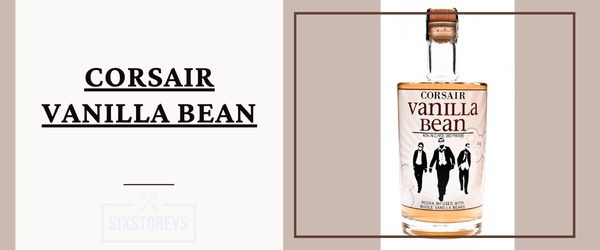 Crafted using a blend of six different vanilla beans, Corsair Vanilla Bean offers a unique take on the traditional vanilla vodka. It's produced through an innovative process of vapor infusing the botanicals, which results in a well-rounded and complex flavor. Corsair Vanilla Bean is ideally suited for cocktails with layered flavors such as Tiki-inspired concoctions or in a spicy Bourbon Vanilla Toddy. Visit the Corsair Artisan Distillery site to explore their other adventurous offerings.
9. Starr Blu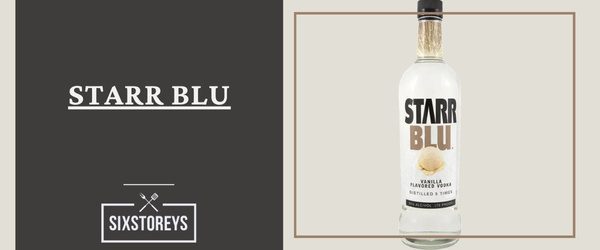 A newcomer to the market, Starr Blu has grabbed attention with its curious mix of blue raspberry and Madagascar bourbon vanilla. The intriguing flavor combination creates a memorable experience for adventurous palates. Starr Blu is a perfect fit for unconventional cocktails like a Vanilla Raspberry Mule or as a surprising twist to a classic Martini.
10. Burnett's Vanilla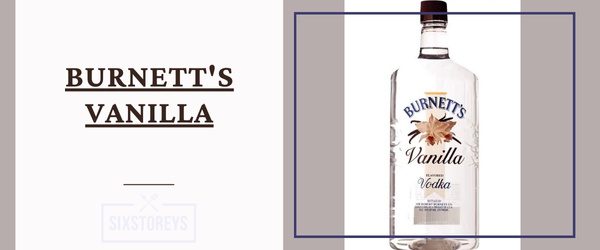 Offering a pleasantly sweet and smooth vanilla profile, Burnett's Vanilla is perfect for those on a budget without sacrificing taste. Its versatile flavor complements a wide range of cocktails, from light and fruity concoctions like a Vanilla Bay Breeze to velvety desserts like a Chocolate Prote Cake Martini. Its affordability makes it a safe bet for experimenting with new recipes. Find out more about Burnett's flavored vodkas at the official Burnett's site.
11. Veil Vanilla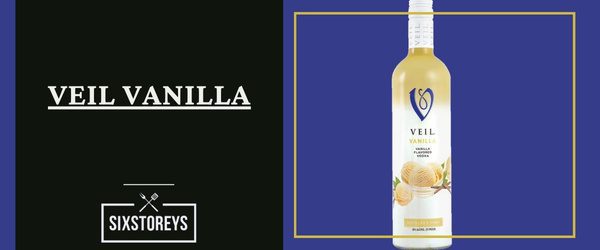 Veil Vanilla vodka is a hidden gem in the world of budget-friendly flavored vodkas. Its smooth texture and sweet vanilla taste belie its modest price point. This vodka's subtle flavor works well in cocktails that pair vanilla with tangy or fruity components like a Vanilla Cranberry Fizz or a Veil Vanilla Ginger Ale.
12. Heritage Vanilla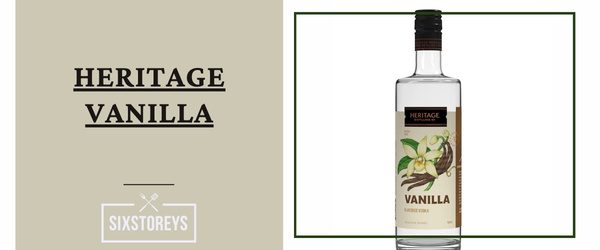 When you're seeking a wallet-friendly option without compromising on taste, Heritage Vanilla vodka is an excellent choice. Its delightful vanilla flavor works seamlessly in practically any cocktail, giving classics like the Vanilla Screwdriver a pleasant twist or elevating the classic Moscow Mule to something extraordinary. Full of character and mixability, Heritage Vanilla vodka helps you stay frugal without skimping on taste. For more information about Heritage Distilling, visit their official website.
13. 360 Madagascar Vanilla Vodka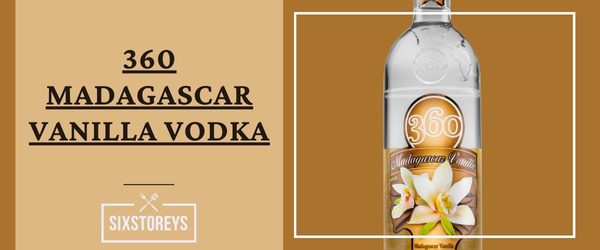 360 Madagascar Vanilla Vodka introduces a truly unique experience to vodka enthusiasts. Sourcing their vanilla beans straight from Madagascar, the makers expertly blend the magical essence of the tropical beans with their smooth, premium vodka. This delicate combination of flavors results in a vanilla vodka that boasts unparalleled depth and character.
The rich and full-bodied taste of 360 Madagascar Vanilla Vodka makes it an excellent choice for island-inspired cocktails and extravagant desserts. Imagine sipping a Madagascar Vanilla Mojito on the beach or indulging in a tropical-themed dessert cocktail. This vodka's exceptional flavor also lends itself perfectly to recipes with a culinary flair, such as a vanilla-infused marinade for fish or chicken.
If you are searching for a true taste of the tropics, 360 Madagascar Vanilla Vodka effortlessly transports you there with every sip. To learn more about 360 Vodka and its offerings, visit the official 360 Vodka site.
Also Read: Best Vodkas For Moscow Mule
My Personal Vanilla Vodka Ranking and Recommendations
After having the pleasure of trying numerous vanilla vodka offerings, I've developed my own rankings and recommendations tailored for different preferences and tastes.
My Top Choices
1. Grey Goose La Vanille
Why it stands out: With its rich vanilla flavor and unparalleled smoothness, this premium vodka is my go-to when I want to indulge in a truly luxurious experience.
2. Absolut Vanilia
Why it shines: The unmistakable taste of Absolut Vanilia makes it perfect for blending with other flavors in creative cocktails, and it never disappoints as a versatile spirit.
3. Triple Eight Vanilla
Why I love it: This small-batch vanilla vodka delivers an excellent sipping experience with its well-rounded taste profile and added touch of elegance.
Best for Cocktails
1. Smirnoff Vanilla
My personal favorite: As a classic for good reason, Smirnoff Vanilla shows off its charm with a balanced flavor that works beautifully in most cocktails, from Espresso Martinis to simple Vanilla Vodka Sodas.
2. Stolichnaya Vanilla
A must-try pairing: I've found the rich taste of Stolichnaya Vanilla to be an ideal choice for dessert-inspired concoctions - try it with coffee liqueur or chocolate liqueur for an irresistible treat.
My Unique Selection
1. Corsair Vanilla Bean
Why it's worth trying: The innovative distillation process used to create Corsair Vanilla Bean truly sets this vodka apart and will intrigue even the most seasoned vodka enthusiasts.
The best vanilla vodka for you is a matter of personal preference and intended use. For cocktail lovers, Smirnoff Vanilla or Absolut Vanilia may be your best bet, while those who prefer sipping their vodka will find a friend in Triple Eight Vanilla or Grey Goose La Vanille. Make sure to explore different brands, taste profiles, and mixing potential to find the perfect vanilla vodka that satisfies your palate.
Tips for Enjoying Vanilla Vodka in 2023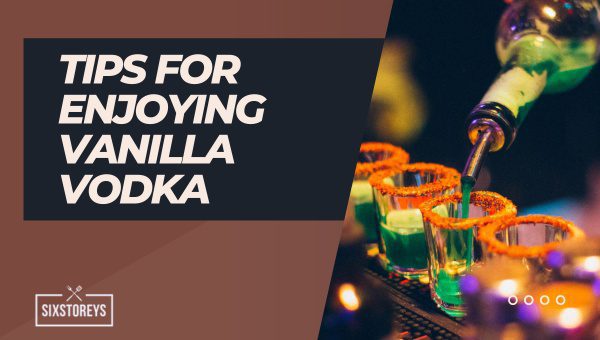 Vanilla vodka can be enjoyed in many ways, whether you're sipping it neat or using it as the key ingredient in a delicious cocktail. Here are a few essential pointers to help you make the most of your vanilla vodka experience.
Proper Storage and Temperature
Keep your vanilla vodka in a cool, dark place, away from direct sunlight. Storing it in a cupboard or liquor cabinet is ideal. To enhance your sipping experience, serve your vanilla vodka chilled, either by storing it in the refrigerator or using a few ice cubes. Remember not to dilute your vodka with too much ice, as it may water down the flavors.
Perfect Pairings
Mixers: Vanilla vodka pairs exceptionally well with several mixers and liqueurs. Some great options include:
Creams and dairy: Cream liqueurs, milk, coconut milk, or half-and-half create rich, indulgent cocktails.
Citrus juices: Orange, lemon, and lime juices cut through the sweetness and complement the vanilla flavor.
Cola: Cola adds fizz and a slightly bitter edge, providing a balance to the sweetness.
Coffee: Create delicious coffee cocktails by mixing your vanilla vodka with espresso, cold brew, or coffee liqueurs.
Food: Pair your vanilla vodka with complementary dishes like chocolate desserts, creamy cheesecakes, or fruit salads for an enhanced flavor experience.
Creative Cocktail Recipes
Vanilla Russian:
2 oz vanilla vodka
1 oz coffee liqueur (e.g., Kahlúa)
1 oz heavy cream
Shake over ice and strain into a chilled glass.
Vanilla Sky:
2 oz vanilla vodka
2 oz pineapple juice
1 oz lemon juice
1 oz simple syrup
Club soda
Shake the first four ingredients over ice, strain into a glass filled with ice, top with club soda, and stir gently.
Vanilla Espresso Martini:
2 oz vanilla vodka
1 oz espresso
0.5 oz coffee liqueur
0.5 oz simple syrup
Shake over ice and strain into a chilled martini glass. Garnish with coffee beans.
Unleash your creativity and experiment with unique recipes that showcase the luxurious taste of your chosen vanilla vodka. There's nothing more satisfying than crafting your perfect cocktail using the finest ingredients!
How Vanilla Vodka is Made?
Vanilla vodka is a delightful and versatile flavored vodka that can be used in a variety of cocktails and mixed drinks. The process of making vanilla vodka involves a combination of distillation, infusion, and flavoring techniques, resulting in a smooth, aromatic spirit. Let's take a closer look at the different steps involved in creating this popular flavored vodka.
The Distillation Process
The production of vanilla vodka starts with the distillation of a base spirit, usually made from grains like wheat, corn, or rye. High-quality base vodka is essential as it provides the foundation for the infusion of vanilla flavor. The distillation process, typically using column stills, refines the spirit, removes impurities, and ensures a smooth taste. Some brands may choose to distill their vodka multiple times for added purity and silky texture.
Natural vs. Artificial Vanilla Flavorings
The key ingredient that distinguishes vanilla vodka from its base spirit is, of course, the vanilla flavoring. There are two main types of vanilla flavorings used in vodka production – natural and artificial. Natural flavorings are derived from real vanilla beans, which can originate from different regions, including Madagascar, Tahiti, and Mexico. Each type of vanilla bean has its unique taste profile that contributes to the final flavor of the vodka.
Artificial vanilla flavorings, on the other hand, are chemically synthesized and often contain vanillin, a compound responsible for the characteristic taste of vanilla. While artificial flavors can mimic the taste of vanilla, they often lack the depth and complexity of natural vanilla extracts.
Quality of Ingredients and Its Impact on Taste
When it comes to creating a top-notch vanilla vodka, the quality of ingredients plays a significant role. Using high-quality base vodka and natural vanilla flavorings leads to a more authentic and satisfying final product. High-quality vanilla beans, free from pesticides and other contaminants, will have a profound impact on the taste and aroma of the vodka.
Additionally, the technique and duration of the infusion process can also affect the taste of the final product. Some producers may choose to use whole vanilla beans or employ a slow infusion technique, ensuring that every drop of the spirit absorbs the rich, aromatic essence of the beans. This results in a more intense vanilla flavor in the finished vodka.
The process of making vanilla vodka is a delicate balance of art and science, with careful attention paid to the distillation, infusion, and flavoring techniques. A high-quality base spirit, natural vanilla extracts, and a meticulous approach to production are all key factors in creating the best vanilla vodka that pleases the palates and elevates the cocktail experience for consumers.
Comparing Vanilla Vodka with Other Flavored Vodkas of 2023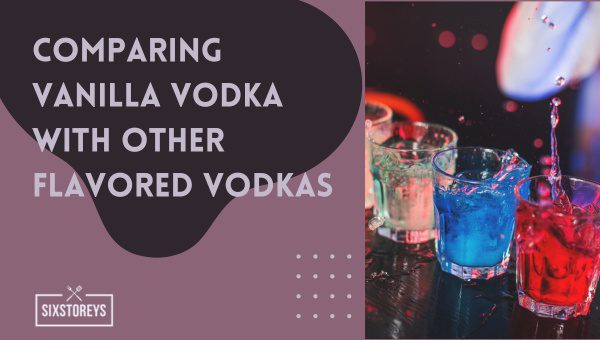 As a long-time spirits enthusiast, I've always been fascinated by all the different flavors vodka can come in. Comparing vanilla vodka with other flavored vodka has both similarities and differences, which makes each one perfect for a variety of cocktails and occasions. Here, I'll share some of my observations on how vanilla vodka stands out from other popular flavored vodkas.
A Unique Flavor Profile
Unlike some fruit-flavored vodkas, vanilla vodka possesses a sweet, warm, and rich profile that can be surprisingly versatile and satisfying. It's an easily recognizable flavor that most of us associate with desserts and other indulgences. Other flavored vodkas, such as citrus or berry variations, often showcase lighter, more refreshing tastes that pair well with crisp, fruity cocktails.
Enhancing Cocktails in Different Ways
Both vanilla vodka and other flavored vodkas excel in their ability to elevate cocktails and mixtures with their distinctive flavors. While a citrus vodka will likely add a bright and tangy kick to your drink, a vanilla vodka will often infuse a subtle yet indulgent sweetness. This flavor difference allows bartenders and at-home mixologists to experiment with unique and creative combinations depending on the desired outcome and ambiance of the drink.
| | |
| --- | --- |
| Flavored Vodka | Cocktail Examples |
| Vanilla | White Russian, Espresso Martini, Vanilla Mule |
| Citrus | Lemon Drop, Cosmopolitan, Citrus Fizz |
| Berry | Berry Martini, Berry Collins, Berry Smash |
Pairing and Versatility
In pairing, vanilla vodka works well with an array of mixers, such as cola, ginger ale, cream sodas, and even orange juice, providing a new twist on traditional vodka cocktails. In comparison, fruit-flavored vodkas often pair best with more specific mixers to complement their fruit profiles, making them somewhat more limited.
However, it's important to remember that combining too many strong flavors can create a muddled taste. So, if you choose to mix a vanilla vodka with a fruit-flavored vodka, make sure they complement each other to create an interesting and balanced profile.
Although vanilla vodka and other flavored vodkas share the common characteristic of adding unique flavors to drinks, they each shine in their distinct ways. Choosing between these spirit variations ultimately comes down to personal taste and the type of cocktails you're looking to craft. Whether it be a rich, indulgent vanilla vodka or a tangy, fruity vodka, there's an option to suit every preference and every occasion.
Also Read: Best Ciroc Flavors
Frequently Asked Questions
What is the best way to store vanilla vodka?
Store vanilla vodka in a cool, dark place away from direct sunlight to preserve its flavor. While refrigeration isn't necessary, you can keep it chilled for a more enjoyable sipping experience.
What cocktails can I make using vanilla vodka?
Vanilla vodka can be used to enhance a variety of cocktails, such as Vanilla Espresso Martinis, Creamsicle Martinis, Vanilla White Russians, and even classics like Cosmopolitans and Moscow Mules for a vanilla twist.
Can I drink vanilla vodka straight or on the rocks?
Yes, you can enjoy vanilla vodka straight or on the rocks, especially if it's a premium brand known for its smoothness and sippability. However, be mindful of the alcohol content, as it can be quite strong.
How can I make my own vanilla vodka at home?
To make your own vanilla vodka at home, you'll need a bottle of plain vodka and one or more vanilla beans. Split the beans lengthwise and add them to the vodka bottle. Seal it tight and let it sit in a cool, dark place for at least a week, occasionally shaking the bottle to distribute the flavor. The longer you let it sit, the stronger the vanilla flavor will be.
Are flavored vodkas less potent than regular vodkas?
No, flavored vodkas typically have the same alcohol content as regular vodkas, which is usually around 35-40% ABV (alcohol by volume). However, some might perceive flavored vodkas as less potent due to the added flavors masking some of the alcohol's harshness.
Are there any alternative uses for vanilla vodka besides drinking?
Vanilla vodka can be used in culinary applications, such as adding a splash to a fruit salad for a boozy twist or using it to create grown-up milkshakes and dessert drinks. Additionally, you can experiment with incorporating it into sauces and marinades for savory dishes.
Do flavored vodkas contain added sugar?
Flavored vodkas typically do contain added sugar to enhance their taste profiles. However, the amount of sugar can vary between brands and flavors, so it's essential to check the label if you're concerned about sugar content.
Can I substitute vanilla vodka for vanilla extract in recipes?
While you can substitute vanilla vodka for vanilla extract in some recipes, it's important to note that the alcohol content of vodka may alter the final texture or outcome of your dish. Also, since vanilla extract is more concentrated, you may need to use slightly more vanilla vodka to achieve the same flavor intensity. Always adjust the measurements accordingly and use caution when experimenting with substitutions in the kitchen.
Conclusion
Throughout our journey into the world of the best vanilla vodkas, we've explored an array of options, from budget-friendly picks to extravagant sipping delights. Now that you are well-equipped with the knowledge of top contenders in this flavorful realm, it's time to put your taste buds to the test and discover your own personal favorite.
Whether you prefer to savor each note in a simple glass or craft creative concoctions with a twist of vanilla vodka, there's a bottle out there just waiting to enhance your drinking experience. So, embark on your own tasting adventures, and remember that the world of vanilla vodka is as diverse and versatile as your imagination allows. Cheers to discovering new flavors, refining your palate, and finding the perfect vanilla vodka to amplify your cocktail game.
Beverage Explorer and Tastemaker 🍻🥃🍷 Aman's quest for liquid delights knows no limits. From hoppy brews to aged spirits, he uncovers the tales behind each sip. His eloquent descriptions and accessible insights make every drink an adventure worth raising a glass to.