7 Best Caramel Vodka Brands of 2023 [Luxury and Decadence]
Updated On: September 11, 2023
Unwinding after a long day calls for a special treat, a sweet indulgence that melts your worries away. For many, nothing embodies this moment of relaxation better than a glass of the best caramel vodka. It's like a liquid dessert, the perfect blend of warm, rich vodka and the sweet, comforting notes of caramel. Each sip wraps you in a velvety embrace, inviting you to sit back, sip slowly, and cherish the moment.
Whether enjoyed on its own or used as the base for a flavorful cocktail, caramel vodka brings a touch of luxury to any occasion. Explore the wonder that is caramel vodka, as we delve deep into its divine allure and uncover the top contenders for the best caramel vodka.
Also Read: Best Skyy Vodka Flavors
7 Best Caramel Vodka Brands of 2023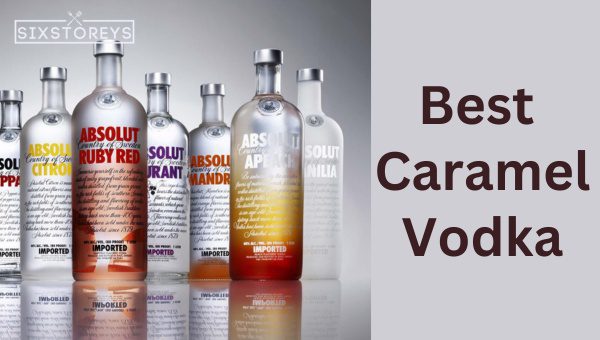 Delighting the tastebuds with luxurious layers of sweet and savory, caramel vodka has captured the hearts of many. Explore the finest expressions of this beloved, creamy liquor as we introduce the top seven contenders in the realm of the best caramel vodka. Engage in richness, charm, and blissful delight in every sip, and find your next favorite indulgence.
1. Todka XS Salted Caramel Vodka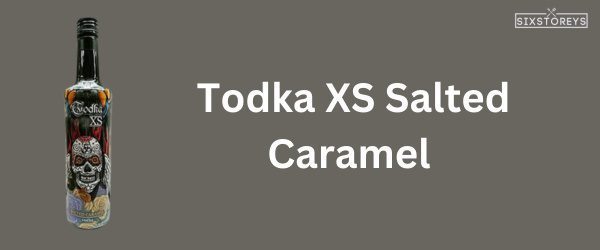 Hailing from the heartland of Newquay, Cornwall, Todka XS Salted Caramel Vodka is definitely a jewel in the crown of flavored vodkas. This exclusive brew seamlessly blends the vivid vivacity of vodka with the decadent delightfulness of caramel. The real magic, however, lies largely in the 'XS' part. The extra smooth (XS) factor endows this delicacy with a certain velvety texture that makes it an entirely enjoyable sip.
This drink hits your senses right from the moment you uncork the bottle. It wafts a delectable perfume of creamy caramel that instantly evokes images of homely bakeries and candies. On your palate, it performs a delightful pirouette of flavors, unfurling the sweet richness of buttery caramel that transitions into a slightly saltier note, rounding off into a smooth, crisp vodka essence.
Enjoy this tantalizing treat neat, savoring the creamy taste, one sip at a time, or use it as a base for cocktails, lending them a unique depth of flavor. This drink pairs particularly well with desserts. The contrast of a chocolate-based dessert or an apple pie against the salted caramel notes of Todka XS turns the whole combination into an irresistible duo of flavors. From my own experience, there's nothing quite like ending your meal on a high note with the Todka XS Salted Caramel Vodka.
2. Stoli Salted Caramel Vodka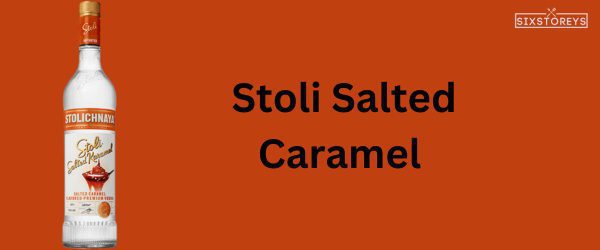 I'd be remiss not to mention the Stoli Salted Caramel Vodka in this list. A brand that has stood the test of time, Stoli has been delivering high-quality vodka for over 80 years - and their Salted Caramel flavor is a lavish testament to that legacy. The vodka is entrancing right from the first look. It presents a clear, golden-amber hue that when poured into a glass mirrors a drop of nectar.
The initial aroma of the Stoli Salted Caramel Vodka teases you with the rich scent of melted caramel and dark chocolate. It's an inviting precursor to the medley of flavors to follow. With the first sip, I experienced a soft sweetness reminiscent of freshly unwrapped caramel candy. Soon, a slight rush of salt rushes in, perfectly balancing the sweetness while adding a sophisticated complexity. The finish is a smooth, clean vodka, one that Stoli has perfected over the years.
From my personal enjoyment, I love it best neat or on the rocks. Its flavored yet balanced profile makes it a perfect aperitif. For a cocktail, try combining it with an equally robust component like cold-brew coffee or a dark chocolate liqueur – you'll have a concoction that is an absolute delight.
3. Pinnacle Salted Caramel Vodka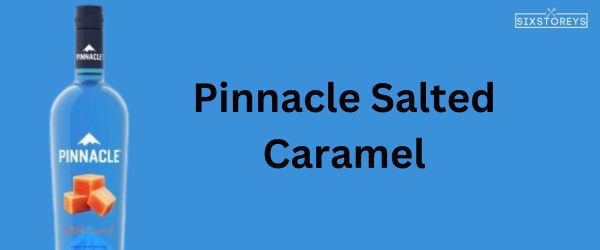 Introducing Pinnacle Salted Caramel Vodka: a symphony in a bottle, and a rebel in the world of flavored vodkas. Pinnacle's reputation as 'The King of Flavored Vodkas' is echoed in every sip of this exquisite concoction. It's truly a drink that strikes an impeccable balance, walking the thin line between sweet and salty, with the characteristic warmth of vodka gently enveloped in an unexpected charm of caramel.
Its appeal begins with the inviting amber hue, leading to the enticing aroma of caramel taffy that is more reminiscent of a sweet shop than a drink. On tasting, it unravels a complex symphony of flavors where the caramel boldly steps forward, making its presence felt, followed closely by a hint of salt, and finally mellowing into the bold heartiness of vodka.
This vodka is highly versatile, adding a welcome twist to many classic cocktails. One trick I love to pull off during house parties is to substitute regular vodka in a martini with Pinnacle Salted Caramel. The result? Let's just say, my guests usually have more than one. For something simpler, just add it to hot apple cider or pair it with a neutral soda. Its nuanced flavor enhances the overall cocktail without overpowering it.
My journey with Pinnacle Salted Caramel Vodka has been one of delight and discovery. Its unique blend of sweetness and salt with classic vodka indeed makes it stand tall and proud in the ever-expanding world of flavored vodka.
Also Read: Best Vodkas For Moscow Mule
4. Veil Caramel Vodka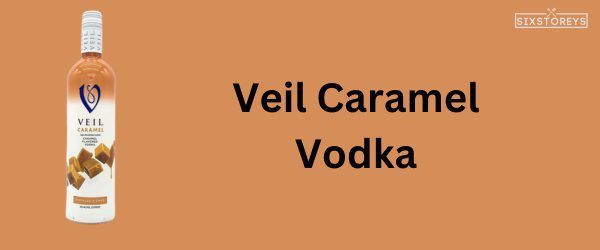 Not all caramel vodkas are made equal, and the Veil Caramel Vodka certainly stands a cut above the rest. This American-made vodka is different from the get-go. It has a light amber color, less rich and more subtle than its counterparts. The elegant bottle is sleek and stylish, tempting you to try what's inside.
The aroma is nothing short of fantastic. The smell of caramel is instantly recognizable, strong yet not overpowering, embracing your senses right away. The taste, however, is where Veil truly shines. The caramel flavor is creamy and sweet, evoking memories of caramel toffee and sticky caramel pudding. It has a velvety-smooth finish with a delightful warmth that lingers on the palate - the mark of a truly great vodka.
As for me, I find it an excellent choice for delightful cocktails like 'Caramel Sundae Martini.' The Veil Caramel Vodka combined with a splash of Irish cream, liqueur, and half-and-half cream creates a mouthwatering dessert cocktail. It's the perfect vodka for those nights when you're in the mood for something luxurious yet comforting. It's like dessert in a glass - and who could possibly say no to that?
5. Van Gogh Dutch Caramel Vodka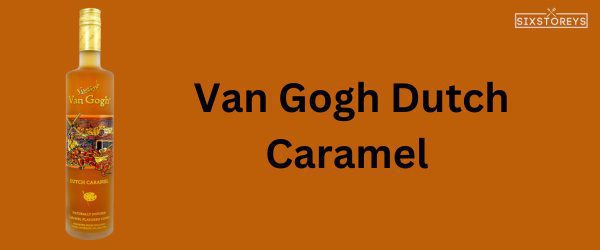 The Dutch take their booze very seriously. So, it came as no surprise when the crisp, clear notes of Van Gogh Dutch Caramel Vodka left a lasting impression on my palate. Visual appeal first – the vodka is a beautiful caramel color, oh so inviting! Its seductive look is only the beginning of what's to follow.
Imagine biting into a Caramel Macchiato with a hint of dark rum; this is what the Van Gogh Caramel Vodka smells like. A sniff transports you to an old cappuccino shop, the aroma of brewing beans intertwined with a whiff of burnt caramel. It's intoxicatingly delicious, and you haven't even tasted it yet.
Take a sip and something wonderful happens. While many caramel vodkas lean on the sweeter side, Van Gogh balances the sweetness with a touch of bitterness expertly. The caramel is there, but so is a trace of burnt sugar, toasted nuts, and a warm, alcoholic finish. It's a mature, full-bodied flavor that is luxuriously smooth.
Try it on the rocks, and you'll see why it's my go-to choice when I'm looking for something different. If you're feeling experimental, pair it with a spicy ginger beer for a tantalizing cocktail. The smooth caramel notes of the Van Gogh perfectly complement the fierceness of the ginger, resulting in a cocktail as exciting as a shaken, not stirred, martini.
6. Smirnoff Kissed Caramel Vodka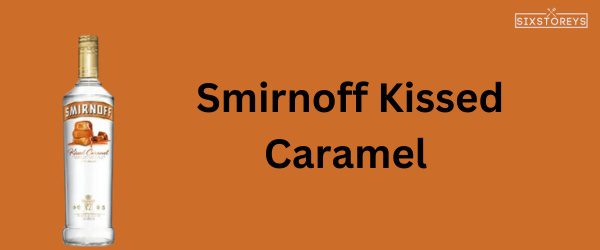 Ah, the Smirnoff Kissed Caramel Vodka, a true delight from one of the most reputable vodka brands in the world. With Smirnoff's long-standing reputation for quality, it comes as no surprise that their take on caramel vodka is, quite frankly, outstanding.
From the moment you uncork the bottle, the rich, creamy caramel scent wafts out, inviting you to take your first sip. The golden color of the liquid itself is reminiscent of the sweet treat it's named after. The taste is nothing short of amazing. As the vodka rolls across the tongue, it unveils the rich and luscious flavor of caramel followed by a comforting hint of vanilla. The balance between the sweetness of the caramel and the vodka's bold notes is commendable - neither too sweet nor too strong.
This is the kind of vodka that makes it on my favorite list because of the warmth and rich depth it adds to any drink. It can be enjoyed neat, on the rocks, or in a cocktail - my personal preference is the 'Caramel Apple Pie', a cocktail that includes apple cider and pie crust, creating a festive fall flavor in a glass.
7. Effen Salted Caramel Vodka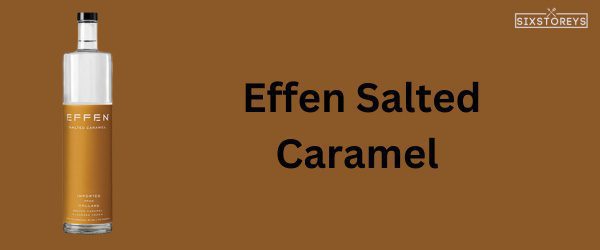 The intriguing promise of Effen Salted Caramel Vodka beckons from every liquor store shelf. This Dutch vodka is something truly special, teetering on the edge of sinful indulgence and deep, textured flavor. The sleek, hip bottle reflects the brand's modern approach to vodka-making.
The very aroma is heady, a delightful mix of sugary sweetness and earthy saltiness that leaves you curious for the first sip. The caramel flavor is robust, coupled perfectly with a delicate sprinkle of salt. The contrast works magnificently and the result is a drink that is both unexpected and familiar, balancing well between the traditional aspects of a good vodka and the modern twist of salted caramel.
Smooth and buttery on the tongue, Effen Salted Caramel Vodka builds a marvelous crescendo of flavor that reaches the highs of sweet delight and the lows of savory charm in each sip. The finish leaves you longing for the next taste, a vortex of salted caramel goodness lingering on the palate.
My absolute favorite way to enjoy this vodka? Drizzled over a hearty scoop of vanilla ice cream. It's a cheeky little treat I'm always looking forward to. However, it could also add an interesting kick to classics like the espresso martini or a vodka tonic.
In the realm of flavored vodkas, the Effen Salted Caramel Vodka strikes a chord of brilliance with its flavor profile and texture. It's a vodka that, once tried, becomes a tough act to follow. Exploring the world of caramels through my liquor cabinet, this one earns a prime spot. Give it a try, you might just find yourself a new favorite!
Also Read: Best Vanilla Vodka
How to Enjoy the Best Caramel Vodka?
Caramel vodka, with its delectable sweetness and smooth finish, is truly versatile. Whether you're a novice to the world of caramel vodka or a seasoned enthusiast, understanding how to drink and savor it can transform your vodka sipping experience.
On its Own
Caramel vodka can be savored neat, resulting in a warm, crisp taste sprawling across your palate. Serve it chilled to appreciate its rich, sweet, and buttery flavor.
Chilled: Pour the caramel vodka into a glass and place it in the freezer for about an hour before serving to enhance its smoothness. This method brings out its rich caramel undertones.
Straight: Pour it at room temperature if you prefer a bolder flavor. The warmer vodka lets you experience the full range of its complex characteristics.
In a Cocktail
Caramel vodka shines in cocktail compositions as well. Here's a simple cocktail recipe to whet your appetite.
Caramel Apple Martini
Ingredients [H4]:
2oz Caramel Vodka
1oz Sour Apple Schnapps
1oz Apple Juice
Caramel Sauce and Apple slice for garnish
Instructions [H4]:
Rim your martini glass with caramel sauce.
Add ice, caramel vodka, sour apple schnapps, and apple juice into a cocktail shaker.
Shake well and strain the mixture into your glass.
Garnish with an apple slice.
Perfect Pairings
Caramel vodka pairs exceptionally well with certain foods. This is a joy for the gastronomers amongst us.
Cheeses: Creamy cheeses like Brie or Camembert complement the rich tones of caramel vodka.
Meats: Cured meats like prosciutto or bacon enhance the salty-sweet balance in the vodka.
Desserts: Chocolate or apple-based desserts harmonize with the sweet notes of the caramel vodka, making for a delightful finish to a meal.
Revel in the luxury of the best caramel vodka by using these tips, and remember to always enjoy responsibly.
Why Choose Caramel Vodka Over Traditional Vodka?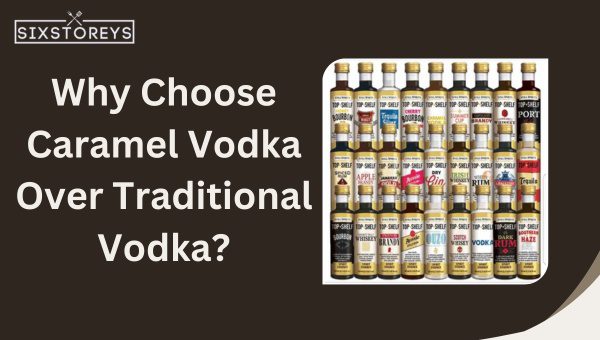 One might wonder, "Why should I choose caramel vodka over the traditional clear spirit?". As a devotee of caramel vodka, I'm more than happy to share the allure of this decadent drink.
Decadent Flavor Profile
Primarily, the major distinguishing factor between caramel vodka and traditional vodka are the taste notes. Traditional vodka, especially those higher in quality, have a clean, crisp flavor that can sometimes verge on neutral. While this makes them multi-faceted and an excellent base for a variety of cocktails, they can sometimes lack that extra oomph that makes a drink stand out.
Enter Caramel Vodka. This richly flavored vodka is a game-changer. It has a velvety sweetness, smooth enough to be sipped neat and complex enough to enhance any cocktail. This unique profile comes from the caramel infusion process—providing warmth, depth, and a delightful, rich sweetness to the spirit. The flavors are balanced, not overly sweet, and offer a satisfying roundness to your drink.
Perfect For Dessert Cocktails
Thanks to its dessert-like flavor profile, caramel vodka lends itself beautifully for creating dessert cocktails. Traditional vodka is quite versatile and can work well in savoury or fruity cocktails. However, when you're seeking something indulgent that falls in the realm of sweet treats, caramel vodka comes out on top.
Imagine a creamy caramel martini, or a vodka-spiked salted caramel latte—the possibilities are endless with this flavored spirit. The intense charm of caramel vodka can even breathe new life into your favorite classics. Try a caramel White Russian or a caramel-infused Espresso Martini, and tell me it isn't a delicious revelation!
Mixes Well With Other Spirits
Caramel vodka is impressively versatile - it can be paired with a multitude of spirits to concoct delightful drinks. It's seamless to mix with bourbon for a whiskey-based cocktail or blend with coffee for an elevated espresso martini. The rich caramel notes enhance the complexities of other spirits, making your beverages wonderfully rich and layered.
While traditional vodka holds a hallowed spot in the world of spirits, caramel vodka carves its own uniquely delicious identity. The sensory pleasure it offers makes it a treasure worth exploring. Remember, choosing to savor caramel vodka doesn't mean giving up on your favorite traditional vodka. It's about experimenting, enhancing, and expanding your palate to appreciate the versatility vodka offers in its many delectable forms.
Health Benefits of Moderated Consumption of Vodka
Vodka, like other distilled spirits, when consumed in moderation, may surprisingly come with a host of potential health benefits. However, it's crucial to underscore that these benefits are linked with moderate consumption; overindulgence may lead to adverse health effects.
1. It Could Act as a Heart Protector
Unknown to many, vodka might serve as a moderate tonic for your cardiovascular health. Moderate consumption of vodka can potentially stimulate blood circulation and thus, decrease the risk of cardiac diseases. This is primarily attributed to the dilatory effect alcohol can have on our blood vessels, enabling easier blood flow and reducing stress on our hearts.
2. It Can Play a Role in Pain Relief
Touted as a reliable remedy by some, vodka can often be found in herbal tinctures, potentially aiding the body in reducing stress symptoms and relieving toothaches. It's important to note that these claims require more scientific studies for being decisively affirmed.
3. Potential Diabetes Aid
Researchers suggest that vodka, being a low-calorie liquor with practically zero sugar content, can form part of a diabetic diet, as long as it's consumed responsibly and in meager amounts.
4. It Could Be a Potential Stress Buster
While all types of alcohol are depressants, vodka is said to have a more pronounced relaxation effect. Some studies suggest that vodka can help reduce stress more effectively than the alcohol equivalent of red wine.
While it's essential to highlight that vodka comes with its set of health benefits, the key is moderation. Excessive consumption can lead to several health issues ranging from liver disease to mental health disorders. Moreover, vodka should definitely not be considered a substitute for a well-balanced diet and regular exercise.
Please, drink responsibly, and when you do, why not opt for a flavor-packed option like the best caramel vodka? A delightful treat that comes with perks…cheers to that!
Remember, no amount of alcohol, including vodka, is considered completely safe for everyone. Pregnant women and individuals with specific health ailments should avoid alcohol consumption. Consult with your healthcare provider before integrating moderate alcohol consumption into your diet.
How is Caramel Vodka Produced?
Caramel vodka is a delightful fusion of the raw intensity of vodka and the familiar sweetness of caramel. But have you ever wondered about the journey this divine concoction takes to make its way into your glass?
The Process:
Step 1: Vodka Production
First and foremost, let's talk about vodka, the base spirit in our caramel indulgence. Generally crafted from fermented grains such as wheat, rye, or corn—though in some regions, potatoes are used—vodka is distilled multiple times to achieve an optimal level of purity and smoothness.
Step 2: Flavour Infusion
Here comes the magic ingredient, caramel. The caramel used is typically a blend of sweet and syrupy, often introduced to the vodka base through a process of infusion. The caramel is either melted down into a liquid form or used as a syrup derivative.
Step 3: Maturation
The vodka-caramel mixture is then allowed to rest, which helps the flavors meld together and creates a harmonious balance between the delectable sweetness of the caramel and the robust intensity of the vodka.
The end result? A lusciously smooth drink that's perfect for those with a sweet tooth but who still appreciate the warmth of a good spirit.
How to Select the Best Caramel Vodka for Your Taste?
Vodka, like any other spirit, is a deeply personal choice and different people are bound to have different preferences. Here are a few tips to help you discover the best caramel vodka for your taste:
Examine the Brand:
Start with the producer. Reputed brands, who have been in the industry for a while, are usually a safe bet as they have expertise and quality controls in place. Some of my top recommended brands, like Todka XS Salted, Pinnacle Salted, and Effen Salted, come with a seal of quality assurance.
Grocery Store vs. Liquor Store Buys:
Generally, the caramel vodkas found in liquor stores are of higher quality than those in grocery stores, as they're more focused on the beverage market.
Read the Label:
Sweetened spirits like caramel vodka often contain added sugars, preservatives, and flavors. Always check the label for these added ingredients.
Taste Test:
Finally, and perhaps most importantly, you should always taste before you buy (when possible). Your taste buds are the best judge of what you like.
In all likelihood, the best caramel vodka for you will be the one that successfully satisfies your unique palate, perfectly balancing the warmth of vodka with the sweetness of caramel. Take the time to explore, taste, and enjoy the journey until you discover the one that speaks to your soul.
How To Pair Best Caramel Vodka With Foods?
When you're enjoying the best caramel vodka, it's only fitting that you pair it with equally delectable eats. Here's what pairs well with caramel vodka:
Sweet Treats
Caramel vodka and dessert are a match made in heaven. Try it with:
Dark Chocolate: The bitterness of the chocolate brings out the sweet and salty undertones of the caramel vodka.
Vanilla Ice Cream: Serving caramel vodka over a scoop of good-quality vanilla ice cream adds depth to its flavor while cooling the throat.
Apple Pie: The classic combination of apple and caramel is only amplified when served with caramel vodka.
Savories
Odd as it may sound, caramel vodka with savory dishes can be a gastronomic revelation. Here are some combinations to explore:
Cheese Platters: Particularly good with strong, soft cheeses like blue cheese and Camembert. Their creamy textures and robust flavors contrast wonderfully with the sweet caramel vodka.
Seared Scallops: The caramelization of the scallops is beautifully mirrored in the vodka, making for a mouthwatering combination.
Best Caramel Vodka Cocktails to Try in 2023
Caramel vodka can be a fun element to play with in cocktails. Here are some luscious concoctions to try:
1. Salted Caramel Martini
This recipe is a luxurious twist on the classic Martini. Add one part caramel vodka to one part Baileys Irish Cream, and shake well with ice. Serve in a chilled Martini glass with a sprinkle of sea salt for the garnish.
2. Caramel Apple Mule
For this fusion cocktail, mix two parts of caramel vodka with one part apple cider, and top with ginger beer. Add a slice of fresh apple for garnish and enjoy this refreshing drink!
3. Caramel White Russian
Take your classic White Russian up a notch by substituting regular vodka with caramel vodka. One part Kahlúa, two parts caramel vodka, and top it off with a splash of heavy cream stirred gently, and you have a creamy, dreamy cocktail!
Now with these fantastic combinations and delectable cocktails, let the joyous adventure of pairing and trying new recipes with the best caramel vodka begin!
Also Read: Winter Vodka Cocktails
Frequently Asked Questions
What makes vodka caramel flavored?
The distinct taste of caramel vodka comes from the infusion of natural caramel flavoring into traditional vodka. The sweetness of the caramel balances well with the alcohol's sharpness resulting in a velvety concoction.
Can you drink caramel vodka straight?
Of course! Caramel vodka is delicious on its own with its smooth, sweet, and slightly salty profile. It's perfect when served chilled or added to coffee or hot chocolate because of its depth of flavor.
How should caramel vodka be stored?
Just like any other vodka, caramel vodka should be stored in a cool, dry place away from direct sunlight. It can be kept in the freezer too, which masks a bit of the alcohol's bite and enhances the caramel taste.
How long does caramel vodka last?
A unopened bottle of caramel vodka can last indefinitely if stored properly, though flavors might deepen over time. An opened bottle, however, is good for around 6-8 months to maintain its optimal flavor.
Does caramel vodka have more sugar than plain vodka?
Yes, caramel vodka typically has a higher sugar content due to the added caramel infusions. If you're watching your sugar intake, you might want to enjoy it in moderation.
Is there a specific brand of caramel vodka that is best?
It's subjective. What might be best to me might not be best for you. The list we put together contains a variety of the best caramel vodka brands that I have tested and found sublime. Experiment a bit and find your own favourite.
What are some cocktail recipes using caramel vodka?
There is an array of cocktails that can be made using caramel vodka, such as Salted Caramel Martini, Caramel Apple Mule, and Caramel White Russian.
Conclusion
Whether you're a seasoned connoisseur or a novice looking to broaden your palate, one thing's for certain - the best caramel vodka can enrich your spirits experience like nothing else. It offers a perfect blend of a classic drink's warmth, laced with the comforting sweetness of caramel. Sip it on its own or splash it into a stylish cocktail, either way, this divine liquid with its velvety richness promises to transport you to a world of indulgence. T
he journey to explore exquisite tastes is endless, and life's too short to not relish the joy that a perfect glass of caramel vodka can bring. So next time you raise your glass, may it be filled with the creamiest, lushest caramel vodka. Here's to sweet sips and memorable moments!
Beverage Explorer and Tastemaker 🍻🥃🍷 Aman's quest for liquid delights knows no limits. From hoppy brews to aged spirits, he uncovers the tales behind each sip. His eloquent descriptions and accessible insights make every drink an adventure worth raising a glass to.