18 Best Hard Iced Teas of 2023 [Find Your Perfect Boozy Sip]
Updated On: August 14, 2023
As a lifelong tea enthusiast, I am always on the hunt for the most refreshing and satisfying hard iced tea to quench my thirst on a hot summer day, and to share with friends during casual gatherings or festive celebrations. Over the years, I have sampled various brands and varieties, always eager to discover the ultimate hard iced tea that would make me say, "This is the one!"
Each time, I find myself amazed by the diverse flavors, brewing techniques, and creative twists that these beverages bring to the table. So, after a great deal of thorough and enjoyable "research," I have compiled a list of some of the best hard iced teas I have had the pleasure of tasting.
In this blog post, I will share with you my personal review of each delicious hard iced tea, discussing their unique flavors, distinctive characteristics, and what sets them apart from the rest. From Twisted Tea to Arnold Palmer Spiked Half and Half, join me as I recount my exciting and refreshing journey through the world of hard iced teas, and perhaps you'll be inspired to embark on an iced tea adventure of your own! So, without further ado, let's dive into my top picks for the best hard iced teas available on the market today.
Also Read: Best Starbucks Tea Drinks
18 Best Hard Iced Teas [Top 2023 Picks]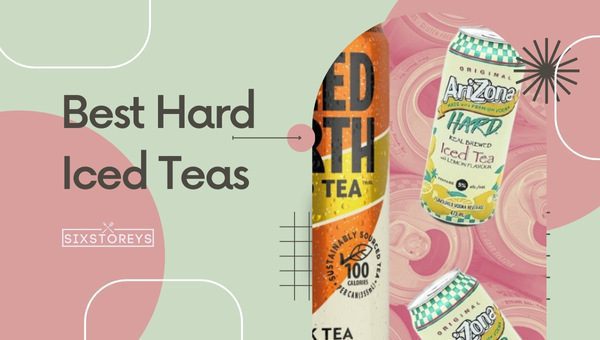 In my quest to find the best hard iced teas, I have tasted numerous brands that offer different flavors and unique twists on the classic beverage. After much sampling, I have compiled a list of my top picks of hard iced teas that I believe will surely quench your thirst and leave you pleasantly refreshed.
So without further ado, let's explore these best hard iced teas and find out what makes them stand out from the rest.
1. Twisted Tea: A Classic Favorite with a Citrus Twist

No hard iced tea exploration would be complete without mentioning the original Twisted Tea. This brand has become synonymous with the hard iced tea market, appealing to a wide range of taste buds. I must say that Twisted Tea offers a delightful fusion of real brewed tea and a pleasant alcoholic finish. The smooth and refreshing combination of flavors is truly satisfying on a warm summer day or during a relaxed gathering with friends.
Twisted Tea comes with several unique flavors, including the classic Original, Half & Half, Raspberry, and even seasonal specials like Blueberry. Among these, my personal favorite is Twisted Tea Original. The Original flavor consists of a crisp and clean taste with a subtle hint of citrus, making it the perfect go-to hard iced tea when I'm in need of a refreshing beverage.
It is the genuine tea taste that has made Twisted Tea a household name, and the alcohol percentage (5% ABV) strikes just the right balance, allowing you to savor the flavors without feeling overwhelmingly tipsy. Moreover, Twisted Tea's packaging is both practical and eye-catching, with a convenient can design that never fails to grab my attention. Overall, Twisted Tea is a must-try for anyone who loves the comforting taste of traditional iced tea with an adult twist.
2. Bud Light Seltzer Iced Tea Apple: A Crisp, Orchard Fresh Experience

Bud Light has further expanded its flavor portfolio with the Seltzer Iced Tea Apple, and it's an absolute winner. Embodying the essence of a freshly picked apple, this hard iced tea offers a crisp and rejuvenating taste that feels like a bite into a cool, juicy apple on a sunny day.
Bud Light excels in creating a balance where the apple flavor doesn't overshadow the authentic taste of tea. Instead, they harmonize, providing a refreshing and well-rounded beverage experience. With a 5% ABV, this drink ensures that you're getting the right kick while relishing in the naturally sweet and crisp apple flavor. If you're looking to transport yourself to a serene orchard with every sip, Bud Light Seltzer Iced Tea Apple is your ticket there. Perfect for fall gatherings, picnics, or simply to quench your thirst on a warm day.
3. LIIT Long Island Iced Tea Hard Tea Seltzer: Making Your Favorite Cocktail Even Better

When I first stumbled upon LIIT Long Island Iced Tea Hard Tea Seltzer, I was intrigued by how the brand has managed to put a unique spin on the classic Long Island Iced Tea cocktail by presenting it as a hard iced tea infused with seltzer. Upon trying it, I have to say, it was an absolute hit!
LIIT Long Island Iced Tea Hard Tea Seltzer strikes a harmonious balance between the sweetness of the tea, the tartness of the lemon, and a blend of various liquors, creating a refreshing and smooth drinking experience without any overpowering flavors. It doesn't hurt that this delightful beverage also boasts a 5% ABV, making it a fantastic option for a sunny afternoon by the pool or a laid-back gathering with friends.
In addition, the carbonation in LIIT Long Island Iced Tea Hard Tea Seltzer brings an attractive fizziness that sets it apart from traditional Long Island Iced Teas. It adds a lively and bubbly touch to the mixture, giving you a twist on an old favorite that's unique and downright delicious.
4. Loverboy: Romancing Your Taste Buds with Sophisticated Flavors

Loverboy stands out from the crowd with its aura of sophistication and elegance, which extends from its eye-catching design to its luxurious taste. The brand offers an exquisite blend of premium tea, botanicals, and fruity flavors, resulting in a hard iced tea experience like no other.
The White Tea Peach flavor, in particular, has won my heart with its delicate balance of tea and fruit flavors. The white tea offers a subtle sweetness that harmonizes beautifully with the luscious peach notes, creating an elevated and refined taste that never ceases to amaze.
Loverboy is not only a feast for your taste buds but also a healthier option compared to its competitors. Its low-calorie, gluten-free, and zero-sugar formulations make it an attractive choice for those who want to indulge without compromising on their health. Combined with a 4.2% ABV, Loverboy is perfect for a delicate yet satisfying hard iced tea experience.
5. Bud Light Seltzer Iced Tea: A Light, Crisp & Flavorful Option

When I first heard about Bud Light Seltzer Iced Tea, I couldn't help but be curious about what this well-known brand could bring to the hard iced tea market. I must say, I was not disappointed. Bud Light Seltzer Iced Tea is lighter and crisper than some of its competitors, offering a collection of delicious flavors including Peach, Raspberry, Tangerine, and Apple.
My personal favorite among the flavors is the Peach hard iced tea. It has a light and subtle sweetness that perfectly complements the tea, creating a satisfying and juicy taste sensation. The carbonation is surprisingly enjoyable, and the 5% ABV makes it a delightful option for those looking for a beverage that won't weigh them down.
One of the key attractions of Bud Light Seltzer Iced Tea is its commitment to using natural ingredients, which enhances the overall quality of the beverage and allows the flavors to shine through without any artificial aftertaste. In a market filled with numerous options, Bud Light Seltzer Iced Tea differentiates itself by offering a light, refreshing alternative without sacrificing taste.
6. LIIT Hard Tea Seltzer Lemon: When Life Gives You Lemons, Mix Them with Hard Tea Seltzer

There's something magical about a classic combination of tea and lemon. LIIT Hard Tea Seltzer Lemon brings this timeless pairing to life, further elevating the refreshing flavors with a kick of carbonation.
Upon first sip, I couldn't help but notice the zesty tang of lemon, which lends a crisp and invigorating note to the overall drinking experience. The taste of tea is unmistakable, and the infusion of lemon creates the perfect addition to a hot summer day or a fun, casual gathering.
LIIT Hard Tea Seltzer Lemon boasts a 5% ABV and pairs well with a variety of food items, making it the perfect companion to a barbecue or dinner party. The effervescent quality adds a delightful touch of excitement as it dances on your tongue, charming your senses and leaving you longing for more.
7. LQD: Quenching Your Thirst with a Diverse Flavor Range

When it comes to hard iced teas, LQD knows how to keep things interesting. They offer a wide variety of flavors that satisfy every taste bud – from their tantalizing Green Tea Lemon to their adventurous Hibiscus Tea Lime – LQD truly has something to offer for every kind of hard iced tea lover.
My personal favorite has to be the Green Tea Lemon because of its refreshing and irresistibly invigorating taste. The natural sweetness of green tea combines with the tart, citrusy notes of lemon, creating a burst of flavor that awakens the senses. At 5% ABV, LQD Green Tea Lemon is the perfect companion for a warm summer afternoon, whether you're lounging by the pool or picnicking with friends.
LQD Hibiscus Tea Lime is also a noteworthy option, boasting a delightful balance of sweet and tart flavors. The unique combination of hibiscus tea and tangy lime creates a rousing tropical experience that transports your senses to sunnier, far-off places. Like its counterpart, this selection also features a 5% ABV, making it an excellent option for those looking to amp up the flavor without becoming too overpowering.
8. LIIT Hard Tea Seltzer Raspberry Lime: A Fusion of Tangy and Sweet Perfection

LIIT (Long Island Iced Tea) consistently brings new and exciting flavors to the hard iced tea world, and their Raspberry Lime Hard Tea Seltzer is no exception. This lively blend promises a roller-coaster of taste sensations, with the tartness of raspberries meeting the zest of lime. From the first sip, you're greeted with the ripe flavor of raspberries, which gracefully gives way to a zesty lime finish, offering a tantalizing dance between sweet and tangy.
With a 5% ABV, it sits right in the sweet spot – strong enough to remind you it's an adult beverage but subtle enough to keep the essence of the tea and the delightful fruit flavors at the forefront. Whether you're sunbathing on the beach, at a backyard BBQ, or simply unwinding after a long day, LIIT Hard Tea Seltzer Raspberry Lime is the delightful splash of flavor you need.
9. Narragansett Del's Rhode Island Hard Tea: A Northeastern Treasure

Narragansett Del's Rhode Island Hard Tea has a charming history, drawing inspiration from the classic Rhode Island frozen lemonade – Del's Lemonade. It's a beverage that holds a special place in the hearts of many, so it's no surprise that their hard tea version has garnered quite a following.
This regional favorite combines traditional black tea with natural lemon flavor, making for a refreshingly crisp beverage that is perfect for hot summer days. The balance of flavors in Narragansett Del's Rhode Island Hard Tea is subtle, showcasing the delicious and natural taste of tea without any overwhelming artificial flavors.
At 5% ABV, it's an ideal choice for a laid-back gathering with friends or family, as well as beach excursions, making you feel as if you're sipping on a little piece of Rhode Island with each delicious swig.
10. Bully Boy Italian Iced Tea: A European Twist on a Classic Beverage

If you're looking for a hard iced tea that breaks the mold, Bully Boy Italian Iced Tea is where your search ends. This one-of-a-kind beverage draws from an iconic European cocktail known as the Negroni and applies these flavors to create an utterly captivating and invigorating hard iced tea experience that simply cannot be replicated.
Born from a blend of black tea, robust orange flavors, and Bully Boy's Amaro liqueur, this Italian Iced Tea offers a distinctively layered taste – perfect for sipping on languorous afternoons or during evening gatherings with friends. The orange notes contribute a bright citrus zing, which contrasts beautifully with the robust bitterness of Amaro, while the black tea ties everything together in perfect harmony.
At 4% ABV, Bully Boy Italian Iced Tea is a creative reinterpretation of a European classic that opens the door to new flavor possibilities within the world of hard iced teas. This unconventional beverage is a delightful surprise for those willing to explore exciting new directions in taste.
Also Read: Best Trader Joe's Teas
11. Pabst Blue Ribbon Hard Tea Seltzer: A Familiar Name with an Iced Tea Twist

Undoubtedly, most of us are familiar with Pabst Blue Ribbon and their reliable offering of brews. But when it comes to hard iced tea, they've taken their expertise to new heights with their Hard Tea Seltzer, impressing even the staunchest of skeptics.
This delightful hard tea seltzer grabs attention immediately with its light and refreshing taste, a beverage that's simply perfect for hot summer days or when you're craving a refreshing pick-me-up. The addition of fruit flavors, such as the Raspberry Black Tea, adds a welcoming fruity layer to the mix, giving the hard tea seltzer an irresistible allure.
With a moderate 4% ABV, Pabst Blue Ribbon Hard Tea Seltzer is an optimal choice for casual enjoyment, whether at a backyard barbecue or a friendly get-together. The familiar face of Pabst Blue Ribbon is a testament to the quality and satisfaction that comes with each sip of their delightful hard tea seltzer.
12. Owl's Brew Boozy Tea: The Perfect Fusion of Tea and Beer

Owl's Brew Boozy Tea is an innovative creation that brings together the world of craft beer and tea into a single, harmonious beverage that challenges conventions and delights taste buds. This one-of-a-kind concoction delivers on all fronts, presenting a unique fusion that surprises and delights with each sip.
The Owl's Brew Boozy Tea Darjeeling with Hibiscus Flowers particularly captured my attention with its floral notes and tea-centric taste. The bold Darjeeling tea is expertly balanced with the tart tang of hibiscus flowers, lending a refreshing and mellow taste profile that suits various occasions – from casual get-togethers to upscale parties.
Holding an ABV of 4.8%, Owl's Brew Boozy Tea is a crowd-friendly option with a moderate alcohol content that allows you to savor the flavors without getting overpowered. The seamless combination of tea and beer adds a new dimension to the world of hard iced teas, making it an absolute must-try for adventurous tea enthusiasts.
13. White Claw Iced Tea: A New Entrant in the World of Hard Iced Tea

White Claw is a name synonymous with satisfying and flavorful hard seltzers, and their venture into the realm of hard iced teas with their White Claw Iced Tea is no exception. Synonymous with quality and trendsetting, White Claw brings its expertise and sterling reputation to create a line of hard iced teas that pack a punch in the flavor department.
One standout option is their Mango Iced Tea, which offers a tropical oasis of flavors that blend harmoniously with the already smooth and satisfying black tea base. The result is a finely balanced, fruit-forward hard iced tea that makes for a refreshing respite from the heat, or simply for no reason other than to indulge.
At 5% ABV, White Claw Iced Tea is a solid option that caters to those who appreciate a refreshing drink without overpowering alcohol content. White Claw's entrance into the hard iced tea market only reaffirms the brand's commitment to crafting delicious, memorable, and trendsetting beverages.
14. Sea Isle Iced Tea: Navigating the Waves of Flavor

Sea Isle Iced Tea brings to the table a wave of beachy and tropical vibes that promises to transport you to a seaside getaway with each sip. Infused with natural flavors and cane sugar, this hard iced tea boasts a delicately sweet and refreshing taste that will surely remind you of sun-soaked vacation days.
Its captivating flavor profile is the result of the perfect blend of tea, lemon, and refreshing hints of mint. Seamlessly paired with its 4.8% ABV, this hard iced tea is an ideal choice for sipping on a hot day by the pool or beach, or simply when you want to be swept away by a wave of nostalgia for vacations past.
Sea Isle Iced Tea is undeniably versatile and perfect for those who crave a tropical escape in a glass. Its clean, refreshing taste and notable depth of flavor make it an exceptional addition to any hard iced tea lover's repertoire.
15. Two Chicks Sparkling Vodka CuTea: Sipping in Style

When it comes to unique and stylish hard iced tea offerings, Two Chicks Sparkling Vodka CuTea is truly in a league of its own. Combining a carefully crafted blend of hard iced tea and vodka, this fashionable beverage caters to those with a penchant for elegance in both their drinks and their lifestyle.
The CuTea's flavor profile is lush and intricate, featuring a harmonious fusion of black tea, lemon, lavender, and a hint of honey. These delightful elements set the stage for the star of the show: the vodka. Combined with its 5% ABV, this hard iced tea offers an enjoyable kick that elevates the beverage into a class all its own.
Ideal for sipping during a chic soirée or an intimate gathering with friends, Two Chicks Sparkling Vodka CuTea leaves a memorable impression on the palate and a lasting image of sophistication.
16. Cisco Brewery Hard Tea Island Lemon 5% ABV: Capturing the Island Spirit

Inspired by the essence of island life, Cisco Brewery's Hard Tea Island Lemon is an homage to lazy days on the beach, sunsets by the sea, and the warmth of the salt-kissed breeze. This delightfully fresh hard iced tea is a surefire way to taste the island spirit in every sip.
With its smooth black tea base, the infusion of lemon testifies to a crisp and invigorating finish. At 5% ABV, this delicious concoction strikes the perfect balance between refreshment and a pleasant buzz, making for an outstanding companion to kick back and relax with after a long day or during a weekend BBQ.
Cisco Brewery Hard Tea Island Lemon masterfully captures the island vibe in a drinkable form. For those seeking a taste of paradise within the comfort of their home, look no further than this zesty and quenching hard iced tea.
17. Arnold Palmer Spiked Half and Half 5% ABV: An Iconic Combo with a Kick

Arnold Palmer is a name that has graced the lips of iced tea and lemonade enthusiasts for decades, and their venture into the realm of hard iced tea is nothing short of genius. The iconic combination of iced tea and lemonade is given new life with the addition of malt alcohol, making Arnold Palmer Spiked Half and Half a delectable and invigorating experience.
The magical blend of iced tea and lemonade is already a classic favorite, but with its 5% ABV, this delightful concoction pleasantly surprises with a gentle kick that never overwhelms the palate. This familiar yet daring offering is perfectly suited for casual sipping during backyard gatherings, picnics, or simply when craving a nostalgic flavor with a spirited twist.
Arnold Palmer Spiked Half and Half 5% ABV is a testament to the power of innovation when applied to a beloved classic, elevating the humble iced tea-and-lemonade combo into one of the best tipples within the realm of hard iced teas.
18. Pabst Blue Ribbon Hard Tea Seltzer Raspberry Black Tea

Pabst Blue Ribbon, a name synonymous with American beer culture, ventured into the realm of hard iced teas and delivered a remarkable addition - the Hard Tea Seltzer Raspberry Black Tea. This delectable beverage combines the bold flavors of raspberry and black tea, creating an edgy twist on a classic hard iced tea.
The Pabst Blue Ribbon Hard Tea Seltzer Raspberry Black Tea revels in its delightfully fruity and subtly tangy flavor profile. The fruity burst of sun-ripened raspberries melds harmoniously with the strong, earthy undertones of black tea, culminating in a well-balanced and invigorating blend. With its effervescent seltzer base and a 4.2% ABV, this hard iced tea offers a crisp and sprightly alternative to traditional hard teas.
Whether you're hosting a summer BBQ, lounging by the poolside, or simply yearning for a revitalizing drink laced with the perfect amount of alcohol, this Pabst Blue Ribbon Hard Tea Seltzer showcases the brand's deft ability to innovate while staying true to its roots. The Raspberry Black Tea stands out as a memorable and enchanting variation of hard iced tea, ideal for those who crave some fruity excitement in their beverages.
How to Make Your Own Hard Iced Tea: A Step-by-Step Guide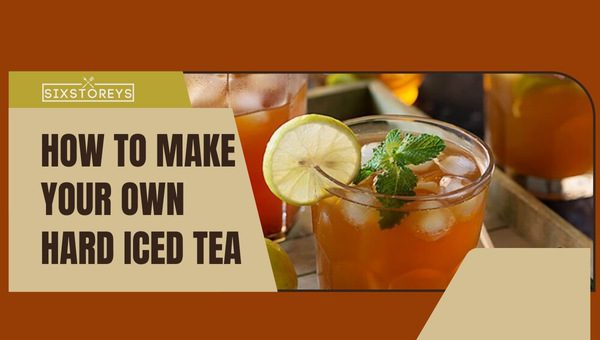 Making your own hard iced tea at home is not only easy, but it also allows you the freedom to experiment with different flavors and levels of alcohol content. In this step-by-step guide, I will walk you through the process of making a delicious and refreshing homemade hard iced tea that will surely impress your friends and family.
Ingredients
8 cups water
6 tea bags (choose your favorite black, green, or herbal tea)
1 cup sugar (or your preferred sweetener)
1 ½ cups vodka, rum, or your preferred spirit
Juice of half a lemon (optional)
Fresh fruit, mint leaves, or other garnishes for serving
Now follow the steps given below:
Step 1: Brew the Tea
Bring 4 cups of water to a boil in a large saucepan or kettle.
Once the water is boiling, remove it from the heat and add the tea bags.
Allow the tea bags to steep for about 5 minutes (longer if you want a stronger flavor).
Remove the tea bags and discard them.
Step 2: Sweeten the Tea
While the tea is still hot, add the sugar and stir until it is completely dissolved.
If you want a less sweet hard iced tea, feel free to reduce the amount of sugar or use a different sweetener.
Step 3: Combine with Alcohol
In a large pitcher, combine the brewed tea with the remaining 4 cups of water, your choice of spirits, and the lemon juice.
Stir everything well to ensure even distribution of alcohol and flavors.
Step 4: Chill the Tea
Transfer the pitcher to the refrigerator to chill the hard iced tea for at least 4 hours or overnight, allowing the flavors to meld and develop.
Step 5: Serve Your Homemade Hard Iced Tea
Pour your mixture over ice-filled glasses and garnish with fresh fruit or mint leaves, if desired.
Enjoy your refreshing homemade hard iced tea on a hot summer day, or serve it as a unique beverage choice at your next gathering.
Feel free to get creative with your hard iced tea by experimenting with different teas and spirits, or infusing the iced tea with fresh fruits or herbs. The possibilities are endless!
Also Read: Best Teas To Drink In The Morning
Why Choose Hard Iced Tea over Other Alcoholic Beverages?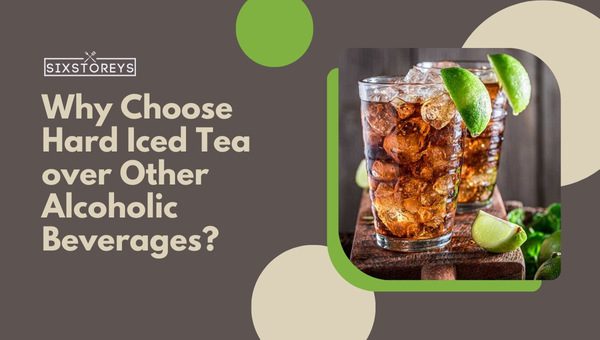 As a dedicated tea enthusiast and someone who loves to explore the world of beverages, I have often found myself reaching for a hard iced tea over other alcoholic options. Refreshing, versatile, and boasting a range of unique flavors, hard iced teas have the ability to quench your thirst while providing a delightful buzz. If you're wondering why you should consider trying hard iced tea or making it your go-to drink, allow me to share my top reasons for embracing this exceptional beverage:
Refreshing Flavors: One of the reasons I gravitate towards hard iced tea is because of its diverse and invigorating flavors. From sweet and fruity to tangy and tart, there's a hard iced tea to suit every palate. The combination of the natural tea flavors with added fruits, herbs, and citrus notes creates an unforgettable tasting experience that makes it a perfect beverage for warm days and outdoor gatherings.
Light and Crisp: Many alcoholic beverages can be heavy and overpowering, leaving you feeling weighed down or even bloated. Hard iced tea, on the other hand, offers a lighter and crisper option. With its refreshing taste and typically lower alcohol content, hard iced tea provides a satisfying buzz without the heaviness of other drinks.
Versatility: Hard iced tea can be enjoyed on its own, or mixed in creative cocktails for a fun and experimental spin. Its diversity in flavors and styles means there's bound to be a hard iced tea that pairs well with your favorite dishes, making it an ideal drink to serve at barbecues, picnics, or dinner parties.
A Healthier Alternative: While moderation is key with any alcoholic beverage, hard iced tea can offer some benefits over other alcohol options. Tea is well-known for its antioxidant and anti-inflammatory properties, and while hard iced tea may not boast the same health benefits as its non-alcoholic counterpart, it's still a better option than sugary mixed drinks or calorie-laden beers.
A Unique Experience: The market for hard iced tea has grown significantly in recent years, with many craft breweries and established beverage brands launching their own unique and exciting hard iced tea blends. This means you'll never run out of options to try and new flavors to explore, making the hard iced tea journey a continually engaging and satisfying experience.
Hard iced tea offers an enjoyable and refreshing alternative to other alcoholic beverages, suitable for a wide range of tastes and occasions. Its diverse flavors, lighter texture, and versatility make it an excellent choice for anyone seeking a new and exciting drink to savor and share.
How to Store and Serve Hard Iced Teas for Optimum Enjoyment?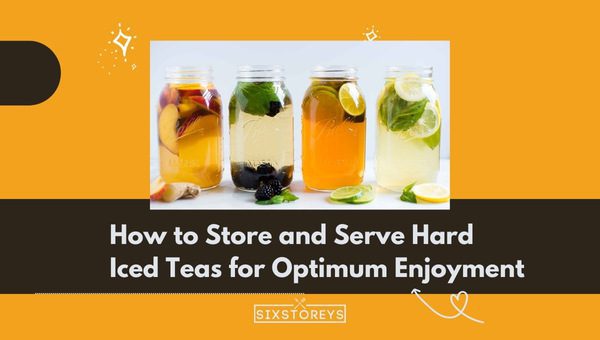 As a passionate hard iced tea aficionado, I've noticed it's essential to store and serve these delightful beverages the right way for the best flavor and enjoyment. A poorly stored or served hard iced tea can lose its vibrant taste, impact its fizziness, or even spoil faster. To make the most out of your hard iced tea experience, I've gathered some practical advice on proper storage, serving techniques, and maintaining freshness. Let's dive into the tips that can elevate your hard-iced tea game to new heights!
1. Keep Your Hard Iced Teas Cool and Dark
Hard iced teas are best stored in a cool and dark place, such as a pantry, basement, or even a wine cooler if you have one. The ideal temperature for storage is between 45 to 55°F (7 to 13°C). If you don't have a specific cooling unit, a regular refrigerator works just fine. Exposure to direct sunlight or extreme temperature fluctuations can hinder the taste and cause premature spoilage, so avoid keeping your hard iced teas next to a window, stove, or heating vent.
2. Store Upright and Seal Properly
For optimal quality, always store hard iced tea bottles or cans in an upright position. Storing upright can prevent leaks and ensure the airtight seal keeps the fizziness intact. Additionally, make sure your bottle caps or can lids are tightly sealed after each use to preserve the carbonation and freshness of your hard iced tea.
3. Rotate Your Stock
To enjoy each hard iced tea at its peak, be mindful of expiration dates and rotate your stock as needed. Keep track of your older cans and bottles and consume them first to avoid a waste of delicious beverage.
4. Chilling Before Serving
For the best flavor and overall experience, chill hard iced teas in the refrigerator for a few hours before serving. This allows the tea to reach its ideal serving temperature of 40-45°F (4-7°C), which helps release the full complexity of the flavors and aromas, creating a more satisfying drinking experience.
5. Serve in the Right Glassware
Using the appropriate glassware can make all the difference when it comes to intensifying your enjoyment of hard iced teas. A clean and chilled glass, such as a pint or highball glass, is perfect for allowing the tea to maintain its optimal temperature and showcase the beverage's visual appeal.
6. Use the Right Amount of Ice and Garnishes
While it can be tempting to pile on the ice and garnishes, moderation is key. Overloading your glass with ice can dilute the hard iced tea, affecting its taste and carbonation. Similarly, too many garnishes can overpower the tea's delicate flavors. Instead, add a moderate amount of ice and opt for a simple garnish, such as a lemon wedge or freshly picked mint, to enhance taste and presentation without sacrificing the integrity of the beverage.
By following these simple storage and serving tips, you can ensure your beloved hard iced teas taste their best and continue to quench your thirst in the most satisfying way possible.
Also Read: How Much Caffeine is in Earl Grey Tea?
Frequently Asked Questions
What makes a hard iced tea different from regular iced tea?
Hard iced tea is an alcoholic version of the classic iced tea, usually containing between 4-6% alcohol by volume (ABV). It is made by brewing tea with added alcohol, such as malted barley or fermented sugar.
Are hard iced teas sweet?
It depends on the specific brand and variation of the hard iced tea. Some hard iced teas are sweetened, while others are more on the bitter side. Always check the label or product description for information about sweetness levels.
Can I make my own hard iced tea at home?
Yes, you can make hard iced tea at home by brewing your favorite tea and adding the alcohol of your choice. Popular options include vodka, rum, or whiskey. Mix the tea and alcohol together, then refrigerate until cold, and serve over ice.
Are there any low-calorie or low-sugar hard iced tea options available?
Yes, there are low-calorie and low-sugar hard iced teas on the market. Check the label or product description to find specific nutritional information and to ensure the beverage aligns with your dietary preferences.
Can I find hard iced tea at my local bar or restaurant?
Hard iced tea offerings vary from one establishment to another. Some bars and restaurants serve hard iced tea, while others may not. Call ahead or check the menu to see if your favorite spot offers hard iced tea.
How should I serve hard iced tea?
Hard iced tea is best served cold, over ice. To enhance the flavor, you may also choose to garnish your beverage with fresh fruit, such as a lemon wedge or a sprig of mint.
Can I purchase hard iced tea online?
Yes, some brands and online retailers offer hard iced tea for purchase on their websites or through third-party retailers. Remember to check shipping restrictions and the legal drinking age in your location before purchasing alcohol online.
Can people with gluten intolerance safely consume hard iced tea?
It depends on the specific hard iced tea brand and recipe, as some may contain gluten in their ingredients or processing. Look for hard iced teas labeled as gluten-free or check the label for any ingredients that may contain gluten.
How long can I store an opened hard iced tea?
Once opened, it is recommended to consume hard iced tea within 2-3 days for optimal flavor and quality. Be sure to store the opened hard iced tea in the refrigerator to maintain freshness.
Conclusion
The world of hard iced tea is an exciting and ever-evolving landscape filled with diverse flavors, innovative brewing techniques, and delicious offerings to suit any palate. Whether you're a seasoned hard iced tea fan or just beginning to explore this refreshing and versatile beverage category, there is a seemingly infinite array of options for you to try and enjoy.
Throughout this blog post, we have delved into some of the best hard iced teas choices currently available on the market, as well as delving into the broader realm of tea-related topics. Armed with this knowledge and a thirst for adventure, you're well-equipped to embark on your own journey of hard iced tea discovery.
As you sample the various brands and flavors mentioned in this post, remember that personal preferences vary, and the best hard iced tea for you might be one that's unexpectedly delightful. Keep an open mind, trust your taste buds, and allow yourself to indulge in the delightful world of hard iced teas. Cheers to discovering your new favorite beverage and enjoying every last sip!
Beverage Explorer and Tastemaker 🍻🥃🍷 Aman's quest for liquid delights knows no limits. From hoppy brews to aged spirits, he uncovers the tales behind each sip. His eloquent descriptions and accessible insights make every drink an adventure worth raising a glass to.