17 Best Trader Joe's Teas of 2023 [Experience Tea Bliss]
Updated On: September 2, 2023
Discovering the best Trader Joe's teas can feel like embarking on a global tea-tasting adventure. From the classic flavors to creative infusions, this beloved grocery store chain has built a loyal following not only for its range of products but also for its delicious variety of teas. Whether you're in search of a soothing sipping experience, a refreshing pick-me-up, or unique concoctions to please your taste buds, Trader Joe's has the perfect tea for everyone.
In this blog post, we'll steep into the world of the best Trader Joe's teas, sharing their delightful flavors and suggesting ways to enjoy these wonderful brews even more. So, grab your favorite teacup, and let's dive into the delightful journey that awaits!
Also Read: Best Teas To Drink In The Morning
17 Best Trader Joe's Teas of 2023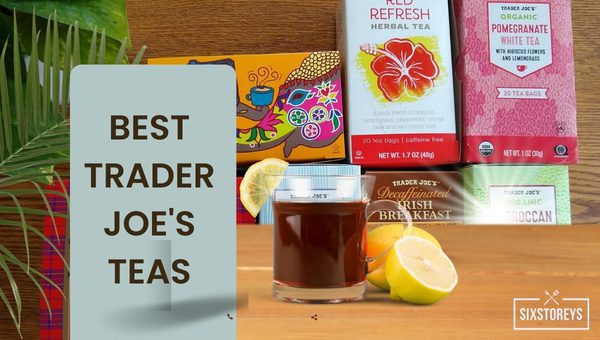 In this section, we will explore 17 of the best Trader Joe's teas that cater to a diverse array of tastes and preferences. Their delightful blends showcase a perfect balance of high-quality ingredients and enticing flavors. By the end of our journey, you'll have a delectable list of teas to try and share with fellow tea enthusiasts.
1. Organic Moroccan Mint Green Tea: A Refreshing Retreat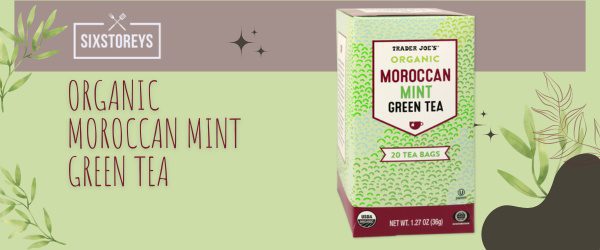 If you're on the hunt for a revitalizing tea experience, Organic Moroccan Mint Green Tea from Trader Joe's is the perfect choice. This refreshing combination of mint and green tea offers a delightful balance of flavors that can transport you to the bustling streets of Morocco in an instant. Made with organic ingredients, this tea not only brings fantastic taste but also ensures quality and sustainability.
On a hot summer day, or even when you need a quick pick-me-up, this cooling blend is sure to invigorate you. To make a perfect cup of Moroccan Mint Green Tea, brew it for 2 to 3 minutes with hot water, and if you wish, add a touch of honey or sugar to enhance the natural sweetness of the mint leaves. This harmonious blend is perfect for pairing with your go-to afternoon snacks or light meals, such as salads or sandwiches.
For an even more refreshing take on this classic tea, try serving it iced by brewing a stronger batch, allowing it to cool down, and pouring it over ice. Regardless of how you choose to enjoy this delightful tea, the Organic Moroccan Mint Green Tea is bound to become a staple in your tea collection.
2. Trader Joe's Spiced Chai: A Journey through Exotic Flavors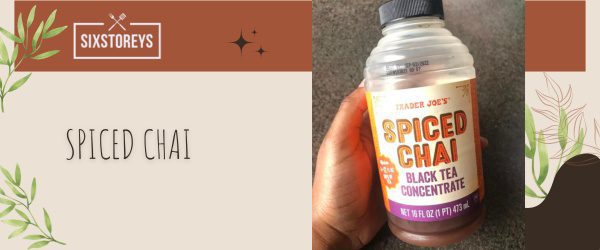 Immerse yourself in the rich and cozy tradition of Indian tea with Trader Joe's Spiced Chai. This enticing blend combines a robust black tea base with a medley of Indian spices, including cardamom, cinnamon, and cloves. The result is an exquisite balance of exotic flavors that will captivate your taste buds and spark your imagination.
Perfect for warming up on a chilly day or enjoying with friends over a shared meal, Spiced Chai can be customized to your preferences. Prepare it with water or milk, and adjust the sweetness with honey, sugar, or your favorite alternative sweetener. For an extra creamy treat, try making it with a mixture of whole milk and coconut milk.
Whether enjoyed as an everyday beverage or an indulgence for special occasions, Trader Joe's Spiced Chai offers a journey through exotic flavors that you'll never tire of exploring.
3. Trader Joe's Winter Wake Up Tea: A Perfect Cold Weather Companion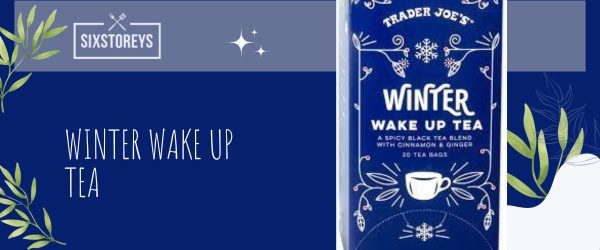 On a frosty winter morning, there's nothing quite as invigorating as a cup of Trader Joe's Winter Wake Up Tea. This zesty blend is designed to awaken the senses and shake off the chilly slumber, with a harmonious combination of citrus, spices, and black tea. Laden with bold flavors and uplifting notes, it is sure to become your go-to cold-weather companion.
Winter Wake Up Tea is a versatile blend that can be enjoyed as a hot beverage or transformed into a steaming pot of mulled tea for gatherings with friends and family. Simply brew the tea with some orange slices and warming spices like star anise, cinnamon sticks, and cloves for an enticingly fragrant infusion perfect for holiday get-togethers.
To prepare this invigorating tea, steep one tea bag in boiling water for 3-5 minutes. For extra zest and complexity, add a splash of lemon or orange juice and a touch of sweetener, if desired. Sip and savor the warmth as you face the cold days ahead.
4. Organic Ginger Turmeric Herbal Tea: A Soothing Sip for Wellness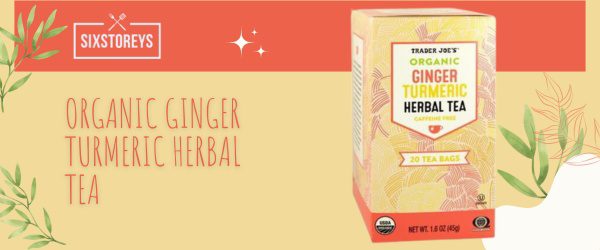 Embrace the healing power of nature with Trader Joe's Organic Ginger Turmeric Herbal Tea. This soothing sip features the dynamic duo of ginger and turmeric, both of which are revered for their anti-inflammatory and antioxidant benefits. The warm and earthy flavor profile is further accentuated by sweet licorice root, bright orange peel, and a touch of black pepper, ensuring a balanced and tantalizing taste.
This caffeine-free herbal tea is perfect for incorporating into your daily rituals, fostering a sense of well-being and balance with every cup. It also makes an excellent post-meal beverage, as ginger is known for its stomach-soothing properties.
To prepare a comforting mug of Organic Ginger Turmeric Herbal Tea, steep one tea bag in boiling water for 5-7 minutes. The vibrant golden hue will signal that it's ready to be enjoyed. Add a spoonful of honey or a slice of lemon, if desired, to enhance the flavors and create an even more restorative experience.
5. Organic Pomegranate White Tea: Bursting with Antioxidants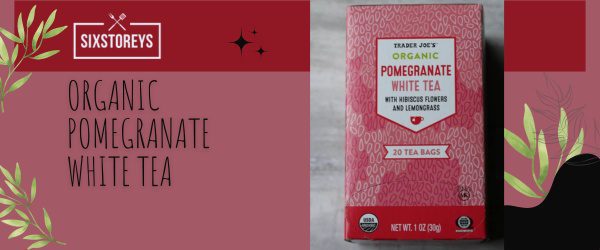 The Organic Pomegranate White Tea from Trader Joe's offers its drinkers a fruity and delightful blend that perfectly combines the delicate flavor of white tea with the tart notes of pomegranate. As a bonus, this tea is packed with antioxidants, known for their potential health benefits such as promoting heart health and combatting inflammation.
The naturally sweet and tangy taste of pomegranate works exceptionally well with the subtle, nuanced aromas of white tea, making it a fantastic option as both a hot and iced beverage. To properly brew this organic white tea, use water that is slightly cooler than boiling and steep for around 3 minutes. This will help preserve the delicate flavors and nutrients of the leaves and pomegranate.
Traditional tea lovers and those seeking to explore new flavors alike will enjoy the rich flavor profile and numerous health benefits that Organic Pomegranate White Tea has to offer. Treat yourself to a lush, rejuvenating world of fruity bliss when you sip on this delightful tea.
6. Sparkling Peach Black Tea with Peach Juice: A Bubbly Delight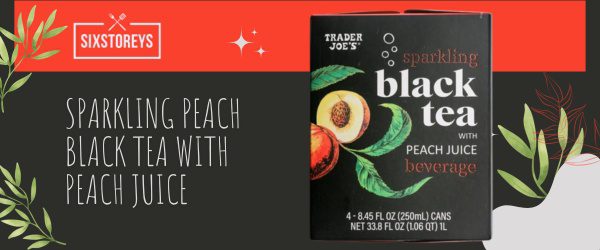 Trader Joe's Sparkling Peach Black Tea with Peach Juice masterfully brings together the bold flavor of black tea and the sweet, juicy taste of ripe peaches with an effervescent twist. This surprising concoction dances on your taste buds, offering a fun and refreshing twist on traditional tea.
Ideal for warm summer days, poolside gatherings, or a sparkling alternative to soda, this bubbly delight can be made easily by brewing the peach black tea, allowing it to cool, and then adding peach juice and carbonated water to taste. For an extra level of sophistication, you may opt to use sparkling water with a hint of natural peach flavor.
Whether consumed on the go in a reusable water bottle or served alongside light appetizers at a festive teatime affair, this fizzy treat is sure to make a splash among both tea novices and connoisseurs alike. The ultimate summer refresher, Trader Joe's Sparkling Peach Black Tea with Peach Juice will keep you reaching for your teacup all season long.
7. Trader Joe's Original Irish Breakfast Tea: A Classic Morning Staple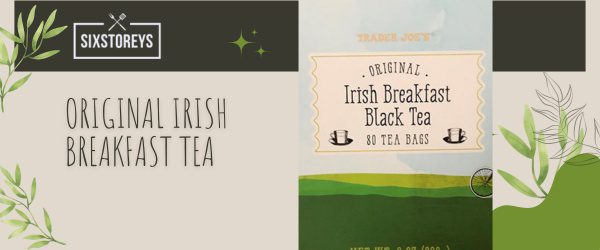 Wake up to the warm, bold flavor of Trader Joe's Original Irish Breakfast Tea. This robust and invigorating blend features a strong classical taste and rich aroma, guaranteed to fill your senses and brighten your morning routine. Originating from the lush tea gardens of India and Kenya, its hearty flavor can be enjoyed with or without milk as per your preference.
The deep, full-bodied taste of Irish Breakfast Tea serves as a perfect companion to traditional breakfast favorites like oatmeal, toast, or even a hearty helping of eggs and bacon. Adding a touch of honey, sugar, or milk will introduce an extra layer of richness and satisfy your sweet tooth if desired.
Whether you're a seasoned tea enthusiast or you simply need a reliable wake-me-up, Trader Joe's Original Irish Breakfast Tea offers a timeless experience and a strong cup to kick off your day.
8. Maple Espresso Black Tea Blend - An Energizing Infusion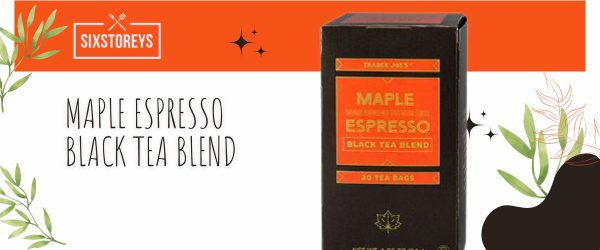 Looking for an inventive caffeinated beverage to kick start your day or recharge your afternoon? Trader Joe's Maple Espresso Black Tea Blend ticks all the right boxes with its unique mix of high-quality black tea, rich espresso, and the delightful sweetness of maple. This innovative blend guarantees to energize your senses and deliver a satisfying experience like no other.
To prepare this indulgent concoction, simply brew the loose-leaf tea for 3-5 minutes in boiling water. The resulting infusion beautifully marries the deep flavor of espresso with the uplifting notes of maple. This versatile tea blend can be enjoyed hot or cold, with milk and sugar, or straight up, based on your preference.
Trader Joe's Maple Espresso Black Tea Blend provides a creative and delightful alternative to your regular tea or coffee routine and serves as a unique conversation starter at your next tea party.
9. Pumpkin Spice Rooibos Herbal Blend - A Cozy Fall Favorite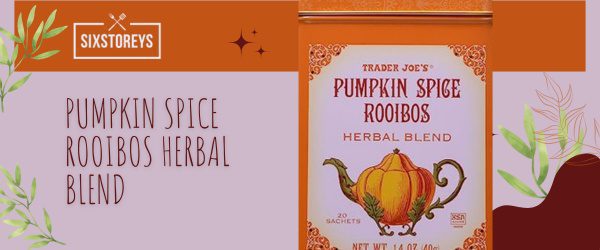 Bring the comforting flavors of autumn right into your teacup with the Trader Joe's Pumpkin Spice Rooibos Herbal Blend. Combining the woody sweetness of Rooibos tea with the quintessential spices of fall, this delightful blend conjures images of cozy nights around the fireplace and indulgent seasonal treats.
Nutmeg, cinnamon, cloves, and pumpkin flavors work together harmoniously in this caffeine-free blend, making it a perfect choice to wind down in the evening or enjoy throughout the day. Pair this cozy concoction with a slice of pumpkin pie or your favorite fall dessert to create the ultimate autumnal experience.
With the Pumpkin Spice Rooibos Herbal Blend from Trader Joe's, you'll revel in the warm, comforting flavors of fall with every soothing sip.
10. Organic Earl Grey - A Timeless Classic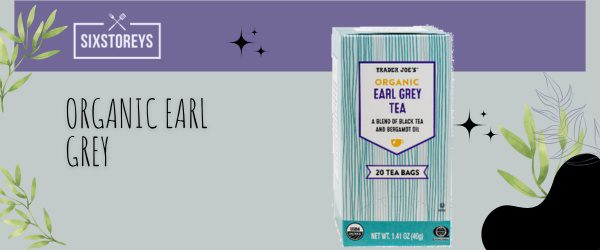 For many, a cup of Trader Joe's Organic Earl Grey is synonymous with refined tea culture and elegant tea breaks. The distinctive flavor profile of this classic tea, featuring a blend of high-quality black tea and natural bergamot oil, is cherished by tea enthusiasts around the world.
Organic ingredients and a focus on sustainability elevate this aromatic tea, allowing you to enjoy the rich citrus notes and underlying depth, guilt-free. To make the perfect cup of Earl Grey, simply brew the tea in near-boiling water for 3-5 minutes. Depending on your preference, add a splash of milk, a squeeze of lemon, or a spoonful of honey.
An essential addition to any proper afternoon tea, Trader Joe's Organic Earl Grey pairs beautifully with scones, finger sandwiches, and delicate pastries. Steep yourself into a delightful cup and experience a truly timeless classic.
Also Read: Best Hard Iced Teas
11. Organic Peppermint Tea - Unwinding with a Soothing Minty Treat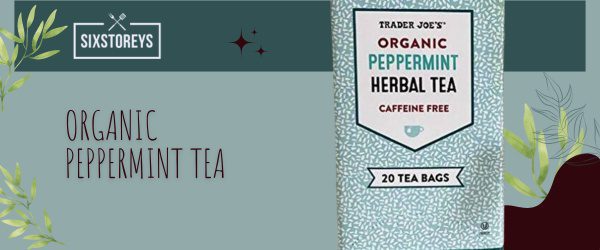 When it comes to finding a soothing and restorative tea to enjoy after a long day, Trader Joe's Organic Peppermint Tea is an undisputed favorite. Peppermint's natural digestive aid and relaxing properties make this caffeine-free tea an ideal choice to unwind and promote a sense of well-being.
Experience pure organic enjoyment with this simple yet invigorating infusion. The crisp, cooling essence of peppermint carries a minty freshness in every sip – perfect for cozy evenings or a mid-afternoon refresher.
To enjoy the full flavor of this herbal tea, steep it in boiling water for 5-7 minutes. The longer the infusion time, the stronger the taste of peppermint. Pair the tea with a light snack or dessert for a guilt-free treat you can indulge in at any time of the day.
12. English Breakfast Tea - A Staple of British Tea Culture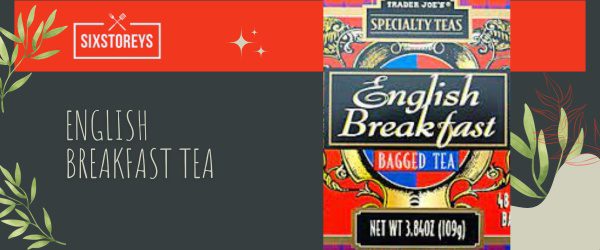 Indulge in the classic tradition of British tea culture with Trader Joe's English Breakfast Tea. A well-rounded blend of Assam, Ceylon, and Kenyan black tea leaves delivers a smooth, full-bodied brew perfect for any time of day.
The rich flavor lends itself beautifully to being enjoyed with or without milk, as well as with a slice of lemon or a spoonful of sugar. English Breakfast Tea has a time-honored place of honor at breakfast tables, complementing savory dishes, pastries, and fruits alike.
To make the perfect cup of English Breakfast Tea, steep the tea in boiling water for 3-5 minutes. Enjoy it with a traditional English scone or simply as the perfect pick-me-up during the day.
Embrace the history and elegance of British tea culture with this timeless classic from Trader Joe's.
13. Organic Blood Orange Rooibos Herbal Tea Blend - A Citrus Delight for the Senses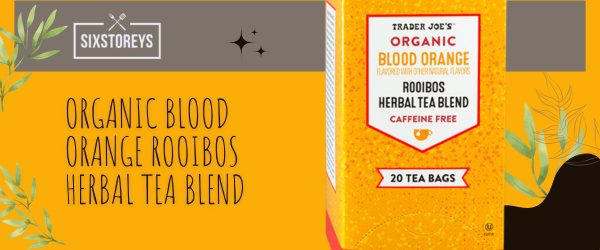 Elevate your tea-drinking experience with Trader Joe's Organic Blood Orange Rooibos Herbal Tea Blend. This captivating concoction merges the bright, tangy zest of blood oranges with the smooth, earthy taste of rooibos, resulting in a delightful beverage that's both soothing and uplifting.
This caffeine-free blend offers a refreshing alternative to traditional teas, making it suitable for any time of day. Packed with vitamins and minerals, blood orange rooibos tea ensures you're sipping on a healthful and delicious beverage.
To enjoy the optimal flavor of this citrusy, herbal blend, steep the tea in boiling water for 5-7 minutes. Serve hot or chilled, with or without a touch of sweetener, depending on your preferences.
14. Mango Black Tea - A Tropical Escape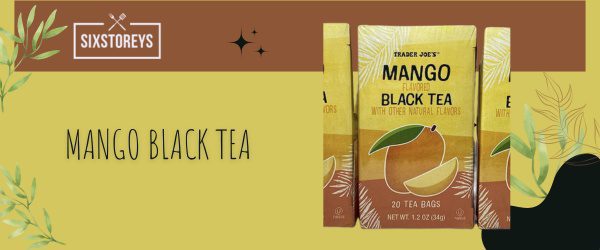 Transport your senses to a lush, tropical paradise with Trader Joe's Mango Black Tea. This exotic blend combines the robust flavor of black tea with the sweet, juicy essence of ripe mangoes. A perfect option for tea lovers who crave a fruity twist on the classic black tea, Mango Black Tea is especially refreshing when served over ice.
Even though the tea is delicious when prepared hot, its fruity character truly shines when transformed into a pitcher of iced mango tea, providing a tropical escape in every sip.
To prepare a cup of hot Mango Black Tea, steep the tea in boiling water for 3-5 minutes. To make a pitcher of iced mango tea, simply brew the tea with double the amount of tea bags and cool it before pouring it over ice.
15. Harvest Blend Herbal Tea - A Symphony of Fall Flavors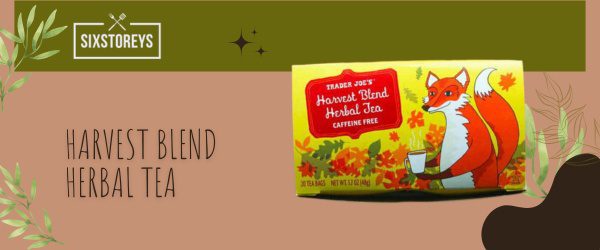 Crafted to evoke warm, cozy feelings of autumn, Trader Joe's Harvest Blend Herbal Tea is a symphony of fall flavors perfect for crisp days and cool nights. This comforting, caffeine-free blend features a delightful medley of flavors from seasonal fruits and spices, including apple, cinnamon, chamomile, and hibiscus.
Pair this soothing beverage with your favorite fall desserts—think apple pies, pumpkin bread, or pecan tarts—for a delightful dessert experience reminiscent of a bountiful harvest.
To enjoy the full flavor profile of this tea, steep it in boiling water for 5-7 minutes. Savor its warmth and be enveloped in the comforting embrace of autumn with each sip.
16. Organic Lemongrass Green Tea - A Zesty Aromatic Journey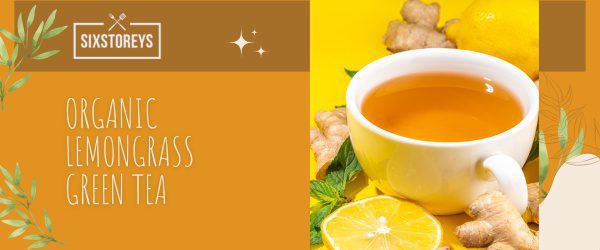 If you're a fan of green tea and looking for a little twist, try Trader Joe's Organic Lemongrass Green Tea. This aromatic brew combines the grassy, slightly bitter flavors of green tea with the zesty brightness of lemongrass, creating a refreshing and invigorating cup of tea. Ideal for days when you need a little lift or shift in perspective, this tea will awaken your taste buds while providing the antioxidants and health benefits associated with green tea.
To prepare this vibrant concoction, brew the tea in near-boiling water for 2-3 minutes, allowing the tea and lemongrass flavors to meld without overpowering each other. For added sweetness or a touch of creaminess, try adding honey or a splash of light cream.
Trader Joe's Organic Lemongrass Green Tea is a perfect choice for those who enjoy green tea, but also appreciate a little wistfulness in their daily cup. Its zesty freshness will transport your senses, sparking memories of warm afternoons and fragrant gardens.
17. Matcha Green Tea Latte Mix - A Velvety Indulgence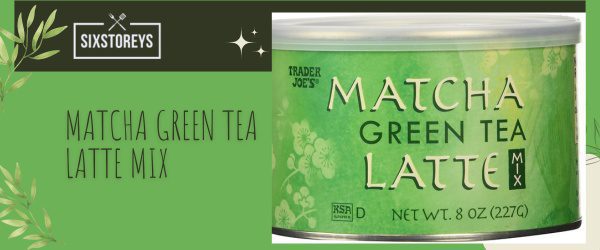 Stay up to date with the matcha craze by treating yourself to Trader Joe's Matcha Green Tea Latte Mix – a velvety mix of premium Japanese matcha green tea powder and sugar that creates the ultimate matcha latte experience. This exquisite mixture offers the unique earthy flavor and bright green color of matcha while providing an antioxidant boost and relaxing energy for your day.
To make the perfect matcha latte, simply whisk the mix with the hot water or milk of your choice, creating a sumptuous frothy beverage. Customize it to your preference by using different milk alternatives or adding a dash of cinnamon, nutmeg, or whipped cream on top.
Embrace the matcha green tea trend with this delightful latte mix from Trader Joe's and immerse yourself in the lush world of Japanese tea ceremonies and ritualistic enjoyment.
Also Read: Best Starbucks Refreshers
How to Brew the Perfect Cup of Trader Joe's Tea?
Brewing the perfect cup of Trader Joe's tea may vary depending on the type of tea you choose. However, there are general guidelines you can follow to ensure a flavorful and aromatic experience each time.
Water Temperature and Quality
Choosing the right water temperature is crucial for extracting the best flavors and nutrients from your tea. Generally, follow these temperature guidelines:
Green and white teas: 160-185°F (70-85°C)
Oolong teas: 180-200°F (80-90°C)
Black and dark teas: 200-210°F (90-100°C)
Herbal teas: 200-210°F (90-100°C)
Be sure also to use high-quality water, as water with impurities may affect the taste of your tea. If possible, use filtered or spring water for a better-tasting brew.
Tea-to-Water Ratio and Steeping Time
The recommended tea-to-water ratio depends on how strong you prefer your cuppa. For a standard cup, use one tea bag or teaspoon of loose leaf tea for every 8 ounces (240 ml) of water. Adjust the amount of tea according to your taste.
Steeping times vary based on the type of tea:
Green tea: 2-3 minutes
White tea: 3-4 minutes
Oolong tea: 2-3 minutes
Black tea: 3-5 minutes
Herbal tea: 5-7 minutes
Remember, over-steeping tea might lead to bitterness. Use a timer and keep an eye on the steeping process to avoid this.
Personalize Your Tea Experience
Add sweeteners or flavor enhancers to customize your tea. Some popular additions include honey, sugar, lemon, or milk. It's up to you to create your ideal flavor profile.
Cold brewing is another method to enjoy your Trader Joe's tea. To cold brew, simply use cold water and let the tea steep for 2-12 hours in the refrigerator. This method results in a smoother and less astringent taste.
Why Choose Organic Teas from Trader Joe's?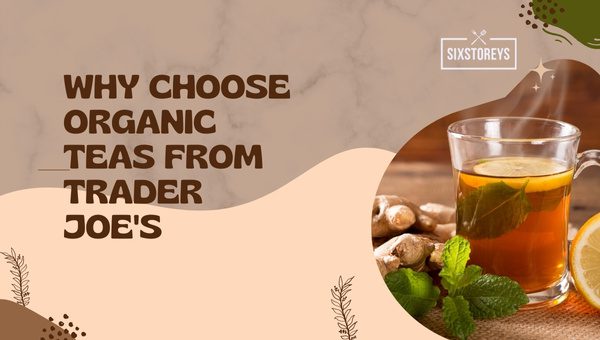 Organic teas from Trader Joe's not only offer delightful tastes but also have several benefits for both our health and the environment.
Benefits for the Environment
Organic tea farming avoids the use of synthetic chemicals like pesticides, herbicides, and fertilizers. By using natural farming practices, organic tea cultivation supports healthier soils, cleaner water, and a more sustainable ecosystem.
Sustainable Agriculture
Trader Joe's is committed to sourcing ethical and environmentally friendly products. By choosing organic teas, you're supporting sustainable agriculture and smaller family-owned farms that prioritize ethical farming.
Superior Taste and Quality
Without any synthetic chemicals, organic teas boast a richer and more nuanced flavor profile. By choosing organic, you're not only contributing to a healthier environment but also enjoying a better-tasting tea experience.
In summary, selecting Trader Joe's organic teas provides not only a delicious cup of tea but also contributes to a healthier planet and supports sustainable farming practices. So go ahead, take a sip, and feel good about the choices you're making for yourself and our world.
How to Pair Trader Joe's Teas with Snacks or Meals?
One of the many joys of exploring different teas is finding delightful combinations that complement your favorite snacks or meals. Trader Joe's diverse tea selection provides ample opportunities to experiment with these pairings, creating a harmonious blend of flavors.
Herbal Teas
Herbal teas, like Trader Joe's Organic Peppermint Tea or Harvest Blend Herbal Tea, pair well with light snacks or desserts. They can also serve as digestive aids after a large meal. For instance, try enjoying your herbal tea alongside:
Fresh fruit salad or a yogurt parfait
Light pastries, such as croissants or scones
Creamy desserts like cheesecake or pudding
Green and White Teas
Floral and delicate, green and white teas should be paired with mild and subtly flavored snacks to balance their nuanced flavors. Organic Lemongrass Green Tea and Organic Pomegranate White Tea are perfect examples. Consider pairing them with:
Simple rice dishes or vegetable sushi rolls
Salads with mild dressings
Seafood, like grilled shrimp or seared scallops
Black Teas
Robust black teas, such as English Breakfast Tea and Original Irish Breakfast Tea, can hold their own against stronger flavors, making them an excellent companion for heavier meals and snacks. You might pair these with:
Heartier sandwiches, like turkey and avocado or a classic BLT
Hearty baked goods, such as muffins or banana bread
Flavorful cheeses and charcuterie
Chai and Spiced Teas
The warm and cozy spices found in Spiced Chai and Winter Wake Up Tea complement a range of sweet and savory snacks. To discover new flavors with these teas, you can try pairing with:
Indian-inspired dishes, like samosas or pakoras
Sweet treats, such as cinnamon rolls, ginger cookies, or apple pie
Rustic savory dishes, like vegetable or cheese-filled pastries
Don't hesitate to get creative with your tea pairings, as experimentation leads to new culinary adventures and personal favorites!
Why Trader Joe's Tea Selection Has Something for Everyone?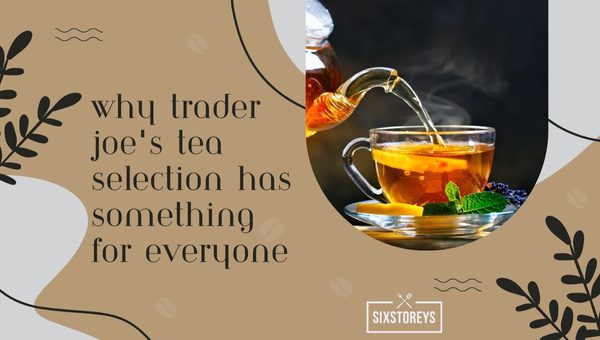 A commitment to offering diverse and high-quality products is just one of the reasons why many consider Trader Joe's a treasure trove for tea lovers. With a carefully curated tea assortment, one can always find a tea that suits their preferences and requirements.
Catering to Various Tastes
Whether you enjoy classic flavors like Earl Grey or adventurous blends like Maple Espresso Black Tea Blend, Trader Joe's carefully-selected range caters to a wide spectrum of tastes. Customers can enjoy an ever-evolving collection that balances well-loved staples with unique, limited edition offerings.
Consideration for Dietary Preferences
Trader Joe's understands that dietary preferences vary, and they strive to provide options that cater to everyone. Whether you're looking for organic, caffeine-free, or vegan-friendly options, this tea selection aims to satisfy diverse needs and preferences.
Affordability and Accessibility
One of the key aspects that sets Trader Joe's apart is its combination of affordability and high-quality products. Tea enthusiasts can indulge without breaking the bank, and the user-friendly packaging makes it easy to bring the tea experience home.
Supporting Sustainable Practices
With a growing focus on organic and ethically sourced products, Trader Joe's tea selection reflects these values by providing options such as Organic Moroccan Mint Green Tea and Organic Ginger Turmeric Herbal Tea. By choosing these teas, you're also investing in sustainable agricultural practices and a healthier planet.
Trader Joe's tea selection combines variety, quality, and consideration for its customers to provide a delightful assortment that can truly cater to everyone's palate, lifestyle, and budget.
Why Tea is the Ultimate Self-Care Ritual with Trader Joe's?
Tea has long been a cherished beverage around the world, offering more than just delightful flavors and a caffeine boost. It provides countless mental and physical health benefits. With the diverse selection of Trader Joe's teas, you can easily incorporate tea into your daily wellness routine for a rejuvenating and soothing experience.
Mental Health Benefits of Tea
The ritual of brewing, sipping, and enjoying tea can be a calming and almost meditative experience. Some Trader Joe's teas, such as their Organic Peppermint Tea and Pumpkin Spice Rooibos, are caffeine-free, which naturally promotes relaxation. Taking breaks throughout the day to enjoy a cup of tea can encourage mindfulness, reduce stress, and boost your mood.
Physical Health Benefits of Tea
Many teas are packed with antioxidants, vitamins, and minerals, which contribute to overall physical well-being. For example, the Organic Pomegranate White Tea contains powerful antioxidants that can help your body fight free radicals. Trader Joe's Organic Ginger Turmeric Herbal Tea offers anti-inflammatory benefits, while their Organic Lemongrass Green Tea is known for its metabolism-boosting properties.
Creating Personalized Tea Rituals
With the vast array of unique and creative blends available at Trader Joe's, you can easily customize your tea rituals to meet your personal tastes and preferences. You may enjoy starting your day with the bold and energizing Maple Espresso Black Tea Blend or opting for the smooth and comforting Organic Earl Grey as you wind down in the evening. The options are endless!
Embracing the Mind-Body Connection
Enjoying a cup of tea can become an essential element of self-care, especially when you take the time to savor each sip. It can bring about a sense of grounding and connection to the present moment, helping to strengthen the mind-body connection. Trader Joe's vast selection encourages you to explore new flavors and experiences, fostering a deeper appreciation for the restorative power of tea.
Whether you are a seasoned tea enthusiast or curious to try something new, Trader Joe's stellar tea collection offers endless opportunities for self-care, wellness, and relaxation. So go ahead and steep some tranquility into your daily routine, because Trader Joe's teas are the ultimate partner in your self-care journey.
Also Read: Best White Claw Flavors
Frequently Asked Questions
What is the caffeine content in Trader Joe's teas?
The caffeine content varies depending on the type of tea. Black and green teas typically contain caffeine, whereas herbal teas are caffeine-free. Check the packaging for specific caffeine information.
Are all of Trader Joe's teas organic?
While not all teas at Trader Joe's are organic, they do offer a wide selection of organic options. Look for the "organic" label in the tea's name or packaging.
Do Trader Joe's teas contain artificial sweeteners or flavors?
Trader Joe's focuses on providing natural and high-quality ingredients in their products. Most of their teas do not contain artificial sweeteners or flavors. Always check the ingredient list on the packaging to ensure it meets your requirements.
Can I make iced tea with Trader Joe's teas?
Yes, many Trader Joe's teas can be enjoyed as iced teas. Just brew the tea according to the package instructions, allow it to cool, and serve over ice.
How long should I steep Trader Joe's teas for the best flavor?
Steeping time varies based on the type of tea. Generally, black teas should steep for 3-5 minutes, green teas for 2-3 minutes, and herbal teas for 5-7 minutes. Check the packaging for specific steeping instructions.
Are Trader Joe's teas gluten-free?
Most of Trader Joe's teas are gluten-free. However, always check the package for allergen information and ingredients that may contain gluten.
Does Trader Joe's sell loose leaf tea or only tea bags?
Trader Joe's primarily sells tea in bagged form. However, some limited edition or seasonal teas may be available as loose leaf.
Which Trader Joe's tea is best for a bedtime beverage?
Herbal teas like Organic Peppermint Tea, Organic Blood Orange Rooibos Herbal Tea Blend, or Pumpkin Spice Rooibos Herbal Blend are great caffeine-free choices to sip before bedtime.
Can I use Trader Joe's teas in recipes?
Absolutely! You can incorporate teas into recipes like smoothies, desserts, or even savory dishes for an extra layer of flavor. Get creative and experiment with your favorite tea blends!
Are Trader Joe's teas seasonal or available year-round?
Trader Joe's offers a variety of teas available year-round. However, some teas, like Pumpkin Spice Rooibos Herbal Blend or Winter Wake Up Tea, are seasonal and available for a limited time.
Conclusion
As our tea exploration at Trader Joe's comes to an end, we've discovered an extensive selection of flavorful, soothing, and refreshing teas that cater to every taste and preference. From the classic Organic Earl Grey to the unique Maple Espresso Black Tea Blend, there's undoubtedly a tea experience awaiting you at Trader Joe's.
Whether you're a seasoned tea connoisseur or just beginning your journey, these teas serve as the perfect excuse to take a moment to relax, indulge in self-care, and relish the simple pleasure of savoring a delicious cup of tea. So, go ahead and brew your favorite, or try something new, and let the enticing flavors transport you to a world of tranquility and enjoyment.
Beverage Explorer and Tastemaker 🍻🥃🍷 Aman's quest for liquid delights knows no limits. From hoppy brews to aged spirits, he uncovers the tales behind each sip. His eloquent descriptions and accessible insights make every drink an adventure worth raising a glass to.