22 Best Italian Candies of 2023 [Ready for a Sugar Rush]
Updated On: August 24, 2023
Discovering the world of confections is an exciting journey, and exploring the "Best Italian Candies" adds a touch of sweetness to the adventure. Italy, a land renowned for its rich culinary tradition, boasts an array of mouth-watering candies that are sure to entice your taste buds. From exquisite chocolates to fruity and tangy treats, these unique and delightful sweets carry the essence of Italian craftsmanship.
In this article, I'll share my personal experiences and reviews of some of the most delectable Italian candies, taking you on a scrumptious voyage through the flavors of Italy. Whether you're a fan of chocolate or a lover of fruity confections, there's an Italian candy waiting to captivate your senses. So, join me as we indulge in the best Italian candies that deserve a place on your must-try list!
Also Read: Best Fruity Candies
22 Best Italian Candies of 2023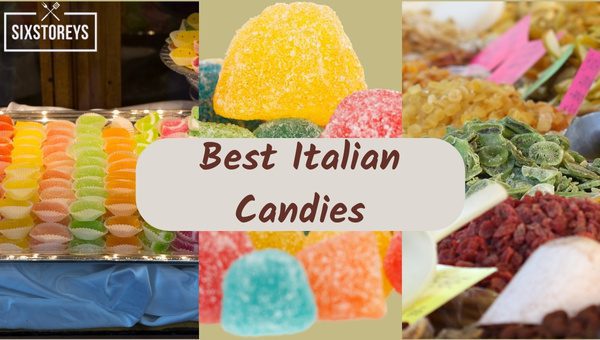 In this section, we delve into the world of Italian confections, uncovering the 22 finest candies that Italy has to offer. From the classic Ferrero to the delicate Geliziosa, prepare to embark on a sweet journey through Italy's rich candy tradition. Indulge your taste buds and discover the delectable gems that have been savored by generations.
1. Ferrero Collection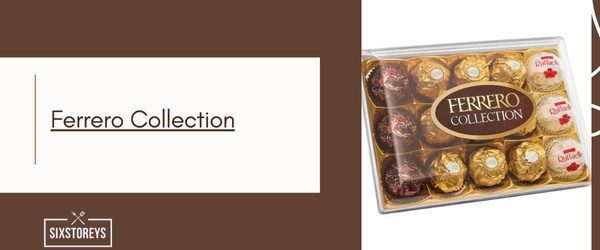 Ferrero Collection is undoubtedly one of the most beloved Italian chocolate assortments worldwide. This delightful selection offers a variety of iconic chocolates by the esteemed Ferrero brand. Among these delectable treats are the legendary Ferrero Rocher, a crisp wafer filled with creamy hazelnut chocolate and encased in a shell of milk chocolate and crushed hazelnuts. Its delicious blend of textures and flavors makes it an instant favorite.
Then, we have the irresistible Raffaello, a delicate confection containing a whole almond within a smooth and creamy white chocolate filling, wrapped in a crispy wafer shell, and coated with desiccated coconut. This scrumptious treasure offers a light, tropical twist to traditional chocolate treats.
Completing the Ferrero Collection is the sophisticated Rondnoir. This elegant dark chocolate bonbon features a delicate almond center surrounded by dark chocolate cream and encased in a thin, fine wafer shell. The Rondnoir's luxurious finish with a dusting of finely chopped cocoa nibs sets it apart, making it perfect for those who fancy dark chocolate delights.
2. Baci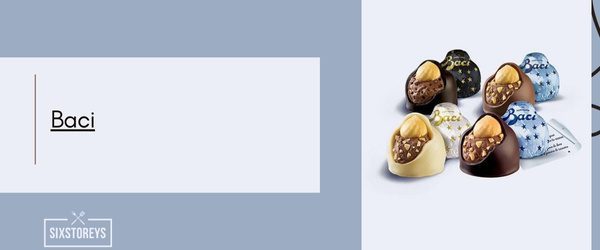 A visit to the Italian confectionery world would be incomplete without mentioning the iconic Baci chocolates. These delectable Italian treats consist of a rich, dark chocolate shell enveloping a whole hazelnut and a luscious gianduia filling. The name "Baci," which means "kiss" in Italian, showcases the expression of love and affection these chocolate treats embody.
Each Baci chocolate is wrapped in an elegant silver foil adorned with a blue star design. Inside, you'll discover a hidden romantic message printed on a tiny slip of paper, which adds an extra layer of charm to this already irresistible confection. With their perfect blend of chocolate, hazelnuts, and a hint of magic, Baci chocolates are a memorable delicacy that truly embodies the essence of Italy.
3. Cakebites by Cookies United
Featuring a delightful fusion of cake and chocolate, the Cakebites by Cookies United offer a unique and delightful experience for those who appreciate gourmet Italian sweets. These mini Italian cakes are made from layers of moist sponge cake, filled with deliciously smooth cream, and coated in rich chocolate.
The Cakebites collection becomes increasingly tantalizing, with flavors such as Classic Italian Rainbow, Ultimate Party, and Chocolate Truffle to whet your appetite. The beautifully crafted layers in each Cakebites treat to create an explosion of textures and flavors that dance harmoniously on your palate. These small bites are not only perfect for indulging on your own, but they also make fantastic gifts for friends and loved ones who share a passion for heavenly confections.
4. Herbamelle Amarena Fabbri Black Cherry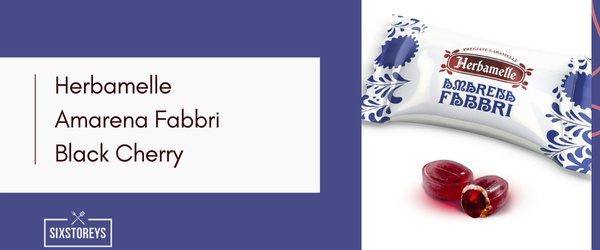 From the heart of Bologna, Italy, comes the luscious Herbamelle Amarena Fabbri Black Cherry candies. These delightful treats feature a rich and tangy black cherry flavor, providing a satisfying burst of fruit taste in every bite. Made with natural ingredients and following a traditional Italian recipe, these candies offer an authentic fruit flavor that sets them apart from commercially produced sweets.
Aside from their irresistible taste, Herbamelle Amarena Black Cherry candies are known for their soothing properties. These black cherry-infused treats are a natural remedy for coughs and sore throats, making them a delicious and practical addition to any candy collection. If you're a fan of cherry-flavored sweets, these delightful candies are a must-try.
5. Lemoncella Hard Filled Candy by Fida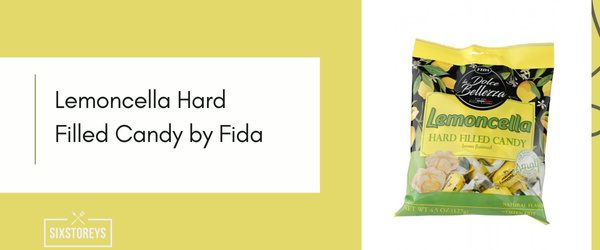 Citrus lovers, rejoice! The Lemoncella Hard Filled Candy by Fida offers a zesty lemon flavor guaranteed to enliven your taste buds. Named after the famous Italian lemon liqueur, Limoncello, these candies capture the essence of Italy's prized citrus tradition in a hard candy form. As you savor each bite, you'll experience a delightful balance of sweet and tangy flavors that linger to leave a refreshing aftertaste.
These hard candies are produced by Fida, a popular Italian candy brand known for using only high-quality, natural ingredients. Each Lemoncella hard candy is individually wrapped, making them convenient for on-the-go enjoyment or sharing with friends and family who appreciate the invigorating taste of lemon.
6. Sicilian Red Orange Filled Candy by Serra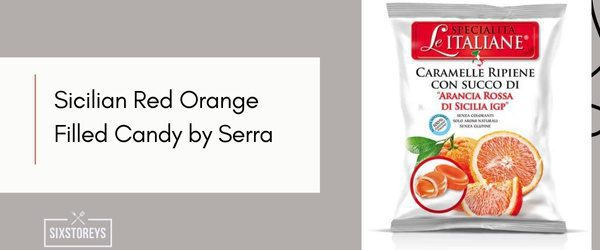 Embark on a fruity adventure with the Sicilian Red Orange Filled Candy by Serra. These delectable hard candies boast a unique and well-balanced flavor profile, thanks to the use of the natural Sicilian red orange extract. As you savor each piece, you'll be transported to the picturesque orange groves of Sicily, where these distinct and aromatic citrus fruits are grown.
Each candy piece is filled with a tangy red-orange jelly center that erupts with flavor upon each bite. The combination of the sweet outer shell and zesty filling creates a harmonious Italian candy experience that you won't soon forget.
7. Cedrinca Cappuccino Hard Candies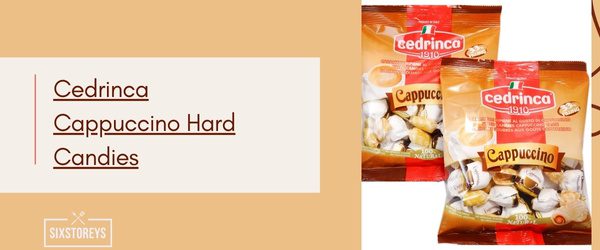 Cedrinca Cappuccino Hard Candies are the ideal indulgence for coffee aficionados seeking the perfect fusion of coffee and candy. Wrapped in an elegant gold foil, these hard candies deliver the creamy and frothy taste of a freshly brewed cappuccino. The rich aroma of coffee, combined with the hint of warm milk and a touch of cocoa, creates an unforgettable experience for those who appreciate a delicate, yet rich, coffee flavor.
Cedrinca, an esteemed Italian brand established in 1910, carries forward its long-standing tradition of creating high-quality confections with natural and authentic ingredients. The Cedrinca Cappuccino Hard Candies are, without a doubt, a must-try for anyone seeking the allure of Italy's coffee culture in a convenient and portable form.
8. Coffee-Filled Hard Candies by Sperlari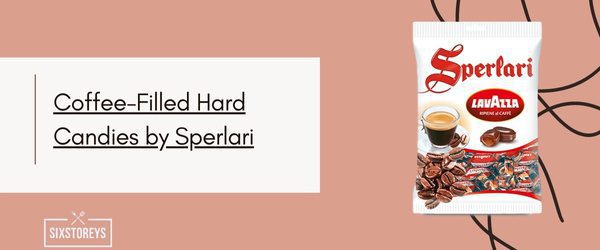 Continuing our journey into the world of coffee-inspired Italian treats, we come across the delightful Coffee-Filled Hard Candies by Sperlari. These irresistible candies feature a smooth and robust coffee-flavored hard shell that melts into a luscious, soft, and sweet coffee-filled center.
The Sperlari brand, founded in 1836, is known for its commitment to quality and exceptional craftsmanship in the field of confectionery. These coffee-filled hard candies are no exception, encapsulating the bold flavors that coffee enthusiasts love and crave.
As you allow the hard shell to dissolve, the candy releases a rich and satisfying coffee aroma that fills your senses. When you finally discover the creamy coffee center, the experience is nothing short of magical—a seamless blend of sweetness and caffeinated perfection.
9. Pocket Coffee by Ferrero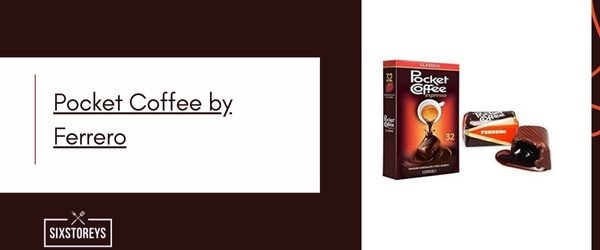 For those who crave a more intense coffee fix, the Pocket Coffee by Ferrero offers a truly unique experience. These small, square-shaped chocolates are filled with an invigorating blend of Italian espresso, encased in a layer of fine dark chocolate. As you bite into the chocolate shell, the rich liquid coffee center is revealed, providing an immediate burst of energy to kickstart your day or keep you going during an afternoon slump.
Pocket Coffee, a creation of the renowned Ferrero brand, is perfect for coffee lovers who want a convenient and portable way to enjoy the rich taste and stimulating effects of a quality Italian espresso. These delightful treats have earned their place among the best coffee-inspired Italian candies, providing an indulgence that's equal parts decadent and energizing.
10. Fida Gocce Licorice-flavored Candy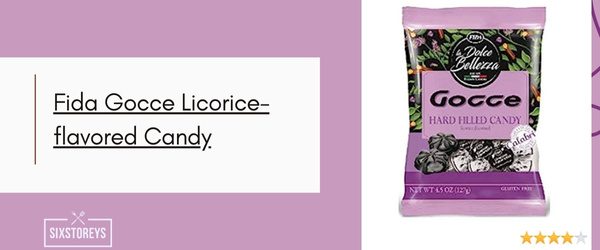 Entering the world of classic Italian licorice confections, we begin with the Fida Gocce Licorice-flavored Candy. These hard candy gems offer an authentic Italian licorice taste, made with genuine licorice extract. Gocce candies have a black, glossy exterior that makes them visually appealing, while the smooth, hard texture ensures a long-lasting flavor experience.
The distinctive taste of Fida Gocce Licorice-flavored Candy balances the sweetness and bitterness of traditional licorice, providing a satisfying treat for licorice aficionados. These candies are perfect to enjoy in quiet moments throughout the day, or to share with friends and family who appreciate the timeless flavor of licorice. Fida Gocce Licorice-flavored Candy is a must-try for anyone eager to explore the depth of Italian licorice confections.
11. Fida Glaccia Mint Candy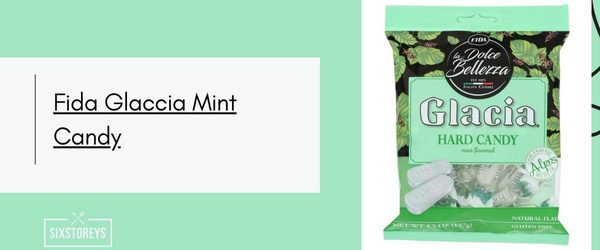 Embracing the cool and refreshing sensations of mint, the Fida Glaccia Mint Candy is a delightful Italian treat that rejuvenates your senses. The icy blue exterior of these hard candies entices the eye, while the delectably smooth texture offers a satisfying crunch for the palate.
One bite into a Fida Glaccia Mint Candy reveals a rich and powerful mint flavor, leaving your breath fresh and your taste buds tingling with delight. These Italian mint candies can be enjoyed after meals, during a work break, or whenever you need a refreshing escape from the hustle and bustle of daily life. Be sure to keep a few of these invigorating candies on hand when you need a cool, refreshing treat to clear your senses.
12. Golia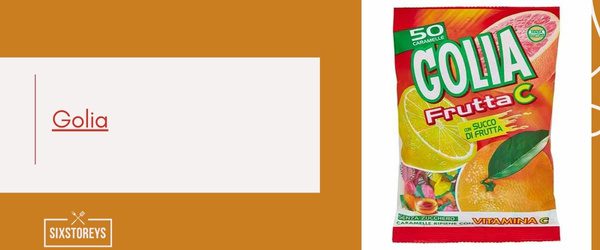 For a perfect blend of licorice and mint flavors, look no further than the soft and chewy Golia candies. These small, pillow-shaped chews are filled with a delightful combination of natural licorice extract and a touch of cooling mint. The result is a harmonious fusion of two iconic flavors that create an enticing, unique sensation for your taste buds.
Golia candies boast a firm yet pliable texture that produces an enjoyable chew, satisfying your craving for a more substantial candy experience. These Italian chews come in a variety of packaging options, making it easy to enjoy them at home or on the go. Ideal for licorice and mint fans alike, Golia candies are a tempting alternative to more traditional Italian confections.
Also Read: Best Larabar Flavors
13. Ferrara Pistachio Torrone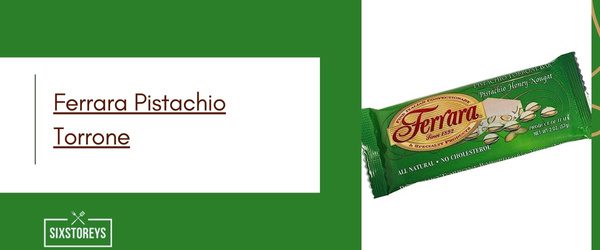 Ferrara Pistachio Torrone is a traditional Italian dessert and an exquisite indulgence for sweet tooth enthusiasts. This soft nougat candy is made with a delightful combination of honey, sugar, egg whites, and the star ingredient - crunchy pistachios. Its texture strikes a delicate balance between chewy and tender, making it a truly delightful treat.
The Pistachio Torrone is typically enjoyed during festive occasions such as Christmas. Its soft, flavorful filling encased in a thin wafer makes every bite a scrumptious experience. A true taste of Italian tradition in every bite, Ferrara Pistachio Torrone is a must-try for those who appreciate the creaminess of rich milk candies.
14. Sperlari Galatine Strawberry Milk Candy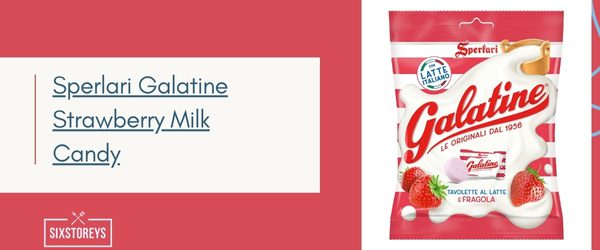 The Sperlari Galatine Strawberry Milk Candy is a classic Italian milk candy that perfectly combines the natural sweetness of real fruit with the creaminess of the milk. These soft, chewy candies offer a delightful burst of strawberry flavor while still retaining a smooth and milky texture.
Every Galatine Strawberry Milk Candy contains the goodness of fresh milk, offering a deliciously wholesome treat for those who crave the sweet taste of strawberries and the smoothness of milk. Ideal for sharing with friends, enjoying after a meal, or simply indulging, Galatine Strawberry Milk Candy is a truly irresistible treat for lovers of creamy fruit-flavored candies.
15. Serra Soft Toffee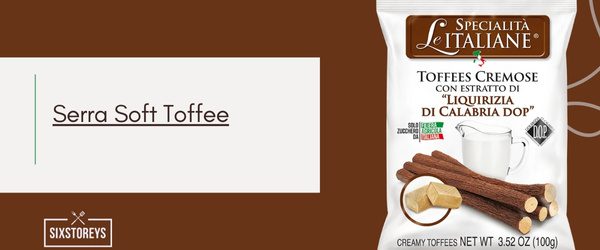 Serra Soft Toffee is an indulgent Italian candy that will have toffee lovers craving more. Crafted with a base of sugar, butter, and cream, the buttery soft toffee has a delightfully smooth texture that melts in your mouth, providing a burst of classic and familiar flavors.
As you savor every bite, the smooth texture and buttery richness of Serra Soft Toffee become a testament to the meticulousness of Italian craftsmanship and their passion for creating heavenly treats. As a deliciously sumptuous candy, Serra Soft Toffee is perfect for satisfying your sweet tooth and indulging in moments of pure bliss.
16. Bonelle Jelly Candies by Fida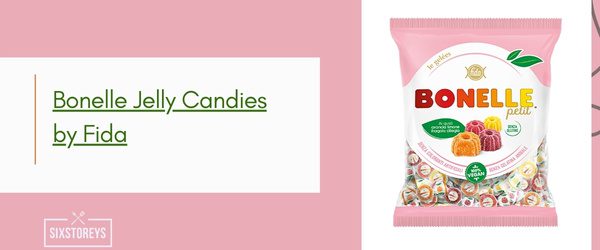 A journey through the flavors of Italy would be incomplete without sampling the delightful Bonelle Jelly Candies by Fida. These fruit-flavored jelly candies are made with real fruit juice, giving them an authentic taste that is both sweet and tangy.
The Bonelle Jelly Candies come in a wide assortment of flavors, including classic choices such as lemon, orange, and raspberry, as well as unique and exotic flavors like bergamot. Their soft, jelly-like texture and vibrant colors make them an enjoyable treat for people of all ages. Whether you're looking to enjoy a chewy, fruity snack or share them amongst friends, Bonelle Jelly Candies are a delectable Italian treat that you won't be able to resist.
17. Perugina Rosanna Hard Candy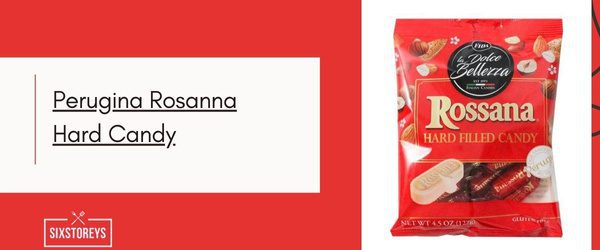 Perugina, a renowned Italian confectionery brand, takes pride in its colorful assortment of fruit-flavored hard candies called Rosanna. Each candy is individually wrapped, ensuring ultimate freshness and flavor.
Rosanna candies come in an array of fruity variations, including strawberry, orange, lemon, and cherry, each expertly crafted to deliver a burst of natural fruit flavors in every bite. The vibrant packaging makes this assortment an attractive gift option and a delightful way to introduce someone to the world of Italian candies.
18. Pastiglie Leone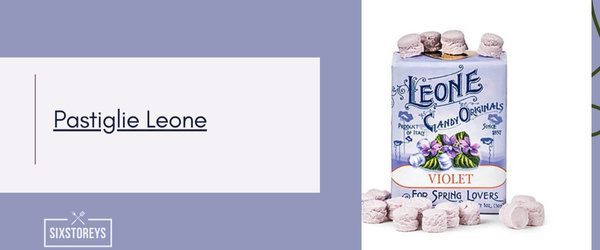 Pastiglie Leone is an Italian treasure, representing generations of tradition and artisanal craftsmanship. This iconic candy brand offers a wide range of classic treats that have become synonymous with Italian confections. Among their most popular creations are their signature hard candies, which come in a variety of flavors and unique shapes.
Pastiglie Leone uses only the finest ingredients, such as natural extracts and Italian-grown herbs, in crafting their hard candies, ensuring an authentic taste experience. Their distinctively stylish packaging adds a touch of elegance and charm to an already exceptional treat.
19. Fallani Candies Classiche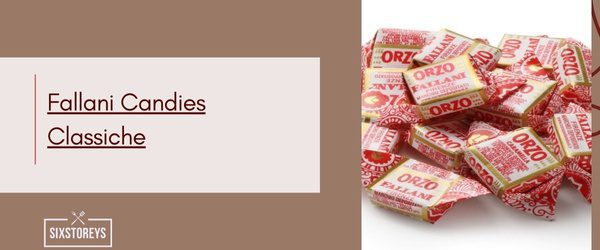 Another delightful addition to the Italian candy scene is Fallani Candies Classiche. These handcrafted hard candies take you on a trip down memory lane, embodying genuine Italian flavors reminiscent of years past. Classiche candies come in an assortment of vibrant flavors such as lemon, orange, cherry, and mint, each one uniquely crafted to create a taste that lingers on your palate. The evocative charm of Fallani Candies Classiche is guaranteed to captivate both young and old.
20. Balsamiche al Miele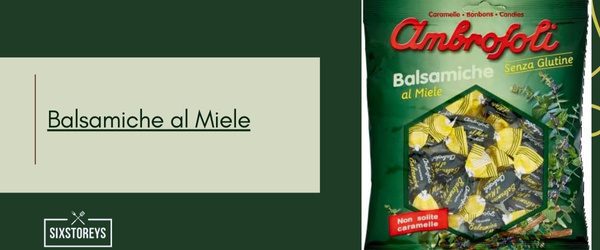 Daring to be different, Balsamiche al Miele is a truly unique and unforgettable Italian candy experience. These honey-based candies are infused with a touch of balsamic vinegar, creating a perfect harmony of sweet and tangy flavors. The combination may seem unusual at first, but once you try them, you'll find yourself hooked on their distinct taste. Balsamiche al Miele candies are truly an Italian confectionery innovation that stands out among its peers.
21. Briosa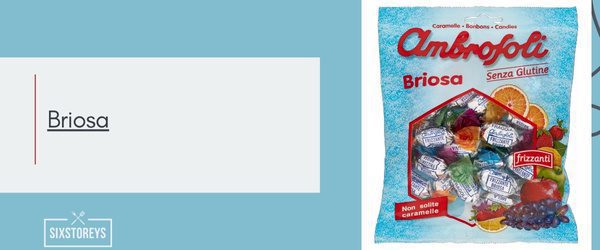 Elevate your taste buds with the exquisite flavors of Italian liqueurs captured in Briosa candies. These soft, chewy confections are infused with authentic Italian liqueur flavors, such as Limoncello, Amaretto, and Grappa. The richness of each candy, coupled with the subtle kick from the liqueurs, makes for an indulgent and exceptional treat. Briosa candies are perfect for those who appreciate unique and sophisticated flavor experiences.
22. Geliziosa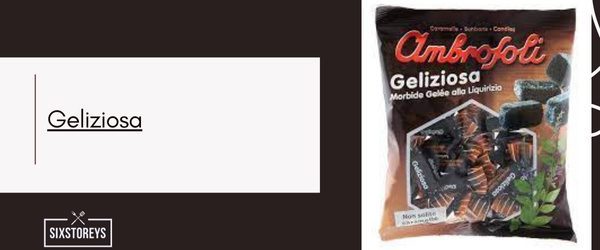 Another spectacular and tempting creation is the Geliziosa hard candy, which hides a delightful surprise within. These hard candies are filled with a delicious, fruity gelée, providing a perfect contrast of textures that leaves you craving more. Geliziosa candies carry an assortment of fruit flavors like lemon, orange, and raspberry, each one equally captivating. Their unique combination of a hard candy shell and a gelée filling sets Geliziosa apart and ensures this Italian candy will leave a lasting impression on anyone who indulges in their delightful flavors.
Also Read: Best Starburst Flavors
How Italian Candies Reflect Italy's Culinary Culture?
Italian candies, much like the country's culinary scene, are a reflection of Italy's rich and diverse culture. From the bold and vibrant flavors to the importance of high-quality ingredients, Italian candies represent Italy's passion for creating delicious and memorable experiences.
Importance of Quality Ingredients
Italians are known for their dedication to using the finest and freshest ingredients in their culinary creations, and candies are no exception. Italian candy makers pride themselves on using quality ingredients to ensure a superior taste. From the creamiest chocolate to the most fragrant fruit extracts, Italian candies provide an authentic and high-quality taste experience.
Regional Specialties and Unique Flavors
Italy is a country with diverse regional cultures, and this diversity is reflected in the range of candies available. Each region boasts unique flavors, influenced by both their local geography and historical culinary traditions. You'll find zesty lemon-infused candies from the Sorrento region and sophisticated hazelnut chocolate creations from Italy's northwest.
In addition, Italian candies often incorporate ingredients that are intrinsic to their respective regions. For example, candies from Sicily might contain pistachio and almond flavors, while those from Tuscany might include honey or chestnut extracts.
Sense of History and Tradition in Italian Candy-making
Italian candies carry with them a strong sense of history and tradition. Many recipes have been passed down through generations, reflecting a family's commitment to keeping the art of candy-making alive. Some of Italy's oldest candy brands, such as Pastiglie Leone, have been producing sweets for well over a century, preserving the essence of Italy's culture for future generations.
The craftsmanship and love that goes into making Italian candies also highlight Italy's sense of la dolce vita - the sweet life. Indulging in Italian candies allows us to experience a small taste of this delightful philosophy, savoring every flavor and texture.
Italian candies capture the essence of Italy's culinary culture, both in the ingredients and the stories they tell. As you sample the diverse range of flavors, take a moment to appreciate the rich history and tradition that lies behind these delectable treats.
Why Italian Candies Make Great Gifts?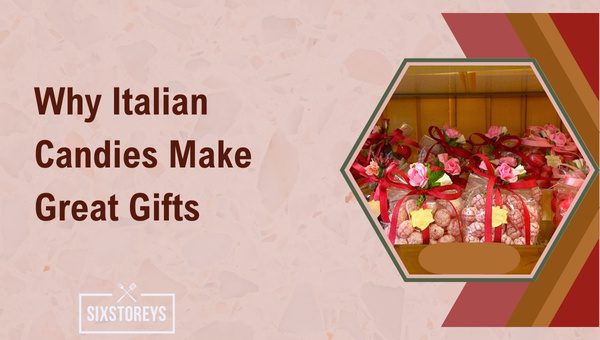 Italian candies are not just delicious treats; they are pieces of art that embody Italy's rich culinary history and unique regional flavors. Gifting Italian candies is an excellent way to share your love for Italian culture or simply give a thoughtful, enjoyable present to someone special. In this section, we'll explore some of the reasons why Italian candies make irresistible gifts.
Beautiful and Unique Packaging
Italian candies are often known for their eye-catching and unique packaging. Many Italian candy makers invest time and effort in designing bold, colorful, and vibrant packages that are not only pleasing to the eye but also offer a visual representation of the confectionery art inside.
The packaging often features intricate designs that draw from Italy's rich art and architectural heritage. Gifting these wonderfully packaged candies shows attention to detail and amazing taste.
Wide Variety of Flavors and Textures
There's something for everyone when it comes to Italian candies. From classic favorites like chocolate and hazelnut combinations to exquisite fruit flavors such as black cherry and Sicilian red orange, there is an incredible array of choices to suit everyone's palate. With varying forms of candy such as soft nougats, creamy toffees, and hard candies, you can select the perfect gift tailored to your loved one's preferences.
Showcasing Love for Italian Culture
Gifting Italian candies allows you to share your admiration for the Italian culture with your friends and family. By choosing candies that are regionally themed or artisanally crafted, you can create a thoughtful and unique gift that tells a story beyond taste. For example, you could select a bundle of candies that showcase the flavors of a particular region in Italy, such as Sicily's famed citrus fruits.
A Taste of Italy's Culinary Heritage
Italians are known for their emphasis on high-quality ingredients, craftsmanship, and their passion for food. Each piece of Italian candy is a culinary artifact that represents this rich heritage, presenting a unique opportunity to savor and share a piece of Italy.
Moreover, many Italian candies come with a long and fascinating history, such as the Pastiglie Leone, which dates back to 1857. By gifting these candies, you are not only giving a delicious treat but also sharing a glimpse of Italy's history.
Choosing Italian candies as a gift is a thoughtful way of expressing your love for Italy and its unique culinary culture. With their beautiful packaging, diverse flavors, and fascinating background, Italian candies are perfect for any special occasion or just to surprise someone you care about.
Tips for Storing and Enjoying Italian Candies in 2023
Italian candies are a delightful treat, and with proper storage and enjoyment techniques, you can ensure that they remain fresh and delicious for as long as possible. In this section, we discuss some expert tips for storing and enjoying your favorite Italian candies.
Storing Italian Candies
Different types of candies have varying storage requirements to maintain their taste and texture. Here are some general guidelines for storing your candies:
Chocolate Candies: Keep chocolate in a cool, dry place, ideally between 60-68°F (15-20°C) and away from direct sunlight. To prevent chocolate from developing white or gray spots, known as "fat bloom," do not store chocolate in the refrigerator. Instead, wrap your chocolate in aluminum foil and place it in an airtight container.
Hard Candies: Store hard candies in a cool, dry place, ideally between 50-70°F (10-21°C). Keep them in their original packaging, or place them in an airtight container or a ziplock bag.
Soft Candies, Toffee, and Caramels: Soft candies can become sticky or lose their texture if exposed to air or moisture. To maintain freshness, store them in a sealed container at room temperature, away from sunlight.
Jelly Candies: Keep jelly candies in their original packaging, or place them in an airtight container. Avoid storing jelly candies in the refrigerator, as they can become overly sticky or dry out. Instead, store them in a cool, dry place at room temperature.
Enjoying Italian Candies
Now that your candies are properly stored, here are some tips and ideas for enjoying them:
Savor the Flavor: Take time to appreciate the complex flavors and textures of the candy. Allow chocolate candies to melt in your mouth rather than chewing them, and let hard candies dissolve slowly to fully experience all the subtle notes.
Pair with Drinks: Many Italian candies can be perfectly paired with beverages. For example, try enjoying chocolate candies with a glass of red wine or pairing hard candies with a comforting cup of tea. You can also experiment with different drink pairings to discover your personal favorite combination.
Create Unique Desserts: Incorporate your favorite Italian candies into desserts for an added touch of flavor. Some ideas include crushing biscotti and mixing them with chocolate candies for a unique ice cream topping, or using fruit-flavored jelly candies in a homemade fruit tart.
By following these tips for storing and enjoying Italian candies, you can make the most of every delicious bite.
How to Use Italian Candies in Your Own Creations?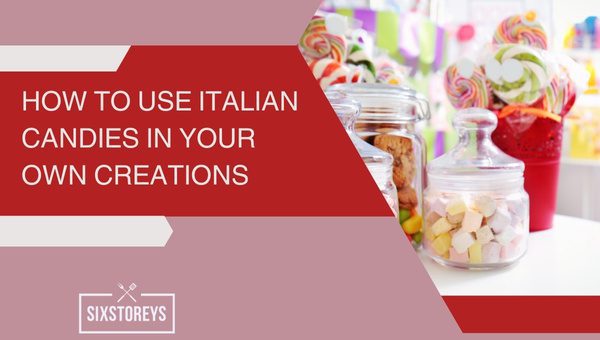 Incorporating Italian candies into your culinary creations can add a unique layer of flavor and texture to your dishes. From desserts to garnishes, the possibilities are endless. Let's explore some creative ways to use Italian candies in your own kitchen creations.
Baking with Italian Chocolates
Italian chocolates, such as Baci and Ferrero Collection, can add richness and depth to your baked goods. Use them in place of standard chocolate chips or chunks in cookies, muffins, or brownies. They can also be melted and incorporated into ganache or frosting for cakes and cupcakes.
Incorporating Candies into Ice Cream and Gelato
Delicious on their own, Italian candies can bring excitement to your homemade ice cream or gelato by providing bursts of flavor and texture. Simply chop or crush your favorite candies and fold them into a nearly-frozen ice cream or gelato mixture before the final freeze.
| | |
| --- | --- |
| Candy | Suggested Ice Cream/Gelato Flavor |
| Sperlari Frugele | Lemon sorbet or gelato |
| Cedrinca Cappuccino Hard Candies | Coffee or vanilla ice cream |
| Ferrara Pistachio Torrone | Stracciatella or chocolate gelato |
Garnishing and Topping
Using Italian candies as garnishes or toppings can elevate the presentation of your desserts. Try sprinkling crushed Perugina Rosanna Hard Candy on top of a panna cotta, or drizzling melted Cakebites by Cookies United over a fruit tart.
Infusing Flavors
Some Italian candies can impart their flavors into other dishes by infusing them. For example, steep Fida Glaccia Mint Candy in heated cream to create a mint-flavored cream for mousses, custards, or whipped cream toppings.
Creating Candy-filled Confections
Fill your homemade confections, such as truffles or bonbons, with Italian candies to create a delightful surprise of flavors and textures. You can use Serralicious's Sicilian Red Orange Filled Candy as the center of a rich chocolate truffle or Lemoncella Hard Filled Candy by Fida for a refreshing twist.
Experimenting with Italian candies in your own creations can lead to innovative dishes that will delight your taste buds and impress your friends and family. Don't be afraid to get creative and let your love for Italian candies inspire your culinary adventures.
Frequently Asked Questions
What makes Italian candies stand out from candies from other countries?
Italian candies are known for their high-quality ingredients, unique regional flavors, and rich culinary traditions. Their dedication to superb flavor and presentation sets them apart from candies from other countries.
Are there any vegan or vegetarian Italian candies available?
Yes, there are many Italian candies that are vegan or vegetarian. Some examples include fruit-flavored hard candies and some traditional artisanal candies like Pastiglie Leone. Be sure to check the ingredients list to ensure the candy meets your dietary preferences.
Where can I buy authentic Italian candies?
You can find authentic Italian candies at specialty Italian food stores, online retailers, or directly from the manufacturers' websites. Some gourmet food stores and international markets may also carry a selection of Italian candies.
Can I make my own Italian candies at home?
Yes, you can certainly try to make your own Italian candies at home. There are many recipes available online that range from traditional torrone nougat to homemade Baci chocolate. Be prepared with the right ingredients and tools to create authentic and delicious homemade Italian sweets.
Are Italian candies gluten-free?
Many Italian candies are naturally gluten-free, such as hard candies and some fruit-flavored jellies. However, it's essential to check the ingredients list or look for gluten-free labeling to ensure that the candy meets your dietary requirements.
Can I find Italian candies with allergy-friendly options?
You may find Italian candies with allergy-friendly options such as nut-free, dairy-free, or egg-free. Be sure to check the ingredients list and product descriptions to ensure that the candy is suitable for your specific allergies or sensitivities.
Are there sugar-free Italian candies available?
Yes, there are sugar-free Italian candies available on the market. You can find various sugar-free candies, such as sugar-free hard candies and sugar-free chocolate, at specialty food stores or online retailers. Always check the product labels to confirm the candy is sugar-free and suitable for your dietary needs.
Conclusion
As we come to the end of this delicious journey through the best Italian candies, it's clear that Italy's confectionery world is filled with delightful treats catering to a diverse range of palates. With such a wide variety of flavors, textures, and shapes, these candies showcase the creativity and passion of Italian candy makers. From the iconic Ferrero Collection to the unique Balsamiche al Miele, each sweet treat promises a burst of flavor that will leave you craving more.
I hope my personal experiences and recommendations have inspired you to explore the world of Italian confections and try some of these scrumptious sweets for yourself. Whether you're already a fan of Italian candies or just venturing into new taste territory, there's always more to discover and love in the enchanting realm of Italian confections. And most importantly, don't forget that candy is meant to be enjoyed, so savor each bite as you indulge in the sweetness of Italy's finest treats.
Food Lover and Storyteller 🍽️✨ With a fork in one hand and a pen in the other, Shivani brings her culinary adventures to life through evocative words and tantalizing tastes. Her love for food knows no bounds, and she's on a mission to share the magic of flavors with fellow enthusiasts.