22 Best Magic Spoon Cereal Flavors Ranked 2023 [Breakfast BFF]
Updated On: September 8, 2023
Everyone seeks a bit of magic in their daily life. For breakfast enthusiasts like me, nothing spells enchantment quite like the various flavors of Magic Spoon that magically transform your breakfast routine. A spoonful of this high-protein, gluten-free, and low-carb cereal whisks you away on a delightful sensory journey. But with the plethora of available options, you might be mulling over which is the best Magic Spoon cereal flavor?
Here, I am going to walk you through my personal picks and experiences with each different flavor, hoping it might help you find your favorite bowl of goodness. Whether you're a fan of fruity tang, sweet chocolate, or the simplicity of original, there's a pot of taste gold at the end of the Magic Spoon rainbow for everyone.
Also Read: Best Larabar Flavors
22 Best Magic Spoon Cereal Flavors Ranked As of 2023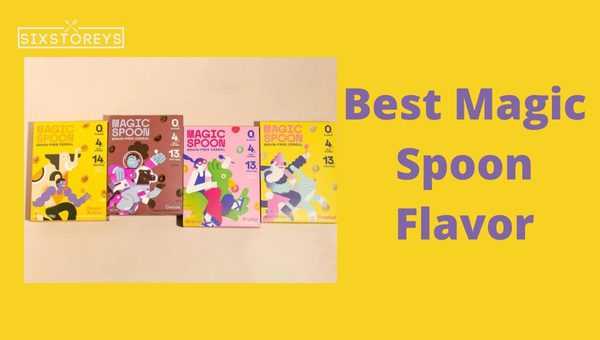 Stepping into the world of Magic Spoon cereal means entering a realm of 22 inventive, protein-rich, and highly nutritious flavors. But with so many options, which one stands out as the best Magic Spoon flavor? Picking a winner isn't easy, but let me share my taste-driven adventure through each delightful flavor, helping you discover your own breakfast favorite from this colorful lineup.
1. Peaches & Cream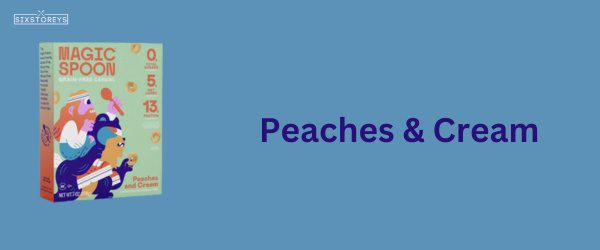 Peaches & Cream is a flavor that has been a part of our lives in some form or another. Fond memories of summers spent enjoying this delightful concoction prompted me to pick up the Peaches & Cream Magic Spoon cereal. Let me tell you, I wasn't disappointed.
What Makes It Special
From the moment I opened the box, the aroma of fresh peaches and cream hit me. Each bite was an explosion of the sweet, yet slightly tangy, flavor of peach fruit mixed perfectly with the creamy taste that added a layer of sophistication to the whole experience. It was like summer in a bowl. This particular flavor is still rich in protein, clocking in at an impressive 11g per serving.
Crunchy on the outside and soft on the inside, the cereal's texture is also worth noting. As you sink your teeth into each morsel, the exterior gives a satisfying crunch that ideally compliments their rich, creamy texture and unique flavor profile on the inside.
Why I Love It
What sets the Peaches & Cream Magic Spoon cereal apart from the others for me is the nostalgia it presents. I am reminded of breezy summer mornings and a simpler time. Besides, the flavor is bold and pronounced without being overpowering, which is a delicate balance that they've managed to strike and maintain throughout each spoonful.
2. Honey Graham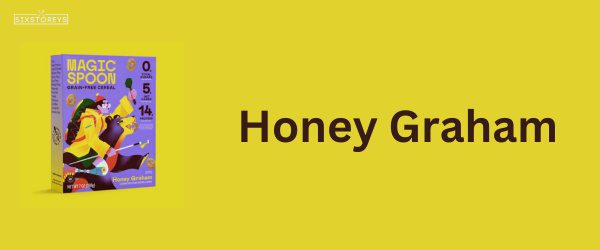 Moving on from the fruitiness, I decided to try the Honey Graham flavor next. Essentially, this is your childhood favorite graham cracker being reimagined into protein-packed cereal. Sounds too good to be true? Well, I thought so too, until I tried it.
What Makes It Special
One mouthful of the Honey Graham Magic Spoon cereal and I was hooked. The sweet taste of honey blended with the wholesome flavor of graham cracker is truly marvelous. There's just something about the taste that lures you in, bite after bite.
The texture of this variant is on point as well. It has the perfect level of crunch to it, crispy but not overly so. The honey graham layer of these cereals holds up well, balancing its crunch with a satisfying mouthfeel that doesn't turn soggy even when drenched in milk.
Why I Love It
Honey Graham Magic Spoon cereal is quite possibly the most versatile in terms of its flavor. The subtle sweetness of the honey pairs well with practically anything. You can mix it up with some fresh fruit, a dollop of yogurt, or even straight out of the bag, and it still manages to impress. Moreover, the nostalgic element present in this flavor is part of its charm. It brings back childhood memories of munching graham crackers and enjoying their unique taste.
Finally, like all other Magic Spoon cereals, this one doesn't compromise on the nutritious factor. You get a whopping 13 grams of protein packed into a serving, making it an ideal breakfast choice.
Safe to say, my breakfast journey with Magic Spoon has been nothing short of a magical feast. With so many flavors still left to try, I can hardly wait for breakfast to come around again!
3. Pumpkin Chai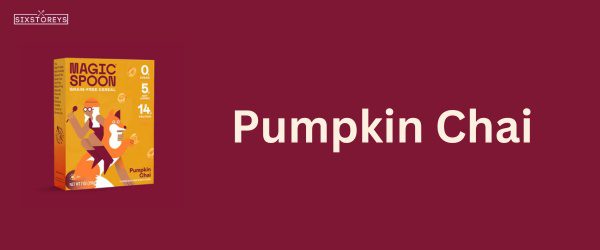 I'm the kind of person who savors every sip of a warm chai latte on a cozy fall evening. So, tasting the Pumpkin Chai flavor of Magic Spoon was a remarkable trip down memory lane.
What Makes It Special
The robust flavor of chai spices, paired with the pumpkin's subtle sweetness, is a match made in breakfast heaven. It's like having a piece of autumn right at your breakfast table. The crystalized spices add a charming spark that strikes your palate in a pleasant surprise, while the pumpkin keeps the taste grounded and satisfyingly sweet.
The blend captures the essence of pumpkin and chai so captivatingly that, with every spoonful, you can almost see the leaves changing color. Moreover, this blend is equally high in protein, making it nutritionally wholesome and perfectly suited for a hearty breakfast.
Why I Love It
In the Pumpkin Chai flavor, Magic Spoon has managed to capture the warmth and coziness of fall in a box of cereal. The element of surprise offered by the spice blend combined with the soft sweet tones of the pumpkin creates a unique experience that thoroughly impressed my taste buds.
4. Salted Caramel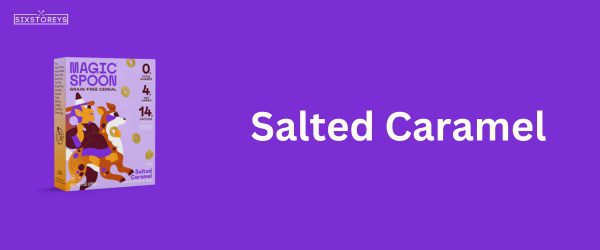 For the fourth flavor, I thought I'd give my taste buds a delightful contrast with the Salted Caramel variant, and boy, was I right in my choice.
What Makes It Special
From the first bite, the Salted Caramel Magic Spoon cereal presents a delightful experience that expertly straddles the line between sweet and salty. The juxtaposition of flavors heightened the taste factor substantially, making it a marked item I'd recommend to any fellow breakfast adventure seekers.
The flavor successfully replicates the taste of gooey caramel complemented by hints of saltiness that come together to provide a well-rounded burst of flavor. And as always, the high protein content leaves you feeling satiated and nourished.
Why I Love It
I am drawn to the Salted Caramel Magic Spoon flavor for its terrific blend of sweet and salty. The marriage of these contrasting tastes creates an enjoying munching experience unique from the other flavors, making it a firm favorite in my breakfast routine.
5. Cookies & Cream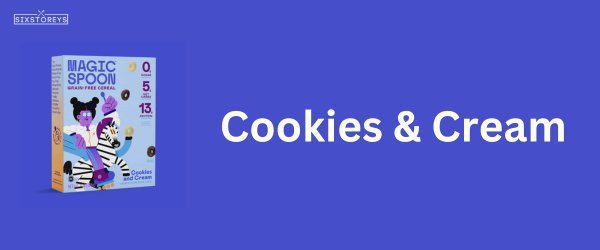 Hands down, Cookies & Cream have always been one of my favorite flavors in the dessert world. That's why when I dug into my bowl of Magic Spoon's Cookies & Cream cereal, I was brimming with anticipation.
What Makes It Special
Lurking in every crunch are rich vanilla undertones deepened with the robust flavor of chocolatey cookies. It brilliantly replicates the experience of dipping a creamy cookie into a glass of milk, only without any of the guilt accompanying the original dessert.
Like all Magic Spoon variants, the protein quotient is high, providing your body with the right nutrition early in the morning.
Why I Love It
The Cookies & Cream cereal holds a special comfort for my cravings. It's the perfect way to satiate my sweet tooth while sticking to a healthier path. Each bite transports me into a world where breakfast feels like a sweet indulgence, yet it fuels my body just right, propelling me into the day.
6. Chocolate Chip Cookie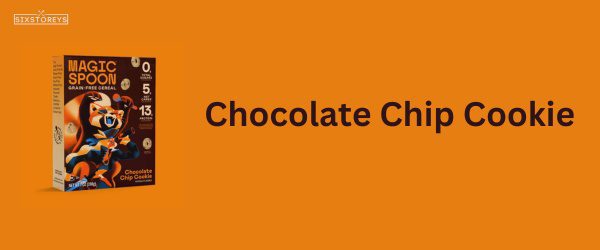 As someone with a sweet tooth, the Chocolate Chip Cookie flavor from Magic Spoon is like a dream come true in my breakfast bowl.
What Makes It Special
They have managed to emulate the taste of a homemade chocolate chip cookie, complete with chunks of dark chocolate and a sweet, buttery backdrop. It's akin to biting into a freshly baked cookie, with the warmness still lingering. Except it's packed with ample protein, thus fueling my body in the most delicious fashion.
Why I Love It
Being a fan of cookies, this cereal lets me savor that rich cookie flavor early in the morning without the subsequent guilt. It feels like I'm treating myself, even though I'm still adhering to my nutrition goals. The Chocolate Chip Cookie flavor is indeed a testament to how cereals can be both fulfilling and indulgent.
7. Banana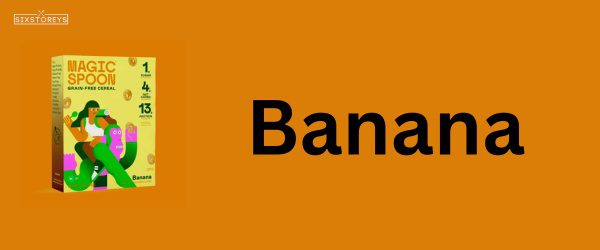 What follows arguably the most surprising flavor is a classic that no one can resist - Banana.
What Makes It Special
Simple yet profound, the Banana flavor of Magic Spoon is a complete delight. It's as if you're biting into a fresh, ripe banana, with a bonus crunch. It's a truly satisfying experience to start your day.
The protein content of banana flavored Magic Spoon puts a healthful spin on this classic taste. You get the feel of indulging in your favorite fruit without worrying about the sugar content.
Why I Love It
Like a familiar lullaby, the Banana flavor soothes and satisfies with its comforting taste profile. The unabashedly bold banana flavor makes each spoonful act as a glorious trip to a tropical paradise, making it my perfect breakfast getaway. With this flavor, you really can't go wrong!
8. Smores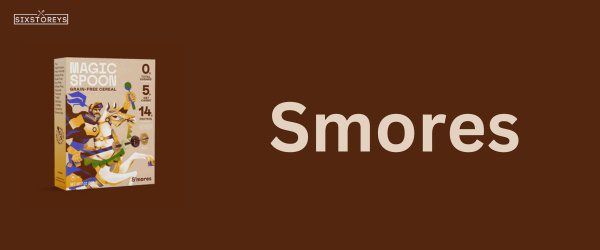 As an avid fan of camping, the Smores flavor by Magic Spoon evoked an immediate nostalgic response from my taste buds.
What Makes It Special
The first crunch allows a pleasant hit of chocolate to flood your senses, soon followed by the distinct sweetness of marshmallows and a smack of graham cracker goodness. It emulates the taste of sitting by a campfire, roasting marshmallows, and indulging in the gooey deliciousness of Smores.
Packed with a high protein count and free from artificial ingredients, Magic Spoon transforms this traditional campfire treat into a healthy cereal version that I genuinely enjoyed.
Why I Love It
The Smores variant adds a twist of fun to my breakfast routine. The familiar taste of the campfire treat, molded into a comforting bowl of cereal, is both delightful and uncanny in its exactness. I've found this flavor to be a treat not only for the palate but also for the mind, resonating with joyous memories of camping under the stars.
9. Blueberry Muffin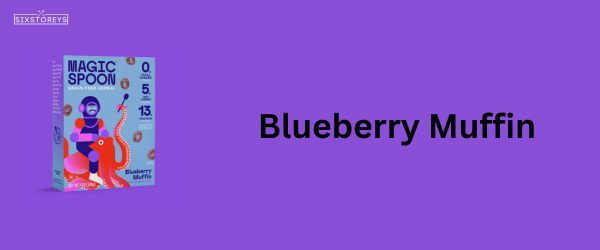 The next in today's series of Magic Spoon tastings is Blueberry Muffin.
What Makes It Special
The burst of juicy blueberries followed by the subtleness of the muffin truly recreates the experience of biting into a fresh, warm blueberry muffin. The sweetness of blueberries and savory notes from the muffin create an irresistible duo that everyone needs to try.
Furthermore, you're not just getting a flavor-packed meal, you're also receiving a high dose of protein, turning your breakfast into a nutrient powerhouse.
Why I Love It
The Blueberry Muffin flavor is incredibly authentic and one of my absolute favorites. It satisfies my cravings for a muffin without making me feel guilty about indulging first thing in the morning. That's breakfast bliss at its best for me!
Also Read: Best Mochi Ice Cream Flavors
10. Strawberry Milkshake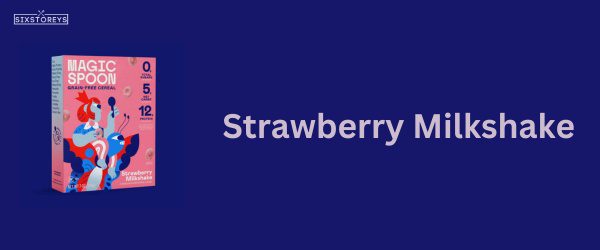 Only the mention of a strawberry milkshake brings back memories of my summer days, sipping on the refreshing and creamy delight. Magic Spoon's Strawberry Milkshake flavor perfectly encapsulates this feeling.
What Makes It Special
Their take on the classic milkshake tastes like a blend of creamy milk with sweet and sour tones of fresh strawberries in every mouthful. The smoothness and sweetness make it a real pleasure to wake up to in the morning. And as with all Magic Spoon cereals, the protein content is a massive bonus on the nutrition front.
Why I Love It
I was taken aback by how closely the flavor hailed to the real deal. The essence of sweet and sour strawberry, along with the creaminess, introduced a delightful twist to my morning routine. It's like a dessert and cereal in one, giving the typical Strawberry Milkshake a run for its money.
11. Oatmeal Cookie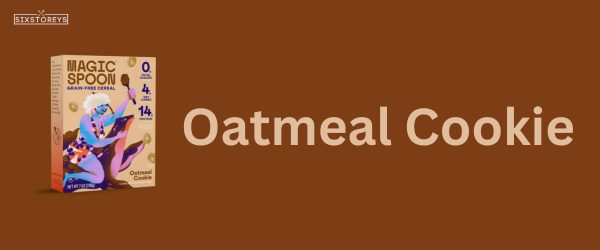 Being a fan of baking, oatmeal cookies have always been my go-to recipe. With Magic Spoon's Oatmeal Cookie flavor, I don't have to bake one to enjoy its flavors.
What Makes It Special
Each spoonful is like biting into an oatmeal cookie fresh off the oven, possessing a perfect blend of sweetness, nuttiness, and earthiness from the oats. Even though it's a breakfast cereal, it also makes for a tasty and satisfying snack throughout the day. Plus, it's loaded with proteins, making it a winning choice for health-conscious individuals.
Why I Love It
The Magic Spoon's Oatmeal Cookie flavor has won me over with its authentic taste and health advantages. It grants me the delicious luxury of relishing an oatmeal cookie without putting my diet off the rails. And that's why it's one of my beloved picks from the Magic Spoon lineup.
12. Sugar Cookie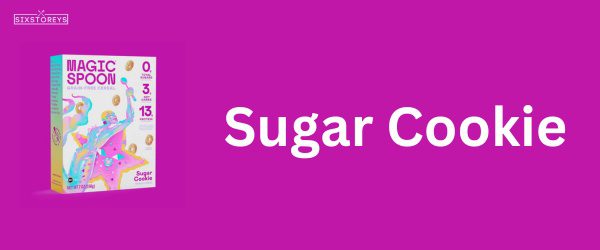 Just like the anticipation of unwrapping a package from a dear friend, every spoonful of Magic Spoon's Sugar Cookie flavor is a delightful surprise.
What Makes It Special
What sets this Magic Spoon flavor apart is the buttery sweetness that mirrors a sugar cookie. Each bite is a blend of sweet nostalgia and warm comfort. Yet, unlike other sugary cereals, the Sugar Cookie flavor is high in proteins and low in carbs, adding a healthy twist to a classic indulgence.
Why I Love It
The Sugar Cookie flavor brings back pleasant holiday memories, making each breakfast feel like a celebration. I love how it satiates my sweet tooth without guilt - it's the taste of indulgence with the benefits of mindfulness.
13. Birthday Cake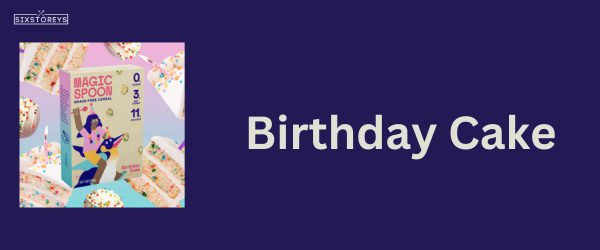 Every breakfast becomes a celebration with the Birthday Cake flavor of Magic Spoon. It's a party in a bowl!
What Makes It Special
This flavor is essentially a lighthearted celebration translated into cereal. It captures the sweet and creamy taste of a classic birthday cake, complete with a hint of vanilla. It's playful, it's fun, and it turns breakfast into a treat to look forward to.
Why I Love It
The Birthday Cake flavor brings novelty to my mornings. It turns regular breakfast into a festive affair. For anyone with a penchant for creativity and a love for culinary experiments, the Birthday Cake flavor is a must-try.
14. Apple Cinnamon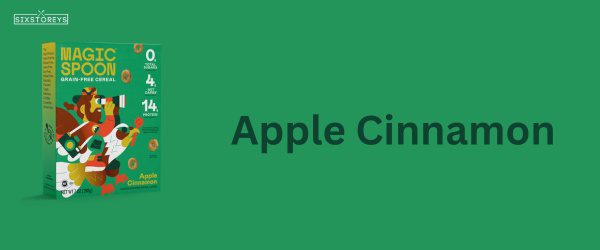 The Apple Cinnamon flavor from Magic Spoon is the epitome of comfort food in the realm of breakfast cereals.
What Makes It Special
The pairing of apple and cinnamon never disappoints, and Magic Spoon has truly outdone itself with this flavor. The taste of fresh, juicy apples combined with the warm, spicy undertone of cinnamon creates a sweet and warming flavor blend.
Why I Love It
The Apple Cinnamon flavor provides a comforting and hearty breakfast experience. This combination of flavors never fails to remind me of delightful homemade apple pies. It scores considerably high on my favorites list for its simple yet heartwarming taste profile.
15. Cinnamon Roll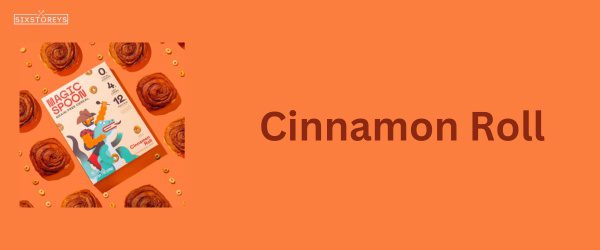 The Cinnamon Roll flavor from Magic Spoon delivers a delectable pastry experience straight in your bowl, without any guilt attached.
What Makes It Special
The Magic Spoon's Cinnamon Roll flavor is not just a play on flavors; it's the embodiment of a cinnamon roll baked to perfection. You get the rich, warm cinnamon taste intertwined with a sweet frosting flavor—everything that makes a cinnamon roll irresistible.
Why I Love It
What I adore about the Cinnamon Roll flavor is its touch of pastry-like decadence. It lends an indulgent feel to my morning routine that I relish, all while maintaining a high-protein, low-carb profile that keeps my health in check.
16. Frosted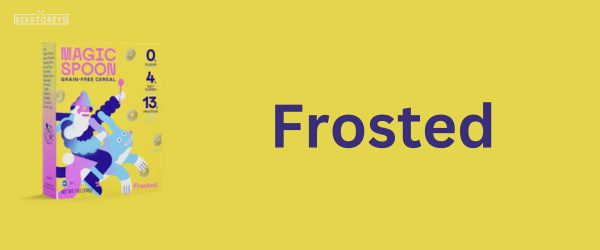 The Frosted Magic Spoon flavor has become my go-to for when I want a subtle yet delicious flavor profile that's nostalgically familiar.
What Makes It Special
The Frosted flavor brings back the joyous memories of classic sugar-frosted cereals from my childhood but in a much healthier manner. It has a subtle sweetness mastered with a hint of vanilla, an elegant balance that never overpowers the taste buds.
Why I Love It
I love the Frosted flavor for its wholesome simplicity. It's the kind of flavor you can't get tired of. It's versatile, pairing well with different toppings and add-ins. Plus, the gentle sweetness in every spoonful always leaves me craving more.
17. Cocoa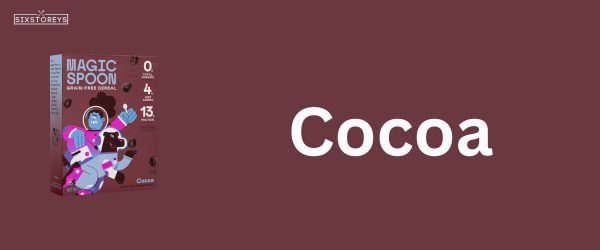 Being the chocoholic that I am, the Cocoa flavor from Magic Spoon has my heart. It has the right balance of chocolatey goodness that keeps me coming back for more.
What Makes It Special
The Cocoa flavor offers the delightfully smooth and rich taste of real cocoa, making me forget that I am actually opting for a healthier breakfast. It's like a chocolate bar metamorphosed into a cereal, presenting a spoonful of joy.
Why I Love It
What makes the Cocoa flavor a clear winner for me is the satisfaction it brings with every bite; it feels indulgent yet wholesome. The chocolatey essence is perfectly executed, which makes it feel like a treat while giving me that early morning energy boost. It's not overly sweet, and yet it grants that chocolate fix I crave.
18. Honey Nut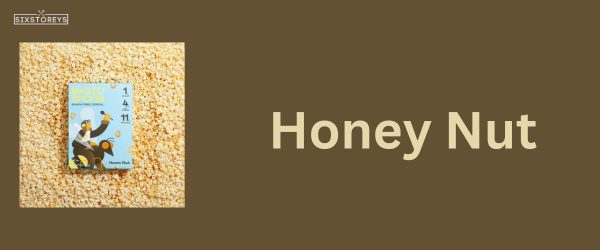 The Honey Nut is an irresistible classic that intertwines the rich nuttiness and the natural sweetness of honey in an astonishingly enjoyable way.
What Makes It Special
Magic Spoon really nailed it with this flavor, encapsulating the quintessential honey nut taste without encumbering it with a load of actual sugar. It's like biting into a crisp, golden honey-coated nut - the flavor is that authentic!
Why I Love It
Personally, the Honey Nut has become my comfort go-to cereal. It's a versatile flavor, pairing delectably with almost every fruit or nut you toss into the bowl! It's also a great change of pace for someone wanting to keep the sweetness subtle yet satisfying in their morning breakfast.
19. Maple Waffle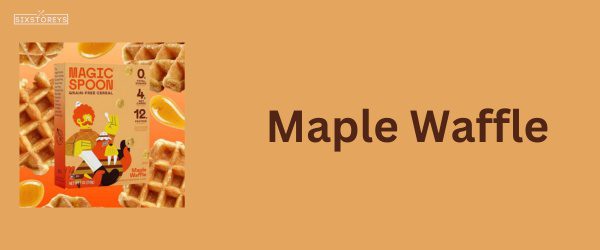 Invoking the True North's iconic flavors, the Maple Waffle cereal won me over with just one spoonful.
What Makes It Special
It captures the best qualities of a comforting breakfast - a hint of pure maple syrup and the savory undertone of a freshly baked waffle, all enveloped within a heartening crunch.
Why I Love It
The Maple Waffle offers an intricate balance of tastes, and I relish every bite of it. Whenever I seek a grounding, homely flavor profile that deviates from the typical sweet or fruity cereal, Maple Waffle is my pick.
20. Peanut Butter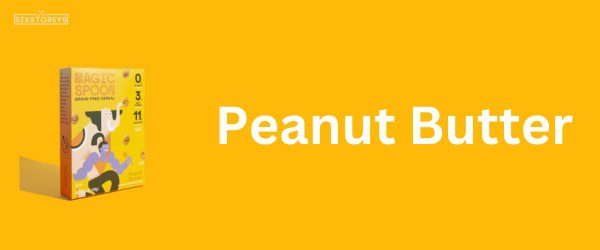 Prepare yourself for a nutty morning delight with the Peanut Butter flavor. In every spoon, there is a burst of this classic flavor, creating a breakfast experience second to none.
What Makes It Special
In essence, this cereal flavor is very much like dipping your spoon into a jar of creamy peanut butter. It offers a blast of protein in every serving, making it a great choice on those busy mornings when you don't have the time for a full meal.
Why I Love It
The Peanut Butter has a taste that's utterly unmissable! It's a superb blend of nostalgia and nutrition. While it ideally satisfies my peanut butter cravings, its high-protein composition satiates my hunger until lunch.
21. Fruity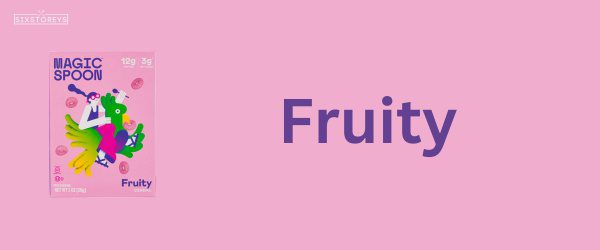 Just one bite of the Fruity flavor from Magic Spoon and I was taken on a ride down memory lane, back to the days of my childhood. The symphony of varied fruity flavors makes this a must-try for people who love a burst of fruitiness in their meals.
What Makes It Special
The Fruity flavor isn't just mono-toned but is reminiscent of a rainbow of berries. It's exciting on the palate with a carnival of bright and lively flavors that play out beautifully with each bite. Plus, it is refreshingly light and breezy, making it a perfect summer breakfast cereal.
Why I Love It
For those days when I want a change from the habitual chocolaty or nutty flavors, the Fruity flavor works its charm. It's like cradling an exciting cocktail of sweet, vibrant fruits in your mouth, serving a delightful twist on cereal.
22. Original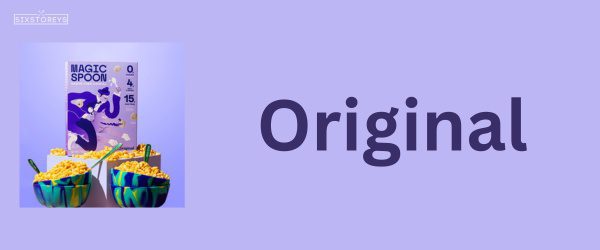 Last but not least comes the Original flavor. Though it might seem understated compared to its attractively named counterparts, it is far from mundane or insipid.
What Makes It Special?
Original has its charm in simplicity. It aims to replicate the classic, unadulterated flavor of cornflakes minus heavy sugar content – and succeeds. The lightly sweetened and slightly toasted flakes have a universal appeal, mainly because they can be custom enhanced with your choice of fruits, nuts, or anything else your heart desires.
Why I Love It
For someone like me, who appreciates authenticity and versatility, there's something intrinsically pleasurable about the Original flavor. It's a perfect canvas for incorporating other taste elements, be it banana slices, a handful of blueberries, or a pinch of cinnamon! It forms the base for my experimental breakfasts while staying low on carbs and high on proteins.
Also Read: Best Foods That Start With Th
How Magic Spoon Transforms Your Breakfast Routine?
We all know that breakfast is the most crucial meal of the day. Yet, most of us simply grab a quick bite due to our chaotic morning schedules. Enter Magic Spoon, touted as the healthier version of your favorite childhood cereals, which promises to transform your rushed breakfast routine into enjoyable 'me' time.
Magic Spoon cereals are an exquisite blend of taste, nutrition, and quick readiness, which are the three essential factors most of us look for in an ideal breakfast. Made from a protein blend of milk protein isolate and whey protein isolate, they provide all nine essential amino acids.
Moreover, they're sweetened with allulose, monk fruit, and stevia, which deliver sweetness without the usual sugar rush attributed to traditional cereals. Essential nutrients like iron, calcium, and vitamins are well preserved in this gluten-free, grain-free cereal, further bolstering its health benefits. So while you immerse yourself in the delectable taste in each spoonful, Magic Spoon works its magic to simultaneously fuel your body, keep you satisfied and maintain your energy levels until your next meal.
The Magic Behind Magic Spoon's Gluten-Free Goodness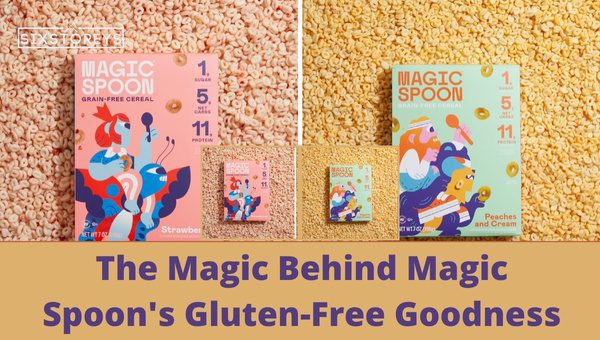 The Magic Spoon's claim to fame is its ingenuity in creating a delicious range of cereals that are also gluten-free. For anyone that is allergic to gluten or consciously avoiding it for personal health reasons, Magic Spoon is a game-changer.
One of the key reasons behind Magic Spoon's gluten-free goodness is the use of high-protein ingredients that are naturally gluten-free like milk protein and whey protein isolates. In addition, the cereals are cooked in high oleic sunflower oil, known for its heart-healthy fats, and flavored using natural flavors.
The result is a bowl of nutrient-packed cereal that caters to all: those who crave the taste, those looking for a healthy breakfast option, and, specifically, those who need to avoid gluten. Magic Spoon essentially turns a special dietary need into a universally enjoyable breakfast experience without compromising on taste – which unto itself is nothing less than magic.
Unraveling the Magic of Magic Spoon's Unique Flavors
There's a comforting sort of enchantment in the unique flavors that Magic Spoon has to offer. Each box reveals a new experience, a chance to journey through uncommon combinations, classic tastes, and sweet, nutritious delights.
Peaches & Cream, a soothing bowl of morning ambrosia, transports you to warm southern orchards in the blink of an eye. If you find comfort in familiarity, you'll love the hug in a bowl that is Honey Graham. It's warm, it's sweet, and it's oh-so nostalgically delicious.
For a slightly unconventional but pleasantly surprising variety, dip your spoon into Pumpkin Chai. The subtly aromatic spices dance with the sweet pumpkin flavor to give your morning a cozy, autumn-y feel no matter what the season actually is.
There's something utterly joyful about a scoop of Salted Caramel, where sweet meets savory in a delightful waltz. Then there's Banana, Strawberry Milkshake, and Fruity, each bursting with their respective fruity zings, to transport you straight to a tropical vacation with each mouthful.
Now, who doesn't enjoy desserts? Magic Spoon brings you your favorite desserts in a healthful breakfast form. Be it the cookies in Cookies & Cream, or Chocolate Chip Cookie, or the Birthday Cake flavor, every spoonful is a celebration.
How to Choose Your Magic Spoon Flavor Based on Your Taste Preferences?
The most beautiful thing about Magic Spoon is that it offers a flavor for everyone. Here are some suggestions on how to pick your favorite based on your taste preferences.
If you love fruity flavors, the Peaches & Cream, Banana, Strawberry Milkshake, and Fruity would be your go-to flavors.
On the other hand, if you relish the goodness of pure, raw dessert, the Smores, Cookies & Cream, Chocolate Chip Cookie, Oatmeal Cookie, Birthday Cake, and Sugar Cookie flavors tick those boxes.
For a walk down the memory lane, the Honey Graham, Apple Cinnamon, and Cinnamon Roll flavors are a must-try.
For the dessert faithfuls who also adore a touch of saltiness, the Salted Caramel flavor is an excellent choice.
Finally, for those who love the classic cereal taste, Original, Frosted, Cocoa, Honey Nut, Maple Waffle, and Peanut Butter flavors are the way to go.
Remember, the magic in Magic Spoon lies in its diversity. So, Go ahead and try a few and find your bowl of enchantment. With Magic Spoon, the world of flavors is at the tip of your spoon.
Understanding Why Magic Spoon is a Hit Among Health Enthusiasts
Magic Spoon strikes the perfect balance between being a tasty treat and a healthful choice, making it a go-to breakfast cereal among health enthusiasts. Packed with a whopping 11-14g of protein per serving, it's an excellent option for those seeking a protein-rich diet. Moreover, it is completely gluten-free, ticking another box for the health-conscious individual.
One of the unique aspects of Magic Spoon is its low carbohydrate content. Each serving contains only 3-4g net carbs, making it an ideal choice for those following a ketogenic diet or trying to cut down on their carb intake.
Perhaps what puts the cherry on top of Magic Spoon's nutritional profile is the absence of sugar. This perfect breakfast companion has found a way to keep the spoonfuls sweet without adding any sugar, which is nothing short of magical!
It's the thoughtfully crafted formula of high protein, low carbs, zero sugar, and gluten-free that makes Magic Spoon a winner among health enthusiasts. With every spoonful, you know that you're fueling your body with not just taste but also a whole lot of nutritional goodness!
Discover How Magic Spoon Makes Breakfast Fun and Nutritious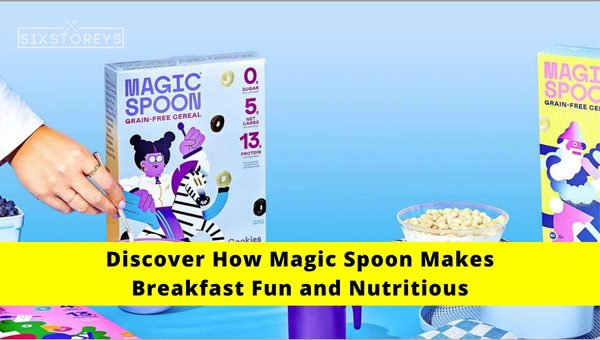 Breakfast is often dubbed the 'most important meal of the day'. With Magic Spoon, it also becomes the most fun meal! The combination of flavor and nutrition makes Magic Spoon cereals not just a morning routine but a sensory joy ride.
Every box of Magic Spoon opens to a burst of colors and a unique taste palette. Be it the chocolaty-ness of the Cocoa flavor, the creamy delight of the Peanut Butter, or the fruity freshness of the Fruity variety, Magic Spoon adds a playful twist to every breakfast.
Not just the taste, but even the nutritional aspect of Magic Spoon makes breakfast enjoyable. How? Well, knowing that your bowl of flavors is also a bowl filled with protein-packed goodness, zero sugar, and minimal carbs gives a sense of satisfaction. In the rush of the mornings, knowing you're starting your day with a meal that is beneficial to your body, definitely aids in kickstarting your day on a happy note.
In essence, Magic Spoon enlivens breakfast routines with its nutritional benefits and unique, exciting flavors, proving that fun can be found where health abounds!
Also Read: Best Starburst Flavors
Frequently Asked Questions
Why Should I Choose Magic Spoon Cereal?
Magic Spoon cereal offers an array of high-protein, gluten-free, and low-carb flavors. This ensures that you start your day with a nutrient-rich, guilt-free breakfast that is as delicious as it is healthy.
What Makes Magic Spoon's Cocoa Flavor Stand Out?
Magic Spoon's Cocoa flavor offers a rich, chocolatey indulgence without the usual sugar content found in similar breakfast cereals. Its high protein content ensures that it is not only tasty but also a healthy choice.
Are All the Magic Spoon Flavors Gluten-Free?
Yes, all the Magic Spoon flavors are gluten-free, making them a perfect option for individuals with a gluten sensitivity or celiac disease.
How to Choose the Right Magic Spoon Flavor for Me?
Choosing the right Magic Spoon flavor largely depends on individual preferences. If you have a sweet tooth, flavors like Birthday Cake or Maple Waffle might tickle your fancy. Those preferring a fruitier option might enjoy the Fruity or Blueberry Muffin flavors.
Is Magic Spoon A Healthful Option for Children?
Absolutely. Magic Spoon cereals, with their high protein, low sugar, and gluten-free composition, make for a great, healthful alternative to traditional cereals that are often high in sugars and low in nutritional value.
Does Magic Spoon Have a Flavor Guide?
Yes, Magic Spoon provides a detailed guide on their website to help you decide your ideal breakfast flavor.
Can I Try All The Flavors in One Package?
Yes, Magic Spoon offers a variety pack that includes all of its flavors. This allows you to sample each one and find your favorite.
Are There Any Seasonal Flavors?
Yes, Magic Spoon occasionally introduces seasonal options, ensuring there are new flavors to look forward to.
Conclusion
Regardless of what your taste buds desire, Magic Spoon has got you covered. With a flavor for every mood and preference, it has turned my breakfast time into the most anticipated part of my day. Not only is it delightfully delicious, but it also delivers a nutritional punch that keeps me fueled throughout my morning routines.
From Cocoa, my utmost favorite, to the unique blast of savory and sweetness in Peaches & Cream, every spoonful unravels a magical flavor story. But remember, the best Magic Spoon flavor will always be the one that makes your mornings brighter, and choosing it is all part of the fun. Indulge, experiment, and allow the magical journey of taste exploration to commence!
Food Lover and Storyteller 🍽️✨ With a fork in one hand and a pen in the other, Shivani brings her culinary adventures to life through evocative words and tantalizing tastes. Her love for food knows no bounds, and she's on a mission to share the magic of flavors with fellow enthusiasts.