12 Best Applebee's Drinks of 2023 [Get Your Thirst On]
Updated On: September 2, 2023
Applebee's has always been known for its tasty food and inviting atmosphere, but they also offers an impressive selection of beverages that cater to everyone's taste preferences. Whether you're in the mood for a zesty margarita or a fruity sangria, Applebee's drink menu is diverse and creatively crafted to complement their delicious dishes.
In this article, we'll explore some of the best Applebee's drinks which are sure to please your taste buds and leave you craving more! Get ready to quench your thirst and discover a world of flavors waiting for you at your next Applebee's visit.
Also Read: Best Trader Joe's Teas
12 Best Applebee's Drinks of 2023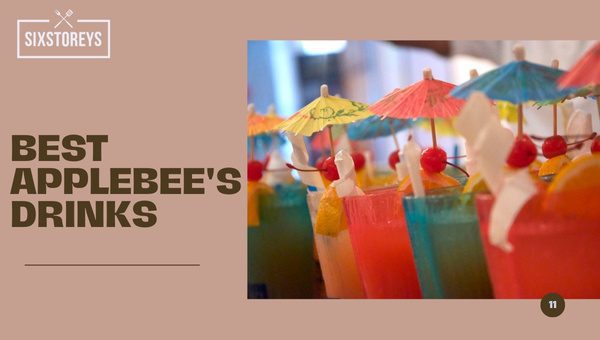 At Applebee's, the drink selections never disappoint. From tropical cocktails to refreshing sangrias, there is a perfect beverage to complement any meal. In this section, we explore the 12 must-try drinks at Applebee's that will elevate your dining experience to new heights.
1. Perfect Margarita: A Classic Reinvented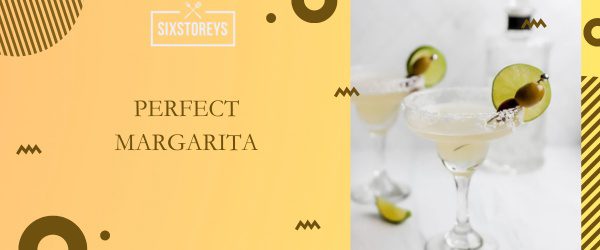 The Perfect Margarita is an absolute gem on Applebee's drink menu. This classic cocktail comes in a generously sized glass, ensuring every sip is as delightful as the first. Made with 1800 Reposado Tequila, Cointreau, and Grand Marnier, and hand-shaken with a blend of lime juice, this margarita stands out from the rest.
Applebee's has elevated the traditional margarita by using premium ingredients and a perfected recipe, which creates an unforgettable taste experience. The Perfect Margarita finds the ideal harmony between sweet and sour, ensuring it complements both spicy and subtle meals on the menu.
As you sip on this sophisticated blend, take note of the smooth orange undertones from Cointreau and Grand Marnier. The tequila used in the Perfect Margarita adds a depth of flavor you may not find in other margaritas. Trust me, you'll be coming back to try this version of the beloved classic time and time again. This vibrant and well-balanced beverage is one of Applebee's highlights, and it's not hard to see why.
2. Copycat Applebee's Kiwi Lemonade: A Refreshing Twist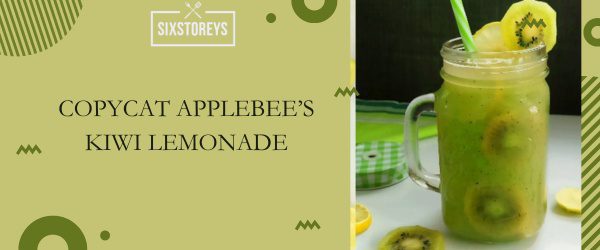 Your taste buds will dance with delight when you try the Copycat Applebee's Kiwi Lemonade. This energizing blend of citrus and kiwi flavors makes for a sweet and tangy beverage that's perfect for warm summer days or any time you crave a fruity refresher.
Made with smashed kiwi, freshly squeezed lemons, and sugar syrup, and topped off with a splash of soda water, this one-of-a-kind concoction is both incredibly satisfying and visually captivating. The vibrant green color of the kiwi fruit adds a touch of excitement to the classic lemonade look.
The Copycat Applebee's Kiwi Lemonade pairs well with lighter fare, such as salads and seafood, effectively offsetting salty or seasoned flavors with a hint of tart sweetness. Believe me, this zesty, effervescent twist on the traditional lemonade is sure to leave a lasting impression.
3. Blue Aloha Mana Margarita: A Tropical Delight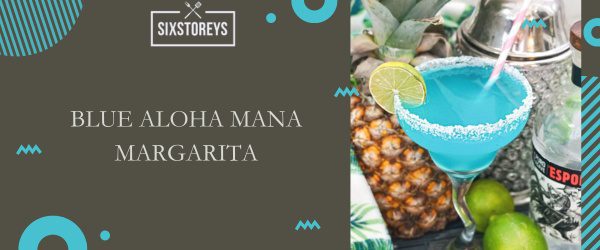 Transport yourself to a beachfront paradise with a sip of Applebee's Blue Aloha Mana Margarita. An enticing blend of tequila, Curacao Blue, and pineapple juice, this beverage is truly a tropical treasure waiting to be discovered.
Inspiration for the Blue Aloha Mana Margarita comes from vivid island flavors and visual appeal. The eye-catching blue hue of the Curacao Blue liqueur seamlessly intertwines with the exotic infusion of pineapple juice, resulting in an invigorating concoction that stirs the imagination.
Perfect for sipping alongside Applebee's seafood and grilled options, the Blue Aloha Mana Margarita is a delightful choice for those eager to step out of their comfort zone and indulge in a stunning blend of tropical flavors and vibrant presentation.
4. Long Island Iced Tea: A Timeless Favorite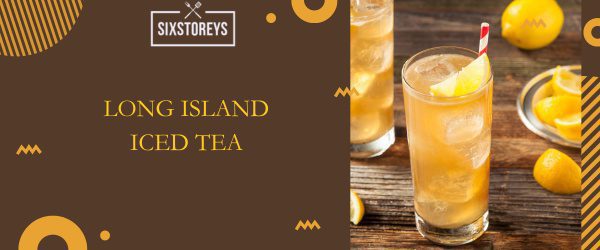 If you're looking for a staple drink that packs a punch, look no further than Applebee's rendition of the iconic Long Island Iced Tea. A mouthwatering fusion of premium spirits, including vodka, gin, rum, and tequila, this classic cocktail reigns supreme when it comes to crowd-pleasers.
Mixed with a refreshing blend of lemon juice, triple sec, and cola, this full-bodied and flavorsome beverage boasts a harmonious balance of sweet, sour, and effervescent notes. The Long Island Iced Tea doesn't just look like iced tea - it has a somewhat similar taste while offering an exhilarating alcoholic kick. As such, it pairs beautifully with an array of dishes – from appetizers to hearty mains.
Applebee's has truly done justice to this ageless classic by using high-quality liquors and an unfaltering recipe. Trust me, this cocktail is not to be missed. Your taste buds will thank you as they bask in the deliciousness that is Applebee's Long Island Iced Tea.
5. Red Sangria: Unbeatable Flavor Combination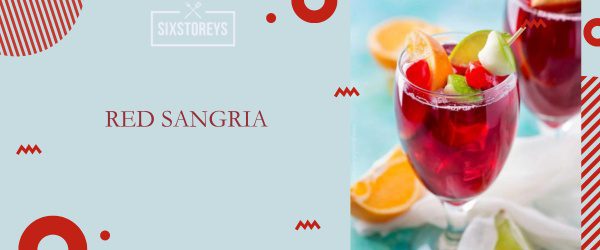 Plunge into a divine symphony of flavors with Applebee's Red Sangria, a delectable concoction of red wine, mixed fruit, and hints of citrus. This fruity masterpiece hails from the Iberian Peninsula and has been cherished worldwide due to its versatile and refreshing taste profile.
Applebee's takes the traditional sangria a notch higher with their mix of specially chosen red wine, orange liqueur, and brandy. To bring out the fruity essence, they incorporate fresh oranges, apples, and limes into the mix, setting the stage for a riot of flavors and vibrant visual appeal.
The beauty of Red Sangria lies in its versatility, pairing well with a wide range of dishes—from spicy entrees to smoky and savory dishes. Indulge in this delightful drink on a warm evening, while savoring a delectable meal with friends or during a solo dining experience. Believe me, Applebee's Red Sangria is a journey your taste buds will want to embark on time and again.
6. Captain Bahama Mama: A Cruise in a Glass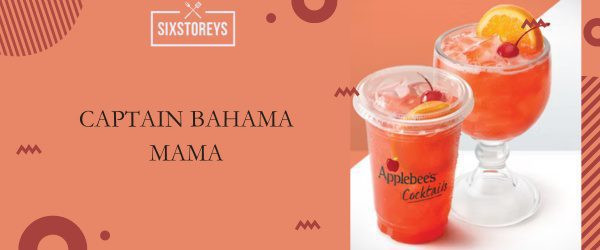 Let your taste buds set sail on a gastronomic voyage with Applebee's Captain Bahama Mama. This delectable union of spiced and coconut rum, sand, Smirnoff Orange Vodka, and tropical fruit juices is the epitome of a summer beach getaway in liquid form.
The inspiration for Captain Bahama Mama is derived from the breezy charm of the islands, enticing anyone who dares to venture into its lush and lively world of flavors. Infused with an alluring mix of grenadine, fruit juices, and club soda, this delicious drink achieves the perfect equilibrium of sweet, fruity, and effervescent notes.
Pair the Captain Bahama Mama with Applebee's spicy, smoky, or seafood-heavy dishes to enhance your taste buds' journey even further. Within each sip, you'll experience the unmistakable essence of a tropical getaway that leaves you yearning for more. It's a guaranteed crowd-pleaser that stirs up a sense of adventure in every glass.
Also Read: Best Starbucks Refreshers
7. Applebee's Kahlua Mudslide Cocktail: Indulgent and Tempting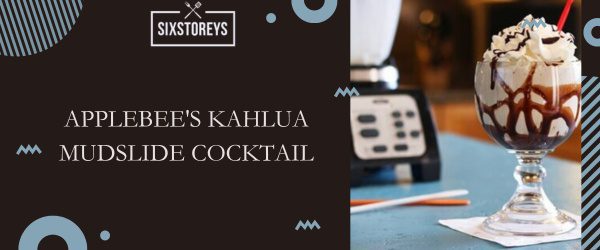 Enter a world of sheer decadence with Applebee's Kahlua Mudslide Cocktail, an indulgent masterpiece combining the irresistible flavors of Kahlua, Baileys Irish Cream, and Vodka. This tempting concoction is a delightful twist on the classic Kahlua cocktail, making it an all-time favorite for those with a penchant for rich, luxurious drinks.
The Kahlua Mudslide Cocktail's seductive allure lies in its velvety smooth texture, achieved through the blending of Kahlua coffee liqueur, rich Baileys Irish Cream, and a splash of Vodka. Topped with a dollop of whipped cream and a drizzle of chocolate, this sumptuous drink oozes indulgence and keeps you coming back for more.
Ideal for sipping on after dinner or as a dessert itself, the Kahlua Mudslide pairs effortlessly with Applebee's mouthwatering dessert offerings or sizzling steaks. Give yourself the gift of delectable opulence and relish in the heavenly experience that Applebee's Kahlua Mudslide Cocktail has to offer.
8. Berry Sangria Applebees: A Fruity Sensation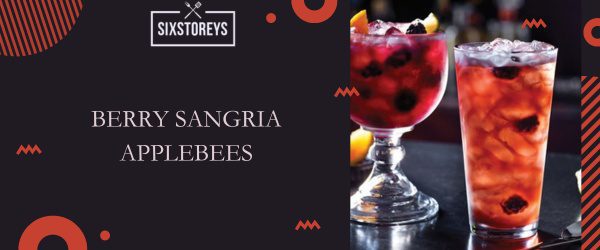 The Berry Sangria is a wondrous twist on the traditional Red Sangria, courtesy of Applebee's imaginative drink selection. This scrumptious drink melds the flavors of wine, mixed fruit, and berry liqueur to create a taste sensation swirling with fruity goodness.
The distinguishing factor between Applebee's Red and Berry Sangria comes from the infusion of raspberry, cherry, and strawberry flavors, invigorating the senses and providing an extraordinarily stunning palate of fruity notes. This innovative beverage is crafted using a fusion of red wine, berry liqueur, and a generous serving of mixed fruit, ensuring a vibrant and delicious experience.
Whether you're enjoying it alongside a platter of appetizers or your favorite entree, the Berry Sangria brings an element of flair to your dining escapade. So, go ahead and indulge in this beautiful creation that'll make any day feel like a special occasion.
9. Cuervo Mucho Margaritas: The Ultimate Margarita Experience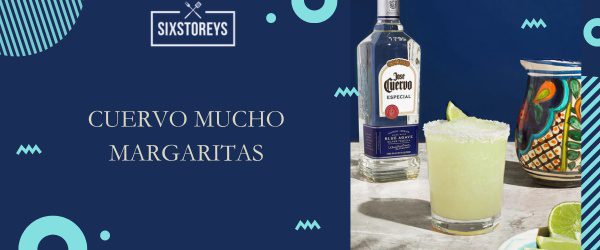 For those seeking an extraordinary margarita experience, Applebee's Cuervo Mucho Margaritas is an absolute must-try. Made with fresh lime juice, premium tequila, and bold flavors, these generous-sized cocktails are specially crafted to satisfy the margarita lover's cravings, making them a firm favorite amongst patrons.
Introduced to elevate the classic margarita, the Cuervo Mucho Margaritas come in an array of distinct variations, each as enticing as the next. With unique twists like adding tropical fruit juices or incorporating seasonal berries, these magnificent drinks are masterpieces that cater to a diverse range of taste preferences.
Whether you're delighting in their Classic Margarita or venturing into the exotic with their Blue Aloha Mana Margarita, it's hard not to marvel at Applebee's dedication to delivering phenomenal margaritas. Any visit to Applebee's would be incomplete without indulging in their magnificent Cuervo Mucho Margaritas, so make sure to save room for one alongside your favorite meal.
10. Shark Bowl: An Adventure Awaits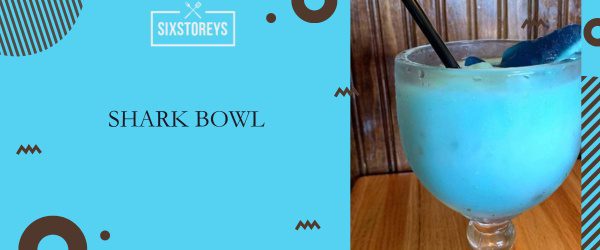 Take a plunge into the thrilling flavors of Applebee's Shark Bowl, a daring and electrifying drink that captures the essence of the ocean's majestic predator. This exhilarating concoction, showcasing spiced rum, premium margarita mix, and tropical fruit juices, delivers an exotic and refreshing adventure for those who seek the thrill of the deep seas.
The origin of the Shark Bowl drink stems from the adventurous nature of island pursuits and the desire to recreate that spirit for diners. Applebee's version is a vivacious blend of Captain Morgan Spiced Rum, blue curaçao, and tropical fruit juices, topped off with the captivating presence of a plastic shark immersed in the drink.
This delightfully bold beverage pairs beautifully with Applebee's savory appetizers and offers an unforgettable experience where the taste buds can fearlessly explore new depths. Dive into the Shark Bowl and let your senses embark on a delicious adventure that is just as visually exciting as it is palate-teasing.
11. White Peach Sangria: Sophisticated Summer Sipper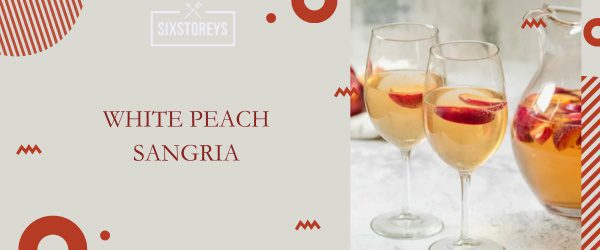 Experience elegance and sophistication with Applebee's White Peach Sangria, a beautiful and delicate drink that exudes the essence of a perfect summer's day. This glorious libation is crafted with white wine, peach schnapps, and a medley of fresh fruit, combining to create a light, refreshing, and dazzling drink that captures the simple pleasure of dining at Applebee's.
The White Peach Sangria is inspired by the sun-soaked orchards in Spain, where the drink's origins can be traced back. Applebee's take on this delightful creation uses pinot grigio, peach schnapps, and a fresh fruit mix to ensure a harmonious balance of flavors that tease your taste buds and leave you wanting more.
Ideal for sipping on a warm, sunny day or when relaxing with friends, Applebee's White Peach Sangria pairs superbly with their lighter fare, like salads and grilled chicken dishes. Elevate your dining experience with this effortlessly chic and graceful creation that will have you feeling like you're basking in the Mediterranean sun.
12. Strawberry Coconut Mana Margarita: A Blissful Blend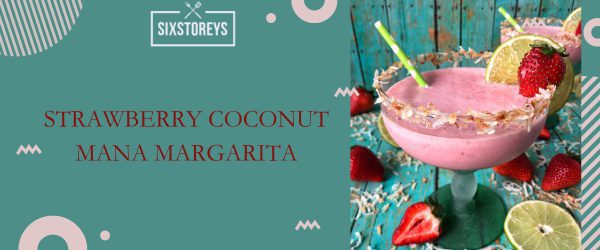 Last but certainly not least, Applebee's Strawberry Coconut Mana Margarita takes you on a blissful journey to paradise with its mesmerizing flavors and enchanting presentation. This divine drink boasts the perfect balance of tart strawberries and sweet coconut, delivering an invigorating concoction you simply can't miss.
Applebee's tantalizing twist on the classic margarita employs Malibu Coconut Rum, fresh strawberries, and a premium margarita mix to create a vibrant and refreshing blend that evokes the essence of a tropical getaway. Everything about this beverage transports you to an idyllic beach setting, where the sun's warmth caresses your skin and the ocean's waves gently lap at the shoreline.
Pair this delightful Strawberry Coconut Mana Margarita with Applebee's tantalizing seafood dishes or their tempting Polynesian-inspired appetizers for a tropical escape right on your plate. Don't miss out on this exquisitely crafted concoction that embodies the spirit of paradise and offers your senses a little vacation from the everyday.
Why the Applebee's Perfect Margarita Tops Other Variations?
The Applebee's Perfect Margarita has earned its top spot among the myriad of margarita variations for several reasons. Firstly, the drink is created with expert mixology in mind, making use of top-shelf ingredients like the premium 1800 Reposado Tequila, Cointreau, and Grand Marnier. The inclusion of these high-quality components elevates the Applebee's Perfect Margarita, contributing to the overall smooth and sophisticated flavor.
Secondly, the Applebee's Perfect Margarita uses a well-researched recipe that combines the classic flavors of lime and agave with an unexpected yet delightful kick, thanks to a secret blend of spices. The balance of flavors unlocks a whole new level for margarita lovers, differentiating the drink from its competitors and making it stand out.
Moreover, the presentation of Applebee's Perfect Margarita is designed to enhance the experience. Starting with the distinct salted rim and ending with a beautiful lime wedge garnish, every element comes together to create a visual delight that entices patrons to indulge in this exquisite cocktail.
Also Read: Best Red Bull Flavors
What Sets Applebee's Kiwi Lemonade Apart from Traditional Lemonade?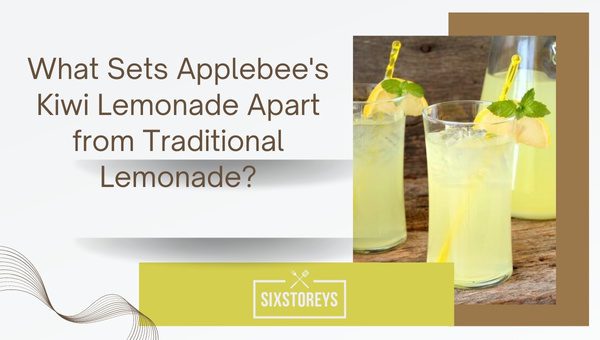 Applebee's Kiwi Lemonade has skillfully captured the essence of a refreshing summertime drink, and yet it stands out from the traditional lemonade offerings. One major factor that sets Applebee's Kiwi Lemonade apart is the addition of muddled kiwi fruit, elevating the familiar taste of lemonade with its natural sweetness and tanginess for a balanced flavor profile.
Furthermore, Applebee's utilizes a brilliant mix of ingredients, including fresh lemon juice, a touch of Sprite, and a splash of DeKuyper Melon Liqueur, resulting in a refreshingly effervescent drink that brims with flavor. The incorporation of the melon liqueur adds depth to the drink, creating a unique twist that blends seamlessly with the kiwi and lemon components.
Aside from its taste, another distinguishing characteristic of Applebee's Kiwi Lemonade is its vibrant presentation. The drink is served in a stylish glass filled to the brim with ice, garnished with a kiwi wheel and candied lemon peel. The combination of these elements, along with the drink's refreshing flavors, makes Applebee's Kiwi Lemonade a must-try experience for those seeking new horizons in the world of lemon-flavored beverages.
Steps to Make Your Own Applebee's-Style Long Island Iced Tea at Home
Long Island Iced Tea is a beloved classic cocktail that has become a popular choice for many. If you're a fan of Applebee's version and want to recreate this cocktail at home, follow these simple steps:
Ingredients:
1/2 oz vodka
1/2 oz rum
1/2 oz gin
1/2 oz tequila
1/2 oz triple sec
1 oz sweet and sour mix
1 oz cola
Ice
Lemon wedge, for garnish
Instructions:
Begin by filling a shaker with ice. This will help achieve a chilled and well-mixed cocktail.
Pour the vodka, rum, gin, tequila, and triple sec into the shaker.
Add the sweet and sour mix to the shaker, which gives the Long Island Iced Tea its distinctive tangy flavor.
Shake the mixture vigorously for about 15-20 seconds. This step is crucial to combine all the ingredients and create a balanced taste.
Fill a tall glass with fresh ice.
Strain the contents of the shaker into the glass, making sure to evenly distribute the drink.
Top off the glass with a splash of cola for that signature fizzy touch.
Gently stir the cocktail to blend in the cola.
Garnish your homemade Applebee's-style Long Island Iced Tea with a lemon wedge and enjoy!
By following these steps, you can now delight in your very own Applebee's-style Long Island Iced Tea in the comfort of your home.
The Inspiration Behind the Vibrant Blue Aloha Mana Margarita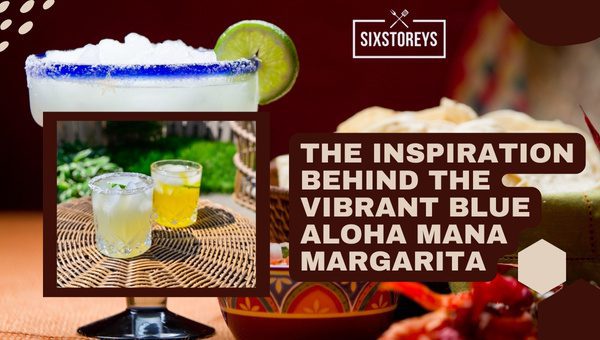 The Blue Aloha Mana Margarita is a delightful tropical cocktail that transports you to paradise with just one sip. The vibrant blue color and refreshing taste make this drink a standout on Applebee's menu. So, what's the story behind this enchanting cocktail?
The inspiration for the Blue Aloha Mana Margarita comes from the beautiful beaches and crystal-clear waters of the Hawaiian Islands. Just like the stunning blue oceans surrounding the islands, this cocktail captures the essence of a serene and relaxed vacation atmosphere. The name "Mana" itself refers to spiritual energy or power in Hawaiian culture, making this drink perfect for recharging your spirits.
The captivating blue hue of the drink comes from blue curaçao, a liqueur made from the dried peels of the Laraha citrus fruit. This ingredient, combined with tequila, coconut, pineapple juice, and lime juice, creates irresistible tropical flavors synonymous with a Hawaiian getaway.
To further enhance the beachy experience, the Blue Aloha Mana Margarita is often beautifully presented in a salt-rimmed glass with a pineapple wedge and a cherry as garnishes. This attention to detail adds an extra touch of sophistication to this captivating cocktail.
The Blue Aloha Mana Margarita is the perfect drink for those seeking a refreshing escape from the everyday routine. Don't hesitate to order this tropical delight on your next visit to Applebee's, and let the inspiration of the Hawaiian Islands sweep you away.
Why the Cuervo Mucho Margaritas Are a Top Pick for Margarita Lovers?
There's no denying that margaritas have a special place in the hearts of many cocktail enthusiasts. Among the various margarita recipes out there, the Cuervo Mucho Margaritas at Applebee's have claimed their spot as a top pick for margarita lovers. Let's dive into what sets this refreshing drink apart and why it's a must-try for anyone visiting Applebee's.
Quality Ingredients Make All the Difference
Applebee's Cuervo Mucho Margaritas wouldn't be so loved without their meticulously chosen ingredients. The foundation of this exceptional cocktail is, of course, the Jose Cuervo Especial® Gold Tequila. This high-quality tequila brings a rich and smooth flavor that is essential for crafting the perfect margarita. The drink also contains premium orange liqueur and fresh lime juice, which impart a delightful citrus kick that perfectly complements the tequila.
An Unforgettable Flavor Profile
One sip of the Cuervo Mucho Margarita, and it becomes evident how vital the balance of flavors is in this cocktail. The bold taste of tequila blends seamlessly with the sweetness of the orange liqueur and the tangy freshness of lime juice. The result is a perfectly harmonious flavor profile that leaves a lasting impression.
Presentation and Customization Options
The Cuervo Mucho Margarita isn't just a treat for the taste buds, it's also a delight for the eyes. Served in an oversized glass, this drink looks as inviting as it tastes. To further enhance the experience, customers can choose their preferred flavor, such as the Applebee's Strawberry Margarita, which adds an exciting twist on the classic.
The Ultimate Pairing Experience
Margarita lovers should also take note of how well the Cuervo Mucho Margaritas pair with various dishes from the Applebee's menu. The combination of bold tequila and refreshing citrus flavors makes it a highly versatile drink that complements the diverse array of dishes offered. From starters like the Boneless Buffalo Wings to entrées like the Fiesta Lime Chicken, Cuervo Mucho Margaritas only amplify the dining experience, creating an even more memorable meal.
The Cuervo Mucho Margaritas at Applebee's have earned their place as a top pick for margarita lovers with their exceptional ingredient quality, well-balanced flavor profile, eye-catching presentation, and impressive versatility when paired with various dishes. It's no wonder that many margarita enthusiasts can't resist returning to Applebee's for their fix of this delightful cocktail.
Also Read: Best Mcdonald's Slushie Flavors
Frequently Asked Questions
Which Applebee's drink would you recommend for someone who prefers fruity cocktails?
For a fruity option, try the Berry Sangria, Strawberry Coconut Mana Margarita, or White Peach Sangria, all of which showcase delicious fruit flavors.
Are non-alcoholic options available for guests who don't drink alcohol?
Yes, Applebee's offers several non-alcoholic drinks, including their famous Kiwi Lemonade and a variety of soft drinks, iced teas, and lemonades.
Can I request modifications to my drink order, such as making it less sweet or adding extra garnishes?
Applebee's bartenders are generally happy to accommodate personal preferences. Don't hesitate to ask your server about customizing your drink order.
Are there any seasonal drinks on Applebee's menu that I should try while they're available?
Applebee's often introduces limited-time seasonal cocktails, so be sure to ask your server about any current special offerings when you visit.
What if I am trying to watch my calorie intake but still want to enjoy a delicious drink at Applebee's?
Applebee's offers a variety of lower-calorie drinks, such as the Skinny Margarita or a simple glass of wine. You can also ask your server for recommendations tailored to your dietary needs.
Does Applebee's have any signature drinks that can't be found at other establishments?
Yes! Some signature Applebee's drinks include the Shark Bowl, Blue Aloha Mana Margarita, and Captain Bahama Mama, which showcase unique flavors and presentations.
Are there any happy hour specials at Applebee's that feature discounts on their drinks?
Applebee's often runs happy hour specials, which may include discounted appetizers and drinks. Check with your local Applebee's for specific promotions and timing.
Conclusion
As we've explored the diverse range of beverages that Applebee's has to offer, it's clear that there's something for everyone, whether you're a fan of classic cocktails or looking for unique, adventurous flavors. The best Applebee's drinks not only delight your taste buds, but they also enhance your overall dining experience by complementing the dishes and creating a memorable time spent with friends and family.
So next time you visit your local Applebee's, be sure to indulge in some of their exquisite drinks, and don't be afraid to experiment, as there's always something new to discover and enjoy!
Beverage Explorer and Tastemaker 🍻🥃🍷 Aman's quest for liquid delights knows no limits. From hoppy brews to aged spirits, he uncovers the tales behind each sip. His eloquent descriptions and accessible insights make every drink an adventure worth raising a glass to.